Decorated Life is reader-supported. When you buy through links on our site, we may earn an affiliate commission. Learn More
27 Must-Try Modern Farmhouse Living Room Ideas
Modern farmhouse design effortlessly blends the comfy, worn-looking pieces of traditional farmhouse style with more modern designs.
And even though there are some repeat elements in most of these living rooms, modern farmhouse spaces can look drastically different from one another.
If you're giving your space a facelift, here are the best modern farmhouse living room ideas to use as inspiration.
Give Your Rug Some Attention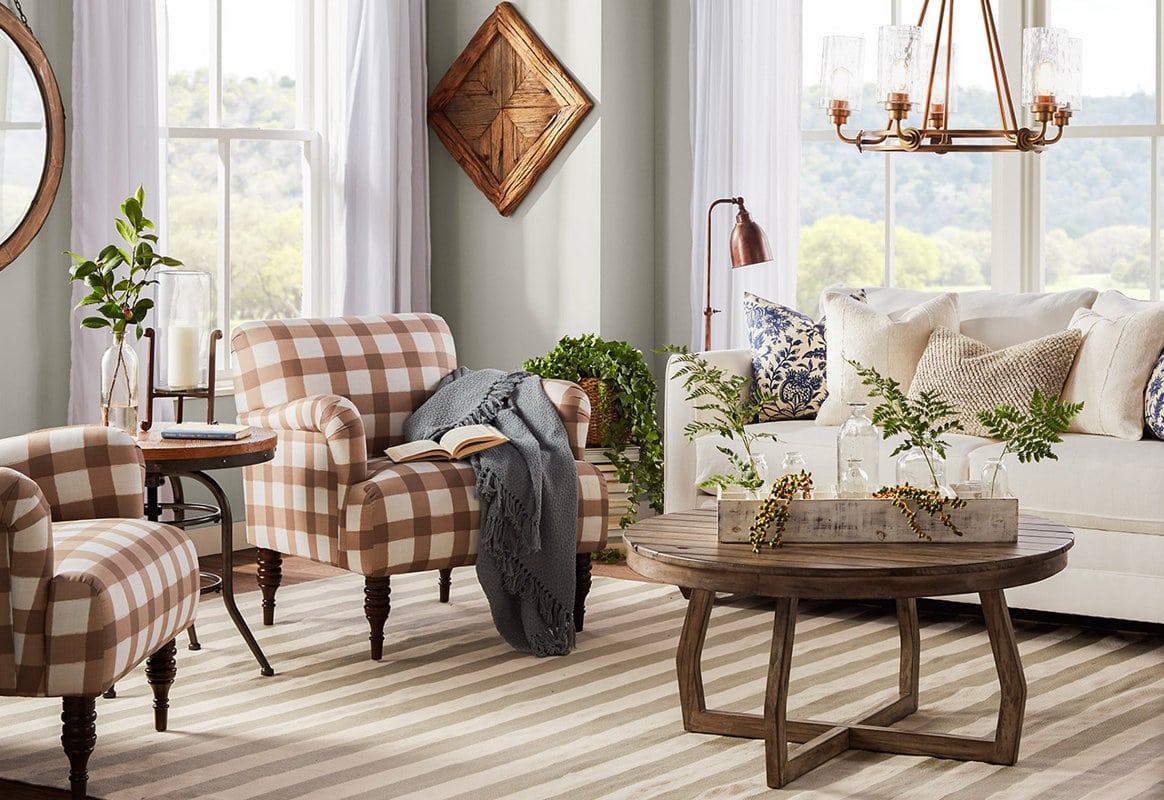 Your area rug acts as the anchor of your living room. So, you need to choose an appropriate option to set the tone for your space.
Since modern farmhouse rooms are often full of neutrals, a striped cream and tan rug like this is a great option. Other top contenders include jute, textured rugs, and distressed Moroccan and oriental prints.
Opt for a Wood Coffee Table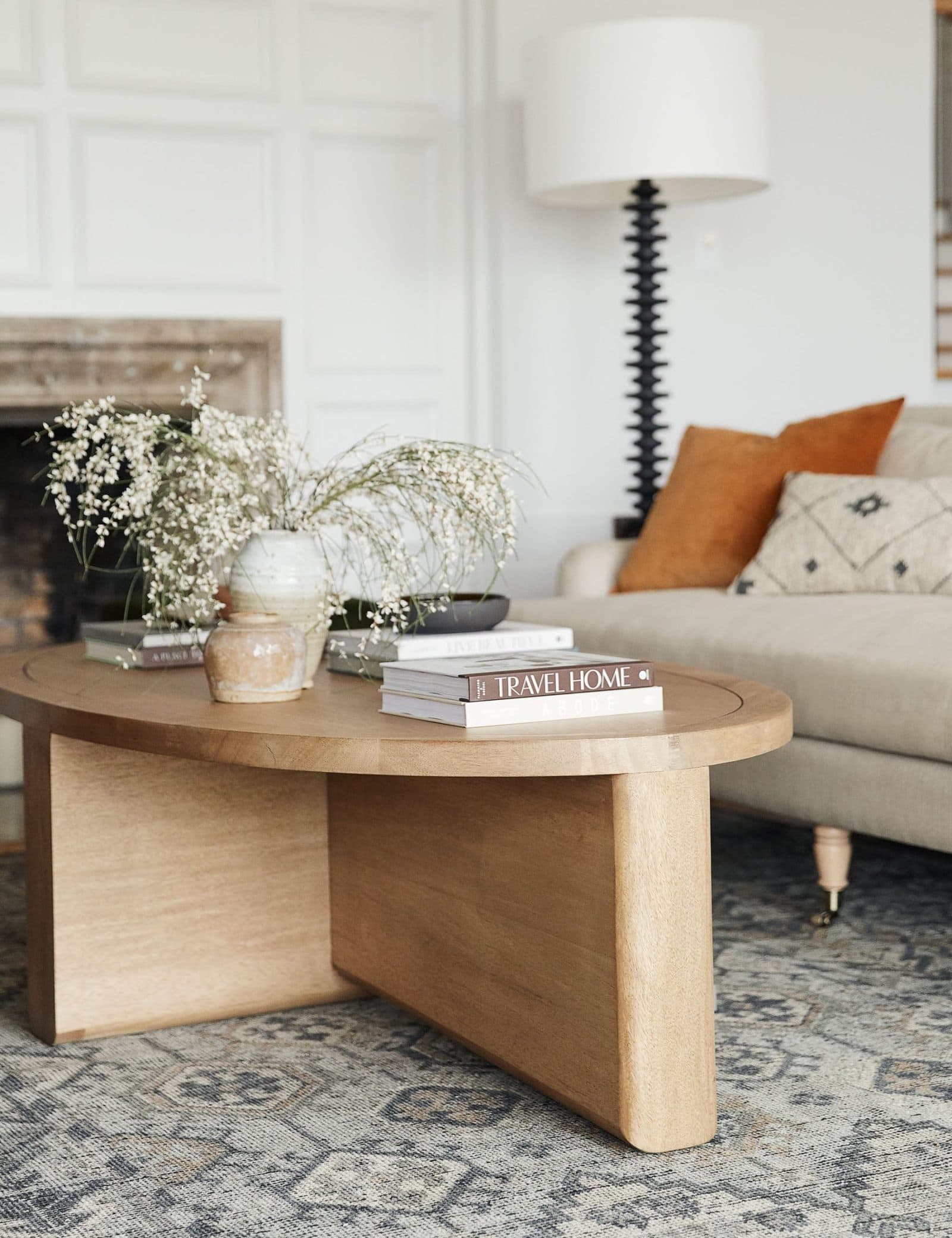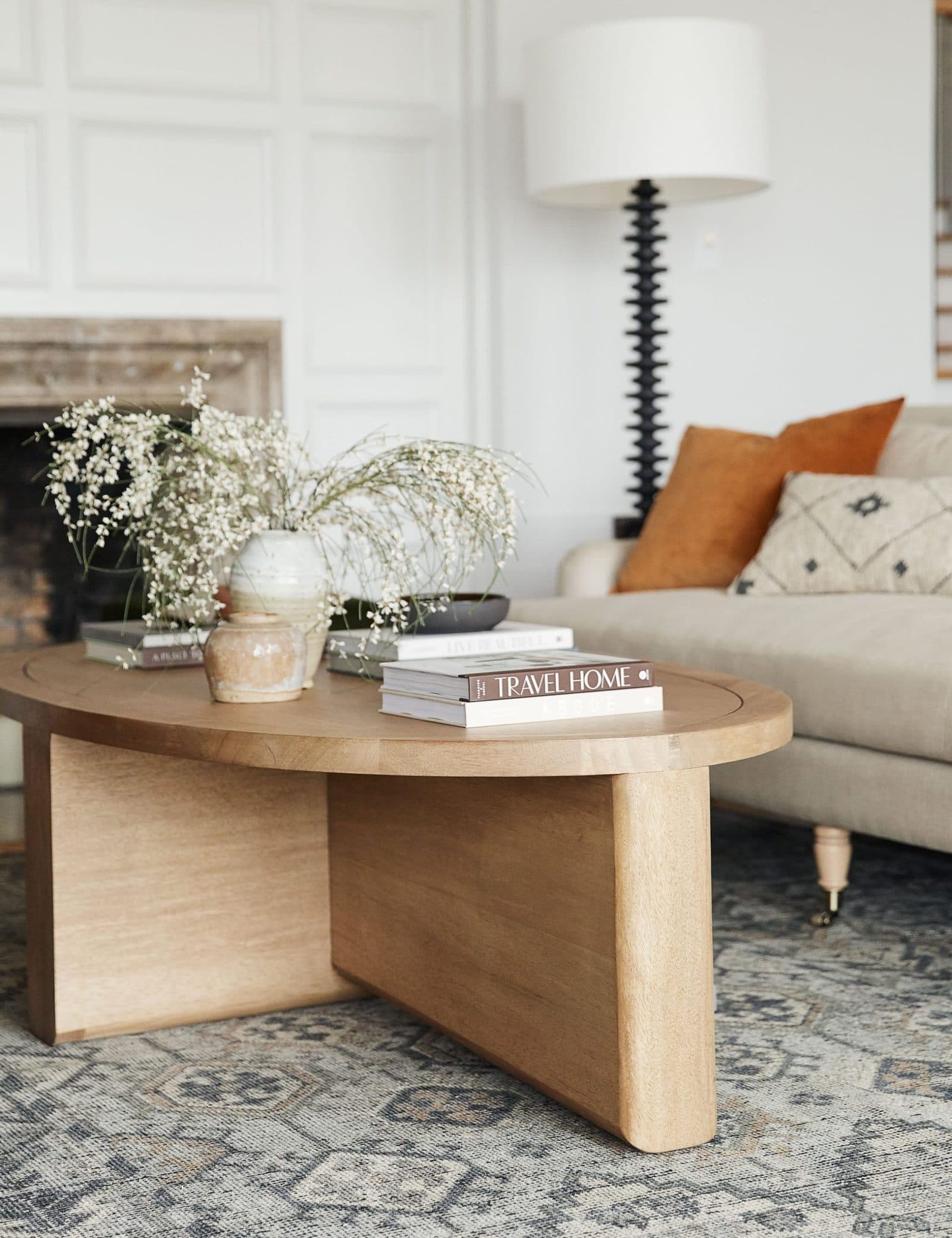 Natural materials like wood, wicker, rattan, and greenery are great for modern farmhouse design. For your coffee table, consider a high-quality wood option like this from Lulu and Georgia.
This table is walnut with an X style based and thick tabletop. It's the perfect blend of modern and traditional and looks stunning topped with farmhouse living room decor.
Get a Formal Look with Matching Neutral Armchairs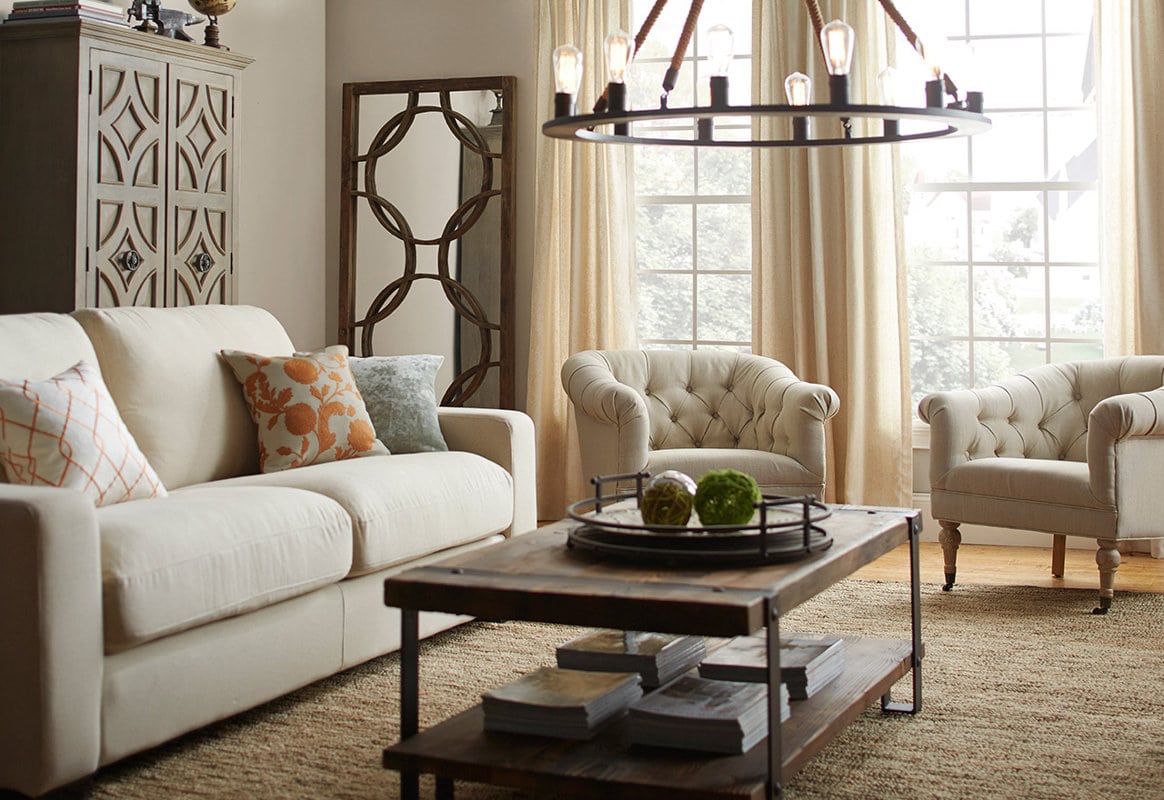 Modern farmhouse living rooms don't have to be casual. If you're looking to go formal but modern, try adding armchairs like these to your design.
The rolled arms and tufting on these chairs give off a very formal, polished look. However, since the material is neutral and casual, they still blend well with other types of farmhouse furniture.
Mix Materials for a Texturized Look
Farmhouse rooms have tons of texture. You'll often find linen or leather sofas, wood coffee tables, wicker baskets, and chunky blankets.
To get this look, avoid being too matchy in your furniture. Instead, get a woven ottoman to pair with your couch, choose mixed materials for your accent tables, and layer on the throw pillows and blankets.
Make Your Fireplace Pop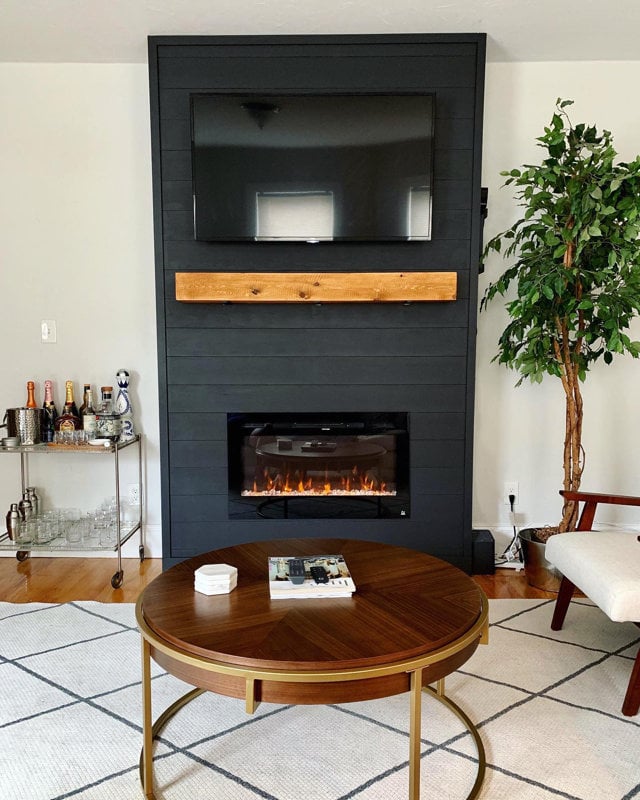 Do you have a fireplace in your living room? Make it the focal point by painting it dark and using a light wood mantel.
If you don't have a fireplace, you can easily create one. All you need to do is install an electric fireplace insert (as pictured), build a surround, and add a mantel. If your room doesn't already have a focal point, your new fireplace will take center stage.
Relax on a Comfy Bench Sofa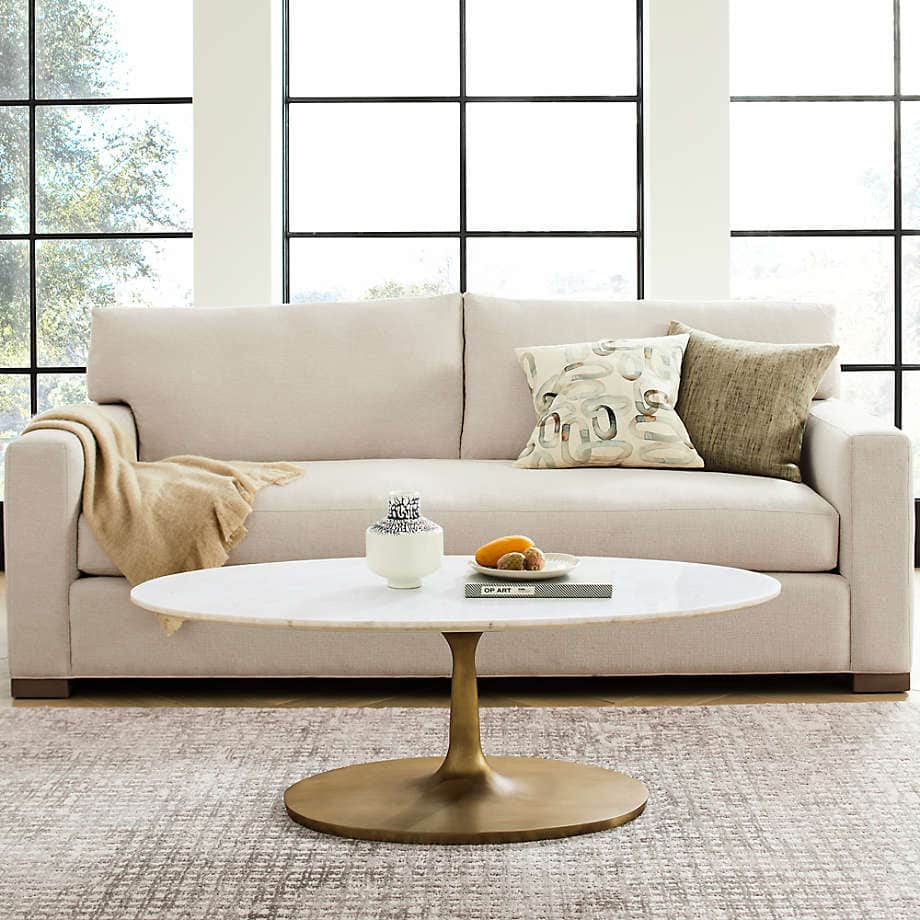 Modern farmhouse living room furniture has clean lines, like this bench sofa from Crate and Barrel.
If you're after a medium-sized sofa, this is a great fit. You can pair it with leather or wicker chairs for a casual look or use the tufted armchairs to go more formal. The sofa color pictured is "pearl," but there are more than 200 color options to choose from.
Try a Grey Modern Farmhouse Living Room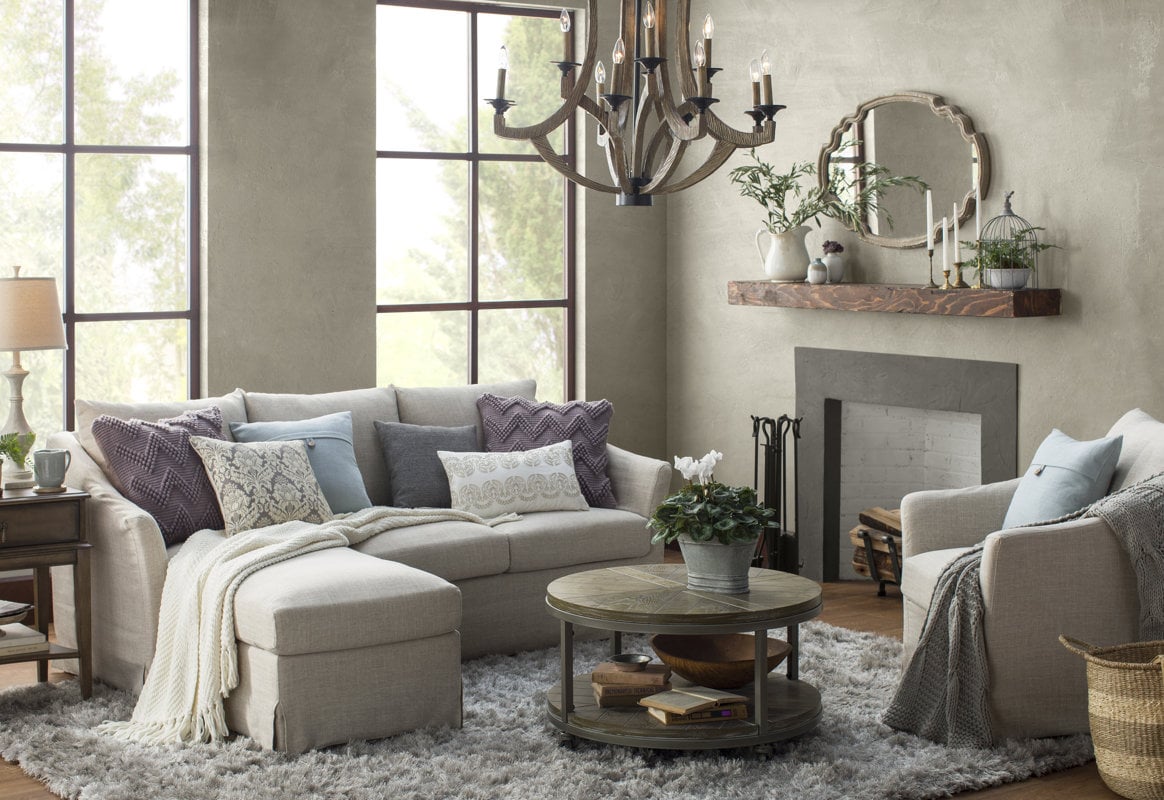 If you love grey color schemes, there are many ways you can go about one in your own space. However, if you lean more toward modern, try this. This room has textured paint on the wall that looks like concrete. It also features a gray couch, chair, and rug.
The wood pieces warm up the gray. So, if you're going to go gray, make sure you balance out the coolness with some warm details.
Equip a Large Living Room with a High-Quality Sectional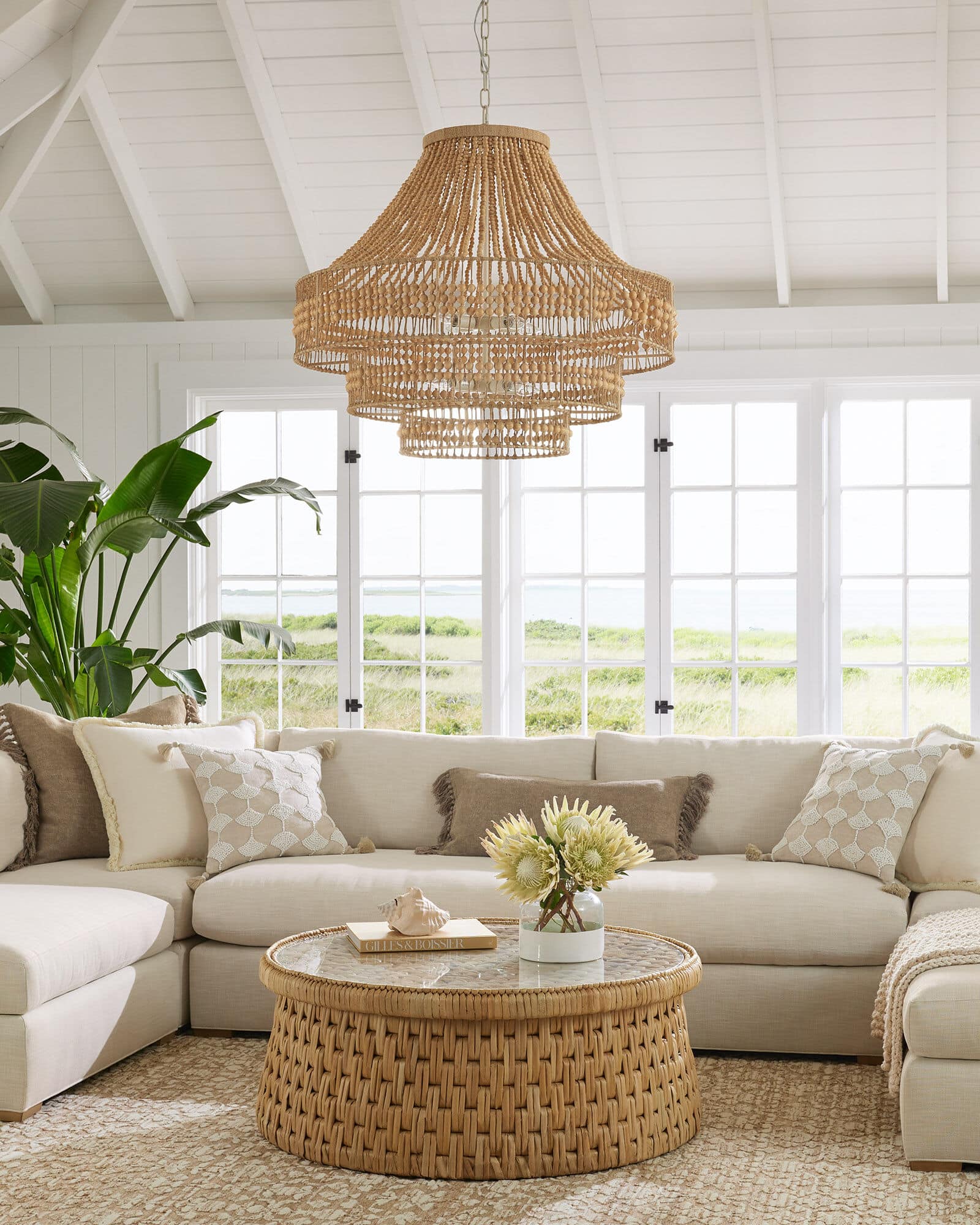 A large living room can look bare without the furniture of appropriate scale. So, if your living room is on the bigger side, consider a sectional like this.
From Serena & Lily, this sectional has a modern U-shape design. It's incredibly comfy with deep cushions that perfectly complement modern farmhouse design. Plus, it's stain-resistant – perfect for families with children and pets.
Don't Shy Away From Stripes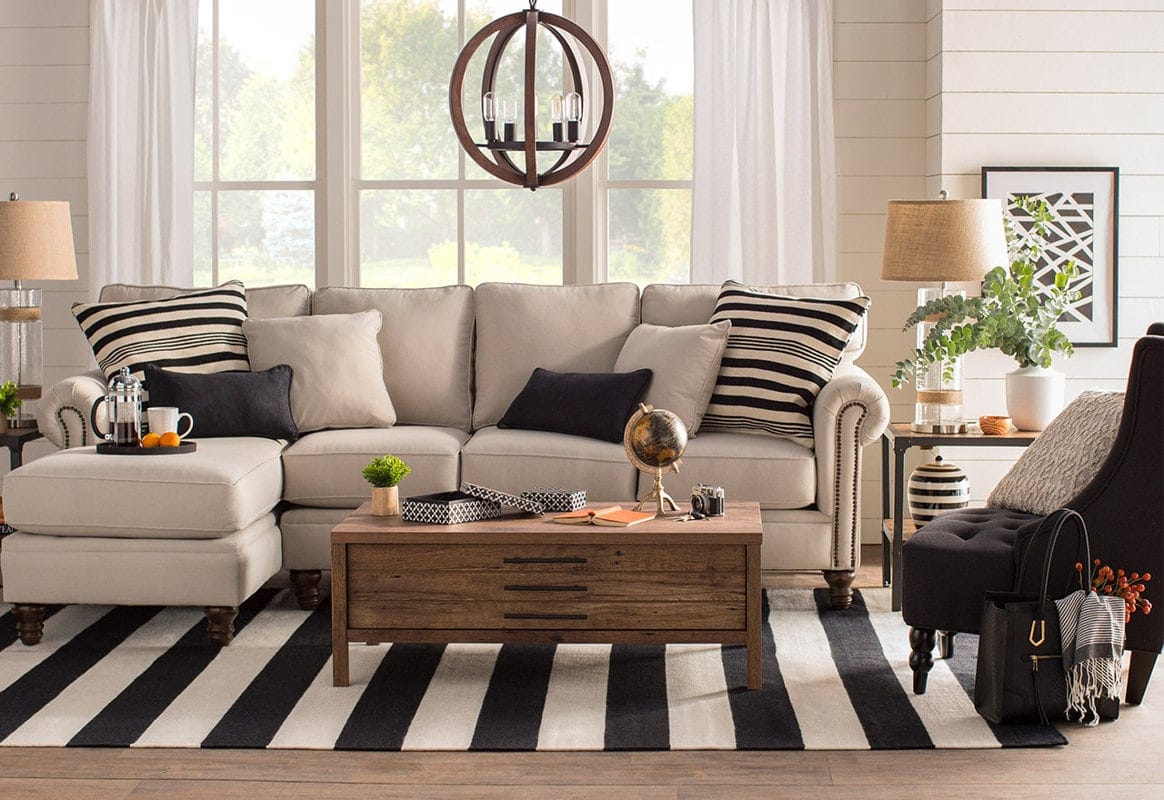 If there were two patterns that screamed farmhouse style, they'd be stripes and plaid. And for modern farmhouses, stripes are the clear winner.
Stripes are such a classic look that you can work them into your room without worrying about them going out of style. You can use them on your rug, throw pillows, and even your curtains.
Sprinkle in Some Woven Cane Furniture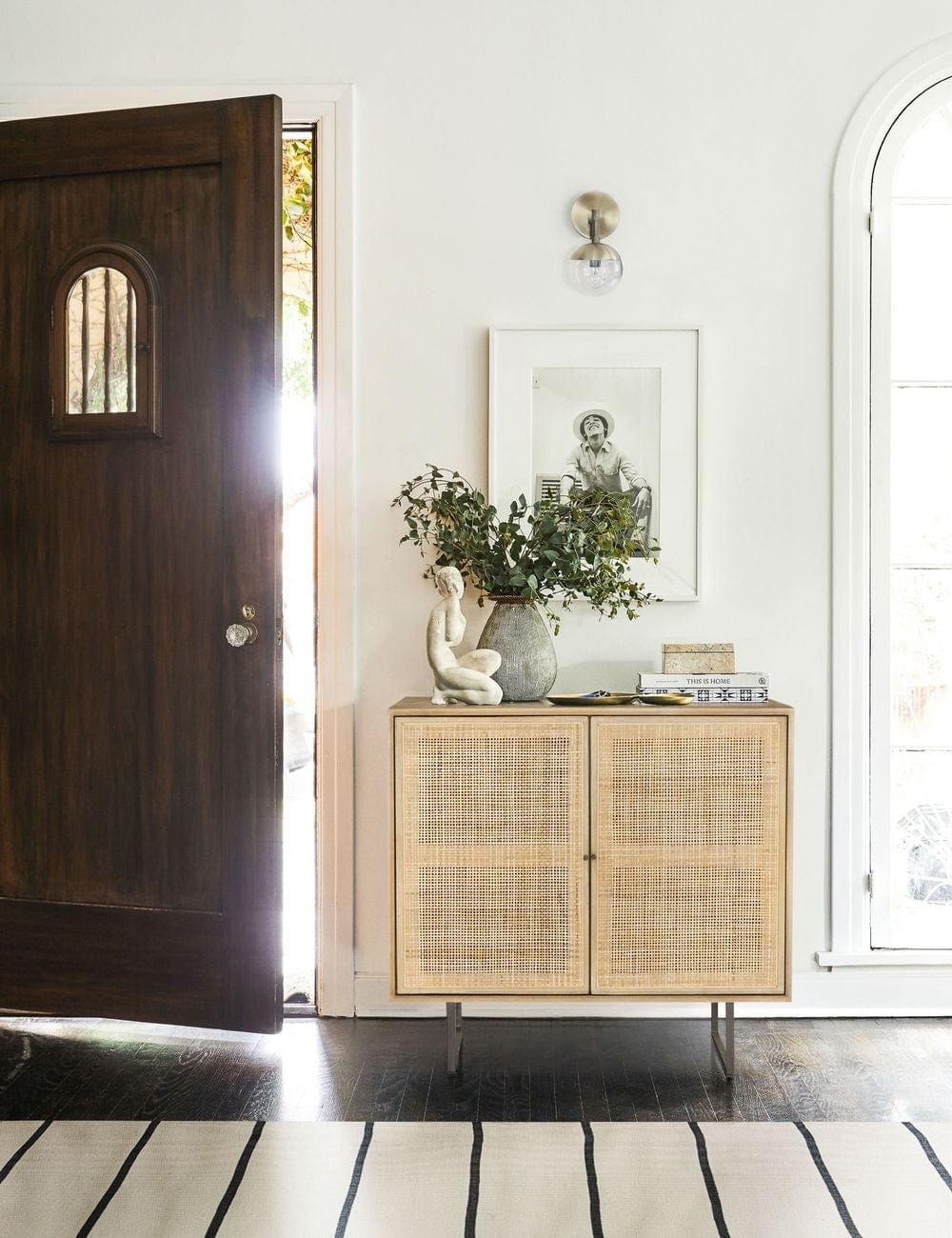 Woven cane furniture is an excellent addition to any room. It not only brings in texture but beauty as well.
This cabinet from Lulu and Georgia is ideal for filling up any empty space in your living room. It has a modern silhouette with clean lines and will look great with any color scheme.
Balance the Colors in the Room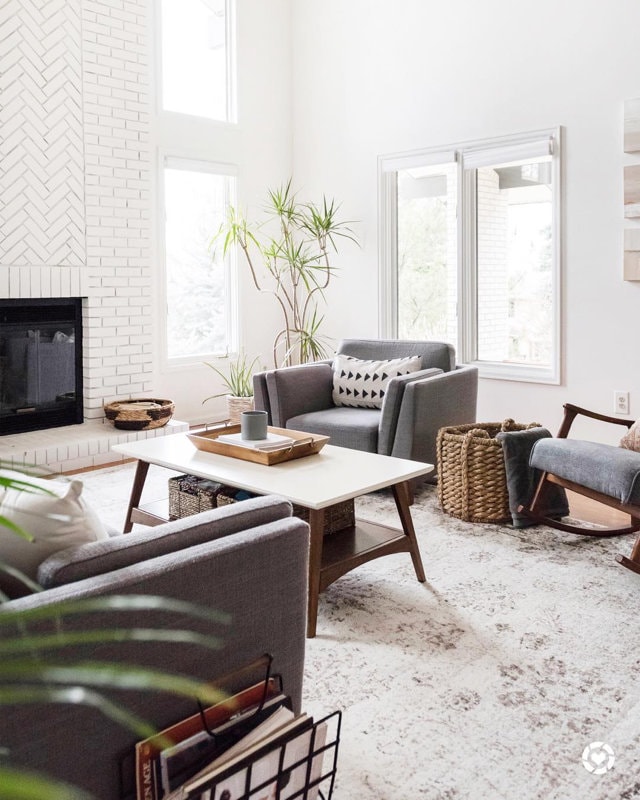 When decorating your living room, make sure to add both warm and cool colors. These tones help bring balance to a room.
So, if you have primarily cool gray furniture, add some warmth with wicker baskets and wood accents. These natural accents balance the room without clashing with the otherwise cool color scheme.
Pay Attention to Lighting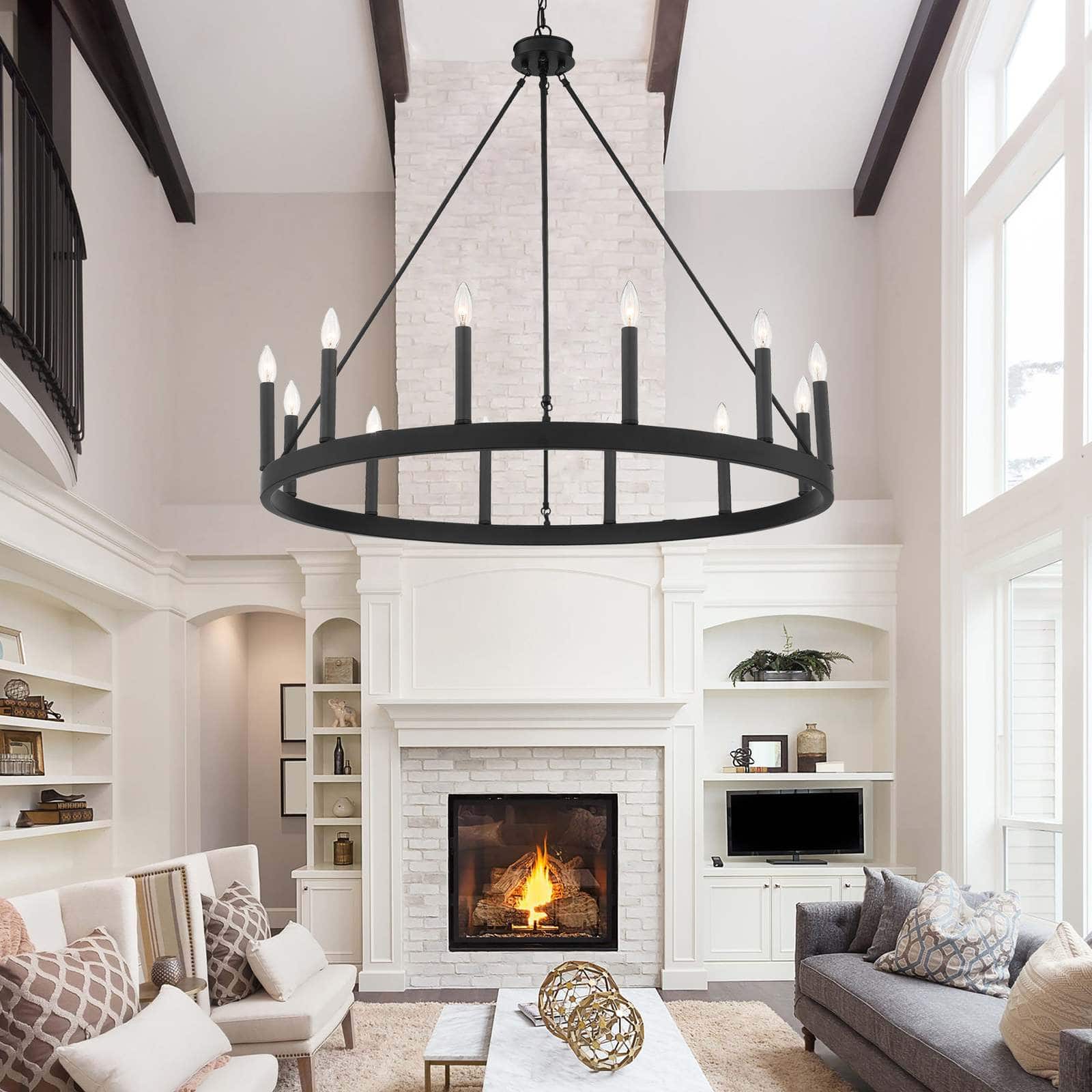 Good design is all in the details – and there's certainly no exception when it comes to lighting.
If you have tall ceilings or would like to make a statement, consider a wagon wheel chandelier like this. The shape of this light fixture and candle details are true to farmhouse style, while the black gives it a very modern feel.
Decorate with Chunky Candlesticks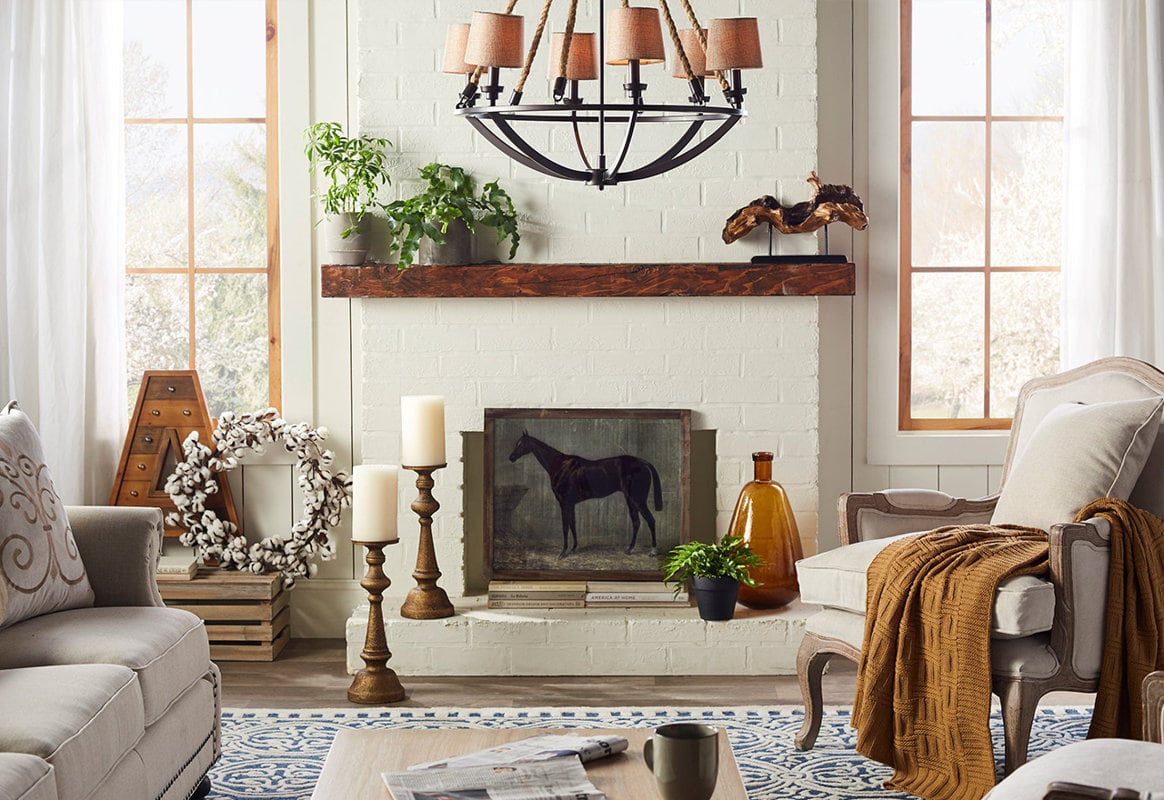 Need some small decor pieces to go on bookshelves and your mantel? You can't go wrong with chunky candlesticks.
You can use large candlesticks to decorate your hearth or mantel. You can use smaller versions to create a centerpiece on your coffee table or accent a console table. These mix in incredibly well with all types of farmhouse decor.
Warm up the Room with a Brown Leather Sofa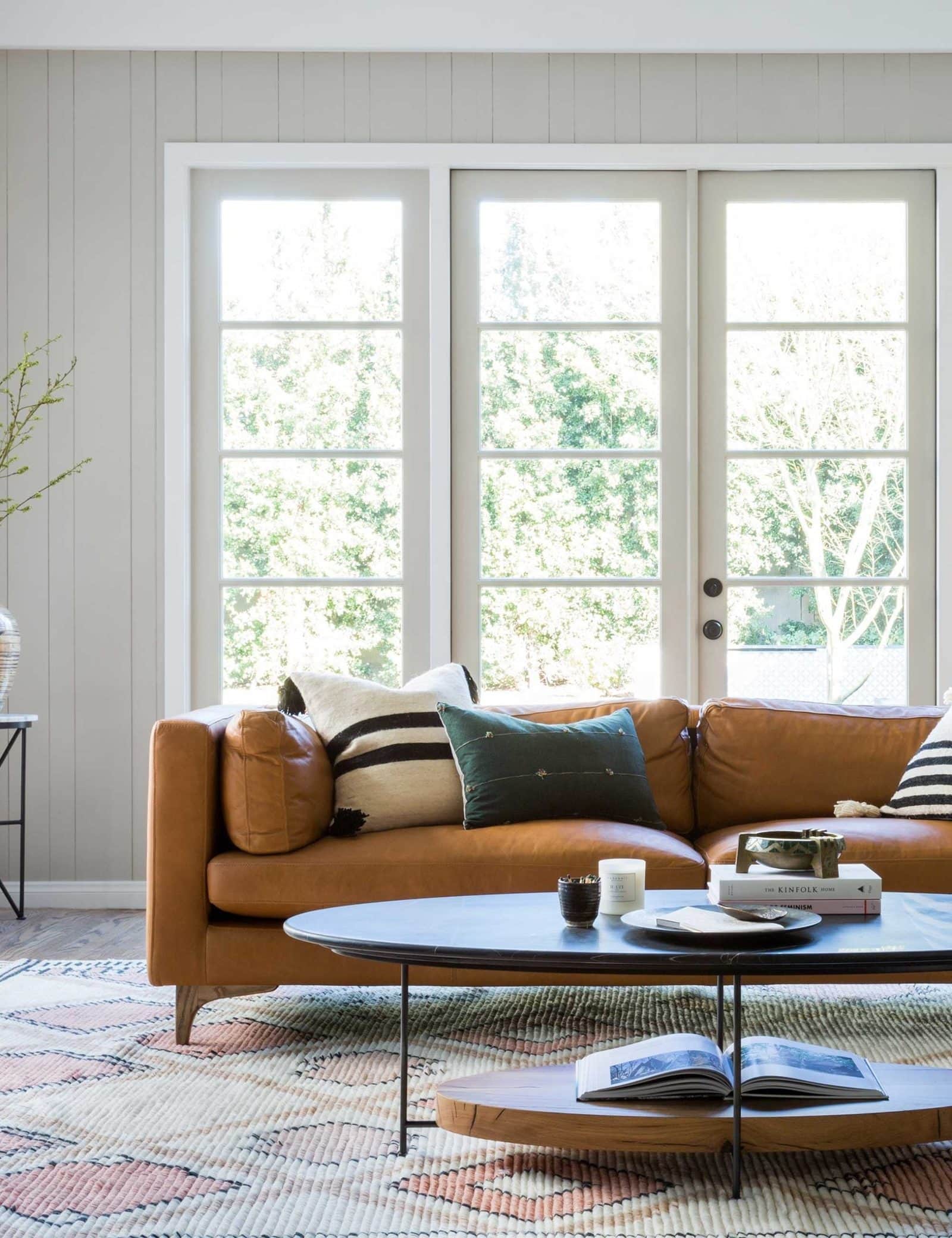 If you're after a warm farmhouse living room, a brown leather sofa is a great starting point. You can complement the sofa with wood or cane accent chairs.
Other ideas include a cream or jute area rug and wood coffee tables. However, don't forget to bring in some cooler items as well. To have a well-rounded room, you must balance out the warmth (at least a little).
Keep a Light and Bright Color Scheme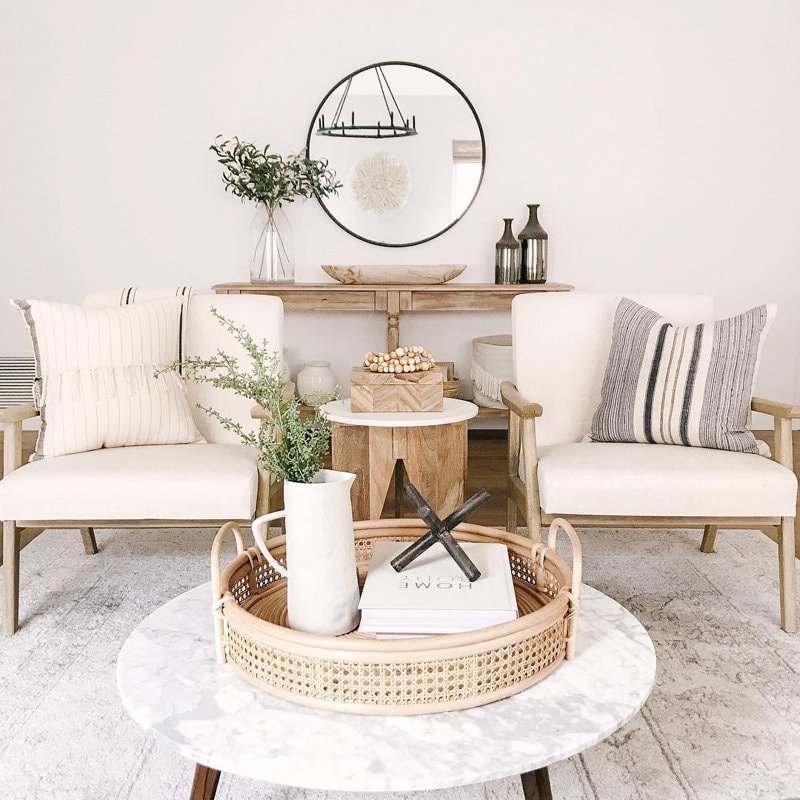 If you prefer neutrals primarily, the modern farmhouse look is perfect for you. You can create a stunning and bright room using creams, whites, and wood accents.
To get this look, choose neutrals for your large pieces of furniture like your sofa and accent chairs. Then anchor the room with a light rug and add white throw pillows, vases, and wood accent tables.
Consider Matching Accent Tables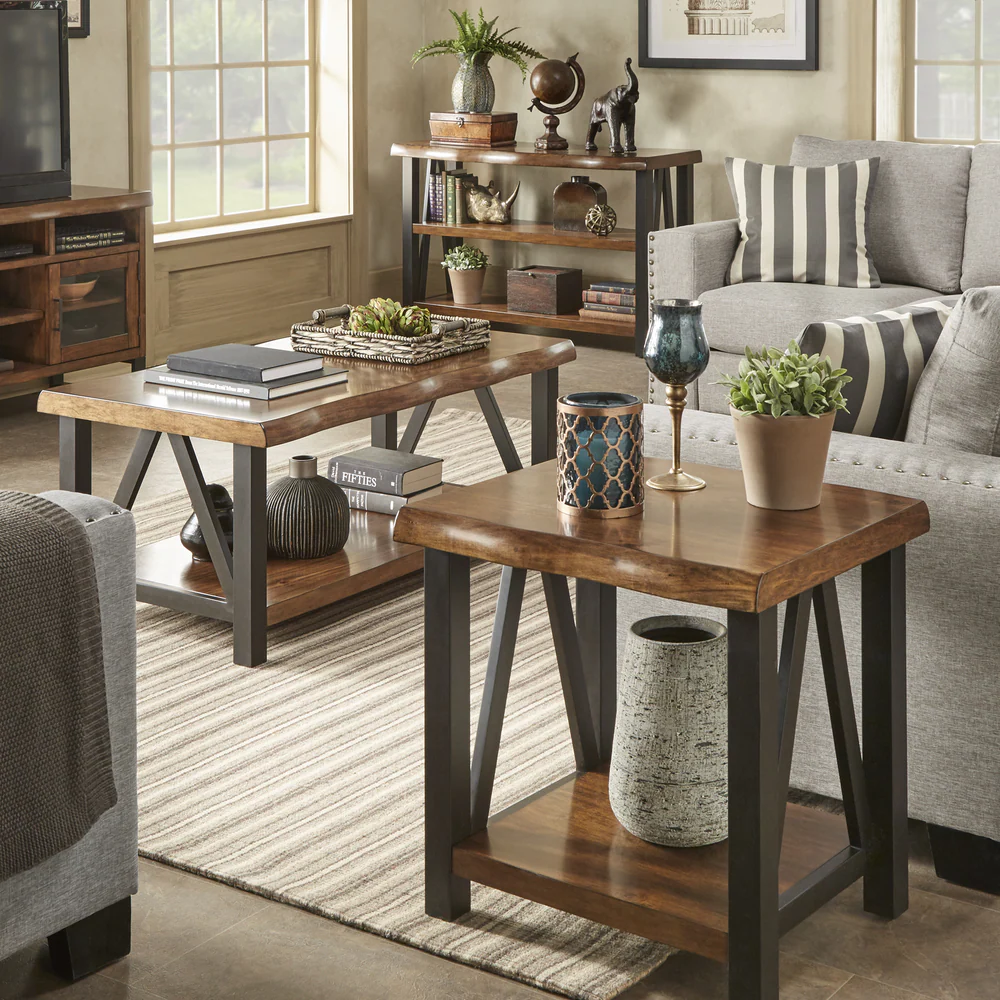 You don't have to match your accent tables for modern farmhouse – or any room, for that matter. But if you like that streamlined matching look, these tables are a great option.
From Overstock, these tables have metal legs with a wood top, which helps add texture to the room. The tabletop has a live edge, giving it a rustic feel. You can find these in different sizes, including end and coffee table sizes.
Layer in the Textiles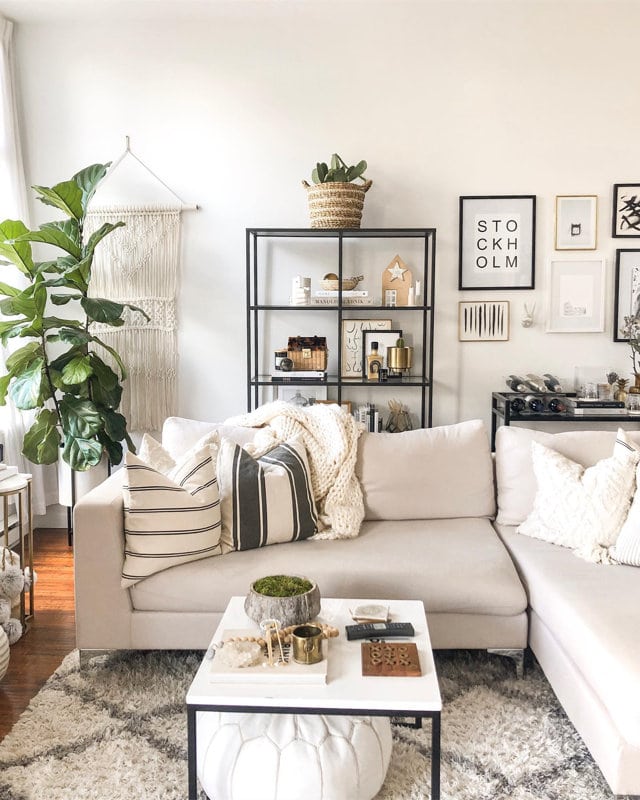 Throw blankets and pillows are great additions to any living room. But if you're going for a casual modern farmhouse style, the more, the merrier.
Consider pairing your sofa with at least a couple of different throw pillows. Then bring in some chunky knit blankets for a cozy, casual look. And don't try to match everything – a collected look works best.
Swap Out Your Coffee Table for a Fringed Ottoman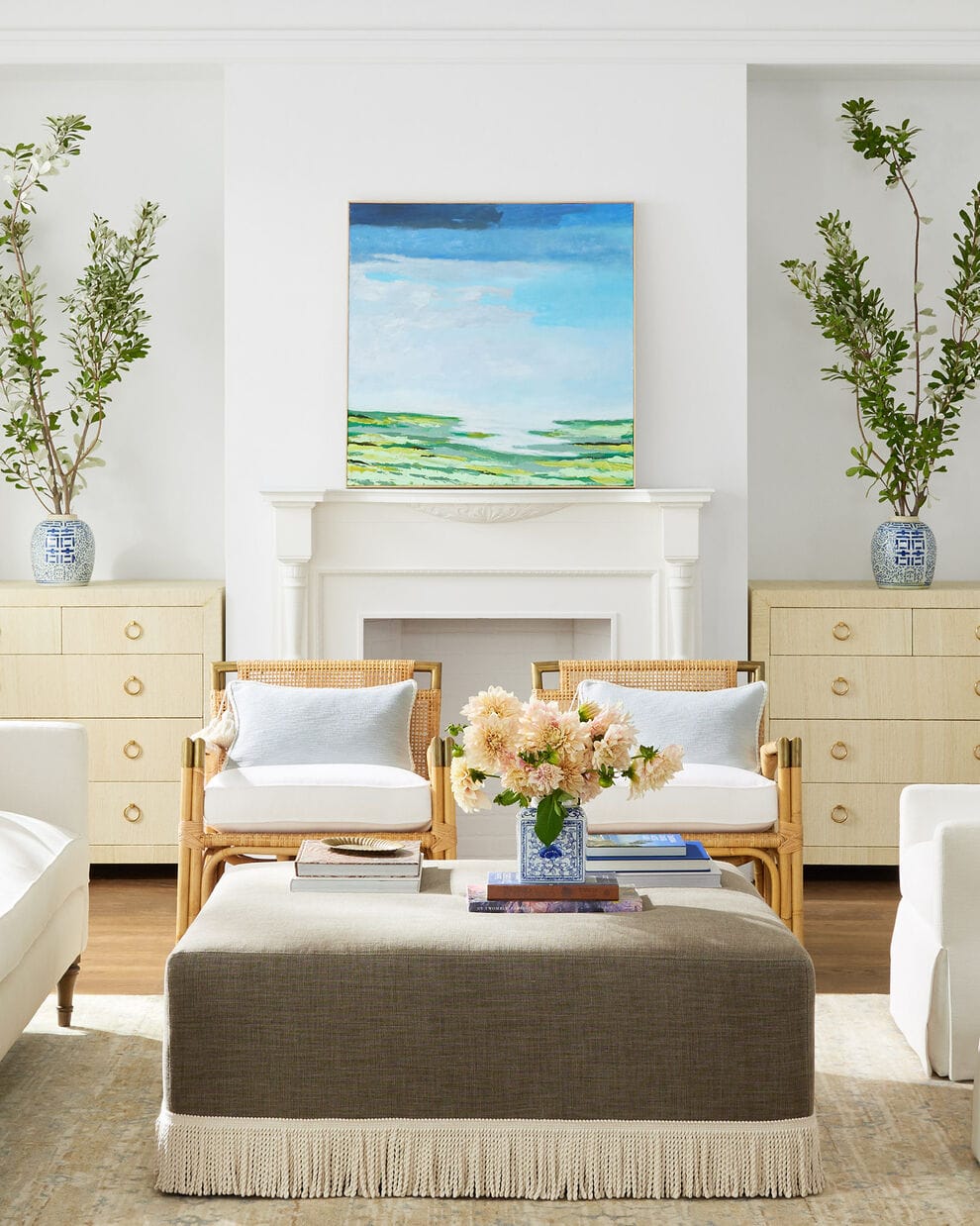 If you want something unique in the living room, consider swapping your coffee table for a modern ottoman.
This brown linen ottoman from Serena & Lily has a modern silhouette and fun detailing. It's a 48-inch square, perfect for use as a large coffee table. This ottoman is also well suited if you have small kids and worry about them running into the corner of a hard wooden table.
Freshen the Room with Greenery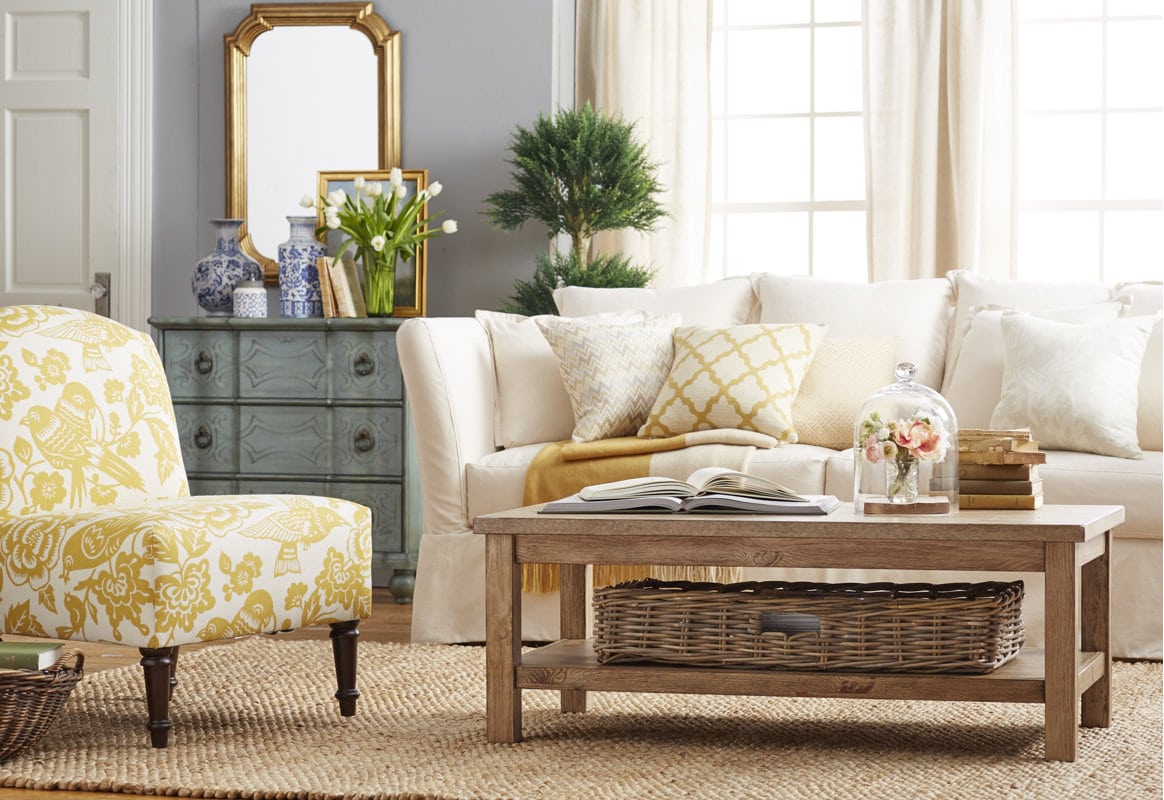 Are you looking for a budget-friendly way to liven your living room? Add greenery or a bouquet.
Some great options for farmhouse living rooms are tulips, daisies, and hydrangeas. (Although, feel free to use whatever is in season.) If you aren't great at keeping fresh flowers or plants alive, invest in real-looking faux versions.
Throw a Textured Blanket on the Couch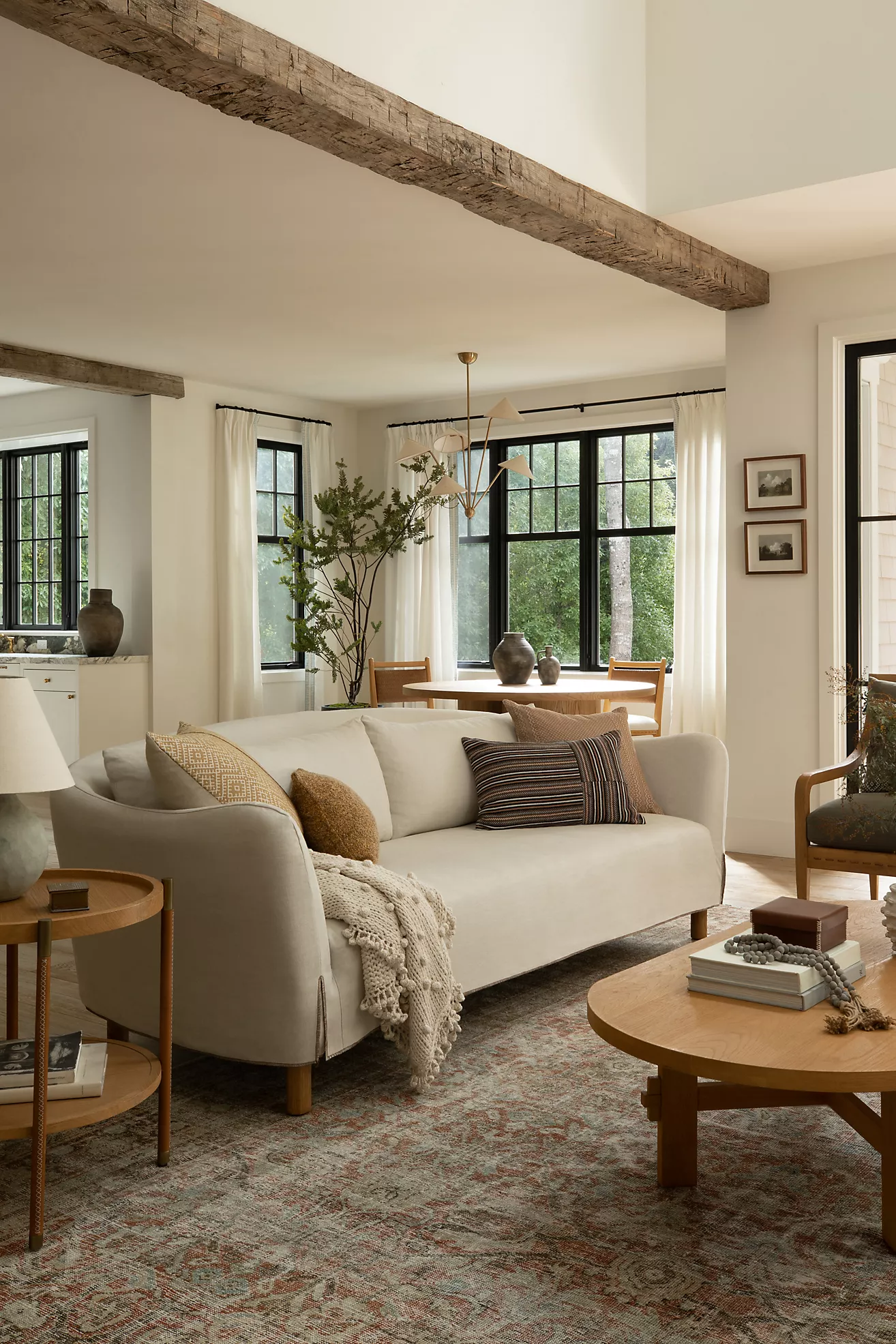 When it comes to farmhouse throw blankets, texture is the name of the game.
You can find this beautiful throw from Anthropologie. It is a knit weave with ball detailing in a lovely neutral shade. And even though it's brand new, it has a cozy, worn look to it. You can toss this over your sofa or chair as an easy way to add texture to the room.
Choose a Couch with a Clean Silhouette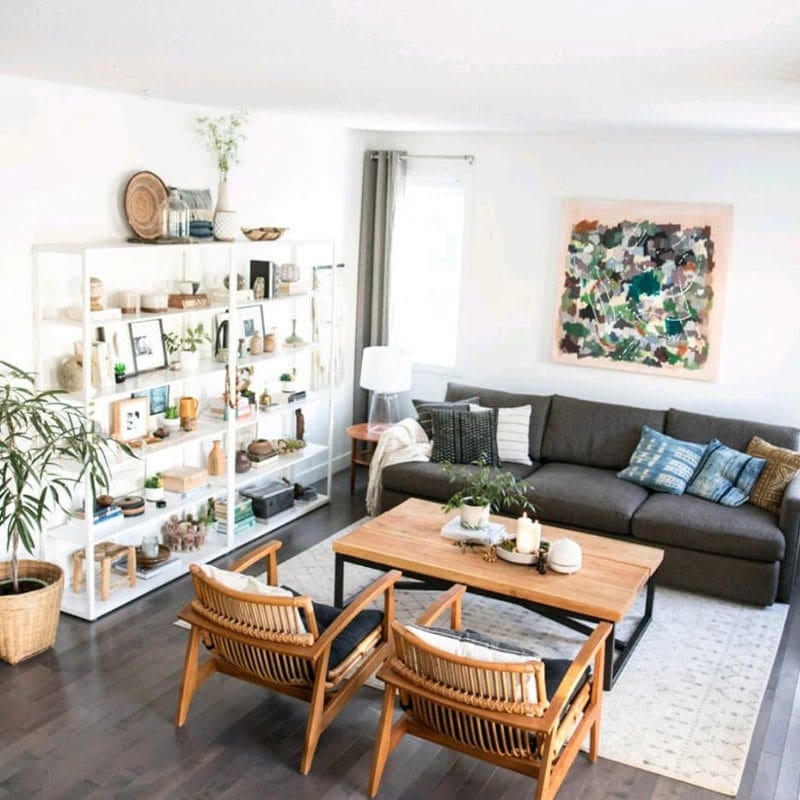 One of the biggest differences between traditional farmhouse and modern farmhouse style is the furniture. For modern farmhouse, you'll mostly find couches with clean lines, like this one from Wayfair.
Pairing a modern sofa like this with warm wood accents, wicker, and a farmhouse rug creates a beautiful space fit for relaxing.
Replace Your Side Table with this Floor Lamp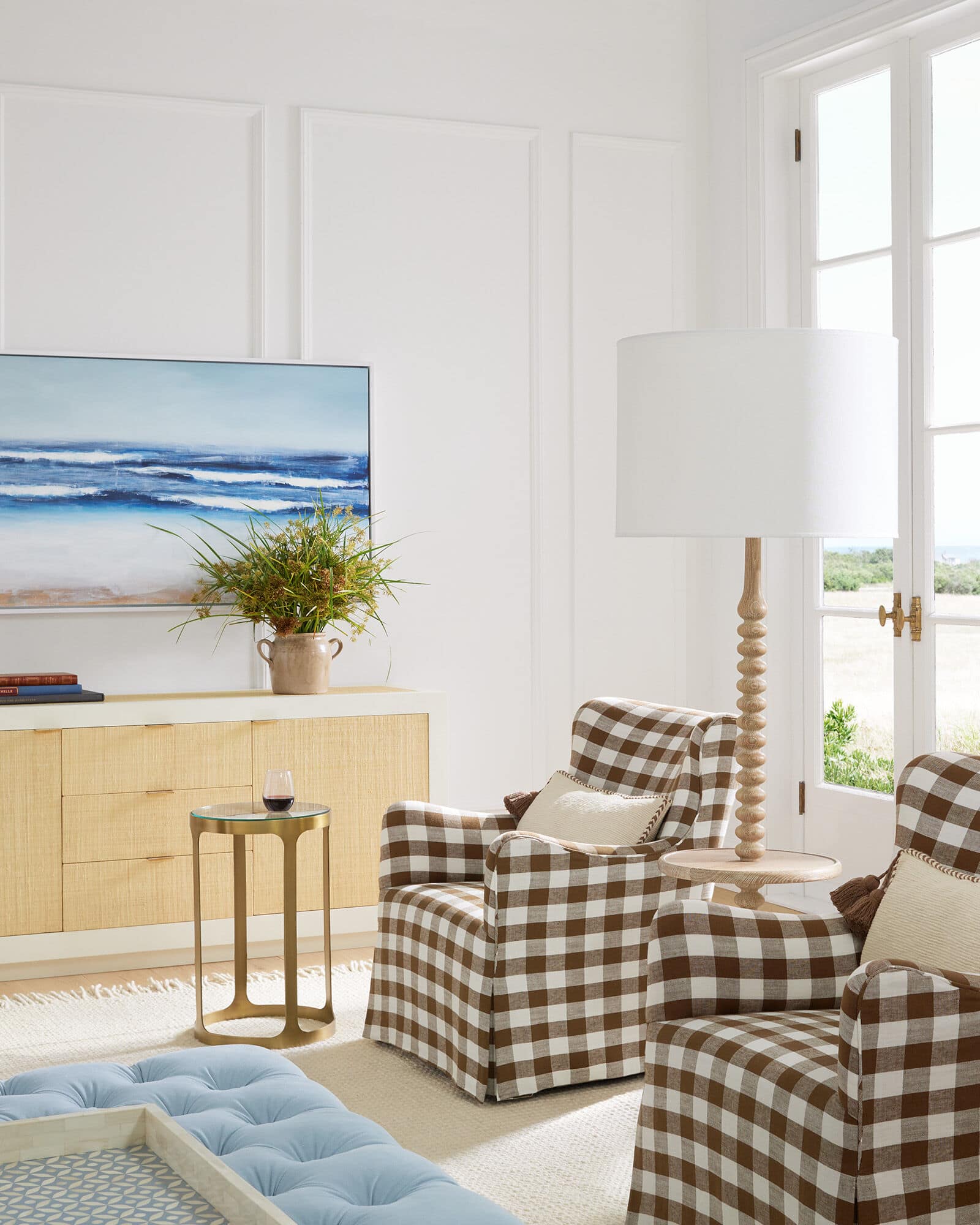 If you want to go above and beyond traditional furniture, bring in this lamp and use it as a table between your accent chairs.
From Serena and Lily, this floor lamp has a small ledge at standard table height. It's a traditional bobbin style with a white shade for a crisp yet classic look. You can get in a cerused oak or white base.
Go for a Modern TV Stand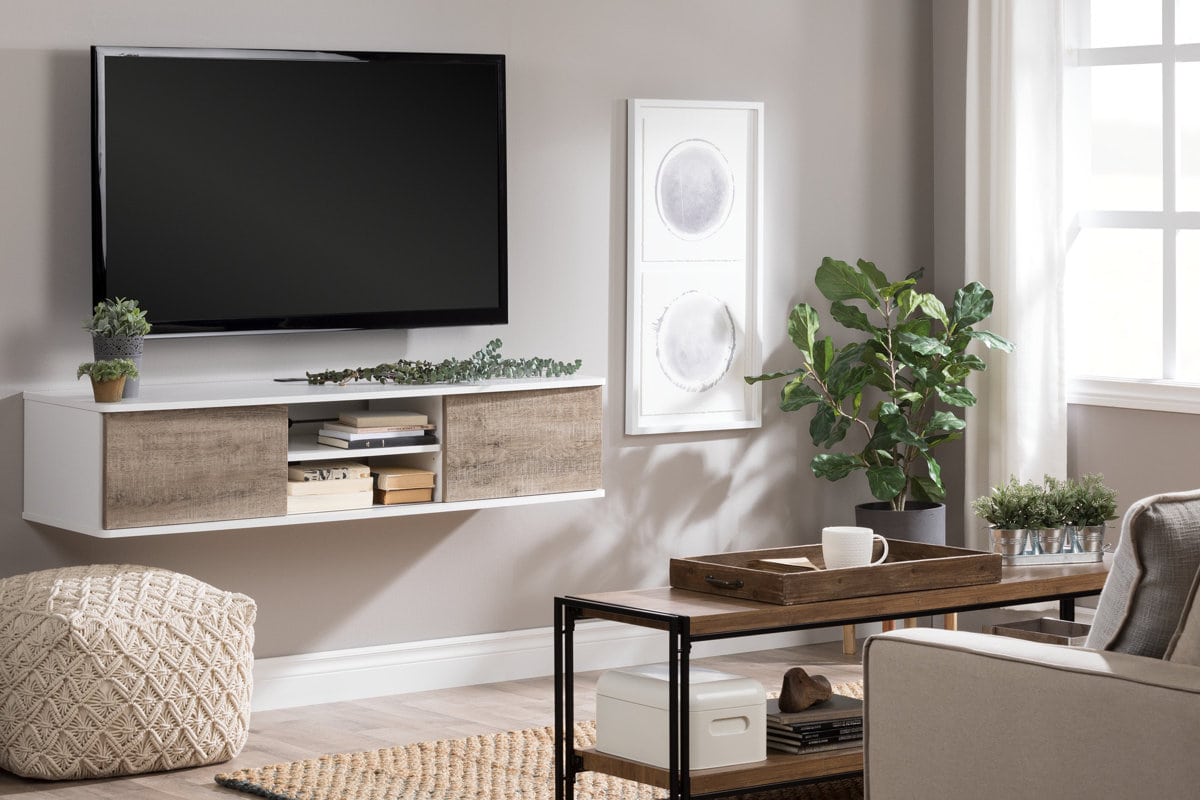 If you're in the market for a new tv stand, forget the regular models and go for this floating white and wood version. It's an excellent choice for small living rooms that need a cozy but modern feel.
You can fit a tv up to 65 inches over the top of this. It features a white shell with weathered oak doors and comes in several other color choices.
Dress Your Windows in Floor Length Curtains
For modern farmhouse, floor-length neutral curtains are always a safe bet. If you want something neutral but not solid, this is a great option.
These woven curtains are from Anthropologie. They are white with a creamy tan accent down the middle. Since these are neutral, you can use them with any color scheme.
Don't Be Afraid to Layer Your Decor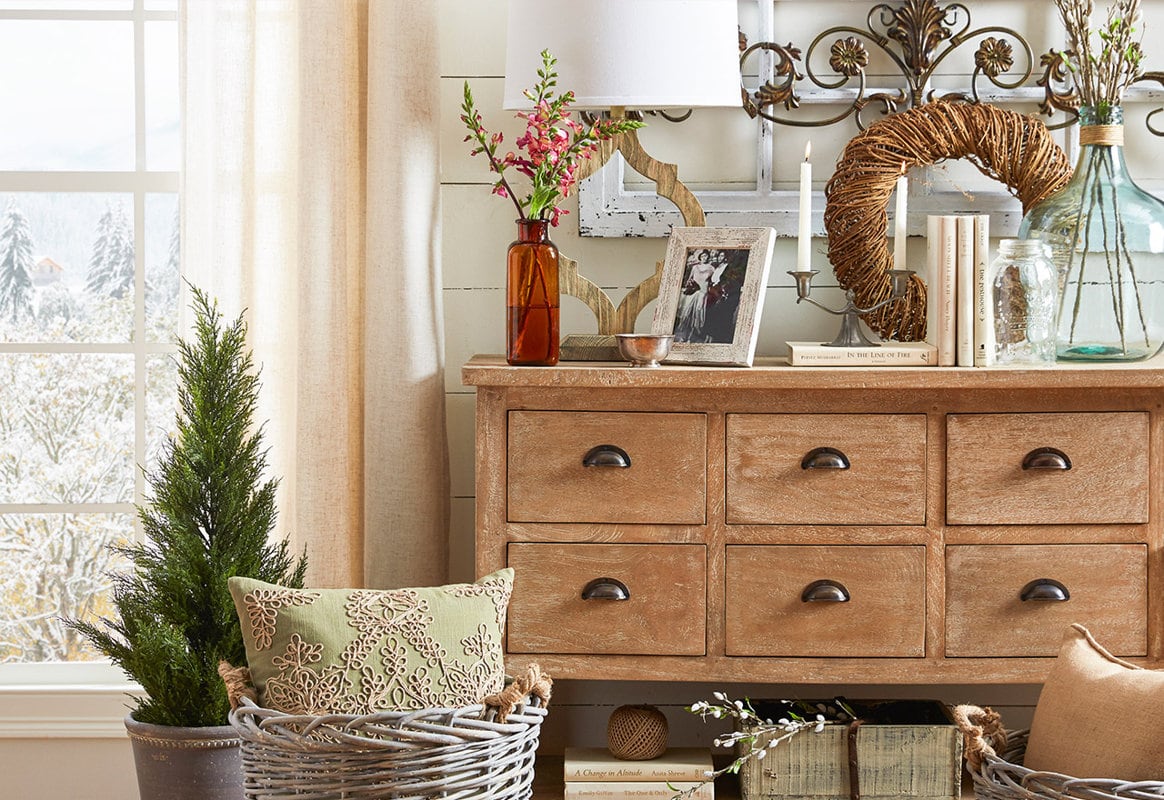 One of the best things about farmhouse style is that you can keep it simple and minimal or go all out and layer a bunch of decor.
If you prefer the latter, consider styling your console table like this. Gather all of your favorite pieces and work them together. Be sure to use decor items that have different textures.
Accent Your Room with a Nature-Inspired Coffee Table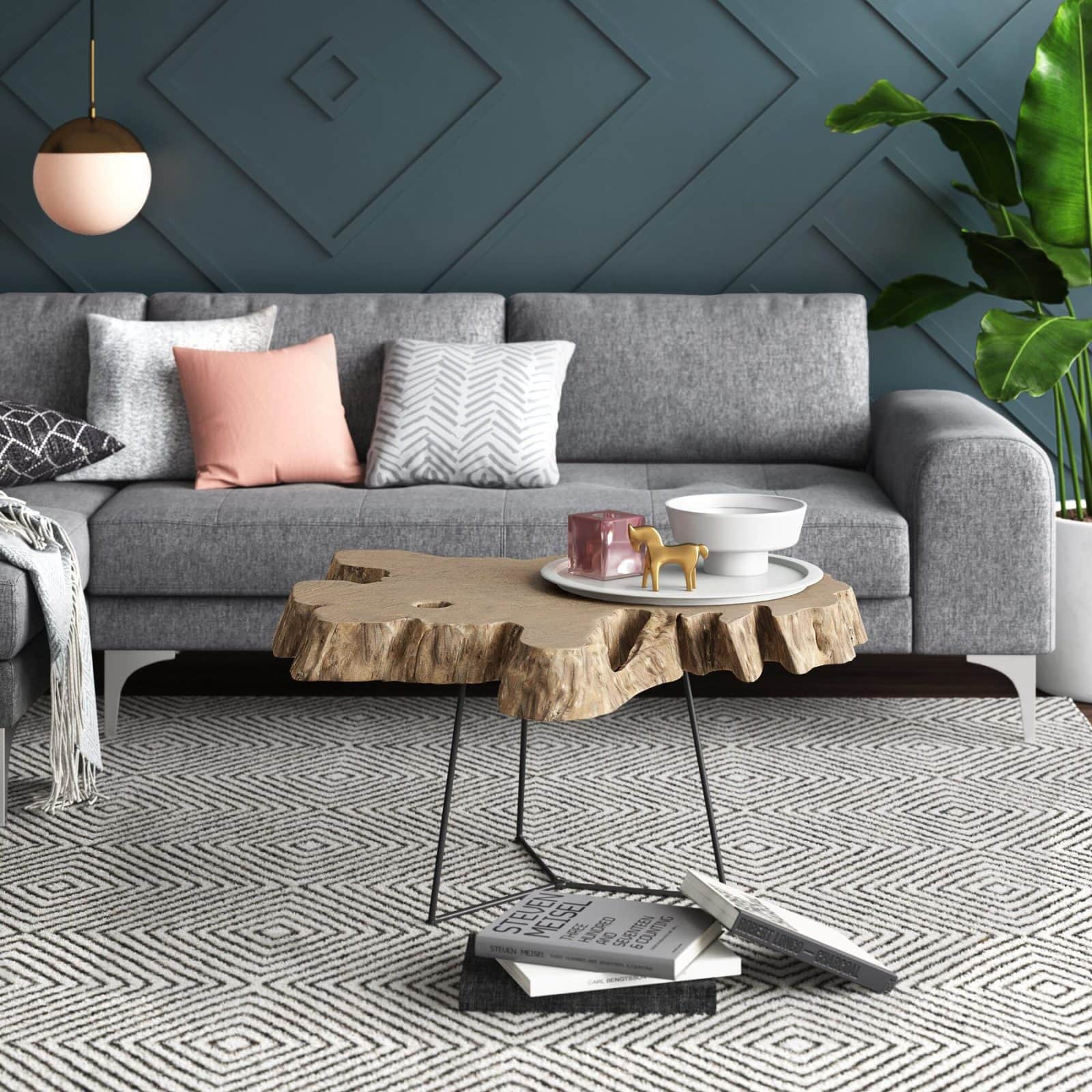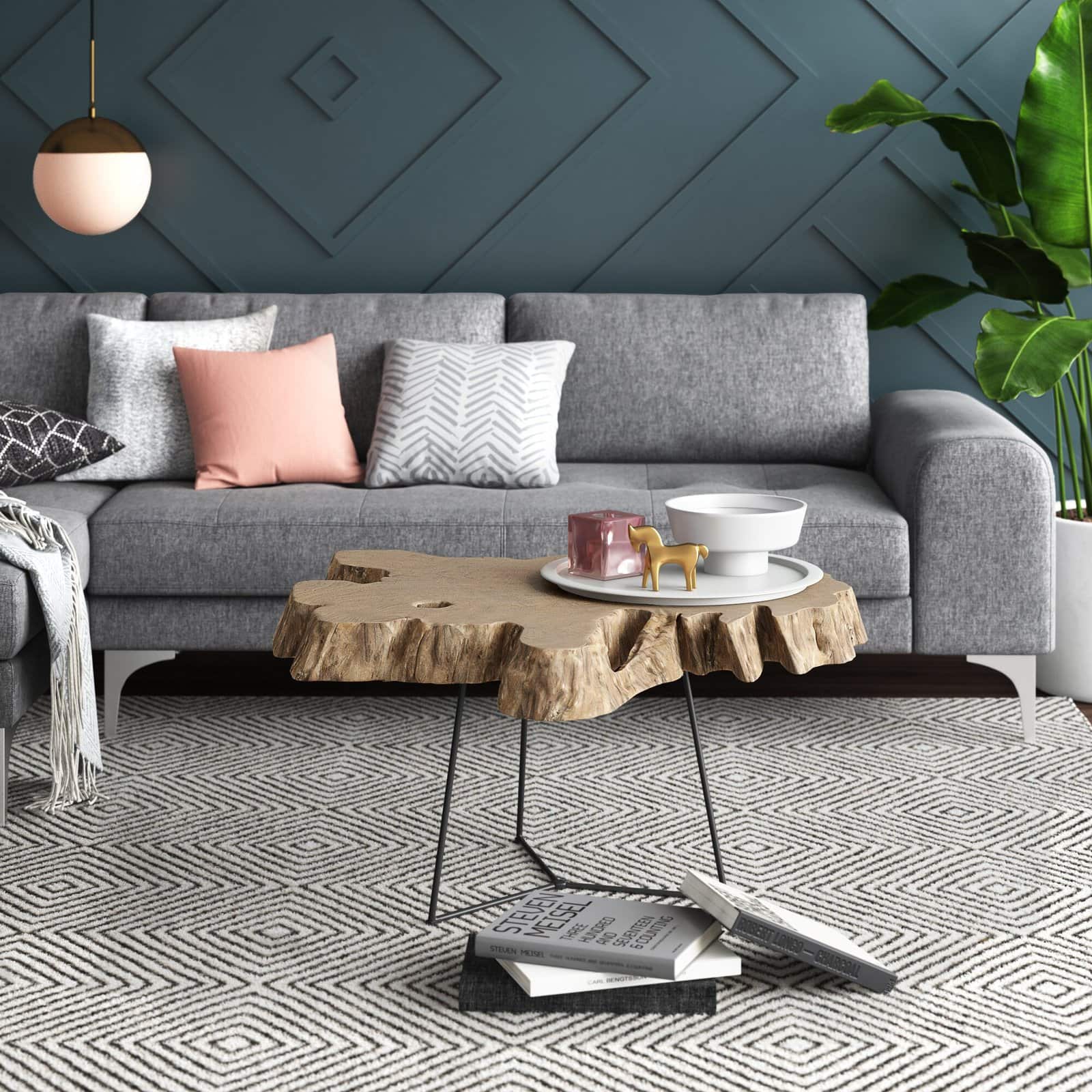 If your room is pulling a bit too modern, add some rustic to the mix with a nature-inspired coffee table like this.
From Wayfair, this natural wood coffee table draws its inspiration from trees. While the top is ultra rustic, the black metal legs are modern. This will not only beautifully accent your room, but it's a great conversation piece.
Use Blue and White for a Light and Airy Look
Blue and white are always a great color combo. But if you're going for a light and airy look, skip the navy and go for light blue.
An easy idea is to paint your walls white and bring some blue through your furniture and artwork. Then, accent the room with some warm wood pieces to bring balance.
Final Thoughts
If you're designing a modern farmhouse living room, there are many directions you can go. The most common elements you'll find in these rooms are sofas with clean lines, lots of neutrals, and wood accents.
Bring in rolled arm accent chairs if you want your room to look more formal. On the other hand, if you like a casual look, load your couch with throw blankets and bring in wood or woven cane accent pieces.