Decorated Life is reader-supported. When you buy through links on our site, we may earn an affiliate commission. Learn More
20 Useful Ways to Store and Organize Your Blankets
Winters are right around the corner. And since the temperatures outside are dropping day by day, it's time to bring all those fluffy and cozy blankets outside. Layering is always fun, right? And especially when it's that time of the year – there is no phrase such as "too many" blankets. Whether it's your bedroom or the living room, blankets have become a necessity in every corner of your home.
However, storing and organizing these blankets can be quite a tedious task. So, all you have to do is think outside the box! Analyze how often you need the blankets and store them based on accessibility and function. Don't worry! Here's a list of 20 creative ways to store blankets, creatively and efficiently.
Make Use of Baskets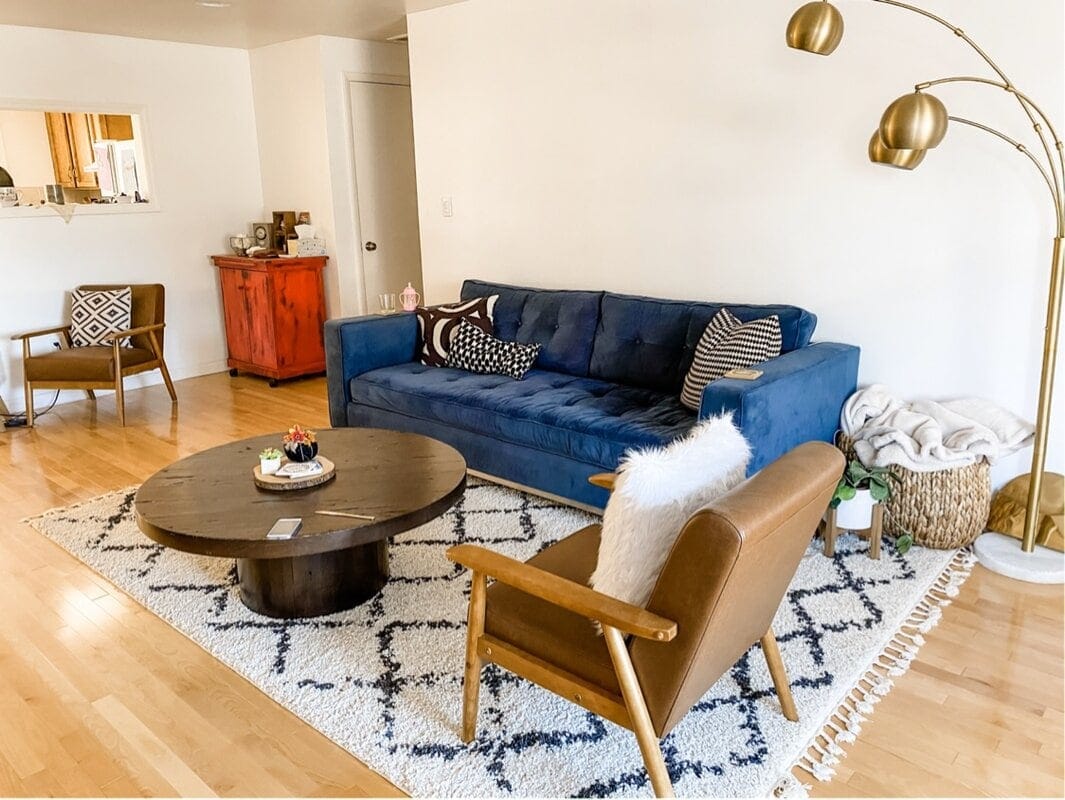 This is one of the best ways to store blankets and comforters. Depending upon your color palette and style, you can place a seagrass or rattan basket that adds a textural detail into the room. And with the baskets, it's simply very easy to clean up the living room after binge-watching the television.
Just ensure to place it on the corner of your couch for its trendy and eye-catchy appearance. Baskets can also be classified as 'cute' home decor accents!
Fold Blanket Over the Couch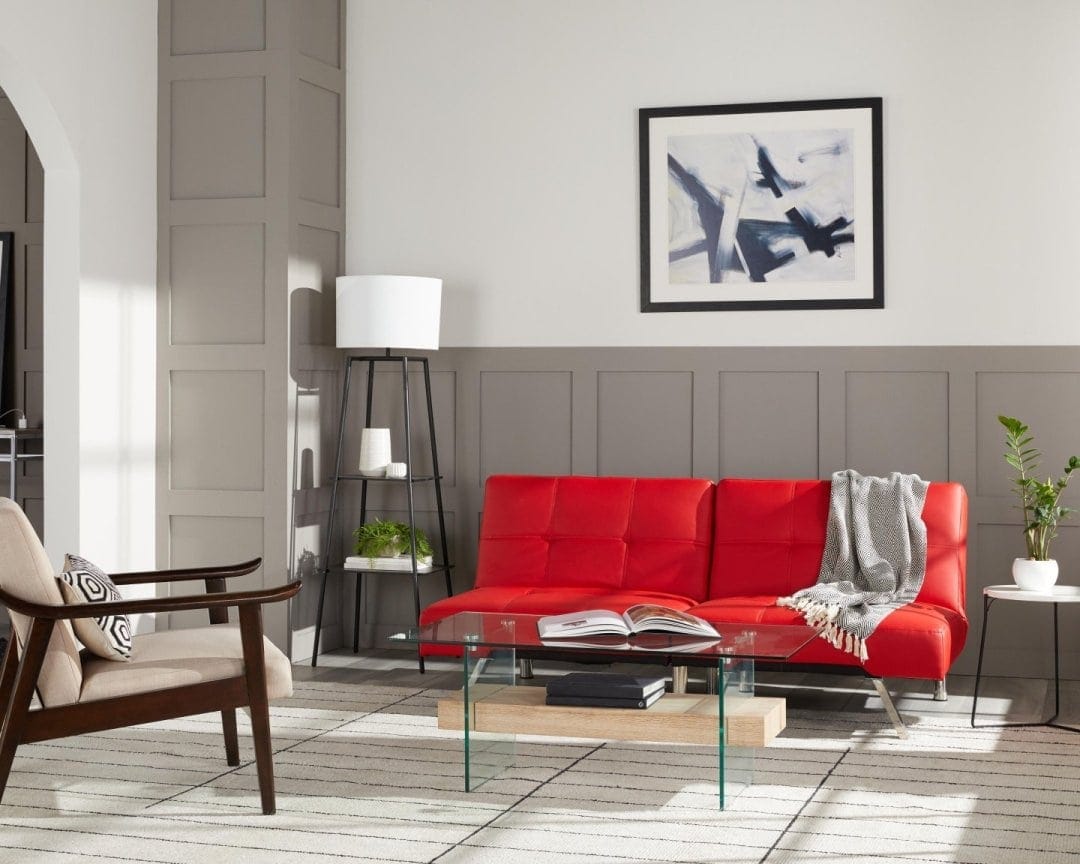 It's not always necessary to store the blankets in pouches and baskets. Sometimes, you can playfully style and fold them around the couch backrest to further create a cozy and welcoming appeal.
This way, you don't have to store them after every time you use them. Just flaunt off the tassels and every detail on your blanket and let it add a sense of importance to your room.
Use a Storage Ottoman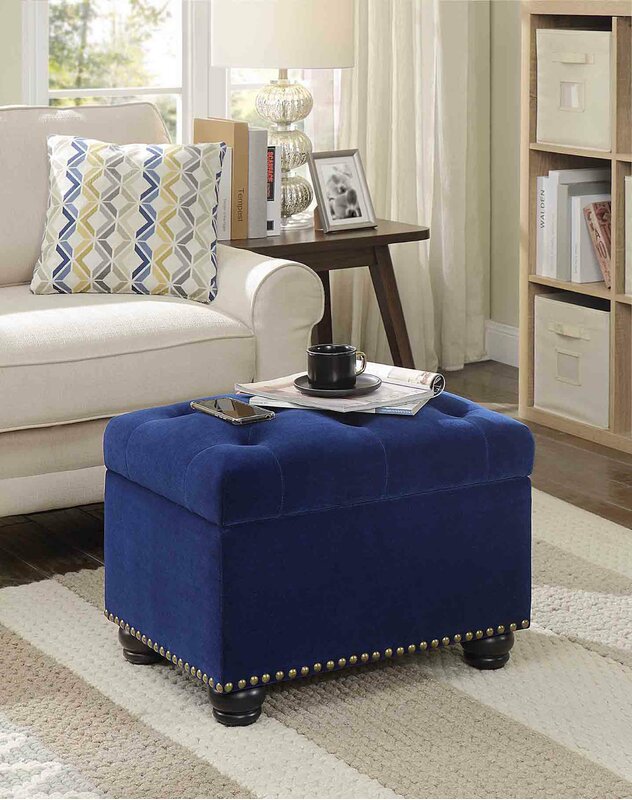 Wondering where to store blankets? Well, the ottoman in your living room is the absolute answer. It's a perfect place to put your extra blankets and pillows – and at the same time, hide them away!
So, this ottoman plays a multi-functional role! Apart from storing the blankets, you can simply use them as a form of extra seating in the living room when you have a larger gathering!
Style with Swivel Hanging Rack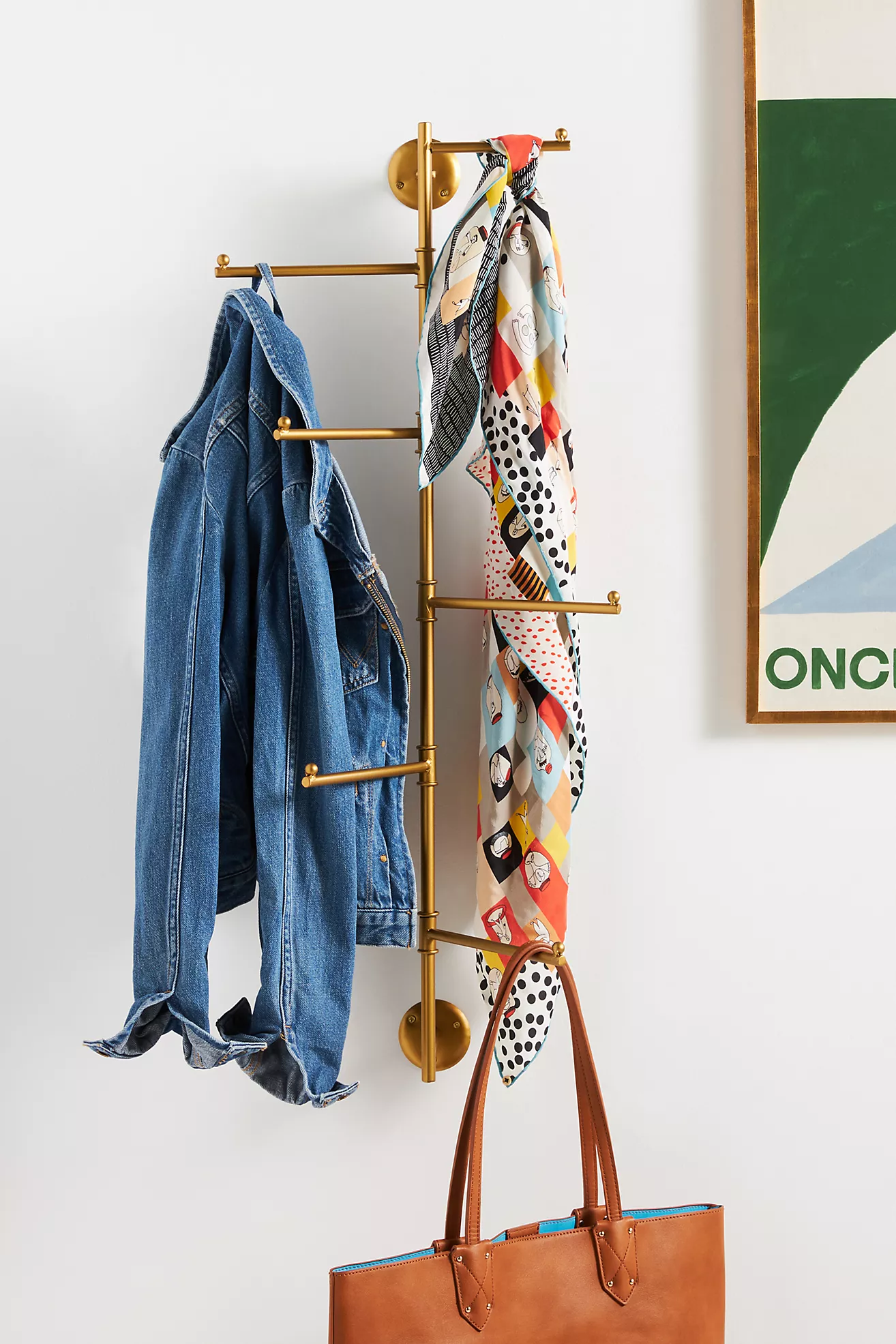 This organizational piece of decor offers a great space-saving solution to modern-day homes. Whether it's a coat, hat, handbag, towel, or a blanket – this hanging rack proves to be quite a creative and cute way to style blankets.
However, keep in mind that this is only applicable for smaller throw blankets that probably have a feather and faux on them. Yes! Add a cozy visually-appealing look to your living room and bedroom.
Utilize the Bookcase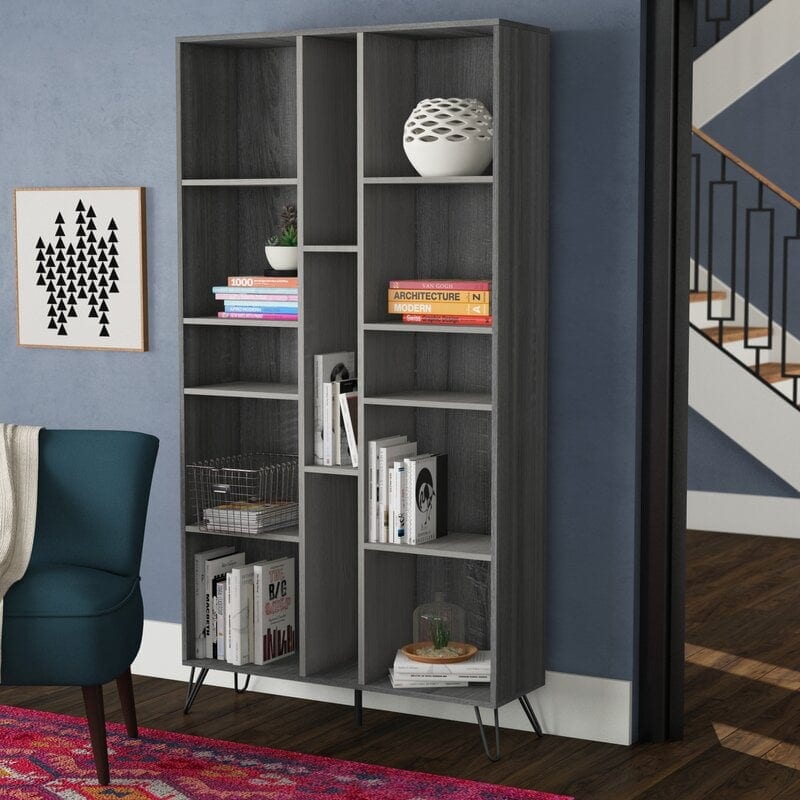 Do you have an in-built library or bookshelf in your living room? Well, why not make use of the shelves to further define the purpose of storing your extra blankets. Whether you plan to use a wire or rattan basket, this is a cute way to store blankets in the most creative ways.
Along with the books and blankets, you can further style some centerpieces and showpieces along with other decorative accents on your bookcase.
Fold Blanket Over the Accent Chair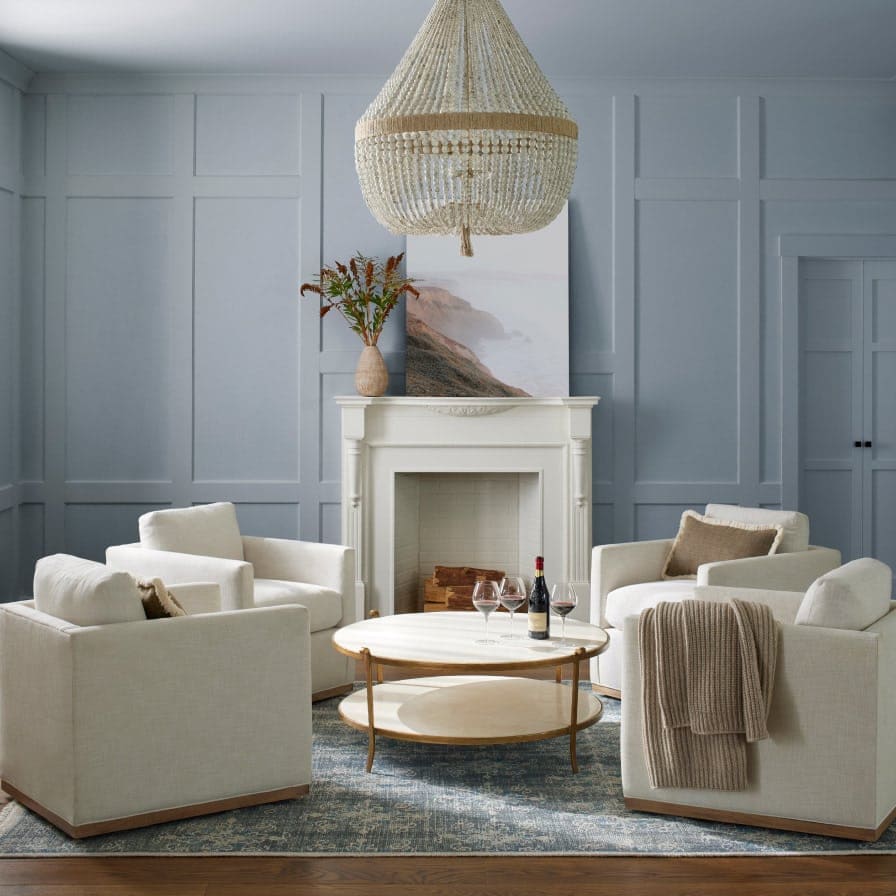 There are various ways to style that fancy piece of a blanket in your living room. Just not the couch but you can even fold and wrap it around the accent chair armrest to add a stunning statement of style.
When further paired with a collection of your favorite fluffy throw pillows, the result will truly be astonishing and mindblowing!
Store Blankets Under the TV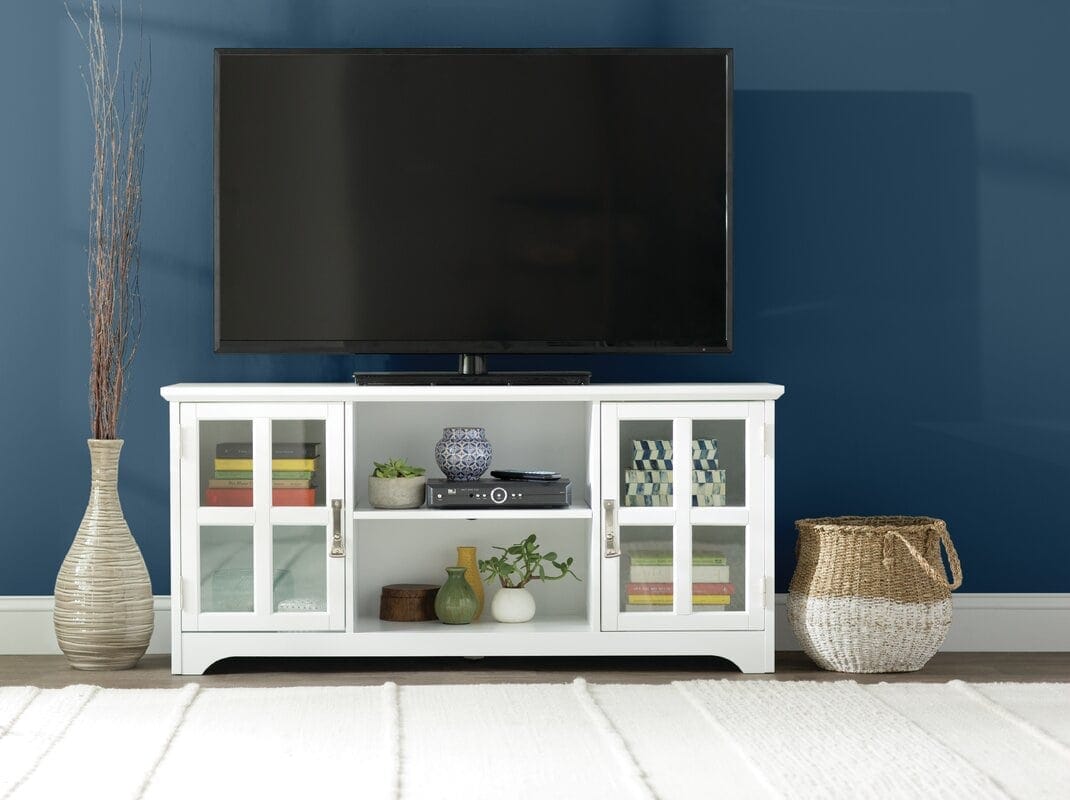 Make use of the space underneath the TV to create an extra room for your throw blankets. Whether you have an in-built media unit or a TV console, the extra drawers offer a great medium to store comforters.
At the same time, you have to make sure to keep your blankets smelling fresh. Hence, regularly washing them and keeping them intact with air is the secret key to a good-smelling blanket!
Incorporate a Storage Bed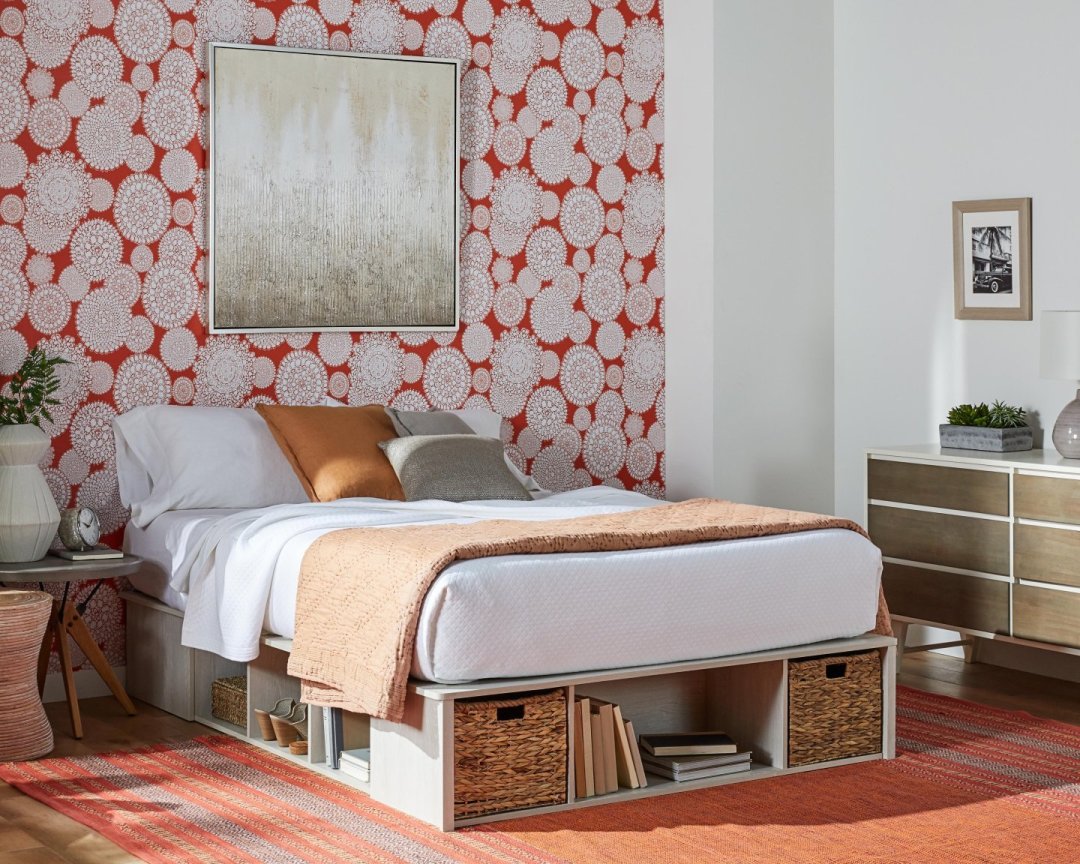 Generally, heavy quilts and blankets tend to take up a lot of space. And you can't always afford to give off that efficient space in the closets all for blanket and quilt, right? So, in such a case, you can choose your bed to play with. This is also a great space-saving solution for all those who reside in smaller apartments and lofts!
Use the horizontal space of your bed underneath to store extra baskets, blankets, novels, and even shoes or rugs.
Style Throw on the Bench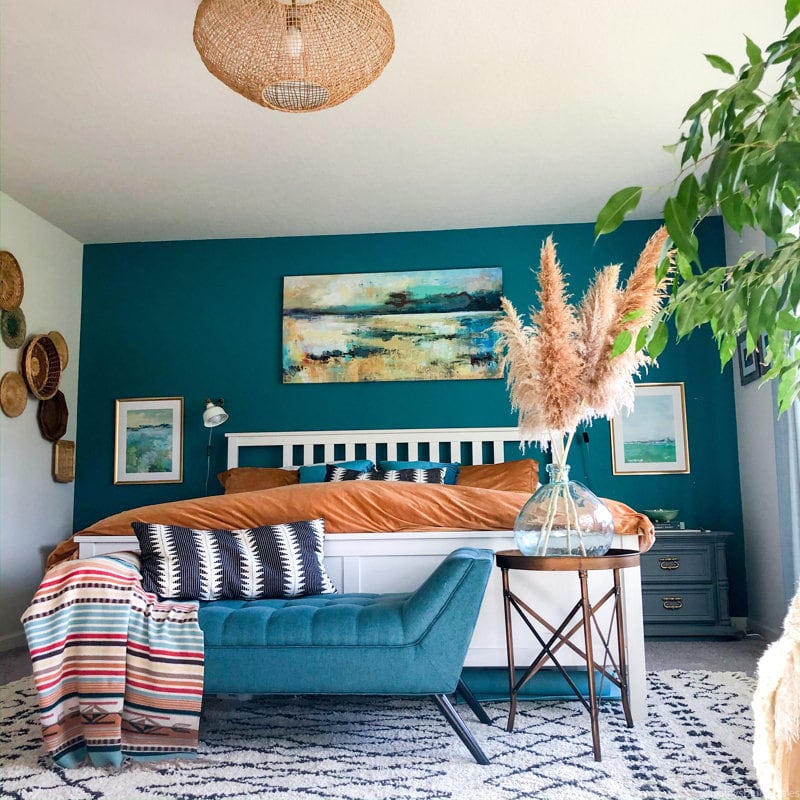 In your bedrooms, one of the cute and creative ways to store blankets is mainly styling them on the bench. This way, you're achieving the best of both worlds. Firstly, you get to save up on space in the closets, and secondly, you're adding that chic statement to your bedroom.
You also have the opportunity to further color coordinate and play with textures to make your bedroom achieve a "wow" effect!
Create a Statement with Coat Rack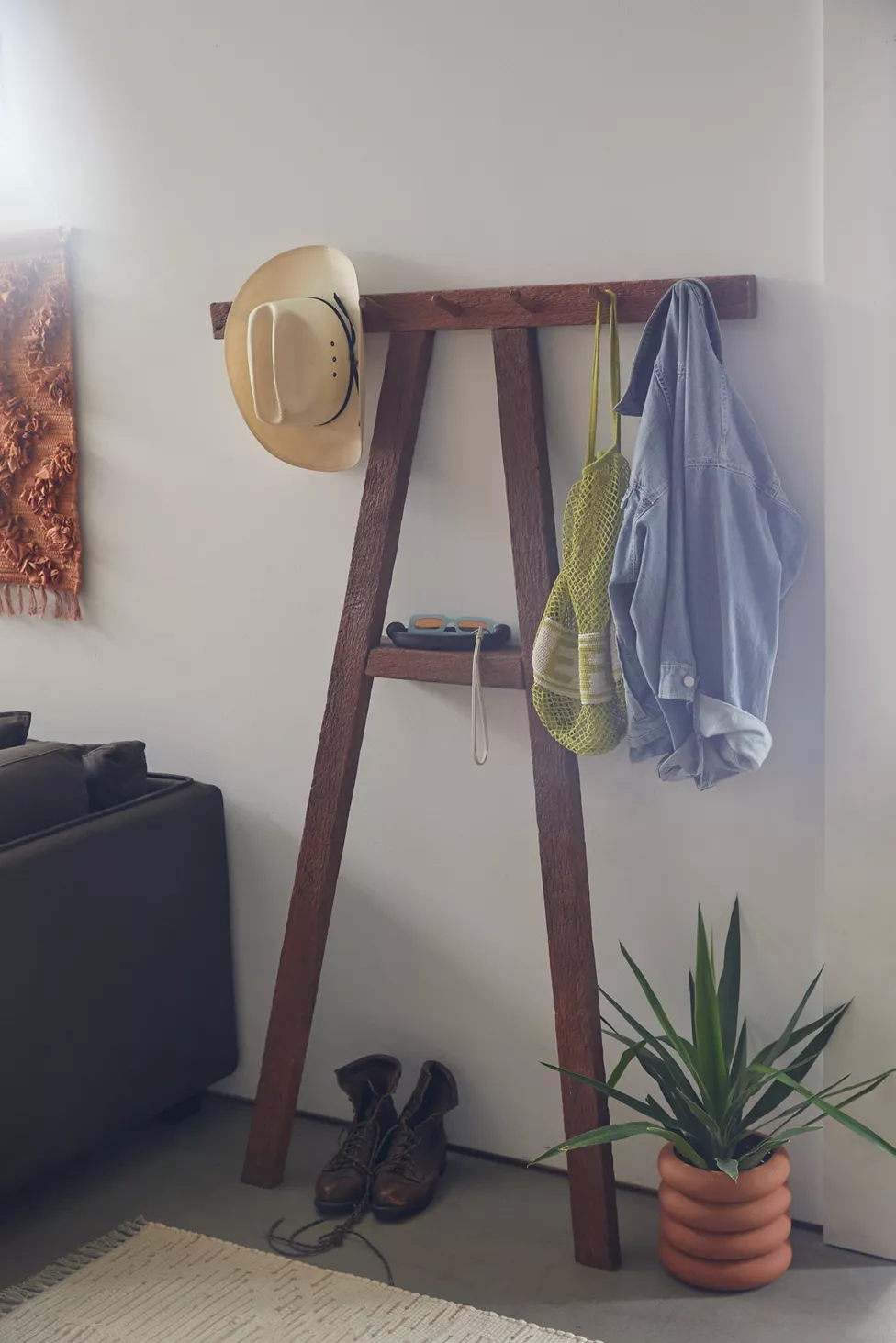 This rustic and boho-inspired coat rack plays one for all in your entryway and living room. The A-frame design constructed from acacia wood comes with in-built hooks for you to hang your hats and coats along with folding and styling the blanket.
Moreover, it's a versatile piece of decor that can be used in other functional rooms as well!
Use a Coffee Table with Storage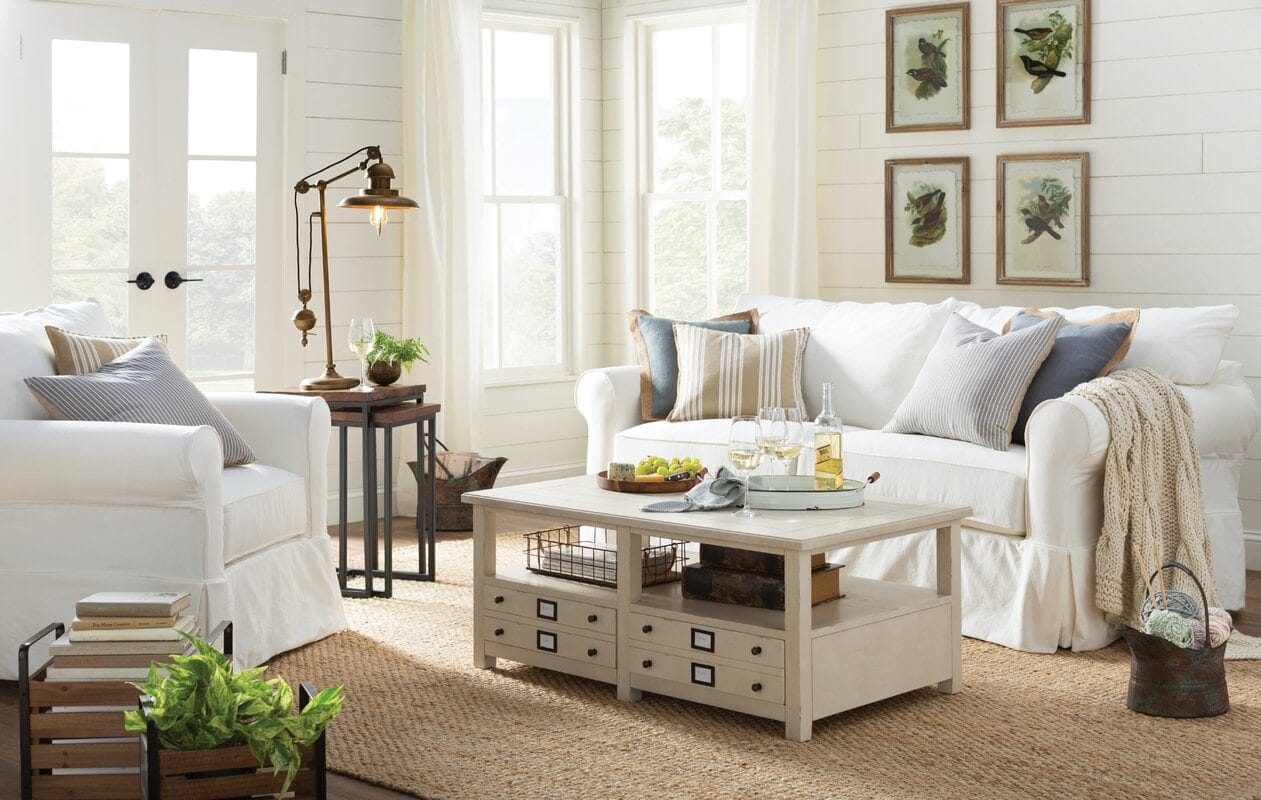 It's time to play utmost functional and aesthetical. This farmhouse-style coffee table is equipped with various pullout drawers and open storage space to creatively store your extra blankets and comforters. It's generally best to lay them out in wire or rattan baskets for an overall clean and crisp look.
So, every time that you plan to clean up your living room, all you have to do is straighten the pillows and fold the blankets!
Blanket Ladder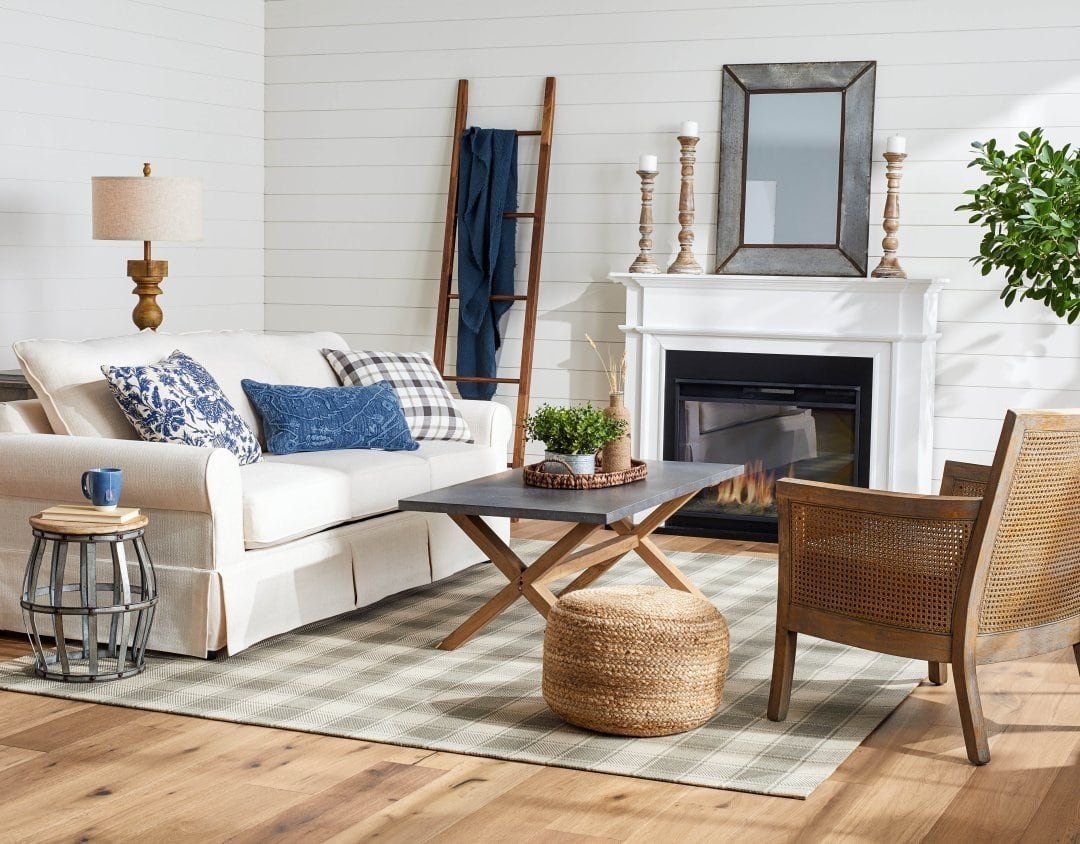 The decorative ladder plays more than one role in your living room. Let's say, it's more of a fun and aesthetic piece than utility! Hence, when diving deeper into the types of blankets, there are some that majorly play a decorative role. And that's why you must style them on this ladder!
This is also a great way to flaunt off the beautiful embroidery or knits on that blanket and let your guests steal a glance!
Store Blanket in the Linen Closet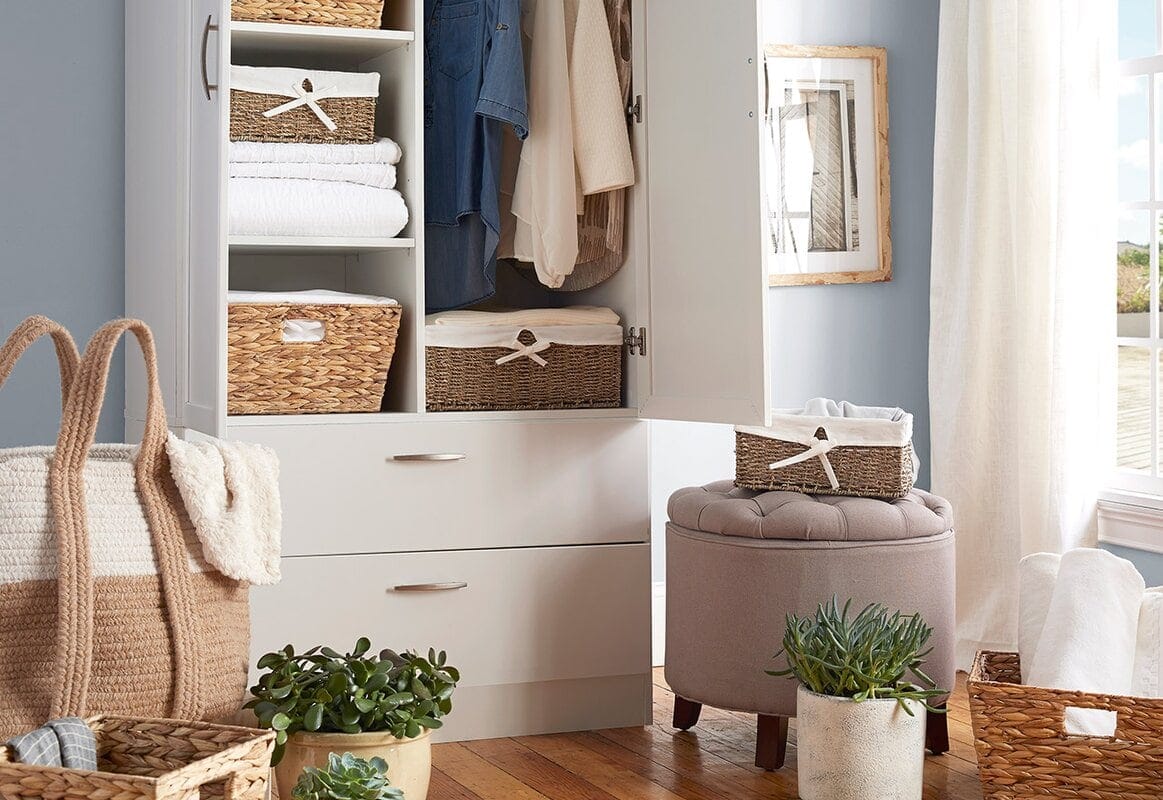 Dedicate an armoire to the negative and unused corners of your home, specifically for storing blankets and extra linens. This is a great comforter storage idea since you have the least chance to end up losing any of these daily essentials.
You can then put the blankets in a storage bag and keep them either at the bottom of your linen closet or on the topmost area of your shelf!
Style with Acacia Bins
This acacia bin organizer is bound to transform your home from chaos to composure. With a deep natural hue and a wooden texture, this piece of storage will add a chic and soothing character to your living room and bedroom.
So, it's time to embrace the beauty of your home with a positive and clutter-free environment. This is also quite a creative way to store extra blankets, pillows, and comforters!
Utilize the Storage Bench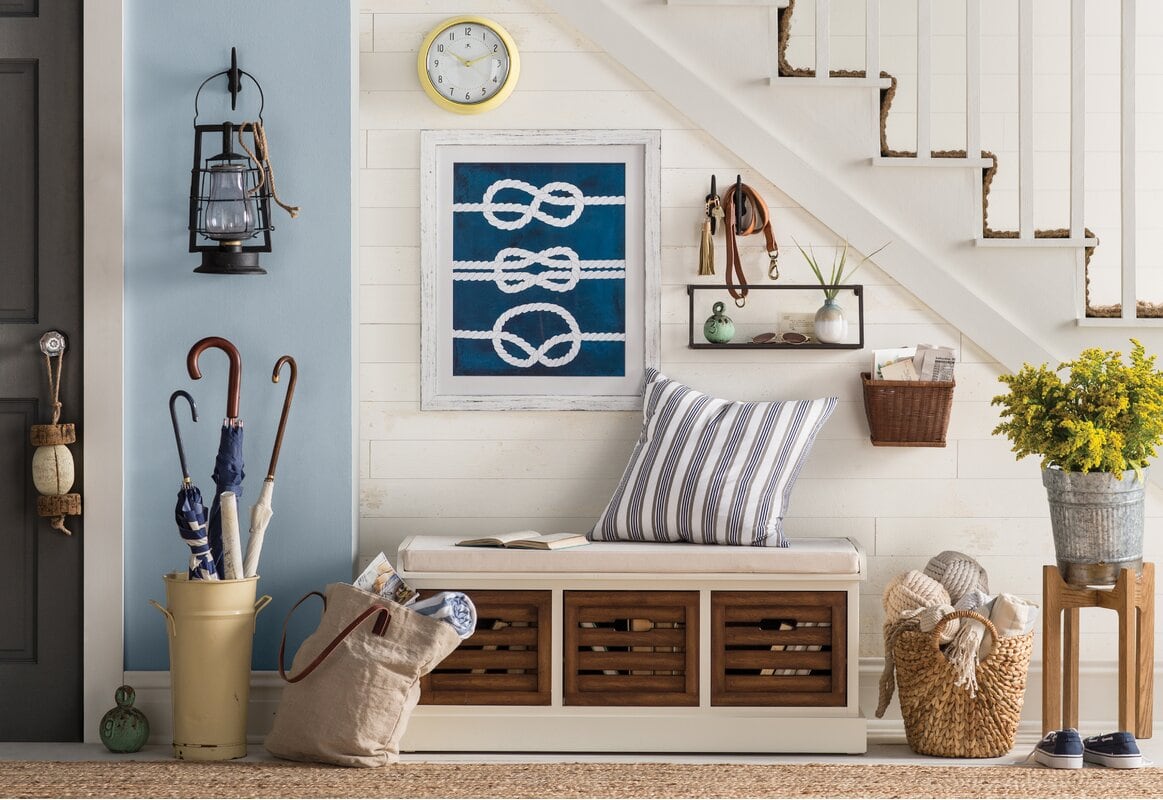 This storage bench brings a breezy and airy vibe to your entryways and living room. Offering the best of both worlds – sitting feature and storage, the little drawers can be used to store the blankets and everyday essentials.
Not only is the storage bench exhibiting a lovely pop of contrast in your space but also offers a statement of style and utility, all at once.
Use Exposed Ottoman Bench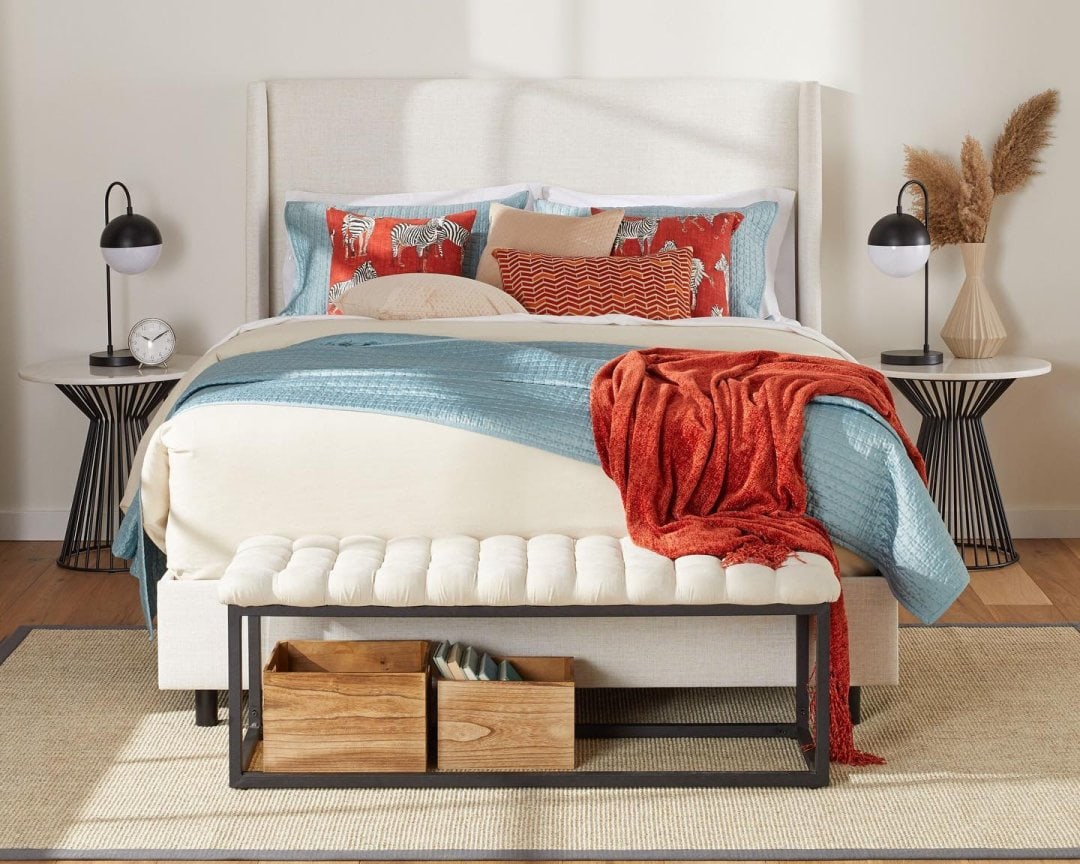 This is one of the best ways to store blankets in your bedroom. And especially if you have a smaller sized space, this exposed ottoman bench can be a great space-saving solution. You can style the baskets and bins underneath the bench to creatively hold your throw pillows and blankets.
This medium of storage can also hold your novels, extra linens, and slippers, etc.
Blanket Chest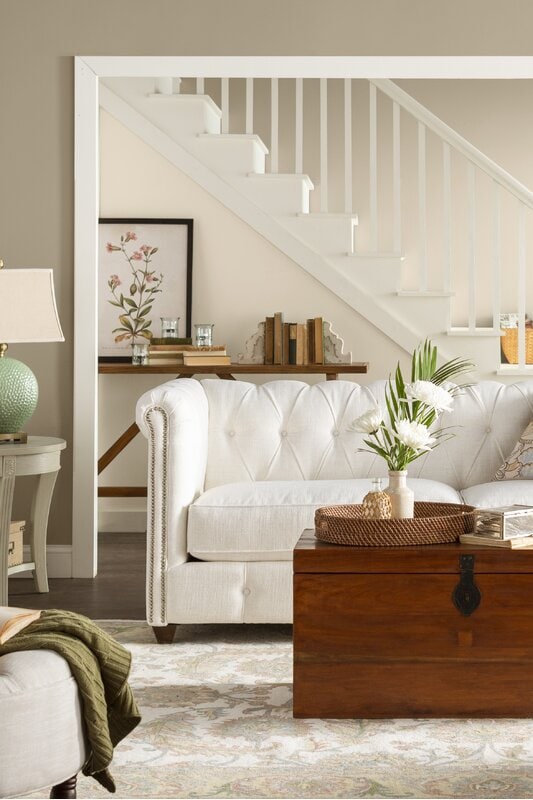 If you have an eye for it, or the mid-century modern style, this authentic piece of storage chest will add a tasteful look to your living room or the bedroom. Striking a clean-lined and crisp rectangular shape, the natural-hued silhouette proves to be a great piece of storage for extra blankets and pillows.
This solid wooden piece can be used as a decorative feature or a coffee table in the modern farmhouse interior design style.
Knock a Monogram Hook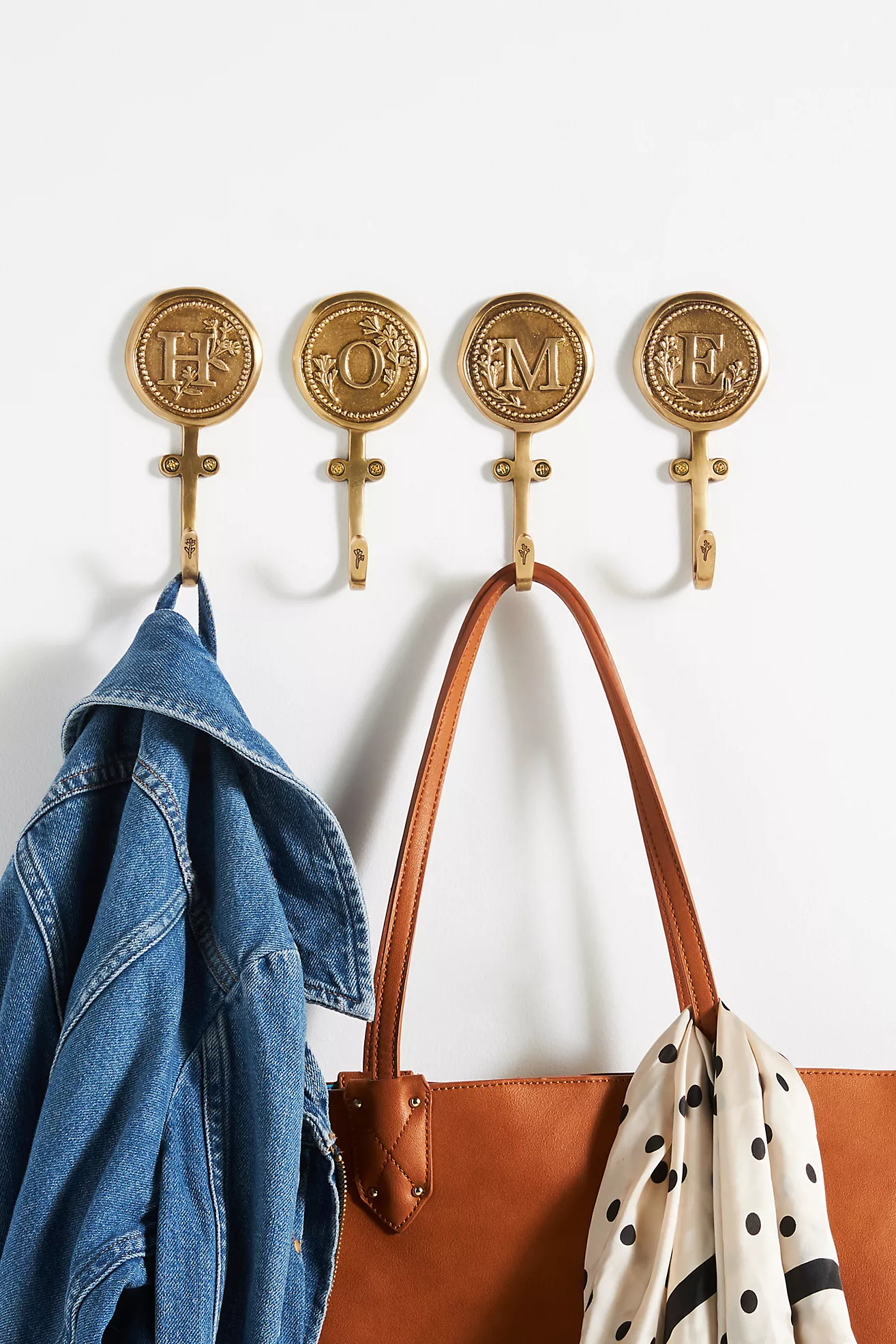 Add a personalized touch to your living room walls with the beautifully-carved hooks that can be used to hold your coats and blankets. They're generally good to go for lighter blankets and faux stoles that are not quite heavy.
Ensure to nicely fold the blankets and hang them in a way that makes them out of reach for the kids and pets at home!
Drape the Blanket at the Corner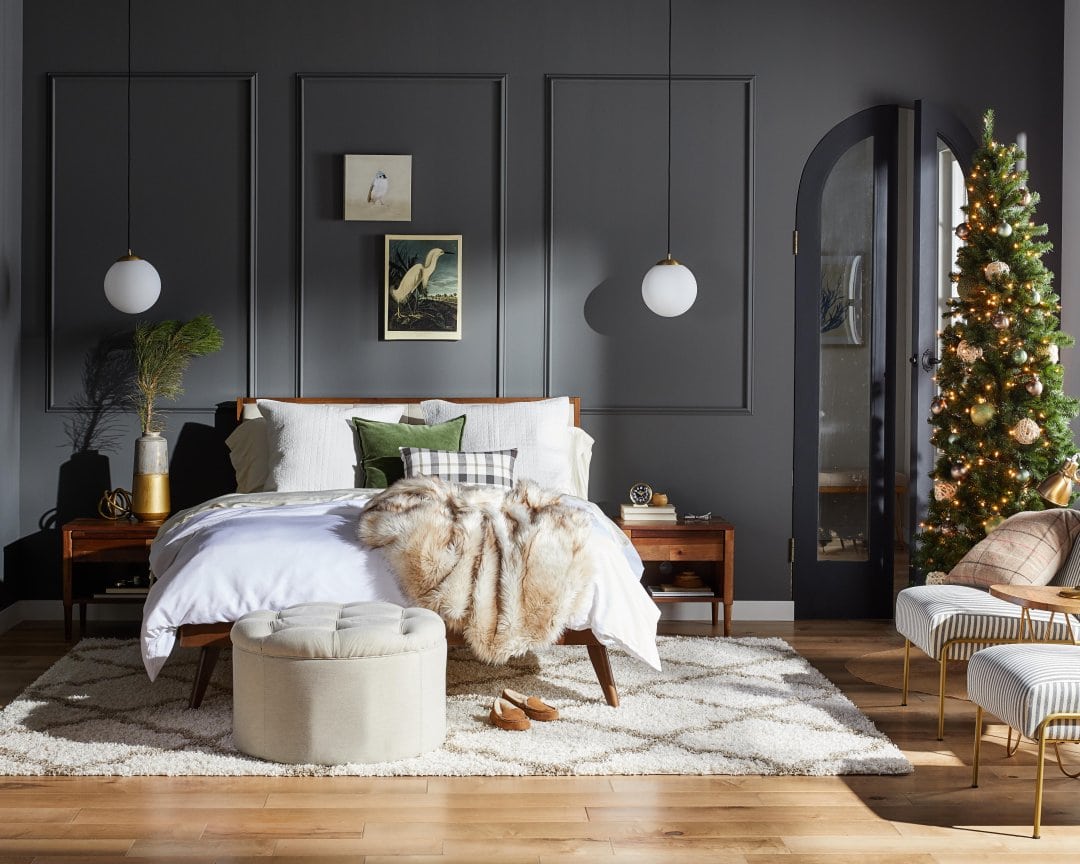 Throw blankets have the potential to add a charismatic and charming detail to your room. It can truly play a fundamental home decor element in your space while stealing glances from one and all.
So, you can also drape it around and place it in the corner of your bed. This is quite a cute way to store and style blankets!
Inside Built-In Shelves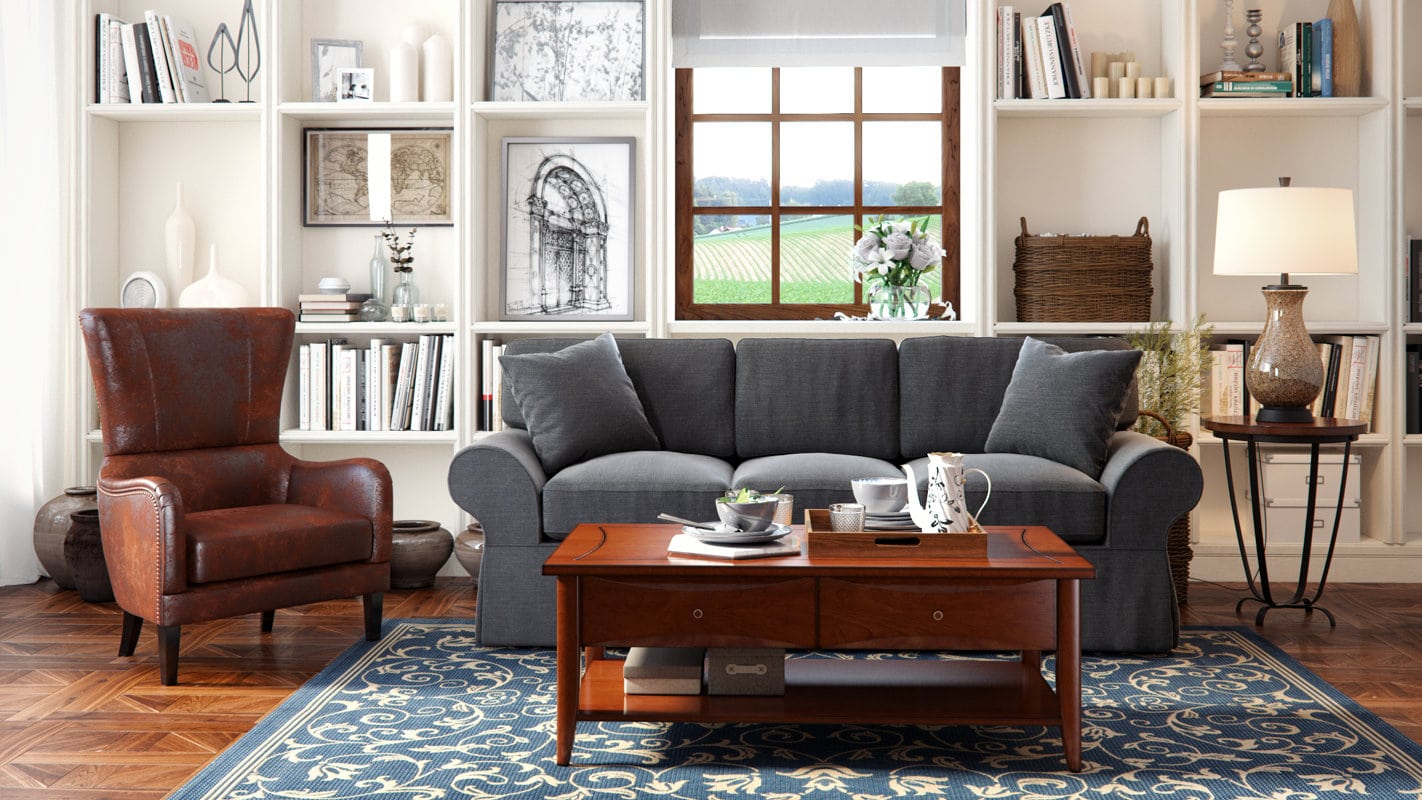 Do you have built-in shelves and window compartments in your living room? Well, you can make use of this vertical dimension to store your essential blankets and everyday goods. Dedicate a corner for the baskets inside which you can style these cozy fabrics.
You can also add various artwork pieces, statement decor pieces, and fancy coffee table books to add a dashing statement. And just in case if you have a window compartment or shelves – you can best make use of the little corners.
Summing It Up
You can be as wild and creative as you want when decorating and storing the blankets in your home. You can choose a 'cute' path and pick beautiful baskets or choose a 'formal' style and make use of the shelves and chests. So, which particular way excites you the most? Let me know your thoughts in the comments below!