Decorated Life is reader-supported. When you buy through links on our site, we may earn an affiliate commission. Learn More
15 Practical Hat Rack Ideas
Are you crazy about hats? If yes, you're going to find this piece of an article very fruitful. Just like shoe racks and coat hangers – the hat racks are equally a necessity for all those who own one. It's quite likely for you to throw them around when returning home, only to not find them, when needed! Sounds familiar, right?
So, whether you have a huge collection of hats or simply one or two – having a hat rack will always organize your belongings and keep them in place. Don't worry, you don't have to compromise on appearances or functionality. Have a look at these pretty 15 hat-hanging ideas for you to easily create a grab-and-go experience!
Hook Wall Mounted Rack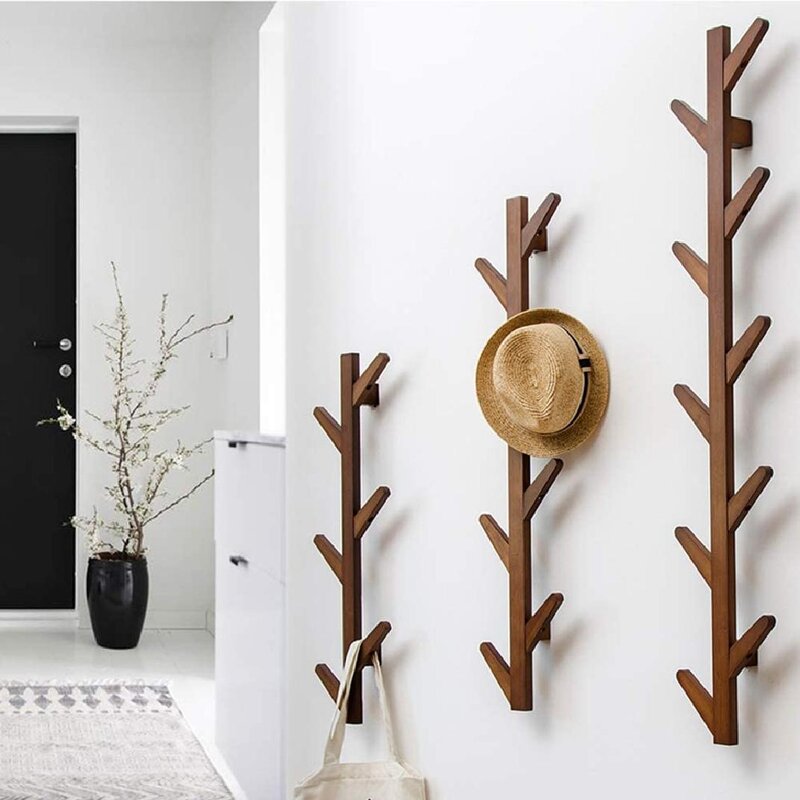 It's time to organize your entryway or mudroom with the help of a wall-mounted hat rack. Not only does this rack offer its original purpose but also adds a stylish and stunning piece of wall decor to the space. Yes, in a way, you're also saving space and utilizing the vertical dimension!
Moreover, it's quite sturdy and durable – and can easily withstand a huge collection of your hats, coats, scarfs, handbags, aprons, and robes.
Dual Wall Hook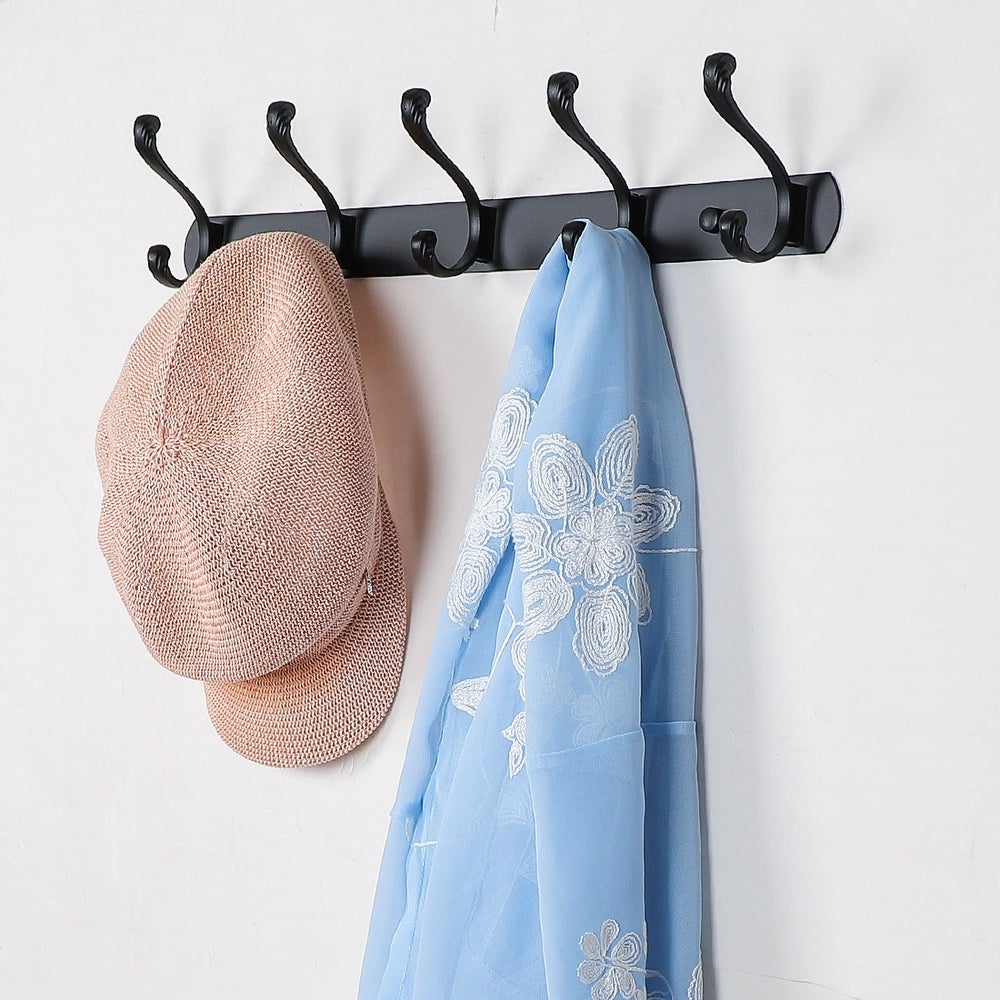 Quite classic and simple, this is one of the easiest ways to style your hats and hang your coats. With a stainless steel base, this hook is tremendously stable and can easily organize your belongings without creating a mess.
And regardless of the interior design style – this hat organizer is truly going to complement one and all! Generally, it's better to hook it in a negative space or corner to get that into use!
Lusso Hook Rack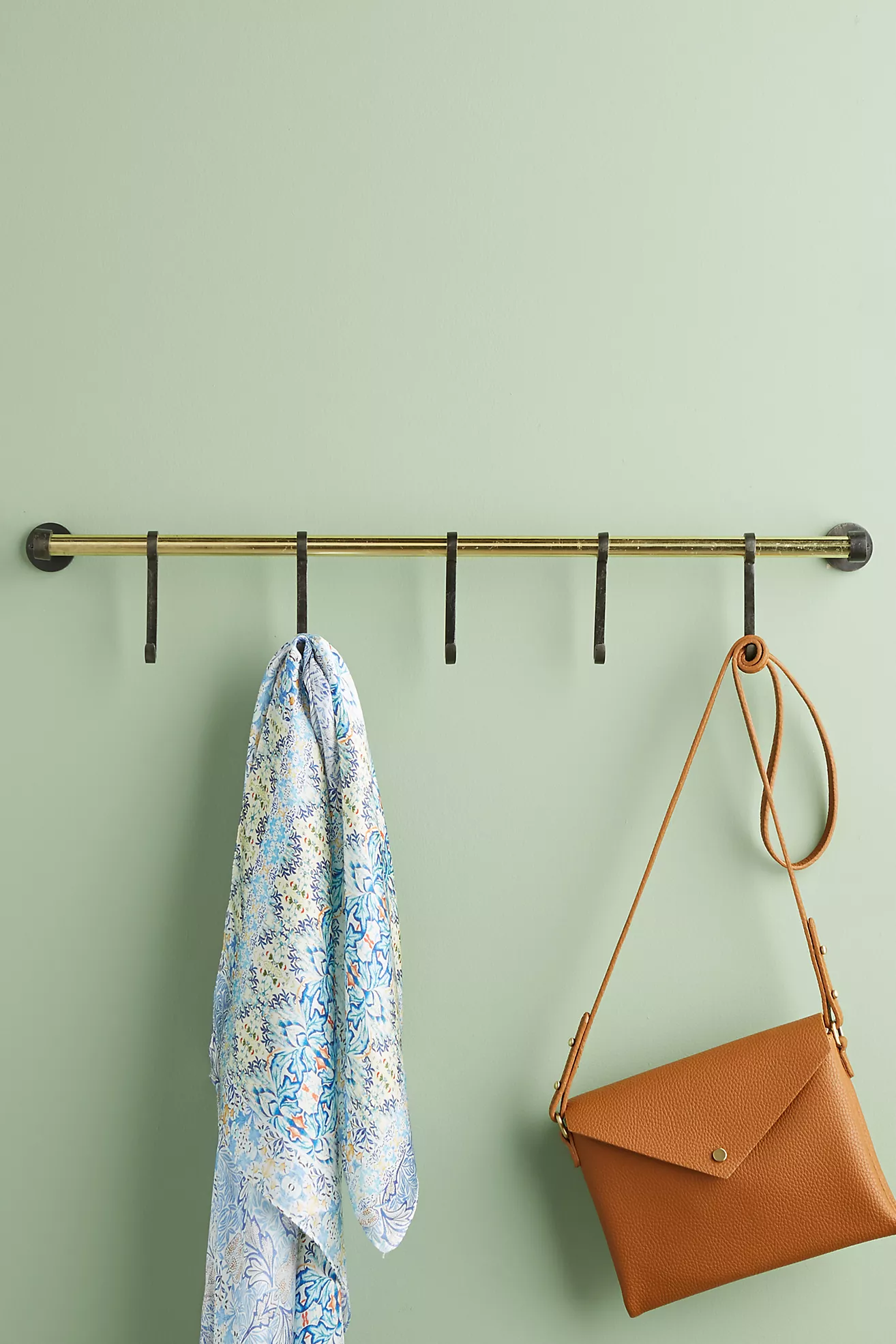 If the dual-wall hook is too monotonous for you, this fancy, glam-style rack will provide a stable and sturdy medium to hold your everyday necessities. Moreover, if you're short on space, this compact and space-saving solution will truly make your work easier – while creating a statement of style.
Let's not ignore the brass finish! Yes, these details must be looked upon when designing for Hollywood Glam, eclectic, and contemporary-style entryways and foyers.
Free Standing Hat Rack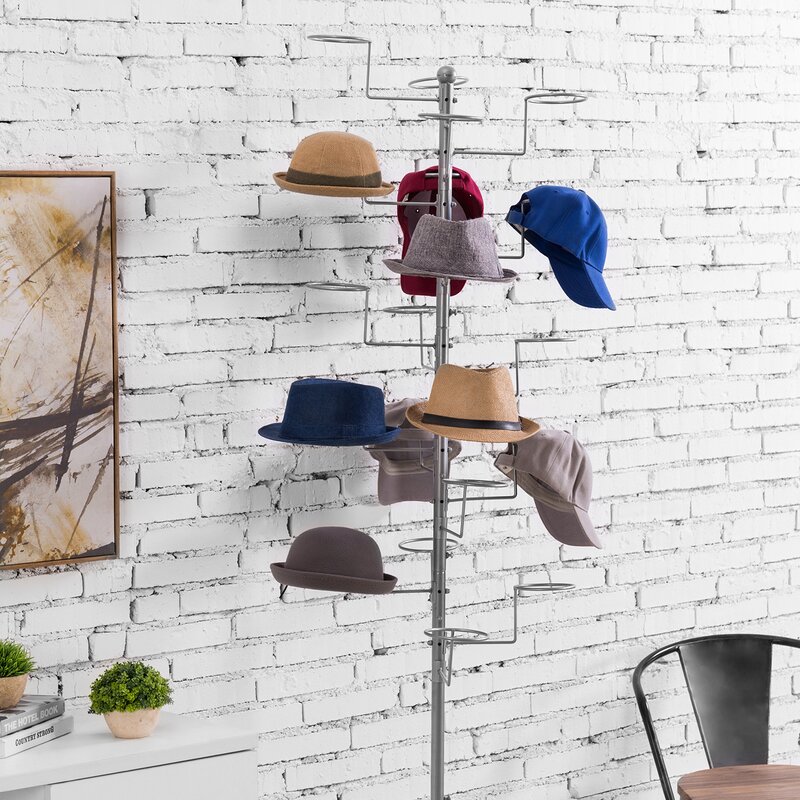 If you don't like the wall-mounted hat racks, you might want to consider this freestanding alternative! It is a stylish and intriguing way to add a statement of style in amalgamation with organizing space. And since it's not just restricted to the foyer or entryway – you can consider placing this piece somewhere in the hallway, bedroom, walk-in closet, or even your living space.
And especially if you have a huge collection – this free-standing hat rack has the potential to hold all of them!
Hall Tree with Hooks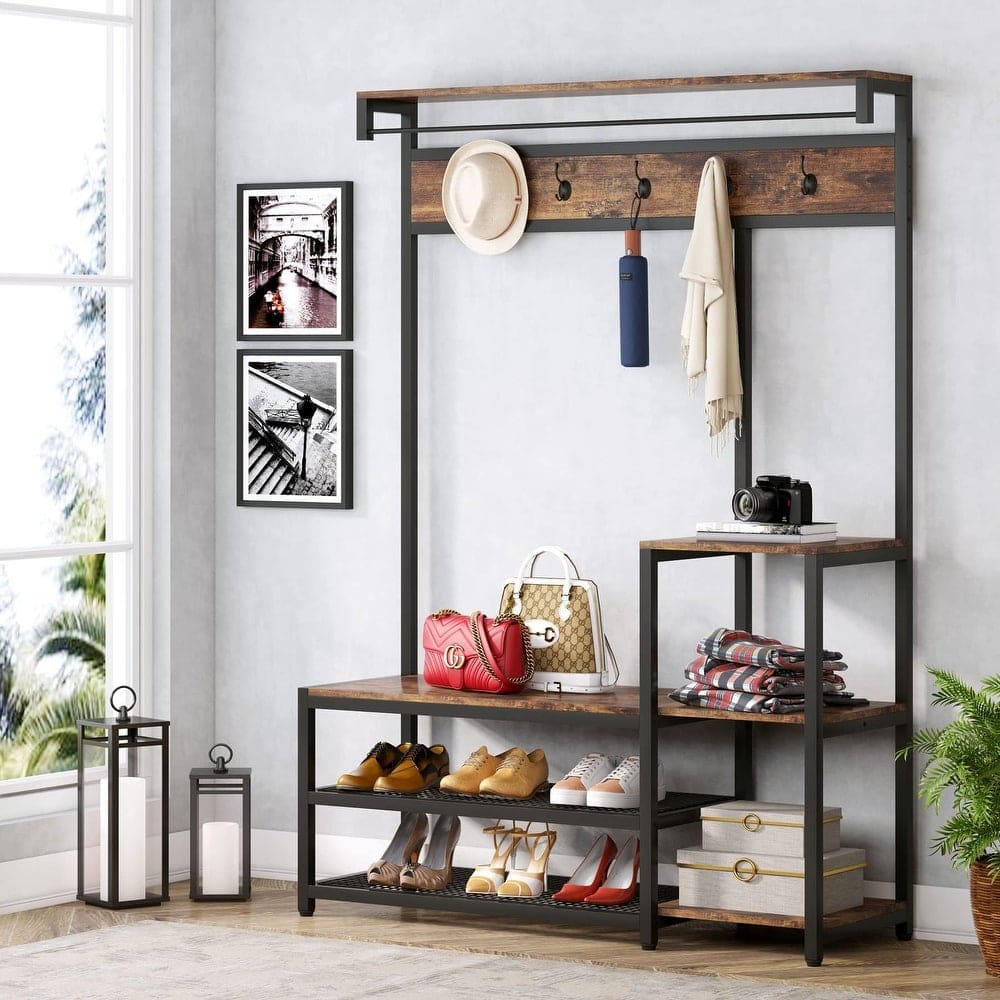 Add a chic and sleek closet to your entryway! This versatile design is not just restricted to styling and organizing hats but also your shoes, bags, umbrellas, clothes, robes, and keys. Yes, it's a great aesthetical and multifunctional unit for your foyer, entryway, or hallway.
Furthermore, this combination is a great fit for industrial, rustic, coastal, modern farmhouse, and bohemian style design. Made with a metal frame and thick board, this coat rack is simply more than strength and durability. 
Madison Hook Rack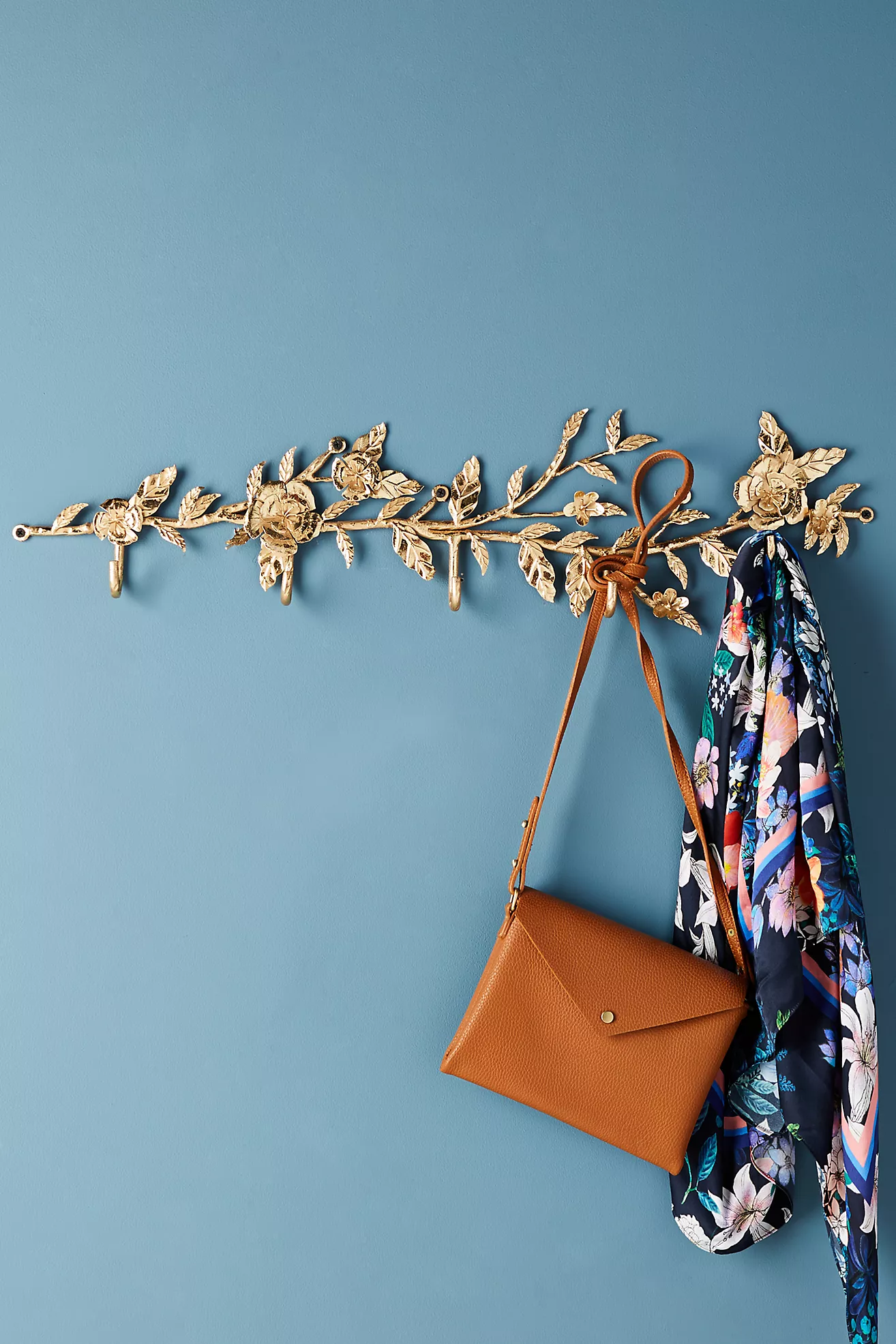 Don't want a prominent hook rack to show in your entryway? Well, this beautiful floral pattern will add a touch of style and glam without overwhelming your room. It plays a perfect piece of focal wall decor while absolutely stealing the eye of your guests and family!
Apart from hats, you can also consider hanging your purses, coats, scarves, and masks! Lastly, don't forget to throw a splash of intriguing bold hue at the back.
Over the Door Hanging Rack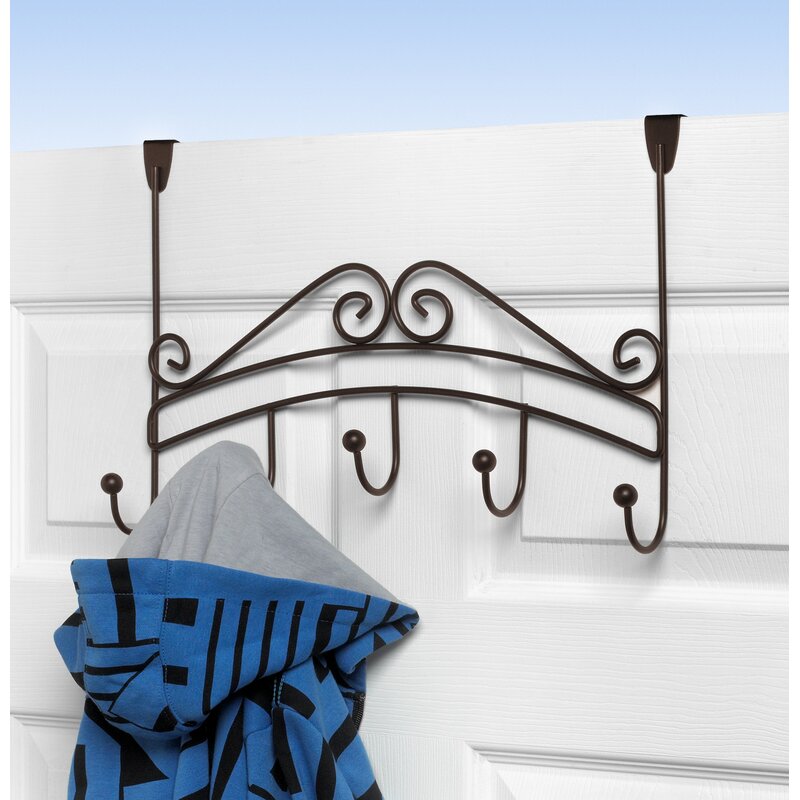 Let's infuse creativity and create storage for the hats over the door. It's perfect for condos, apartments, dorms, and rentals where space is limited. Moreover, at the same time, it adds a statement of style and functionality to your doors.
On the other hand, it just isn't restricted to foyers and entryways – but also your bedrooms, living rooms, and other spaces where a door is located.
Accordion Hook Rack
Isn't this another stunning piece of hat rack for the wall? With 10 hooks, you can easily mix and merge coats, masks, and hats to create a functional and versatile entryway design. And do you know the best part? Well, it can be easily installed without the help of a professional!
Moreover, this piece has a luxe and elegant brass finish to give the walls a sense of character and focus.
Goessel Hook Rack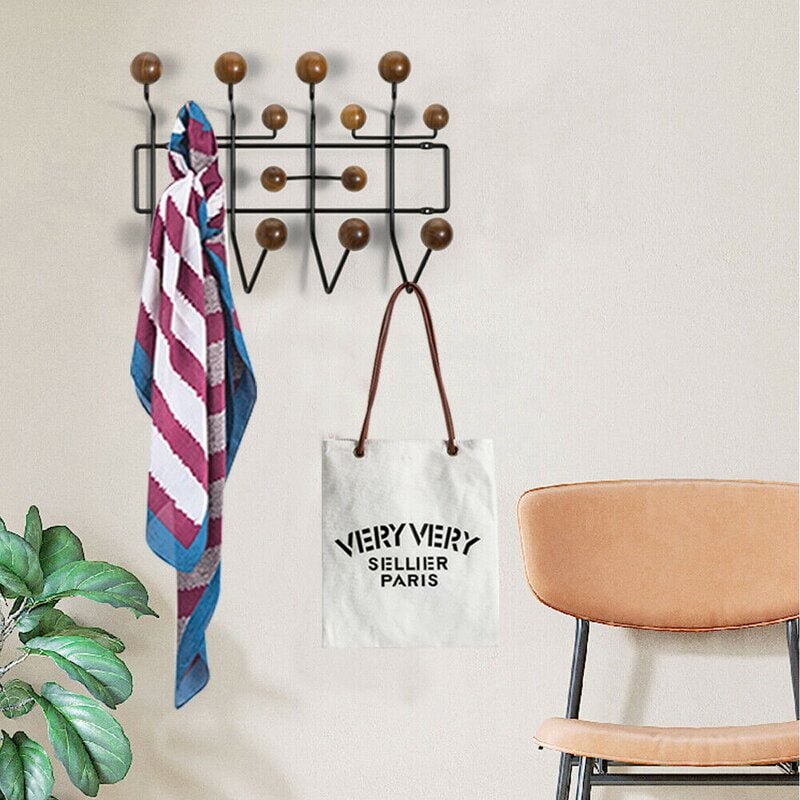 This easy-to-install, wall-mounted design brings a retro and whimsical charm to your home, apartment, or loft. It holds multiple wooden knobs to store and organize your hats, coats, masks, scarves, and umbrellas. However, the shape and size of your belongings could be a constraint for upper knobs!
Moreover, it's perfect for entryways, foyers, bathrooms, bedrooms, and mudrooms. You can even install it in your home office!
Metal Stand Tree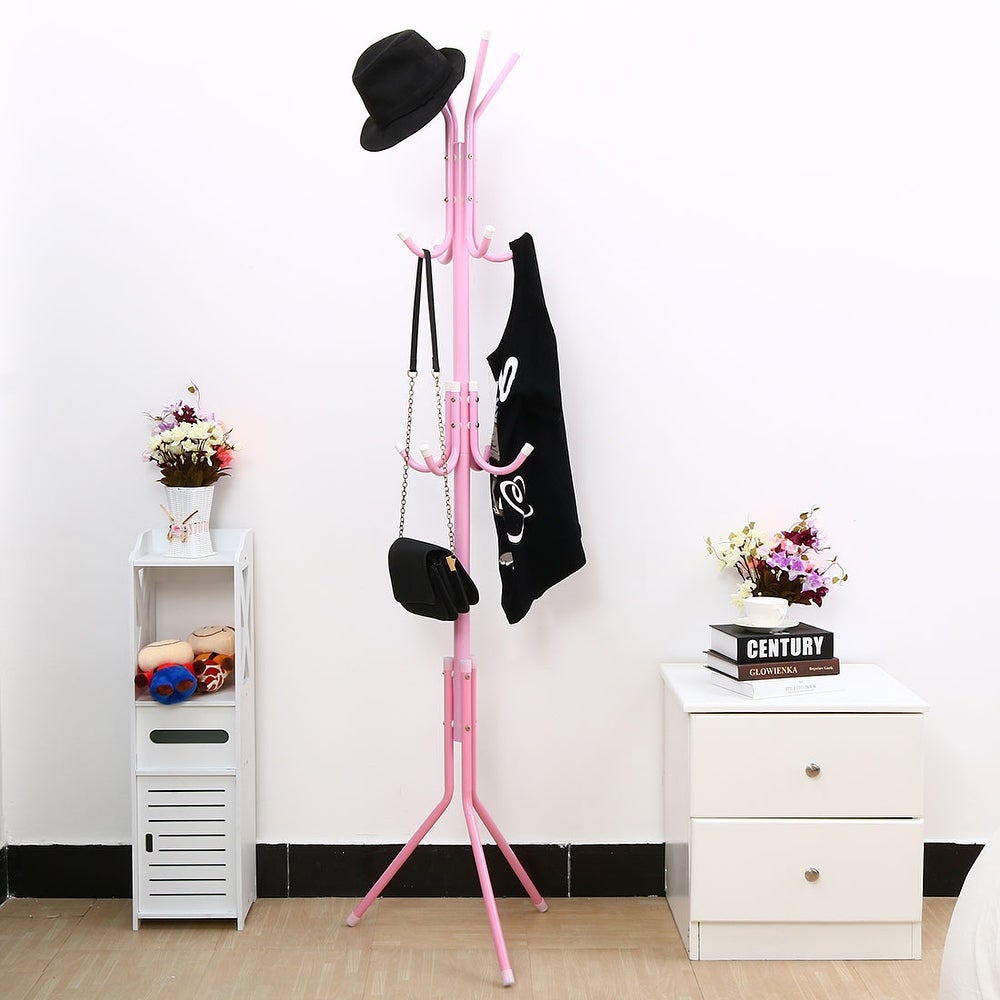 This freestanding wall hat display can be easily fitted into any corner of your home to make the most use of the vertical space. Whether it's the hats, purses, grocery bags, or raincoats – this metal stand tree can play utmost chic, functional, and versatile.
Furthermore, you can even consider moving this around and placing it in other high-traffic areas like walk-in closets, bathrooms, and bedrooms.
Free Standing Coat Rack with Storage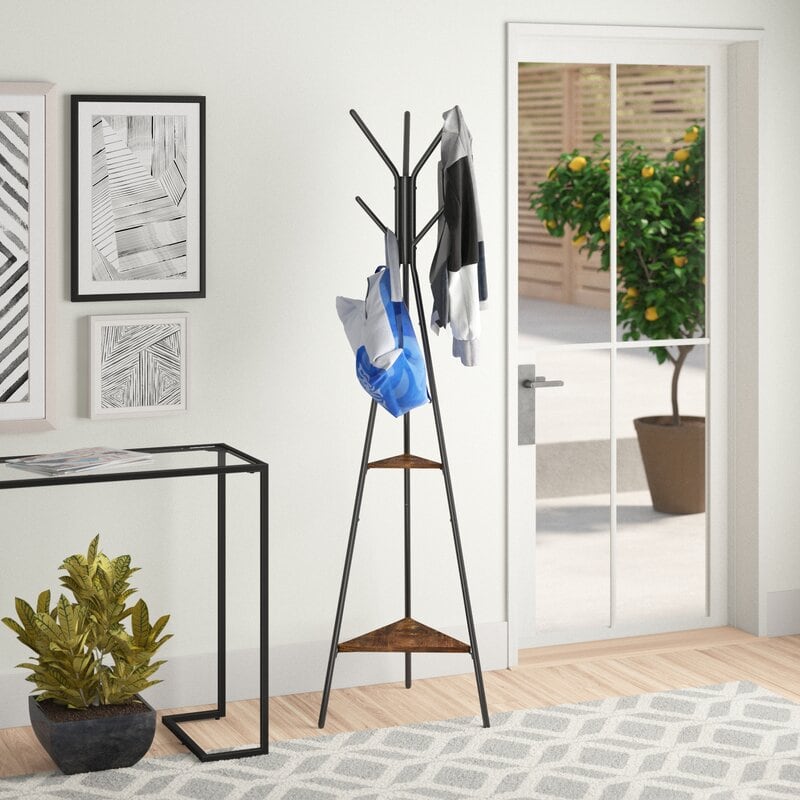 This is just another example of a freestanding coat rack with additional storage. And that means extra functionality! Apart from hanging coats, hats, and scarves – you can also consider placing a basket or tray to hold the keys and other daily necessities.
Featuring a tripod design with two additional wooden shelves, this hat rack can easily create an organized look and also declutter your entryway to foster a positive flow of feng shui.
Swivel Hanging Rack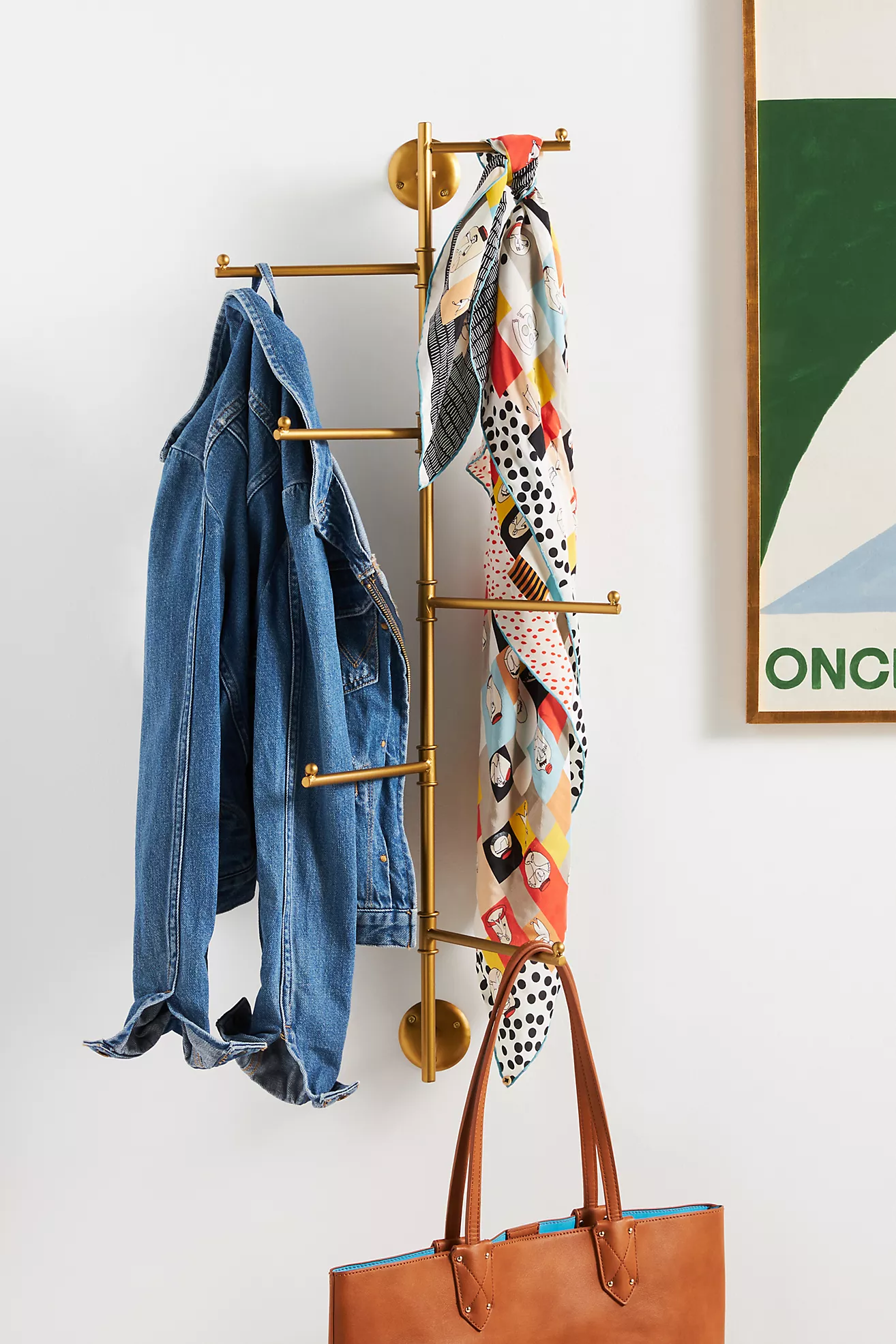 This is quite an intriguing piece of storage organization for your entryway or mudroom. It is wall-mounted and has extended arms to hold your purses, coats, and hats. Generally, it's a great idea for small apartments and lofts that are tight on space.
And yes, you can consider drilling it in any of the negative corners – let's say, behind the door and empty corner of the entryway. And since it has a notable brass finish, it's adding a glam factor to your space.
Rustic Wall Hook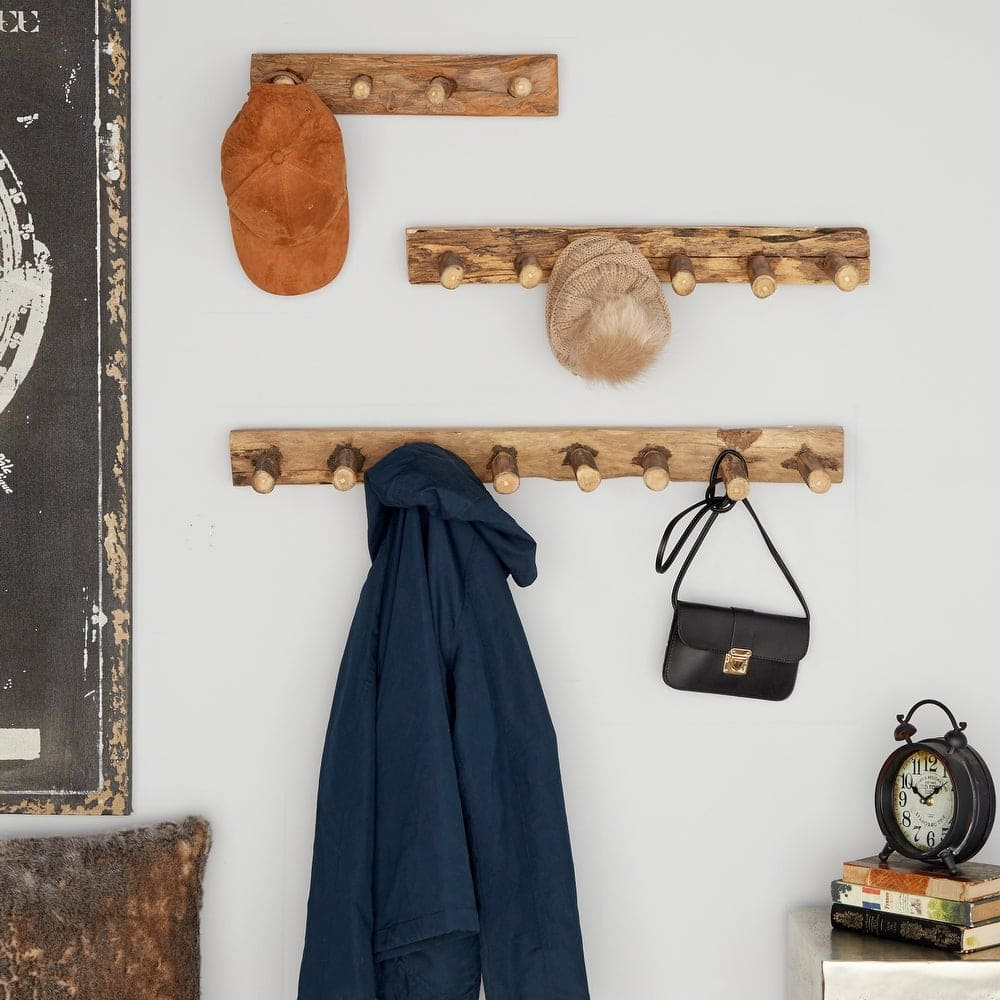 It's time to style your entryway or bedroom with this rustic piece of hanging rack and hook. You can style this set of 3 the way you want – and also depending upon the size and scale of your entryway and foyer. With almost 18 pegs, you can easily style and organize the daily necessities that you plan to carry in and out of the house, daily.
Also, you can always style the smaller-sized belongings on the upper hooks whereas coats and clothes on the lower one.
Iron Rack Baseball Cap Holder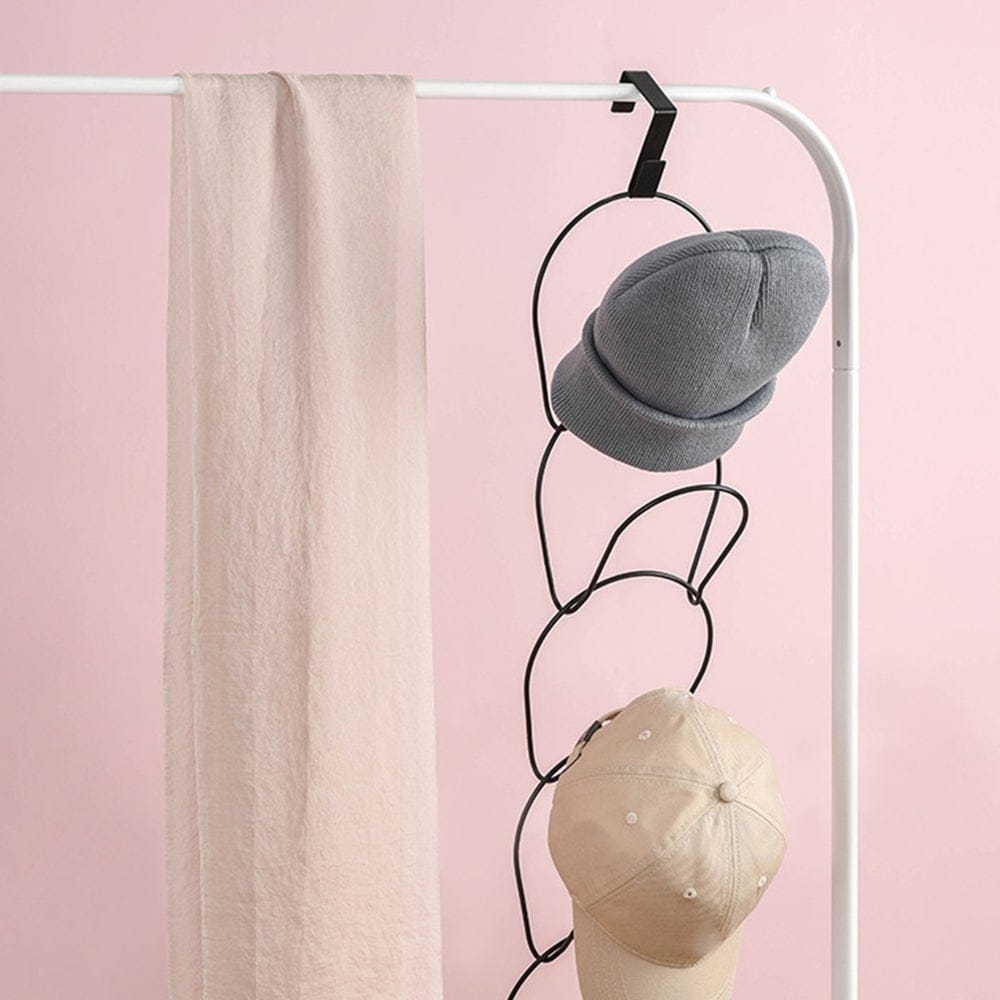 This baseball cap rack is something that you must look forward to. Made of the utmost sturdy iron, this hat organizer can easily hold your heavy bags and coats while not being susceptible to moisture or rust. Yes, it makes a great base material to hold wet umbrellas as well as raincoats.
Furthermore, they can be easily assembled and hung on the hooks or hangers in your mudroom and foyer. Lastly, all you have to do is to connect the rings one by one to assemble the product! Great enough, right?
Wall Mounted Rack with Storage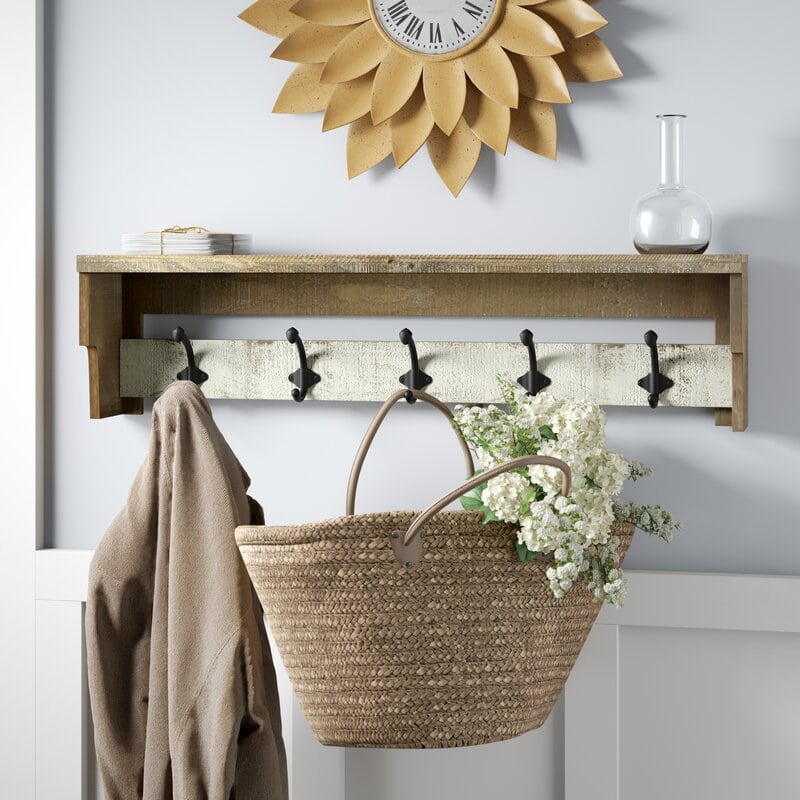 Whether you have a farmhouse-style or rustic, this wall hat display features a lightly white-washed back panel to create an utmost charming and stunning appeal. With a total number of 5 hooks, you can easily hang and style your daily necessities like hats, masks, and coats.
Furthermore, you also have the opportunity to style your family photographs, clock, and other decoratives on top of the shelf.
Summing It Up
Let your mudroom and foyer shine bright with a hat rack incorporated. With these intriguing and unique 15 hat rack ideas – did you like anything in particular? So, if you plan to incorporate any – do let me know your thoughts in the comments below!