What Chairs Go With A Glass Dining Table?
You've found a beautiful glass dining table that is going to look great in your home and is perfect for entertaining. But what are you going to do about the chairs?
You might have an idea of the style you want but are not sure about the material you should buy. Is this table for family or occasional use? Are the chairs going to be kept clean? Do they have a wipeable covering?
With a glass dining table, really, anything goes. But these are 16 great ideas for chairs to go with a glass dining table.
Modern Fabric Set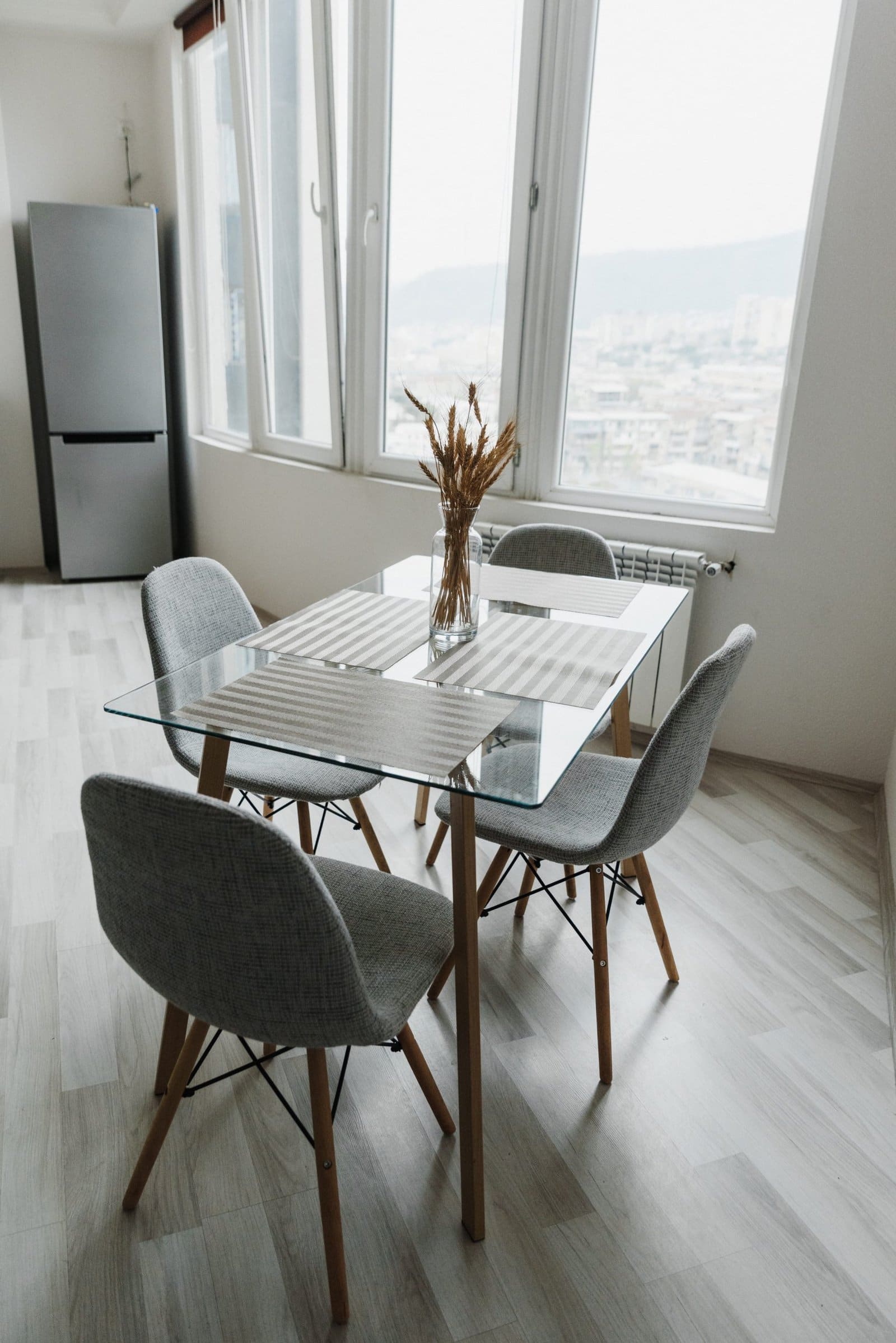 These gray fabric chairs are neat and up to the minute for a stylish city apartment. If you're investing in them, they're going to be a classic and you can update the decor in the room as well as using different table decorations to ring the changes.
They would work well in a family home for everyday meals and can be dressed up with color for parties and group dining.
Round Glass Table with Wooden Chairs
For a traditional, casual look these wooden chairs with curved backs look effortlessly stylish. Whether for a weekend breakfast or hosting friends for dinner, these chairs have warmth and informality.
Styled with the jute rug, they are earthy and rustic. Did anyone mention the seventies?!
Velvet for Dining
Sumptuous velvet in peacock colors of emerald and dark blue have been seen recently in interiors. These dark green chairs scream class and style. Set against a monochrome backdrop they add a sense of richness.
Perhaps not so practical if you have small children, these are great for couples and those who like sophisticated entertaining. Perfect if you like the must-have trends.
Modern Cane Chairs
A little like the wooden chairs above, this dining set sends out those hipster vibes. For those interested in Abigail Ahern's rustic-glam retro style, these are ideal.
Again, you can dress your setting up or down. For a casual look, keep the table bare with just a cute vase and some woven placemats. For more formal use, use polished cutlery, glassware and china, add texture with a runner, and use natural grasses like pampas to set off the look.
Retro Design
You may remember your grandparents had some chairs like this. Well, this retro look is very of the moment and these chairs go really well with a round glass dining table.
With the comfort of padded seats, these dining chairs are great for a long leisurely dinner and some gossip-laden conversation with a glass of red wine.
Dress down with sheepskin and natural table decorations. Dress up with an opulent table runner, expensive cutlery and impeccable china.
Eames Style
The Eames chair has been around since 1950, designed by husband and wife Charles and Ray Eames. Styled best with plainer or modern tables, these chairs have seen a revival over the past few years.
The Eames chair is identified by the design of the legs, in wood and in metal, in the classic Eiffel style. Named as such for the resemblance to the Parisian tower.
With a range of shapes, they also come in many colors. And that is the beauty of them. You can introduce a burst of color to a muted background or go full on funky and mix and match your chairs.
Originally made from fiberglass, they now come in molded plastic so needn't break the bank. Highly wipe-clean and practical, they can carry you through all mealtimes and occasions.
Bench Seating
This rustic rectangular glass kitchen table is a bit of a surprise as its seating is benches. When catering for large numbers or a late family brunch this seating will add a design note to your scheme.
The glass table top adds a sophistication to what might otherwise be suited to a party of lumberjacks. So when looking for your perfect seating, don't be afraid to mix things up.
Wicker, Man!
These wicker chairs are transformed from traditional to something more original. With a glass table and gorgeous styling they give a very current look. Check out the blanket placed over the back of the chair. Doesn't it make you want to cozy up for a late evening barbeque?
Just right for an indoor/outdoor look, these chairs go perfectly with your glass dining table on the deck or in your backyard. Or if you have a garden room, this could be the combination you are looking for.
Leather Dining Chairs, Practical and Stylish
Not only are leather dining chairs classic and cool, but they are also very hard-wearing and wipe-clean practical.
Giving you instant formality, you don't need to do any heavy styling to impress. From traditional styles to mid-century tans and up-to-the-minute soft leathers, not to mention a whole host of colors, these are a sturdy, stylish choice.
Decadent Dining
If you want your dining room to look sumptuous and regal then these traditional velvet chairs are for you. Extremely comfortable and dangerously pale in color, you'll feel like a royal when you dine.
Not such a practical choice but if you're throwing dinner parties and out to impress, these are for you. The styling here is bold but simple, as is this choice of chair with a rectangular dining table.
Au Naturel
Well, this dining set is simply too cute. With a rural, pilgrim feel these chairs are perfect for a small dining space or for kitchen dining. Of classic design and made to last, wooden chairs are a timeless staple.
The black window frame backdrop and natural planting is just the right staging for this earthy chair set.
A Touch of Glamor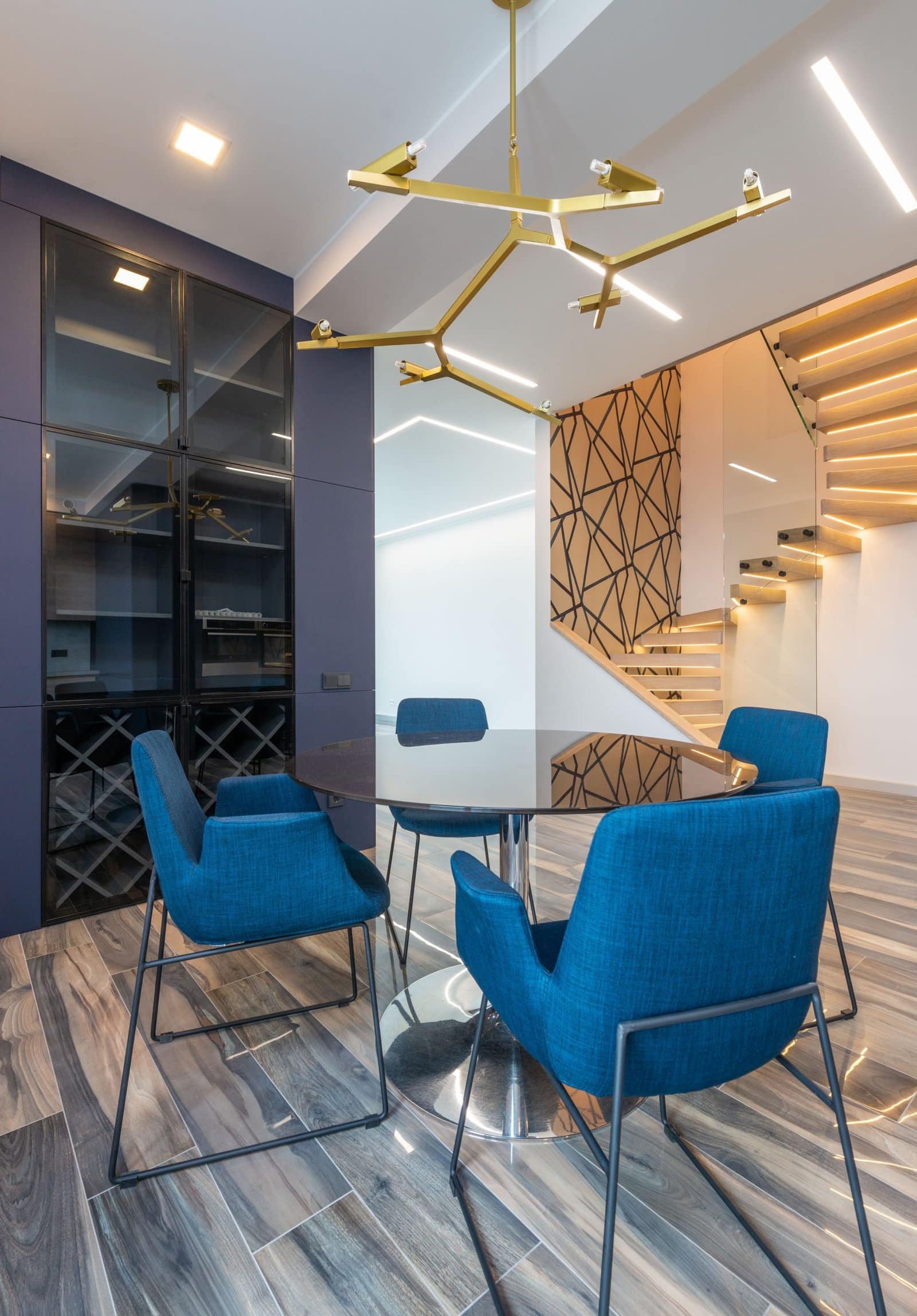 Wow, wow, wow! Now this room has some design pieces in the first place but the blue fabric sets off the gold decor very nicely.
If you want impact with your glass dining table then choose a dark color. This signifies richness and sophistication.
Perspex Perspective
Not for the fainthearted, these transparent plastic chairs are ideal if you are looking to surprise and delight your guests.
Extremely practical to keep clean, these look futuristic and are anything but subtle. Here they work well with a monochrome scheme but why not go bright and funky if you want to keep things fun.
Scandi Drama
If you're fond of the Nordic look then this Scandinavian table setting will be right up your street. The round glass table is rustic with its chunky wooden legs and the simple black and white chairs accompany it brilliantly.
Another monochrome scheme here gives clean, definite lines but it is styled with soft furs and fabrics to give you lovely, cozy hygge (the Danish word for everyday style that feels like a warm hug).
Bright Art Deco
For a bold and striking look these orange chairs are a great design statement. Working brilliantly with the gold metal of the table, these chairs speak of a Manhattan palatial apartment or smart London pad.
The color can be for everyday family dining or for some surreptitious drinks with friends. Set against the bookcase gives this setting a cafe society effect.
Traditional Elegance
Your heart may be grounded in tradition and convention and these chairs are a twist on that. In a luxurious velvet, they are comfortable yet elegant.
In a modern neutral gray, you can keep things simple with a pale palette or use china and table decor to add color to your dining room scheme.
In Conclusion
When picking chairs to go with your glass dining table, really, it's a matter of taste. There are chairs to suit all budgets and trends. Most dining chairs are going to look good with a glass dining table.
Take into account your decor and if you want to brighten it up with your dining chairs. Perhaps choose a bright fabric or plastic chair. For more muted, earthy schemes choose natural materials like wood and cane.
Don't forget that your outdoor areas can be enhanced with a glass dining table so keep on the natural theme. Style your chairs with blankets and sheepskin, thinking of soft textures to warm things up.