How to Pair Kitchen and Dining Lights
When it comes to picking the lighting for an open floor plan kitchen and dining room, you might at first think your fixings need to match.
While there should be a cohesion between lights in the kitchen and lighting over a dining table, picking identical fixings is mostly a no-no.
Kitchens are utilitarian and practical and will need a different kind of lighting to that in the area where you eat where you'll likely want to be relaxed. Also choosing different lights will denote the separate purpose of each area.
To be sold on a designer lighting look for your home, you may like to take a glance at some gorgeous kitchen dining ideas.
Simple Modern Lighting
For a fresh, modern lighting look in a simple on-trend kitchen, you can opt for plain but quirky lighting fixtures.
How about enamel coated metal lamp shades in the kitchen? And then for a fashionable pared back look go with retro light bulb fittings over the table and on the wall.
This shows you know what's hot in design and you'll get dedicated bright spotlights in the kitchen and the sparser dining area lighting will lend a softer feel.
Glass Pendant Light Fixtures
Glass light shades with metal fixtures are very modern. There is a trend toward these kinds of ceiling lights and they can look cool and chic in any room.
You could choose a couple of large pendant light fittings to give maximum light over your cooking workspace. And then echo the style but more delicately in the dining room.
Here, a bunch of smaller glass light shades will provide romantic lighting over the dining table. And look great too!
Wood Lighting for Kitchen and Dining Room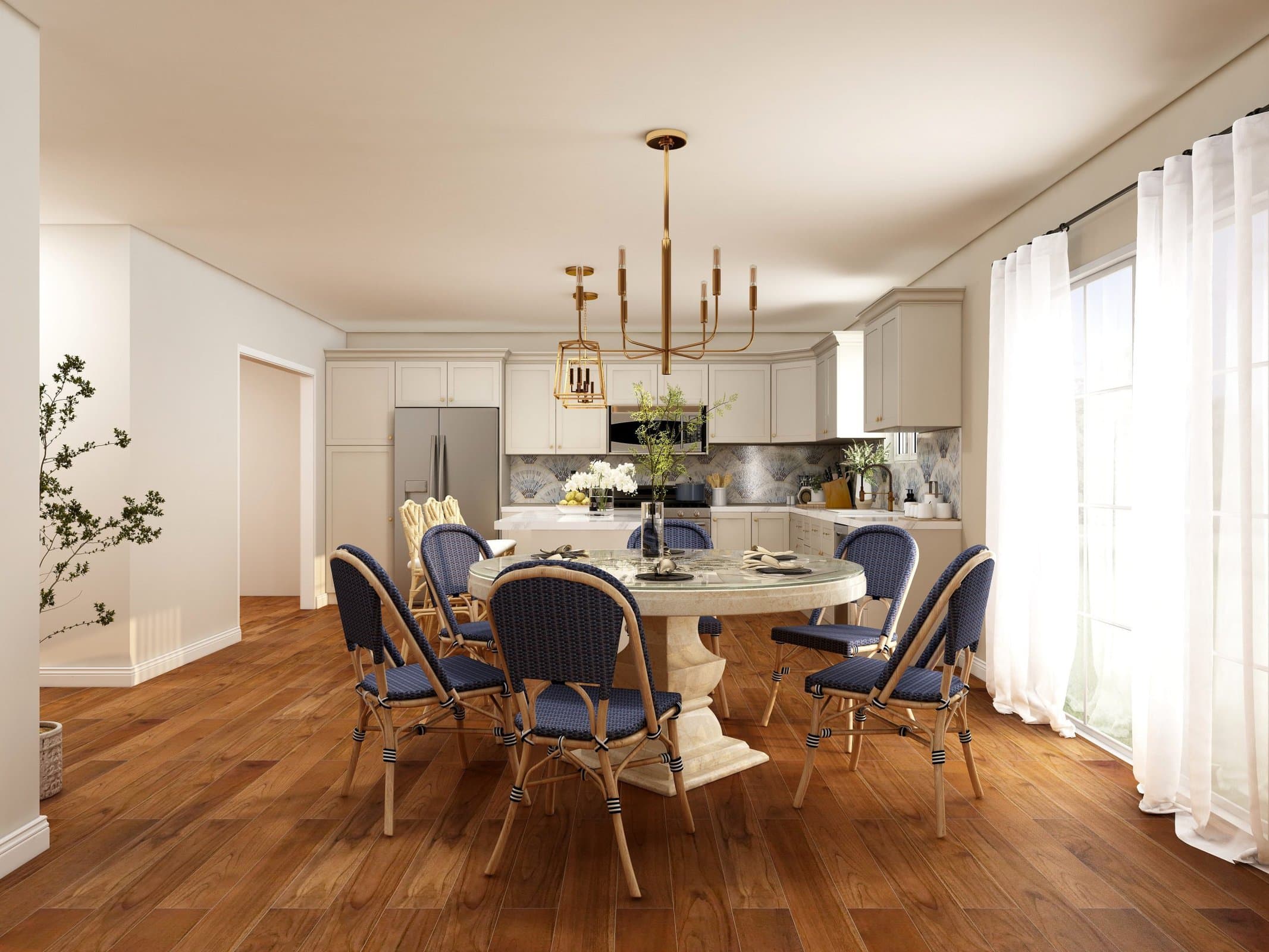 If you favor a natural look in your kitchen and dining room then some super smooth wood lighting could be just right for you.
Mid-color wood is very current and will also work well if you like a mid-century retro look. Key here is to select matching wood and gold metal but in two differing designs.
A grand chandelier is traditional in theme yet modern in style and finish. It will be a welcoming effect to your guests when you are entertaining.
Recessed Lights and Bold Modern Light Fixture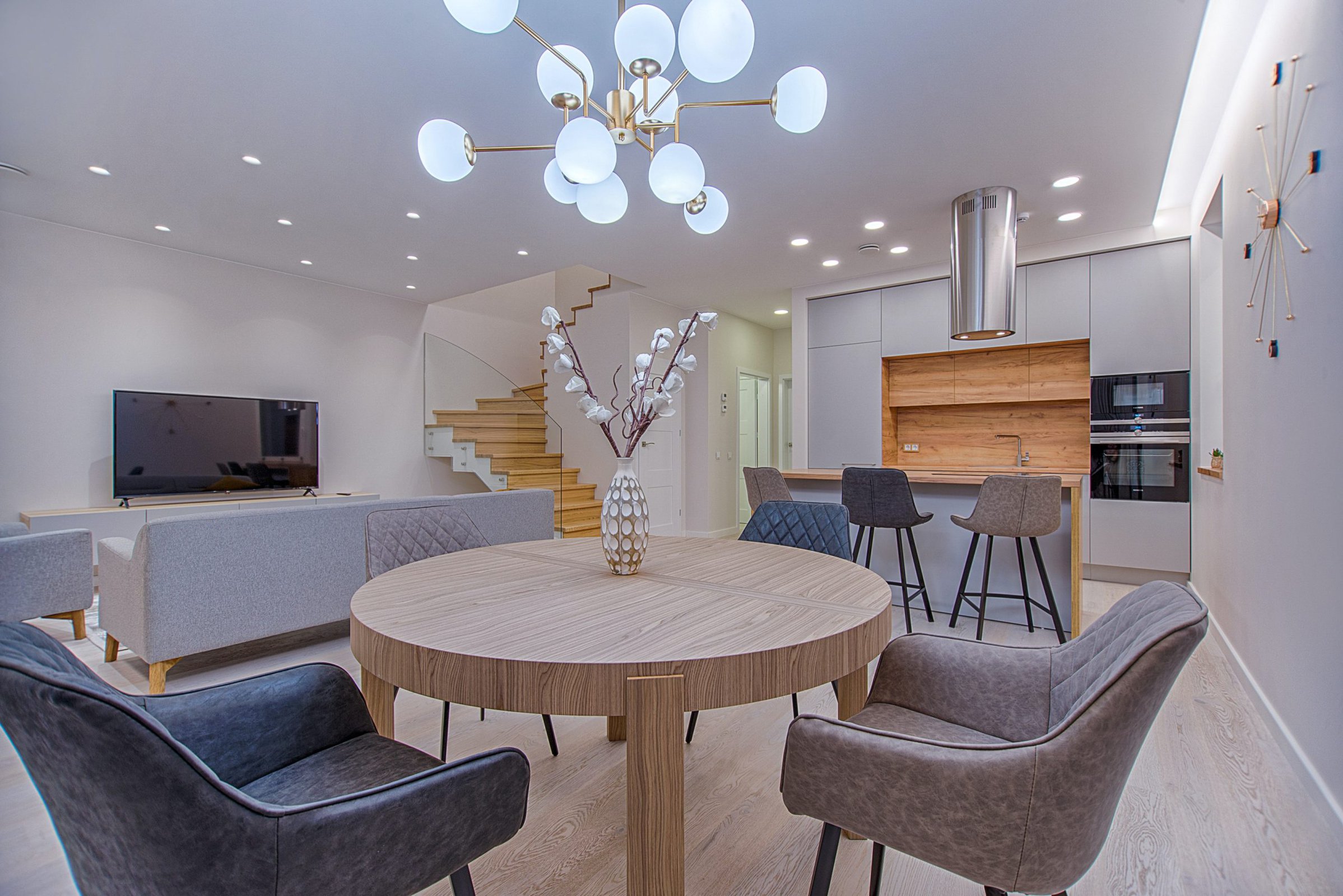 Recessed inset lights or can lights have been popular in modern kitchens for a couple of decades. Offering a great source of bright light which can be directed onto countertops, these are perfect for the home chef who likes to cook dinner for friends and family.
In the dining area of your open floor plan, you'll want to add some wow. A chandelier style light fixture with opaque white globe light shades is as 2023 as it gets. So if you like to choose fashion first, this impressive light fixture will be a winner.
Brass Lighting Pairing
You may find that you prefer to have kitchen spotlights, especially over the stove and the countertop where you prepare your food. It makes sense to have wall lights which are going to get close to your workspace and can also be angled where you need the light.
To complement this arrangement, pick the same metal from the wall sconce and the same metal from the fixture and add a row of three pendant lights over the dining area. True sophistication.
Pendant Light Fixtures
Choosing the same metal for your light fixture in the kitchen as in the dining room, and ditto with the kind of light shade, will show you know your designer onions.
Pendant light fittings are modern classics. You could opt for rounded light shades in the kitchen and a slightly more ornate caged lighting affair for the dining room. Mixing the shapes will add that touch of intrigue and interest.
Mixed Media
If you know what you're doing, you can successfully mix the colors and finishes of your light in the kitchen and dining areas.
As long as you repeat a metal color at least once again in the same room to tie it in, you could choose a trendy black matt metal shade in the kitchen.
Then picking out a gold or brass metal from hardware in the kitchen, pack a punch with a modern chandelier in the dining room. Hung at the same height in each room brings the two together.
Forest Dining Lighting with Urban Black
The way this arrangement of a black and gold metal light shade works with a foliage covered ring chandelier in the dining room is through simplicity.
The rest of the open floor plan room has smooth clean lines. The kitchen light fitting complements the black window and door frames.
And the dining room light mimics the planting in the garden and flowers on the table. This is a case of experimentation but it just works.
Traditional Chandelier
Many of us couldn't dream of having a dining room without a large traditional chandelier. It denotes eating for pleasure and having friends round for dinner. It also has a formal edge if that's your thing.
But to make it more playful, why not add a toning but not identical chandelier to the kitchen too. And for practicatilty's sake, a couple of simple rustic spotlights. Divine!
Modern Chandelier
Black metal hardware and fixings in the home has been big news in the last few years. So why not make a statement by choosing this for your home with a frosted glass?
A row of three pendant lights at the same height will give you the light you need in the kitchen. And for the dining room? Splash out on a super modern designer chandelier replete with black fittings and cables.
In Summary
Taking elements in your lighting that match but not choosing identical light fixtures is the main point to take when deciding on lights for your kitchen and dining room.
Pendants in the kitchen look great with a more elaborate light fitting or chandelier in the dining room. Ordinarily you would match up your metal and light shades for a cool, sophisticated look.
But if you're feeling brave you can mix your materials and go for pendants or spotlights in the kitchen and a foliage covered chandelier in the dining room. Or for a more traditional look, a large glass chandelier over your dining table.
It's exciting to create designer interest in your home so have a look at the available options to see how you will match your kitchen and dining room lighting.