Decorated Life is reader-supported. When you buy through links on our site, we may earn an affiliate commission. Learn More
What Color Couches Go With Gray Floors? – 15 Ideas
Gray floors are a fantastic design option to give you the most versatility while decorating. In addition, the total neutrality of gray makes it superb for pairing with most primary and secondary colors.
We'll demonstrate the amazing qualities of using gray floors by providing fifteen colors you can use for couches.
Go for a Gorgeous Gray Linen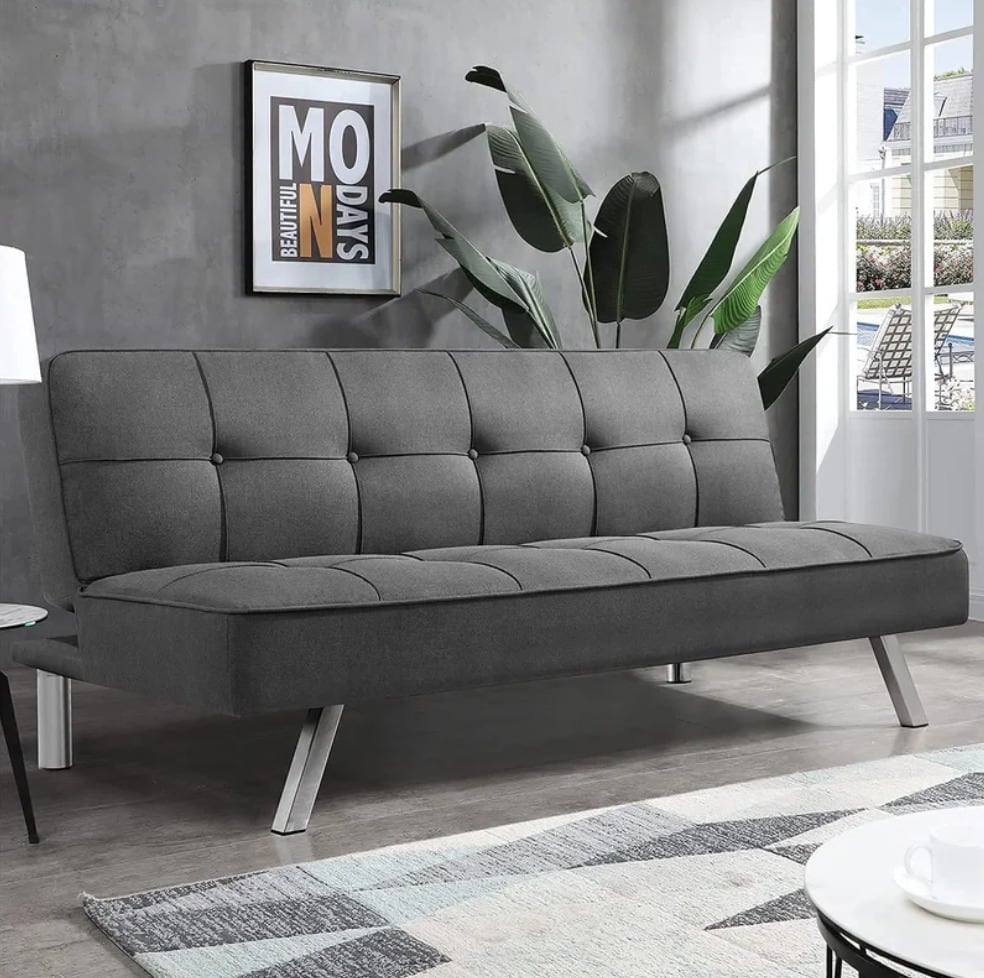 Light gray-toned hardwood floors pair well with a gray linen sofa. The ashy shade offers a dark contrast that pulls out the gray hues in the floor.
The armless design offers a sleek, minimalistic feel, while the pleated button back and seat add an upholstered vibe. Slender metal legs provide a timeless elevation that allows this sofa to convert to a bed.
Fall in Love with Beautiful Brown Leather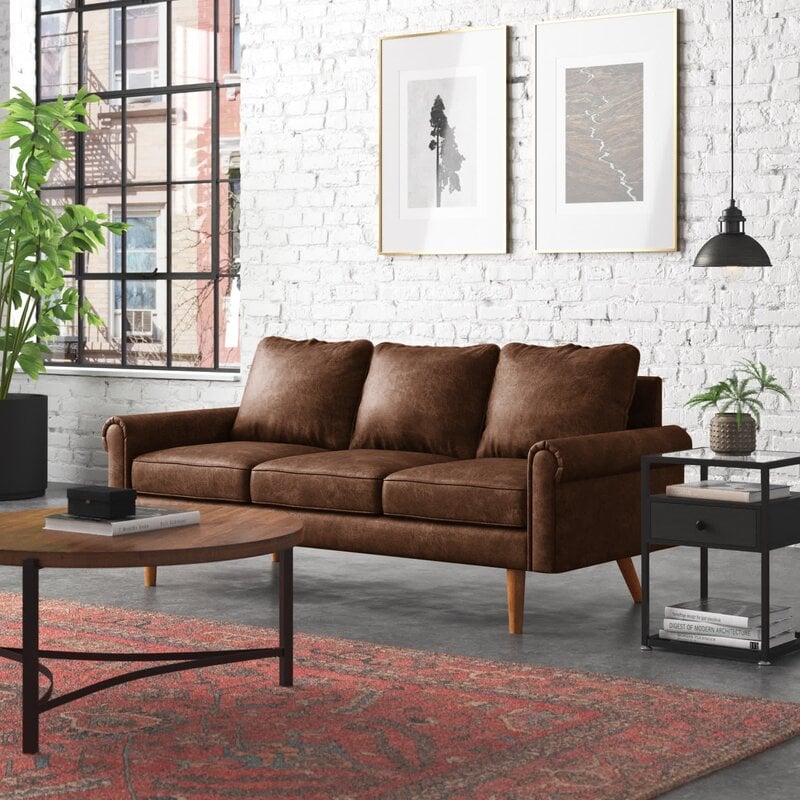 Appreciate the beauty of a vintage sofa in a distressed faded faux leather upholstery in a rustic dark brown. Rolled arms and tapered hardwood legs add an industrial touch that works for all decors and accent colors.
Mix natural wood and metal tables with a rich, ornate rug in ruby red, gold-framed abstract art, and drop-down industrial pendant globes to pull everything together.
Work It with Modern Warm White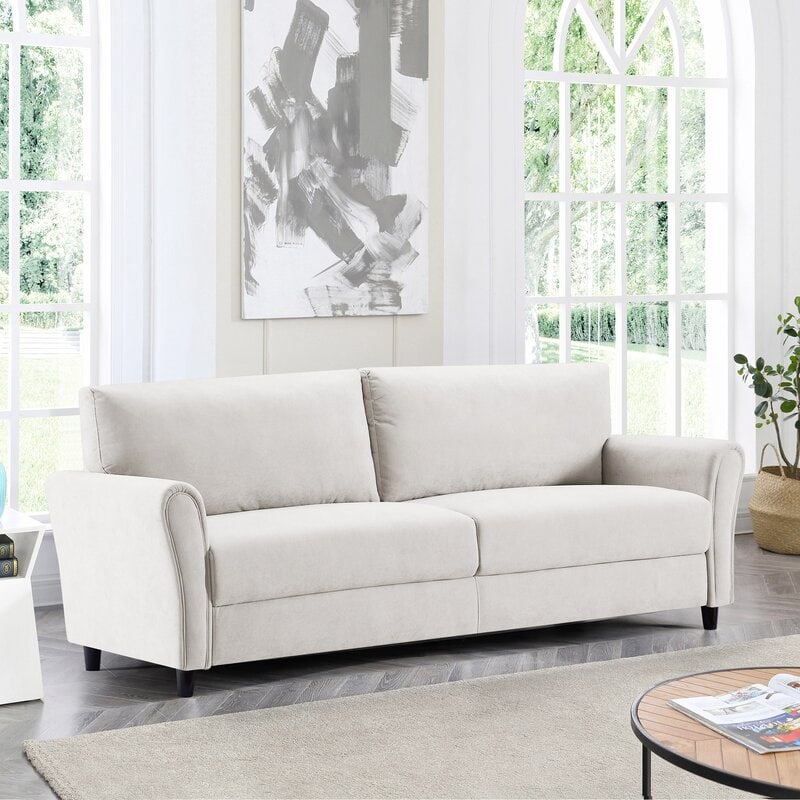 This sofa is simple and sleek, offering comfort and a versatile look that you can use for any style, from minimalistic to contemporary or modern.
The white fabric is clean and warm, with faint shadows that prevent it from being a bright, pure white. When used as a couch for light grey floors, this shade pulls out the ash variations in the gray.
Create a Cheerful Room with a Couch in Yellow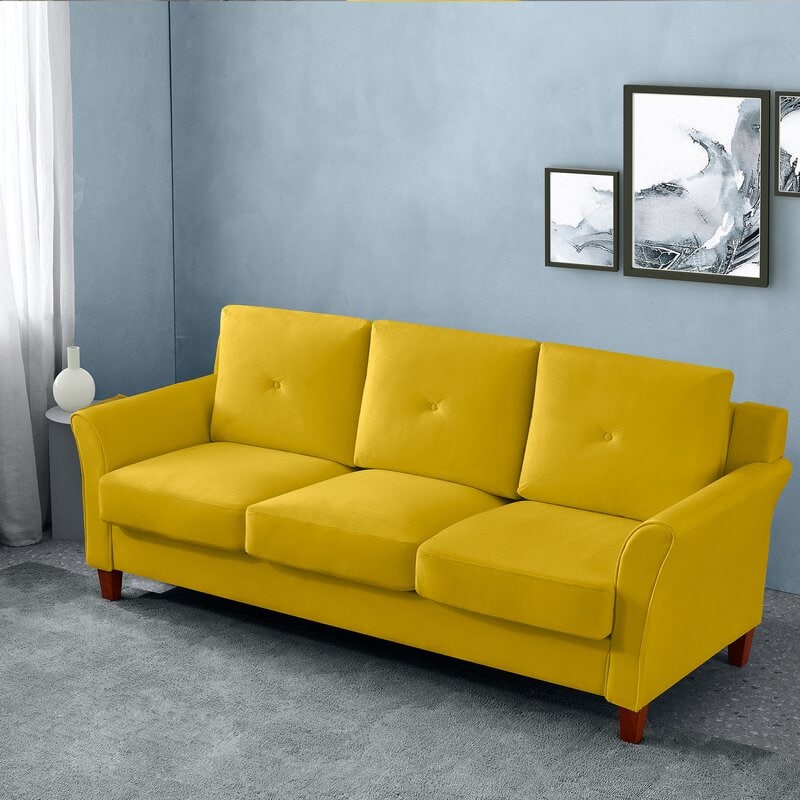 Yellow is a great color to use when you want a bit of cheery color to liven the space up. This dark mustard shade in soft velvet looks great with gray concrete floors and a simple gray area rug.
Flared armrests and straight lines give this sofa an upscale sophistication. However, if you're looking to achieve a mid-century modern, vintage, or retro nuance, go bold with a couch in yellow. Then tone the space down with lighter accents in prints and white.
Illuminate Your Room with a Sofa in Ivory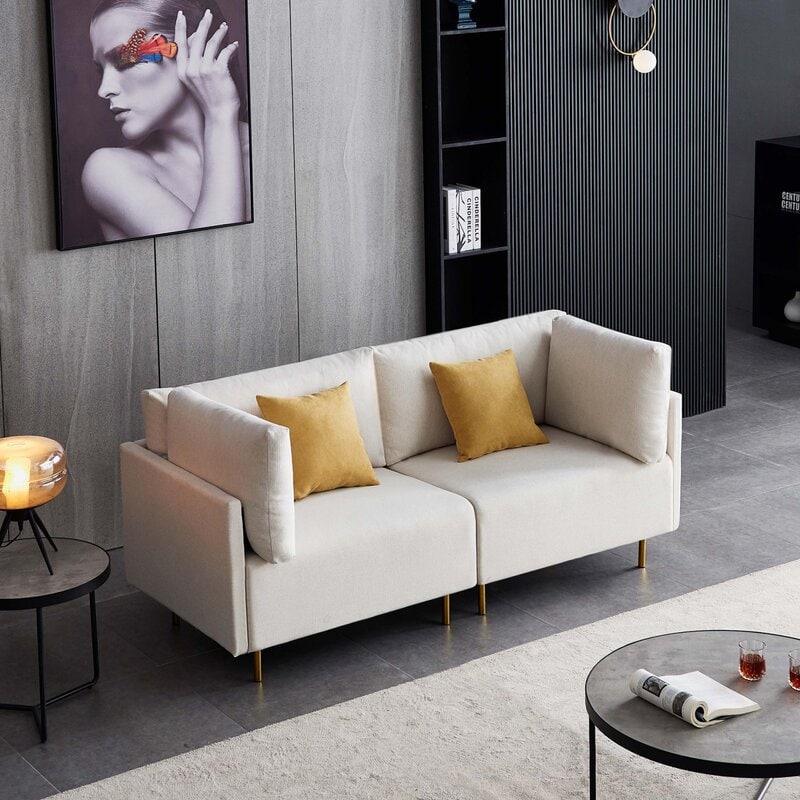 Ivory is a soothing shade of white that offers a sharp contrast for a couch for dark grey floors. The streamlined silhouette and square frame create a contemporary feel.
Skinny cylindrical gold metal legs create an upscale, modern industrial vibe. And soft padded cushions covering the angular sides and back create a comfy seat.
Grab a Great Couch in Green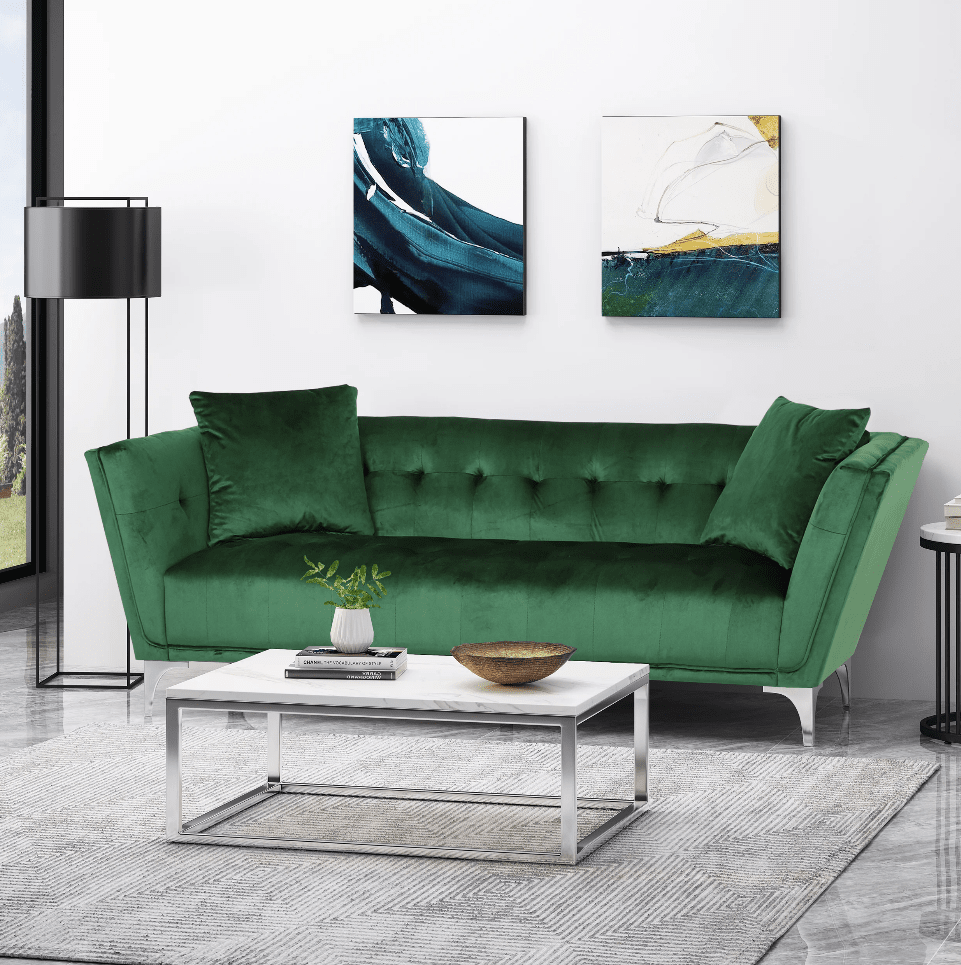 You can get a regal, royal vibe with the beauty of a green sofa. However, this rich velvet emerald green couch screams modern with clean lines and flared high-sided arms.
Waffle tuft stitching and dual matching toss accent pillows create a couch fit for a queen or king to kick back for a nap or Netflix binge. 
Create Calm with a Couch in Cement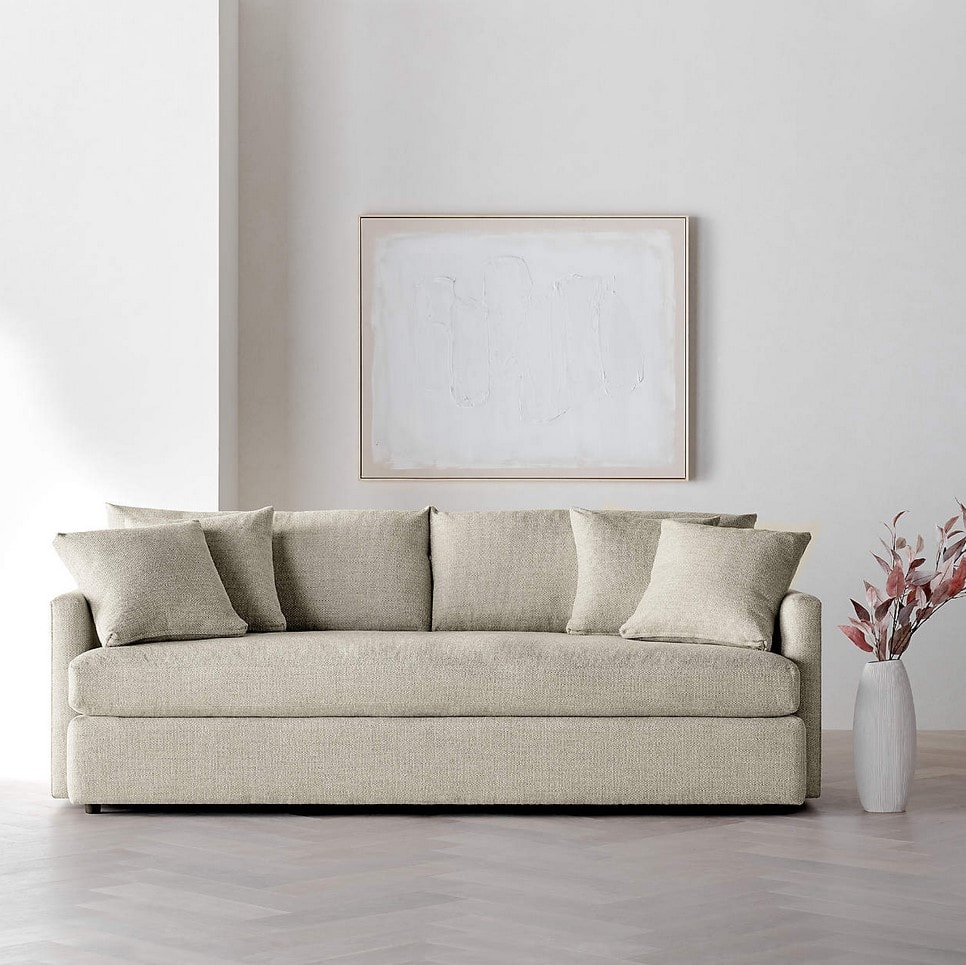 When you hear the word cement, you immediately think of gray. So that might be why it's a fantabulous sofa color for gray floors in a herringbone pattern.
This understated lounge sofa has a super-deep bench and plush cushions. The slim track arms and lowered stance make this Taft couch modern and spacious.
Pick a Dark Gray Like Perimeter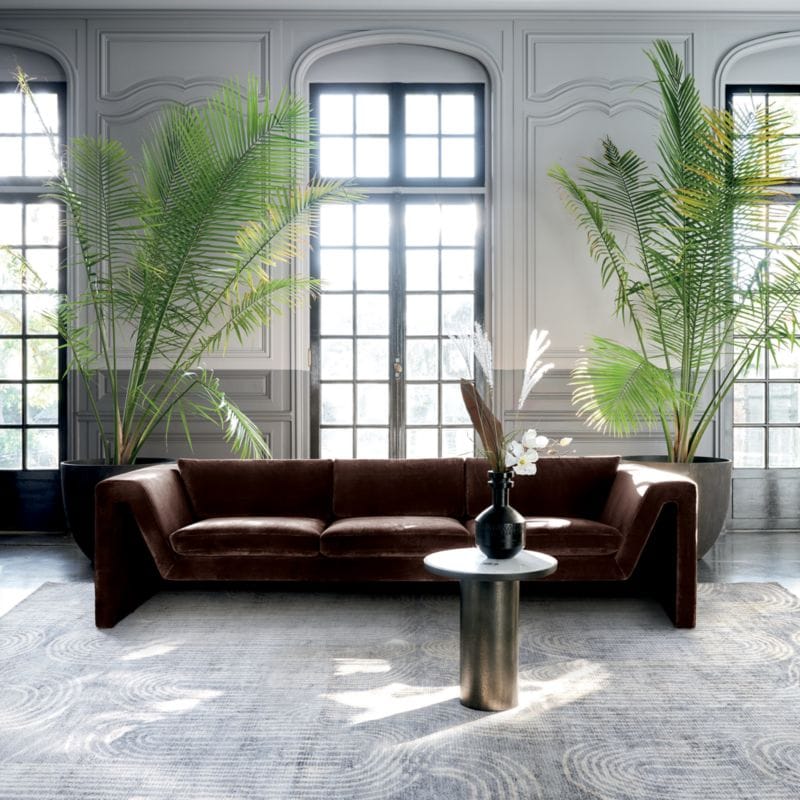 Keep your design monochromatic by going with gray everywhere. But to make the colors stand out, pick different shades of gray.
This room demonstrates the upscale, minimalistic vibe achieved with light and dark grays. This gray couch color for gray floors is a dark brown in a funky abstract shape sure to get attention.
Pretty in Warm Red Paprika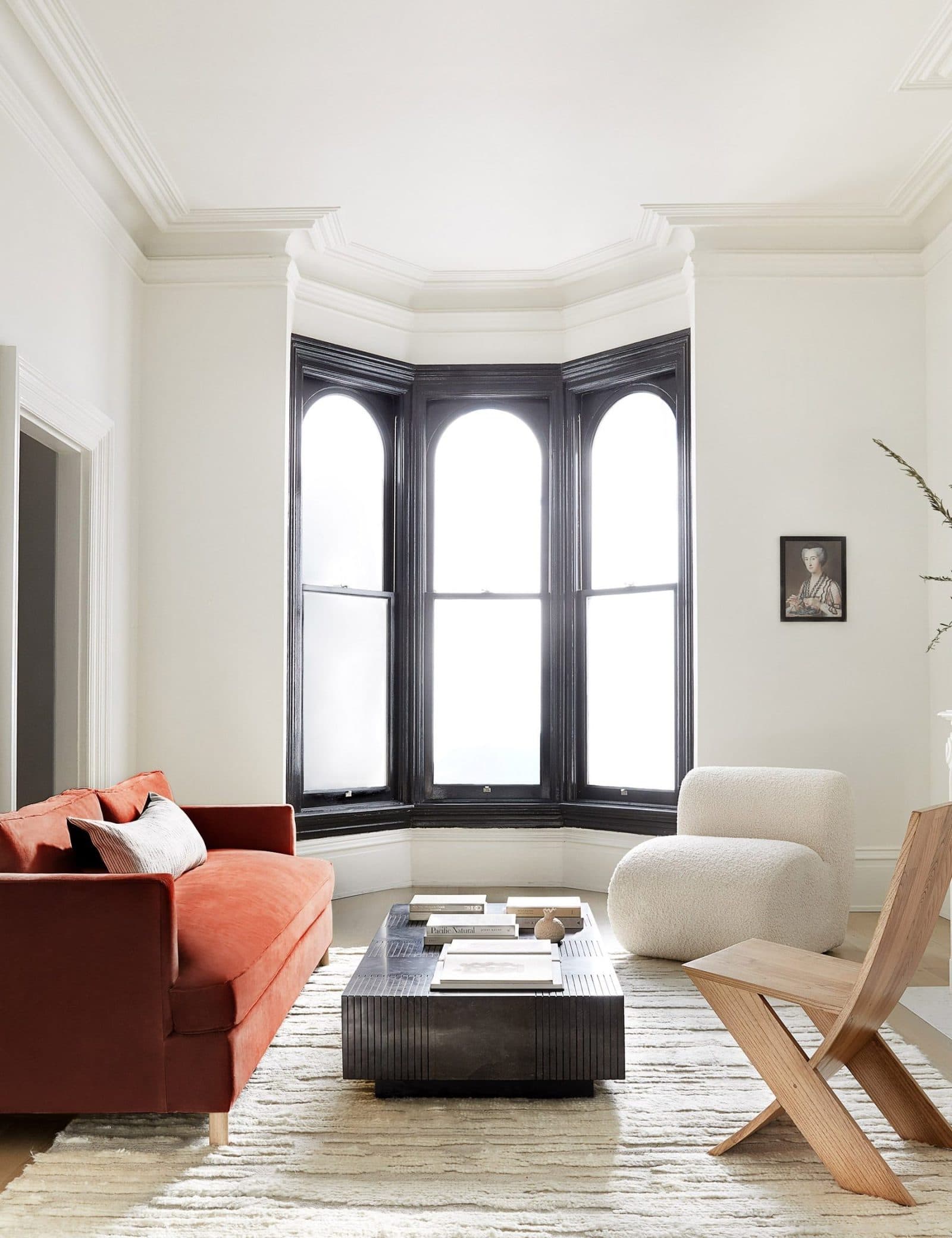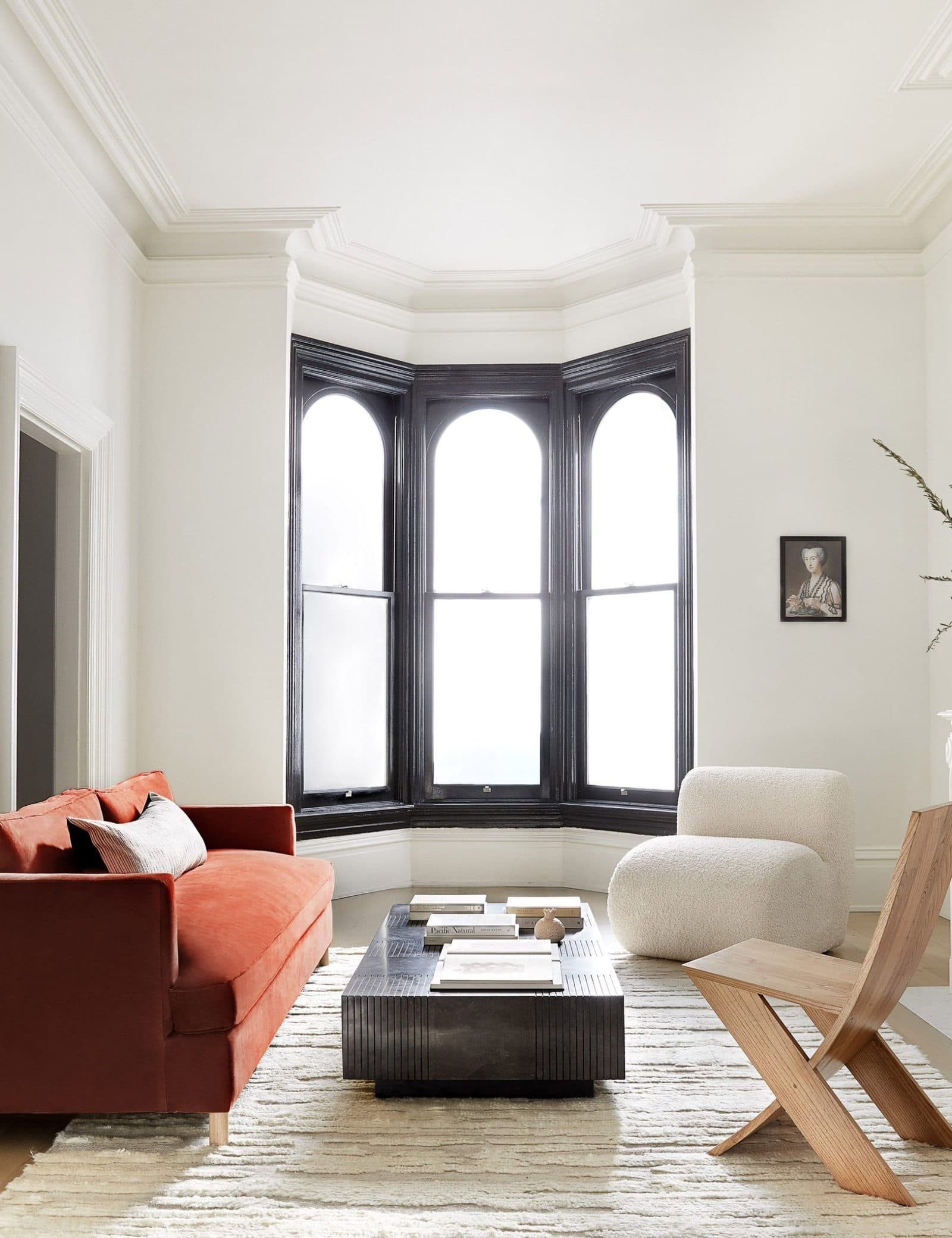 Choosing a sofa in a warm tone like paprika and chairs in an eclectic mix of wood and white fabric gives you a funky, mid-century space.
This rust-red sofa has 4" light red oak legs and a wide bench cushion. The 72" length offers enough room for the whole family or a comfy nap. And the rounded corns prevent painful bumps and run-ins.
Be Bold with a Bright Banging Blue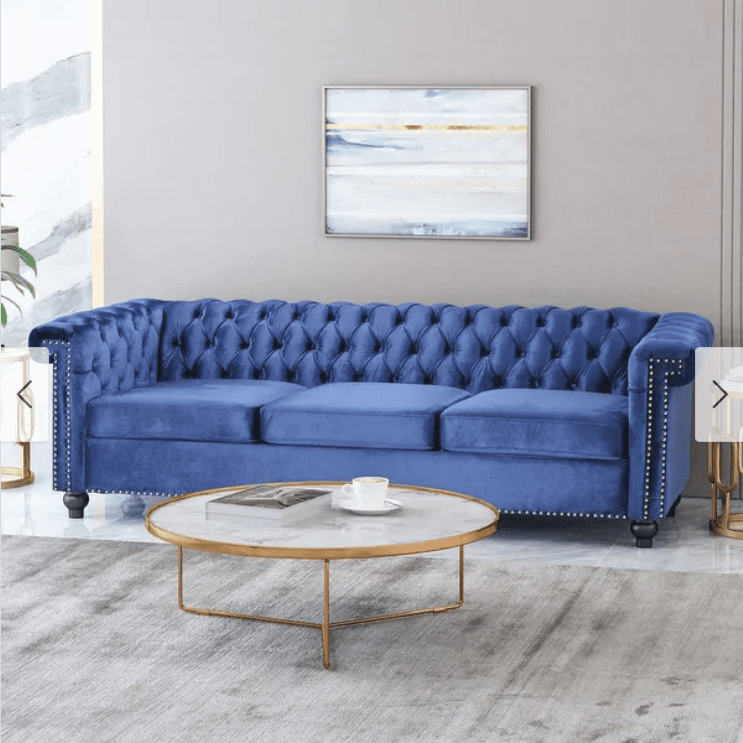 Blue and gray go together like peanut butter and jelly. Many shades of gray have blue tints, and both colors classify as cool.
When using light gray for the floors, add drama to your room with a bright, bold blue like Midnight. This timeless sofa has a velvet button-tufted stitch backrest, rounded arms with a low profile, nailhead accent trim, and birch wood legs.
Get Feminine with a Rosy Rouge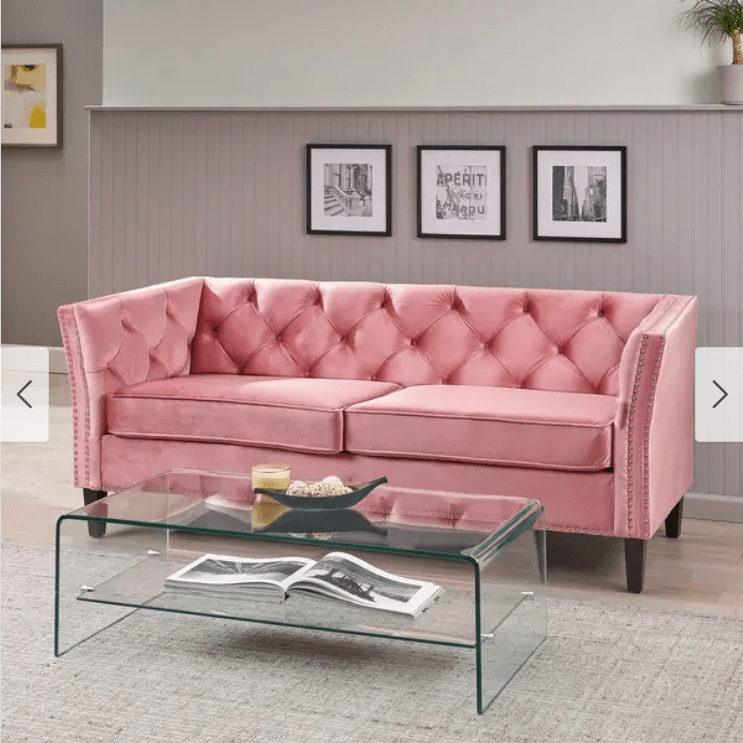 Give your space a soft, romantic feel with a small sofa in rogue. This dusty shade of pinkish mauve adds a refined touch, balanced with a sleek, minimalistic glass coffee table and a basic woven rug in gray.
The dark brown tapered birch wood legs add a touch of the modern mystery, while the nailhead trim along the soft velvet provides decorative accents. Finally, the diamond tuft pattern backrest adds a chic throwback touch.
Begin with a Blank Slate in Beige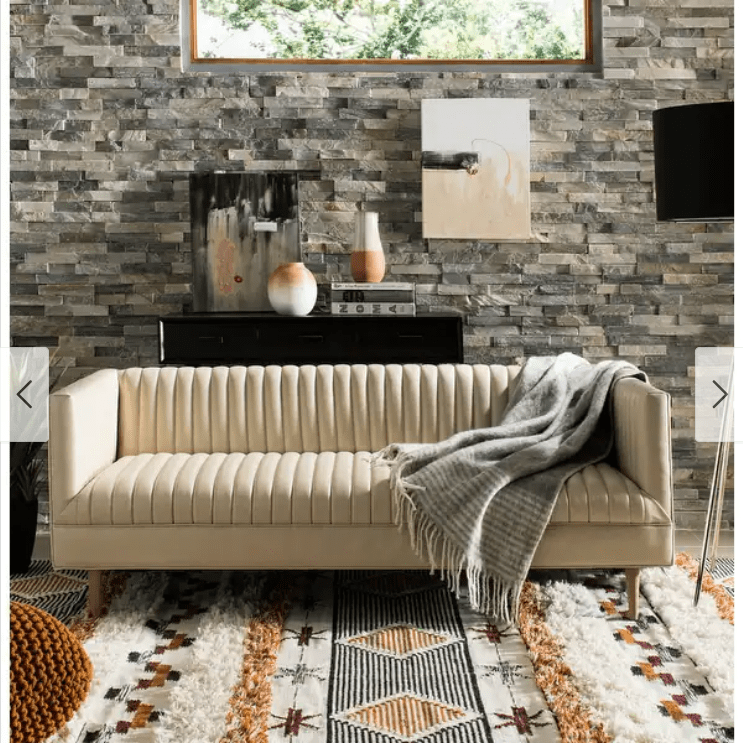 Bring your room into the modern age with a tight-back leather sofa in creamy beige. The Carmina has gentle angles and a channeled upholstery for a stand-out look.
The neutral color palette makes this sofa perfect for modern, contemporary, mid-century, chic, glam, or western. Then accent with boho pieces like a patterned rug and a neutral fringed throw.
Collect Some Color with Chartreuse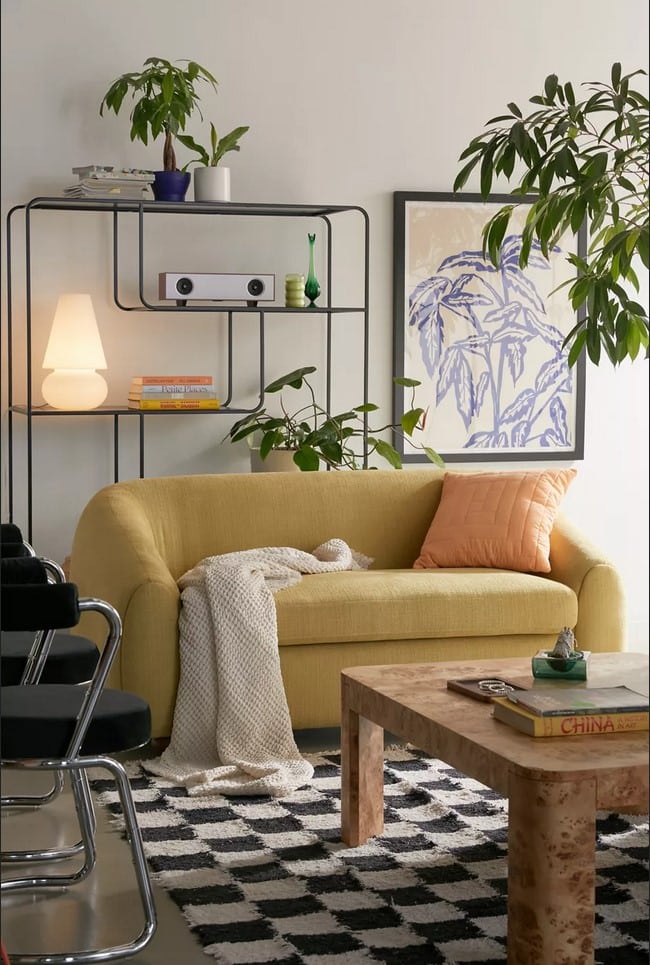 Chartreuse is a darker, warm shade of yellow that feels grown-up and refined. The curvy lines give this modern sofa a funky retro vibe, complete with accents like a black and white checkered area rug.
The stubby low pine wood legs and sleek back create a chic, laid-back loveseat that beckons you to relax while working as a focal point for a boho room.
Mix Materials with Cream Linen and Rattan Wood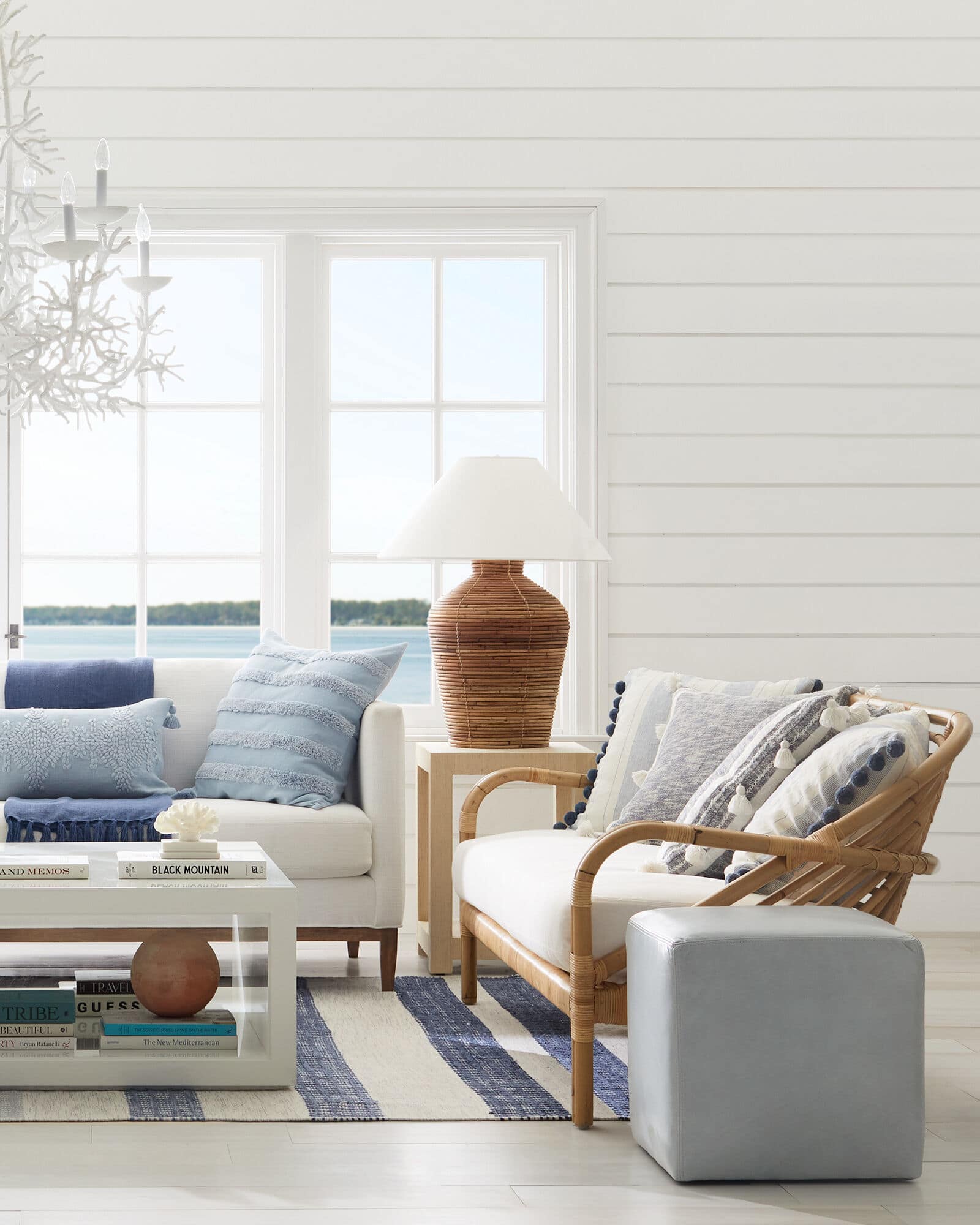 Create a beachy, tropical vibe with a sofa with a light rattan wood frame handwoven with curling lines. The cream bottom cushion gives cushioning and color.
And the open back allows you to change top cushions at a whim for easy seasonal decorating. Mix in some eclectic pieces like a gray stool, a white wood coffee table, and a cream loveseat.
Play Around with a Pattern Print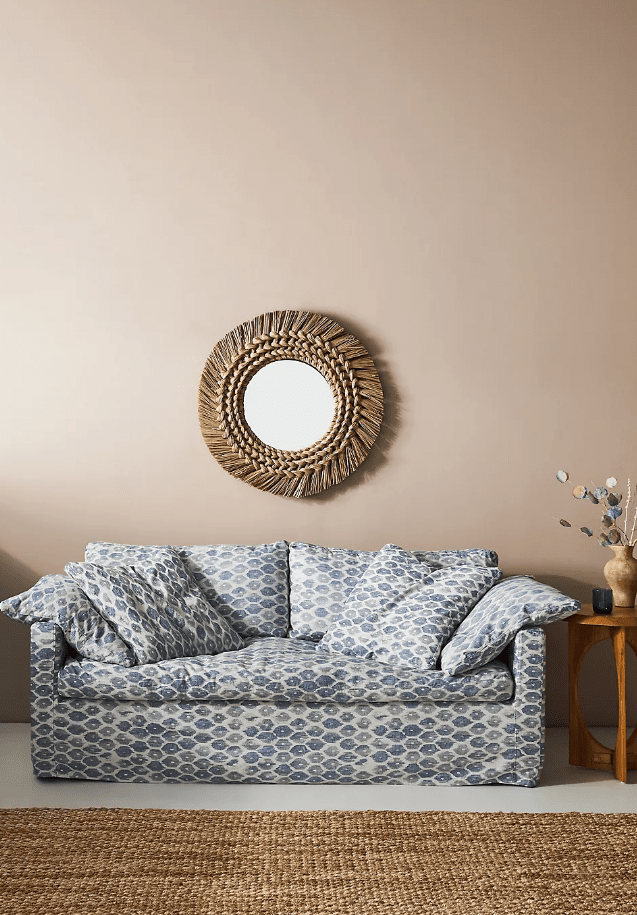 Try picking a sofa in a patterned print for a fun, out-of-the-box look. For example, this couch has a unique snake or honeycomb print in varying tones of light and dark gray on top of a beige sofa.
Four pillows in a matching print cover slim arms while the fabric extends down the front in a tight skirt, hiding the couch's legs all the way around.
Gray Floors Go with Multiple Couch Colors
The options you have for couch colors are as many as the various shades of gray that you can have for your flooring. So whether you have light or dark gray hardwood floors or gray tile, there's a couch color that's going to look fantastic. You can go with neutrals like white, cream, ivory, gray, or black or with primary bolds like red, blue, or green.
Which couch color is your favorite look for gray floors? Tell us in the comments.