Decorated Life is reader-supported. When you buy through links on our site, we may earn an affiliate commission. Learn More
21 Stylish Throw Pillow Ideas for Grey Couches
Throw pillows are the perfect finishing touch to your living room decor. They have the power to tie your color scheme together, and make your house feel like a home, as well as giving you the flexibility to change things up whenever you like!
The great thing about having a grey sofa is that grey goes well with almost any color scheme, so you can use throw pillows to add personality and color to your living room.
It can be tricky to find the right throw pillows though, so today we are going to be sharing some of the best accent pillows for a grey sofa to help you find the perfect mix!
Here are 21 stylish throw pillow ideas for grey couches:
Go Bright and Bold With Yellow Accent Pillows on a Grey Couch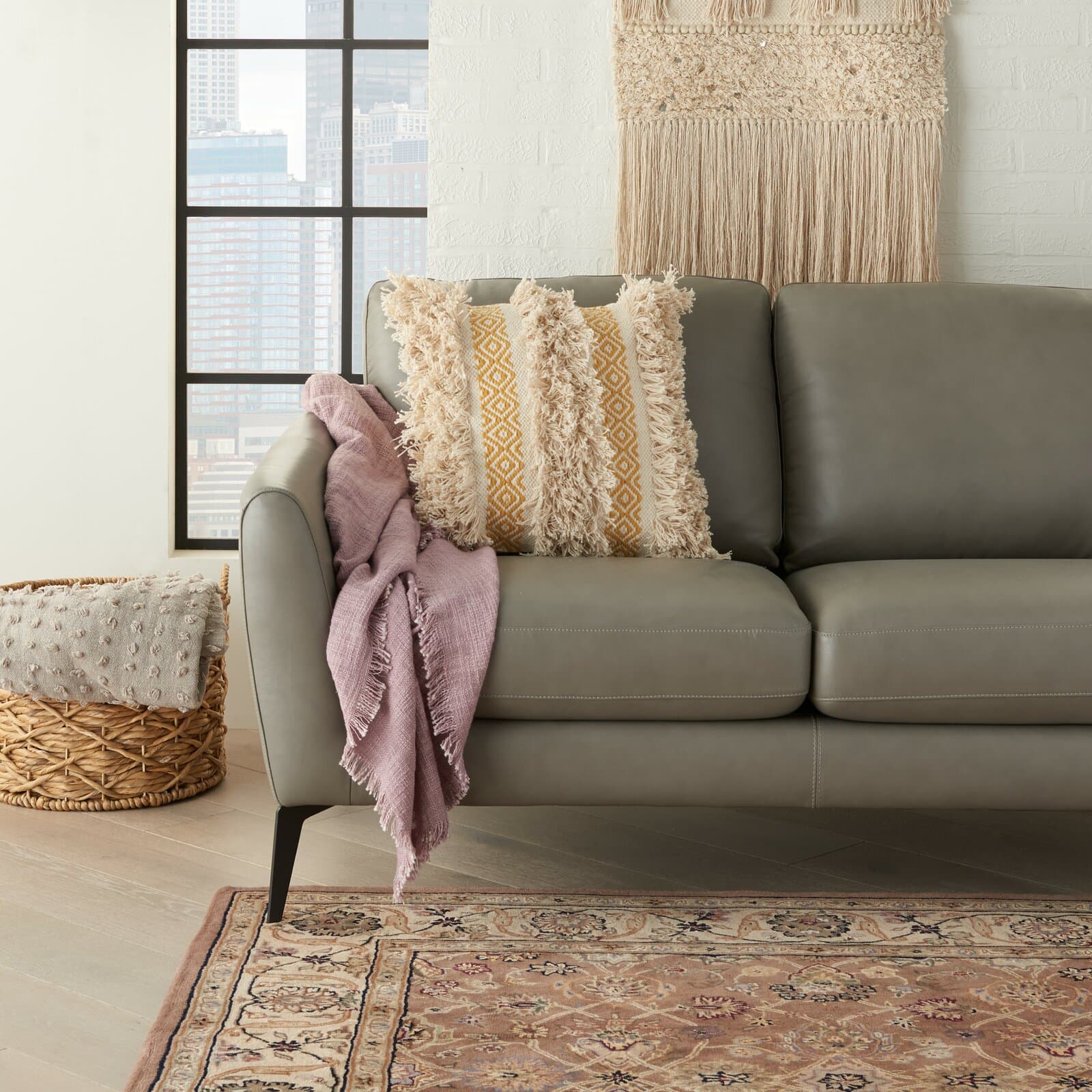 Yellow and Grey are Pantone's Colors of the year for 2021, and these uplifting colors make the perfect combination for accent pillows on a grey couch, bringing a touch of sunshine to your living room.
This striped cotton throw pillow features a mustard yellow geometric pattern amidst creamy beige stripes of tassled texture, giving an extra dimension to your sofa with its fun yet sophisticated design.
Mix up Patterns and Colors for an Eclectic Look
For an eclectic mix of colour and pattern, try mixing two solid colors with one or two patterned throw pillows thrown into the mix. This combination can really add some excitement to a grey couch and make it feel unique!
You can choose patterns and colors that match other items of decor in your living room such as ornaments, curtains or artwork. This will tie everything together making your room feel 'finished'.
See similar at Anthropologie
Keep it Simple With White Throw Pillows on a Grey Sofa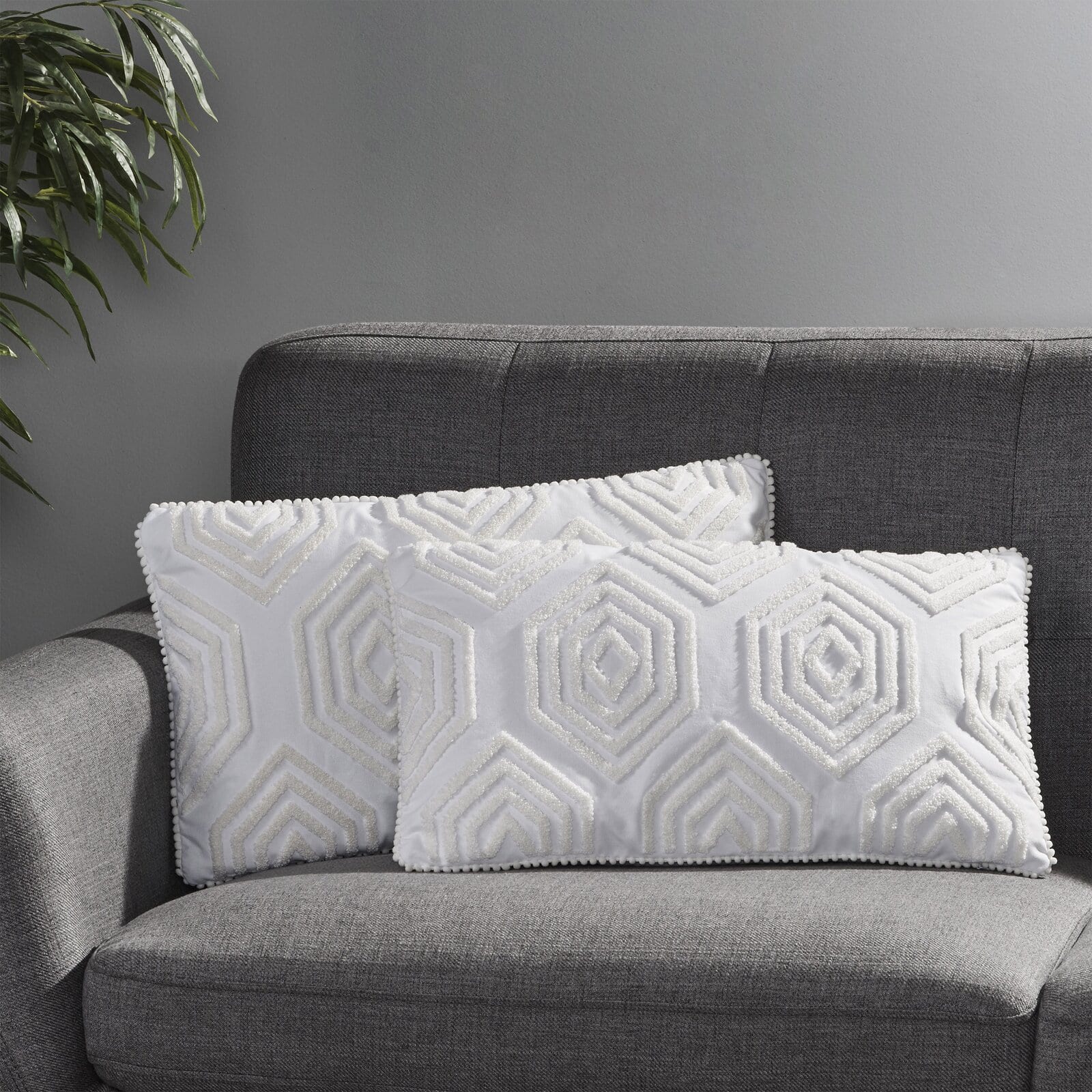 White throw pillows on a grey sofa is a classic combination. White on grey looks clean and crisp, making your home feel fresh and bright.
These cotton geometric lumbar pillows will look great on a grey sofa, with their eye catching geometric hexagonal pattern and texture making them a unique and stylish choice. They are 100% cotton, so they will feel lovely and soft, and the white color means they will work well paired with other throw pillows.
Get a Luxurious Look With Stone Washed Velvet Pillows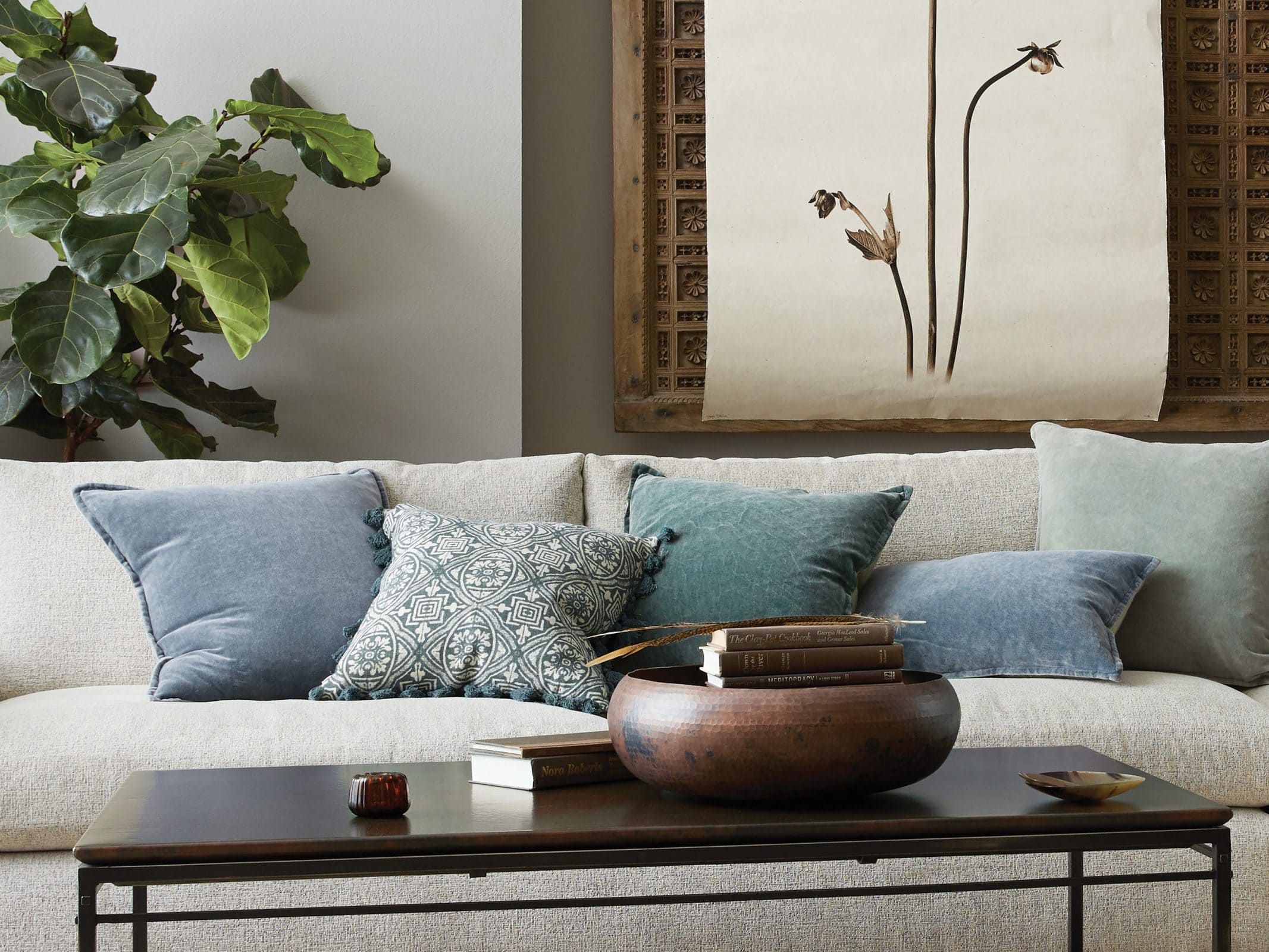 There's something so luxurious about velvet throw pillows. These stone washed velvet throw pillows have been designed in a gorgeous range of muted colors, so they all go together perfectly.
These are beautifully made in 100% velvet with a 100% linen backing. They have been artfully distressed to give an vintage luxe finish, and would look perfect on a light grey couch.
Grey and White Pillows on a Dark Grey Couch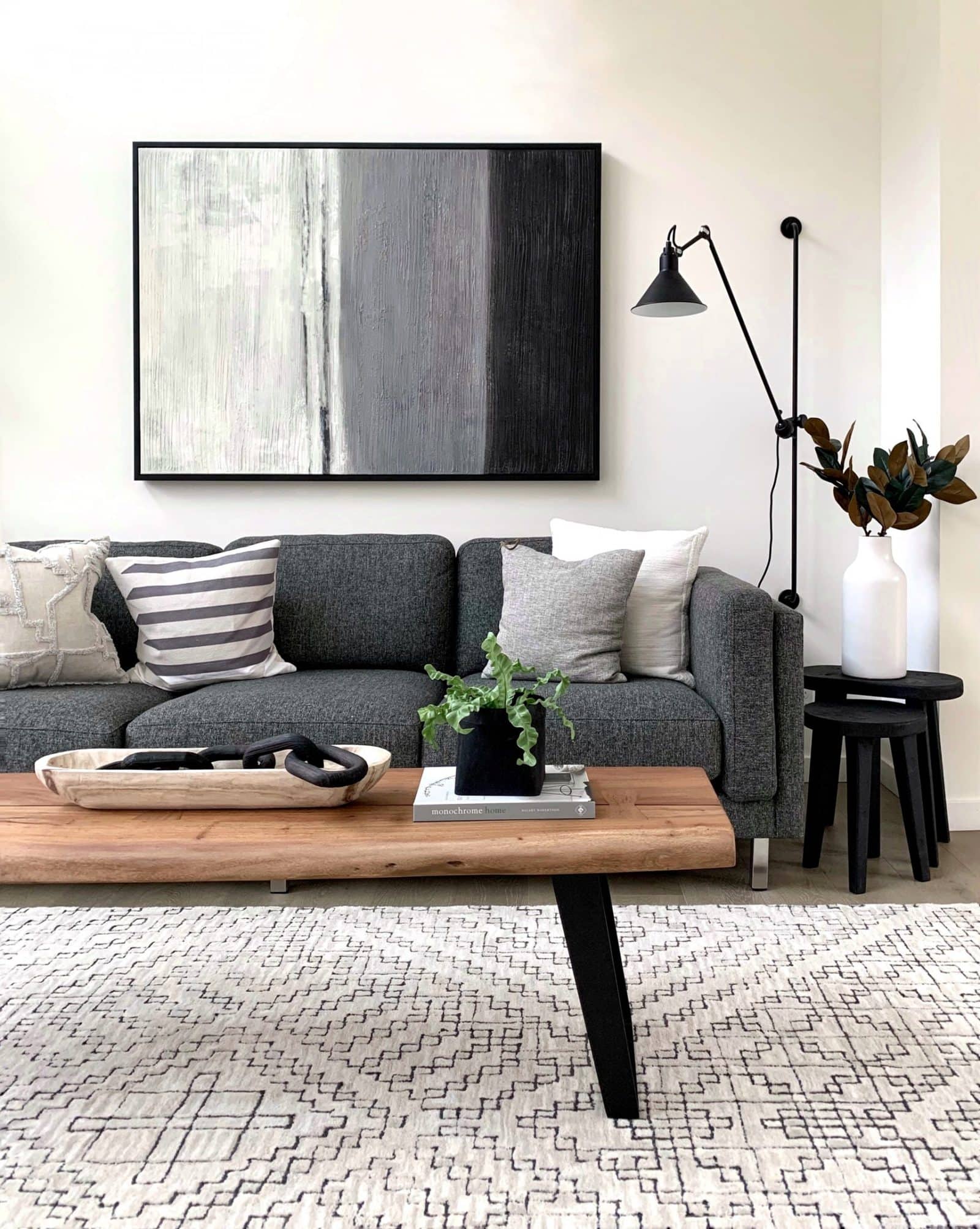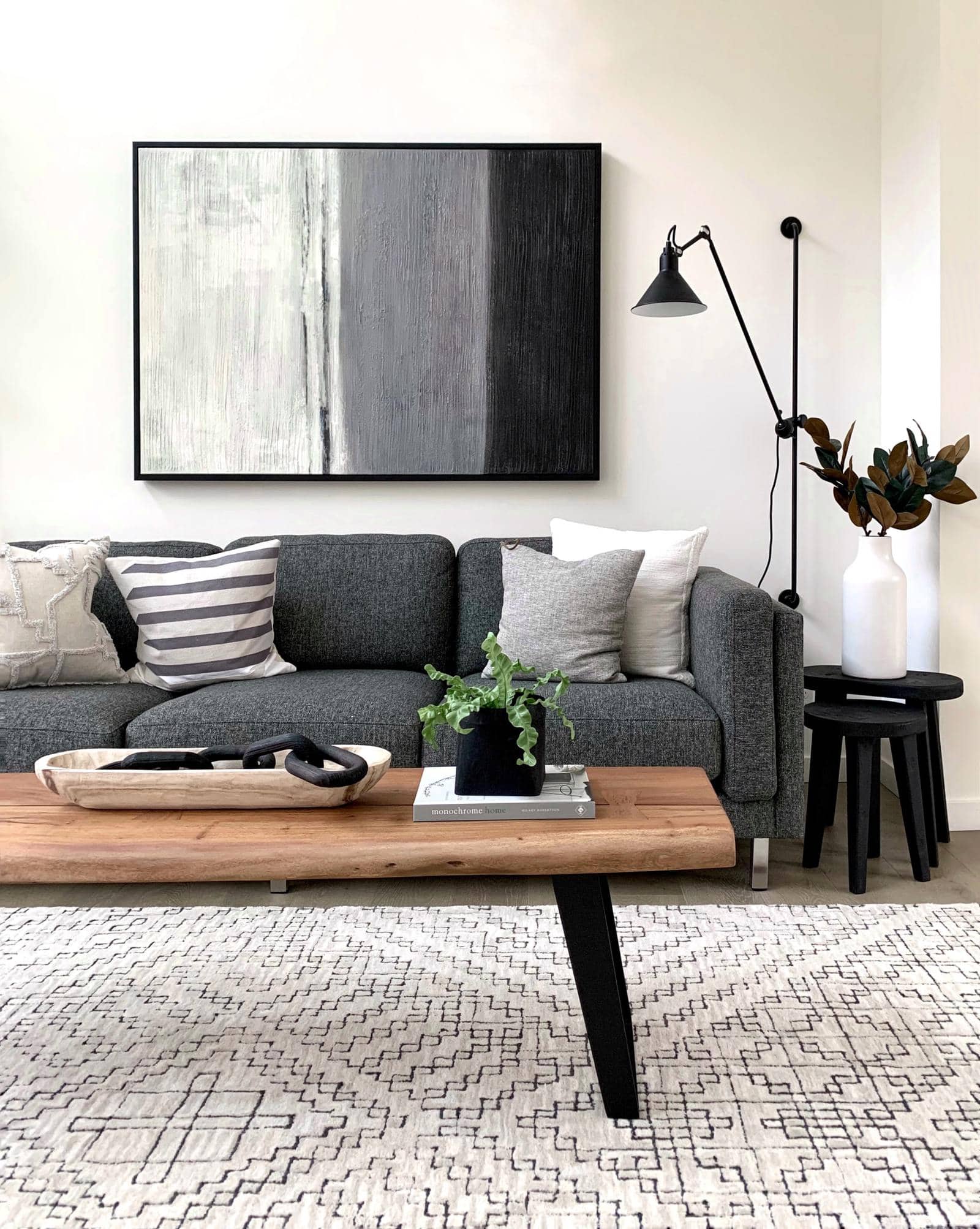 If you're looking for throw pillows for a dark grey couch, then grey and white pillows are a great option. Mix in some patterns and textures along with a couple of solid colors to add variety and interest.
This selection of light grey and white pillows contrasts nicely against the dark grey of the couch, and the variety of texture and pattern keeps your eyes moving. A great combo!
See similar at Serena & Lily
Add Geometrics For a Modern Look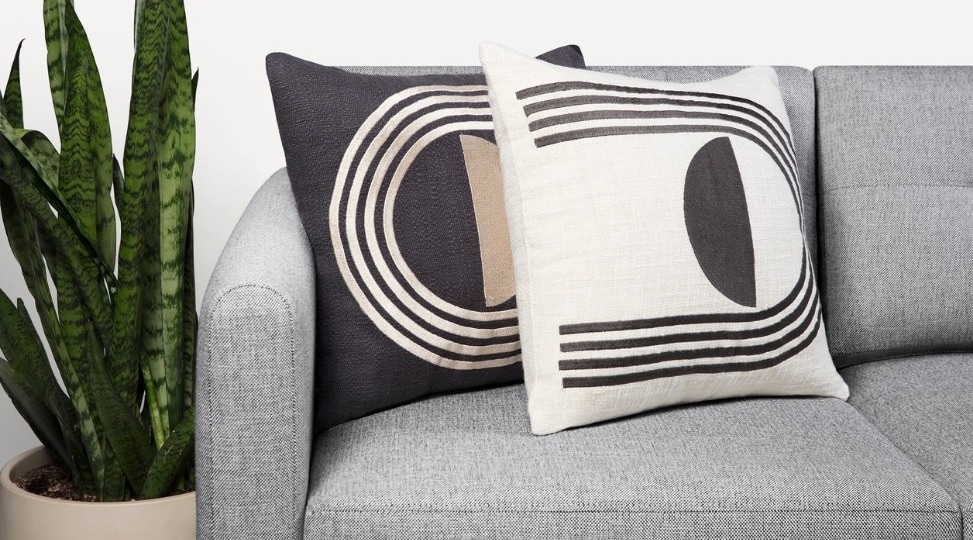 These luxurious geometric throw pillows will give your interior an art deco feel. The pattern is embroidered onto the cotton mix cushion, giving it an expensive feel. These pillows paired with a plain grey sofa will give a very modern look to any interior.
They work really well on a mid-grey couch, but could also look great against a lighter shade of grey.
Look Smart With Black Patterned Throw Pillows on a Grey Couch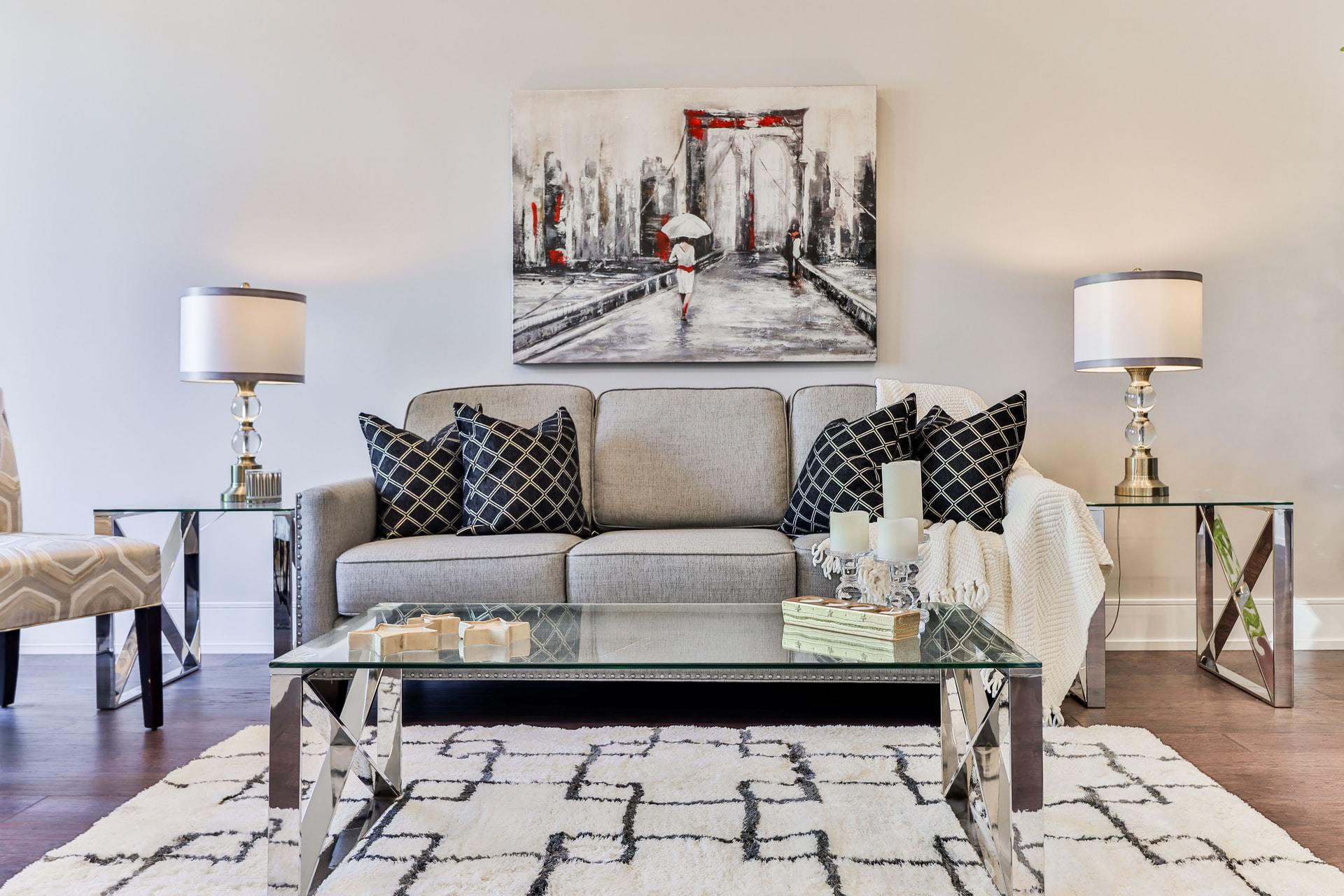 For a smart looking interior, try black patterned accent pillows for grey couch. These black pillows work well against the light grey of the couch, and the black also reflects the black from the painting behind the sofa, tying everything together nicely and creating balance in the room.
The white lattice pattern on the pillows breaks up the black nicely and adds some interest and texture to the design.
See similar at Home Depot
Grey Couch With Purple Throw Pillows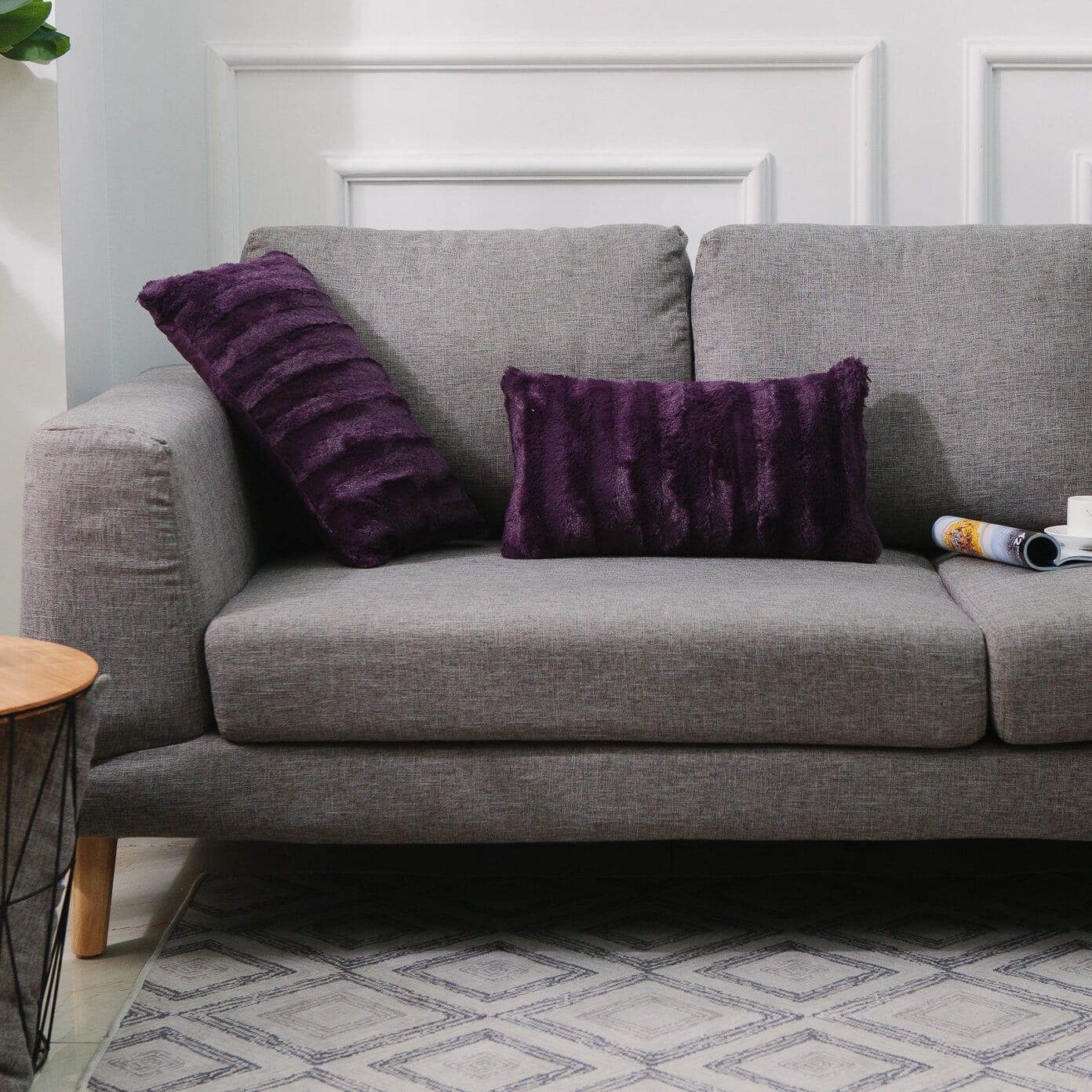 For a fun and cosy look, you can't go wrong with these purple faux fur accent pillows on a grey sofa. The vivid color stands out against the grey couch for a playful homely feeling.
These gorgeous lumbar pillows come as a pair, so you can have one on each side of your sofa mixed with some larger throw pillows to balance things out. As an added bonus they are fully washable, so a great choice for families with kids or pets!
Black and White Pillows For a Minimalist Look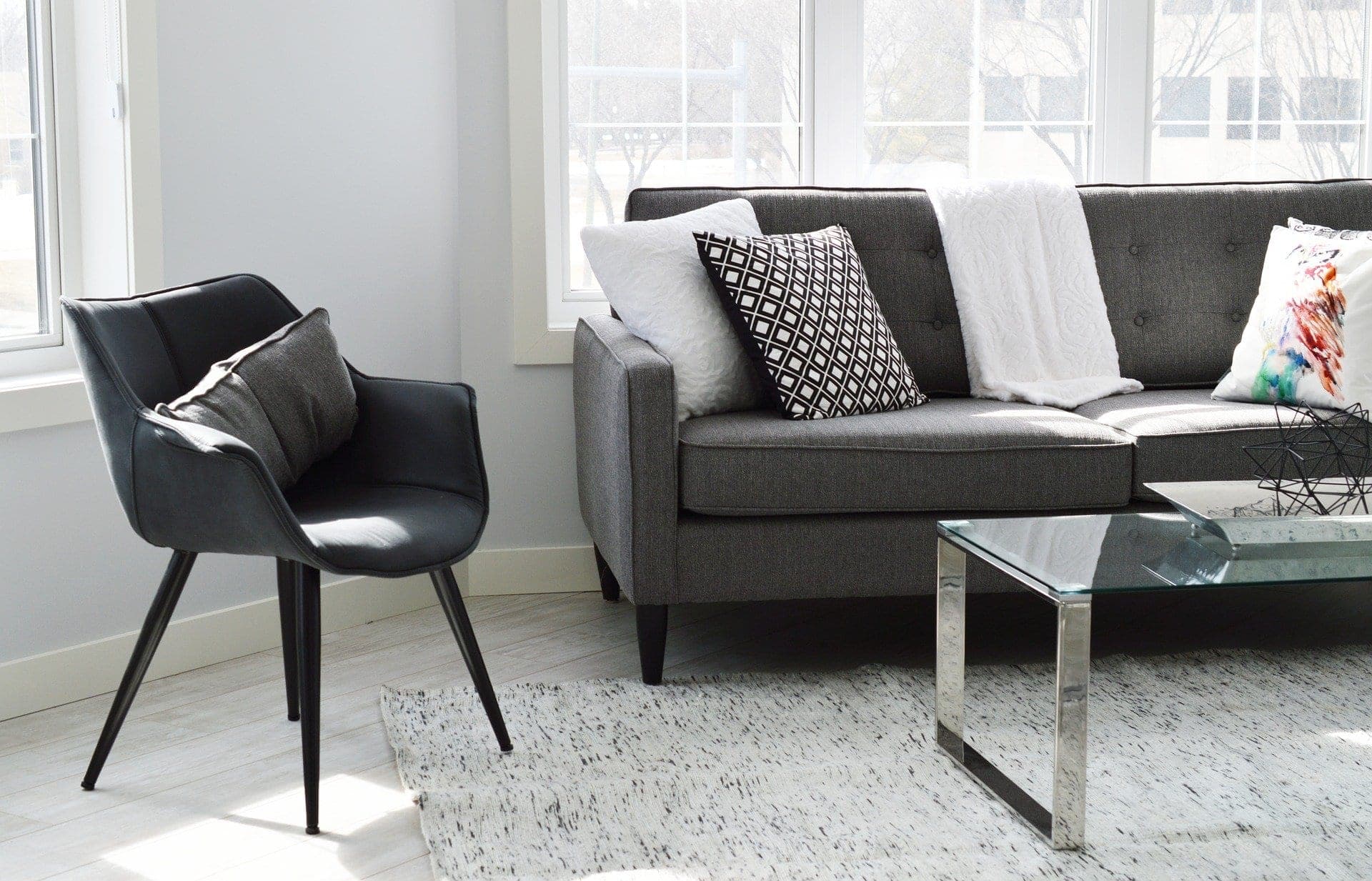 A mixture of black and white pillows can work really well on a dark grey sofa to create a minimalist look. Try different patterns and textures to mix things up and bring some depth to your interior.
Black and white together give a very striking look, signifying good and bad, strong and pure, and overall, balance, making them a great choice for a minimal interior.
Shop a similar pillow on World Market
Add Some Whimsy With a Handmade Block Animal Print Accent Pillow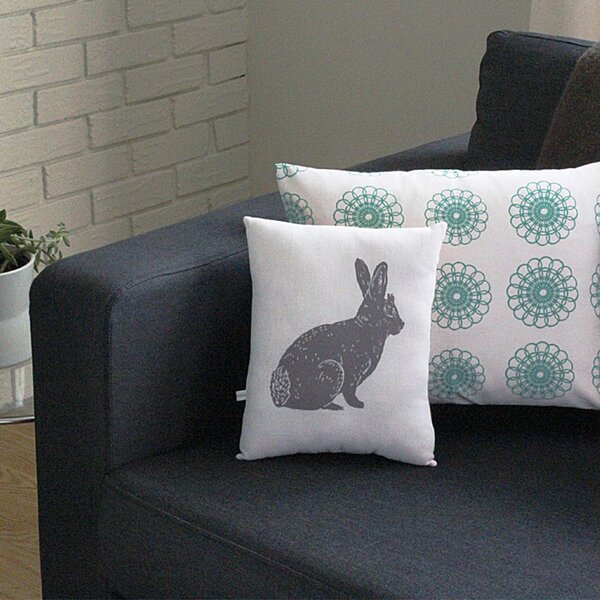 A hand- carved linocut block print has been printed onto this cute pillow. These adorable rabbit pillows are perfect for anyone who wants to add a touch of playfulness to their interior.
The reverse features a gorgeous vintage fabric, so this is a reversible pillow depending on the weather, your mood or who is coming round to visit! The fabric backing may vary as these are truly unique products hand-crafted in Grand Rapids, Michigan.
Black, White and Gold Throw Pillows on a Light Grey Sofa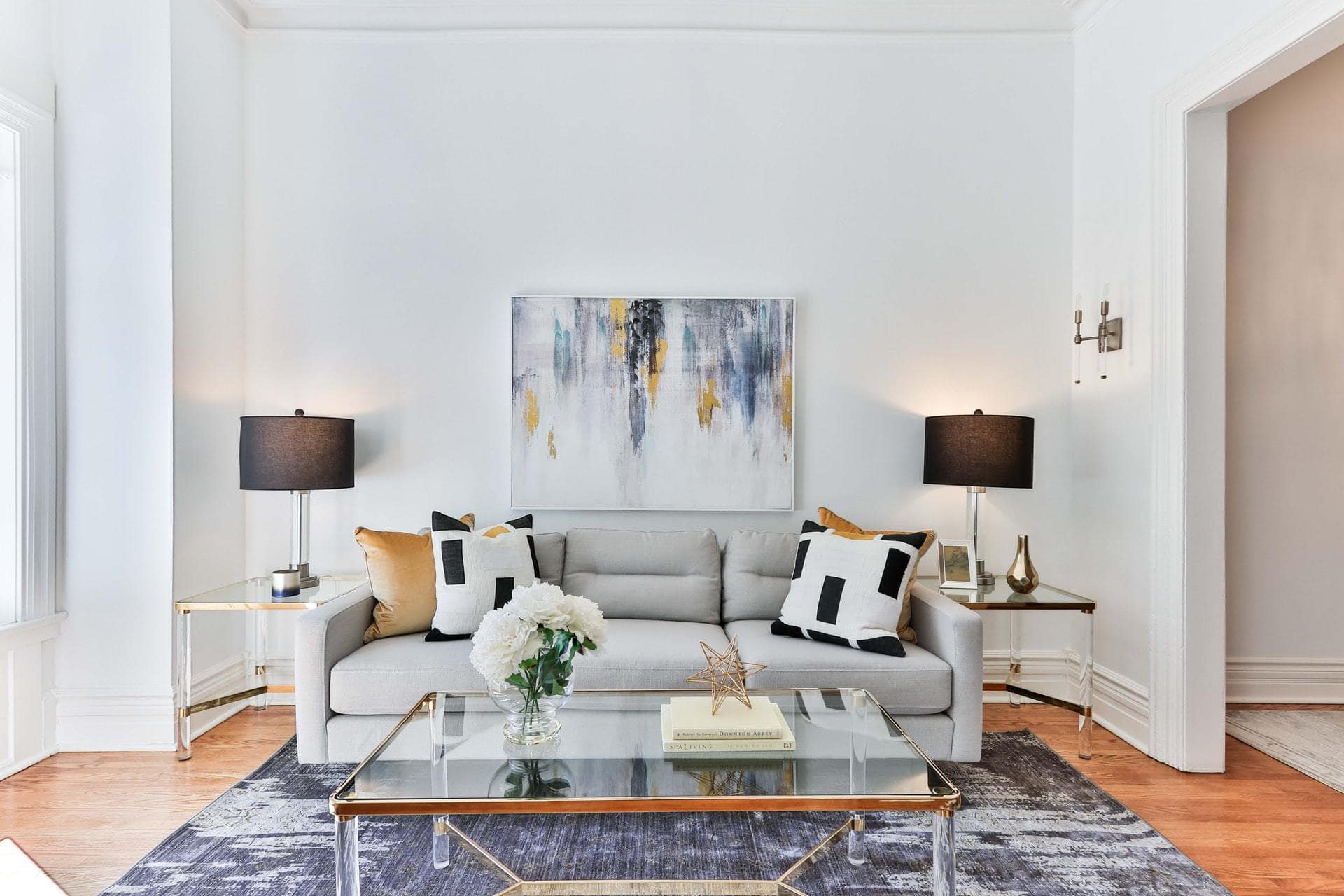 For a striking effect, try a black and white patterned pillow paired with a plain gold throw pillow. This combination looks exquisite against a light grey sofa. The gold adds a warmth and brightness that you wouldn't normally see on a grey sofa, and the black and white is what gives such a striking effect.
The gold on the pillows mirrors the gold in the artwork, tying everything together in this interior nicely!
Shop Similar at Society6
Add More Texture With a Hand-Crocheted Throw Pillow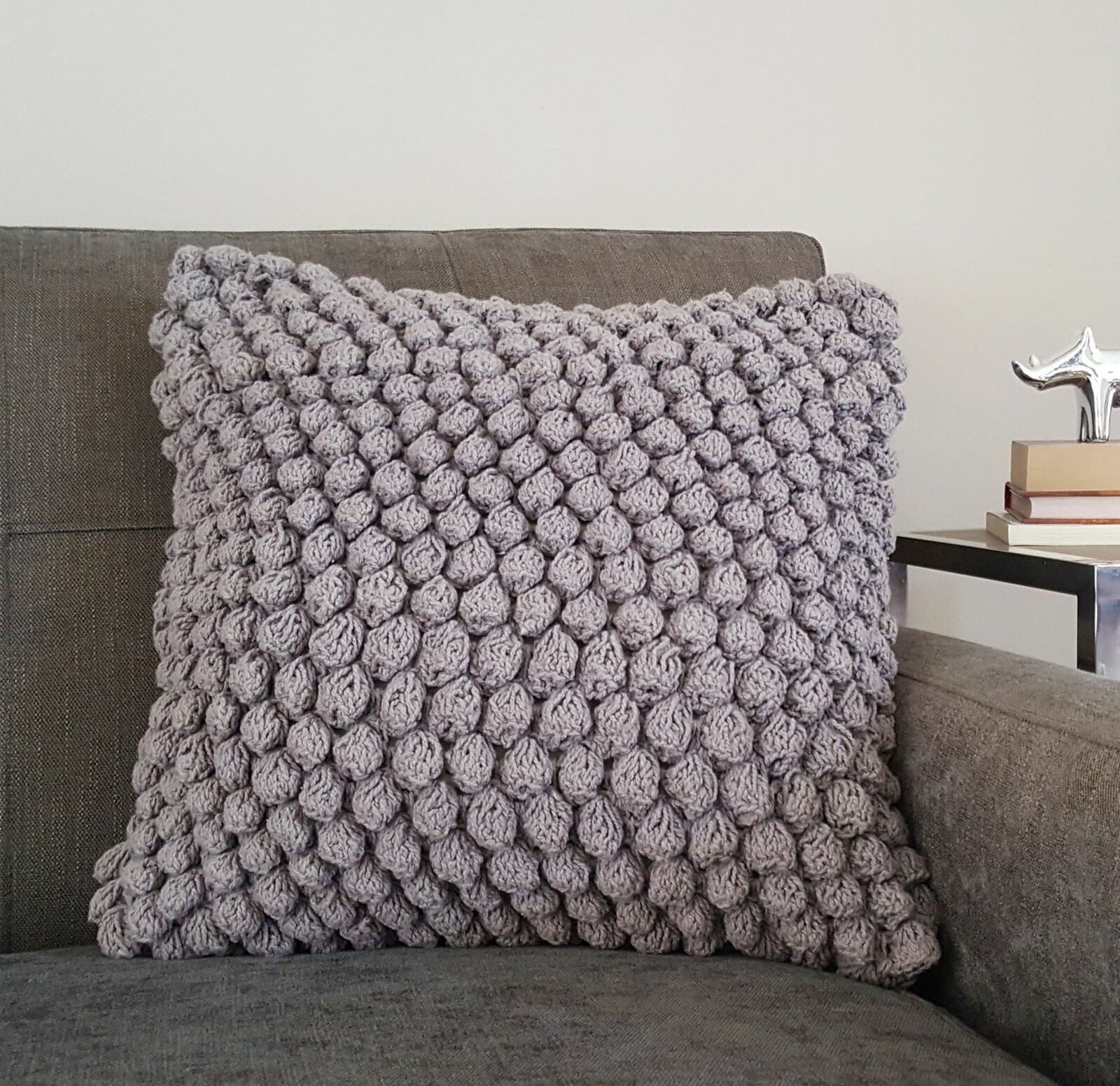 This luxurious throw pillow will add another dimension to your grey couch. The extra squishy-ness has been created with hand-crocheted yarn, looped hundreds of times. This unique design gives it a sumptuous look and feel.
This is available in various colors and would suit most decors and sofa styles, but grey works particularly well on a grey couch for a monochrome look. This is tricky to clean though – so probably not ideal for homes with small children and sticky hands!
Add Some Fun to a Plain Grey Sofa With Tassels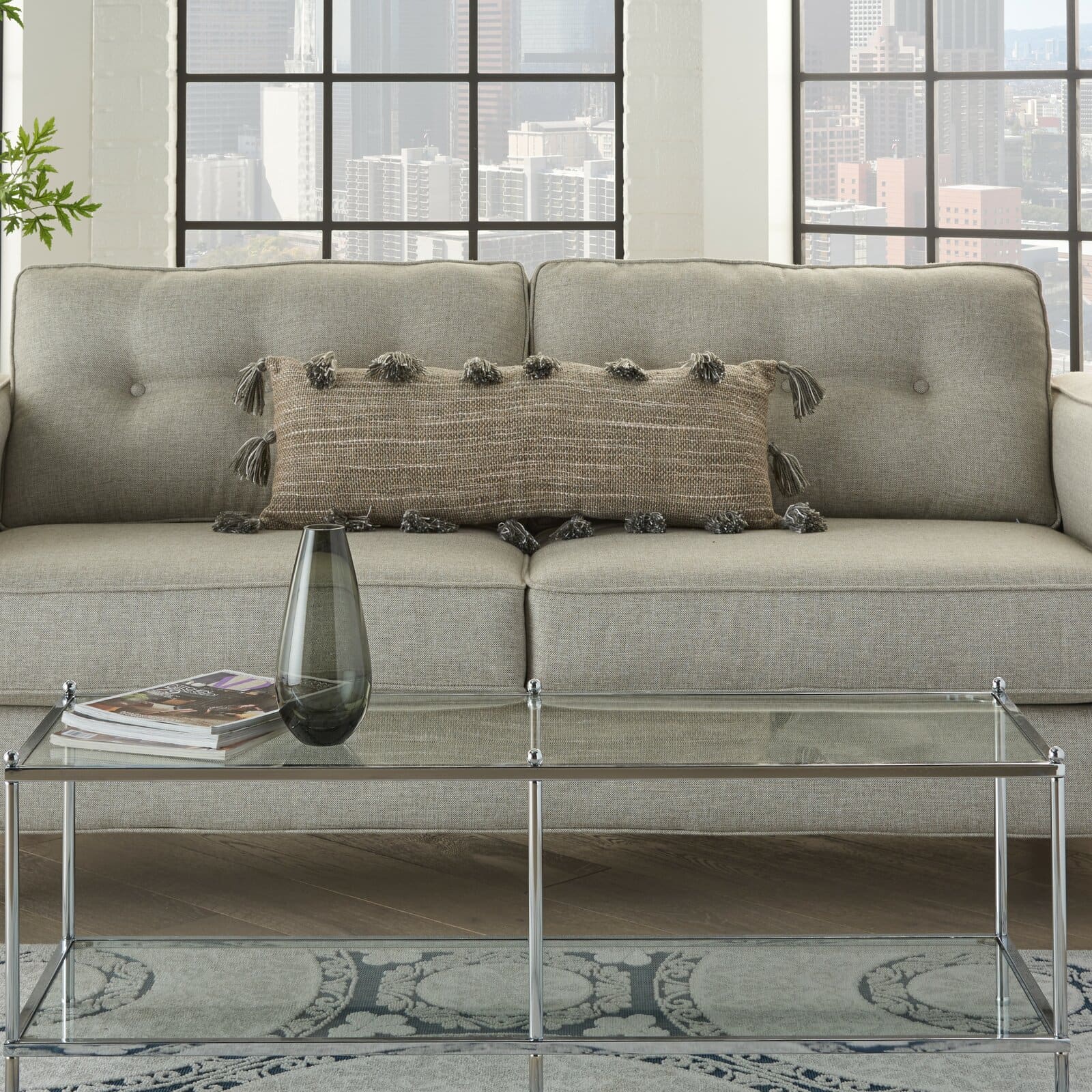 This lumbar support throw pillow adds something fun to this rather plain sofa. Even without any other pillows it looks great. The textured cotton blend is classy – but its feature is the large tassels lining each edge.
This comes in optional neutral colors – we would suggest matching the color with your sofa to let those tassels break the camouflage.
Dark Grey Couch Cushions For a Light Grey Couch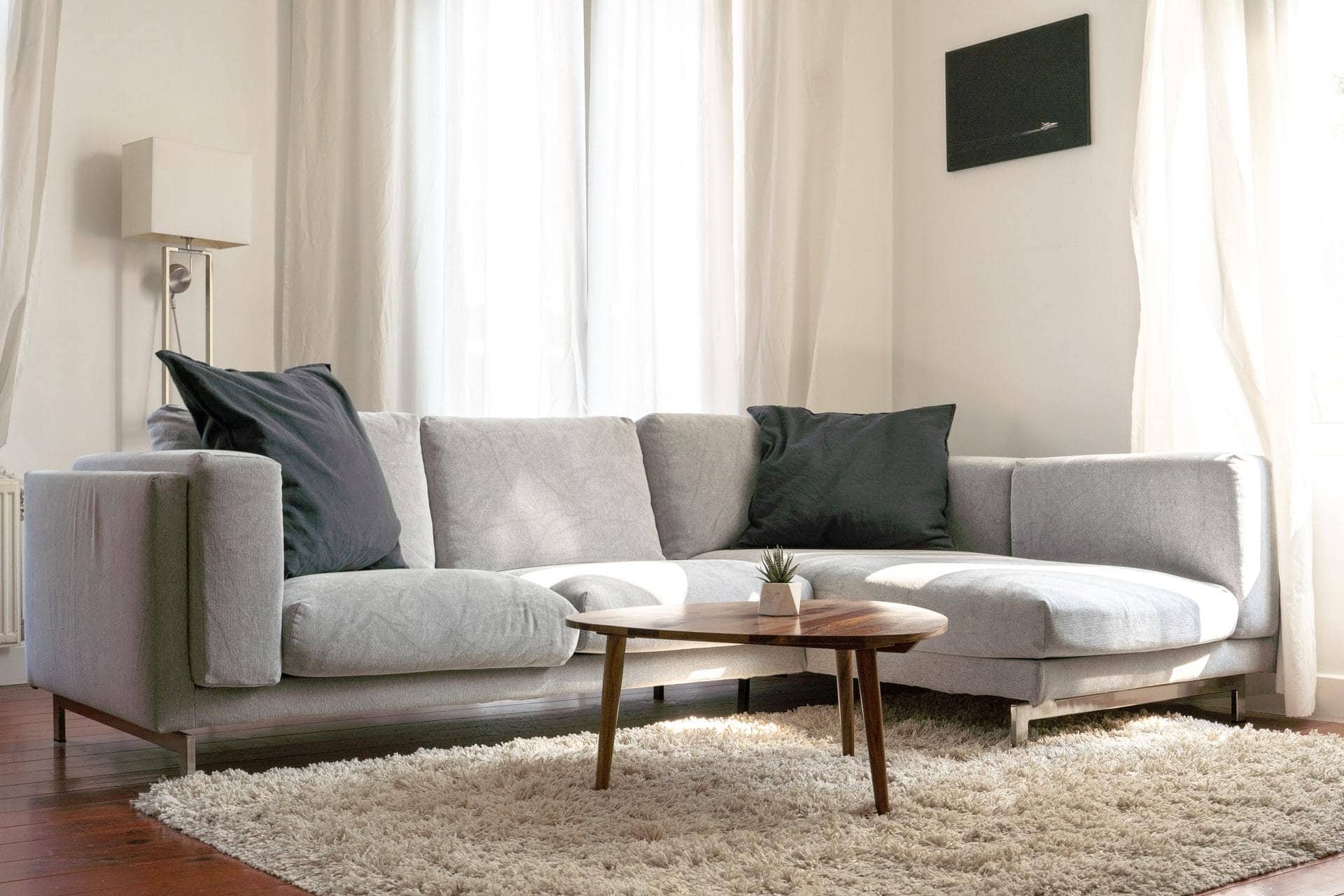 For a masculine interior, use dark grey pillows on a light grey couch. These oversized plain grey cushions contrast against the light grey of the couch making them really stand out. The dark color also breaks up the sea of light grey.
Grey on grey is a great choice for a modern, minimalist style, and if you feel the need to add a bit more texture, you could add a textured throw in a medium shade grey.
See similar at Home Depot
Bring Back The Roaring 20s With a A Flapper-Girl Pillow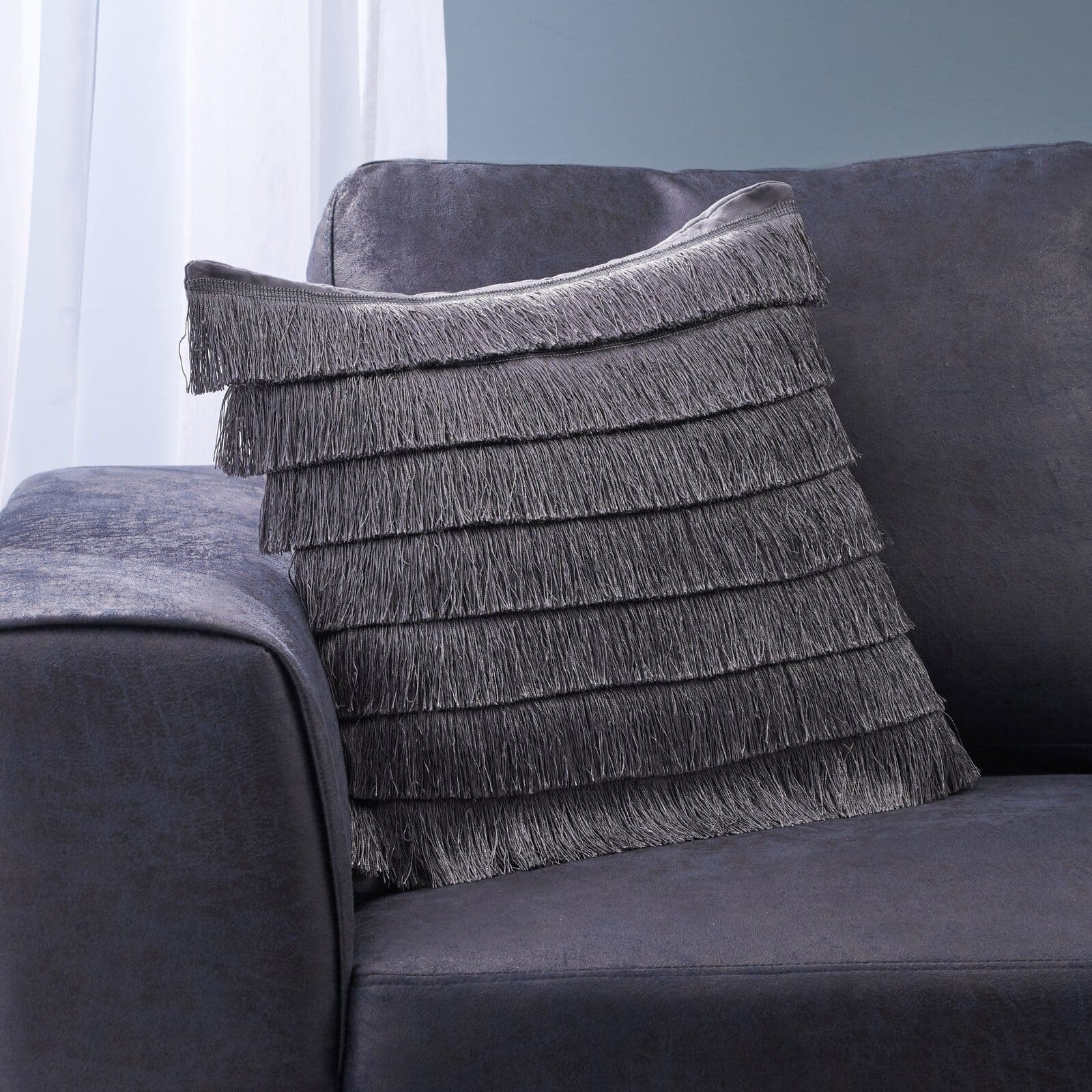 A sublime pillow with layered fringes. This dazzling item looks like it might get up and sashay off the couch with the right soundtrack.
It is delightfully feminine so would suit an appropriate interior – we think a vintage-glam lounge or music room would cry out for one of these. It's a tough choice between the neutral gray or sumptuous deep purple.
Add Variety With Round Throw Pillows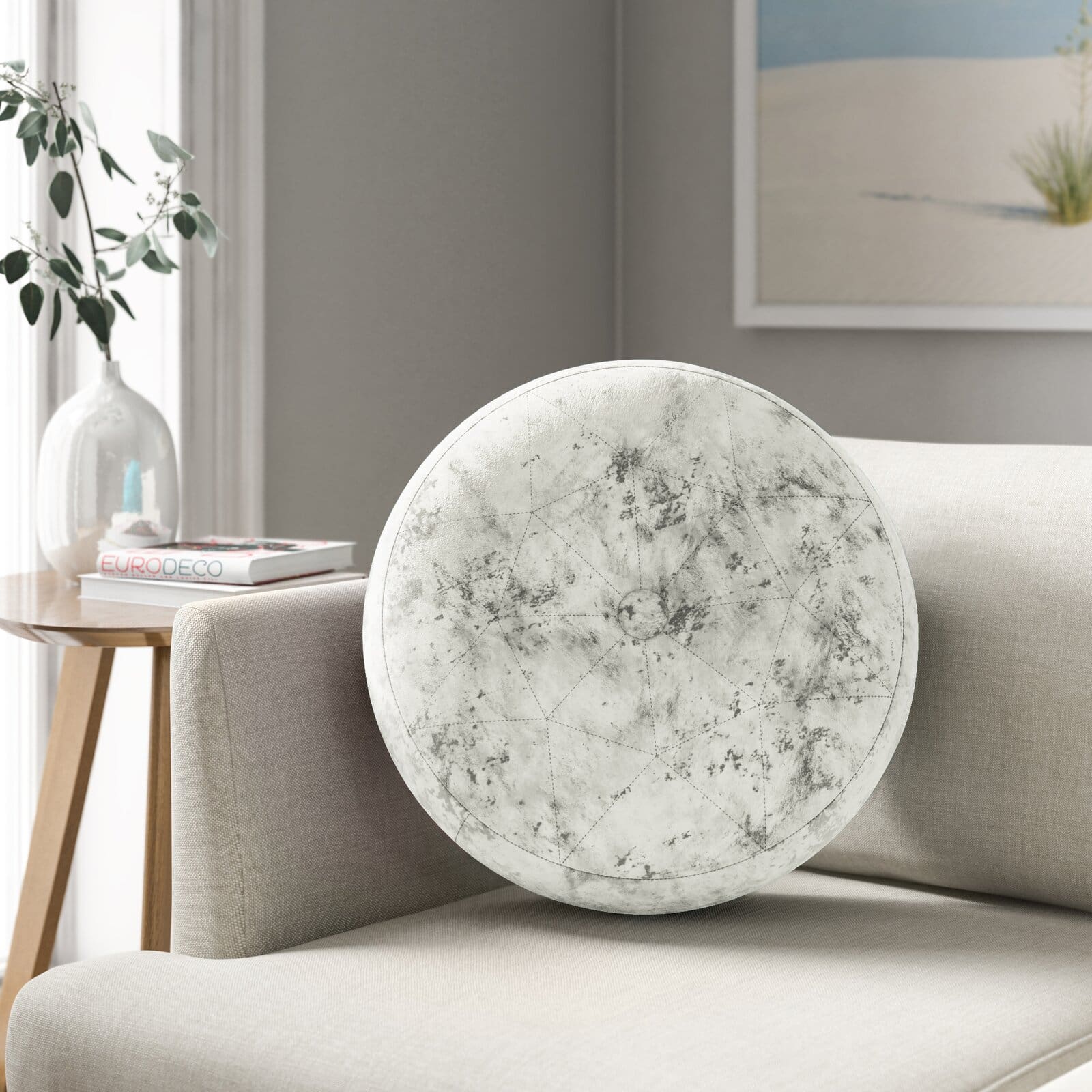 This sleek pillow with round design breaks up a monotony of corners in any Lounge. This is firmly padded for solid support, plus it will sit up beautifully on your grey couch. The crushed velvet fabric has an almost lunar design – with a textured button in the centre.
This is chunky, 18inches in diameter – so perfect for large sofas. The platinum color is very sleek – but why not choose Moon Pool to complete the lunar effect.
Turquoise Pillows With A Grey Sofa For a Calm Feel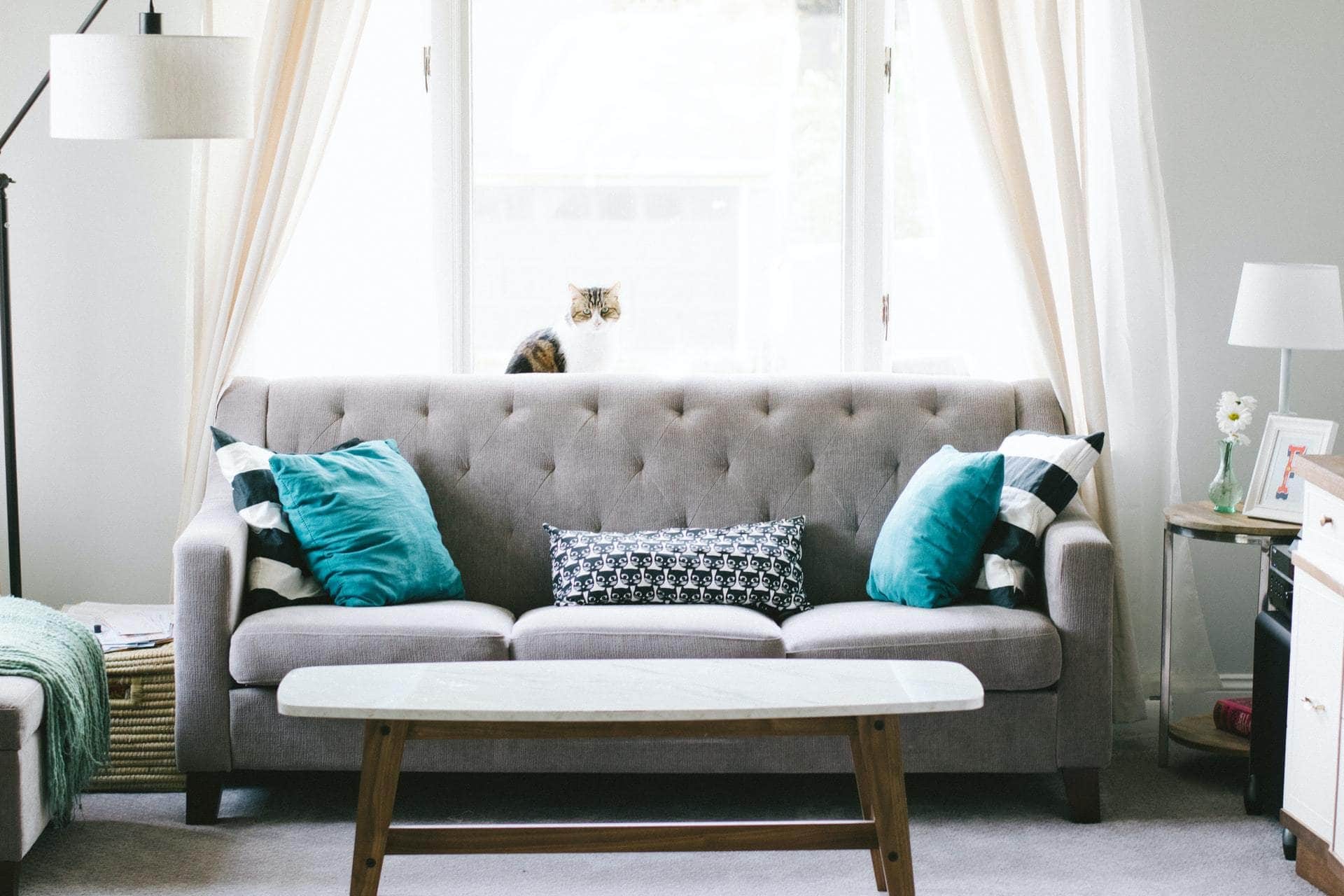 Turquoise throw pillows for a gray couch will give your living room a calm feel. In color psychology, blue is seen as tranquil and serene, reminiscent of the blue sky on a summer's day or the calm ocean in the morning.
Blue can sometimes feel cold, but these throw pillows are a bright shade of blue/turquoise, bringing in a sense of fun and positivity. Paired with black and white patterned pillows, this is a striking combination.
See similar at World Market
Blush Pink Throw Pillows on a Grey Couch For a Touch of Feminine Chic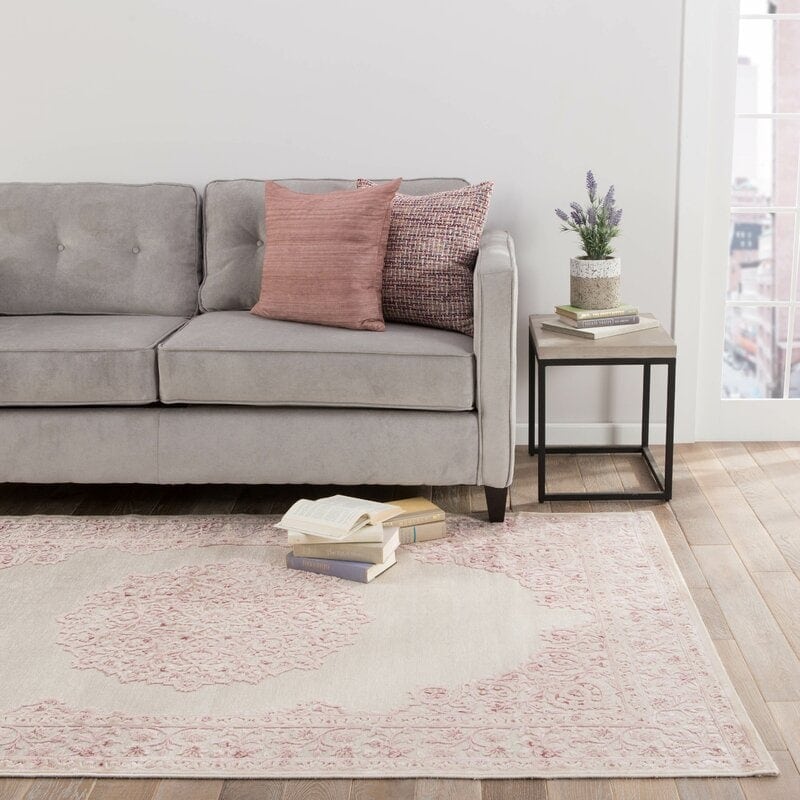 Blush pink and grey together will create a calm and welcoming feel to your living room. A light grey sofa allows these gorgeous pink throws pillows to really stand out, so if you're going for a pale pink on light grey it's a great idea to choose something with a bit of texture to add another dimension to your sofa.
Grey on it's own doesn't give much away about your taste, so dressing it up using pink accent pillows for grey sofa can really make the room feel like it belongs to you.
Get Glamorous With Silver and Navy Blue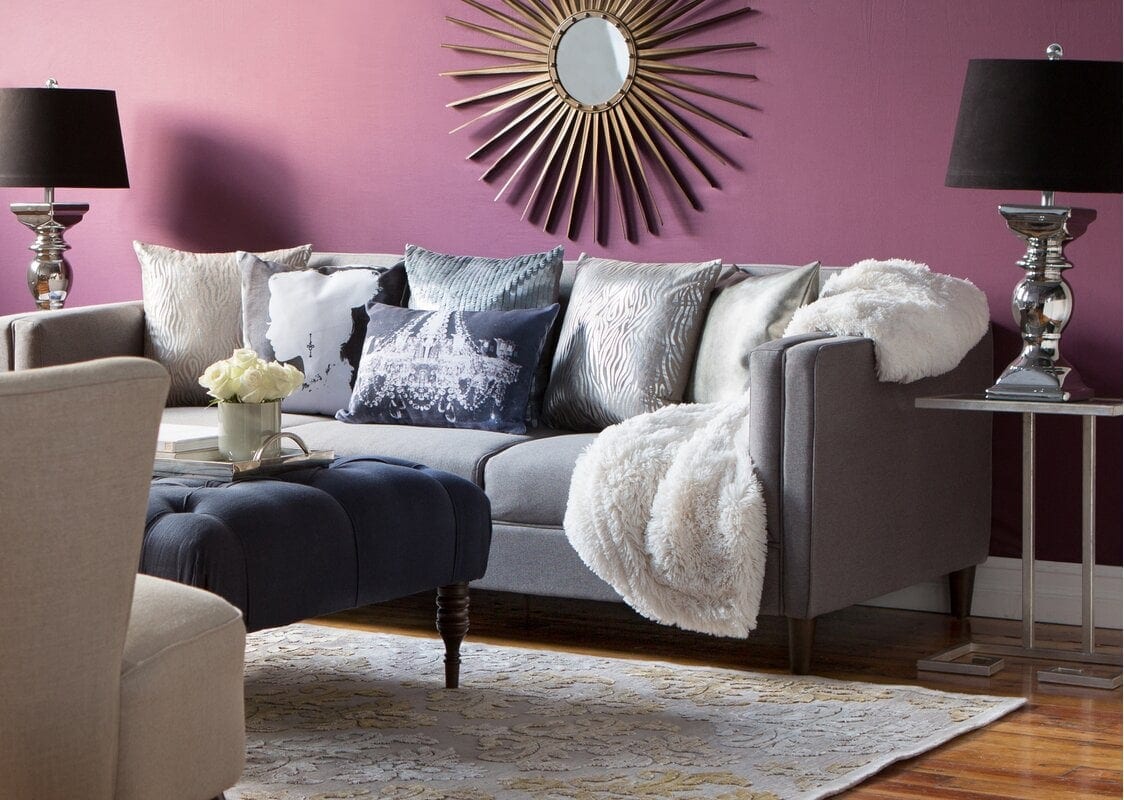 If you want to achieve a glamorous look in your living room, then try silver pillows paired with accents of navy blue. As this image shows, more pillows are better in this case, with six large pillows creating an feelin of opulence in this living room.
Add a faux fur throw for another element of texture and the perfect finishing touch!
Go Natural With Taupe and White Throw Pillows on a Grey Sofa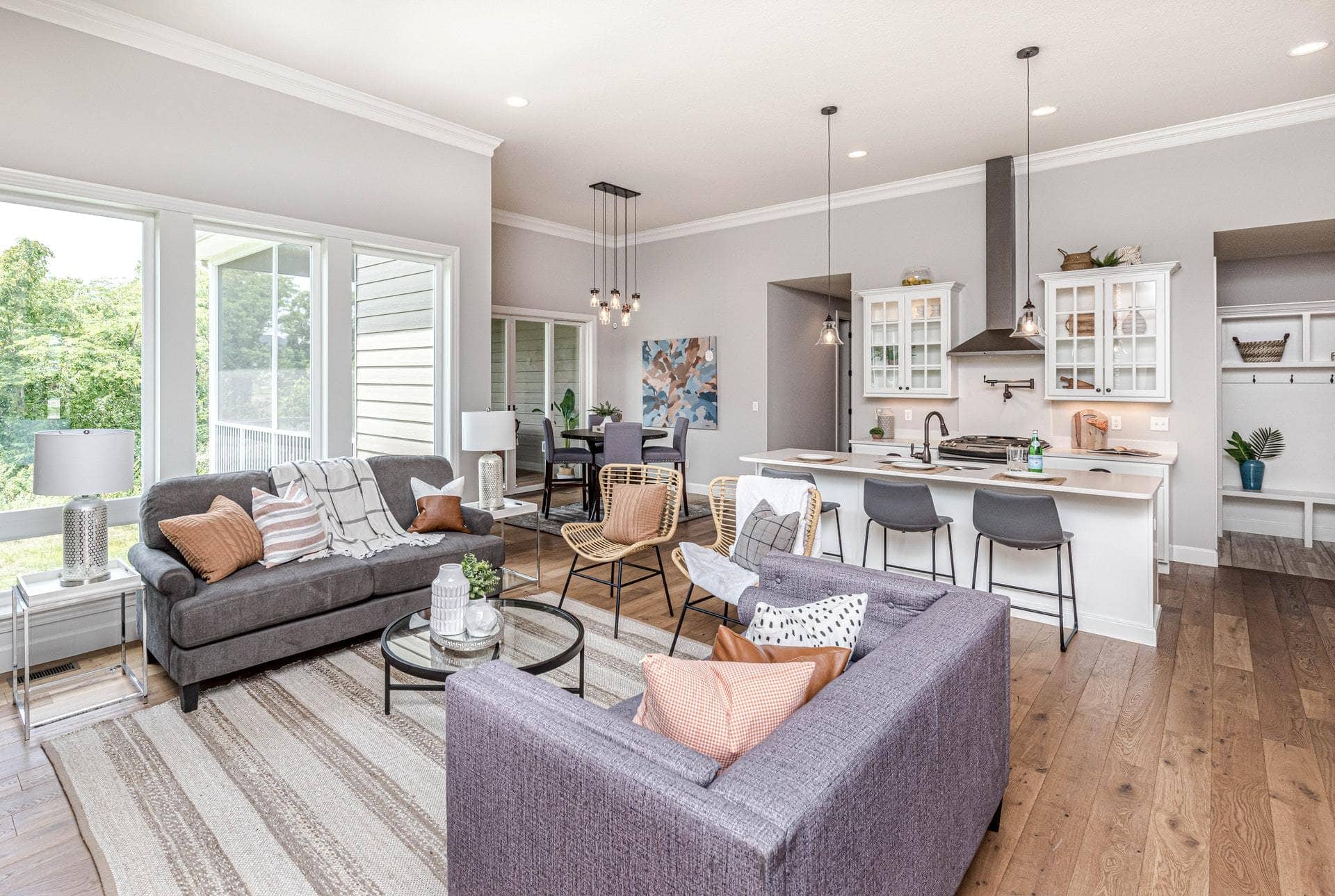 Taupe or beige paired with white can work well on grey to create an understated chic look. This mostly grey interior features splashes of taupe in the cushions and other accessories, which adds warmth and charm to this otherwise plain space.
Mix it up by adding some white pillows and a black and white checked throw for a modern farmhouse feel.
Shop similar throw pillows at Lulu and Georgia
Navy Blue Velvet Linen Loop Pillow on a Light Grey Couch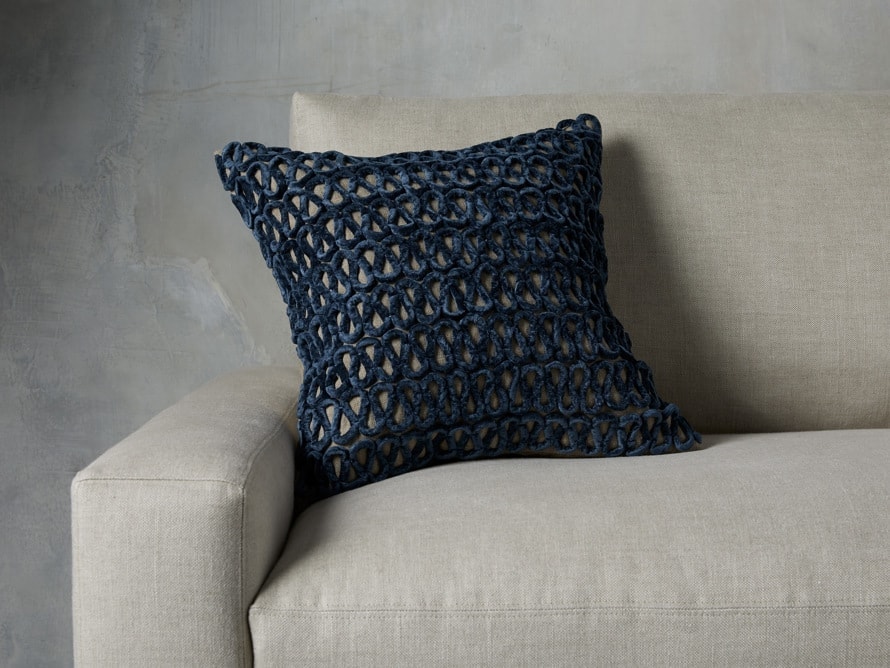 For a smart and sophisticated look with a hint of glamour, try this navy blue velvet linen loop pillow on a light grey couch. These are the perfect accent pillows for grey couch. These sumptuous pillows feature curvaceous velvet piping scrolls on a backdrop of heavy natural linen for a luxe look.
The curves on this contemporary cushion are the ideal contrast on a plain grey couch, adding the perfect finishing touch to your living room.
To Sum it Up…
Choosing the right combination of throw pillows will complete the interior design scheme for your living room, tying together the other elements in your decor to give everything a cohesive look.
When you are choosing throw pillows for your grey couch, don't be afraid to mix up different sized pillows for a layered look.
For each side of your couch try: 1 x large throw pillow, 1 x lumbar pillow and 1 x medium sized pillow, with one being a pattern, and the other two being solid colors, but different textures. It's hard to go wrong with this winning combination!