Decorated Life is reader-supported. When you buy through links on our site, we may earn an affiliate commission. Learn More
What Color Countertops Go With Dark Cabinets? 10 Ideas
Dark cabinets are statement makers. They can look traditional, formal, or incredibly modern when paired with light counters.
If you're wondering what color countertops go with dark cabinets, you've got a lot to choose from. Here are some of the best countertop ideas to consider.
Top Black Cabinets with a Light Gray Counter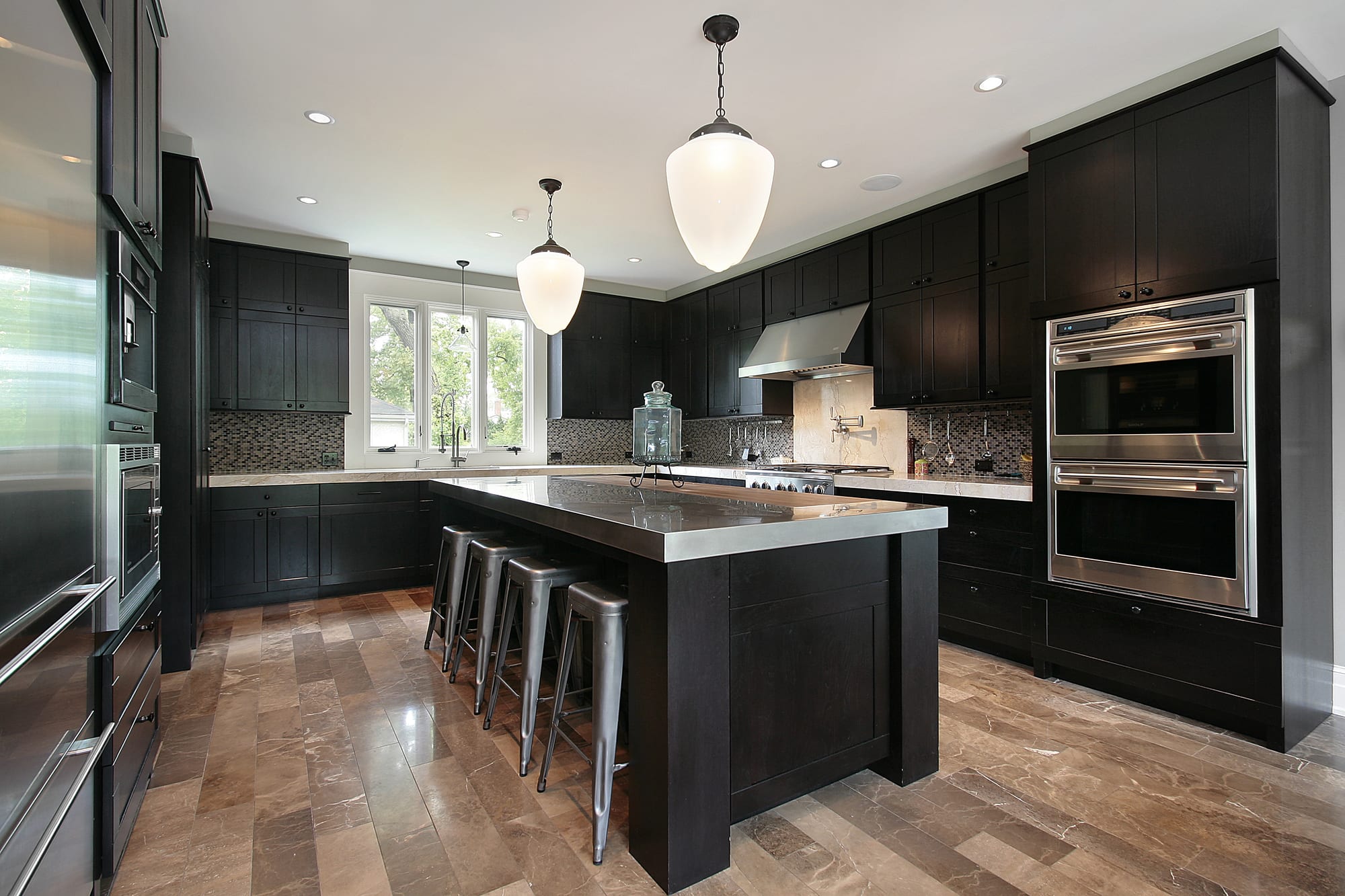 Top your black kitchen cabinetry with a shiny light to medium gray counter if you're going for a modern look.
You can use polished concrete, quartz, or even a laminate countertop to get the same feel. To add texture to the room, consider a contrasting wood floor like pictured. You can also add warmth back to the room with wood accessories.
Play it Safe with a White Counter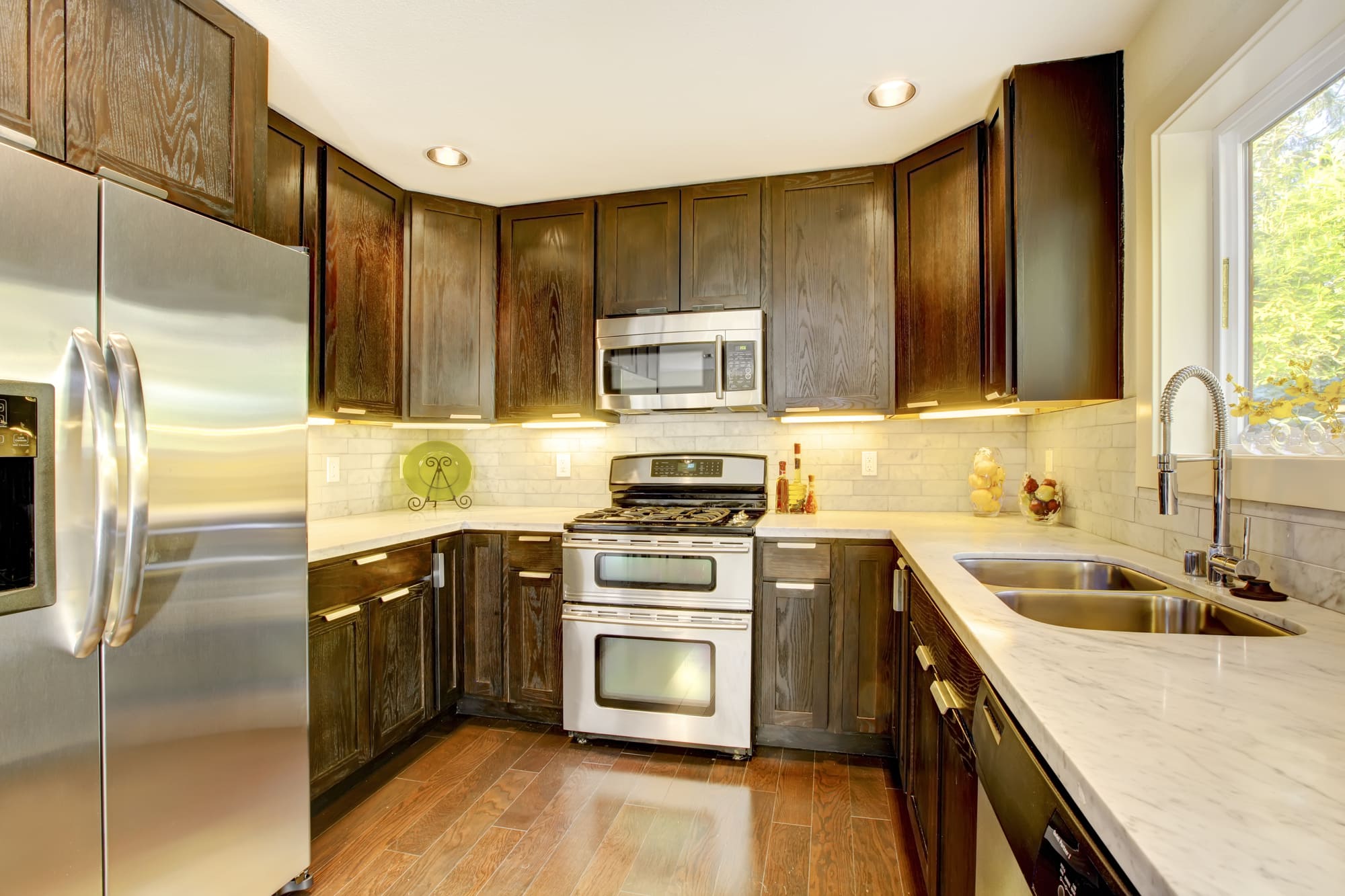 White is a safe countertop choice for all dark cabinets. The lightness of the counters contrasts the cabinetry for a brightening effect.
You can use quartz, predominately white granite, laminate, or a marble counter. All will give you a clean look and nice contrast. Marble is excellent for a higher-end modern look, while quartz can help you pull off traditional or modern farmhouse style.
Pair Your Dark Wood Cabinets with a Unique Stone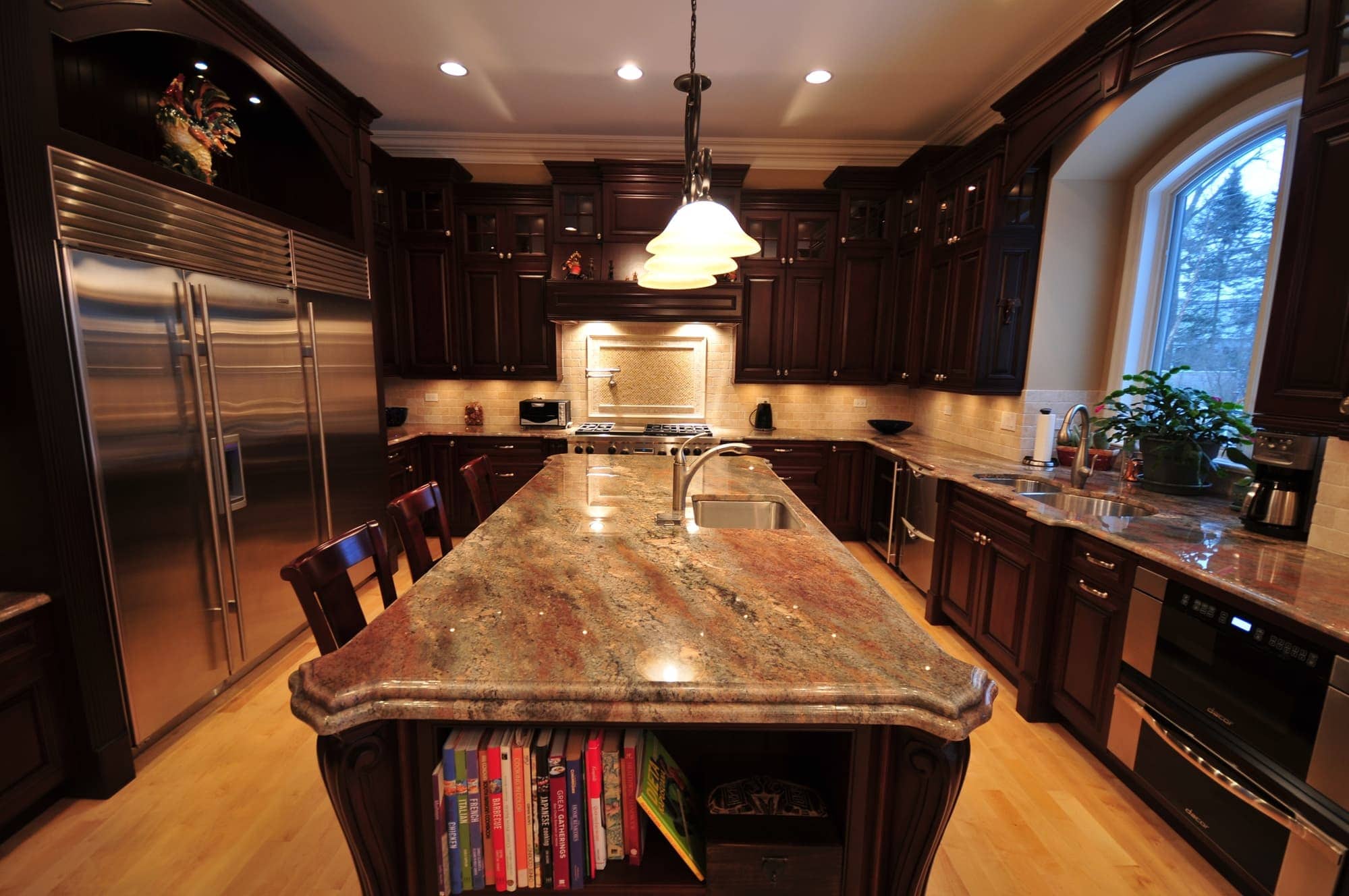 The great thing about having dark cabinetry is that all lighter countertops with similar or neutral undertones look fantastic. So, if you want to use something unique, now's your time to shine.
You can do like this homeowner, using granite that's predominately tan but with rich swirls of red and gold. You don't need to use the same counter but look for granite that has veining.
Get a High-End Look with Marble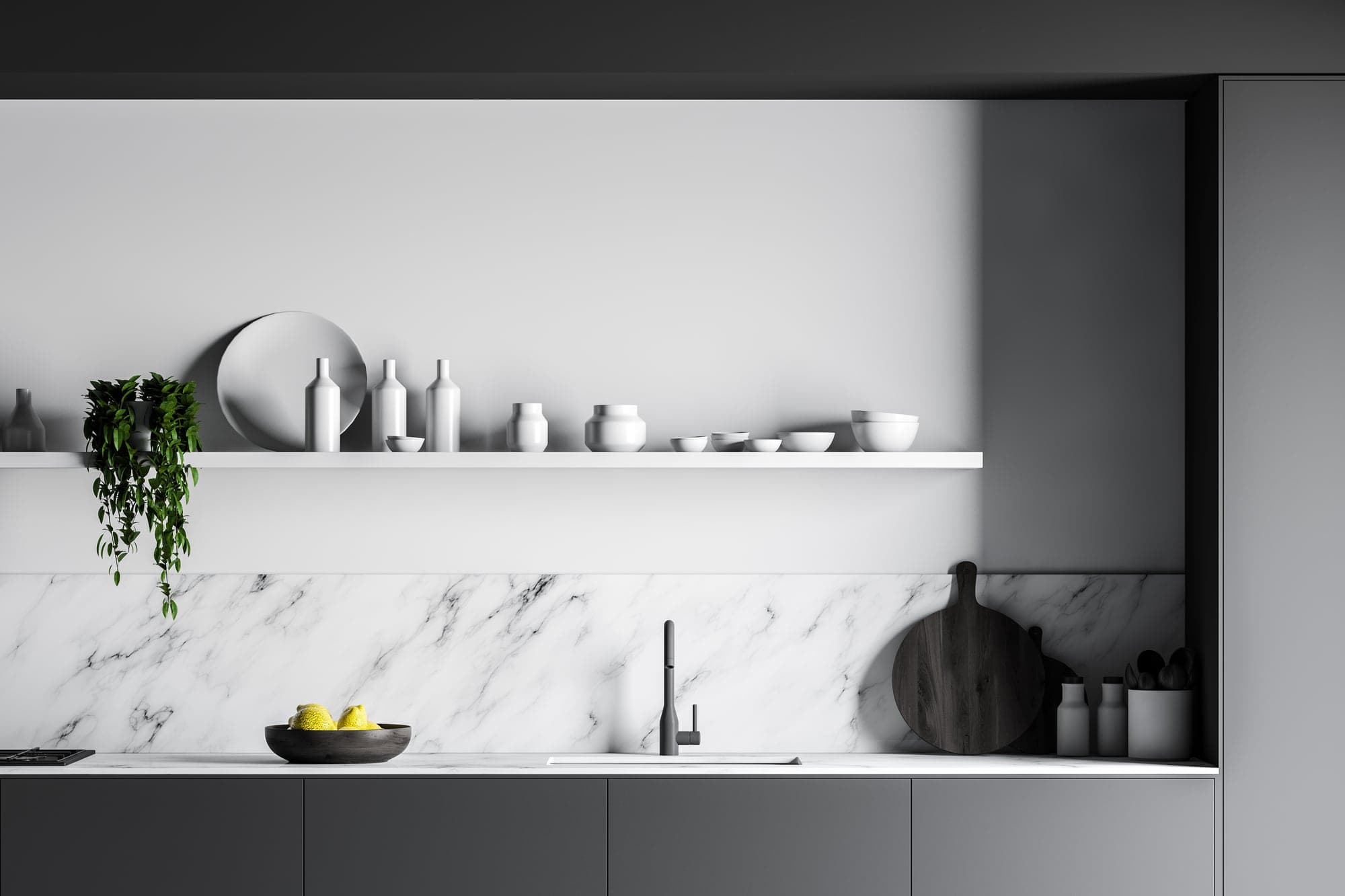 Marble has a high-end look and is still one of the most sought-after kitchen countertops.
If you're going for a luxe modern look, using marble or veiny quartz is the way to go. You can make an even bigger statement by using the same material for your backsplash. Just keep in mind that marble is a higher maintenance counter choice than some of the others.
Play-Off the Grays in Your Cabinets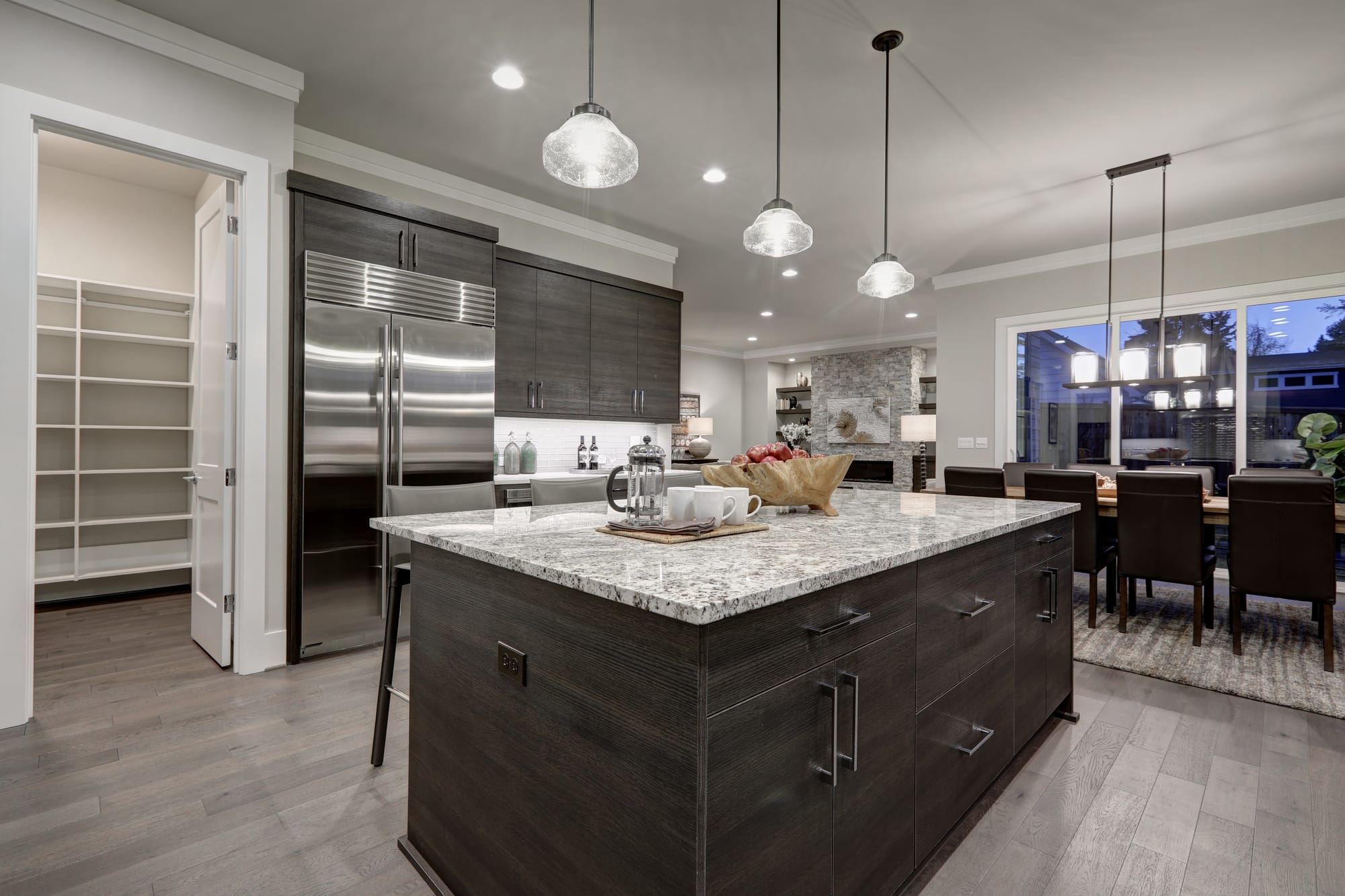 If you have dark wood cabinets with a hint of gray in them, play off that gray by using it on your counter.
I love this light gray granite counter paired with these darker cabinets. It looks contemporary while providing the perfect amount of contrast. You can get a similar look with a very light granite or laminate counter.
Try a Light Tan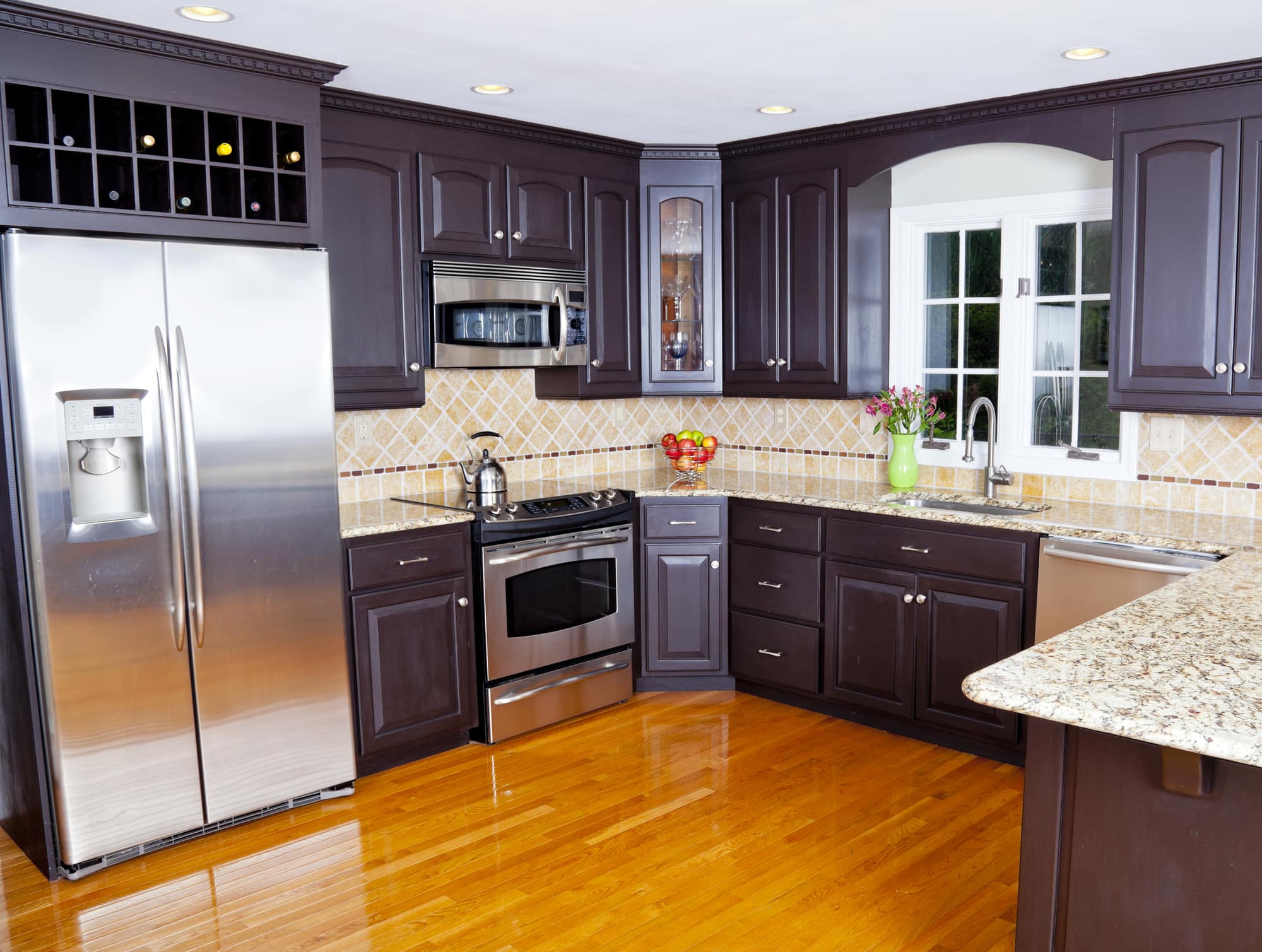 If you're trying to find the best countertops with dark cabinets, light tan is a solid choice. Tan counters will match any dark color cabinets and provide a nice contrast.
In this picture, the cabinetry has a purple undertone. Since the counters have a yellow undertone, they majorly contrast and make each other pop.
Soften the Kitchen with Butcher Block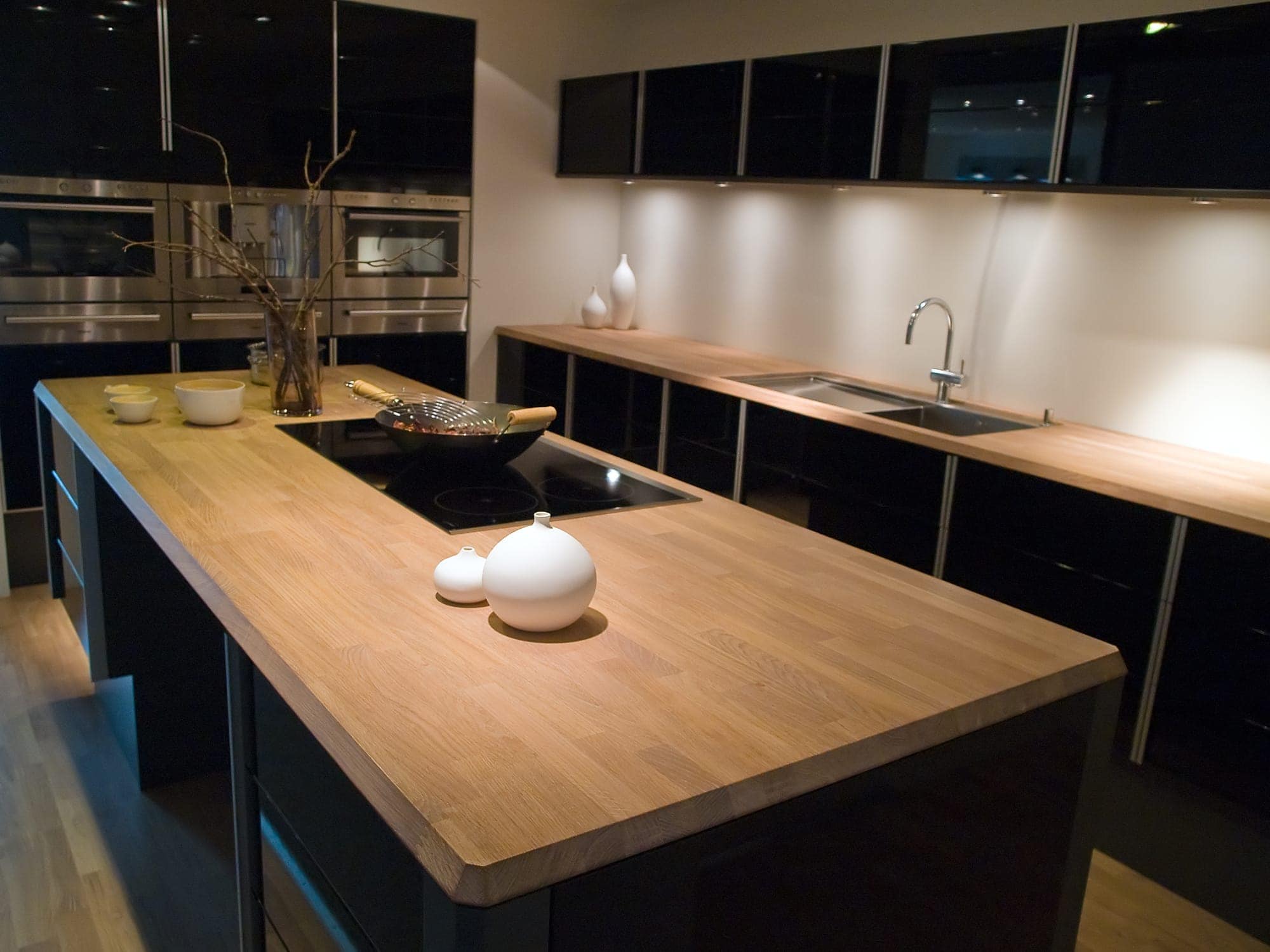 On white or wood cabinets, butcher block tends to look very rustic or country, but that's not the case when it's against dark cabinetry.
The light butcher block on dark cabinets looks modern. The wood and sleekness of the cabinets pair well together – especially when the cabinets are black, blue, or green. Consider this countertop if you're looking to bring texture to the kitchen.
Go for Tone on Tone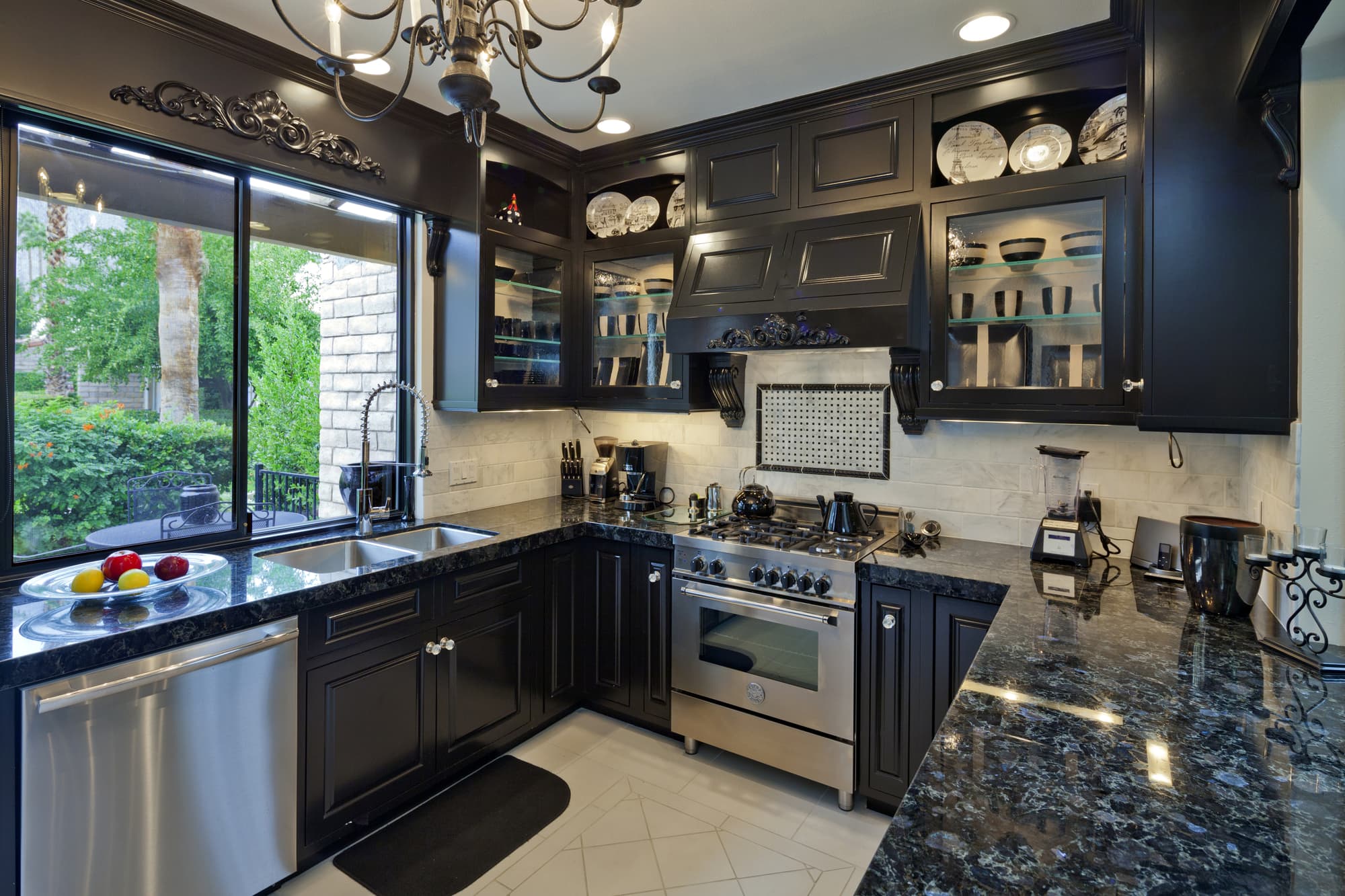 If you have painted dark cabinets, consider going for a monochromatic or tone-on-tone look. This means if you have black cabinets use a black counter. If you have navy cabinets, use a navy counter and so on.
There is one caveat, though – skip this look if your cabinets are dark wood color. Too much of a wood-look can lead to a very heavy room.
Accent Any Dark Cabinet with Polished Concrete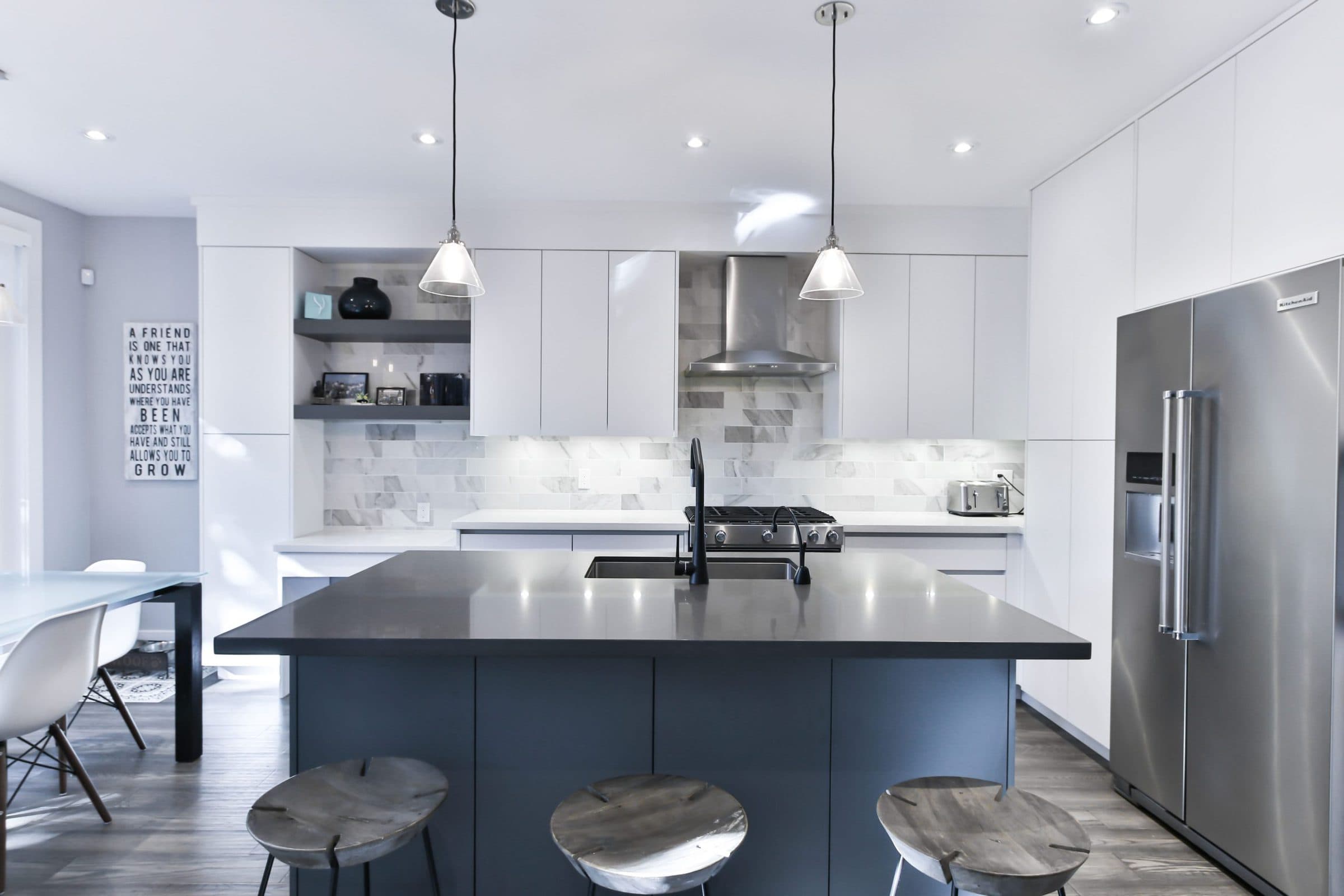 Concrete counters work with so many decor styles. Plus, they're inexpensive compared to stone and highly durable, making them an excellent option for the kitchen.
Dark black and gray concrete counters look fantastic against dark-painted cabinets. However, consider a white or light gray concrete counter if your cabinets are dark wood.
Use a White with Gold Veining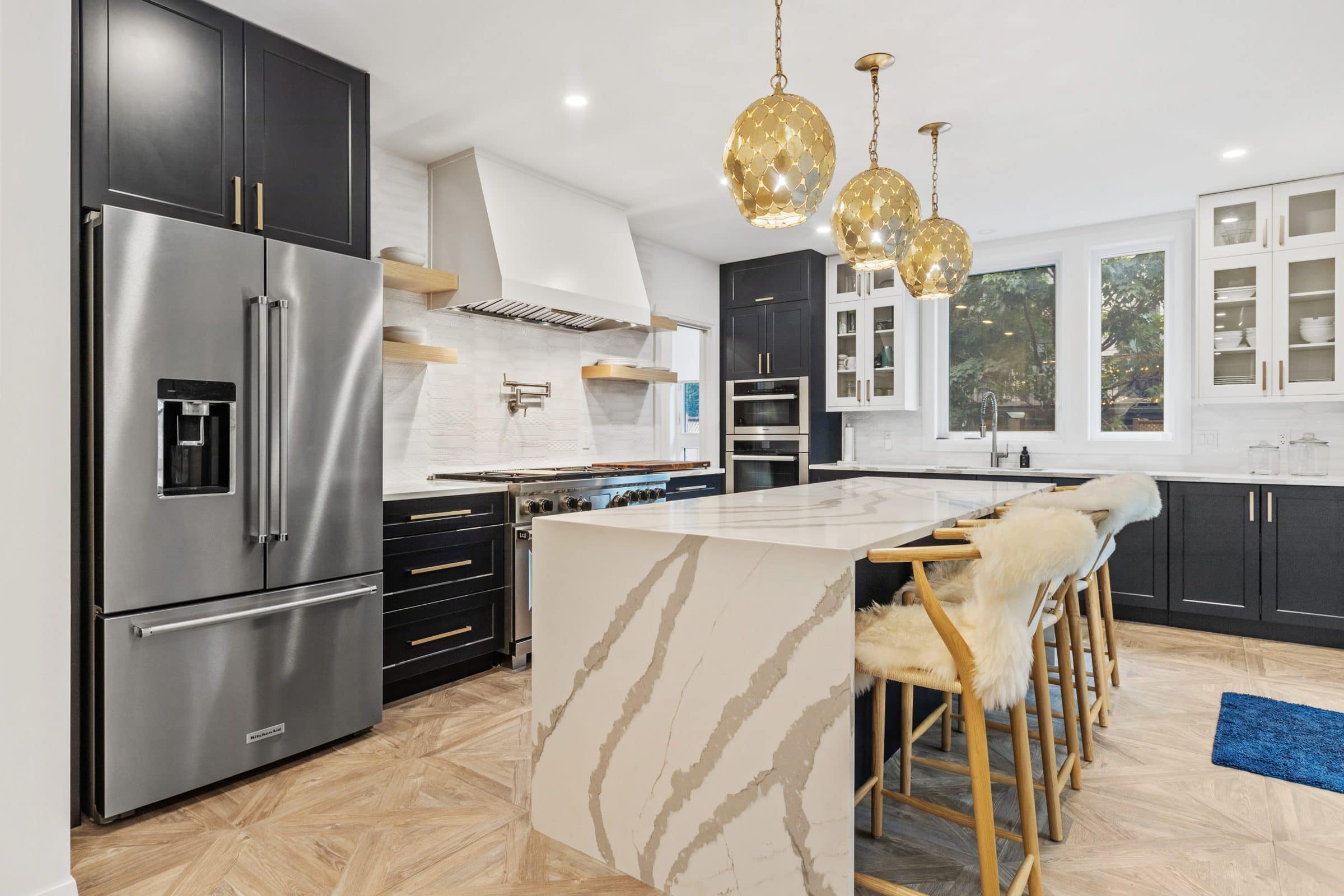 If you're looking for a showstopper, find quartz or marble with gold veins. This combo will pair with every type of dark cabinet for a luxurious look.
However, a high-end look will also come with a higher price tag which is something to keep in mind. You could use this type of counter with your regular cabinets, just the island, or both.
Final Thoughts
If you're looking for an easy option to pair with your dark cabinets, consider a light countertop. Light counters contrast dark cabinets for a contemporary look. Some top choices include quartz, marble, and granite.
You could also try a tone-on-tone look or a darker concrete counter if you're not a fan of lighter options.