Decorated Life is reader-supported. When you buy through links on our site, we may earn an affiliate commission. Learn More
20 Trendy Dark Kitchen Cabinet Ideas
If you have been considering going for dark cabinet colors for your kitchen then you'll be glad to know that there are plenty of gorgeous dark colors to choose from.
Having dark cabinets doesn't mean your kitchen will be dark. In fact, dark cabinets can work well with much lighter colors in the kitchen creating a wonderful contrast, and giving you a designer kitchen look.
Today I'm going to be talking you through 20 of the best dark cabinet kitchen ideas to give you some inspiration for your own kitchen.
Glamorous Green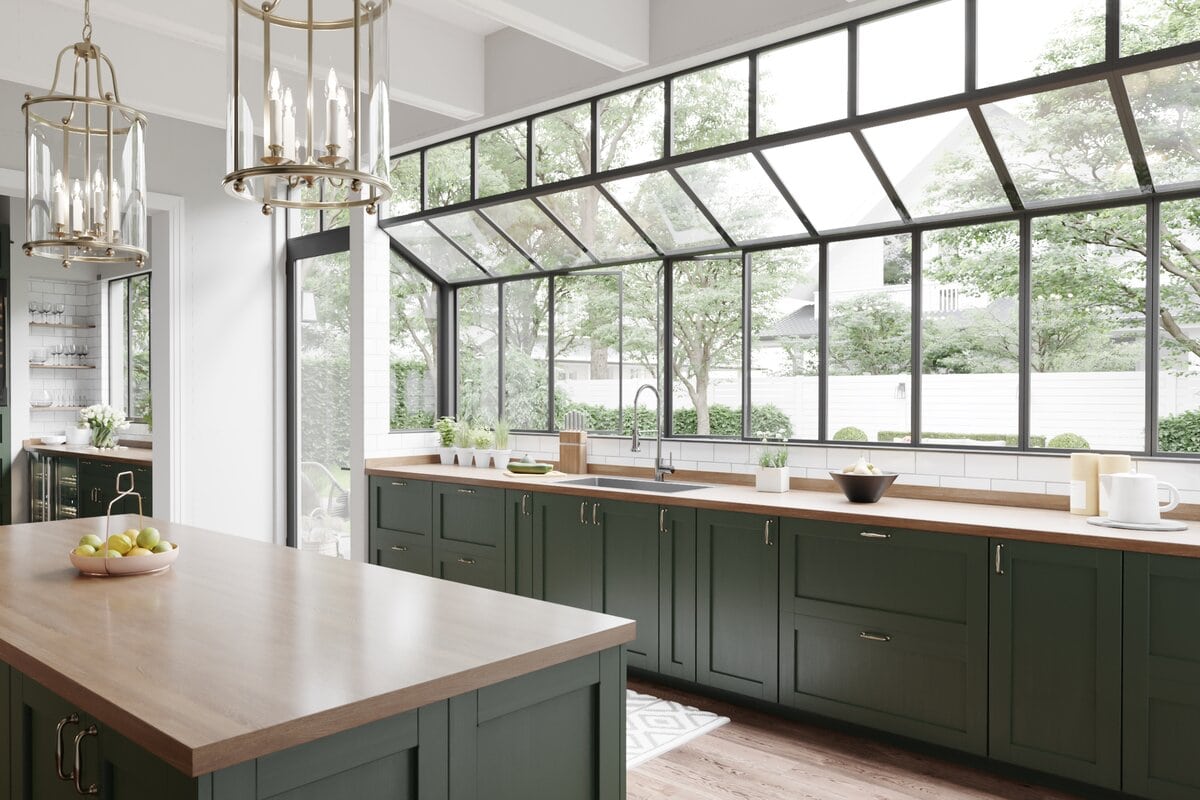 If you have a kitchen that has lots of natural light then you can easily get away with dark cabinet colors. This dark green has an almost natural look to it which is complemented by the greenery that is outside the kitchen window.
The light countertops work perfectly with the silver cabinet handles helping to bring together a look that isn't too dark but still allows you to make the most of a kitchen design with dark cabinets.
Masculine Black and Grey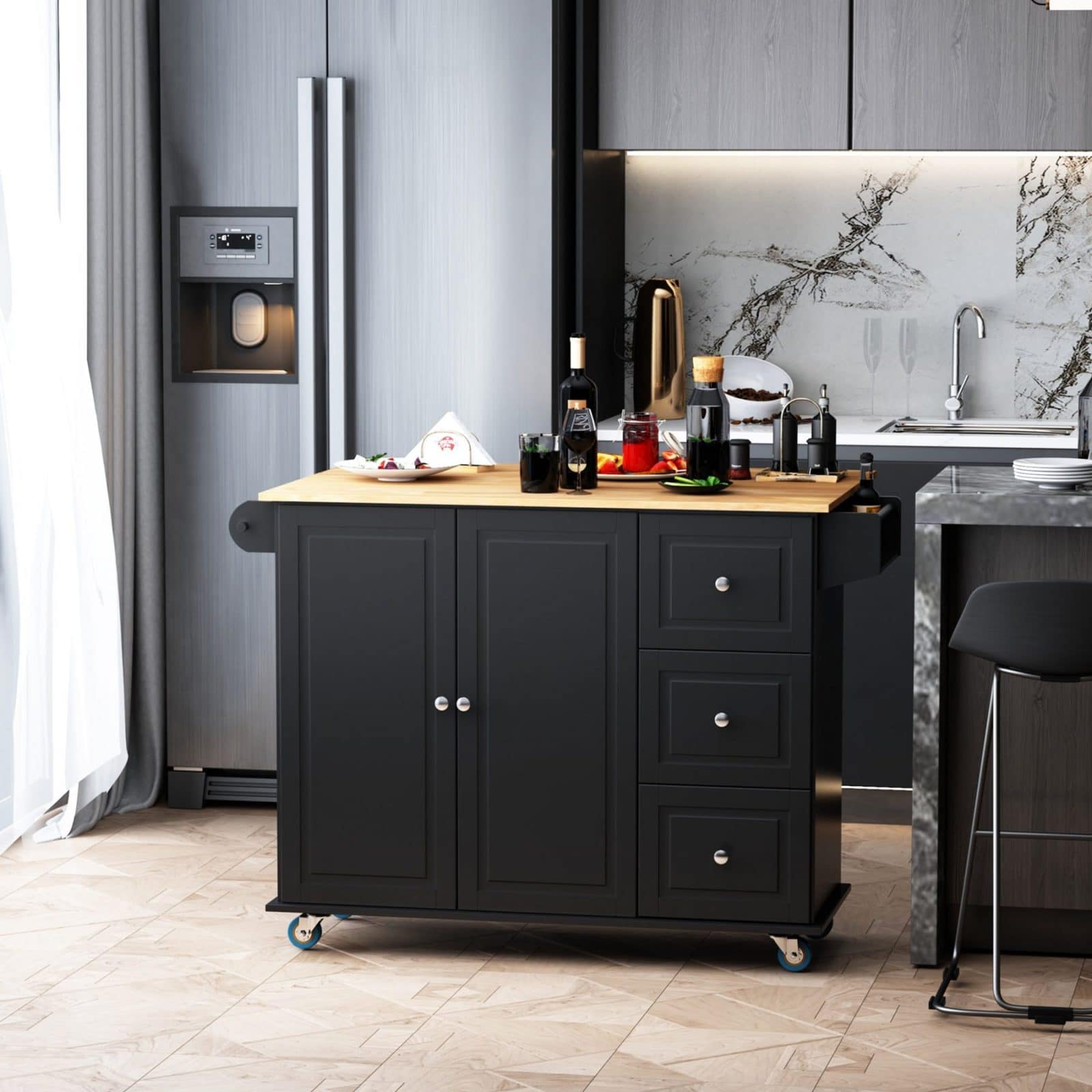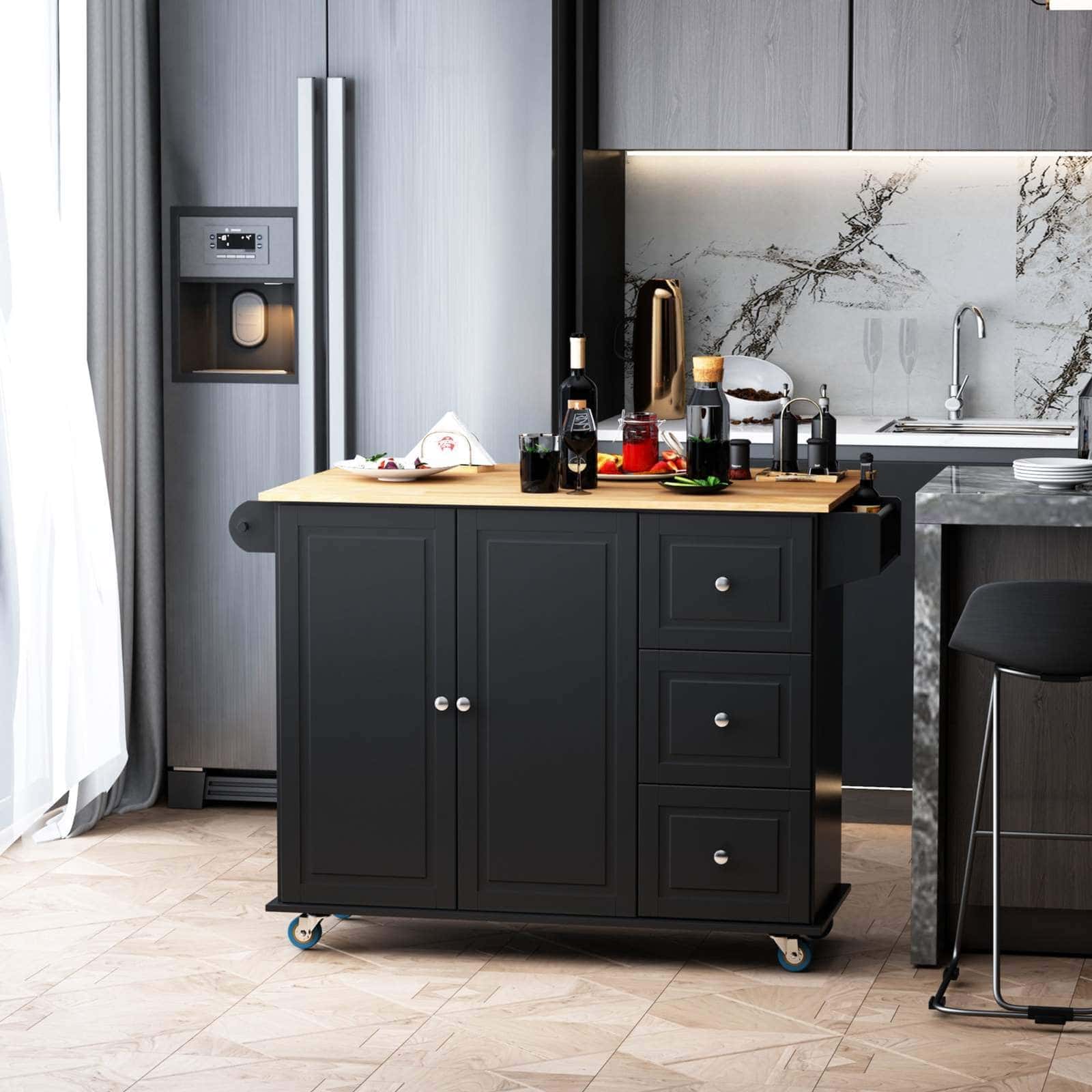 If you're happy to go bold with your dark kitchen design then black cupboards are an excellent choice. This storage cart gives a hint of dark to the kitchen which is styled in various shades of grey.
This allows the overall dark theme to come through without creating a kitchen look that is too dark. The light colored floor lifts the whole design perfectly, allowing you to choose all manner of kitchen accessories that would easily match.
Slate Grey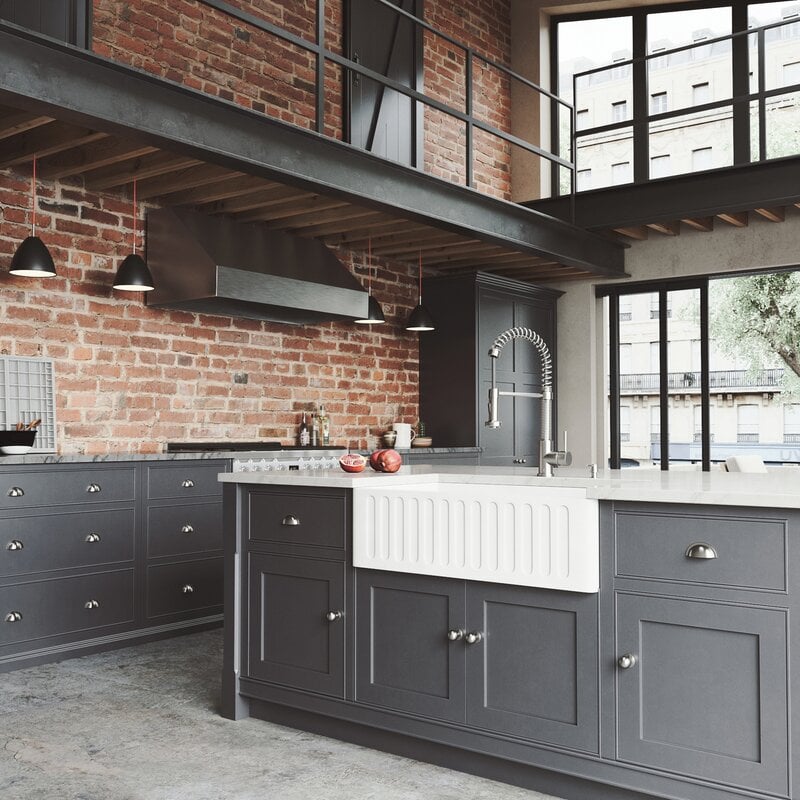 Dark kitchen cabinets don't have to be dull as this slate grey kitchen shows. The abundance of natural light helps to uplift the whole room, as does the kitchen island centrepiece. Exposed brickwork and low-level lighting give this kitchen a unique industrial style.
This slate grey look will work best in larger kitchens, but there's nothing to stop you from pinching a little inspiration from the design, no matter what size kitchen you have.
Black & Oak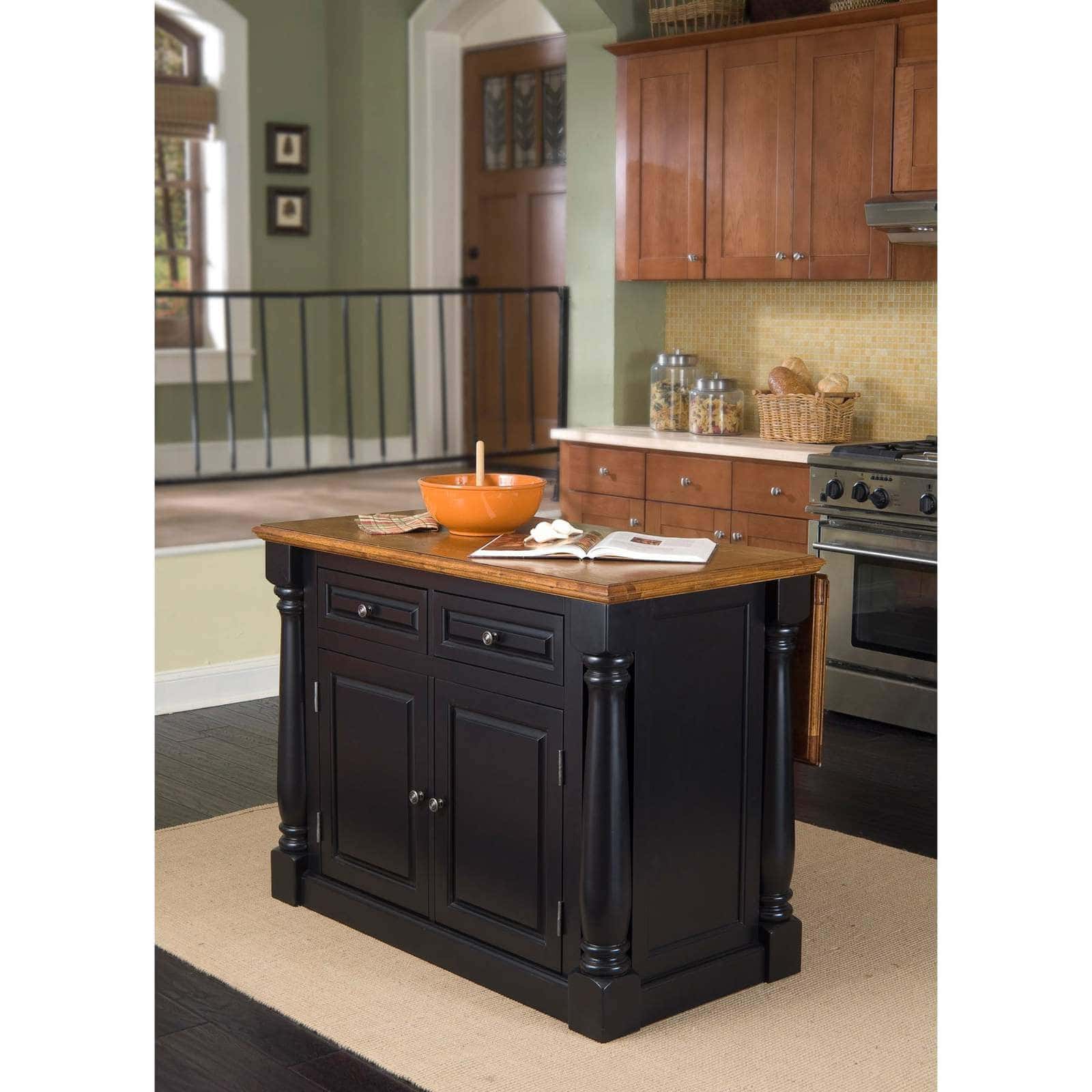 Black and oak working together might not be your first thought when you consider color schemes for kitchens with dark cabinets, but as you can see it really works.
This is a traditional-looking kitchen, with a small kitchen island to complete the look. The oak cupboard doors are definitely a nod to more retro-looking kitchens, but teamed with the black finish throughout some of the kitchen it really does work.
Relaxing Blue & White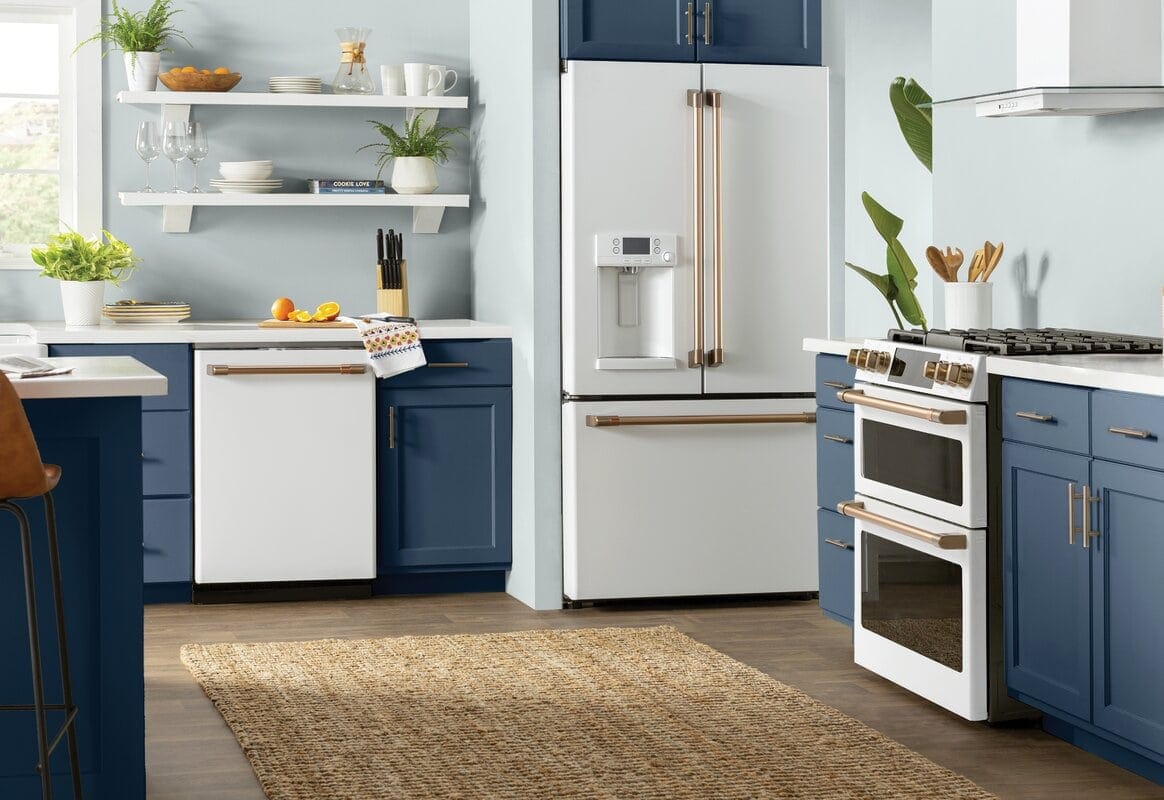 Blue might seem a bold choice for a kitchen, but as you can see from this bohemian kitchen design, it works well. This style has been teamed up with white and gold, however, I can see that a splash of yellow would work really well too.
The fridge is phenomenal and really creates a centrepiece for the kitchen, but it's the color scheme that really ties everything together. This is a great example of how with the right style choices blue is the perfect choice for a kitchen color scheme.
Black & Marble
Black and silver are a color scheme that will never grow old, unsurprising when you see how well they work together.
It can be tricky deciding on a color scheme if you want dark cabinets but not a dark kitchen. However, this style with dark wall cabinets contrasting with white and silver shows that you can have dark cabinet colors without the rest of your kitchen being overwhelmingly dark.
Moody Black With Dark Ceilings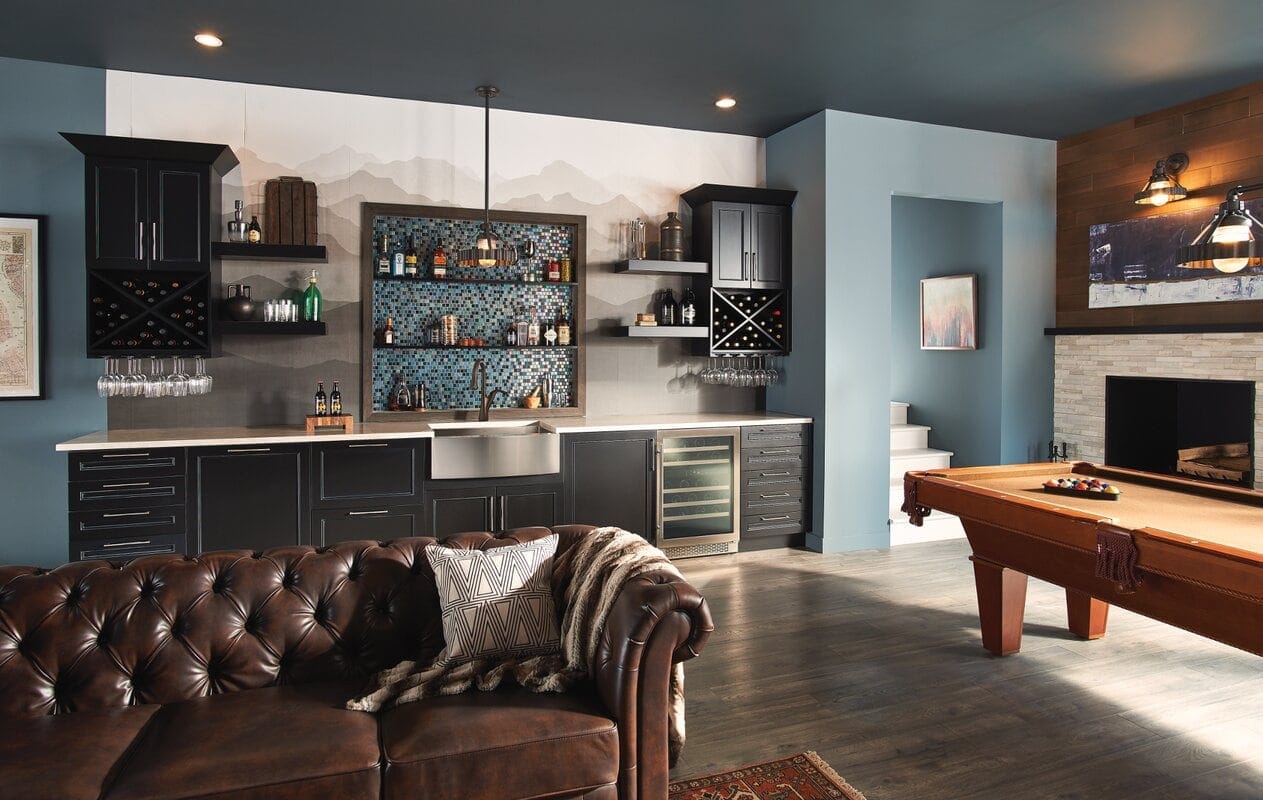 This traditional looking kitchen is the stuff dreams are made of. Whilst not all of us will have room for a snooker table and a sofa in our kitchen we can take inspiration from the amazing color choices they have made.
The mosaic blue tiles team up well with the light blue walls and help to give a traditional look without the room being too overwhelmingly dark.
Dark Grey Cabinets With White Surfaces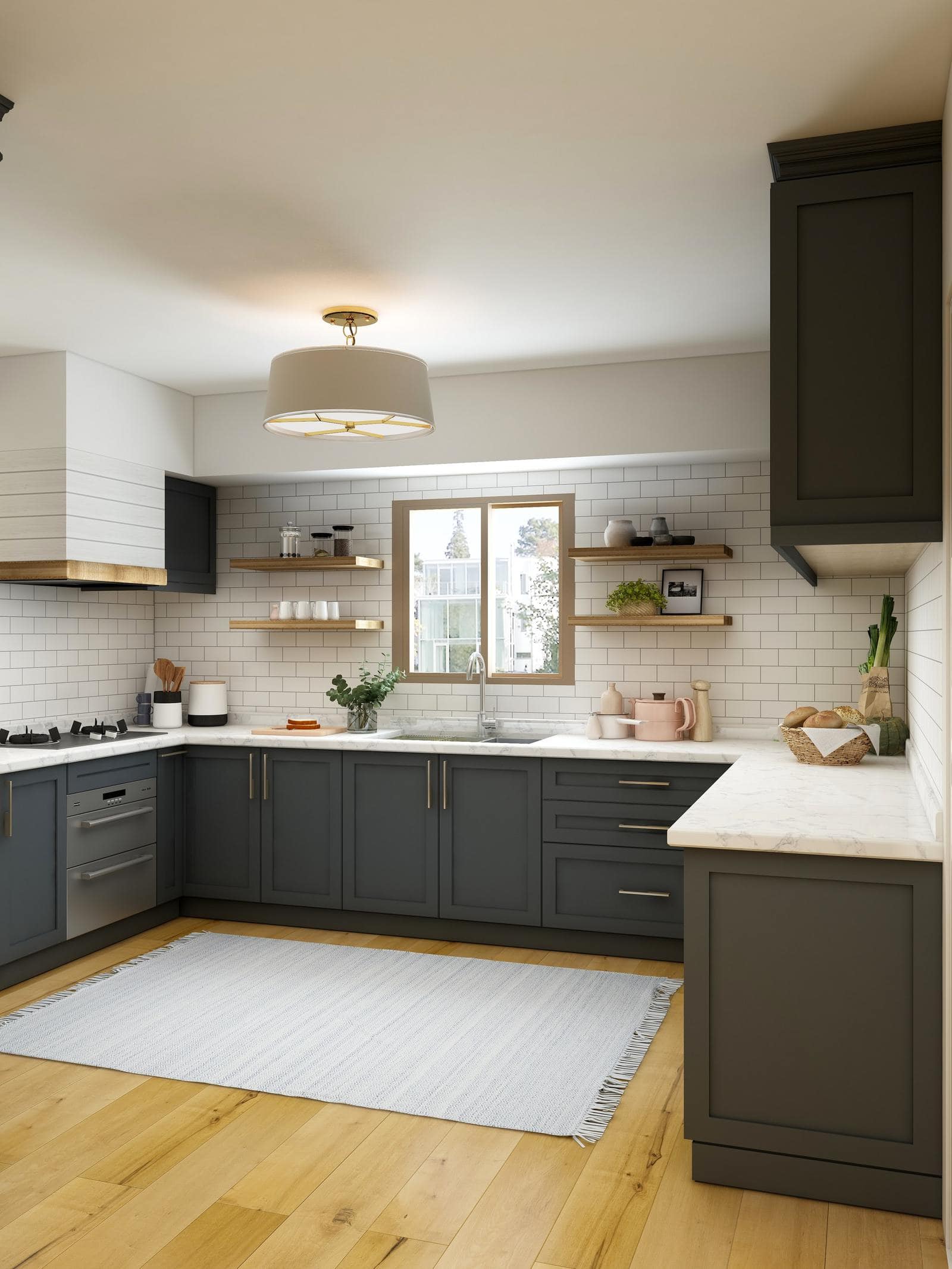 The light wall tiles in this kitchen help to really lift the color of the room. They have also opted for a large ceiling light to make up for the lack of natural light that may come in through the kitchen window.
Plants and white kitchen accessories bring together the look of the room perfectly, contrasting with the choice of dark kitchen cabinets.
Blue and Gold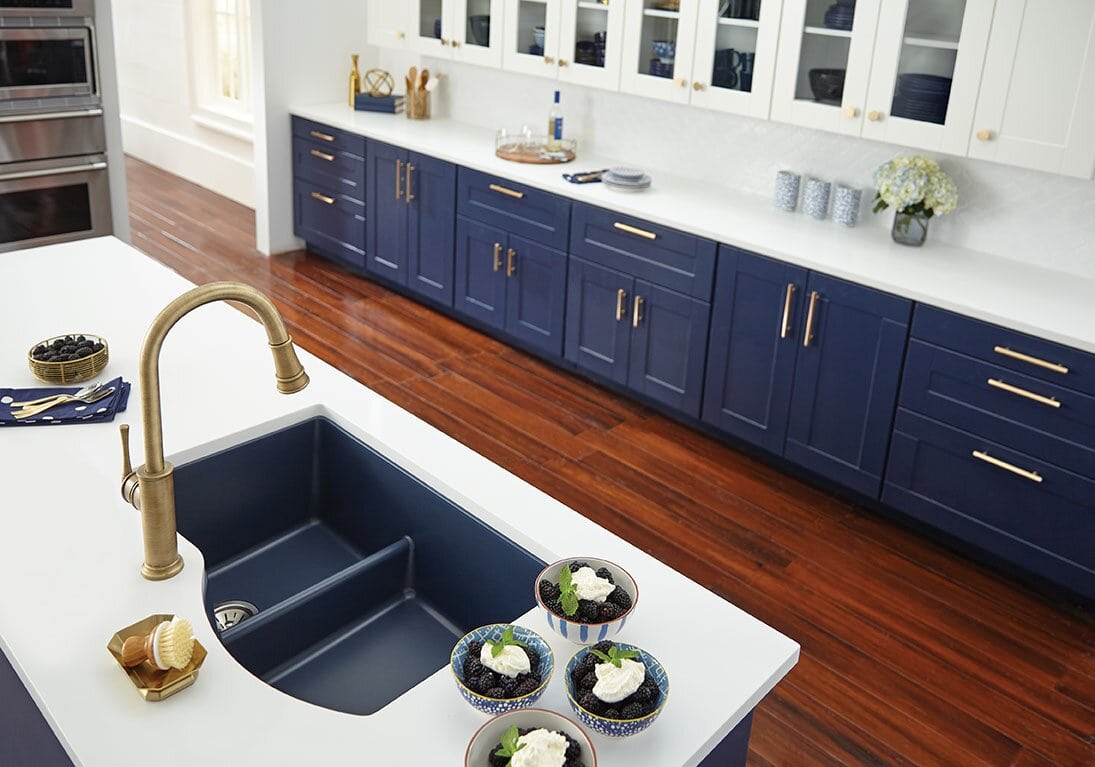 This lovely blue and gold kitchen has plenty of white kitchen cabinets to help give the kitchen an overall light look. The traditional wood kitchen floor is both practical and stylish and brings some warmth to the space.
The beautiful white kitchen countertops help brighten the whole room which proves that dark blue cabinets can work well even if you have a kitchen that doesn't benefit from much natural light.
Black on Black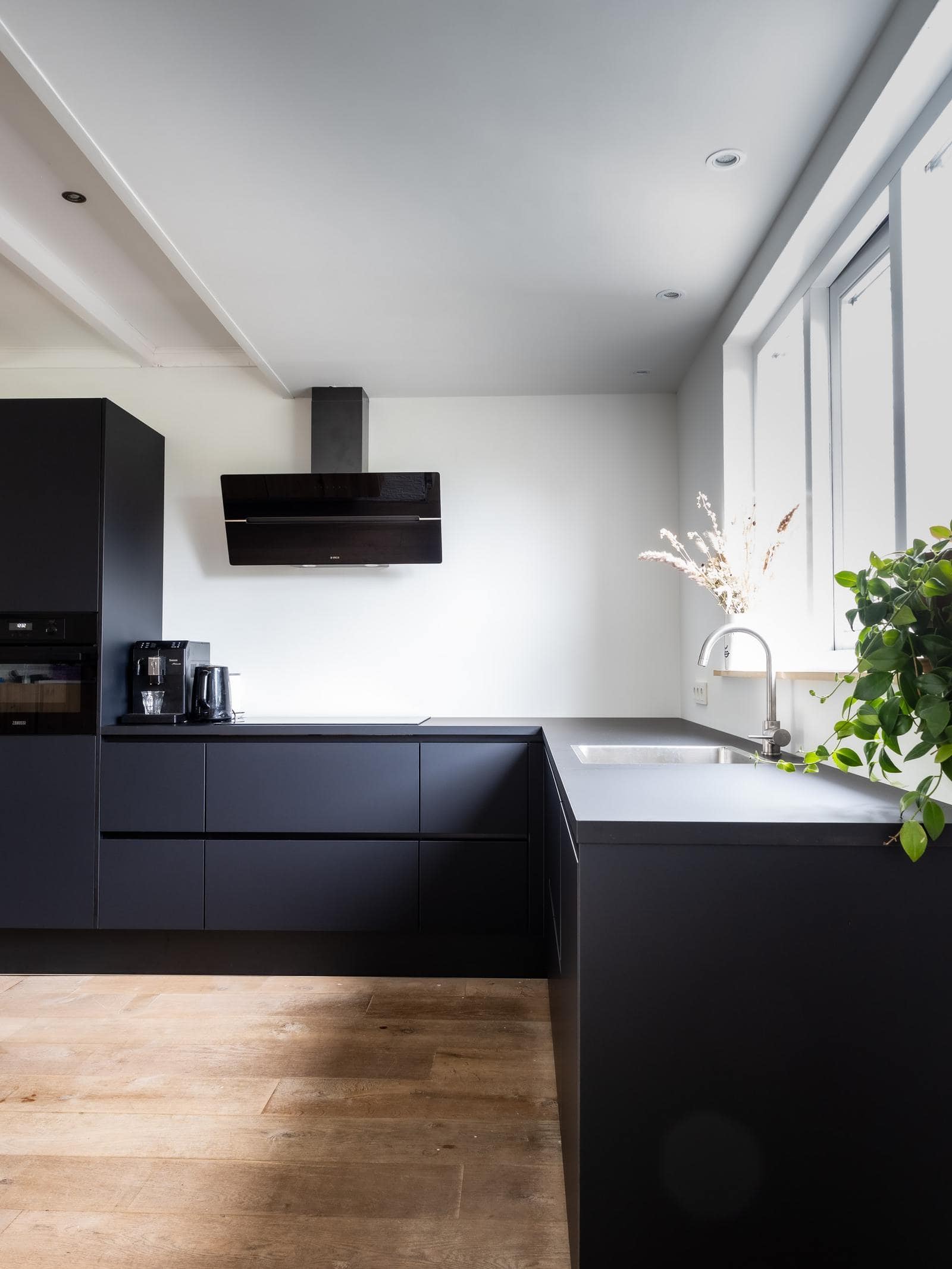 Minimalist look kitchens are a great way to create a modern kitchen with dark cabinets. A black countertop is the perfect finishing touch to these sleek black cabinets.
The matt look across the cabinets and worktop have the potential to darken the space, but the white walls and light color floor gives everything a lift, proving that color schemes for kitchens with dark cabinets work well in any style of kitchen.
Modern Black & White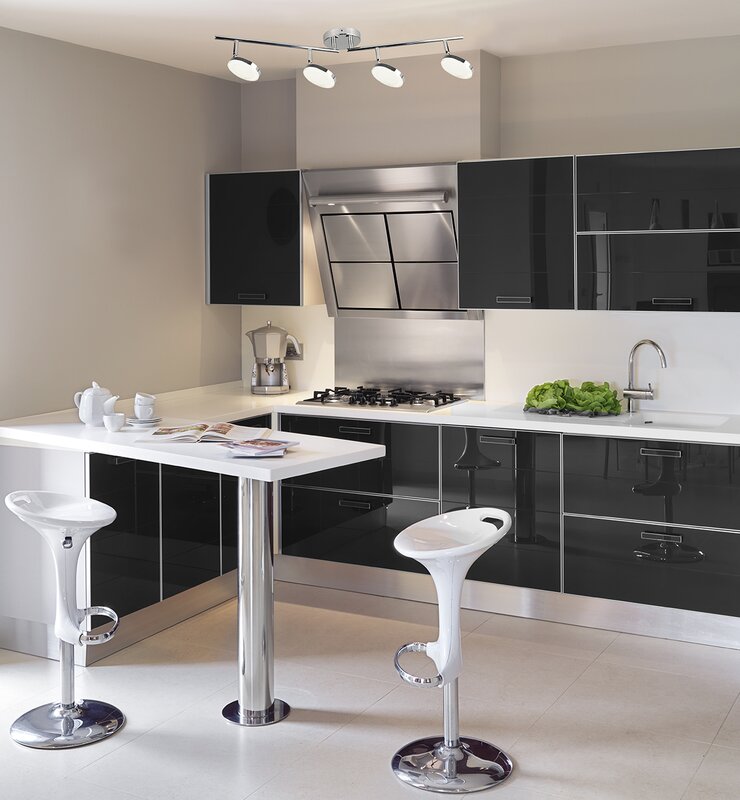 This modern look kitchen complete with a breakfast bar proves that black and white can be ultra-modern. The glossy finish across the cabinets and woodwork help to give this kitchen a really light look.
These lights are a great choice for a kitchen that doesn't have an abundance of natural light, as they can be directed to where they are needed most. With plenty of worktop space and storage, this is a great, practical kitchen that looks fabulous with a black and white finish.
Dark Modern Farmhouse Style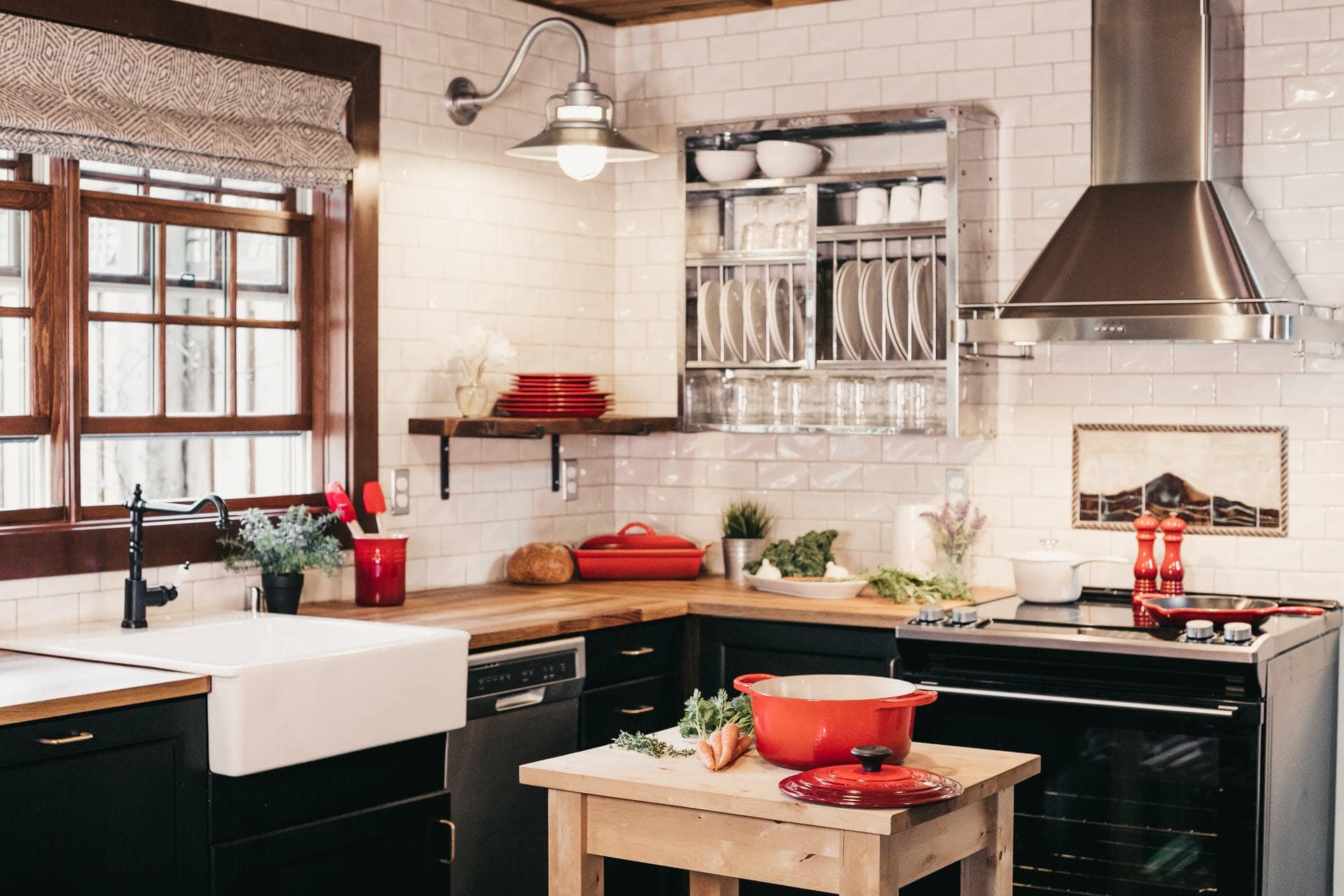 This look is perfect for anyone wanting to create a traditional farmhouse or country style kitchen. The red kitchen accessories go perfectly with the black kitchen cabinets, but the scheme is set up in a way that any choice of colour would work.
The kitchen cabinets are dark black and contrast perfectly with the wood choice for worktops, and window frames finished with a patterned blind which would easily be swapped for curtains in your own kitchen if you wanted.
Grey Blue Traditional Kitchen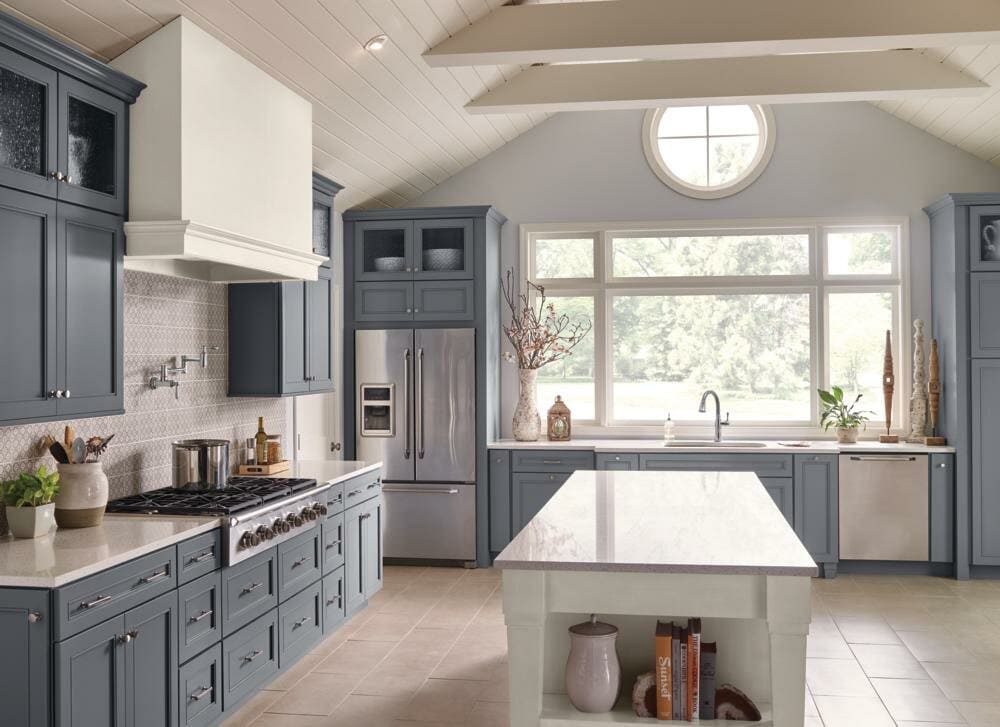 You can opt for dark cabinet kitchen ideas without having to go black. This kitchen benefits from high ceilings and the grey blue cupboards fit in perfectly with this. The matt finish across the cupboards works well with the shiny worktops, helping to ensure that the grey blue color doesn't leave the kitchen looking too washed out.
Light walls and a cream floor help to lighten the room and ensure that the grey is a nice feature rather than one that is lost within the rest of a colour scheme, which can happen with busier designs.
Contemporary Black and Sage Green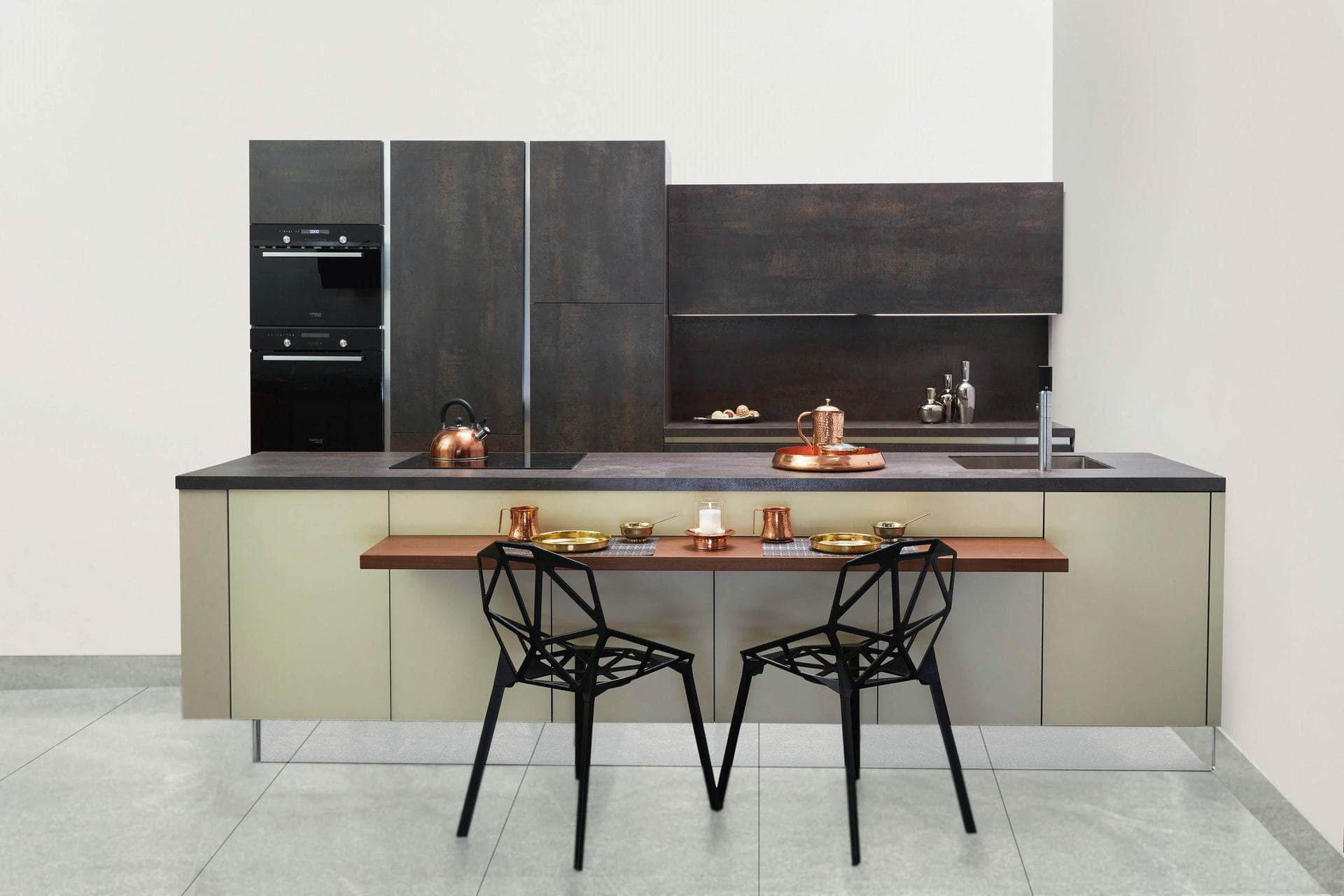 Black doesn't need to be boring, as this kitchen with a flash of sage green shows. This green on the cupboards may be subtle but it really helps to add to the depth of the kitchen.
The cupboards are dark but they have a hint of green showing through the black washed finish which helps to ensure that the whole room is brought together. The look is completed with the bold choice of modern, black dining chairs.
Grey and White With Natural Accents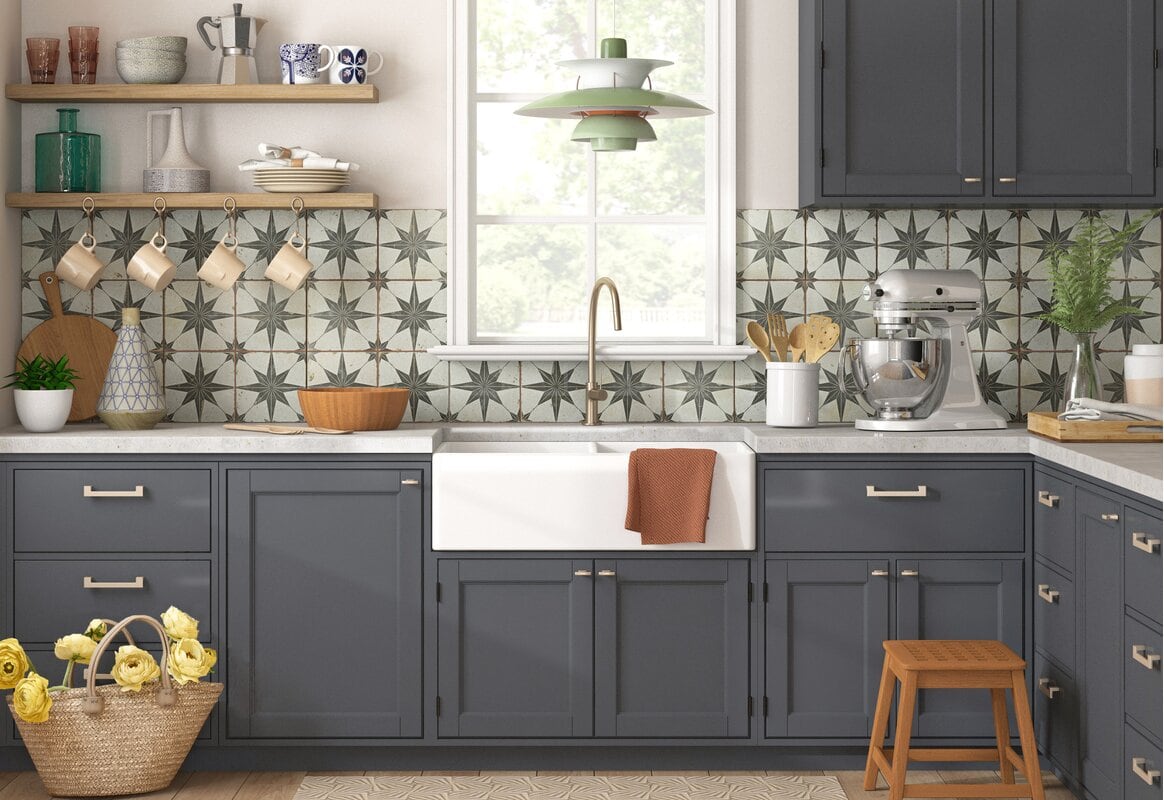 This kitchen look has been designed by someone with a sense of fun! The kitchen tiles help to bring something different to the overall look of the kitchen. Complete with dark grey cupboards and square handles, it is a kitchen that is modern but also features a nod to more traditional looks.
The kitchen accessories are a natural colour but as you can see from the yellow roses featured a splash of yellow wouldn't be wrong in this style of kitchen either.
Gorgeous Green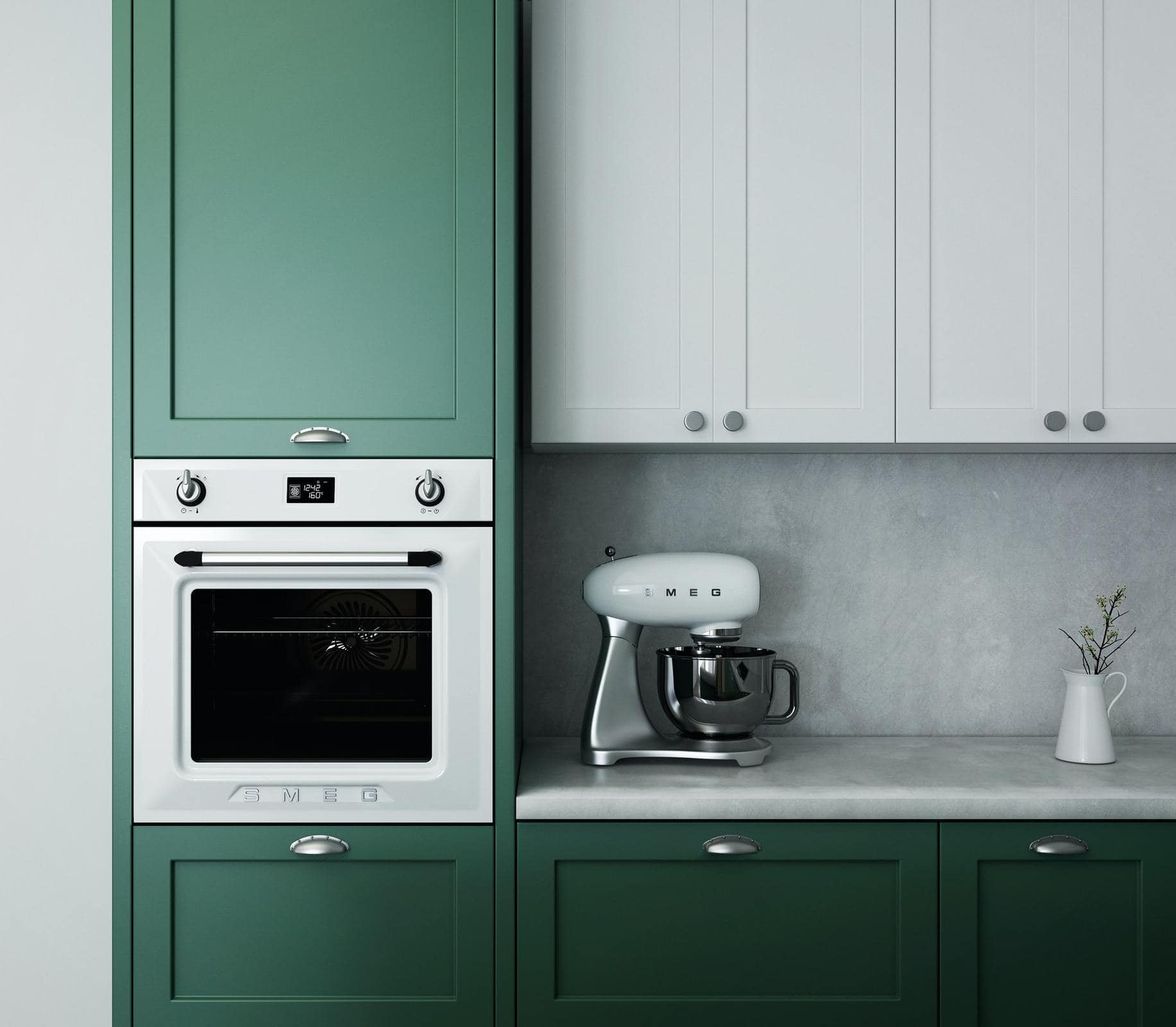 This green kitchen might be a bold choice, but it's one that really pays off. The dark green cabinets are complemented by the light green cupboards and worktop.
Grey walls and a marble splashback help to bring a little light to the kitchen, which could easily be done by extra kitchen lighting too if you have a kitchen that doesn't have much natural light. Smeg also does a range of green kitchen accessories so you can go all out with a look of green if you want.
Dramatic Dark Wood Cabinets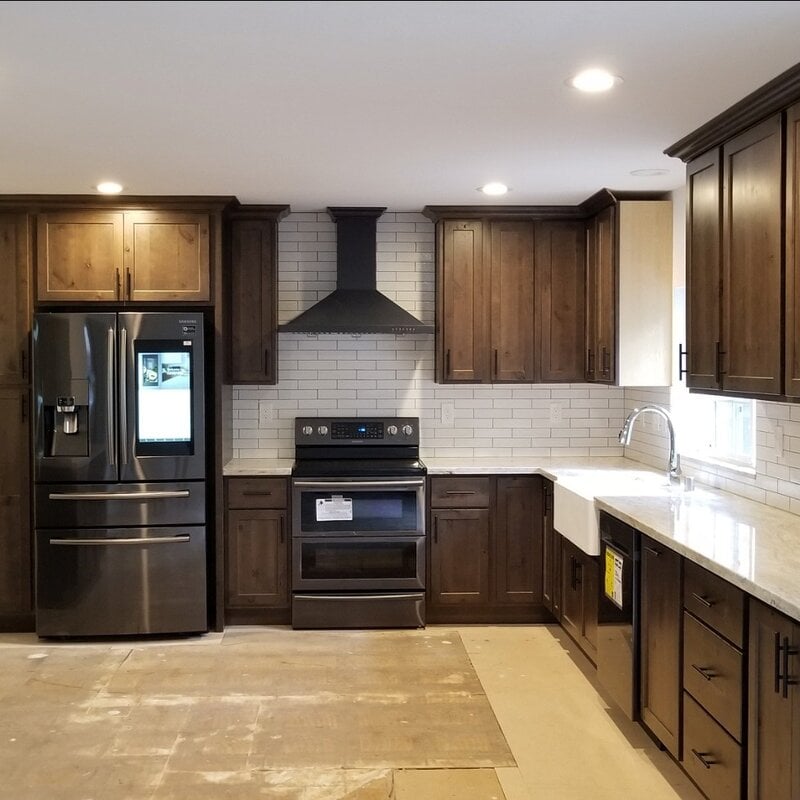 If you're researching dark cabinet kitchen ideas you could consider a more natural look too. These dark wood cabinets give a nod to a traditional looking kitchen.
This kitchen is a large one which you can see by the double fridge but this style of kitchen could also work in a much smaller space too. This kitchen has a light colored floor which helps to ensure that the kitchen isn't too dark, so also something to think about when designing your own kitchen.
Sleek Dark Surfaces With Marble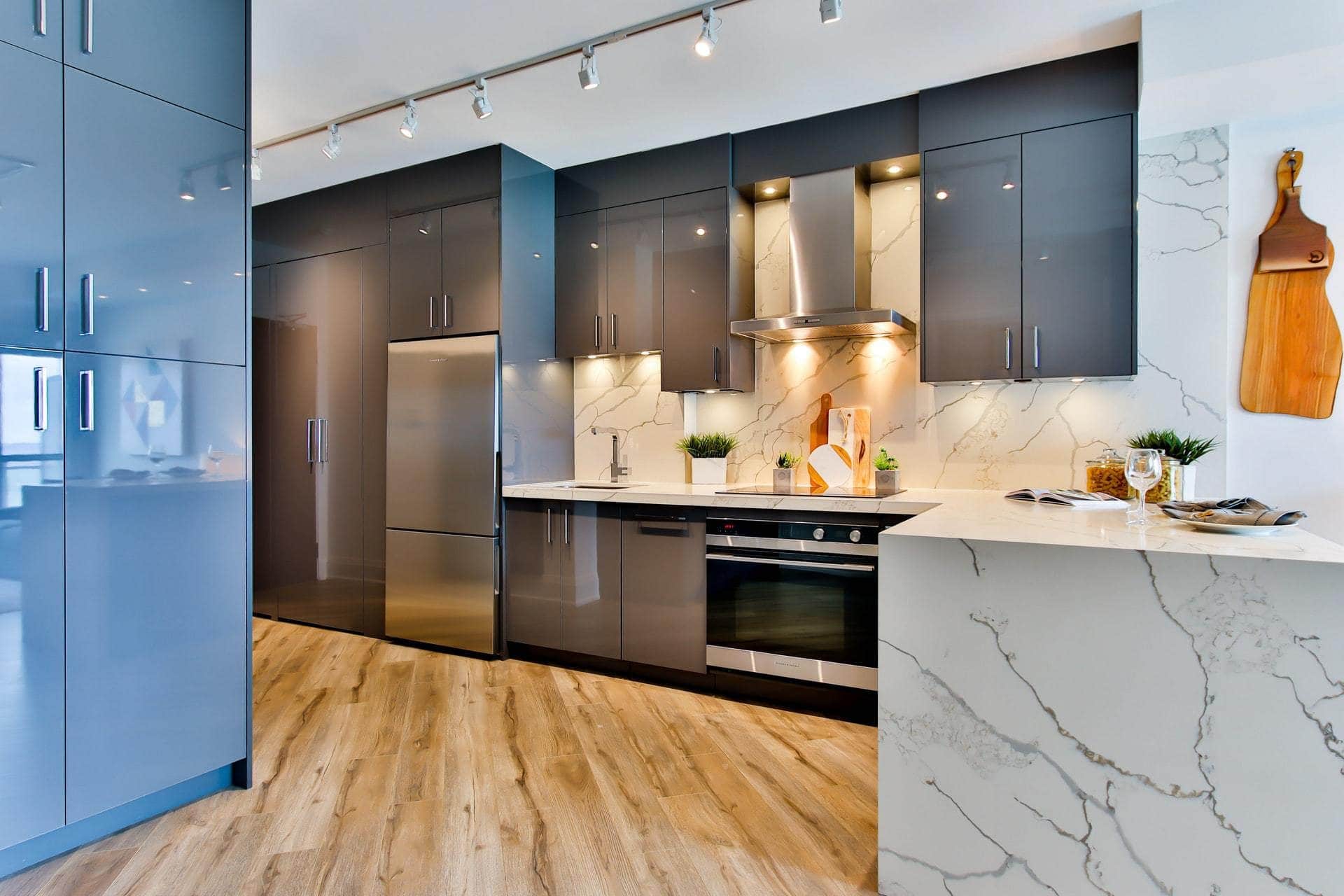 If your idea of a perfect kitchen is sleek and modern then a smooth marble finish is a perfect choice. The finish on these grey cupboards is ultra-glossy which gives the whole kitchen a sophisticated finish.
The marble worktop helps to complete the look of the kitchen, which is spacious and modern. Don't panic if you have a kitchen with a little less space, because marble can also work in smaller spaces.
Elegant Black and White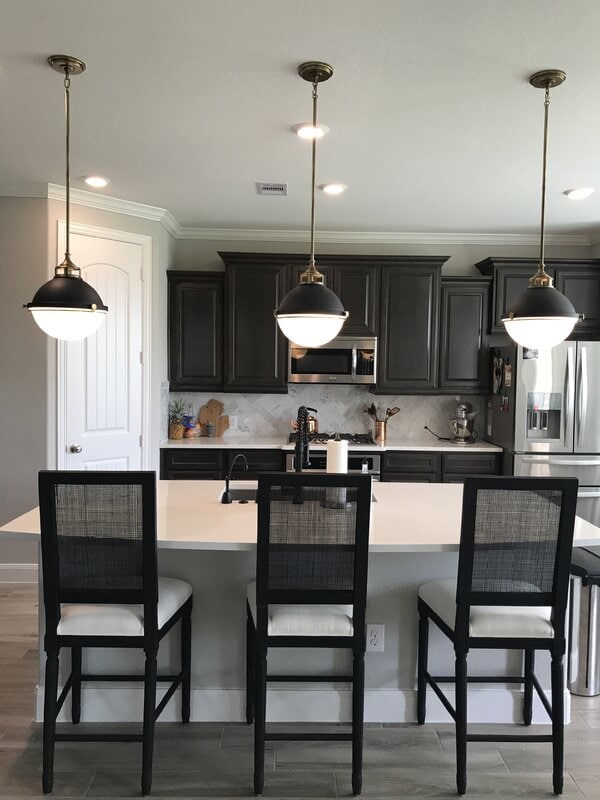 If you want to make the most of your kitchens high ceilings then these pendant lights are perfect. Hung over the breakfast bar they help to bring light to the middle of the kitchen.
The dark cupboards in the background are complemented by white doors and worktops, which give an elegant finish to the whole room.
Traditional Dark Wood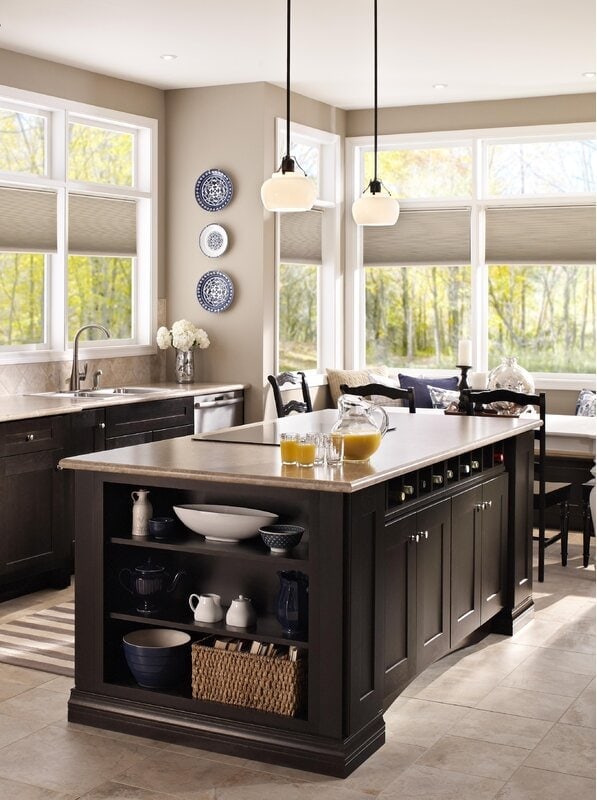 Last but not least is this traditional kitchen design. With lots of natural light pouring into the room it is easy to make the most of very dark cabinets and storage because there is no danger of the room appearing too dark.
The light floor and worktops help to reflect the natural light which uplifts the whole room. If there was ever any doubt that the room would be light enough, the lighting in the centre of the room fixes that perfectly.
Final Thoughts…
When it comes to a kitchen design with dark cabinets, there are loads of gorgeous ideas to choose from!
From completely black kitchens, to those with a splash of color, you can pick and choose the ideas you like most to create your dream kitchen. Some of the best kitchen colors with dark cabinets include white and grey, which means marble countertops are a great choice with dark cabinet colors.
Hopefully these ideas for kitchen paint colours with dark cabinets have given you some inspiration for your own kitchen, good luck!