Decorated Life is reader-supported. When you buy through links on our site, we may earn an affiliate commission. Learn More
What Color Front Door Goes with a Blue House? – 15 Ideas
Blue houses are regal, classy, and often traditional. Painting the front door of your home is an excellent way to enhance the curb appeal of your entryway and make a great first impression.
When you're using a cool-toned shade like blue for your home, there are multiple paths you can take for front door colors. Whether you go with the same color throughout – blue on blue – or with something contrasting like yellow, pink, green, or orange, there are plenty of options, like these 15 ideas.
Check out our fifteen favorite choices for paint colors for the front door of a blue house from four paint producers – Sherwin Williams, Benjamin Moore, Behr, and Farrow & Ball.
Real Red by Sherwin Williams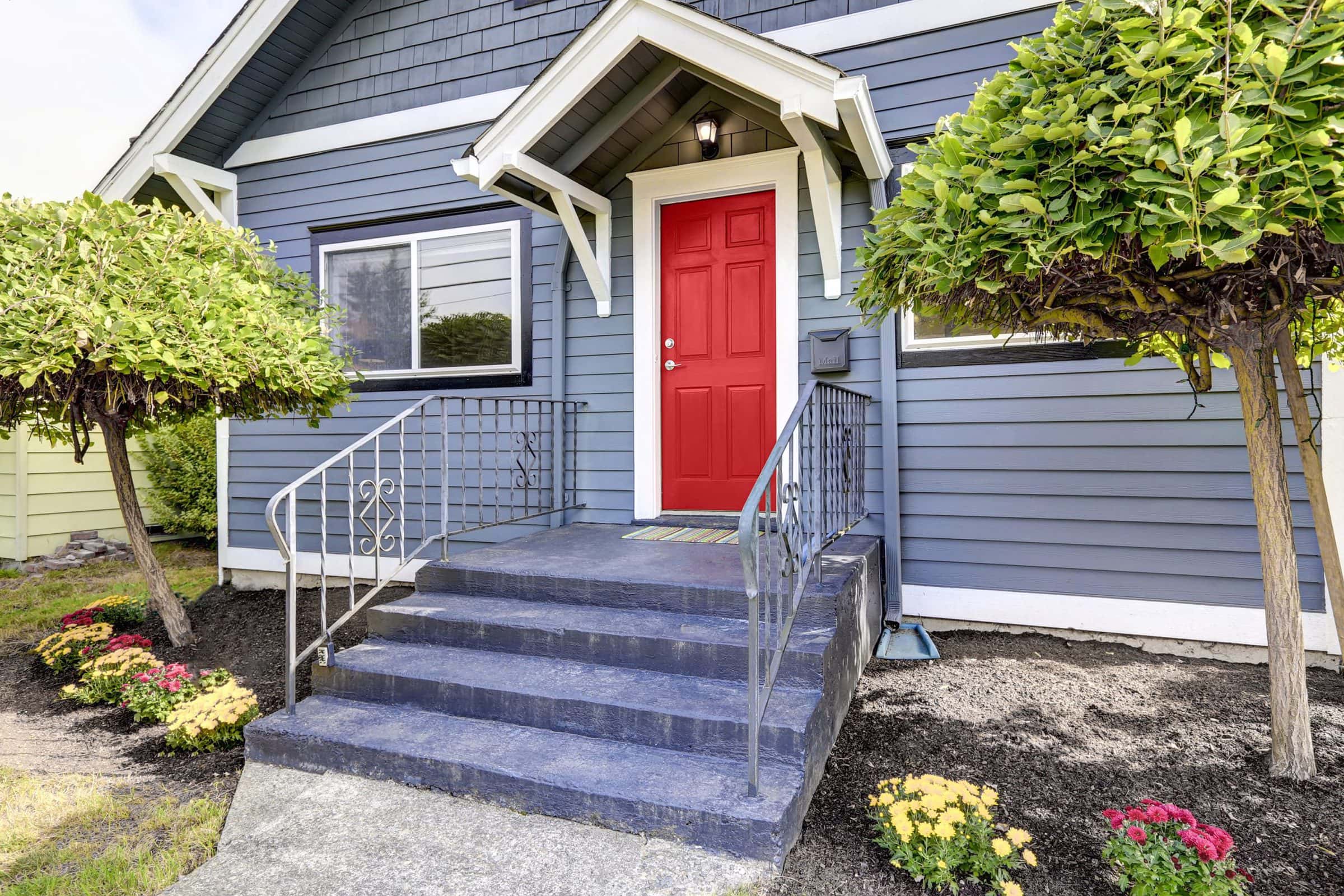 A blue house can look fantastic with a door painted red, like Sherwin Williams' Real Red. If the name doesn't give it away, this shade of red is really bright and richly saturated.
This red has a low LRV of 13 with a hex value of R:191 G:45 B:50 for a stunning intense color that exudes warmth and style. With faint undernotes of pink and violet, this real red is a fabulous shade for blue houses.
Lemon Twist by Sherwin Williams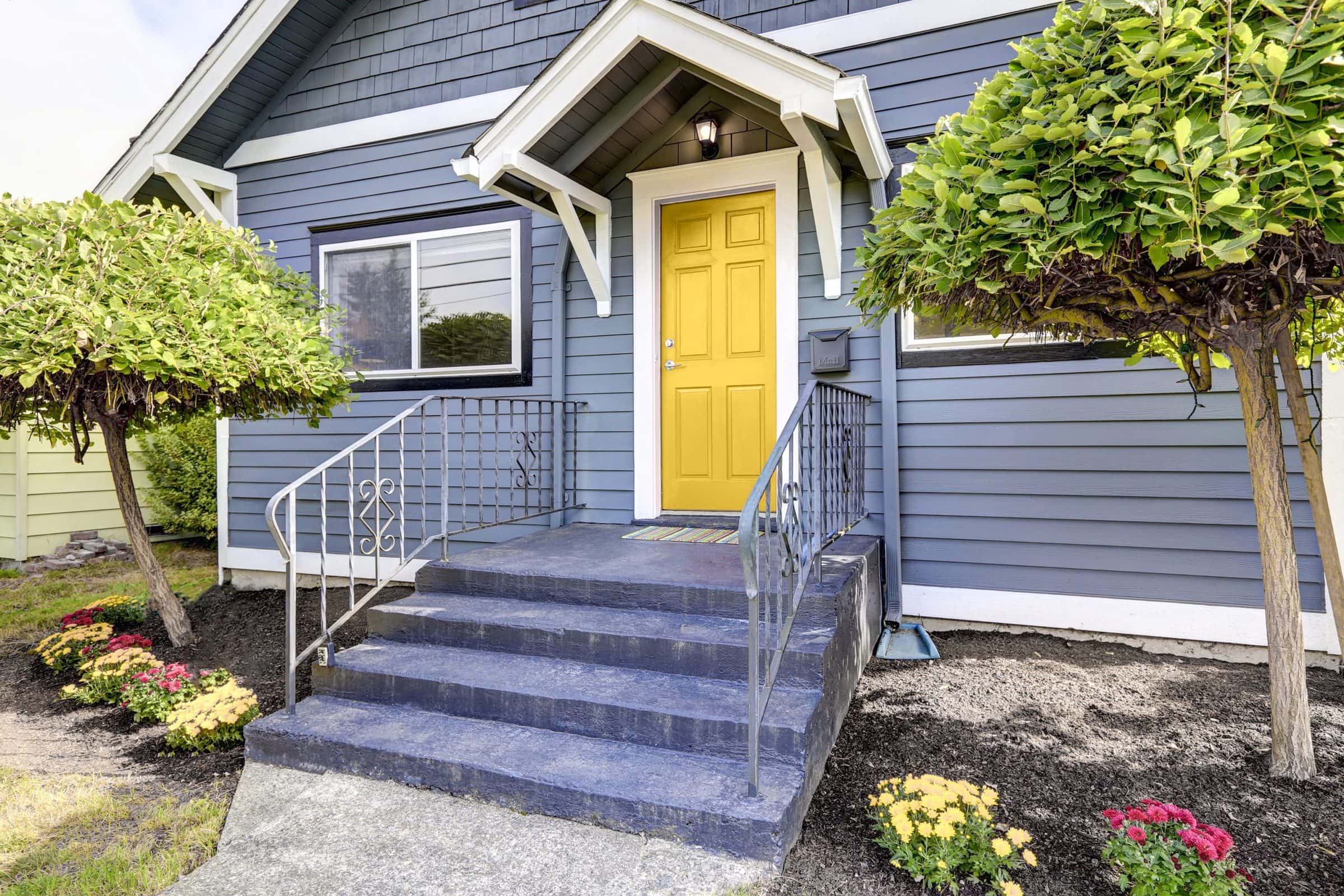 If you're looking for a color combination that will always work, no matter the passage of time or trends, nothing works better than blue and yellow. But, when you combine these two colors, you get green.
But because blue and yellow are in opposite quadrants on the color wheel, it's a complementary combination that can work incredibly for your house. We love a blue place with a subtle, softer shade of yellow like Lemon Twist by Sherwin Williams.
Coral Bells by Sherwin Williams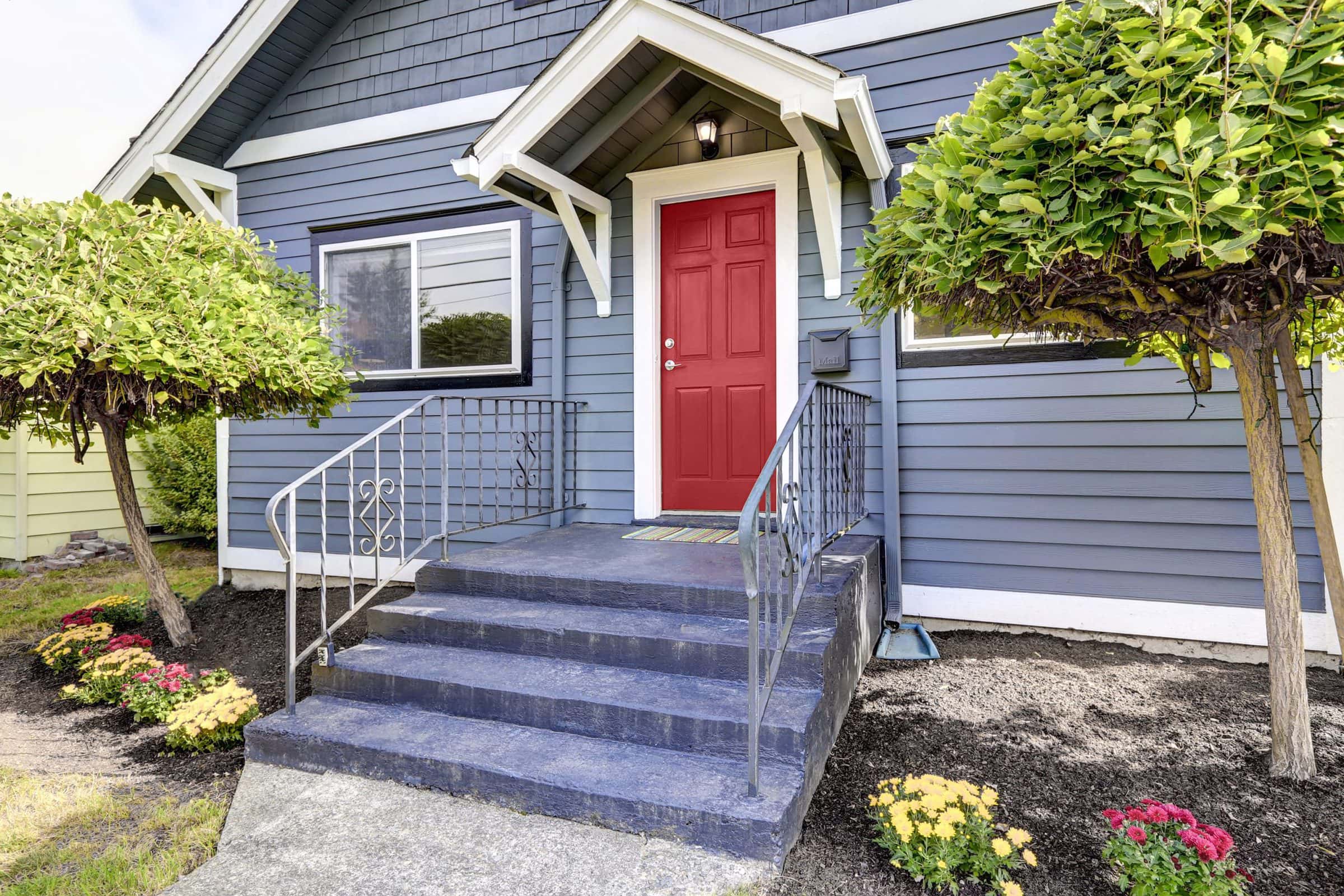 If you're looking for a vibrant, energetic front door color to use on a blue house, you might be the perfect candidate for the delight of a stylish coral. Coral is an interesting color, being a mixture of pink, orange, and red.
When using color with blue, you'll want to consider the tone of the darker color. For a muted blue, keep the same saturation for the coral; likewise, if you're using a dominant, vibrant combo. We adore Sherwin Williams' Coral Bells, a 16 LRV shade with heavy dark pink and burgundy undernotes for a blue house with a coral door.
Center Stage by Sherwin Williams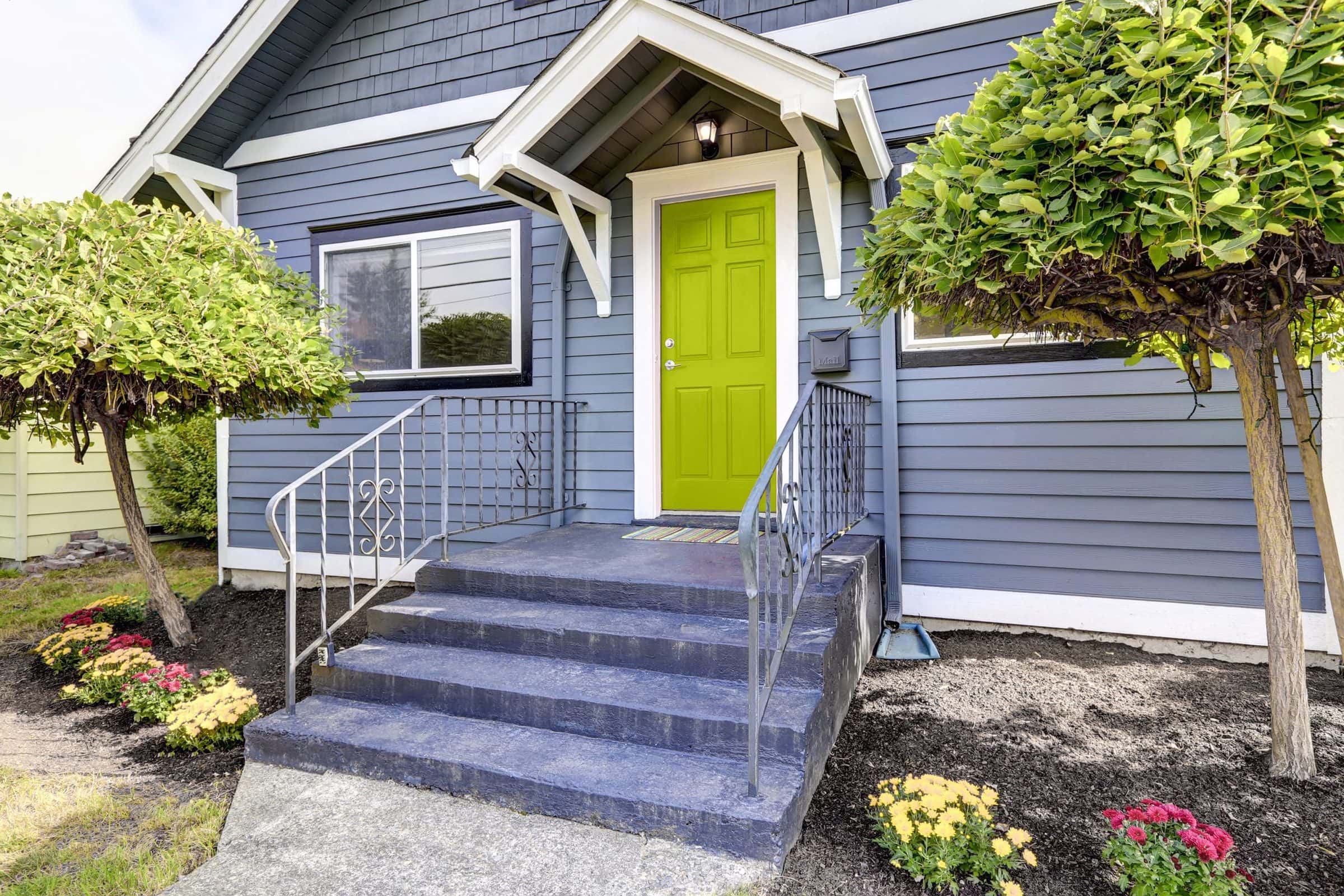 If you're looking for a bold, dominant door color choice guaranteed to get some attention for major curb appeal, consider pairing your blue house with a bright, funky neon green door.
We're fascinated by the nuance you get with a blue house matched with a light, bright green like Center Stage by Sherwin Williams. With a medium LRV of 48 and a hex value of G:194 R:178 B:22, this electric green is sure to get you noticed.
Izmir Purple by Sherwin Williams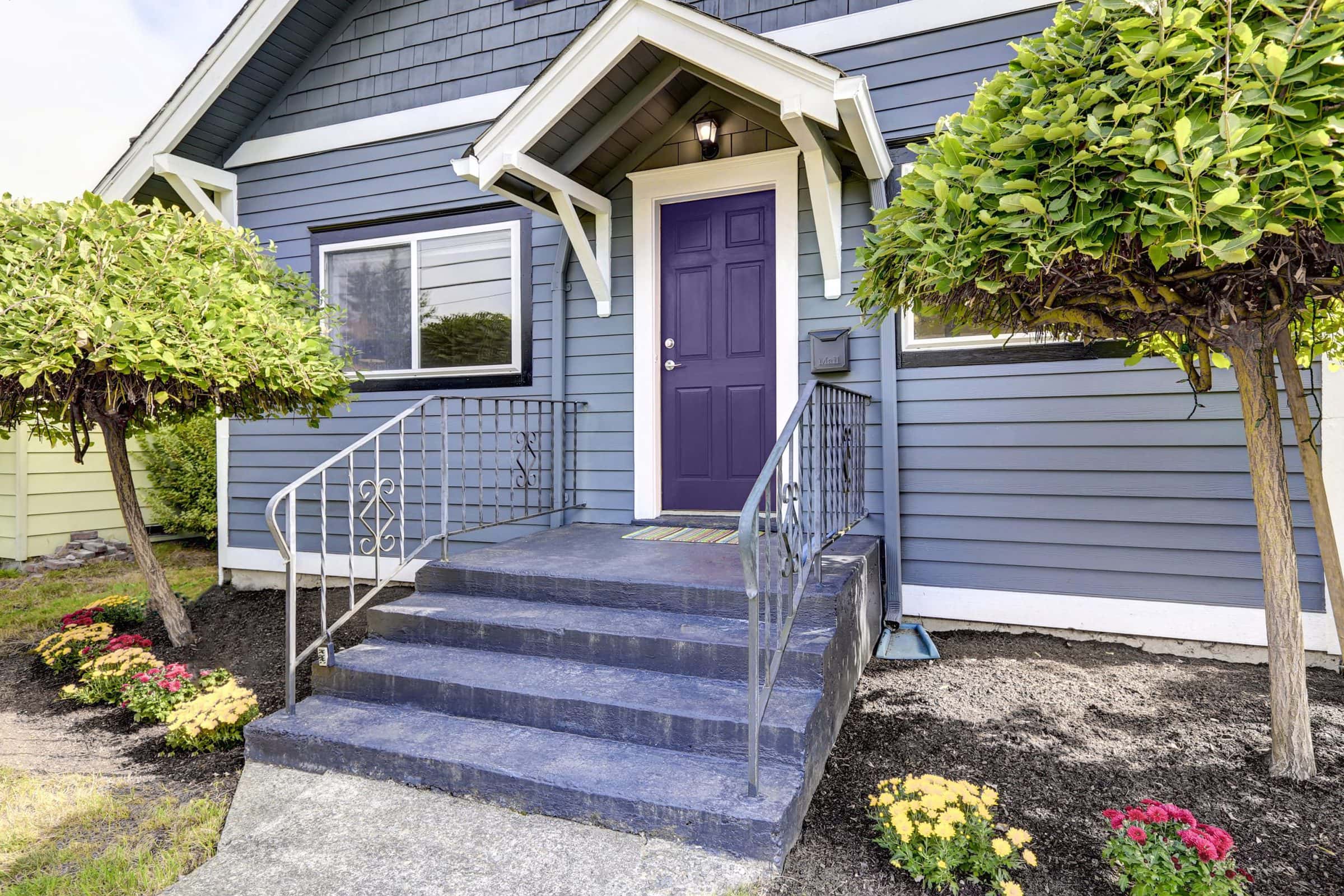 Purple and blue are in the same color family, so it makes sense to pair these two shades for your home's exterior decor palette.
Give your blue home major curb appeal by going with a front door in purple. You can make things interesting by choosing a purple with heavy blue undernotes but a much darker tone, like Izmir Purple by Sherwin Williams.
Hyper Blue by Sherwin Williams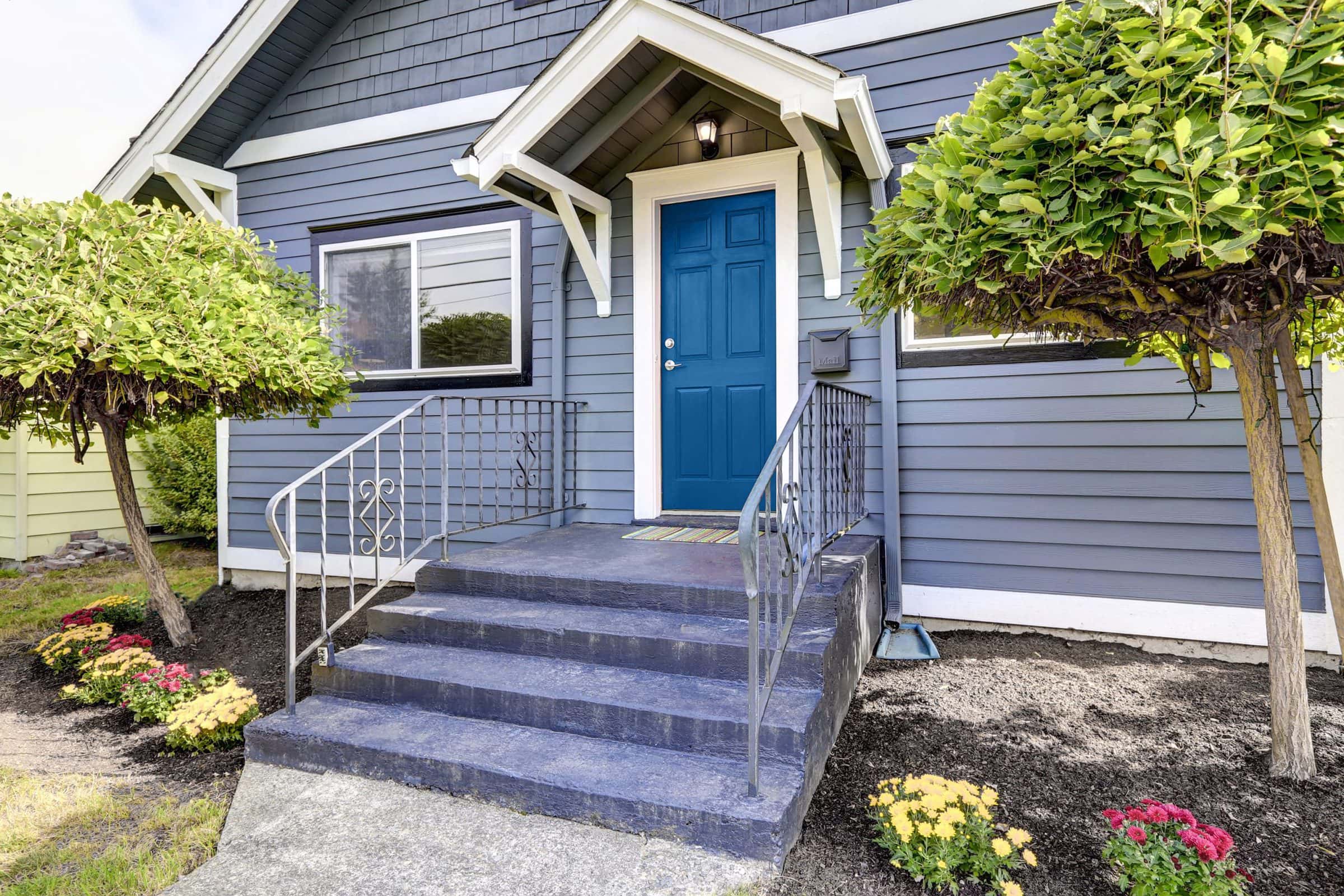 If you think going with a blue-on-blue color scheme for your home's exterior is too Smurfy, think again. Picking a blue-gray for your house color can look traditional and welcoming for guests.
And adding a berry blue door adds a monochromatic theme with a contrast of colors to set the two apart. Hyper Blue by SW is an energetic, punch-you-in-the-face shade with an intensity that guarantees your home gets seen.
French Press by Benjamin Moore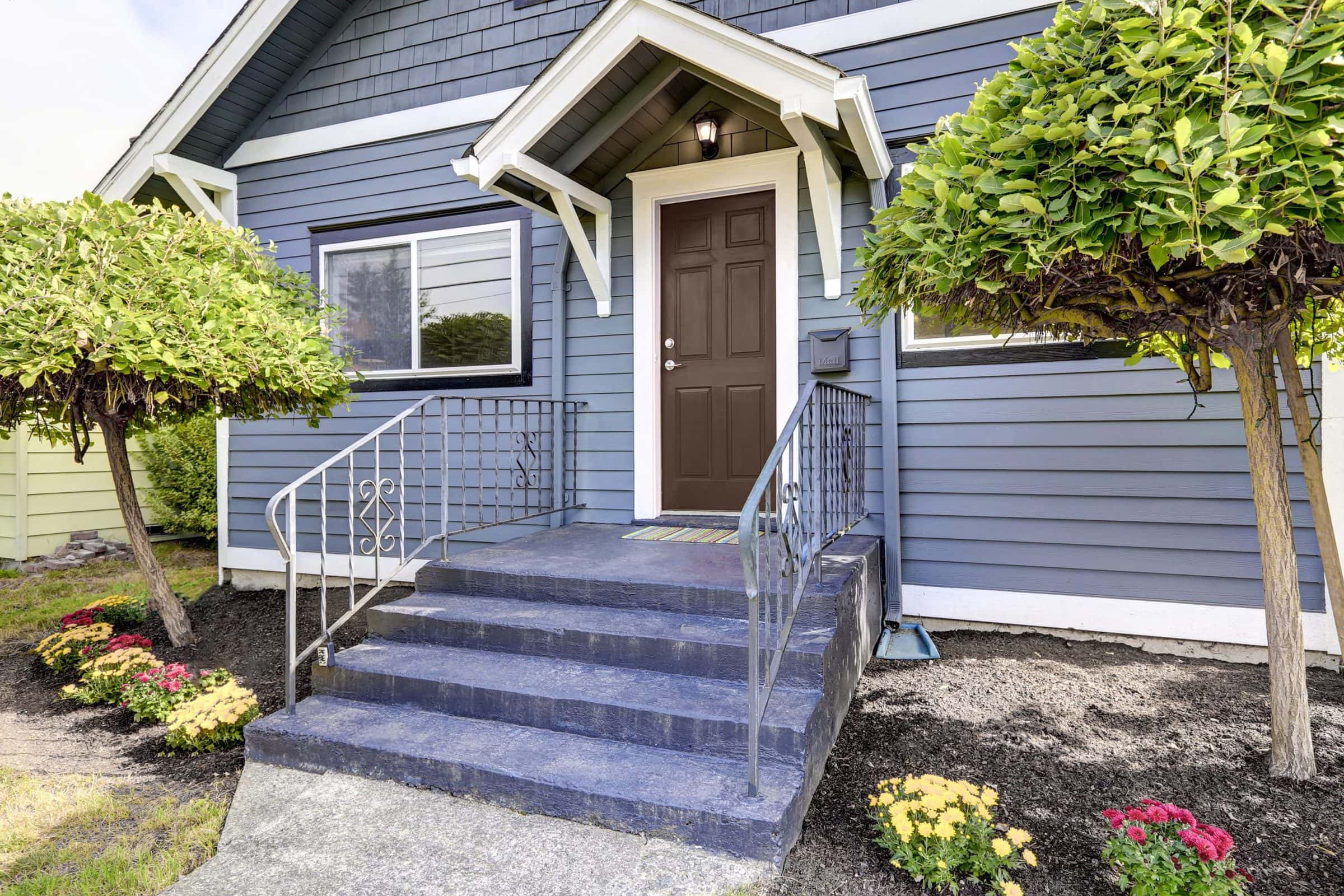 Keep things neutral and natural by going with a front door in brown for a house that's blue. You can keep it simple by leaving the wood door in its original color or giving it a stained finish.
Or you can paint your door a shade of brown. We're inspired by the glamorous richness of Benjamin Moore's French Press, a 7.96 LRV deep, intense brown with subtle undernotes of gray and mauve.
Soot by Benjamin Moore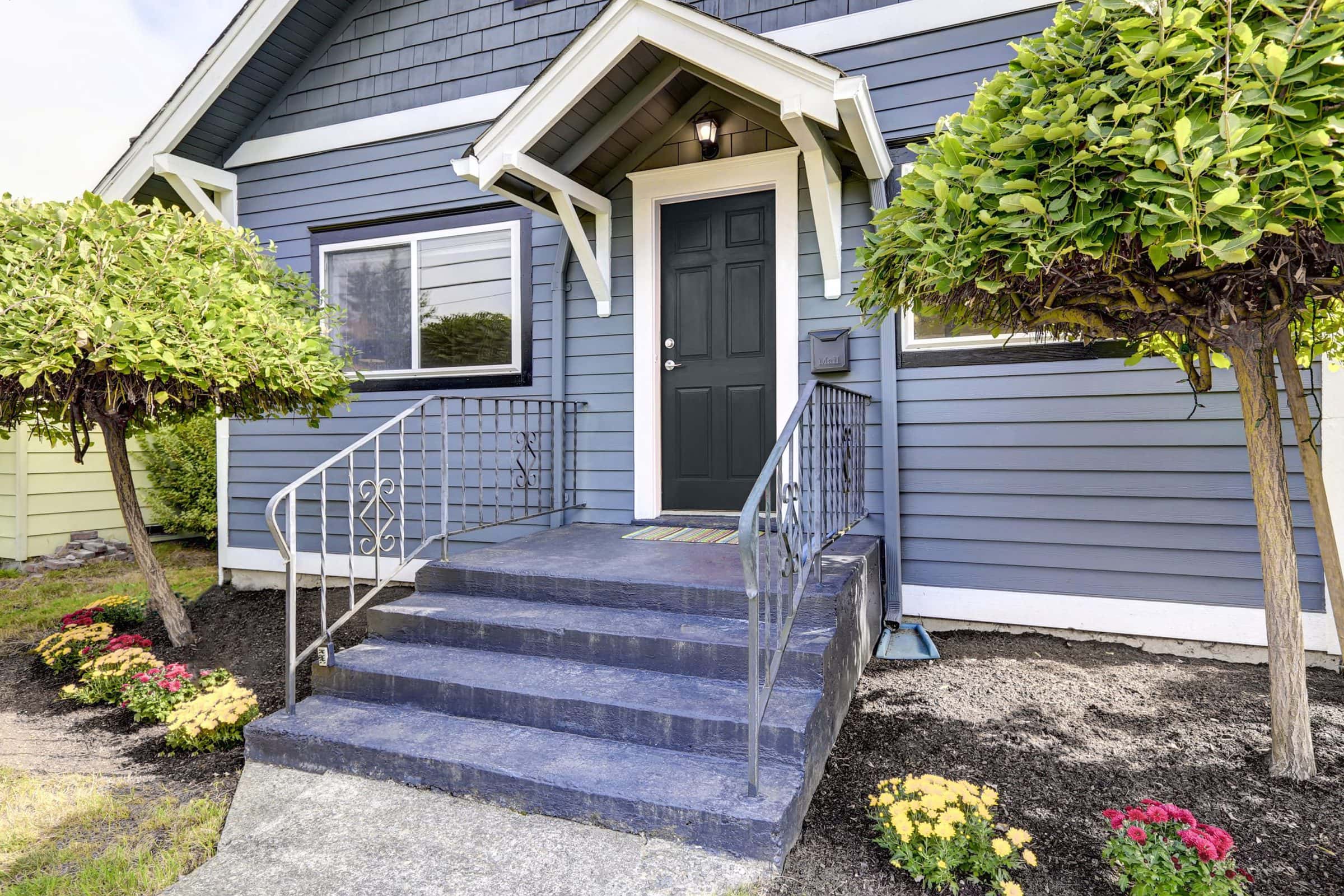 Kenny Wayne Shepherd (and later Five Finger Death Punch) got it right when they sang blue on black. But unlike the song's meaning – adding blue over the top of black doesn't create a new or different color – our version of blue on black will rock your world.
Black is a straightforward, bold color choice that can give your front entrance a commanding, modern vibe. We like Sherwin Williams' Soot for a blue house black door.
Gypsy Love by Benjamin Moore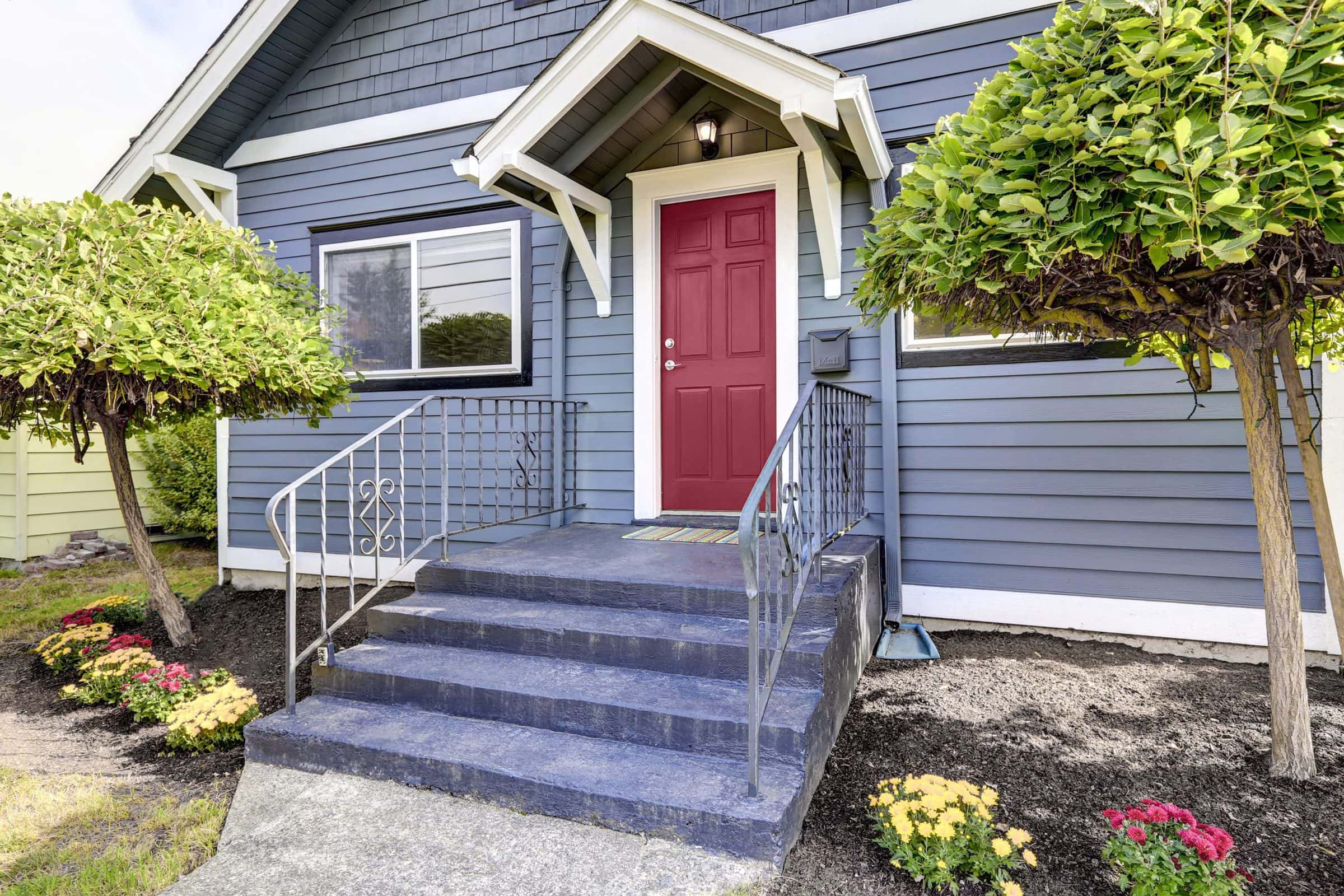 Looking for a feminine feel for a blue house? You can do a blue house pink door scheme for a unique Boho exterior vibe.
We're partial to the dusty tint of Gypsy Love by Benjamin Moore, which is a pink-red with some maroon, burgundy, and purple undertints to it.
White Dove by Benjamin Moore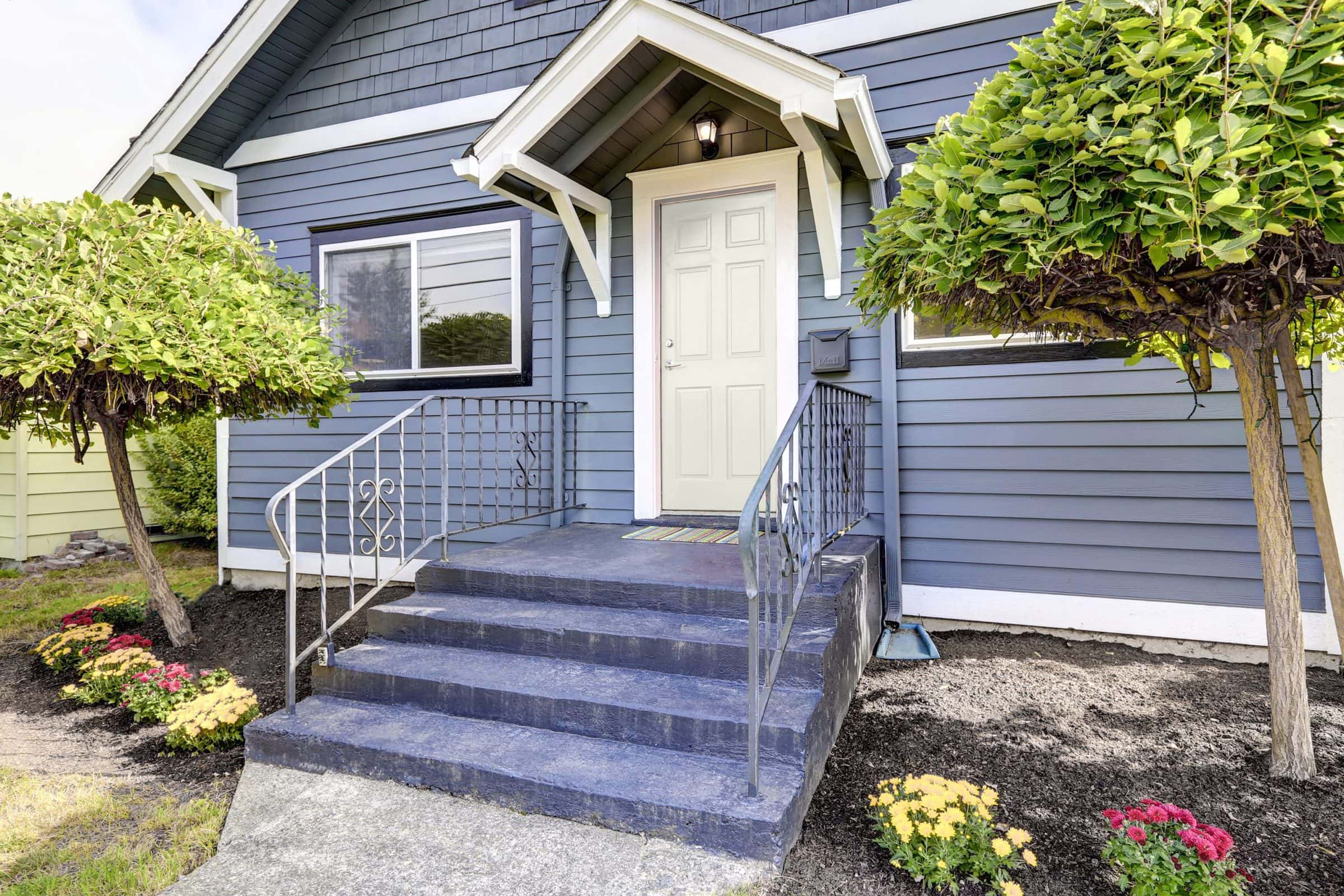 There's nothing wrong with going with a classic non-color for the front door for your blue house. A basic white door can look simple and traditional while toning down the business of a blue exterior.
White Dove by Benjamin Moore is a fan-favorite shade of white, with a high LRV of 85.38, with just the faintest amount of color added to give a soft tint for luminosity and style.
Cayman Blue by Benjamin Moore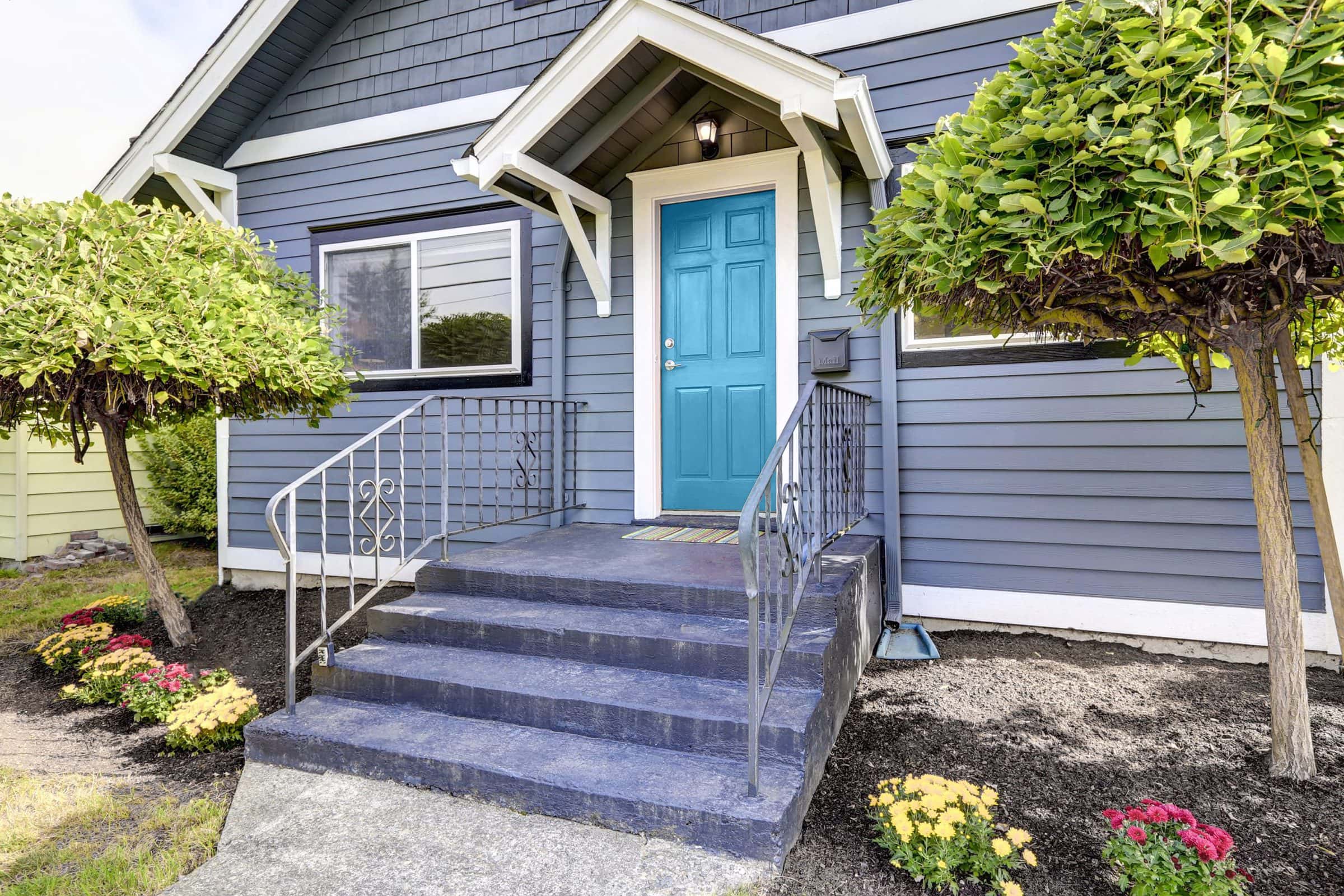 Another monochromatic – blue on a blue – idea is to go with a lighter, pastel shade for the door with a dark blue-gray for the house.
Cayman Blue by Benjamin Moore offers a tropical vibe inspired by the unique blue of the islands for which it's named. A medium-level LRV of 49 gives this color a bold yet soft saturation.
Bonfire Night by Behr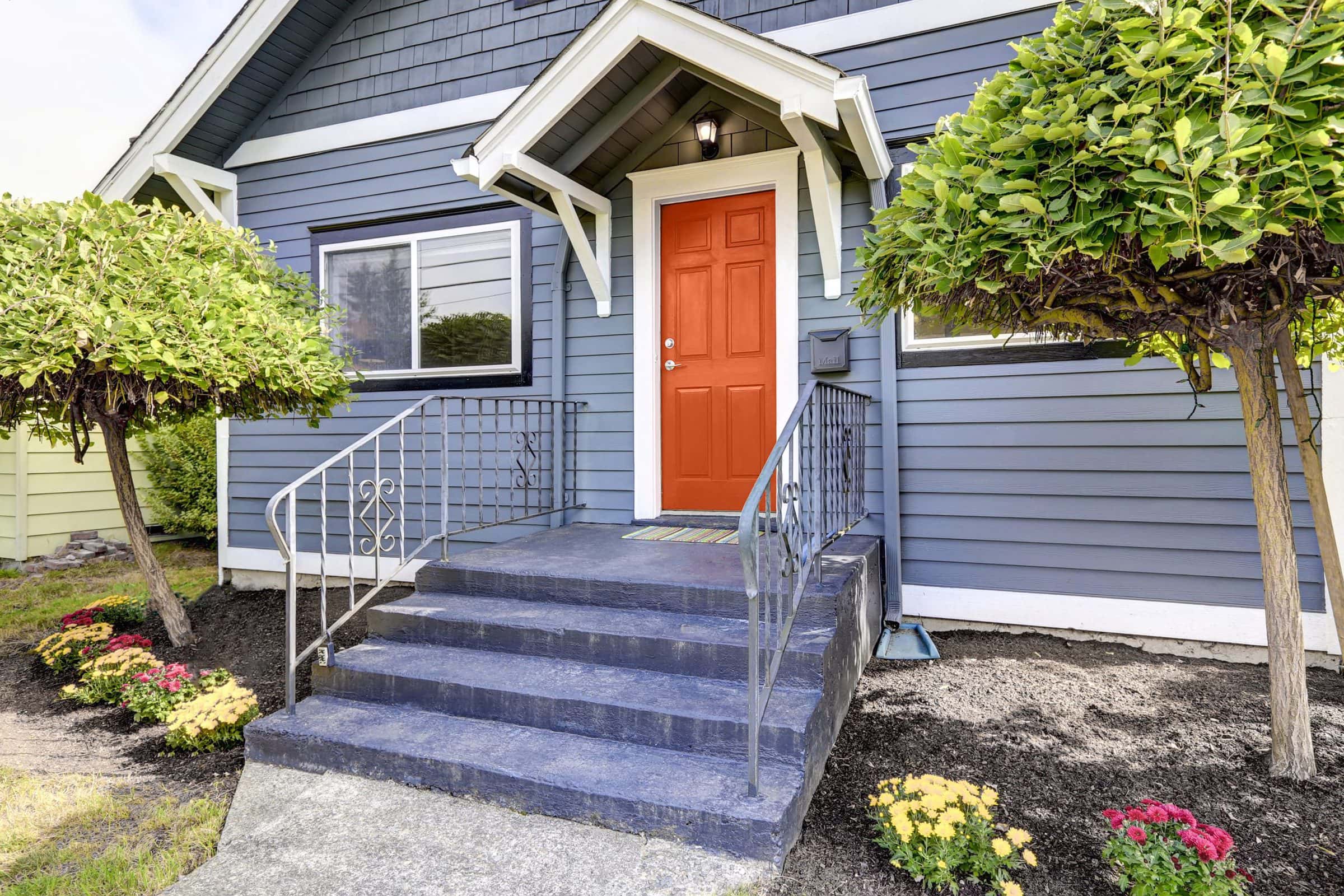 If you're feeling adventurous, you can try a blue house with an orange door. Orange is full of energy, which is great for jazzing up a dull blue, which can look stormy gray in some lighting.
We're obsessed with all things related to nights around a bonfire, so it's no surprise we're hooked on the aesthetic of Behr's Bonfire Night. A 26 LRV and a hex value of G:106 B: 65 R:222 soften the boldness of orange, giving it slight pink and red hues.
Intergalactic by Behr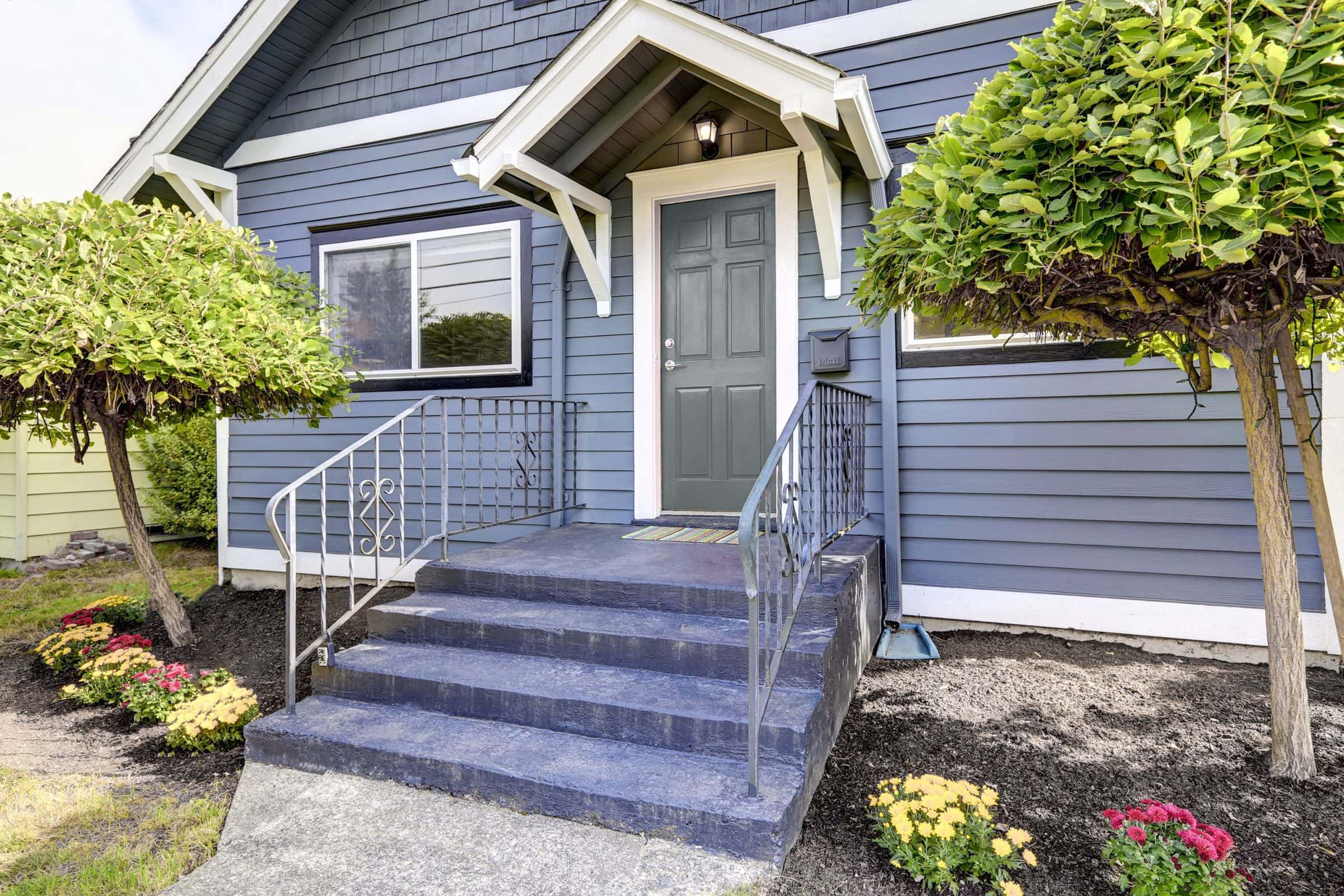 Blue and gray are a match made in design heaven and for a good reason. Both of these colors are cool temperatures and share similar tones.
We're over the moon for a blue-gray for your house and a space gray like Intergalactic by Behr. With a low LRV of 21 and a low hex value of B:130 R:120 G:128, this smoky gray has faint tints of blue and mauve.
Yellowcake by Farrow & Ball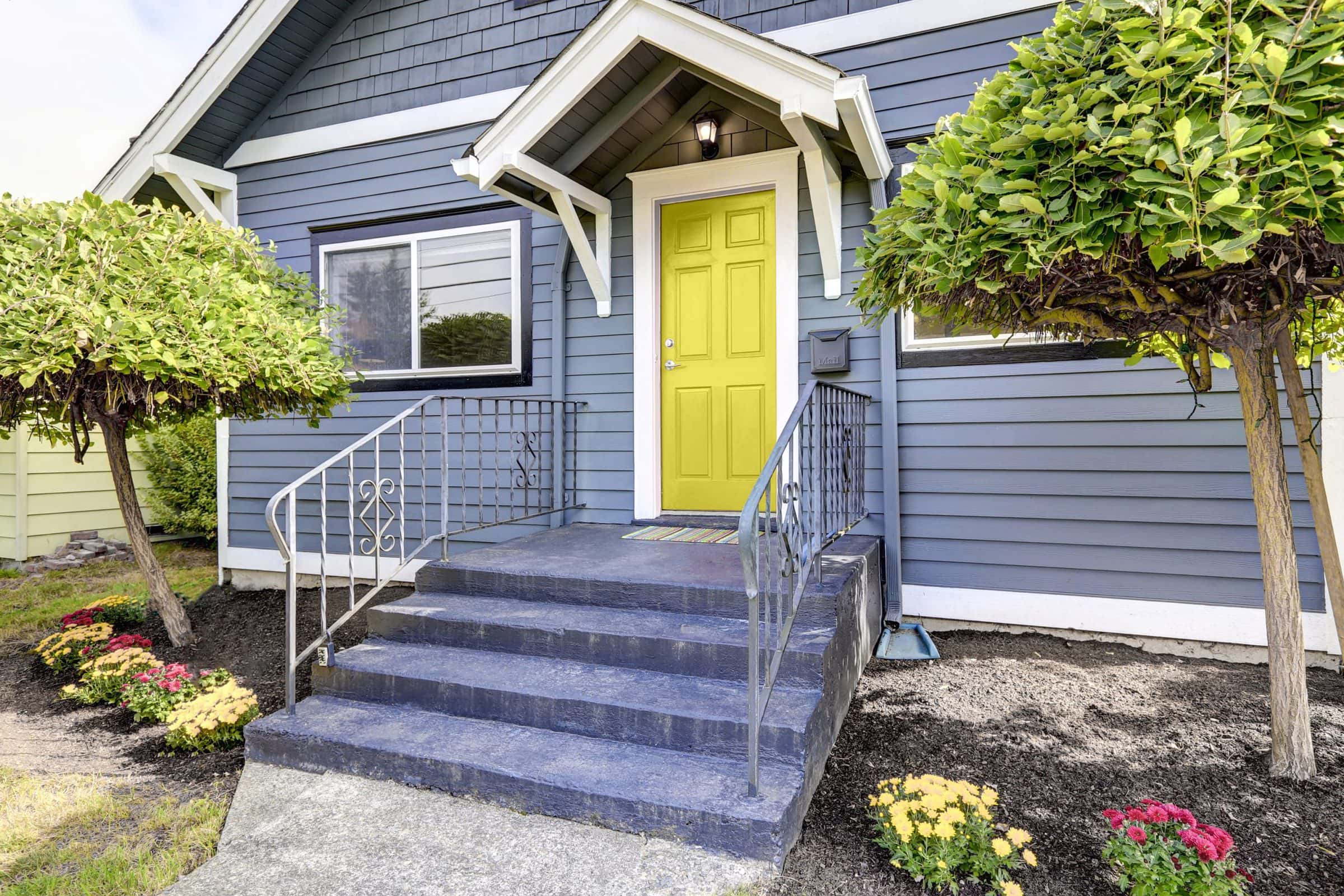 For a blue house yellow door combination with a punch, go for a zingy vintage yellow like Farrow & Ball's Yellowcake.
The use of this vivid funky yellow – named for the American home bake popular in the 1960s – is fantastic for a mid-century modern nuance.
Vardo by Farrow & Ball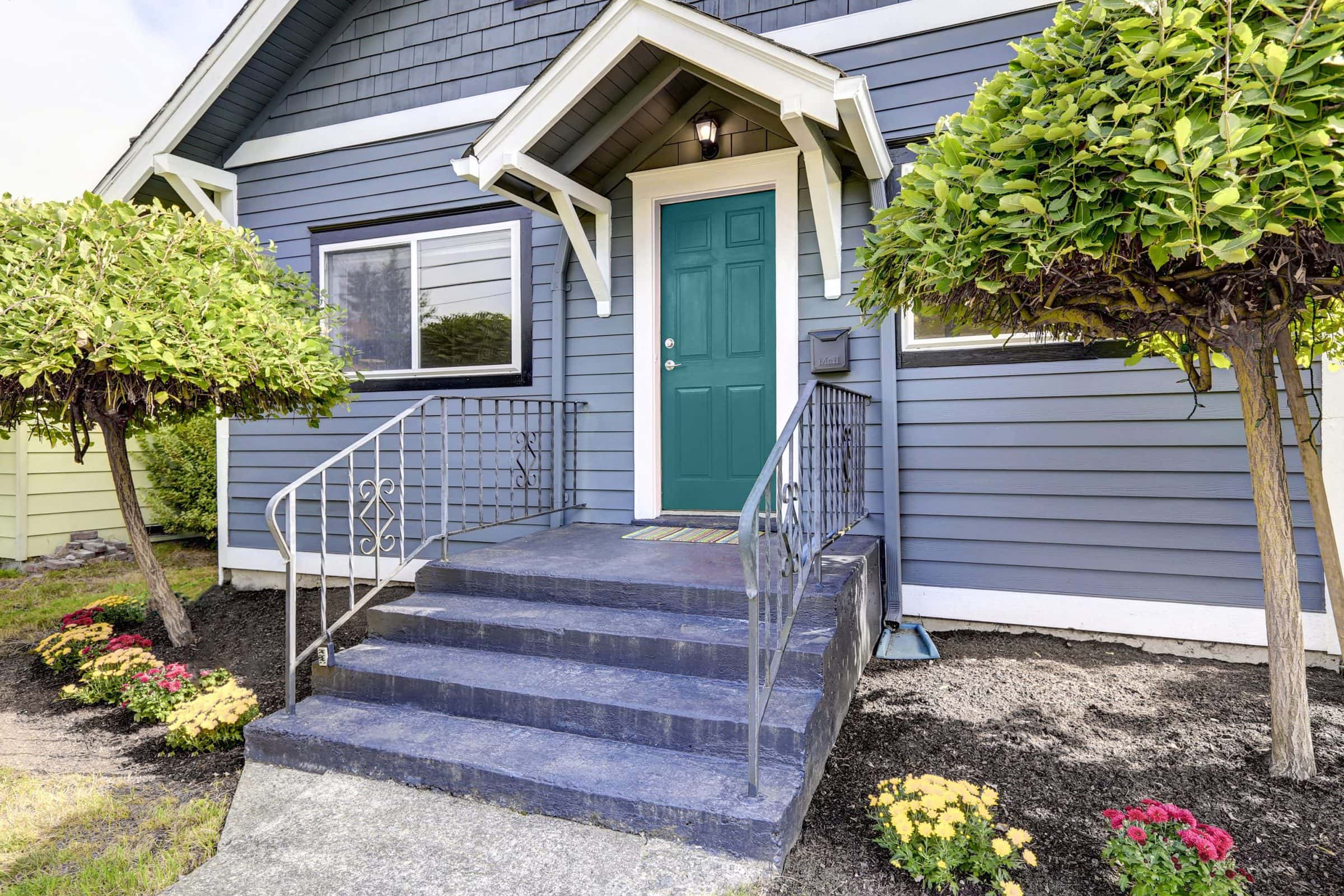 One of the most popular choices for a powerfully bold front door color with a blue house is teal, a dazzling blend of green and blue.
Vardo by Farrow & Ball is a rich dark teal inspired by fabric-covered brightly painted horse-drawn wagons housing Romany (Gypsy) families.
Final Words
Painting your front door is a fantastic way to give your home a unique expression of personality and increase the curb appeal for a more welcoming sight. When you have a blue house, there are multiple colors you can use for the front door.
We've shown you variations of yellow, gray, blue, green, and pink, among others. Which door color idea is your favorite idea?