Decorated Life is reader-supported. When you buy through links on our site, we may earn an affiliate commission. Learn More
What Color Garage Door Goes With a Gray House? 15 Ideas
When deciding on garage door colors for a gray house, you can achieve a classic look by choosing neutrals like whites, grays, and off-whites. But you can also go bold with pigments like blue and green. You can even use black garage doors with a gray house. Try these 15 picks for what color garage door with a gray house.
Evening Shadow by Sherwin Williams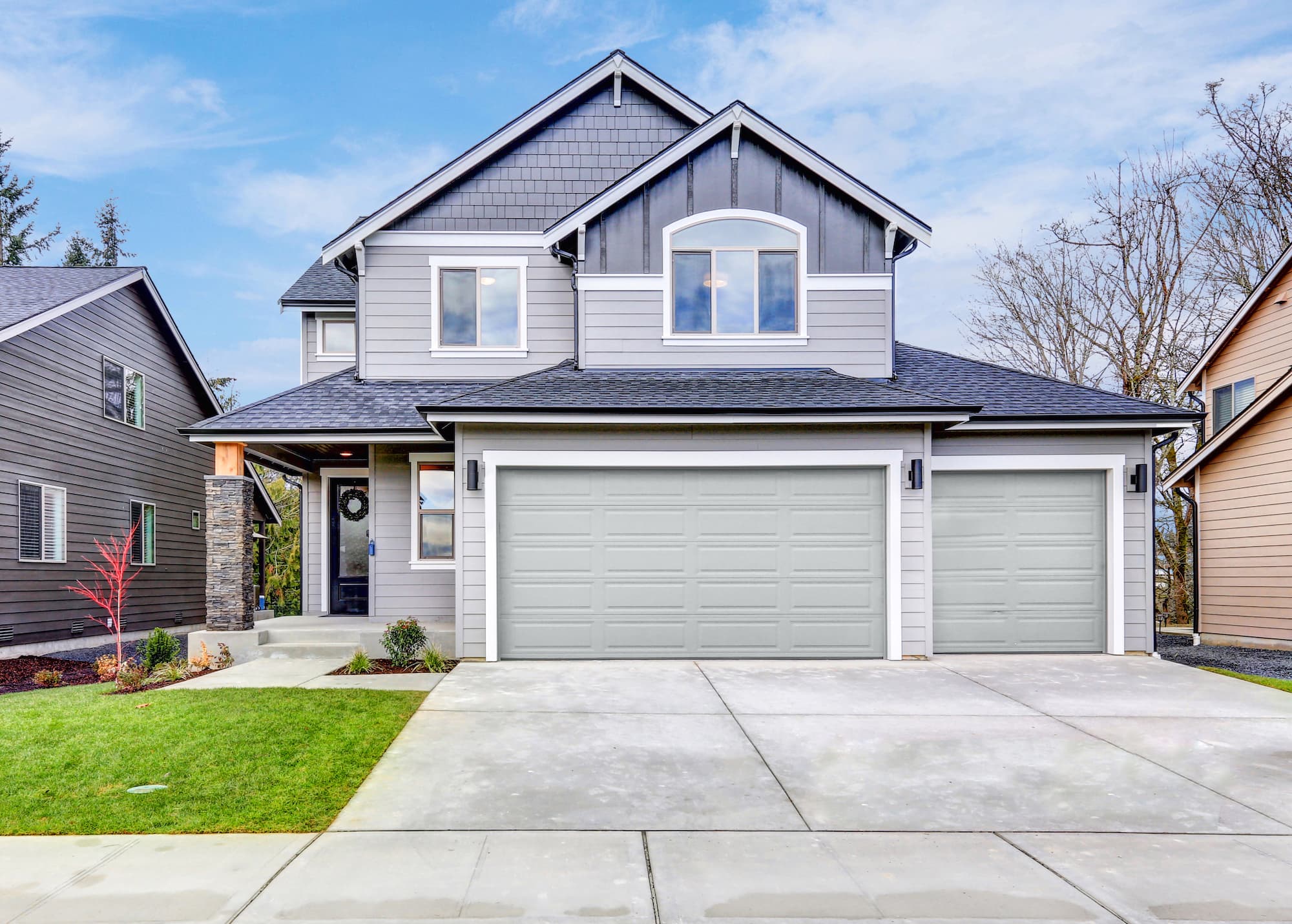 If you like a monochromatic look – gray on gray – choose gray garage doors to go with a gray house. Evening Shadow is the perfect versatile neutral that can work with light or dark shades of gray siding.
This mid-toned shade of gray has cool mauve and lavender tints that can pop against a bright white trim and lighter dusty gray walls.
Spare White by Sherwin Williams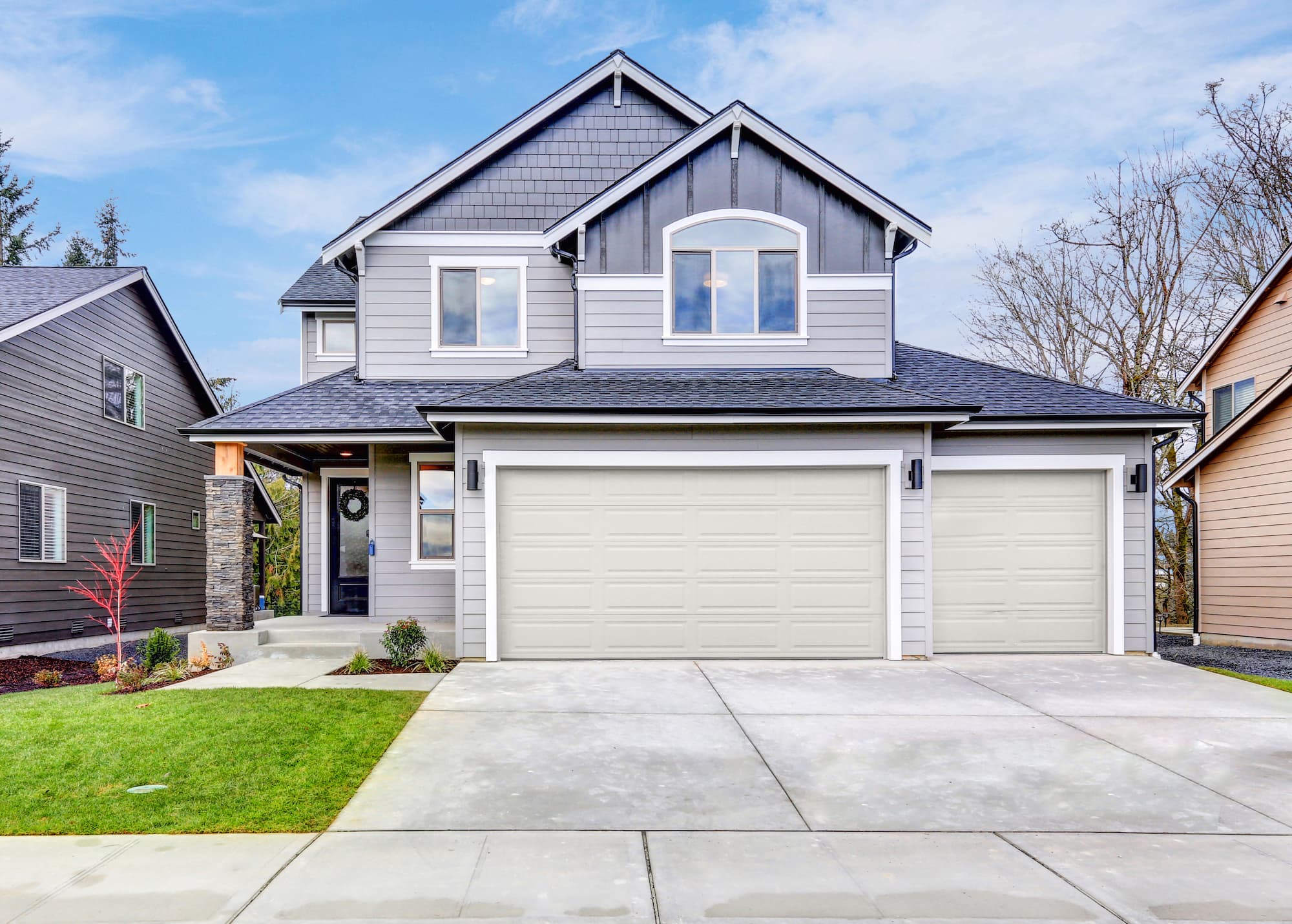 Spare white is an excellent shade on your garage doors for a gray house. This tone of off-white has dark gray tints that give the color personality for better curb appeal.
Using a pigmented white is great for garage doors to give your space dimension and depth that you can lack with a blank non-tinted white.
Gibraltar by Sherwin Williams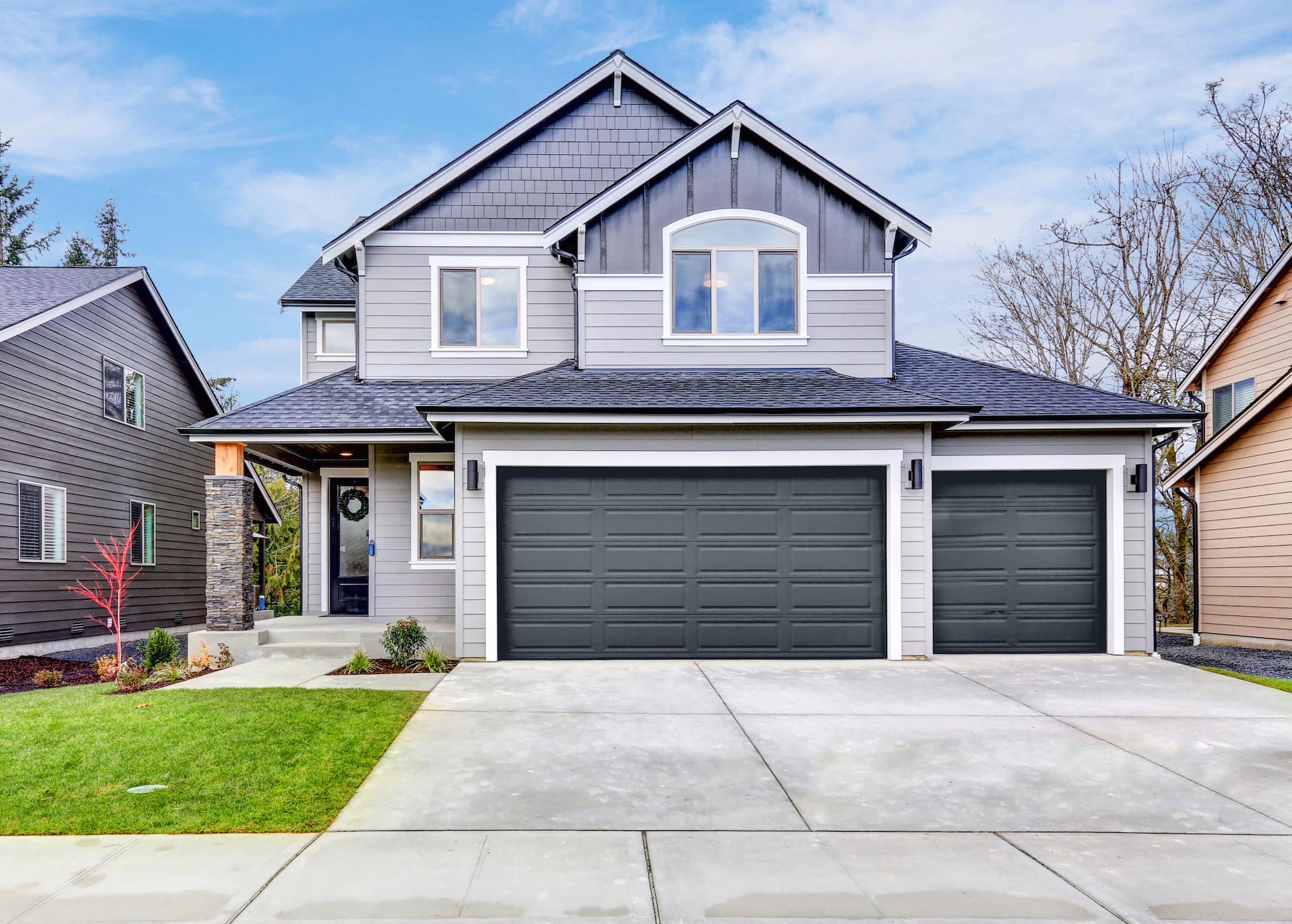 If you want a dramatic, modern exterior for your gray house, go with a bold color choice for your garage doors like Gibraltar.
This shade of black has rich depth with dull brown and violet pigments that give it a livelihood you wouldn't get with a standard pitch black. When paired with white trim and lavender-based gray and stonework accents, you've got a design worthy of a magazine centerfold.
Cilantro by Sherwin Williams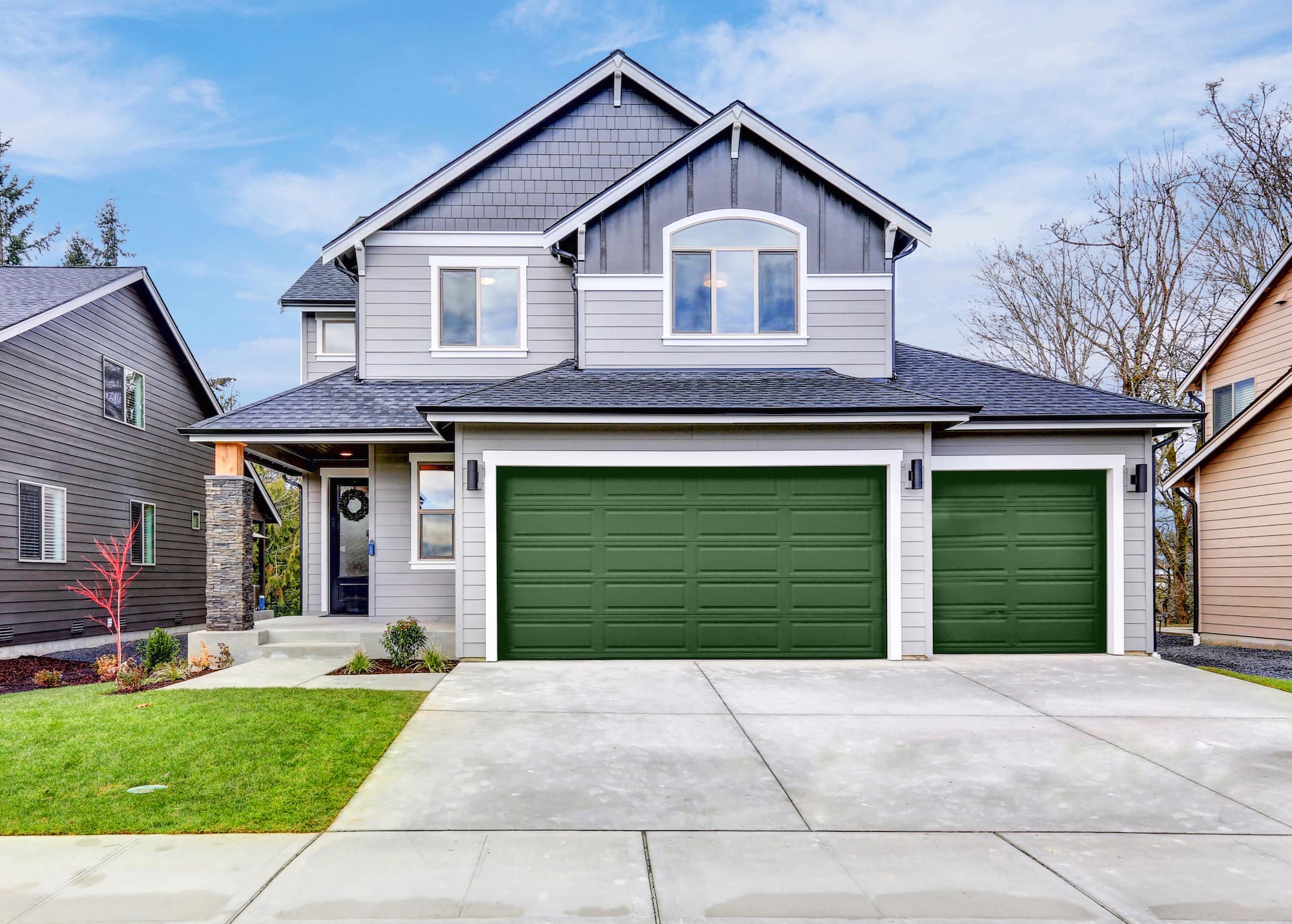 If you're looking for an earthy, nature-inspired color for your garage doors, take a gander at the dark saturated richness of Cilantro.
A gray exterior can make this dark, cool-toned green look dense and rich for modern, country, minimalistic, or rustic approaches. With lots of greenery and plants around, this color can make your house look like part of the natural surroundings.
Burgundy by Sherwin Williams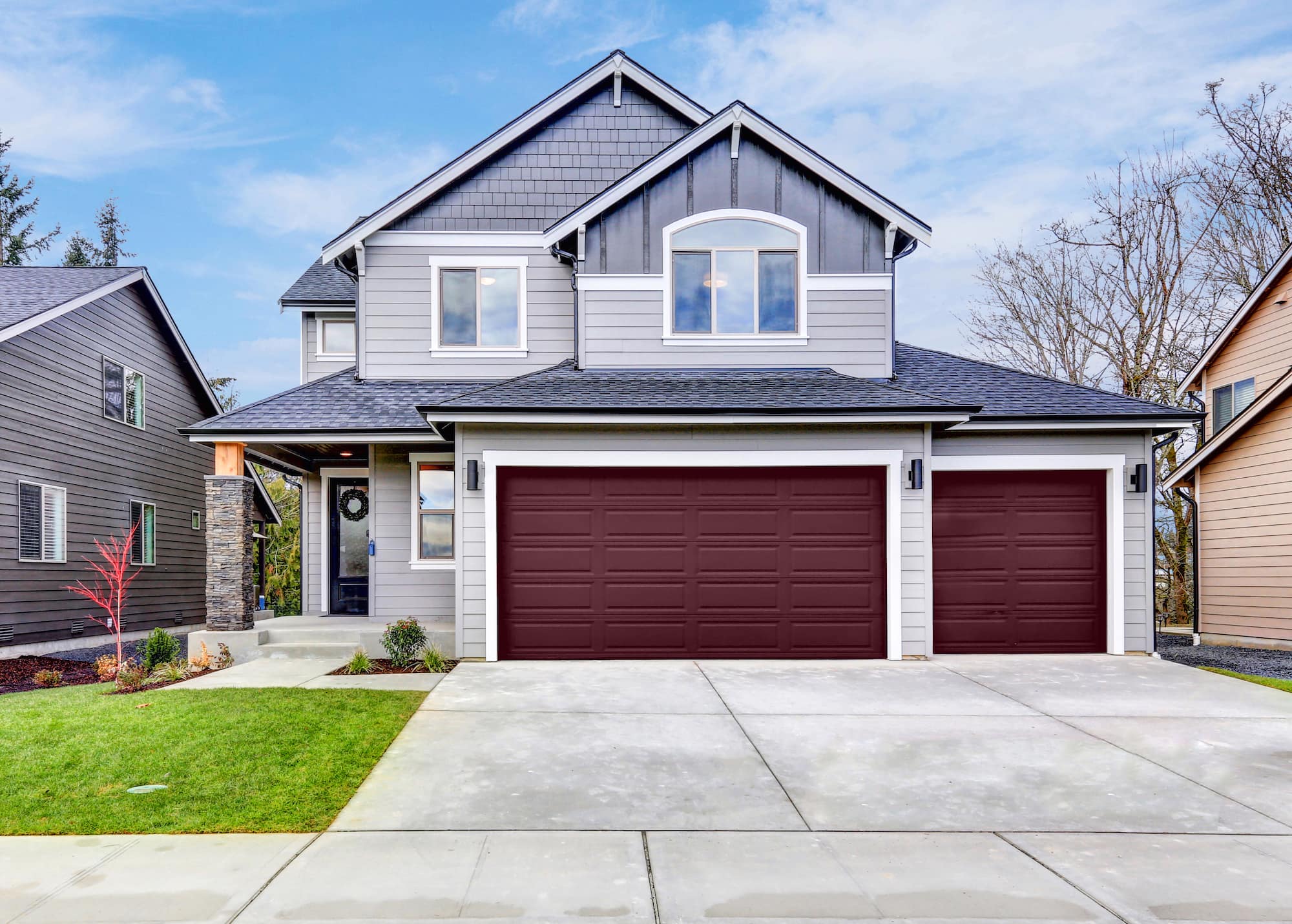 If you like luxuriously rich, elegant colors, paint your garage doors a beautiful bold Burgundy. This rich wine color has heavy black pigments mixed with dark red and brown.
It's the perfect dark saturated color to use with a gray house. The light neutrality of gray will tone down the bold look of the Burgundy.
Status Bronze by Sherwin Williams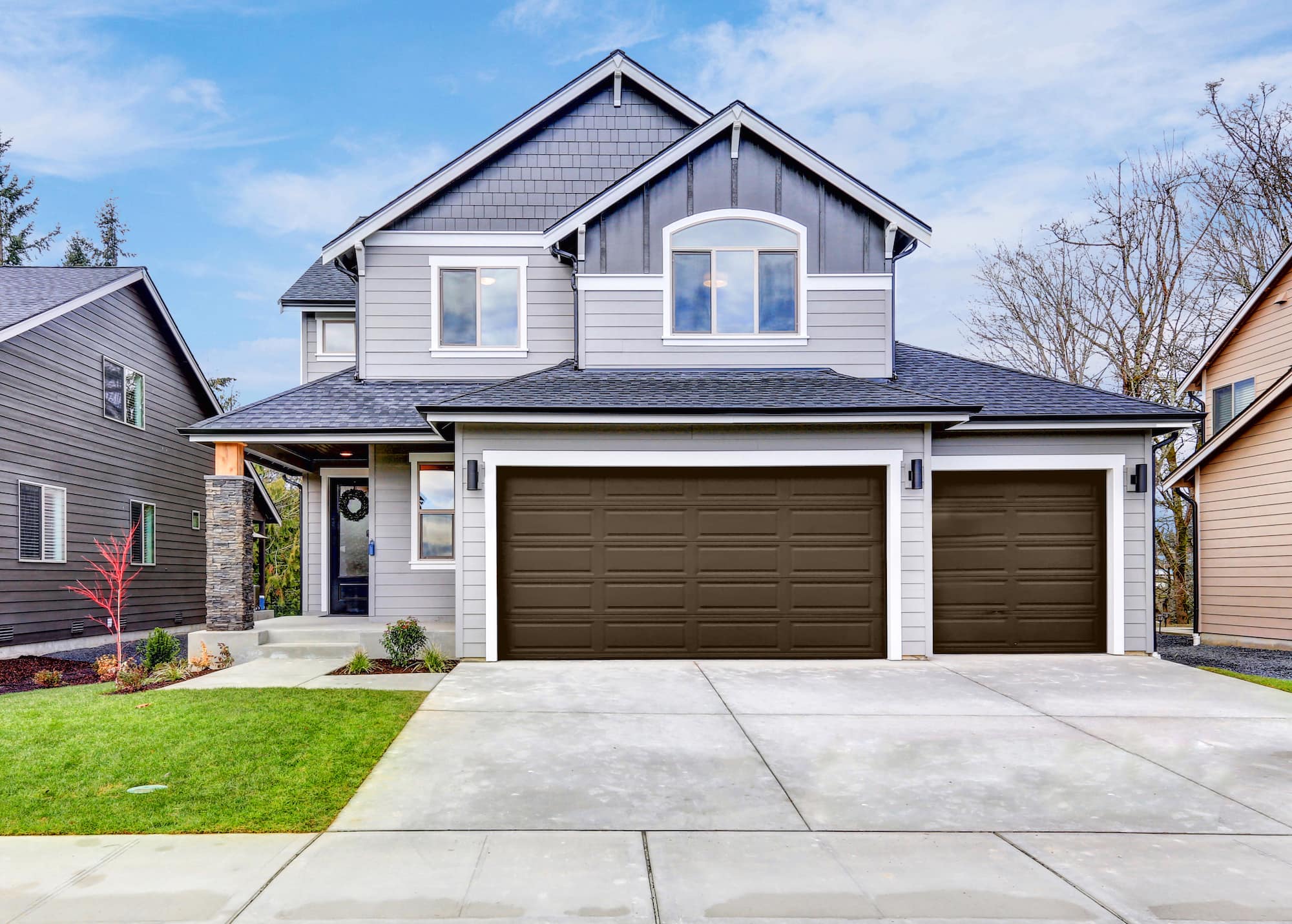 You can also go for a natural, earthy palette for a grey house with brown garage doors. Status Bronze is a darkly saturated chocolate brown that pairs great with gray.
The dense LRV and heavy color ensure massive curb appeal while still looking neutral enough to work for all architectural styles and accent colors.
Prussian Blue by Benjamin Moore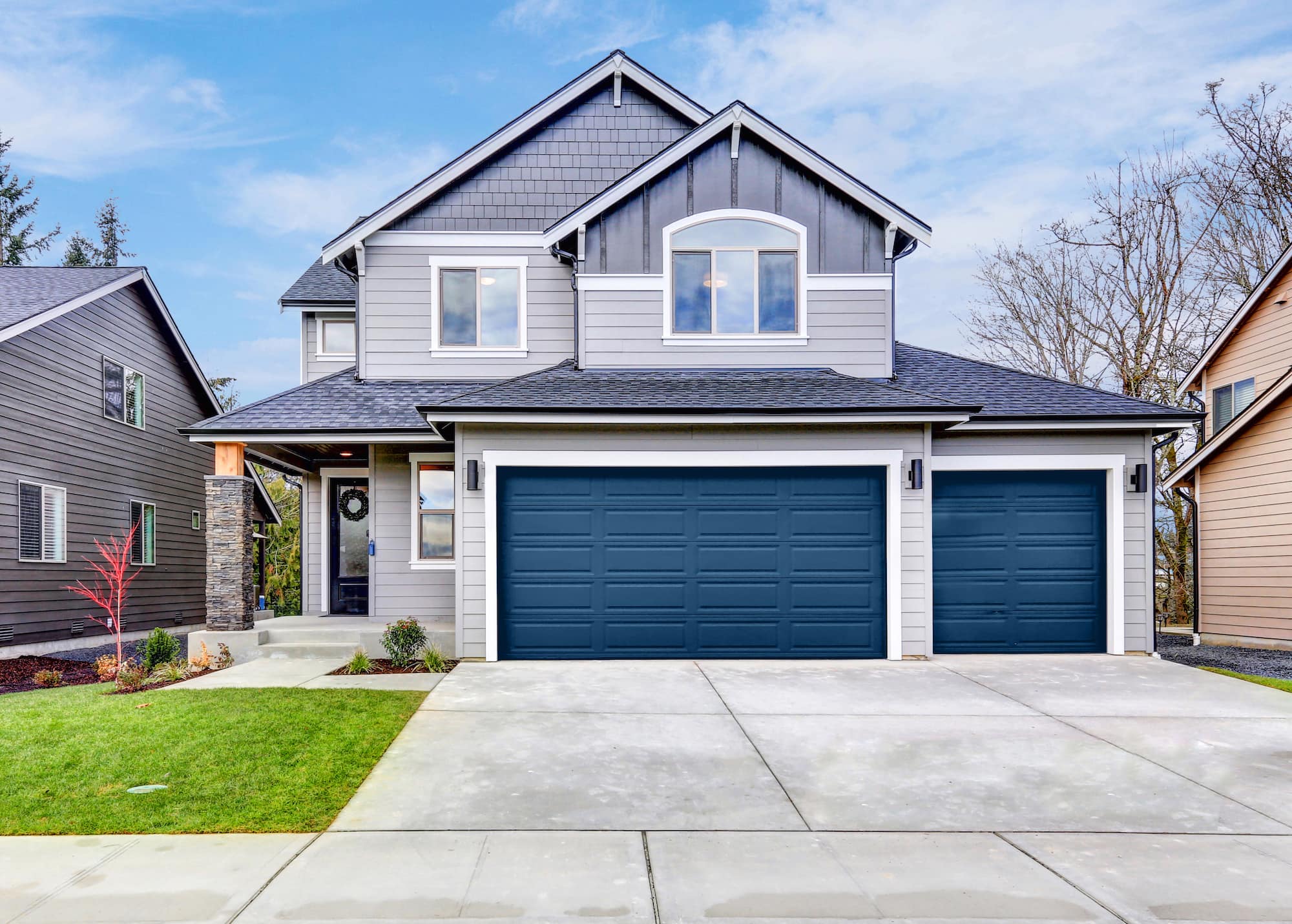 Go for a bold choice by painting your garage doors blue. Then, of course, you can go with a lighter blue for a more subtle look. But if you want to make your home stand out with major curb appeal, try a saturated shade like Prussian.
This deep, dark blue has a super-low LRV and elegant black pigments that add rich, mysterious shadows. Use this color for a traditional or historic home – 18th-century colors inspire it.
Intrigue by Benjamin Moore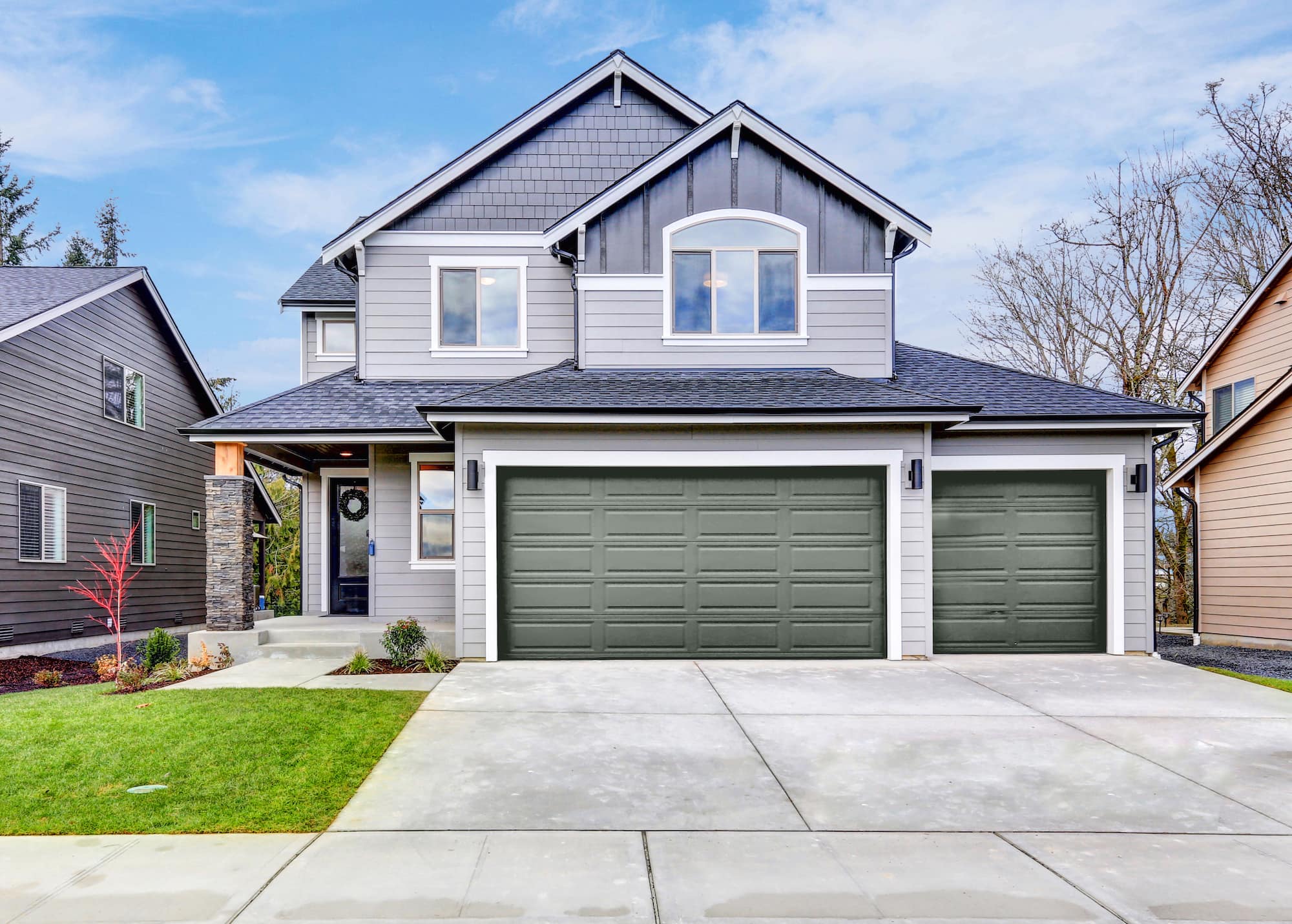 Intrigue is a mysterious color that lives up to its name. This dark shade of gray has beautiful green tones and a low LRV that gives it a timeless classic appeal.
This shade looks great on garage doors for gray houses of any tone. But, of course, the lighter the gray, the richer your garage doors will look. But this bold gray-green can also darken the gray of the siding.
Marilyn's Dress by Benjamin Moore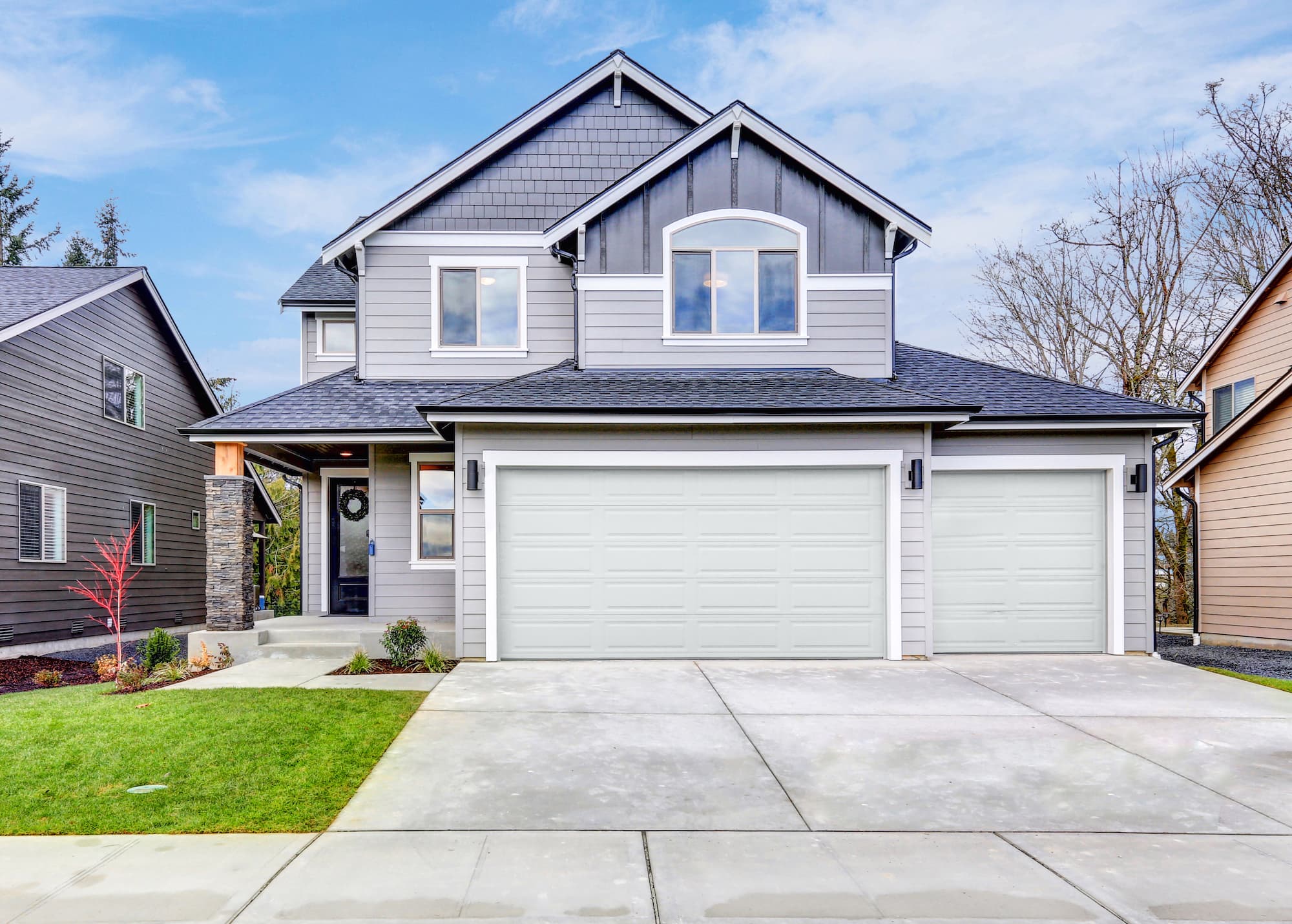 One of the most popular and safest color choices for garage doors to go with a gray house is white. Marilyn's Dress is a delicately smoke-tinted shade of white.
The faintest traces of gray pigment give this color cool attributes that can brighten your garage doors and boost your curb appeal.
Smoked Oyster by Benjamin Moore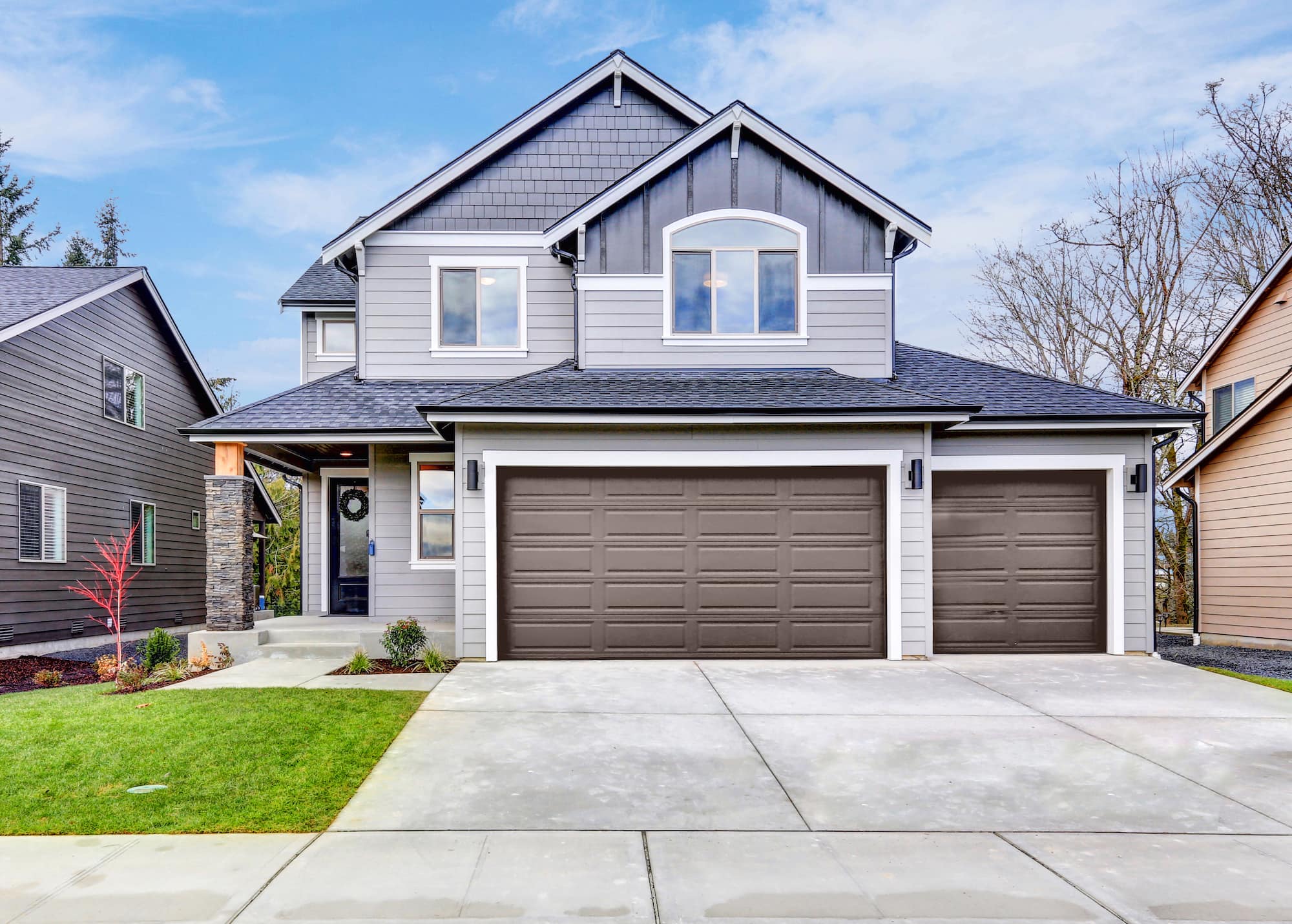 Smoked Oyster is a dark-toned shade of brown with taupe and mauve influences. This richly saturated taupe acts as a neutral color that pairs fantabulously with the cool neutrality of gray.
You can use this boldly pigmented color as a classic neutral for every architectural structure, design, and accent color.
Chantilly Lace by Benjamin Moore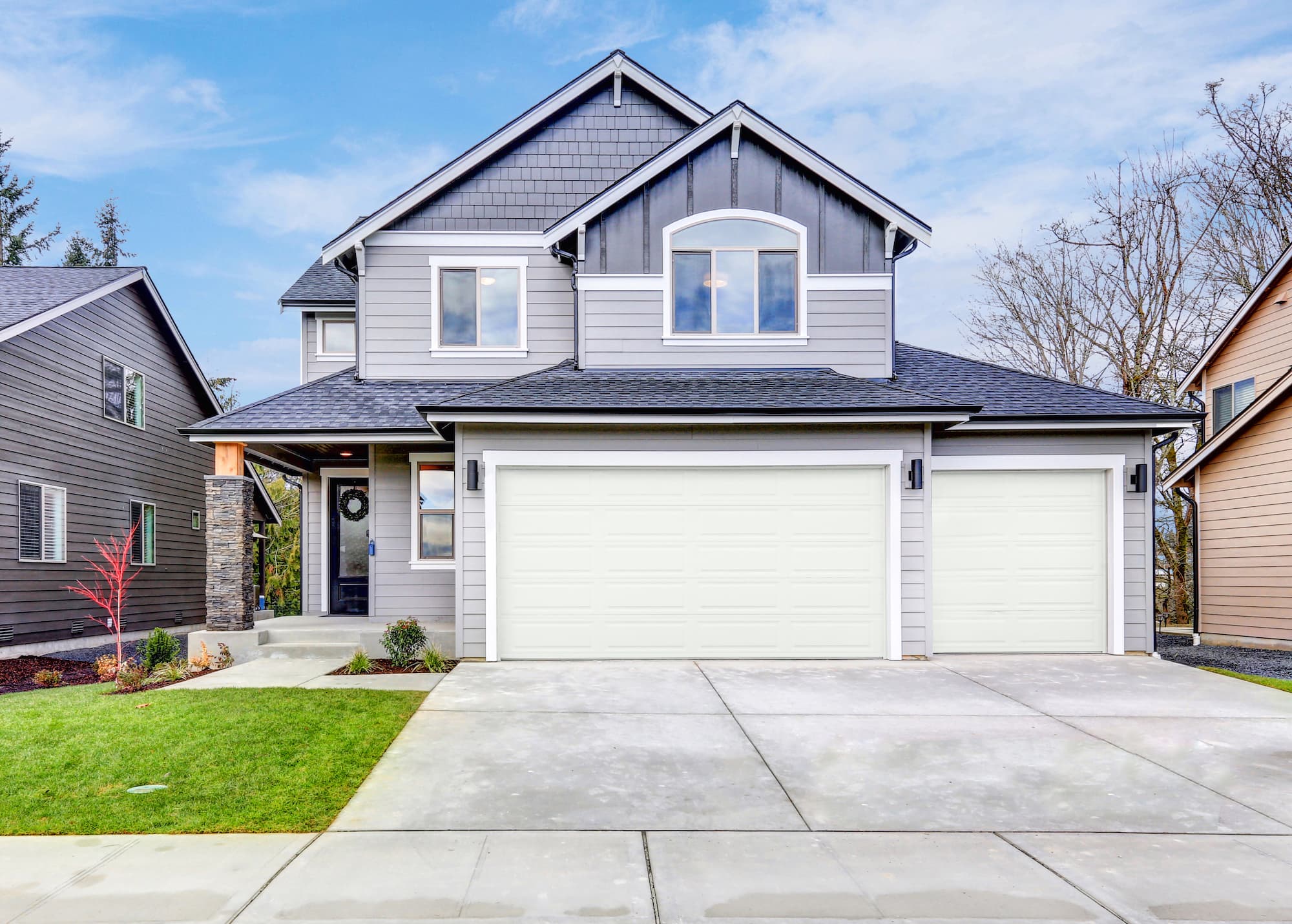 Chantilly Lace is a crisp, blank shade of white that can look as fabulous for the garage doors as it does for the trim on a gray house.
If you own a rental property or live in a neighborhood with an HMO, Chantilly Lace can be a safe yet attractive choice that won't get you into hot water with busybodies.
Natural Gray by Behr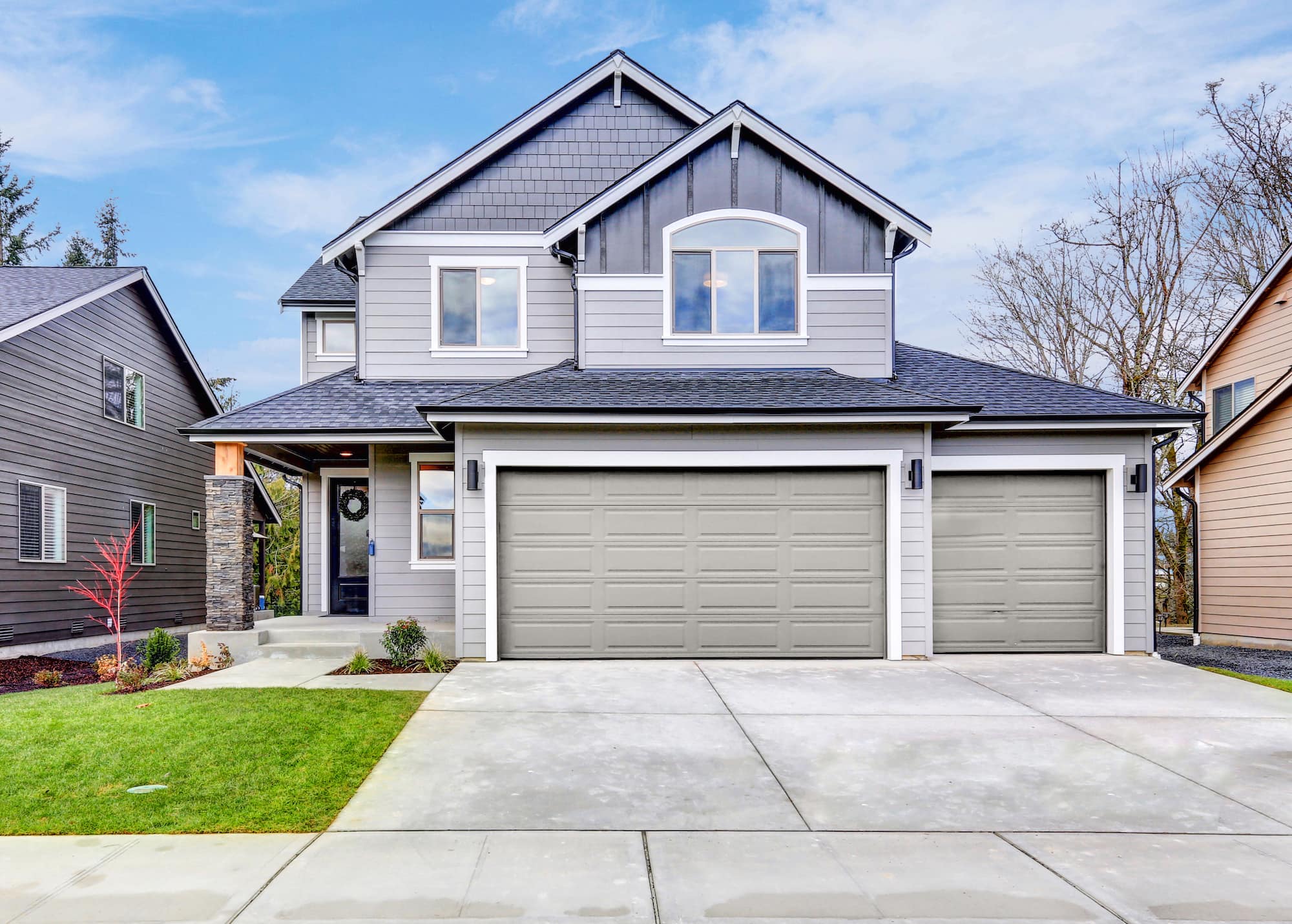 Natural Gray is a safe, mid-toned neutral shade of gray to choose for the garage door color on a gray house with white trim. Then, go crazy by painting your shutters and front door your favorite shade.
A monochromatic gray with a gray color scheme is a versatile all-styles palette that can still give your home a boost in curb appeal.
Cameo White by Behr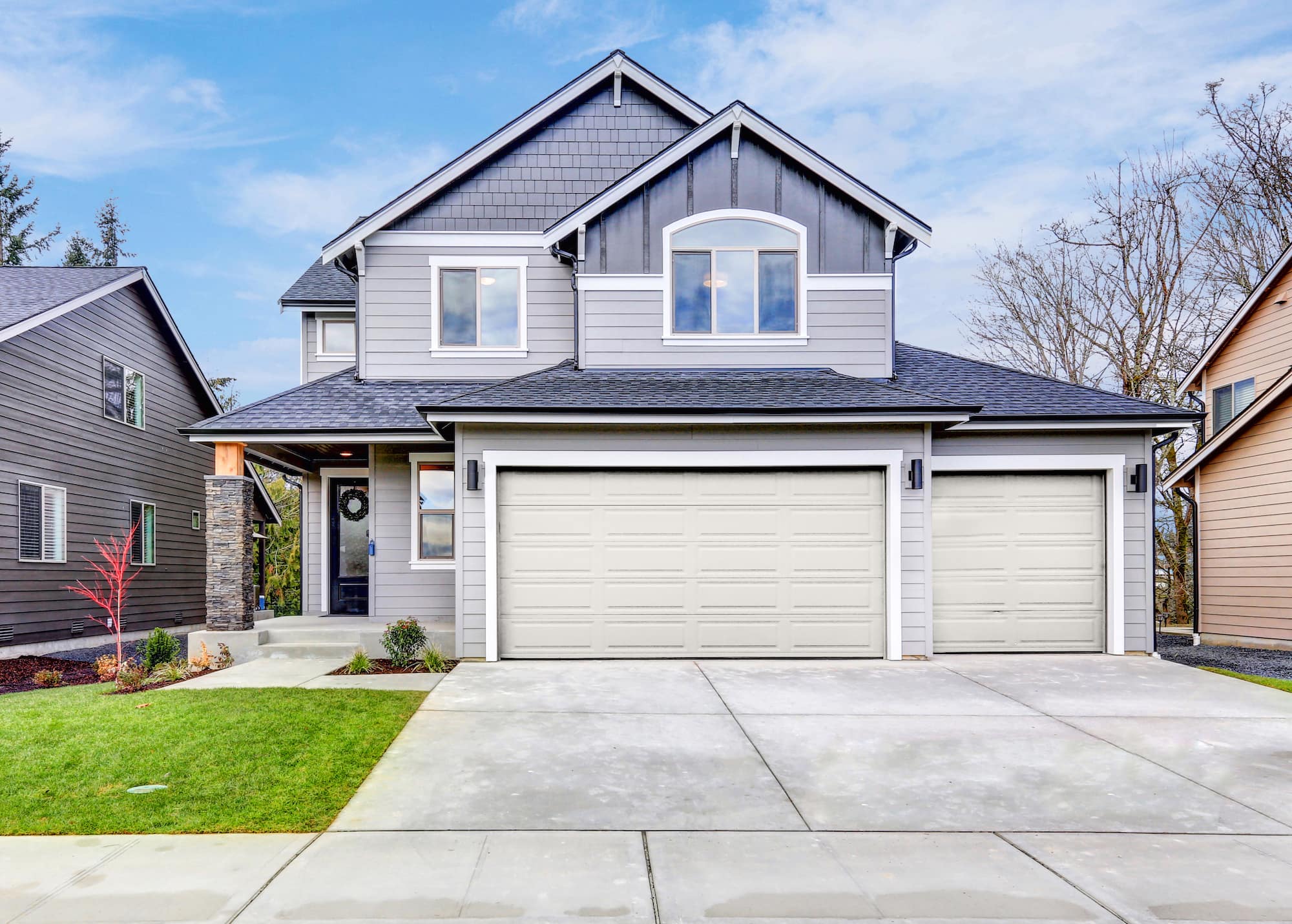 Cameo White is a neutral white garage door color that you can use for gray houses. However, this white isn't a pure blank absence of color with the slightest amount of tinted gray pigments.
The refined shadows give this cool white soft gray tinting that borders on a super pale cream or tan. In addition, the pigments activate for a darker-toned white garage door when placed next to gray.
Suffield Green by Farrow & Ball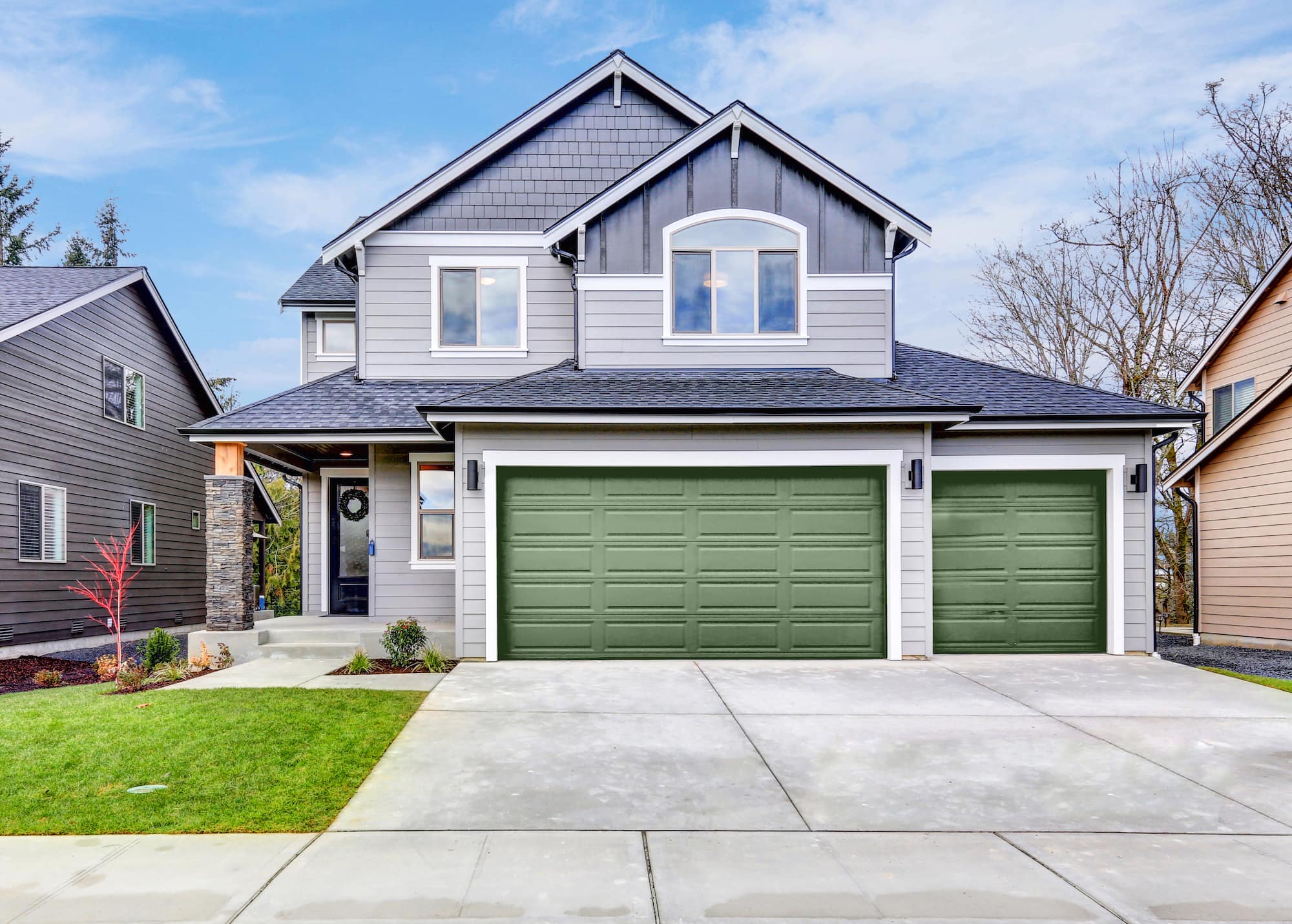 Suffield Green is a medium-toned green with yellow and brown nuances that makes this color very natural and earth-inspired.
Choosing this green for your garage door color with a gray house gives you a bold yet blended color combination sure to turn heads.
Salt by Farrow & Ball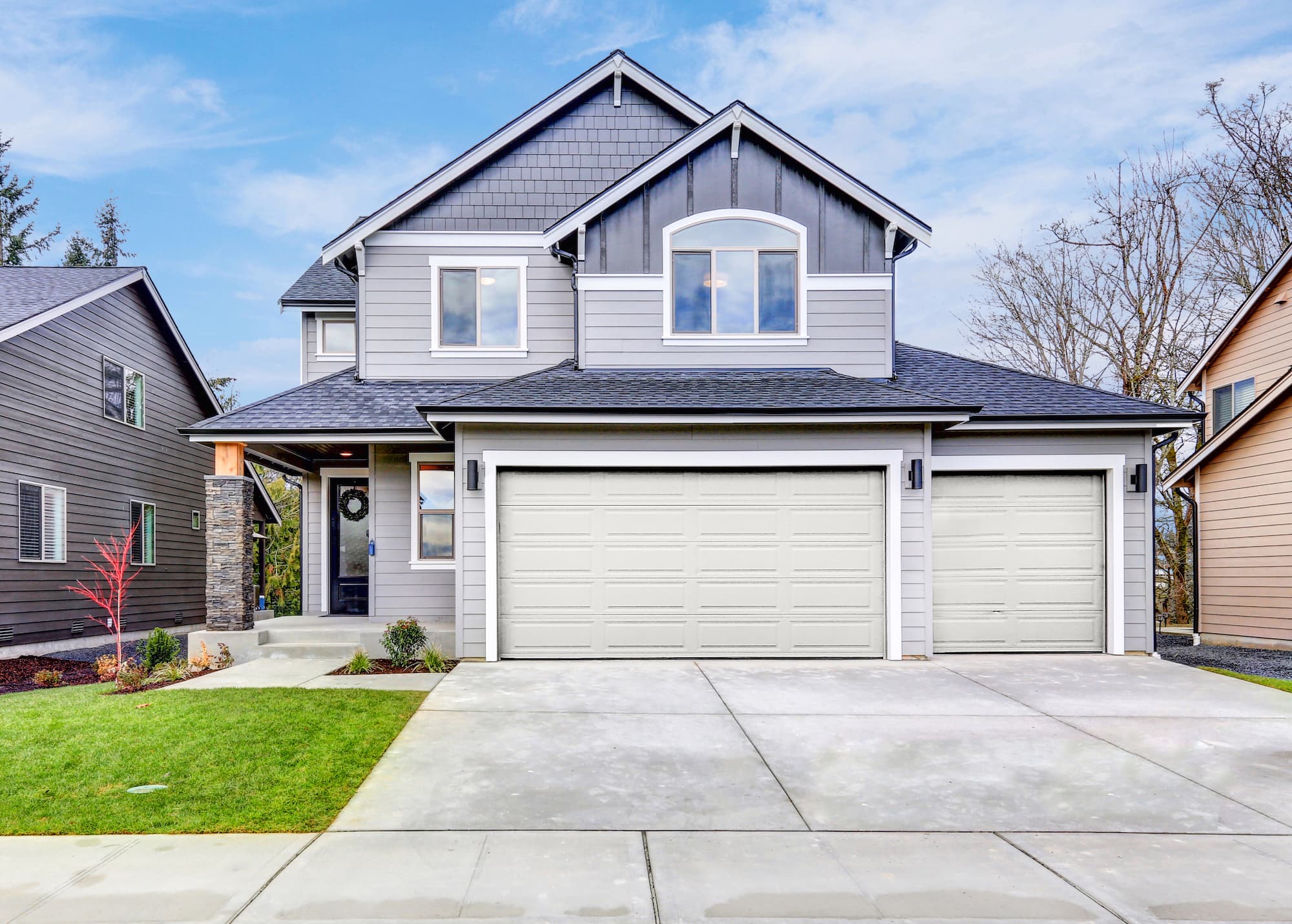 Salt is a crisp white with salty highlights that create a cool tinted gray. These highlights will deepen for a shadowed white when used next to a gray house.
This shade can work for all architectural houses and color palettes. And because it's white and light, you can get creative with your accents or keep things blank and neutral for a minimalistic nuance.
Final Words
When you have a gray house, you have multiple choices for garage door colors. This list included 15 of the best shades of garage doors to go with a gray home.