Decorated Life is reader-supported. When you buy through links on our site, we may earn an affiliate commission. Learn More
Benjamin Moore Chantilly Lace Paint Color Review
There are an awful lot of white paints out there. Paint stores have entire sections for warm whites, cool whites, off-whites, and even pastel colors that honestly kind of look white.
But what if you're looking for a white paint that is really and truly only white? A neutral white paint that is as clean and bright as possible and doesn't have any other colors peeking through its coat?
When other paints can't pass your white glove test, when even the driven snow isn't fresh enough, when you must be certain that not a hint of undertone nor any other color has introduced itself into your white paint, then put out your best doilies and set the china for tea because it's time to meet Chantilly Lace.
What Color is Chantilly Lace?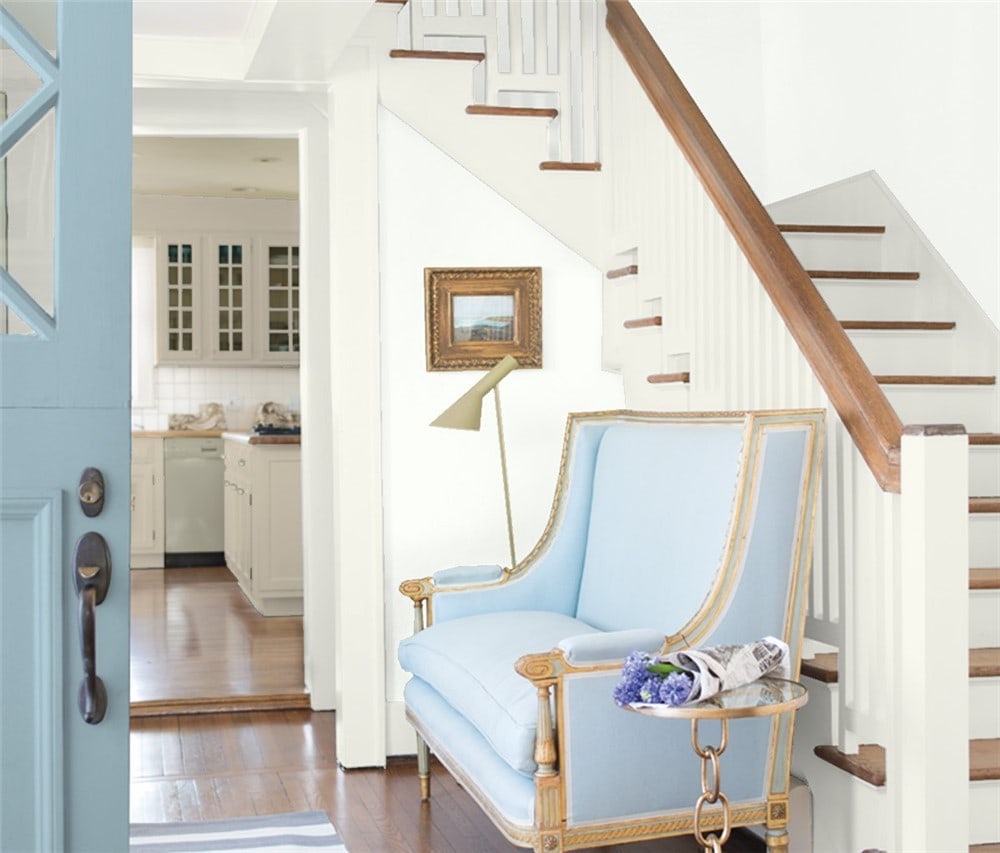 Chantilly Lace is an incredibly white paint color. Whatever white paints you're already familiar with are bound to look yellow, creamy, gray, or downright dingy next to this dainty perfectionist.
LRV of 92.2
Chantilly Lace has a light reflective value (LRV) of 92.2. LRV runs on a scale from absolute black at 0 to sheer white at 100. Chantilly Lace ranks among the brightest of all possible white paint colors.
What Undertones Does Chantilly Lace Have?
Chantilly Lace has no detectable undertones whatsoever. It's one of the most neutral possible whites you can get. However, keep in mind that light and color from other sources, such as lighting, nearby paint and decor, and whatever's coming through windows and screen doors, can reflect on Chantilly Lace and change its appearance.
Is Chantilly Lace a Warm Color or a Cool Color?
Chantilly Lace is neither warm nor cool. It's a neutral, balanced white with no other colors at play. But a room painted entirely in Chantilly Lace is going to feel cool or cold without other colors at work.
Where Can You Use Chantilly Lace?
Chantilly Lace is a bright white that can be used anywhere in the home. It makes a crisp accent color, and a light and airy wall color. It also has the ability to make small spaces feel bigger and more open, which can really work wonders!
Let's take a look at Chantilly Lace in action to see how this ultra white performs and get inspired for new projects!
Entry
Chantilly Lace maximizes the sunlight in this entryway.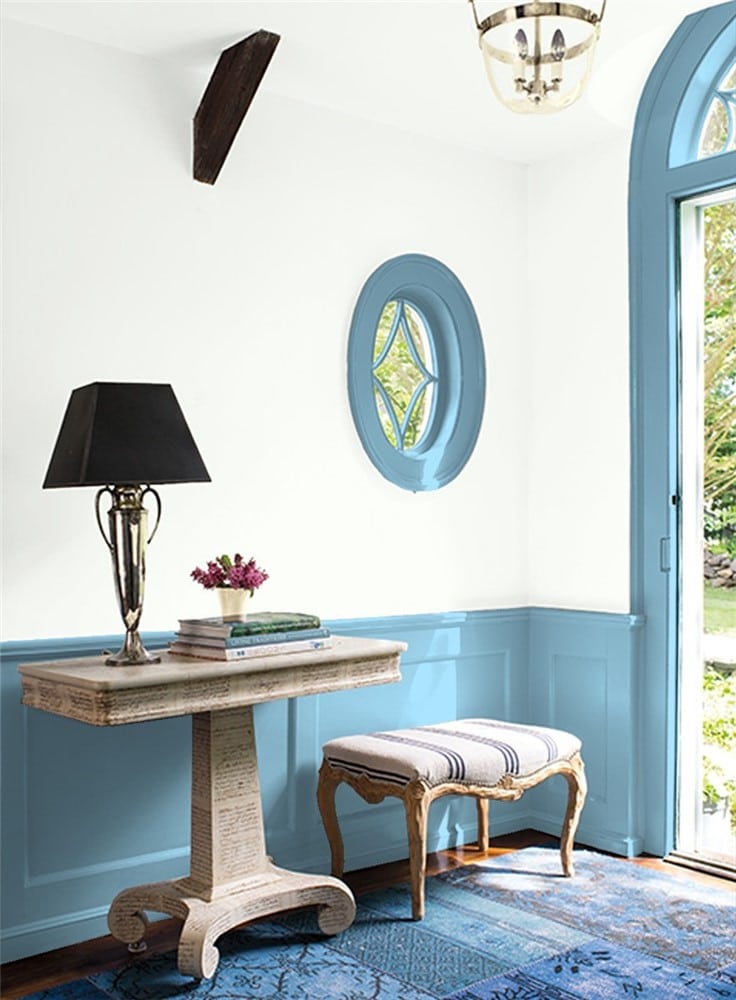 Chantilly Lace highlights this entryway, accented with vintage style decor for a romantic feel.
Living Room
Chantilly Lace is the backdrop for this modern living room, coordinating with a charming palette of gray, rose, and gold.
Modern minimalist decor embraces simple whites like Chantilly Lace.
Home Office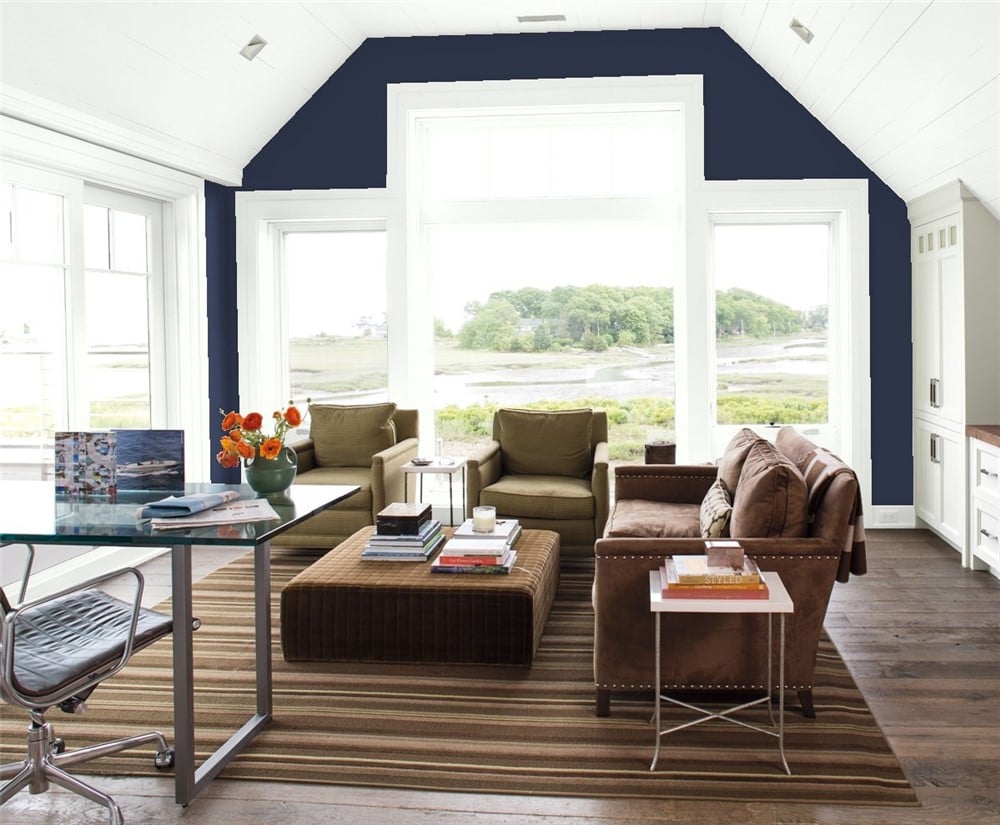 In a room like this, Chantilly Lace can easily tackle a bold color like Old Navy by reflecting back the abundant natural light to balance the space.
Kitchen/Dining Room
Chantilly Lace reflects the warmth of this natural log table to give the room a sense of coziness.
This kitchen looks sophisticated in black, gold, and Chantilly Lace.
Chantilly Lace partners with Witching Hour, also from Benjamin Moore, to set off white oak cabinets and quartz countertops in this sleek, classy kitchen.
Bedroom
Blues and grays bring out a softer side of Chantilly Lace in this bedroom.
This bedroom is simple and relaxed with calming Chantilly Lace walls.
Bathroom
Chantilly Lace shiplap gives this bathroom a farmhouse vibe.
Sage green and Chantilly Lace, with details like these distressed mirrors, combine to create a vintage style.
Coordinating Colors for Chantilly Lace
The sky's the limit when you're choosing a color palette for Chantilly Lace. This white is as clean and free from undertones as it gets, so you can literally choose anything. What are your favorite colors? Do you like a room to feel warm and cozy, cool and relaxing, airy and open? Answering these questions will start to give you some direction for where to take your color palette.
Normally in this section, I share specific colors that coordinate with the color I'm reviewing so that you know you have a match. In this case, I'm going to share some well-loved colors to help inspire you. Since Chantilly Lace goes with everything, you can't go wrong!
How Does Chantilly Lace Compare With Other Colors?
Chantilly Lace vs Decorator's White by Benjamin Moore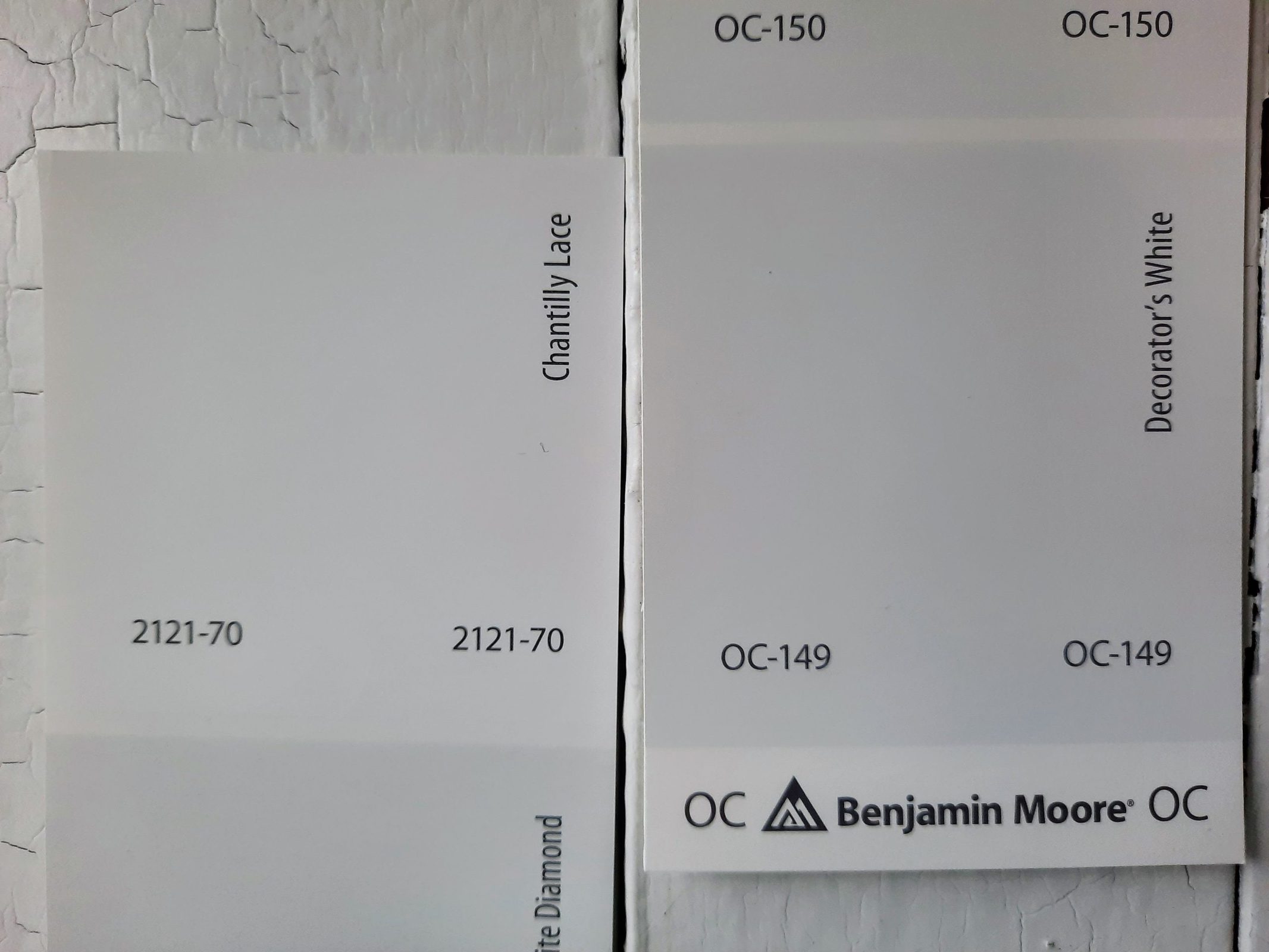 Decorator's White is a softer white with a bit of silvery gray shading to it. Its LRV comes in at 84.61, which is a significantly noticeable difference from Chantilly Lace's blazing 92.2.
Chantilly Lace vs Simply White by Benjamin Moore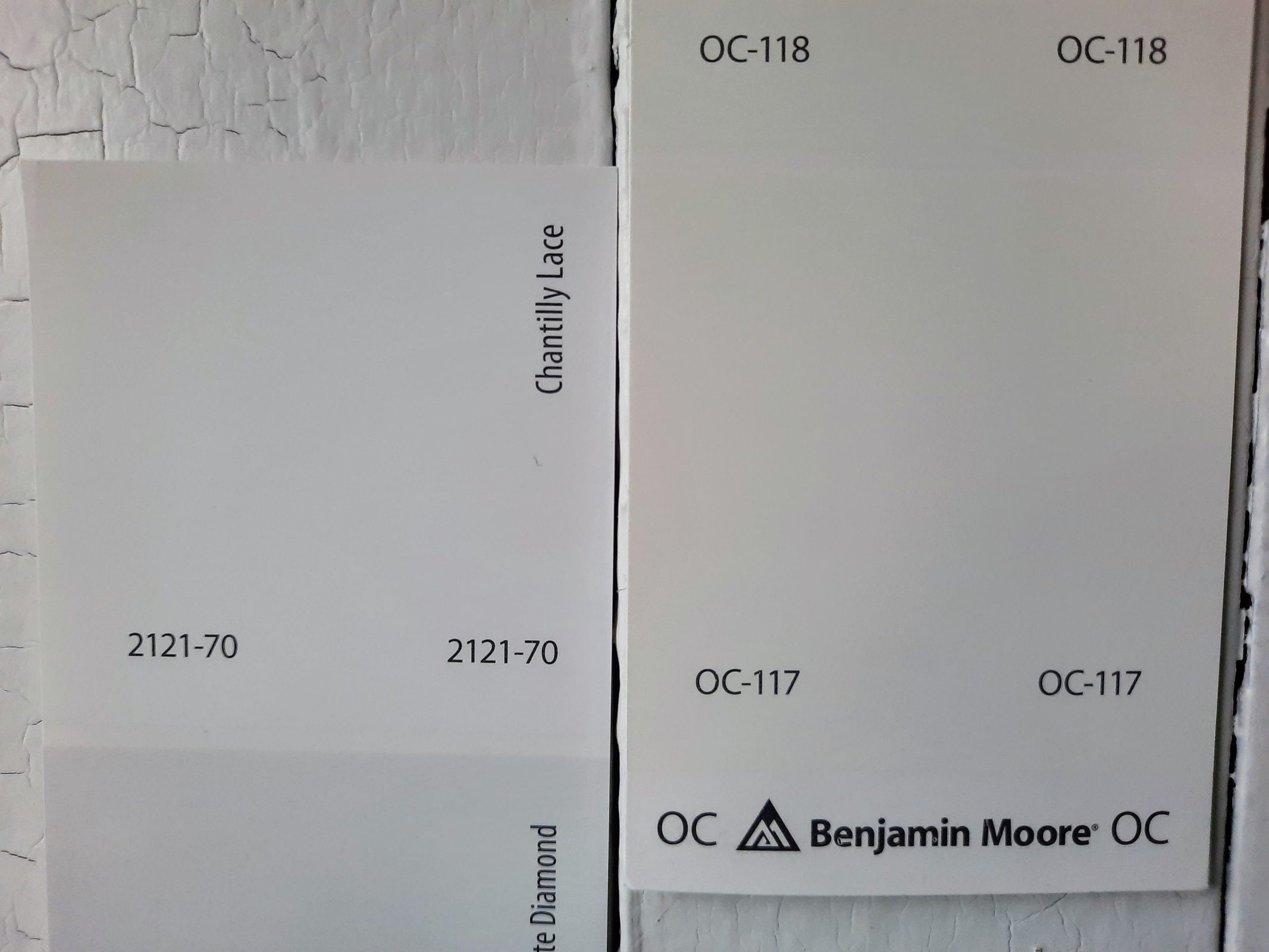 Simply White is a brighter white that sits right next to Chantilly Lace on the LRV scale at 91.7. It has a cream tone to it that gives off a glow compared to Chantilly Lace's more neutral white.
Chantilly Lace vs Pure White by Sherwin Williams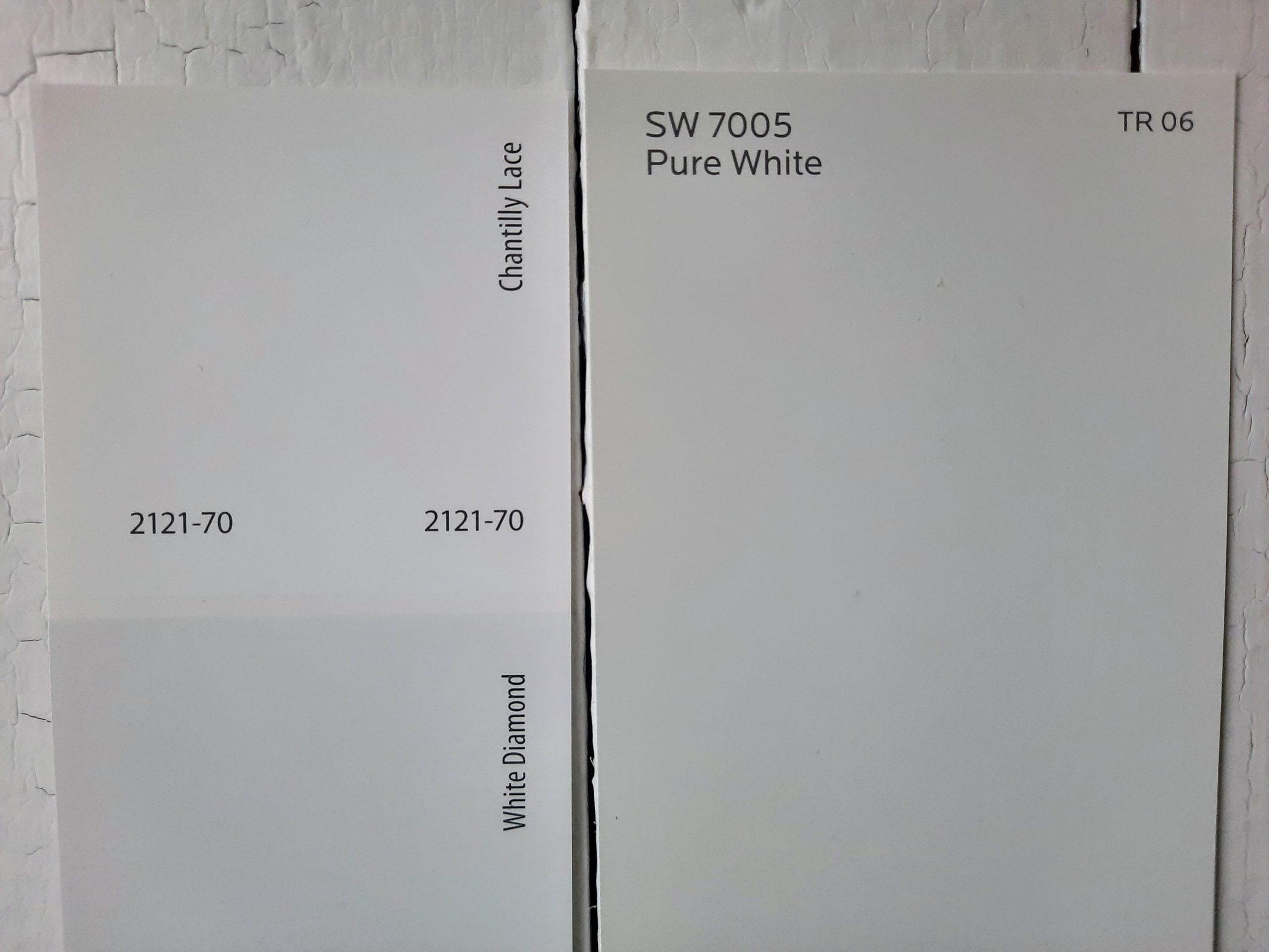 Pure White is exactly what it says on the label: a clean, neutral white paint color. However, its LRV of 84, when compared to Chantilly Lace, makes Pure White look grayish when they're side-by-side. Normally, Pure White does not have undertones; this is just a trick your eyes play on you when these two very white paints are next to each other because of how bright Chantilly Lace is.
Final Thoughts
When only the brightest and most neutral of whites will do, reach for Chantilly Lace. This clean white will go with anything, and offers a beautiful crisp accent for virtually any color. Let it work its magic for you on spaces that are too small or dark, where it can open up a room and reflect available light. Chantilly Lace is a color you can truly take in any direction you desire.