Decorated Life is reader-supported. When you buy through links on our site, we may earn an affiliate commission. Learn More
What Color Pillows for a Green Couch? – 20 Ideas
Having a green couch leaves you with a range of styles and colors to consider for pillows to make your space comfy and beautiful.
We've picked twenty throw pillows for a green couch to give you some ideas for designs you can achieve. Your options for throw pillows for a green sofa are as vast as the different shades of green, from light to dark colors, solid to patterned multi-colors.
Join our creative journey as we explore twenty ideas for pillow colors to go with various shades of green couches.
Go with Geometrics in Black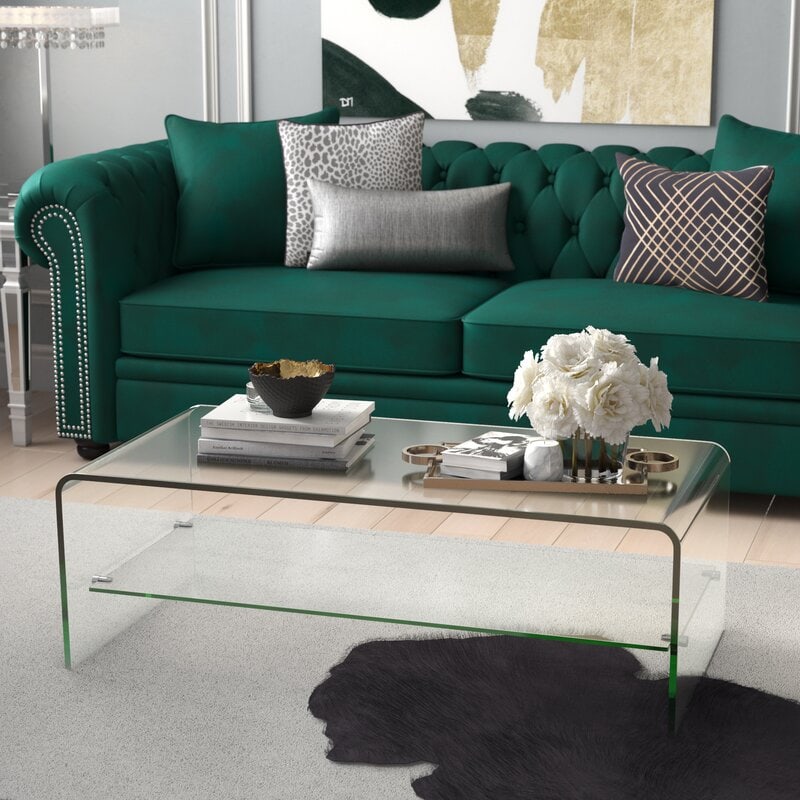 When you've got the richness of a jade green couch, pick a few pillows in shiny silvers or one in a dark print with geometric prints in white.
This rectangle lumbar cushion features a matte black cover with delicate overlapping white lines that add a touch of drama to tone down the boldness of the bright green sofa.
Grab a Textured Pink for a Glowing Green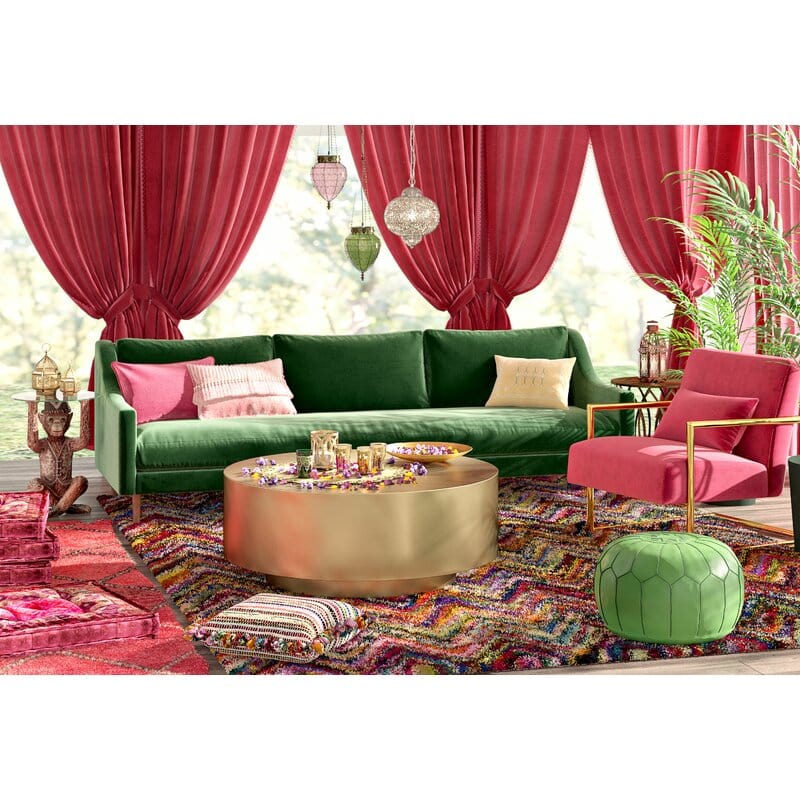 If you're trying to pick pillows for a dark green couch to tone down the masculinity and give it a more feminine feel, you might find yourself shocked to know that green can pair exceptionally well with pink.
Our favorite look is when you choose small lumbar pillows in chic neutral shades of soft velvet material with a single line of beaded tassels running along the middle.
Get Down with Green on Green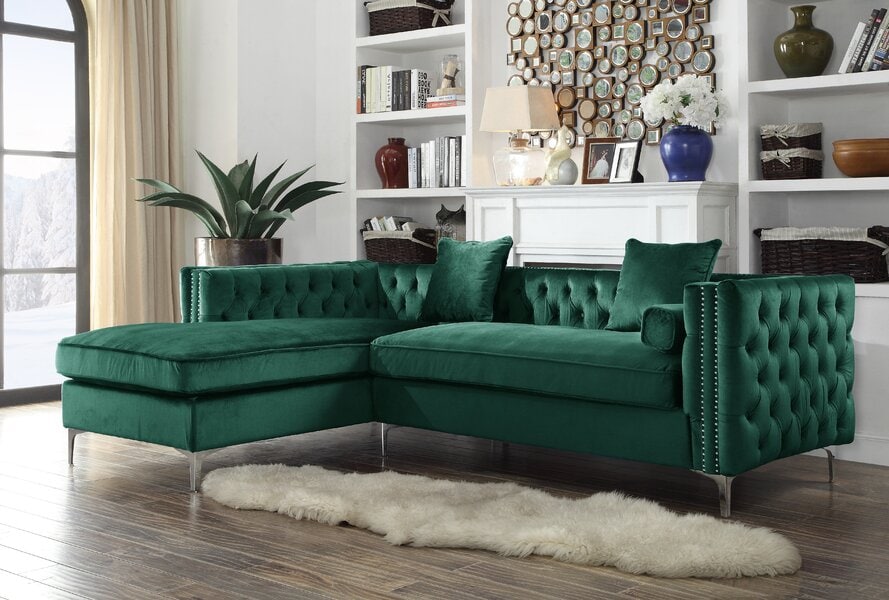 A velvet green sectional sofa with tufted panels is an excellent base for choosing pillows in the same color and material as the couch.
To add a bit of contrast, you can choose cushions in a different finish from the couch, like pillows with a slight sheen or gloss.
Try Pairing Teal with a Trellis Print in Blue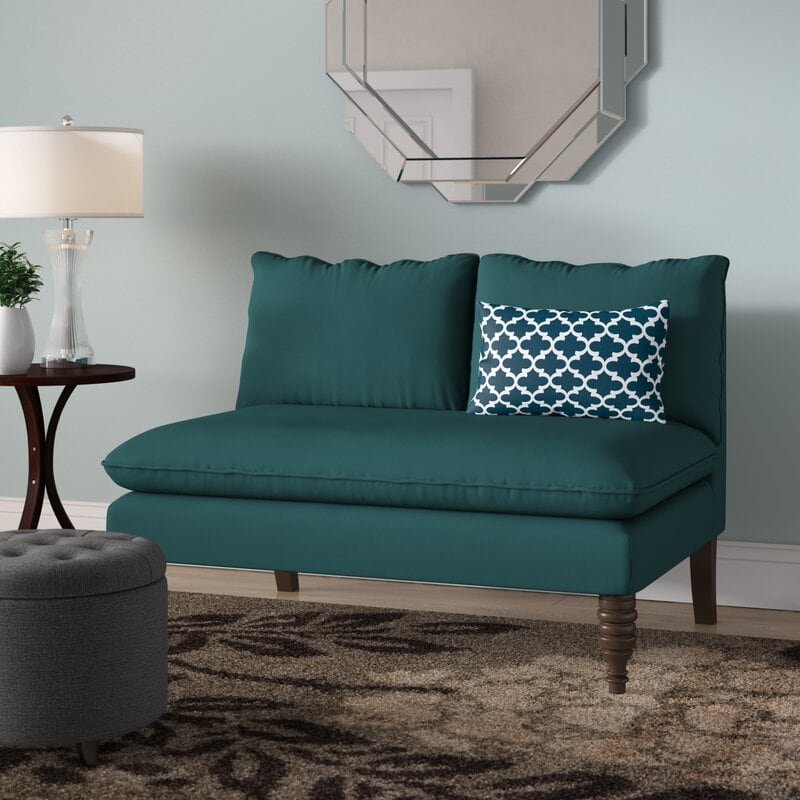 Teal green-colored couches are a lot of fun to color coordinate with because it's a beautiful blend of blues and greens.
Picking patterned pillows helps break the wide expanse of a solid print sofa. This rectangle one features a classic trellis print in a bold blue with bright white outlining.
Pretty Patterned Prints for Pale Green Sofa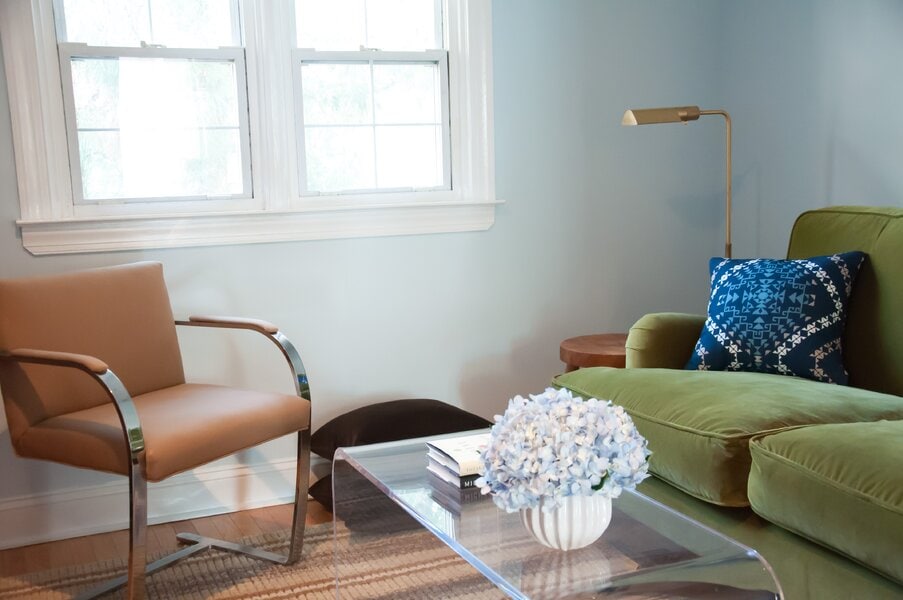 When you have an old green couch in a faded color, you can jazz the style up with the use of patterned throw pillows for olive couches.
We appreciate the style dynamic of mixing a lighter green sofa with pillows in shades of blue and white in an intricate boho print.
Make Magic with a Multi-Color Motif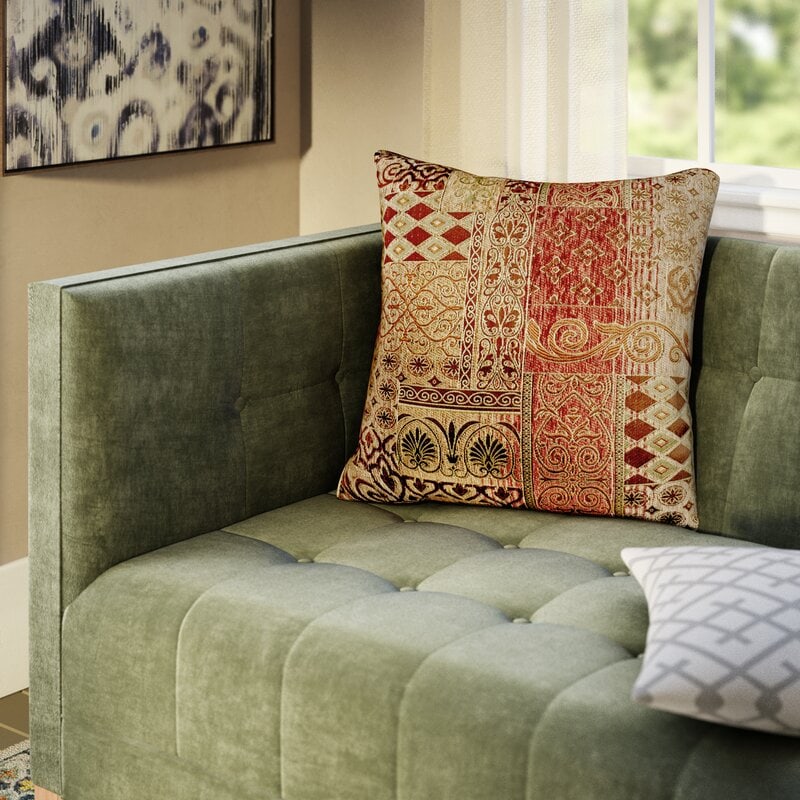 You can give any couch an elegant, upgraded feel with patchwork print pillows in multiple colors. This pillow features black, gold, orange, and rusty red in scrollwork, ikat, Damask, and acanthus motifs.
The pillow's slight shimmery surface and subtle colors pair perfectly against a modern sofa in a denim olive green.
Round in Ruby Rocks with Green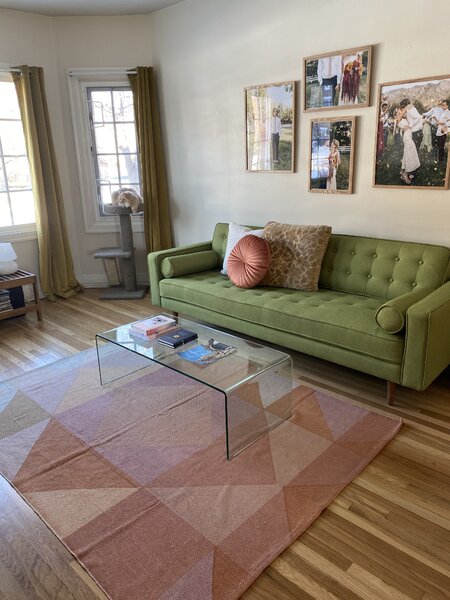 When you have a light green sofa with a tufted button back and seat cushions, continue the look with a tufted pillow in a round shape.
We dig the aesthetic you get when you mix green with a rosy shade of red. Meanwhile, the round shape creates a softer look to contrast against the standard rectangle and square shapes.
Loving a Leather in Brown for a Couch in Lime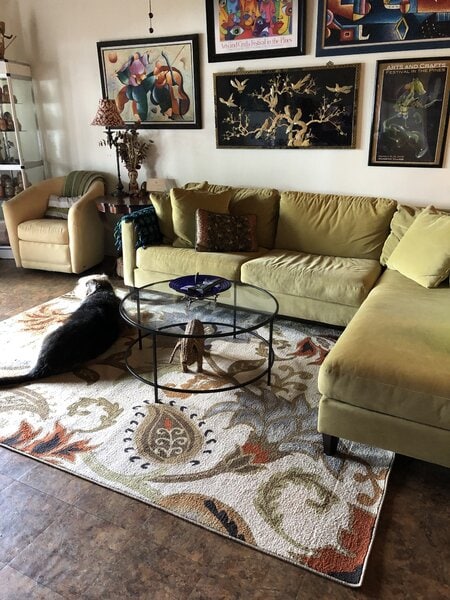 If you have a lime green-colored couch, picking an accent pillow in a brown color can strike an interesting balance of dark on light.
For a modern or rustic touch, go with a pillow in rich leather. Or get creative with an embossed print like this herd of horses.
Show Out with a Square of Sunny Yellow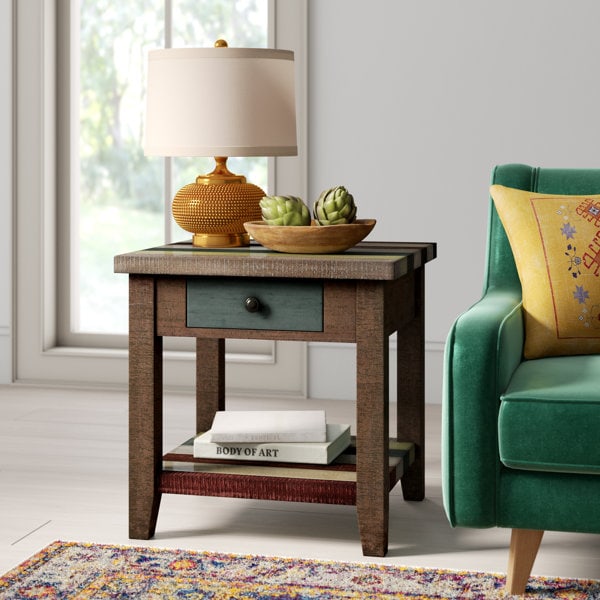 Green and yellow can go together for more than just the colors in nature. When paired together in your living room, you can enjoy an energizing boost of mood.
This dainty yellow square pillow features embroidered designs of light and dark blue, white, red, and orange threadwork that pops on a green couch.
Add an Abstract in a Lotta Colors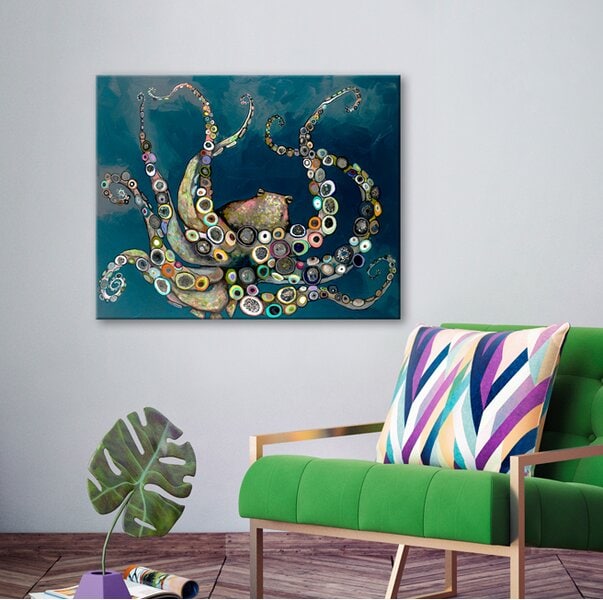 When you've got a bright green couch in a sleek, modern design, continue the theme with a pillow in an abstract pattern.
We like the simple design of multiple brush strokes in bold shades of navy blue, purple, peach, white, teal, and seafoam.
Loving Some Light Bright Neutral and Bordered
When you're decorating around a dark-colored sofa like bold, bright green, you can achieve an incredible aesthetic by going with a simple solid.
Choosing pillows in a soft neutral like ivory, cream, or off-white provides contrast. And getting a style with a thick border in a matching color adds a touch of elegance.
Pick Pillows in Multiple Colors and Prints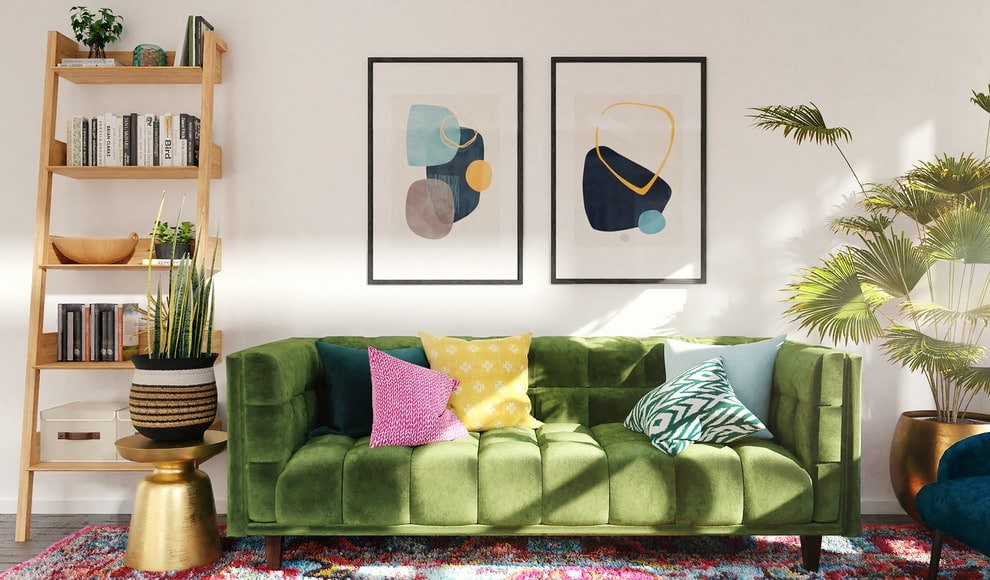 When you have a retro-style green sofa, adding a bunch of pillows in different light colors and prints creates a cozy setting for lounging.
Choosing light dusty colors keeps your space bright and welcoming while contrasting with the emerald green of the sofa.
Select a Soft Subtle Gray for Seafoam Green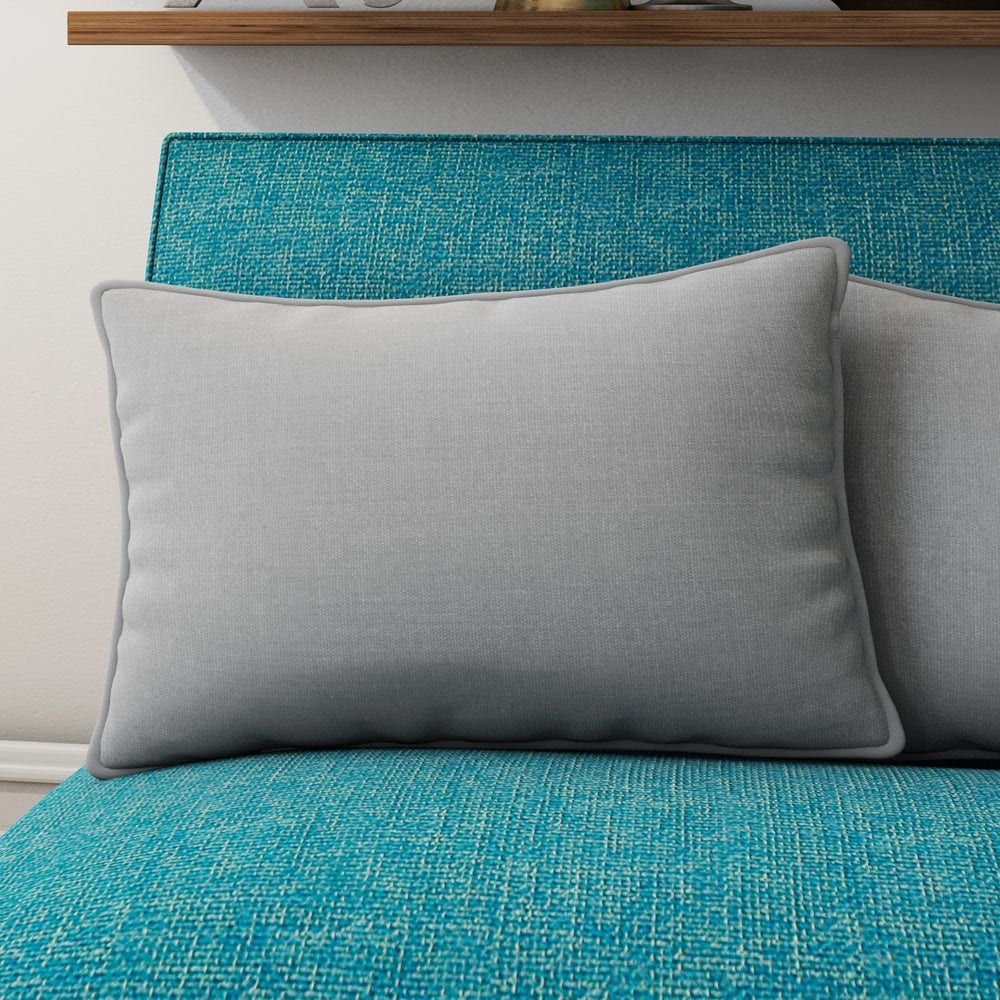 When you have a lovely teal to seafoam green sofa, you'll get a calm, understated elegance by choosing plain lumbar pillows in a soft dove gray color.
The light neutral color blends well with a loud-colored sofa, looking stylish without overwhelming your room with too many dominant shades.
Try Out a 3D Textured Patterned Wool Pillow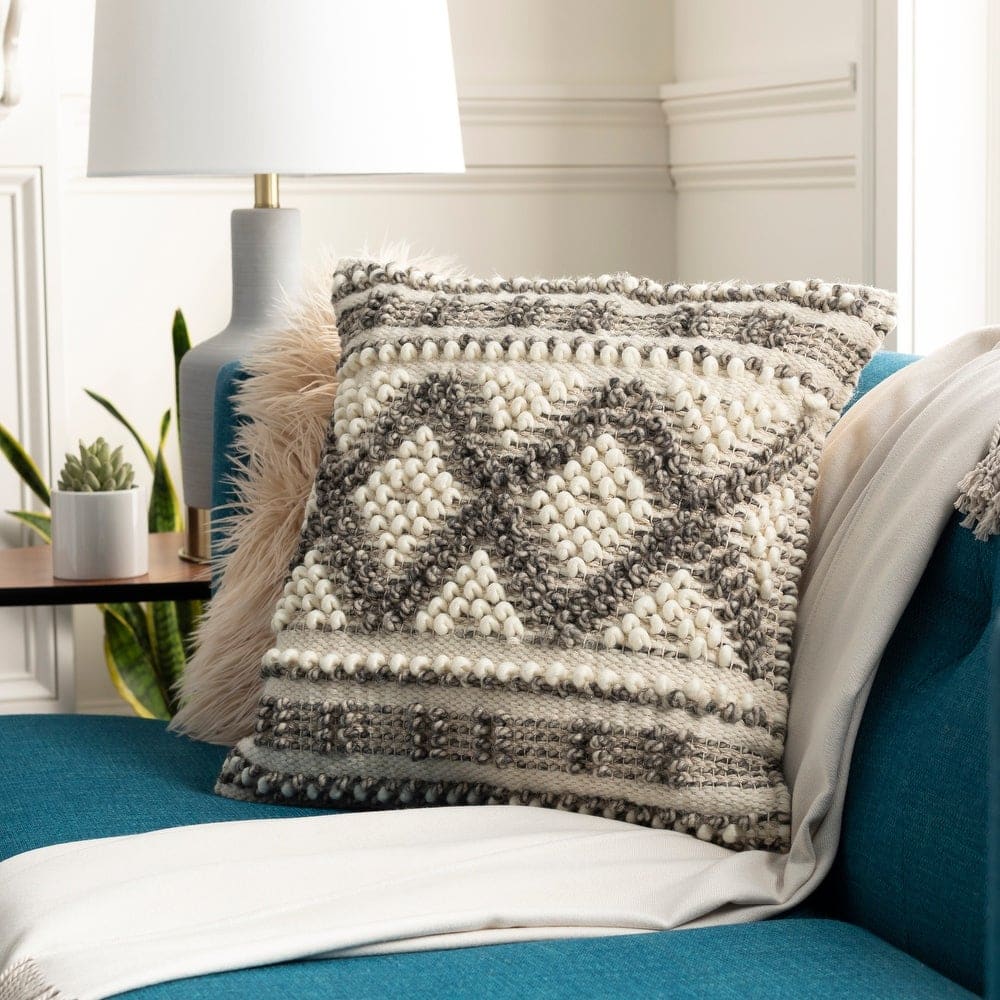 Give your green couch a cozy feel by choosing a throw pillow in woven wool material. This classy cushion has a textured surface in a chic bohemian pattern.
The soft color palette of off-black, khaki, and cream gives this square pillow cover an eclectic look that can blend with any theme from boho to transitional to modern or even traditional styles.
Mix In a Metallic Pillow in an Animal Print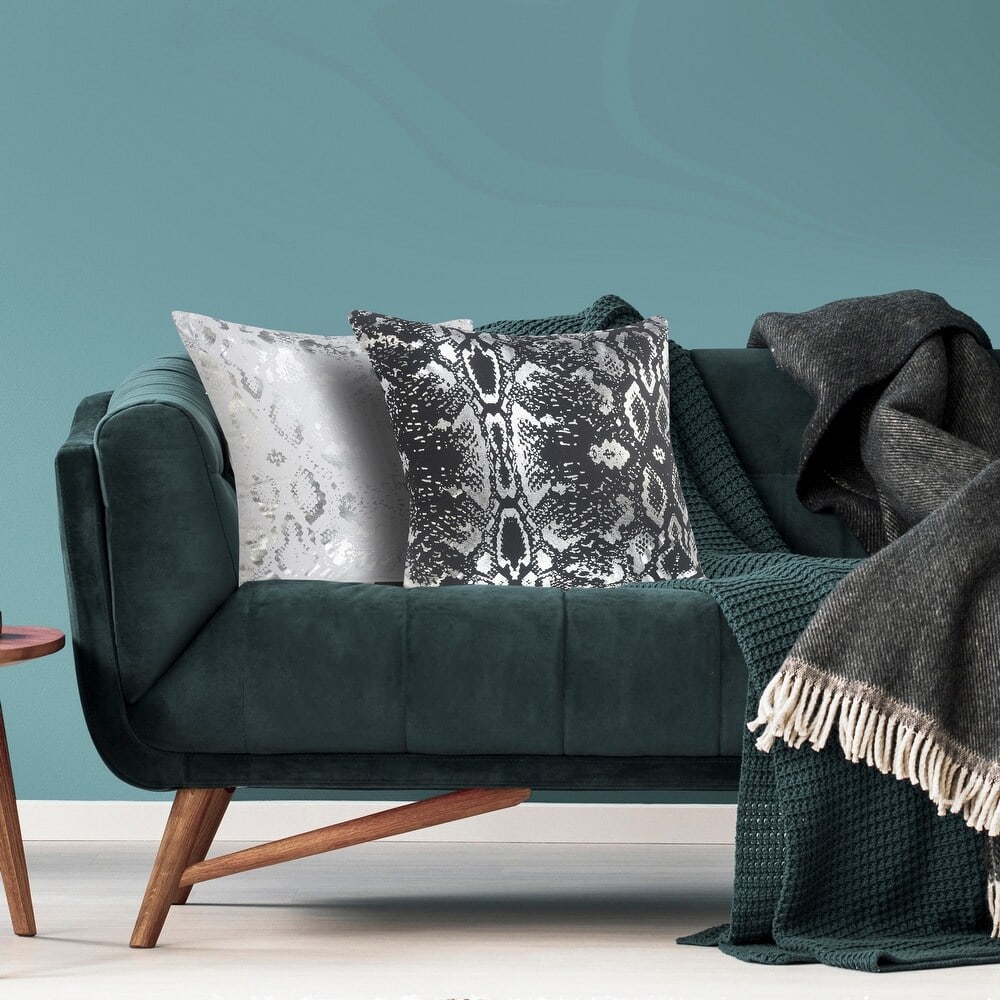 Modern style sofas like a low back and sides with skinny wooden legs are a fantastic base for combining modern-style pillows.
We're ga-ga over the rocking vibe you get when mixing a green couch with chic throw pillows in a snakeskin print of metallic white, silver, and black.
Go Crazy Over a Combo of Coral and Green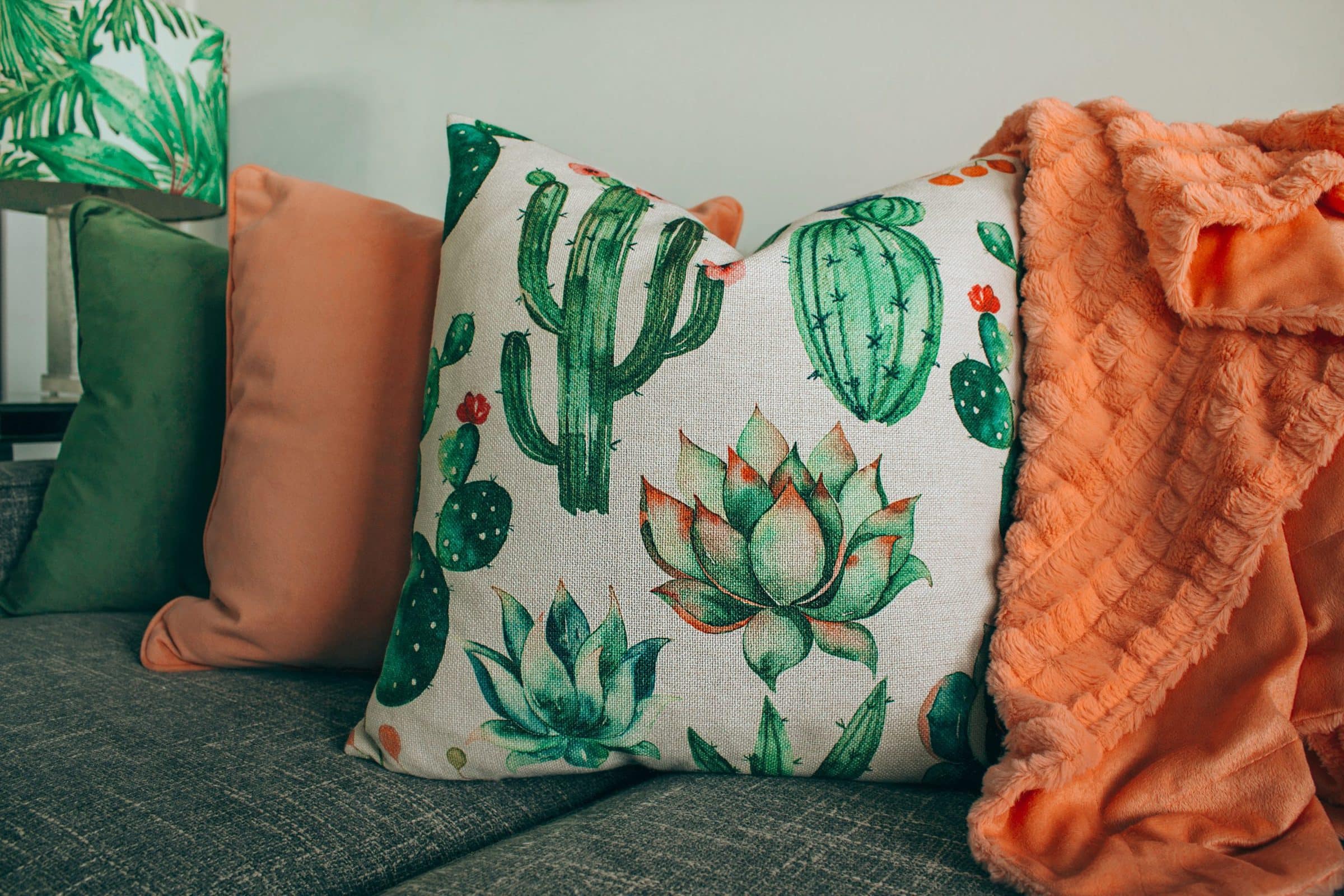 When you've got a green couch in a rough denim design, you can get a successful style by topping your sofa with throw pillows in white florals, hunter green, and coral.
Match the pinkish-orange tints of the coral pillows with a soft fleece throw blanket in a similar pink color tone.
Work Words into Your Room's Design
Your living room sofa is the perfect occasion for using throw pillows featuring inspirational quotes like Life is Beautiful or The Sun is Shining.
You can go with a classic color palette of black and white or a black background with pink and yellow wording and designs.
Relax on a Round Lumbar in Grooved Grove Green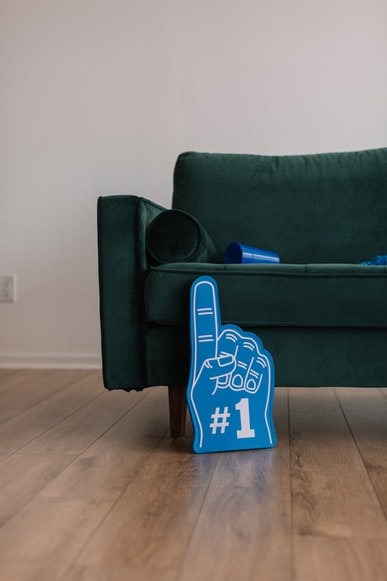 Lumbar pillows are a crucial pillow for a comfortable space to recline and relax on the sofa. If your couch is green, match the shade for your oblong lumbar pillow.
Picking a green lumbar pillow in a velvety corduroy fabric gives your sofa texture and style. And it will look superb with square or rectangular throw pillows in dull, fall colors.
Go Green on Green and White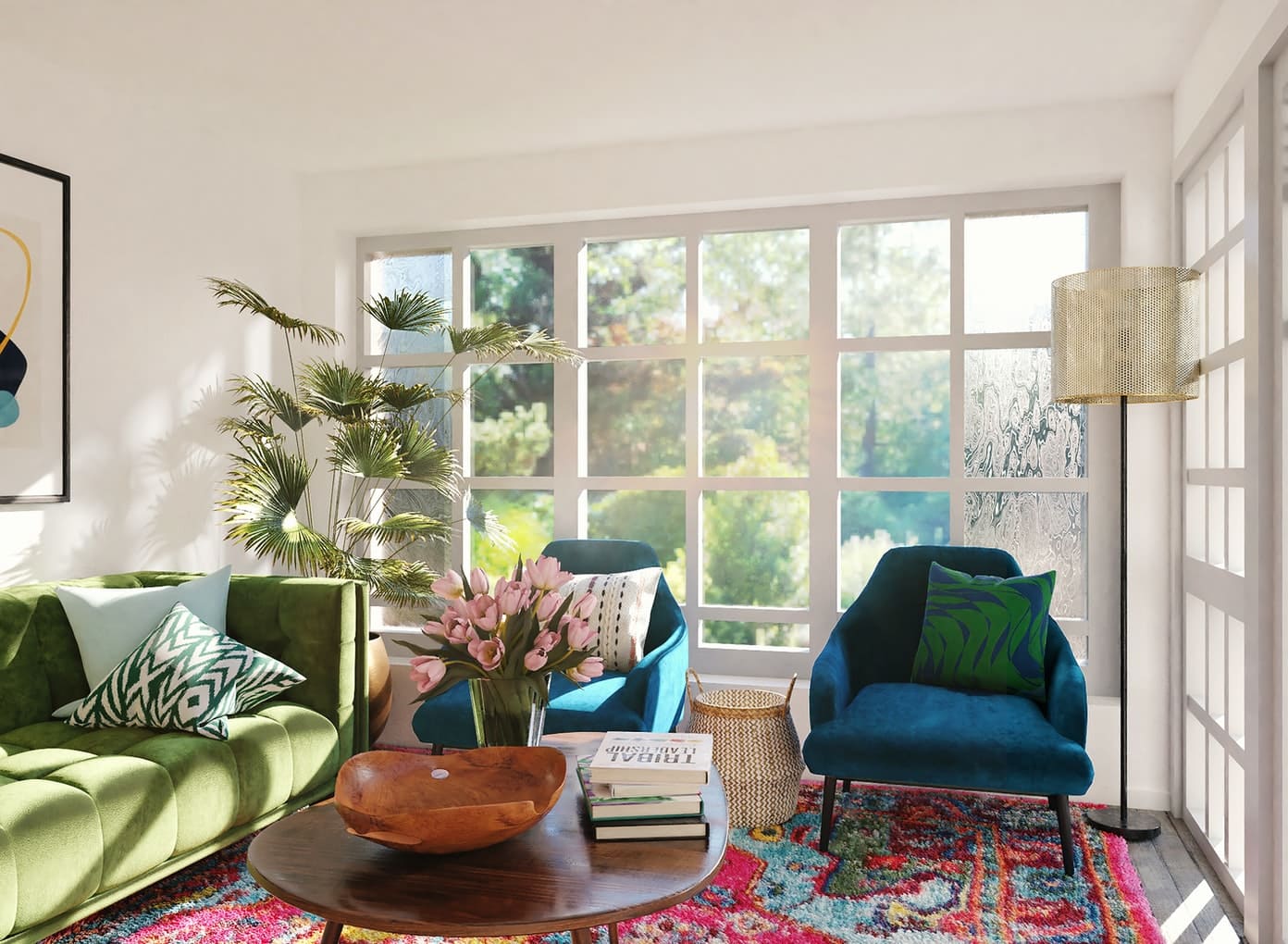 When you have a room full of eclectic retro and modern furniture in colors like dark velvet blue and pleated olive green, you can keep going crazy with your pillow choices.
Solid print pillows in light off-whites like ivory can give contrast. While adding some geometric print pillows with a light neutral base and bold lines in a dark hunter green enhance the modern, boho, or transitional feel.
Mix Solids with Woven Plaid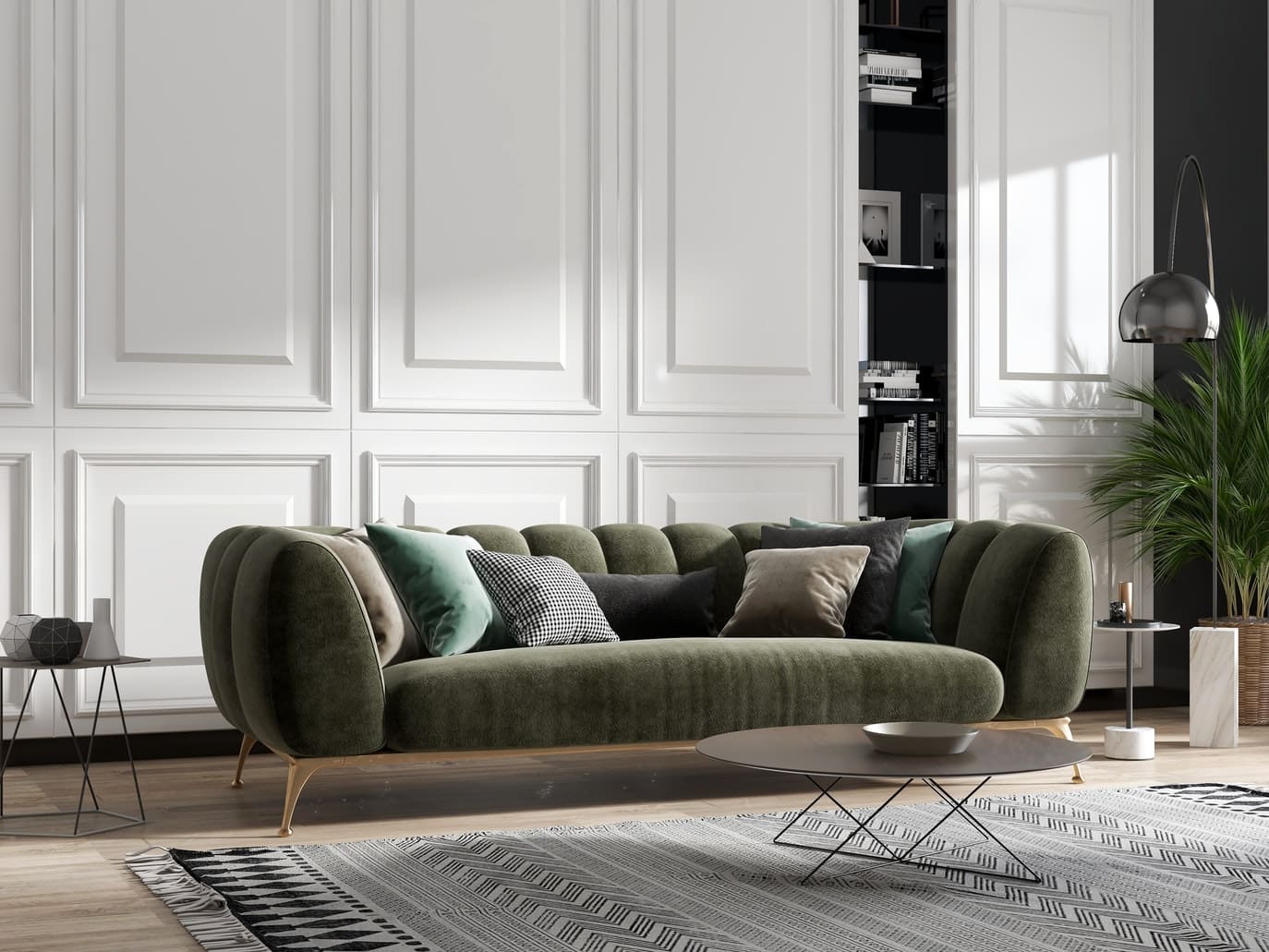 Cover the surface with a stack of pillows in various sizes and colors for a plush, green-gray sofa with serious swag and curves.
We're in love with layering pillows in a color palette of brown, hunter green, and tan solids and then throwing in a lumbar in the same shade and for a unique accent piece, a plaid in white and black.
Final Words
As you've witnessed from our testimony, decorating your green couch with pillows can be a fun time to show your personality. Choose matching colors or styles that contrast with the green of your sofa. And you can pick a single pillow or layer a design with pillows of multiple sizes and colors.
Which color pillow for a green couch did you like best? Did you create an interesting design in your room that we didn't consider? We've shown you ours – now show us yours!