Decorated Life is reader-supported. When you buy through links on our site, we may earn an affiliate commission. Learn More
What Color Walls Go With Brown Furniture – 15 Ideas
When you're debating on wall colors to go with brown furniture, the first thing to consider is the tone and shade of brown. Darker pieces will look better with lighter wall colors, as dark on dark can make brown furniture look dingy and muddy.
We've picked fifteen wall color ideas that go with brown furniture. Colors like true white or red are often not recommended for brown furniture, as they can make things look too monotone. However, neutrals like grays, off-whites, and tans can create a stunning nuance. Bolds like blues, greens, and oranges are also suitable choices.
Evergreen Fog by Sherwin Williams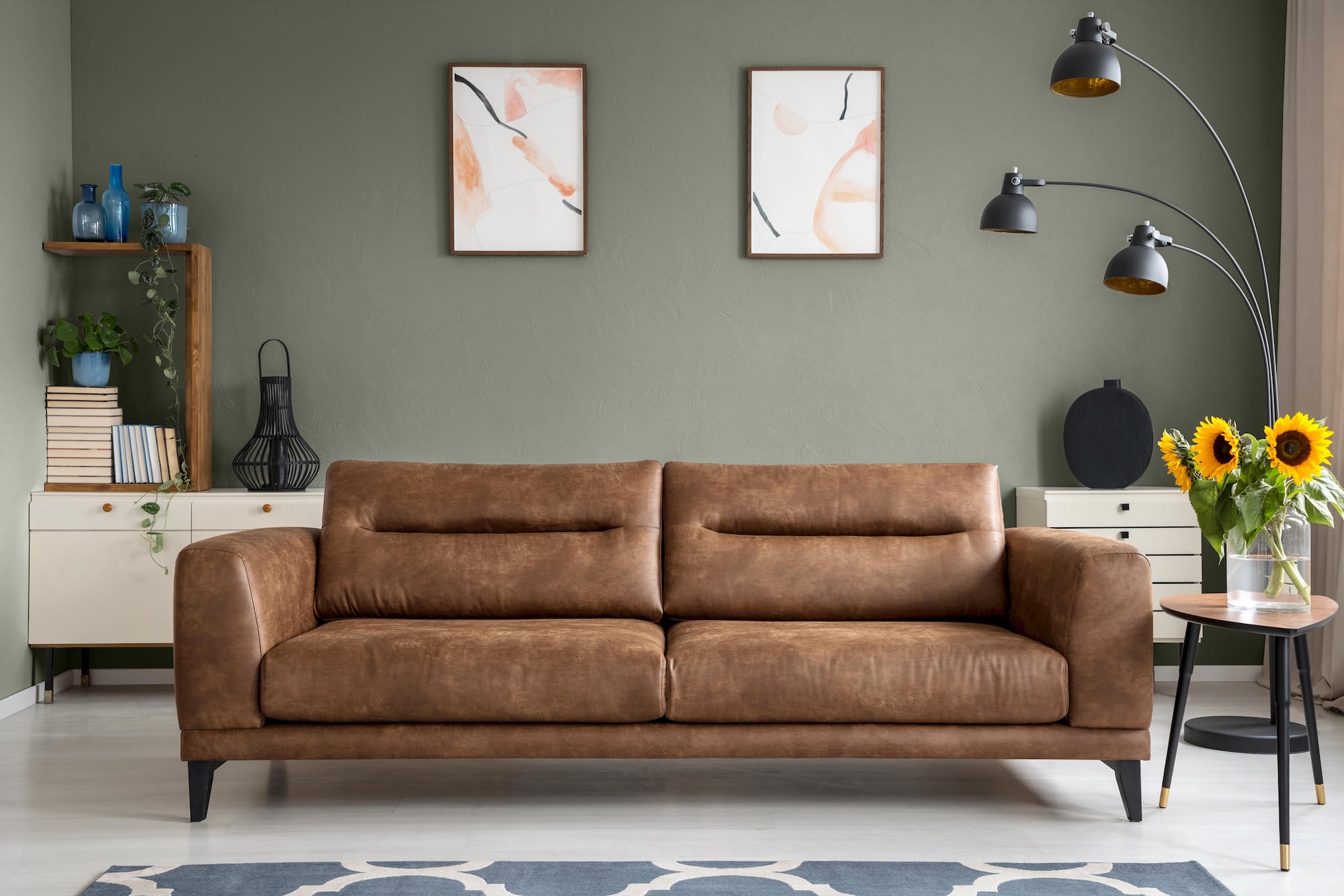 Evergreen Fog is a blend of gray and green, with slight brown undernotes. This Sherwin Williams' Color of the Month adds rich, colorful neutrality to your walls to go with any accents.
Adding this gray-green as the wall color with brown furniture lends a natural, earthy vibe. Then finish your design with lighter neutrals like an off-white Ethereal White and tans like Neutral Ground or darker browns like Dried Edamame.
Agate Green by Sherwin Williams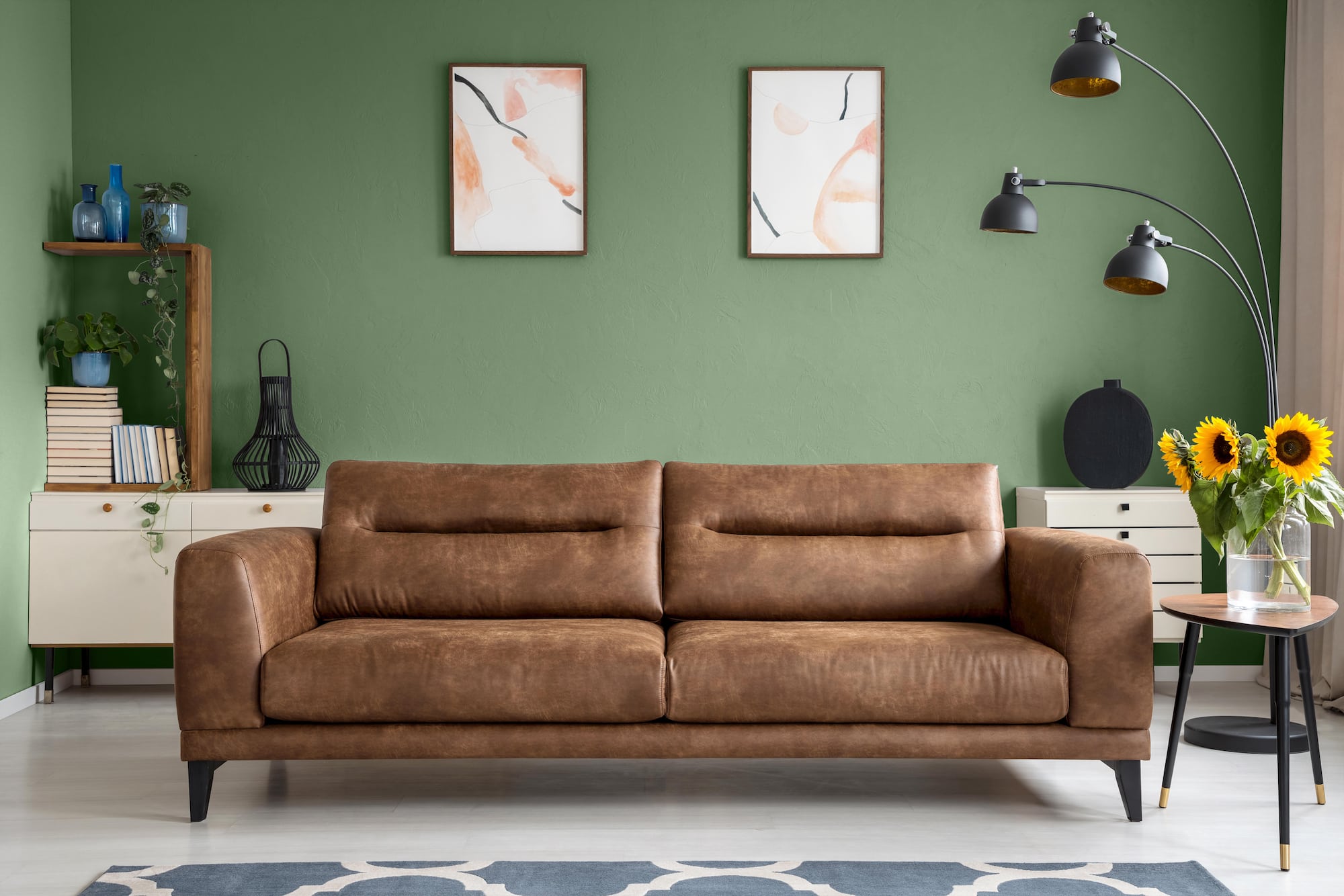 Another earthy color combination with brown furniture uses a bright green like SW's Agate. This mid-tone shade of green is the perfect balance of light and dark hues.
Adding Agate Green to the walls can look fantastic with brown furniture of any tone. However, because of the lighter, brighter hues and lower 34 LRV, this shade looks best with mid to dark browns.
Urban Jungle by Sherwin Williams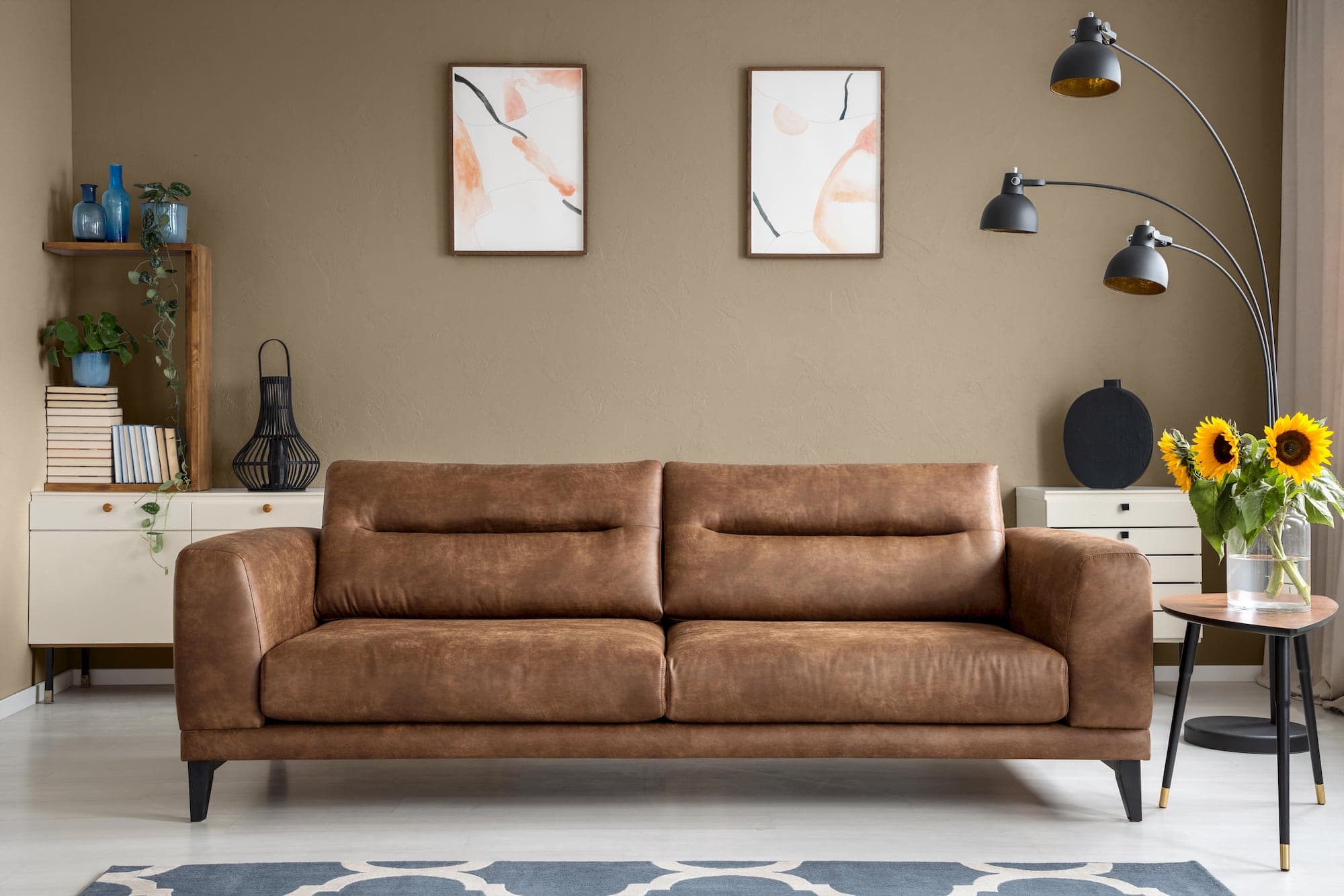 Going with a monochromatic color palette is another design route that can work when designing for brown furniture. To achieve a brown-on-brown color palette in your room, work with variations of the same color.
If you're using a darker shade of brown furniture, we recommend a lighter shade for the walls. SW's Urban Jungle fits the bill for a brown with personality and undernotes of tan, mauve, and gray for a paler dirt brown.
Mauve Finery by Sherwin Williams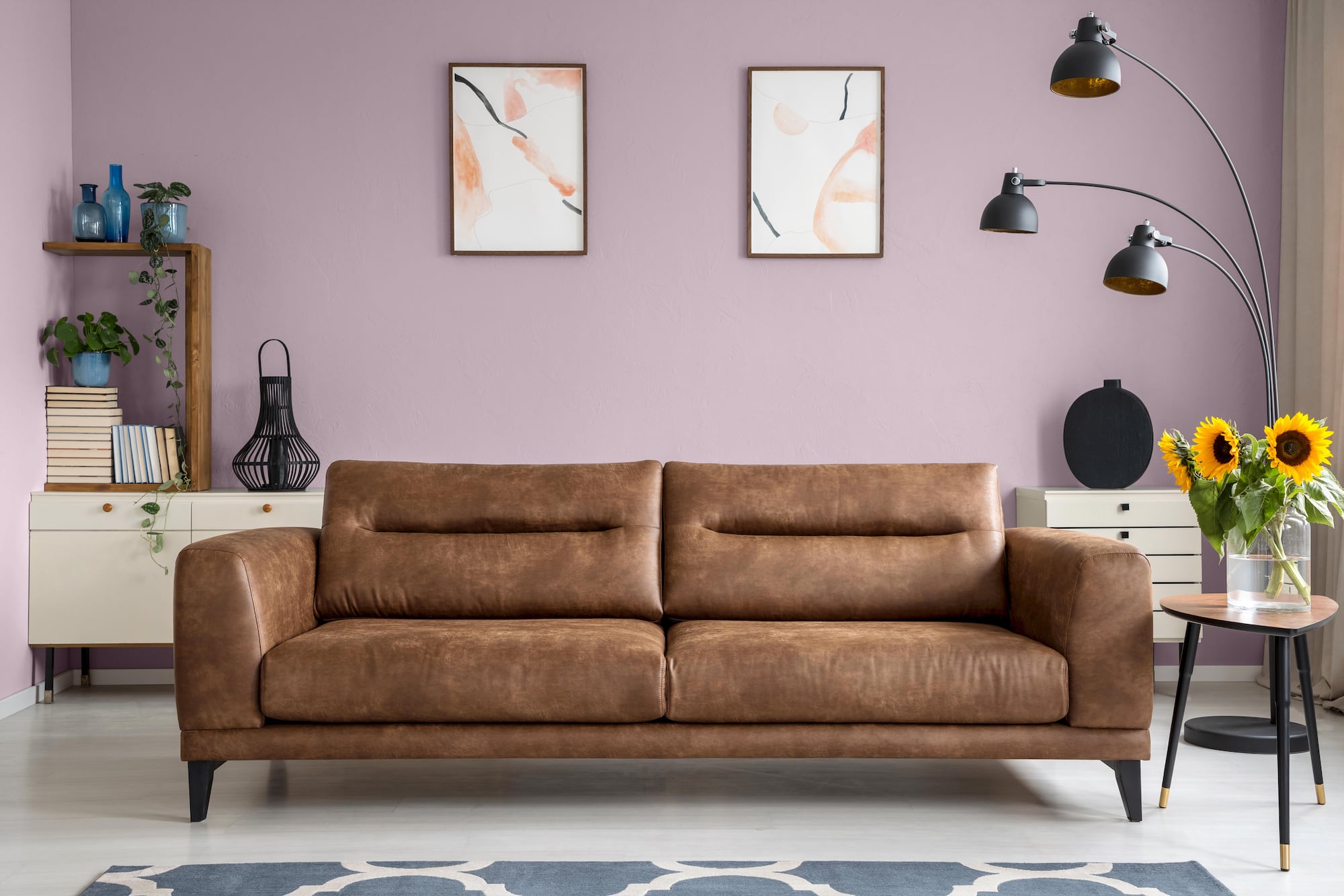 Colors like mauve give soft color pigmentation that brightens a space with furniture in a dark color like brown. We're partial to the relaxing, powerful vibe of Sherwin Williams' Mauve Finery.
This faint purple has slight gray and brown undernotes that create a pretty color blend. The dusty lavender with smoked tints pulls out the richness of brown, making it look more luxurious.
Scanda by Sherwin Williams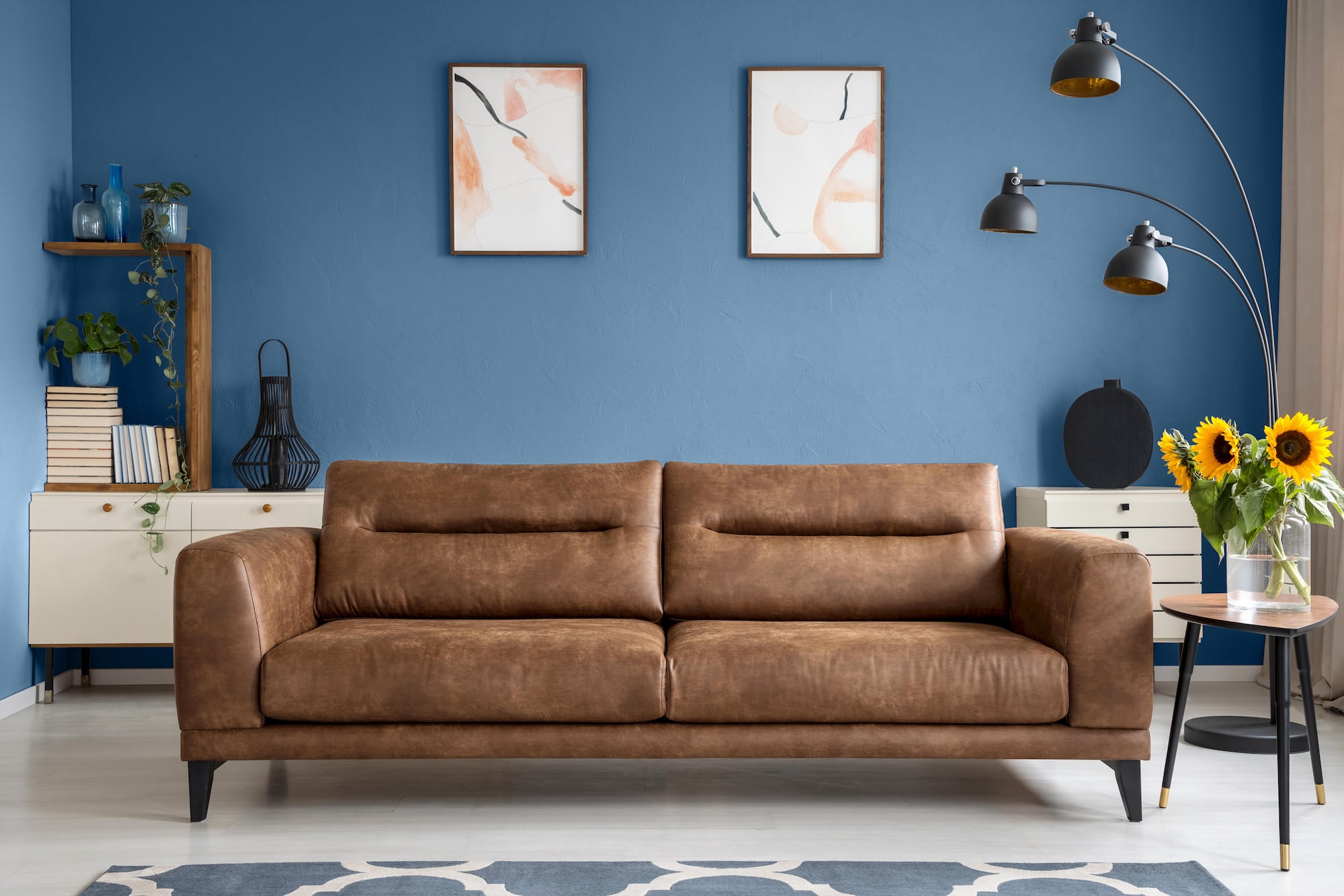 For a royal, regal feeling in a room with brown furniture, choose a wall color like blue. We're fascinated by the play of using a lighter, dusty shade of blue-gray, like Sherwin Williams' Scanda.
This mid-toned blue shade has a lower LRV of 25 with heavy saturation and elegant undernotes of purple and gray. And to add some contrast of a darker blue and brown, go with lighter accents like First Star or Rarified Air. Or choose Bora Bora Shore for a seafoam shock of color.
Lantern Light by Sherwin Williams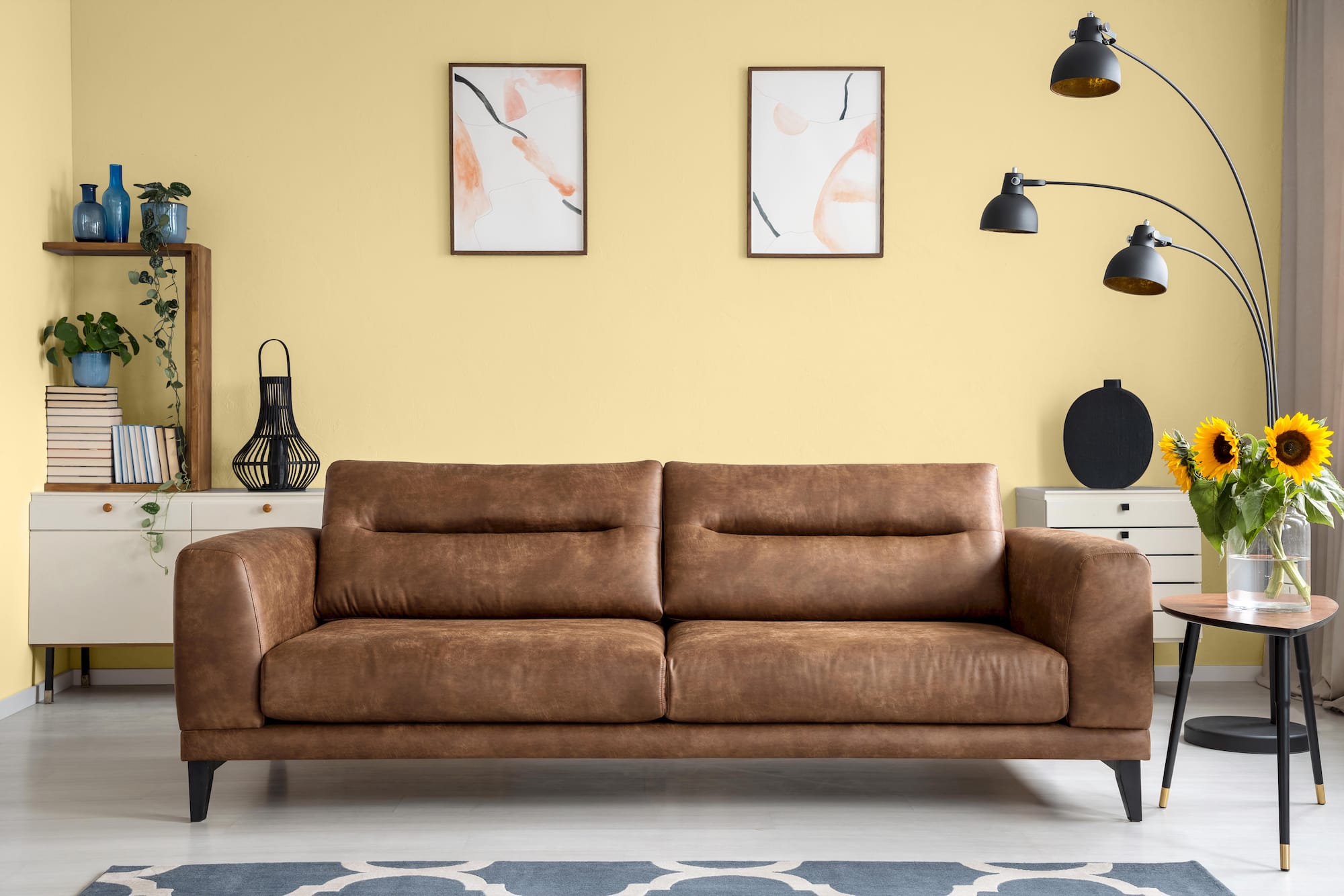 Brown furniture is also the perfect base for using a pale, cheerful color for the walls, like yellow. Sherwin Williams' Lantern Light is a fantastic shade of yellow to pair with brown, helping add a softness to the darkness.
This neutral shade of yellow has a dull subtleness that skips the sunshine rays and feels more shady sand. Your room can benefit from the refined tan and cream undernotes that make this yellow feel more grown-up and sophisticated with brown upholstery.
Navajo White by Benjamin Moore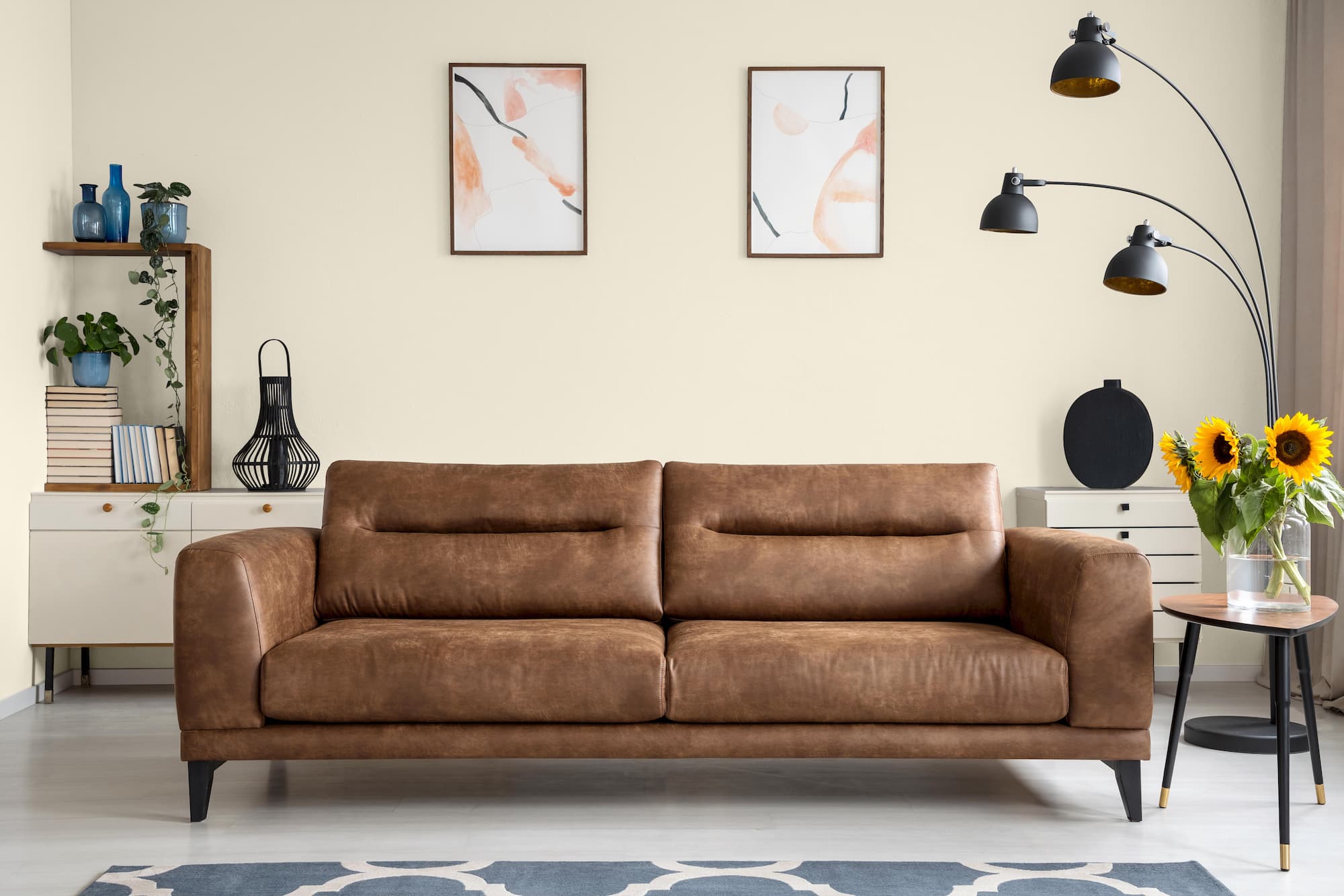 Decorating with whites can be a tricky design choice that requires caution. Going too light and pale with the wall color can clash with the rich darkness of brown furniture.
Instead of going with pure, sterile whites, look for whites with slight tinting or pigmentation to make them off-white, like the subtle yellowed nuance of Navajo White.
Ancient Ivory by Benjamin Moore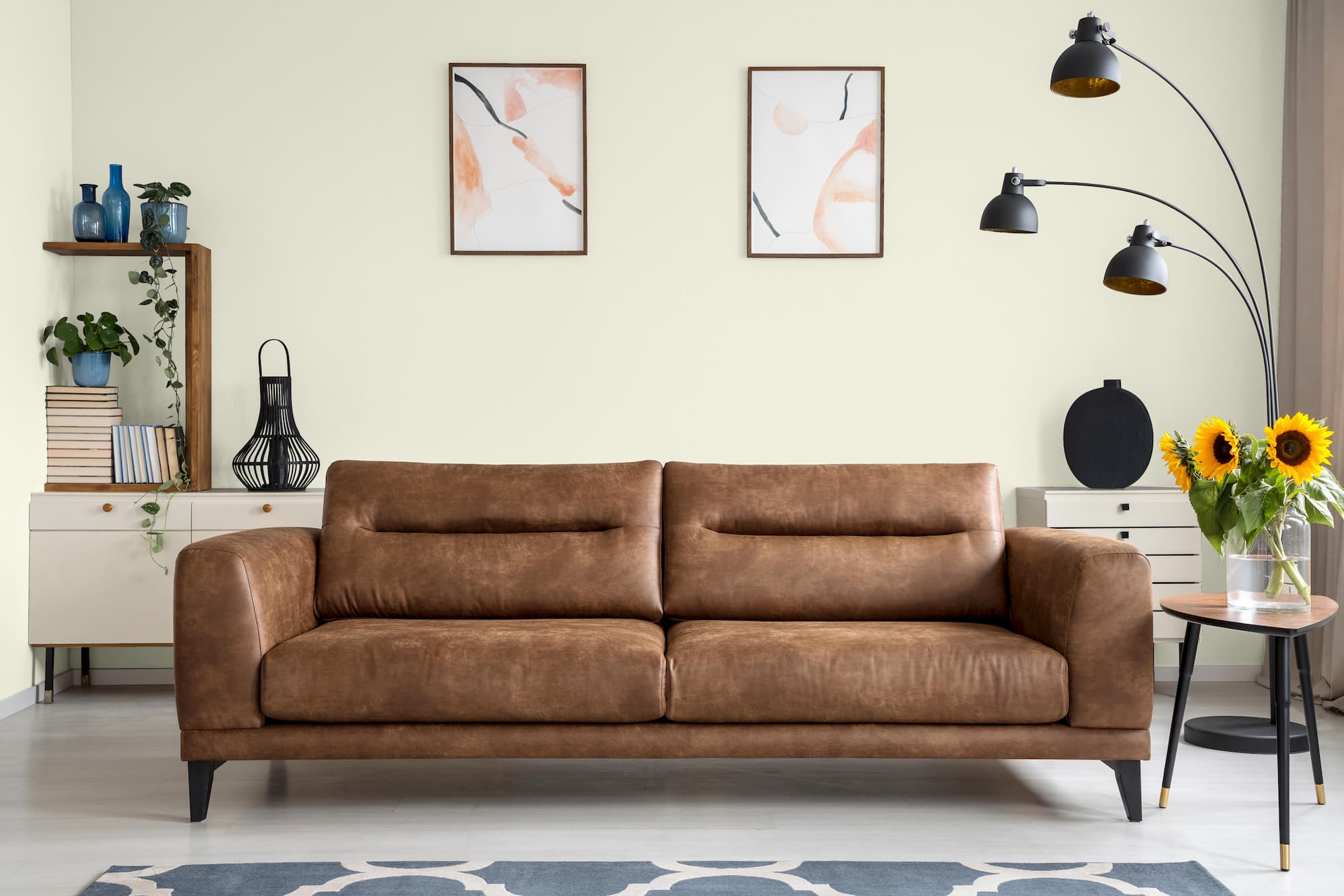 Ancient Ivory by Benjamin Moore is another choice for a light off-white that can set off brown furniture. Again, this color brings to mind the classiness of vintage-aged lace.
This complex toasted white has faint smoky nuances that give pale yellow and gray undertones. The light-tinted pigmentation brightens up your walls without washing them out.
Adobe Dust by Benjamin Moore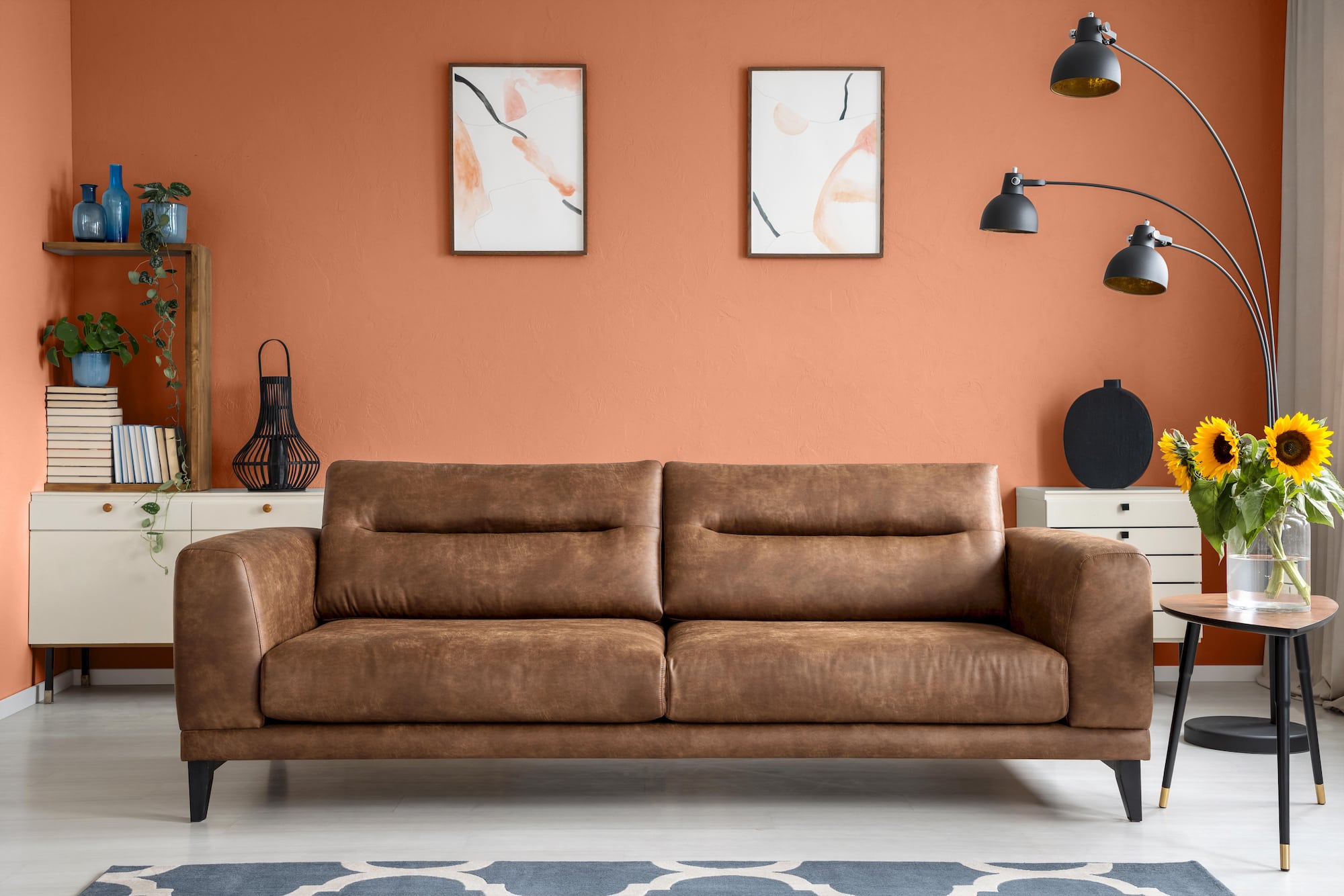 Benjamin Moore's Adobe Dust is a fascinating autumn color that's excellent for complimenting Southwestern-inspired color palette designs using brown furniture.
This burnt orange has heavy brown influences that can get deeper with rustic brown leather upholstery. And finally, accent pieces in grays and tans add balance to tone down the richness of orange.
Spanish Brown by Benjamin Moore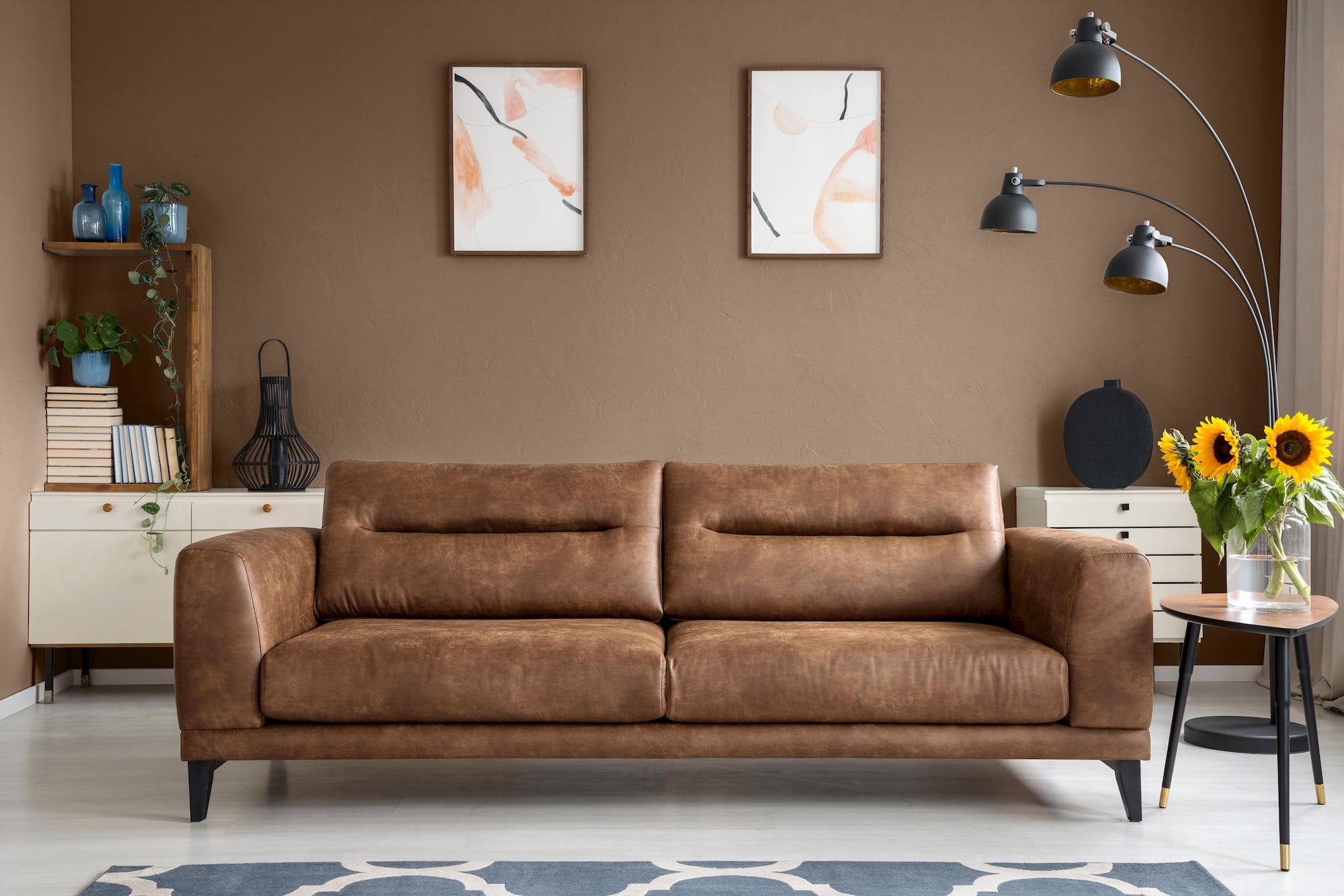 Go with medium brown wall paint for a brown-on-brown color scheme with a light tan or heavy dark espresso brown furniture.
We're in love with the authenticity of Benjamin Moore's Spanish Brown. This lighter cocoa color can give your walls a warm, organic feel.
November Skies by Benjamin Moore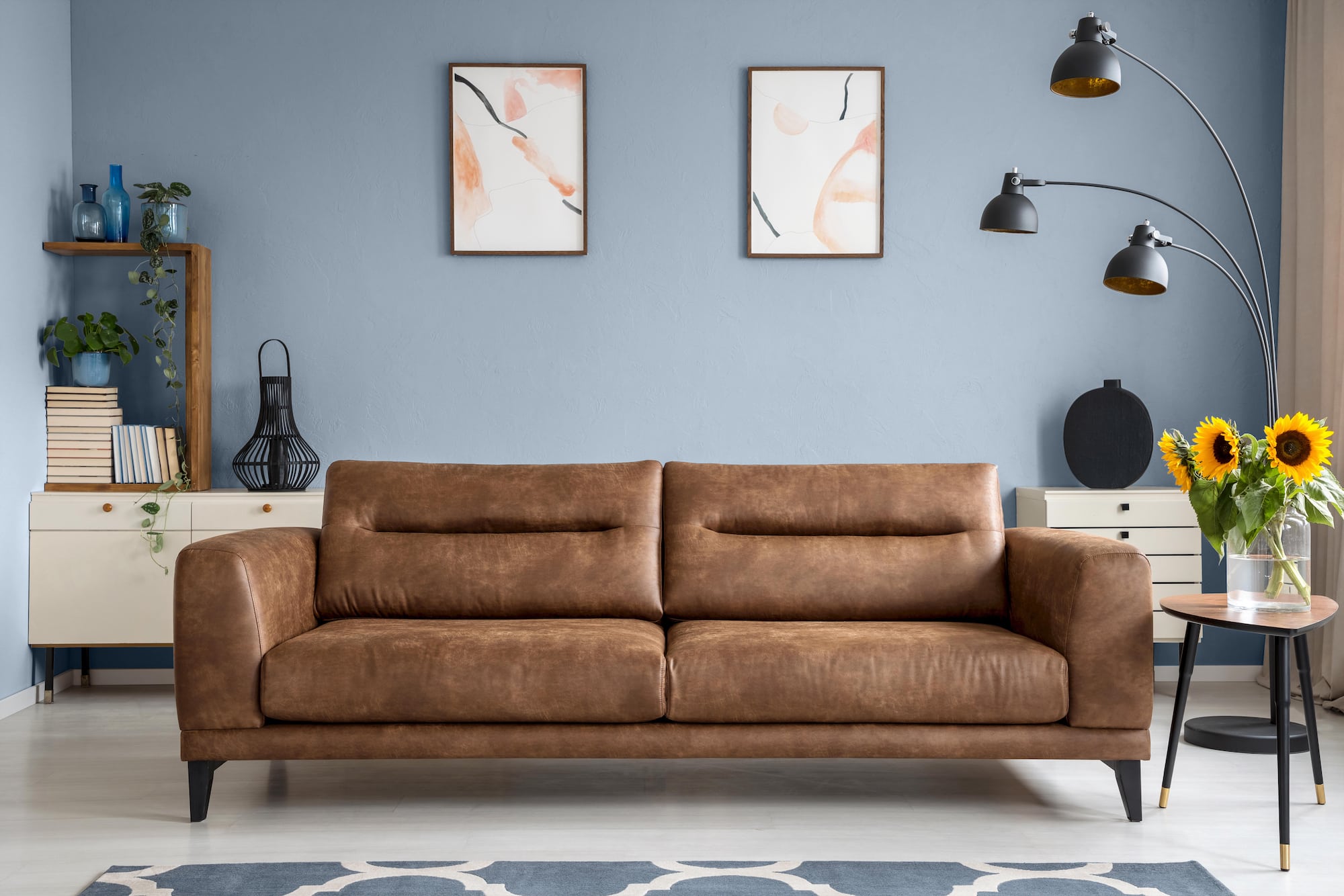 November Skies is a muted, stormy shade of blue-gray that reminds you of gloomy winter skies. You can use this shade of blue for furniture in any tone of brown.
The coolness from the gray gives an interesting play of shadows in various lighting. And you can compliment with accents like Cotton Tail, a yellowish-white, and Roxbury Caramel or Shooting Star.
Desert Camel by Behr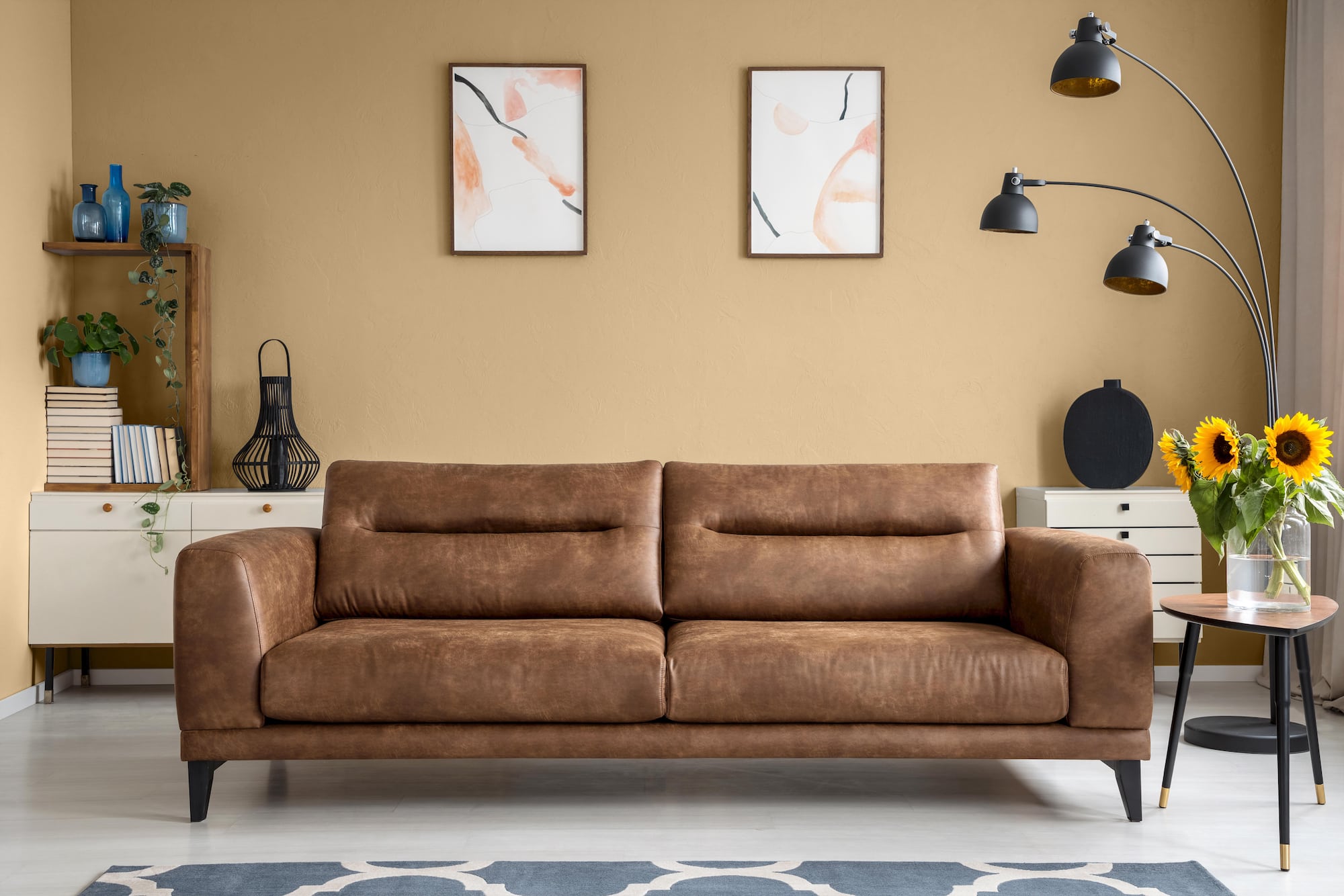 Desert Camel is a shade of tan with brown undertones similar to the sandy dunes in a dusty desert. Faint red hues add warm pigmentation with the darker neutral wall color.
A great thing about this pigmented neutral is you'll be able to coordinate with various accents to change the feel of your brown furniture. Try bolds like turquoise, pinks, off-whites like ivory or cream, and smoky blues.
Cheerful Tangerine by Behr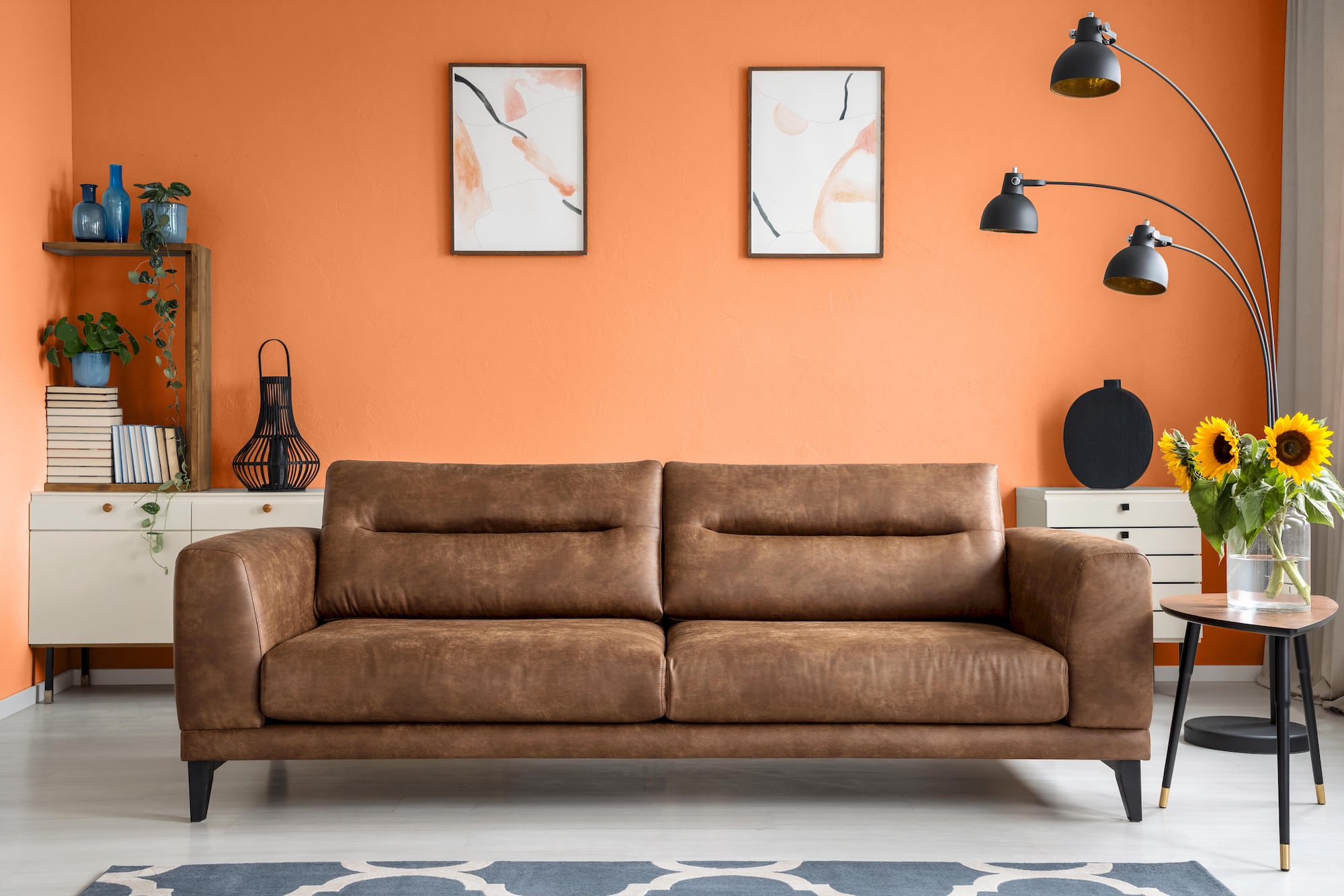 Orange and brown is an earthy color palette that can appeal to those who like a bright, bold aura. Cheerful Tangerine is orange with faint pink tones that can pop as an accent wall.
The mid-LRV and citrusy nuance can enhance the undernotes in brown, making your furniture feel more current and attractive.
Sand by Farrow & Ball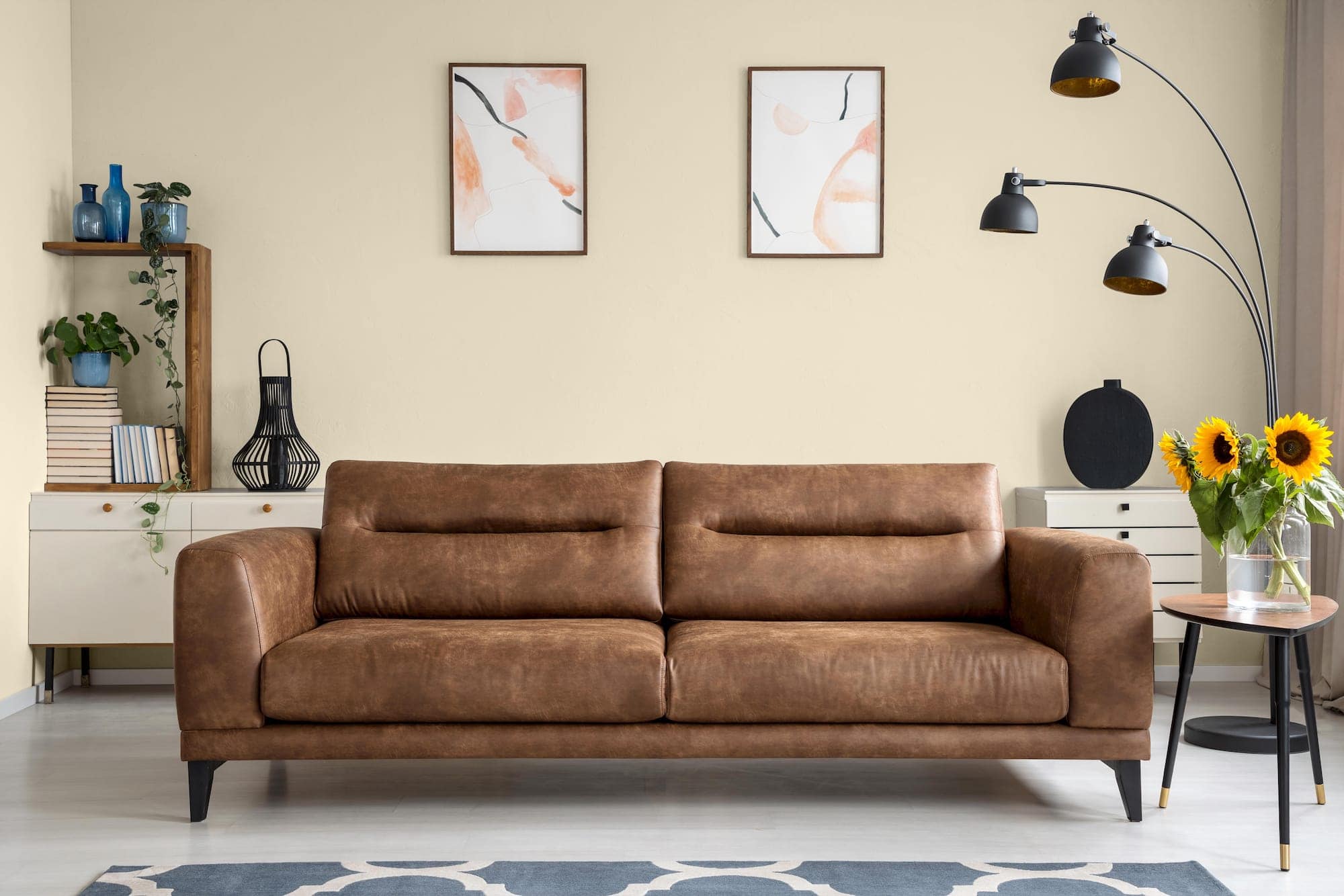 Sand is a neutral shade of white that gives you great versatility as a wall color in rooms with brown furniture. In addition, gray pigmentation gives this white a tinted beachy nuance.
Painting your walls Sand gives you a clean, blank slate, allowing you to get more dynamic with your design. Use natural wood accents, pastels, and textured linens to liven up brown furniture.
Stoke by Farrow & Ball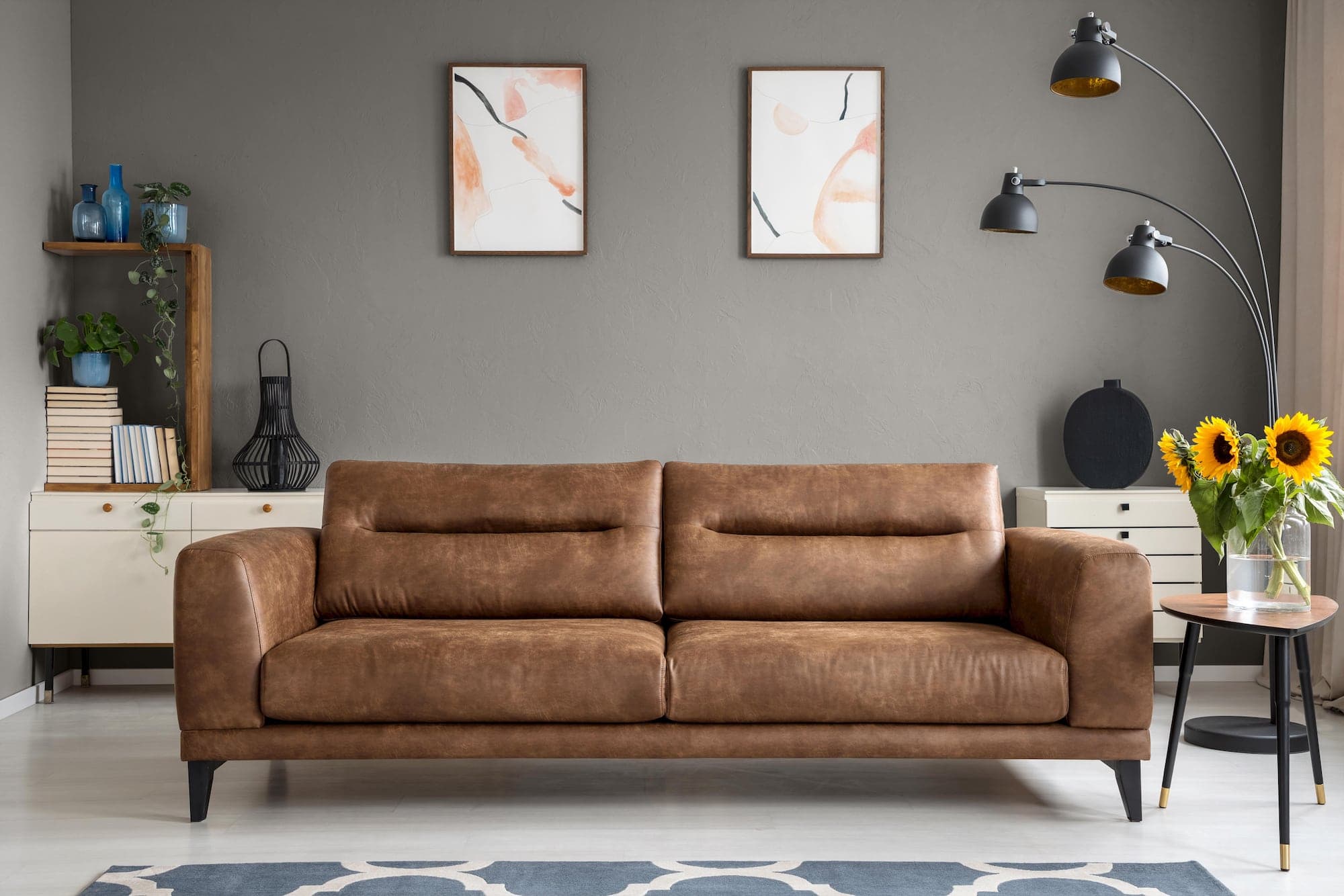 Stoke is a true gray that offers the perfect colored neutral versatile enough to work for any design theme. Go modern with dark brown leather upholstery and geometric print accents in red, blue, orange, or green.
Or, for a farmhouse or coastal vibe, keep it light with whites, pastels, and pales of blue, pink, and yellow. Regardless of your preferences, Stoke's neutrality will make a balanced transition.
In Closing
The best way to decide on a wall color to go with your brown furniture is to consider the shade of brown. Neutrals are always a safe option to avoid color clashing or causing brown to look dingy or muddy. You can also use primary colors like blue or green. However, use caution if you choose a shade of red.
Before deciding, apply your color choices to the wall and live with them for a few days. Which color wall idea for brown furniture do you like the best? Share your deets in the comment section.