Decorated Life is reader-supported. When you buy through links on our site, we may earn an affiliate commission. Learn More
Sherwin Williams Evergreen Fog Paint Color Review
A new year is a fresh start, and this year, Sherwin Williams is bringing us a refreshing nature-inspired color to create our own fresh starts with.
Many of us are seeking some much-needed rest and relaxation, and this color promises our spaces just that. Let me introduce you to the Sherwin Williams 2022 Color of the Year: Evergreen Fog.
What Color is Evergreen Fog?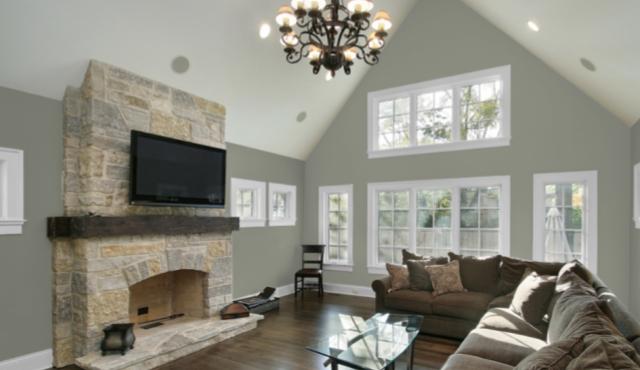 Evergreen Fog is a sage green blended with gray and blue. It has an organic vibe, and it's soft and subdued.
LRV of 30
Evergreen Fog has a light reflectance value (LRV) of 30. LRV is a scale designed to measure the brightness of a color, running from absolute black at 0 to sheer white at 100. Evergreen Fog is a medium-to-dark color.
What Undertones Does Evergreen Fog Have?
Evergreen Fog has gray and beige, also known as greige, undertones. These undertones make Evergreen Fog feel more earthy, and also help to coordinate it with warmer colors. It also has blue undertones that contribute to it being a darker color.
Is Evergreen Fog a Warm Color or a Cool Color?
Evergreen Fog is a cool color. Its components, green and gray, are themselves both cool colors, and its touch of blue adds to this cool effect.
Where Can You Use Evergreen Fog?
Evergreen Fog is a cool and soothing color that's strong enough to make a statement. You should keep in mind that with its low LRV of 30, this color can make rooms feel darker and smaller.
To keep your rooms feeling spacious, consider using Evergreen Fog for a focal wall or accent color. You can also use Evergreen Fog on the walls, and then balance it with a light ceiling and floor, as well as lighter furniture and decor.
Evergreen Fog can lend a soothing and relaxing effect to bedrooms and bathrooms. It's also lovely in the kitchen where its earthy tones evoke fresh herbs. Evergreen Fog is a great choice for kitchen cabinets and islands, or bathroom vanities.
Let's explore Evergreen Fog and get inspired to bring the natural world indoors.
Living Room
Your favorite houseplants will feel right at home with Evergreen Fog on the walls.
For a room that feels more spacious, use Evergreen Fog as a focal wall, and balance it with white or light walls and ceiling, and neutral furnishings, as in this living room.
Kitchen
Beige and off-white colors find harmony with Evergreen Fog, such as in this beautiful farmhouse kitchen.
Evergreen Fog is a popular paint color for kitchen cabinets.
Dining Room
Evergreen Fog isn't just for old-fashioned or country inspired styles. It also works well in modern and mid-century styles, like this dining room makeover that favors geometric elements.
Bedroom
Evergreen Fog is the soothing backdrop for this modern nursery.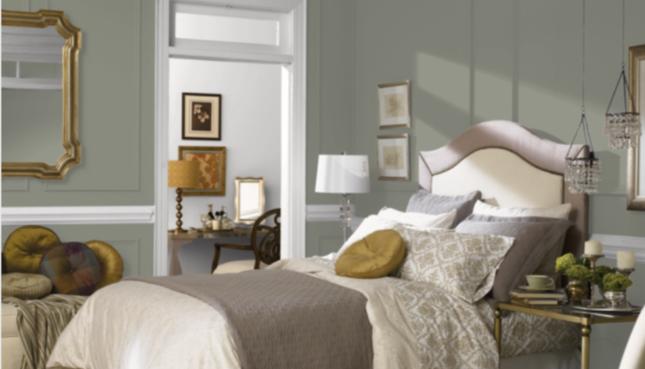 Earthen colors look like jewel tones against a backdrop of Evergreen Fog in this formal bedroom.
A focal wall brings the cool and refreshing shades of Evergreen Fog into balance with a bright and airy neutral bedroom.
Bathroom
Evergreen Fog shiplap gives this bathroom cozy, organic vibes.
Small decor details that coordinate with your paint colors can really make your final results look polished.
Evergreen Fog makes a beautiful accent color that coordinates well with lighter greens, whites, and off-whites.
Exterior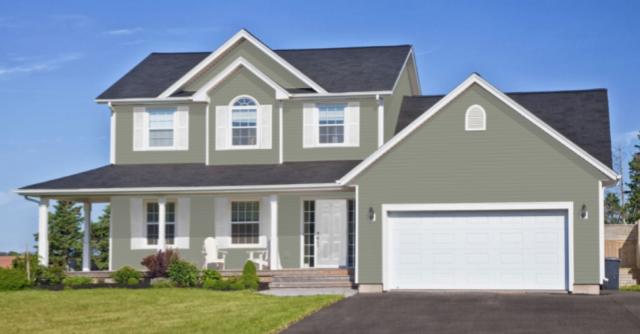 Evergreen Fog has enough personality to hold up as an exterior color, but its natural vibes make it look like it belongs in the outdoor surroundings.
Coordinating Colors for Evergreen Fog
Evergreen Fog's forest-inspired tones lend themselves to matches with other earthy, organic colors. Clay, wood, and stone, and paint colors that evoke these materials, will be right at home next to Evergreen Fog.
Perhaps the most beautiful combination for Evergreen Fog is to pair it with your favorite cream, beige, or off-white color. It looks fantastic with neutrals like linen, muslin, and burlap.
Heading in the other direction, you can pair Evergreen Fog with darker colors for a dramatic look, such as Urbane Bronze.
Here are some coordinating color ideas for Evergreen Fog to help you start your palette:
How Does Evergreen Fog Compare to Other Colors?
Evergreen Fog vs October Mist by Benjamin Moore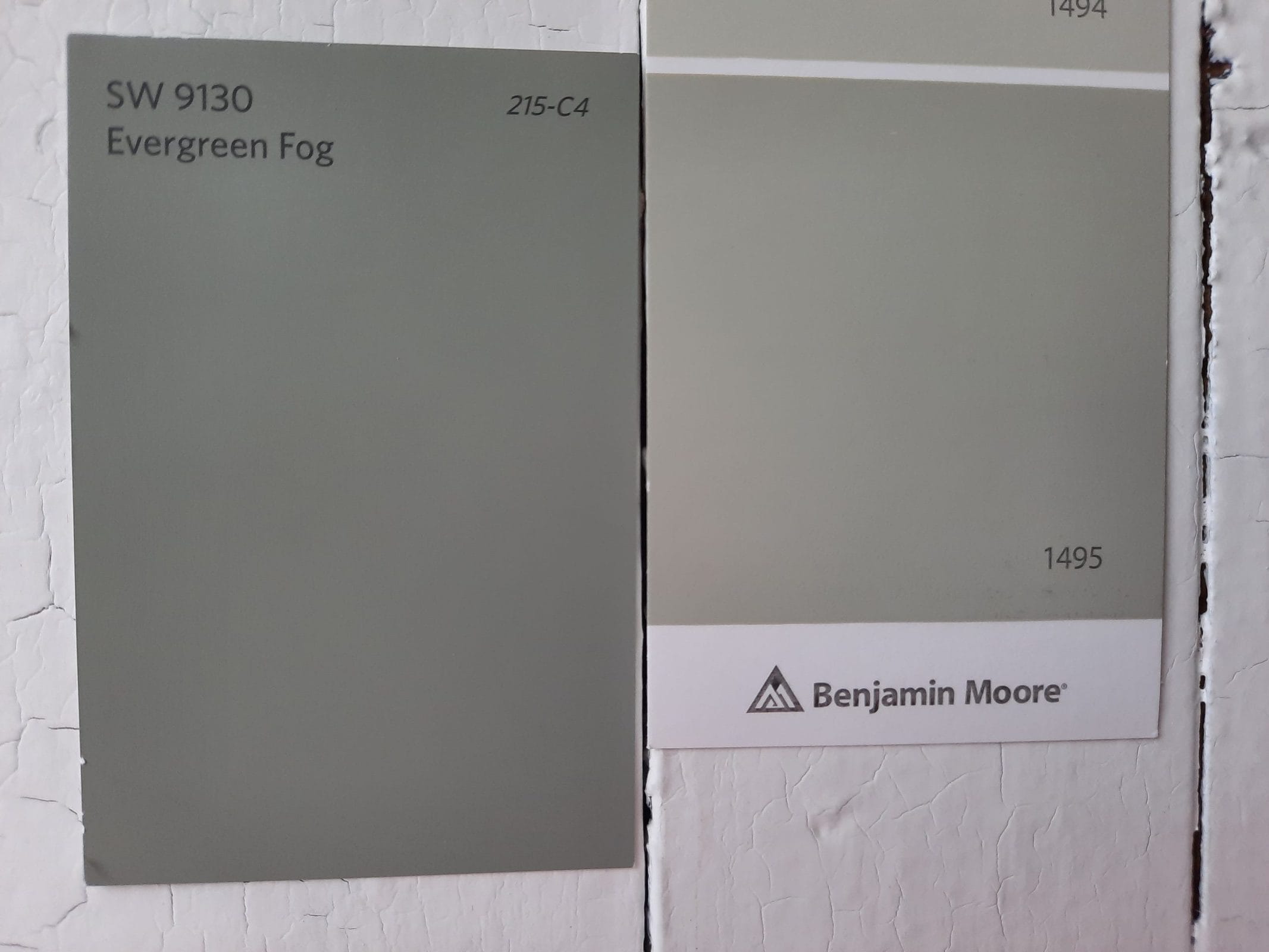 When Sherwin Williams and Benjamin Moore came out with such similar colors for 2022, it's not surprising that everyone immediately became curious about comparing them! These colors are both green-grays in the same segment of the color wheel. But October Mist is substantially lighter than Evergreen Fog, with a LRV of 46.33, versus Evergreen Fog's LRV of 30. October Mist also has a higher amount of gray in its blend as compared to its green. Evergreen Fog leans into its green side more.
Evergreen Fog vs Escape Gray by Sherwin Williams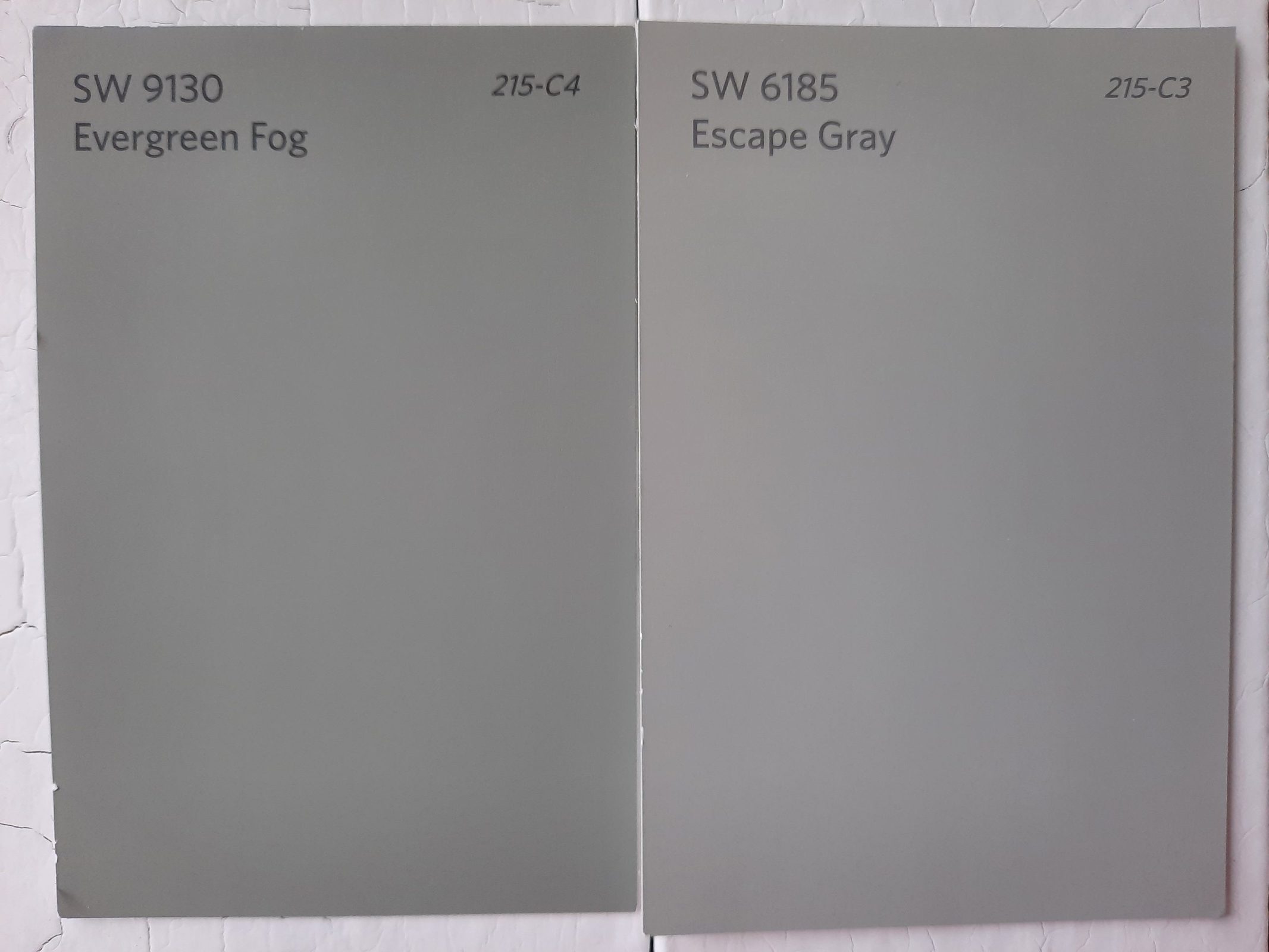 Escape Gray is an unusual, chameleon-like color that can be hard to pin down. Both of these colors blend gray and green, and belong in the same family, but Evergreen Fog is much darker. Escape Gray has a LRV of 41.
Evergreen Fog vs Cornwall Slate by Sherwin Williams
Cornwall Slate is a gray-green color that leans into its gray side. At first, it may not look much like Evergreen Fog but they're definitely related. These colors are equal in tone; Cornwall Slate has a LRV of 29.
Evergreen Fog vs Green Earth by Sherwin Williams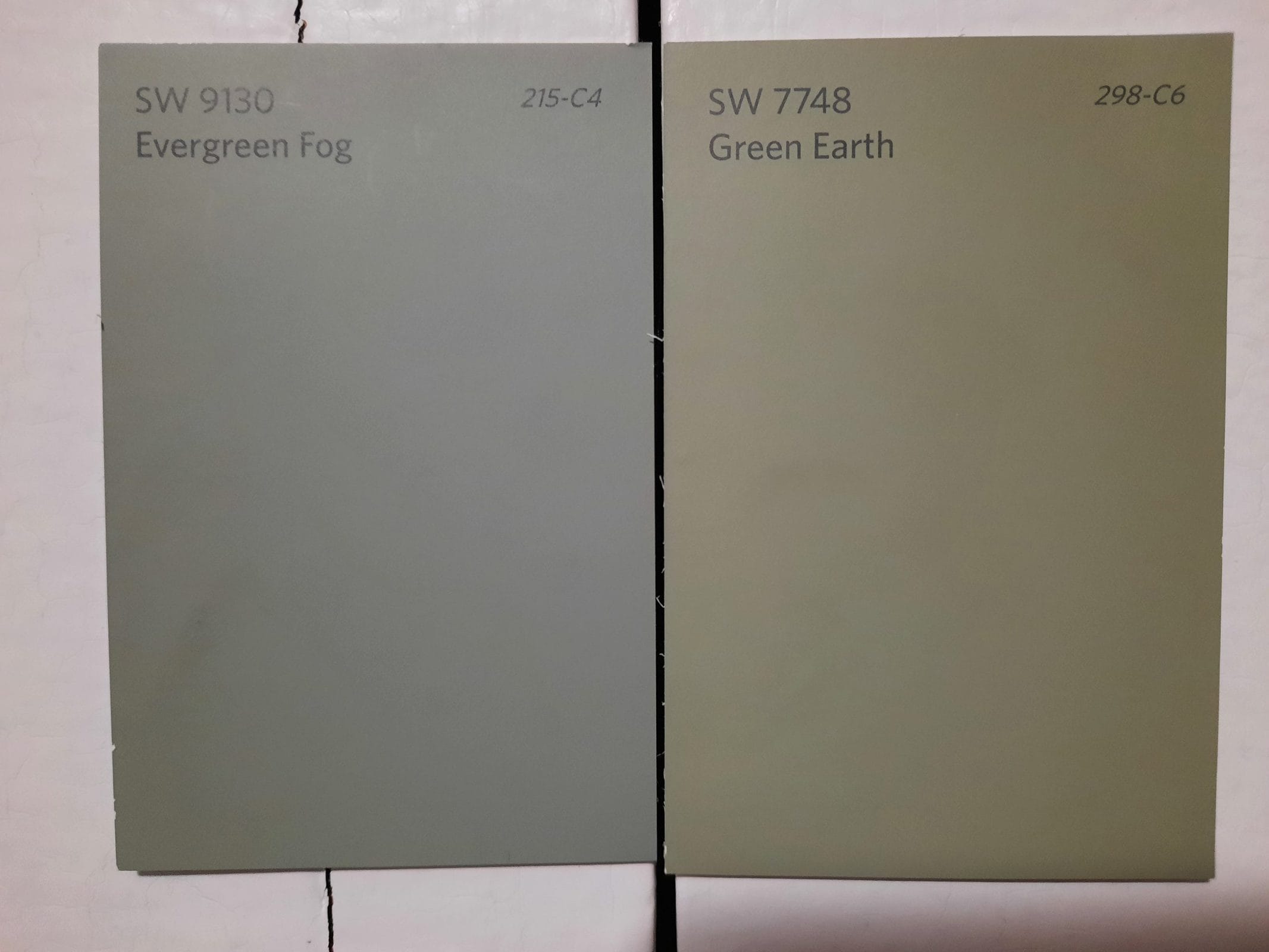 Green Earth brings a different sort of green to the table than Evergreen Fog does. Although these are both green-gray colors, Green Earth's green has more yellow in it; Evergreen Fog's green has more blue. Green Earth has a LRV of 31.
Final Thoughts
This year is shaping up to be the year that everyone wants to bring the natural world in to enjoy, and Evergreen Fog is ready to make that happen. This color is dark enough to make a statement, and perhaps that statement, if we put it in words, would be "Take time to breathe." If you want to create space in your home to relax, Evergreen Fog might be the color you've been looking for.