Decorated Life is reader-supported. When you buy through links on our site, we may earn an affiliate commission. Learn More
Where To Put a Desk in a Bedroom?
Lots of people now work from home for at least part of the week, but what happens if you don't have a desk? Laying in bed while wrapped in your duvet may be comfy, but it can make Zoom calls with colleagues very awkward!
A desk in your bedroom is the perfect solution. And with desks available in all shapes and sizes, there's one to fit every space.
The only question is, where should you put your desk? Below are a few ideas which might help.
How to Decide Where to Put Your Desk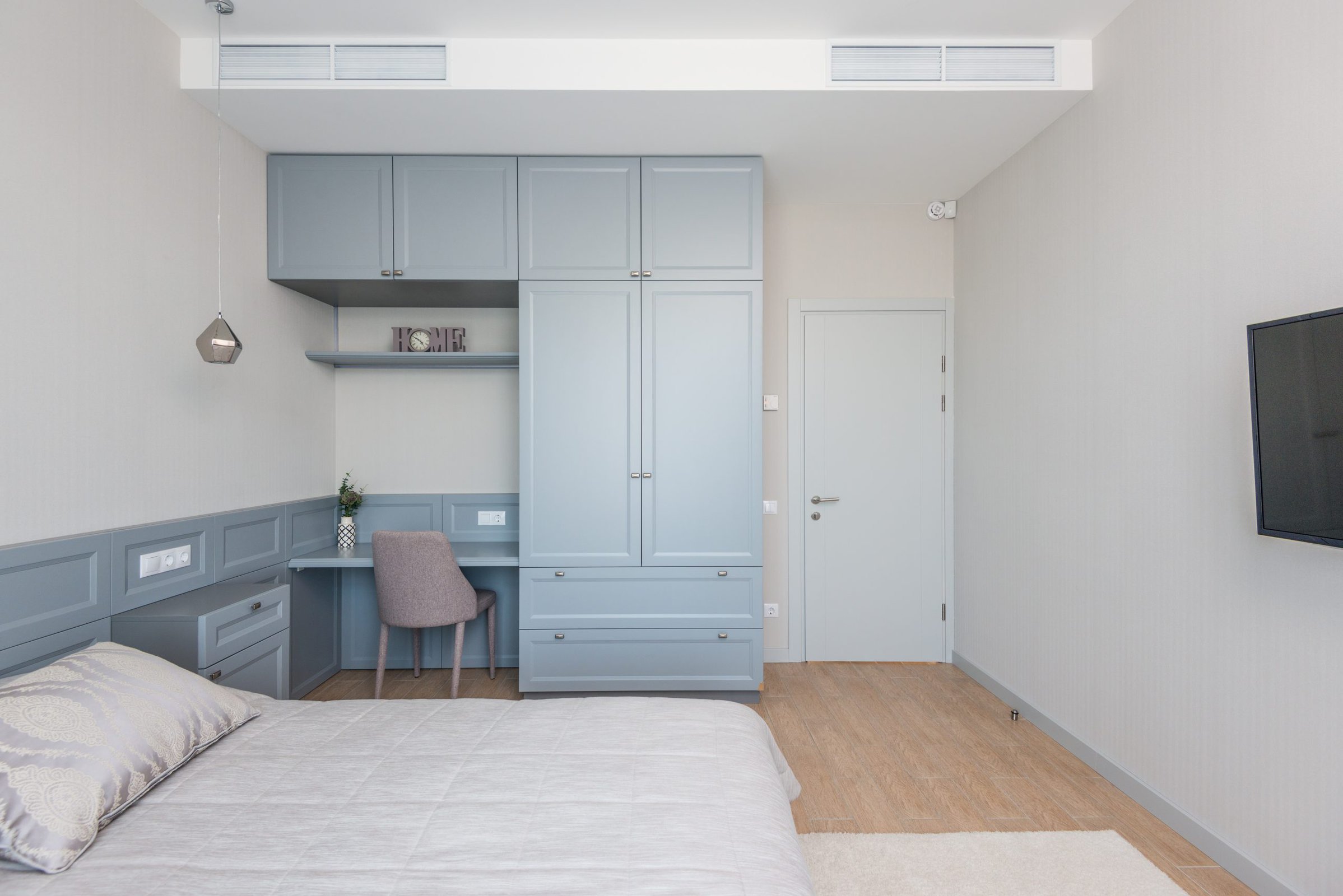 Positioning your desk is about more than where you can fit it in. You'll need to plan carefully to set up an effective working zone while preserving a relaxing bedroom space.
Wherever possible, create a clear distinction between your working and sleeping areas. This will help you mentally shift between your work and home life. It's possible even in small bedrooms, with options like wall-mounted or concealed desks. 
A good source of light is also important to prevent eye strain and protect your health. Natural light is preferable, but if you can't place your desk near a window, make sure it's well-lit. Avoid light hitting your screen directly as this can cause glare.
The size of the desk will have a big bearing on where you put it, but consider how you'll sit, stretch and move during the working day. Is there room to straighten your legs or push your chair back? Don't squeeze a desk into a space that will make you feel squashed while you work.
In the Corner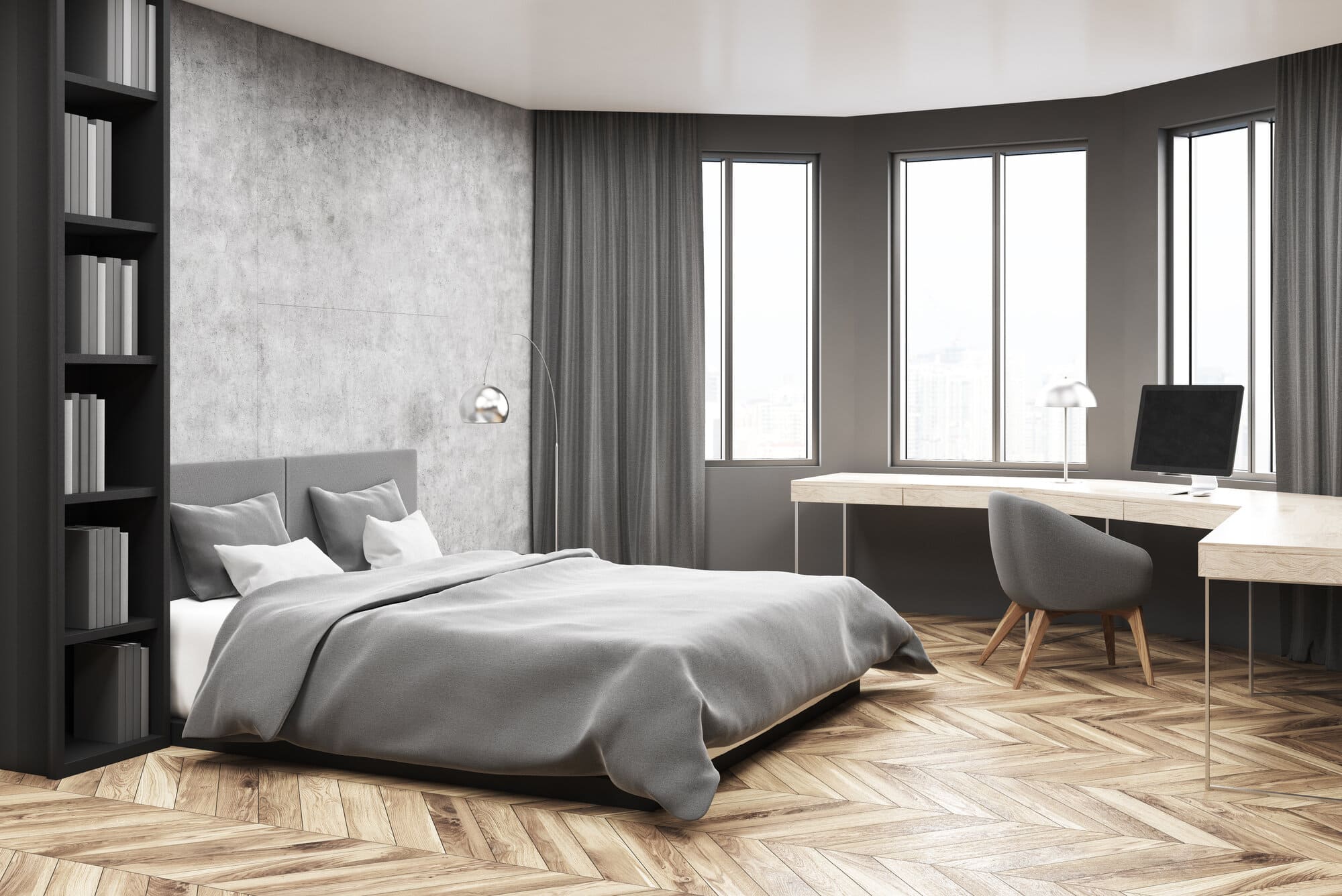 The corners of a room are often dead space, so it can be the ideal position for a desk. You can make the desk as small or as large as you want, and can even opt for an L-shaped desk to maximise your working area.
As we mentioned above, zoning your bedroom into a sleeping and working space is a good idea. This is easy to do with a corner as a screen can be drawn around the desk to section it off.
If you're prone to getting distracted, a corner works well as there are no visual distractions. However, do make sure that you don't pick the corner behind the door, especially if you don't live alone! Getting bashed by the door while you're working isn't going to help you concentrate and could damage the desk.
Pros:
Very space-efficient
Works for small and large rooms
No visual distractions
Easy to create a separate working zone
Can accommodate a larger L-shaped desk
Cons:
Can be visually uninspiring
The only corner free may be behind a door
Best for: larger bedrooms or where a larger desk is needed
Next to Your Bed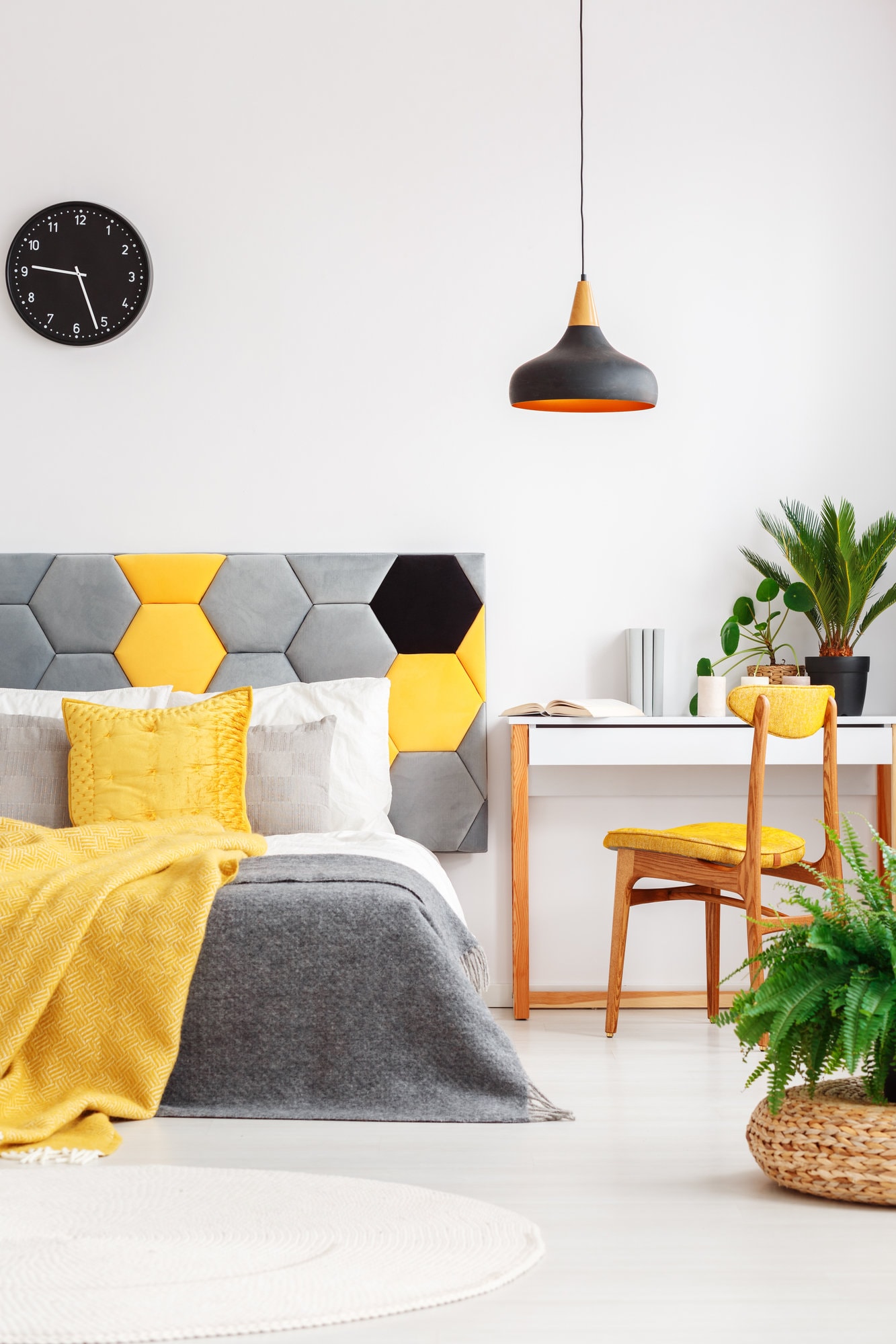 For compact bedrooms, next to the bed may be the only viable position for a desk. If you're really squeezed for space, you can ditch the bedside table and use the desk instead.
And of course, having the desk so close at hand makes it easy to slide into the chair and get working right away – perfect for those days when you're running late!
If there's a bit of space between the desk and your bed, you might be able to use a screen for privacy but for many bedrooms, this won't be possible. This makes it tricky to effectively separate your work and personal life, so you'll need to be disciplined about switching off.
Pros:
Creates space for a desk in a small bedroom
Can double up as a nightstand/bedside table
Conveniently close to start working
Cons:
Difficult to create a separate working zone
May feel a bit cramped, especially with the chair
Best for: small bedrooms where there are no other options
Opposite the Foot of Your Bed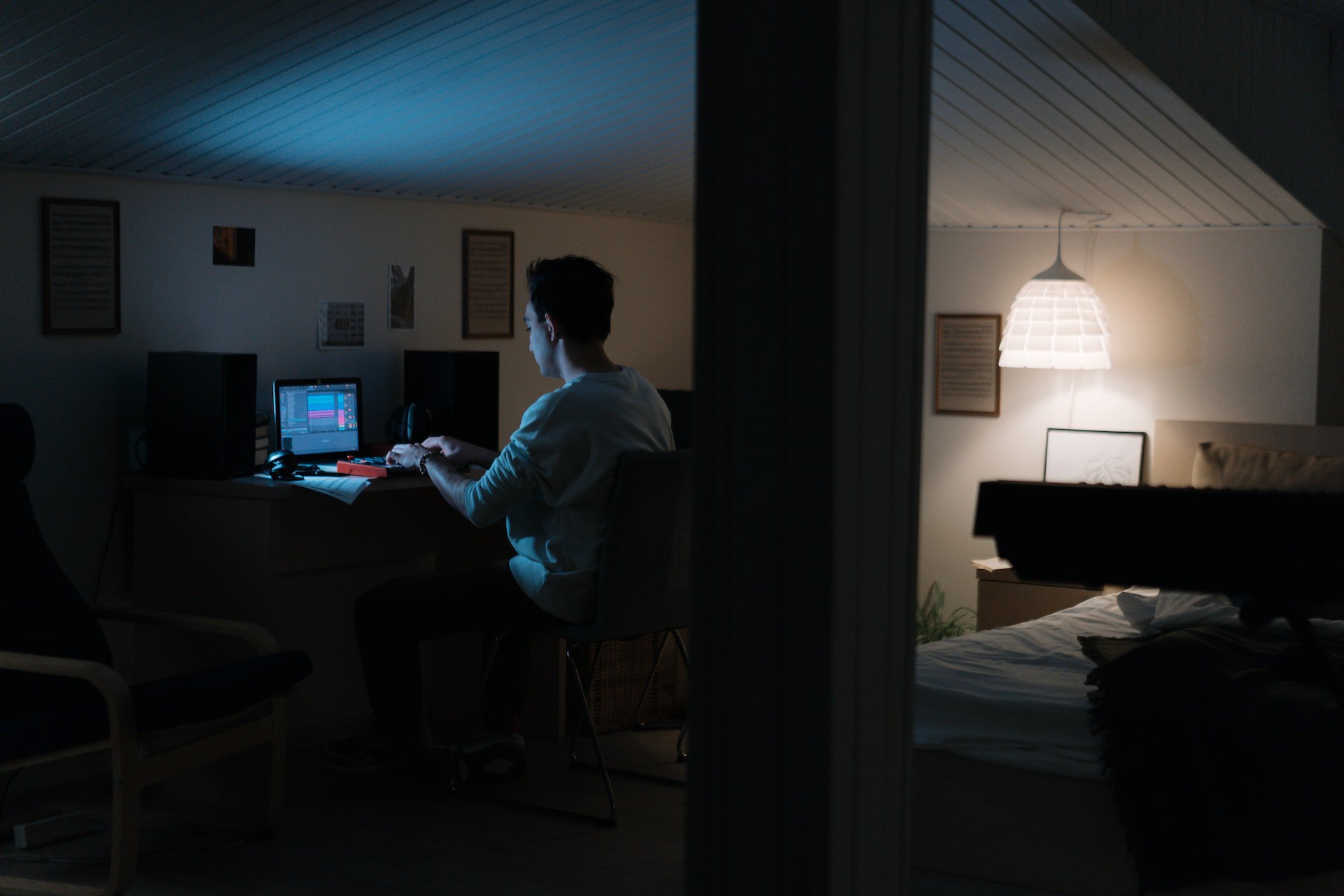 It's traditional to have a dressing table opposite the bed which makes it easy to switch out for a desk. Aesthetically a desk and a dressing table are very similar, so the flow of the furniture won't be disrupted.
A screen around the desk can provide you with some privacy, especially if you forget to blur your background on a Zoom call. This can also prevent you from becoming distracted and procrastinating during working hours.
It's not as easy to create a separate working zone if you place your desk opposite your bed because it's liable to be central to your room. Unless your bedroom is very large, you may not have an abundance of space between your bed and the wall, making a desk and chair a tight fit.
Pros:
Easy switch for a dressing table
Won't disrupt existing decor and layout
Can screen off the desk during working hours
Cons:
It's difficult to zone off the area opposite your bed
The layout may feel cramped once your office chair is in place
Best for: bedrooms where you want to switch a dressing table for a desk
Under the Window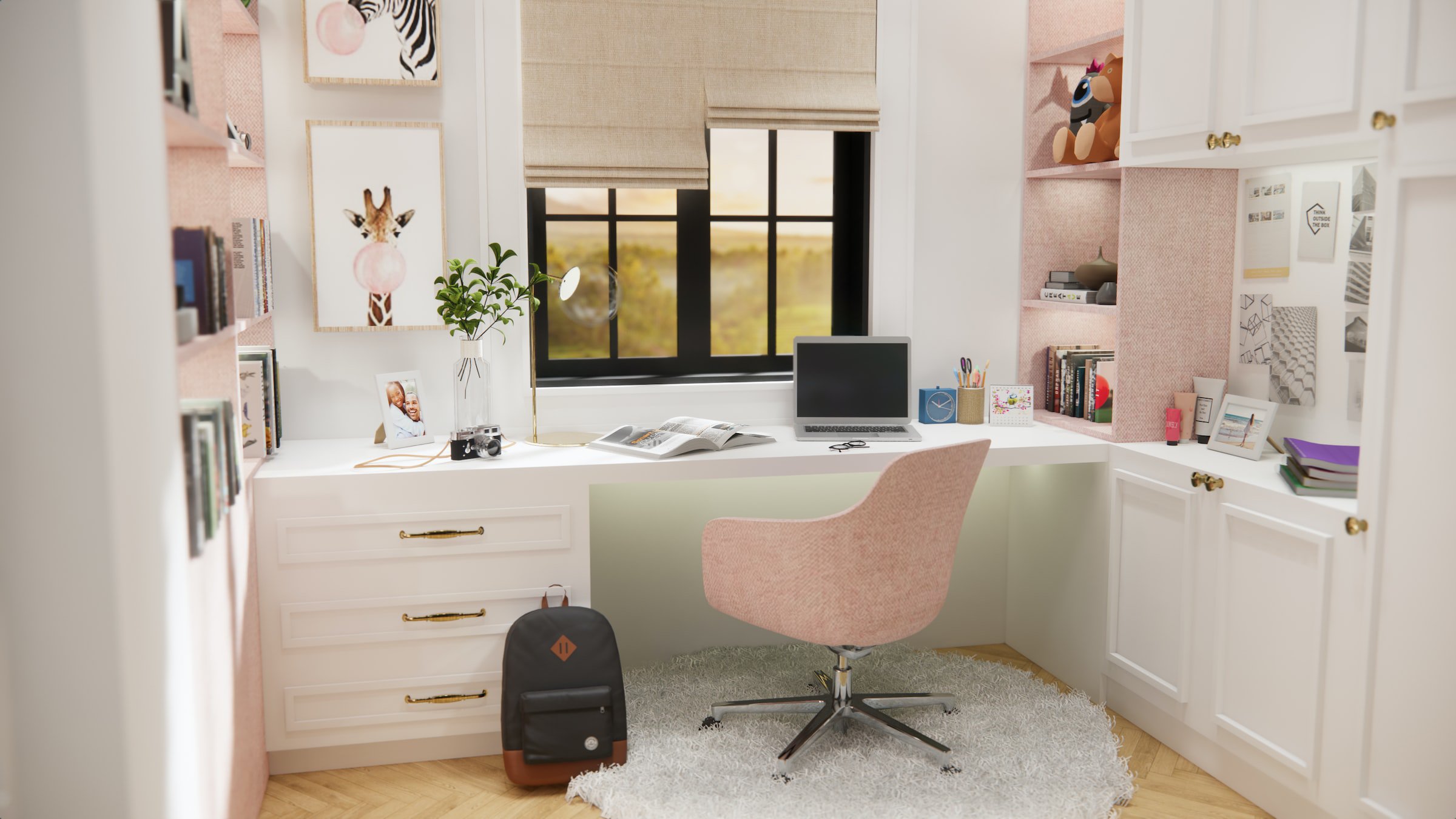 As we've already mentioned, a source of natural light is a big advantage. Placing your desk close to the window will boost your mental well-being, prevent eye strain and provide an interesting view while you work.
The window sill prevents tall items such as closets from being placed in front of windows so you won't need to get rid of any furniture. A desk will slot in perfectly beneath the window sill, making it look almost integrated.
The only real drawback of a window desk is if you're prone to becoming distracted. Being able to watch the world go by may mean you're not very productive!
Pros:
Provides a natural source of light
Prevents eye strain
Daylight boosts health and mental well-being
Offers an interesting view
A desk will fit in perfectly below a window sill
Cons:
Best for: providing a light and pleasant space to work
Along a Wall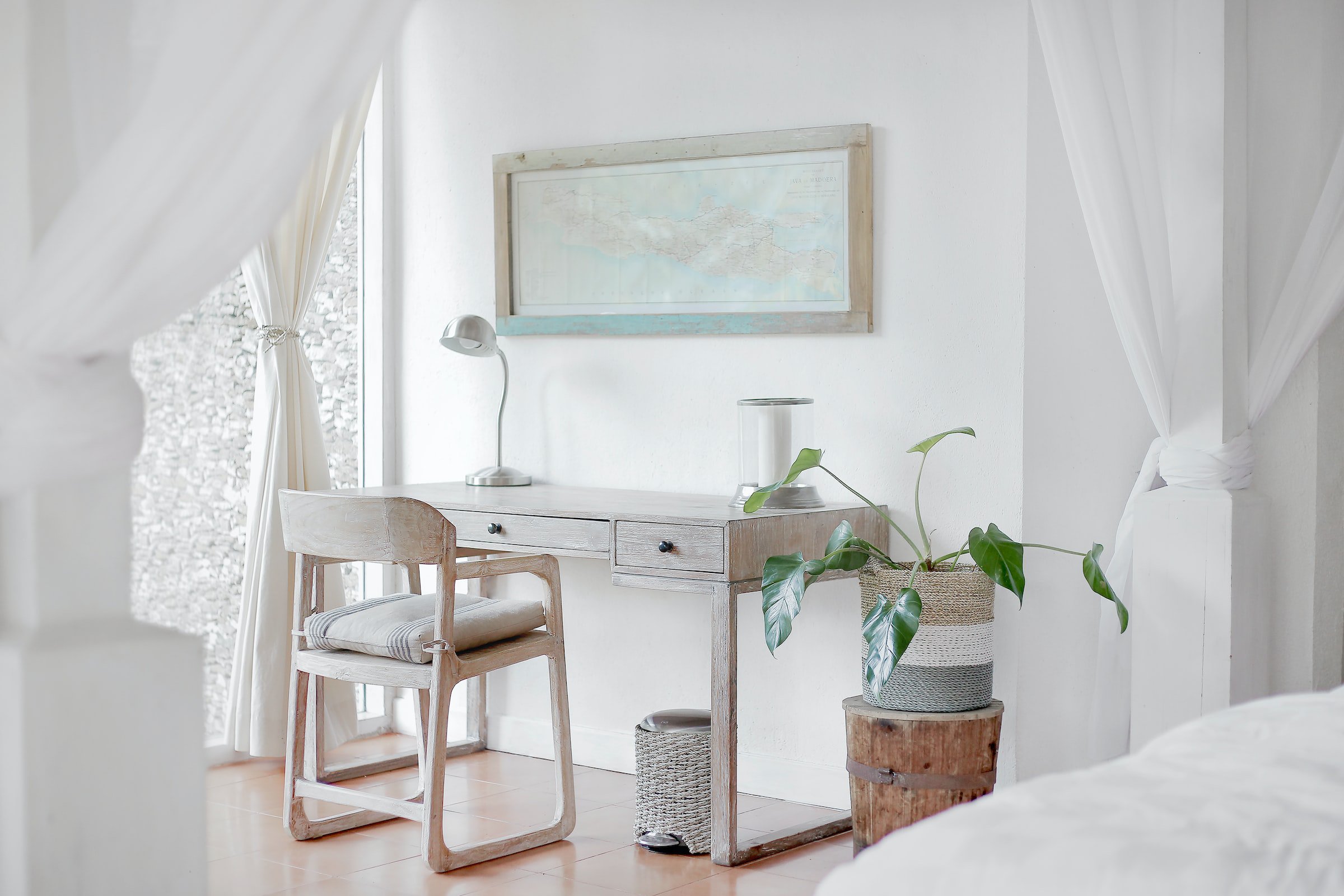 If you have spare wall space in your bedroom, you could opt to place your desk here. This won't be possible for everyone, as it generally requires a bigger bedroom.
For particularly large bedrooms, you could even position the desk perpendicular to the wall. This is ideal if you don't like staring at a wall while you work or having your back to the rest of the room.
This type of layout creates natural zoning without the need for screens, and effectively splits your bedroom into work and personal areas.
Pros:
Choice of position: flat against a wall or perpendicular
Can face the rest of the room rather than the wall
Effectively creates separate personal and work zones
Cons:
Difficult to accommodate in smaller bedrooms
Best for: larger bedrooms where space isn't an issue
Concealed Desks
Not everyone likes the look of a desk in their bedroom, especially if there's not enough space to create separate zones.
If this sounds like you, take a look at the range of concealed desks which are now available. These desks typically come as part of a closet or other type of storage unit.
When the doors are closed, the desk is invisible and your bedroom looks just like a bedroom. Open the doors and voila! A whole working set-up is revealed with a desk and shelving all ready and waiting.
The only dilemma with this type of concealed desk is the office chair. Some desks come with fold-up chairs that slot away but these may not be the most supportive or comfortable for sitting on for a whole working day.
Pros:
Can fit into any bedroom large enough for a closet
Desk is tucked away out of sight when not in use
Cons:
You'll need to purchase a new closet
The desk chair may not be comfy
Best for: keeping desks hidden from sight
Fold-Up Desks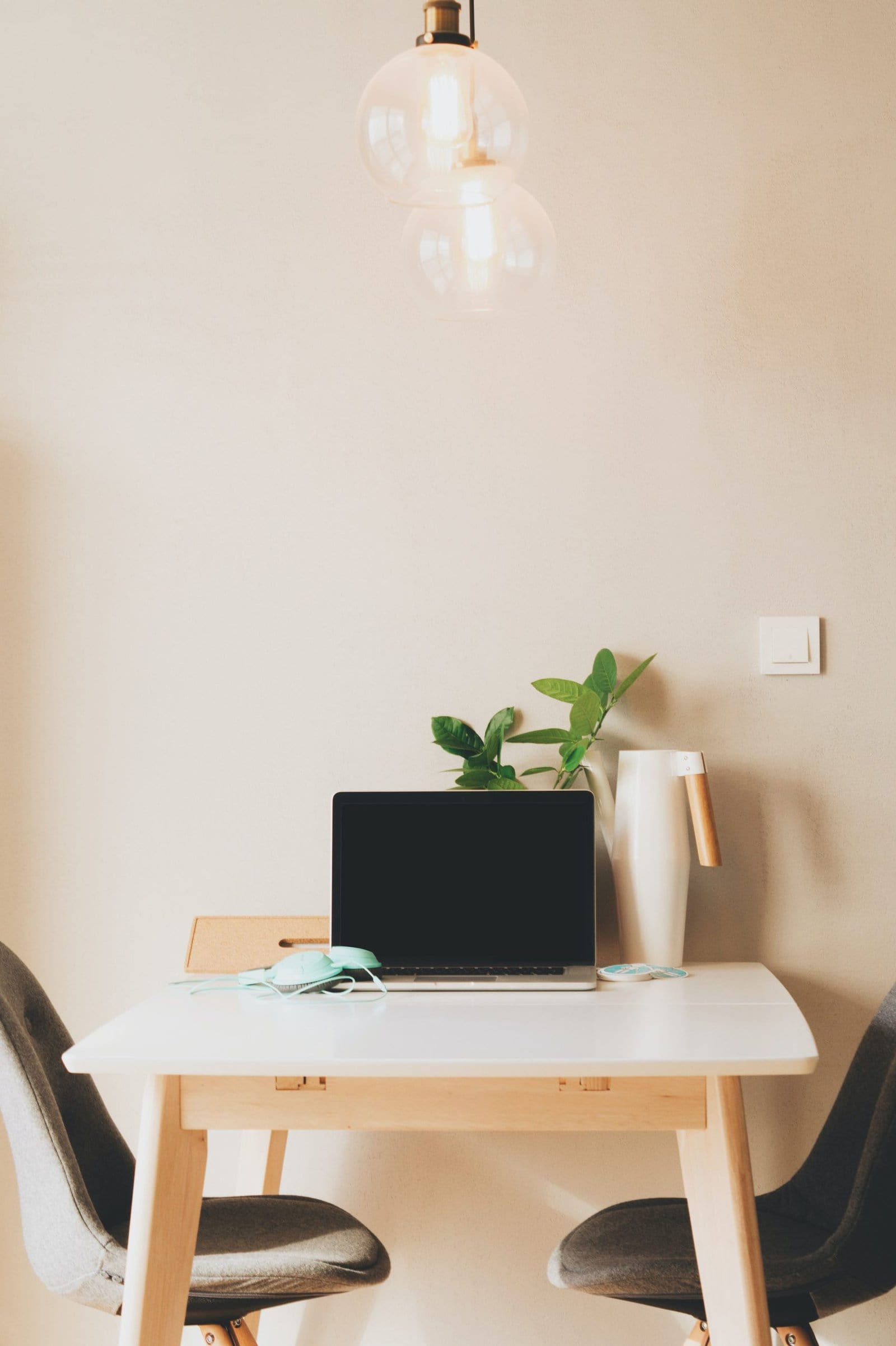 Having a desk in your bedroom requires floor space, not just for the desk but also for the chair. If there's enough space for the desk and chair while in use, but not enough space to walk around, that's a problem.
One solution is to opt for a fold-up desk. This folds flat against the wall when not in use, freeing up valuable floor space. When you want to use the desk, it just flips back down, creating an instant area for working.
This is an excellent alternative for smaller bedrooms that can't accommodate a full desk and chair without making the room feel cramped. The only drawback is that you can't leave the desk laid out, so you'll need to find somewhere else to store your laptop and supplies.
Pros:
Creates a spacious desk for use when needed
Frees up floor space when not in use
Can fit into smaller bedrooms
Cons:
The desk supplies can't be laid out permanently
Best for: bedrooms with adequate wall space but not enough floor space
Portable Desks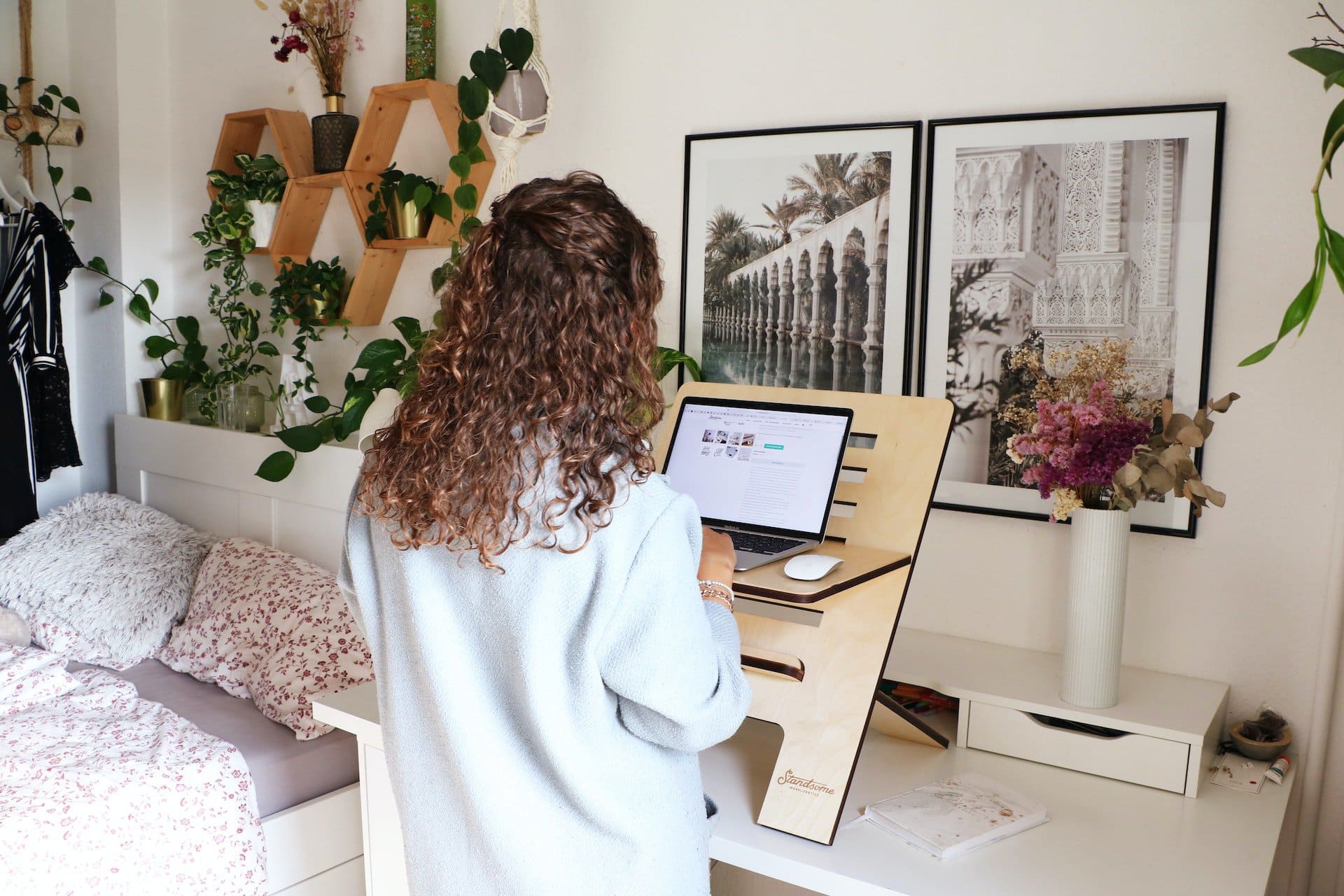 Not every bedroom has enough space to accommodate a desk. Whether it's because it's a smaller room or there's already a lot of furniture, sometimes a desk just isn't a feasible option.
Instead of opting for a permanent desk, why not use a portable desk? A type of fold-up desk that can be stored in another room and carried in, you can transform your bedroom into a working space and then back to a bedroom again as needed.
If you go portable, you could even explore the uber-modern option of a standing desk!
A portable desk provides the option of working in the bedroom as needed without dedicating a permanent space. However, carrying the desk or table in and out can be a nuisance, and the structure may not be as sturdy as other types of desks.
Pros:
Makes it possible to set up a desk even in the smallest bedrooms
No need to dedicate a permanent space
Cons:
You will need to carry the desk in and out each time
May be flimsier than other desks
Best for: small bedrooms where there's no room for a permanent desk
A Desk for Every Bedroom
Having a desk in the bedroom provides a practical space to work or carry out life admin but it's important to find the right spot. At first glance it may not seem possible to fit a desk in, especially if you have a smaller bedroom, or you may be worried about ruining your bedroom decor.
Hopefully, this guide has shown that there are lots of different ways to position a desk in a bedroom, and that there are solutions for every style and size. Next comes the fun part – shopping for a new desk!