Woodland Nursery Ideas: From Cozy to Adventurous
Welcoming a baby to your family is such a special time. It's exciting, but it can seem daunting getting your nursery ready. With a little help, you may find some decorating inspiration.
You might not know where to begin with your nursery decor so how about a woodland nursery theme? Hugely versatile with hundreds of adorable options, this is a look that works well in neutral tones if you don't want to go for traditional blue and pink gender colors.
The decor and accessories can also carry through to kindergarten and beyond. It's perfect if baby's parents are known to like outdoor activities, camping trips and forest walks. In fact, some of these ideas are so cute you'll be wanting to use them in your own grown-up bedroom!
Woodland Wall Decorating
Friendly Forest Wallpaper
If you have a neutral or white crib and nursery furniture, then there are many kinds of neutral woodland wallpaper designs that will blend in perfectly.
From cute woodland animals to pretty toadstools, there are great choices for a baby's or child's bedroom. You can either decorate the whole room in wallpaper or opt for a feature wall which will be a little cheaper. Then pick a paint color for the other walls from a shade in the paper.
Wallpaper Trees
For a forest background, you can select a gorgeous tree design wallpaper. This is great for a feeling of being in the thick of the forest. It can be a neutral backdrop to your furniture and accessories.
If you select a realistic kind of design on the wallpaper then it's possible to continue to use this background throughout childhood, revamped with new age-appropriate art and accessories.
If you repurpose the room once baby has moved to a bigger bedroom, then a forest wallpaper could work perfectly as the foundation decor for a home office or crafting room.
Bearly There Decoration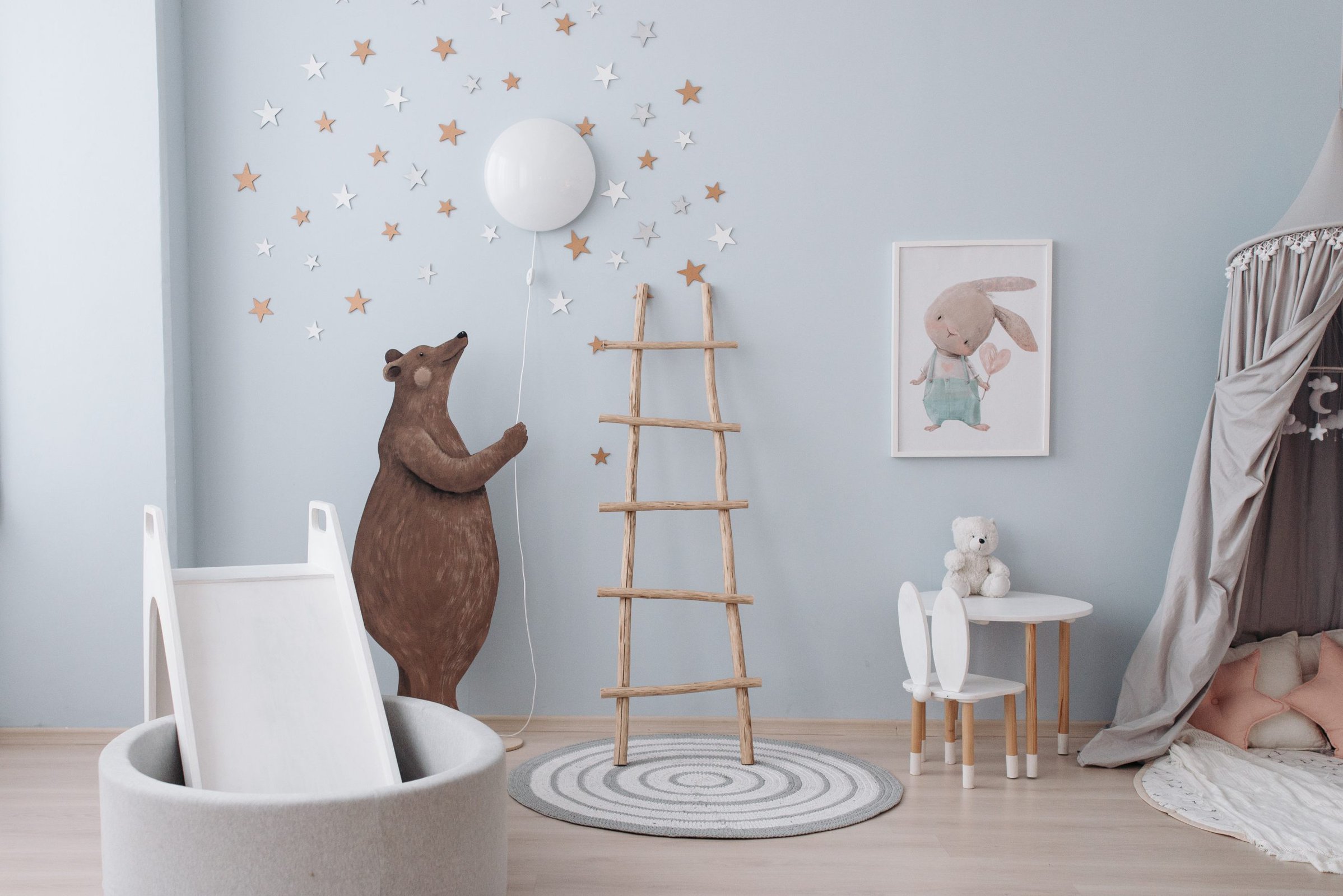 Using stickers or cutouts of lifesize, friendly woodland characters on the wall will give impact and be sure to delight a little one. Using the images to contain a light or a picture is a creative way of incorporating your accessories into the theme.
A simple, well-sanded light wood ladder propped up against the wall adds texture and a rustic feature to your nursery.
Fun Forest Stickers
You can create your own woodland scenery with forest decals or stickers. Some decals are easy to remove so you can reposition as you like, or remove them when your child gets older.
Placed on the wall around the crib, they'll give your baby something fun and detailed to focus on and you can add as many as you like.
Shelving Inspiration
When it comes to nursery shelving ideas the array is almost overwhelming as there are so many clever solutions.
Pegboard Ideas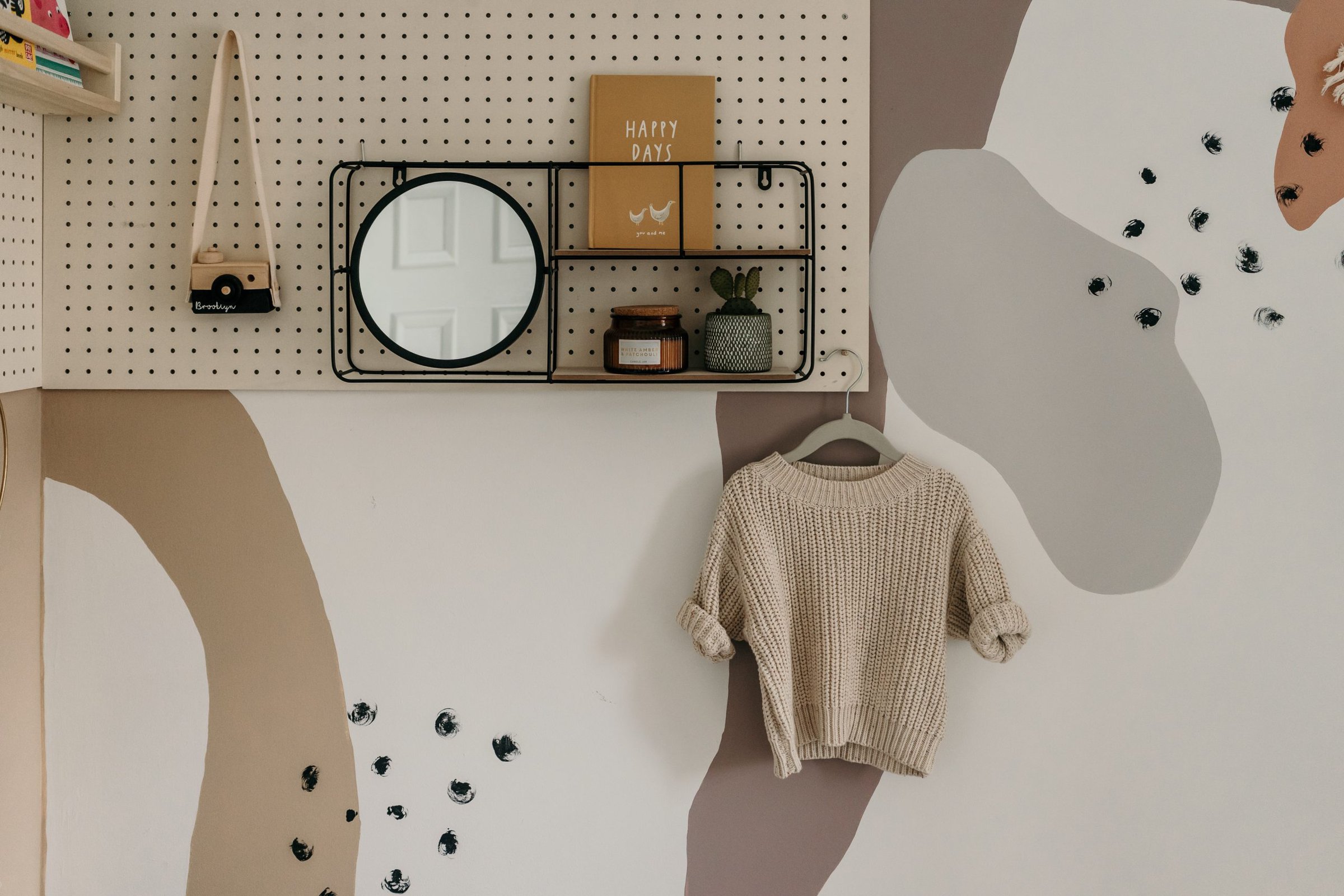 You have a pegboard in your garage, surely not your nursery? In fact, pegboard is a brilliant way of hanging and storing things and is so handy in children's bedrooms. You can paint it in a color to match the room and add pegs to hang little outfits or to fix a garland or decoration.
But you can also use the pegs to fix a metal shelf with a mirror and handy storage. You can easily move the shelf so as the child gets bigger, you can take things out of reach. Or lower it if you want them to access books and toys.
How's about incorporating your decal and some shelves? You can fix a tree decal to the wall and then find shelves in matching wood tones and add them to the branches of the sticker.
This is the ultimate wow! And for as little as $40 or $50 dollars you'll have a designer look in no time in your nursery.
Another fun makeover is to use existing shelves, then at either end of the shelf, add a section of real tree branch. This is a lovely designer decor feature.
Birch has a beautiful silvery color so makes a good choice and you can easily fix your decoration with a strong specialized adhesive.
Woodland Nursery Storage Solutions
Arty Storage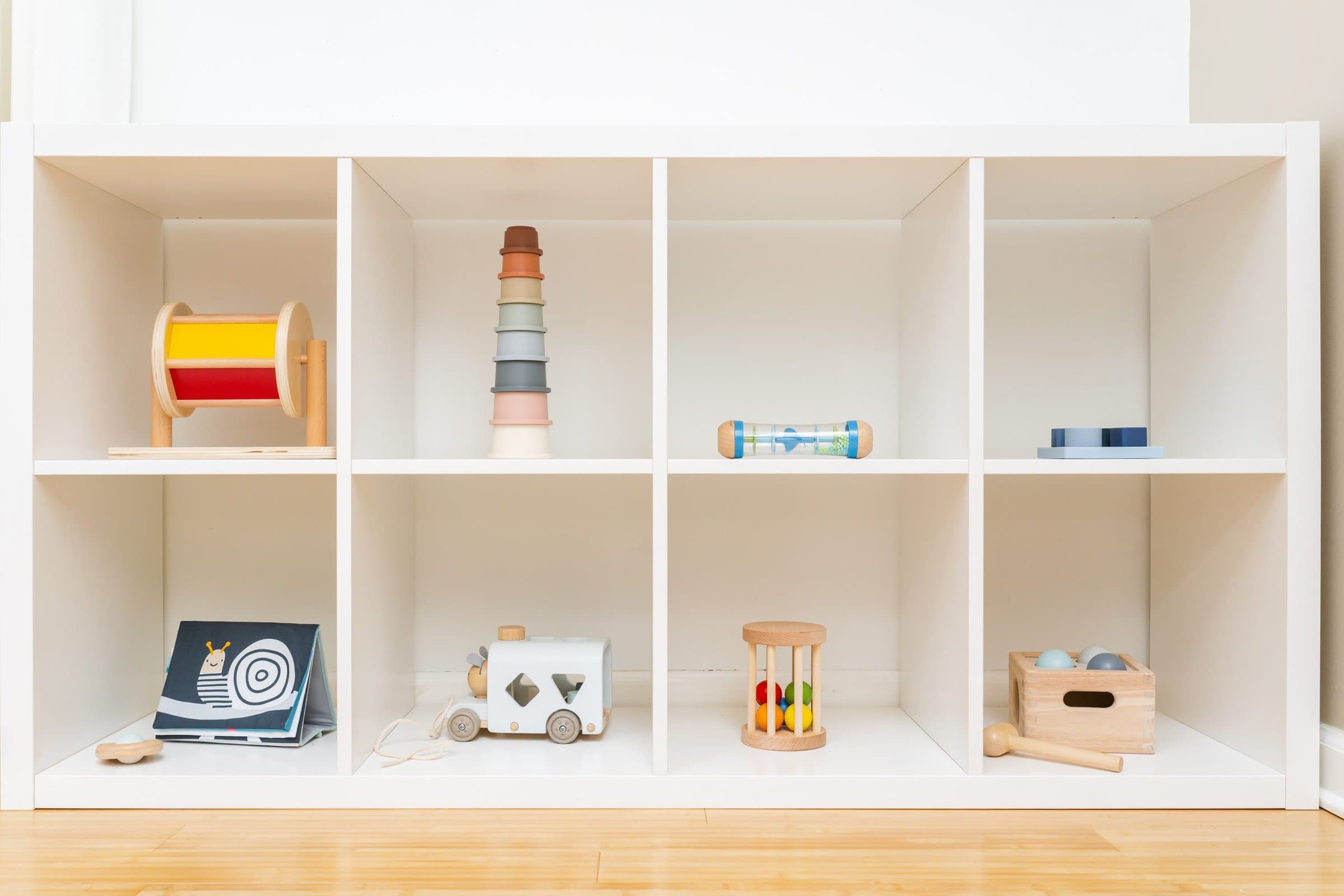 To make a piece of art for your wall that is also storage, fix a storage unit to the wall. White or a plain color will work best as a background.
Then for impact, think about the placing of the objects. Putting a woodland toy in each cube, perhaps a plush fox or furry bear, will give each item impact. It'll also add color to the nursery through the toys and books, and tie in the theme to the room.
Crochet Animal Baskets
Continuing the idea of the cube style storage, you can add crochet or knitted storage baskets in the shape of your favorite woodland animals. You can even make your own.
Such a novel idea that doubles up practically. In other parts of your storage unit, you can add other woodland themed toys and ornaments.
Accessories
Teepee Den
For a feel of outdoor adventure, it's easy to make a teepee from wooden rods and some cotton fabric. Or perhaps you could set up a small indoor pop-up tent.
When baby gets older they'll love having a den to go and read or play. And it looks wonderful in the room with some rustic signpost decor.
Birdhouse Light
An ingenious lighting idea is to take a birdhouse and add a light inside. Either buy a wooden birdhouse in the color you want or you could make your own. Then fix it to the wall.
Placing it on one of the tree branches on your decal or wallpaper would work well. Then you can add an electric light or fit a battery light inside. An easy but imaginative way to add light in your nursery.
Birds on Perch Decoration
For a simple but incredibly striking accessory, you can make a rustic bird perch. By tying together sticks with string, you can then attach model birds and hang the perch from the ceiling.
You might buy pre-made feathered birds, or perhaps you're a dab hand at felting, crochet or knitting to come up with your own characters for your baby's perch mobile.
Woodland Mobile
Mobiles have been entertaining and soothing small children for decades. There are a range of different materials and styles to find in a woodland theme.
To make your own woodland nursery mobile, you can either buy a kit. Or you can use felt fabric to stitch the animals and trees which will then hang from the mobile hoop.
Rugs for Baby's Woodland Nursery
Forest Canopy Rug
For a rug that has the look of a bird's eye view of a forest, lots of green pom poms can be sewn closely together onto strong hessian or carpet backing.
This rug is soft and textured. It's also witty, a truly creative idea. If you are making your own rug, make sure all pom poms are secure and stitched on very firmly.
It won't be long before baby starts to explore. Things they can reach may make their way into small mouths.
Lumberjack Check
A rustic rug in a soft plaid or checkered rug is perfect as an accessory for the woodland aesthetic. For a rug that's warm underfoot plus is stylish in any room, a checkered effect is a good outdoor style.
Bringing to mind forest picnics or camping trips, this rug will last through to teenage years and beyond. It can also be used in other rooms in your home.
Bearskin Rug
You don't want a horrifyingly real bear rug for a child's bedroom of course. But there are many toy animal rugs available that have the style of a traditional animal skin rug and may raise a smile, especially for the adults.
You might choose a bear or a fox, perhaps a wolf. Whatever you decide, a cuddly toy as a rug is an amusing addition to your woodland nursery theme.
In Summary
The beauty of a woodland theme nursery is in its flexibility and design longevity. There are a myriad of toys, wallpapers and furniture available in cute woodland designs. It's also pretty easy to make some of your own decorations or accessories.
Suited to neutral tones, color can be brought in through accents and accessories. The woodland theme can continue as a natural room backdrop into childhood and even teens.
It also works for a home office or hobby space if you want to repurpose a nursery as baby gets older and moves to a bigger bedroom. So check out the amazing array of options this nursery theme gives you.