Decorated Life is reader-supported. When you buy through links on our site, we may earn an affiliate commission. Learn More
23 Ideas for a Great Backyard Entertainment Space
Your home's backyard shouldn't be wasted. Instead, think of it as a whole extension of your home where you can go to spend time with loved ones outdoors.
Whether you want a space for barbecuing or dining in the summer, or a comfortable lounge and firepit, the sky is really the limit. If you're planning to develop an outdoor entertainment space or sprucing up the one you have, then look no further than these 23 inspiring entertainment backyards ideas.
Make It Comfy With a Hammock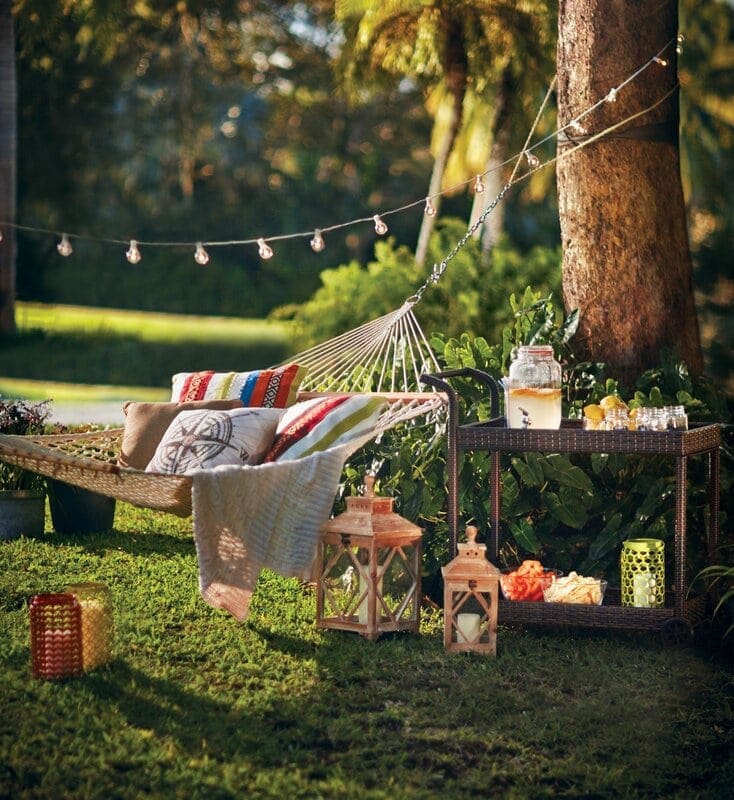 If you love lounging, then you'll love the idea of a hammock. These beautiful, comfortable, fascinating lounging spots add a one-of-a-kind look to your backyard. Find one that's uber comfortable and works with the trees you have.
Or, if you don't have large enough trees, find a hammock stand (or DIY one!) and set up your comfy yard with blankets, lanterns, tables, and other touches that keep your space inviting and comfortable.
Create Your Own Yard Games Space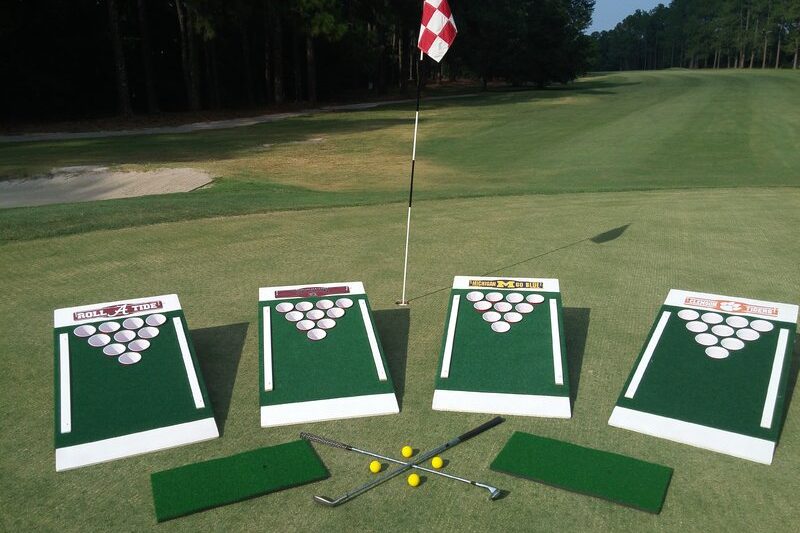 Whether you have kids or not, bocce ball, cornhole games, and other yard games are a great way to create a backyard recreation area. Seriously, why do we have to focus on kids?
Singles and couples without kids can get a kick out of these backyard fun for adults options as well. And if you do have kids, bonus – they'll grow into loving these same amazing games, too.
Your backyard space doesn't need to be completely serious or mature. Instead, lighten things up with some activities. If you have the space and desire to build something more permanent, you can even create a bocce ball court with the help of HGTV's guide.
Turn Your Privacy Fence Into a Wall Garden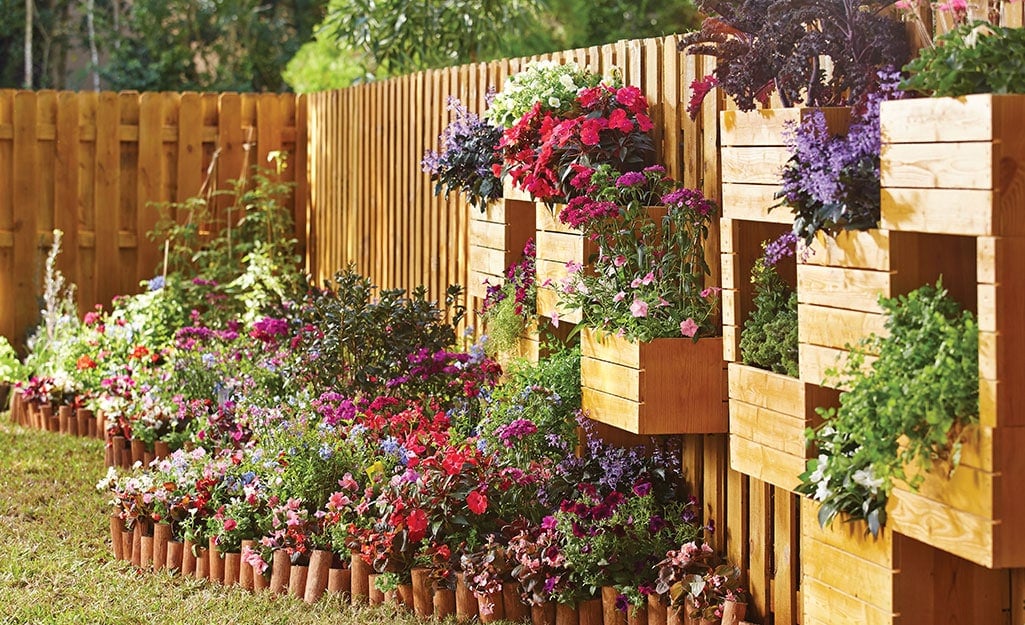 If you're in love with the idea of a full out outdoor entertaining area but want to keep things private, we highly recommend getting a beautiful, privacy fence installed.
Even better, go "wild" with a fence like this one in which you can plant flowers, vegetables, or anything else you love to look at.
Not only does the fence provide you the privacy you crave, but it becomes a talking point and spot you love to gaze upon while you chat and drink cocoa by the firepit. Just be sure to use plants that you'll be able to enjoy year round, or change them out regularly to keep things fresh.
Create a Space Just For Chatting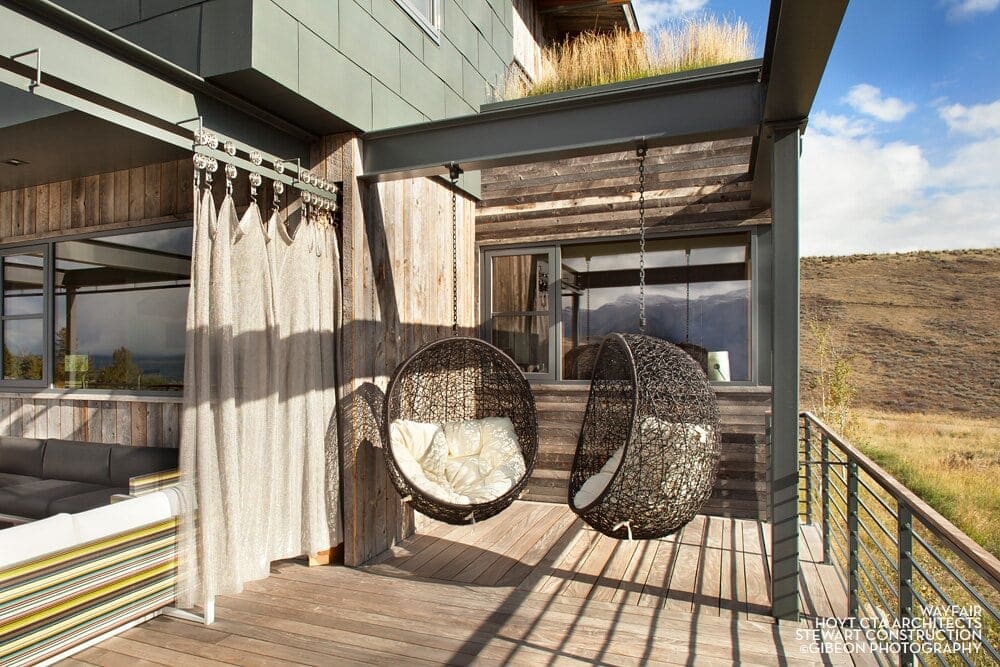 If you're not feeling like an elaborate space is what you need, you can take a page out of this family's book and create a cozy, intimate little space just for chatting.
Hang a few swinging chairs or tuck in a small, cozy couch, and voila – a small, simple, and inviting spot just for you is ready to enjoy in no time.
Create Your Own Art Studio and Gallery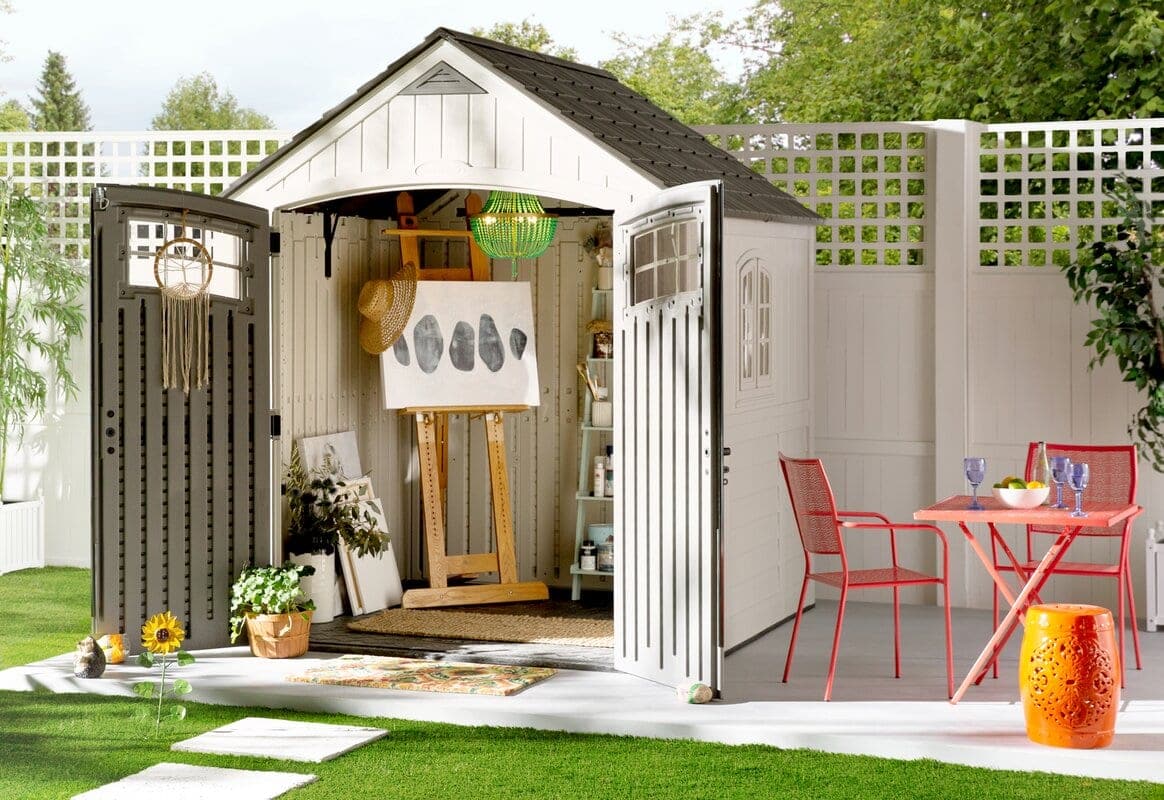 For the artistic soul, this little space is the perfect place to "run free" in your backyard. You can easily convert a shed like this one into your art studio and then line the walls with display mounts to host your own gallery showings whenever you feel like it.
Don't forget to include some comfy furniture, though, and make the space your true home-at-home place where you can relax, create, and enjoy a glass of wine when the mood strikes.
Keep Things Simple With Firepit and Couch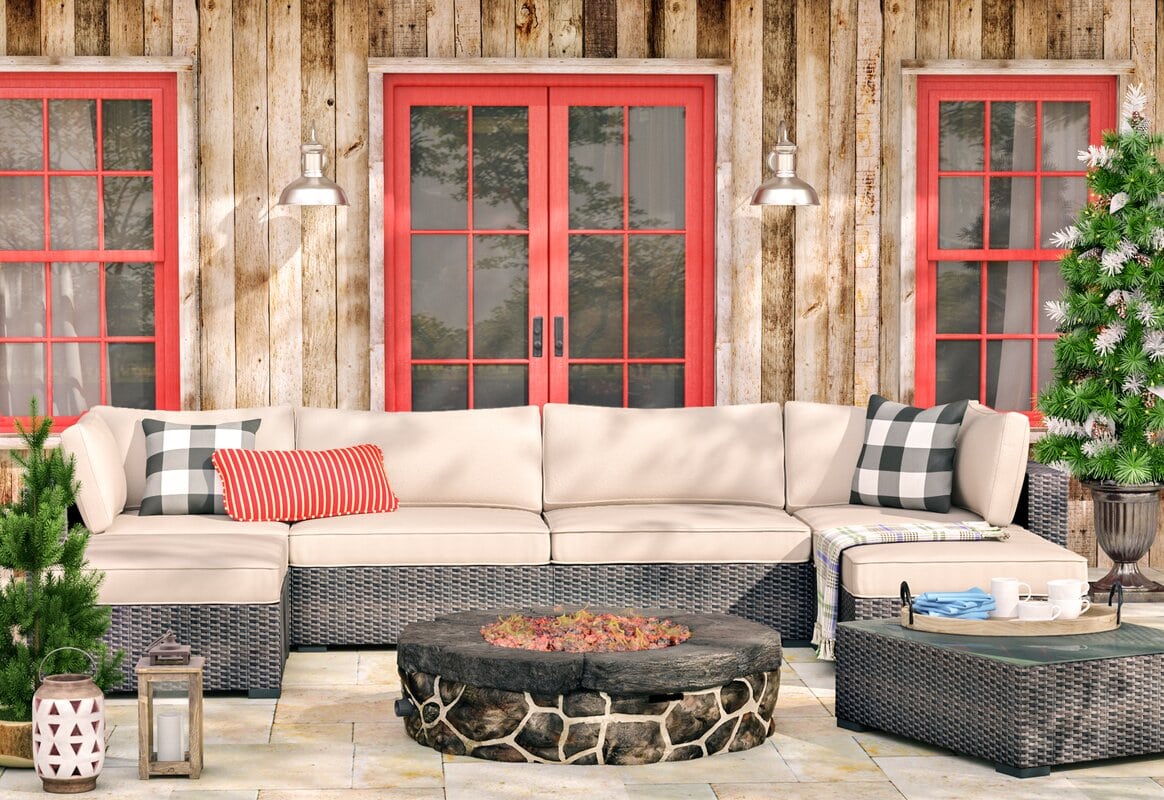 Your backyard entertainment design doesn't have to be complicated or massive. If all you're really looking for is a firepit for evenings and a couch to curl up on, then don't bend over backwards and blow through your budget to get other things you don't need.
At the end of the day, it's a space for you and your family, so choose what makes sense. As you can see, this simple combination is perfect as it is.
Build a Charming Mixed Materials Kitchen Space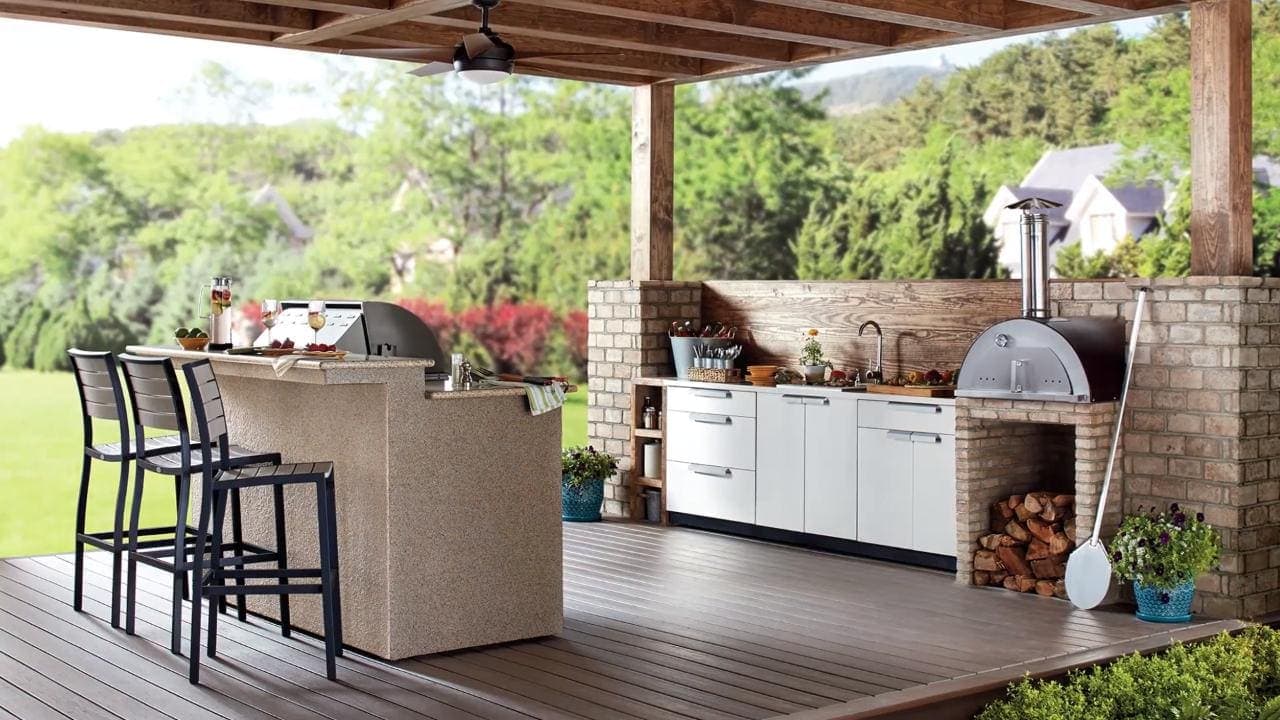 If you love the idea of an outdoor kitchen but aren't too keen on the super rustic look, you can go more modern with this mixed materials style kitchen instead. With multiple textures, clean lines, new brick, and beautiful wood, you've got a modern and classily unique look just for you.
You can add a simple bar dining space like this or add a full table and chairs, too, or anything else you want. And as for cooking, you can do as the folks here did with a smoker and a grill or you can add a pizza oven, outdoor stove, refrigerator, or just about anything else your heart desires.
Create a Casual Living Room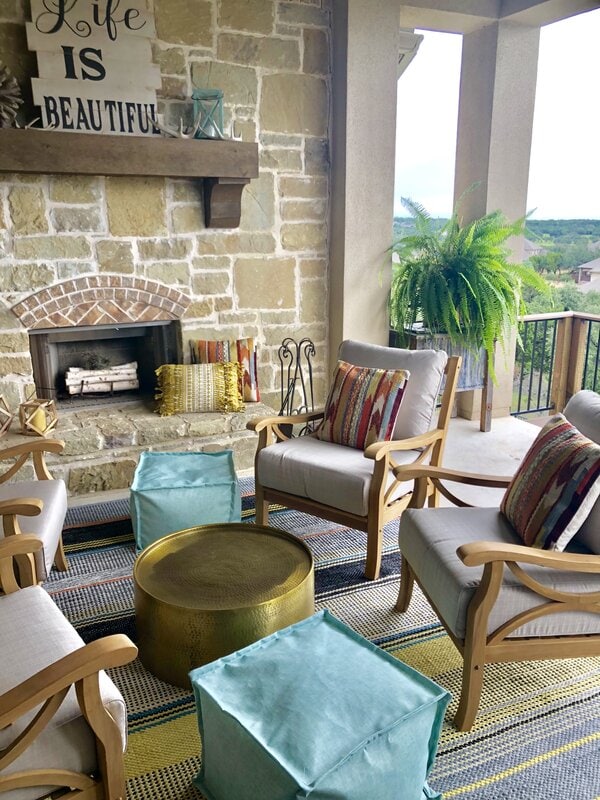 For those who love a casual, comfy living room, but want something outdoors, you can do that.
You can build a fireplace off the house, add a wooden awning for weather-protection, and fill the space with cozy, weather-safe furniture like these chairs and funky tables and ottomans.
And depending on your style, you can decorate just about anyway you want, with rustic looks, eclectic touches like this one, or even something a bit more elegant like you might find at an old Southern home. Let your imagination run wild! Have fun! This is your dream space.
Make an Intimate Outdoor Living Room With Some Curtains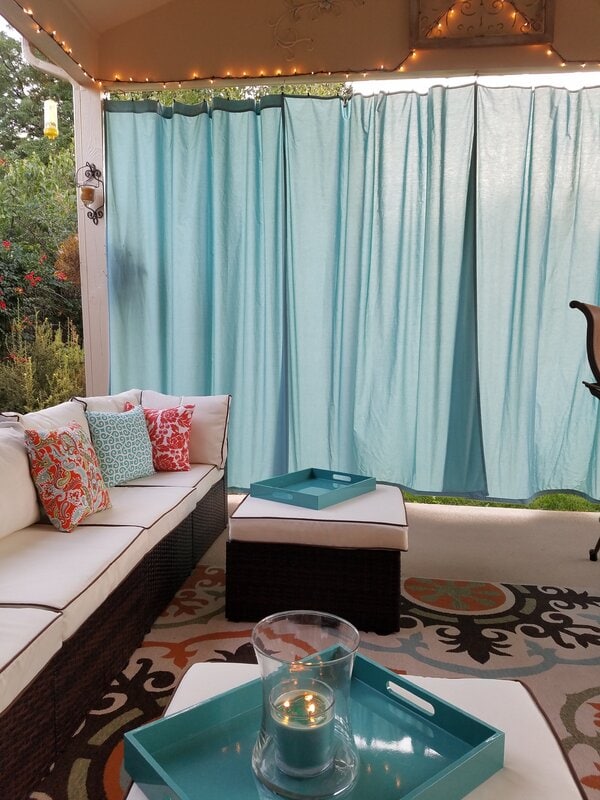 If you love the idea of an outdoor living room but don't have the right kind of structure (or permission) to build a wall surrounding your space for privacy, you can use a wooden frame to create an intimate, beautiful outdoor living space all the same.
Find some weatherproof fabric and hang the curtains on the wooden frame. Then, add your cozy outdoor furniture, beautiful lanterns, or anything else you want to make you feel at home, cozy, and relaxed.
Hang a Sheet for Outdoor Movie Nights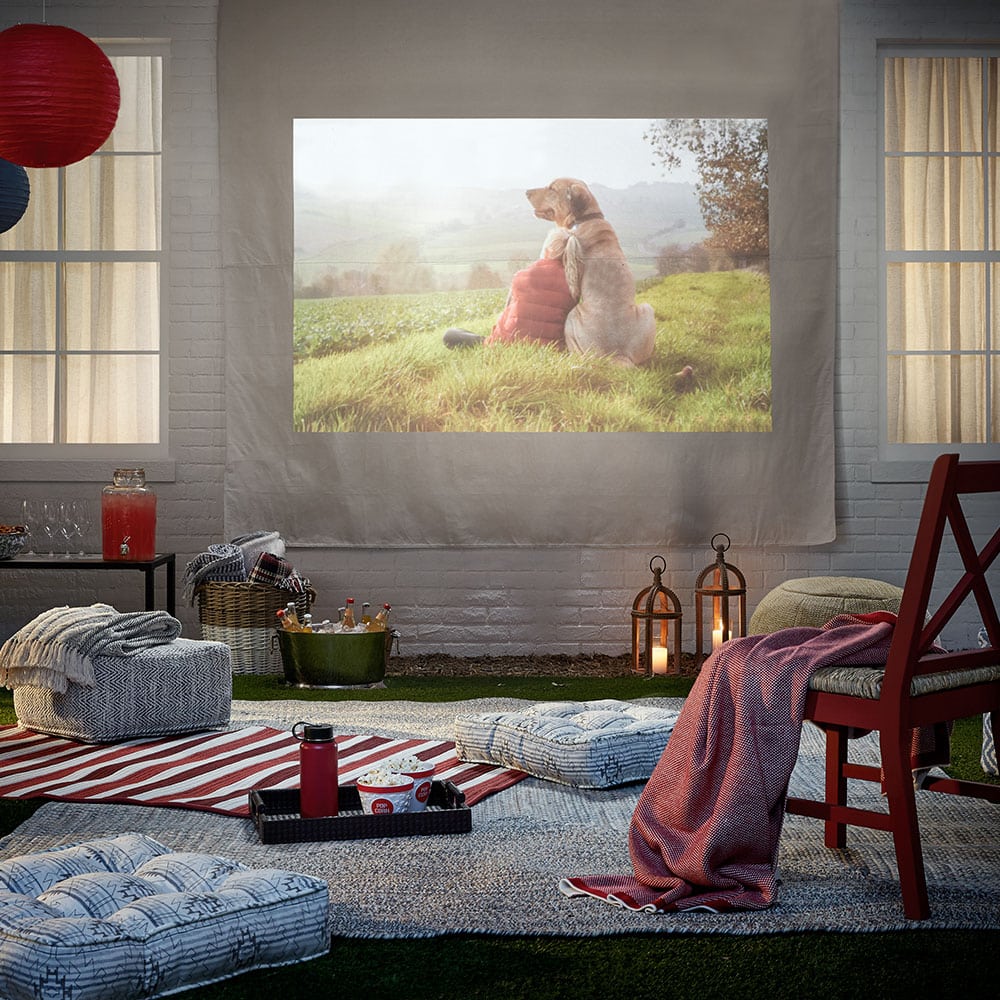 Have you ever been to an outdoor movie? It's a great experience, one for kids and adults alike. You can turn it into an evening picnic by bringing out a lot of blankets, and drinks and snacks, or or toss in some folding chairs if you're not feeling that picnic blanket vibe.
Maybe you can even start hosting a regular movie night in the neighborhood, which is a great way to spend time with your community! Toss that sheet up on a wall, build a simple frame out of branches or 2x4s, and voila, the perfect entertainment spot.
Channel a Resort Experience With Poolside Bar
If you know you'll be spending a lot of time outdoors, then it makes sense you would want to go all out with your backyard entertainment design. This photo is the perfect example of that idea.
A full size inground pool rests next to this casual, comfy bar with stools where you – and your guests – can relax with that tropical paradise vibe. Add a TV into the mix or some couches and cozy cushions, and you're got that resort feel with just a few steps.
Add A Television Set and Snack Bar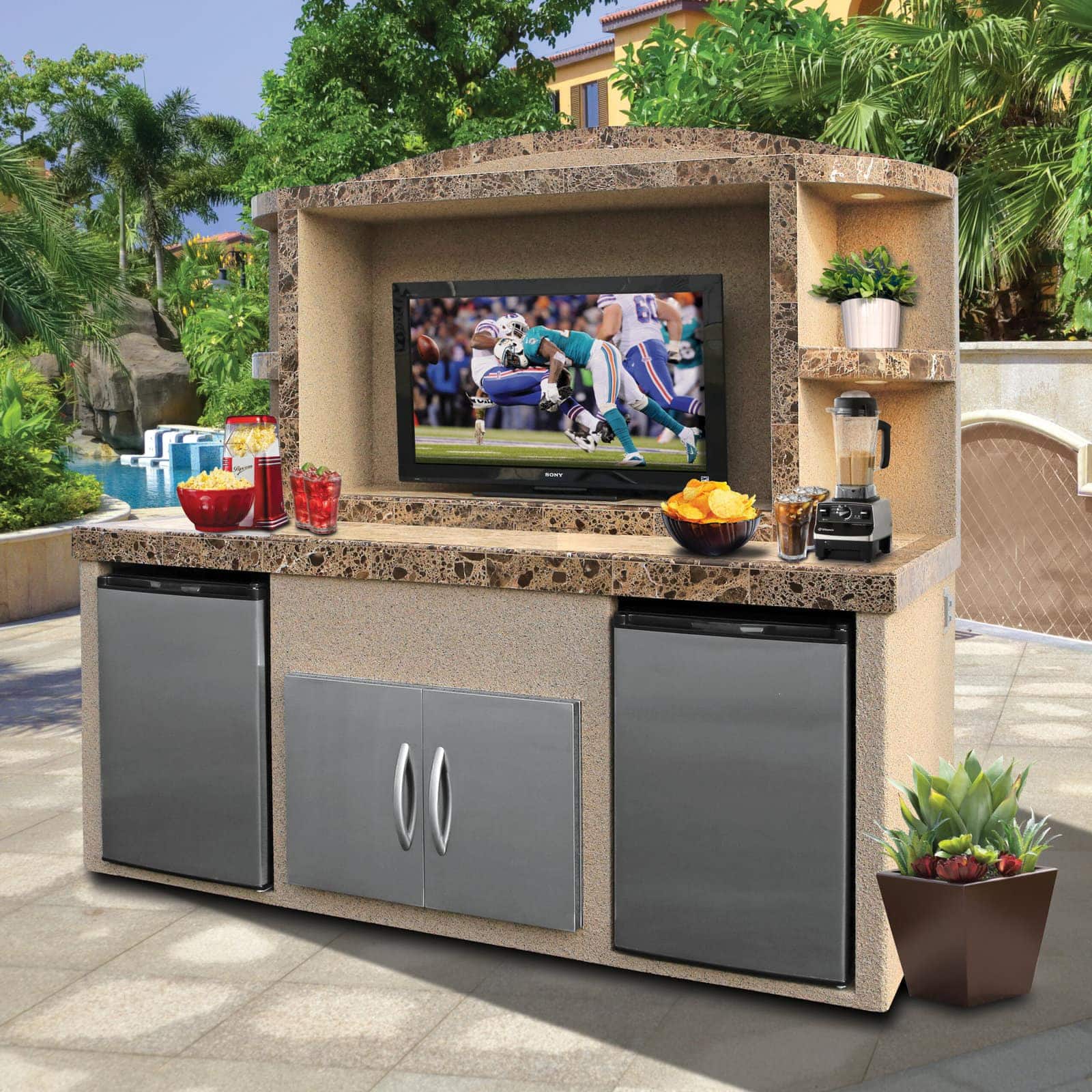 This outdoor entertainment space focuses more on the lounging and television entertainment than cooking and dining. For those kinds of spaces, you'll want to make sure your electronics are protected from the elements, so focus on the roof and placement of your furniture – or get a mobile unit like this one that lets you move the party.
In the end, it's a space that you could spend all day lounging in by yourself or with loved ones, with a nice fresh breeze blowing through.
Get Quirky With A Lit Up Plant Wall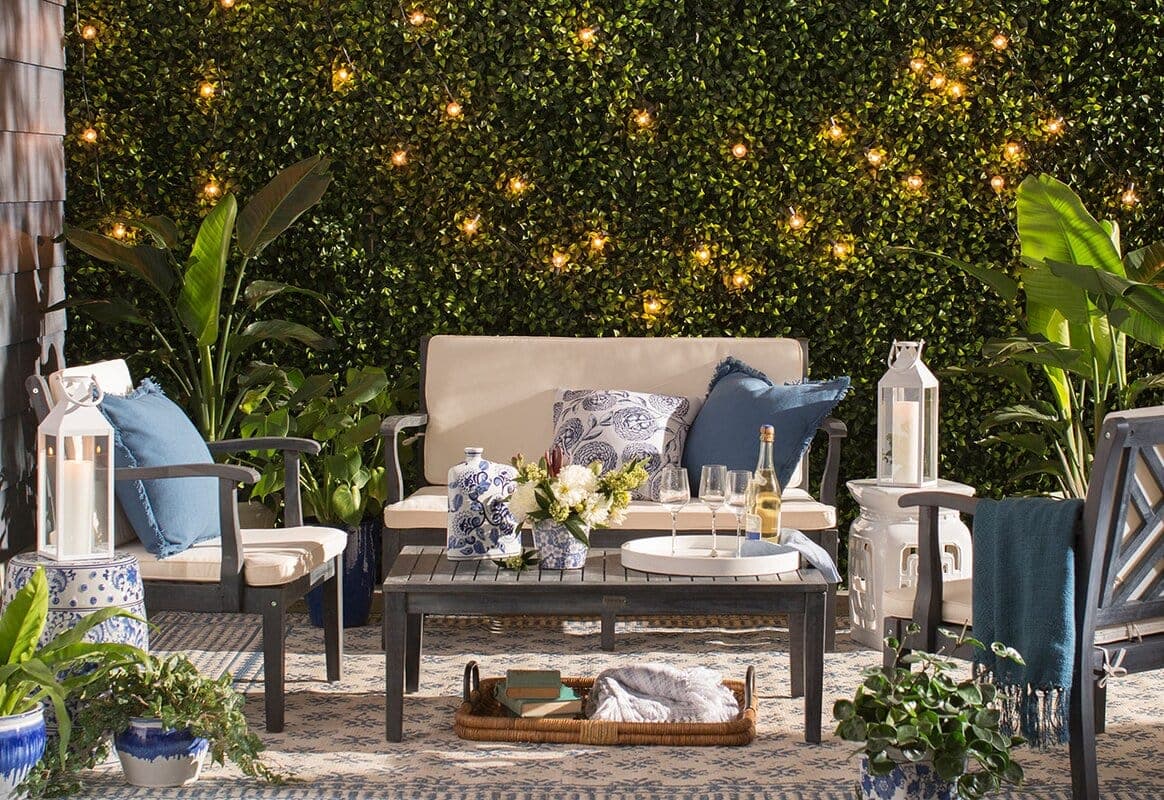 There are a ton of backyard entertainment ideas that involve plants, but this amazing wall made of bushes, laced with twinkling lights is one of our absolute favorites. The beautiful lights catch the eye while the plants give a privacy wall.
Or, if you're into dividing spaces, you can install a few plant walls like these and separate out different "rooms" in your yard with spaces for relaxing, playing games, or just about anything else you could want.
Put Up a Basketball Hoop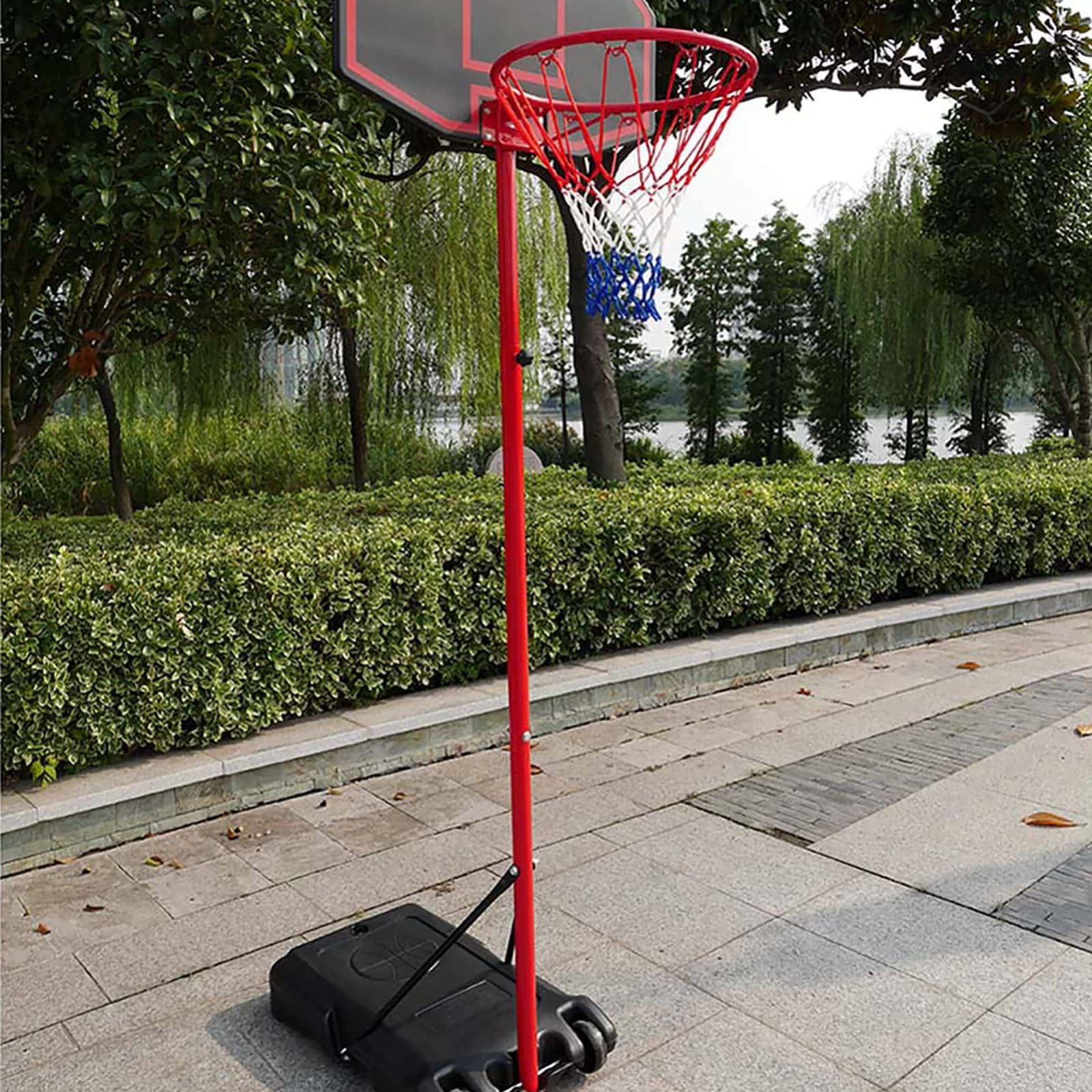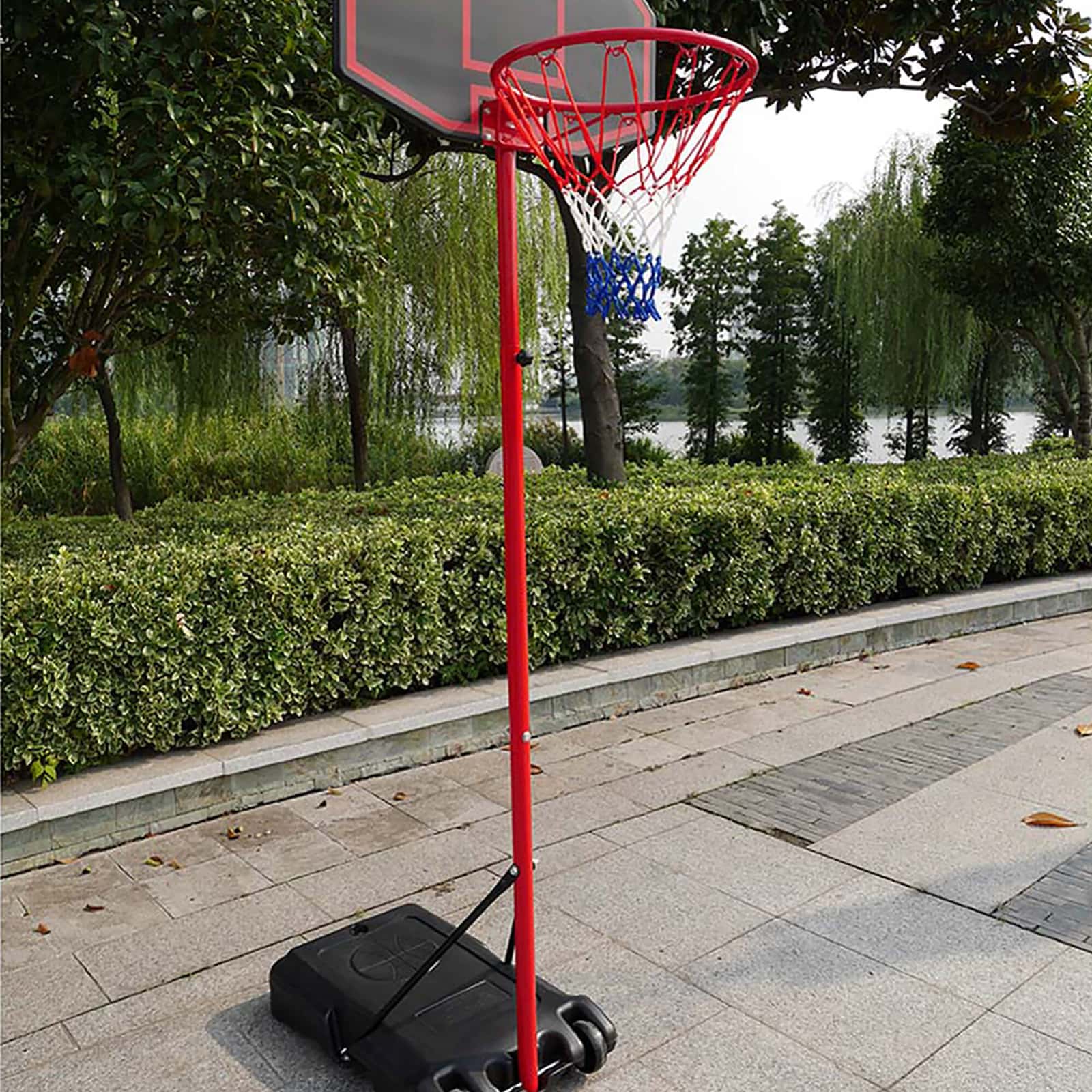 Even if you don't have kids, there are some amazing fun backyard ideas, like adding some sports spots to your space. They're a great way to spend time outdoors and relieve stress after a long day at work.
It doesn't need to be a basketball hoop either, although that's an easy thing to add to a yard. You can also put a hockey net, soccer net, or even a volleyball court if you have the space. Now all you need is an opponent.
Install a Firepit and Adirondack Chairs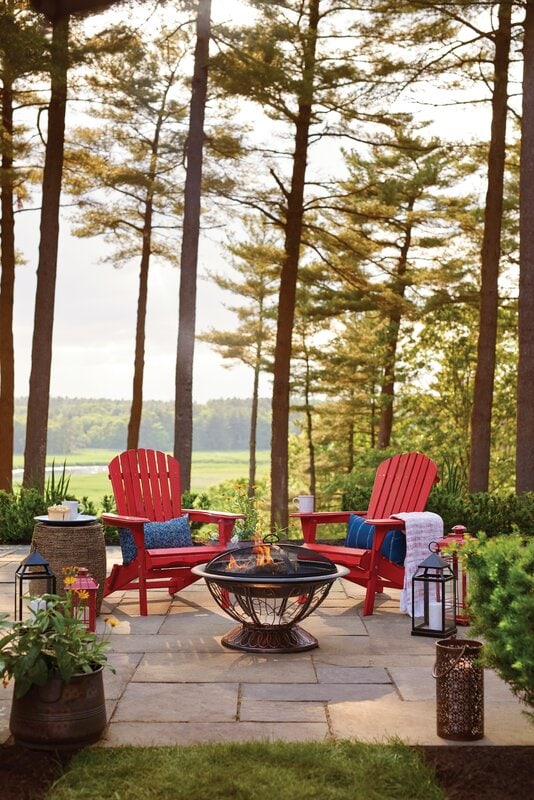 When I think of cool backyard stuff and fire pits, I usually think of something more low key, like a campfire built in a ring of stones in my backyard. However, this type of fire pit works really well and it's easy to manage it and keep it contained.
The Adirondack chairs placed carefully nearby are a nice touch for late night get togethers and relaxing around a fire. It's time to pull out the marshmallows now.
Hang Some Cute Criss-Cross Lanterns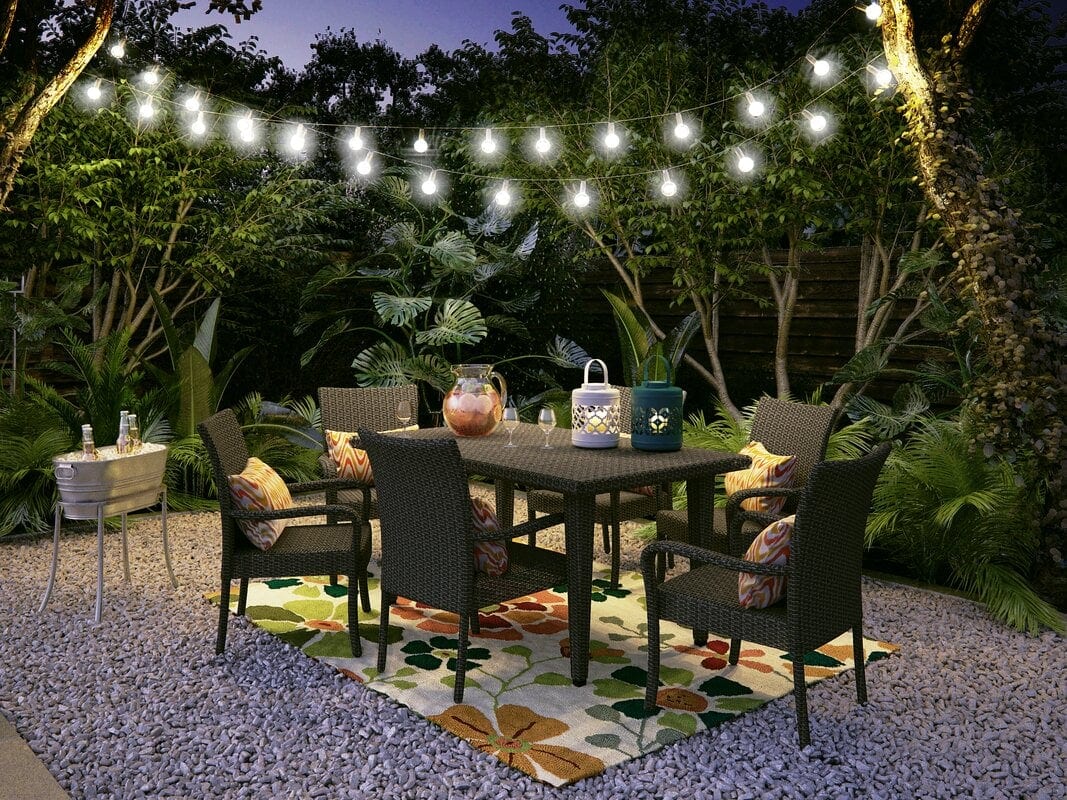 Lanterns add a lot of intimacy and charm to a backyard space. This works really well for smaller backyards where you can easily hang strands of lights across the space a few times. At night when you turn them on it becomes beautiful and magical.
Lighting is really important for a backyard entertainment design—you have to find the perfect balance between too much lighting and not enough.
Focus on Dining and Entertaining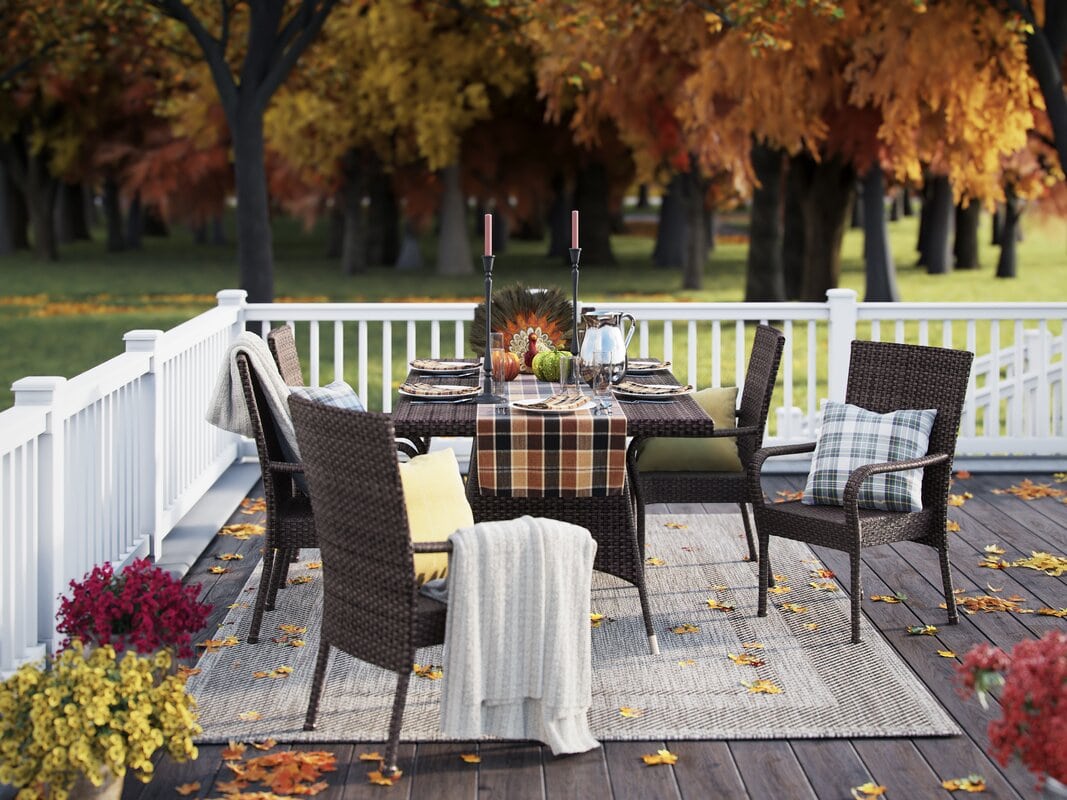 Of course, some of the most popular outdoor entertainment designs are all about the outdoor dining space. This is especially true when you love to entertain over meals. This backyard space is set up for a special holiday dining experience, but you can change the look and feel for any occasion.
If you have space, you can add some outdoor couches, extra chairs, or even a firepit for making S'mores when the feast is over.
Keep Things Fresh With Lots of Plant Life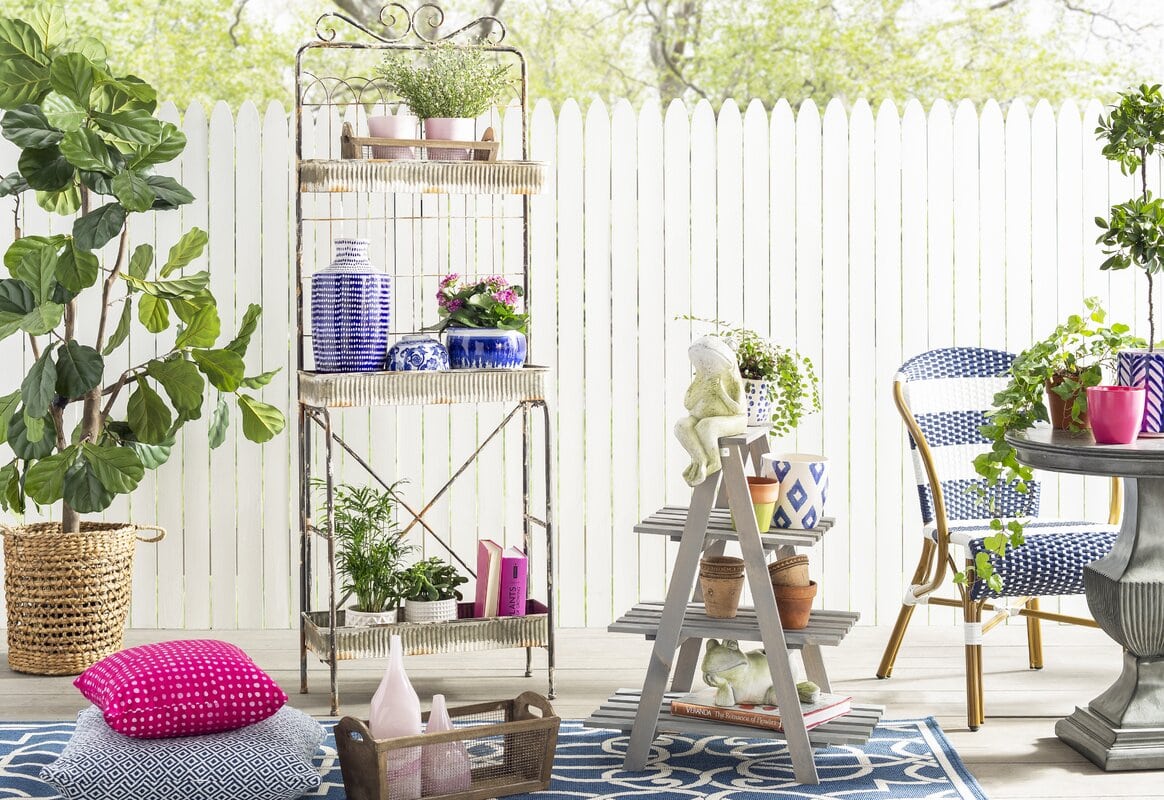 The small touches matter a lot in a backyard entertaining area. Too much plant life and you can feel overwhelmed and swallowed up by a jungle. Not enough and it can seem barren and lifeless.
A good solution is getting some interesting and manicured plants like these ones, and making sure they stay neat and tidy.
Look for colorful plants too, like these bright, eye catching purple flowers. And if you have a small outdoor space, you can add shelves like these to capture that Bohemian outdoorsy feel without sacrificing a lot of the patio floor space to planters.
Turn a Greenhouse Into a Living Room for 360 Views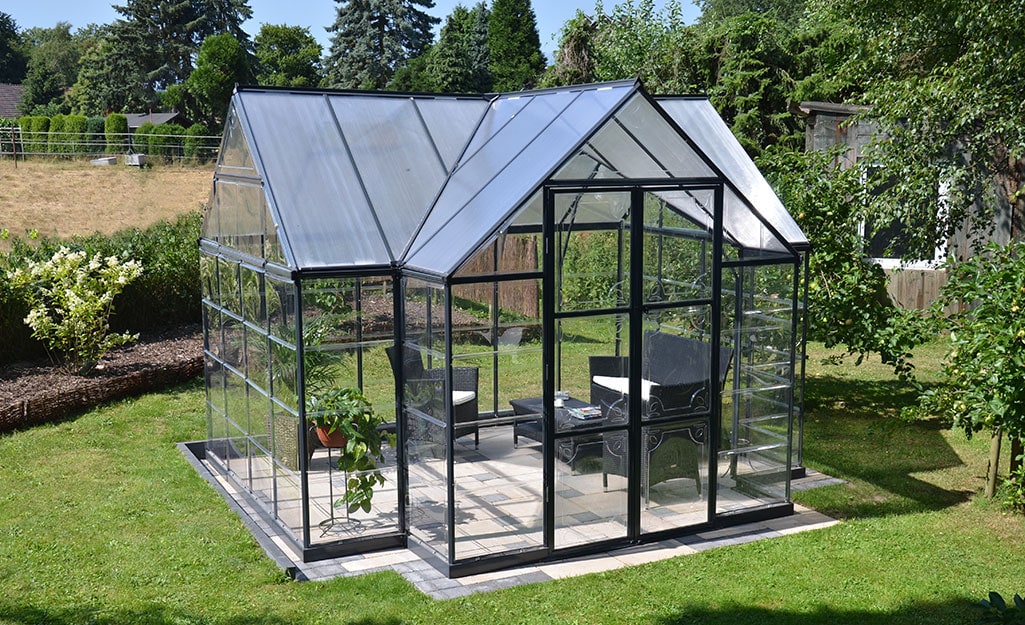 If you live somewhere that doesn't get too cold or too hot, you've got a really spectacular option for keeping things cozy outdoors while still having weather protection. Find a mid-size greenhouse like this one, and instead of filling it with plants, arrange it with comfortable furniture.
Even if it's snowy outside, you can enjoy this beautiful space with the help of blankets, pillows, comfy furniture, and a patio-style heater. The view is amazing year-round, so it's seriously worth a consider.
Make It Comfy With Blankets and Pillows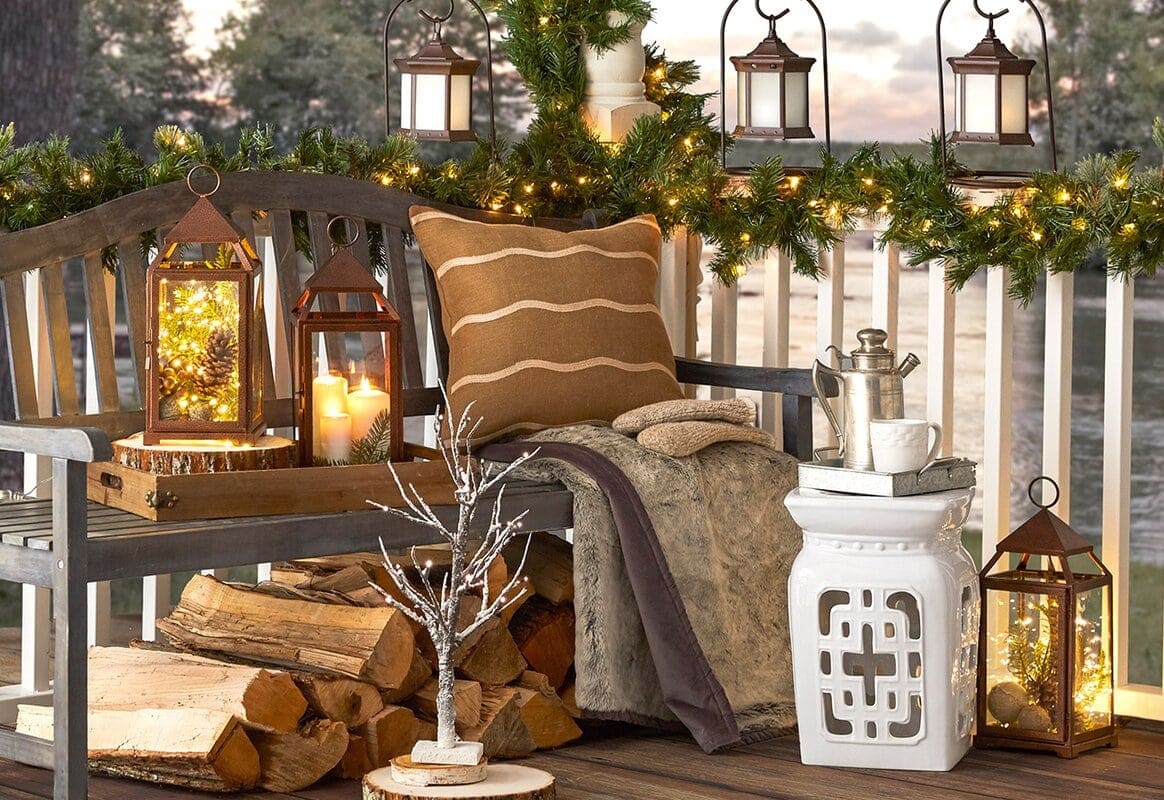 You want your guests to feel comfortable and at home outdoors, so make sure your seating has a lot of pillows. You can also add some baskets or boxes with blankets in case it gets chilly at night.
Some people are much more comfortable grabbing a blanket than asking a host for one, so make sure they have everything they need. Use your pillows to add a pop of color to the backyard entertaining area if you want or just let them invite lounging without the need to impress.
Edge Your Space with Composite Fencing For a Unique Touch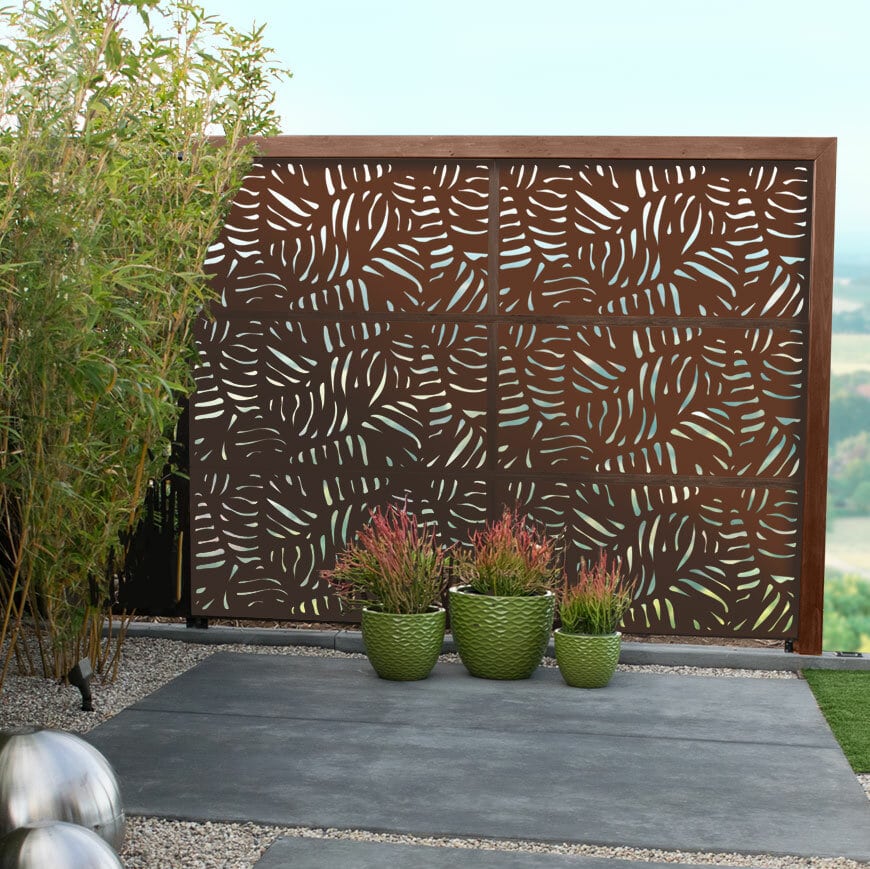 If you love the idea of a privacy fence for making that backyard space more intimate, you can go with something a bit fancier and less common place like this composite fence. They're pretty easy to come by, come in a ton of different styles, and really add that visual "pop" to just about any space you can think of.
A Jacuzzi Is Relaxing and Calming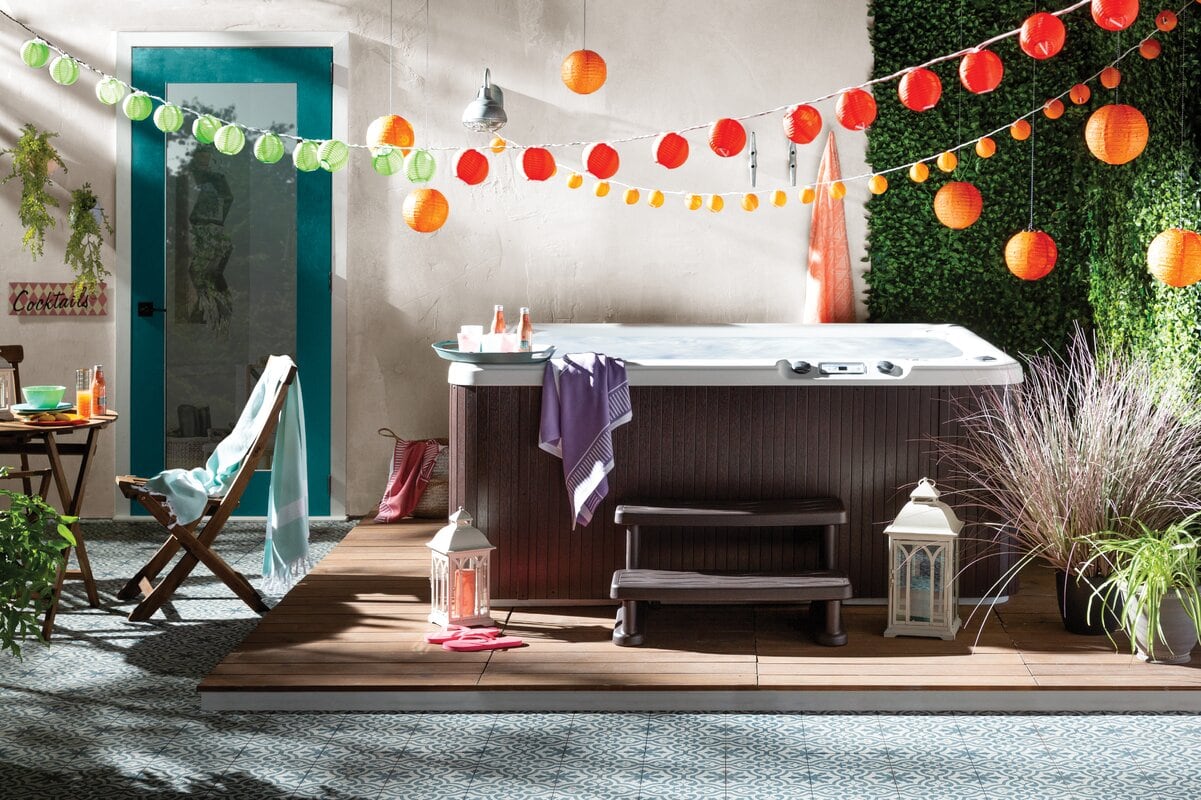 Sometimes you want your backyard space to be more intimate and private. Consider focusing on a jacuzzi and dining space, like the one pictured here, or incorporate this design in your overall entertainment area.
All you've got to do to complete this look is add some simple string light lanterns, a couple of lanterns, and some hooks overhead to keeping towels and belongings dry and accessible.
Add a Fireplace and a Fan for Any Weather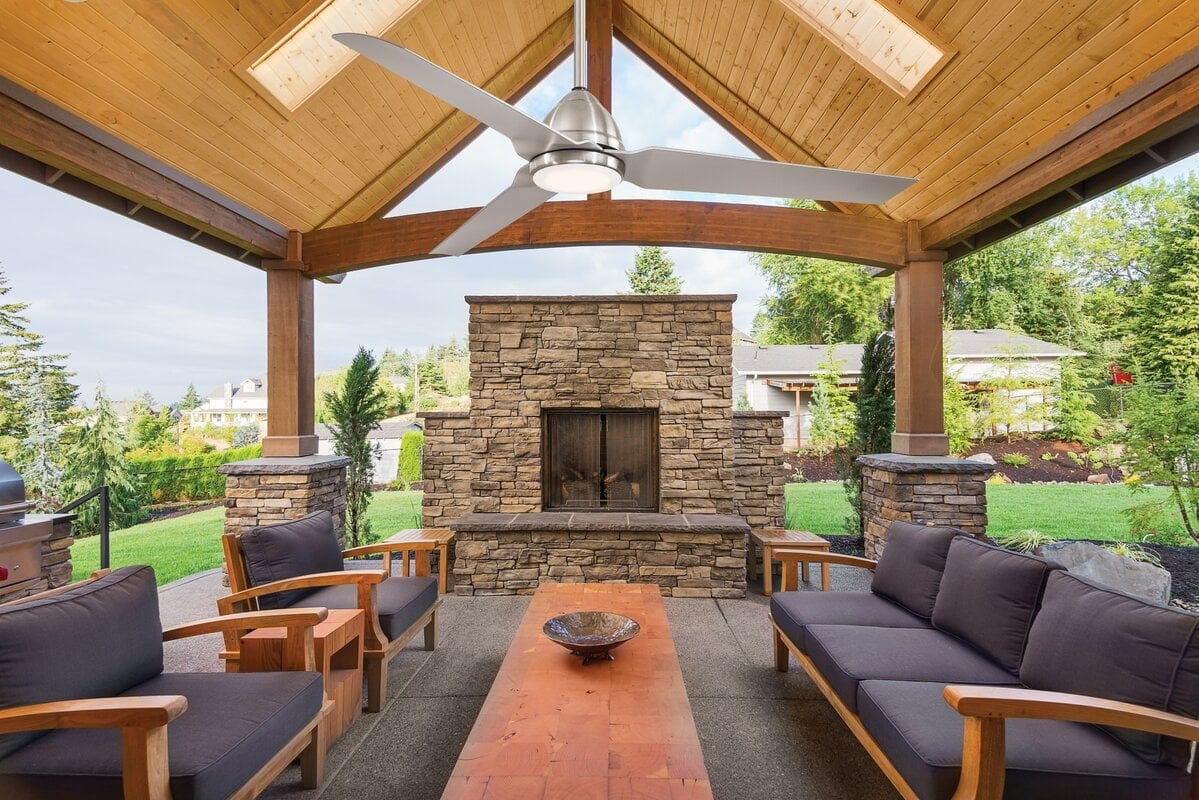 If you live somewhere with a lot of varied weather, hot days and cool nights, you want to be able to still use your space. In this example, a lovely stone fireplace is key for spending time outdoors on cold evenings.
The fan hanging from the ceiling is just as useful, this time for keeping occupants cool while lounging on hot summer days. Sometimes the small touches are what make or break an outdoor entertainment space.
Final Thoughts
A functional and beautiful backyard is like adding a whole new room or two to your home. By adding seating areas, firepits, kitchens and more, you can transform a patch of grass to something much better.
The design will depend a lot on your budget, so start by mapping out the space and the layout you want to have. Think about the main purpose of the space and what you'll be using it for the most.
You also need to spend some time thinking about the design and lighting, but once you're done, you'll have the perfect backyard for entertaining. Enjoy!