Decorated Life is reader-supported. When you buy through links on our site, we may earn an affiliate commission. Learn More
Ballet White by Benjamin Moore
Ballet White is a neutral that just keeps getting better as you use it. In the day, it offers a warm and cozy glow; in the evening its soft gray undertones emerge. On an exterior, it delivers a bright white that feels natural and isn't too stark.
Let's buy a ticket and find out why Ballet White's performance is such a crowd-pleaser!
What Color is Ballet White?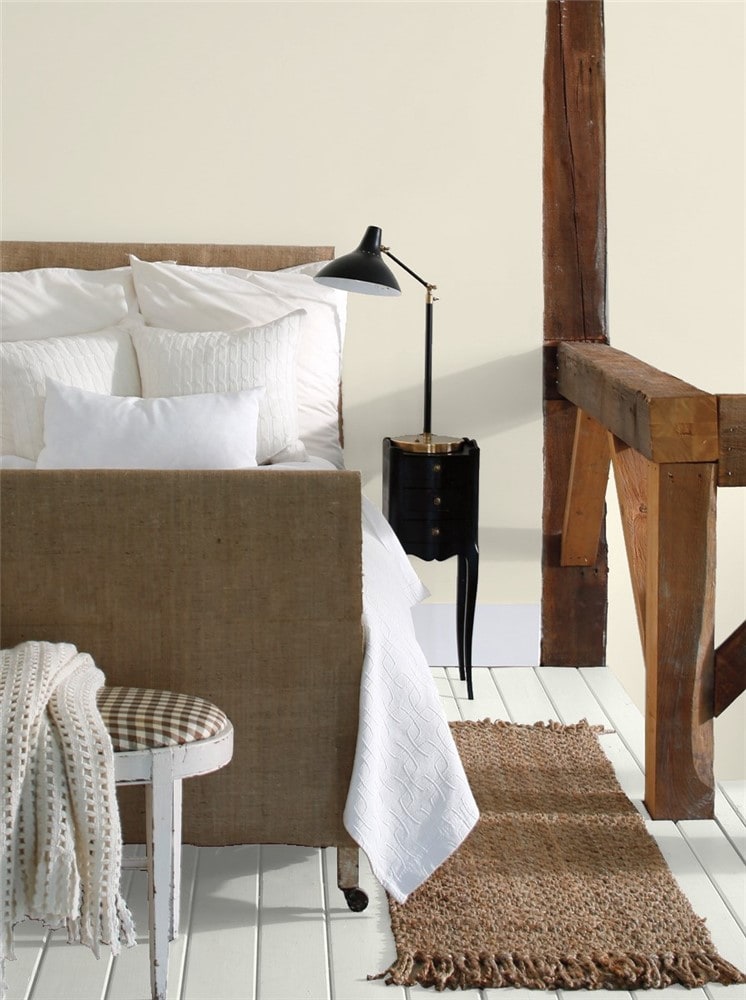 Ballet White is a very light cream color blended with a soft gray. It can be considered a neutral color or an off-white.
LRV of 71.97
Ballet White has a light reflectance value (LRV) of 71.97. LRV measures the brightness of a color, and runs on a scale from 0, which is absolute black, to 100, which is pure white.
Off-whites typically range from about 73 to 82. Benjamin Moore categorizes Ballet White as part of its off-white collection.
What Undertones Does Ballet White Have?
Ballet White is a well-balanced color. Just like greige colors make use of gray to blend away yellow undertones, Ballet White uses the same trick–but it's not a greige color itself.
On occasion, Ballet White may display warm, creamy undertones or silvery greige undertones. Under direct natural light, especially on exteriors, it will simply appear white.
Is Ballet White a Warm or a Cool Color?
Ballet White is a warm cream color. But it's not a yellow cream, so that warmth is mild. Again we come back to this being a balanced, neutral color.
Where Can You Use Ballet White?
Thanks to its neutral tones and lightness, Ballet White is easy to use anywhere in the home. That includes the exterior, where it's most often seen as a main color rather than a trim.
Ballet White is a popular choice for living rooms. Its warmth brings that welcome coziness that is just right for a space where loved ones will gather. That same coziness is also ideal for a snuggle-worthy bedroom.
Ballet White can help you to brighten up dark or small spaces, like bathrooms, closets, and hallways. It can make smaller rooms feel larger without feeling too airy and cold.
Let's watch Ballet White in motion and see how it works its magic!
Living Room
Ballet White fills this living room with a warm glow.
Ballet White serves as the backdrop for this coastal style living room.
Kitchen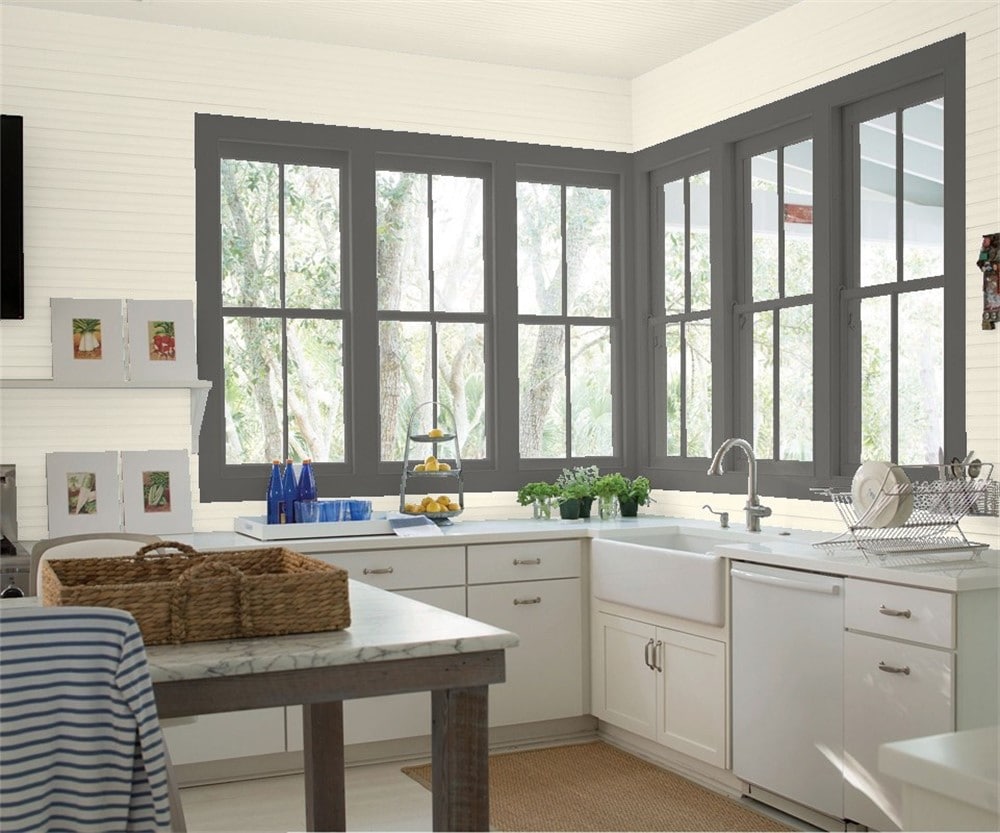 Kendall Charcoal brings out Ballet White's creaminess in this kitchen.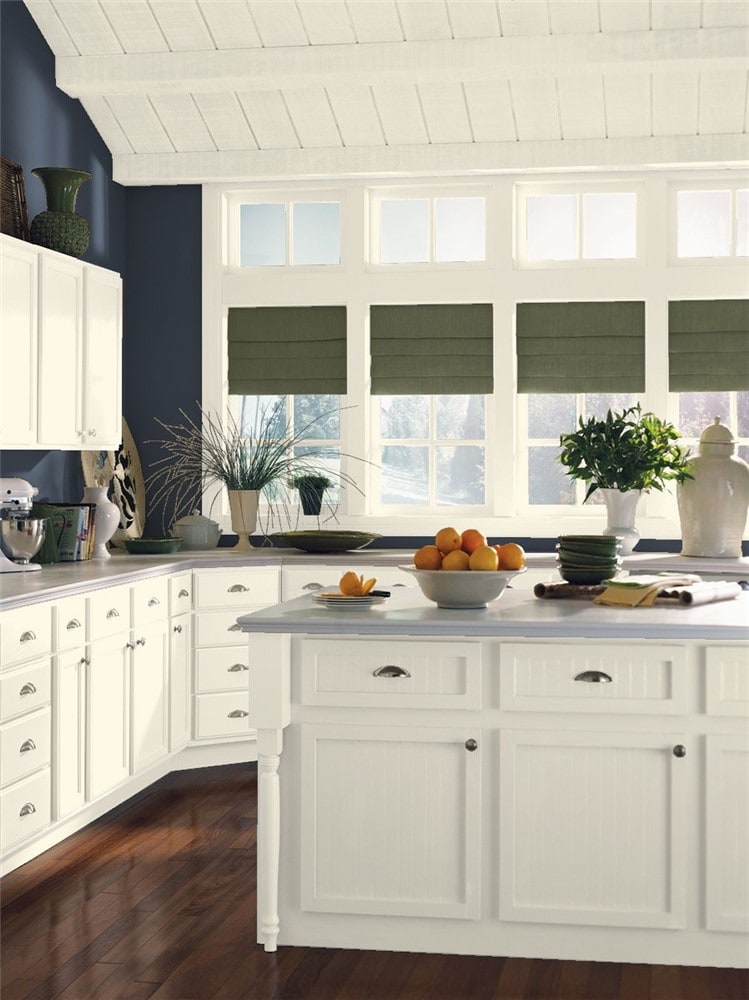 Ballet White glows as a kitchen cabinet color against Hale Navy walls.
Dining Room
This French country modern dining room uses ballet white to marry its elements together.
Ballet White brings out the warmth in the elegant wood furnishings in this dining room.
Bedroom
Swiss Coffee and Ballet White team up to create this soothing loft retreat.
https://www.instagram.com/p/BkkMqCZj6aC/
Cheerful decor colors play up Ballet White's warmer, off-white tones to make this bedroom cozy and cute.
Bathroom
Ballet White offers a little warmth and contrast in this cool gray and white bathroom.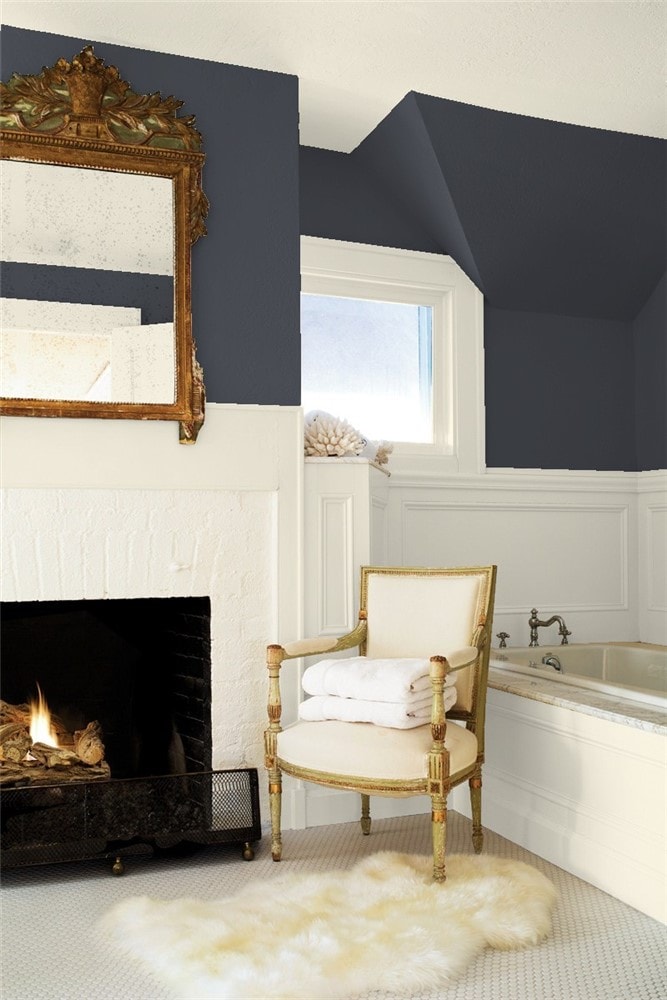 Ballet White and Witching Hour make a dramatic combination in this luxurious bathroom.
Home Office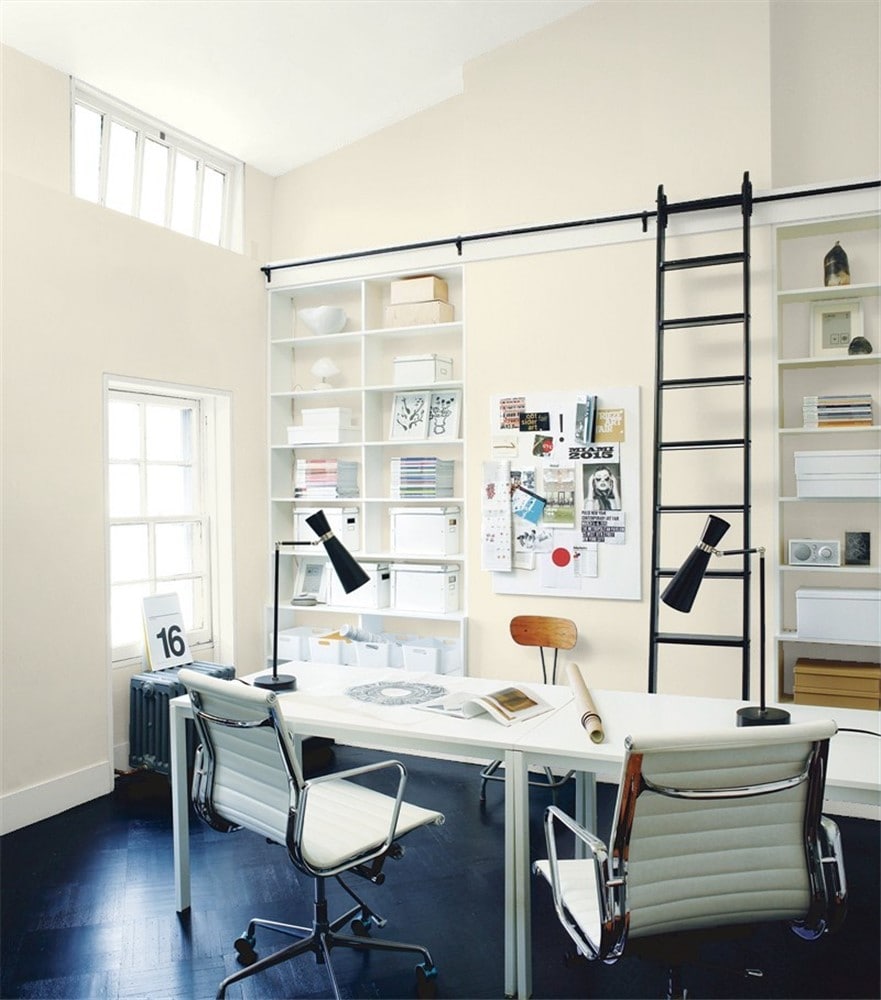 Ballet White adds just the right warm counterpoint to this home office to balance its cool, modern style.
Whole Home
Ballet White is a light neutral that's suitable for use as an all-over wall color.
Exterior
Ballet White takes on a light creamy character outside, complemented here with a chocolate brown trim.
Black trim sets off Ballet White on this ranch exterior.
Gray shutters take Ballet White in a cooler direction on this exterior.
Coordinating Colors for Ballet White
As both a neutral and an off-white, Ballet White gives you a lot of freedom when it comes to coordinating colors. It's really up to you and your emotional response to the colors.
What kind of response are you trying to create in your space? Are you looking for a calm, cool, comforting space of blues, grays, or greens?
Maybe you want an invigorating space with a kick of red, yellow, or pink. Ballet White can take you in either direction.
Ballet White can also coordinate with all your favorite neutrals, such as greiges, charcoal grays, navy blues, and browns.
If you're not sure which colors are calling to you, here are some coordinating color ideas for Ballet White to help you get started:
How Does Ballet White Compare to Other Colors?
Ballet White vs White Dove by Benjamin Moore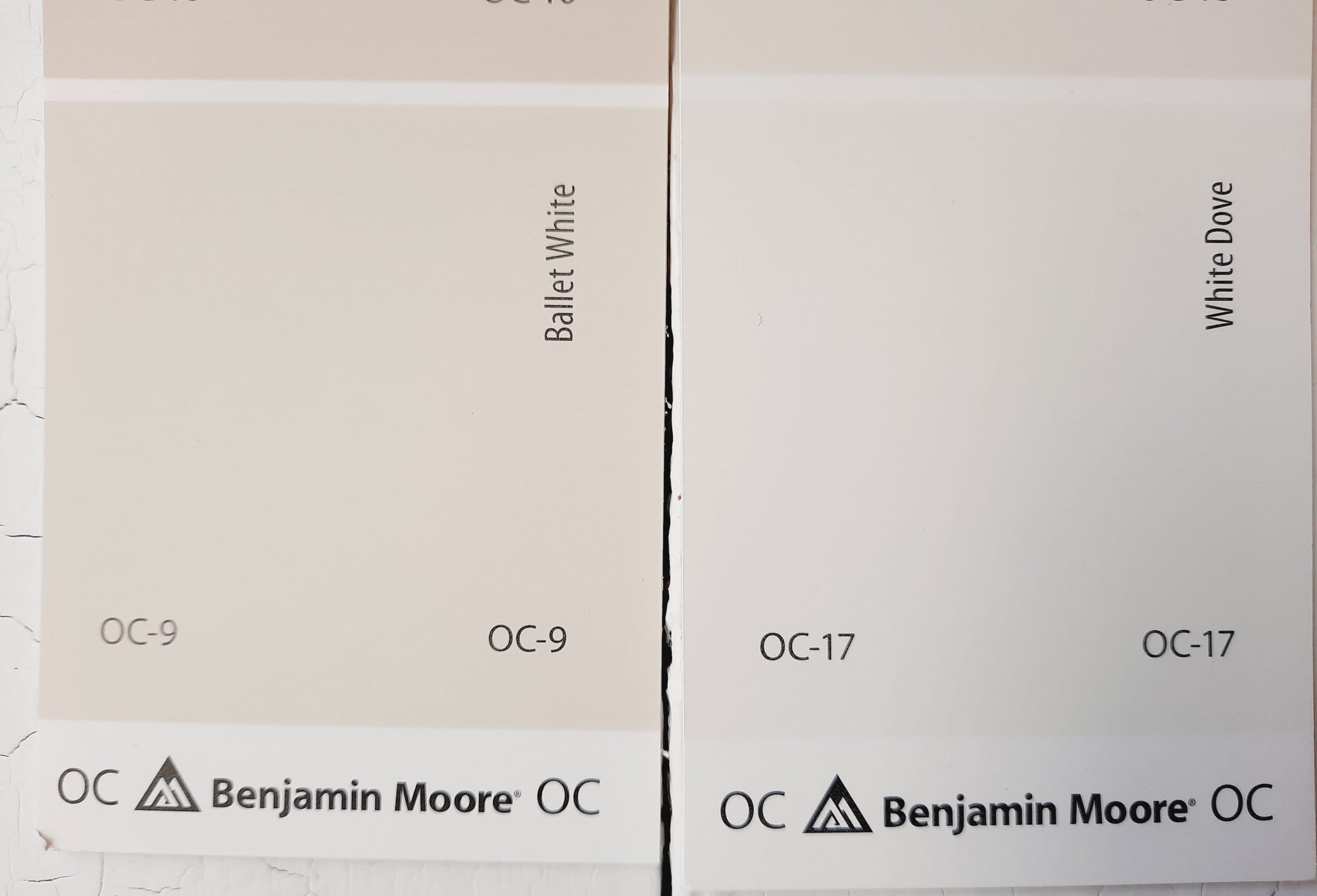 White Dove is one of Benjamin Moore's bestselling colors of all time. This fan favorite white has a soft glow, but it's nowhere near as warm as Ballet White, and it's not as much of a color either. Its LRV of 83.16 puts it on the border between the off-whites and the true whites, and also makes it noticeably brighter than Ballet White.
Ballet White vs Pale Oak by Benjamin Moore
This pale greige is another super-popular Benjamin Moore paint color. It's a little too dark for the off-whites, but it's definitely a lot lighter than most greige colors. As a true greige, Pale Oak has more gray than Ballet White, which makes it noticeably cooler. Its LRV is 68.64.
Ballet White vs Swiss Coffee by Benjamin Moore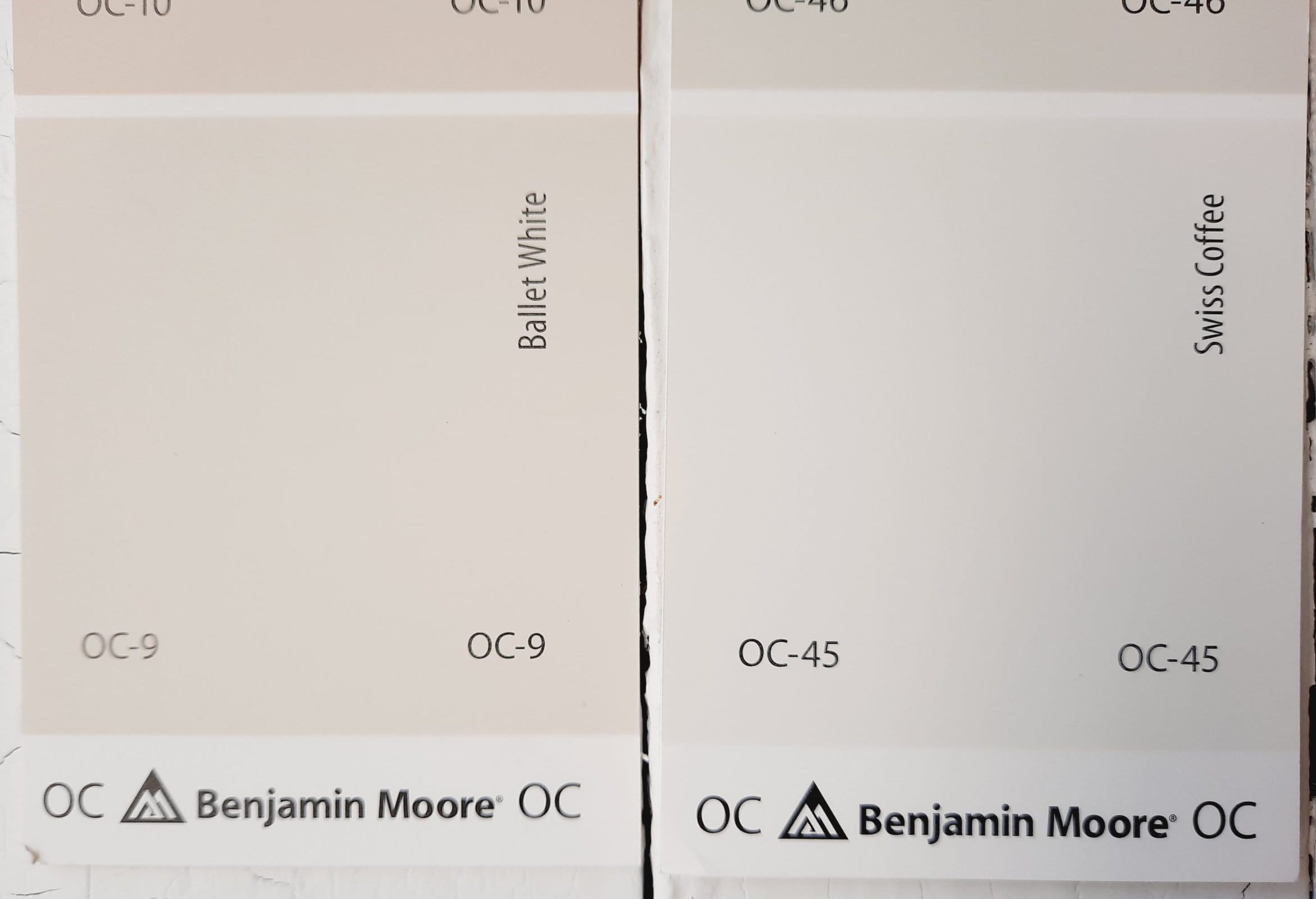 Swiss Coffee is a white with a touch of warmth that straddles that divide between the off-whites and the true whites. Ballet White is still warmer, and has a lot more of that creamy color to it. Swiss Coffee is noticeably lighter, at 81.91 on the LRV scale.
Final Thoughts
Ballet White is a flexible neutral that brings you a creamy performance without those yellow stage lights you don't want.
Bringing just enough color to qualify as a neutral, but light enough to serve as an off-white, Ballet White gives you lots of options when it comes to style and palette choices. If you're looking for something a little creamier than a greige, that's still just as balanced, then you'll want a ticket to this show!