Decorated Life is reader-supported. When you buy through links on our site, we may earn an affiliate commission. Learn More
Benjamin Moore Swiss Coffee Paint Review
When you're trying to pick the right paint color for your home, it's more challenging than just picking a primary color – blue, green, red, yellow, or even white.
The real difficulty is deciding which shade of color you want to use in your space. Take white, for example. There are hundreds of different types of white – and off-white. Paint manufacturers like Benjamin Moore make paint collections based on the various color shades like the off-color white collection, which includes an elegant, soft off-white Swiss Coffee.
We're going to look at the different details of Benjamin Moore Swiss Coffee OC – 45, including the color's undertones, LVR, best places for use, and complementary colors that go well with Swiss Coffee.
What Color is Swiss Coffee?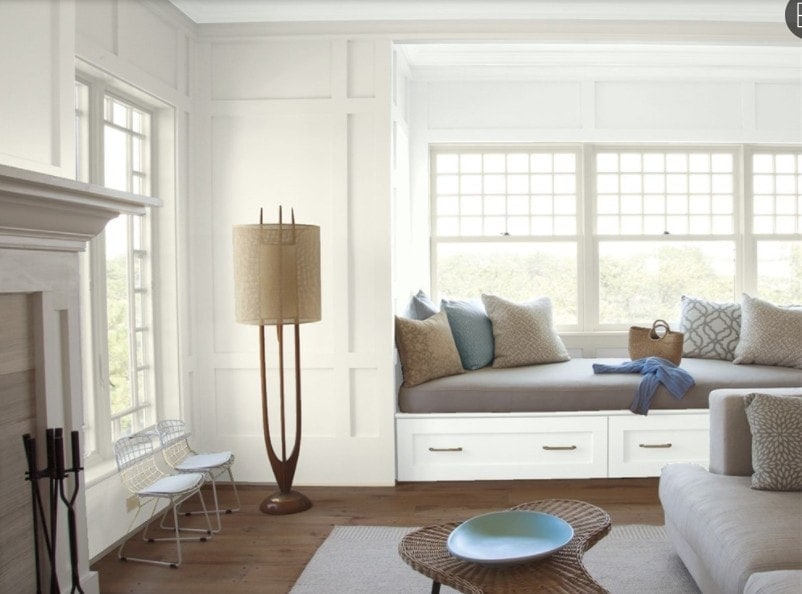 Swiss Coffee by Benjamin Moore is a soft off-white with warm beige undertones and zero yellow highlights typical in some shades of white. You may also notice undernotes of green and gray that give this color a warmer nuance.
Swiss Coffee can look more of a cream color with light coffee undertones in some lighting – hence the delicious-sounding name.
The best thing about the neutrality of a Swiss Coffee paint color is that it can go with virtually any decor palette and theme – modern, cottage, farmhouse, traditional, transitional, and so much more. This color looks fabulous as an exterior color alternative to standard crisp white or interior decorating in any room.
Swiss coffee OC–45 belongs to the Benjamin Moore Off-White Color collection, consisting of 152 different off-white and white shades for serene tranquility.
Benjamin Moore Swiss Coffee LRV
In terms of LRV (Light Reflectance Value), where pure white is 100, and pure black is 0, Swiss Coffee has a rating of 83.93. This means that this shade of off-white isn't a stark white, but it still has a high light reflectance.
The LRV of a color refers to the amount of light (visible and usable) that reflects off the painted surface (or light that absorbs into the color). So it's basically saying that a paint's LRV is how much light the color can reflect.
The higher the LRV, the brighter a room will seem. This is because light will bounce more off a higher LRV painted wall, whereas a lower LRV could make your room (and the color) look darker.
Where Can You Use Benjamin Moore Swiss Coffee Color
The great thing about a versatile color like the off-white of Benjamin Moore Swiss Coffee is that you can use it in multiple locations.
Classic Kitchen Cabinets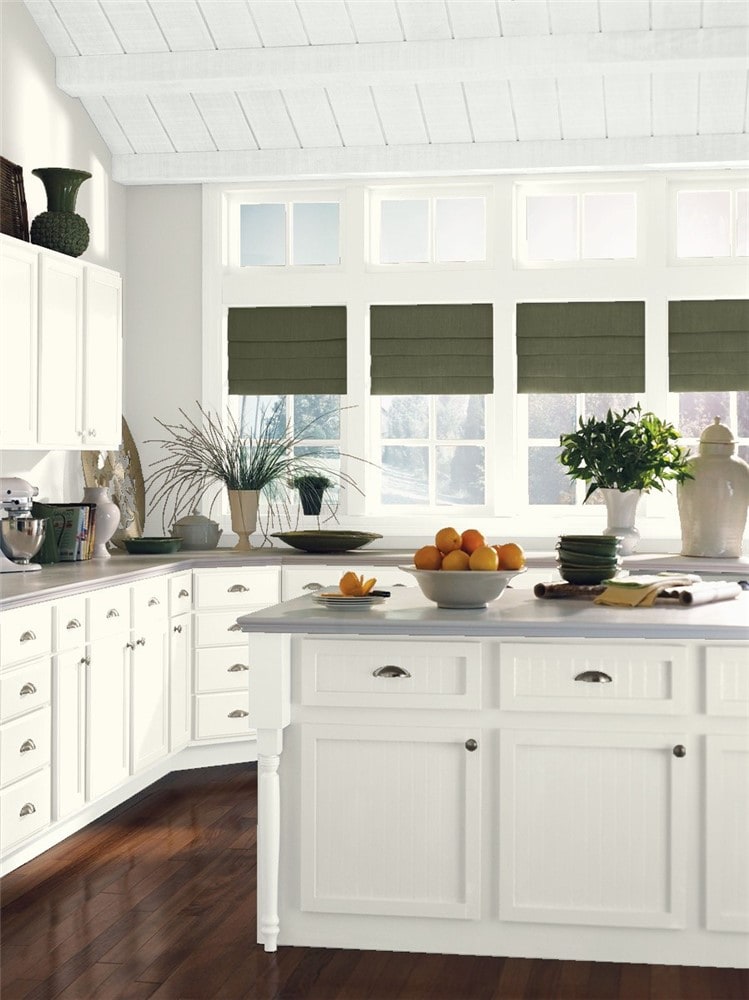 Painting your kitchen cabinets, a soothing Swiss Coffee can make your kitchen pop while the warmer off-white keeps your space looking cozy and inviting rather than stark and sterile.
Trim for Your Room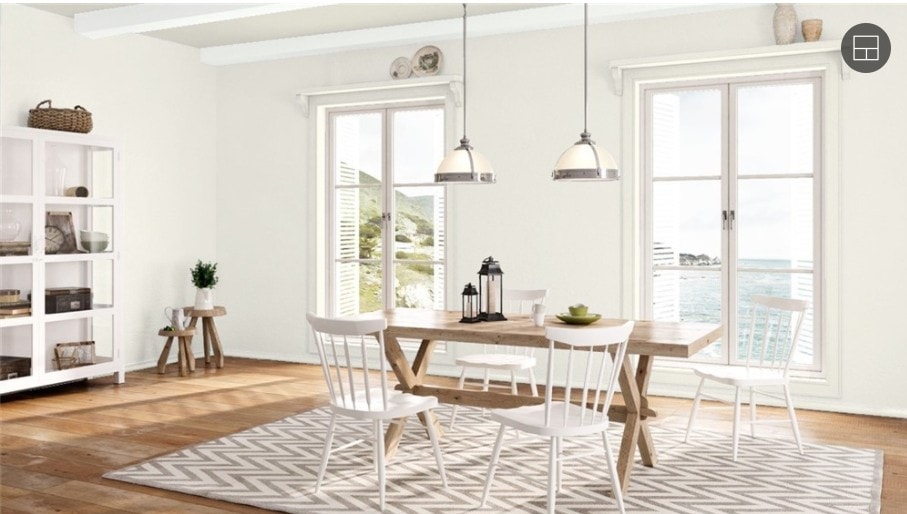 The soft warm shade of Swiss Coffee also makes it an excellent color to use for the trim around your room. Adding an off-white color against a darker wall color can make the perfect transition to a stark white ceiling and the flooring.
Welcoming Entryways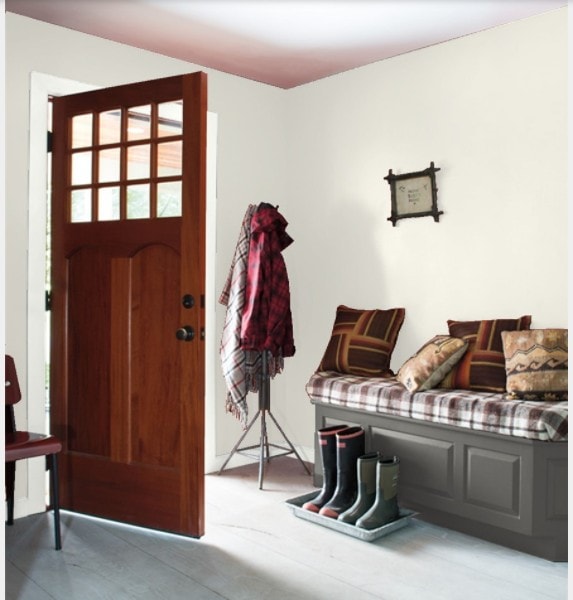 When people walk into your home, you want them to feel welcomed and comfortable. Adding Swiss Coffee to the walls of your entryway is an excellent way to make your space soothing and inviting.
Calming Bedrooms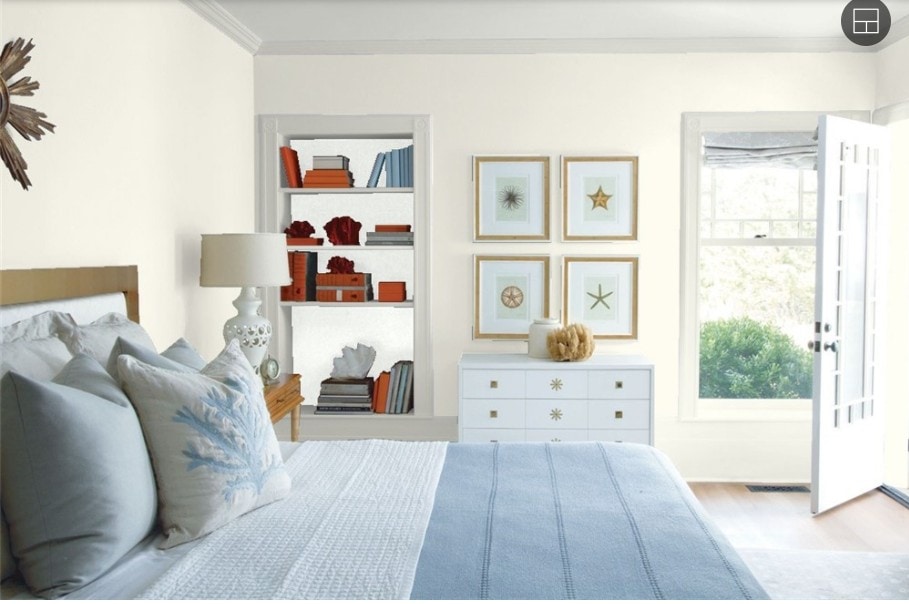 You can also use Swiss Coffee for the walls in your bedroom to create a serene, relaxing space to rest and recuperate away from the hassles of life. Pairing this soft color with a warm Vanilla Milkshake (2141-70) trim makes the ultimate private retreat to recenter and recharge.
Liven Up Your Living Room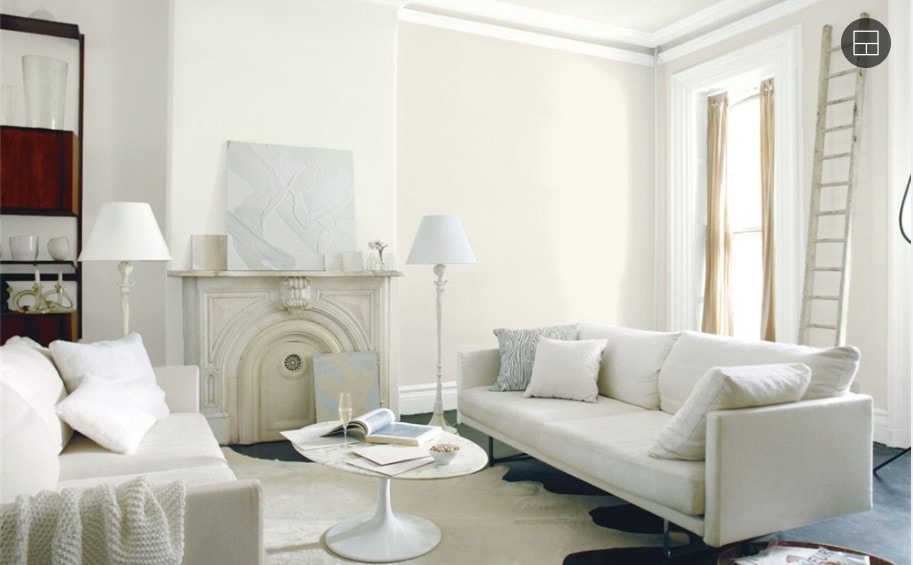 Painting your living room with Swiss Coffee gives you a warm but neutral slate that you can mix with multiple color themes to create just about any theme. Add some cream furniture, a couple of brightly colored pillows, and a cozy floor rug and you've got the perfect space for entertaining or relaxing.
Accent Your Exterior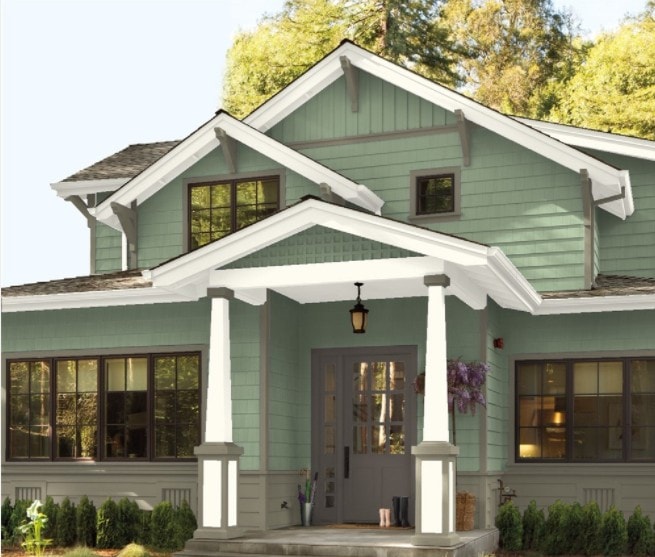 While this color looks great in many places, it might not be the right choice for most people to use for a primary exterior paint color for homes that receive a lot of direct sunlight. So instead, limit this shade's use to the trim to tone down a darker exterior color like this Adirondack Green (453).
Designer tip: Before you decide to paint a room using Swiss Coffee, it's always best to spend a few days studying a sample of the color in the space to see how it looks. In addition, you'll want to consider different times of day and various lighting conditions – artificial and natural light.
You can buy a sample paint can of the color or use adhesive paint samples, which are much more convenient and easy to use. 
Complementary Colors that go with Swiss Coffee
When you're redecorating a room, chances are you'll want to use multiple colors to create a design palette that blends rather than clashes. These are some colors that could go great with Benjamin Moore Swiss Coffee.
Browns
Terra cottas
Tans
Beige
Gold tones
Creams
Earth tones
Dark navy blue
Deep charcoal grays
Designer tip: Avoid using cool or clean whites when using Swiss Coffee. And remember that the finish of your paints matters. For example, trim pieces will look better as a semi-gloss or satin sheen (a shinier appearance), while the walls would look better in an eggshell or flat finish.
Swiss Coffee Comparison with Other Colors
So, how does Swiss Coffee compare with other colors? We've chosen a few different shades of Benjamin Moore off-color whites to make the comparison.
Benjamin Moore – Swiss Coffee vs. White Dove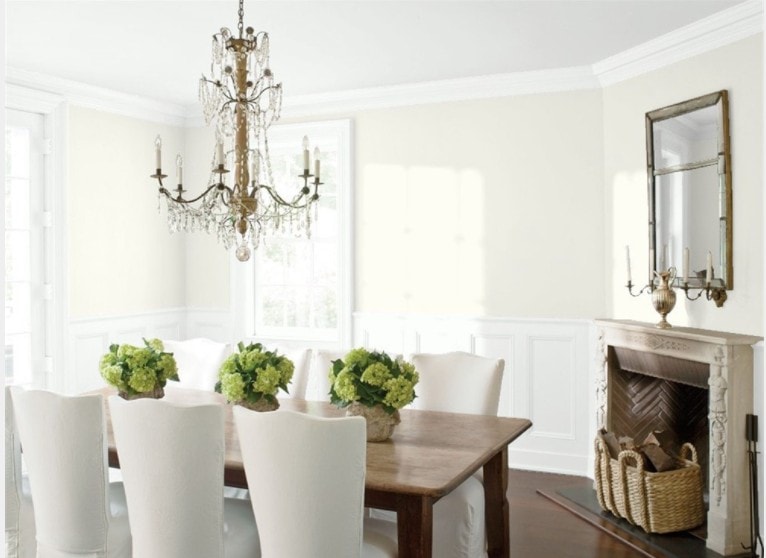 White Dove (OC-17) is another shade of white by Benjamin Moore with similarities and differences with Swiss Coffee.
For instance, both shades do not have any yellow tones, a rarity for many whites. And they're both neutral colors that can go with almost any design in an off-white hue.
But White Dove is not a warm tone like Swiss Coffee, but neither is it a stark cool white. Instead, this off-white color has gray undertones with an LRV of 85.38.
Benjamin Moore – Swiss Coffee vs. Chantilly Lace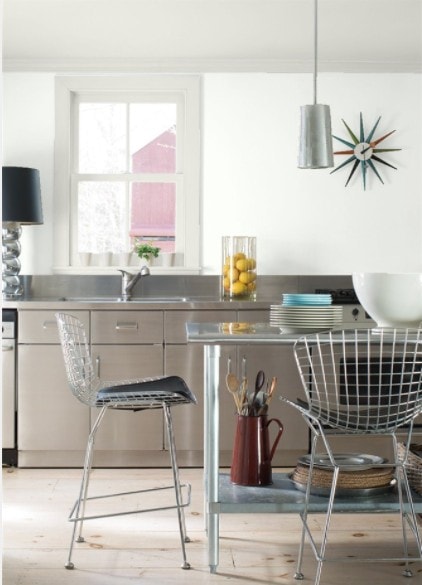 Chantilly Lace (OC-65) is another shade of white by Benjamin Moore. Unlike Swiss Coffee, Chantilly Lace has yellow and blue undertones, which give the color a warm feel. However, there are also gray undertones that makes this color off-white, like Swiss Coffee.
Benjamin Moore – Swiss Coffee vs. Simply White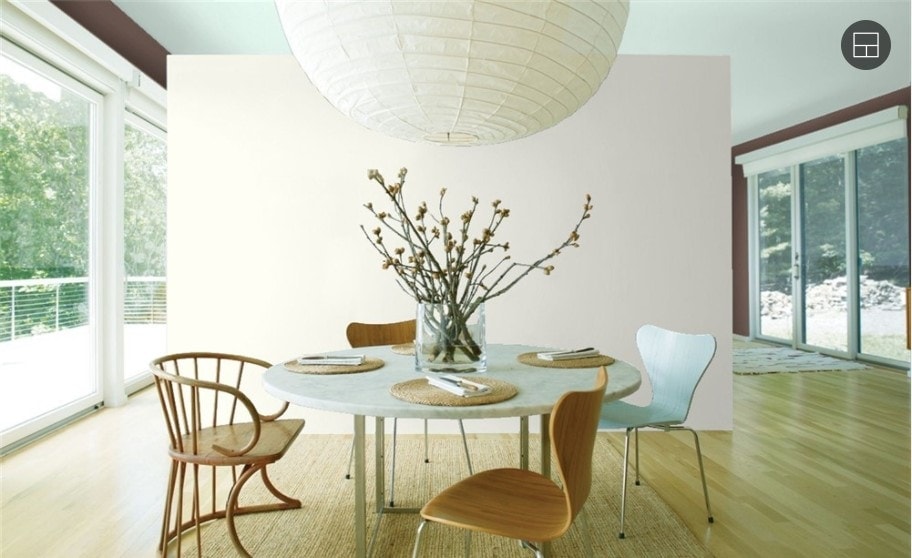 Simply White by BM is more of a true clean white with hints of yellow that give this color a crisp look. Many people like to use Simply White for paint on ceilings, walls, or trim. With an LRV of 91.7, Simply White (OC-117) has high reflectivity and bright nuances.
Final Words
Now that you know all the details about Swiss Coffee paint color by Benjamin Moore, including the shade's LRV, complementary colors and shades to avoid, and how this color compares to other shades of white or off-color white, you're in a better place to decide if this color is suitable for your design needs.
Remember to try a sample of your color choices and wait a few days so you can see the color in different lighting before making a decision.