Decorated Life is reader-supported. When you buy through links on our site, we may earn an affiliate commission. Learn More
12 Paint Colors That Complement Red Brick
When it comes to painting exteriors or interiors, it might seem like brick houses have to miss out on all the fun. After all, if you're not going to cover up all that brick, then you don't really have a lot of options, right? And even if you wanted to pick coordinating colors for your doors, shutters, and trim, where would you even begin?
Don't worry; you too can get in on the color fun, and it doesn't have to be all that difficult. In this article I'll cover some of the pitfalls of choosing colors to go with red brick, some no-fail colors that will always go with them, and the best paint colors for red brick houses from the most popular brands.
We'll also take a look at these colors on real brick exteriors so that you can get inspired for your next home update. Ready to get started?
Best Paint Colors That Complement Red Brick
Tricorn Black by Sherwin Williams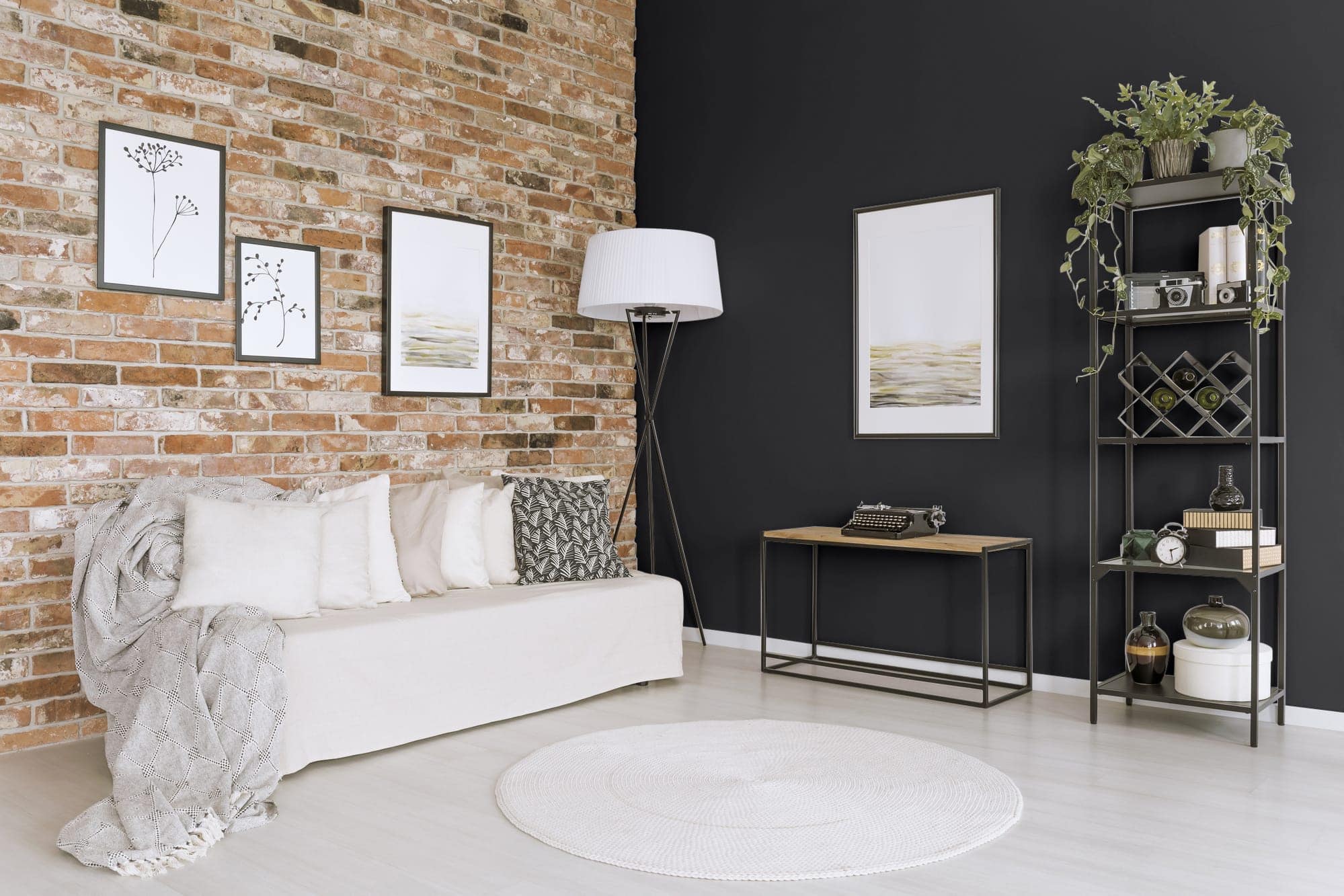 Tricorn Black is a popular and traditional black that looks right at home next to red brick. This is a solid black without distracting undertones, so it's a breeze to coordinate. 
Creamy by Sherwin Williams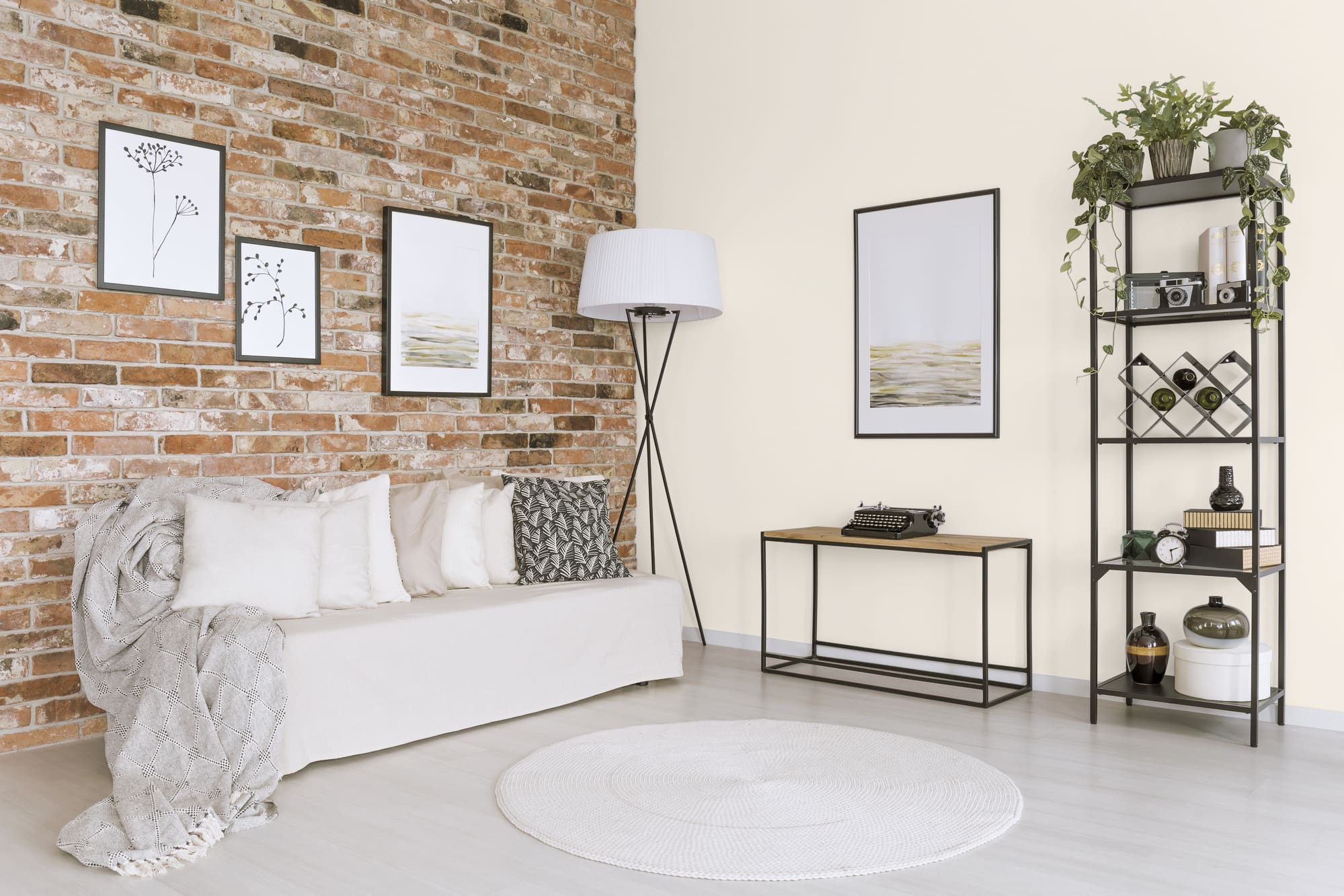 Creamy is an ideal off-white for a wide range of red brick colors. Since it's not a pure white, it won't look too stark next to the brick, and the warmth in the brick will bring out Creamy's soft glow.
Charcoal Blue by Sherwin Williams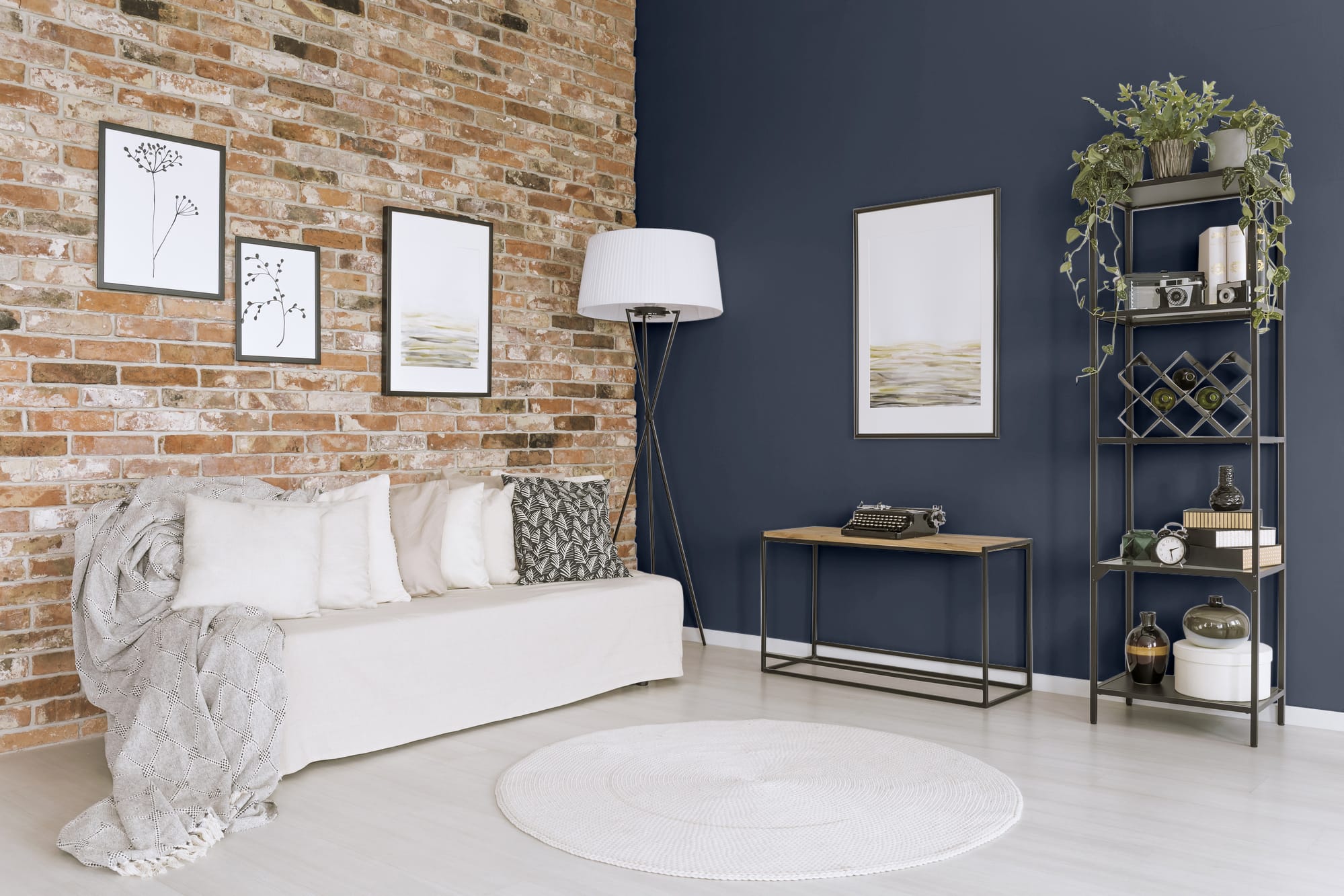 Navy Blue is surging in popularity as the new neutral, and Charcoal Blue is definitely benefitting from that trend. This deep blue can serve the same role as a black or a deep gray, but still bring a bit of color to the table.
Dark Night by Sherwin Williams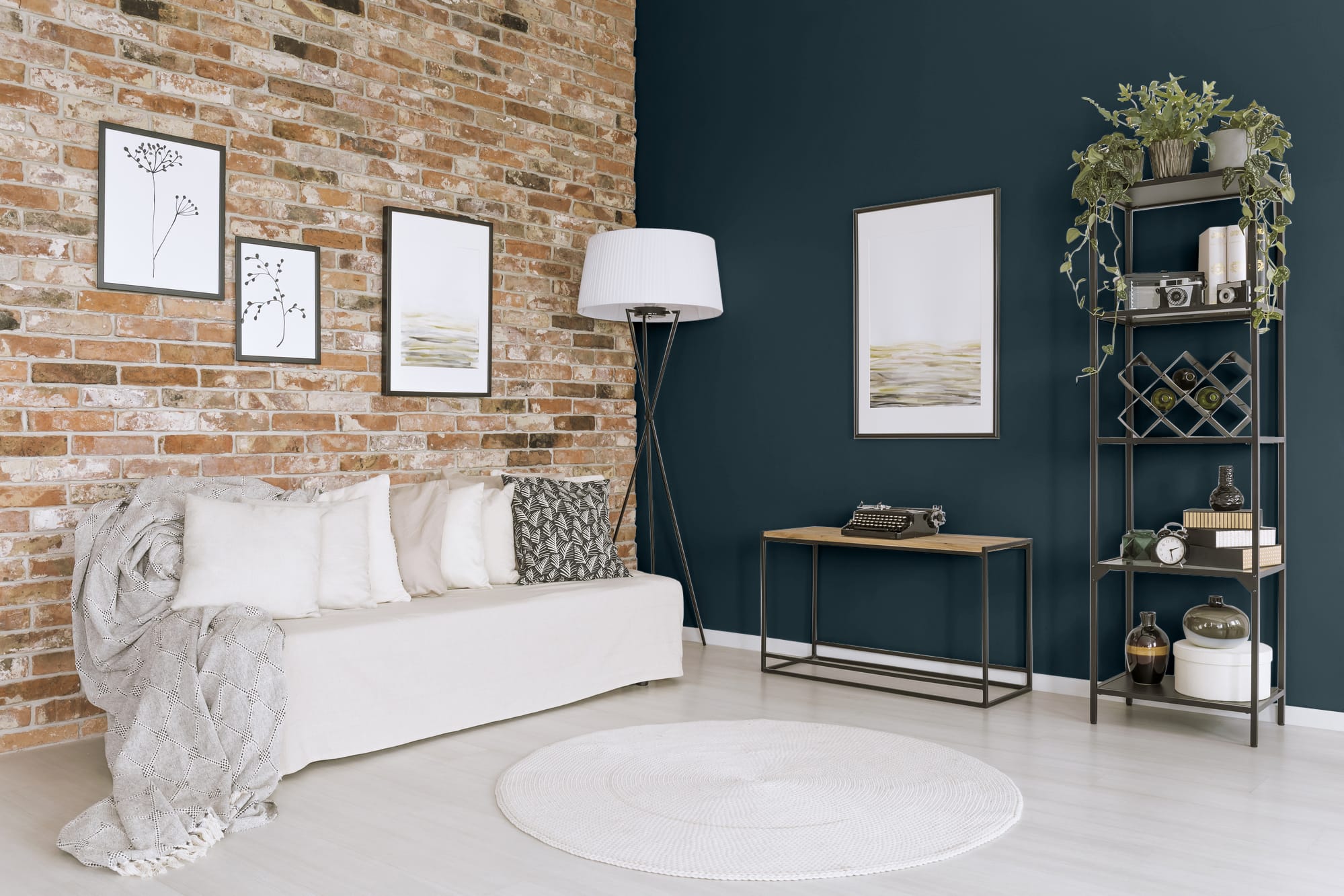 Dark Night is another "new neutral" navy blue that can bring that cool and warm contrast to the table for red brick.
Comfort Gray by Sherwin Williams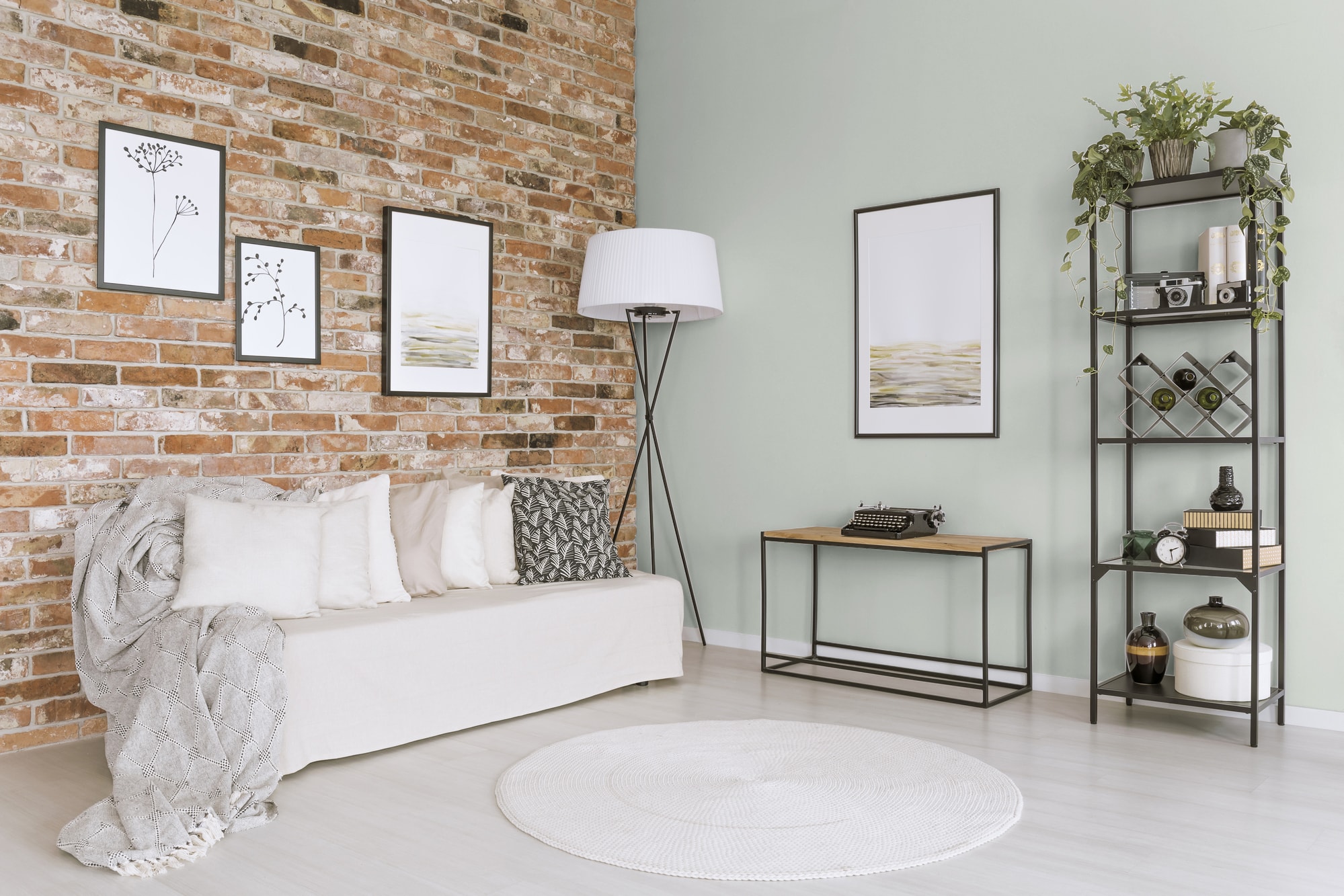 Comfort Gray is a soft, organic color that mixes sage green and light gray. The gray in this color picks up on the mortar between bricks while the cool green complements the red.
White Dove by Benjamin Moore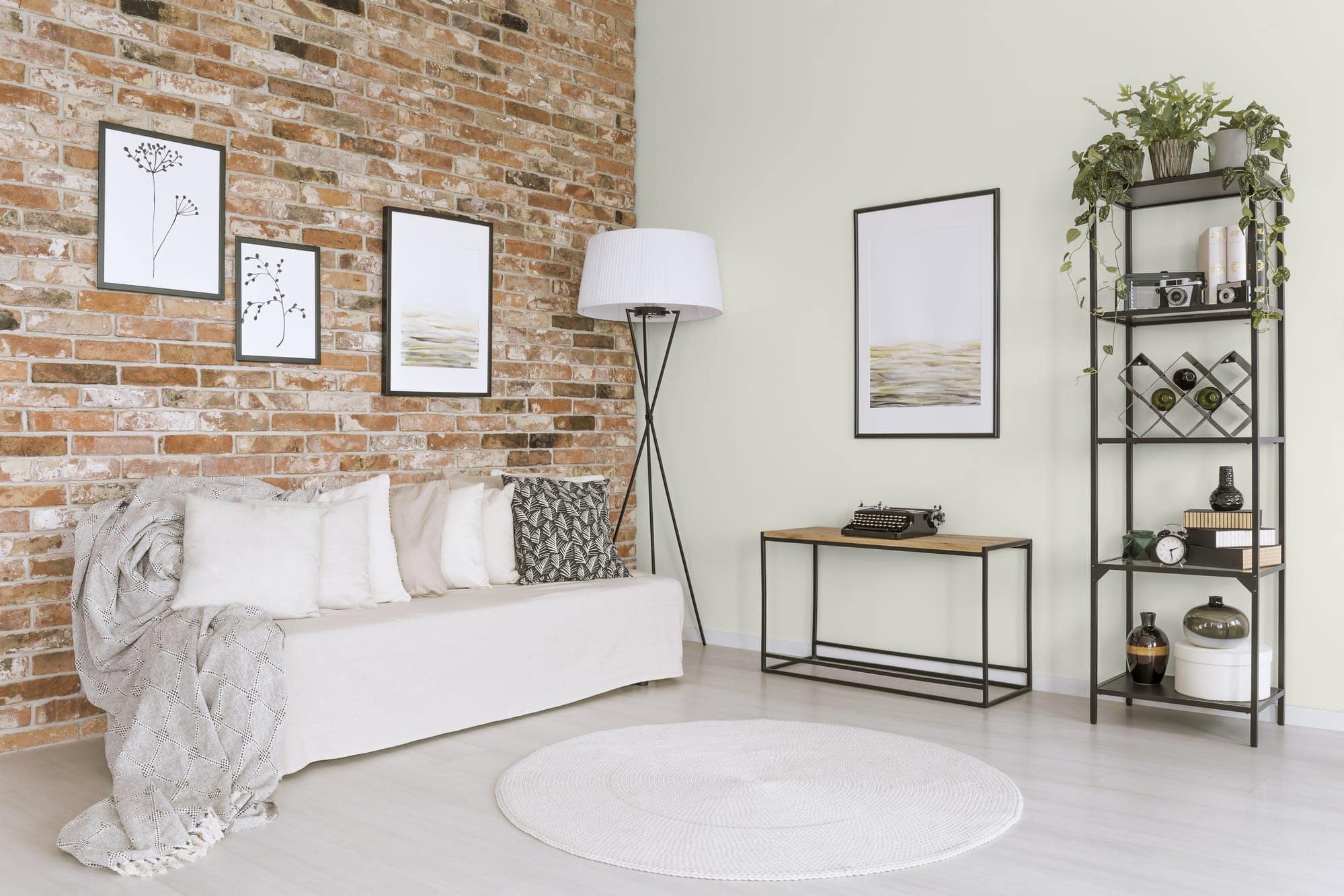 White Dove is a perennial favorite for its soft, creamy glow. This classic is made-to-order for laying next to brick without looking too stark. It can be a companion to brick on its own, or be part of any palette you have in mind.
Newburyport Blue by Benjamin Moore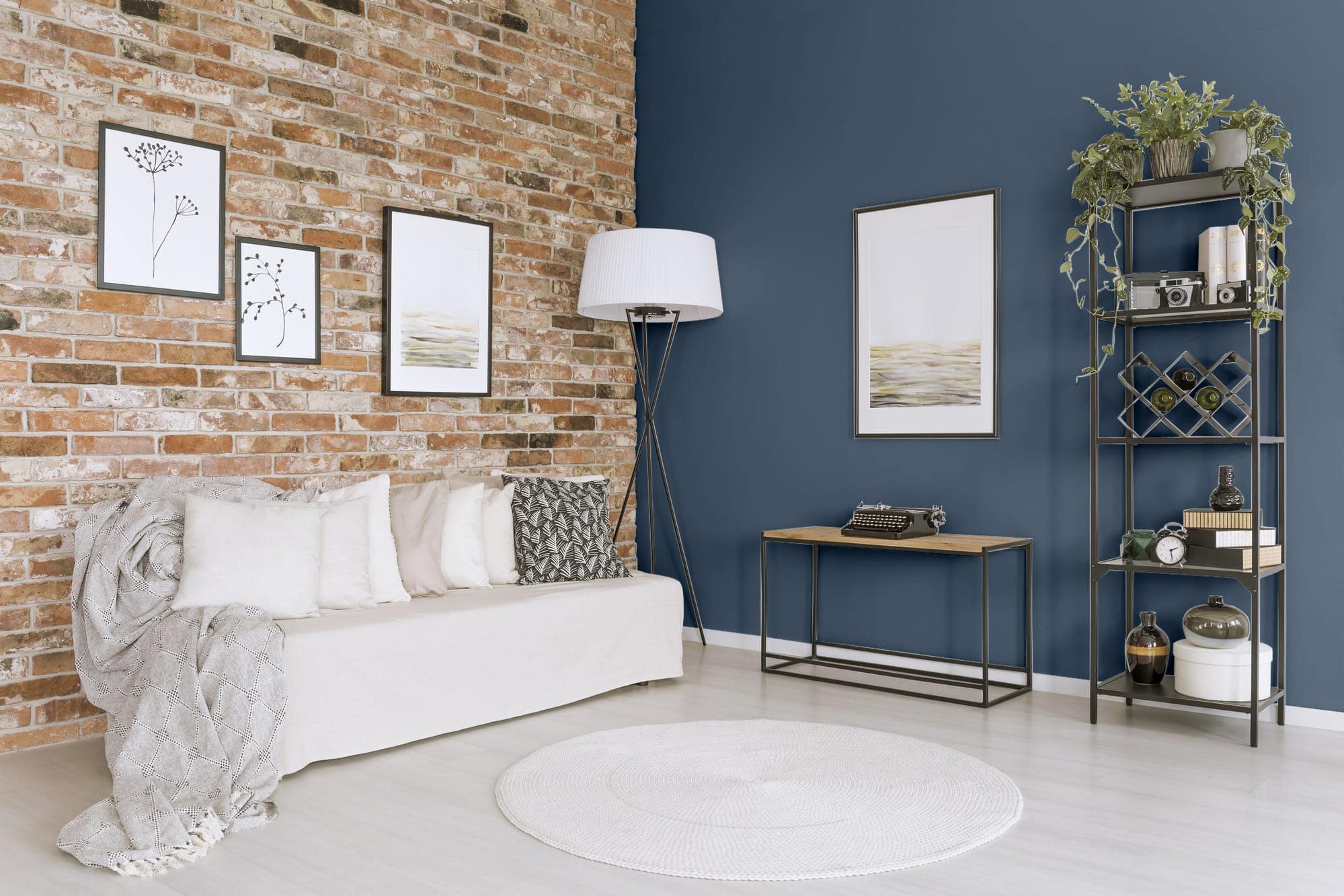 Newburyport Blue is a traditional blue from Benjamin Moore's historic collection. It offers a lovely complement to red brick with a pop of cool blue.
Kendall Charcoal by Benjamin Moore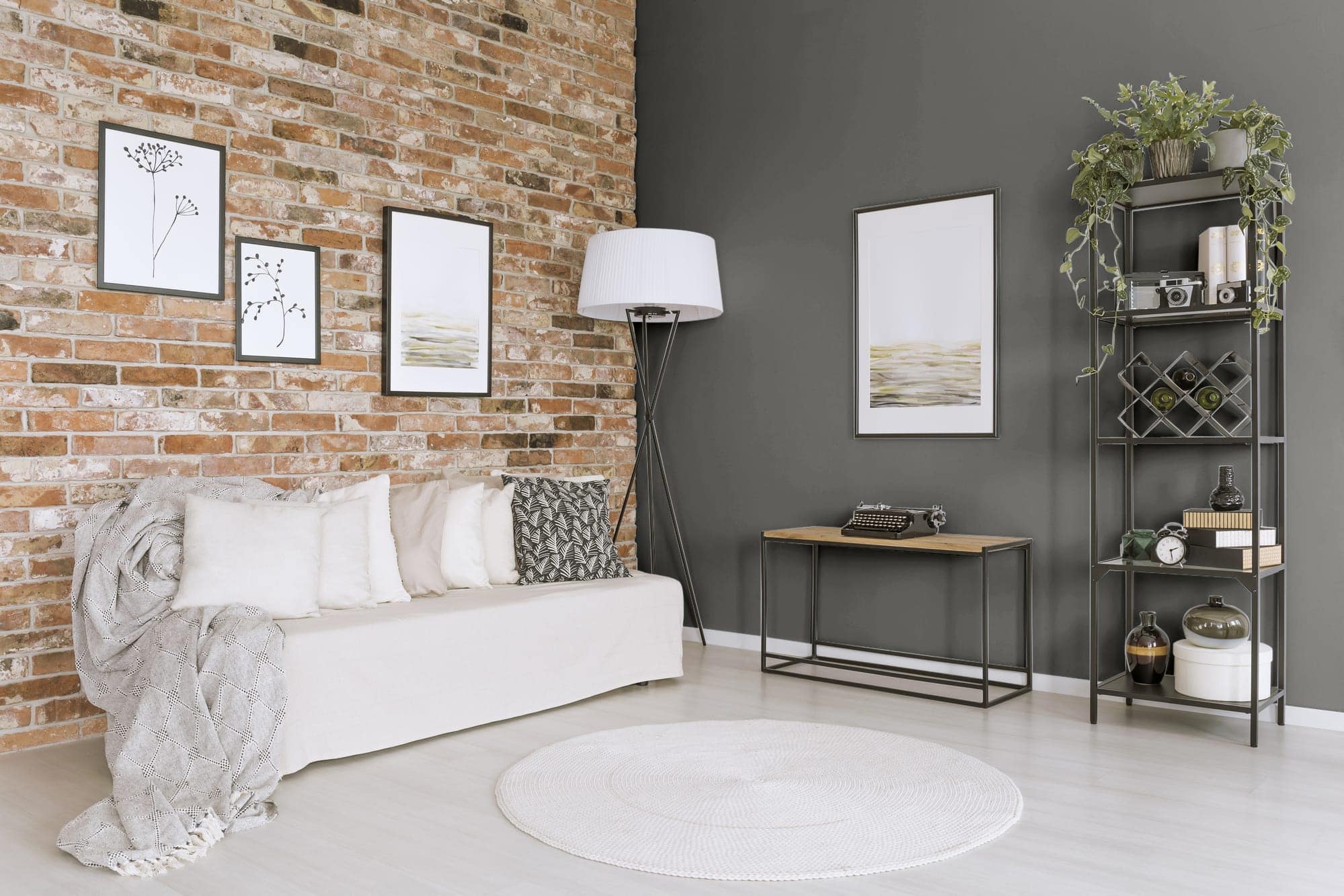 Kendall Charcoal is a deep gray that offers a cool contrast to red brick, and, as a neutral, can work with any color palette. It can step in anywhere you'd normally use black, but offers some depth and visual interest.
Cream Froth by Benjamin Moore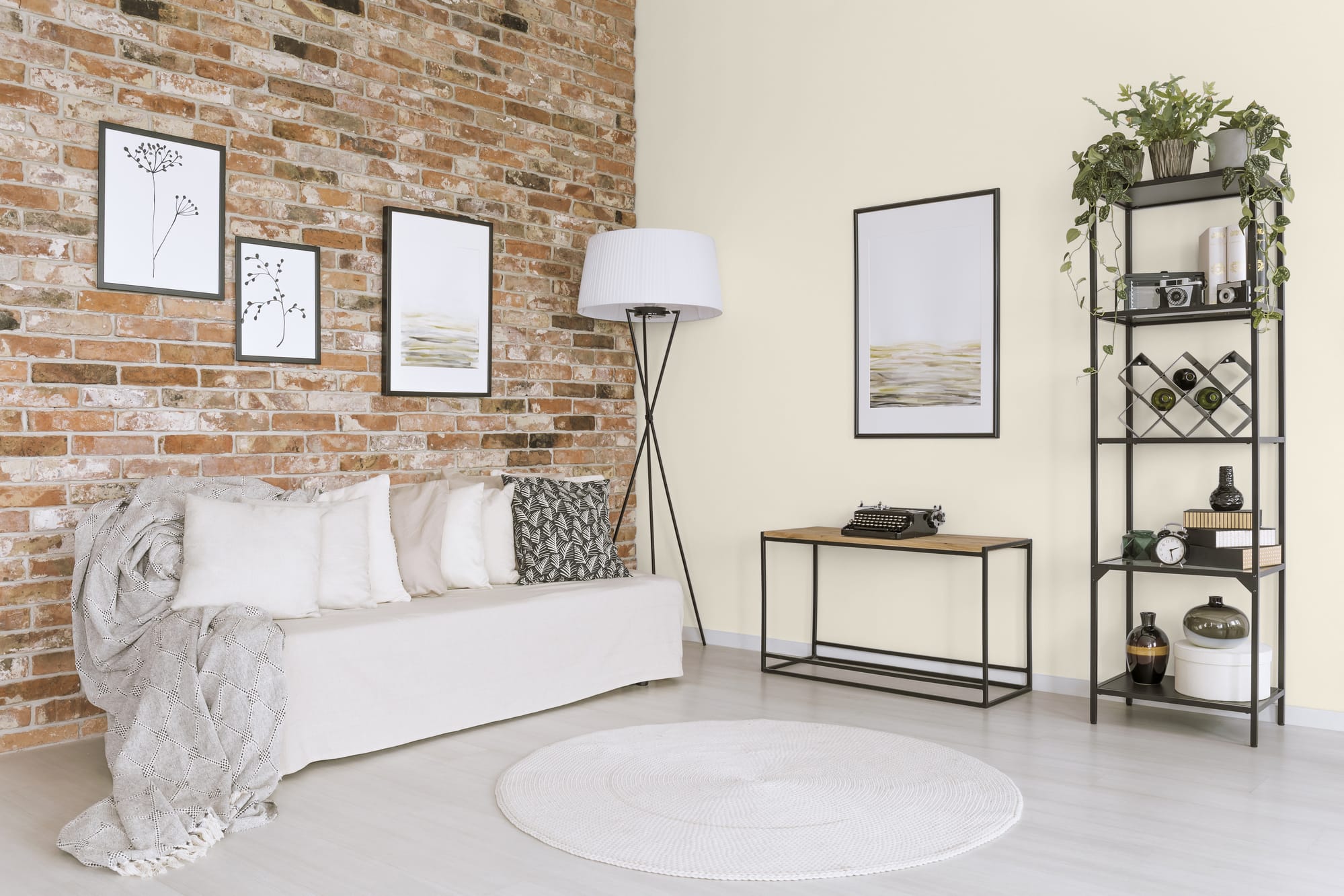 Cream Froth is an off-white that's warm and luminous. It makes a cozy companion for red brick and is suitable for other coordinating colors too.
Salisbury Green by Benjamin Moore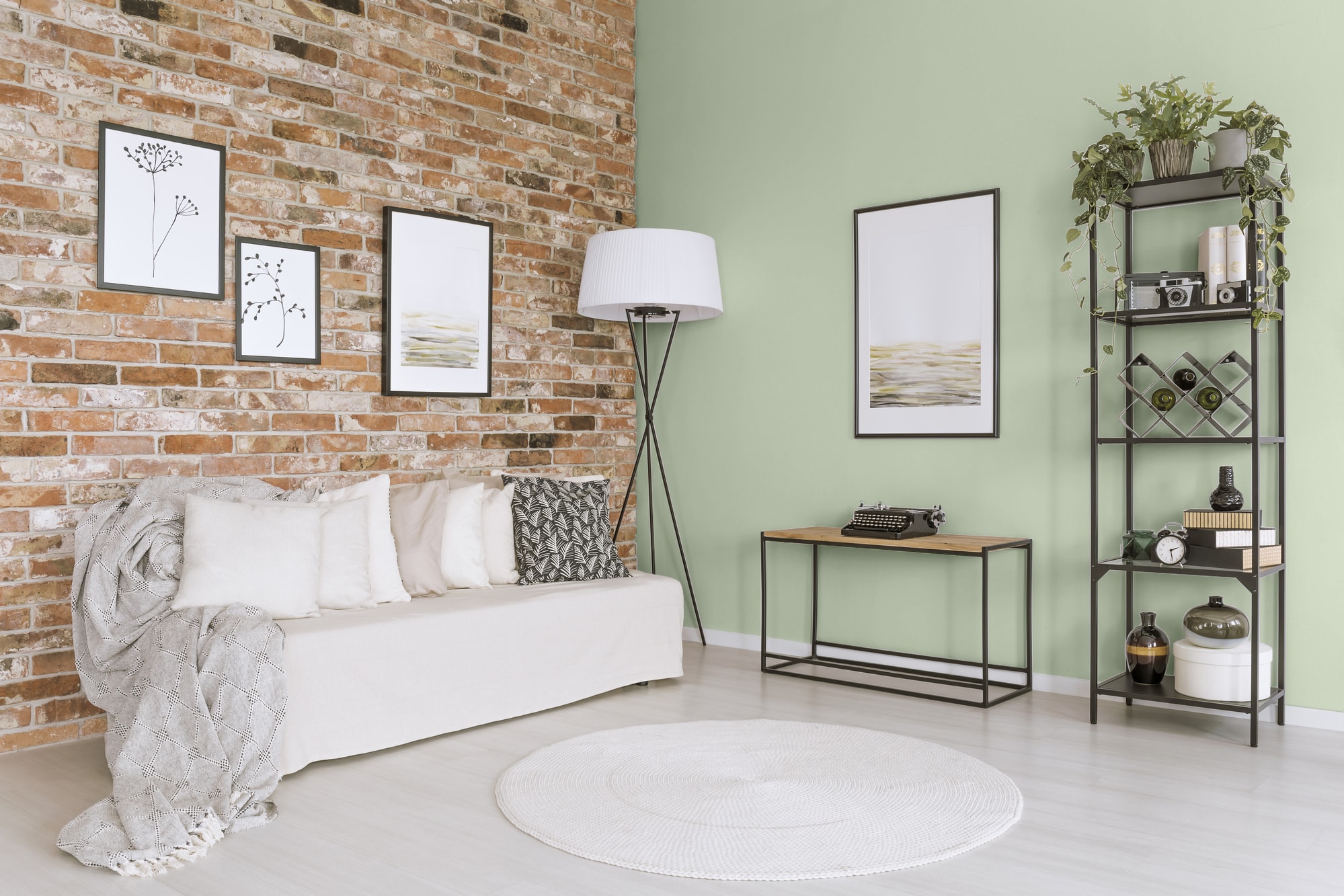 Salisbury Green is a traditional color from Benjamin Moore's popular historical collection. It's a soft sage green that's a lovely complement to red brick. This is a great color to pair with Cream Froth too.
Moroccan Henna by Behr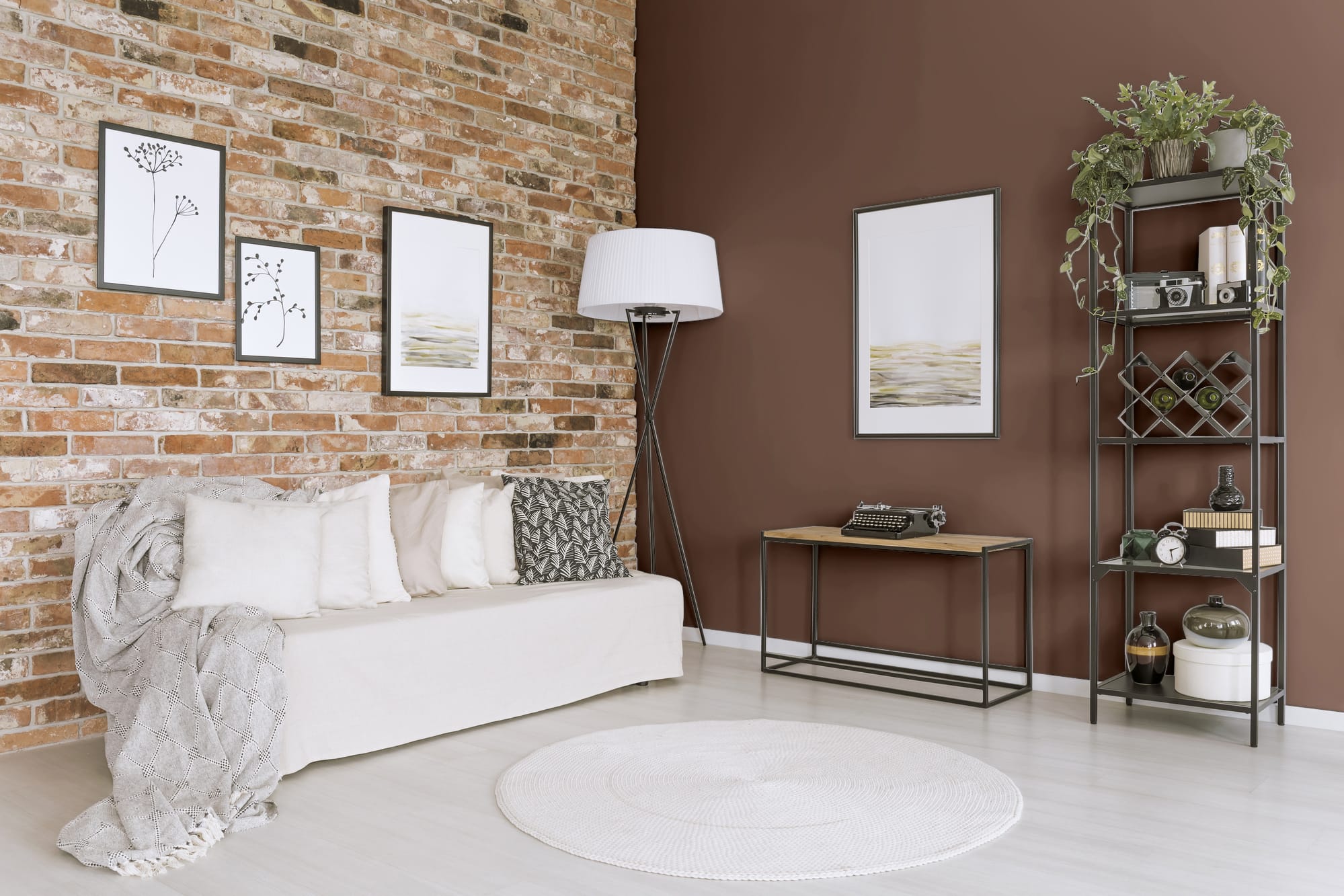 Moroccan Henna is a rich, warm brown that can bring out the warmth in red brick when added to shutters and trim. This would be a handsome choice for lighter shades of brick.
Jojoba by Behr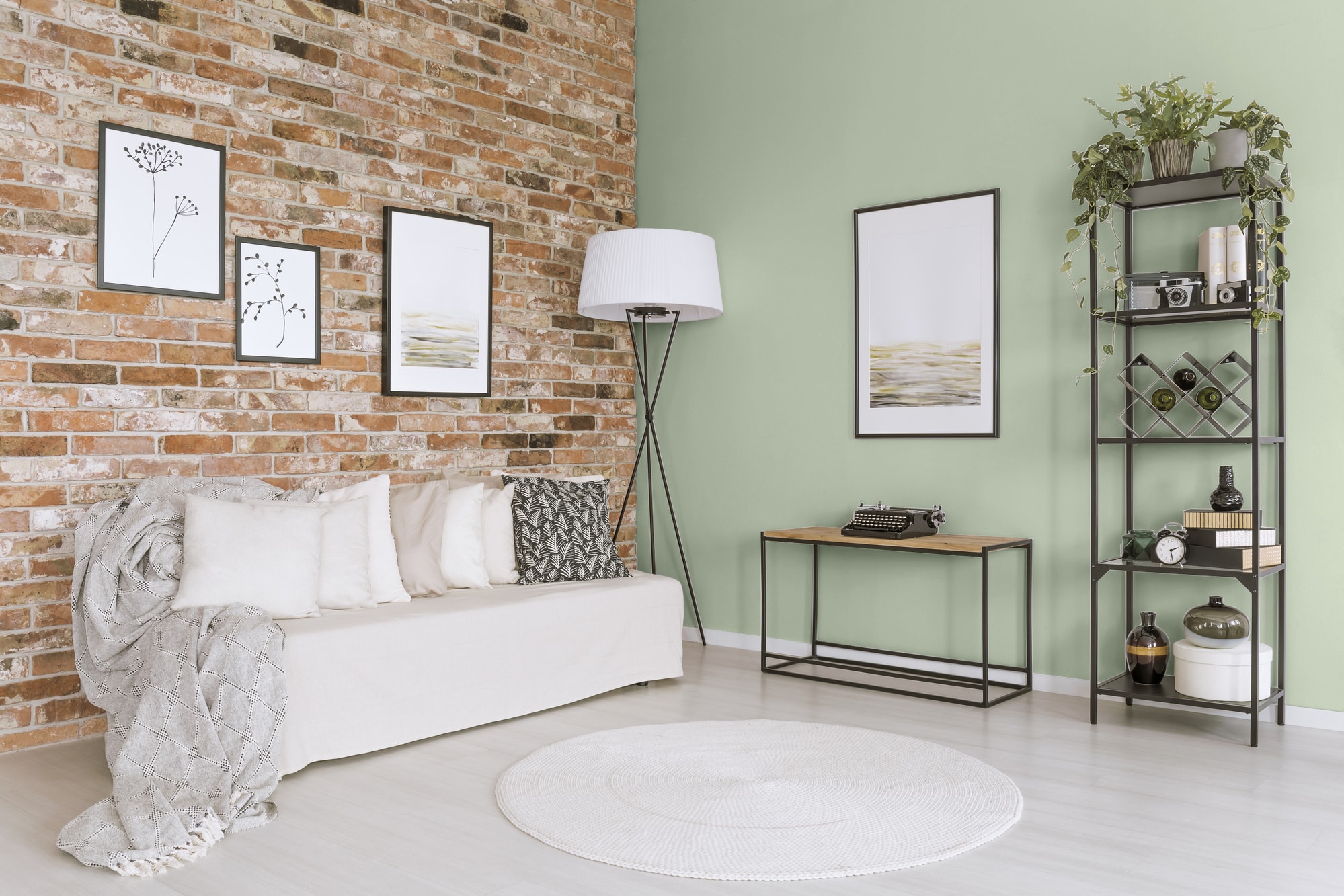 Jojoba is a soft and muted sage green with gray undertones. It's a color with relaxing natural vibes that's a great complement for more muted tones of red brick.
Real Homes with Red Brick and Coordinating Colors
Now that we've reviewed the best colors, it's time to get inspired. Let's take a look at some real homes that have found coordinating colors for their red brick exteriors, and get an idea of how these paint colors jive when they're side-by-side with all that red!
The bright red brick and white mortar on this home look sharp and bright next to deep black trim.
Keeping it simple, the creamy white trim on this New England home is just right for the medley of tones in its aged red brick.
This dramatic Victorian house is set off with deep sage green trim that is a perfect fit for the style of the home. The Victorians themselves would have been, dare I say, green with envy over this one!
Black doors and lanterns wake up this red brick entry and make it look more stately.
This brick home makes a harmonious partnership between Sherwin Williams' Charcoal Blue and Creamy–colors that complement both each other and the red brick in a way that looks classic.
This elegant home uses Sherwin Williams' Dark Night and Snowbound to set off the deep tones of its red brick.
This home has orange-toned brick, so its ideal color companion is blue. This is Newburyport Blue from Benjamin Moore. See how the blue just pops against the brick?
Coordinating with Shades of Brick
So one thing you'll notice if you spend some time trying to pick colors for your brick exterior is that your house may not be all one color! Red brick of course doesn't come in just one shade of red. You'll have anything from a fire truck red to an orangey-red to a muted clay red, depending on what kind of brick you have and how old it is. And sometimes those shades all happen in the same house!
What do you do when you're trying to coordinate with something so mixed and so overpowering? The two major directions to go are neutrals and complementary colors. Let's look at the neutrals first.
Neutral Coordinating Colors
The fail-safe colors are black and white. These are easy to choose from and won't clash with any type of red brick. You'll probably find that the more pure whites look better with the brighter red brick, while the off-whites and creams look better with the more muted shades of red brick.
Black will look great with any shade of red brick, and it will of course go with any white or off-white that you choose. Very dark grays, such as charcoal grays and slate grays, can take on the same role.
Reaching further into the neutral family, browns and tans are also possibilities for red brick. Warm, dark browns give a lovely accent for doors and shutters. Lighter browns and tans are good for when you don't want a sharp contrast, or for when you have a more intense color of brick.
Cool Coordinating Colors
After exploring the neutrals, we can start getting into some colorful options. An excellent companion for those cream colors we discussed, that is also lovely with red brick, is sage green. Soft, muted greens are a good choice for brick, but brighter greens might look a bit garish.
Another great color option for red brick is the blue family. Of special interest are the darker blues, such as the deep navy blues, and the blue-grays, which will lend a softer contrast.
Now that we've covered some of the basics, let's take a look at some of the best paint colors to coordinate with red brick houses.
Final Thoughts
Choosing colors to coordinate with red brick might seem tricky at first. Red can be such an overpowering color, and brick can range in tones even on the same building. But by befriending neutrals and taking a look at some of the cool complementary colors on the color wheel, you can make some expert picks that will perk up that brick in the time it takes to apply a fresh coat of paint. Never fear, owners of brick homes, you too can join in all the color fun!