Decorated Life is reader-supported. When you buy through links on our site, we may earn an affiliate commission. Learn More
12 Pink and Grey Bathroom Ideas
Using pink and grey together is a great way to give your bathroom a modern feminine look. This stylish color scheme is both uplifting and calming, and can work well in both traditional and modern bathrooms, with the colors being used in a variety of different ways to create the look you want.
In this article, we're going to be sharing some of the best pink and grey bathroom ideas around. Whether you are looking to redecorate completely, or simply update a few things, hopefully, you will be inspired by these ideas!
Contemporary Pink and Grey Bathroom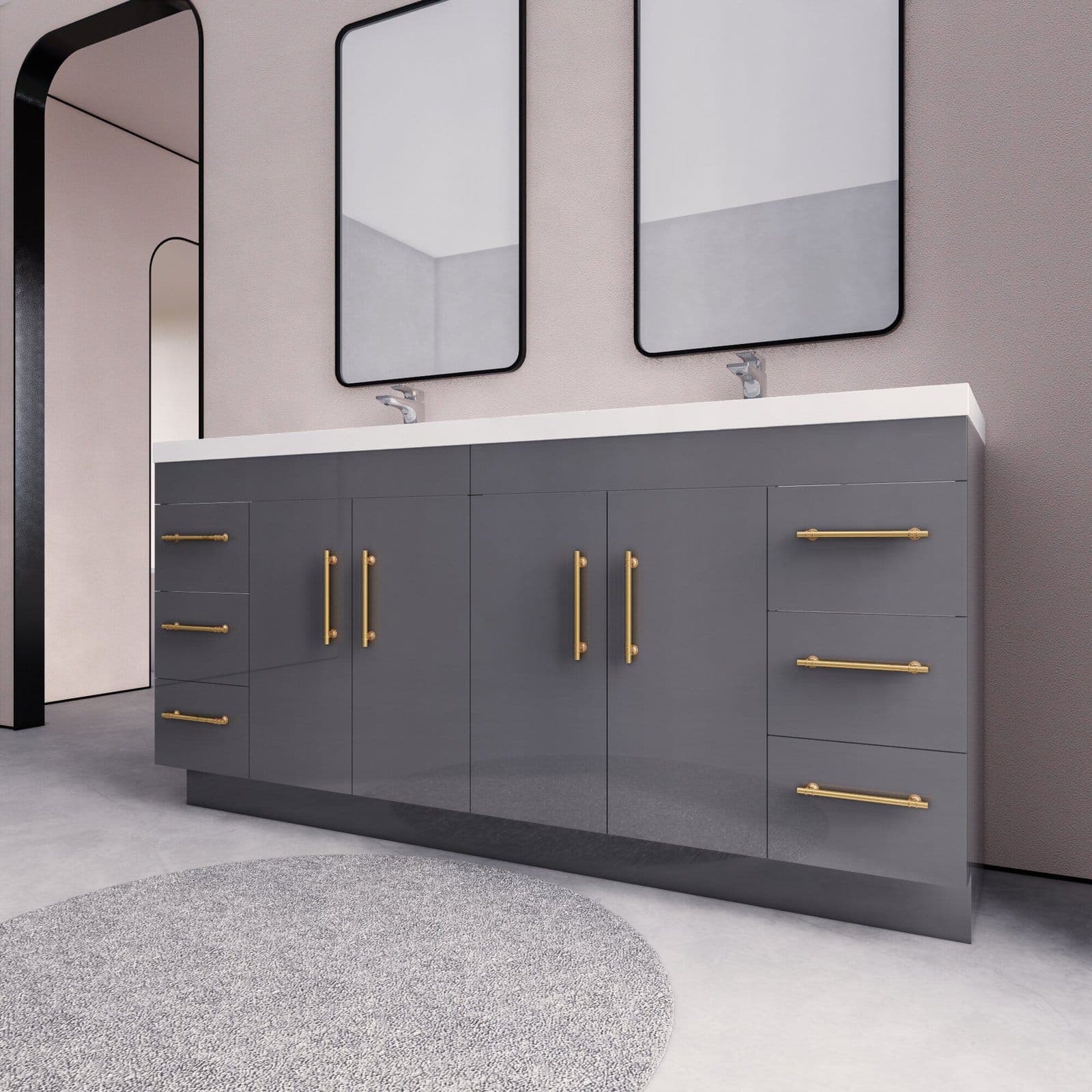 Pale dusty pink paired with dark grey is the perfect color combination for a contemporary bathroom. Black frames on the mirrors and around the door add an accent color and create a striking look thanks to the high contrast, while the gold hardware on the vanity unit adds a touch of femininity.
If you want to create a sleek contemporary look with a pink and grey color scheme, keep it minimal. Look for vanities and accessories with smooth clean lines and pair with smooth curves to create a balanced look.
A Stylish Round Backlit Mirror
A backlit mirror will not only be a stylish addition to any pink and grey bathroom design, but it's a practical choice too. Because of the bright lights coming from all directions behind the mirror, no shadows are cast on your face as you get ready for the day.
These mirrors are ideal for anyone who uses their bathroom mirror for their beauty routine, as no matter how steamy your bathroom gets, your mirror will remain fog-free thanks to the automatic defogging feature.
Charcoal Pink and Grey Bathroom Decor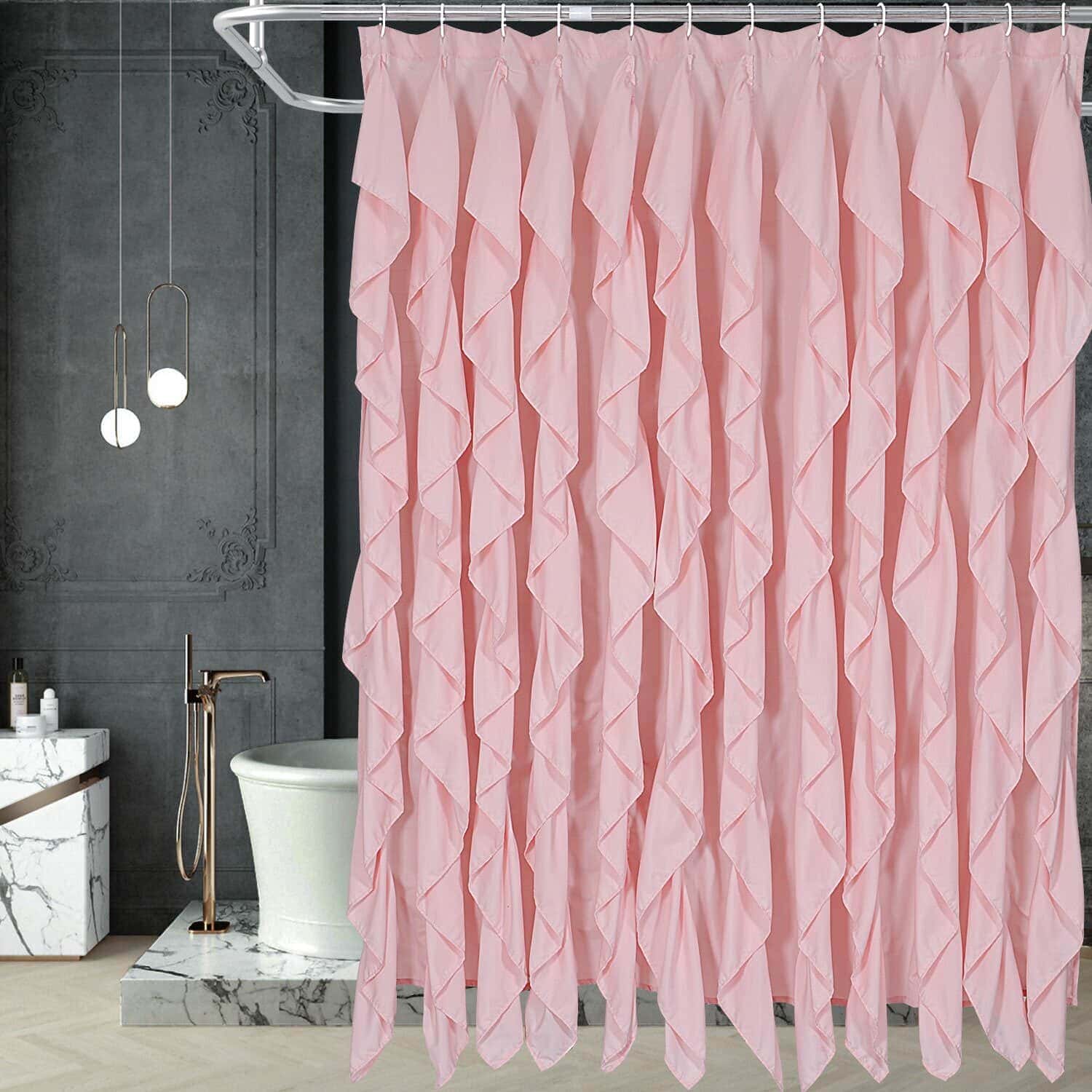 A charcoal grey and pink color scheme paired with elegant details such as a marble vanity will give your bathroom a sophisticated yet playful look.
The pink shower curtain features a beautiful cascading design that will add a touch of elegance to a grey bathroom—perfect for adding a feminine touch to a masculine bathroom!
Gold Accents in a Pink and Grey Bathroom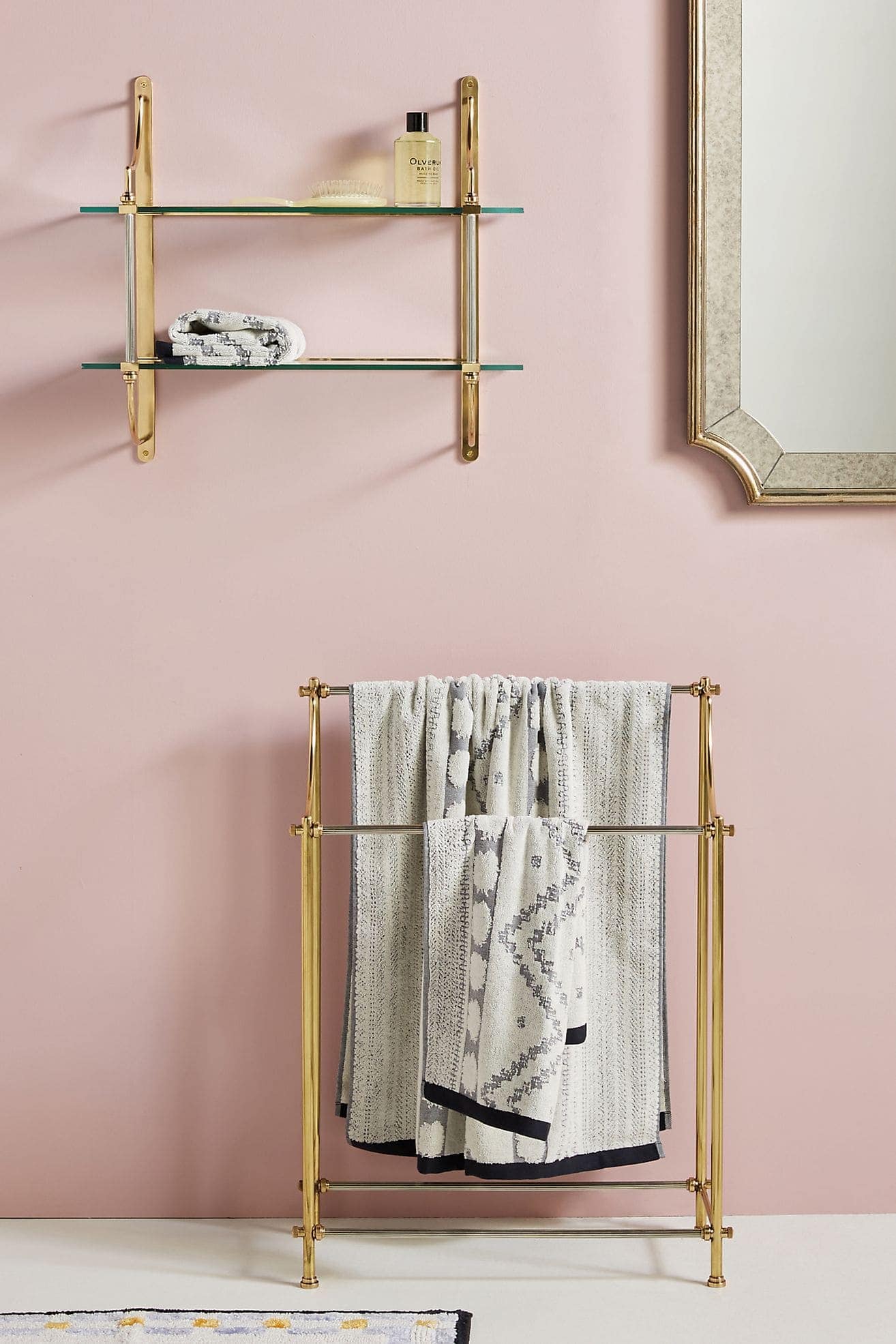 Using gold accents will add a touch of glamor to a light grey and pink bathroom design. Some well placed gold shelving along with an elegant gold framed mirror and a gold freestanding towel rail are enough to make even the plainest bathroom feel glamorous.
Best of all, these items can all be easily installed, so if you want to give you bathroom a makeover without ripping everything out and starting from scratch, this is the perfect way to do it.
Keep it Chic with Pink, Gray and Black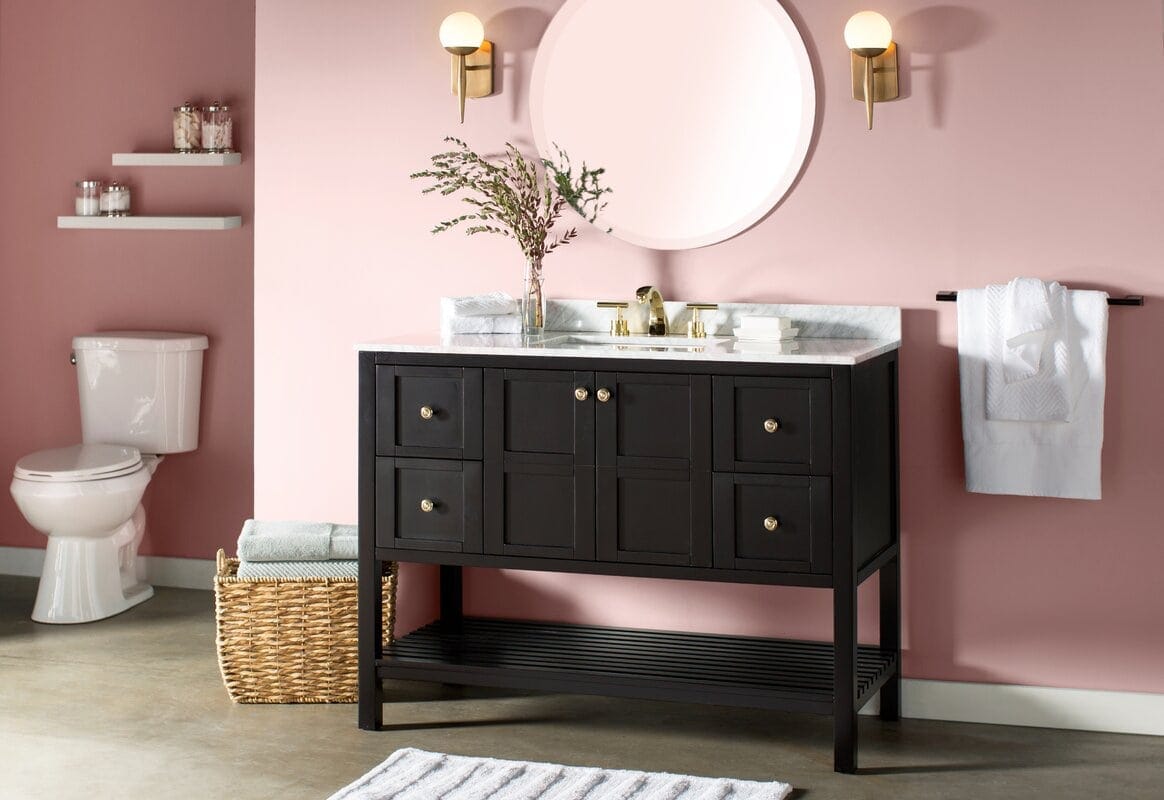 Pink, Gray, and black, is a stylish color combination that will give your bathroom a cool contemporary look. The black vanity contrasts beautifully with the pink walls behind, allowing it to stand out as the main feature in the room.
The beautiful gold sconce lights add a touch of elegant glamor to this scheme, while the rattan storage basket adds a natural element, creating a very balanced and pleasing look overall!
A Contemporary LED Vanity Mirror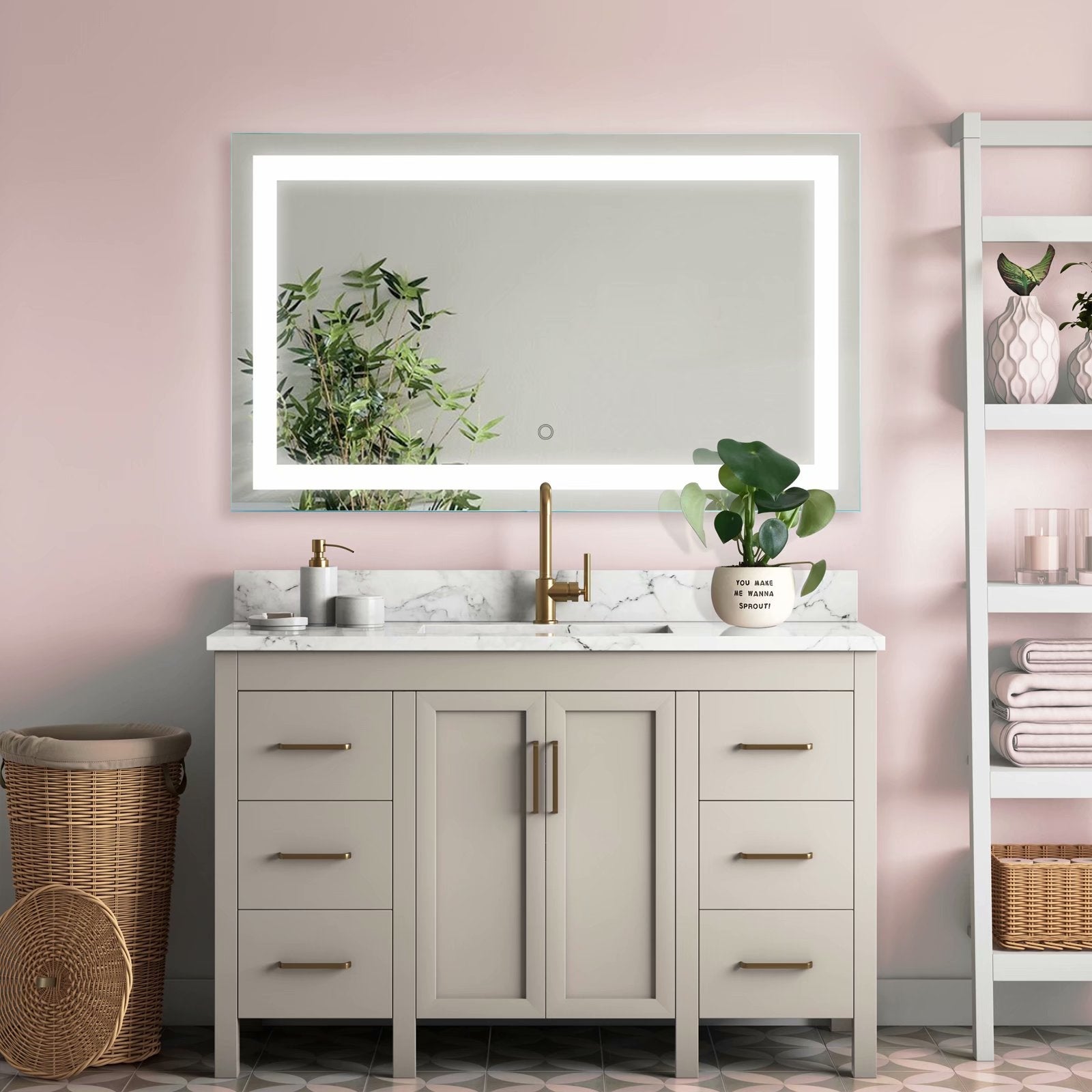 If you're looking for a bathroom mirror that will go perfectly with modern pink and grey bathroom decor, then why not try a contemporary LED vanity mirror. This stylish mirror is frameless, so it will work with almost any color scheme.
The mirror is lit from the front to prevent shadows as you use it, and it also has an automatic defogging feature for when your bathroom gets steamy.
Pink Hexagonal Bathroom Wall Tiles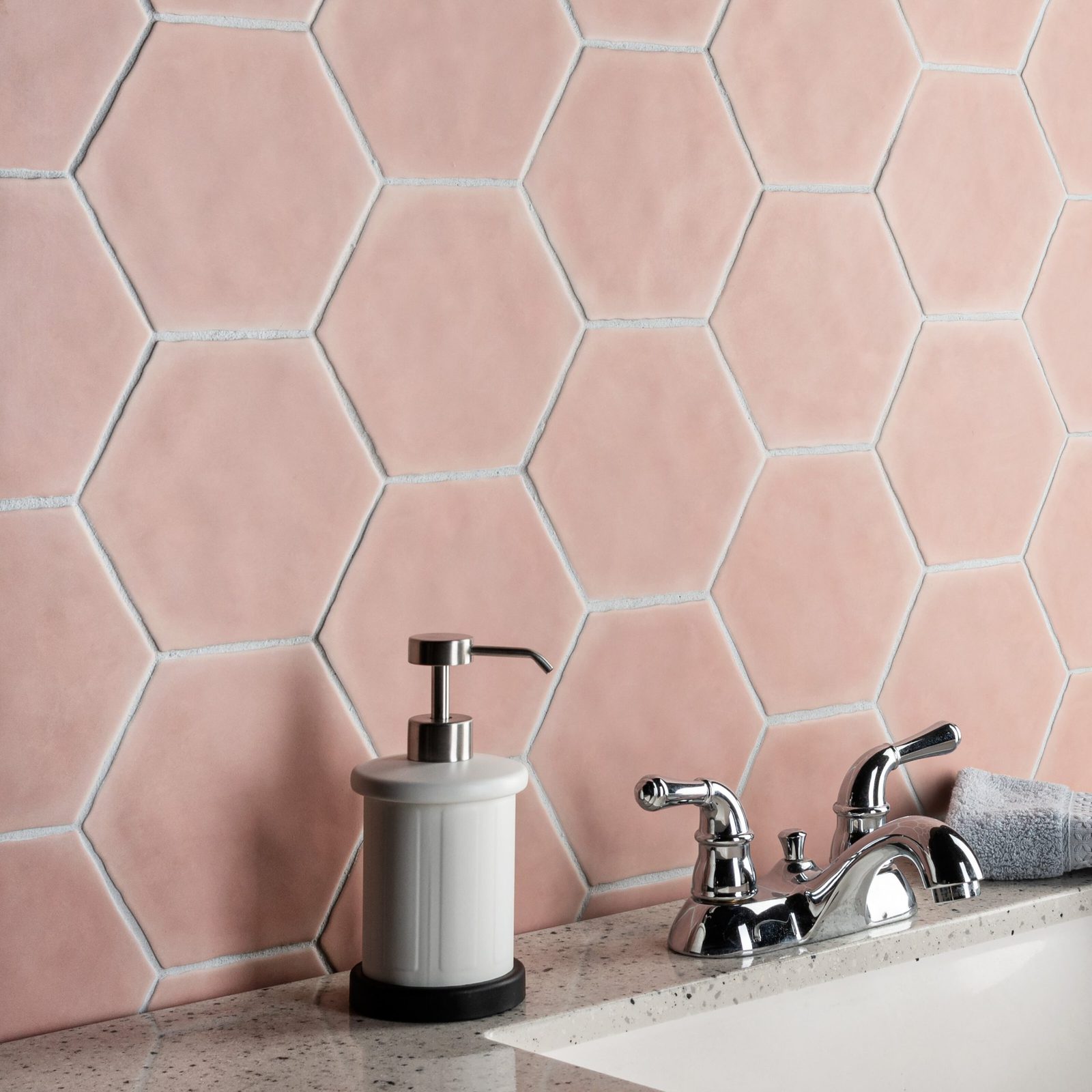 Adding some pink hexagonal wall tiles will give you bathroom a fun modern look. These cheerful tiles can be used on both walls and floors, making them suitable for all areas of your bathroom.
Try pairing these fun tiles with dark grey floor tiles and a light marble vanity for a striking pink and grey color scheme.
Dark Pink and Grey Bathroom Decor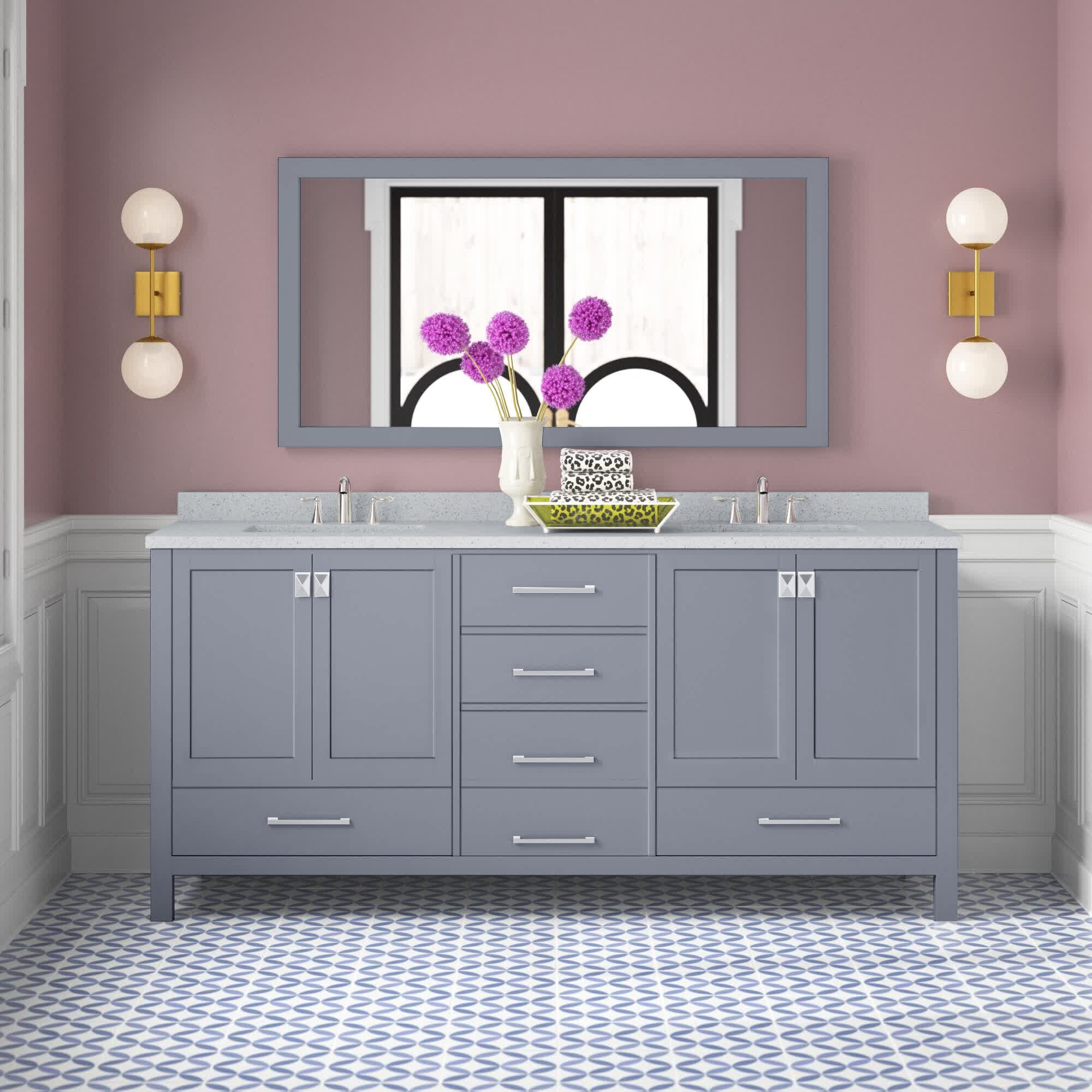 A dark pink and grey color scheme is perfect for anyone wanting to create a timeless, elegant look. The warmth of the pink will balance out the coolness of the grey, creating a balanced look in your space.
This design uses blue and white bathroom floor tiles to complement the pink and grey, and it works perfectly. The result is an elegant and sophisticated design that is full of life and energy.
Add Color to a Grey Bathroom With Pink Accessories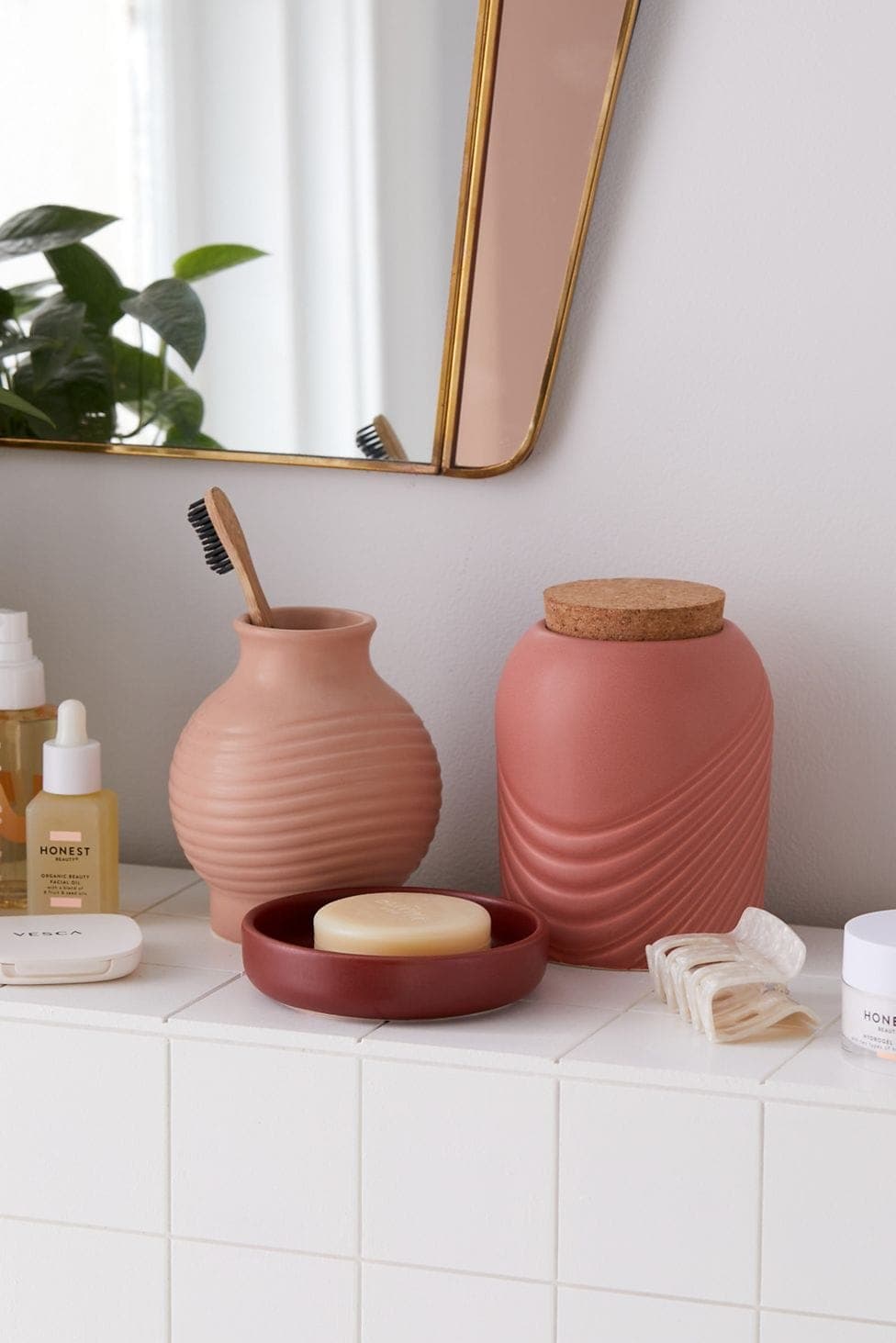 If you already have a grey or white bathroom, you can easily change up your color scheme by adding in some stylish pink accessories. Aside from towels and bathmats, you might also want to add in some vases, jars, and dishes.
Not only will adding some colorful items such as these enhance the look of your bathroom, but they will also provide useful extra storage for bathroom items, helping to keep your bathroom looking nice and tidy.
Blush Pink and Pale Grey Bathroom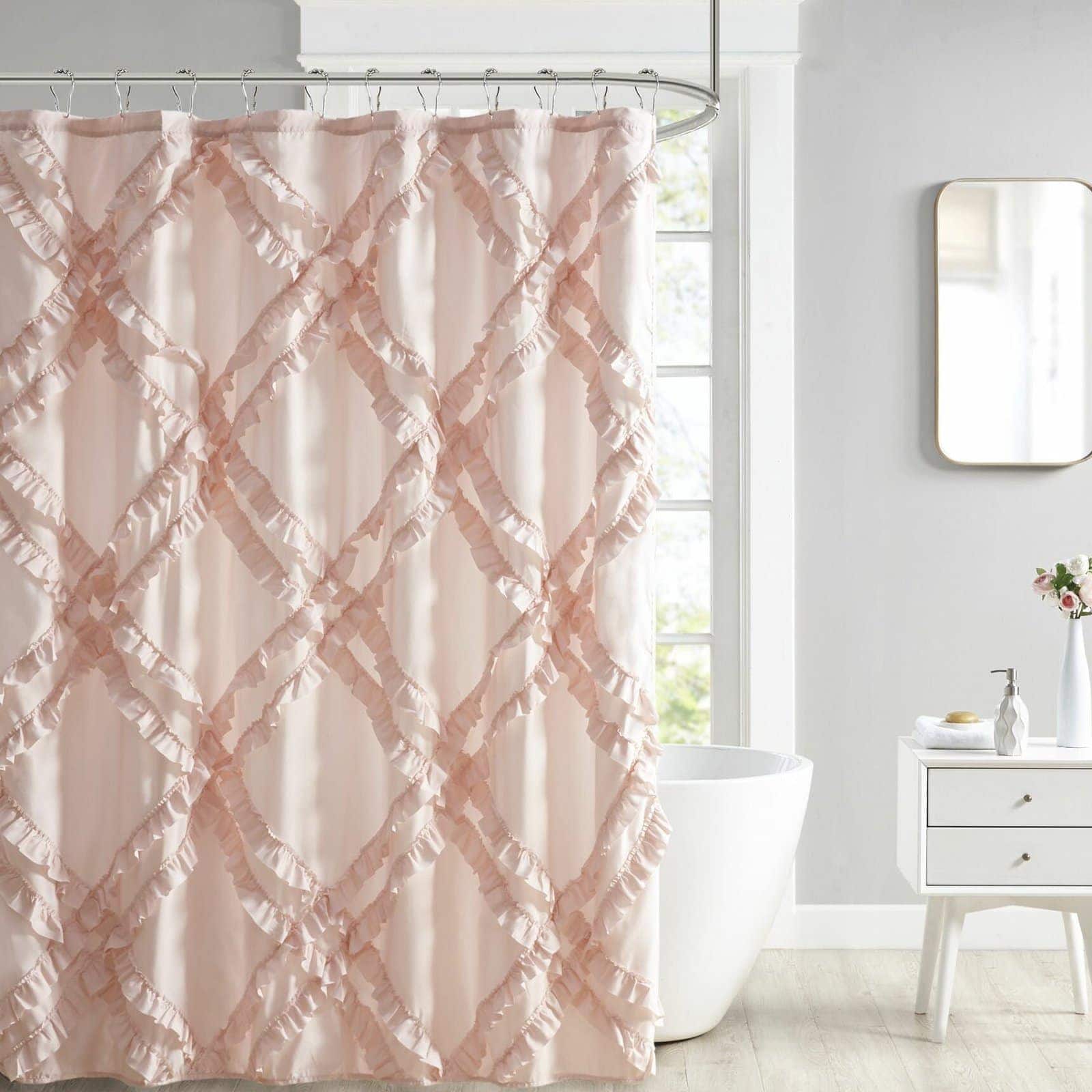 Blush pink and pale gray are a match made in heaven and the ideal color choice for anyone wanting to create a bright and airy bathroom design. This gorgeous diamond ruffled shower curtain is an easy way to add a touch of color to any bathroom, and as you can see, it goes particularly well with light grey walls.
Choosing a textured shower curtain like this is a great way to add life and color to a plain bathroom—not to mention, it's very affordable!
Add Some Elegance With a Textured Glass Sconce
This stunning textured glass and gold sconce is the perfect way to inject some glamor into a pink and grey bathroom. Delicate yet practical, this beautiful light fixture will diffuse the light, giving your bathroom a beautiful serene look—perfect for an evening of pampering and relaxation!
The timeless design of this sconce will look beautiful in both modern and traditional bathrooms and is the perfect way to give your space an elegant, refined look.
Pink and Grey Marble Chevron Tiles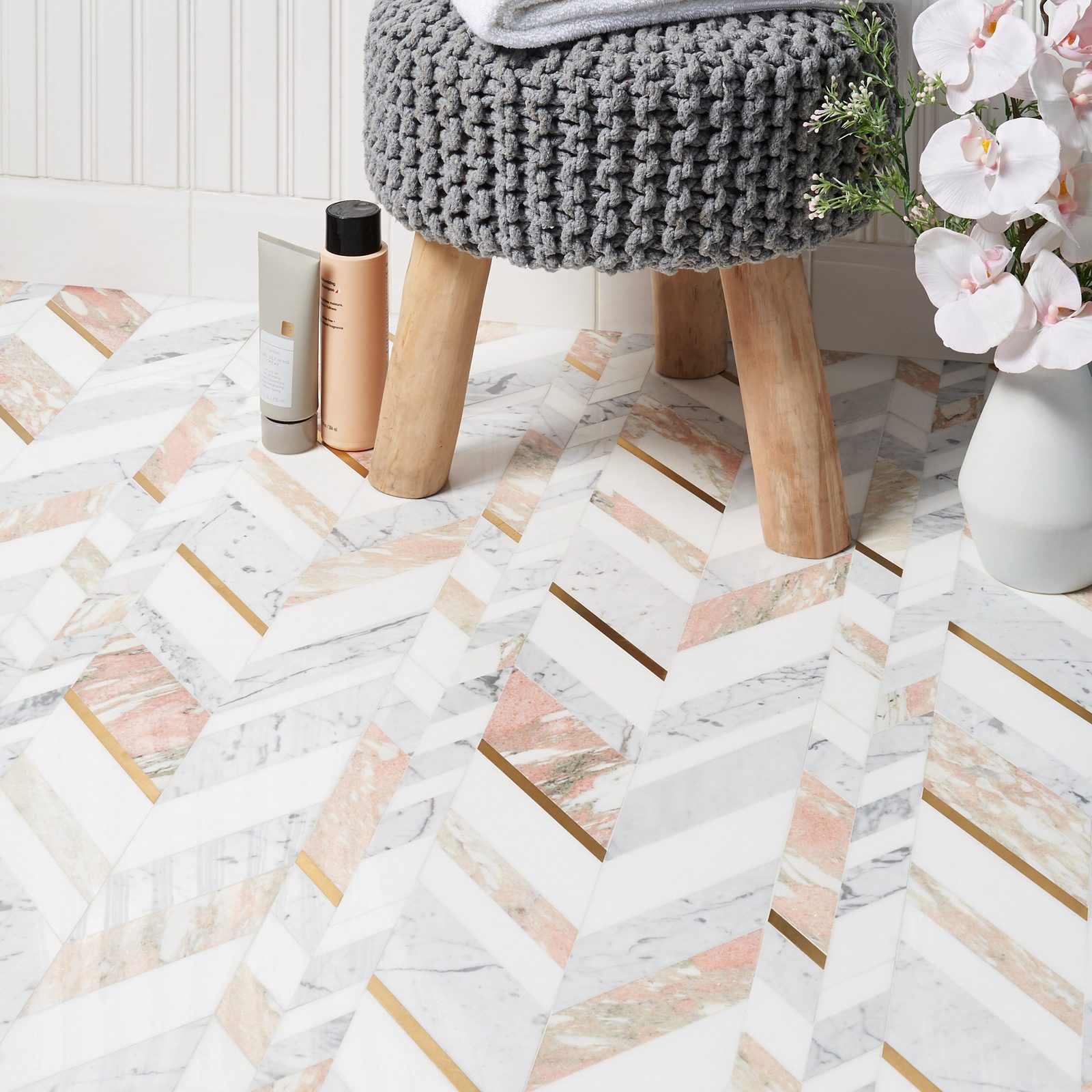 If you really want to add something unique to your pink and grey bathroom design, try adding some unique floor tiles. These beautiful tiles are suitable for walls, floors, and backsplashes, and are the perfect way to add the 'wow' factor to your pink and grey bathroom decor.
The tiles feature a modern chevron design in pink, grey, and white marble, with delicate gold accents—gorgeous!
Final Thoughts…
When designing a pink and grey bathroom, it's important to get the balance right. If you want to create a bright modern look, go for light greys paired with a soft baby pink and white as an accent. On the other hand, if you prefer a bolder look, think about using dark grey with a deep muted shade of pink.
Hopefully, these pink and grey bathroom ideas have inspired you for your own home. Whatever you choose, pink and grey are a match made in heaven, so using these two colors together is a sure-fire way to create a gorgeous bathroom design.