Bathroom Accent Wall Ideas for a Fresh and New Look
A bathroom is a truly versatile space to try out accent wall ideas. As well as wallpaper and paint on your walls, you have the added color and texture of a wall tile to play with.
As for which you color or style to choose, you may like to seek further inspiration. These days most of us have a plain white bathtub and ceramics, so you can pick whatever you like to partner with your blank canvas.
The choices needn't be too overwhelming if you check out the myriad of bathroom accent wall ideas and see which most resonates with you.
Feature Wallpaper
Floral Abundance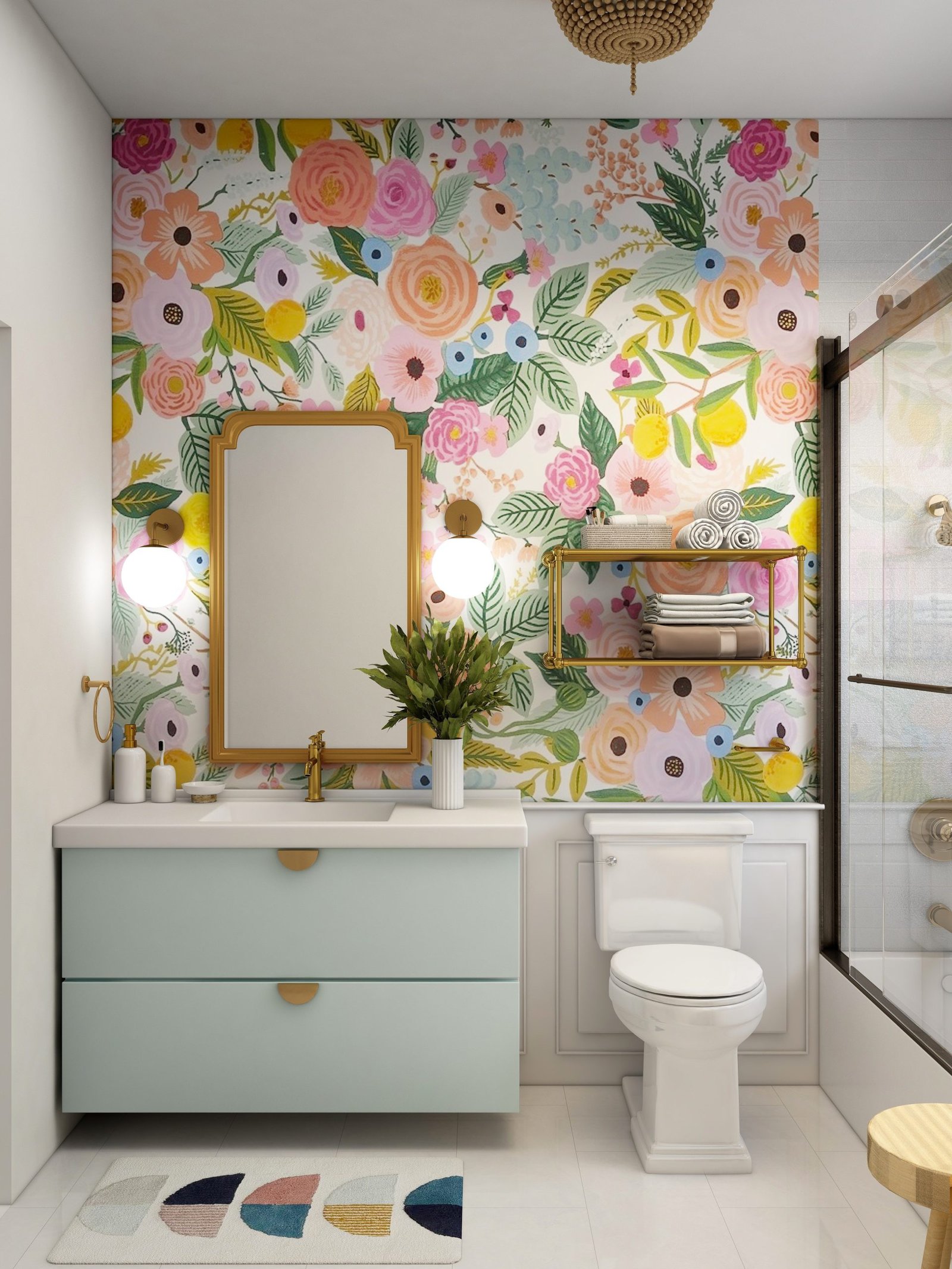 If you have a plain white bathroom with white walls and flooring, then you can inject a big dose of boldness into the space!
Bold floral prints never go out of fashion. The key colors this season are bright pastels in pinks, yellows, corals and blues. If you're not keen on wallpapering then you can choose a small section of wall. And you'll still have maximum impact.
A cute floral will style well with a gold tone mirror and accessories – and don't forget your lighting. A simple brass or gold wall sconce will light up the room at night.
Traditional Butterflies and Birds
If you like being in nature and favor a cool country design then a pretty botanical wallpaper could suit your bathroom.
Style an elegant flower and butterfly print feature wall with traditional accessories. A period vanity and classic brass taps and lighting look divine. And a simple mirror and fluffy white towels will complete the look.
Monochrome Flower Wallpaper
There are thousands of different wallpapers you could choose from, so see if you can narrow down to focus on the look you want.
Against white shiplap, a monochrome retro floral design works wonderfully for those who love an on-trend vintage look.
To accessorize, why not commit fully to the monochrome by adding a black-framed mirror? And to lift the look a little, fix floating pale wood shelves on the wall for a look that's contemporary and will make people think you paid a designer.
Terrazzo Bathroom Wallpaper
Terrazzo is a super trendy look in flooring and wall tiles right now. But if you don't have the skills or the budget to tile your bathroom then listen up, there is a cheat!
Not only is the terrazzo style tile available as wallpaper but it also comes as an easy stick-on paper. So you can achieve the look in a fraction of the time with minimal labor. Cool? Definitely!
Tile Your Accent Wall
Marble and Gold Bathroom Accent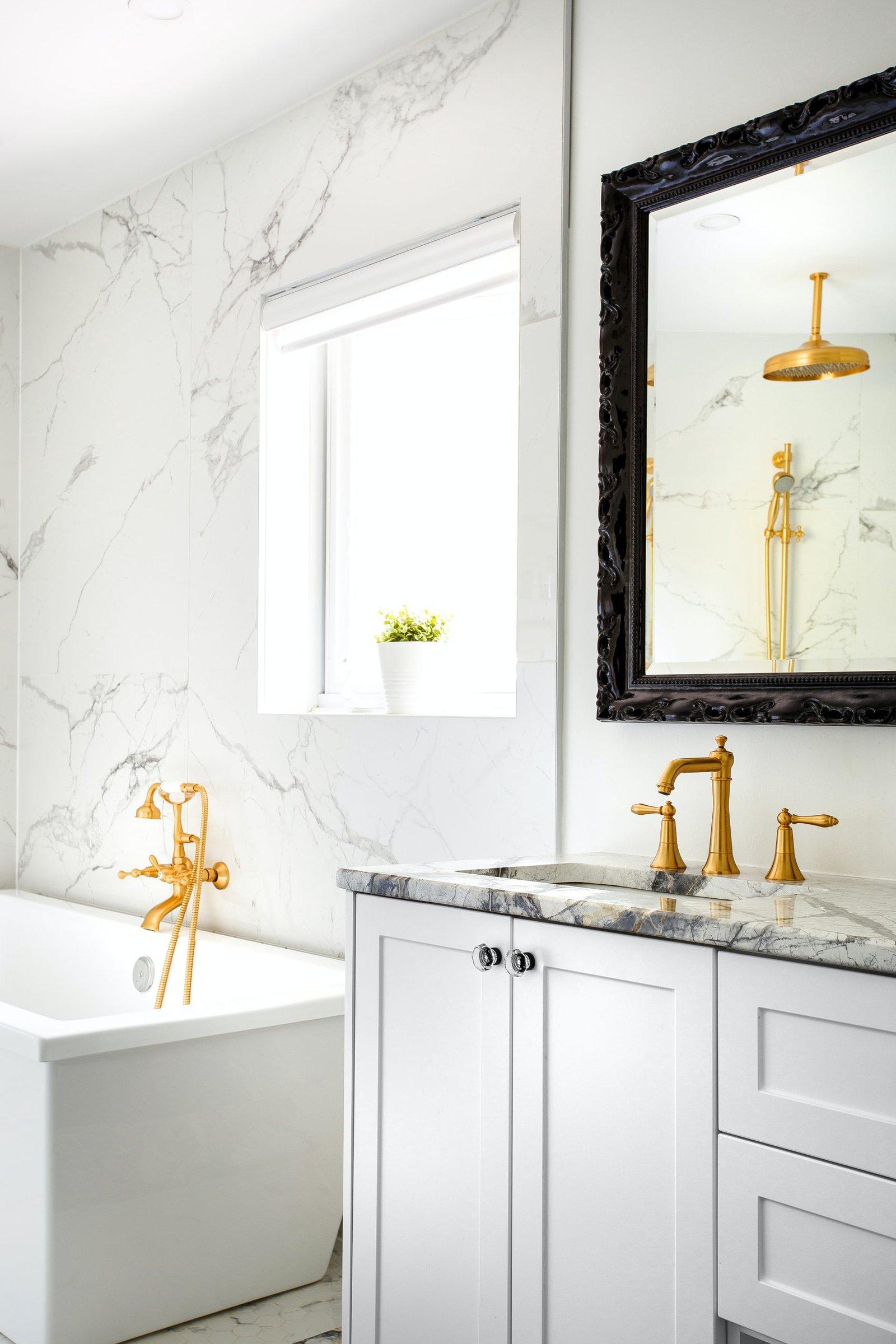 Nothing says decadence like a huge slab of marble but if you want to get the look on a budget you can find some gorgeous marble tiles.
In a range of colors, you can decide on the shade to best suit the ambience you want in your bathroom. For cool luxury a white with black detail will look fabulous with gold faucets and accessories. Perfect for when you feel like treating yourself to a home spa day.
Art Deco Tile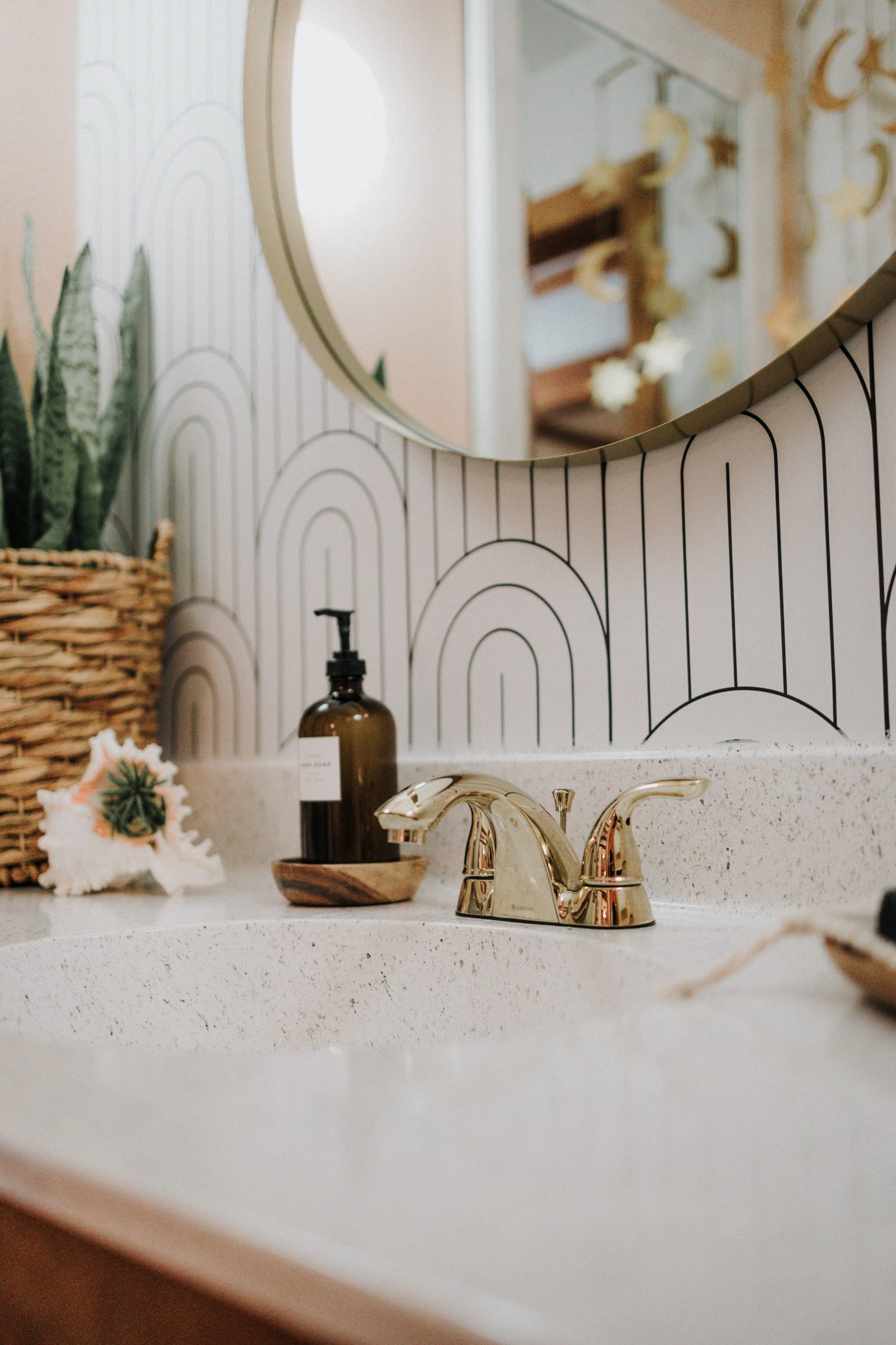 Keeping up the decadent idea with a look that's trending right now is a glorious Art Deco theme. Think gold, geometric design and sultry colors.
A pretty white tile with a gold geometric pattern can be shown to its best advantage against a blush pink wall. Keep accessories uncluttered in a simple toning gold.
Mediterranean Turquoise Glass Tile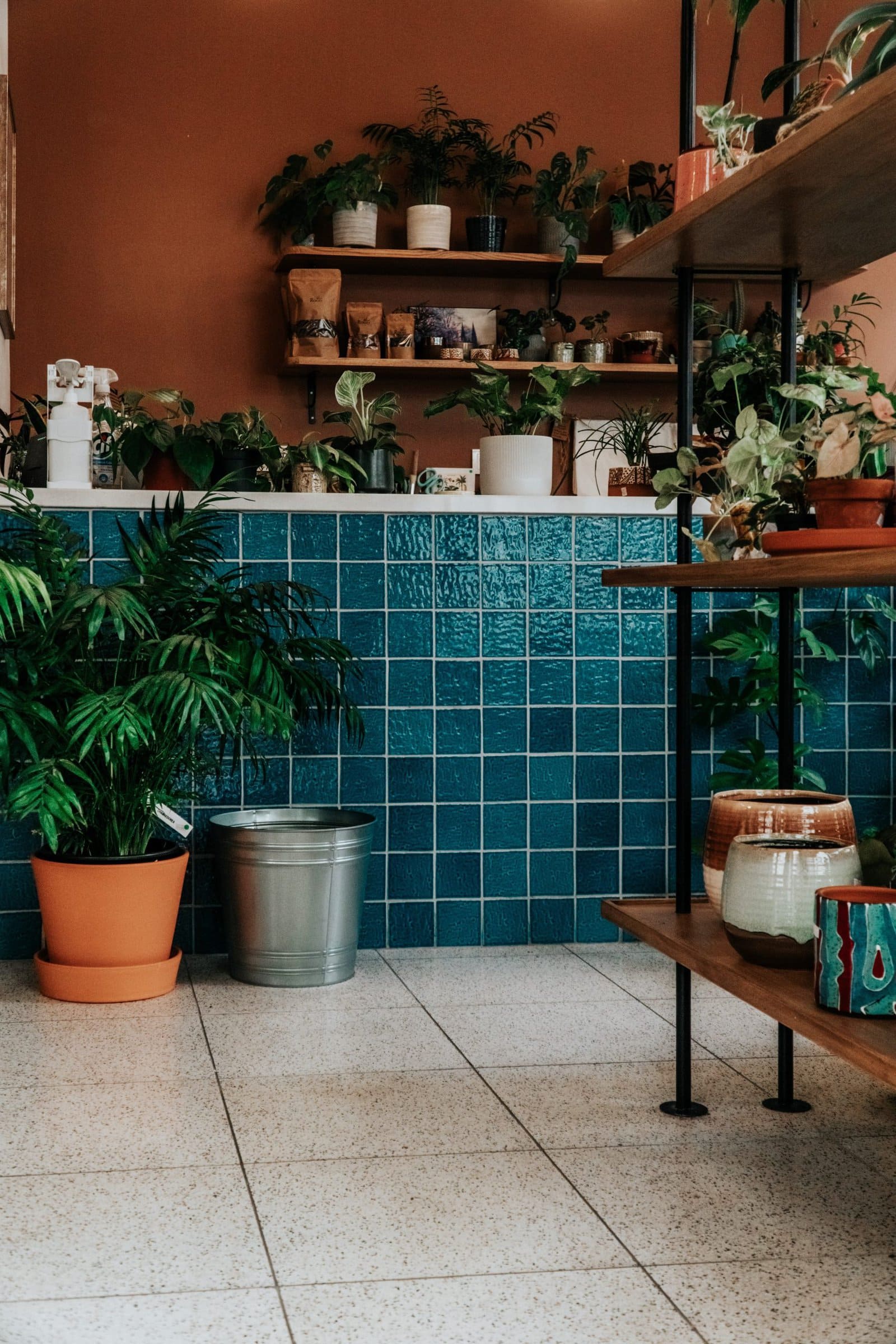 If you like the brightness and warmth of the Mediterranean or the color of Mexican design, then try a color clash for impact.
A terracotta wall paint will bring out the expressive color of a turquoise tile which has an ocean-like appearance in glass.
To create an exotic vacation feel, add wooden shelves and fill with gorgeous green trailing pot plants with jungle shaped leaves.
Floral Tile Mosaic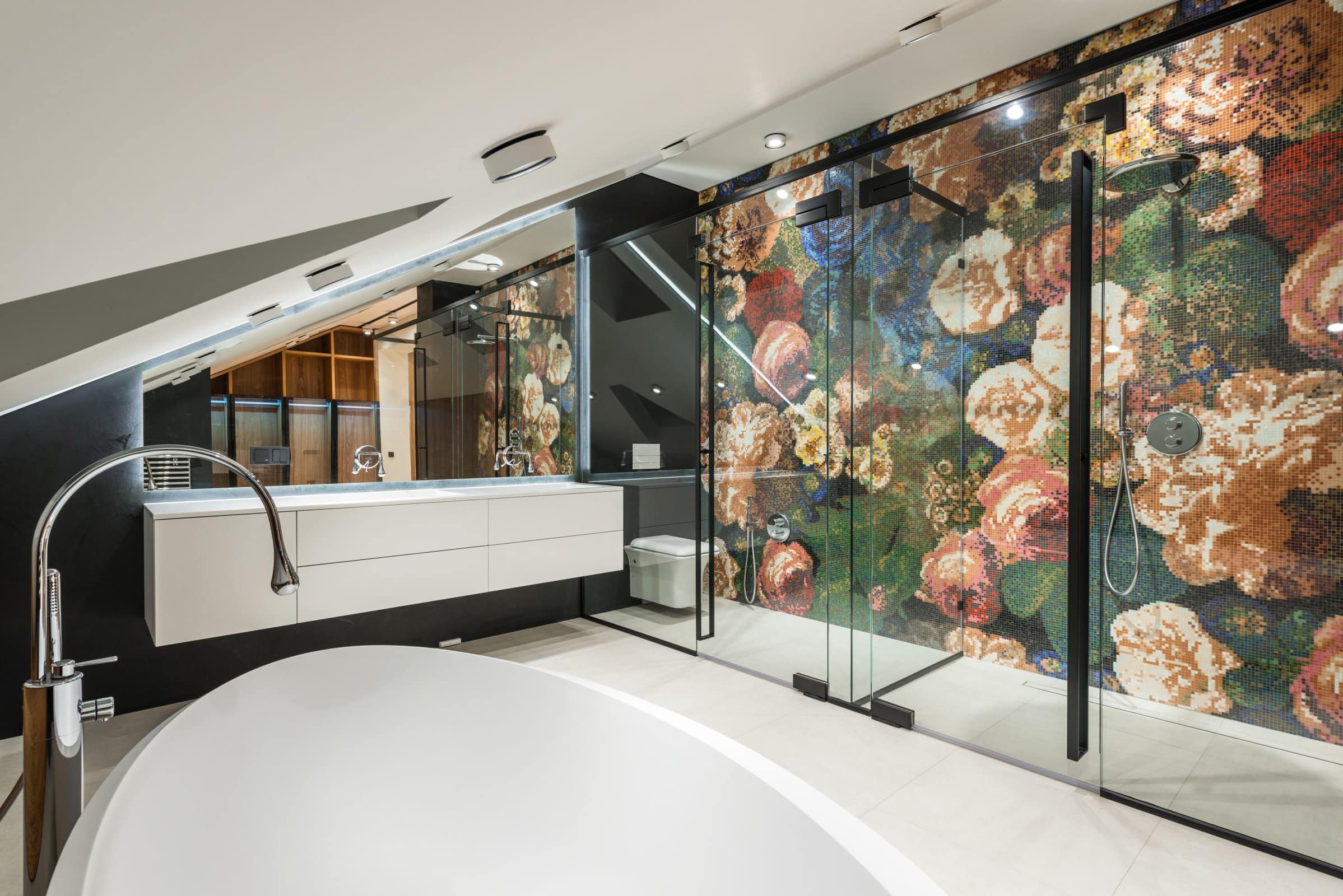 If you really want to make a wow statement in your bathroom then you can install a mural in the form of a mosaic. If you choose a busy design, then keep accessories minimal and in black or white.
While mosaic tiles are so tiny that the idea of installing them can be daunting, usually these come in sheets and you can lay them yourself. For a mural design in a bold floral, you may want to enlist the help of a professional.
Accent in Paint
Yellow Feature Wall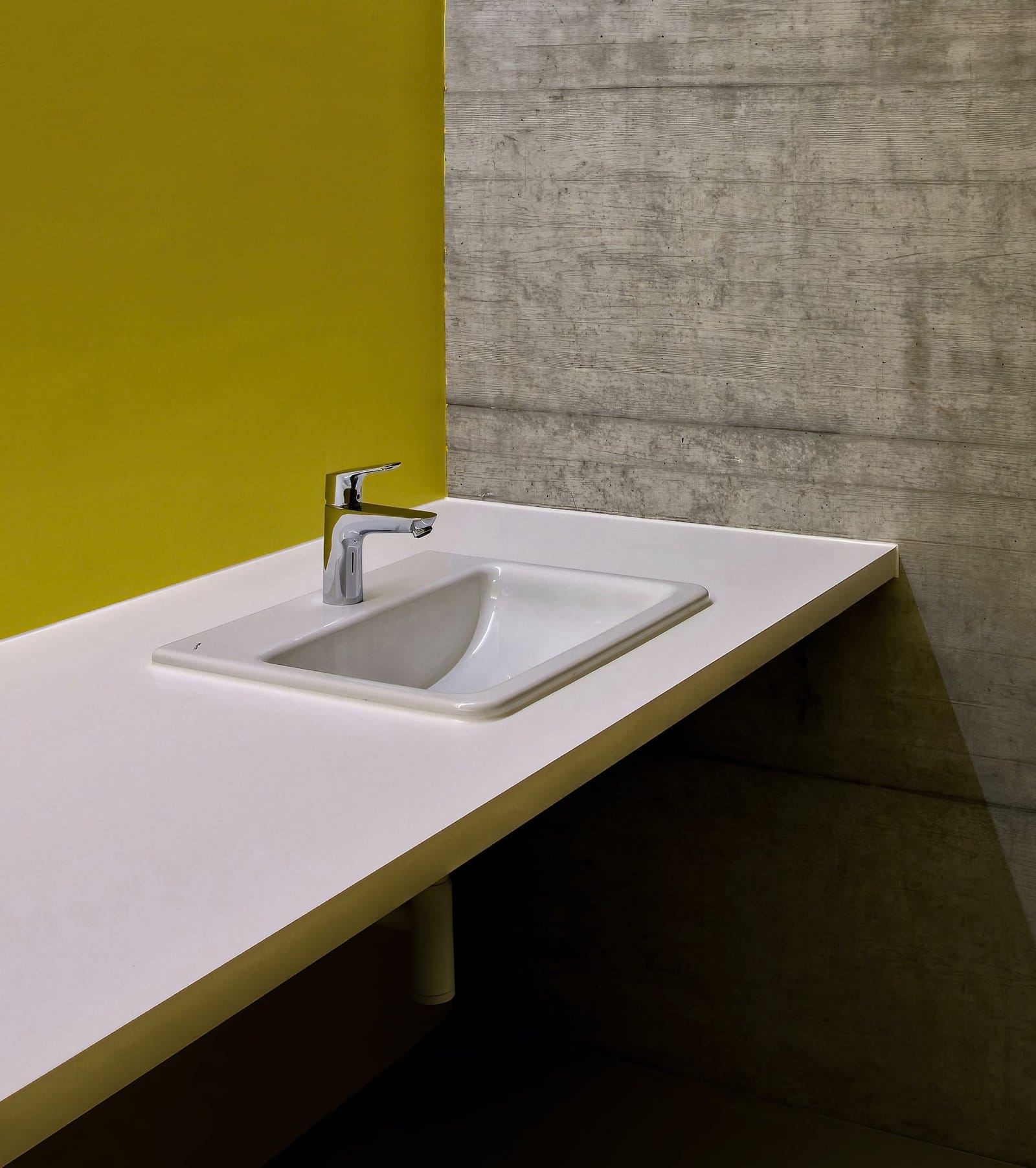 If you prefer industrial, minimal decor then you may think you'll need to go all out on monochrome. In fact, you can add a little color through a well-chosen contrasting paint.
A mustard color seems to be staying in fashion, perhaps because it looks great against grays and natural stone.The easiest of wall accents to achieve, you can easily add some zest by simply painting one wall. Just be sure to pick a bathroom or waterproof emulsion paint.
Pink with Black Accessories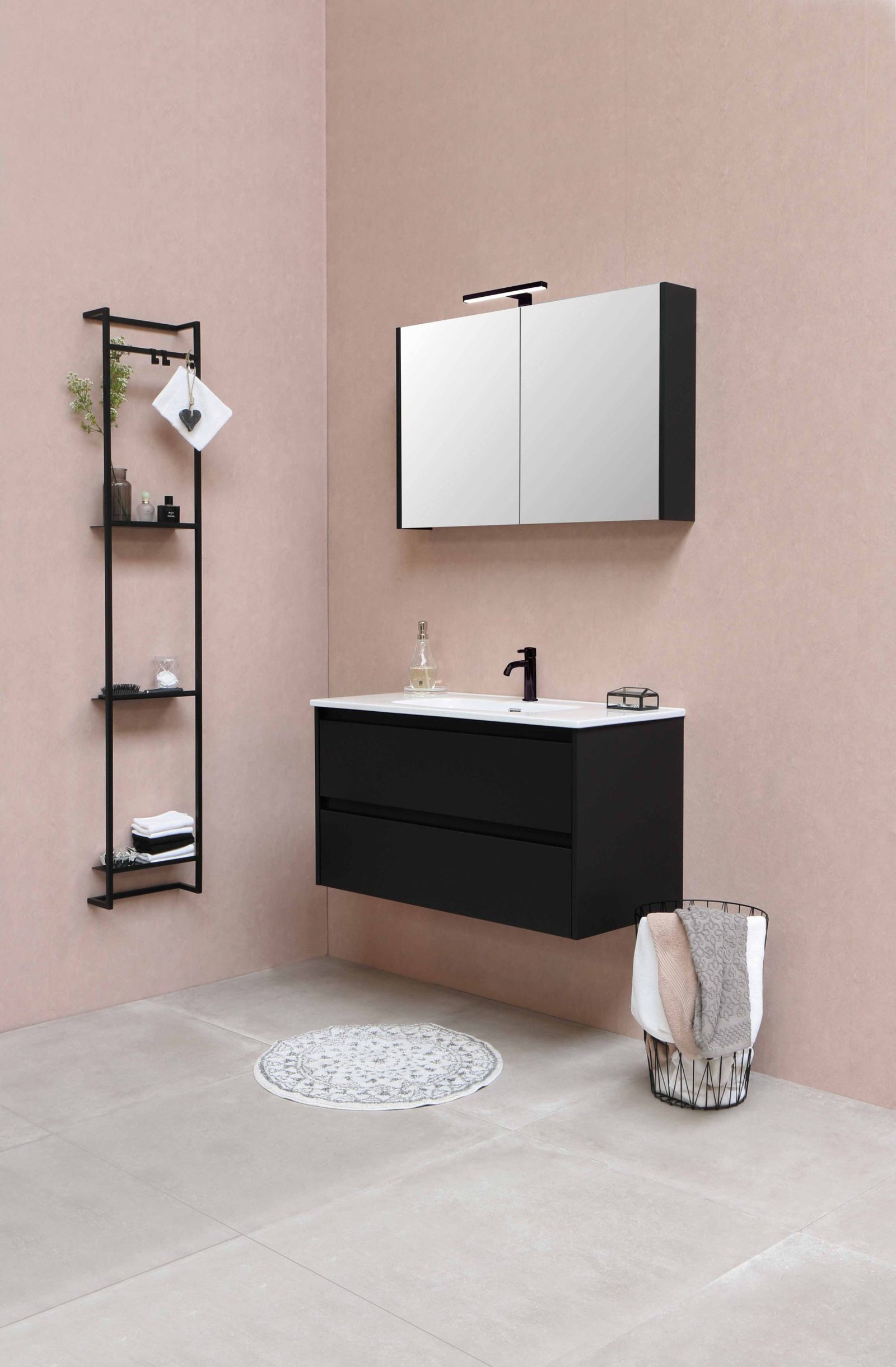 A gentle pink wall will always feel romantic so if you are fond of a soft rose color, there are many choices out there.
To sharpen the look and add modern detail, black fixtures and accessories will bring your bathroom right up to date.
Bold Stencil Design
To maximize character and creativity with minimal fuss, pick the smallest wall in your bathroom and dress it up.
Often the wall behind the toilet is a good choice and you will have an updated room in no time. If you've painted the wall in one color, you could consider creating a feature by painting half the wall horizontally in a different contrasting shade.
But don't stop there, either freehand if you're steady, or with a stencil, use that bold contrasting color to add a stencil design. This is cheap, simple and highly creative.
A Piece of Art
If you want to go that bit further in using your design skills, you could paint a mural. Your own piece of artwork for your bathroom. This can be simpler than you'd think to try.
Draw a design in pencil to get the outline. Then you can keep costs low by using tester paint pots to color in your design.
If painting sounds complicated, then look around for some beautiful decal stickers that you can easily apply to create a gorgeous yet simple accent wall.
Wonderful Wood Ideas
Shiplap Bathroom Accent Wall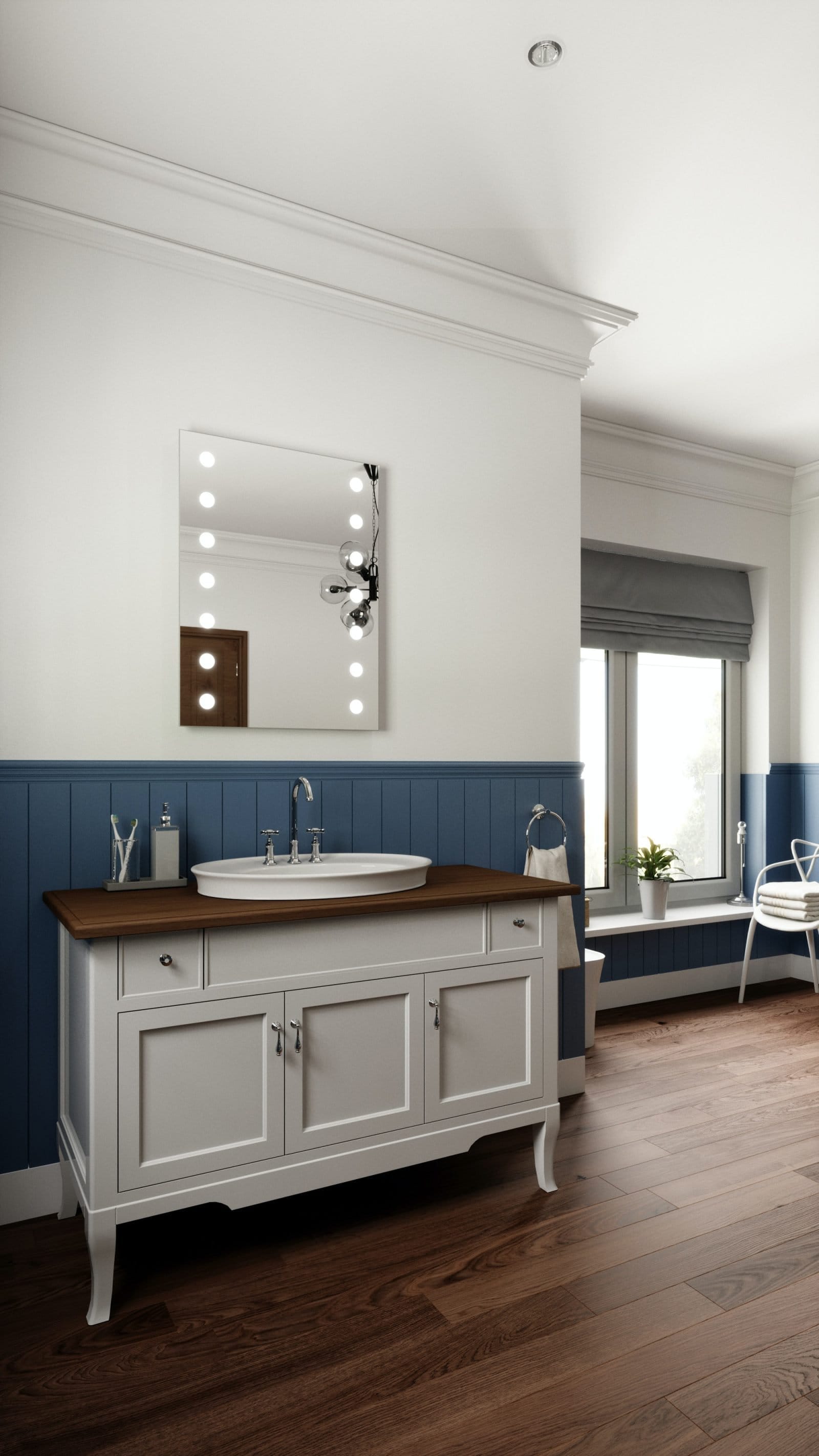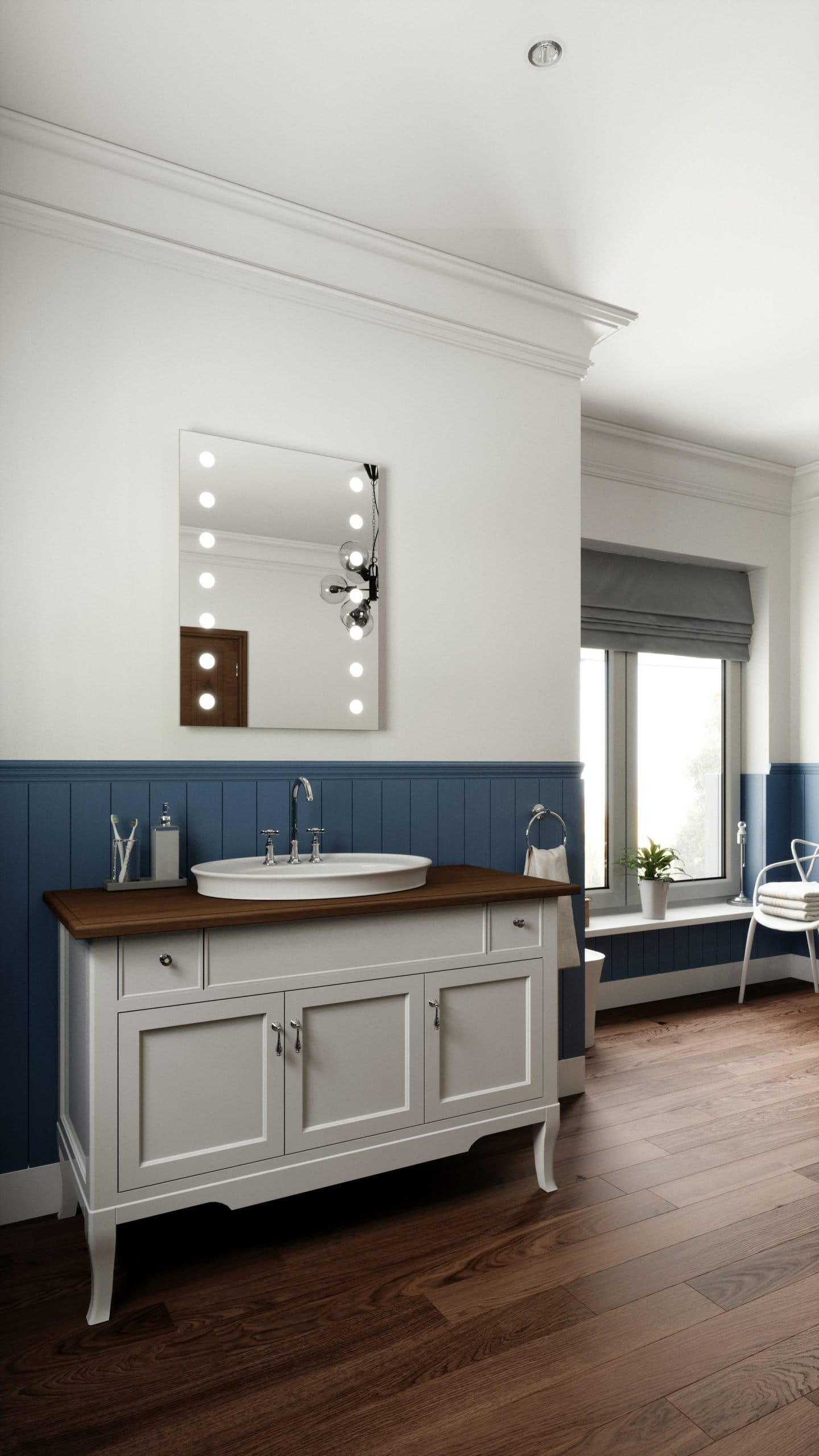 For a Parisian traditional bathroom then you may pick a freestanding white vanity. To match with this look, a painted shiplap wall in the right shade of blue will look sophisticated and classic.
To take on this look yourself, you can either use a tongue and groove system or the cheapest way to install shiplap is to use plywood.
Bali Style Bathroom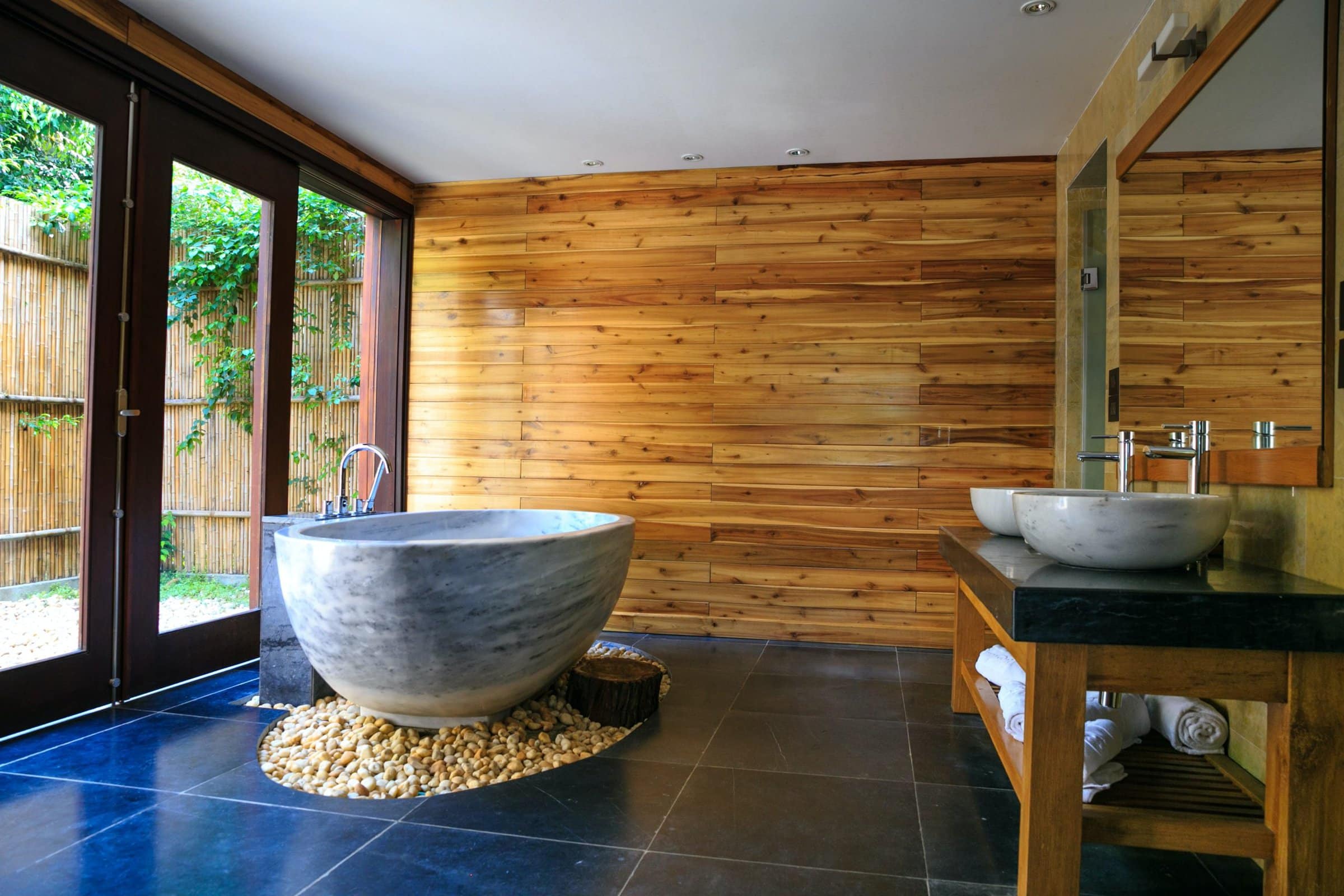 If you want to feel like every day's a vacation, what better than to give yourself a long hot soak in a bathroom that feels like you're on a Far Eastern island.
If you have a modern freestanding bathtub then to complement this look, you can attach wood or bamboo to the wall. Laid horizontally in columns works best for this summer look.
On-Trend Wood Slatted Wall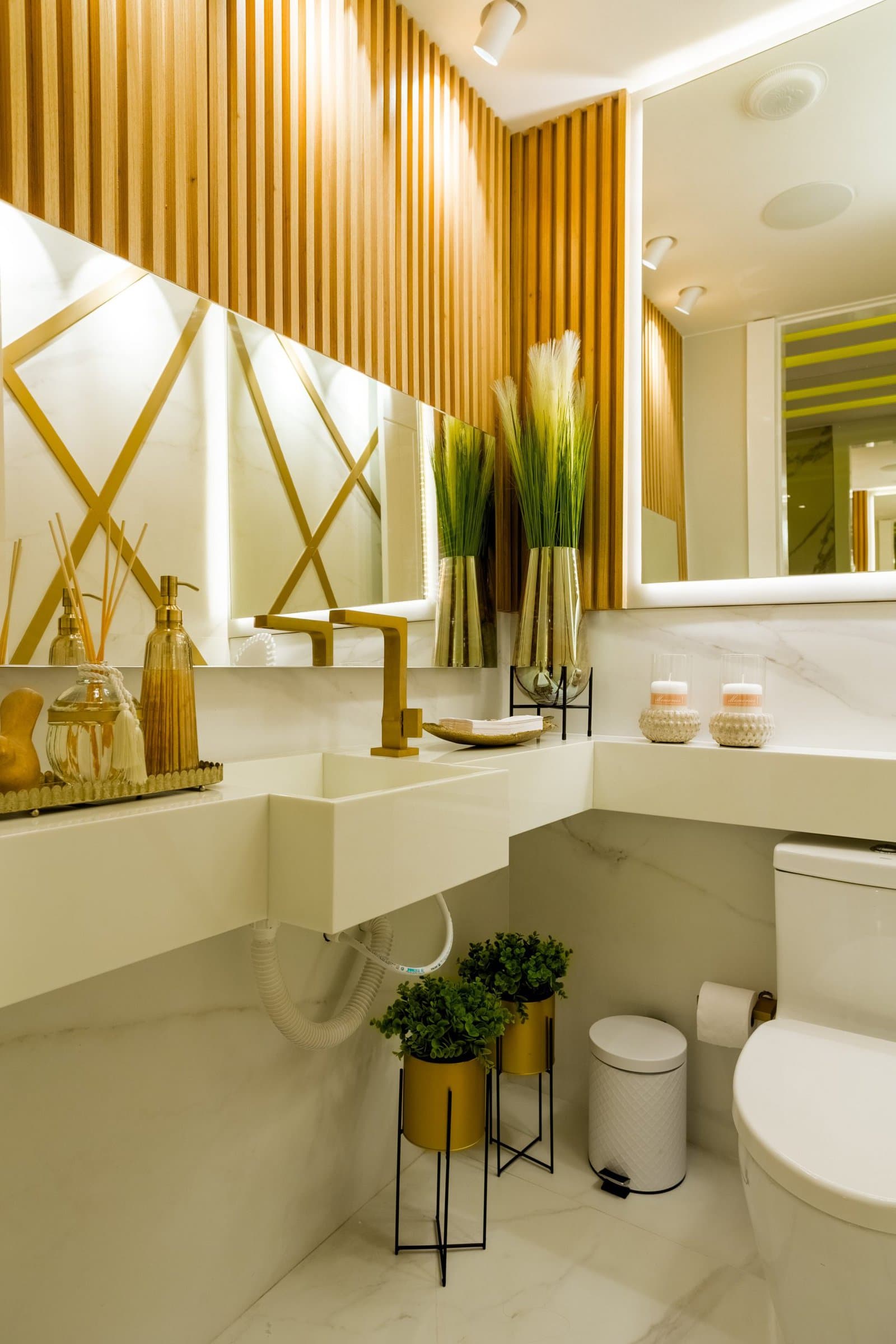 You probably love the trending teak slatted wall idea. We're seeing this a lot as it's easy to install but so much of a designer statement.
You might have thought about trying it in another room but not the bathroom. But why not? So long as you treat or varnish the wood and put it in a space where it won't get heavy water spills, you can give yourself the gold standard of bathrooms.
In Summary
Your bathroom is hugely flexible in terms of the materials you can choose to dress up your walls. From simply painting one wall in a single color, to painting on designs, you can add a lot of impact.
If you like wallpaper but are not the most skilled at putting it up, then try a small area. This is forgiving in a bathroom.
You might like to try a colorful tile to add a layer to your home decor. For a twist, you could add wood as your accent. And don't forget to think about your accessories for a sophisticated finish.