Beautiful Bathroom Chandelier Ideas to Illuminate Your Space
What are bathrooms if not at-home spas where we can escape from the stresses of everyday life? A relaxing soak in the bathtub with candles and music, a few moments of pampering while washing your hair, and some quiet reflection before your nightly skin routine all take place in the bathroom's small but zen-like corners.
While there is a lot that goes into aesthetically decorating a bathroom, from choosing the right artwork to go on the wall to getting the tiling right, there is one factor that makes all of these elements come alive in the best way possible – lighting.
The right lighting can make or break the vibe of your bathroom, so choose wisely. Bathroom chandeliers are THE definitive statement piece to choose if you want your bathroom to look opulent and unique.
Not sure how to proceed? Here are some excellent bathroom chandelier ideas that will make you feel like royalty.
Black Beauty
Choose lighting fixtures in dark, bold colors that complement similarly-hued accents in your bathroom. A moody matte black bathroom with stained wood furnishings warrants a Noir-style wrought-iron vintage chandelier.
To keep the bathroom space open and inviting in this all-black haven, add stylish French doors (or windows). A dark claw-foot bathtub on checkered black-and-white tiles completes the look. Add a touch of vivacity to this moody space with an indoor potted plant or two.
Classic Drama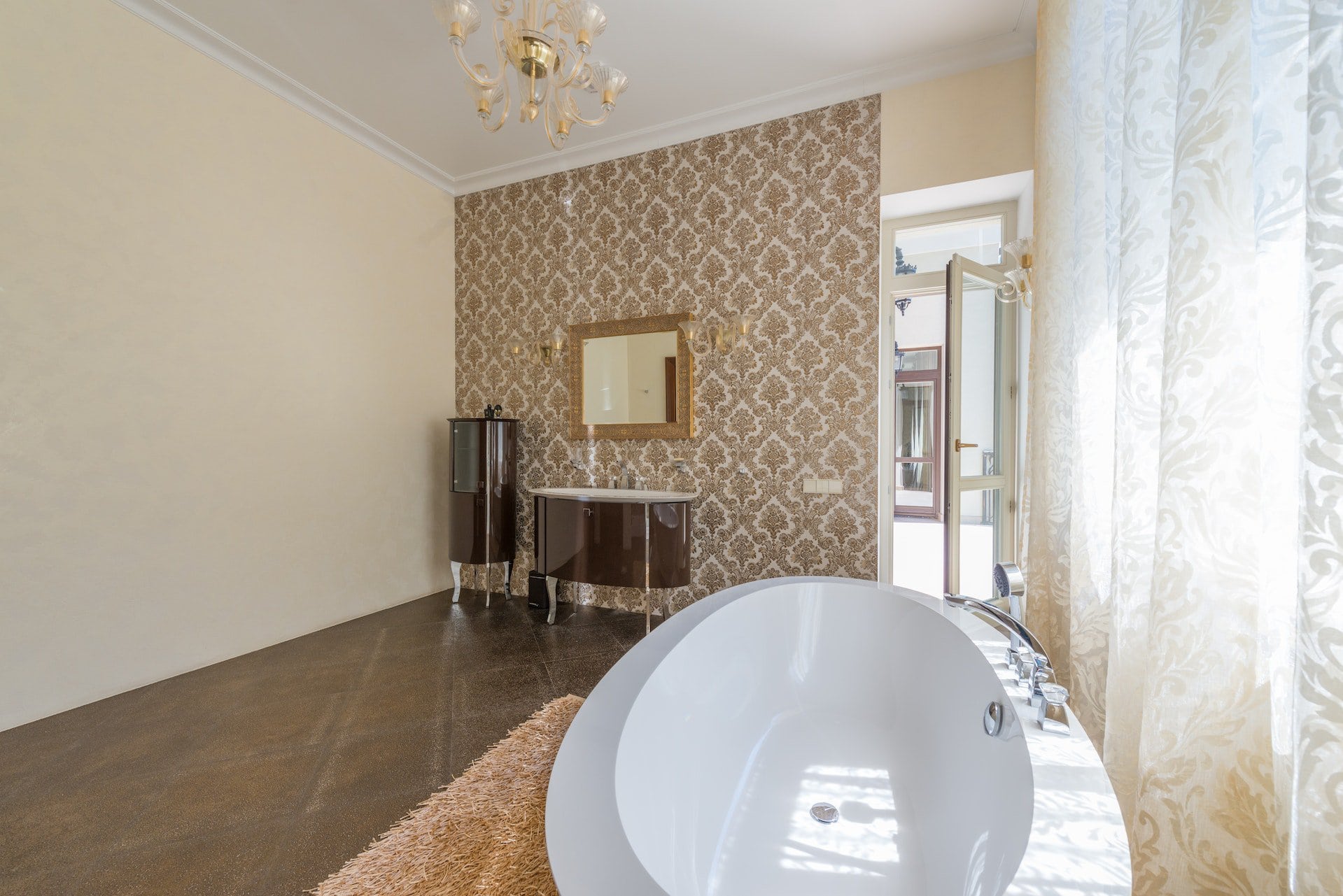 There's something to be said about old-world style, delicately beaded crystal chandeliers that add a touch of sophistication to any home design.
These are particularly well-suited for bathrooms with long hallways, where twin crystal chandeliers can be added for a parlor-style ambiance. Soft white tones, a shaker-style vanity, and a clawfoot tub can complement this classic look.
You don't need to have a grand bathroom to sport classic chandeliers such as these. This timeless piece can transform even the smallest bathroom space into a luxurious haven.
For smaller bathrooms, add a statement crystal chandelier right above a freestanding bathtub. You can keep the other elements of the bathroom simple and clean to let this piece shine. Add a ladder-style towel draper, a wood-stained vanity, and a simple oval mirror above for a streamlined look.
Antique Addition
Antique chandeliers are ideal for adding a transitional touch to a modernly designed bathroom. A brass chandelier, for example, with its antique, old-world finish, can soften the stark austerity of a modern or industrial-style bathroom.
Brass chandeliers are also a great way to add a touch of decadence without changing any other major elements in the bathroom, especially if you're intent on slightly tweaking your existing bathroom style.
Antique brass chandeliers or vintage-style chandeliers with a candelabra design complement fresh white bathroom spaces by adding a much-needed splash of zest and elegance. Complete the look with a couple of dreamy landscape artworks.
A kitschy patterned wallpaper is another pattern that works well with the drama of an antique brass chandelier. Pair with a brass-bordered antique mirror and a gray bathtub for a boost of elegance.
Orb Pendant Light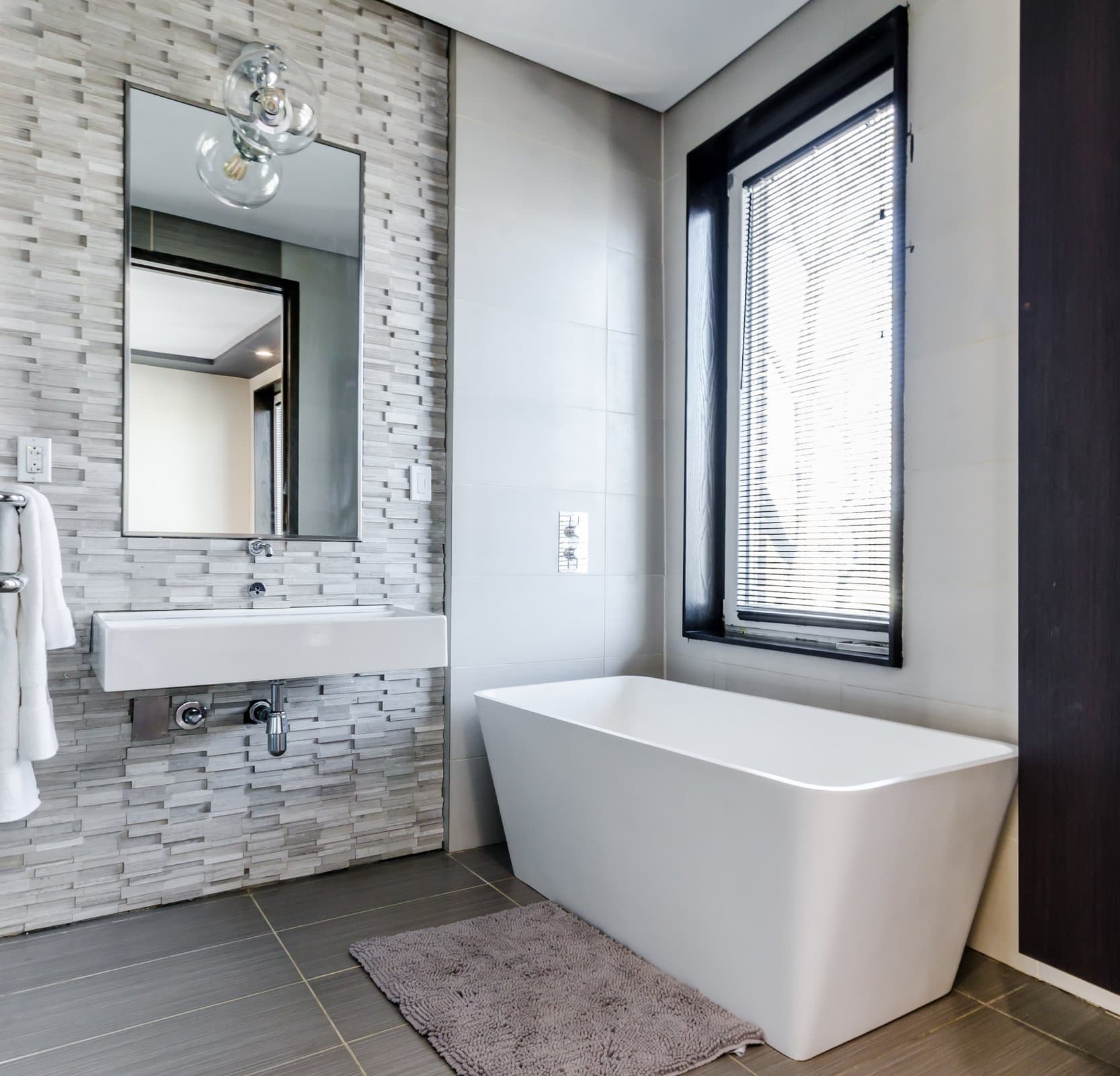 Orb pendant light chandeliers are versatile and can be used in both traditional and modern settings. They look great in any design, whether it's a farmhouse-style bathroom or a modern space with clean lines.
For the former, a clear orb chandelier with a built-in candelabra that exudes elegant vintage vibes is ideal. Choose a tinted orb that matches the accents in the bathroom for a modern look.
Orb chandeliers are also ideal for minimalist bathrooms, adding a dreamy glow to an otherwise bare space. Consider installing a statement orb chandelier directly above a freestanding bathtub for an anchored look.
A cloudy pendant light is also an option for all-white bathrooms with a minimalist theme. For a sleek, modern look, incorporate glass elements or a floor-to-ceiling window if your bathroom has a private view.
Twin Pendant Lights
Pendant lights exemplify understated elegance and make an excellent addition to moody bathroom spaces. These twin pendant chandeliers, available in clear or opaque glass, complement busy bathrooms with multiple existing elements.
With their simple gilded chains and sleek lines, these lights help to cut through the clutter and provide a functional yet stylish look.
Metallic Finish
A hammered gold or copper chandelier is an eye-catching statement piece. Keep the rest of the elements in the bathroom understated and choose to highlight only a few areas with metallic accents.
Choose from a variety of metallic styles, such as a hammered metal chandelier with a ruffled edge or a dull gold dome pendant light. Add a few matching metallic accents to the bathroom, such as a gilded mirror frame and gold or brass pulls and hardware.
Timeless Tiered Crystal Chandelier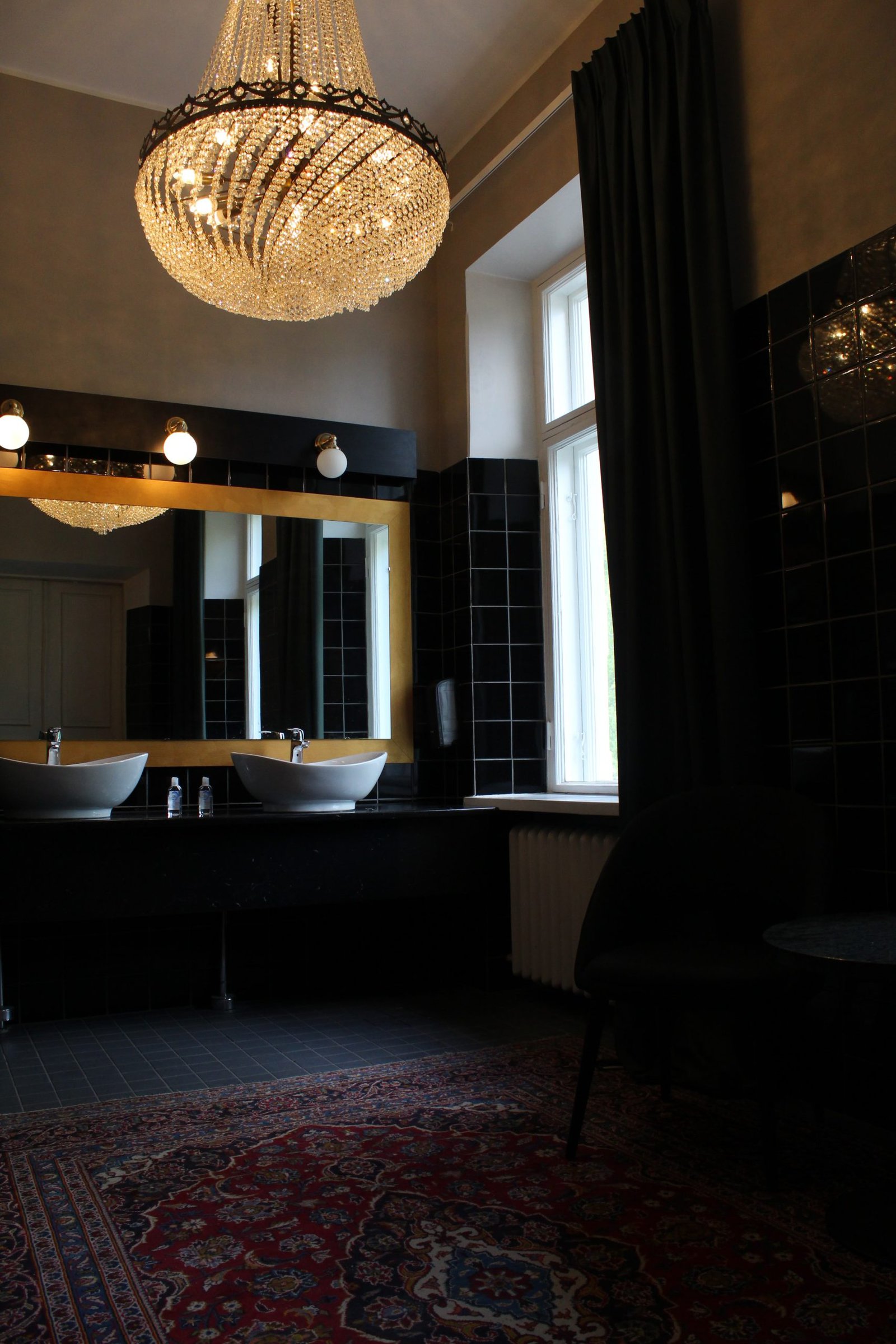 Multi-tiered crystal or beaded chandeliers are the ultimate timeless choice. They are perfectly suited for bathrooms with high-vaulted ceilings. These tiered beauties add a touch of gravitas to even the most minimalist of settings.
Choose from clear glass chandeliers or a gold crystal piece in a post-modern style. For best results, pair with sophisticated marble tiles and industrial-style bathroom design.
Lantern-style Chandelier
Who doesn't want a bathroom that evokes the atmosphere of a faraway hammam and spa? Invite the exotic into your bathroom with Moroccan-inspired lantern chandeliers. These lanterns add character to any room and can transform your bathroom space into your very own personal spa.
You can keep the surrounding bathroom design as minimal or as dramatic as you want. If you go the dramatic route, add Mediterranean blue accents or turquoise penny-tile flooring for a dreamy touch.
Alternatively, you can go the rustic route by installing barn doors, terracotta floors, and an ornate clawfoot soaking tub that complements the Moroccan-style decor.
Rattan-style Island Chic
With these bohemian rattan-style chandeliers, you can bring the relaxed, breezy vibes of a tropical vacation to your bathroom. These wicker-hewn beauties, which come in a variety of shapes and sizes, can transform a mundane space into an atmospheric tropical haven.
Tiered rattan chandeliers, open-weave rattan lights, dome-shaped rattan lights, and a traditional drum-shaped rattan chandelier with a black chain are all options you can choose from. Pair these with spartan rustic-chic elements. Add an indoor potted plant next to the bathtub, a faded rug, and a macrame wall hanging for a boho touch.
Geometric Globe Cage
An abstract, geometric bronze chandelier adds subtle sophistication to a neutral-toned bathroom. For a more modern look, go with a glass-and-metal combination.
Or, for an industrial-chic look, pair a matte-black geometric cage with matte-black and wooden accents throughout the bathroom. Gold-plated geometric chandeliers also complement rose gold accents, adding a touch of elegance to the space.
Modern Sunburst Chandelier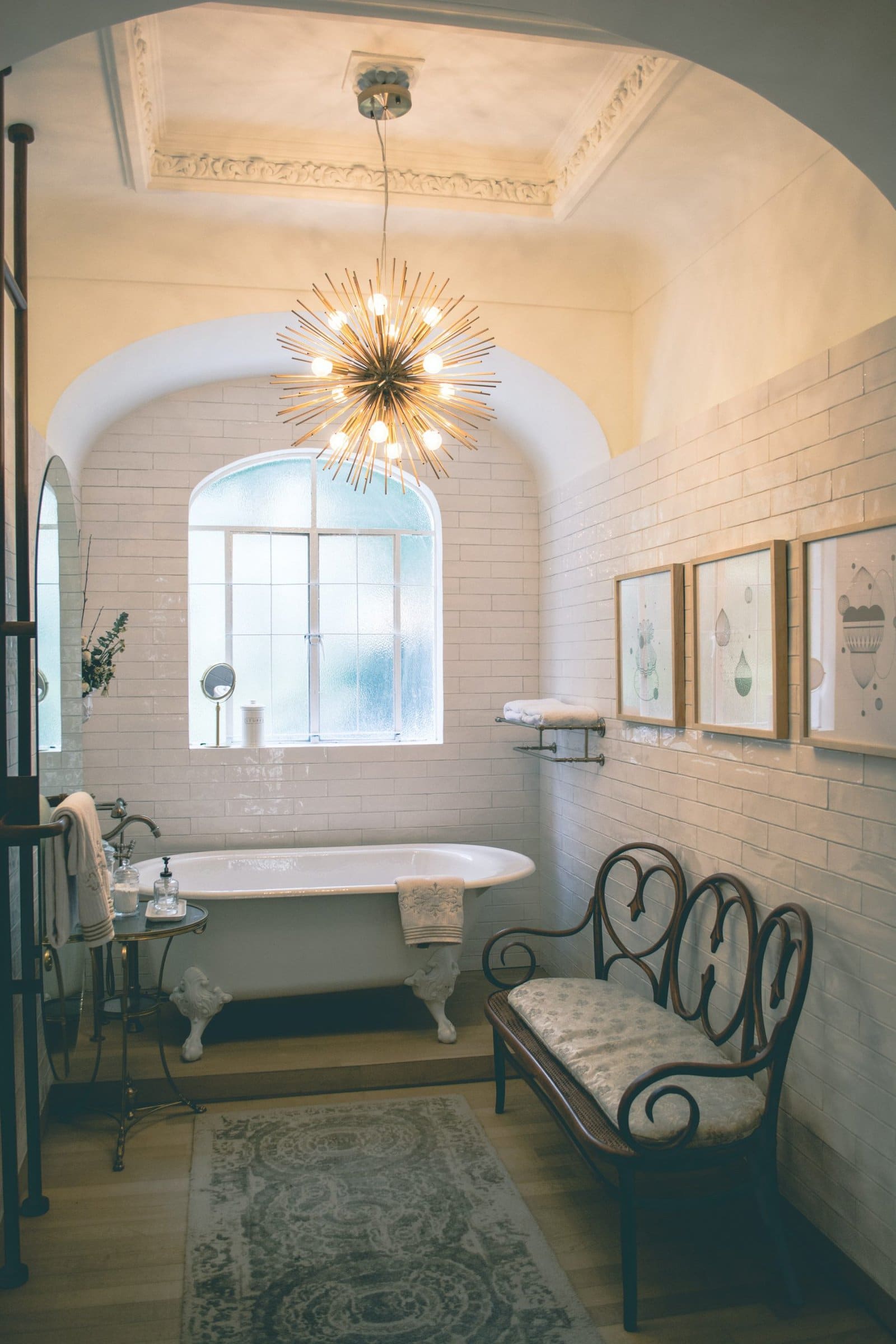 A chandelier with a unique shape and design such as a sunburst chandelier can improve the ambiance of a small bathroom space. You can combine its modern style with an intricate rug, a claw-foot bathtub, and a set of art prints to create a low-fi vintage atmosphere.
White shiplap walls or wainscoting with subway tiles, paired with frosted windows create a cozy atmosphere in the diffused light of this sunburst chandelier.
Final Thoughts
Bathroom chandeliers, when designed properly, can be the most defining feature of your bathroom. Their presence instantly draws attention to even the smallest and most spartan of spaces.
You can always choose to dress up or keep the bathroom's surrounding elements simple, depending on your preferences. Bathroom chandeliers are versatile and allow for transitional styles, so combining a vintage chandelier with an industrial-style design isn't unheard of.
Pay attention to chandelier placement and combine it with a variety of other ambient lights (candles, small lamps, built-in lights) for a more cohesively lit space that you can claim as your own and relax in!