Decorated Life is reader-supported. When you buy through links on our site, we may earn an affiliate commission. Learn More
21 of the Best Coffee Tables for Small Spaces
Trying to find the best coffee table for a small living room can be a huge struggle if you don't know where to look. (I've been there.)
Fortunately, whether your living room is tiny or just narrow, there are plenty of smaller-sized tables that still look good.
If you're having a hard time finding the perfect fit, we've rounded up the 21 best coffee tables for small spaces and apartment living.
Try a Small Round Table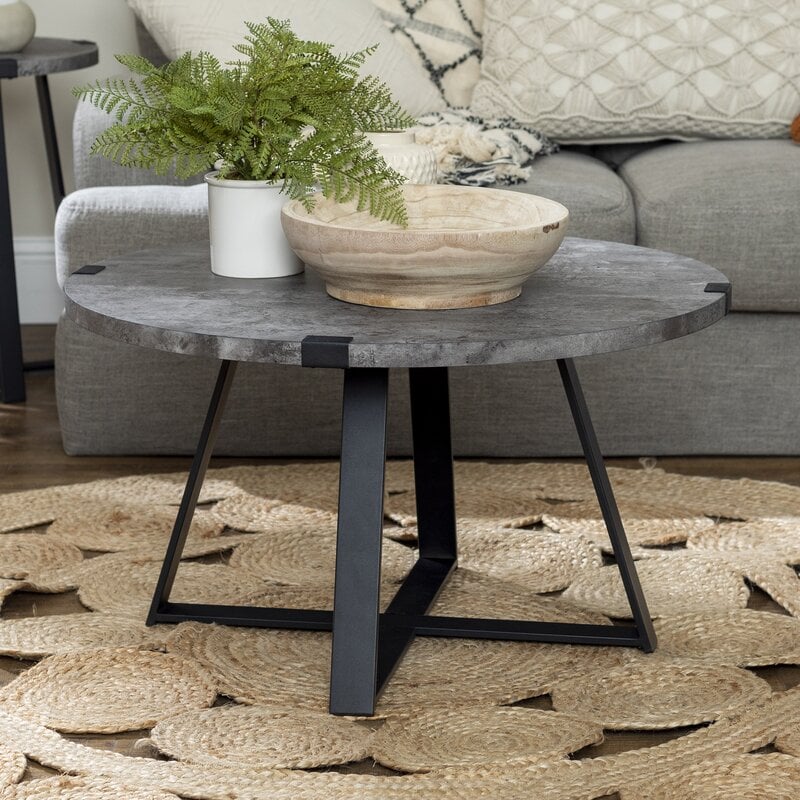 Round tables are ideal for small rooms. They're easier to fit into tight spaces than standard rectangular coffee tables but look every bit as good.
This small round coffee table from Wayfair measures 31 inches across. It's compact enough to fit in tiny living rooms while still having enough space to hold books and a cup of coffee.
Go with Glass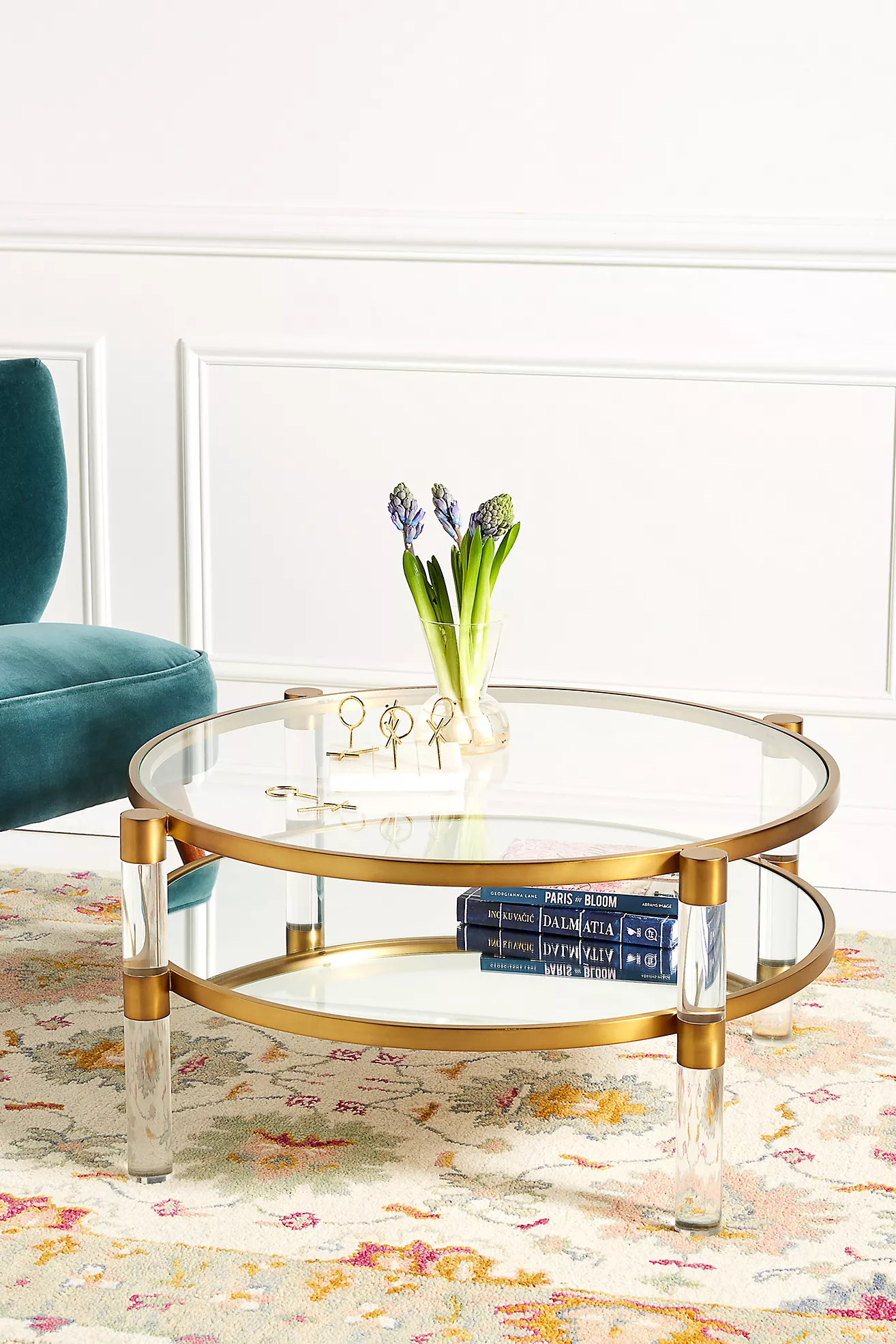 If you want the illusion that your room is bigger than it is, go with glass furniture. Because you can see through the glass, it makes your room look more open and airy. (Even if it's as small as a closet!)
A great option is this small coffee table from Anthropologie. It has a beautiful brass detail fit for any modern or glam room and a mirrored shelf to provide extra space for your stuff.
For a Narrow Room, Pick a Slim Table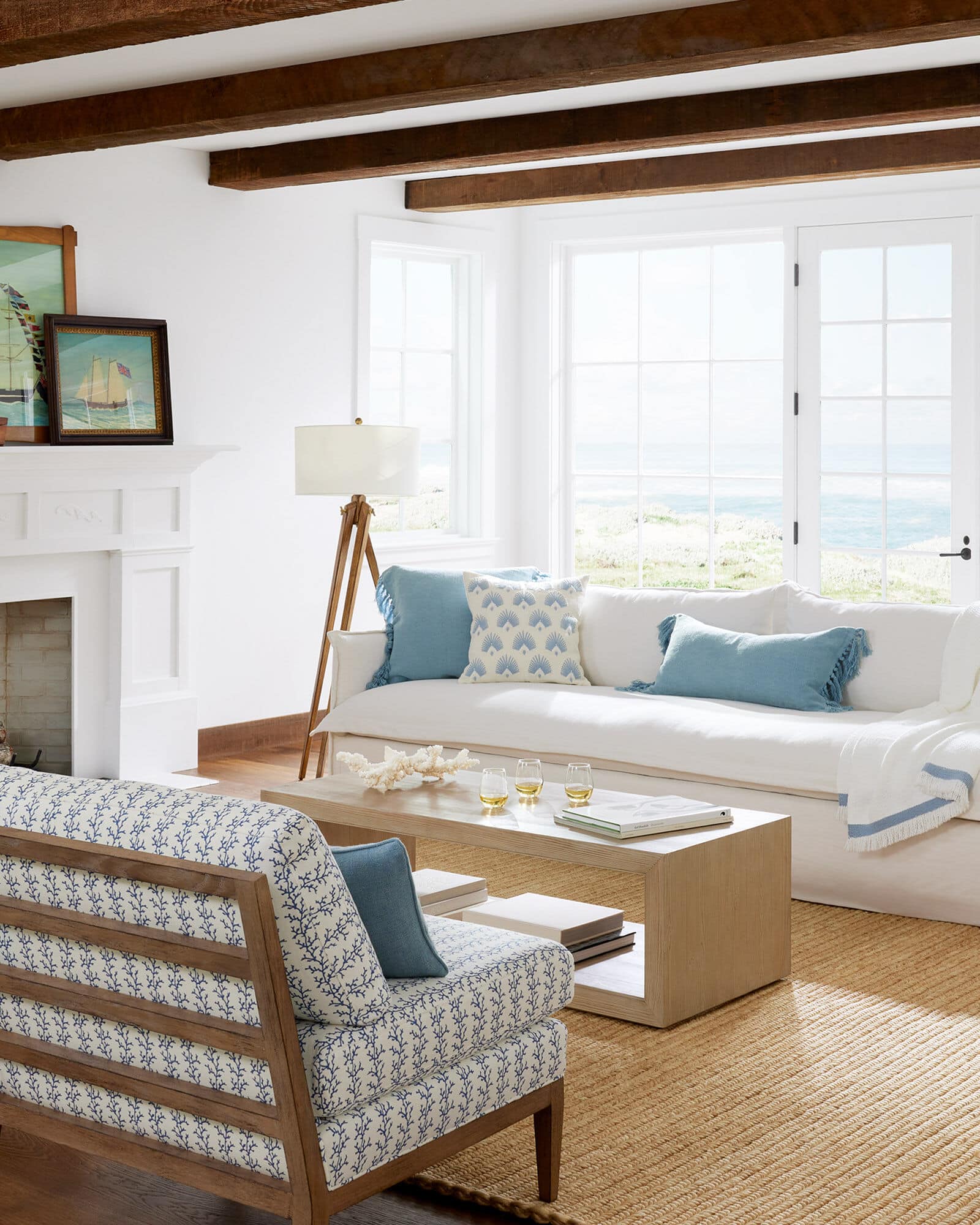 If your room is more narrow than small, pick a slim rectangular table.
This option from Serena & Lily is the perfect fit. It comes in two colors: sun-bleached pine and white. The design allows you to place your drinks up top and store books on the bottom. This table is basic enough to work with most design schemes.
Set the Scene with a Tray-Like Table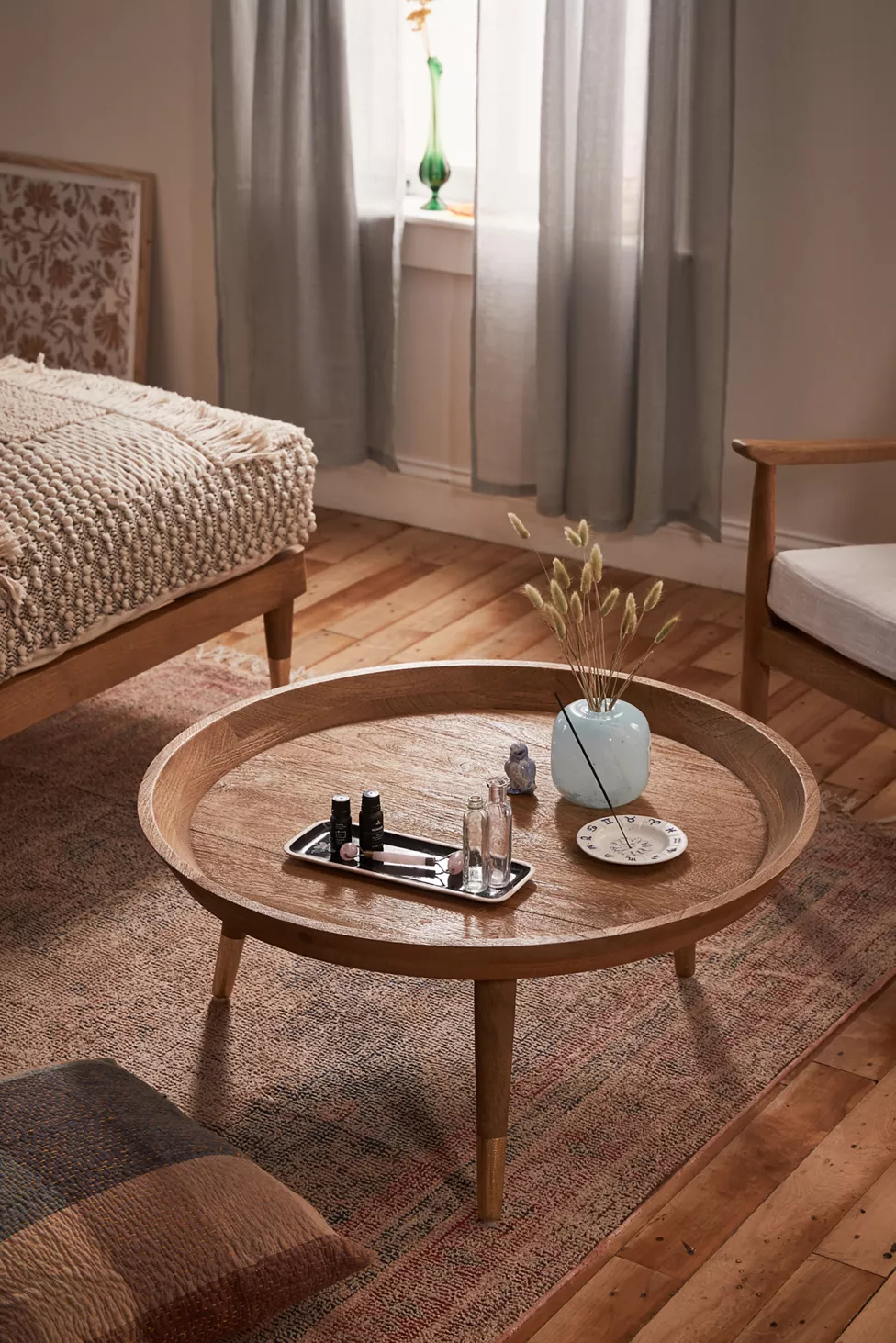 Do you want a more unique option to fit your space? If you're into modern or boho designs, try this table from Urban Outfitters.
This all-wood table has a tray-like top, perfect for holding your morning cup of coffee. Its angular legs give it a modern feel, while the wood tones will bring warmth to any room.
Use Nesting Tables to Make More Space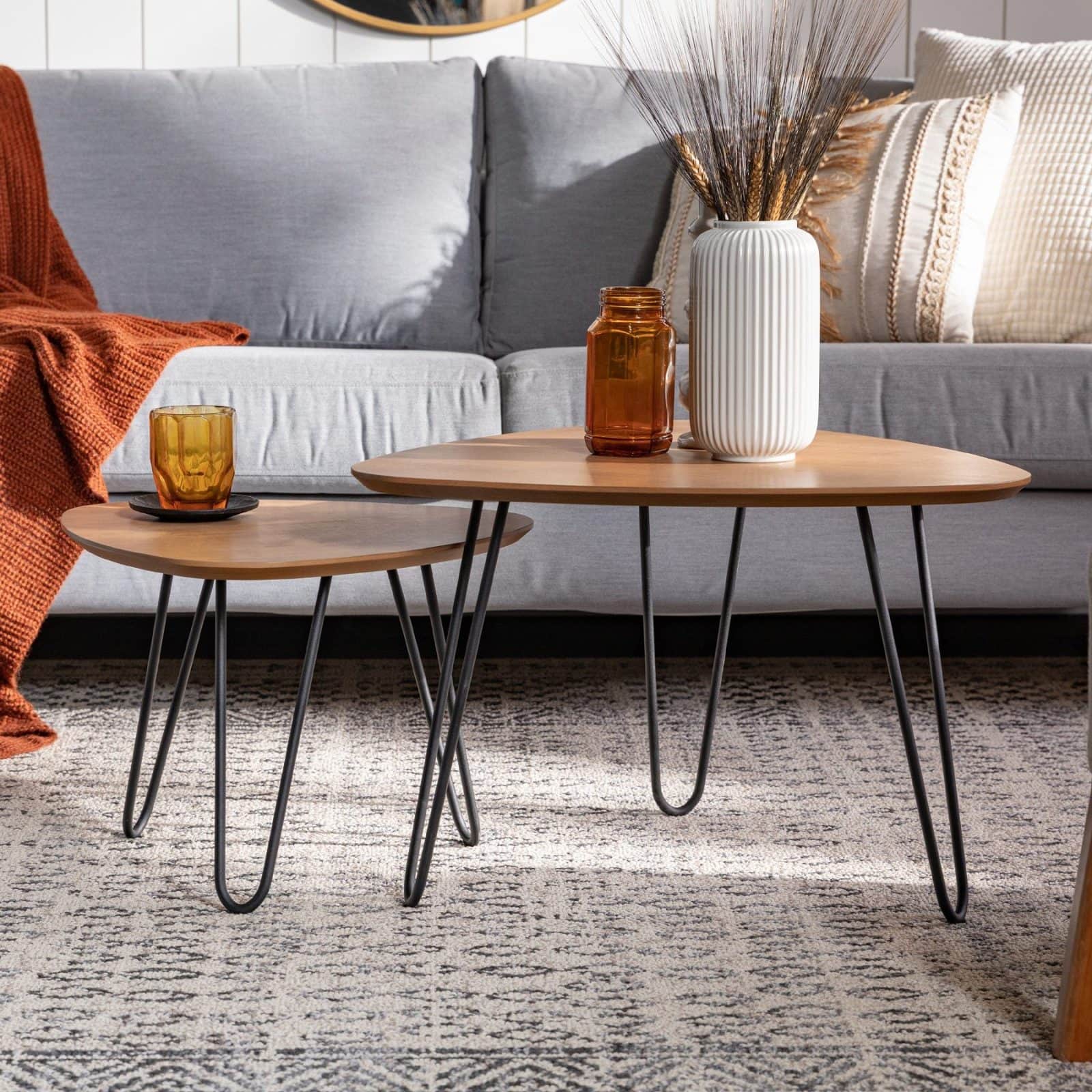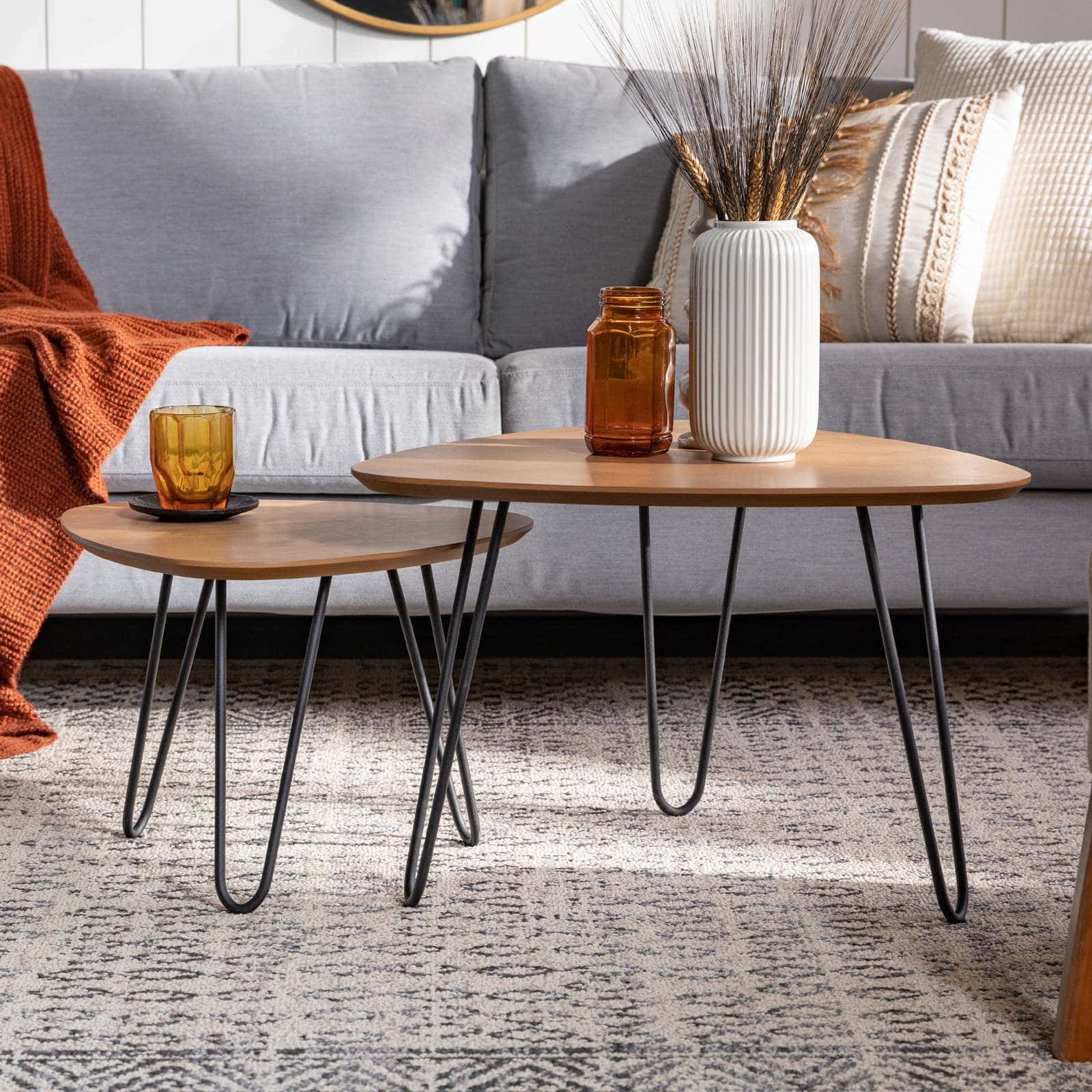 If there are certain times you need more space – when you have guests over, for example, try nesting tables.
These apartment size coffee tables can rest under each other to create space. Then, when you have guests over or need an extra hard surface, you can pull the bottom table out.
For a Timeless Look, Go with Wood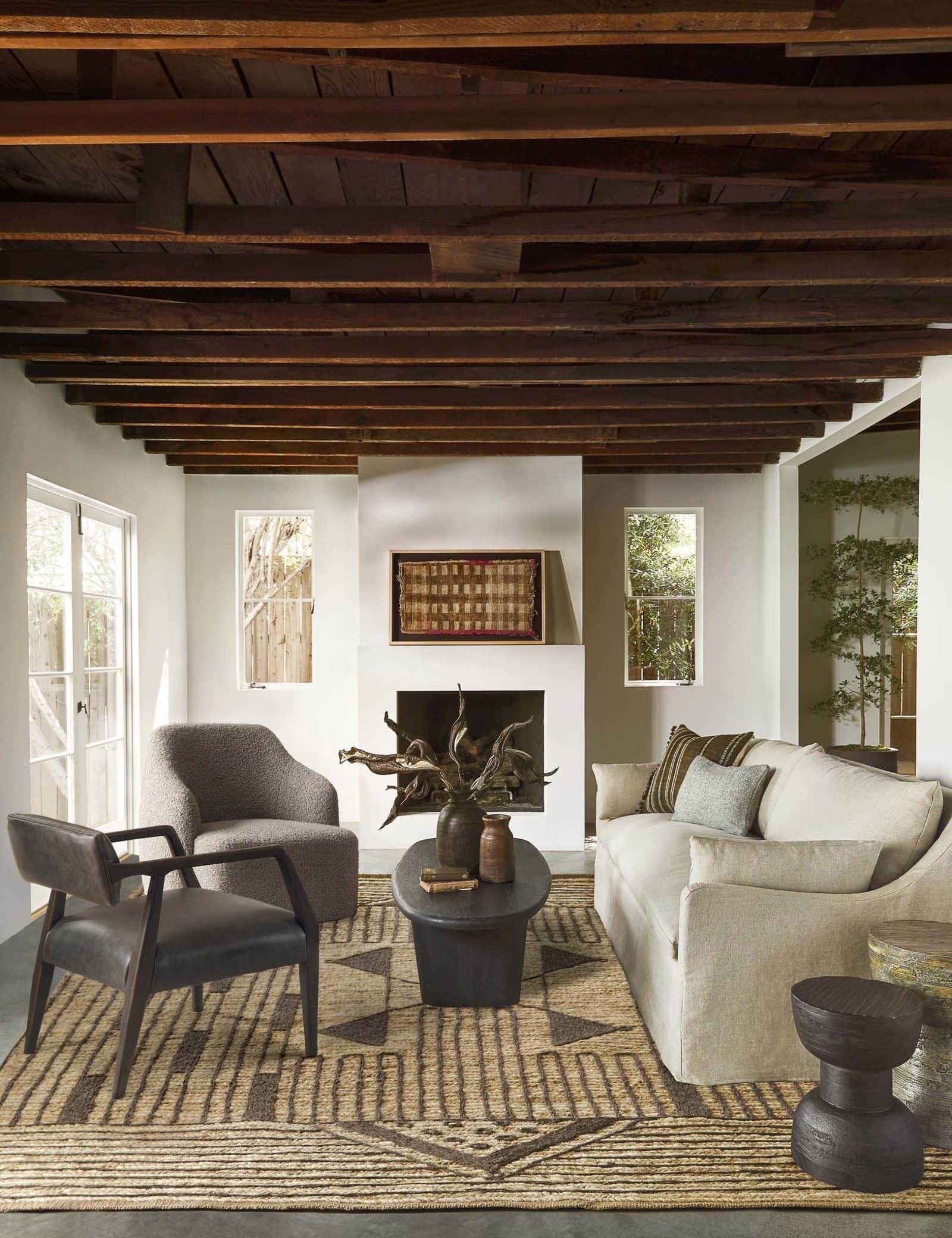 Are you looking for a coffee table that will stand the test of time and never go out of style? This oak wood table from Lulu and Georgia is a solid option.
This narrow coffee table is best suited for long, skinny rooms. While it has a modern, minimal flare, you can use it with just about any style of decor.
Add Texture to Your Room with a Cement Coffee Table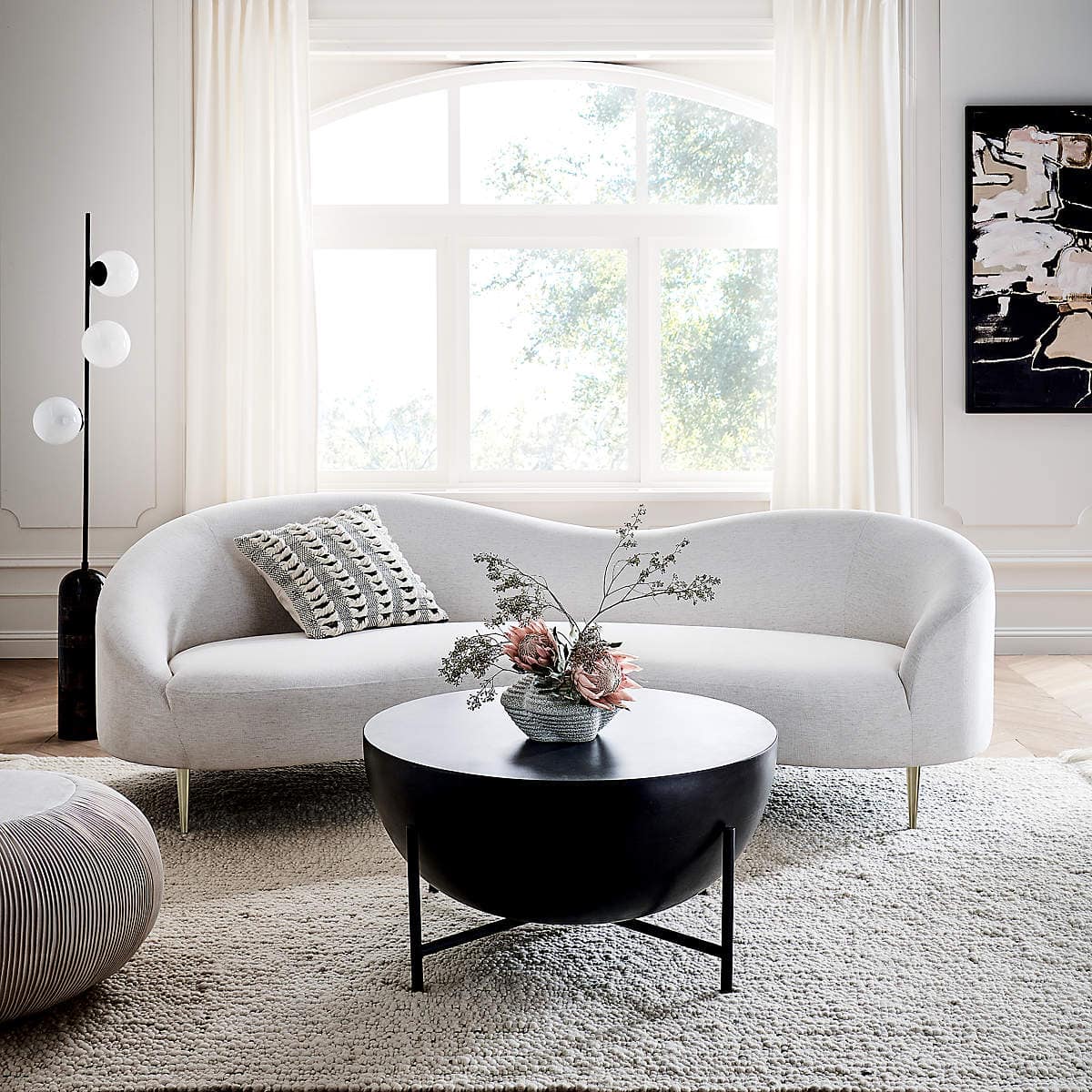 Want a substantial-looking coffee table? This table may be relatively small, but it packs a big punch.
From CB2, this table is cement with stone, granite, and marble powder. The effect is a stone-like one that will lighten with time—the tabletop measures 34 inches in diameter.
Save Space with a Two-Tiered Table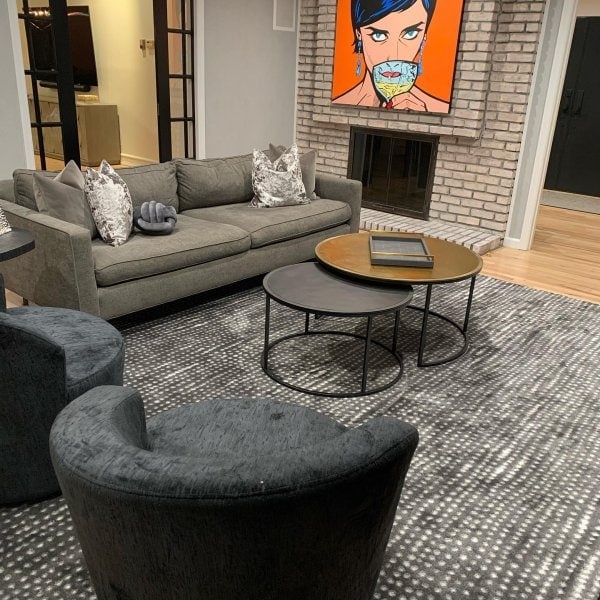 If you're looking for a space-saving coffee table, look no further. This two-tiered nesting table can be pulled out for extra space or stacked together to save room.
The tables are hand-crafted with aluminum tops. The bigger table has a brass finish, and the smaller table is bronze. Together they give off a very antique vibe.
Use a Small Poof Ottoman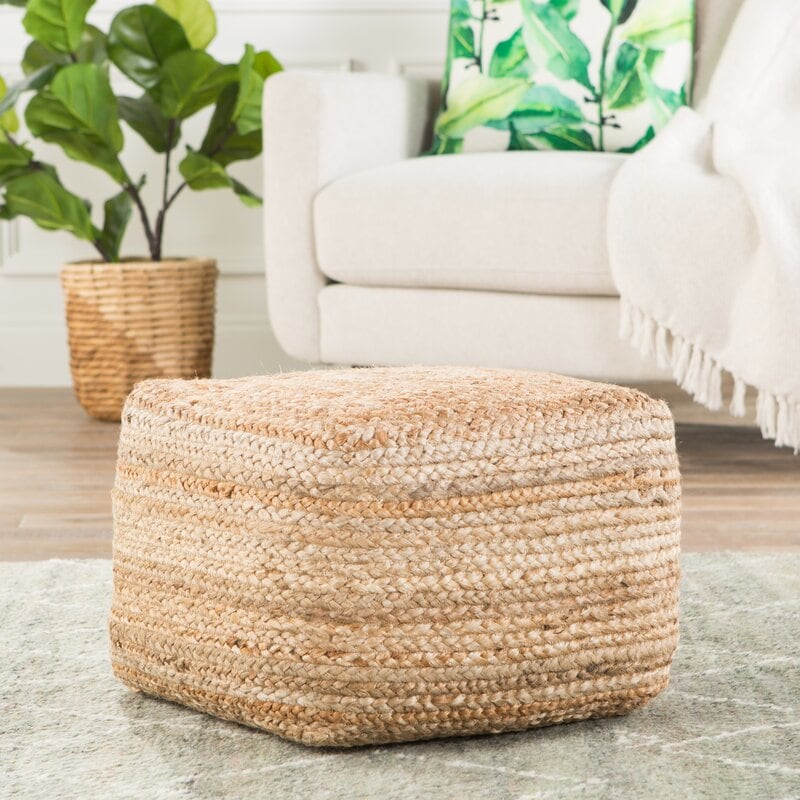 If your living room is truly tiny and you want to maximize the space, ditch the traditional coffee table. Instead, pull in an ottoman.
If you need more storage, go with a storage ottoman. If you want something that can double as extra seating or a table, go with an option like this.
Keep it Clear with Acrylic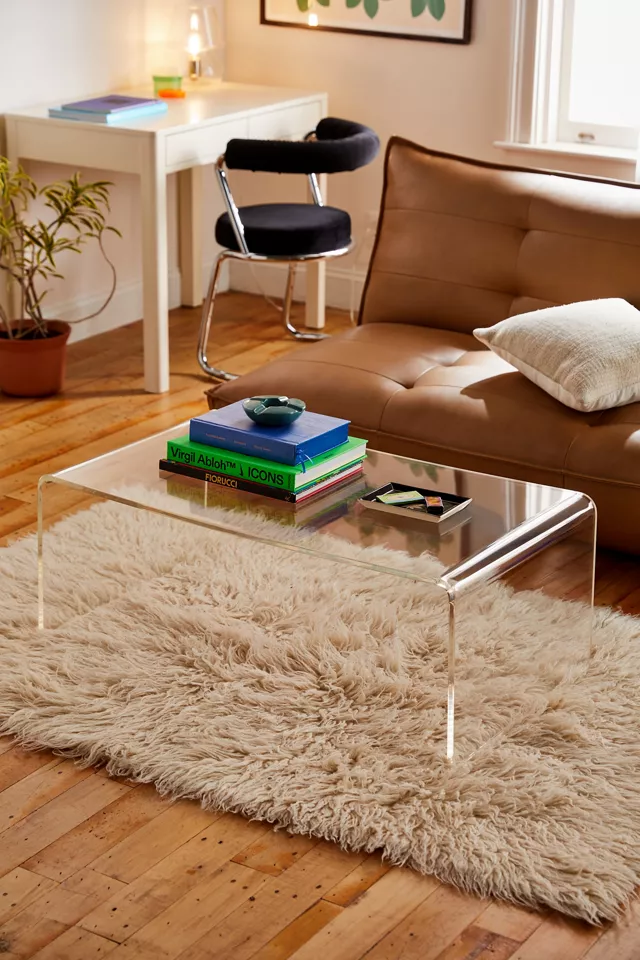 If you're not a fan of glass tables or those with pointed edges because you have young kids running around, this is a fantastic option.
This acrylic table works wonders for small spaces since you can see through it. Also, since it has rounded corners and won't shatter, it's a perfect table for families.
Store Your Extra Stuff in This Metal Drum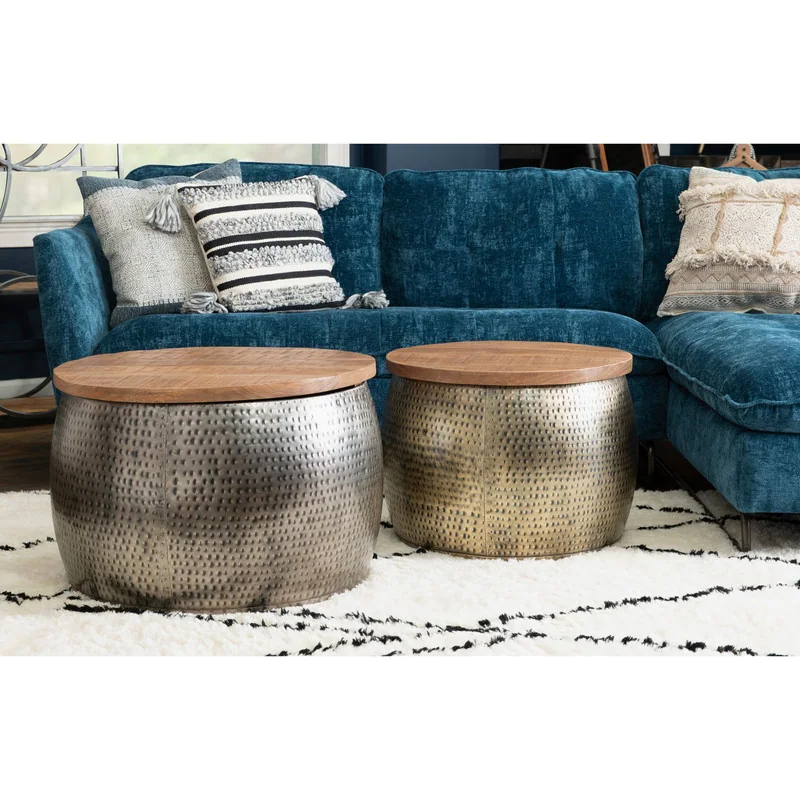 When working with a small living room, extra storage is everything – which is why this table is one of the best coffee tables for small apartments.
This metal drum has a removable mango wood lid. You can take off the top to pack away any extra stuff. This drum comes in two sizes – 22.5" and 27.5 inches.
Make a Side Table Work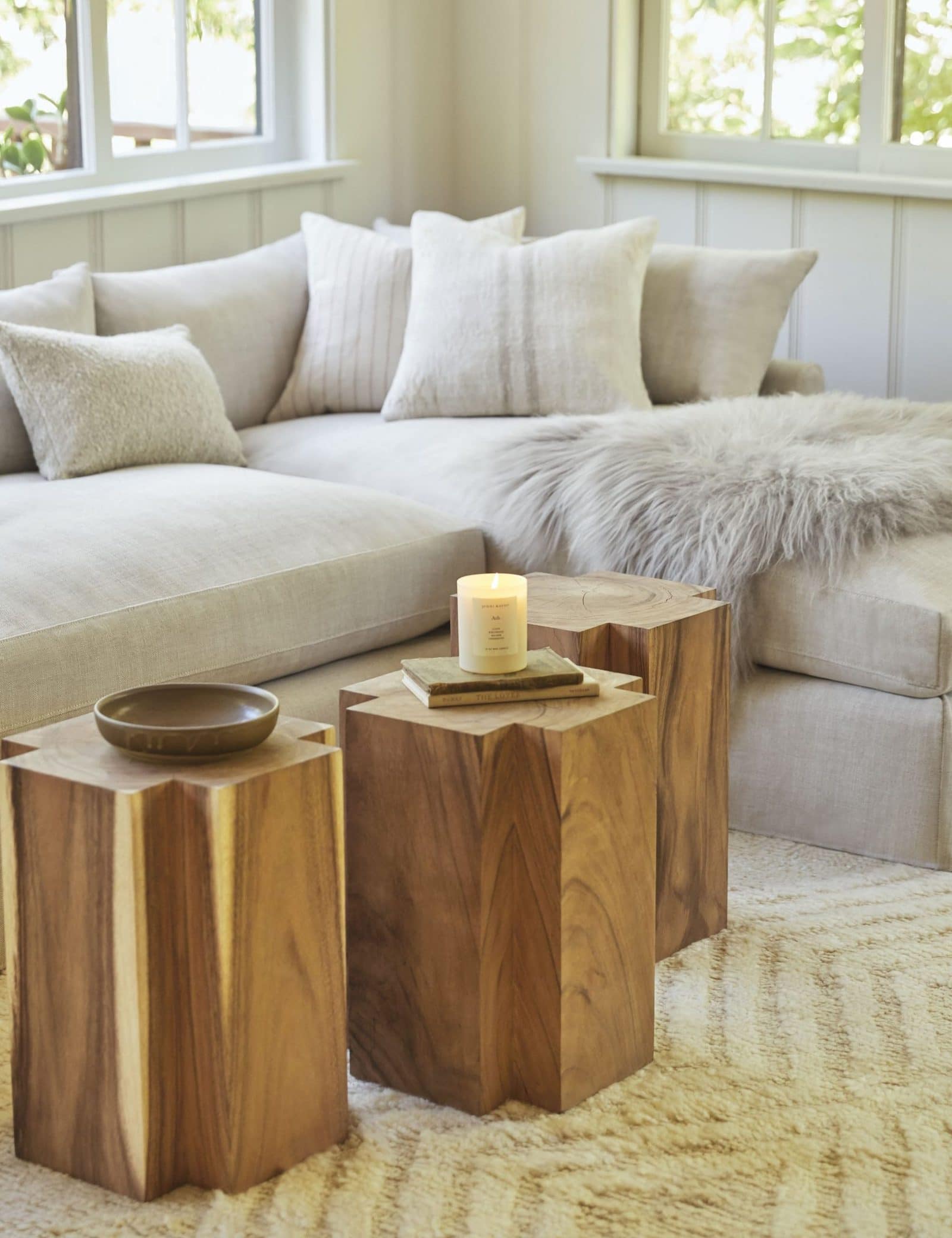 If you need a mini coffee table, you have to think outside the box. You might need to choose something not intended to be a coffee table – like this wooden end table.
This solid teak table is about 13" in diameter. You could use 1-3 of these depending on how much space you have.
Hide Your Mess with a Square Storage Table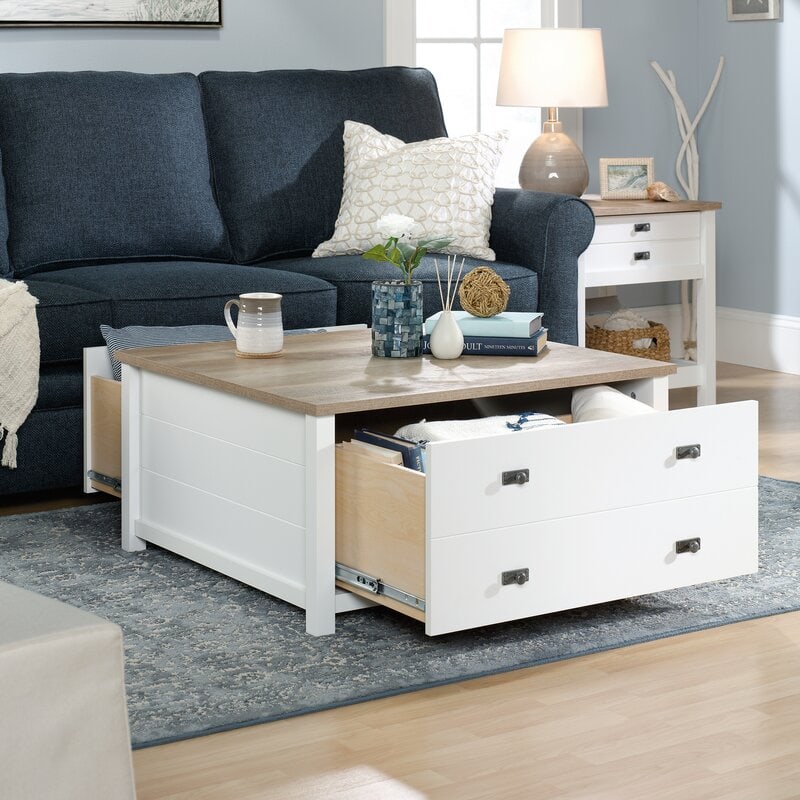 Not a fan of round coffee tables? Try a small square table instead.
This table measures about 32 inches wide, so it will fit in most small living rooms. It has drawers on both sides so you can store extra blankets, books, or throw pillows. The table comes in three different color options.
Fit Your Narrow Room with a Floor Shelf Table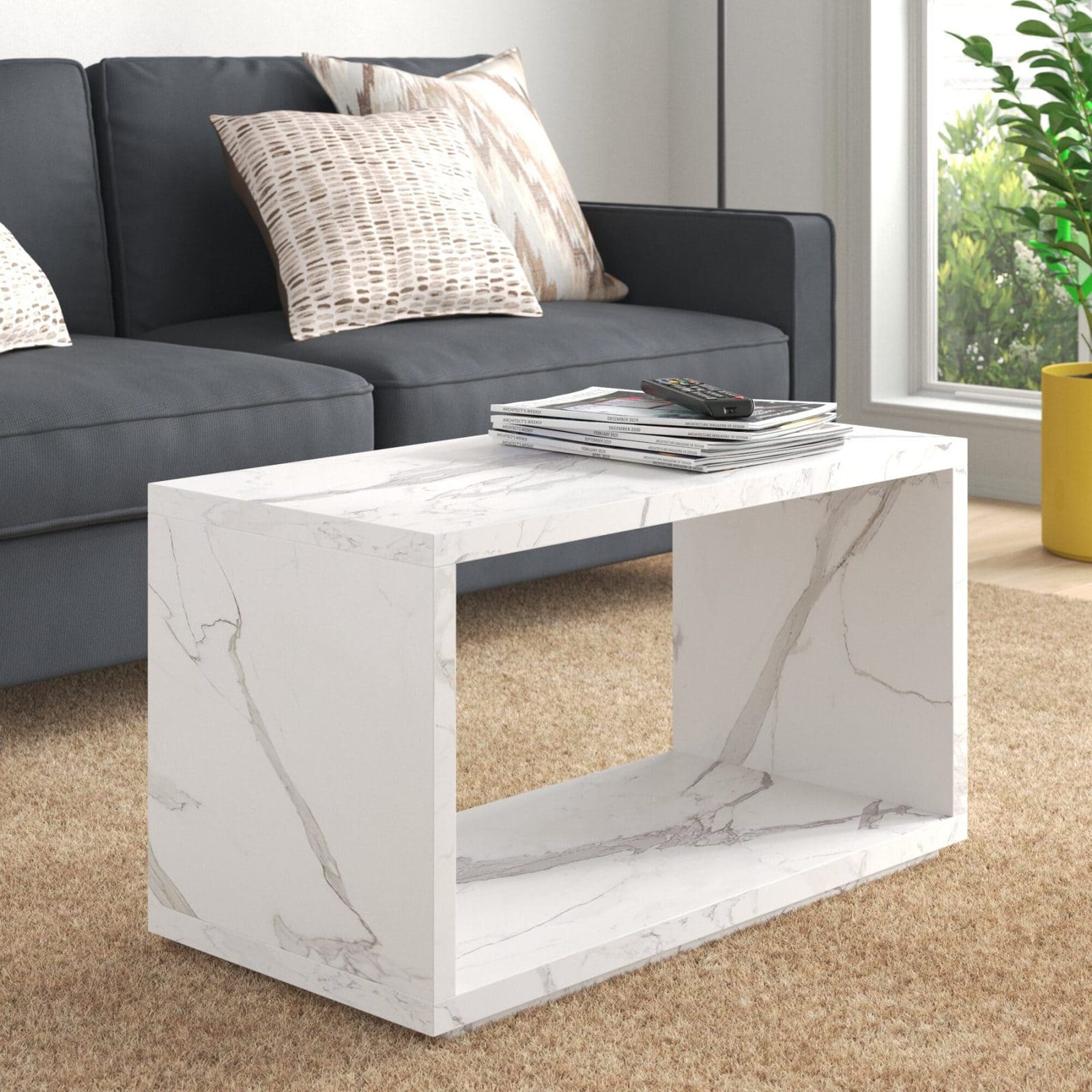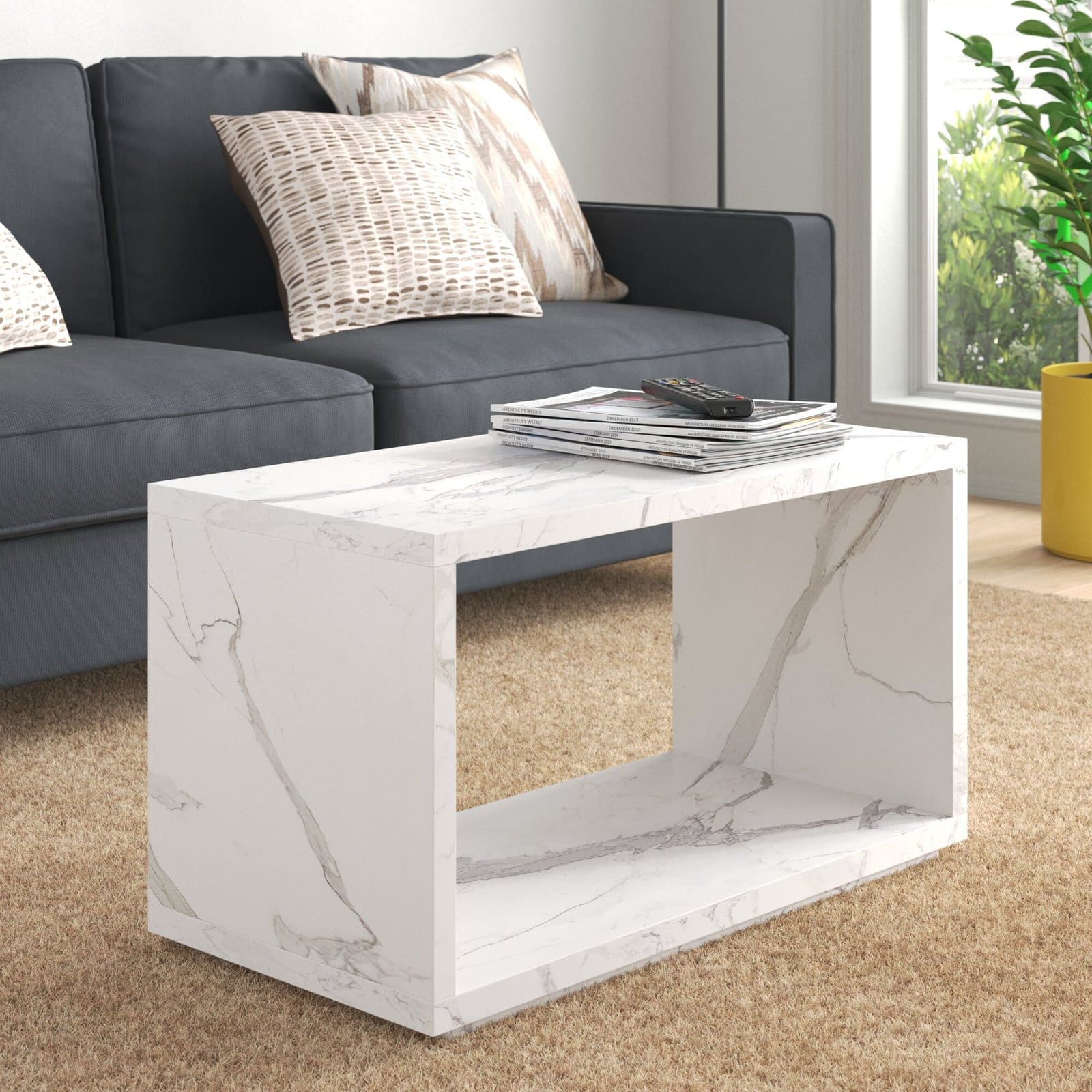 Narrow rooms may seem like they'd be hard to find a table for, but there are many good options.
If you like a streamlined look, consider this faux marble table. It's great for small spaces, especially since you can place extra books and belongings on the bottom shelf.
Turn an Ottoman Into a Tiny Table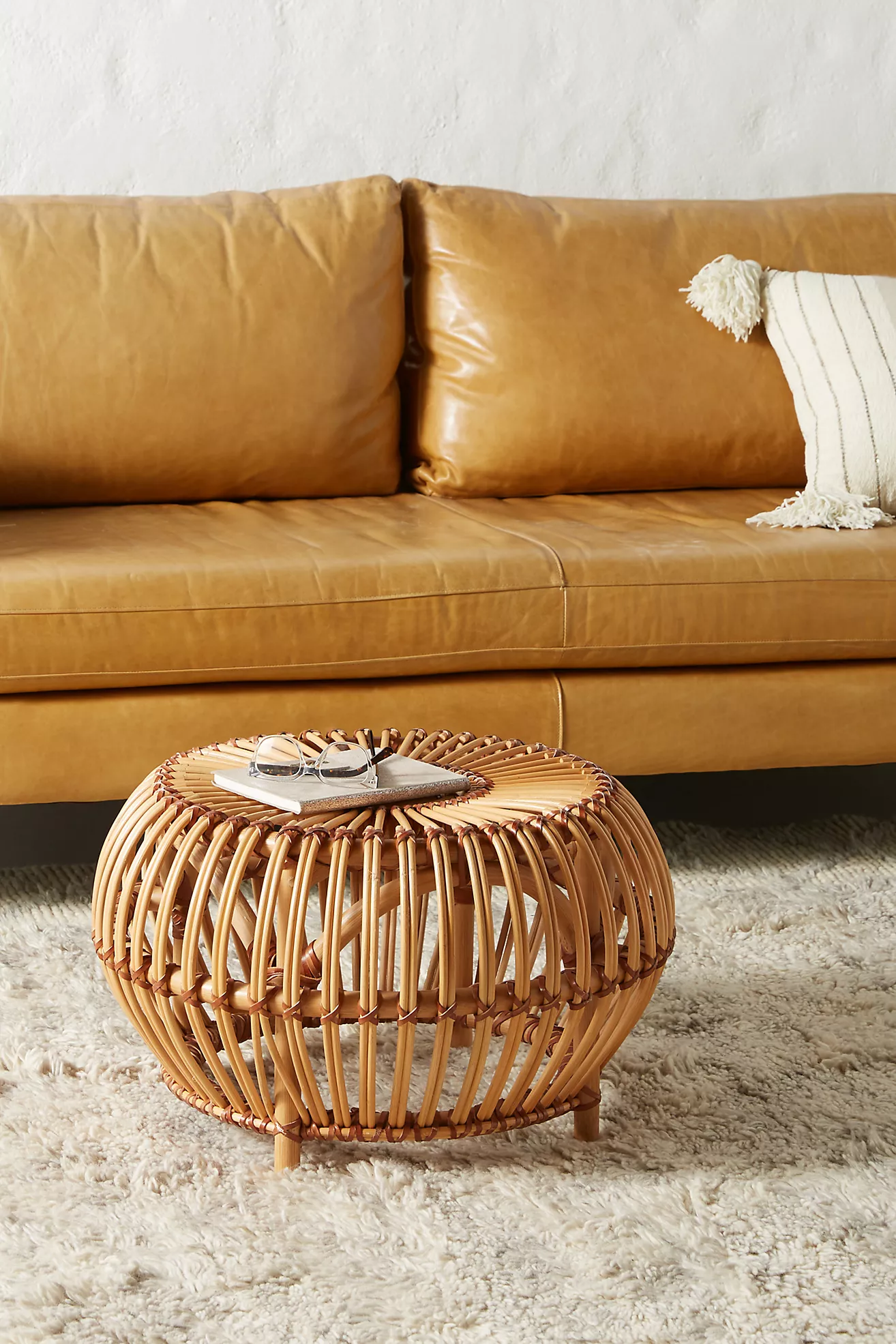 If you need a tiny coffee table, look no further than the ottoman section. Ottomans are great for doubling down as coffee tables, extra seating, or a place to kick up your feet.
The best ottomans to use as coffee tables are ones with flat tops. This rattan ottoman from Anthropologie is the perfect shape and size for the teeniest living rooms.
Get Lightweight Tables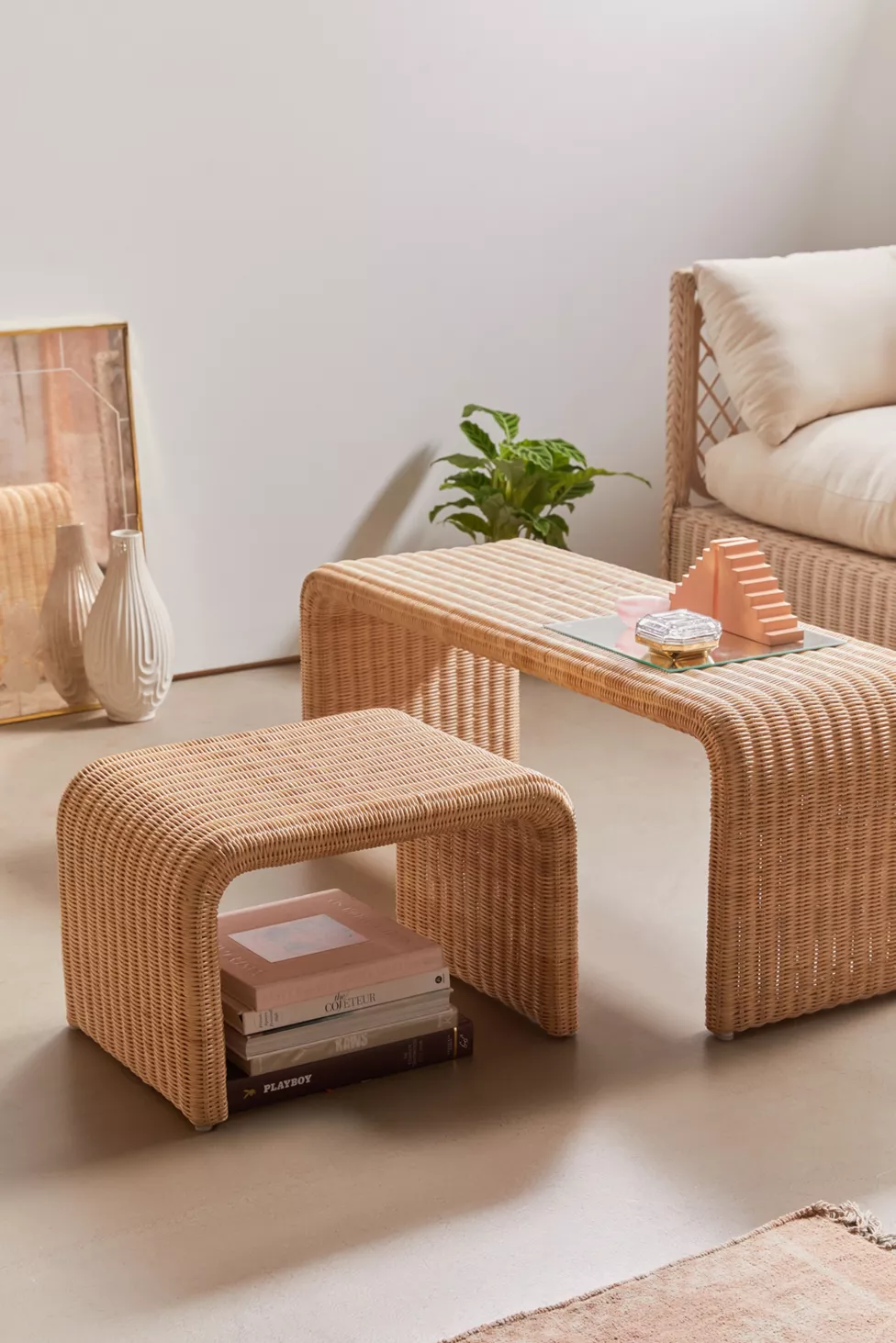 If you live in an apartment or small home and often move furniture around to accommodate guests, try something like these.
These woven tables from Urban Outfitters come in two sizes: small and large. And even though each of these tables can hold up to 200 lbs., they're lightweight, so you can move them out of the way when you need to.
Warm Your Room with a Beautiful Wood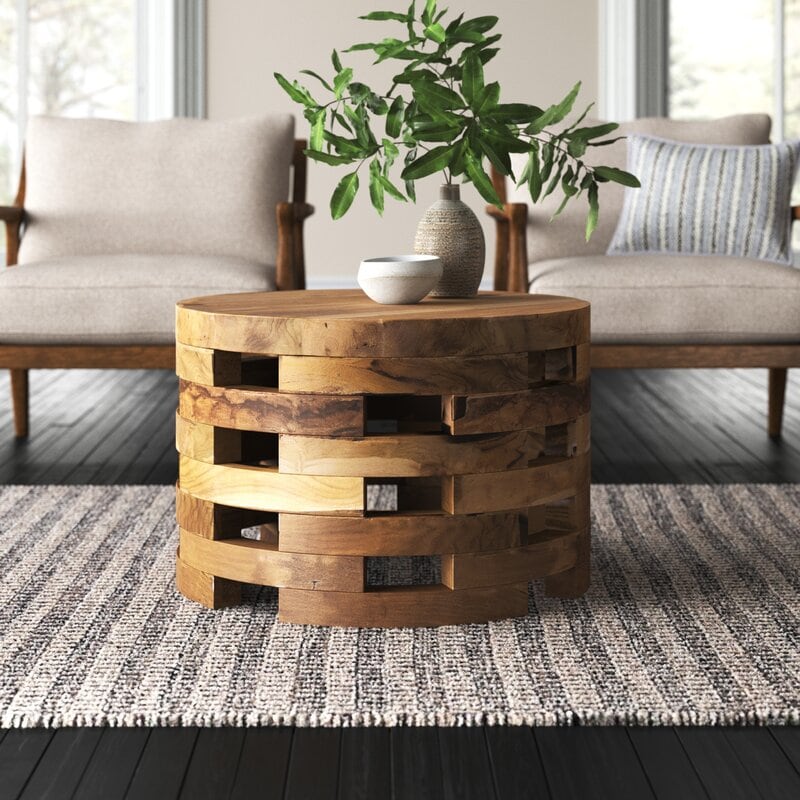 Do you like wood tones and natural materials? If so, this table will suit your room perfectly.
This table is from Wayfair and is a beautiful teakwood stacked on top of each other. It measures about 24 inches in diameter – perfect for little living rooms. This table would look good with traditional, farmhouse, and eclectic decor styles.
Achieve the Farmhouse Look with a Galvanized Tub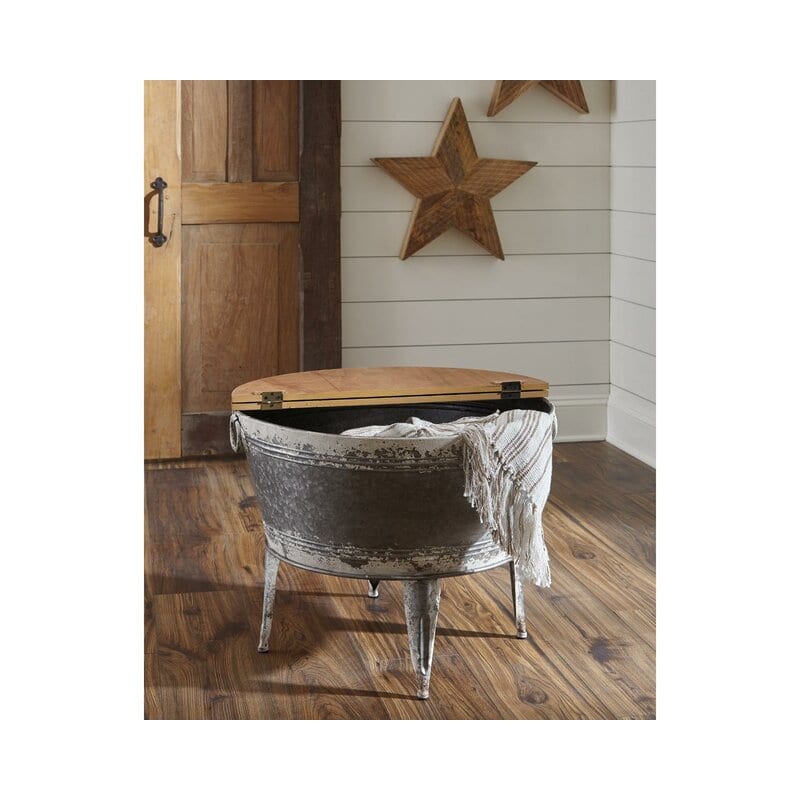 Opt for this galvanized drum coffee table if you want farmhouse style in your small living room.
The coffee table comes with an engineered wood top that opens to reveal extra storage. The table is 26 inches in diameter, so it can fit small spaces.
Pack in Style with a Travertine Table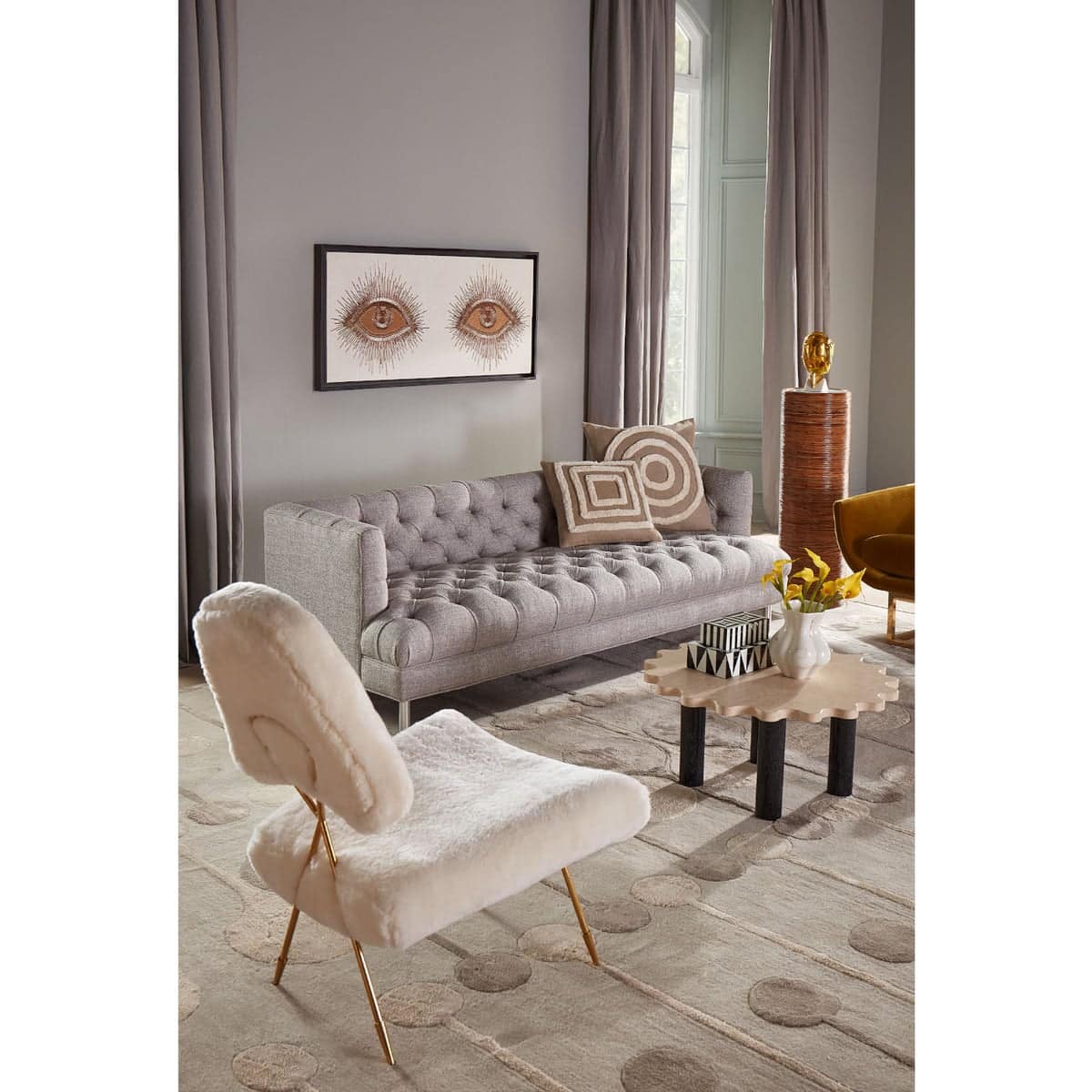 Travertine is a natural stone, most often used for flooring. Now, you can get it in a coffee table.
The ripple shape is an excellent option for glam and mid-century style lovers. The table is 31 inches in diameter and comes in a rectangle shape if that's what you prefer.
Try a Small Cement Table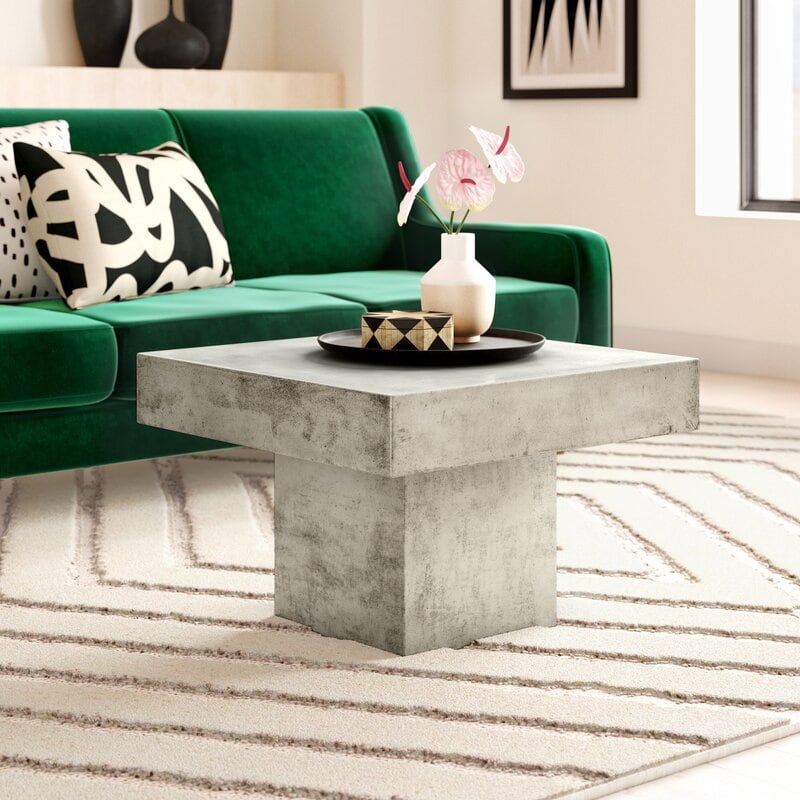 If you like an industrial look or just want a unique coffee table, this cement option is a clear choice.
While relatively small at about 27 inches long and 23 inches deep, there's still plenty of space to hold your morning beverage and favorite book. You could make this table work with most aesthetics.
Choose a Sleek, Slim Version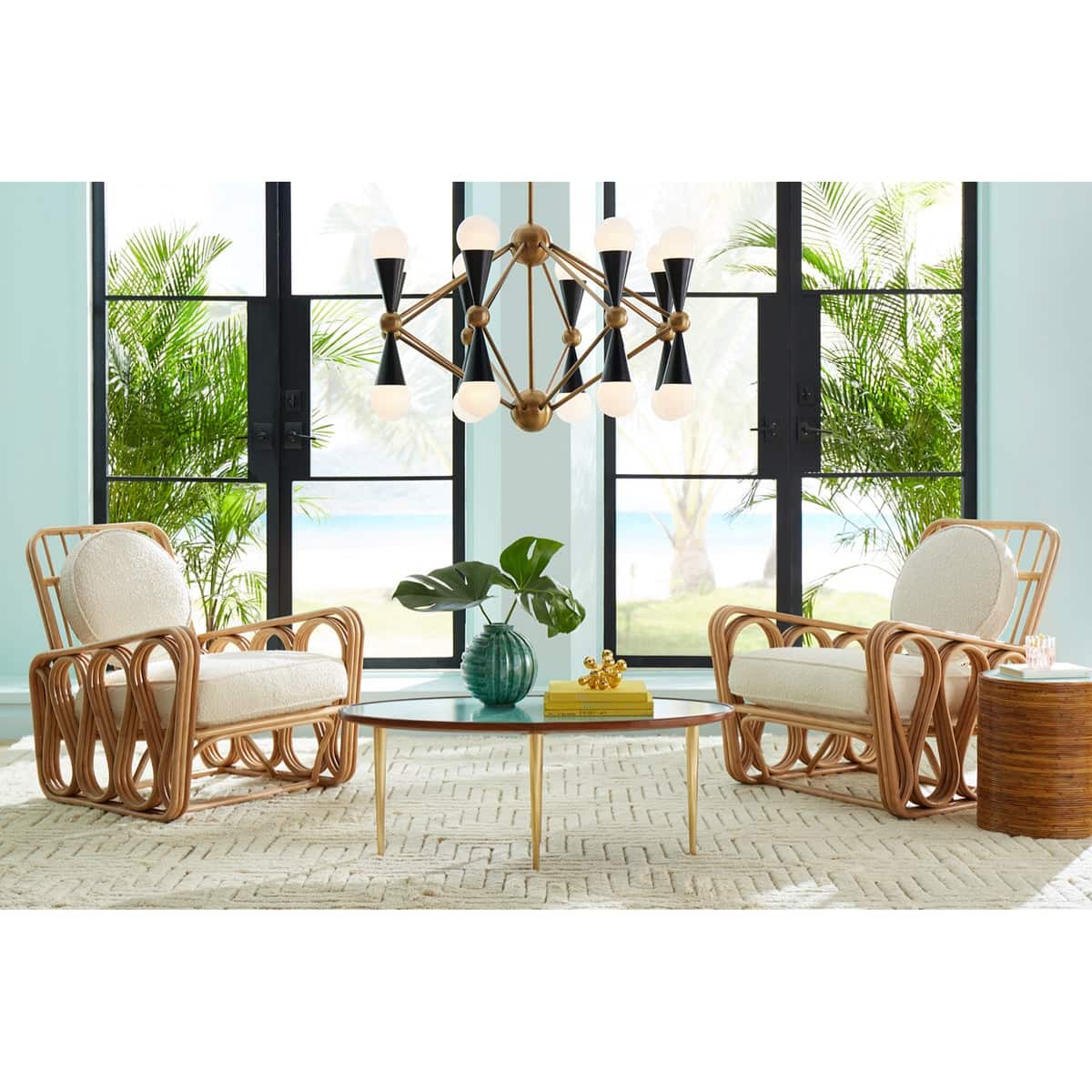 Are you into glam or ultra-modern design? If the answer is yes, this sleek table from Jonathan Adler is perfect for your narrow living room.
The table has a solid mahogany frame and a back-painted glass top. It's 42 inches wide and 20 inches deep.
Final Thoughts
Just because you have a small living room doesn't mean you won't be able to find the perfect table – there are lots of good options to choose from.
If you live in an apartment and are trying to maximize your space, choose nesting tables or storage ottomans. If you have a little more room to work with, consider a glass, round, or acrylic table to suit your space.