Functional Living Room Bedroom Combos for Small Spaces
If you're short on space, you may need to put a bedroom right in the middle of your living room. But this isn't as challenging as it sounds—whether you're looking for a temporary fix or the perfect layout for your studio apartment, there are lots of ways to combine your bedroom and living room together.
Keep reading to discover how you can create a living room and bedroom combo that feels cohesive, rather than cluttered.
Make Use of Your Living Room's Shape
While most living rooms are little more than standard rectangles, you may be lucky enough to have a living room with an interesting shape, a nook, a bay window, or something similar. If that's the case, then make use of this space when adding a bed to your living room.
Look for the areas of your living room that get the most light. Do you have a large window? If so, arrange your bed near the window, and then light the rest of your room with floor or table lamps to give the room a divided feel. This is called "zoning"— and it will help separate the bedroom area from the living area without dividers or walls.
If your living room has a small corner nook, then treat it like a small bedroom space and place the head of your bed right in the center of it. If there's not much room for other furniture, like a nightstand, then make use of hanging pendant lights and wall shelves.
Integrate the Bed Seamlessly into the Living Room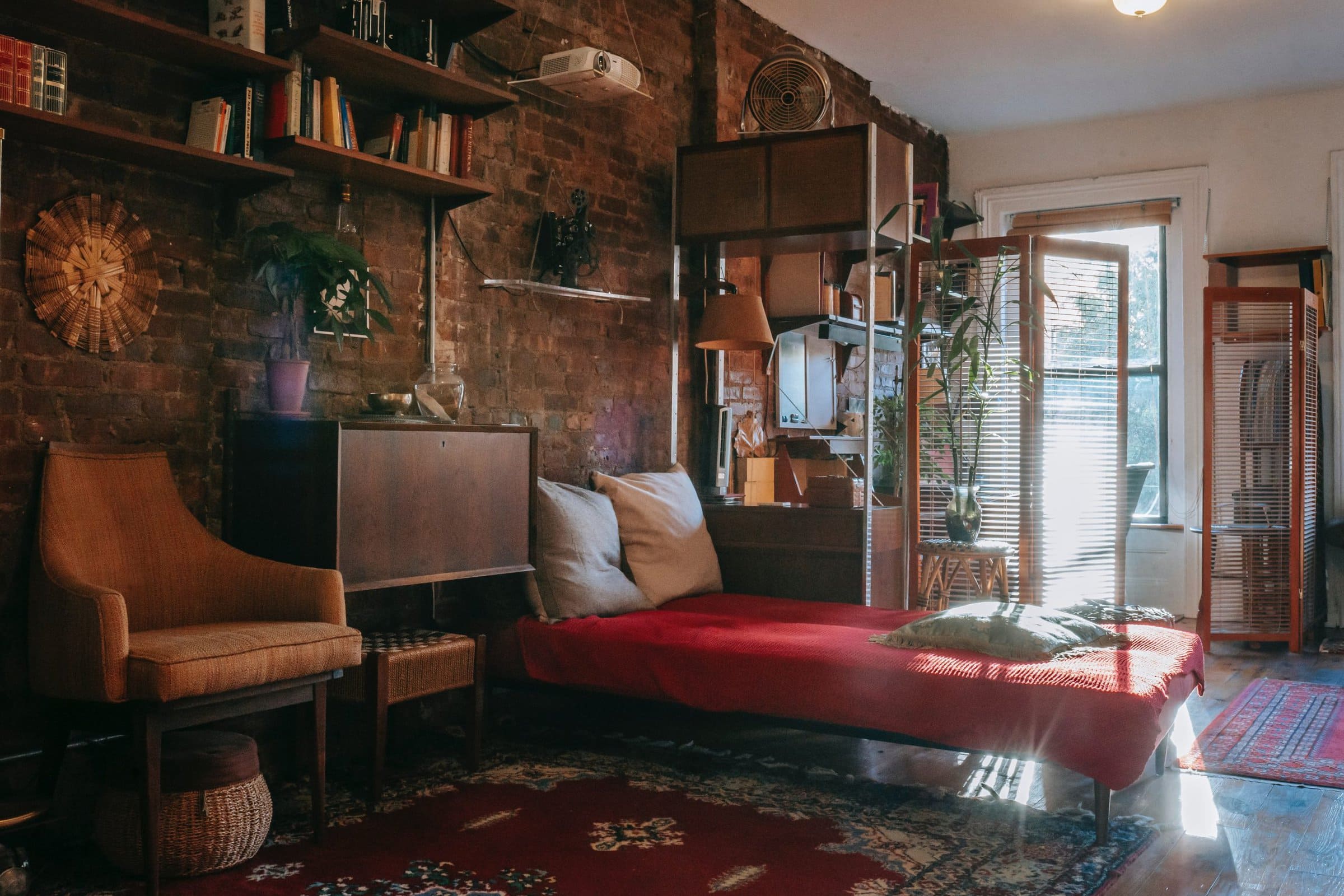 If you have a small twin-sized bed, then it may be able to sit right in the middle of your living room and integrate with the rest of the furniture. To do this, you'll need to consider how you can arrange both the bed and the other seating options in the room so that the bed does not dominate the space.
For a smaller bed, try arranging it right next to a sofa, armchair, or bench in your living room to create a makeshift "chaise", or an L-shaped sectional sofa. To make the bed look and feel more integrated into the room, cover it in throw pillows or a blanket. You could also add a row of pillows to the back to give it a more sofa-like appearance.
Another option is to arrange the bed in a way that it fades into the background of the living space— you could do this by having the bed sit up against the wall in a rarely-used corner. You could also arrange it to face out away from the wall next to a table or bookshelf, towards the main sitting area.
Make Use of Modular Seating and Bedding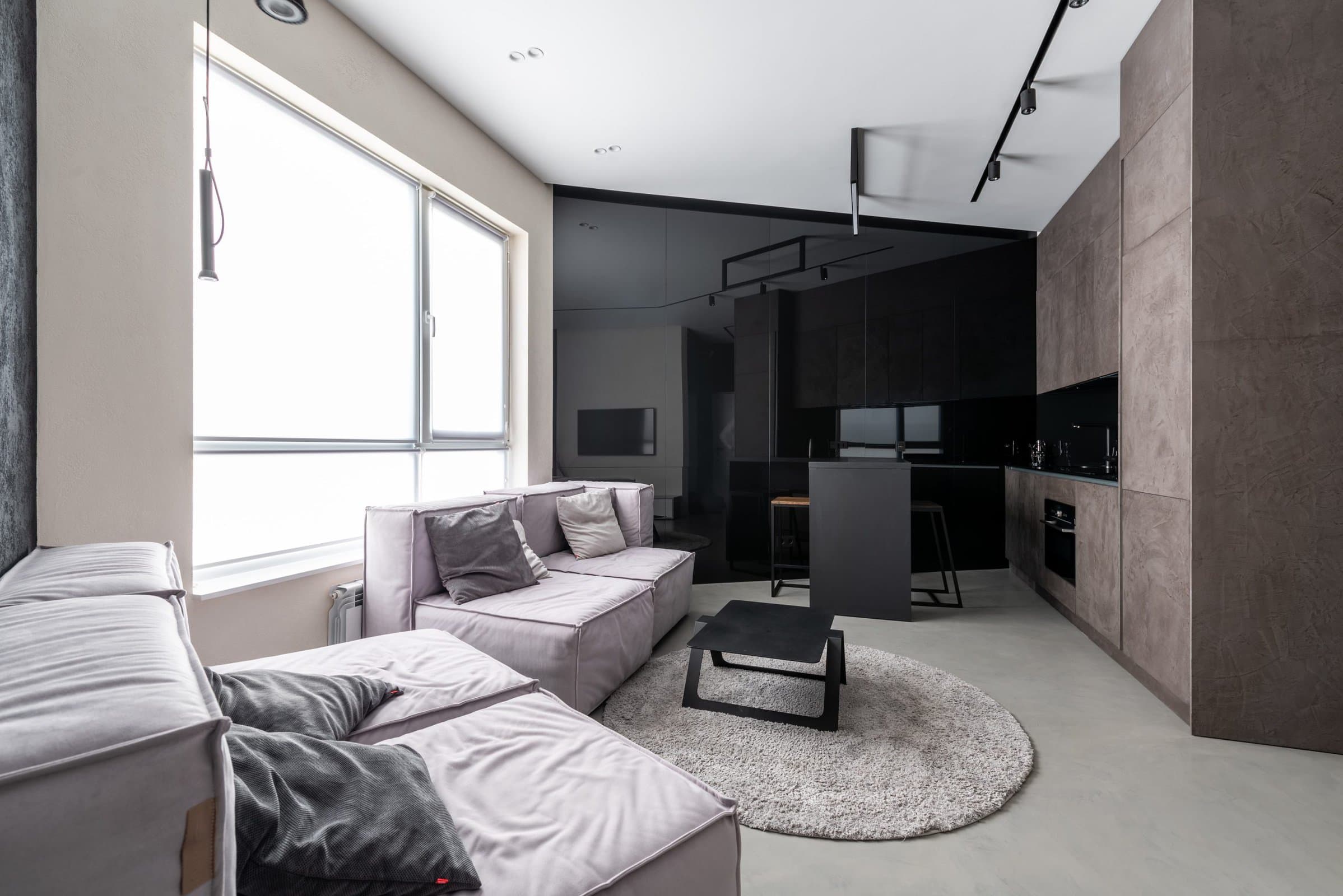 Looking for a temporary sleeping solution for a small space? If you don't have the space for both a bed and a sofa in your living room, then why not choose seating that can be used as both? Choose a modular sectional sofa or a collection of modular chairs that can be arranged and rearranged as both a couch and a bed.
Modular sofas and chairs are a low-maintenance way to switch up your living room as you need to. If you have three or four seats, then split them up into pairs so that you have a couple of loveseats, and then line them up together when you need a bed.
Utilize a Futon for a More Versatile Space
One of the quickest and easiest ways to convert a living room into a bedroom is to add a futon. Futons, like daybeds, are versatile pieces of furniture that easily convert from a couch to a bed in a matter of seconds. It's a great option if you're short on space and can't fit both a sofa and a bed in your living room.
Keep in mind, not every futon is created equally. Some expensive models are more high-end, with a cushier mattress and a quality metal or wood frame. Some cheaper models will be less sturdy and less comfortable. You'll want a sturdier futon if you need a more permanent sleeping solution, but a cheaper futon will be fine for the occasional houseguest.
To add a futon to your living room, all you need to do is set it up where you would a sofa. Just be sure that you have enough room around it for when you fold it out into a bed.
Use a Bookshelf As a Room Divider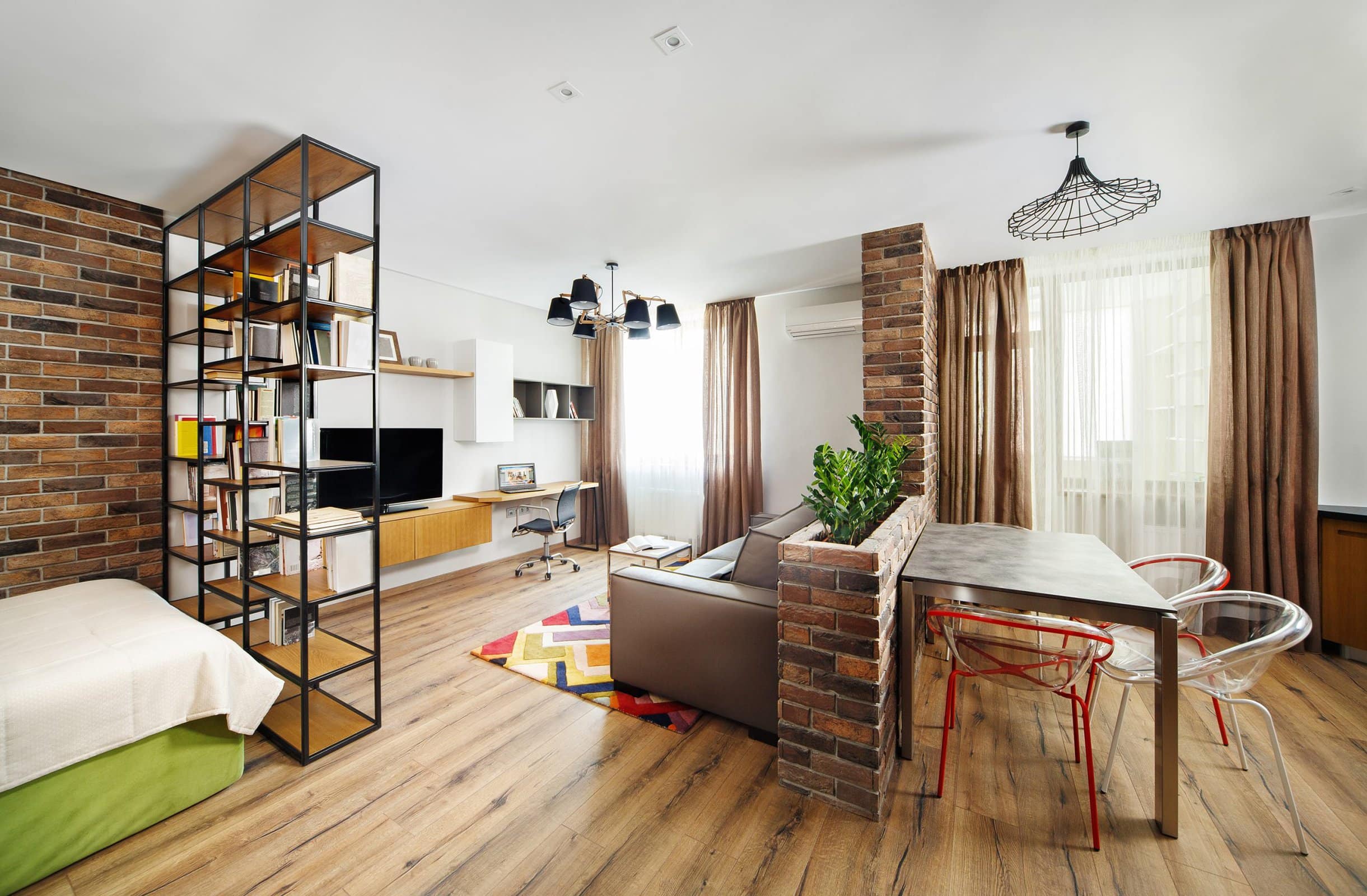 One of the most obvious ways to carve a sleeping space out of a living room is to add a room divider, but not every divider works for every room. Screens and curtains can block the flow of light to the sleeping area, leaving it dark and unwelcoming. Rather than a solid divider like a curtain, try a bookshelf instead.
Bookshelves that have an open, backless design can provide the privacy you need for your sleeping area, while still allowing for light to pass through the shelves to help the bedroom area feel light and airy. You may also want to consider a bookshelf with lots of levels for added visual interest.
Make sure that when you're adding items to your bookshelf you consider how the light will travel through them. Heavy items like books will create a solid privacy screen, while knick-knacks and glass objects will give the sleeping area a more open feel.
Add an Accent Wall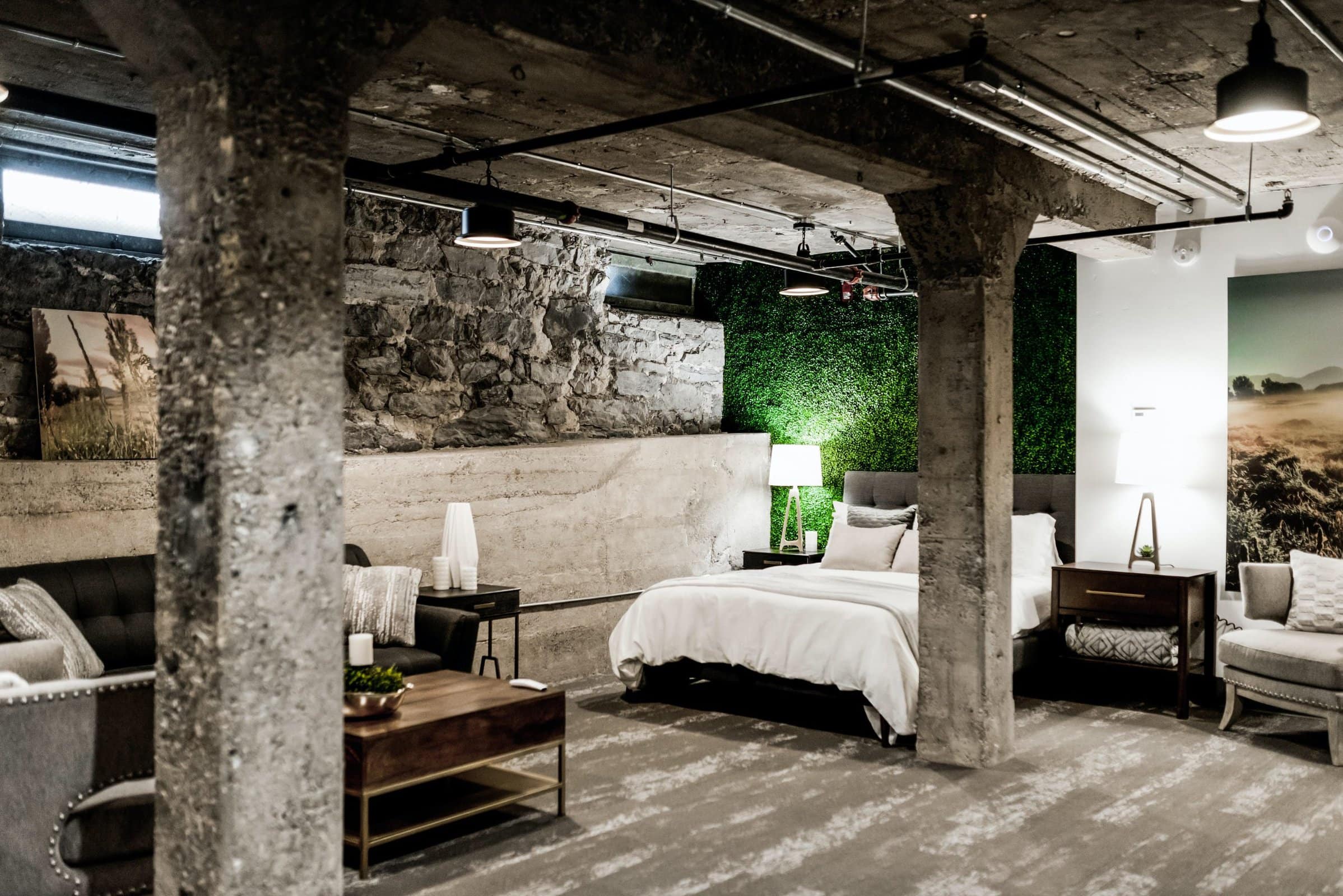 When you're combining a bedroom with a living room, you may not be able to completely isolate the bed from the rest of the living room furniture. If that's the case, then your goal should be to create a separate space in your living room for a bed that feels like a completely different space. One of the best ways to do that is to create an accent wall.
Accent walls are simply one wall in a room that's been decorated in a different way from the rest of the room. Usually, this is done with a different color of paint on the walls, but that's not the only way you can create an accent wall. Try a colorful wallpaper, some curtains, or even a wall of greenery, like in this example.
To utilize an accent wall in your living room, choose a far wall in your living room and give it a new paint job. Then, arrange the bed so that the accent wall serves as a headboard. You may also want to consider having lighting for your bedroom area that is separate from the living area.
Hide the Bed Away behind a Curtain
If you have a larger living room, then you may be able to tuck a bed away in a corner and hide it behind a curtain for extra privacy. First, make sure that at least one side of your bed is sectioned off with a screen or other panel to allow for a bit of privacy.
Apart from a screen, a bookshelf is another great way to add a "wall" for privacy and separation. A cube bookshelf like the one in this example allows a bit of light to shine through while also blocking off the bed to allow for a more secluded area.
Once you've got one side of the bed blocked off from the rest of the room, cover the other side with a curtain. This is usually done by installing a track on the ceiling that allows the curtain to be pulled open or closed depending on the needs of the person. Choose a color that blends in well with the living room, or matches the color of the wall.
Double Up with a Daybed
One of the best ways to transform your living area into a sleeping area? Use double-purpose furniture, like a daybed! This is a fantastic solution for when you don't have the space for a separate sleeping area and living area (or if you only expect the bed to be used temporarily).
A daybed is a versatile piece of furniture that can be used as a sofa or bed, depending on your needs, and it can easily convert between the two. Normally, daybeds come in the shape of a sofa with an extra-wide seat. Rather than seat cushions, daybeds will have a mattress.
Simply arrange the daybed where you would put your couch in your living room. When the bed is not in use, decorate it as you would any other sofa, with throw pillows and blankets. You may also try lining the sleeping pillows up against the back of the daybed for extra cushioning during the day.
Be Smart About Your Room's Layout
You don't necessarily have to section off different parts of your room or use visual tricks like curtains or shelving. Instead, simply make use of the shape of your room and place your furniture accordingly. By spacing out the "bedroom" area on a separate wall from the living area, you create the feel of two small rooms, rather than one big one.
One of the easiest ways to do this is to have the bed up against the farthest wall. That way, it feels like its own separate, secluded area. You would have to walk through the living area to get to it, which would discourage guests from wandering into the sleeping area.
You may also want to try decorating your sleeping area with a different style or color scheme than the living area, to make it feel like a different room altogether. Try decorating one area with dark colors, and the other in bright, bold patterns. Or, use black furniture in the living space and white in the sleeping space.
Section Off Your Living Room with Sectionals
One quick and easy way to zone off a section of your living room that's separate from the sleeping area is to make use of an L-shaped sectional, like the one in this example. Sectionals with a long chaise on one side can help break up a room into different parts.
Simply place the bed at the end of the room (preferably along a wall), and place your sofa so that the L-shaped side points towards the bed. This will give the illusion that the sofa is almost facing away from the bed, and parting the room into two.
There are more things that you can do to make the living area feel separate from the sleeping area. For one, using lighting— a floor lamp right next to the sofa works wonders. You could also use a colorful rug to mark out the living area as different from the sleeping area (this works especially well if the rug is a color that matches the sofa, but not the bed).
Conclusion
Who knew there were so many different ways to fit a bed into a living room? It doesn't matter if you're looking for a long-term space-saving solution or an easy place to put a house guest—you don't have to sacrifice comfort or practicality just because you're short on space.
Hopefully, a few of these ideas have given you the inspiration you need to create a living room and bedroom combination in your own home! Just remember to work with your room and the lighting you have available to you so that you can section out your room in a natural and comfortable way.