Decorated Life is reader-supported. When you buy through links on our site, we may earn an affiliate commission. Learn More
22 Glam Living Room Decor Ideas
The living room is possibly one of the most exciting places in your home when it comes to interior design. The possibilities are endless, and if you want to create a glamorous living room design, there are loads of incredible furniture and accessories to choose from!
In this article, we've curated a list of our favorite glam living room ideas, to inspire you and help you create the perfect glamorous living room of your own.
Brass and Marble Cocktail Table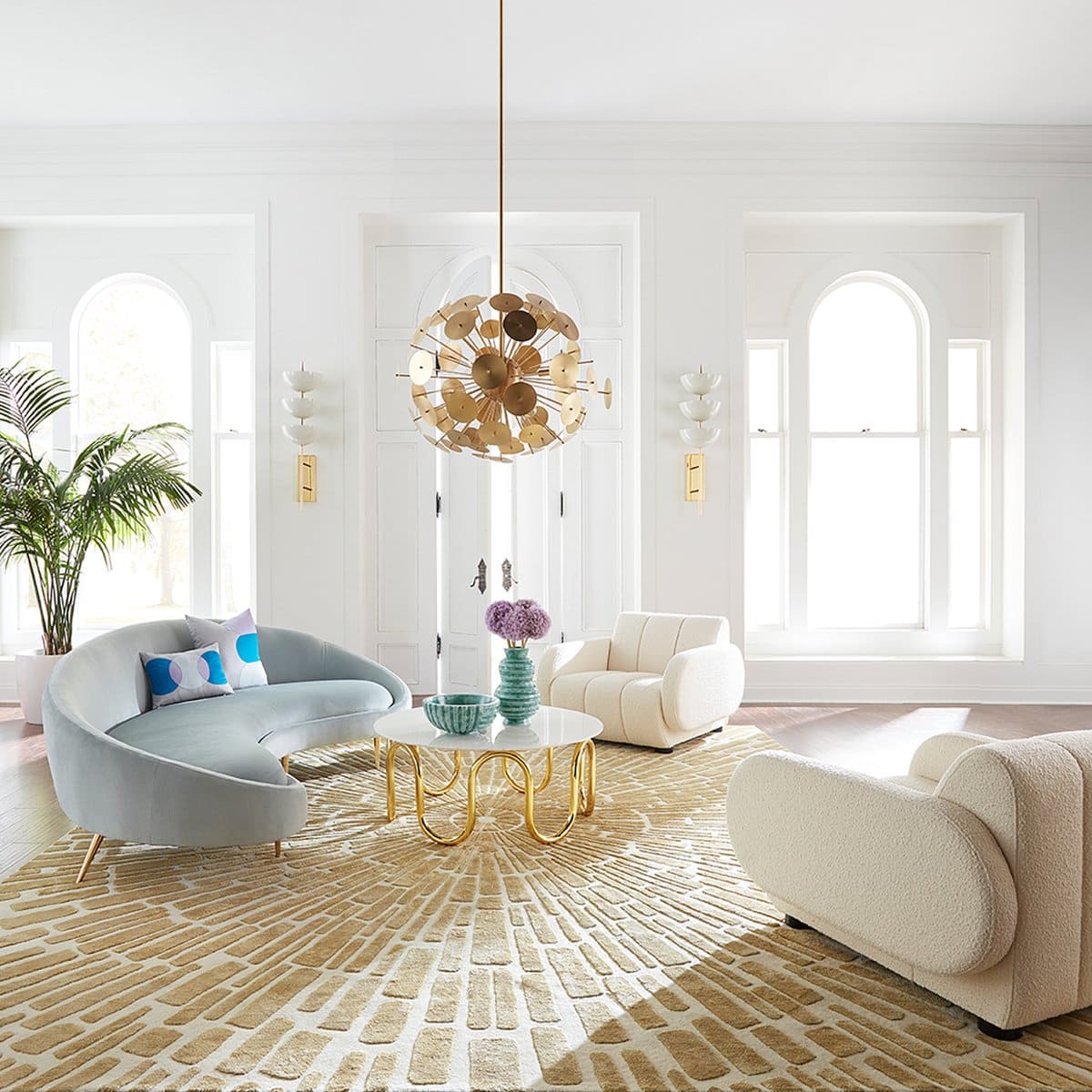 Polished metals such as gold, silver, and brass, are perfect for injecting some glamour into your living room. This stunning cocktail table features a sculptural design crafted from brass tubing with a solid Carrara marble top—the perfect mix of modern glamor and timeless materials.
Because of the color and materials, this cocktail table is made from, it will work well with almost any color scheme, making it a great addition to any glam living room!
Button Tufted Velvet Sofa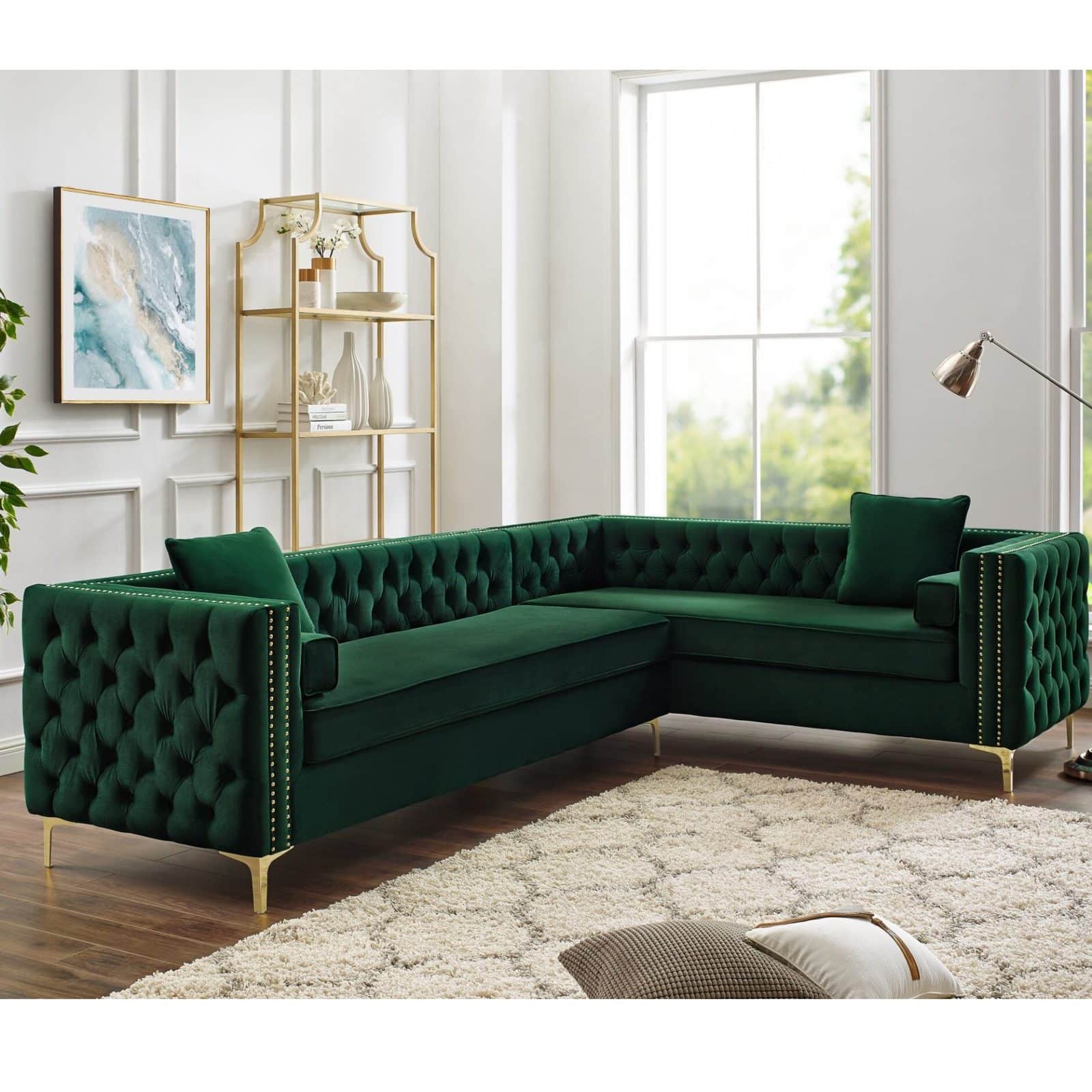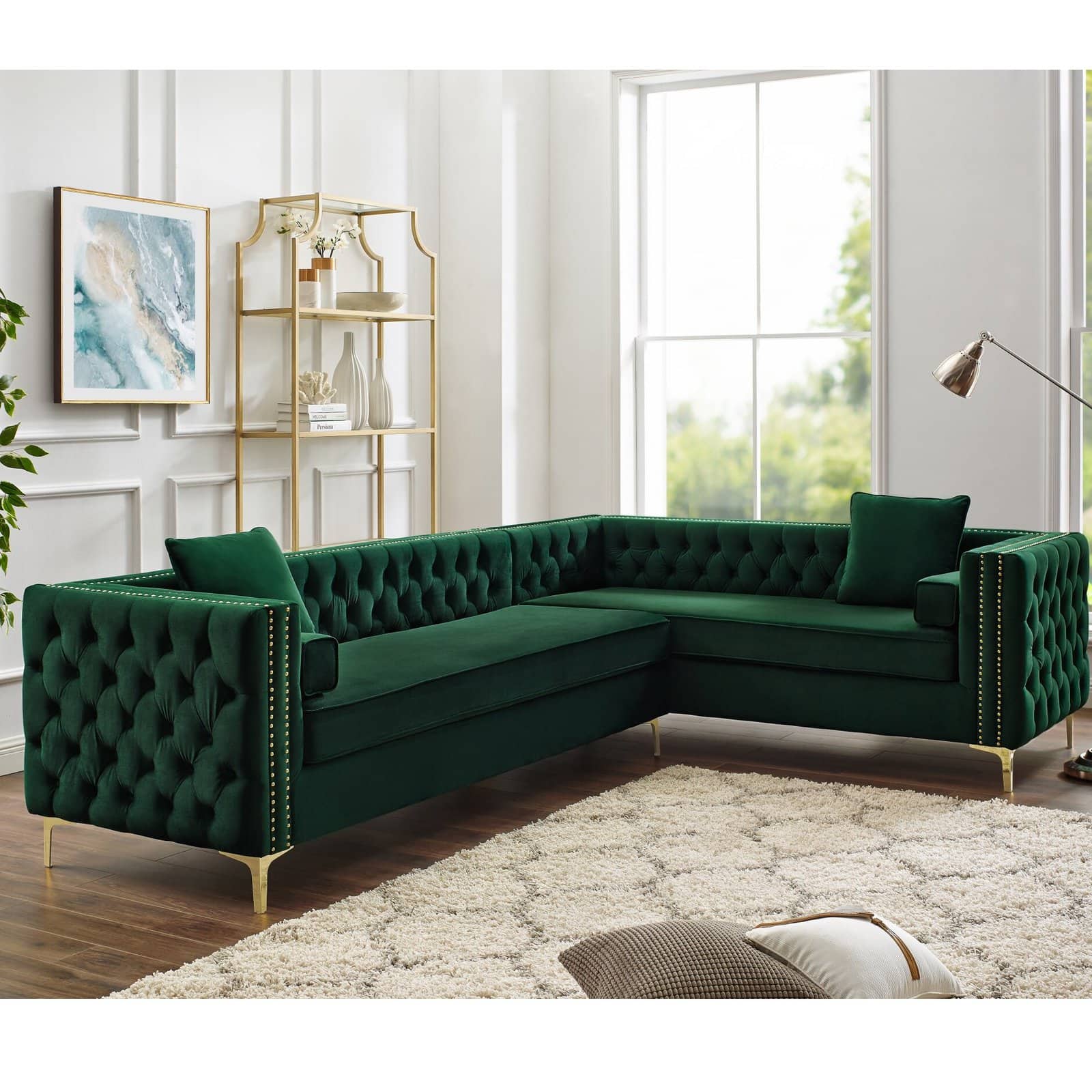 Button-tufted velvet upholstery is a great way to achieve a glamorous look in your living room, so why not go all out with an emerald green button-tufted velvet sofa with chaise!
This stunning sectional sofa is sure to wow guests with its rich jewel-toned upholstery and luxe gold nailhead trim. Best of all, this sectional is reversible, so you can configure it in the way that best suits your living room.
Asymmetrical Statement Mirror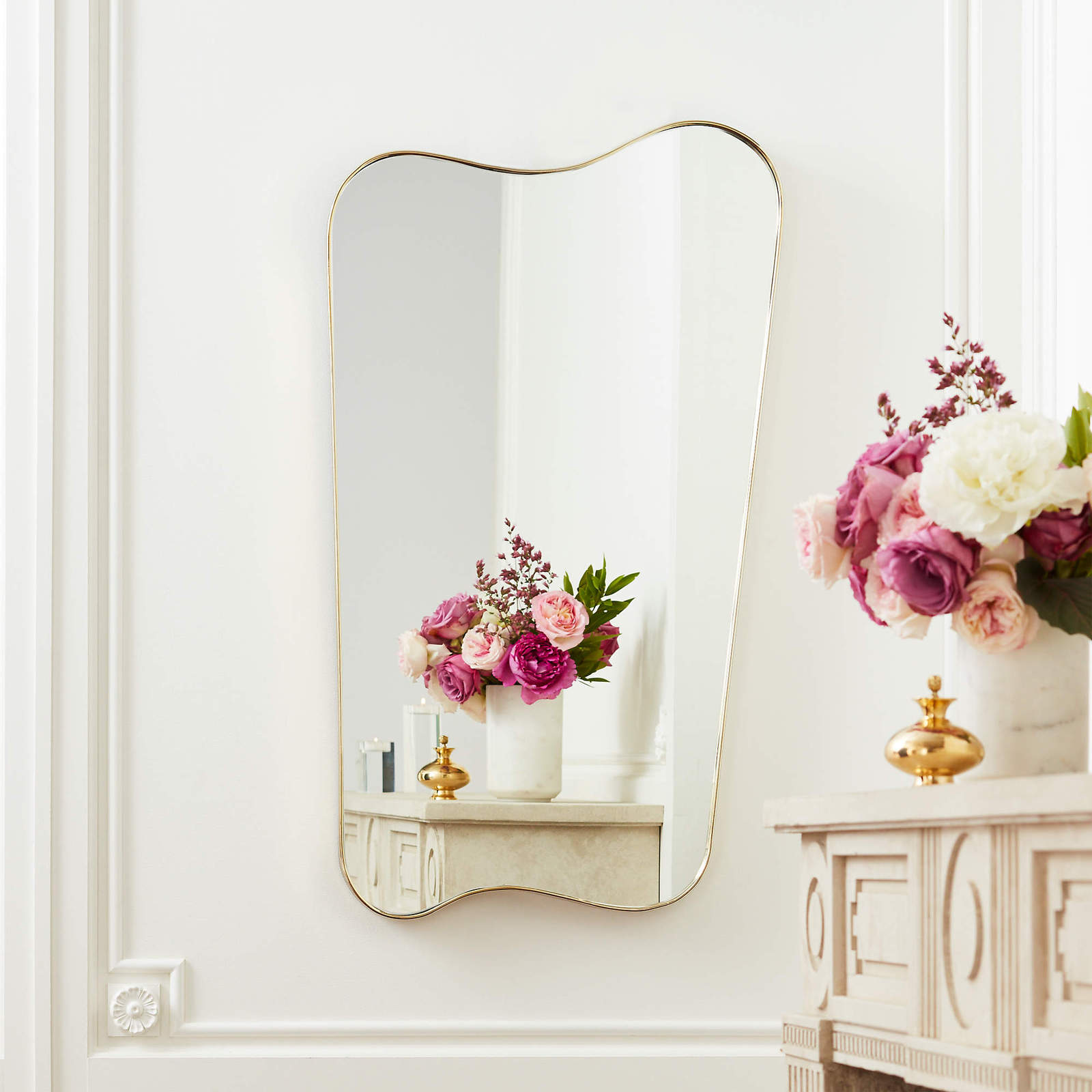 This super stylish asymmetrical mirror is the perfect addition to any modern glam living room. The slightly surrealist design will bring a touch of the unexpected to your space—perfect for those who love things that are a little different.
This mirror is handmade with a rounded brass frame bent around the shape of the mirror glass which gives each mirror a unique look.
Diamond Filled Mirrored Coffee Table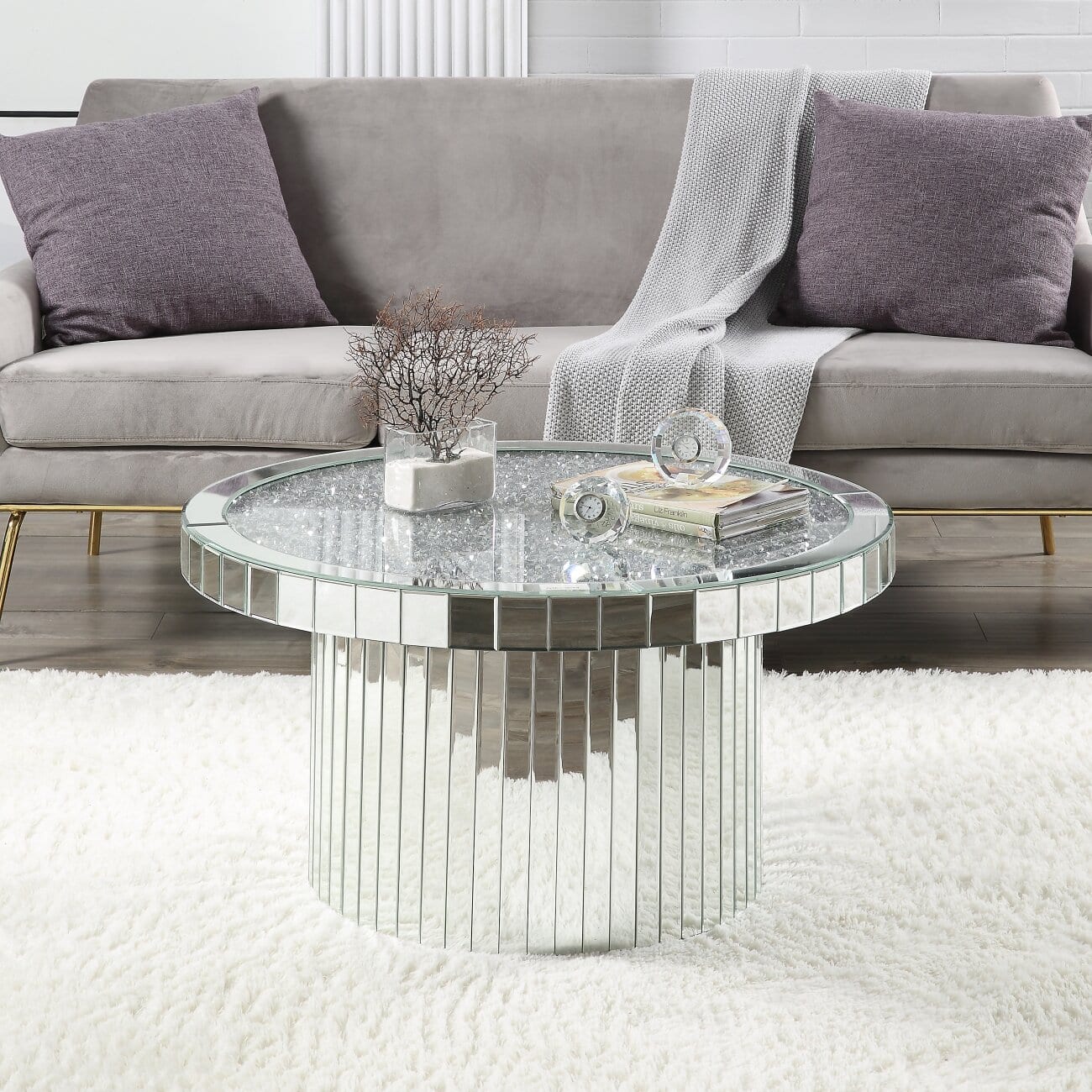 If you're looking for super glam living room ideas, mirrored accents and diamond details are a must! This stunning coffee table features a round mirrored design, with a glass top filled to the brim with glistening diamonds.
This is a truly unique piece of furniture that is sure to make a statement in your home. Aside from its beauty, this stunning coffee table is also super easy to clean and maintain, since it's made from glass. This is a piece for an adult home though—not recommended for those with young children or pets!
Glam Gold Bar Cabinet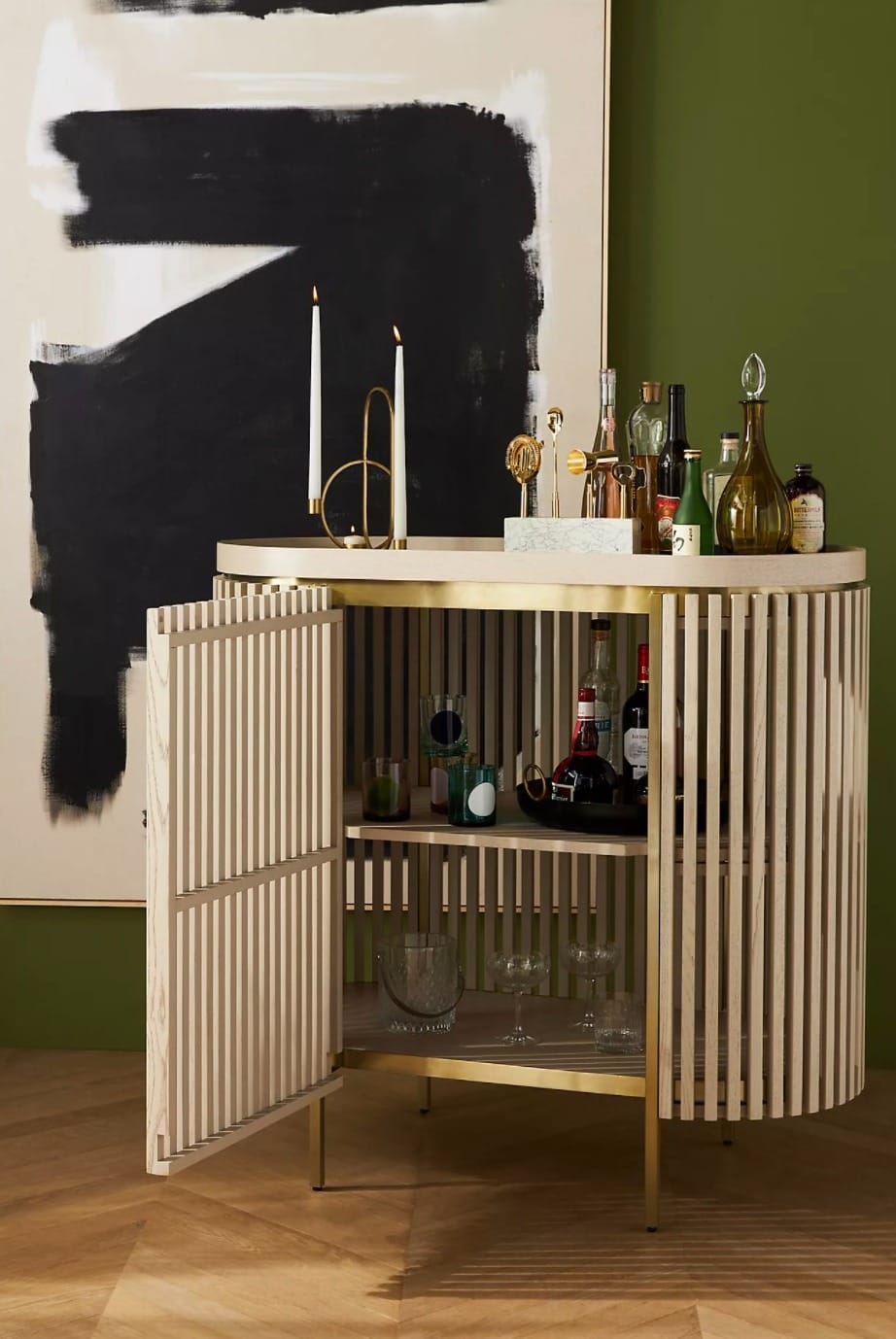 No glamorous living room is complete without a super stylish bar cabinet. Bar cabinets are not only a stylish addition to your space, but your guests will be delighted to discover you have everything to hand when it comes to making cocktails when you host social events in your home!
This stunning bar cabinet is beautifully crafted from oak wood, with a brushed brass steel frame. It's the perfect choice for anyone looking for modern glam living room ideas.
An Arched Crown Top Wall Mirror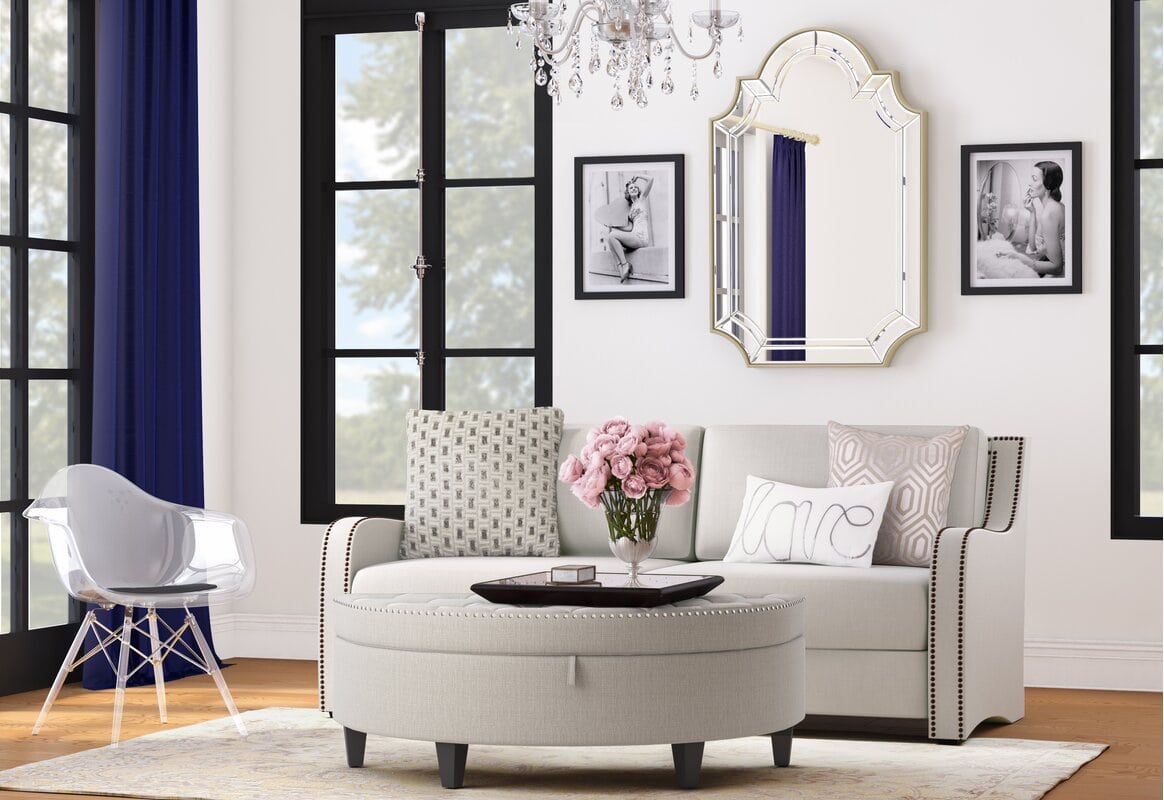 Wall mirrors are a must-have for any glam living room, and the good news is, there are loads of gorgeous styles to choose from. If you're going for a classic look, then you can't go wrong with an arched crown top wall mirror.
A beautiful wall mirror like this will not only make your space look more glamorous, but it will also help to reflect the light and make the space feel larger. This mirror would be the perfect choice for a glam small living room!
Statement Lips Wall Art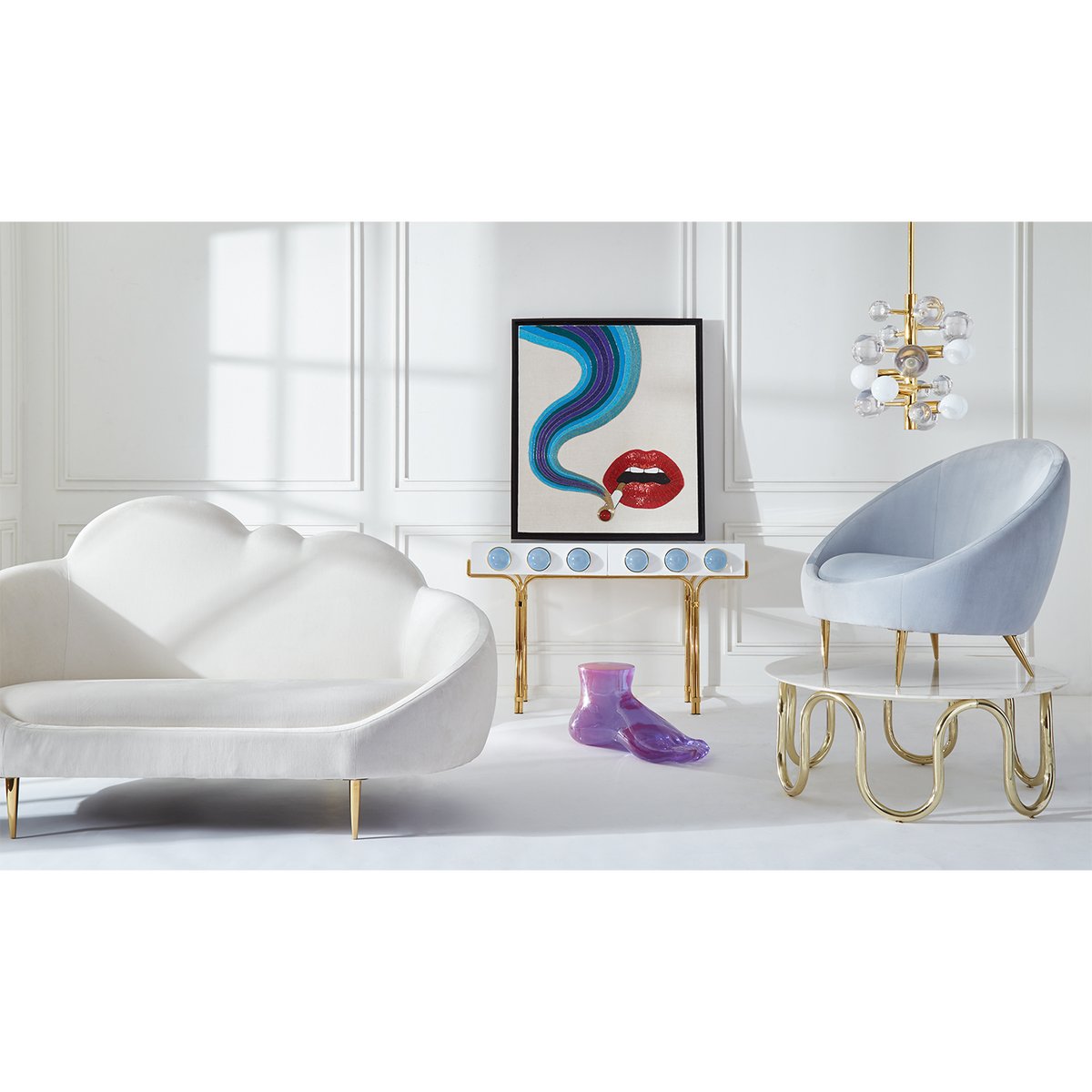 If you're looking for glamorous living room decor ideas, you will definitely need some statement wall art. This stunning artwork features an image of ruby red lips smoking a cigarette, with plumes of blue smoke rising up.
The artwork is made from thousands of tiny beads that catch the light at different angles. Framed in a simple black frame, this work of art will look best against light-colored walls so it can really stand out.
Button Tufted Chaise Lounge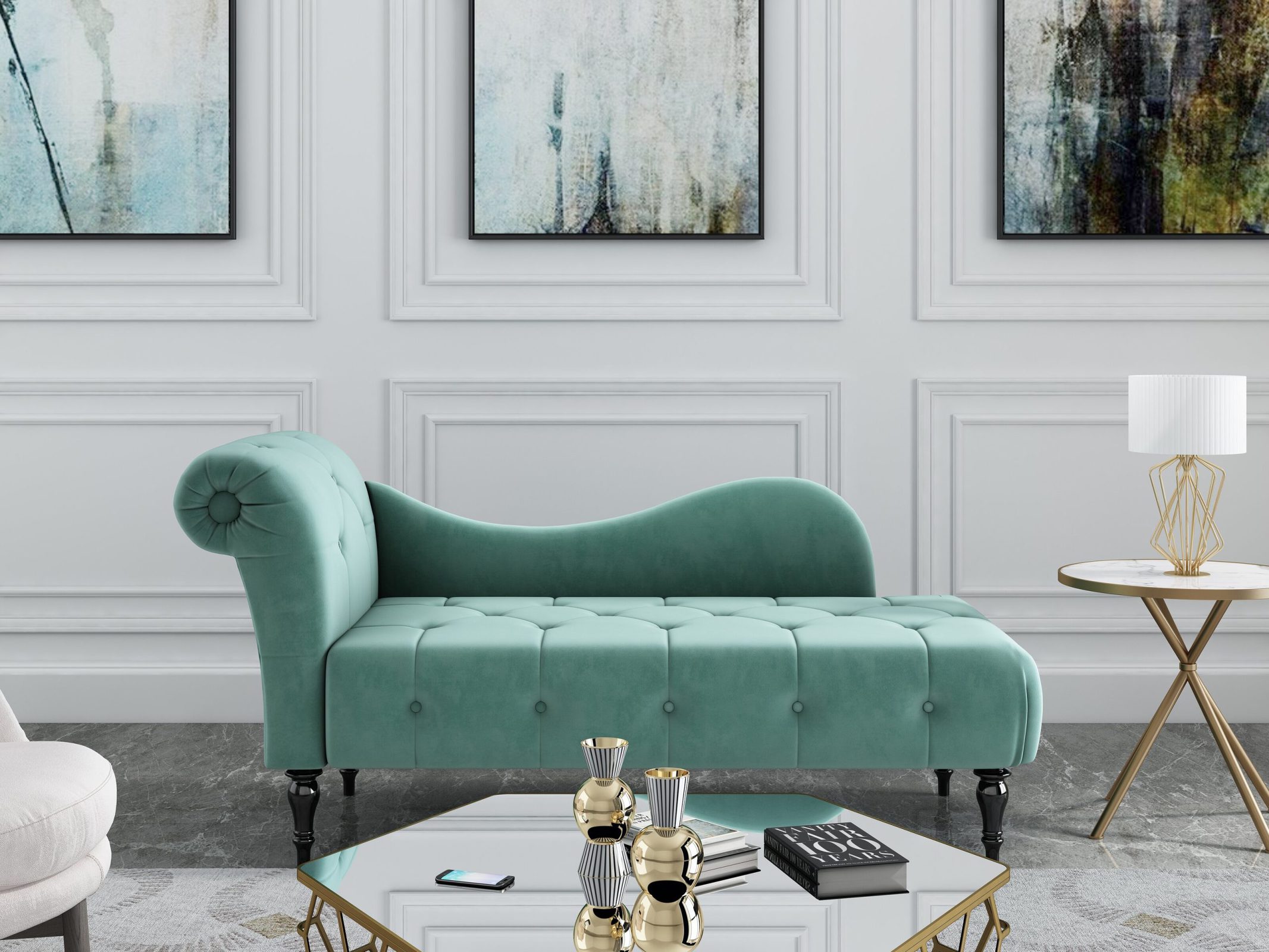 This stylish button-tufted chaise lounge is the perfect addition to any white glam living room, adding a splash of color to the space whilst providing a classic and elegant place to relax in your living room.
The chaise features a rolled arm, along with a curved arched back and comfortable cushioned bench seat, making it the ideal place to get stuck into a good book or take a nap.
Modern Glam Gold Table Lamp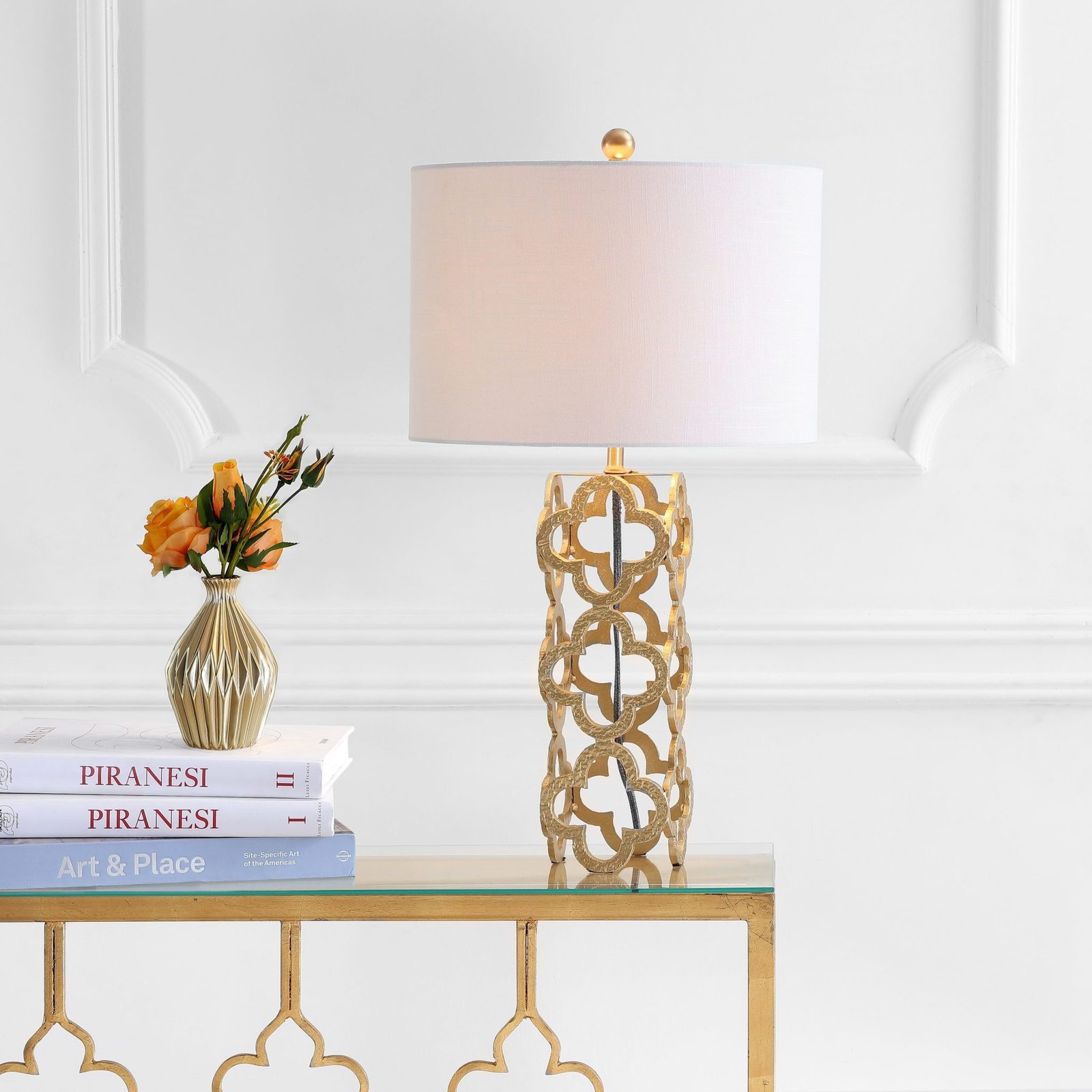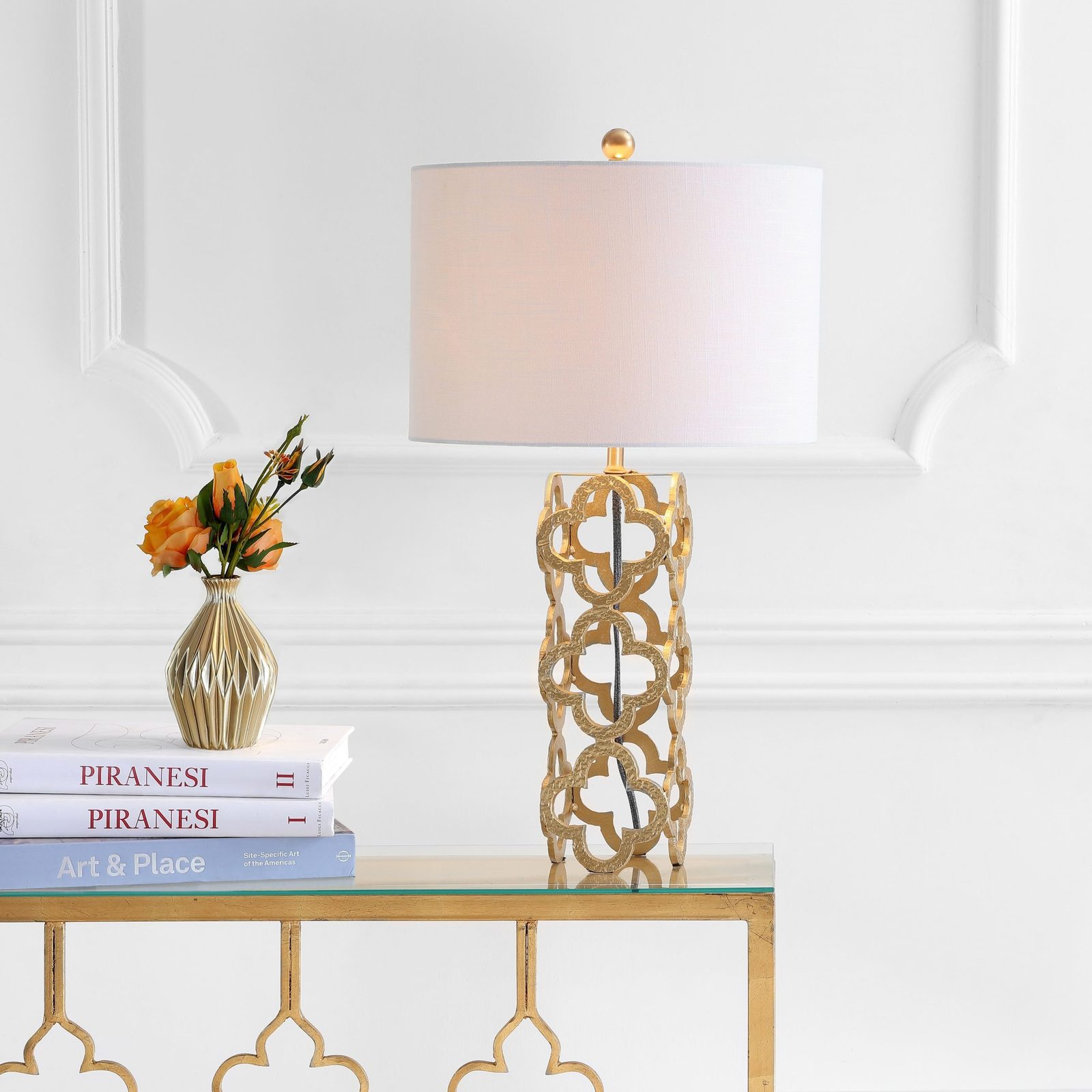 This stunning lamp is the perfect mix of traditional and modern, with a quatrefoil motif in a modern cylindrical shape. The gold leaf finish is perfect for anyone wanting to create a gold glam living room design in either a traditional or modern living room.
It comes with a stylish 100% cotton hardback shade that perfectly diffuses the light—perfect for creating a warm atmospheric glow in your living room.
Glam Gold Coffee Table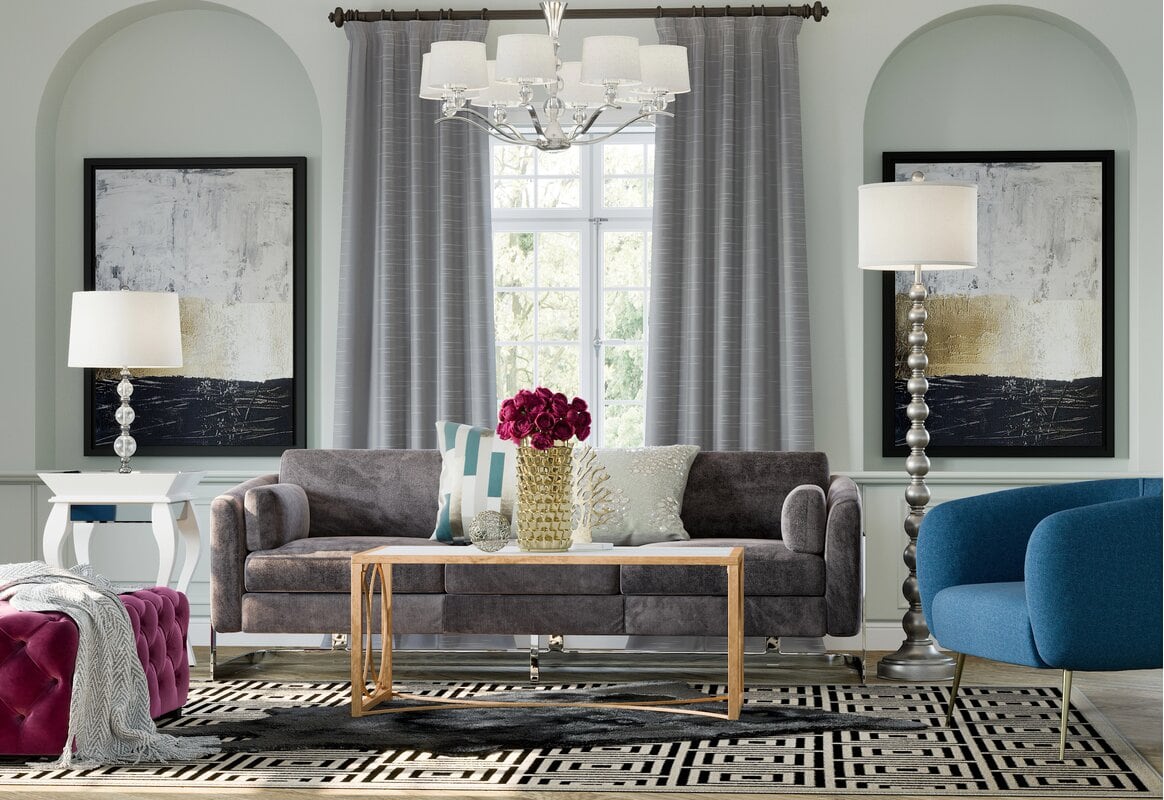 This glamorous coffee table is a real showstopper! Made from metal and glass, with an antique gold leaf finish, this gorgeous table is the perfect centerpiece for any glamour-style living room.
It has beautiful curved accents on each end and underneath and has a mirrored top that will reflect the light and any accessories you place on the table creating a unique ambiance in your living room.
Vintage Inspired Mirror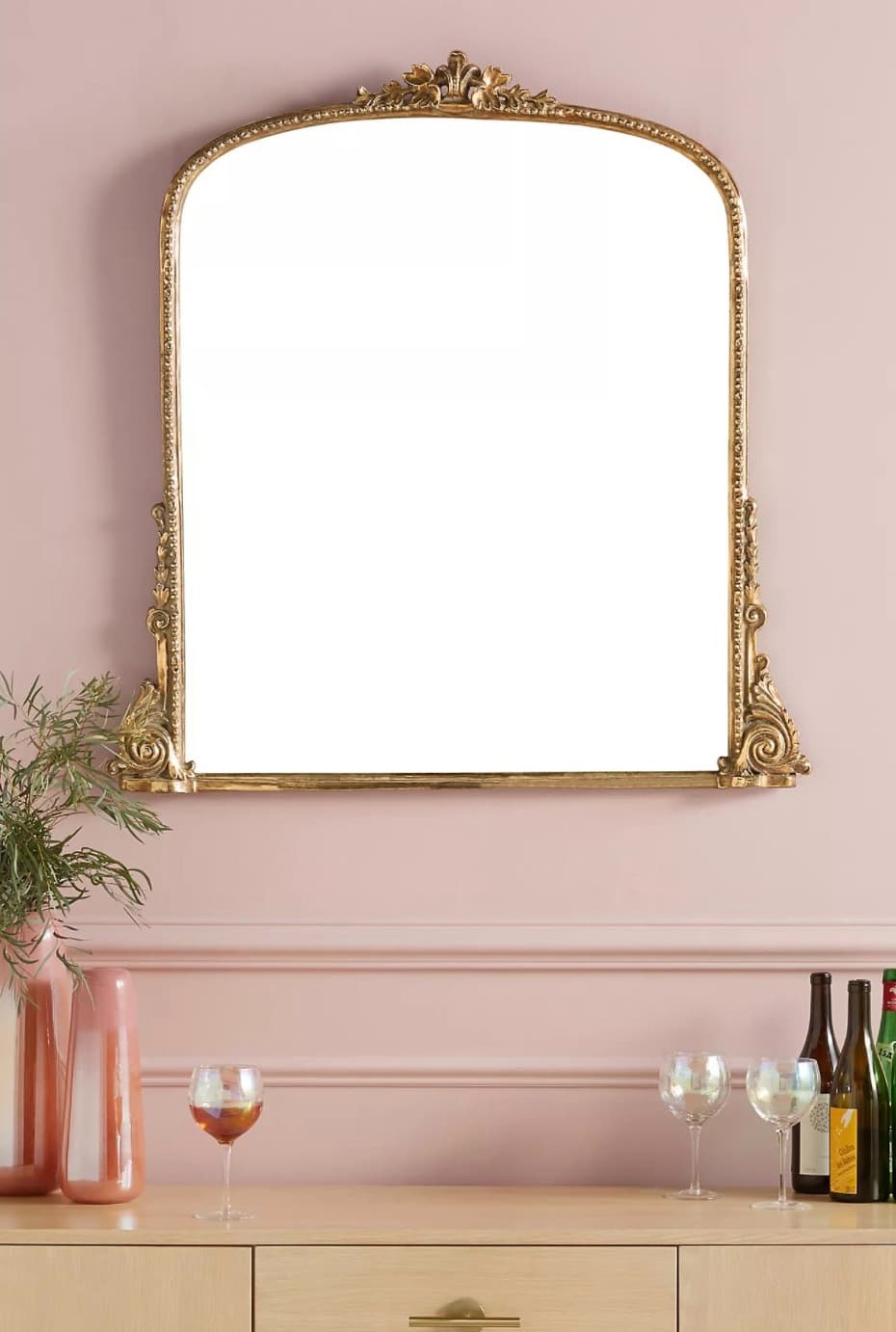 If you're looking for ways to up the glam factor in your living room, an ornate gold vintage-inspired mirror should do the trick! This mirror would look perfect placed on the mantle above a fireplace, leaning against the wall on top of a sideboard, or simply hung on a large wall space in your living room.
It features a detailed frame with jeweled adornments in a gold finish and is available in a range of sizes to suit your space.
Gold Metal and Glass Bookcase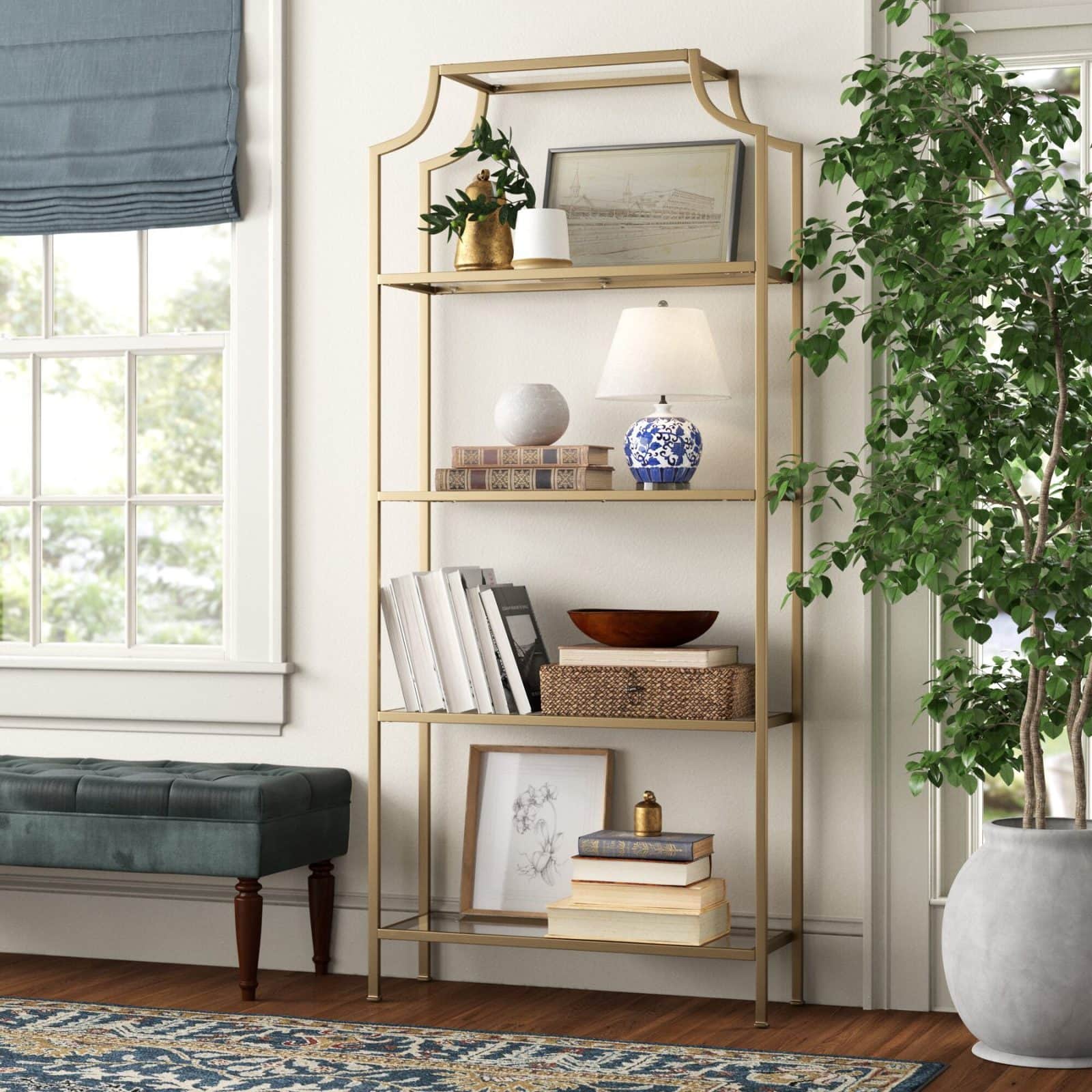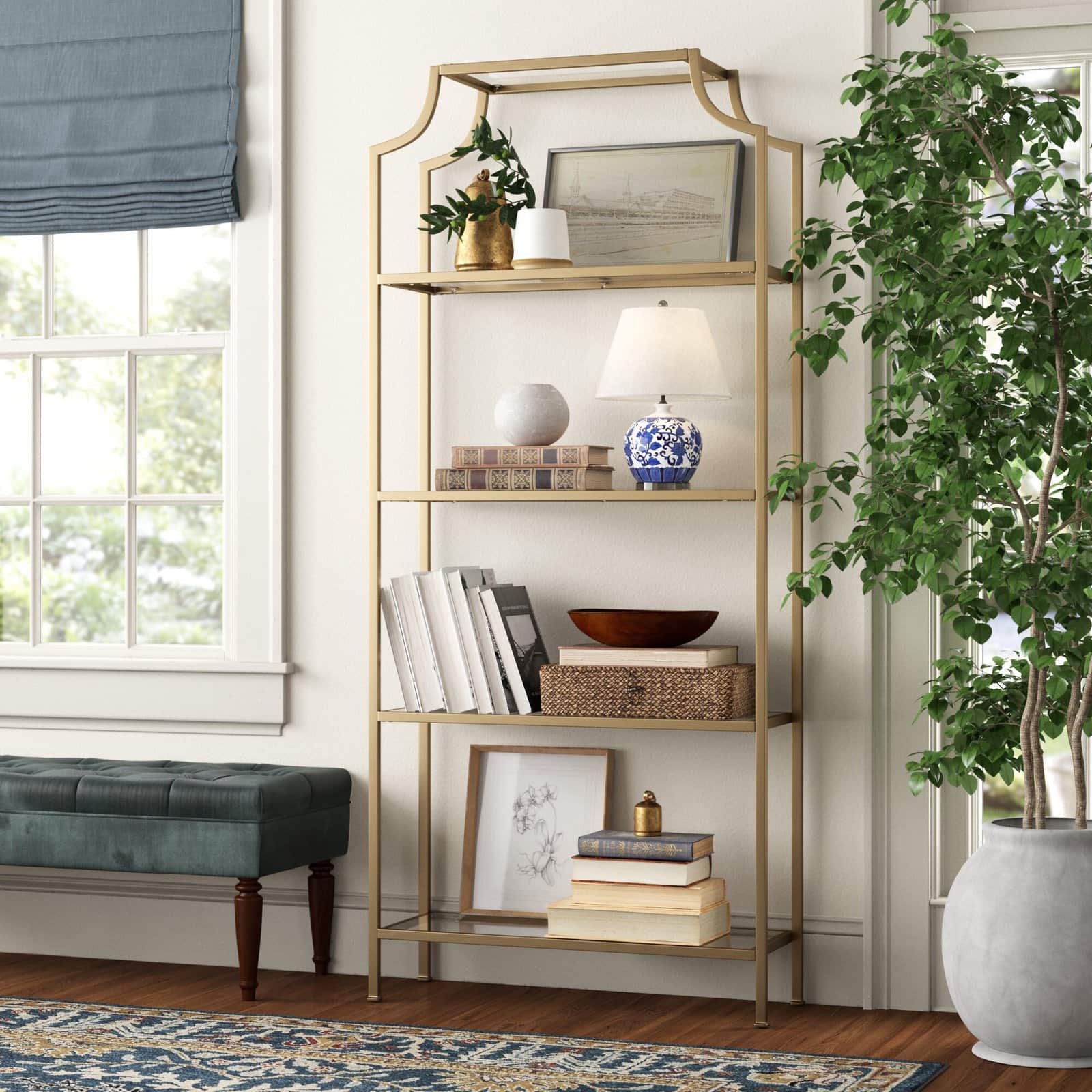 This stunning metal and glass bookcase is perfect for displaying books, photos, ornaments, small potted plants, and other treasures you want out on display. The beautiful silhouette with curved accents makes this a wonderful choice for any glam living room.
It has four sturdy glass shelves with plenty of space for everything you want to display. The shelves are easy to put together and perfect for bringing a touch of timeless glamor to your space.
Glamorous Hand-Knotted Round Rug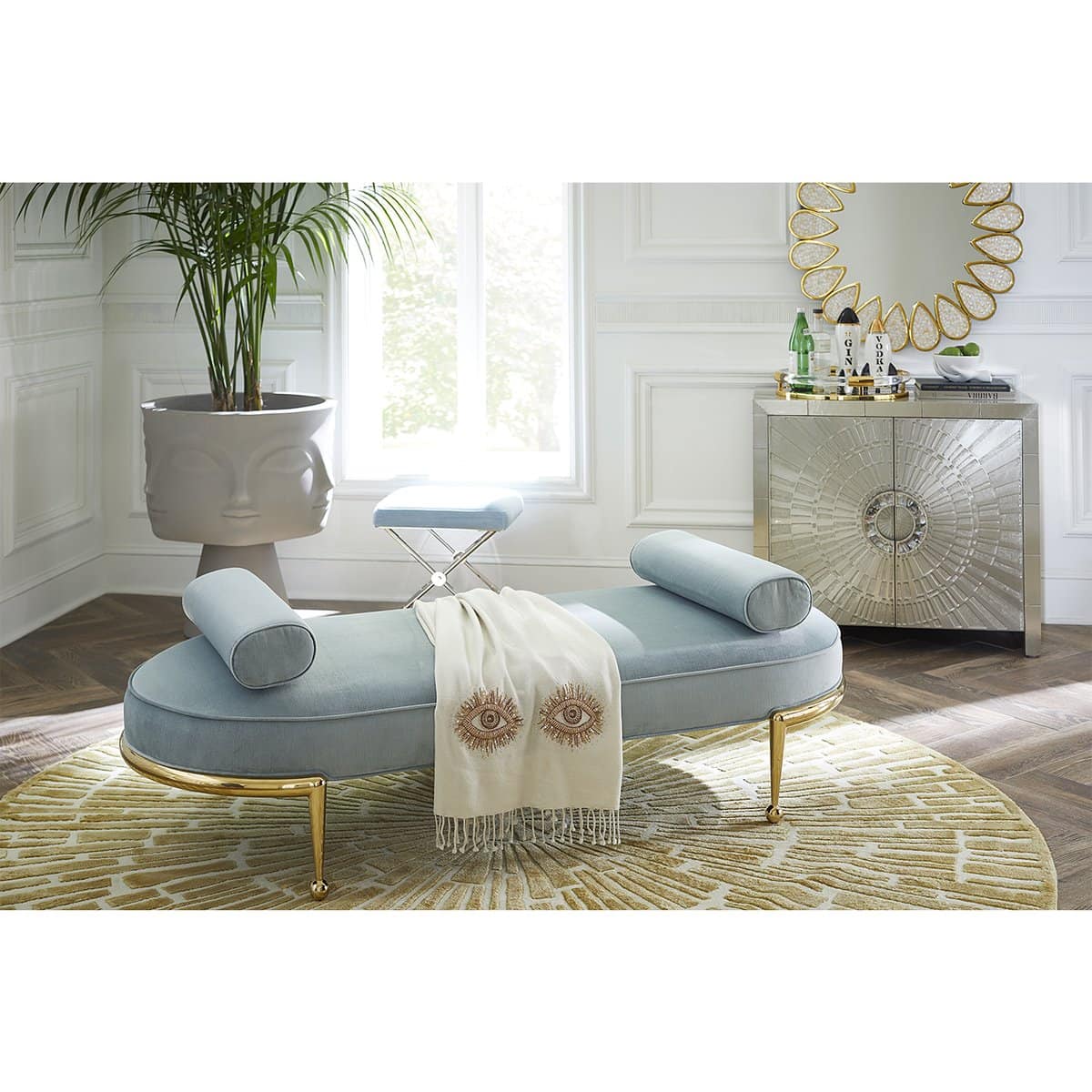 A rug is an important part of any living room design, as it can help to pull everything together as well as add more color, warmth, and texture to your space. This stunning round rug features a sunburst design in white and gold—perfect for a glamorous space.
The rug is hand-knotted from viscose and wool, which makes it super soft and gives the surface a shimmering textured finish. A true statement piece!
Mirrored Console Table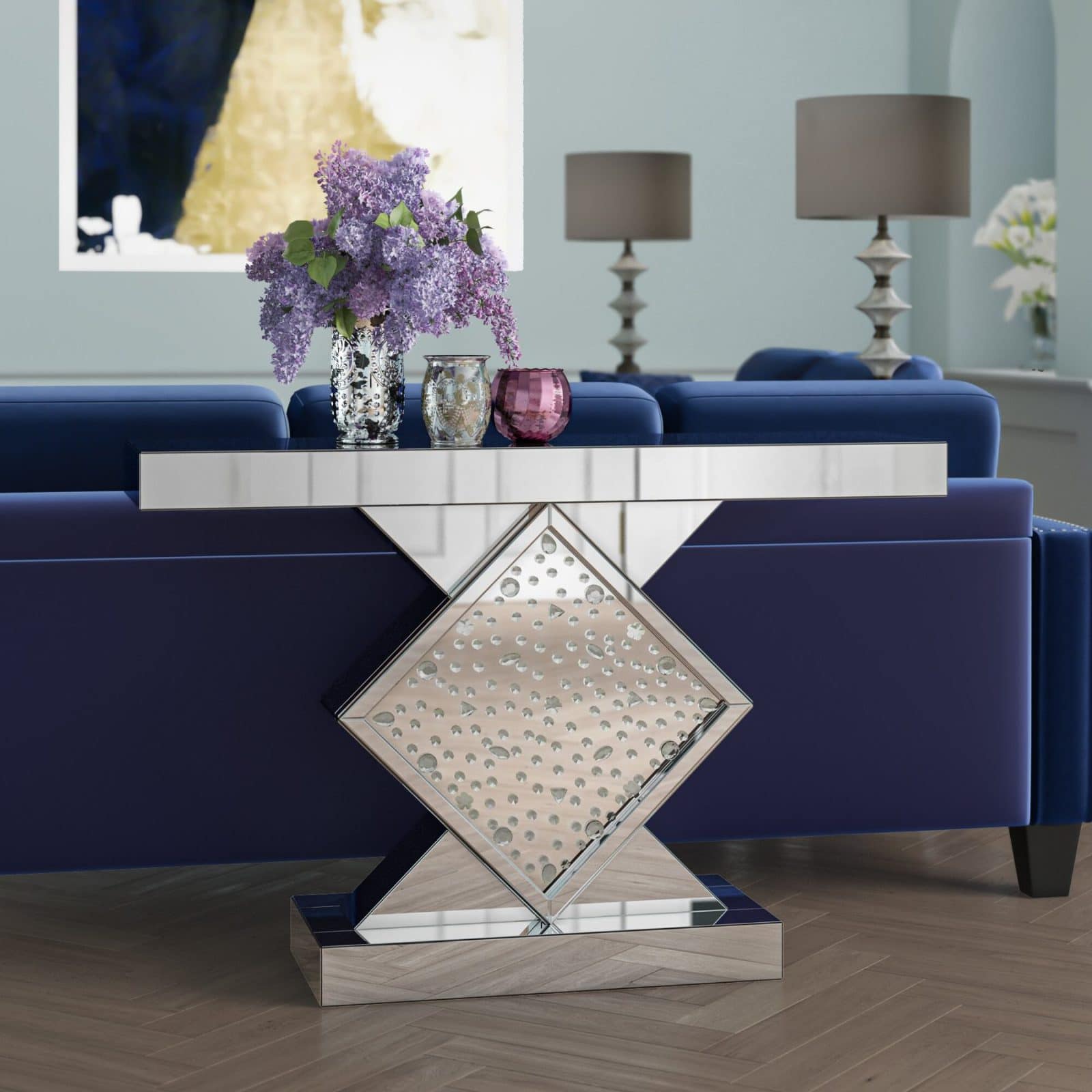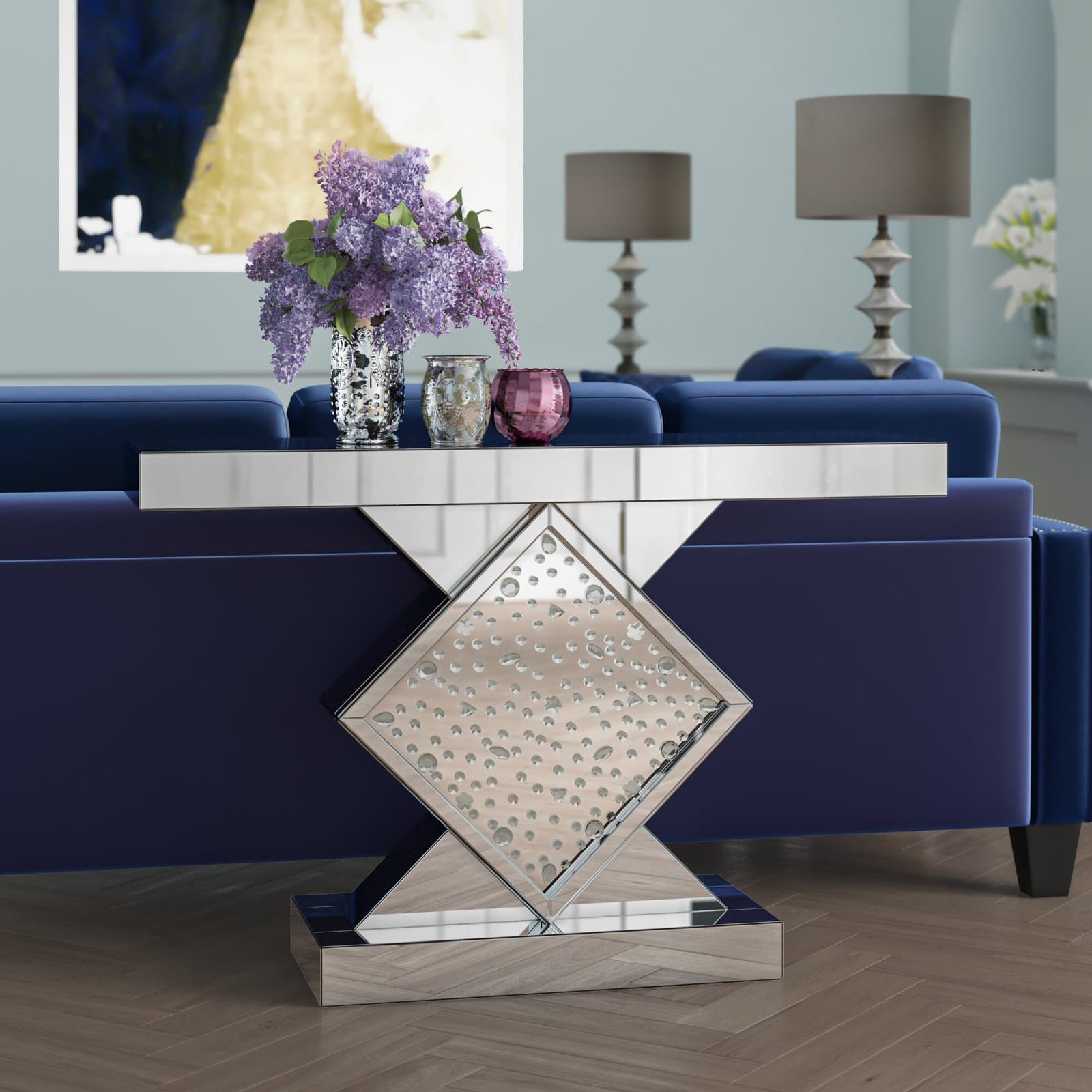 Console tables are a great way to add a touch of glamor to your living room and can make a great focal point on an empty wall. They can also work well behind a sofa if you have a large space, to help visually divide the space.
This elegant console table has a beautiful mirrored glass finish, with crystal diamond detailing. The contemporary design is ideal for modern glam spaces, with clean lines and a stylish geometric base.
Brass Triangle Floor Lamp
The unusual triangular design of this floor lamp makes the perfect statement piece for a modern glam living room. The shining brass finish catches the light beautifully when the light is switched on, creating a warm ambient glow in your living room.
The simple white cotton drum shade completes the look, allowing the beautiful base to take center stage while diffusing the perfect amount of light to create an atmospheric glow.
Black Velvet Tufted Chaise Lounge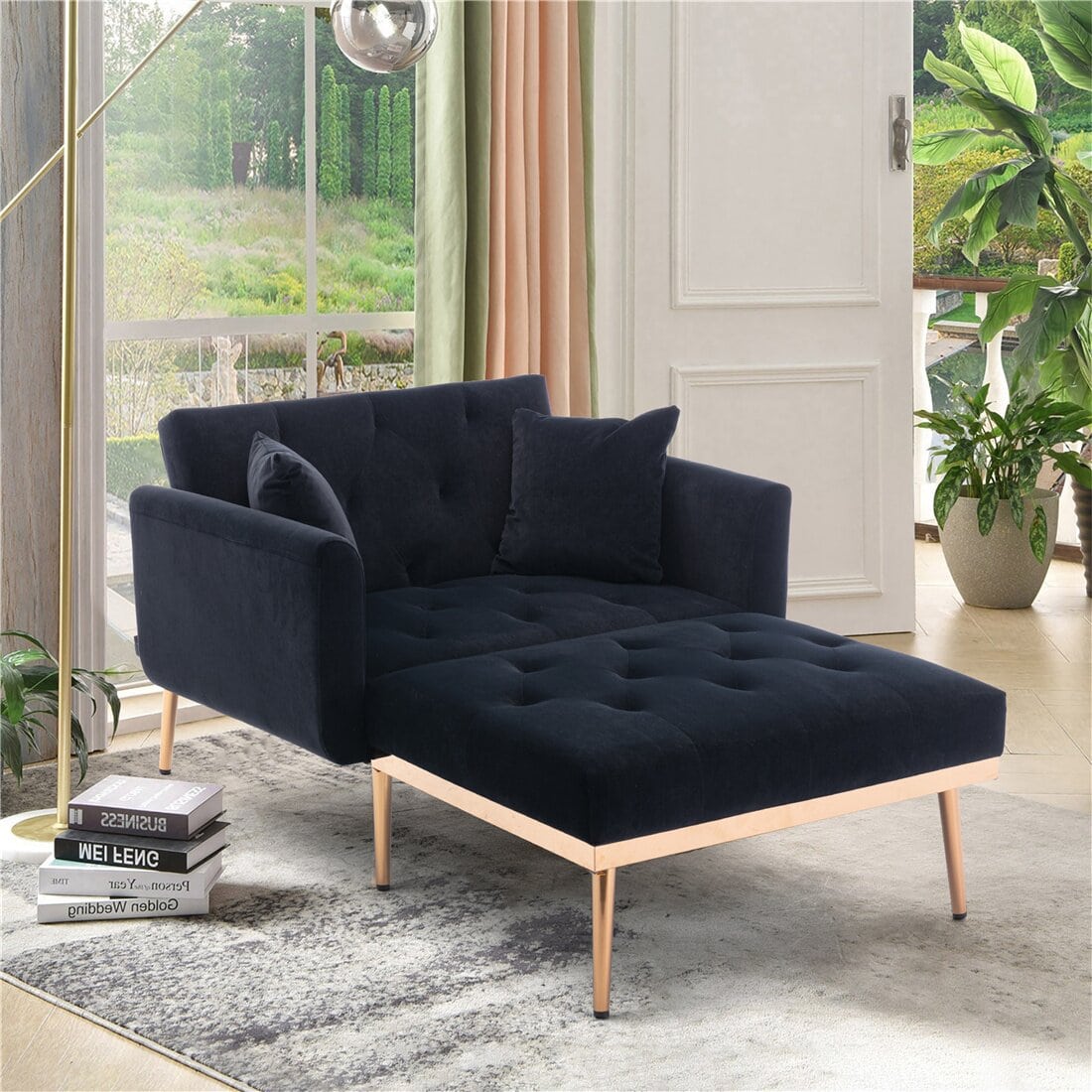 This stylish button-tufted chaise with arms will add a touch of elegance and glamor to your space in an instant, and well as provide you with a very comfortable place to relax!
This unusual glam accent chair features a wide design with two arms and thick soft cushions, so it can be used as an armchair when you want to sit upright, or fully reclined when you want to take a nap.
Arched Bar Cabinet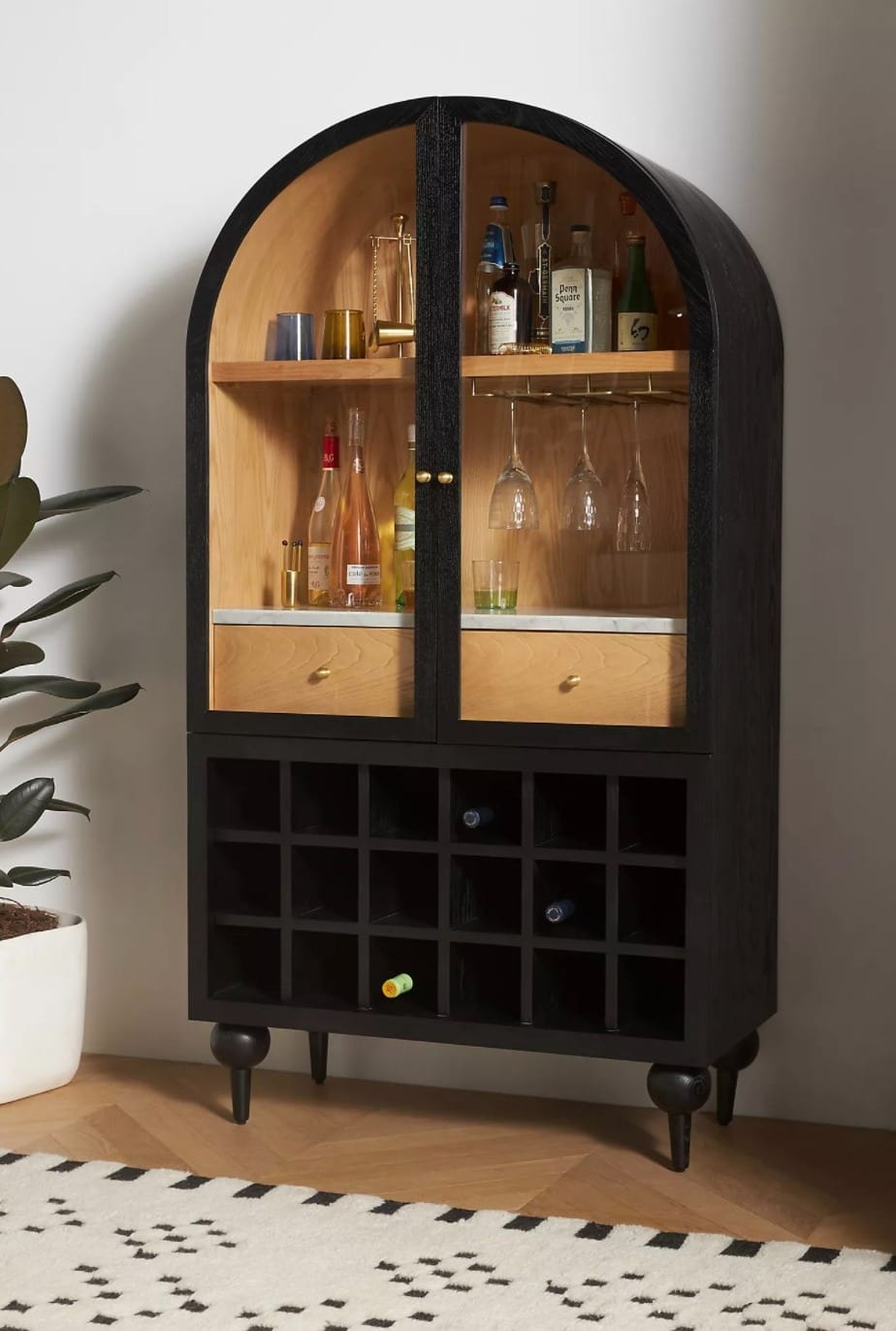 If you love having parties and entertaining guests in your home, then a stylish bar cabinet is a must-have for any glamorous living room design. This beautiful cabinet features an arched silhouette with rounded legs which gives it a unique look.
There is plenty of storage, with a built-in wine rack, two drawers, a wine and cocktail glass rack, and shelving. It also has a marble surface above the drawers which adds to the elegant look and can be used for preparing drinks on. Simply stunning!
Glam Beveled Accent Mirror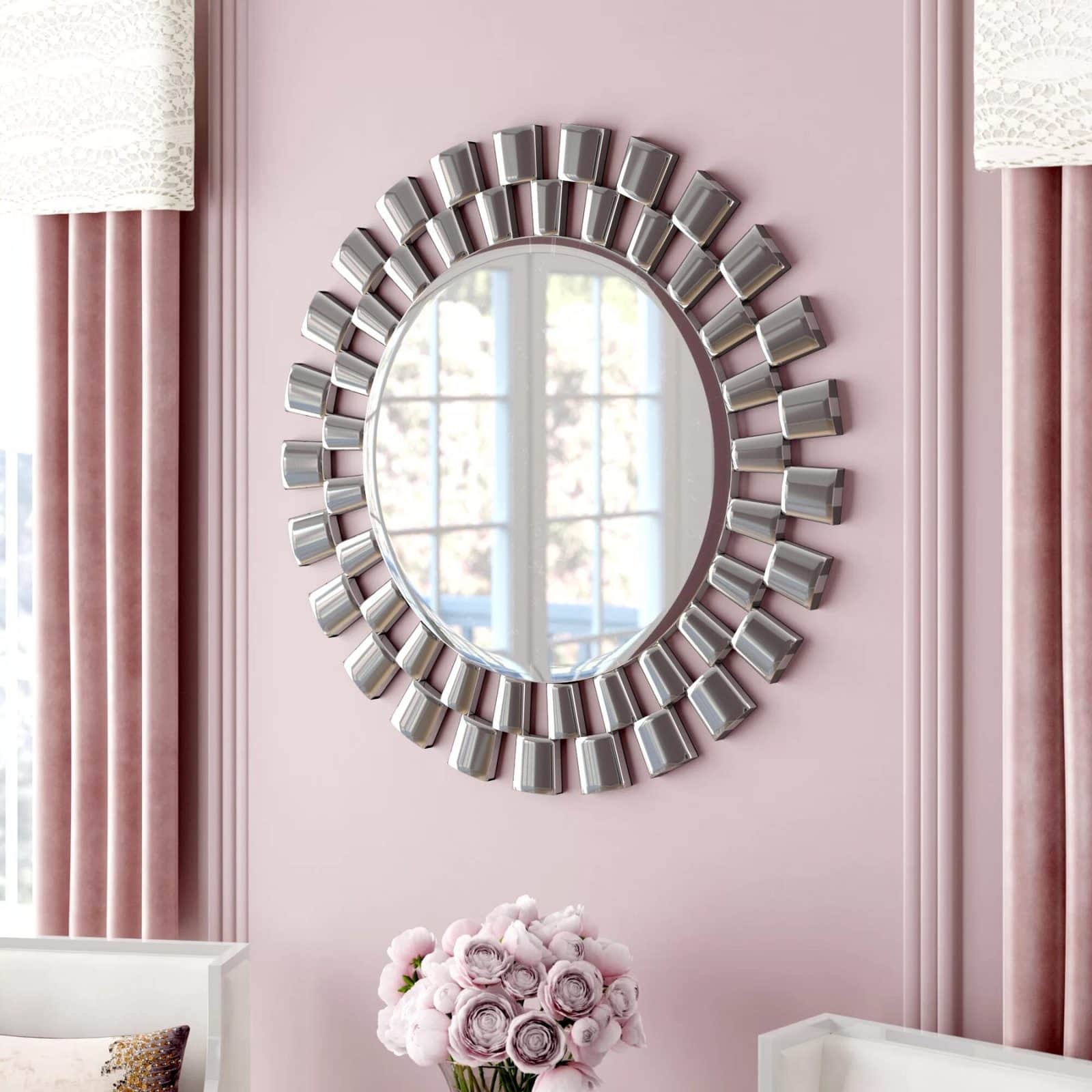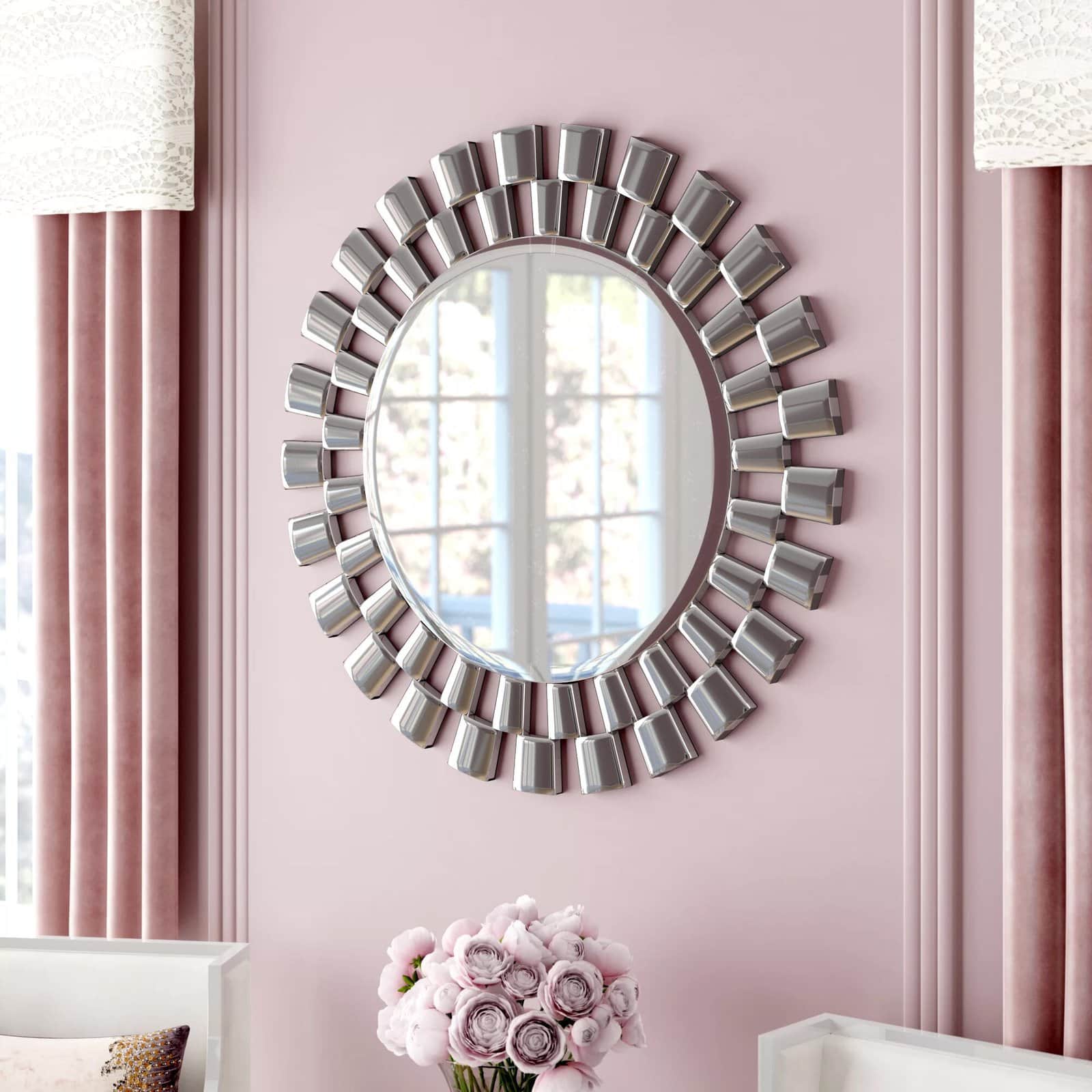 This pretty accent mirror is perfect for adding a touch of modern glamor to your living room. It could be placed above a fireplace, console table, or simply on the wall as a beautiful feature.
The sunburst frame is completely mirrored, which will help to brighten your space. This spectacular mirror is sure to get lots of compliments!
Modern Abstract Glamorous Area Rug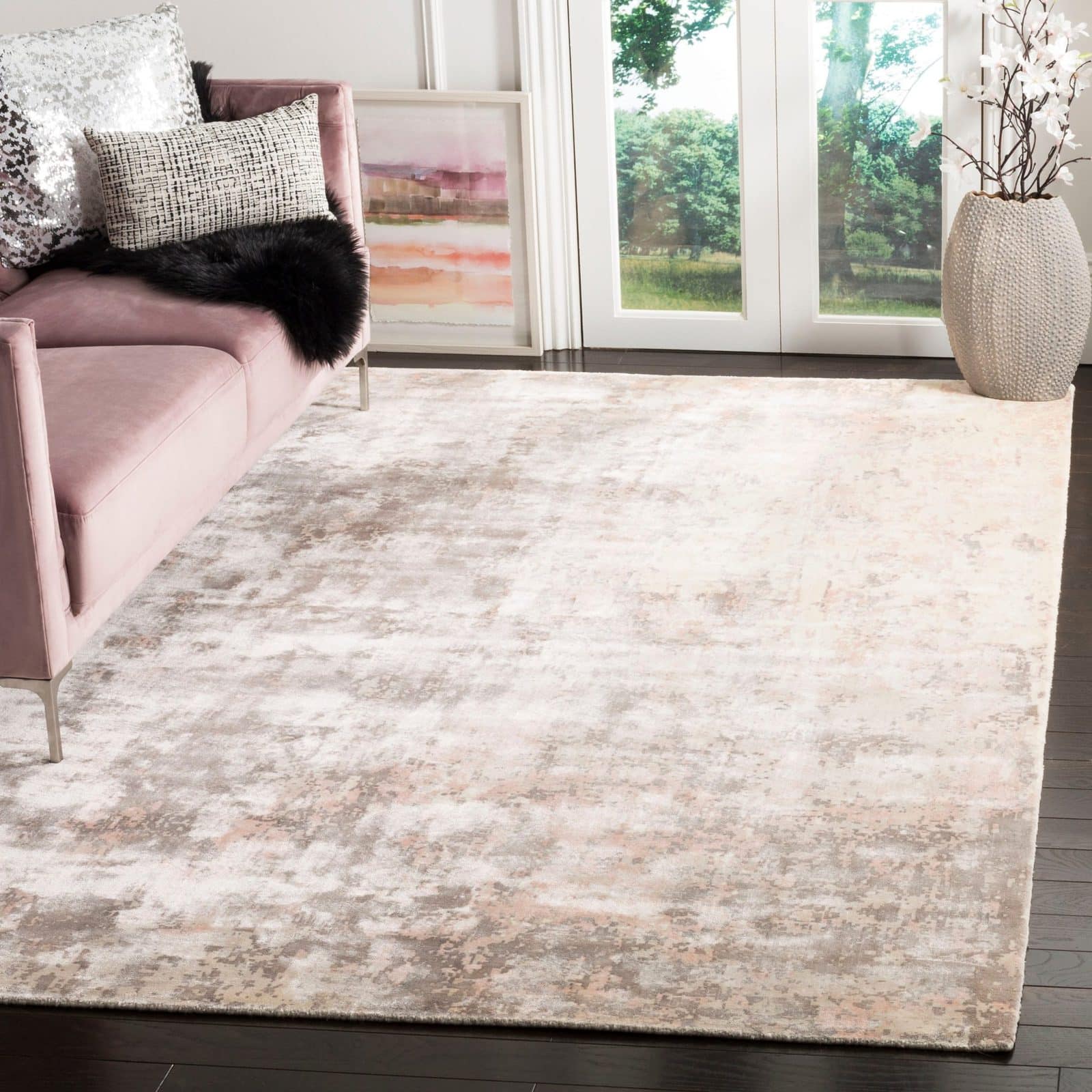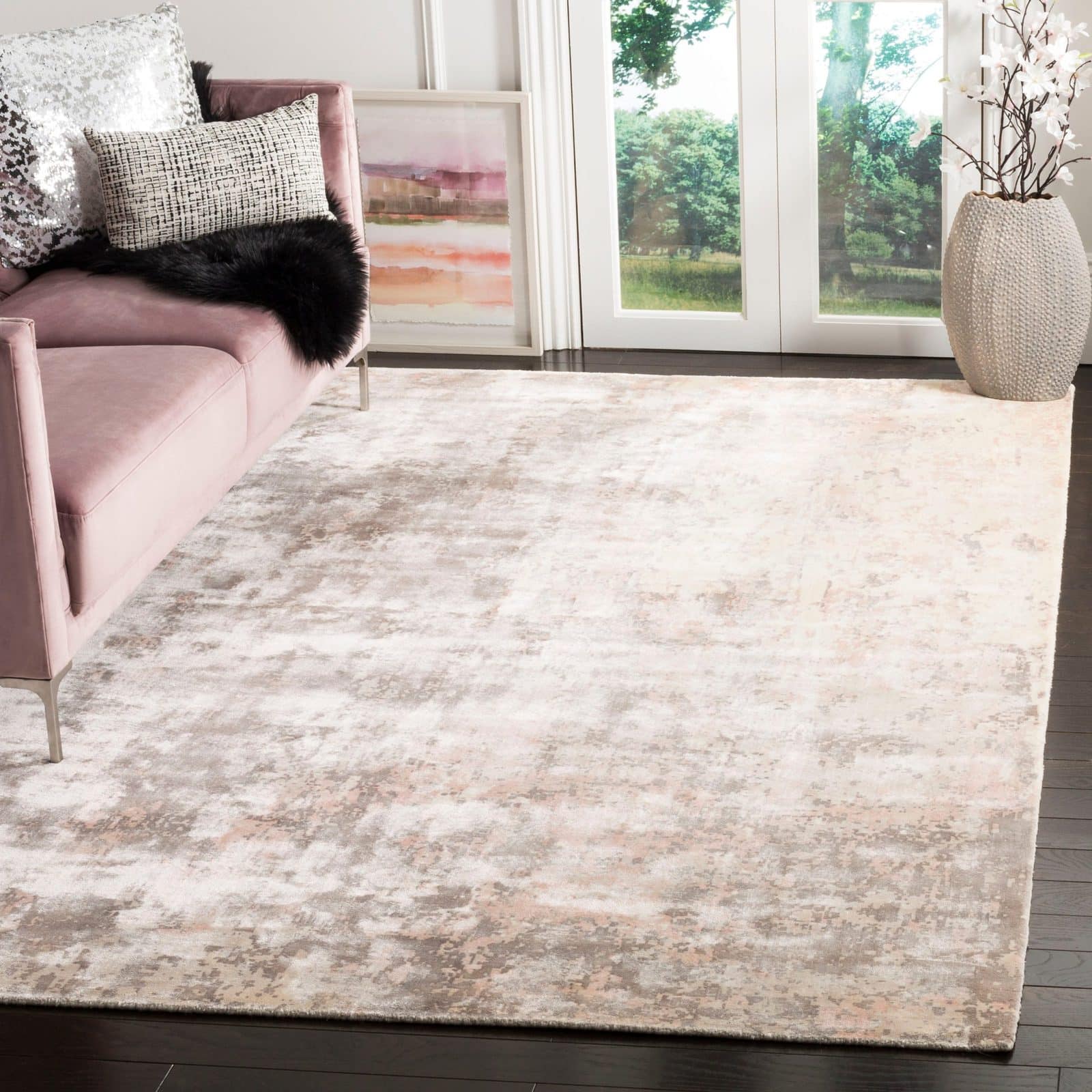 Adding a glamorous area rug to your living room will not only add to the beauty of the space, but it will add a luxurious feeling that will feel wonderful underfoot. This stunning modern abstract rug will add to the aesthetic of your space, with its Hollywood Glamor vibe and sophisticated color palette.
The rug is handwoven from viscose, which gives it a silky look and feel, with a short pile. It would be a lovely addition to any glam living room!
Blue Velvet Barrel Chair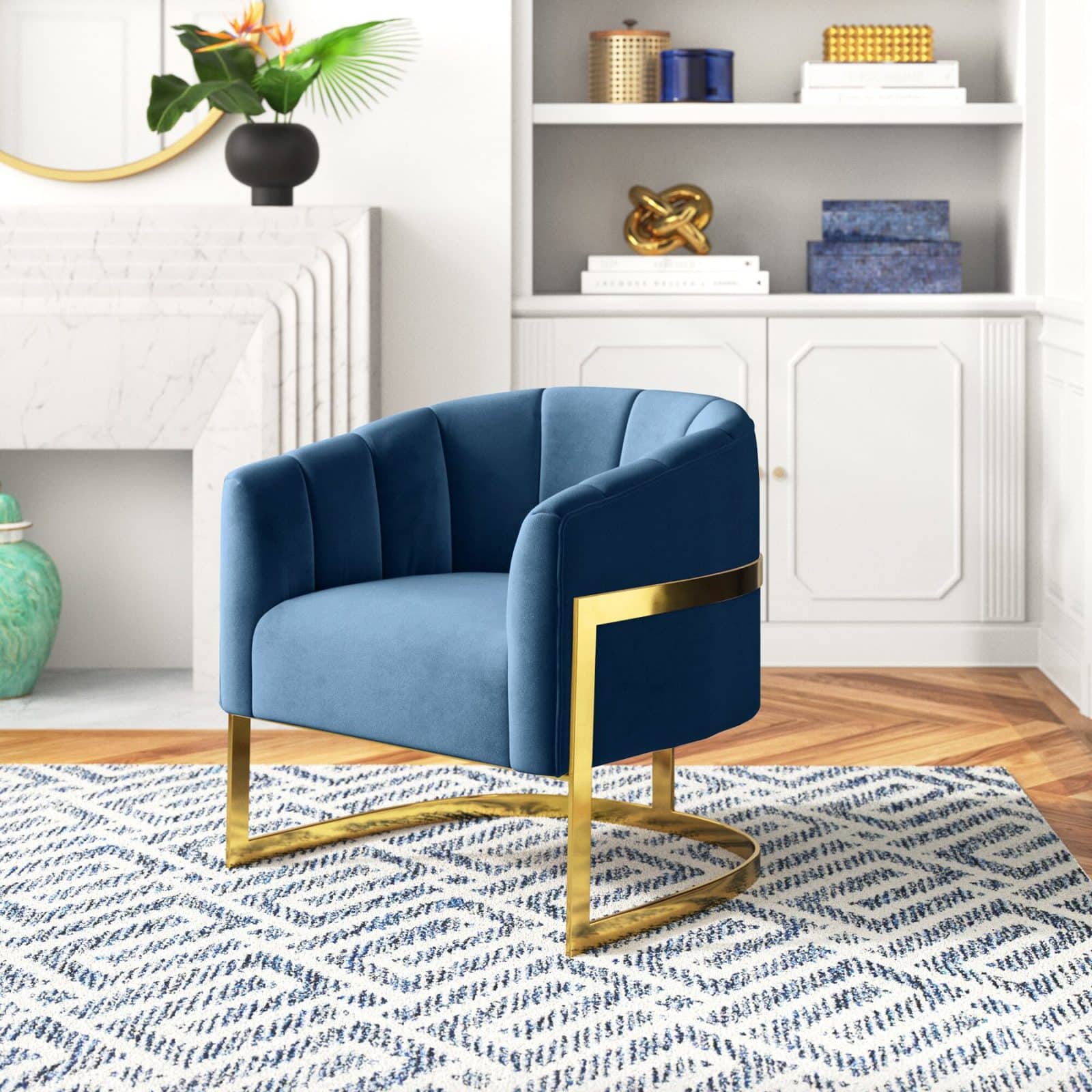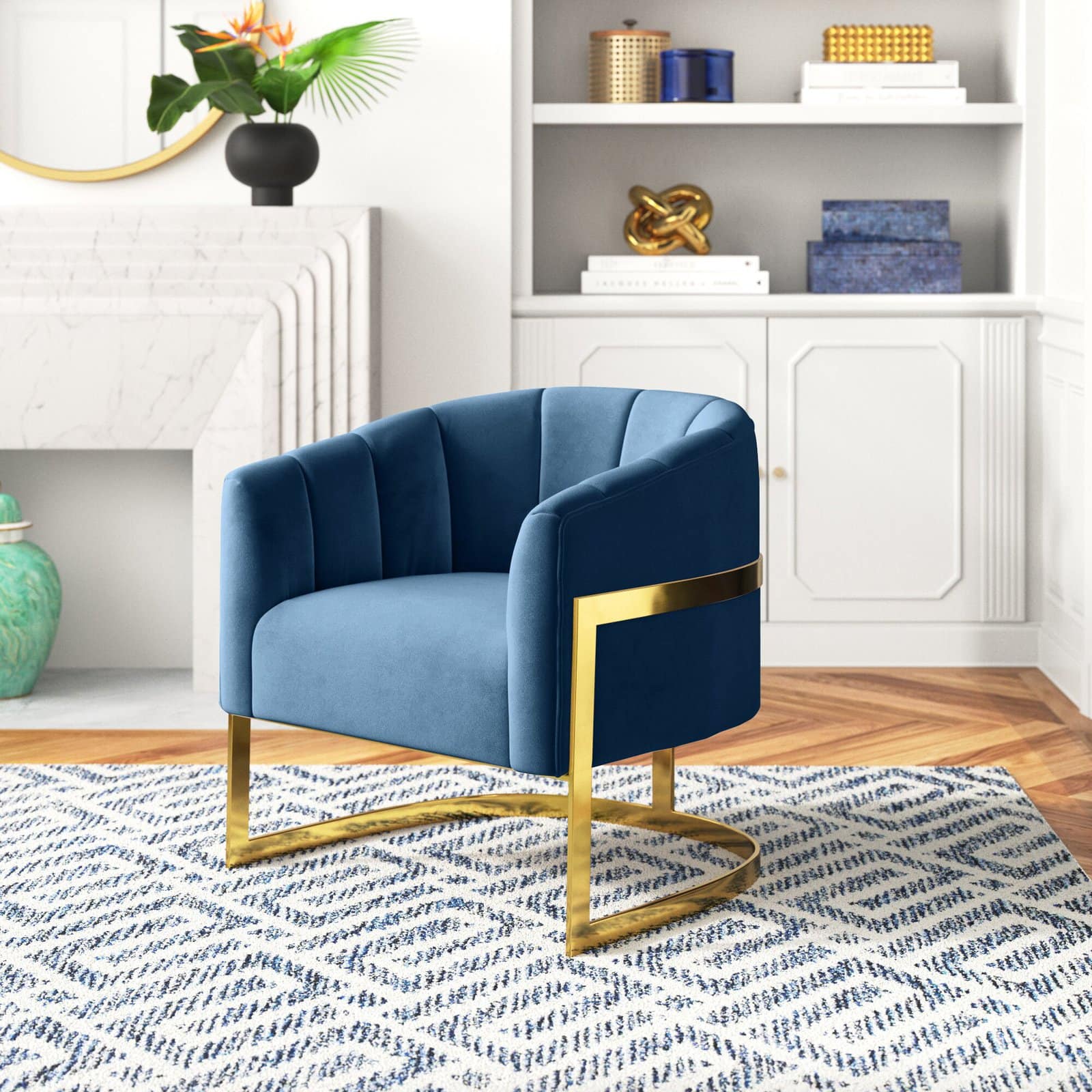 This stylish blue velvet barrel chair would be a great addition to any glamorous living room design. The barrel back featured channel-tufted upholstery for a modern-glam look, while a gold frame wraps around the chair, adding to the elegance of the piece.
This chair would look great on its own as an accent chair or purchased as a pair to be used on either side of a cocktail table.
White Ceramic Table Lamp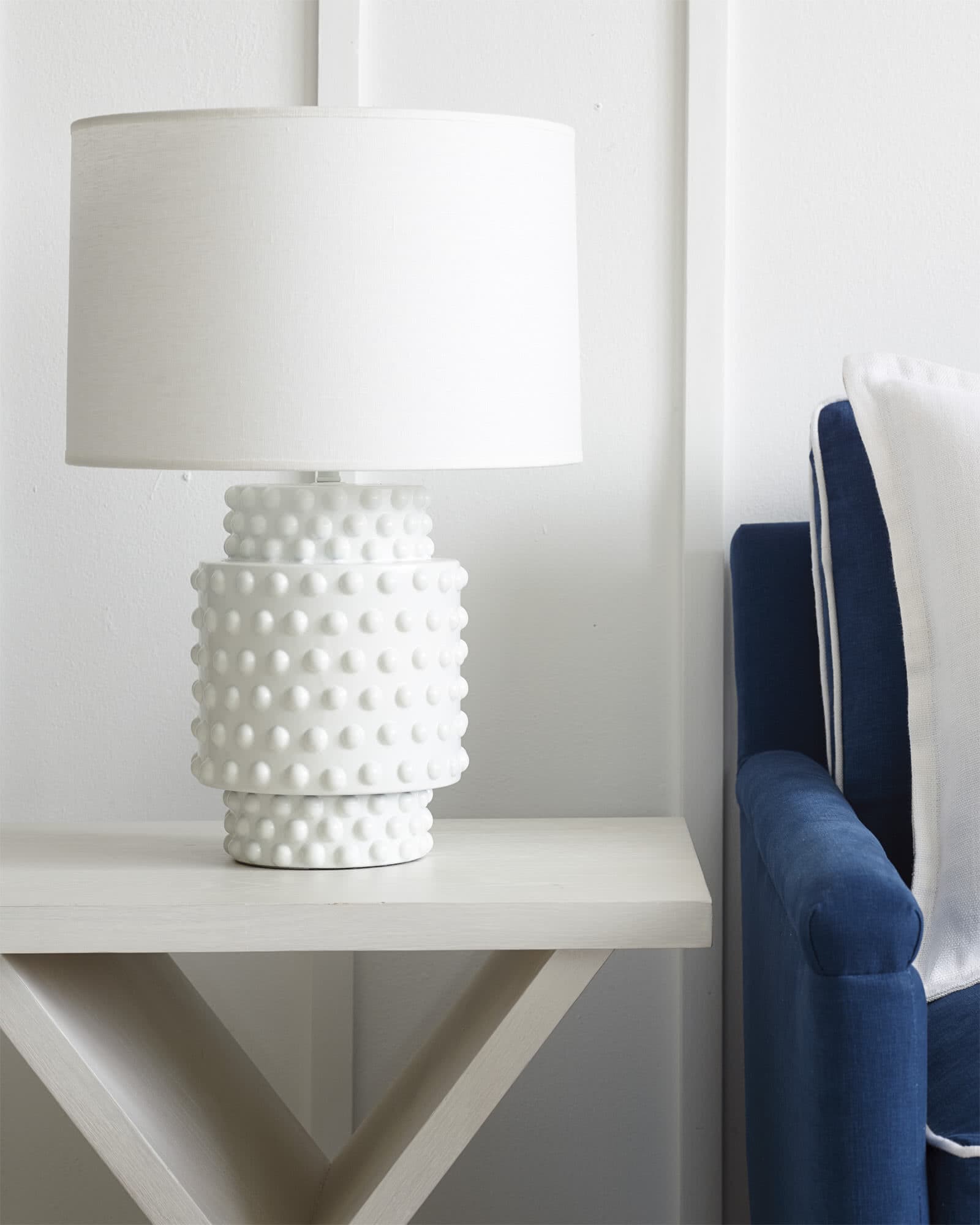 Having plenty of table lamps in your living room is key to creating the right atmosphere when it comes to lighting your room in the evenings. This stunning lamp features a sculptural design that will look as good during the day as it does at night.
The ceramic base has a textured finish with small circles molded onto it in rows. This gives it a slightly unusual look that is sure to make an impression! It comes with a simple fabric shade that helps to diffuse the light and create a warm glow.
Colorful Linear Chandelier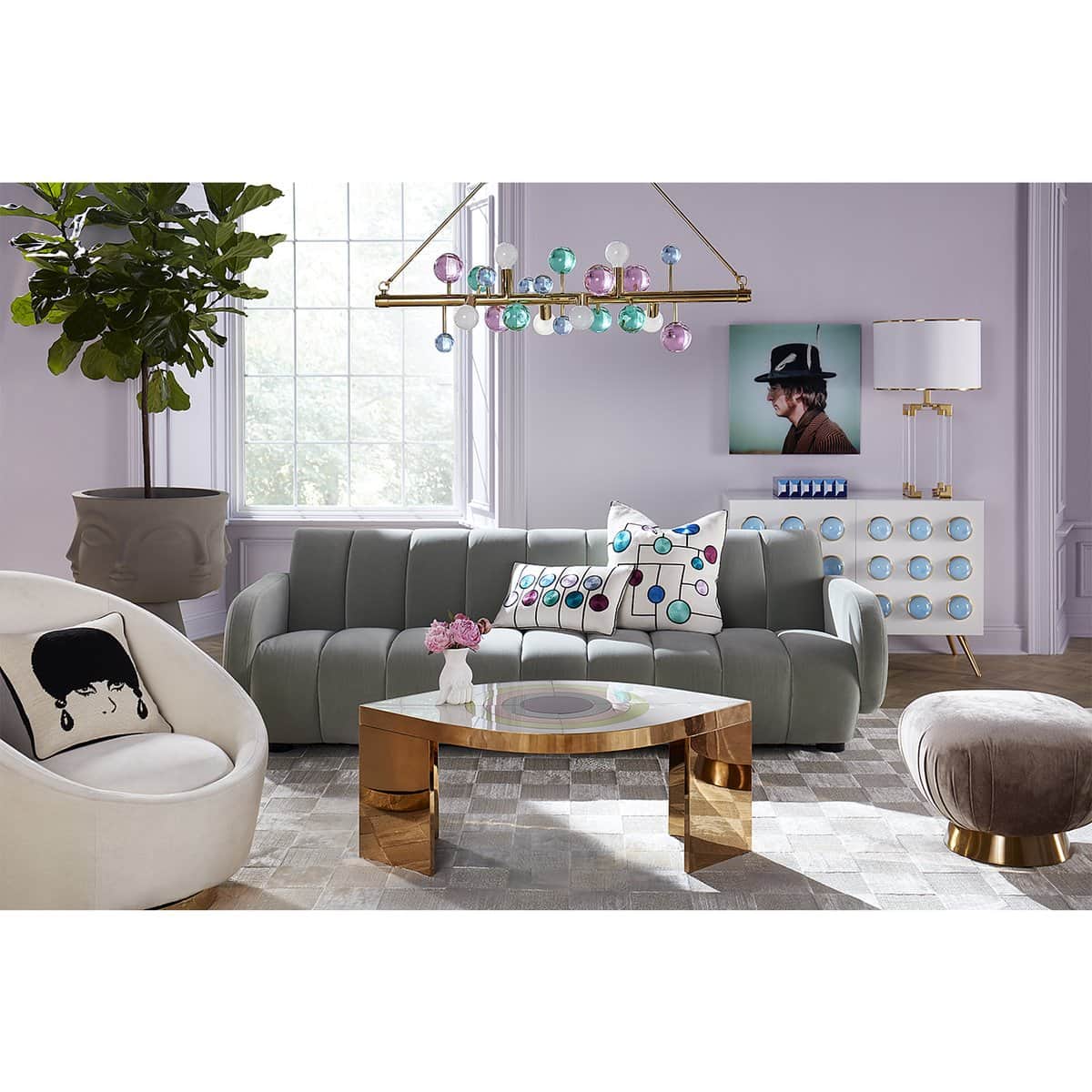 If you're looking for something a little more unusual to make a statement in your living room, you can't go wrong with a glamorous pendant light. This stunning chandelier features a modern linear design adorned with colorful clear acrylic spheres and globe light bulbs.
This piece is simply stunning, and is sure to wow any guests in your home, as well as add some color to your space!
Final Thoughts…
There's a lot to think about when you're designing a glam living room. From furniture to lighting and accessories, no detail should be forgotten when it comes to designing a glamorous space. Hopefully, these ideas will have inspired you to create your own glamorous living room.
It's important to think about how you will be using the space. If you will be entertaining frequently, then a bar cabinet is a must. If you prefer to spend time relaxing with family and watching TV, then an elegant chaise lounge would likely be a great addition for you!