Decorated Life is reader-supported. When you buy through links on our site, we may earn an affiliate commission. Learn More
15 Best Comfy Swivel Chairs in 2023
Accent chairs allow you to have additional seating in a room and give you an alternative to sofas if you have a small space.
Swivel chairs – aptly named for the ability to swivel or turn without having to move the entire seat – are one of the most common and versatile styles of accent chairs. We've gathered a list of 15 comfortable swivel chairs in varying types and designs, from affordable swivel chairs to high-end swivel chairs and everything in the middle.
Keep reading to get some creative inspiration on what type of swivel accent chair you'd want to use for your space.
Swivel Seat and Stool for Successful Set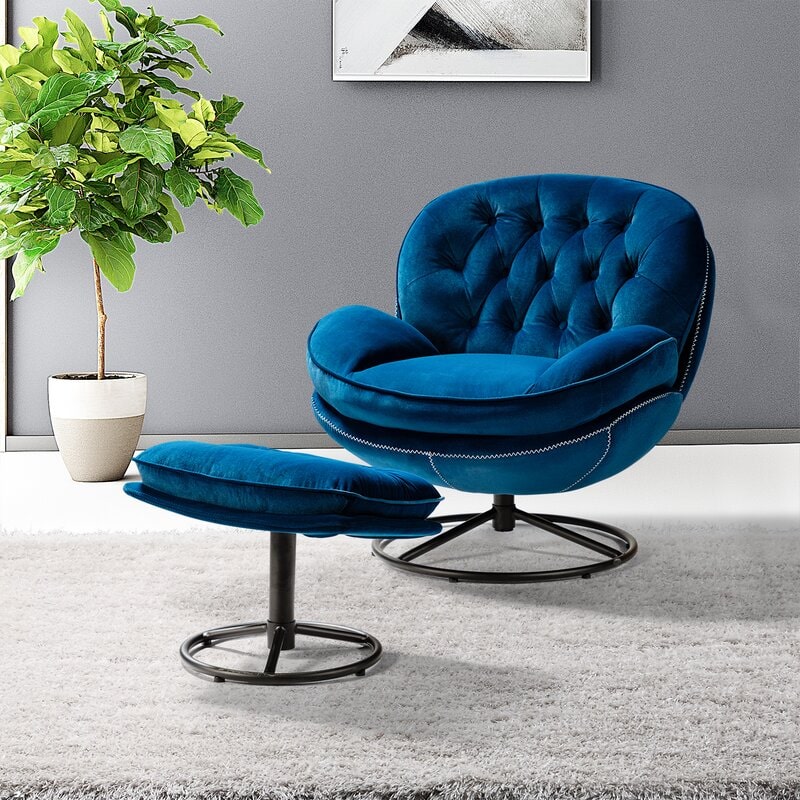 Appreciate the elegance of a complete seating set featuring small swivel chairs and a matching ottoman in blue velvet, like this lounge chair and footstool – a perfect combo for boho, transitional, and mid-century modern.
The rich blue button-tufted upholstery with a curved silhouette, a rounded camelback, and a shallow seat sits atop a round swivel base in black metal for an elevated look. And the identical ottoman works for a footrest or backless seating.
Farmhouse Flare with a Gray Barrel Swivel Chair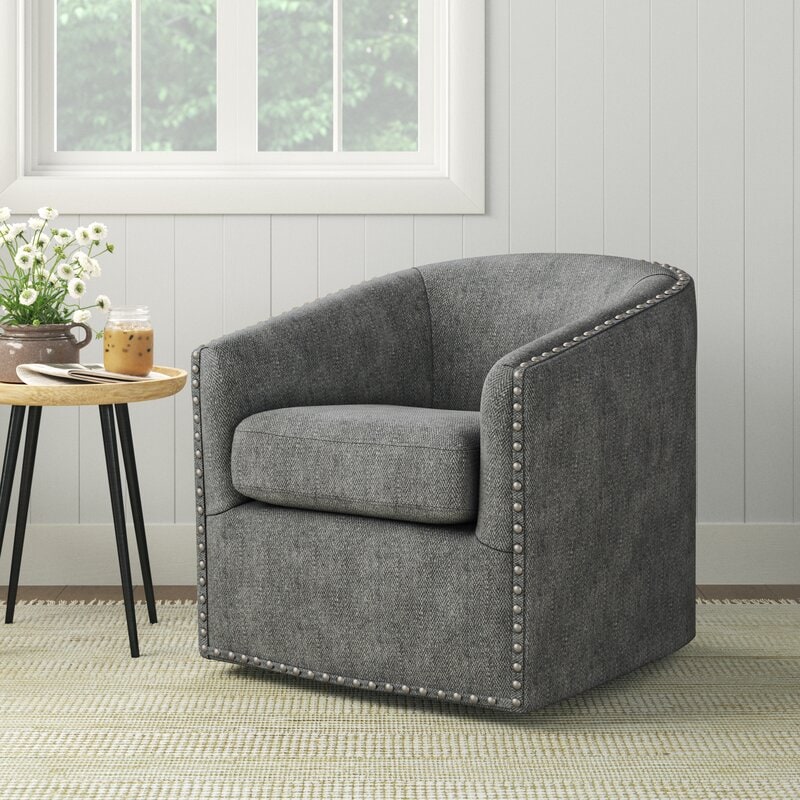 For swivel chairs for the living room to suit your coastal farmhouse theme, go with a traditional barrel shape in a dark gray upholstery and exposed nailhead trim. 
With a thick cushion and tight back, you'll sink right in and never want to get up. This chair has a wood frame and swivel base that allows for a full 360° rotation.
Green and Gold for Glam and Bold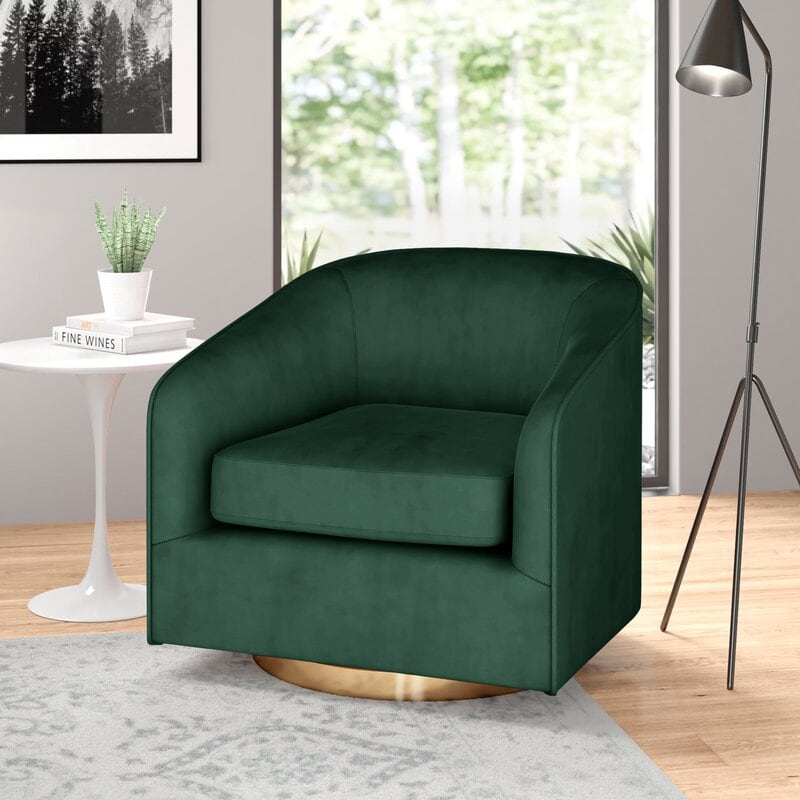 Swivel chairs are such a beloved staple in the living room because you can find so many styles. If you want a modern-looking luxury swivel chair, combine the appeal of a barrel chair with the upscale feel of supple velvet.
This chair features a tight back and rounded arms, dark rich hunter green upholstery, and a low gold swivel base that allows for 360° rotation.
Try a Tufted Seat That's Round and Red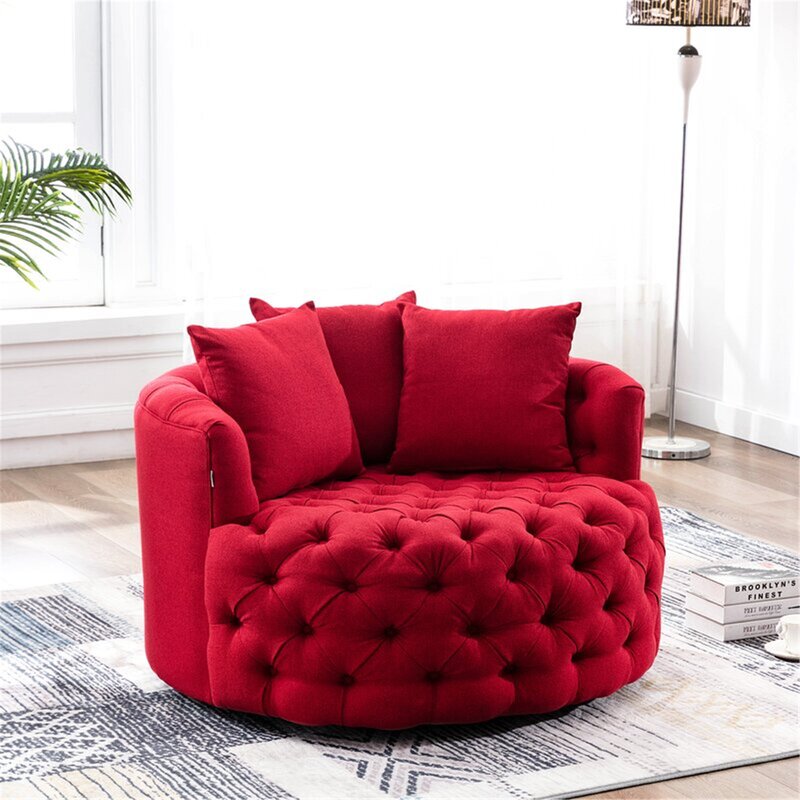 The best swivel chair doesn't just look great, but it's also super comfy. This posh red swivel tufted chair is overwide (42.9″) and over plush.
From the 360° swivel deep seat to the curved ergonomic back and three thick, cushy toss pillows and rounded arms, everything about this beauty screams comfort and class.
Swivel and Glide in a Modern Rocker Ride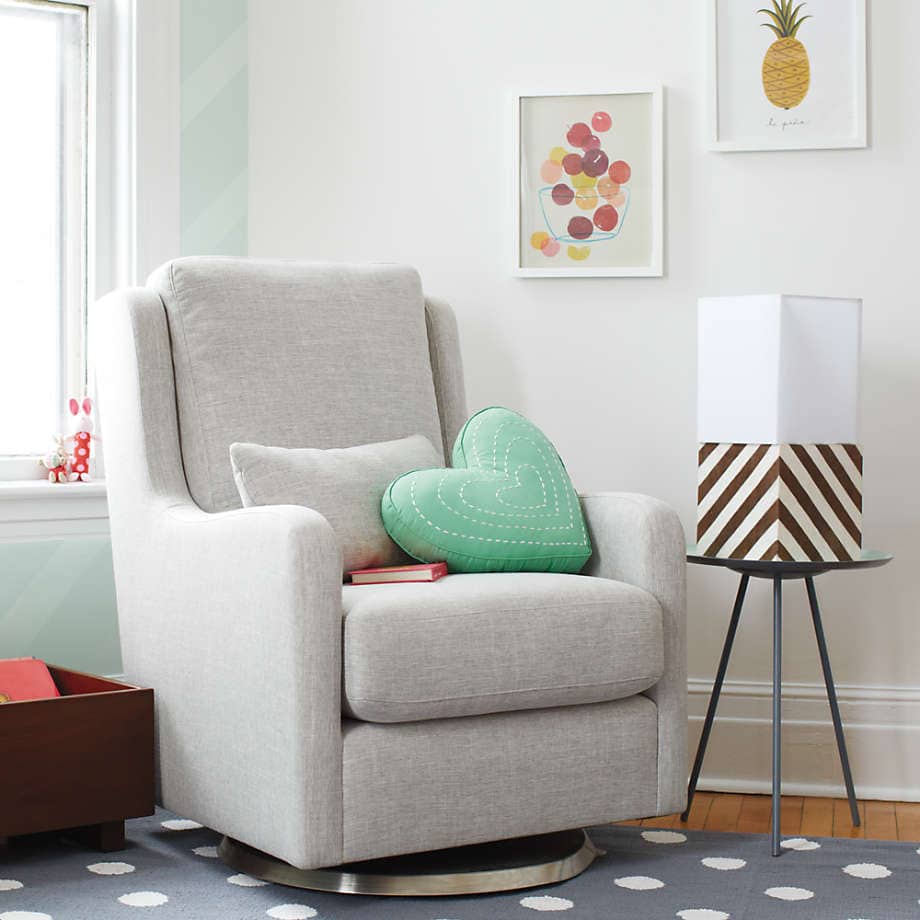 Some swivel chairs don't have the expected barrel shape, such as this modern rendition. However, the straight back and low-rounded arms invite you to sit for a while.
And the stainless steel pedestal metal base allows for 360° easy and full turning while the pale gray upholstery fits any color palette and design theme.
Combine Retro with Modern Eclectic with a Saddle Swivel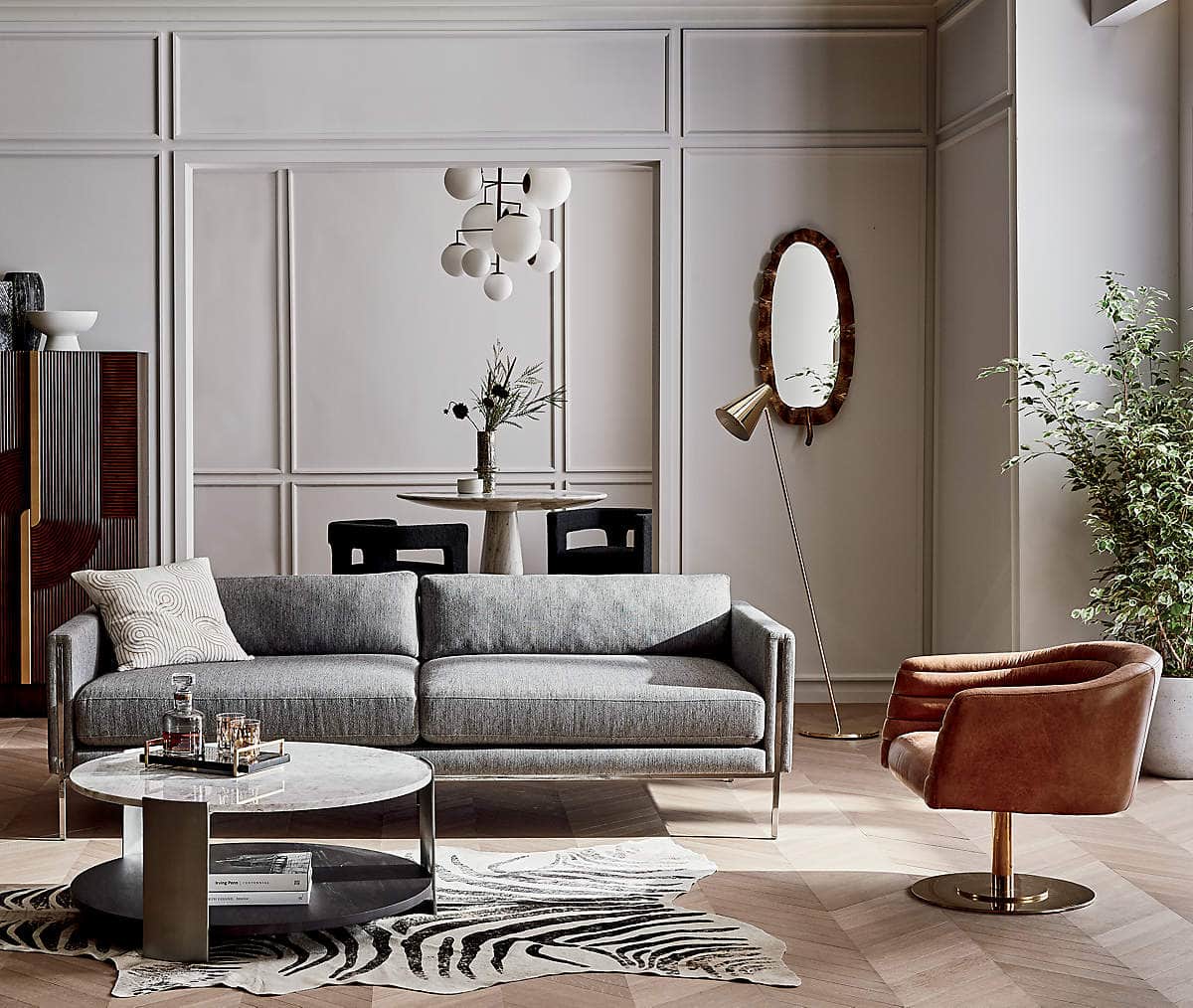 For a unique vibe, skip the bulky cloth upholstered seats and step outside the box. This large swivel chair screams modern with buttery soft leather upholstery in a saddle brown with stitched channels and horizontal tufts.
While the sleek metal pedestal base and exposed brass give a mid century retro vibe. And the seat's shape and minimal design make this casual Cupa perfect for eclectic and modern spaces.
Rely on a Wide Natural Rattan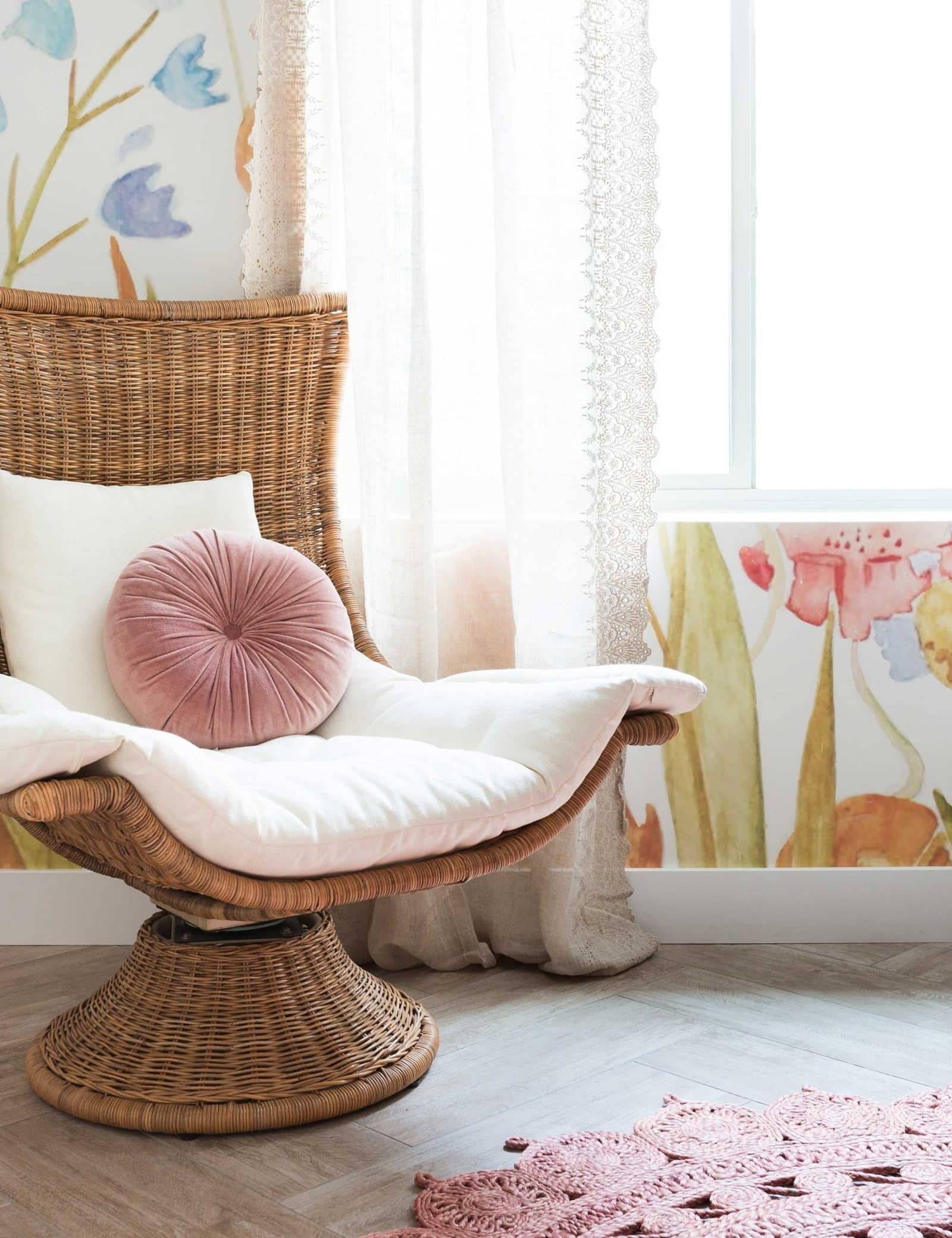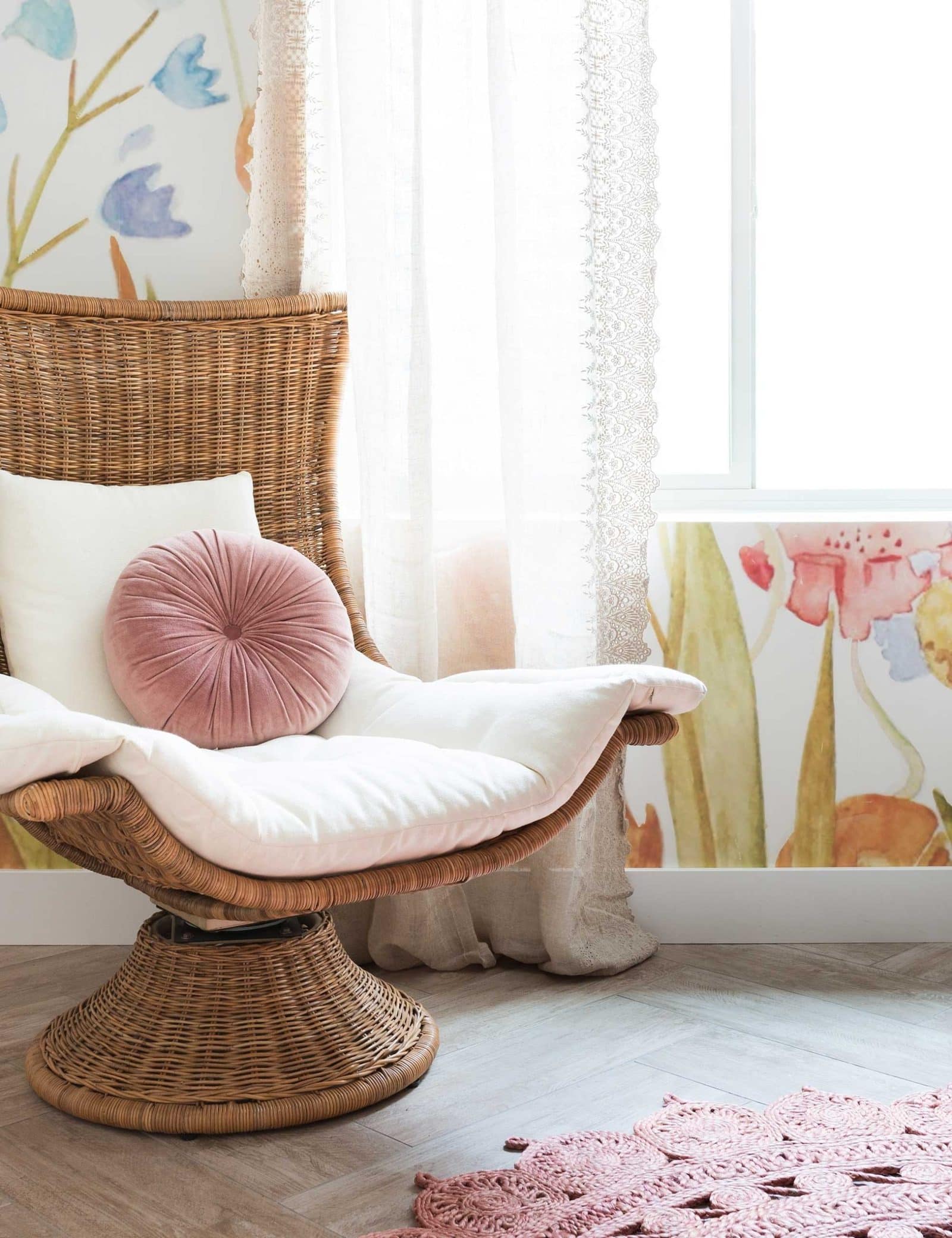 Skip the fabric upholstery for a bohemian swivel chair and go for a simple frame in a curvy natural woven rattan material.
The armless design, high back, and simple white cushions for the seat and backrest give your space a minimalist aesthetic.
Sleek and Modern Chic Swivel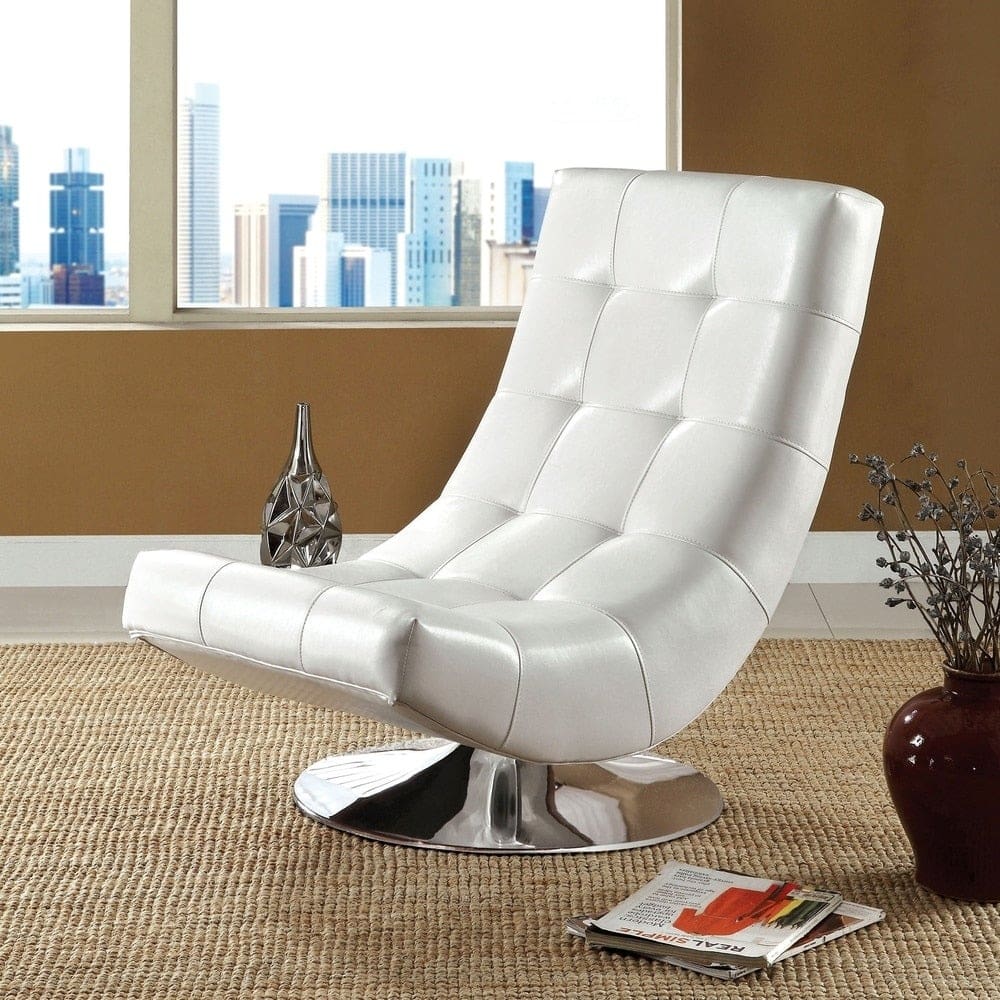 If you prefer to steer far away from the traditional style of swivel chairs, there's the option to go for a mid-century modern style instead.
This oversized chic swivel chair features faux leather upholstery, a wickedly curved and pleated seat with no arms or sides, and a shiny chrome base.
Rock Out with a Pleather Swivel Recliner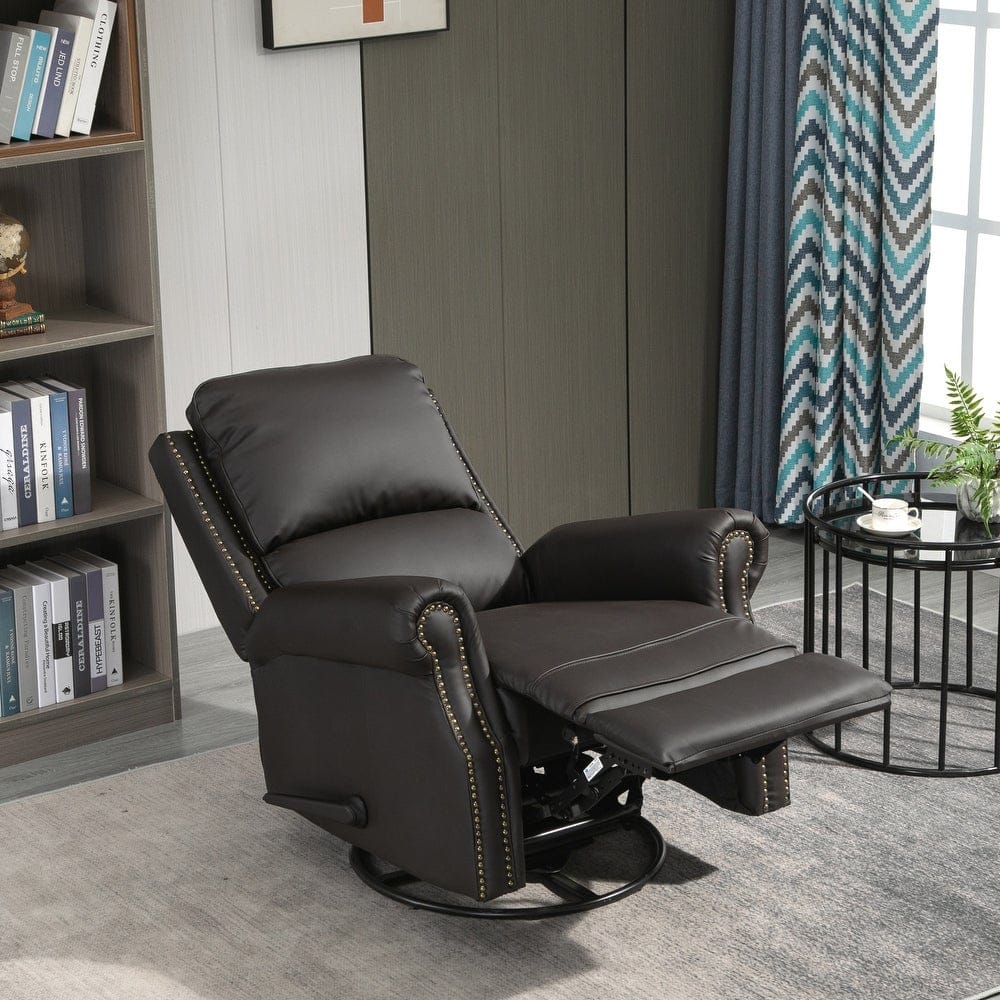 As we've shown, swivel chairs come in a massive range of designs, including comfortable recliners. This recliner in Expresso black PU leather with metal nailhead trim works for any room theme.
There's a padded headrest and lumbar cushions, and a wide backrest and seat for the perfect lounging space. Then you can recline back 140° (manually), swivel the chair a full 360°, and perform some slight rocking back and forth.
Angular and Awesome Contemporary Dream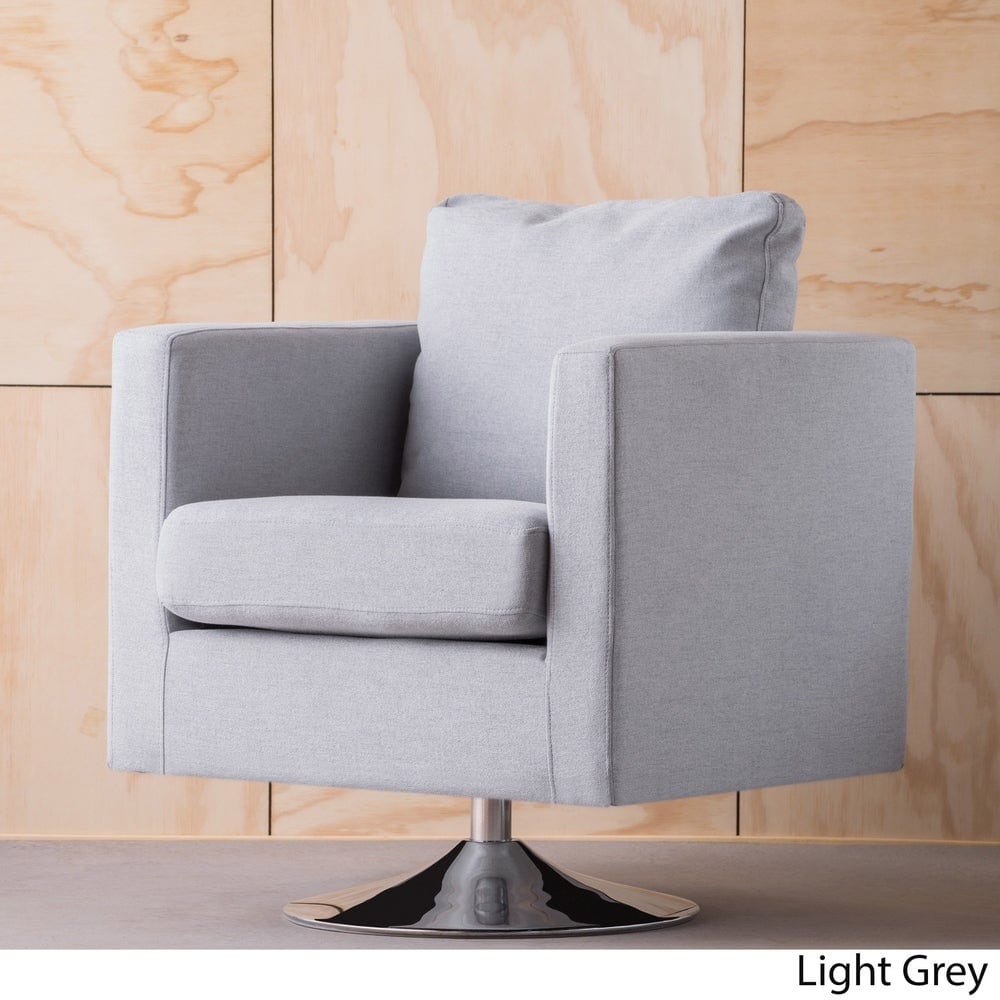 Decorate your living room with a contemporary accent chair with full swivel capabilities and clean angular lines in a soothing light gray.
This modern club chair has a simple silhouette, thick cushioning, a high square back for comfort, and an exposed metal pedestal base with chrome accents.
Get a Vintage and Square Library Chair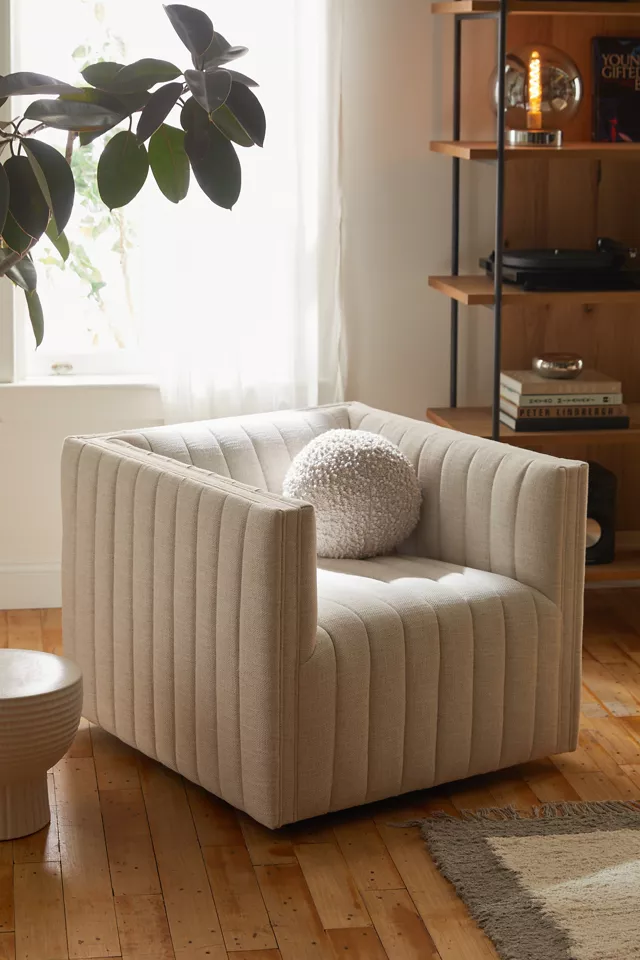 For a vintage take on a beloved barrel chair, try choosing an unusual design idea – a barrel chair in a square shape with thick ribbed upholstery.
The neutral tan color and simple design invite you to curl up with a thick book and a hot cup of coffee to escape the world for a while.
Try a Tailored Traditional Pleat in Plaid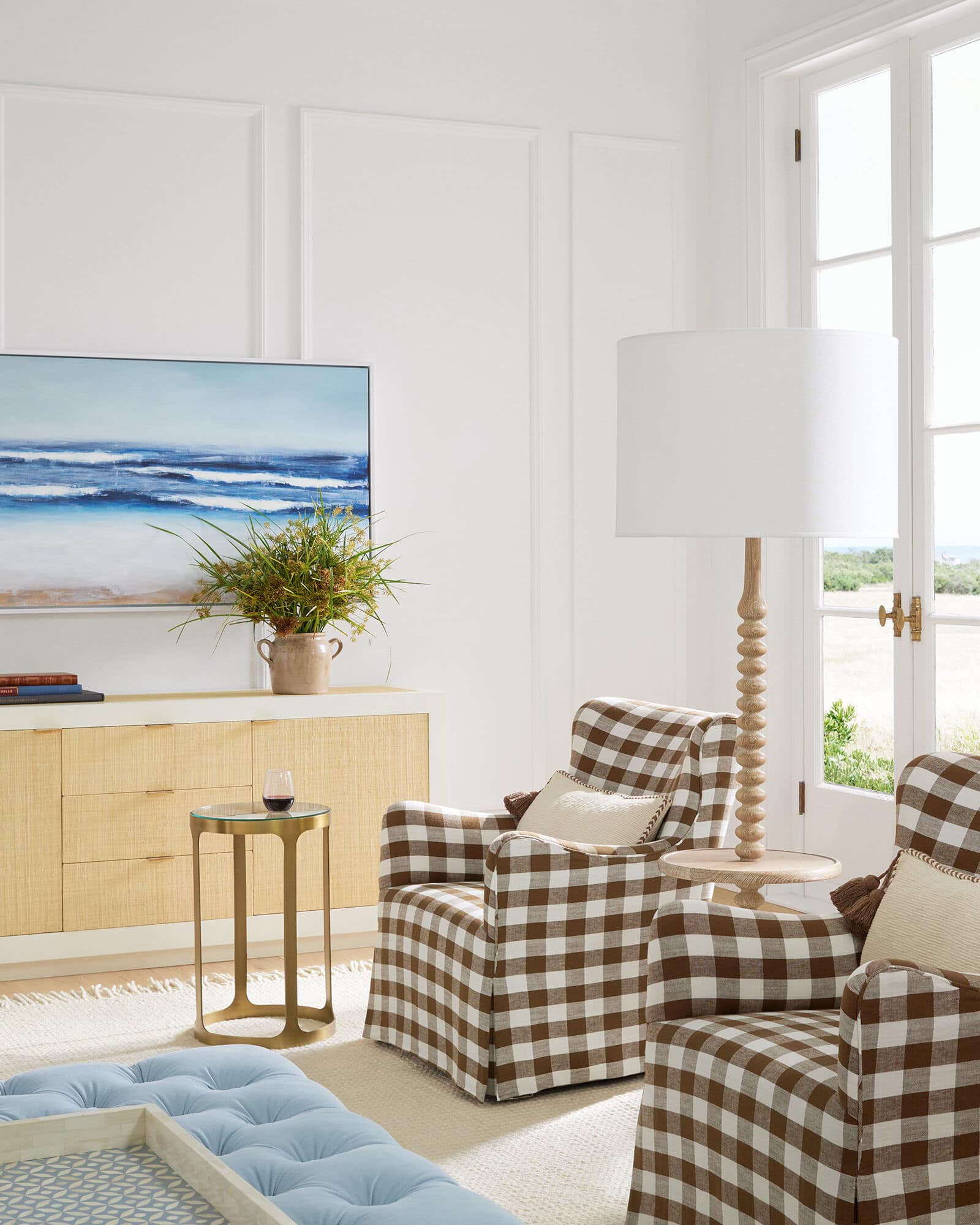 Curves have never been so appreciated as they soften the hard angles of a traditional living room, including a plaid print color pattern in white and brown.
We chose this swivel chair for its 360° turn radius, winged back cradle, and upturned arms. In addition, the draped skirt along the bottom gives this seat an upgraded tailored appeal.
Fantastically Fun in Floral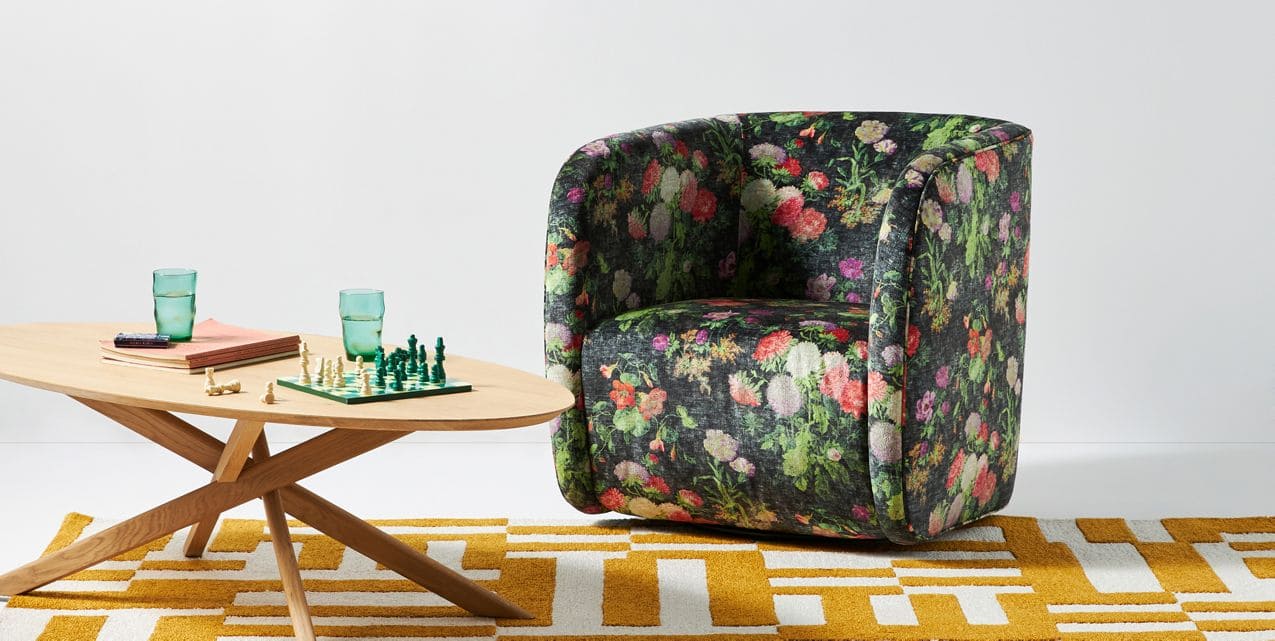 Floral prints are a fantastic choice for furnishings for multiple reasons. First, it's one of the best ways to add color to your room without being tacky or overwhelming. And the print makes a more interesting look compared to solid prints.
And flowers can work for themes from classic to modern and eclectic. We adore the aesthetic achieved with this high back, black chair in a rounded square shape, hidden swivel base, and a beautiful vintage floral print in bold colors.
Elegant Egg Shaped Swivel Seat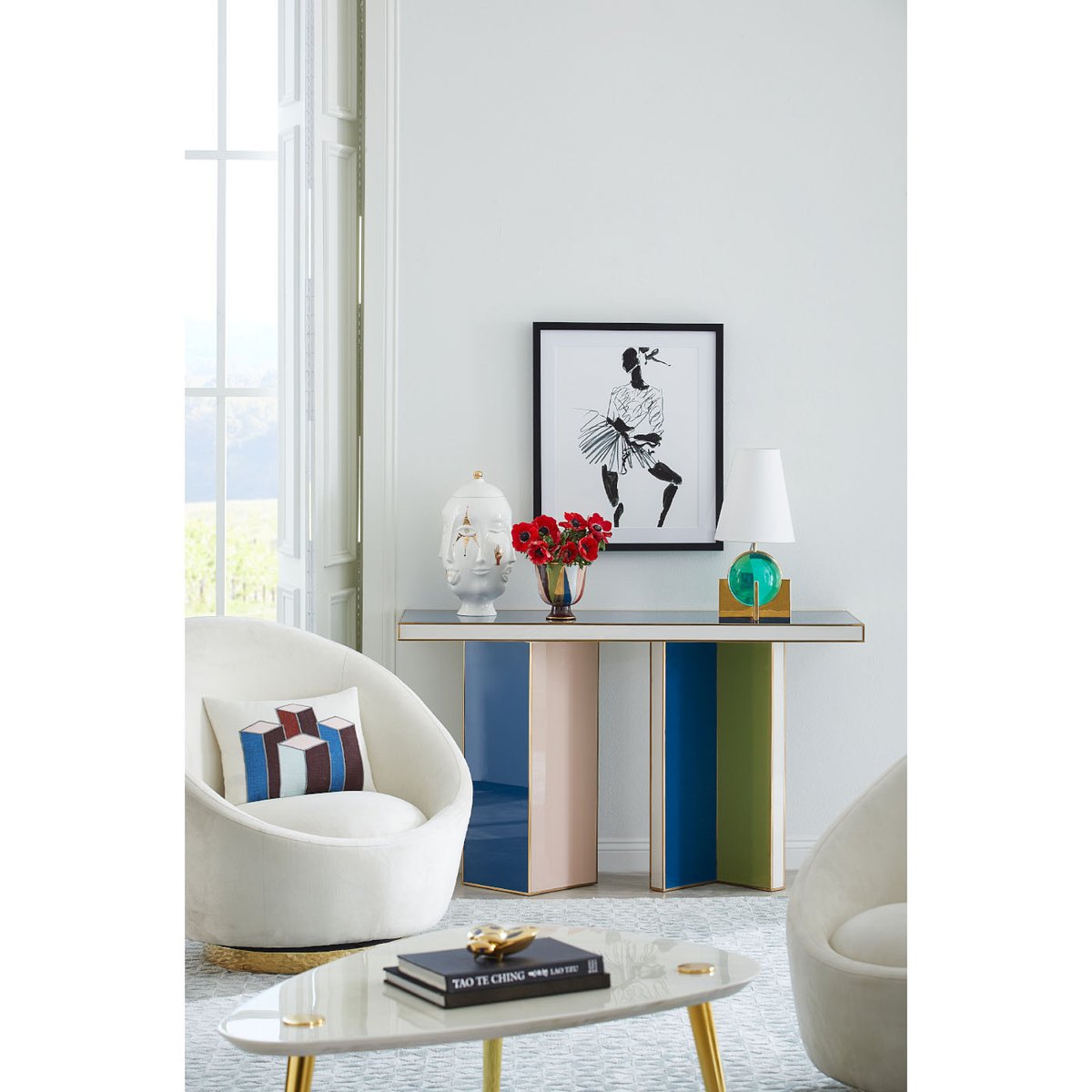 Another choice for a modern-style swivel chair is this capsule-shaped seat in a snowy white velvet upholstery atop a recessed brass base.
The rounded egg shape frame and armless design create a unique and elegant kinetic for the perfect place to lounge and converse with a full turn radius.
Cool, Chic, and Classic Craftsman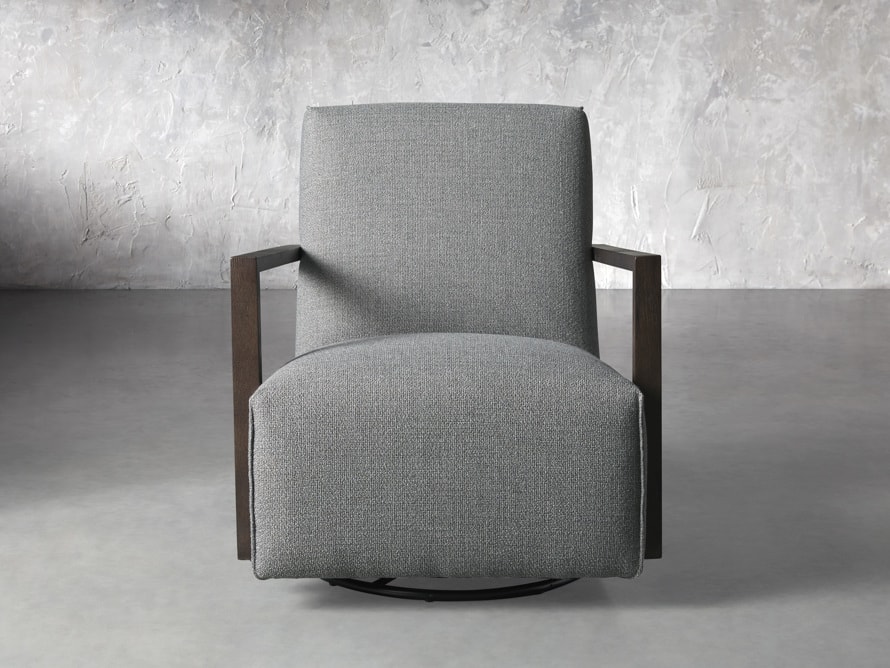 You can also pick swivel chairs in a straight-back, low-profile square shape with a deep waterfall seat cushion in a classic Craftsman hardwood frame.
From the thin wooden arms to the gray moto flannel upholstery and down to the metal base that lets this chair glide or swivel, this chair has everything you could desire.
In Closing
Swivel chairs offer a timeless function and appeal that makes them fantastic for furnishing most rooms. And with the ability to spin around in different directions, these accent chairs are great for reading or creating an intimate conversation area.
And as we've demonstrated, swivel chairs come in various styles and materials. So which swivel chair design is your favorite? Share your thoughts in the comments.