Decorated Life is reader-supported. When you buy through links on our site, we may earn an affiliate commission. Learn More
17 Best Farmhouse Accent Chairs for Easy Style
Every good living room design includes at least one accent chair.
And if you're into the farmhouse look, you're in luck – there are tons of options that not only look amazing but are super comfy.
If you're unsure what kind of chairs to choose for farmhouse style, try neutral colors, patterns of buffalo check or stripes, and natural fabrics.
Need some inspo? Here are 17 of the best farmhouse accent chairs that are comfy and stylish.
Try a Neutral Buffalo Plaid for a Modern Farmhouse Look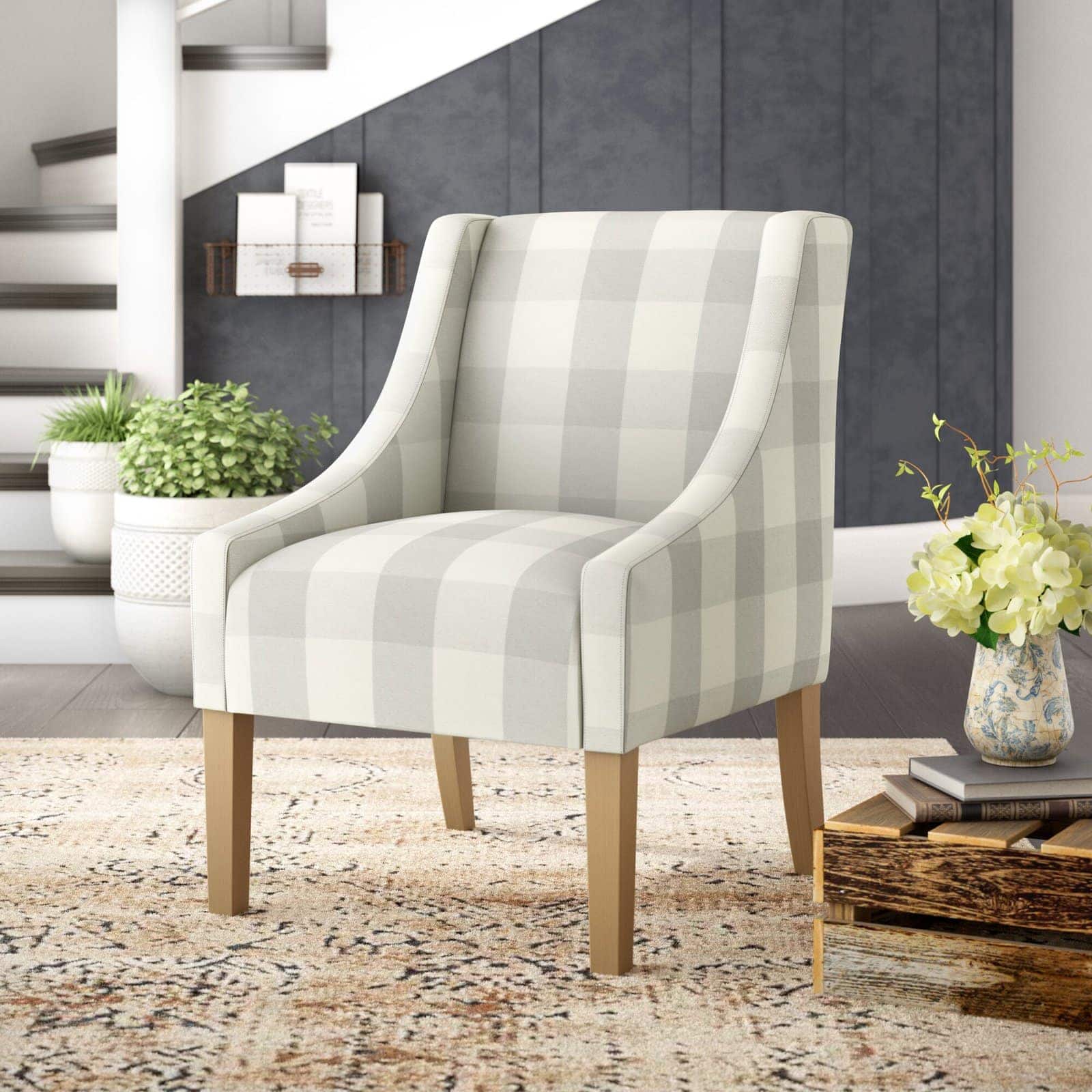 If you need a modern farmhouse accent chair, this one is hard to beat. This buffalo-checked armchair comes in three different colors, including black, blue, and gray.
The classic swoop style makes this chair a stunner in any room. If you want a muted look, opt for the light gray color. If you'd rather have a more bold look that stands out, go with the black buffalo check.
Add a Weathered Look with Light-Toned Wood and Linen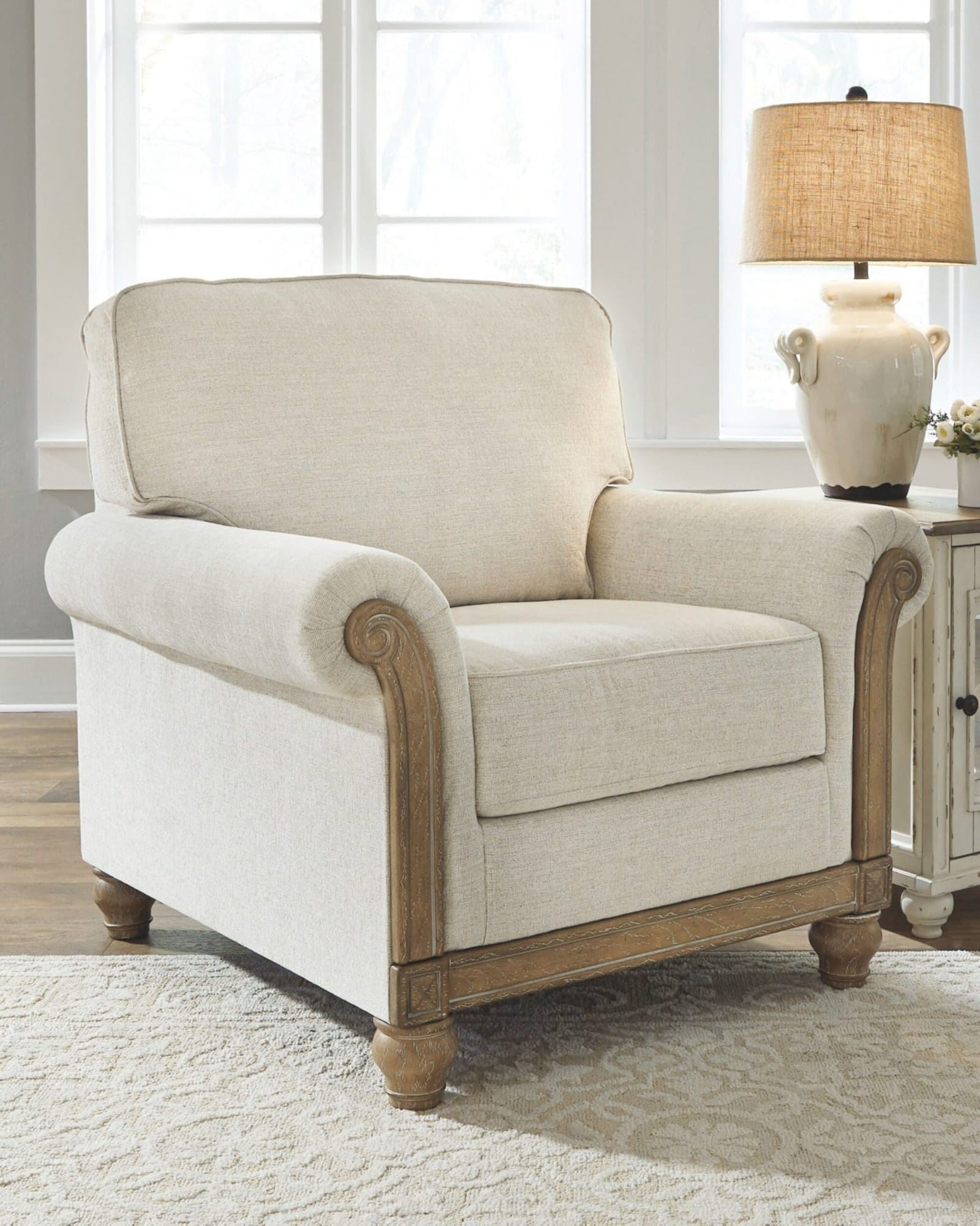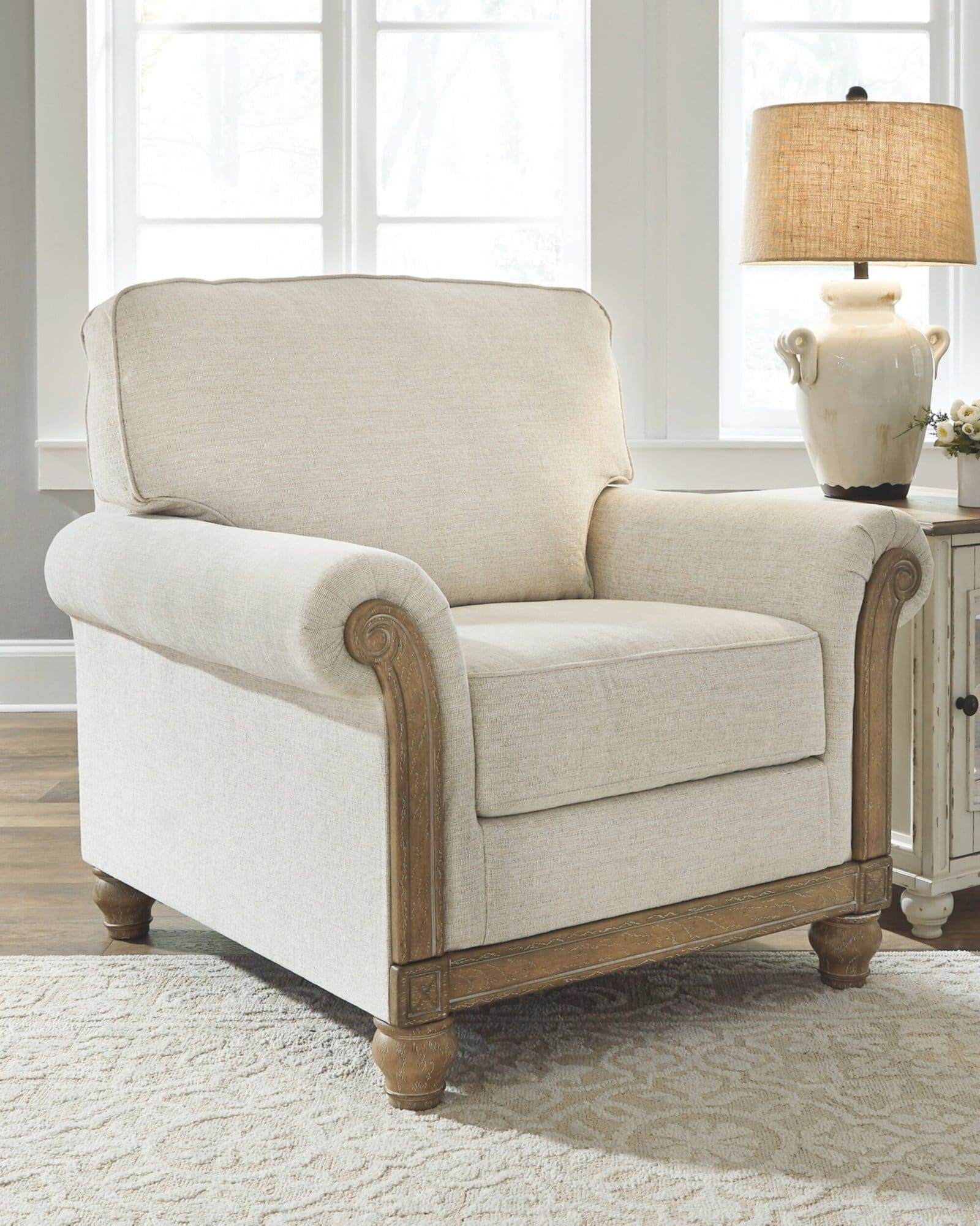 If you like the look of antiqued wood but prefer maximum comfort, you can't go wrong with this one.
This chair has a light linen fabric and light-toned wood trim and legs. The wood gives the chair a weathered look, while the linen cushions are comfy and inviting. This would look good with any color scheme and is the perfect combo of traditional and farmhouse style.
Bring Texture to Your Room with a Rattan Accent Chair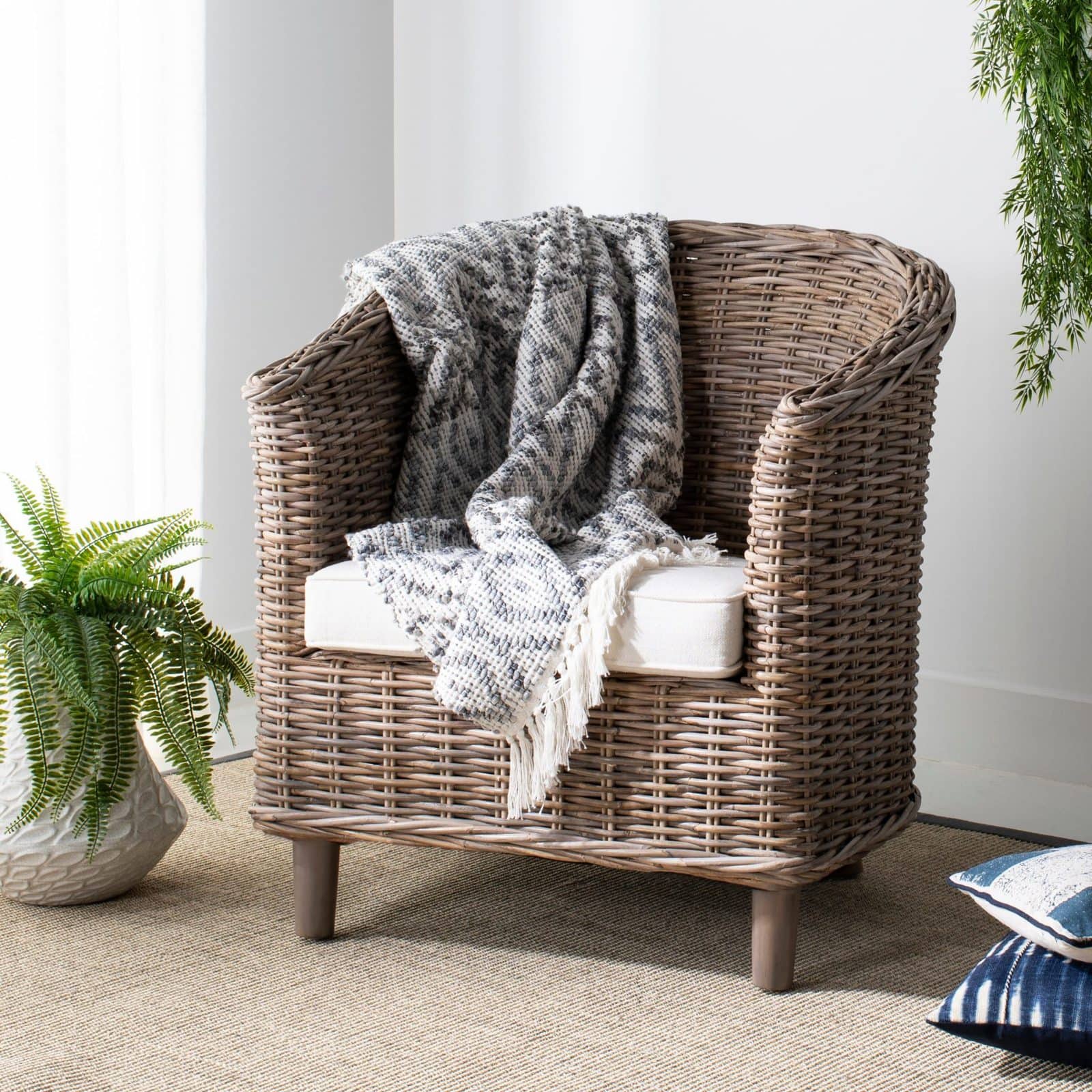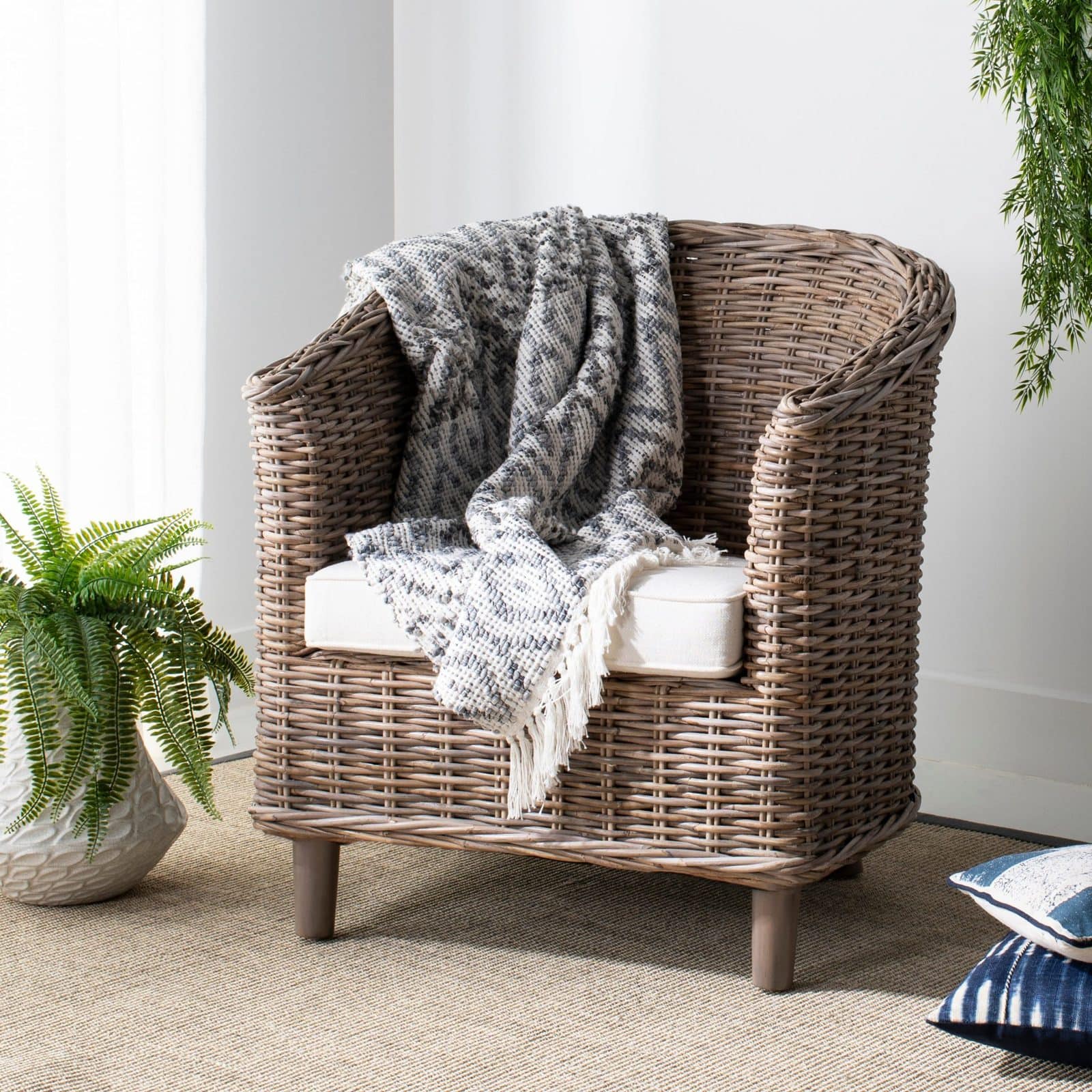 Rattan is one of the best materials to bring warm texture to a room, and this accent chair certainly doesn't disappoint.
This barrel chair has a thick white cushion for maximum comfort and its shape packs in style. If you want your room to give off a casual vibe, this is a solid choice.
Make a Statement with Velvet Cow Print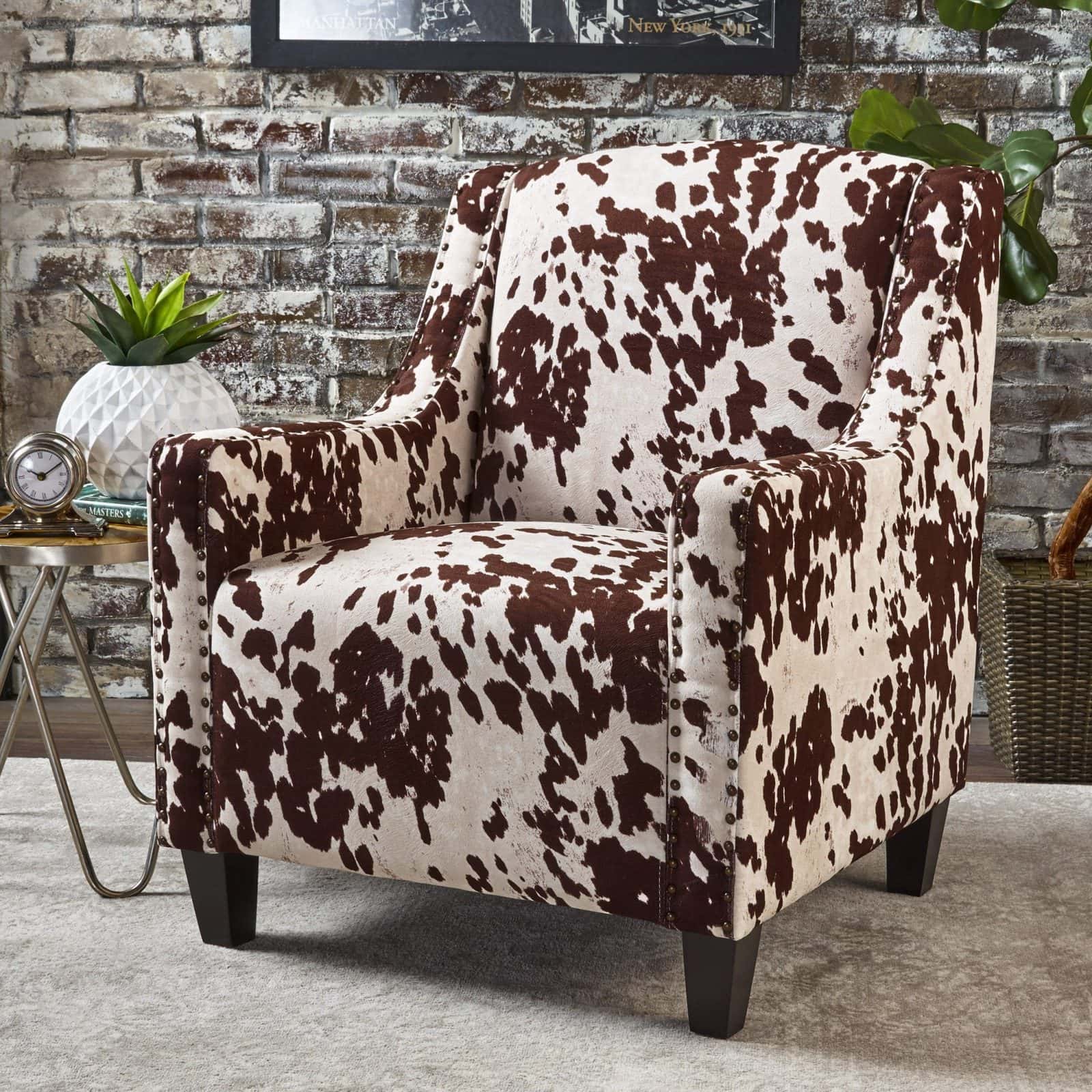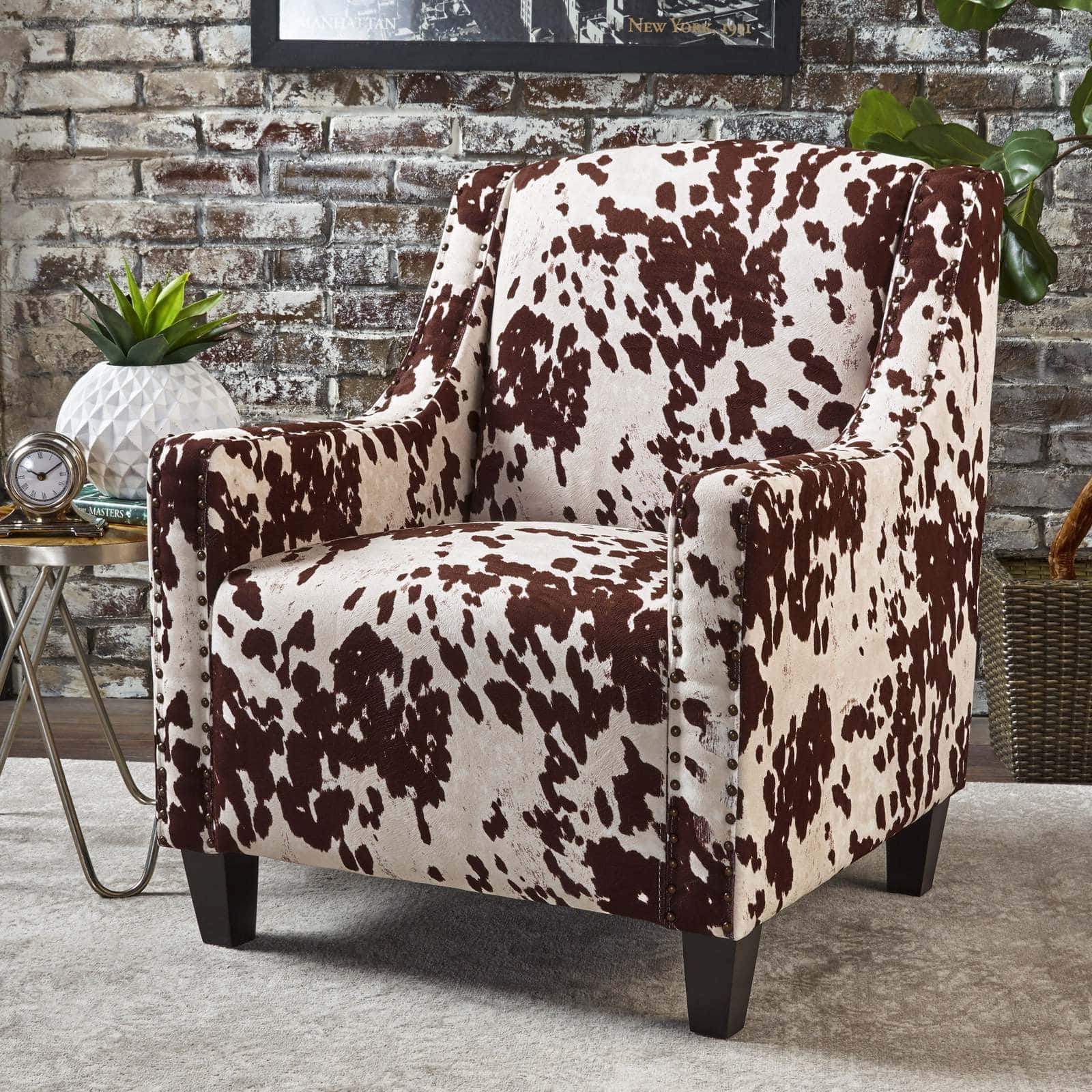 Looking to bring farm elements into your house in a literal sense? Achieve the look with this velvet cow print chair.
This chair is a good choice if you're looking to make a bold statement. As a bonus, this chair isn't just fun to look at – it's super comfy and soft. You could make this the focal point of a room or mix it with other bold patterns.
Go Old School with a Bobbin Chair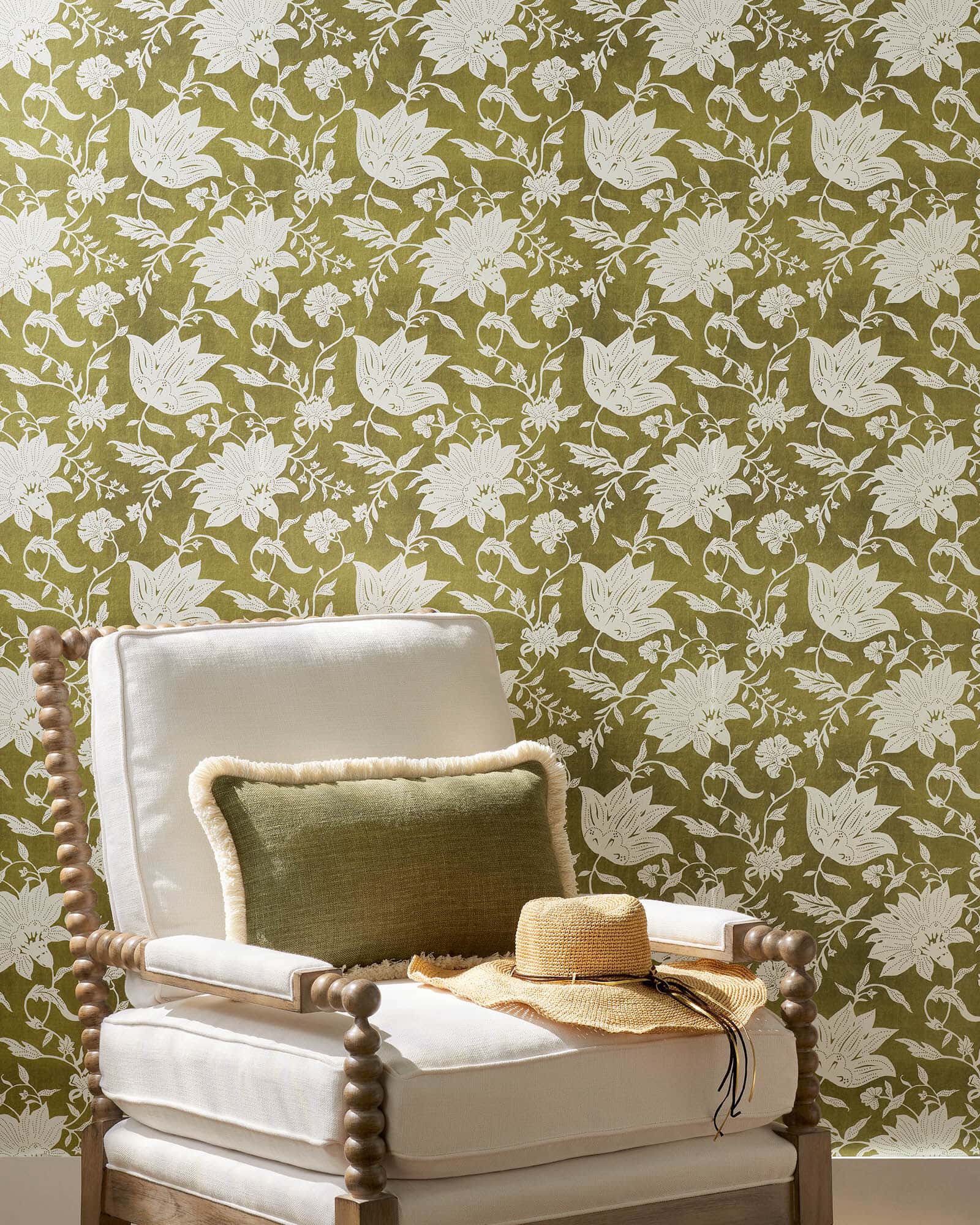 If you want a unique chair that's also timeless, this one is hard to beat. This country-style accent chair draws inspiration from 17th-century bobbin chairs. Its frame is made from hardwood and finished in a driftwood stain.
The cool thing about this chair is that there are many customizations you can make for the cushion. So, no matter the look you're trying to achieve, you'll be able to make it work with this style.
Opt for a Dressed Up Classic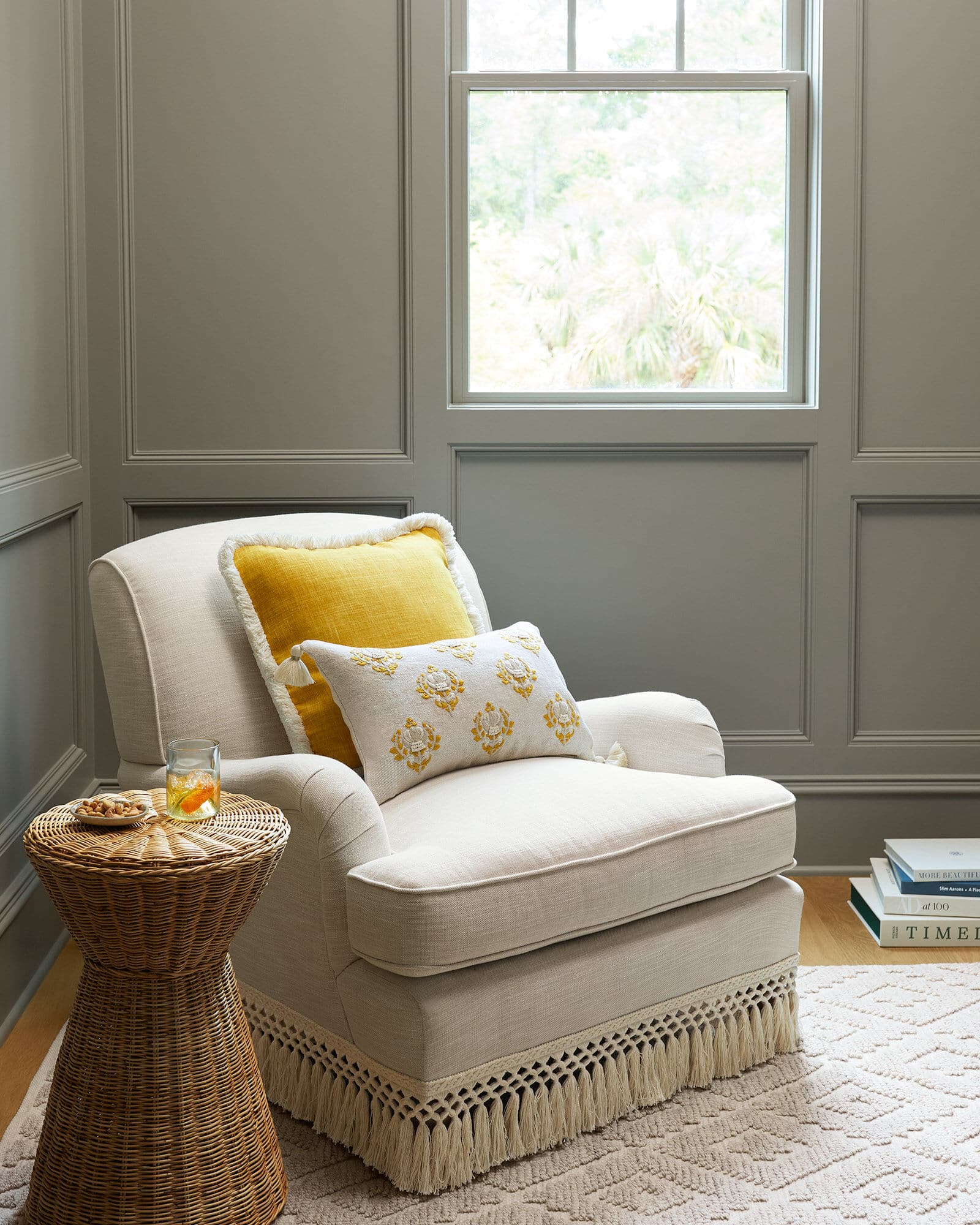 Soft neutrals are staples when it comes to farmhouse-style accent chairs. So, if you like the classic look but want to dress it up just a bit, consider a chair like this.
This rolled armchair is a beautiful cream color and has a handwoven fringe at the bottom for a fun, unexpected touch. This chair would look great in farmhouse and modern farmhouse-style rooms.
Try a Patterned Chair in a Neutral Room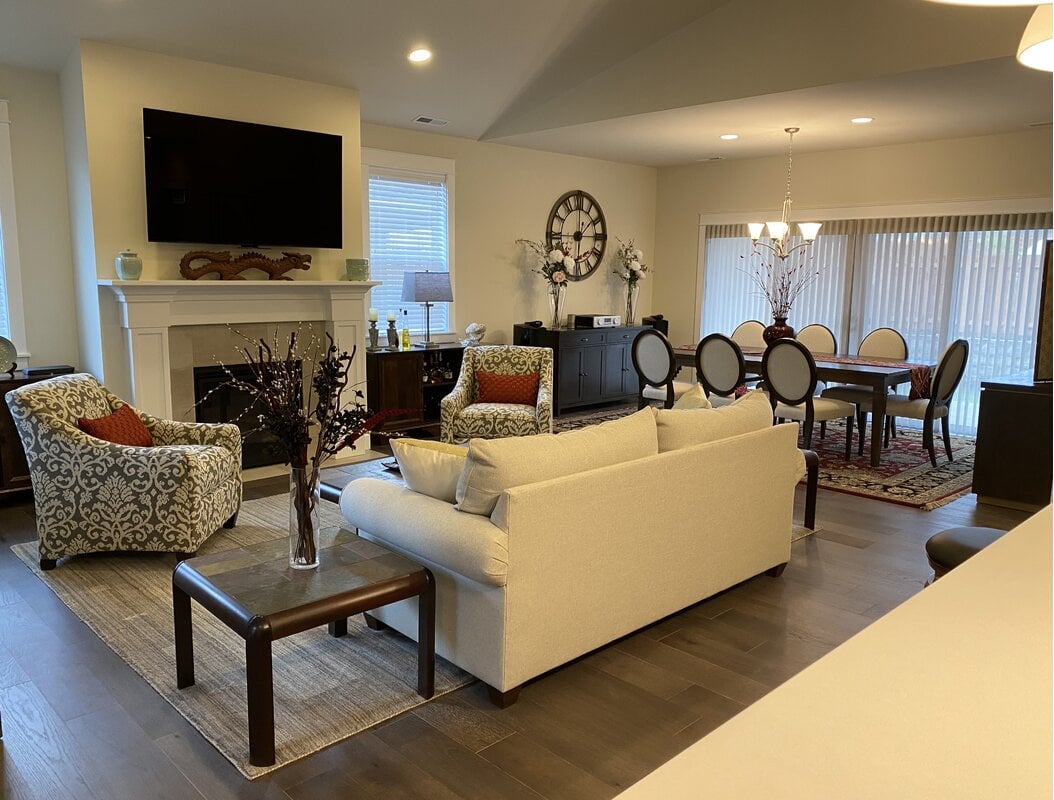 If your living room is primarily neutral, add some visual interest with a patterned chair.
As you can see in the photo above, the homeowners were able to effortlessly incorporate two green patterned accent chairs in their room. Since all the other furniture is neutral, the patterns weren't competing for attention.
You can go for a bold and fun design or keep your pattern muted and on the neutral side. Anything will work.
Use Wingback Chairs to Pull Off a Formal Look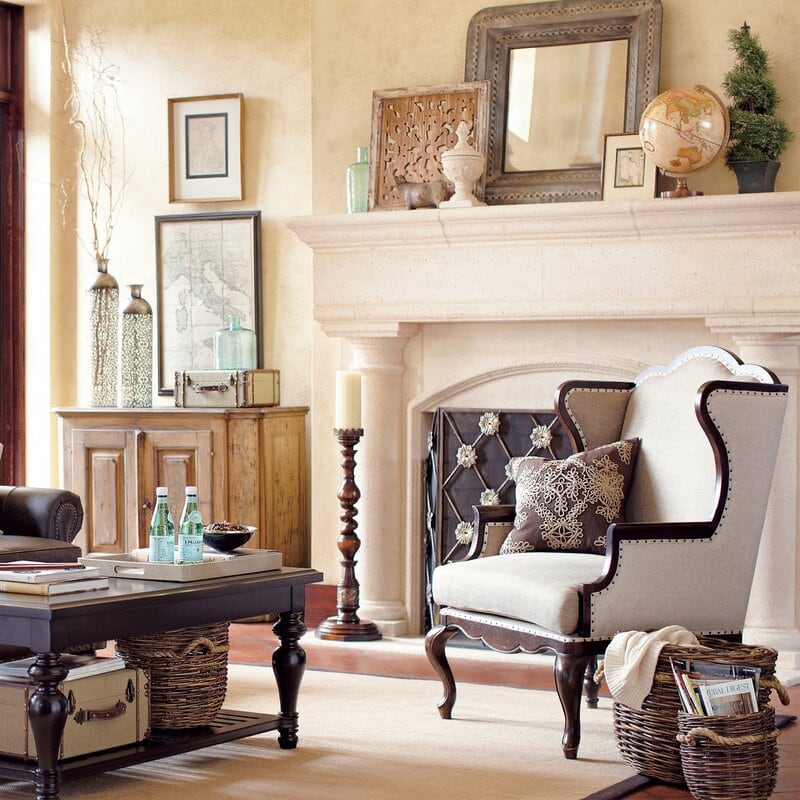 If you want your room to feel formal but still farmhouse, go for a wing-backed chair. These chairs feel exceptionally pulled together and polished while still offering comfort.
For a true farmhouse style, opt for a light fabric and wood legs. To create seating around a fireplace, consider adding two of these chairs to your living room design.
Create Seating Arrangements with Simple Accent Chairs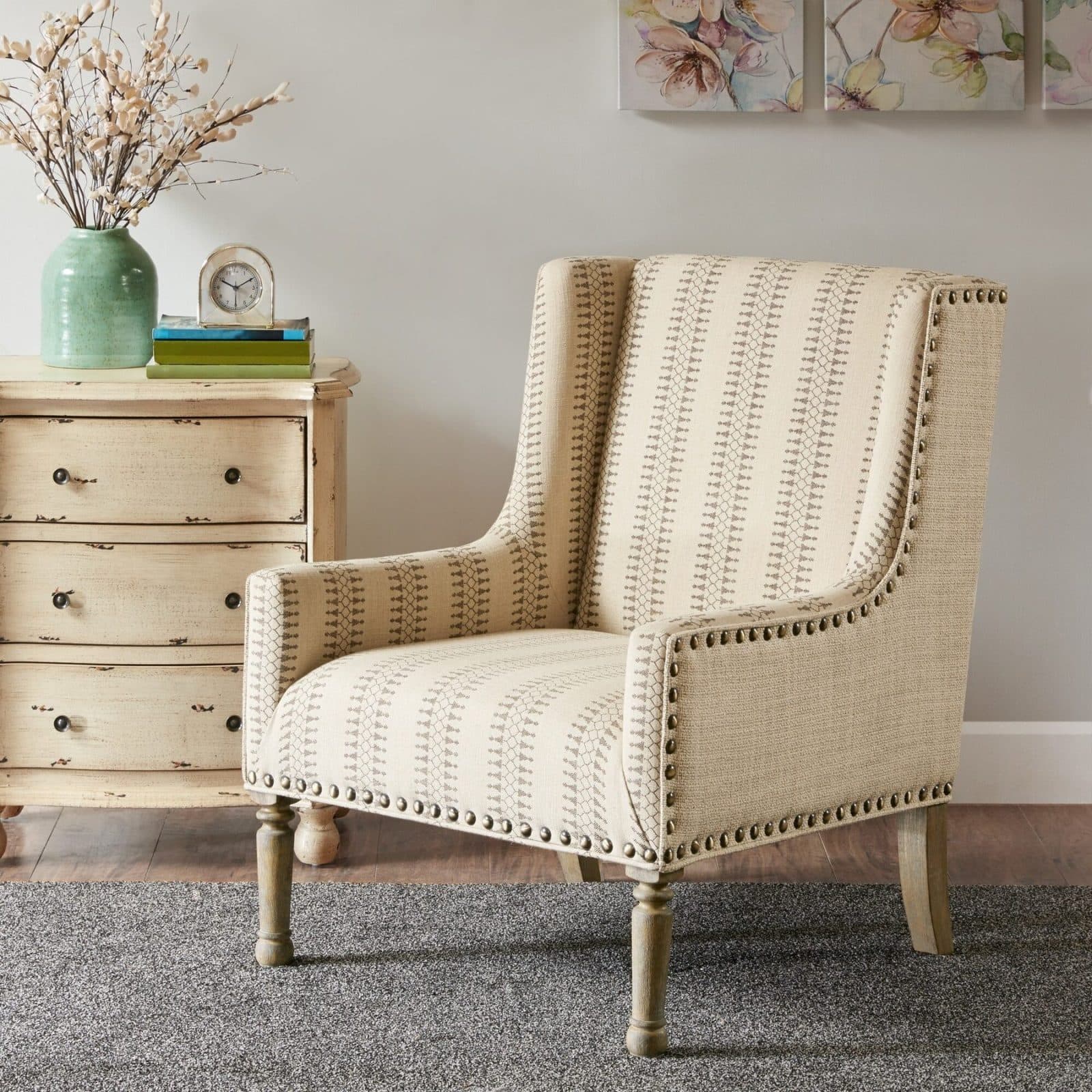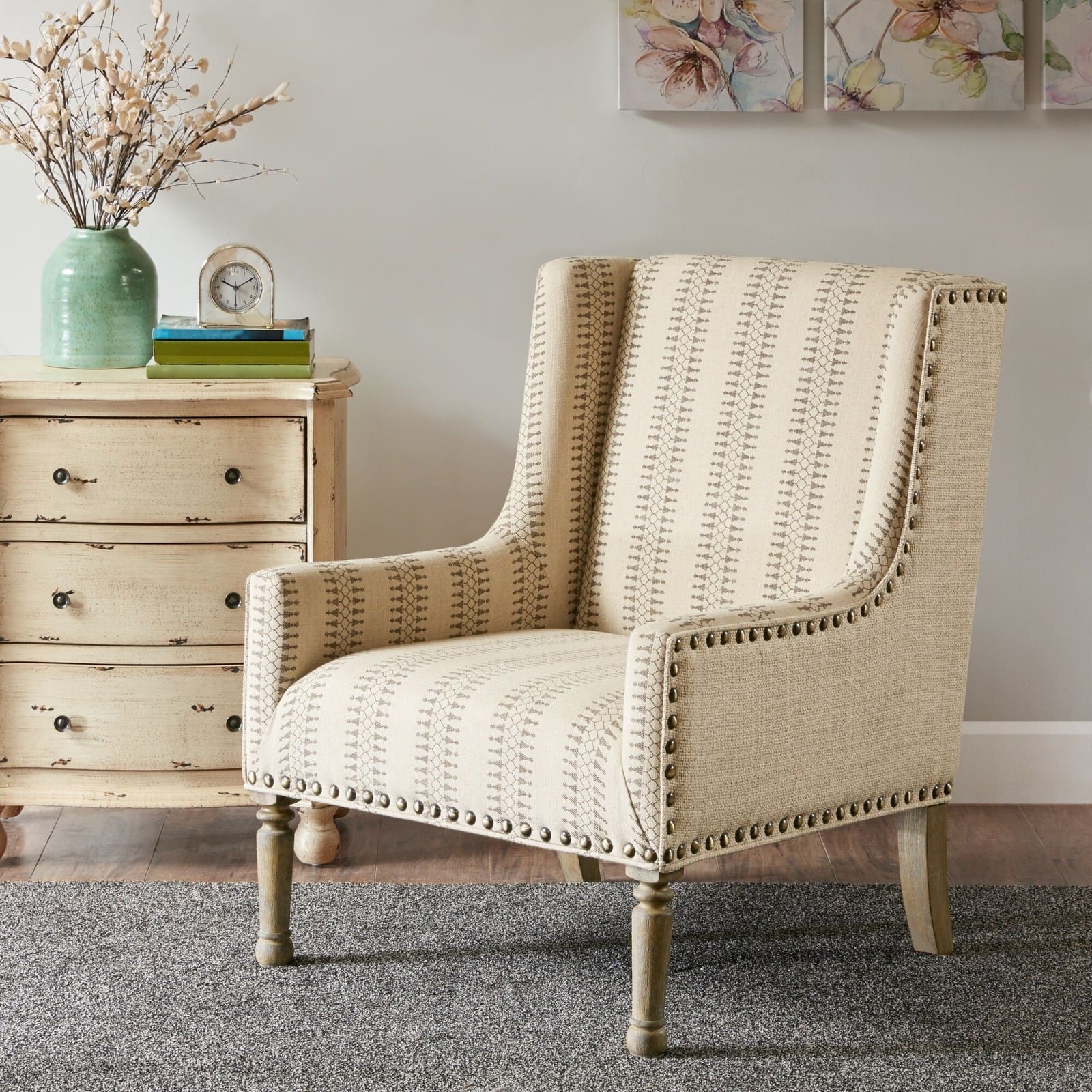 Going for a pattern doesn't mean you have to choose a busy chair or one that's hard to match to other decor. Instead, this simple and subtly patterned chair is perfect for creating new seating arrangements.
The natural colors make it pair with all color schemes and decor. This one can grow with you even when your style changes.
Bring in a Leather Chair for an Earthy Feel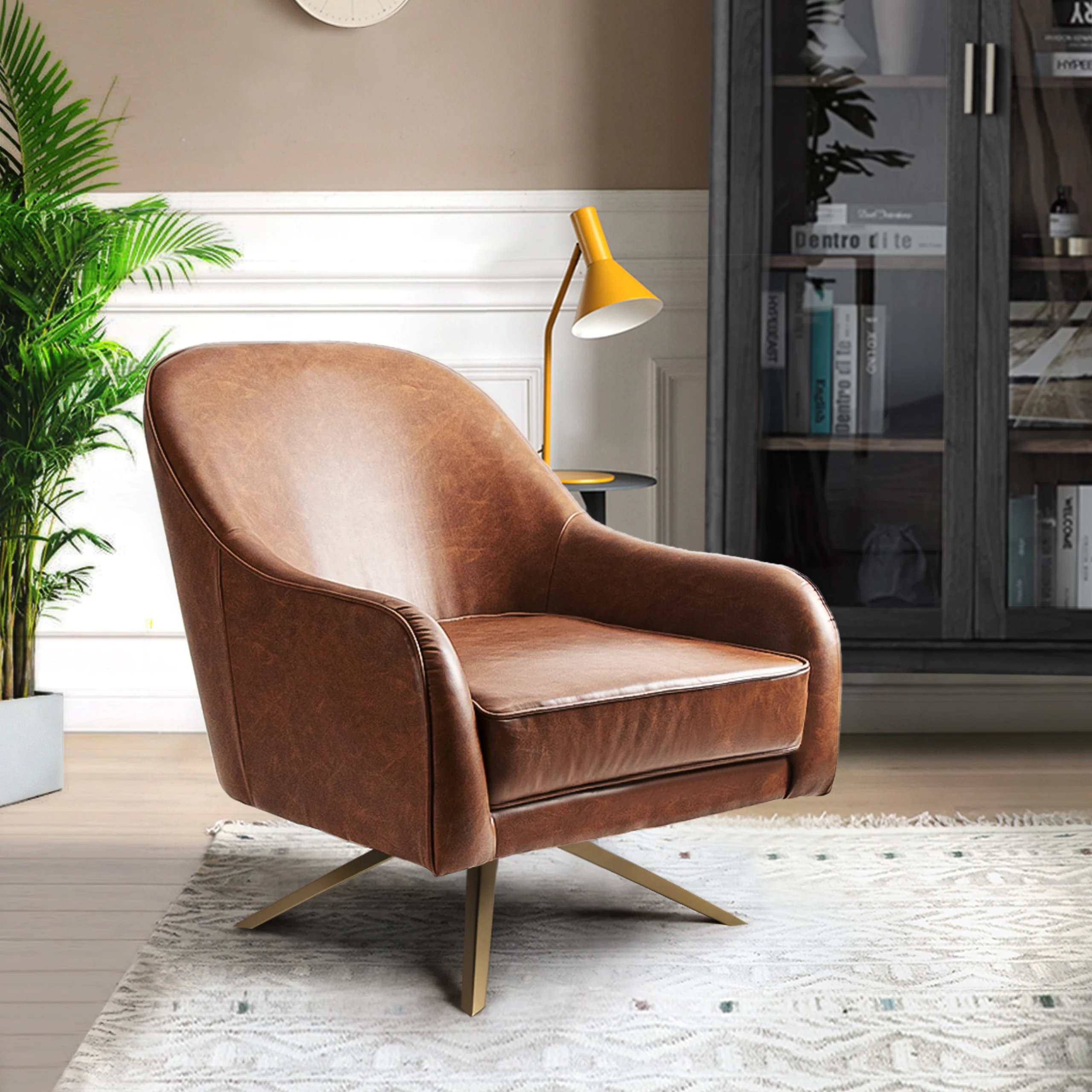 Leather looks excellent in farmhouse designs, and this swivel chair is no exception. The chair has gold metal legs and brown faux leather.
This chair would work well in a dining room or living room. So, when you get tired of it in one area, you can easily move to another room in the house for a nice change.
Choose This Pair of Wicker Chairs for an Inexpensive Option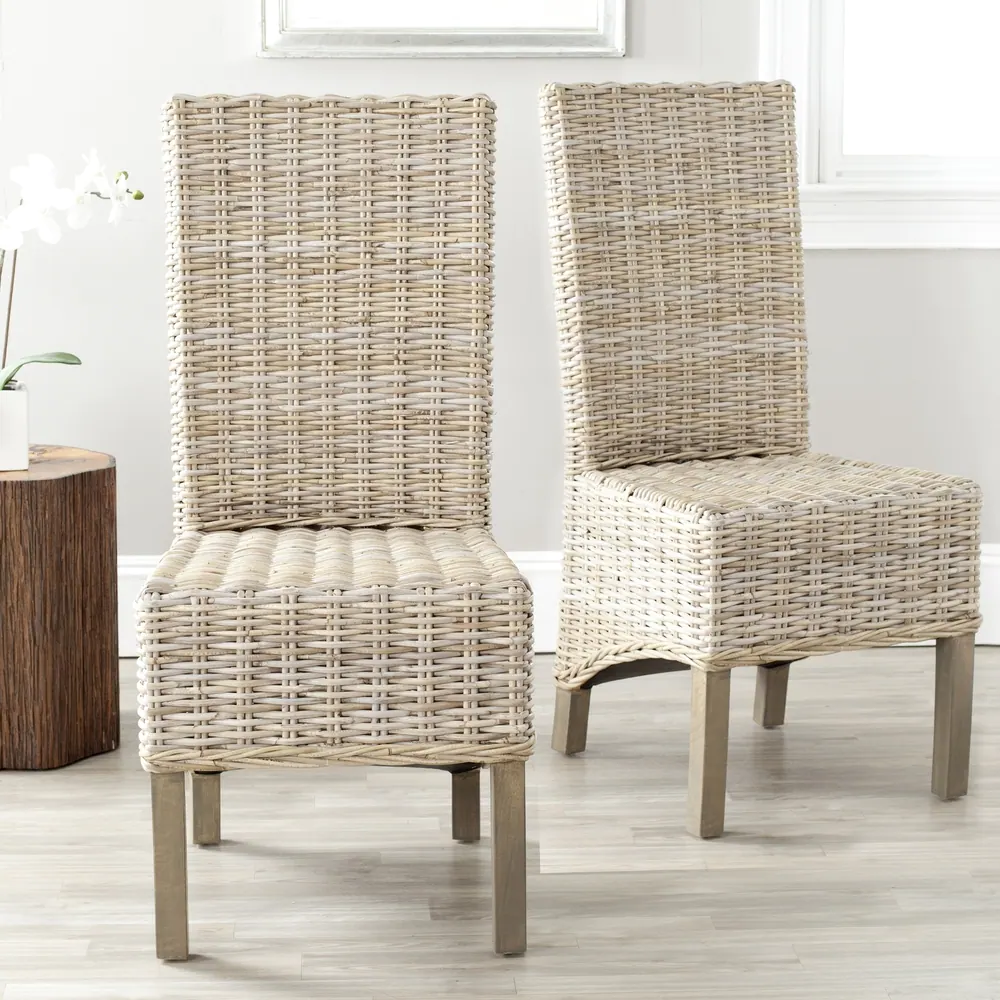 If you're on a strict budget and are looking for a cheap farmhouse accent chair that looks good, try wicker. This pair of wicker chairs aren't very expensive but still have a high-quality farmhouse look.
These chairs would look great with a plaid pillow and a throw over top of them. You could even move them into the dining room whenever you're ready to upgrade your living room chairs.
Kick Back with a Small Recliner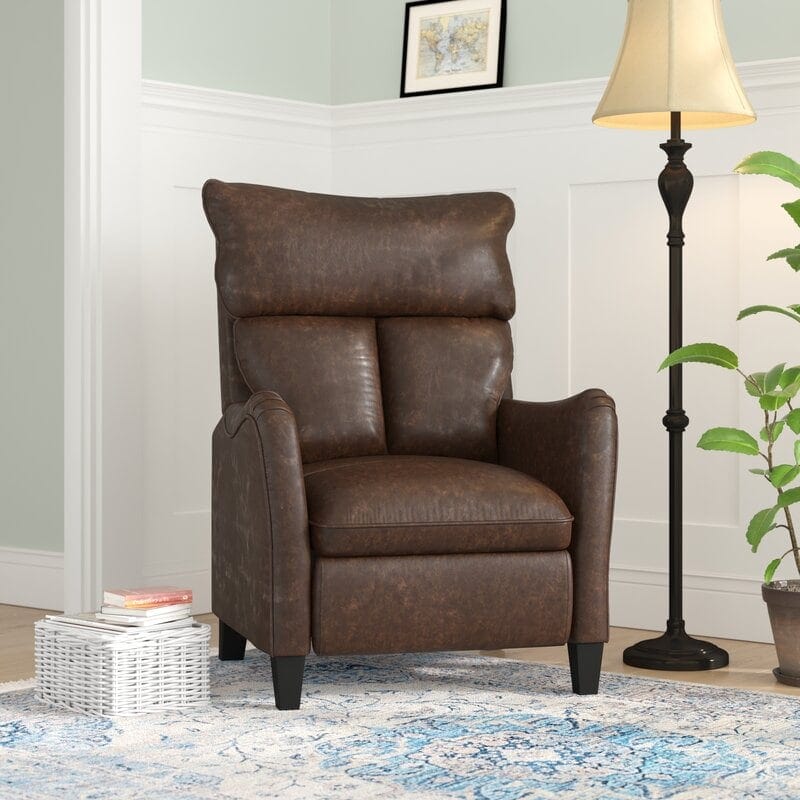 Who says you can't use a recliner as an accent chair? This small recliner has the perfect farmhouse look while offering all of the comfort of a recliner. It's faux leather with overstuffed seats, offering maximum comfort.
This recliner is a great way to pull texture into a room and will look good with just about any color scheme.
Lounge Around with this Modern Farmhouse Chair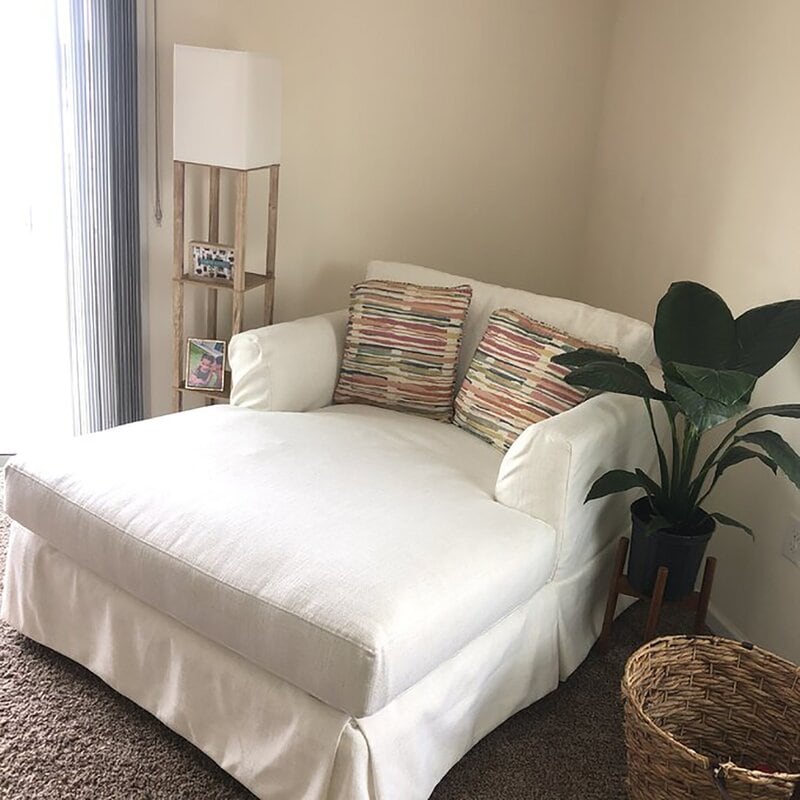 If you want a chair to relax on after a hard day's work, check out this modern farmhouse lounge chair. This chair has a solid wood frame and foam filling. Its t-shape makes it the perfect spot to kick back with a book at the end of the day.
This lounge chair would look great in any corner of your living room.
Add a Fun Feel with This Woven Lounge Chair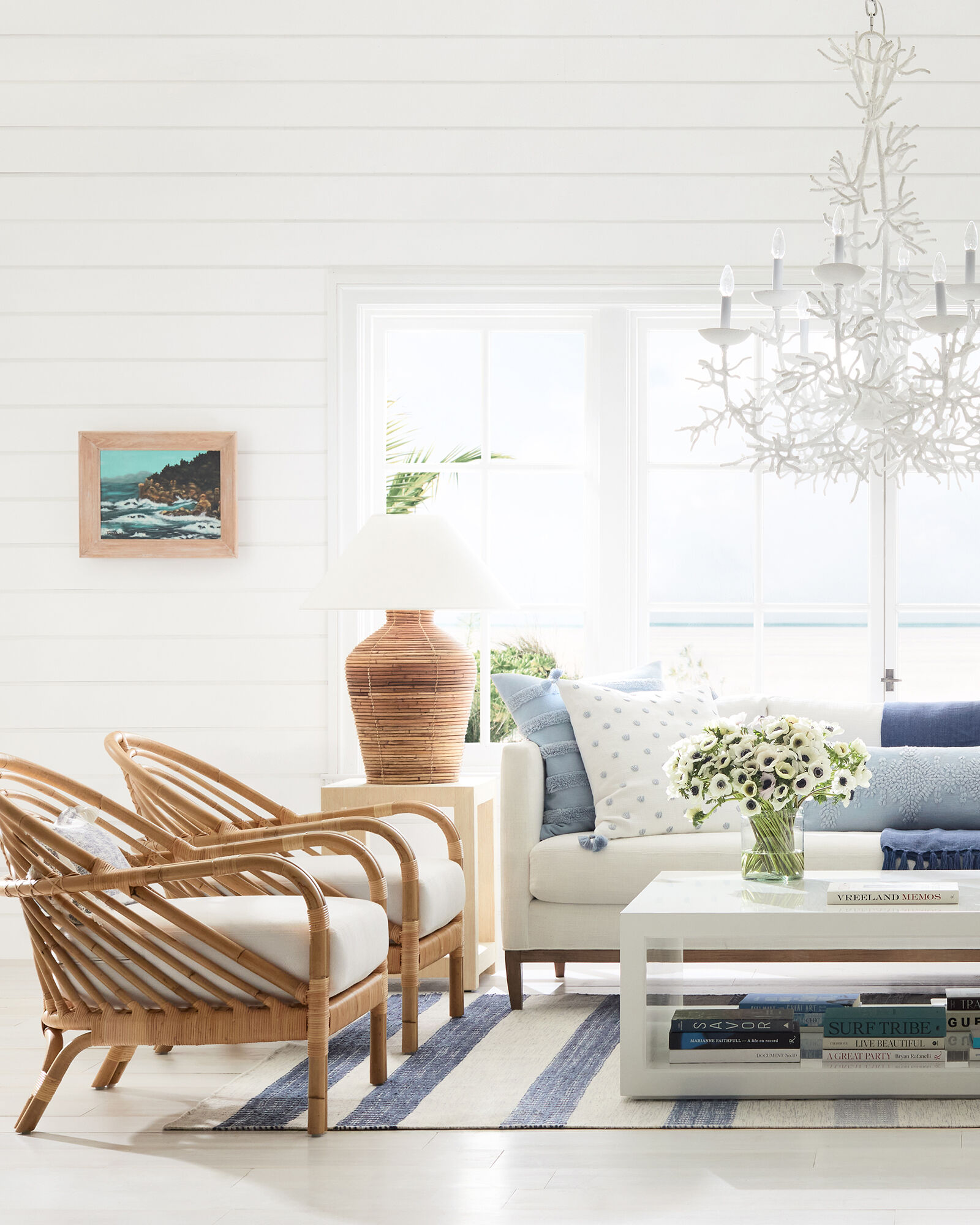 If you need to liven up your room, this chair pulls double duty. Not only does it add a natural feel, but it also brings in fun vibes with its rounded back.
It features a thick white cushion, but the color is customizable. This chair will stand the test of time and looks great in modern farmhouse designs.
Match Any Style with a White Slip Covered Chair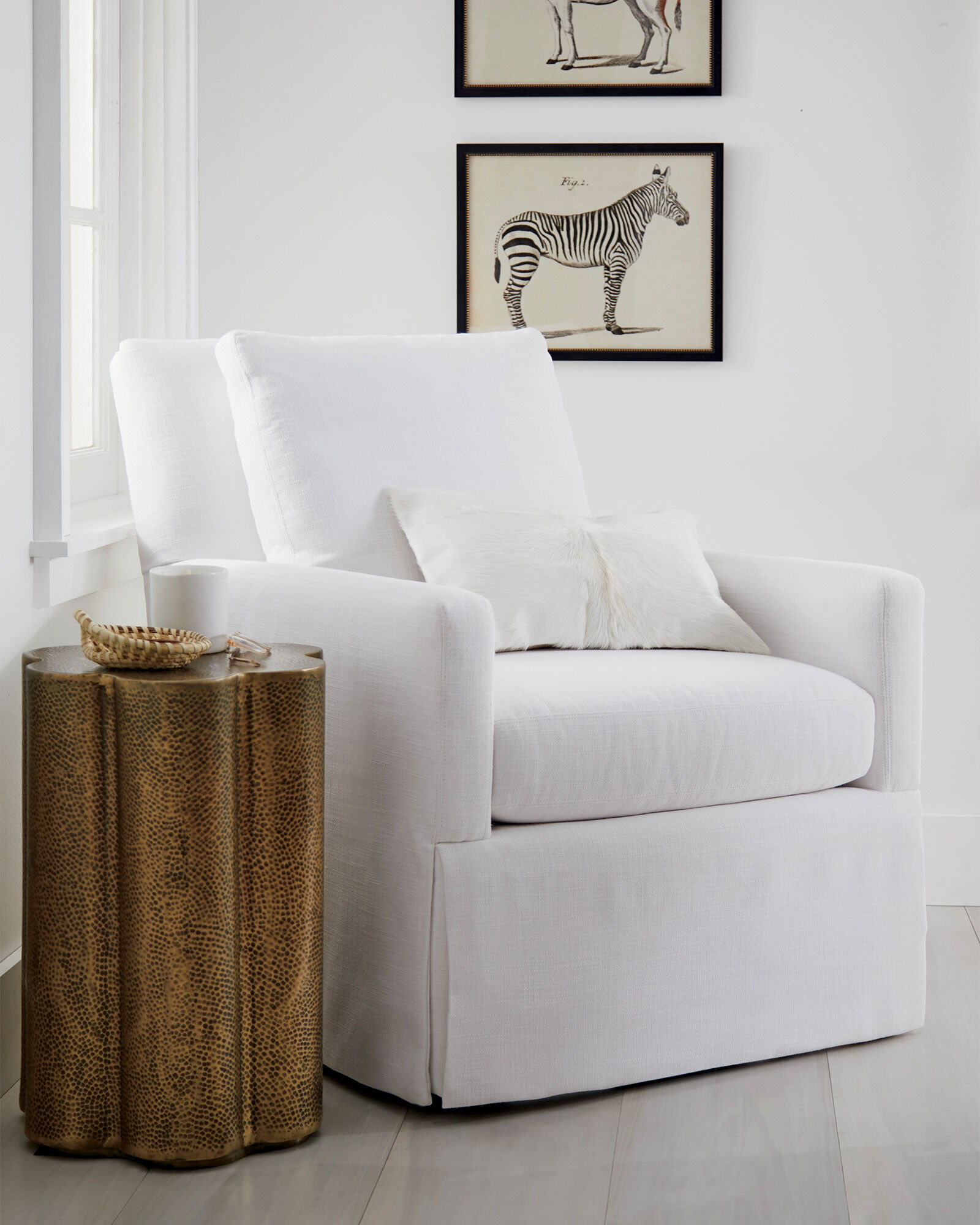 If you feel like you have a hard time getting it right when matching your furniture, try a simple slip-covered chair. This chair goes well with all country, cottage, and farmhouse designs. You can use it in bedrooms or living rooms.
One of my favorite things about this chair is that you can purchase a replacement slipcover if it gets stained up. That's a big win if you have kids or pets.
Try Black Buffalo Check for an Instant Farmhouse Feel
Black buffalo check print has become synonymous with farmhouse style. So, if you want your room to scream farmhouse, you can't go wrong with this chair.
If black isn't your style, this chair also comes in blue, brown, and green. It would look great across from a couch or next to the fireplace.
For a Romantic Feel, Opt for a Small Tufted Bench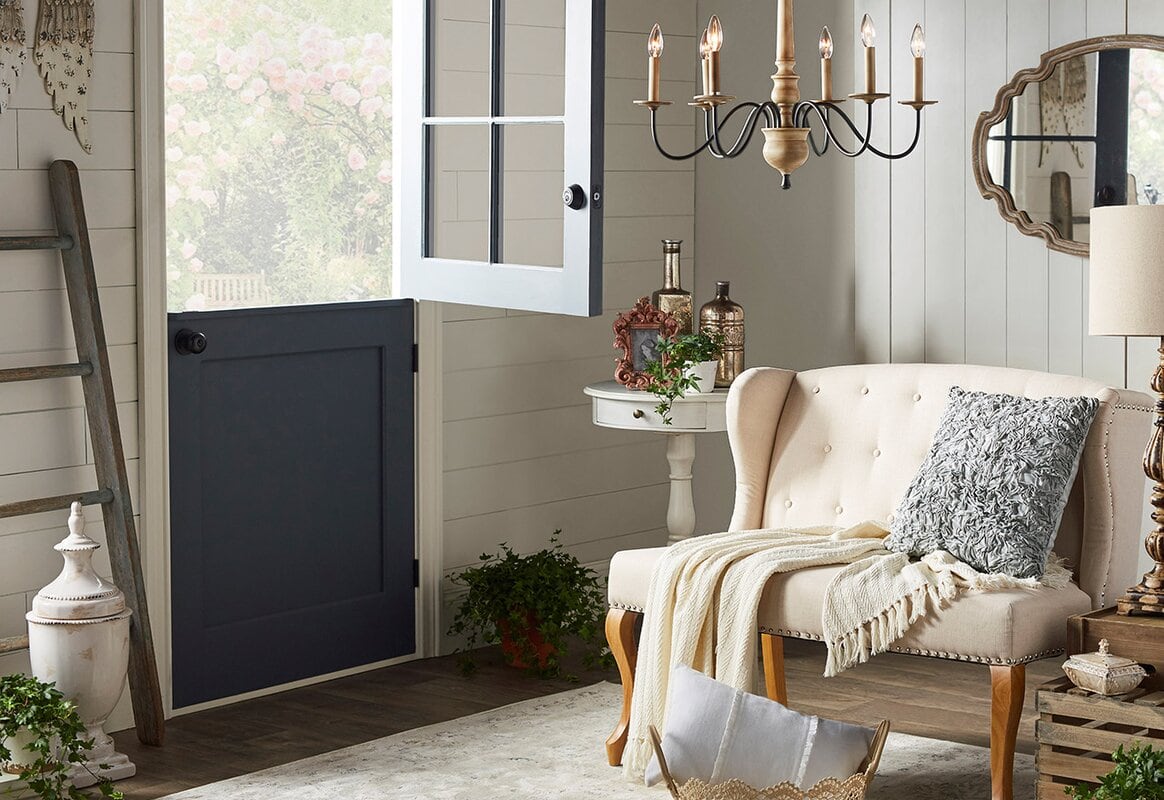 Your farmhouse accent chair doesn't necessarily need to be an accent chair – instead, it can be a small bench like the one pictured. This bench works exceptionally well for romantic or casual styles.
The tufting and light color give it a soft look with a classic design. This will look great if you need an accent chair to place against a wall.
Final Thoughts
If you're looking for the best farmhouse accent chairs, you can't go wrong sticking with soft fabrics and neutral colors. These chairs will effortlessly fit into any room and grow with you as your style changes.
If you need to bring warmth into a room, try a natural material like leather, rattan, or wicker. And finally, if you prefer a bold look, go for a buffalo check or fun pattern.