Decorated Life is reader-supported. When you buy through links on our site, we may earn an affiliate commission. Learn More
Best Sherwin Williams Green Paint Colors
Call a doctor, because everyone has got a serious case of cabin fever!
The only prescription? More greenery in our lives!
Green is popping up everywhere right now, because we just can't get enough of the great outdoors. Whether it's the herby, botanical green of a garden, the luscious jewel green of a jungle, or the refreshing sea spray green of the waves, we are all hoping for a little extra escape and some major recuperation.
Thankfully, green can make our home environments more restful, inviting, and refreshing. And just to make it easier for you, I've rounded up the best green colors Sherwin Williams has to offer. Don't worry, you can thank me later.
All of these colors are fabulous, many of them have devoted legions of fans, and one of them just might be the exact color you're looking for on your next home refresh. Let's dive in!
Hunt Club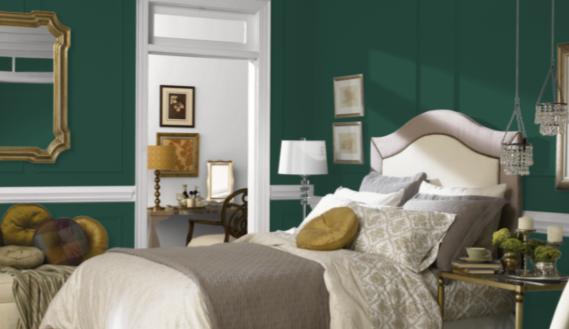 Hunt Club is a sophisticated and refined forest green that is deep and rich. Everything about this color oozes luxury, and you cannot find a better companion for gold accents.
Hunt Club is comparable to navy blue colors with a LRV of 6.
Hunt Club Creates Elegant Kitchens
Cascades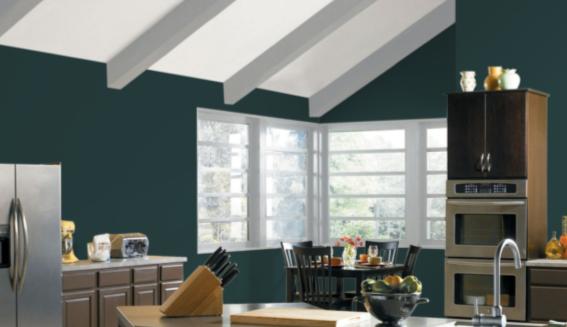 Cascades is a rich evergreen with blue undertones. This twist gives the color its mountain air. You can evoke the beauty of Cascades by pairing it with natural materials like wood or stone. Cascades has a LRV of 4.
Cascades is Handsome with Dark Woods
Filmy Green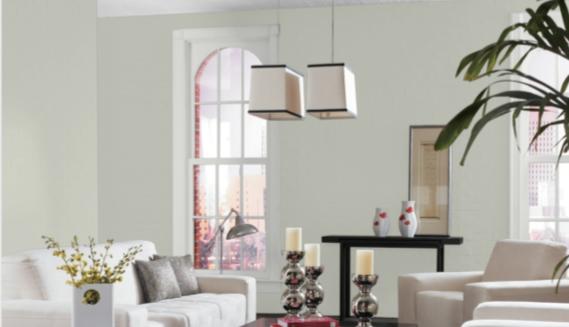 Filmy Green is a light and foamy green that's appreciated for its ability to work as a neutral backdrop.
It doesn't have significant undertones, and it treats its surroundings with a gentle touch. Designers appreciate its ideal LRV of 64, making it suited to even the trickiest of lighting situations.
Filmy Green Brightens and Expands a Room
Sea Salt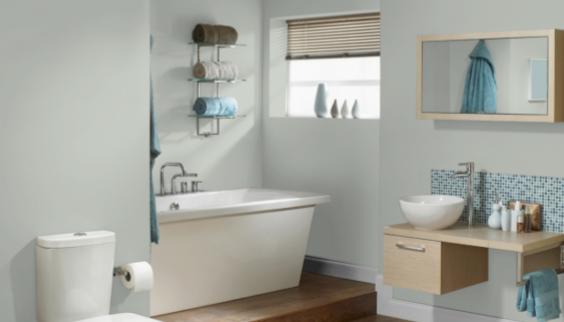 Sea Salt is a gentle gray-green that naturally brings to mind the beaches it is named for.
The gray in its makeup works beautifully with the grays in common elements of coastal decor, like driftwood, stone, and seashells. Sea Salt is another gentle green, with an ideal LRV of 63.
Sea Salt is a Dream for Coastal Decor
Jasper Stone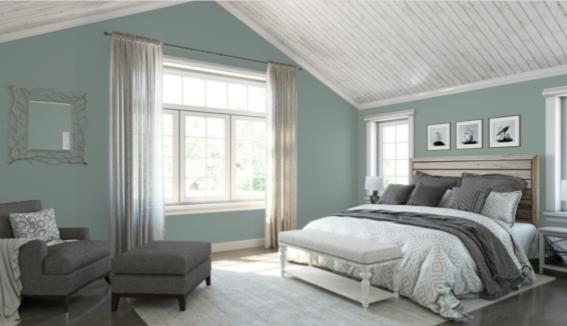 Jasper Stone is a charming medium-to-dark green that leans into blue and gray undertones. This color can give strong retro vibes when paired with the right decor, such as the metal cabinets and vintage-style floor tile in the kitchen pictured below. Jasper Stone is also a great color for calm and meditative spaces, or a minimalist look. Its LRV is 32.
Jasper Stone is Beautiful on Cabinets
Rainwashed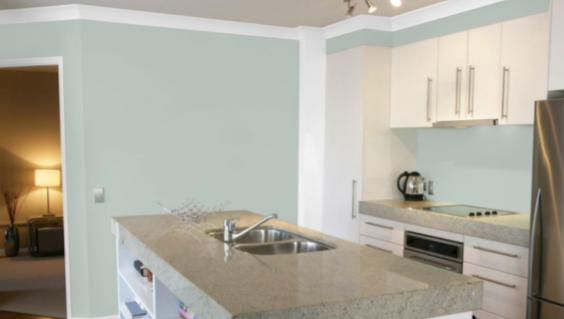 Rainwashed is a refreshing green-gray with a devoted online following. This popular color is a natural fit for places where we use water like bathrooms and kitchens, but it's also great for any space where you want to relax. Rainwashed is a touch darker and bluer than its friend, Sea Salt, with a LRV of 59.
Rainwashed is a Lovely Companion for Grays
Ripe Olive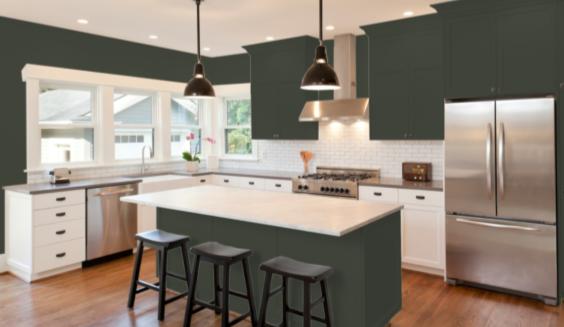 Ripe Olive is a dusky, warm green, which makes it stand out among its typically cool-toned peers. This gives Ripe Olive an earthy, cozy feel. It also makes coordinating with yellow undertones, such as yellow brick or honey oak, much easier! Ripe Olive has a LRV of 6.
Ripe Olive is Great with Honey Oak
Pewter Green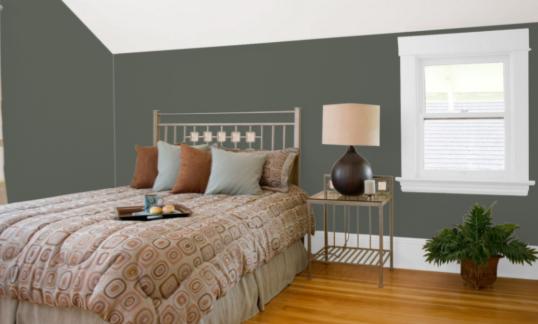 Pewter Green takes that warm, organic green idea and blends it with a deep gray to get a variation on the theme. This is a color that was just made to be part of grand old homes and traditional decor styles. It evokes Victorian and Arts and Crafts decor. Pewter Green has a LRV of 12.
Pewter Green is Masterfully Traditional
Evergreen Fog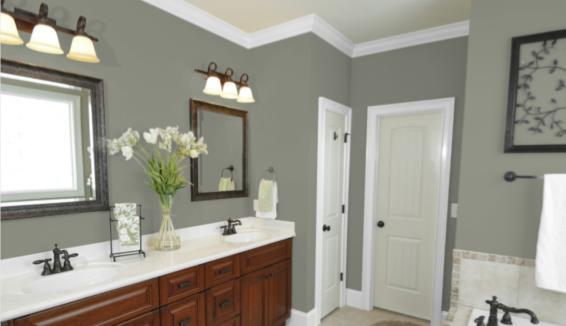 Evergreen Fog is Sherwin Williams' 2022 Color of the Year, at a time where everyone is yearning to bring a bit of the natural world indoors. This color brings to mind soft moss or lichens on misty tree branches. It's a sage green and gray blend with a medium-to-dark tone and a LRV of 30.
Evergreen Fog Brings Nature Indoors
Mint Condition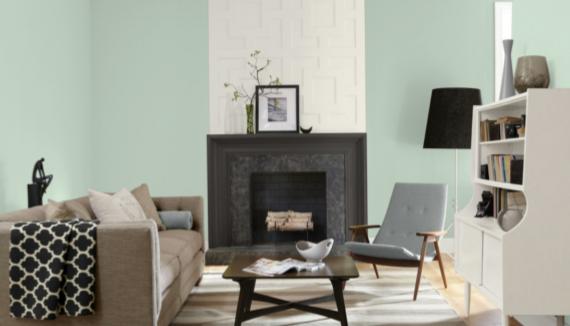 Mint Condition is a fresh and cheerful light mint green.
This is a color that works great for retro styles, such as mid-century modern, and is a natural fit for kitchens, where it brings to mind a favorite ice cream or milkshake. Mint Condition has a light and airy LRV of 73, which means it will brighten up most rooms too.
Mint Condition is Great for Retro Styles
Courtyard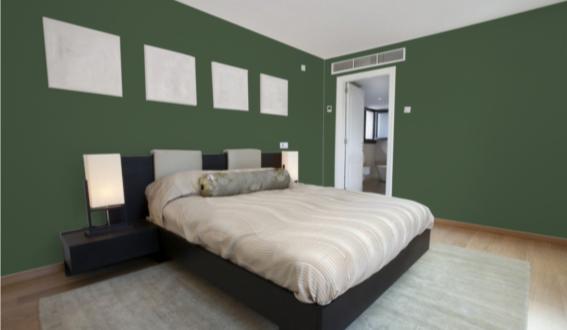 Courtyard is a traditional, warm, dark green that looks handsome and refined in historical homes. Its warm undertones make it the perfect complement to metalwork like gold or bronze. Courtyard is a deep color, with a low LRV of 9.
Courtyard is Stunning with Metalwork
Dried Thyme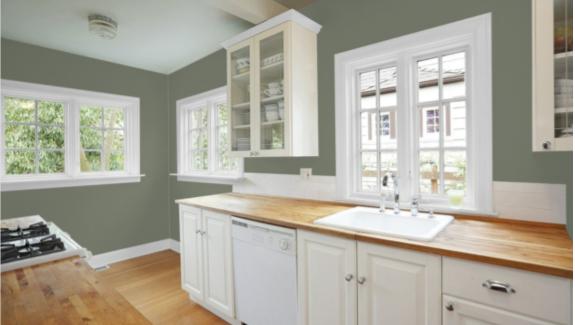 Dried Thyme is an earthy, botanical green. This is another green that is subdued and natural-looking, and brings you that outdoors feeling without so much gray. Dried Thyme is a medium-to-dark color, with a LRV of 21.
Dried Thyme is Beautiful on Board and Batten
Really Teal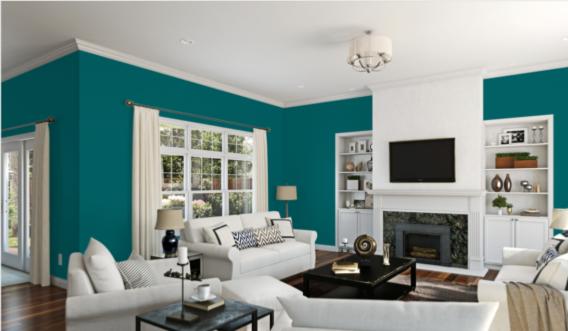 Really Teal is a luscious, dark teal that leans deeply into its green side. This is a bold and fun color that is perfect for focal walls, accents, and trim. Consider playing it up against other bright colors for a room that's lively and invigorating. Really Teal has a LRV of 10.
Really Teal is Perfect for Accents
Wait, So What is LRV?
LRV stands for Light Reflectance Value. It's a way of measuring how light or dark a color is. The scale runs from absolute black, which is 0, to sheer white, which is 100. The LRV numbers are provided in this article so that you can easily compare the colors on the list to each other.
Final Thoughts
There's so much to love about green, and so many directions to take with it. Deep and traditional? Airy and coastal? Botanical? Tropical? Neutral?
Luckily, the colors can inform the style direction if you're stuck. Pick one or two favorites from this list and build a palette around them, and you'll be well on your way to a successful house refresh.