Decorated Life is reader-supported. When you buy through links on our site, we may earn an affiliate commission. Learn More
13 Paint Colors That Go with Honey Oak Cabinets and Trim
Do you ever get the feeling your home was once part of the in-crowd? Like as you look around, you just sort of notice deliberate decorative touches, as if your home were dressing up for a special occasion. It's almost as if your home got invited to a party…except that party was over, like, a couple decades ago.
One of those tell-tale signs that your home's party days might be in the past is the presence of honey oak. Lots and lots of honey oak.
Honey oak was super popular in the 90s, and as a result, a lot of homes still have honey oak cabinets, honey oak trim, honey oak moulding, honey oak floors…well, you get the idea.
There's nothing inherently wrong with honey oak. It has a rich golden tone that can look very handsome under the right circumstances. But because it was so pervasive in the 90s, it looks dated now. Plus, thanks to its strong color, it tends to dominate whatever room it's in, and can be difficult to coordinate with.
If you have honey oak in your home and want to change up its look, you can still use a fresh coat of paint to liven up your walls and tame those cabinets! In this article, we'll take a look at some of the best paint colors that go with honey oak, and look at honey oak in real homes to get some inspiration for how to work with it.
Best Paint Colors for Honey Oak Cabinets and Trim
Alabaster by Sherwin Williams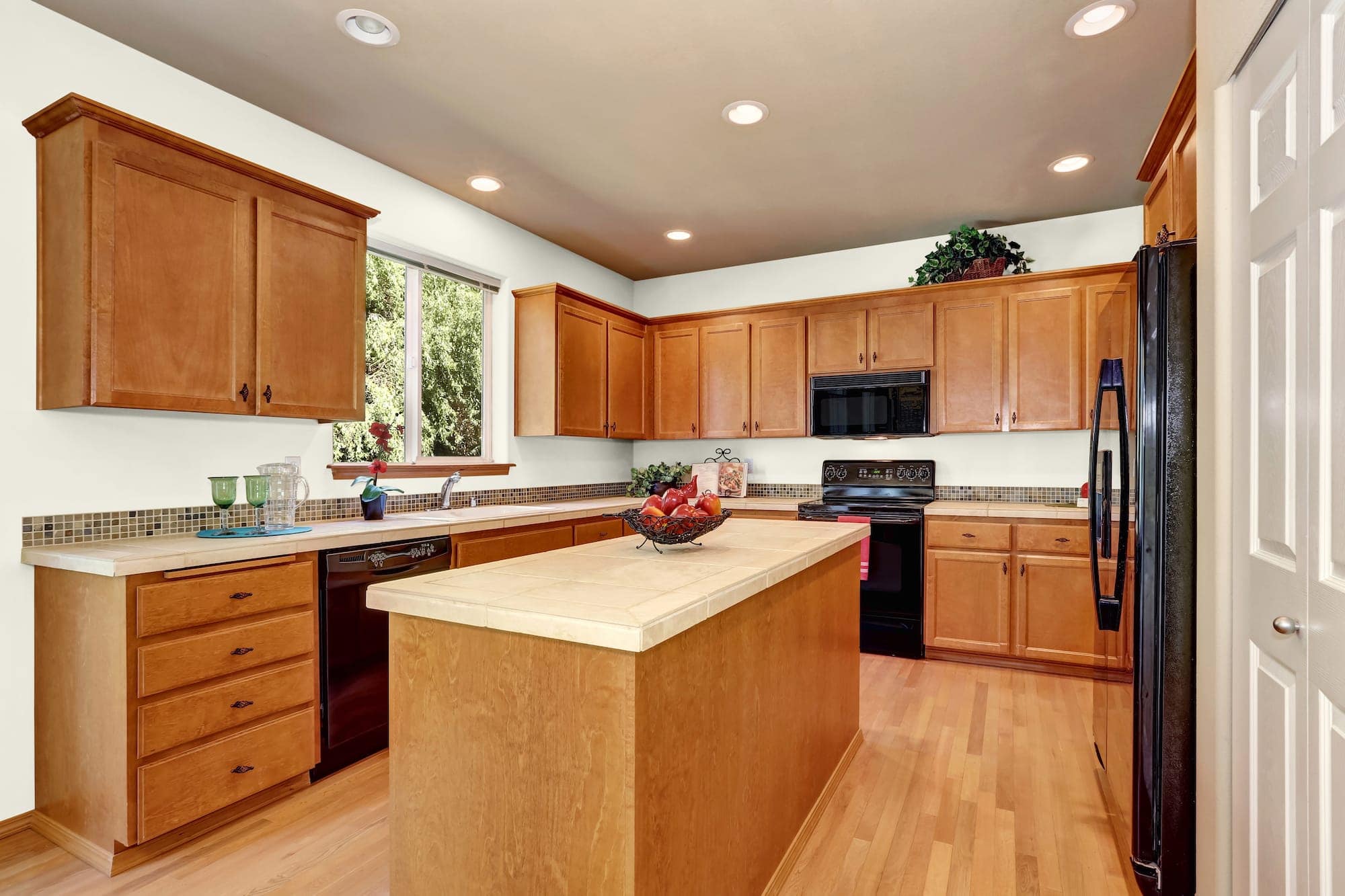 Alabaster is a very light off-white that has just a hint of shading to it. It gives the effect of a cream color, but it doesn't have yellow undertones to clash with the honey oak. This color is great for lightening up a kitchen with honey oak cabinets.
Tricorn Black by Sherwin Williams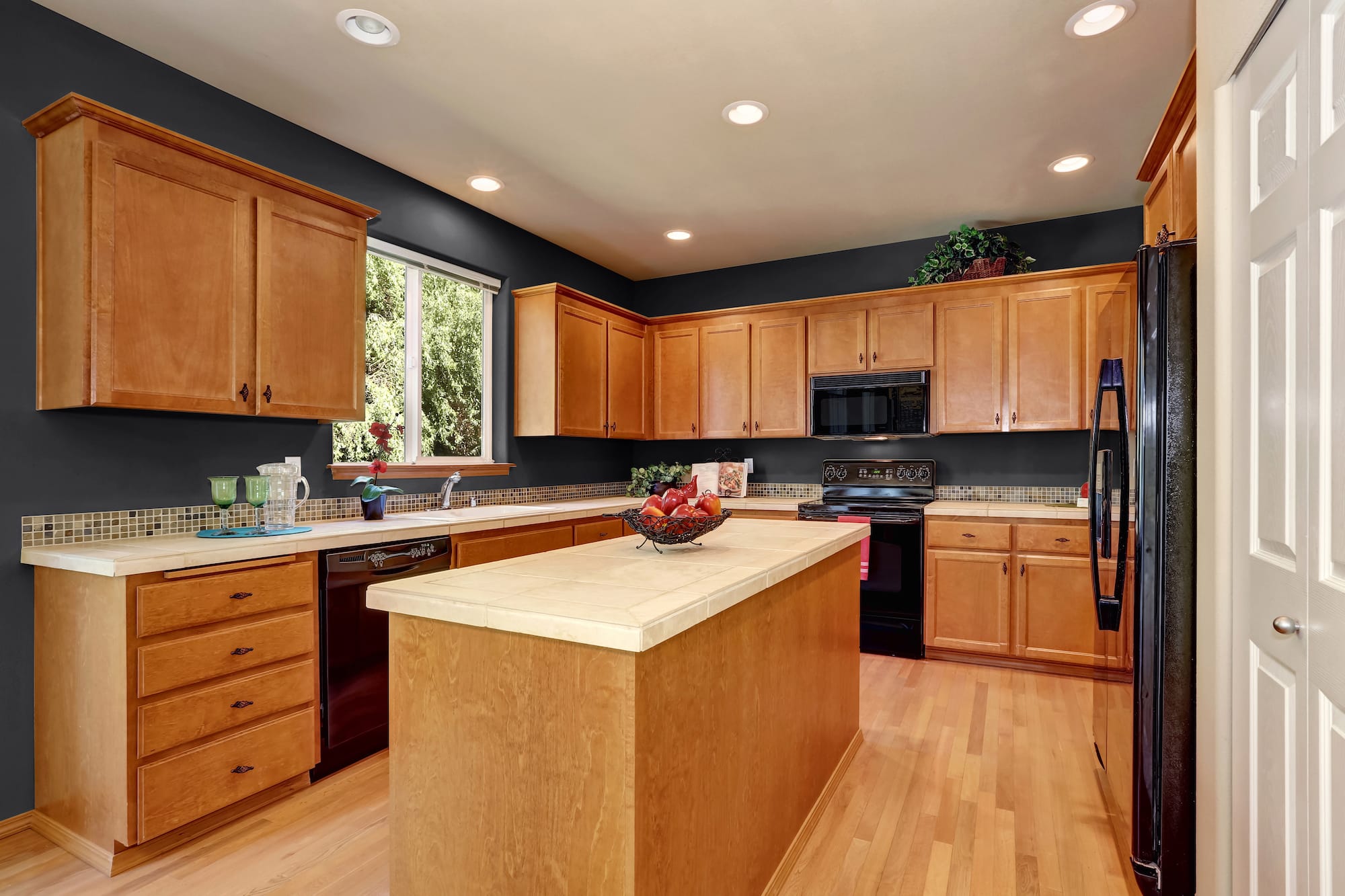 Tricorn Black is a classic, traditional black. It can provide a dramatic backdrop that sets off the rich, golden tones of honey oak to advantage. Honey oak is also bright enough to offer some contrast for the black, keeping the room in balance.  
Salty Dog by Sherwin Williams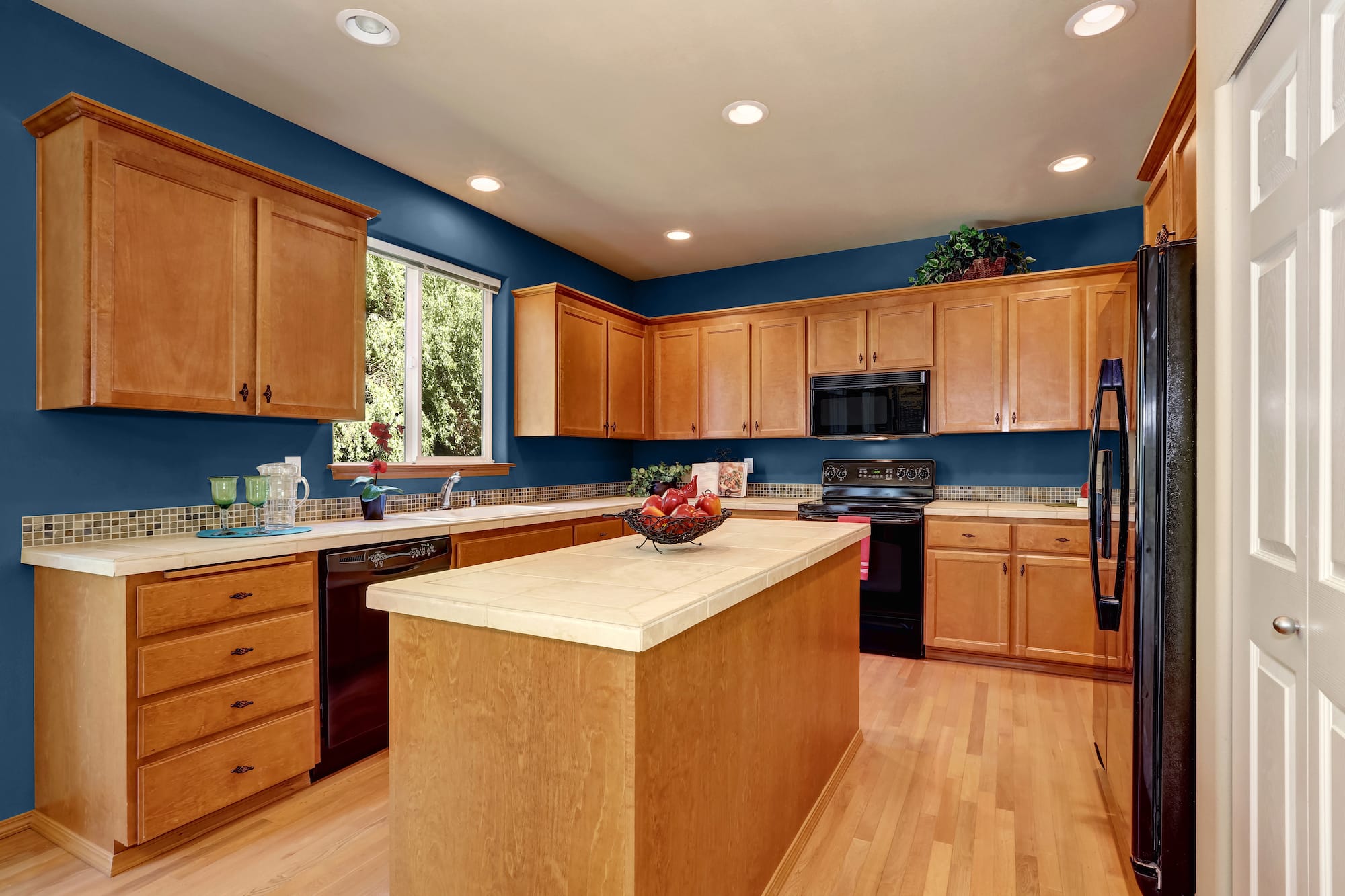 Salty Dog is a navy blue blended with vibrant tones of royal blue. Navy blue is gaining popularity as the new neutral, and it's fabulous for kitchens. Blues are a beautiful complementary color for honey oak, so Salty Dog is a natural companion for its golden hues.
Watery by Sherwin Williams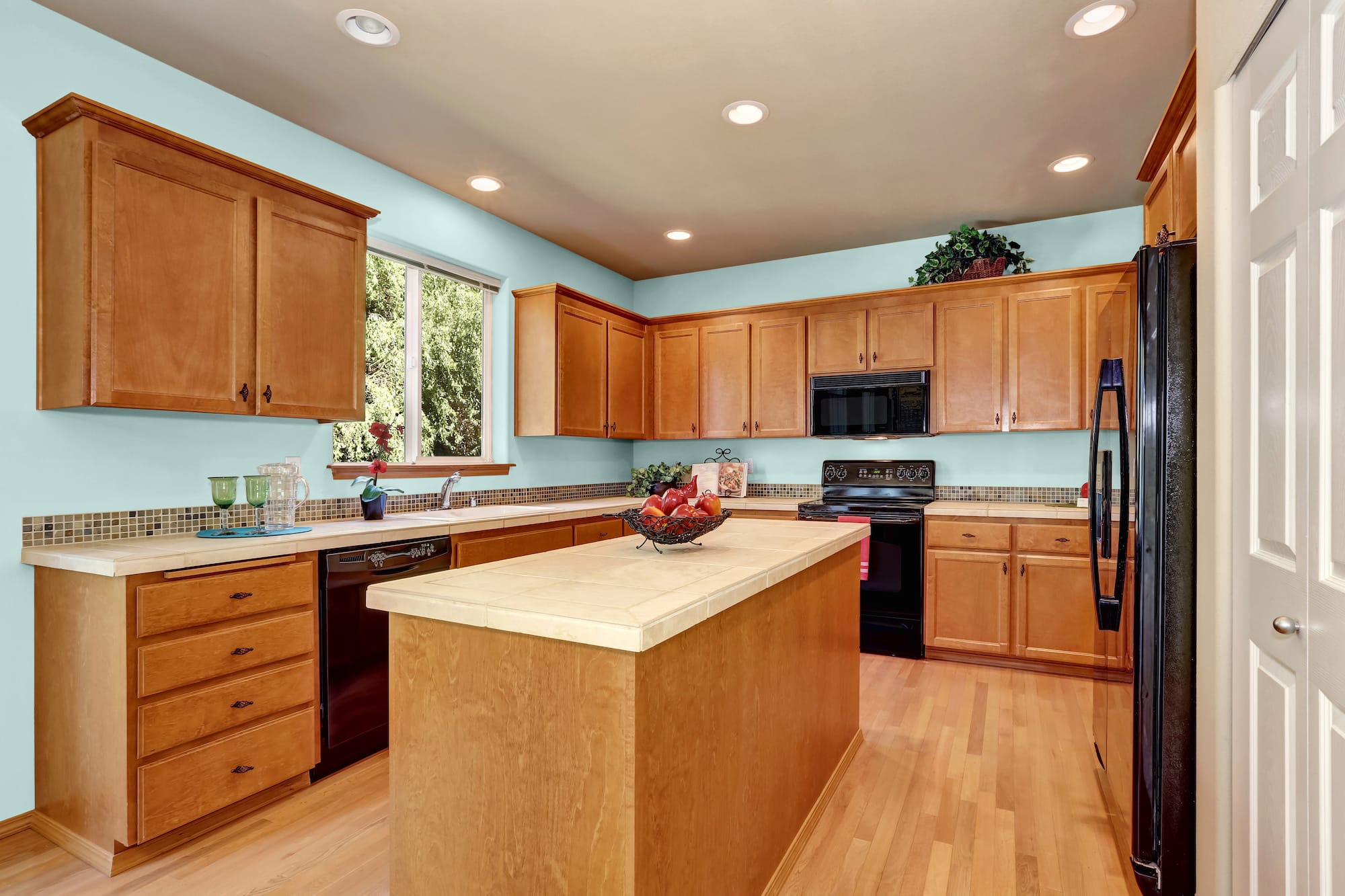 Watery is a cool and gentle light blue green color. It brings a refreshing and relaxing feeling to balance rooms that might otherwise feel too warm and overpowered by lots of honey oak.
Searching Blue by Sherwin Williams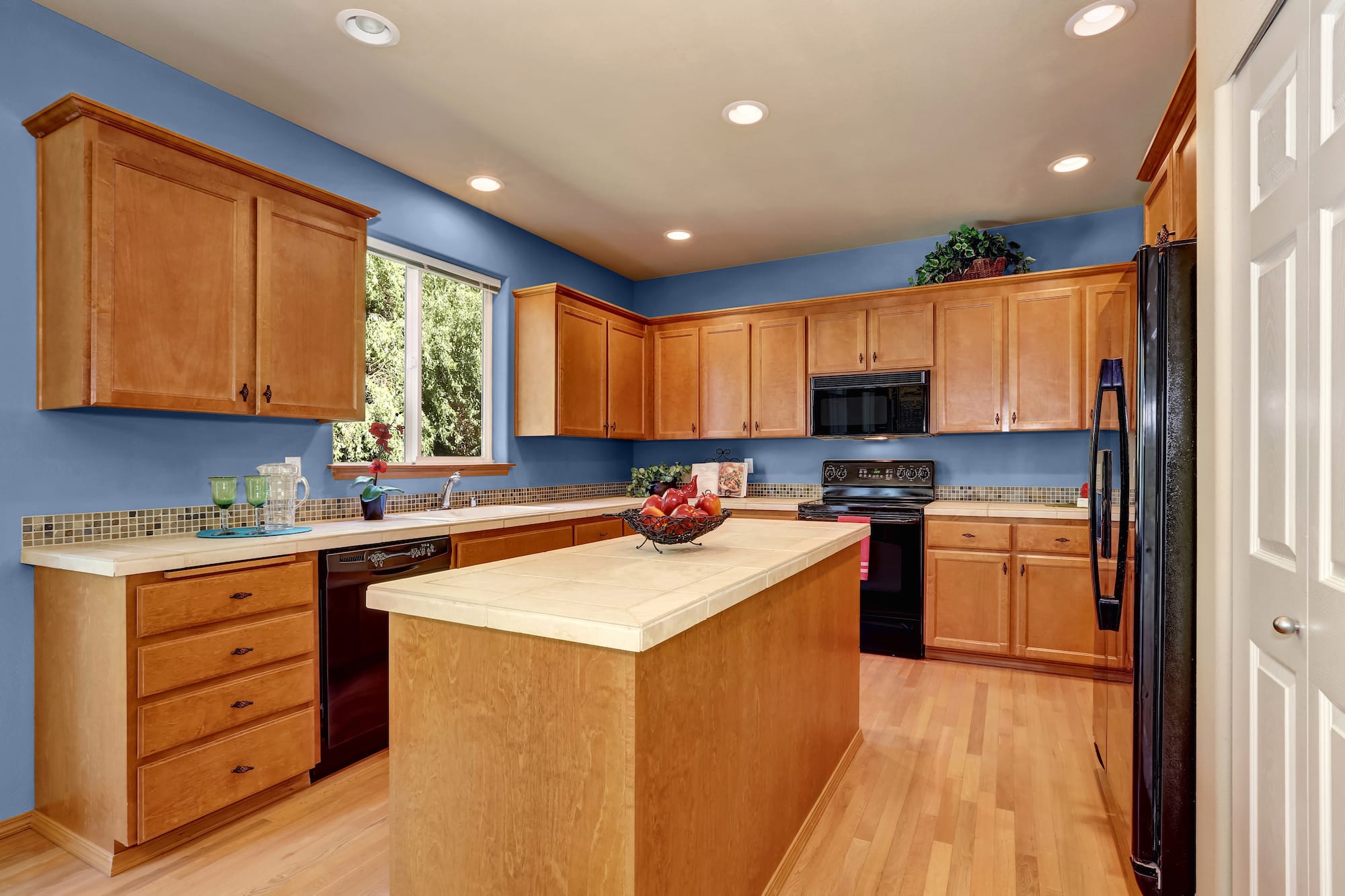 Searching Blue is a mellow blue with a violet tint. It brings to mind antique porcelain and cottage decor styles. Searching Blue is a different direction to try for this standby complement to honey oak. You can see how it makes the flooring and countertops in this kitchen glow, while crisping up the white trim.
Evergreen Fog by Sherwin Williams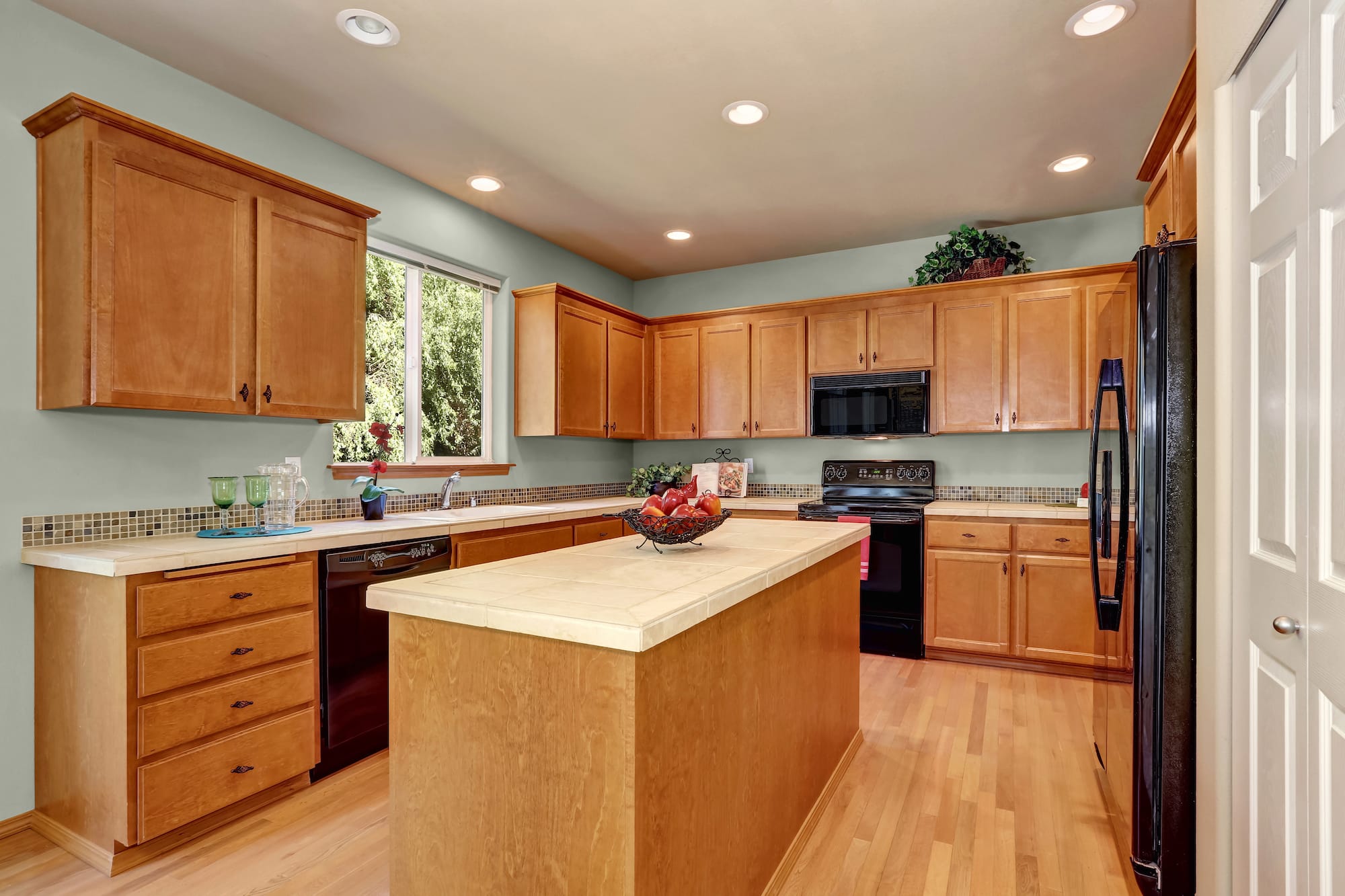 Evergreen Fog is a soft, succulent green-gray. It's also Sherwin Williams' new color of the year for 2022. Sage greens like this one offer honey oak a harmonious natural look.
White Dove by Benjamin Moore
White Dove, a softly shaded white paint color, is a wonderful choice for lightening up rooms with lots of honey oak in them, or offering a nice clean contrast to honey oak accents and trim. 
Hale Navy by Benjamin Moore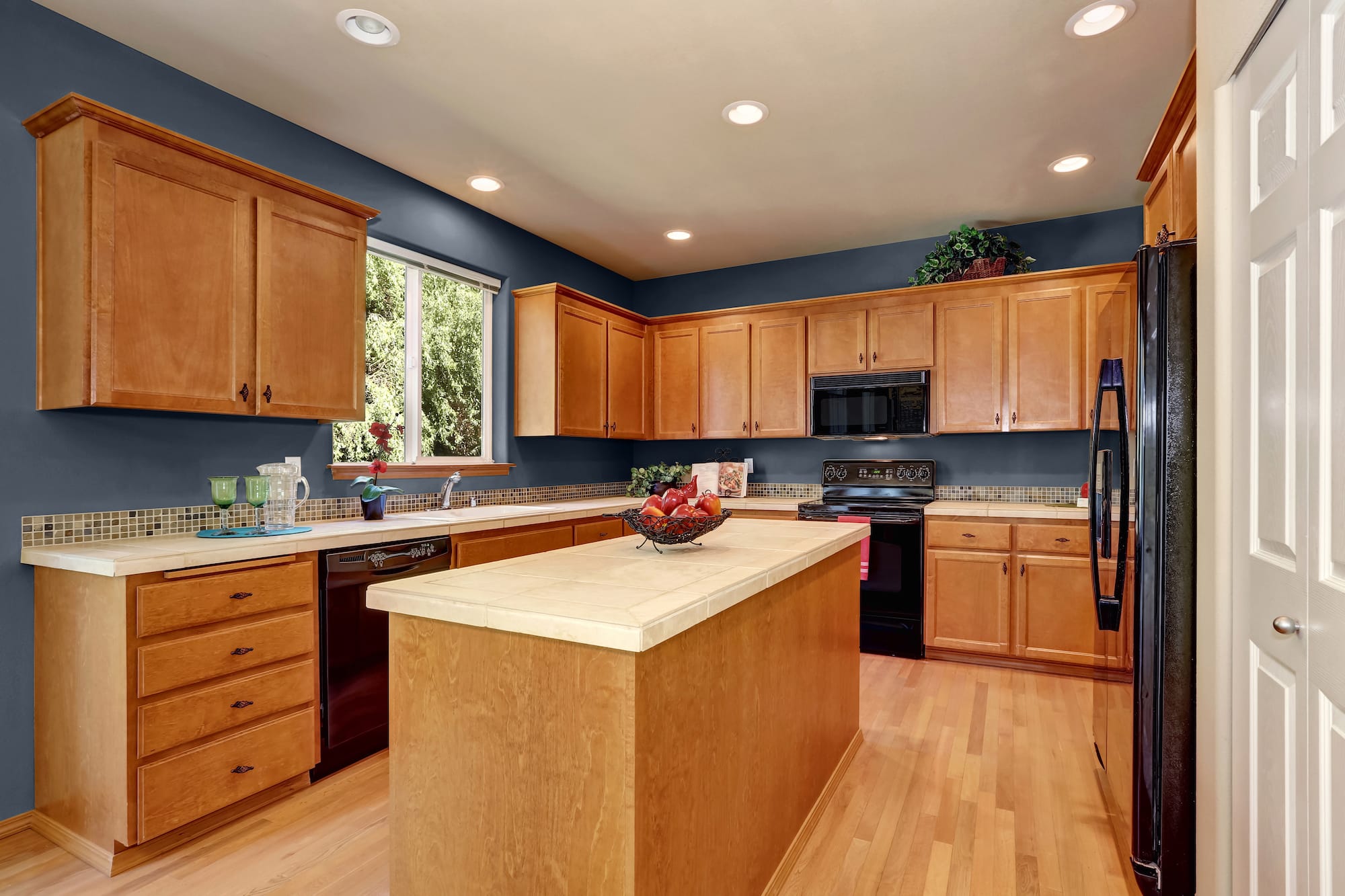 Hale Navy is a night-dark navy blue that provides a deep background for honey oak to glow against. These colors will bring out the best in each other, as honey oak will pick up the blue in Hale Navy and let it shine too. 
Jack Frost by Benjamin Moore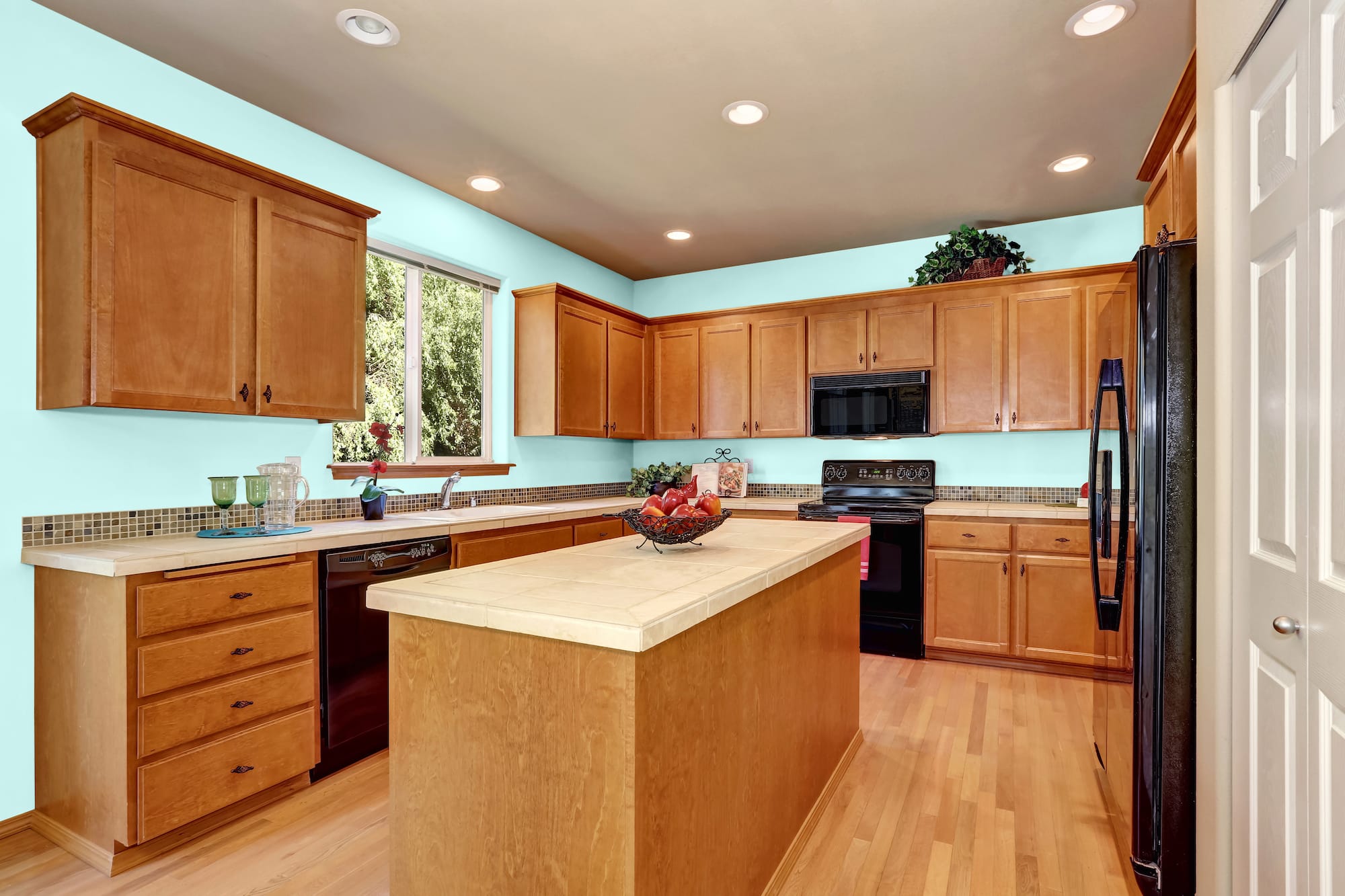 Jack Frost is a cool blue that takes honey oak in an upbeat direction with a playful pop of color. It's good for a space that you want to keep on the light side.
Purple Lace by Benjamin Moore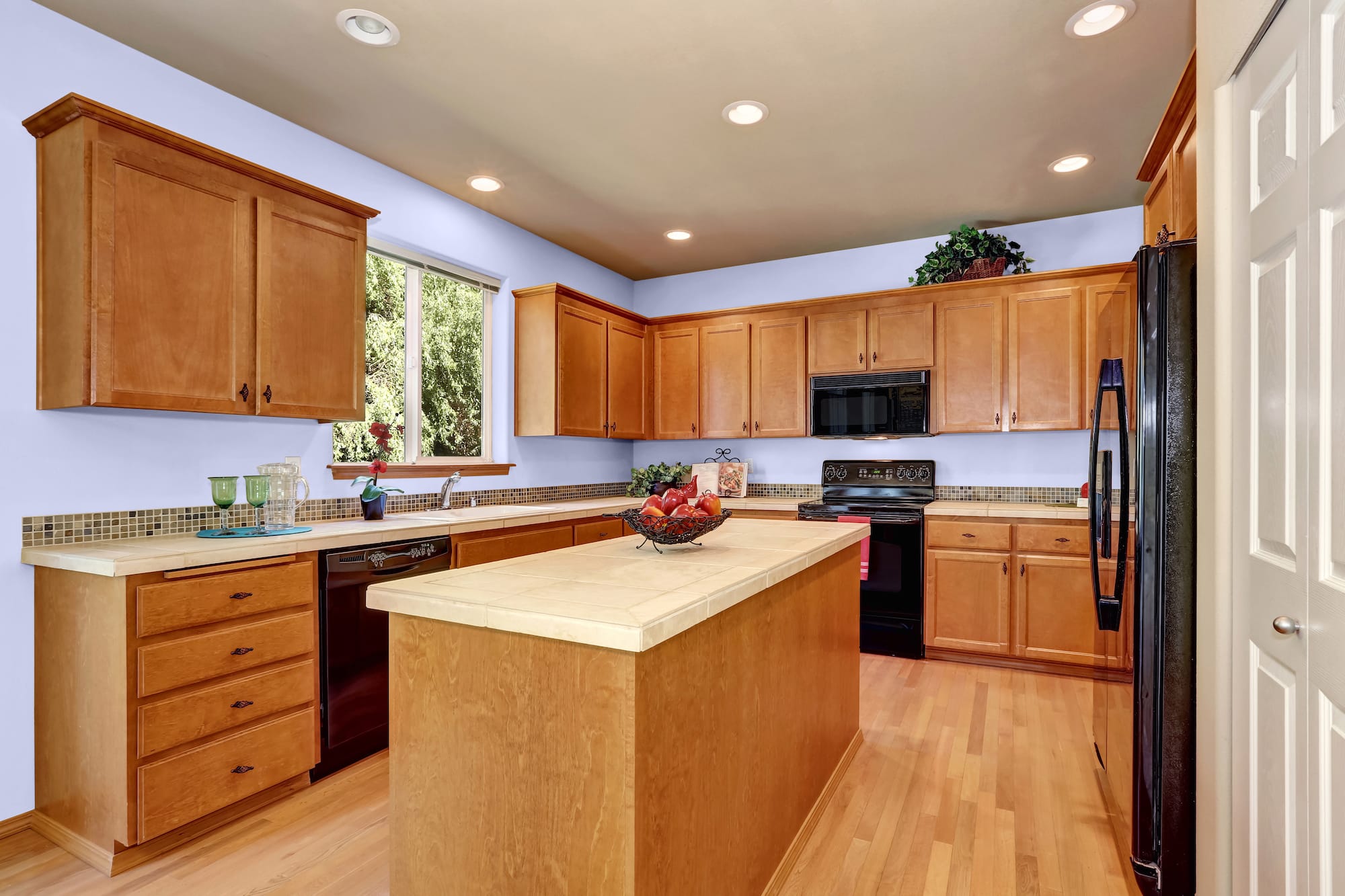 Purple Lace is a light lavender-blue color. Purple is yellow's complementary color, so it's the natural counterpart to honey oak's golden tones. Purple Lace is light enough to help rooms that are a little on the darker side perk up, so it's working two jobs for you at the same time.
Lotus Leaf by Behr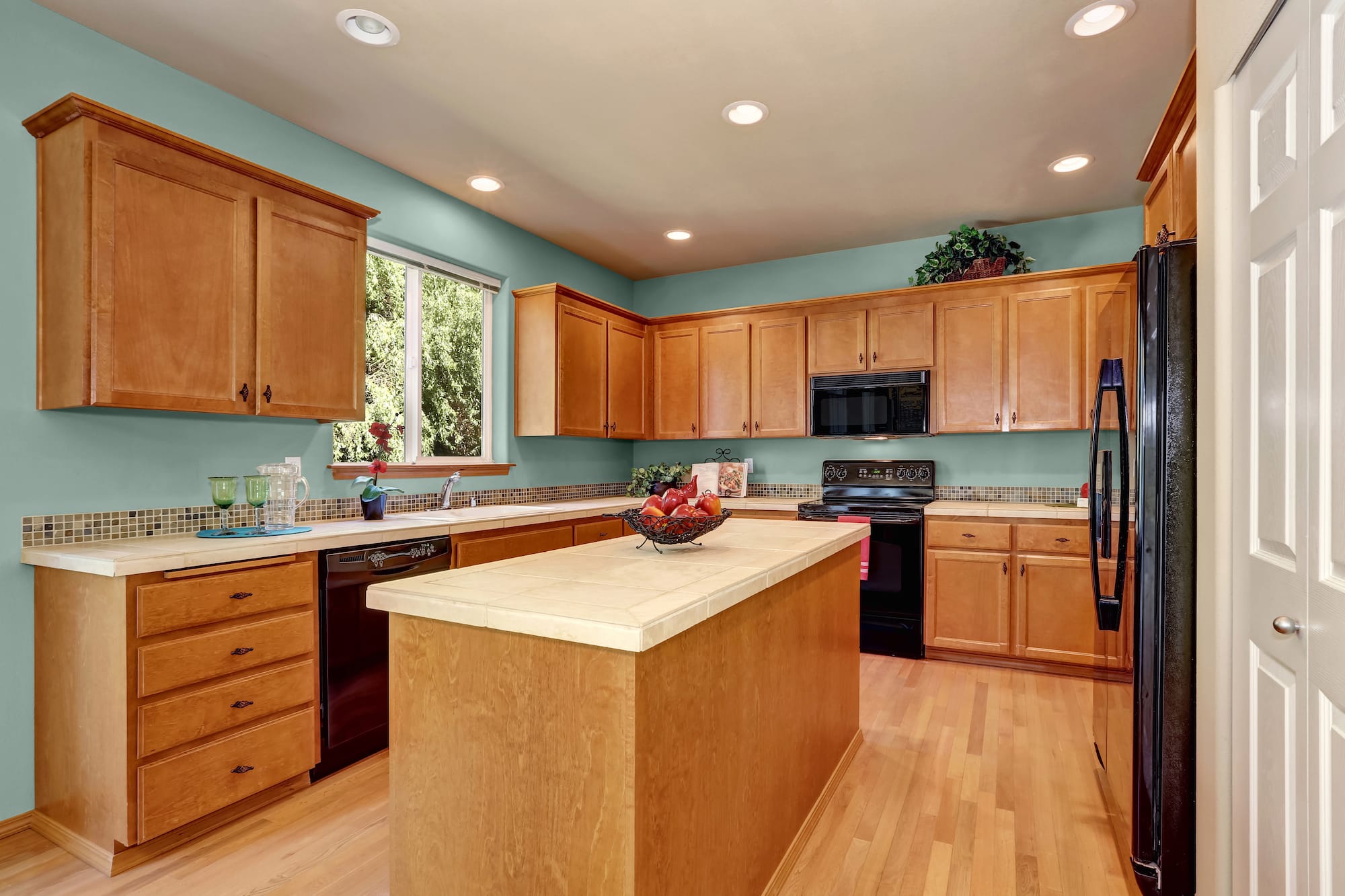 Lotus Leaf is a fresh succulent green-blue. This color quenches and mellows honey oak and gives a room organic, nature-inspired vibes.
Party Hat by Behr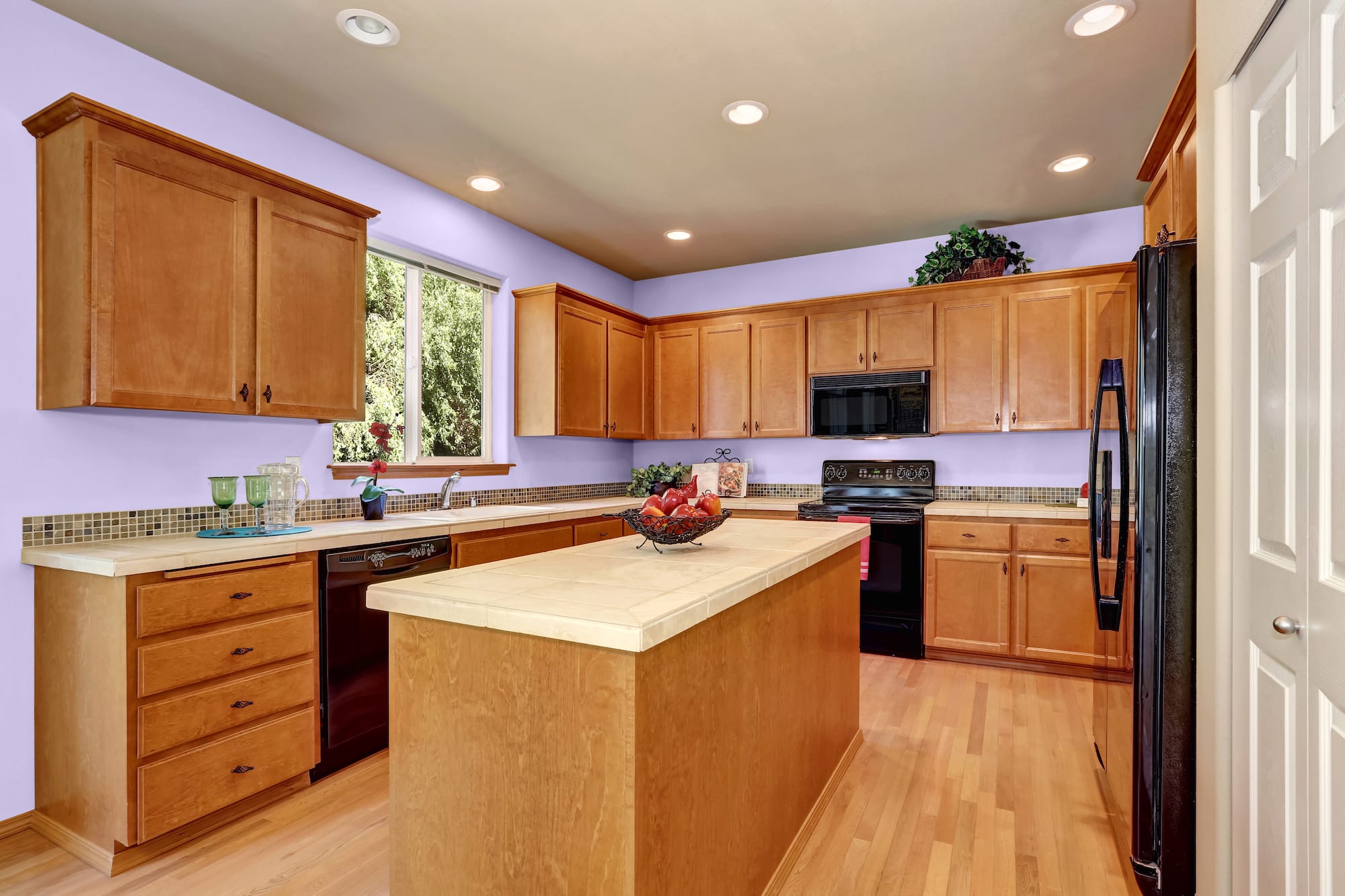 Party Hat is a medium-toned lavender paint color that makes for a gentle complement to honey oak woodwork. It's a good color for decor with a romantic feel, and for cottage and French cottage styles.
Just a Fairytale by Behr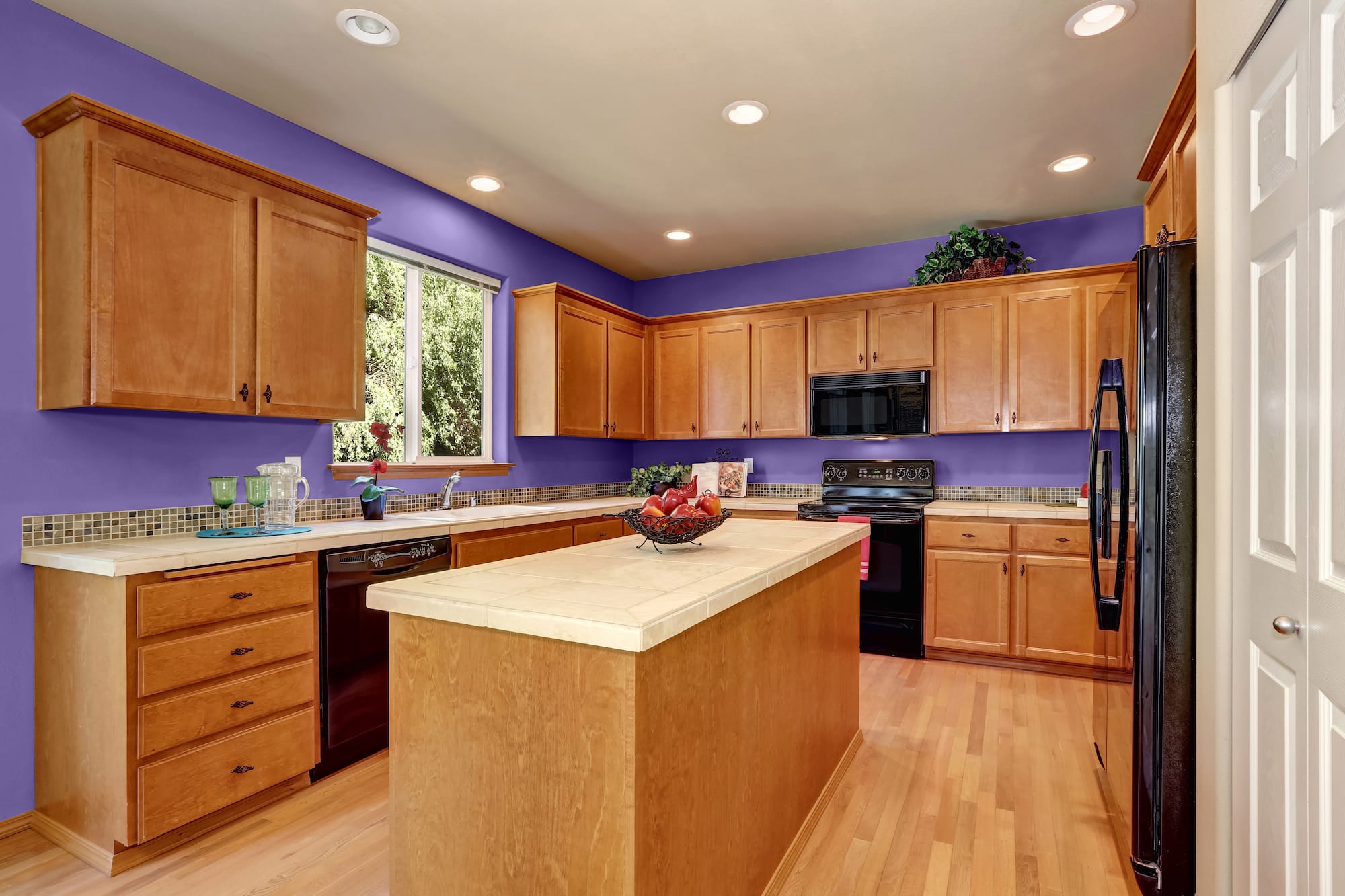 Just a Fairytale is a rich, cool purple that leans towards its blue side. It's a darker color that will set off the richness of honey oak the way that deep navy blues do, but it brings more of a bright pop of color to the table.
Coordinating with Honey Oak in Real Homes
Now that we've taken a look at some awesome color choices for honey oak, let's explore honey oak in real homes to get some inspiration!
This cheerful bathroom makes great use of perky blues and fresh whites to transform honey oak cabinets and trim.
This kitchen proves that you can use dark colors in small rooms successfully. The navy blue and honey oak balance each other handsomely.
This honey oak flooring is echoed in gold cabinet fixtures, while both black and white are used as coordinating colors in a perfectly elegant kitchen.
Blue-green and cream-white partner up with this honey oak flooring for a modern, nature-inspired style.
Would you ever guess that bubblegum pink is a fantastic coordinating color for honey oak?! It works because pink and yellow work, and we can treat honey oak as a yellow for palette choice purposes.
This modern kitchen uses gold metalwork to draw connections between the honey oak flooring and the navy blue cabinetry.
Final Thoughts
Honey oak comes on strong. It has golden tones that are really challenging to manage and coordinate with other colors. If you want to tame the look of honey oak while updating your home, your two go-to color families are the neutrals and the cool colors. Stay away from things that add yellow, like buttery creams, and go for more neutral creams and whites. Black is a very striking option that will look dramatic and sophisticated, but be careful to balance its intensity.
Purple is the natural complement to the golden tones in honey oak, so although it's less conventional for a kitchen color, it's a stunning option. Blues, especially navy blues, are another can't-fail choice. Greens can be good too, just make sure they have more blue content than yellow.
Keeping these tips in mind, and taking a look at the winning colors we covered in this article, you'll be well on your way to taming that wild honey oak in your home. Who knows? After you bring in some fresh coordinating colors, you might even decide to keep that honey oak around!