Decorated Life is reader-supported. When you buy through links on our site, we may earn an affiliate commission. Learn More
15 of the Best Shutter Colors for a White House
When you're trying to give your home curb appeal, you want to use every design feature at your disposal. Window shutters are an excellent way to add a source of color to improve your look.
Check out 15 of the best shutter colors for a white house. You can pick bold choices like black, blue, green, or red. Or you could stick with lighter shades like white, gray, or yellow. A white house navy shutter is one of the most popular shutter colors for a white house. But there are plenty of options to consider.
Bohemian Black by Sherwin Williams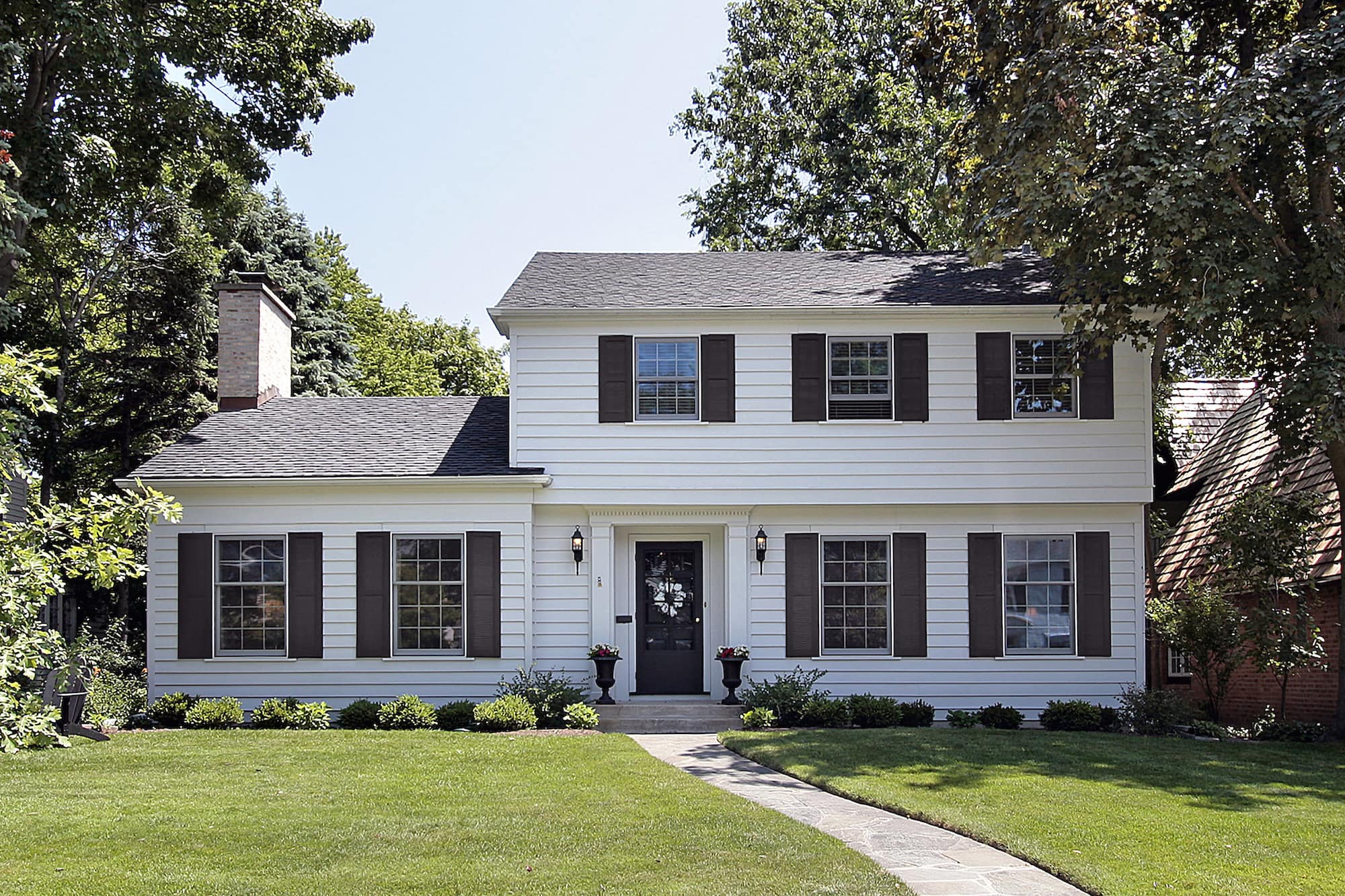 For a no-nonsense color combination of shutters to go with a white house, many people prefer the timeless contrast of pairing a white exterior with black shutters.
Bohemian Black is a classic, deep, dark saturated shade of black with the faintest hints of purple pigment that softens the rich pigments for a softer, soothing black.
Loyal Blue by Sherwin Williams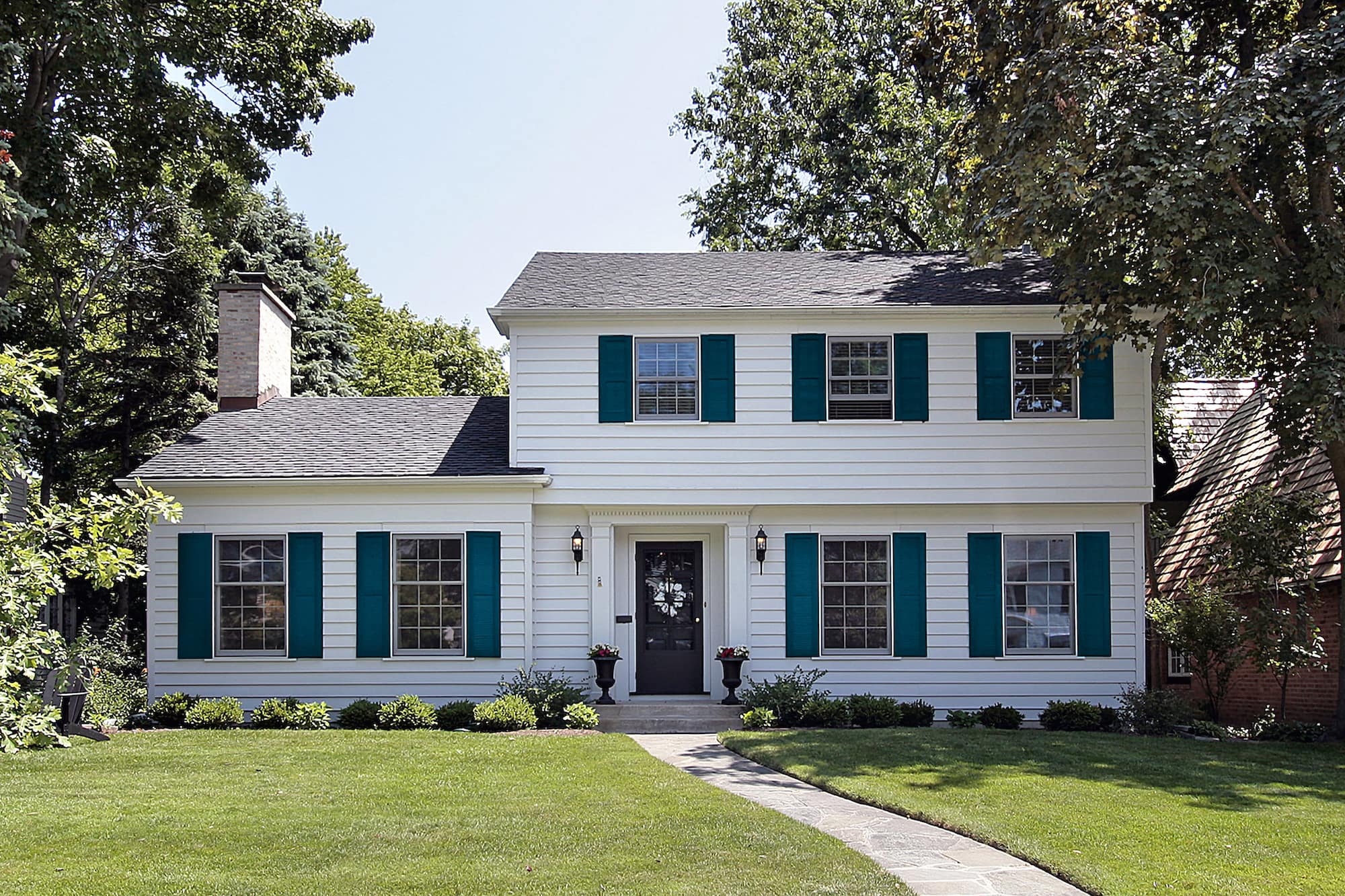 Loyal Blue is a rich, regal shade of pigmented blue that can add a dense, dark look to shutters for a contrast of color against a white house.
This royal shade of saturated deep blue has heavy black pigmentation that adds intensity for a more vibrant look when matched with the lighter neutrality of white.
Derbyshire by Sherwin Williams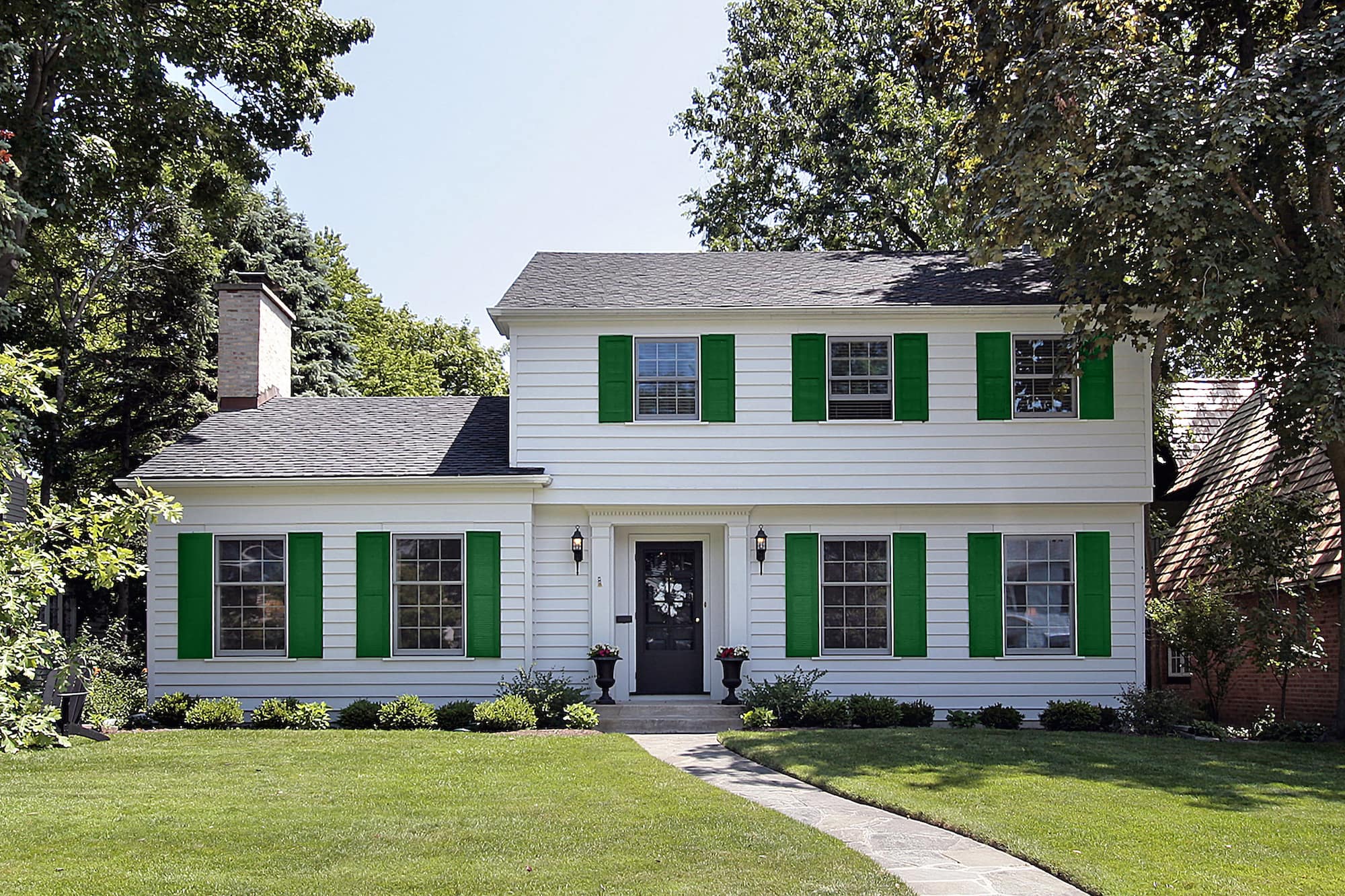 Green is another popular shutter color for white houses. Derbyshire is a dense, heavily saturated shade of green with dark pigmentation that gives it an earthy, dank forest feel.
When you use this shade against the brightness of a white house, you create a rustic, earthy, yet modern nuance that is sure to add instant curb appeal. This color is fantastic for green shutters on a white house that wants to become one with its natural environment rather than standing out in contrast.
Show Stopper by Sherwin Williams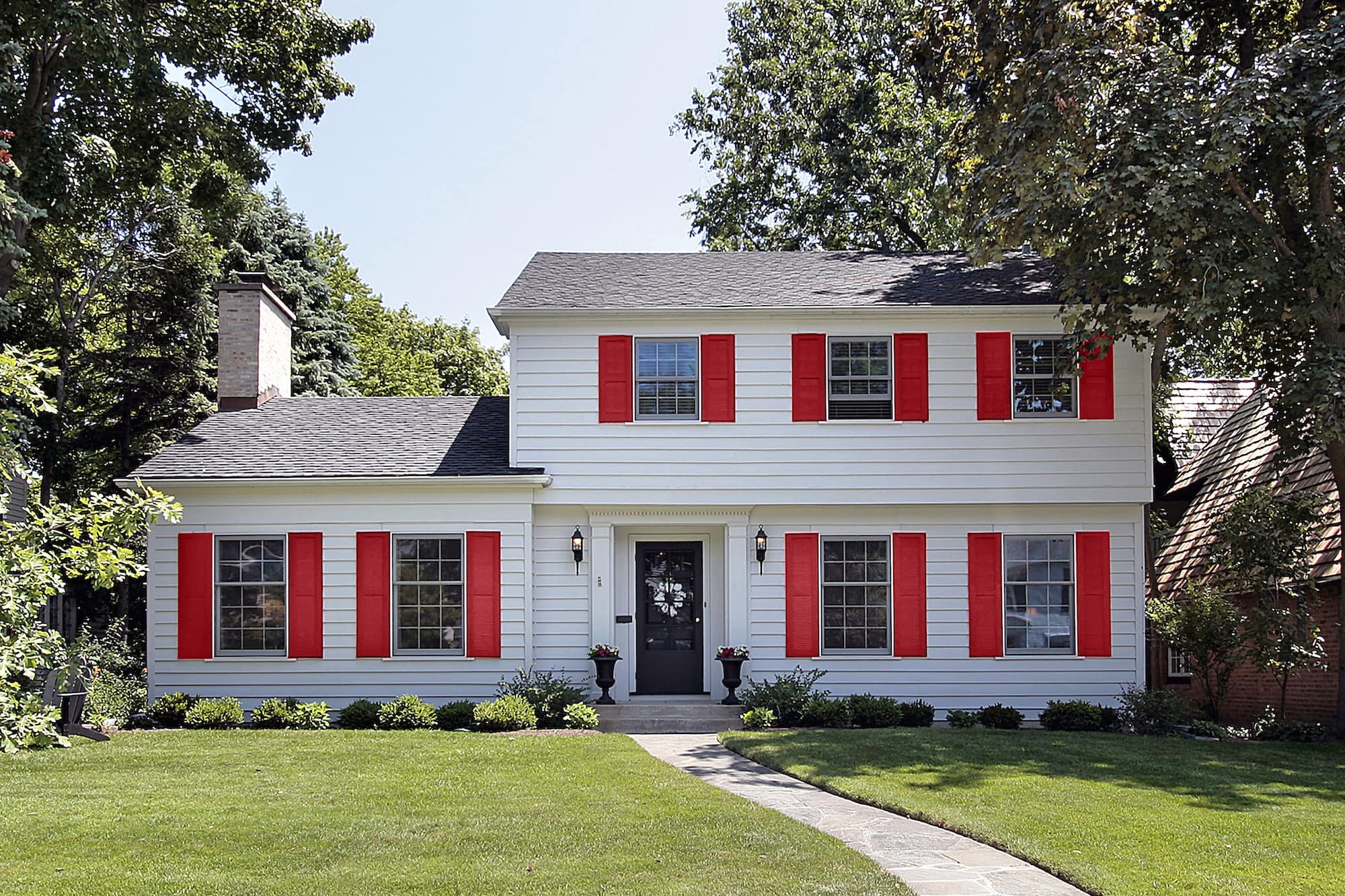 You also often see white houses with a color palette of bold, bright reds. Showstopper can be the perfect shade of red to go for a shutter color.
Dark black pigments tone down the vibrancy of the red for a more subtle, earthy look rather than a hot and spicy bold fire engine red.
Brevity Brown by Sherwin Williams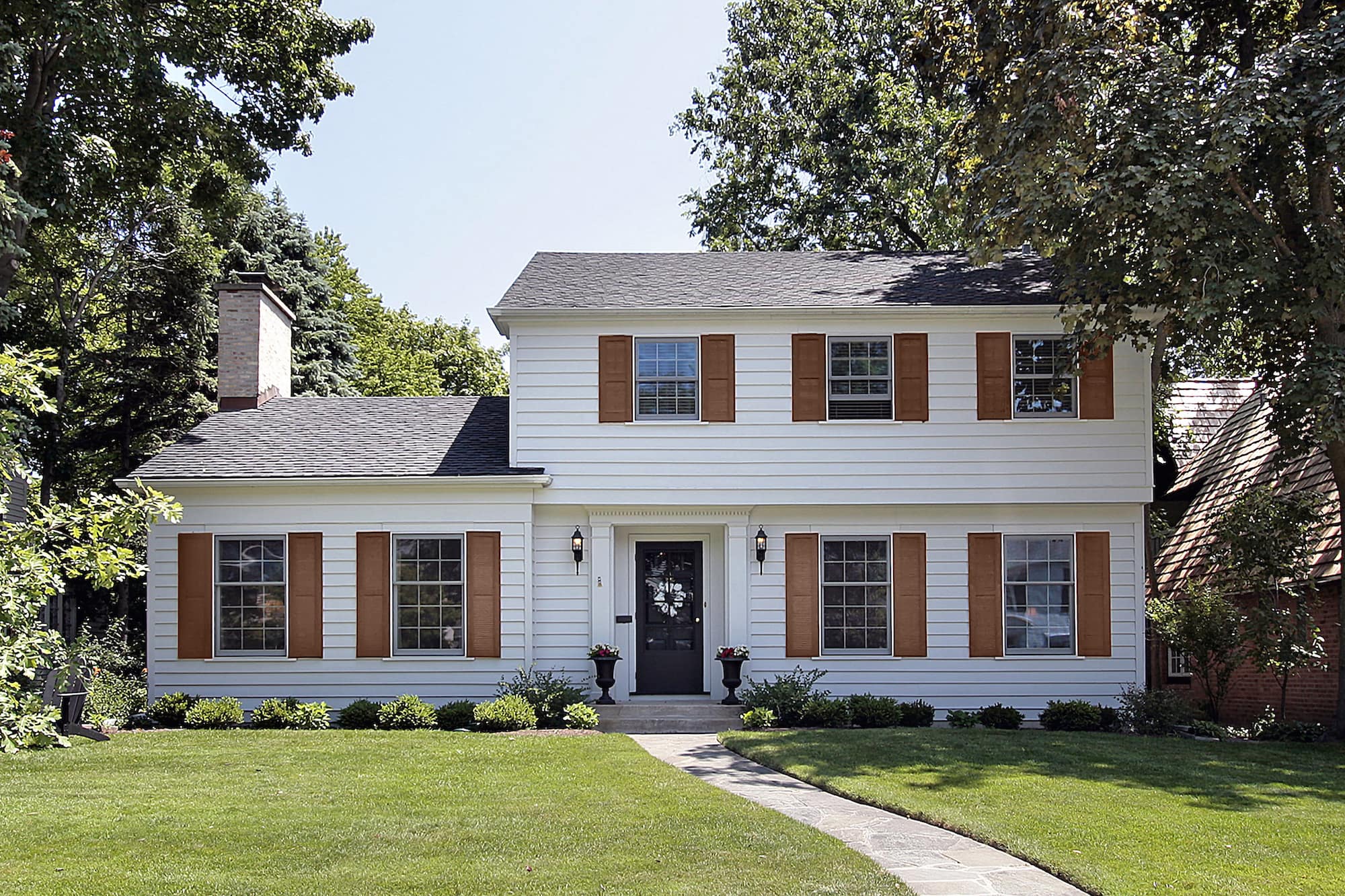 If you prefer to keep things toned down and more natural and earthy, you can choose a paint color for your shutters like brown.
Brevity Brown is a rustic, nature-inspired shade of balanced pure brown that can give your shutters colored pigmentation without being too far on the rich red side that some browns tend to go.
Nautilus by Sherwin Williams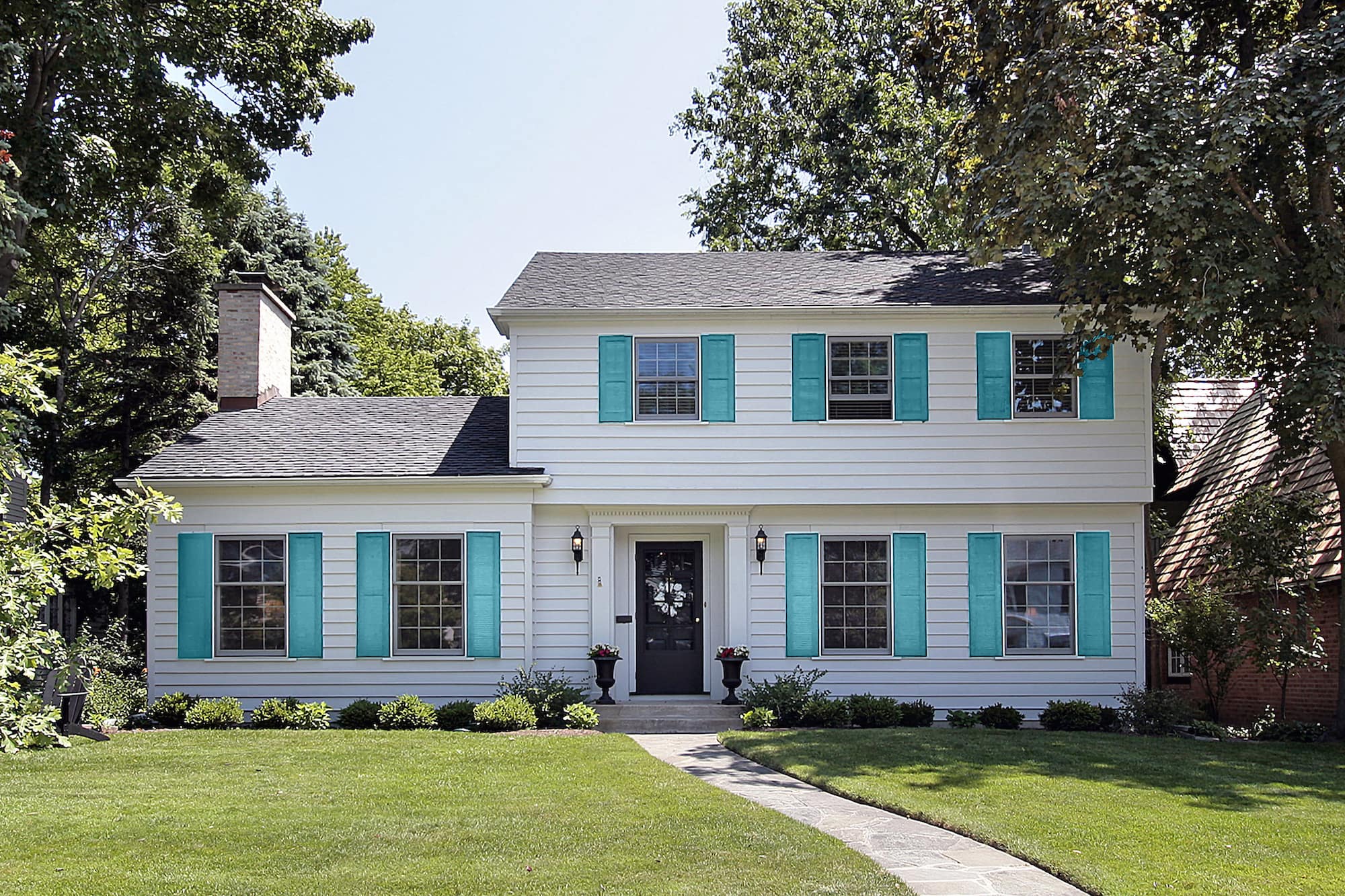 Shades of blue are always a popular color for exterior use, whether it's a deep dark shade or a light cool classic color.
Nautilus is a duller, mid-toned shade of blue, reminiscent of a tropical storm brewing out in the crystal waters somewhere warm and sunny. Using this color for shutters against a white house gives you personality and pigmentation in a low-intensity, soothing shade of blue.
Providence Blue by Benjamin Moore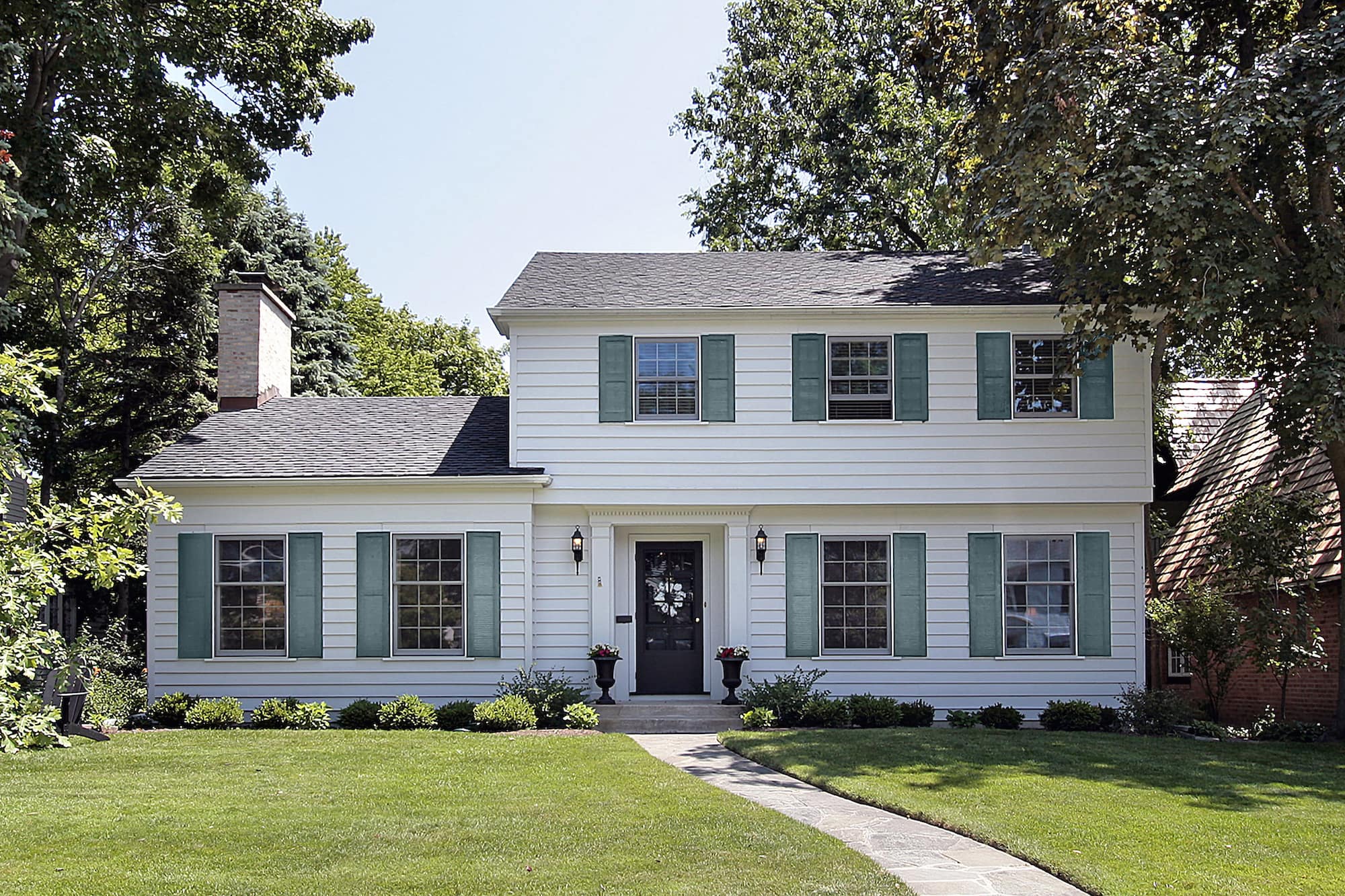 Give your white house colored shutters like Providence Blue for a design that exudes a subtle, classic curb appeal.
This shade of slate blue has cool tones with sexy dark gray pigments that darken the brilliant blue for an earthy vibrancy that makes your exterior come to life.
Cobblestone Path by Benjamin Moore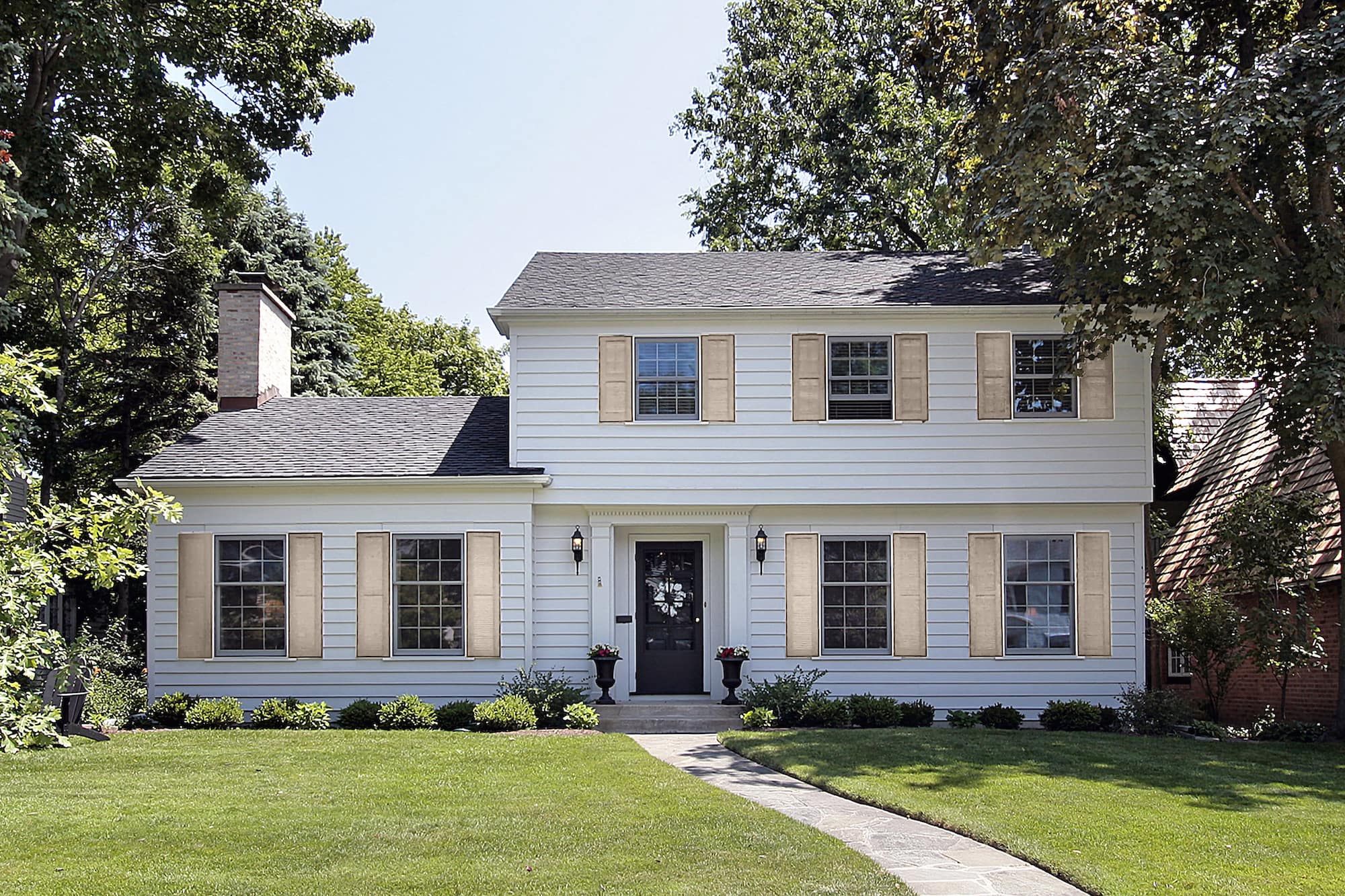 You can achieve a simple yet effective home exterior design by pairing your white home with shutters painted a neutral shade of gray like Cobblestone Path.
This mid-toned tinted gray, named for centuries-old cobblestone streets, has delicate blue and black pigments that add dramatic shadows, chilled by the white exterior.
Deep Space by Benjamin Moore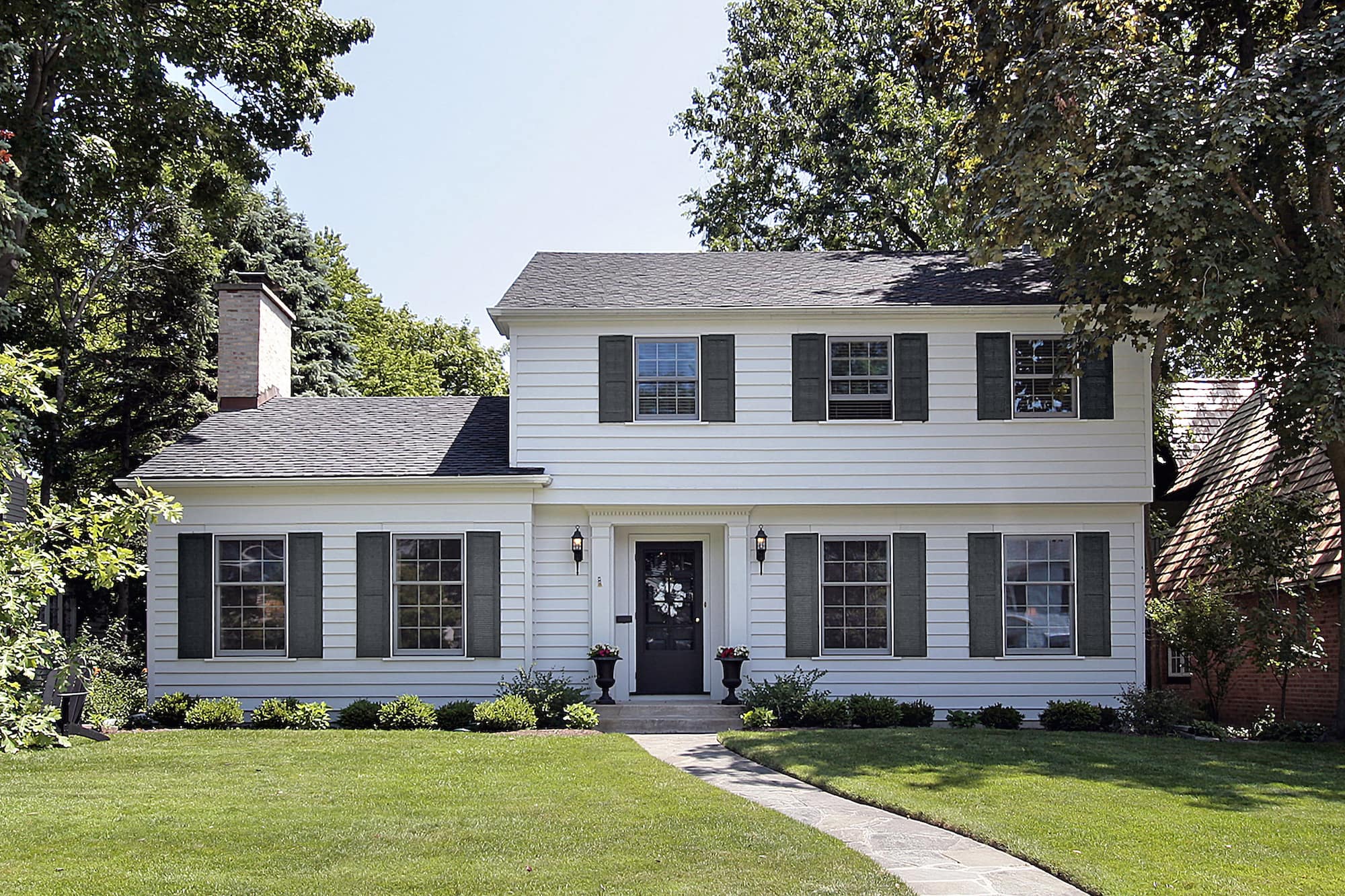 Deep and dark like the name suggests, Deep Space is an incredibly rich shade of bold saturated black with the faintest hints of blue that lightens up the dark dank drama.
While a black and white color scheme creates a classic contrasting combination, going with a white exterior and a blended black-blue like Deep Space gives you a softer aesthetic.
Smoked Oyster by Benjamin Moore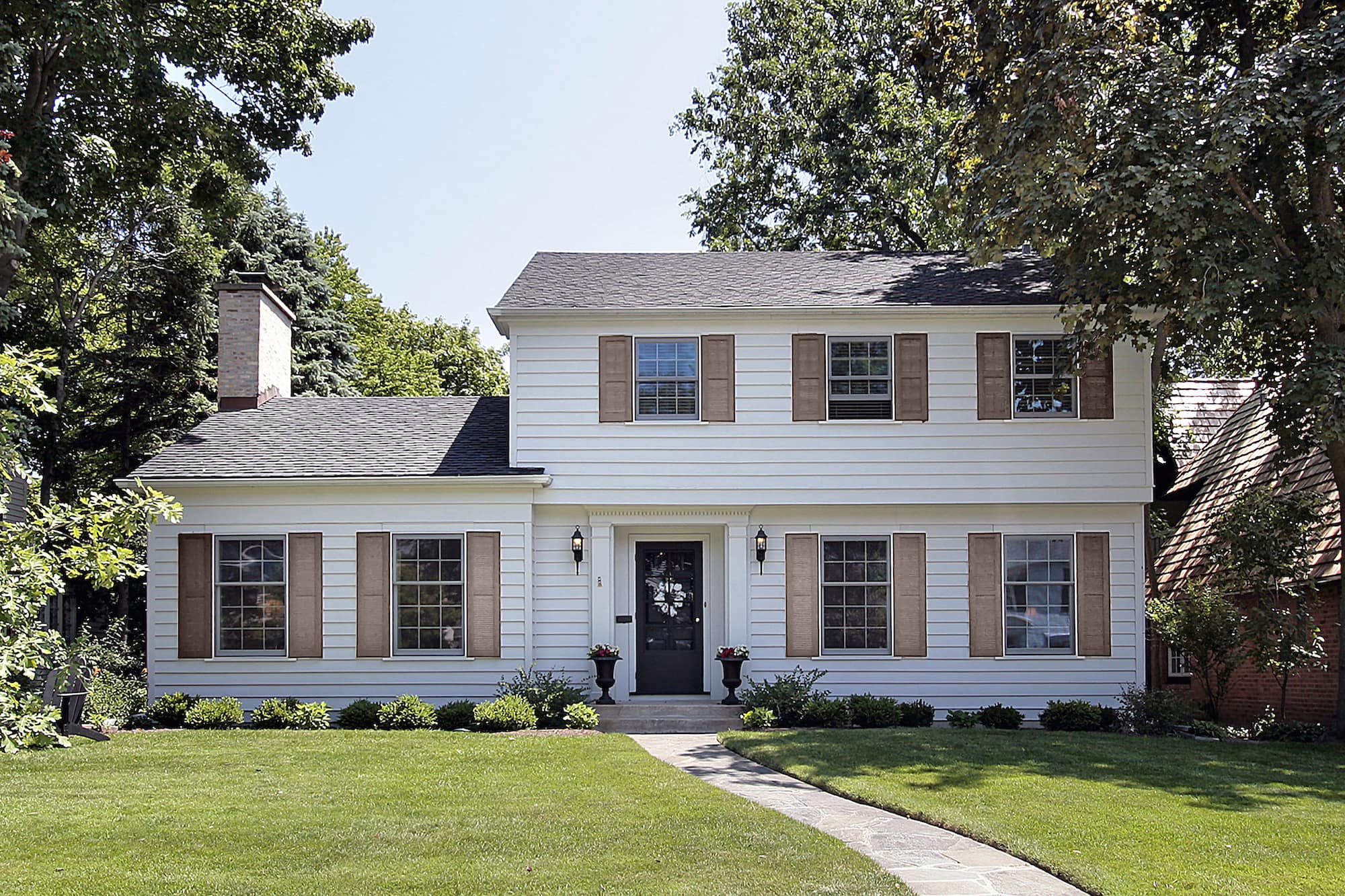 Smoked Oyster is a smooth, stylish shade of darker warm-toned taupe that gives your shutters serious appeal against a white exterior.
This color is a bountiful blend of brown with gray and violet undernotes that turns this taupe into a versatile shade that can work on all architectural structures.
Sharkskin by Benjamin Moore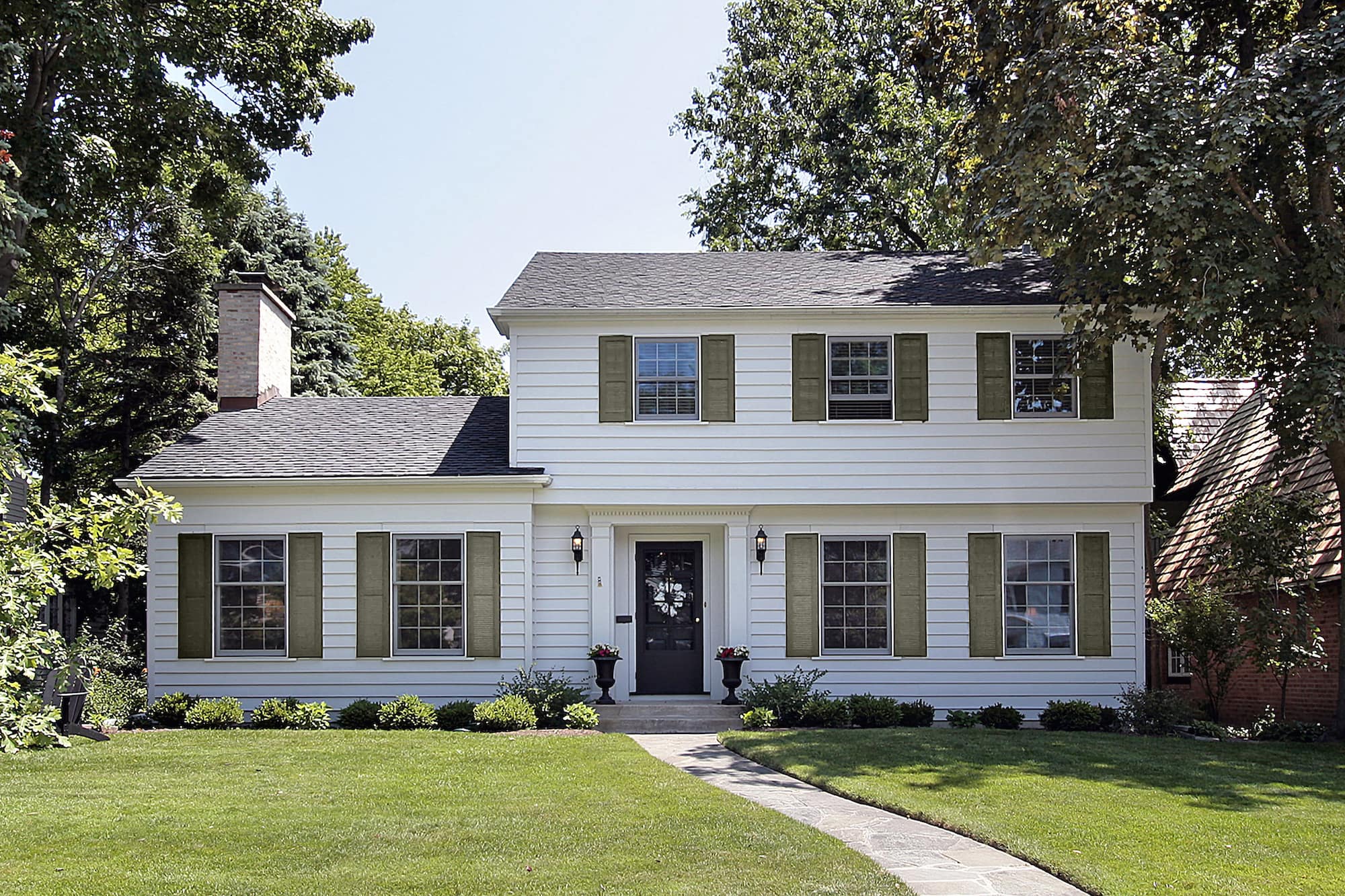 For a dark, earthy versatile palette that uses a green that can almost appear gray, you're sure to love the beautiful aesthetic of Sharkskin.
This deep saturated shade of green shares similar tones to a heavy charcoal gray. The neutral earthiness of this green-gray offers a versatility for any white exterior structure.
Poppy Seed by Behr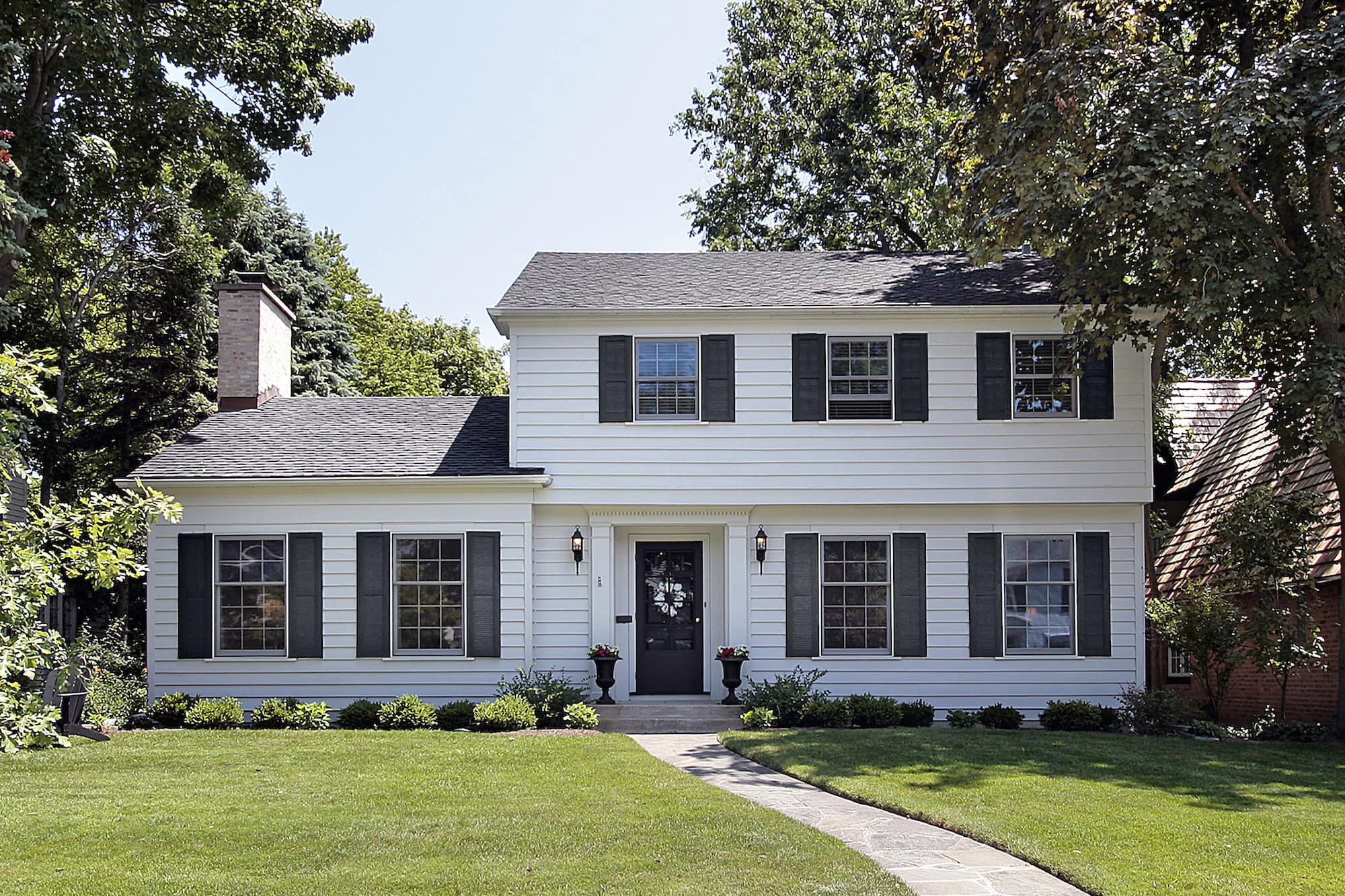 Poppy Seed is a brilliant subtle shade of black that's a few shades shy of being a pure pitch black with all absence of color.
This softer black has subtle lavender and blue notes, brightened up by the pure brightness of a white exterior house structure.
Cherry Cola by Behr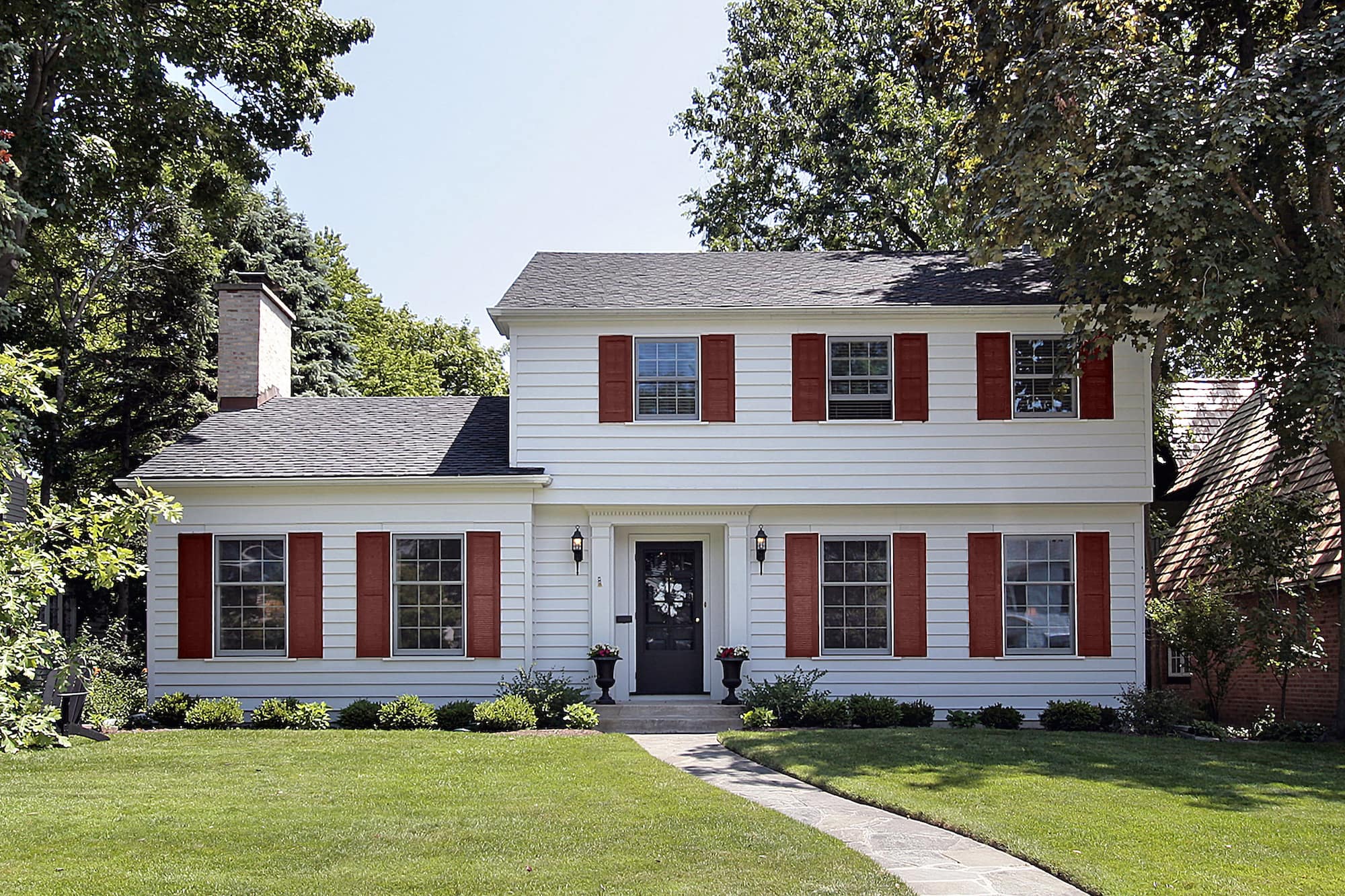 Cherry Cola can be an incredibly colorful choice for white house red shutters to add some character without being too bold.
This dull shade of rustic red has medium brown undernotes that tone down the color for a milder, earthier nuance balanced by red.
Railings by Farrow & Ball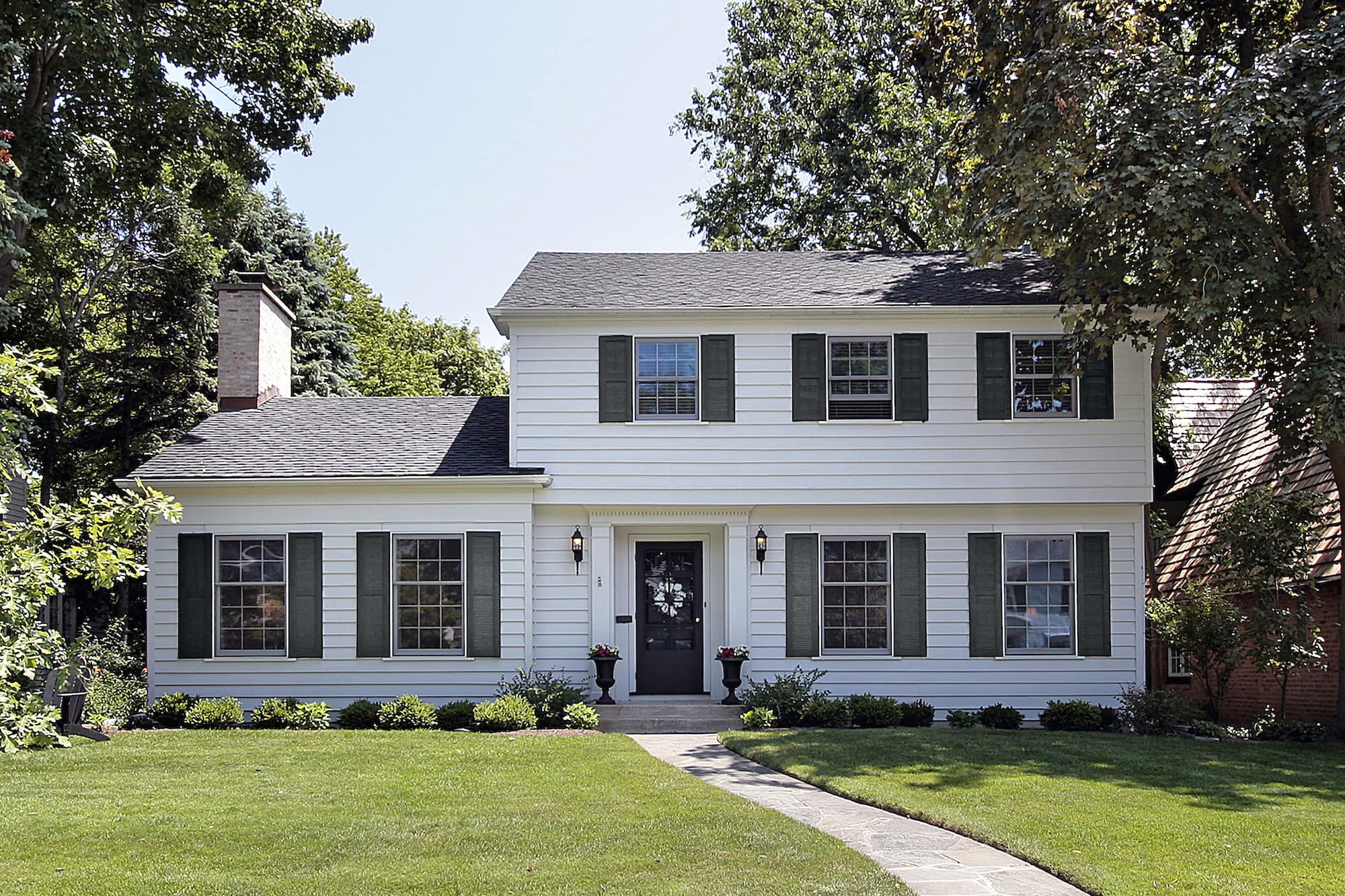 Railings is a sexy shade of bold blue darkened with the drama of black pigments. As a full gloss, you can get a commanding nuance. But for a more relaxed look, choose an eggshell finish.
Named for the fancy ironwork for which it got its name, Railings offers a dark hue of softness that can bring your shutters to life against a white structure.
Imperial Purple by Farrow & Ball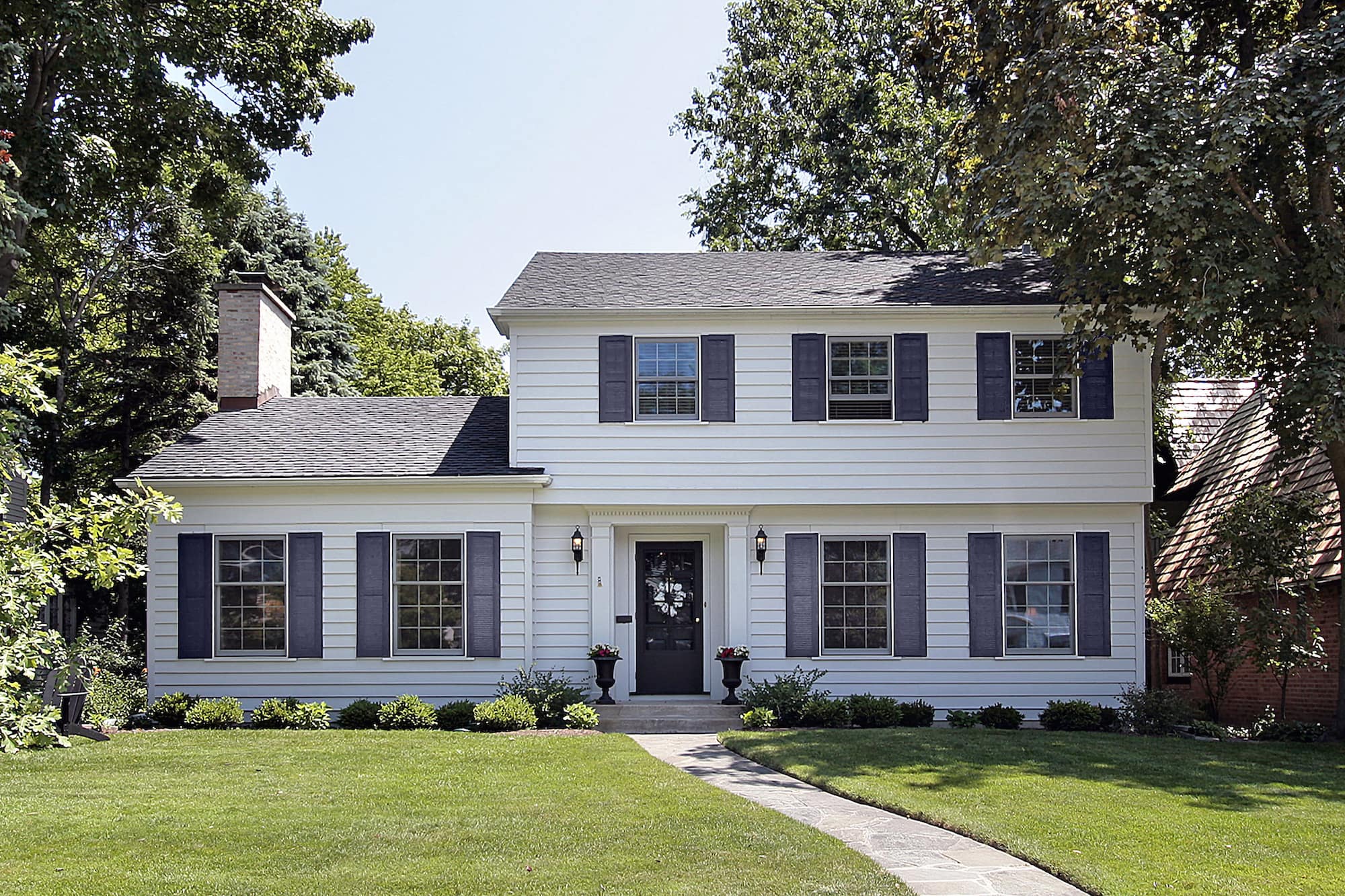 If you're intrigued by the idea of choosing a shade of purple for your shutters to go with a white house, but you're trying to avoid the more feminine shades, try a dark choice like Imperial.
This shade is a rich, luxurious shade of deep purple that can almost appear black in some light. This modern color is an excellent way to give shutters personality to spice up the curb appeal for a blank white house.
Final Words
When you have a white house, you have the perfect opportunity to add bold splashes of color in strategic areas like garage doors, front doors, and your shutters. We've given you 15 choices for the best shutter colors for a white house. 
Before you make a choice on what color shutters you want to use to increase your home's curb appeal, think about the newest – and easiest – way to test different paint colors. Samplize gives you the opportunity to test paint sample colors by sticking them on your surface rather than the mess of painting sample strips for side-by-side viewing.