Decorated Life is reader-supported. When you buy through links on our site, we may earn an affiliate commission. Learn More
What Color Garage Door Goes With a White House?
White is one of the most popular color choices for home exteriors. It's a timeless neutral that always goes with anything you want to pair with it.
Adding small touches of strategically placed color, such as these 15 colors for a garage door, is a fantastic and simple way to give your exterior curb appeal that stands out and gets noticed. Another option is to repeat the color used for other accent pieces like the shutters and front door.
Rock Candy by Sherwin Williams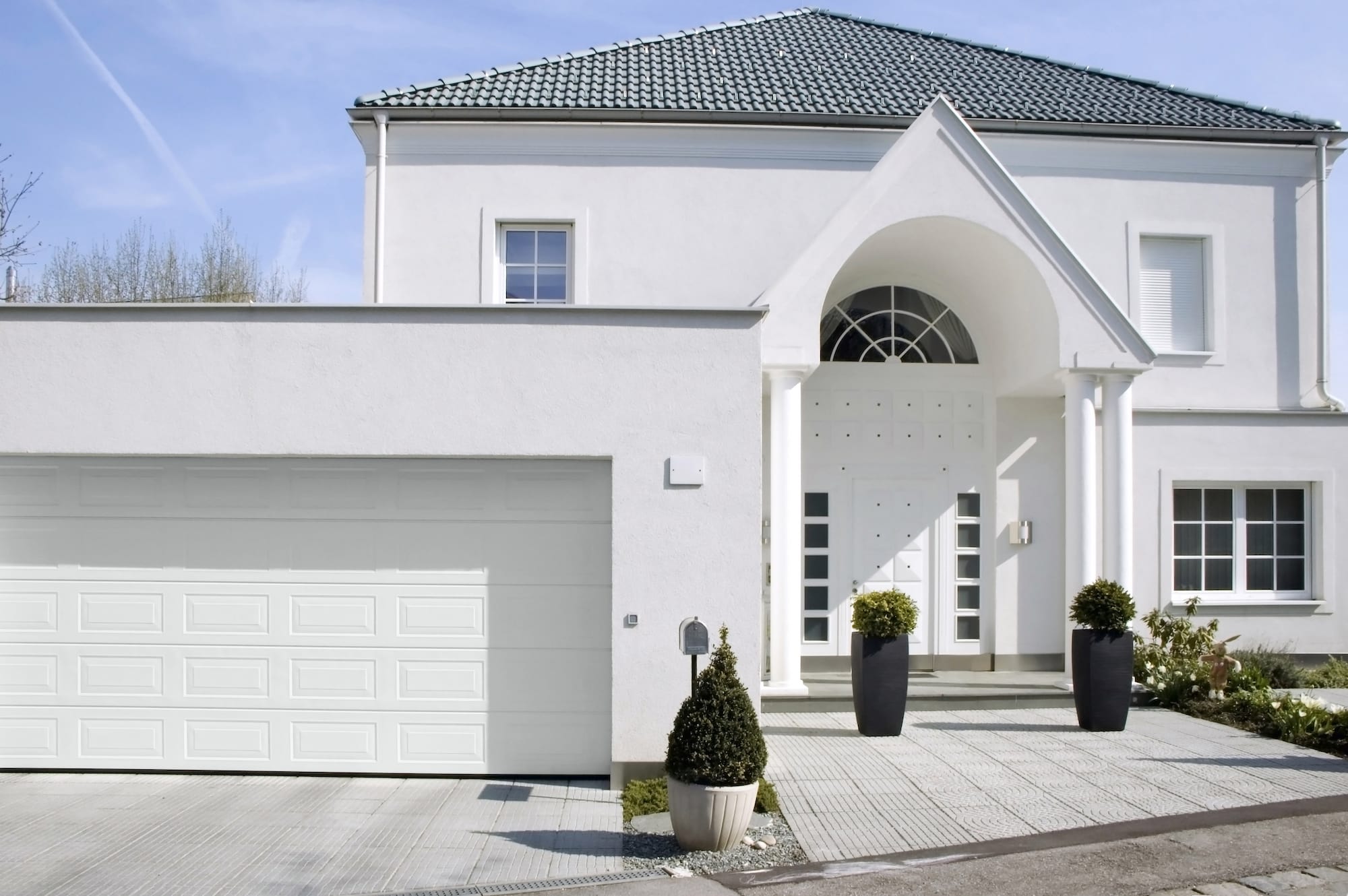 If you prefer to keep things bright and blank, you're probably thinking more of a non-color for your garage door, like a soft gray or white for a classic, monochromatic look. When working with a white house white garage door, it helps to choose a shade for the garage that contrasts the shade of white.
If you're using a vibrant, blank white for the house, choose a white for the garage door that's a darker tinted shade like Rock Candy. This color has the faintest gray pigments that add bass to the body.
Wall Street by Sherwin Williams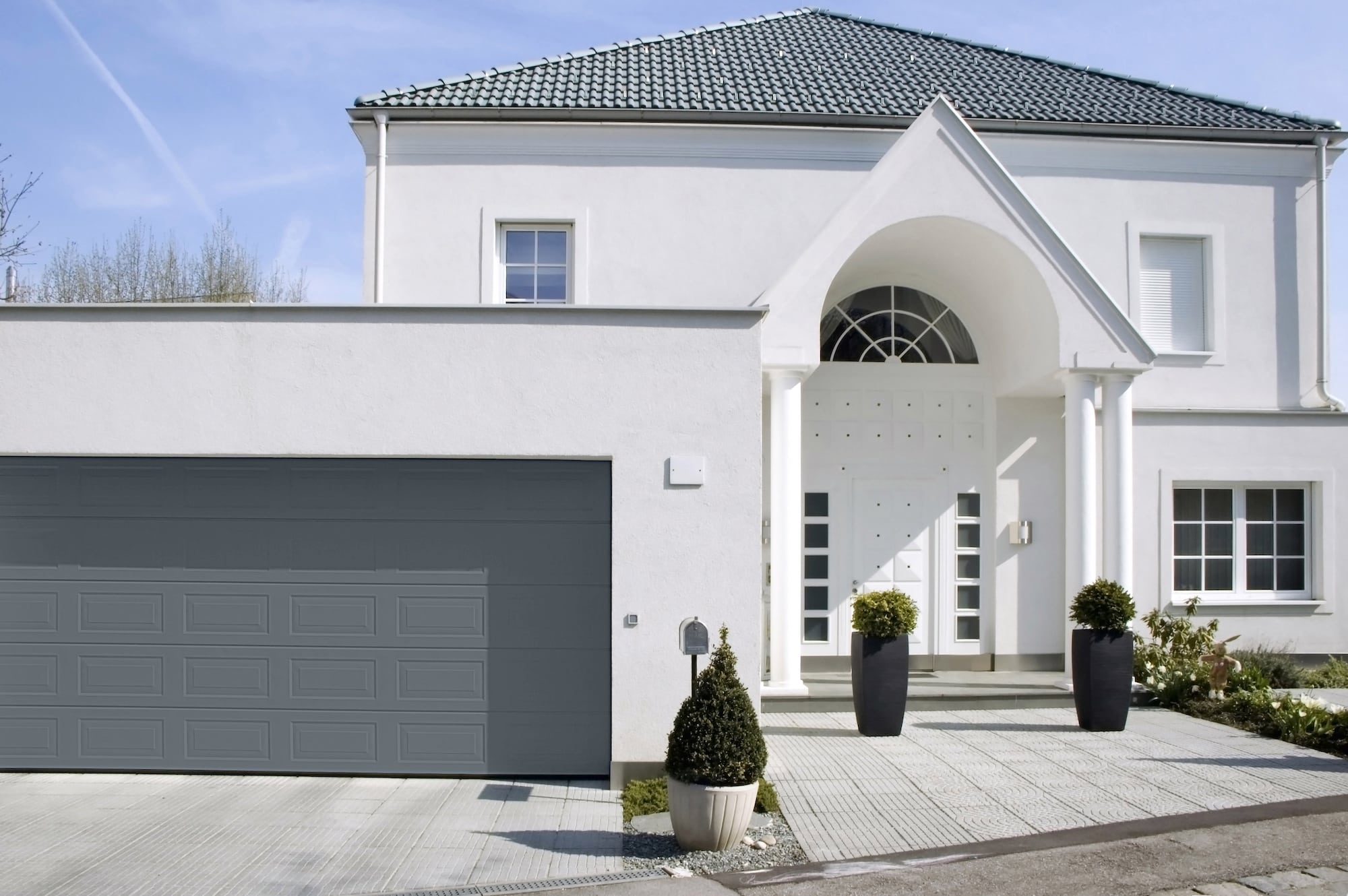 Thinking of something darker for your garage door than a slightly differing white? Work with a contrasting color palette of light and dark by picking a theme of white house gray garage door.
Wall Street is a stunning shade of gray that can look fantastic as a garage door color. This gray has elegant purple and blue pigments that soften the darkness to avoid going too far black. While the cool, smoky nuances add shadows for a darker shade of gray.
Cardboard by Sherwin Williams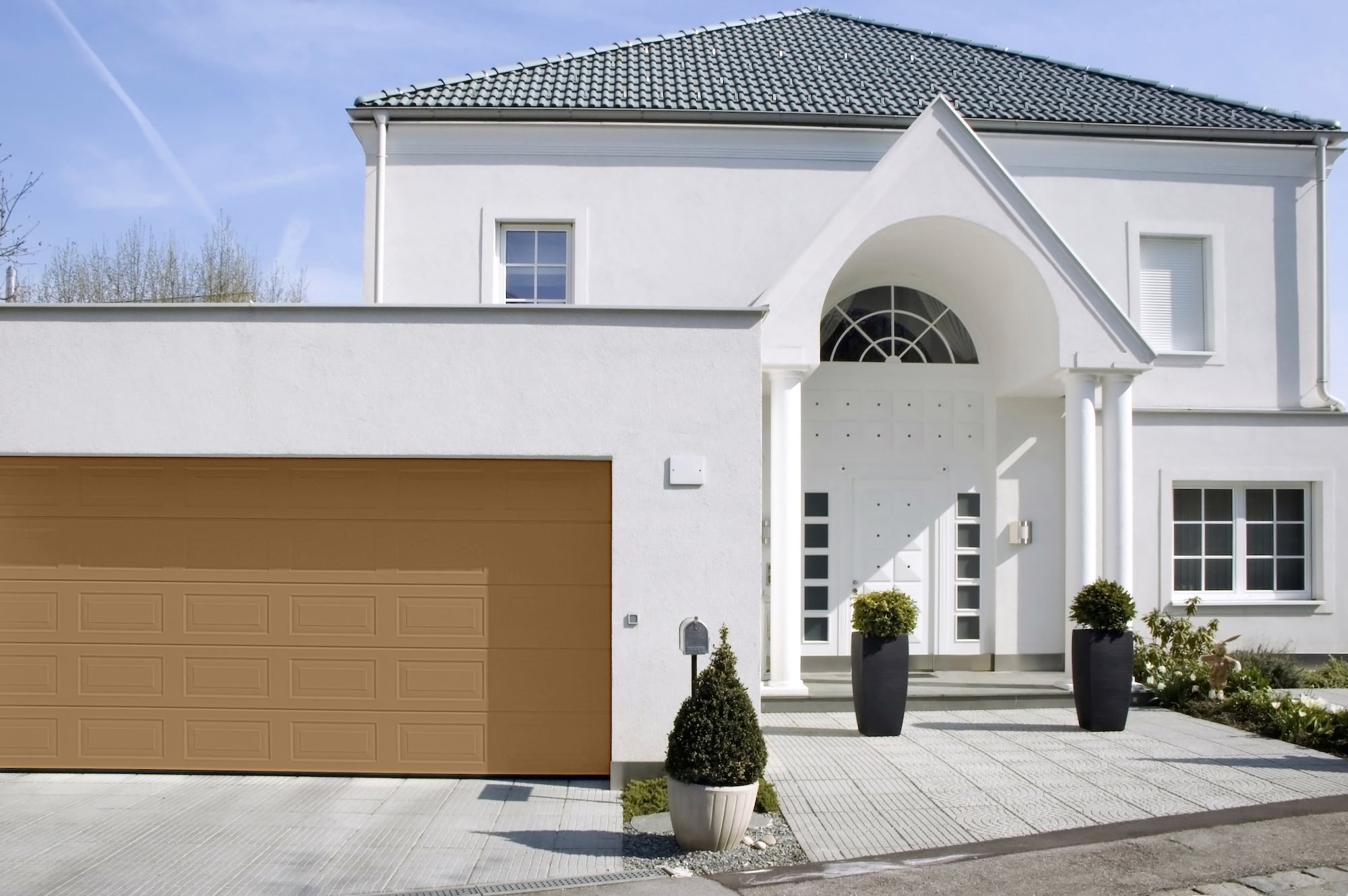 Some people prefer to go with an earthy color palette, such as choosing a garage door finished in a protective coating, like using a wood stain.
But you can also paint your garage door a rustic, woodsy shade of brown to mimic a natural look of white house wood garage door. Choose a rich, medium shade of brown like Cardboard for a soothing white house brown garage door combination. This color has orange and red pigments that make the shadow stand out against the vast expanse of non-color.
Jay Blue by Sherwin Williams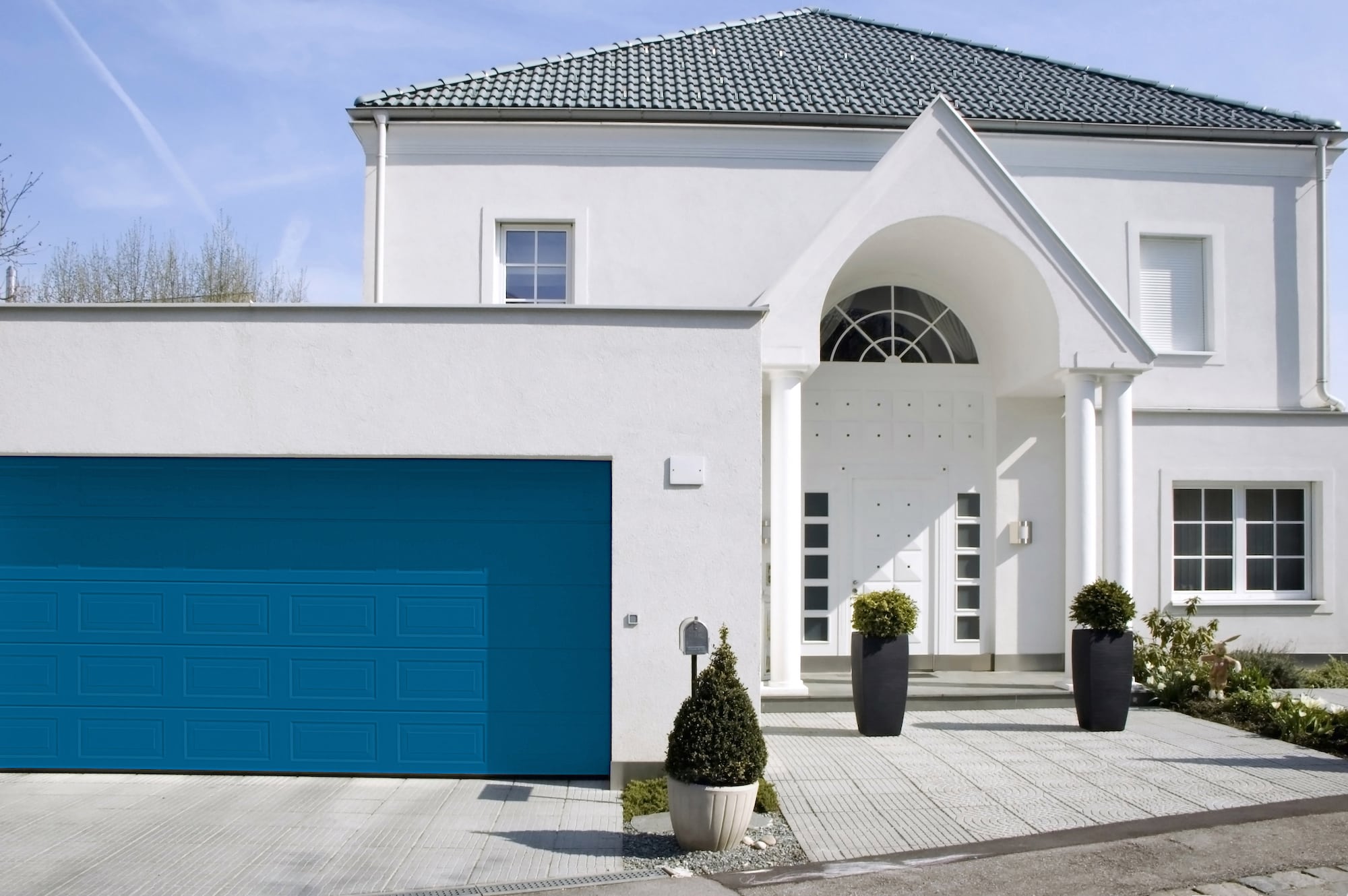 For a bold, earth-inspired color palette, think outside your safety net of neutrals and choose a shade of blue for the garage door for a white house. 
SW Jay Blue is a richly pigmented bold blue that adds a major source of color for personality against a major expanse of stark, blank white.
Grasshopper by Sherwin Williams
Another path to take for a garage door color for a white house is to think along the lines of green. SW Grasshopper is a darker shade of vibrant green that can go fantastic with a white house.
Despite the dark tinting, this green has a bright, bold base that embodies the soul happiness many of us experience in spring when Mother Nature springs back to life, erupting in glorious colors.
Lantern Light by Sherwin Williams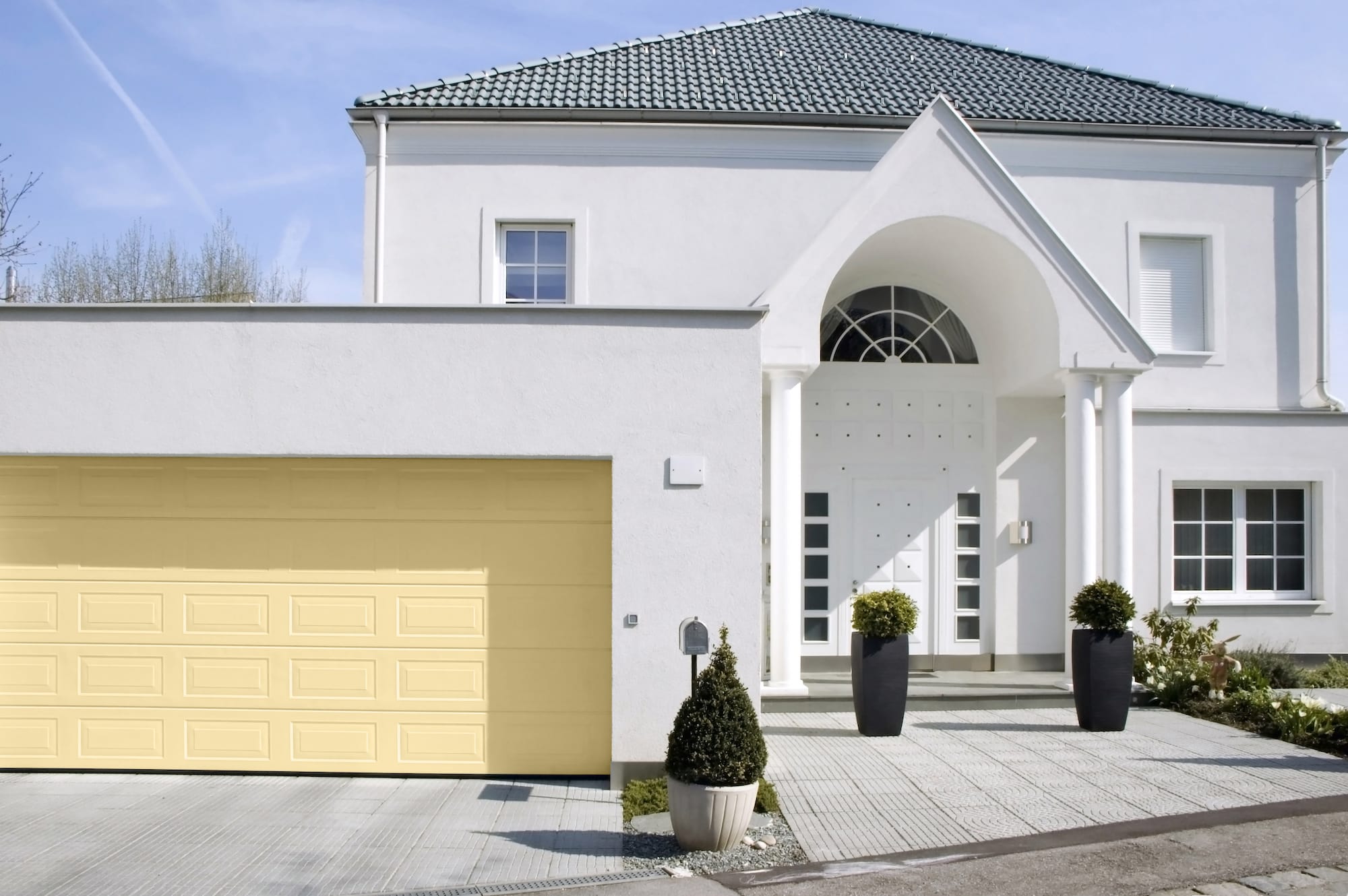 Some people prefer a more subtle shade of paint color that inspires happiness without being in your face bold and dominant.
Choosing a color like yellow – we love Lantern Light – gives you all the best traits of each world. You get a pigmented, bright color like yellow. But it's earthy, toned-down, and subtle from delicate brown pigments that make this yellow look slightly like a gold-tinted beige.
Paper Doll by Benjamin Moore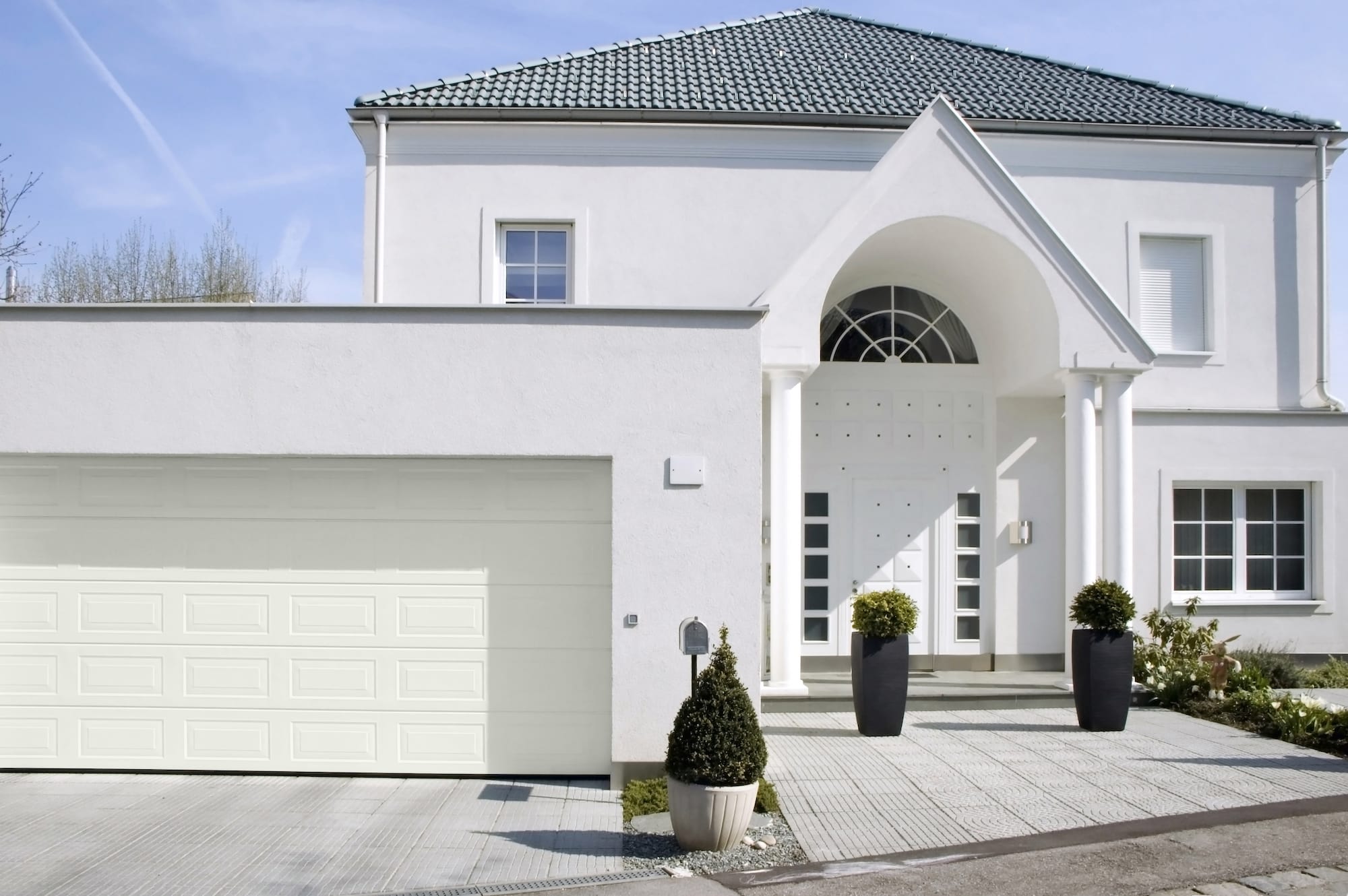 Paper Doll is a brilliant, blank shade that you can use for a sharp contrast of white on white. The high reflectivity boosts curb appeal while keeping your exterior light and bright.
This gray to yellow-tinted white can play fantastic against cool-toned white with blue or lavender tints. But avoid matching this creamy-white with other yellow-based whites, as it could become a blur of similarity.
Carolina Gull by Benjamin Moore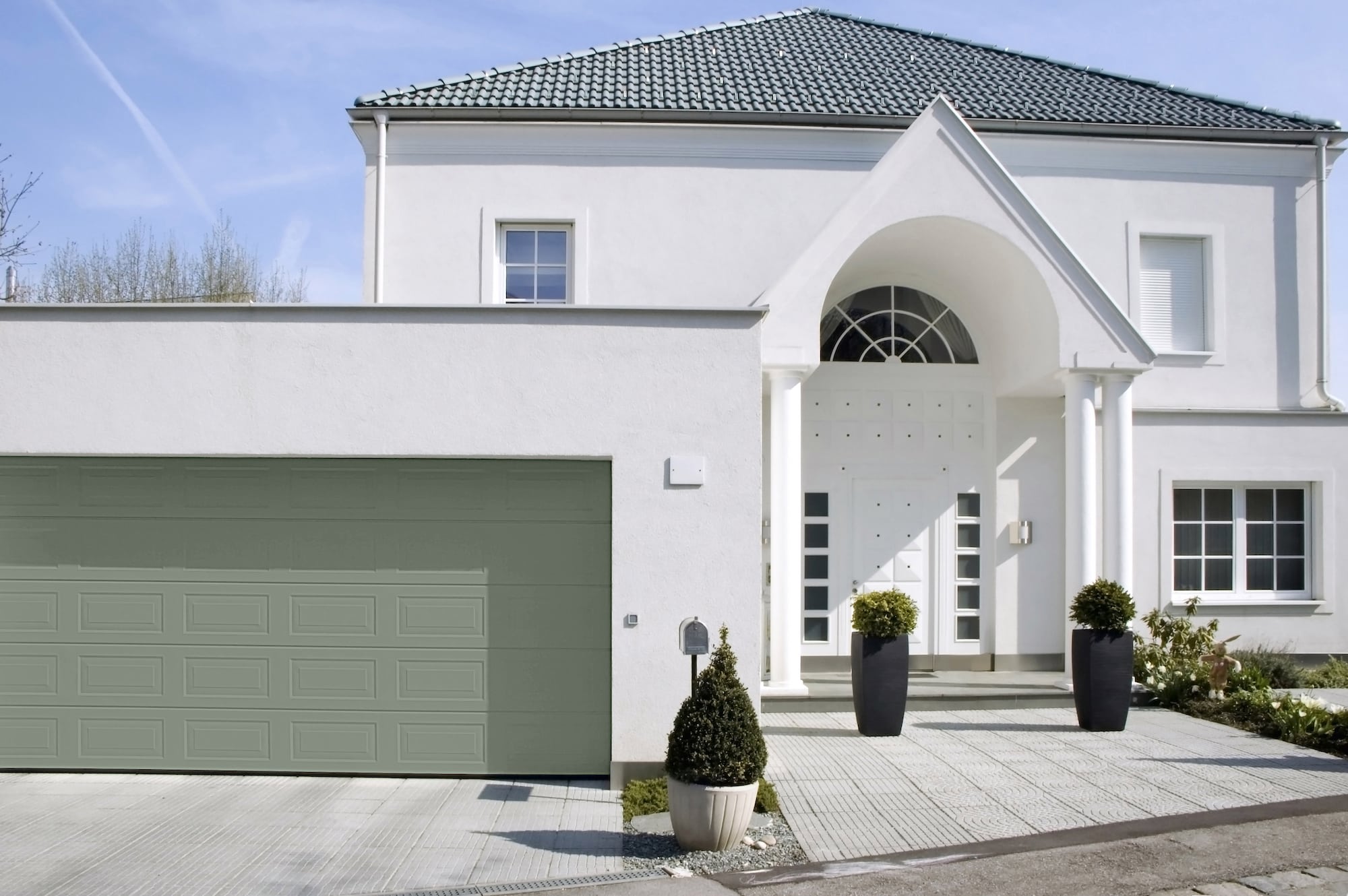 Carolina Gull is a brilliant, subtle shade of dark gray with massive brown inspiration that gives this color a unique nuance.
You may even be able to influence some notes of green for this color if you use the right accents nearby. This color can absorb details of what's around it, making it an excellent shade for homes surrounded by a lot of nature.
Gray Timber Wolf by Benjamin Moore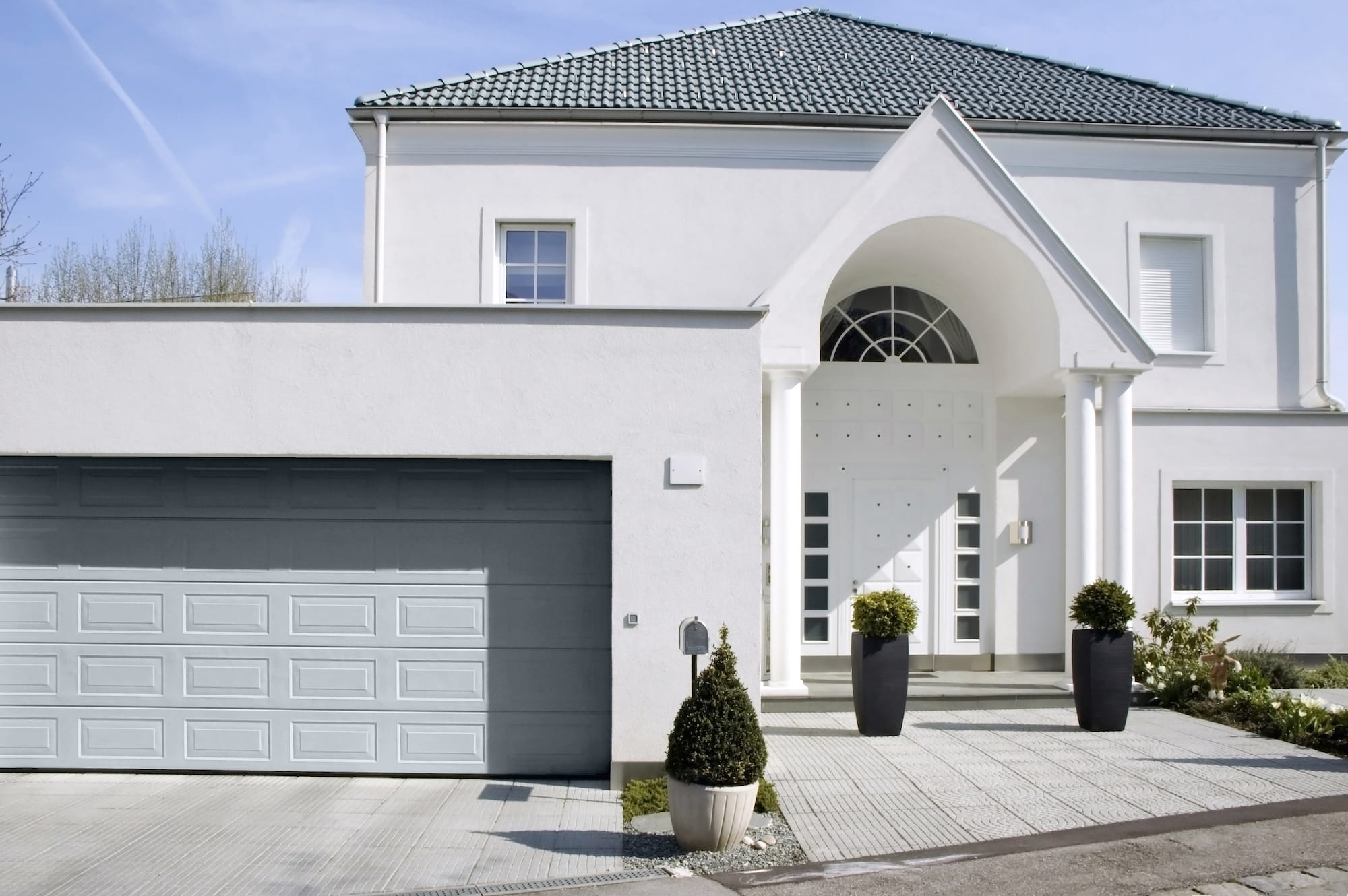 Gray Timber Wolf is a perfect color to use when you want slight pigmenting that gives your garage a touch of darkness without being dramatic and dense.
This refreshing shade of cool gray is a lighter color, with subtle lavender and blue pigmentation that decreases the gray's brightness for a more stormy lightness, like the sun breaking through heavy storm clouds to light your way.
Fancy Pants by Benjamin Moore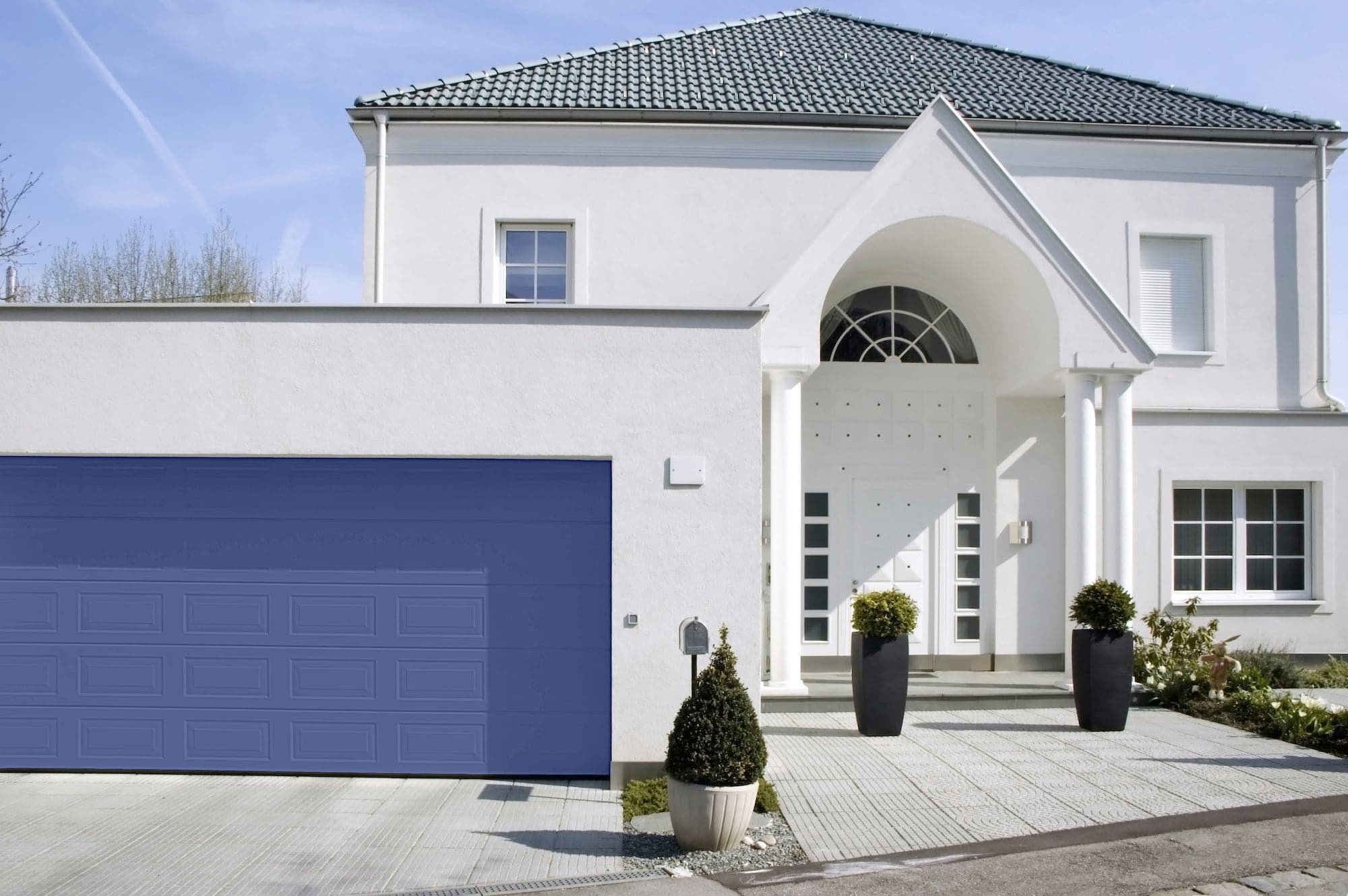 Fancy Pants is a bold, dense blue that can add a contrast of darkness to tone down a large expanse of bright white.
Dark black pigments add a dark depth to this navy blue that, when put against a white, gets lightened to an elegant dusty cornflower blue for a dramatic curb appeal.
Iced Mauve by Benjamin Moore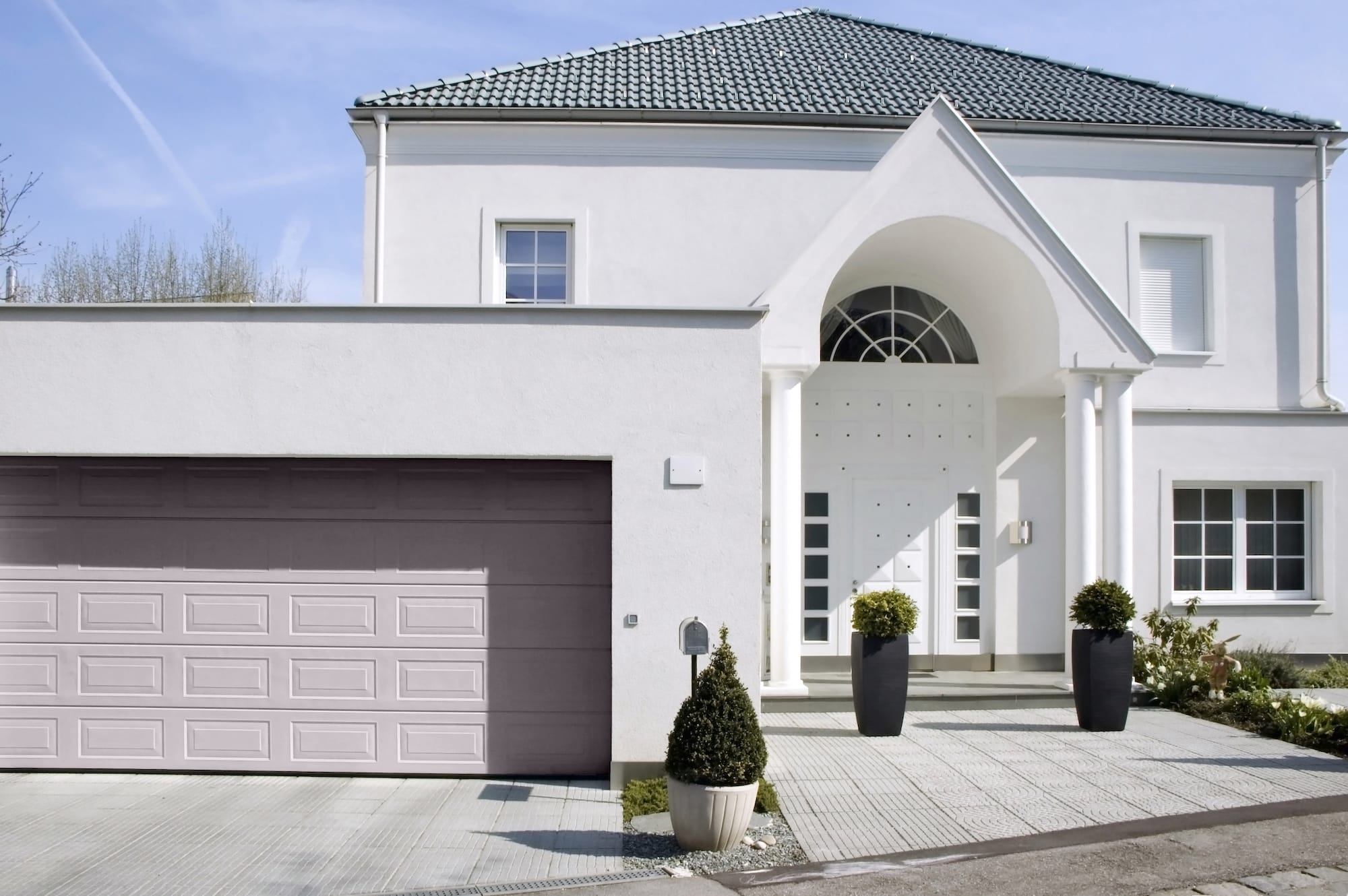 Iced Mauve can be a magic color that works for all architectural structures and color palettes. Despite being a shade of purple, this dark-tinted cool-tone color is subtle enough to look fantastic for a garage door color without becoming gaudy.
Delicate mauve and lavender pigments turn this shade into a rich gray with impressive purple nuances that can bleed into a white house to make it look more pigmented and bodied.
Carbon Copy by Behr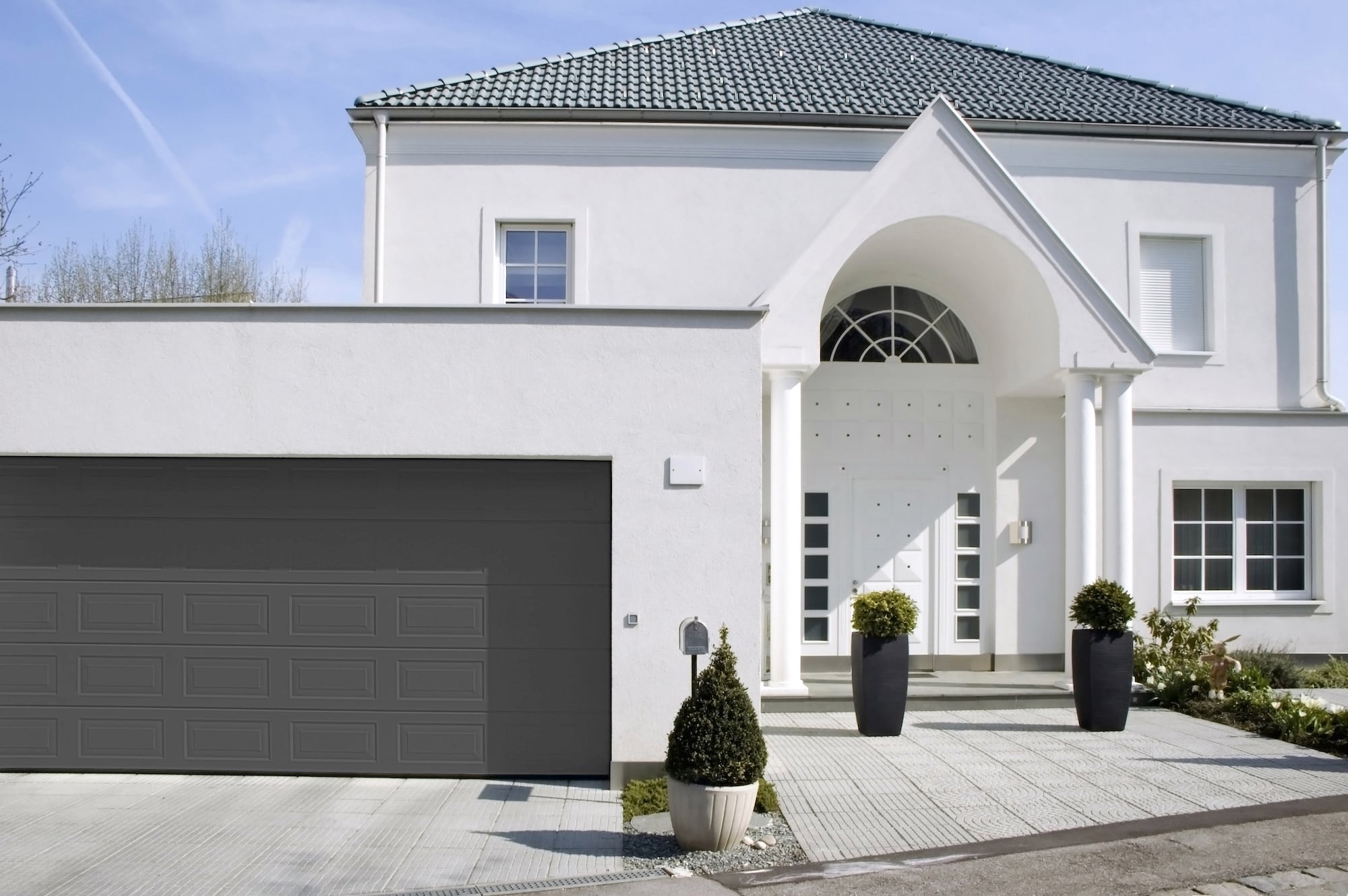 Some people may prefer a vintage, retro look by going with a classic black and white color palette of a white house black garage door. To achieve a complementary look for your white house, consider a shade of black like Behr's Carbon Copy.
Although this black is deeply saturated with black pigmentation that makes it dark and deep, it's a few shades shy of being pure black. Instead, carbon Copy is a flatter base with traces of purple that give it more of a dark-toned gray.
Crushed Peony by Behr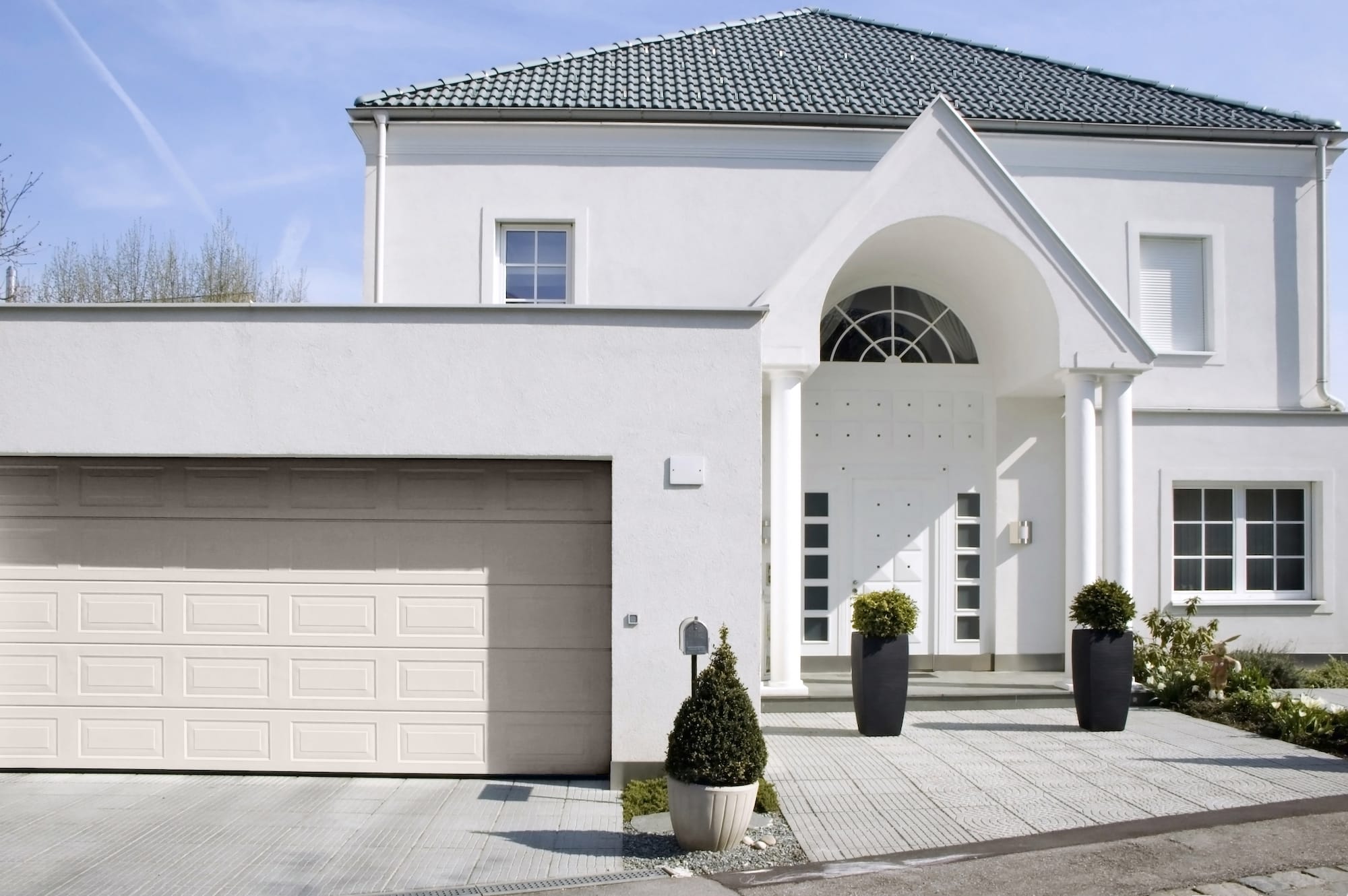 Crushed Peony (no flowers were harmed in the making of this color) is a soothing neutral shade that can balance fantastic with a white house.
This shade of white has gray, brown, and lavender pigments that give it dimension and depth for a rich, gray-tinted white.
Jitney by Farrow & Ball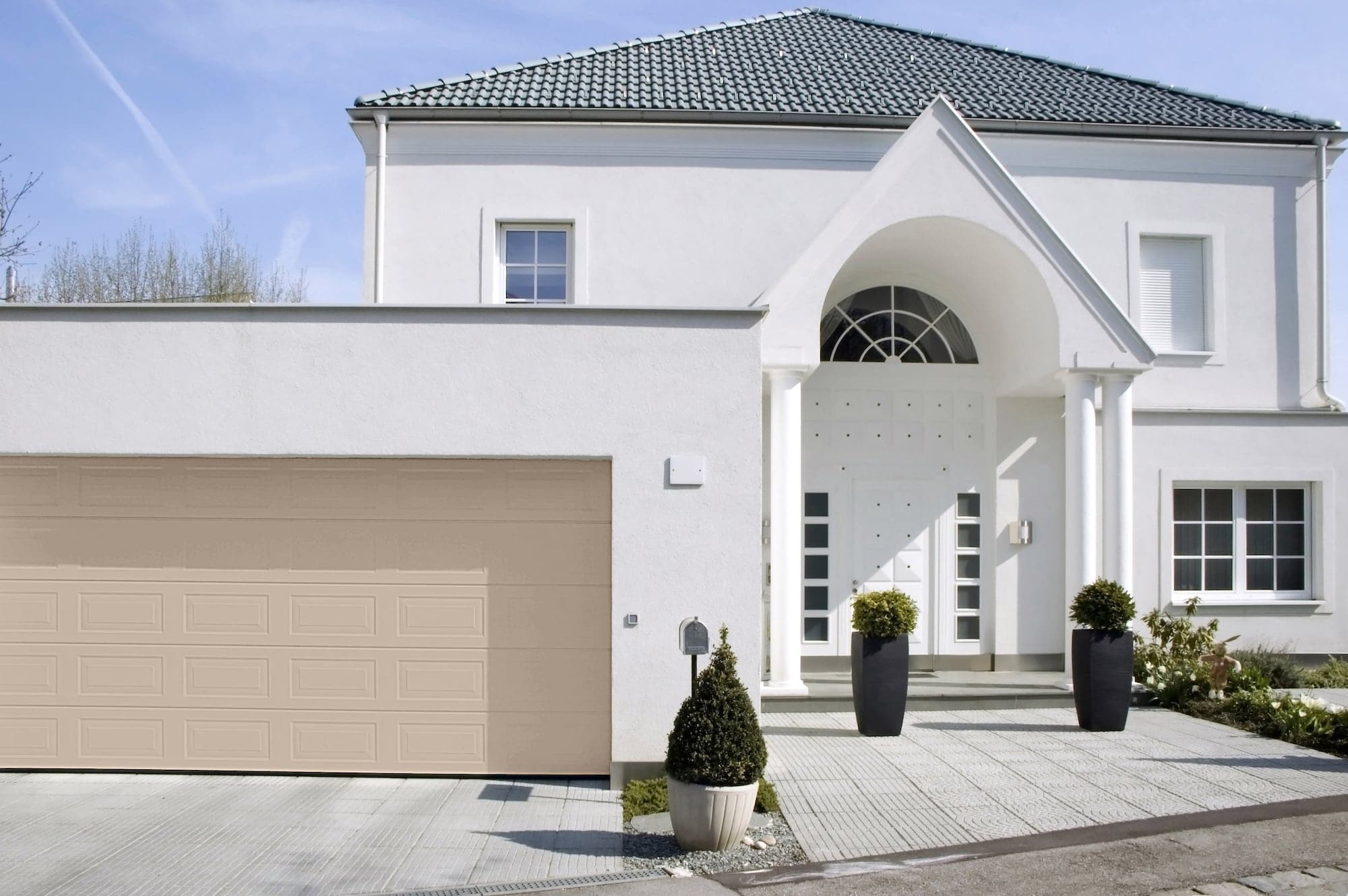 Farrow & Ball's Jitney can be the perfect shade of brown to pair with a cool, stark white house. This shade of neutral brown can add color and drama without looking out of place due to being a dark color.
The soothing blend of lavender, orange, and yellow pigments gives this shade of sandy brown a light gray nuance, toned down by the absence of color of a white house.
Stoke by Farrow & Ball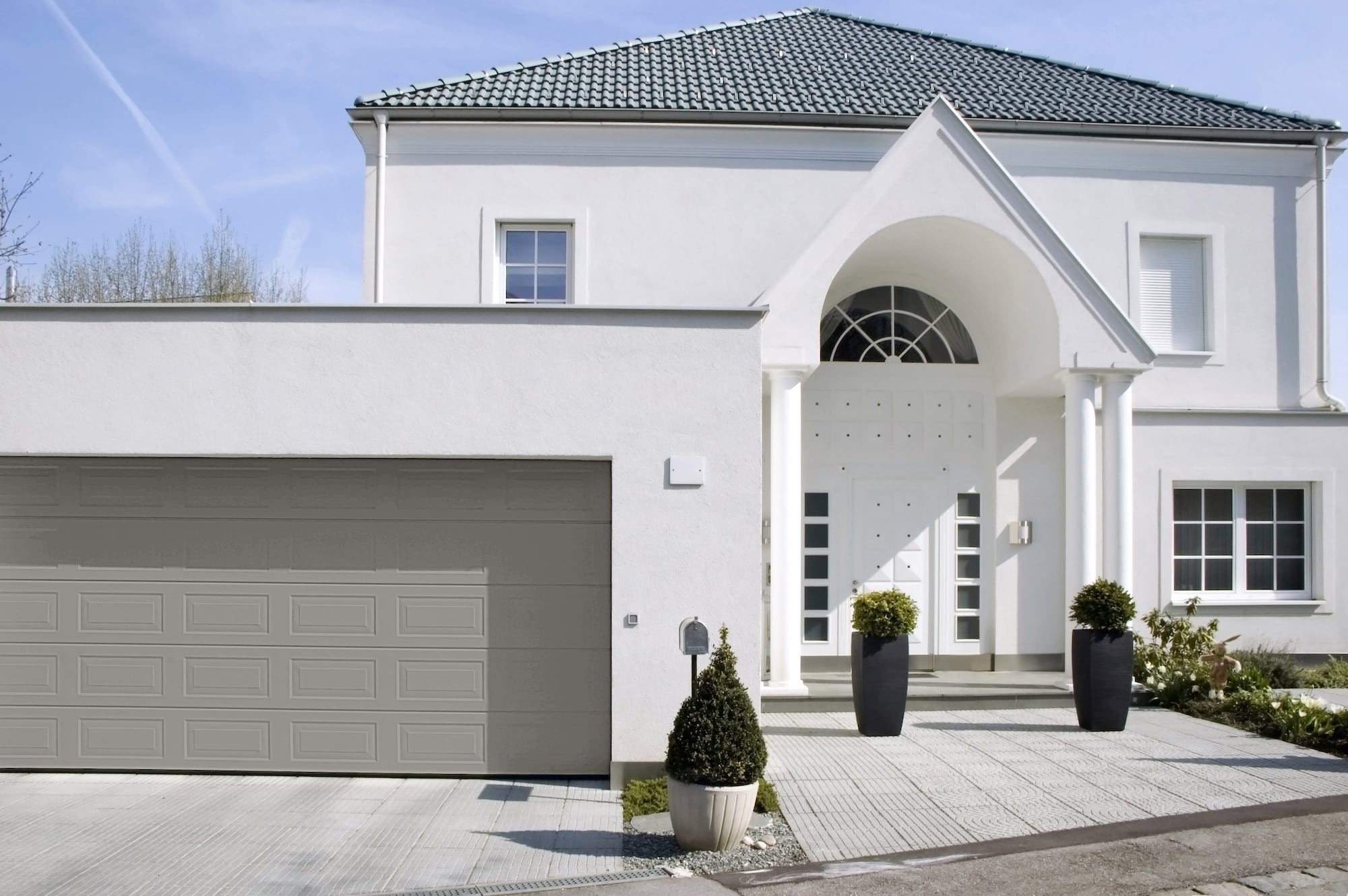 Stoke is a beautiful, bountiful shade of darker gray that brings to mind cloudy coastal days when the sky darkens to a beautiful tone of a true gray.
We love this color for a garage door against a white house due to the color's neutrality – it can go with all architectural structures. But even more, we love the rich pigmentation that looks different in various lighting and around other color influences.
Final Words
The garage door is a fantastic and often missed design opportunity when you have a white exterior on your home. We've provided 15 ideas for what color garage door goes with a white house. We hope these options have inspired you to live out your vision for a unique home design that reflects your personality and style.
Want to know how your garage doors will look with each color before you decide? Skip painting various test strips and make the work easy by picking up color samples by Samplize. These stick-on color strips are the future of testing different paint colors and are a must-have when choosing the perfect paint color.