Decorated Life is reader-supported. When you buy through links on our site, we may earn an affiliate commission. Learn More
15 Black Tile Bathroom Floor Ideas
Decorating your house with black is timeless.
It's one color that will never go out of style and that you likely won't grow tired of. It's also pretty good at concealing most dirt, making it an excellent choice for the bathroom.
If you have your heart set on a black tile bathroom floor, here are 15 ideas to use as inspiration.
Try a Versatile Hexagon Tile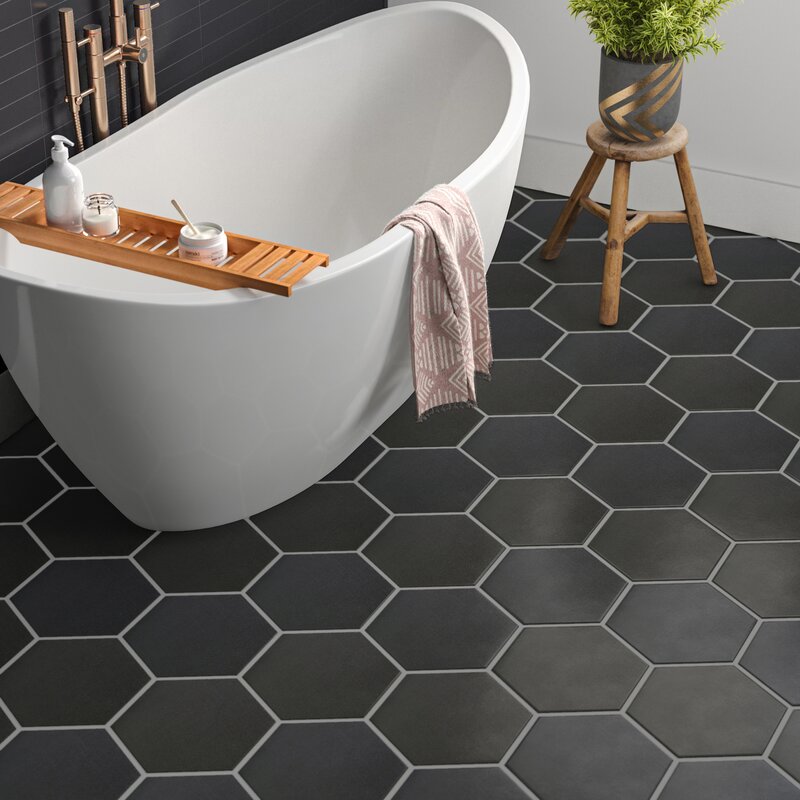 If you've been looking through bathroom design pictures, you've probably seen a lot of hexagon tiles. Hexatiles are one of the most popular flooring choices for bathrooms right now.
You can find this 10×11″ tile at Wayfair. It's porcelain, but with a concrete-like finish, so it will add a bit of texture to your space. The shape is modern, but the finish is classic, so it will work for most styles.
Use Small, Stone Mosaic for a Timeless Look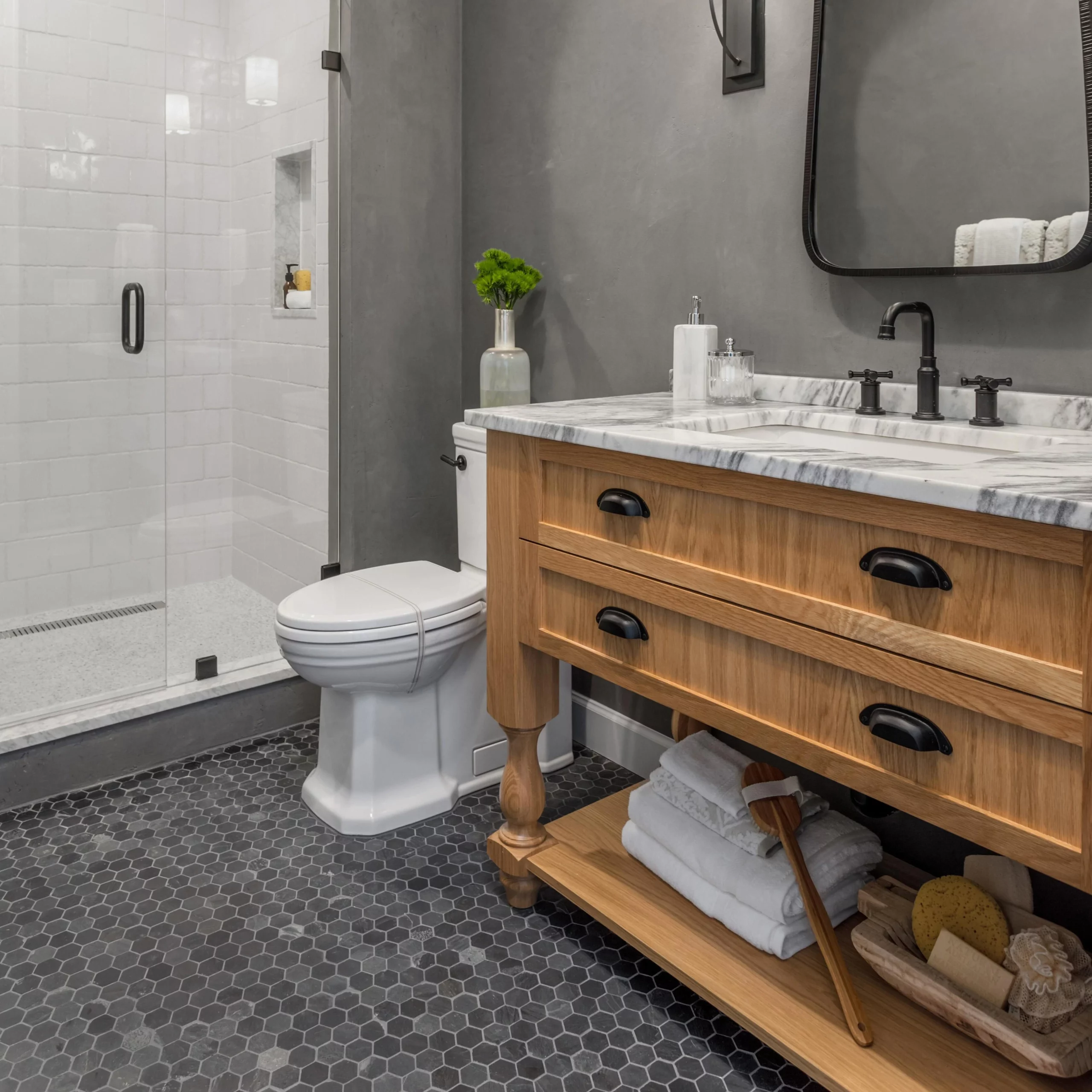 Do you prefer classic styles over following trends? Then this is the tile for you.
This small hexagon mosaic tile is black and gray slate. Its timeless design works with most decor styles but is especially fitting for traditional homes. You can use this tile on the floor, the wall, or both.
For Added Texture, Go With Black Slate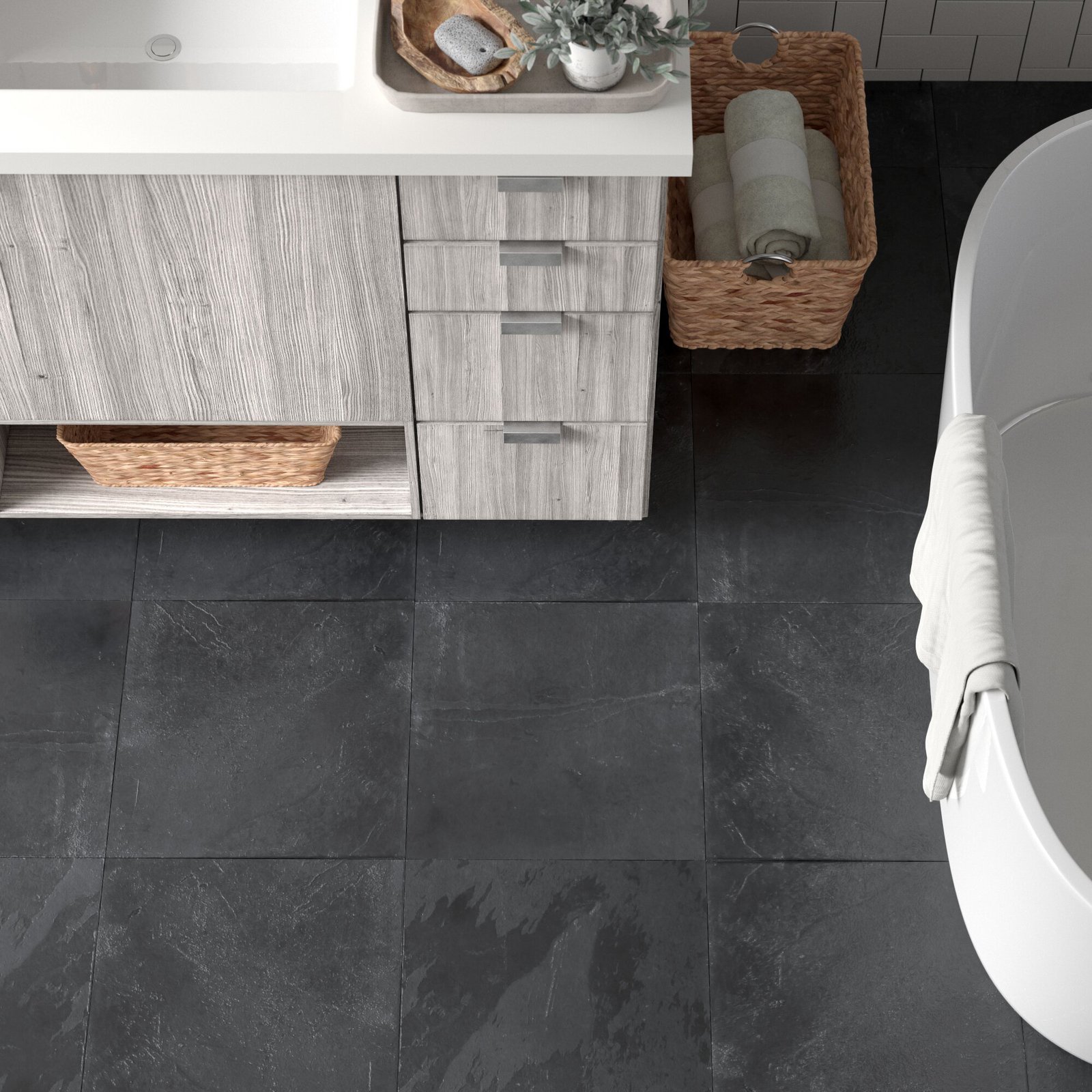 Slate is a natural stone with many variations in color and texture. It's an excellent fit for your bathroom if you want a matte floor with character.
This black slate is a large 16 x 16-inch tile size. The tiles vary in thickness because it's a natural stone, so don't expect the floor to be completely smooth. You'll need to seal this floor after installation and as needed.
Go with a Black and White Patterned Field Tile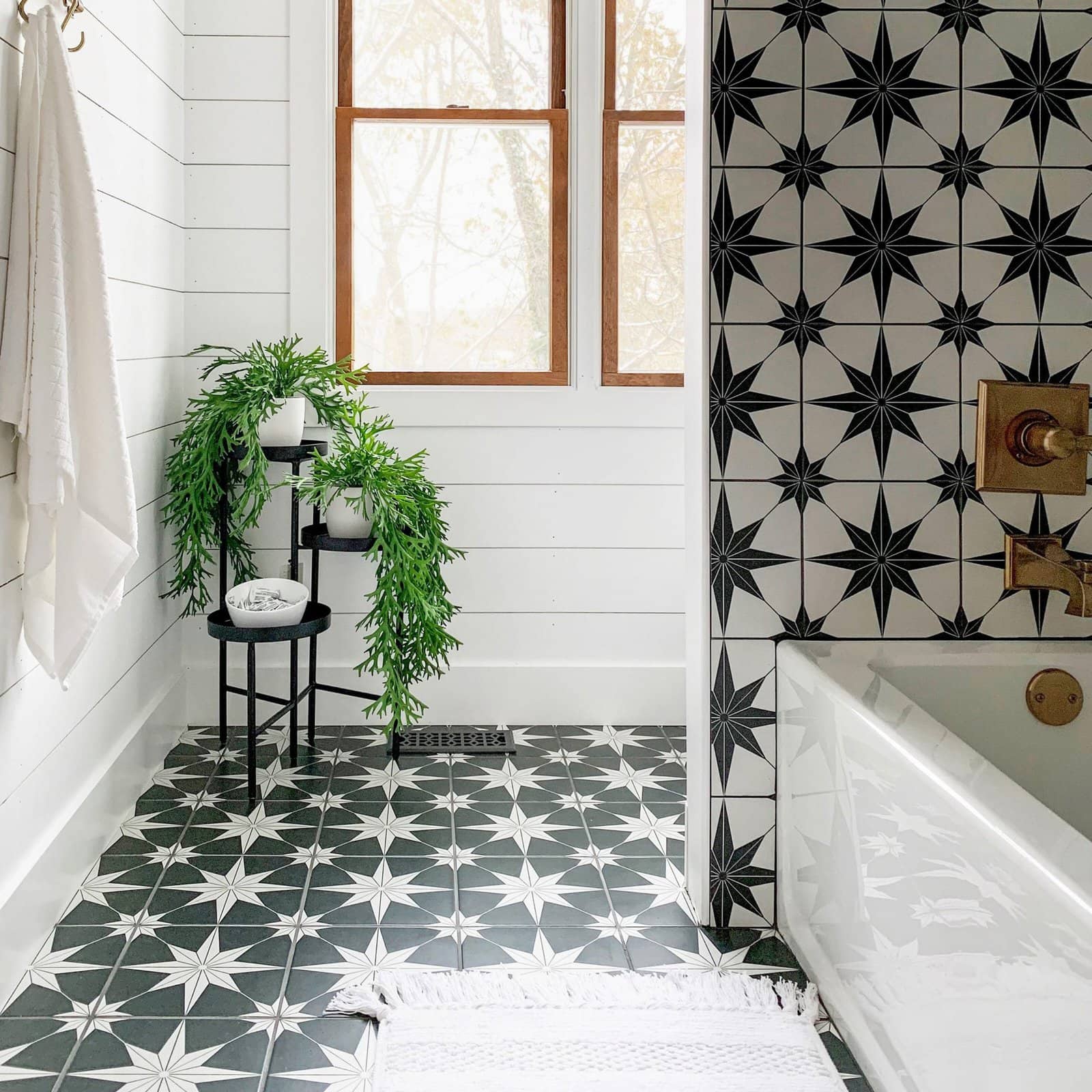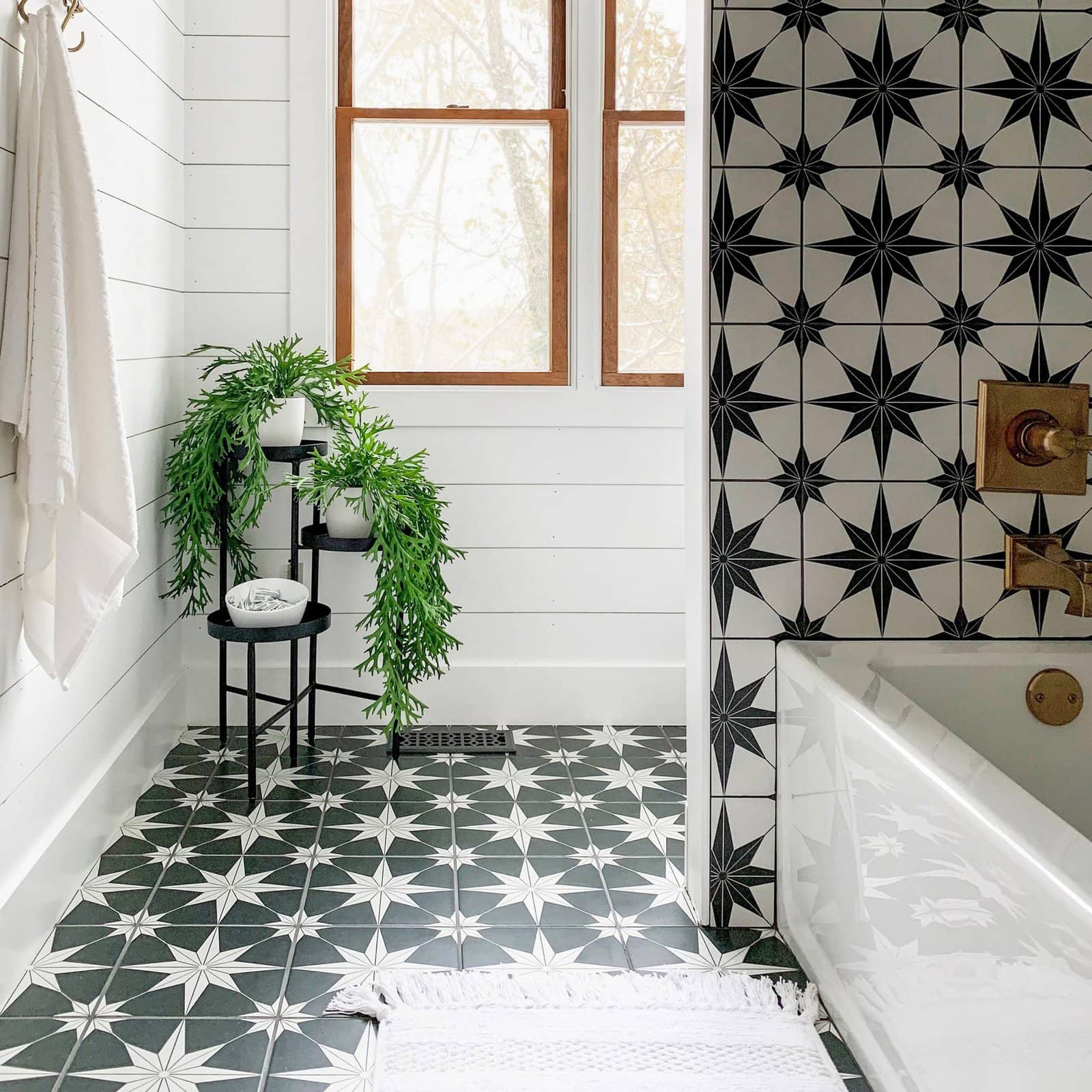 Patterned tile is everywhere right now, and it's easy to see why. It adds an artistic touch to a room and can be mixed with other patterns or combined with a more minimal decor style.
If you're looking for a predominately black pattern, this one from Wayfair is a great option. It features a medium sheen and geometric star modeled after old-world European design.
Get Contemporary Style with Concrete-Look Porcelain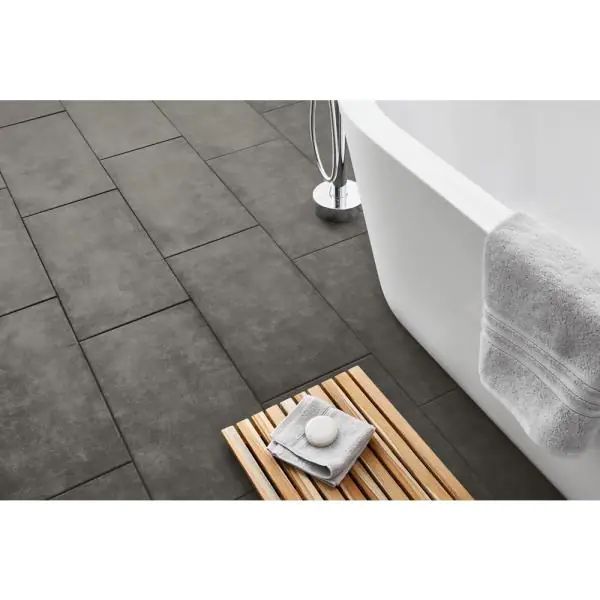 A concrete look is the perfect contemporary touch if you're after a modern black floor for the bathroom.
These large tiles from Home Depot are porcelain with a matte black stone design. They work fantastically for modern, masculine, and minimal designs. But because of their slightly rustic look, you could also make these work for a modern farmhouse bathroom.
Keep a Clean Look with Large Black Porcelain Tile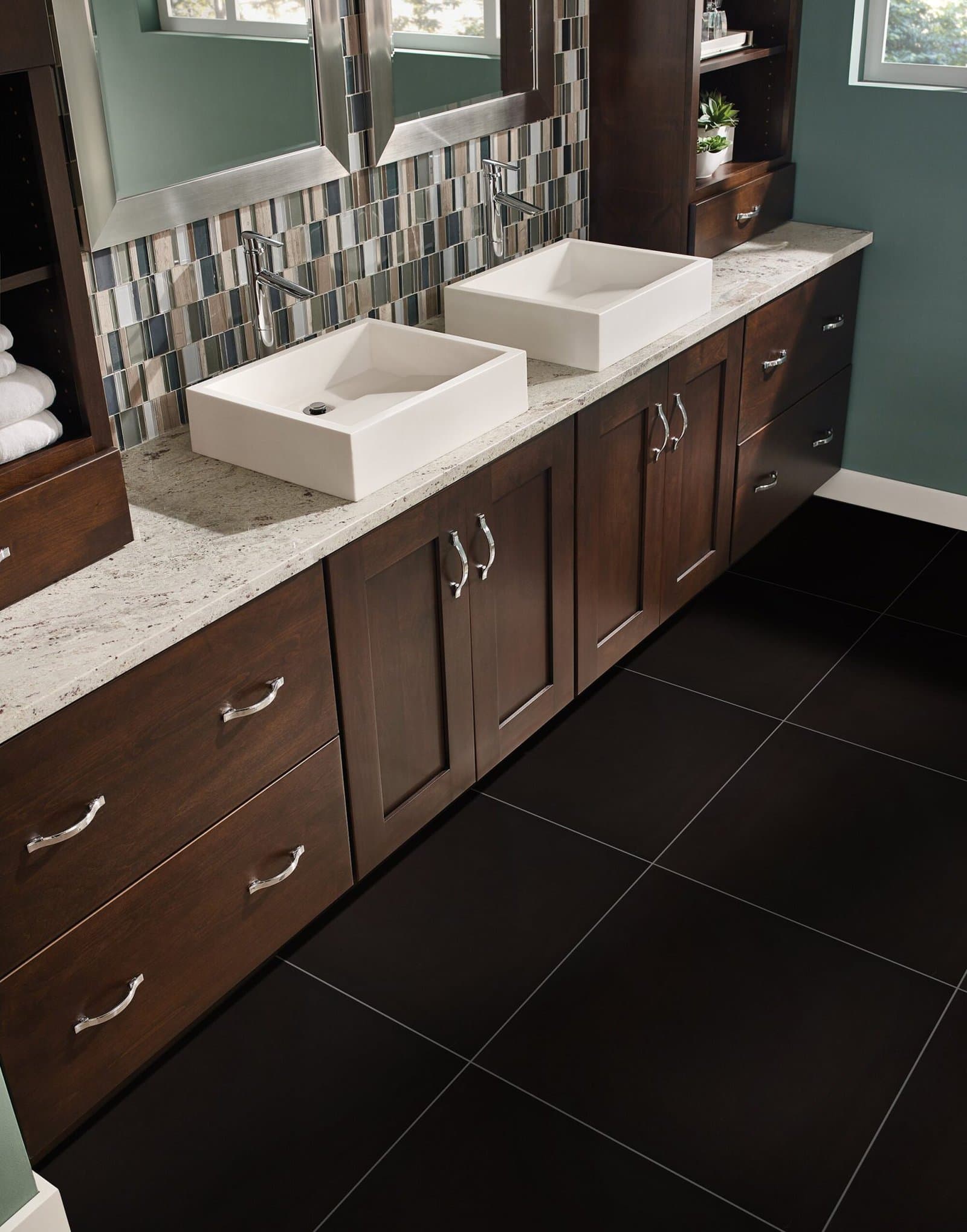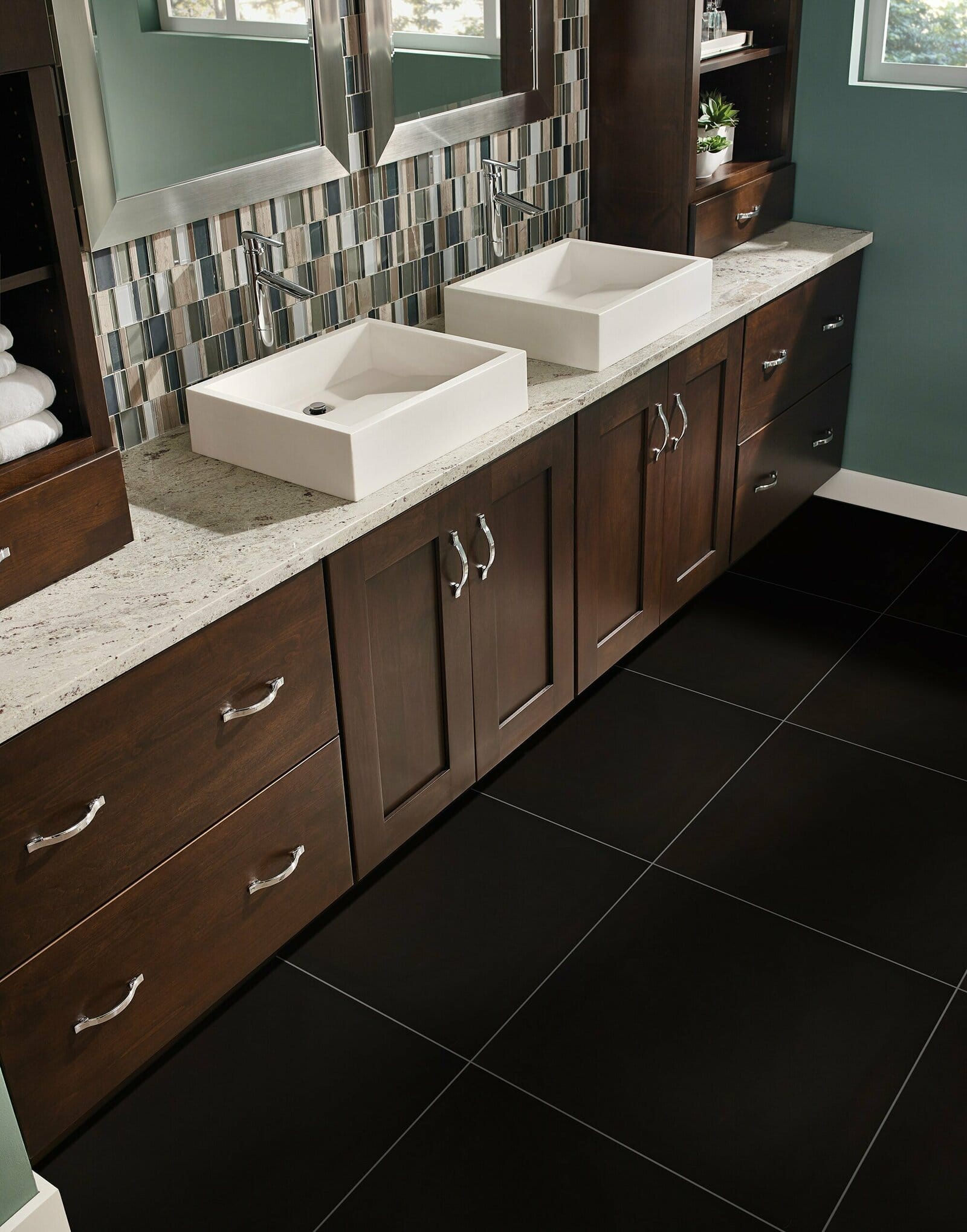 Not interested in crazy designs? If you want a basic black tile that looks clean and polished, consider this one.
These come in large 24 x 24-inch matte black pieces. The tiles are slip-resistant porcelain, perfect for a bathroom. You can use these for a nice base layer to coordinate with any vanity or wall color.
Make A Subtle Statement with This Patterned Wall and Floor Tile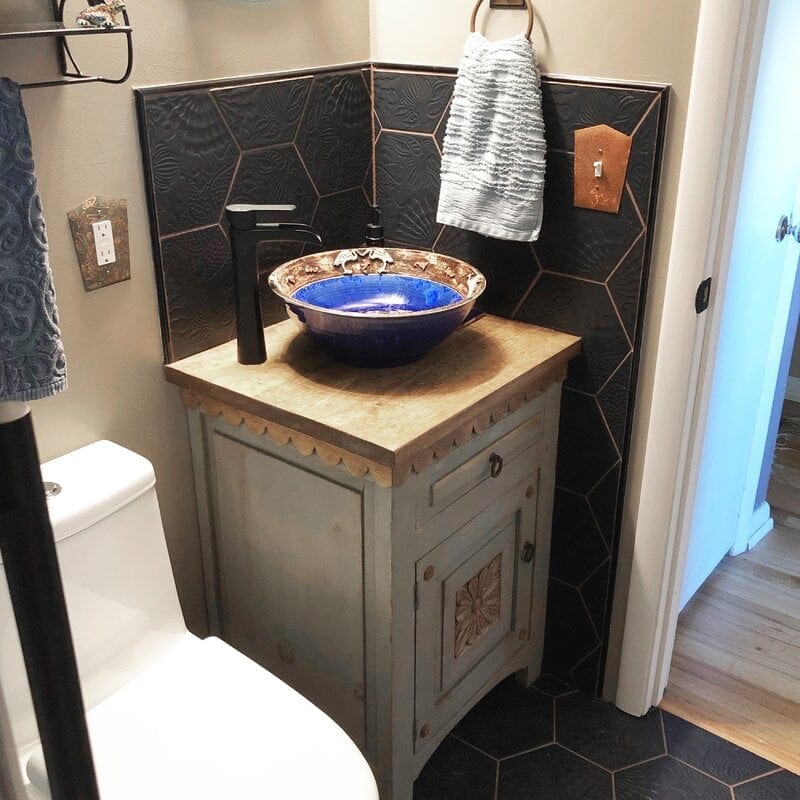 If you want to add a subtle pattern to your bathroom, this black Spanish-inspired tile is appropriate for your walls and floor.
The tile comes in with three sets of embossing that line up to create a larger pattern. It has a medium sheen glaze that's easy to keep clean and offers texture. These black floor bathroom tiles will give your room an old-world feel without being in-your-face bold.
Add Luxury with a Marble Look Tile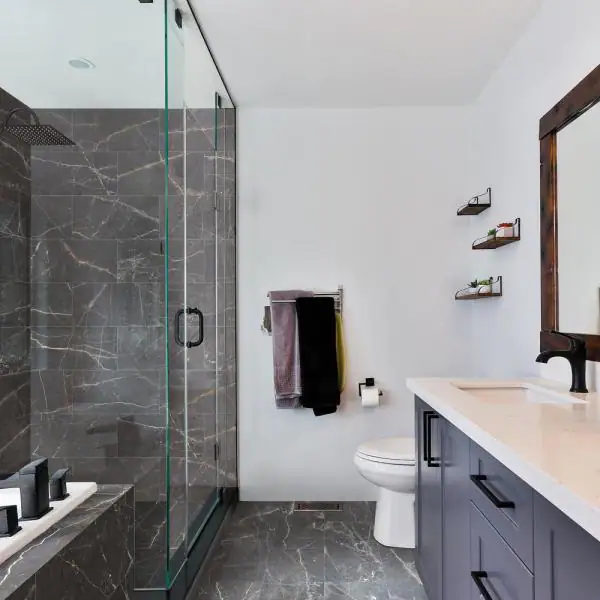 Marble tile is notorious for luxury. But with the beauty of natural marble also comes the expense. So if you're looking for a more budget-friendly option, try this porcelain tile with a black marble look.
You can find this tile at the Home Depot. It's suitable for walls, floors, showers, and even a countertop.
Give Your Bathroom a Quick Makeover with Peel and Stick Tile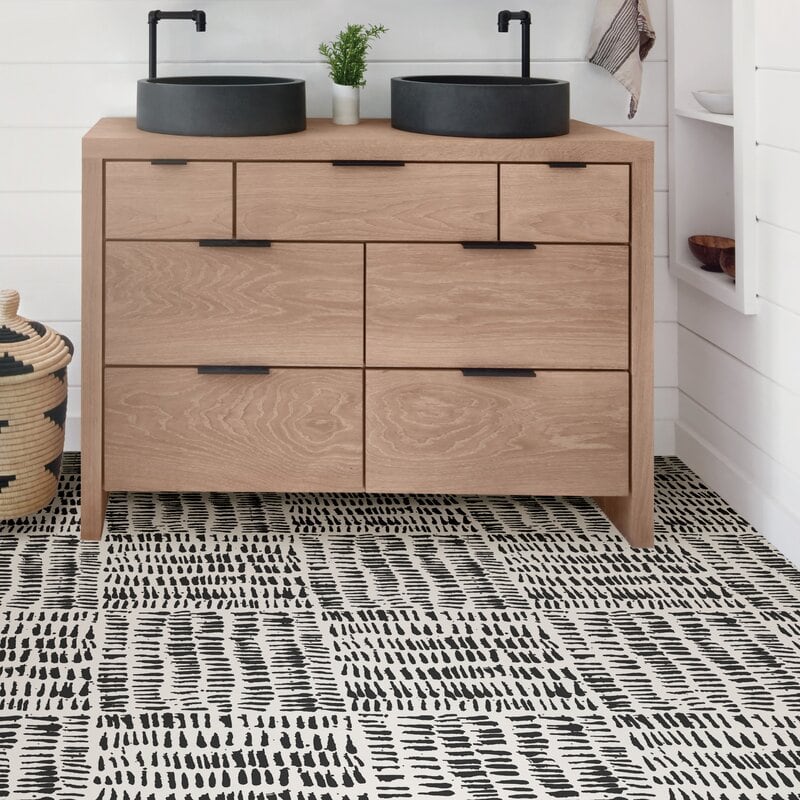 Are you looking to give your bathroom a quick and inexpensive makeover? Peel and stick tile is the way to go.
This black and white bathroom tile is washable and waterproof. Since it's peel and stick, it's straightforward to install, and you can make cuts to it using a utility knife. It's an excellent option for a budget bathroom makeover.
Pull Off Modern Farmhouse Style with Black Wood-Look Tile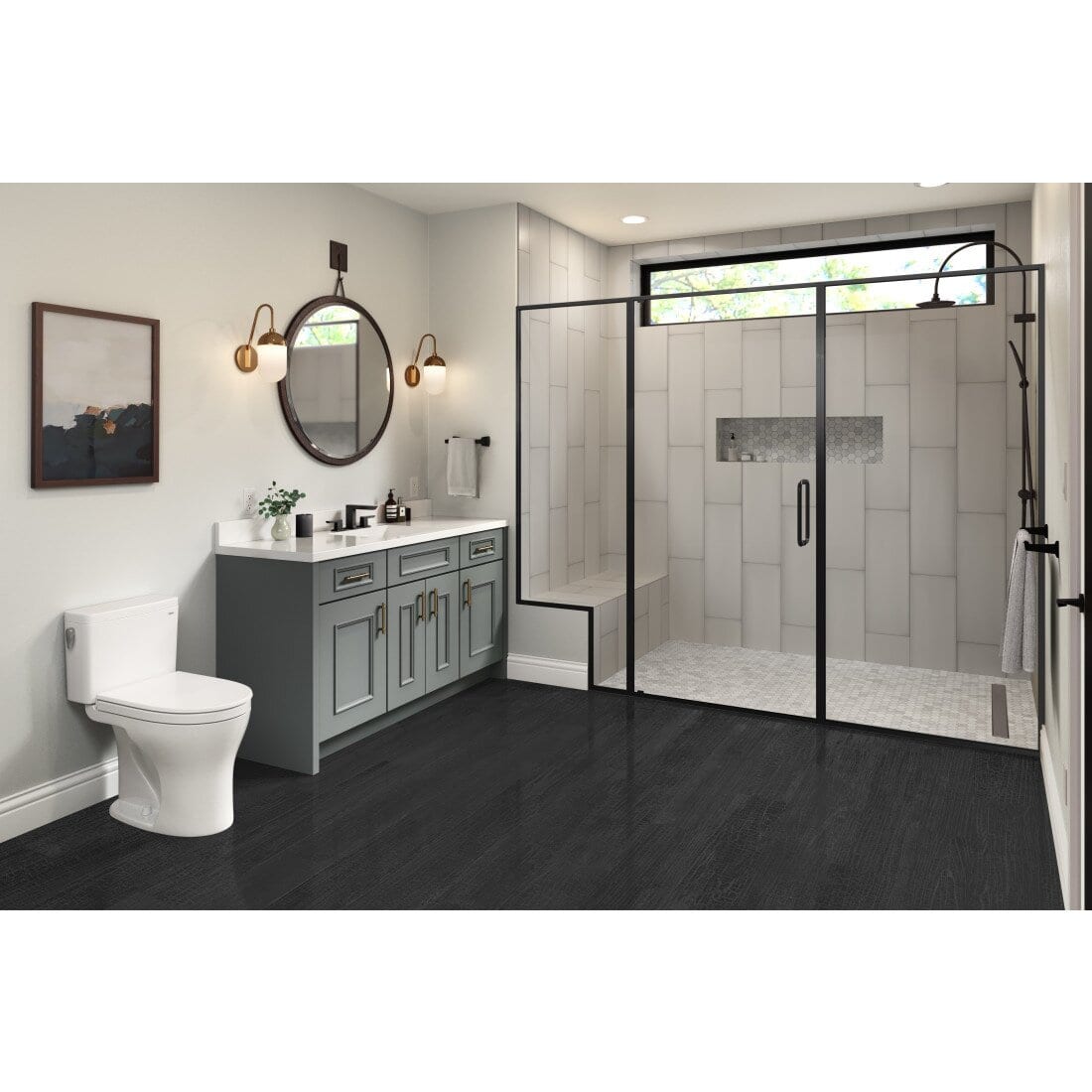 Since hardwood floors are one of the least bathroom-friendly options, many homeowners turn to wood look tile instead. And luckily, if you like this style, you can find it in black.
This tile comes in 8 x 47" pieces. It's perfect for modern farmhouse or traditional bathrooms and will coordinate with all types of vanities and wall colors.
Protect Your Floor with Luxury Vinyl Plank
Vinyl flooring has come a long way over the past few years, with luxury vinyl planks taking center stage. This type of tile is ideal for bathrooms because it's durable, antimicrobial, and waterproof.
While many types of luxury vinyl plank flooring are wood-look, you can find this black option at the Home Depot. It comes in 18 x 18-inch pieces that interlock for easy installation.
Create Your Own Pattern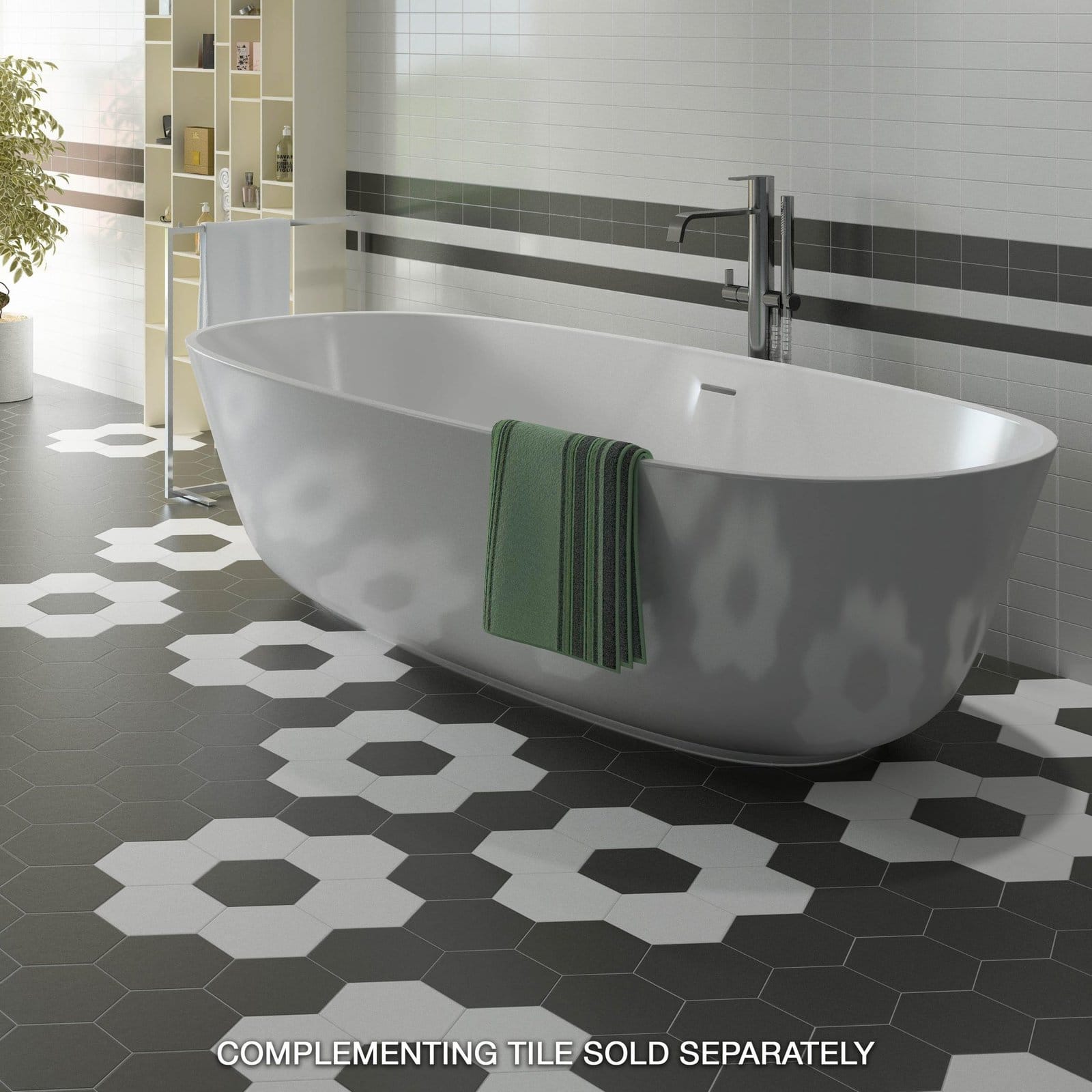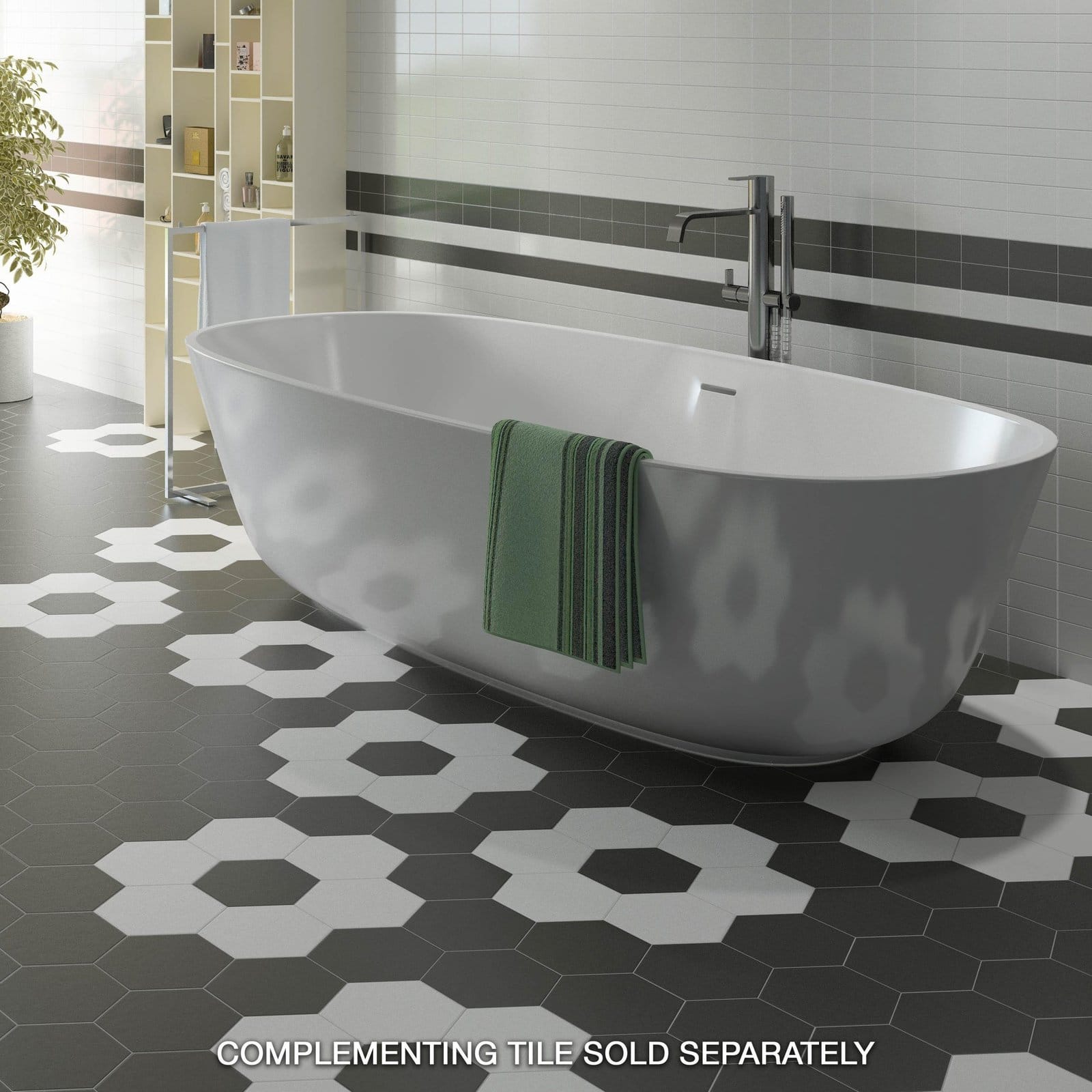 If you love hexagon tile but don't want to go with an all-black look, you don't have to. Instead, you can mix and match with other colors to create your own pattern.
This hexatile is from Overstock and measures 7" x 8". It's porcelain and comes in a matte black finish. You can buy a coordinating white to mix with it and create any pattern you'd like.
Simplify with a Black and White Checkerboard Pattern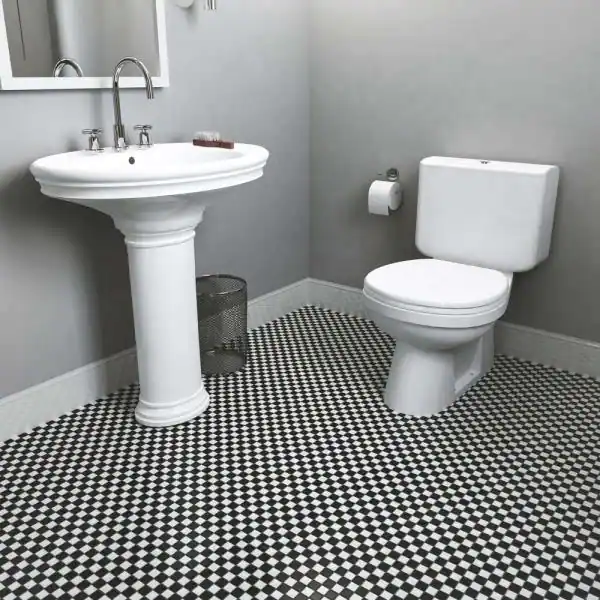 A checkerboard floor is a timeless choice for older-style homes. But rather than laying down each small tile individually, you can use this black and white mosaic porcelain.
From Home Depot, each of these mosaic tiles measures 13 x 13 inches. They're suitable for your floor, wall, shower, and backsplash.
Pair a Patterned Black Floor with a White Wall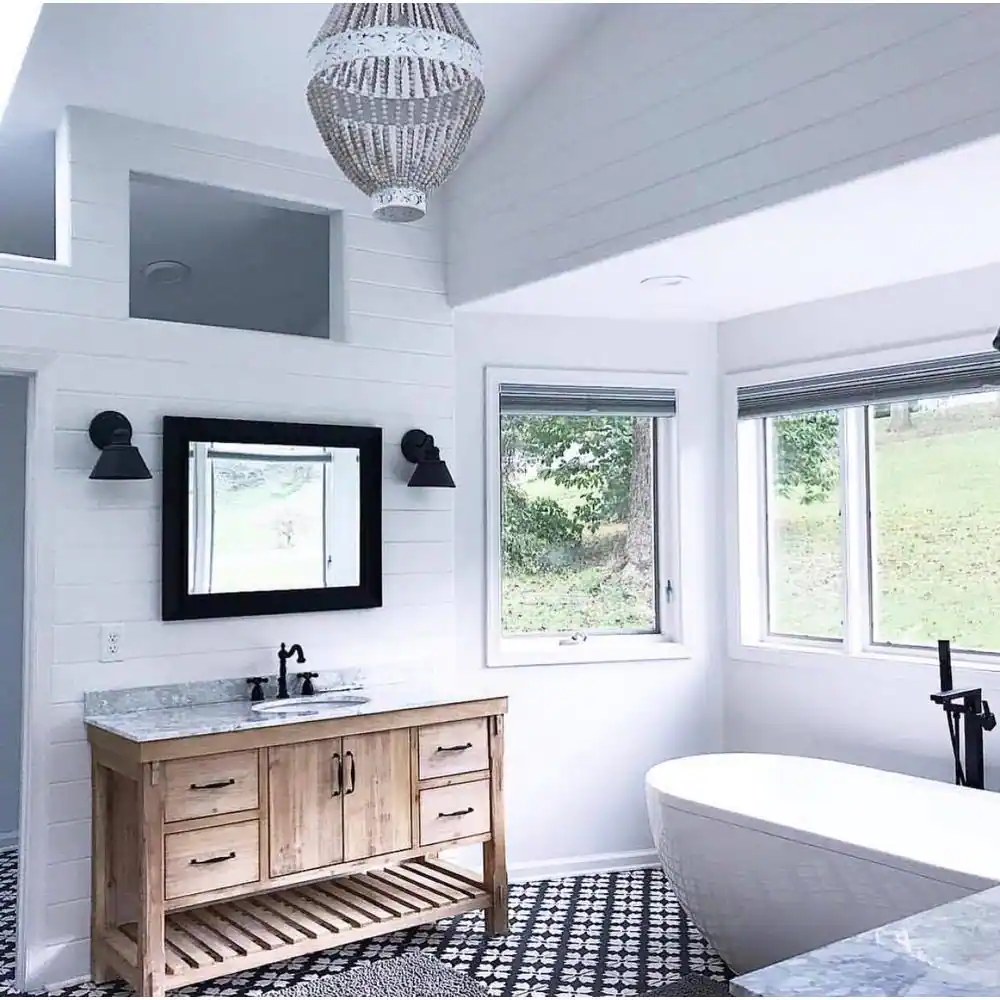 If you prefer a simple white wall, your floor is a great place to showcase a pattern. If you want something black with a feminine touch, this tile is one to consider.
This tile from Home Depot is matte porcelain. While it's predominantly black, it features white flower petals with a gray detail. The pattern will add interest to your bathroom and look amazing against a white wall.
Opt for a Durable Vinyl Tile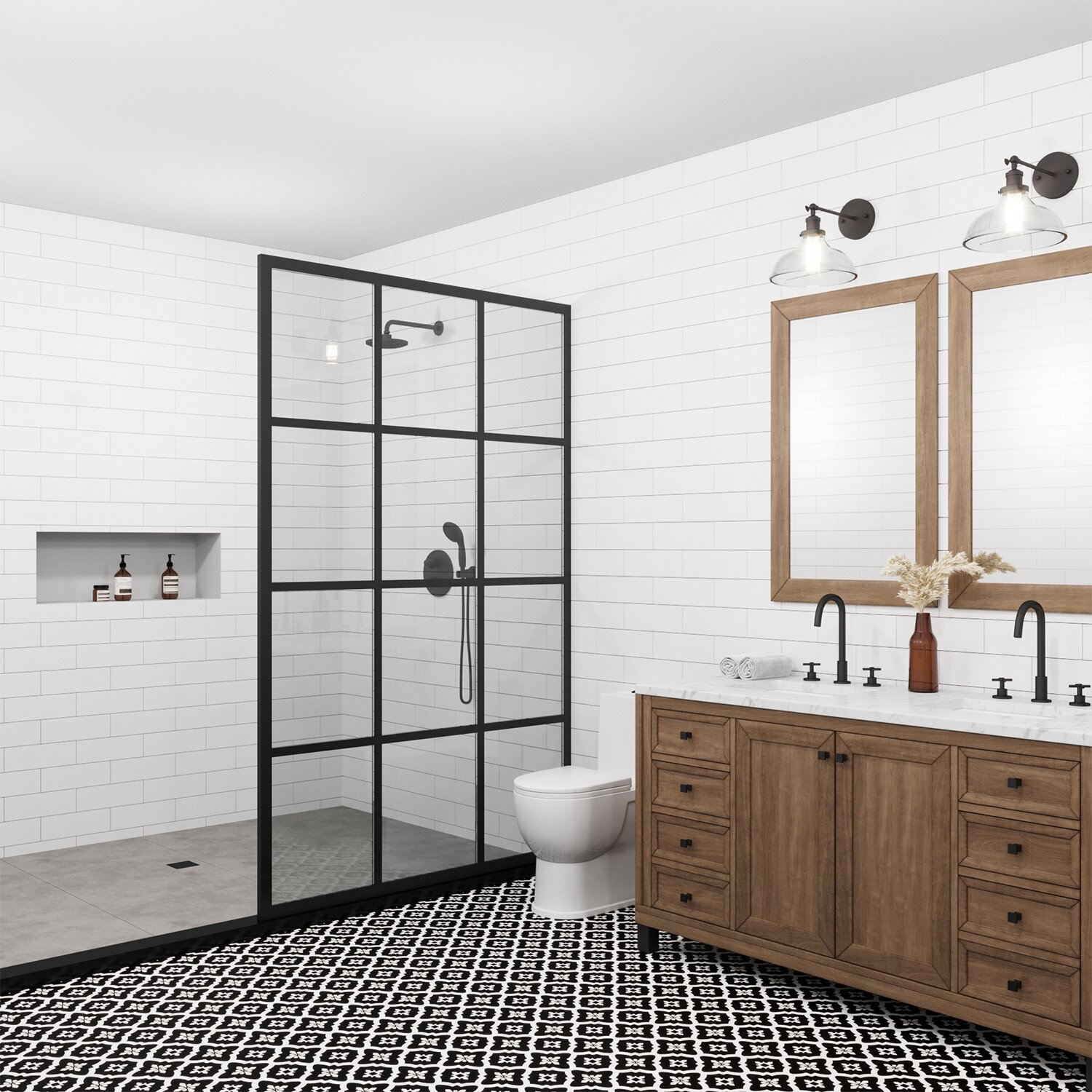 While many people opt for porcelain tile in the bathroom, vinyl tile is just as durable.
This vinyl tile from Wayfair is extra thick and will stand up to scuffs and abrasion. Its simple pattern makes it appropriate for most bathroom styles. You can get it in 12 x 12-inch peel and stick pieces that are easy to install.
Final Thoughts
Installing a black bathroom floor is a smart move. While many colors fall in and out of style, black is classic.
Try concrete-look black porcelain if you're looking for a tile that will suit any decor style. If you want something a bit more trendy, go with hexagon tiles. And if you favor bold choices, a pattern is your best bet.