Decorated Life is reader-supported. When you buy through links on our site, we may earn an affiliate commission. Learn More
20 Brown and Cream Living Room Ideas
Brown and cream is a classic color combo that will never go out of style. Both hues are warm earth tones that promote calmness and relaxation.
And no matter the decor style you like, these colors will work. You can create a room that ranges from rough and rustic to modern and chic.
If you're getting ready to redesign your space, use these 20 brown and cream living room ideas as inspiration.
Incorporate Light Wood Tones for a Soothing Living Room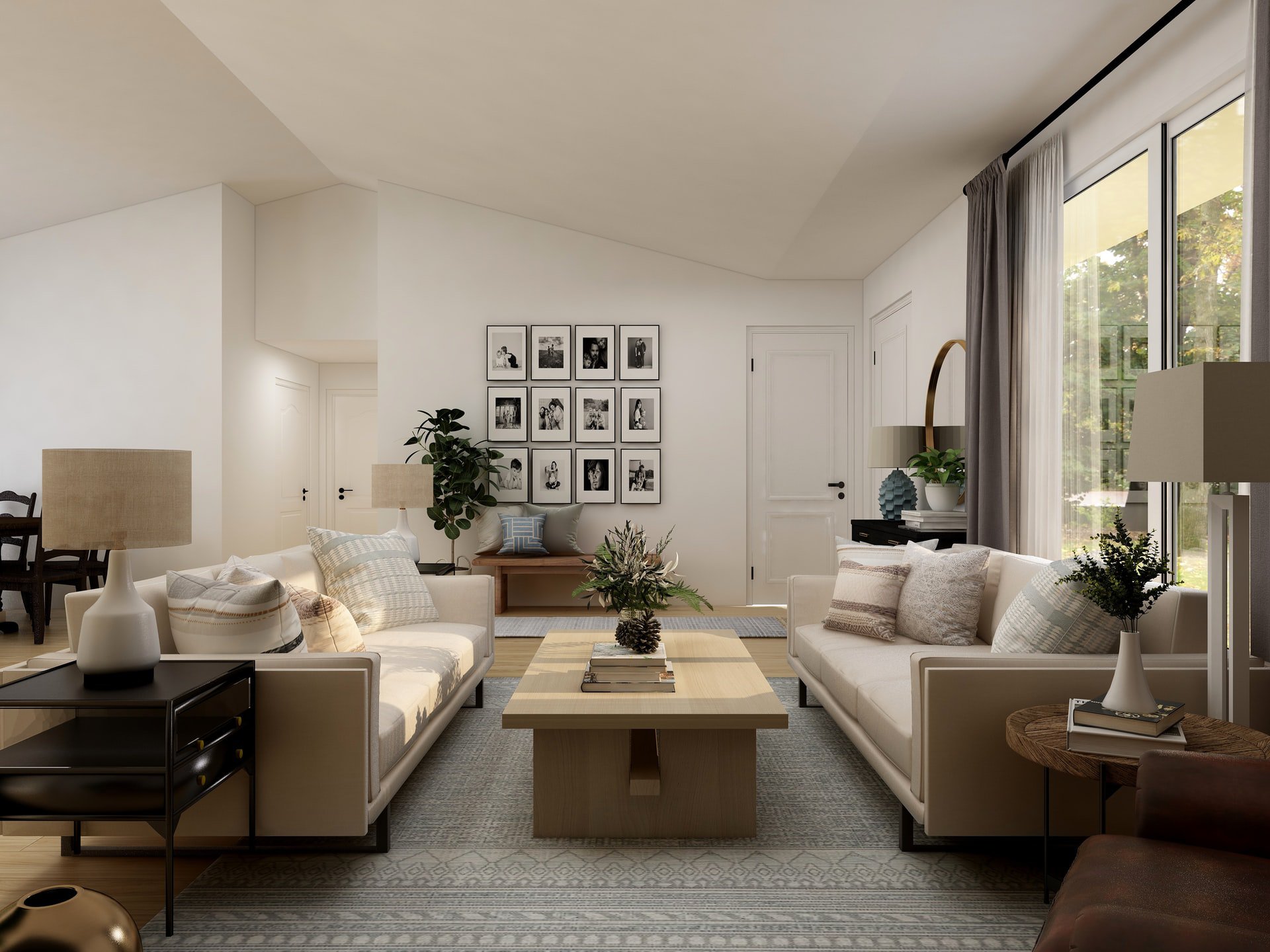 If you're after a soothing, tranquil living room, use cream as your primary color and brown as the accent.
In this living room, the cream walls, furniture, and accessories set the tone for a look that's easy on the eyes. The brown accent chair and wood tables give the room an earthy feel without being rustic.
Combine a Dark Brown Couch with Cream Accents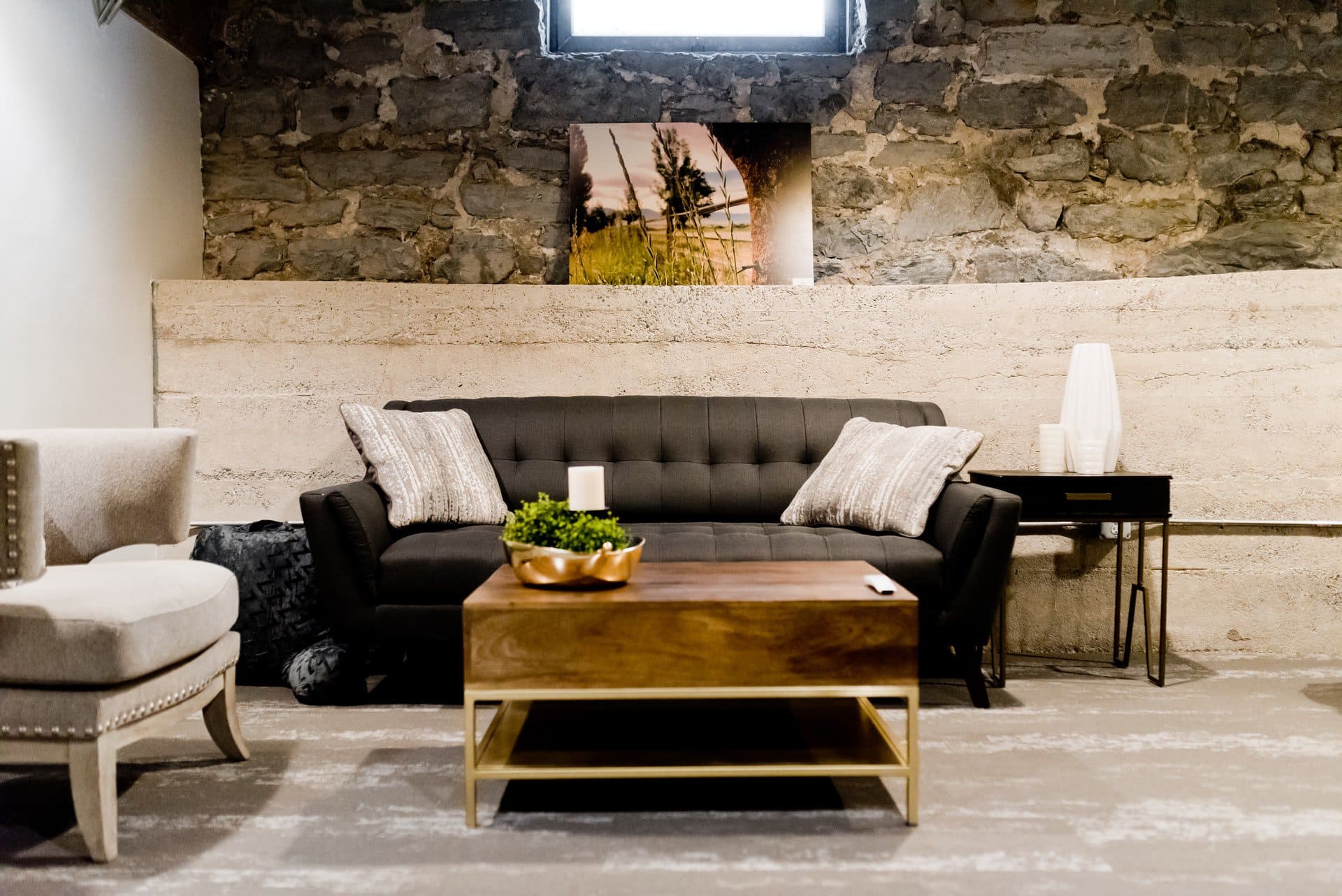 The dark chocolate couches pop against the lighter background. They also coordinate well with cream accents.
If you have a dark brown couch, consider painting your walls cream or adding an accent like a stone-look or shiplap wallpaper to create a focal point. You can then carry the look using a cream-colored chair and throw pillows.
Add Texture with Throw Pillows and Plants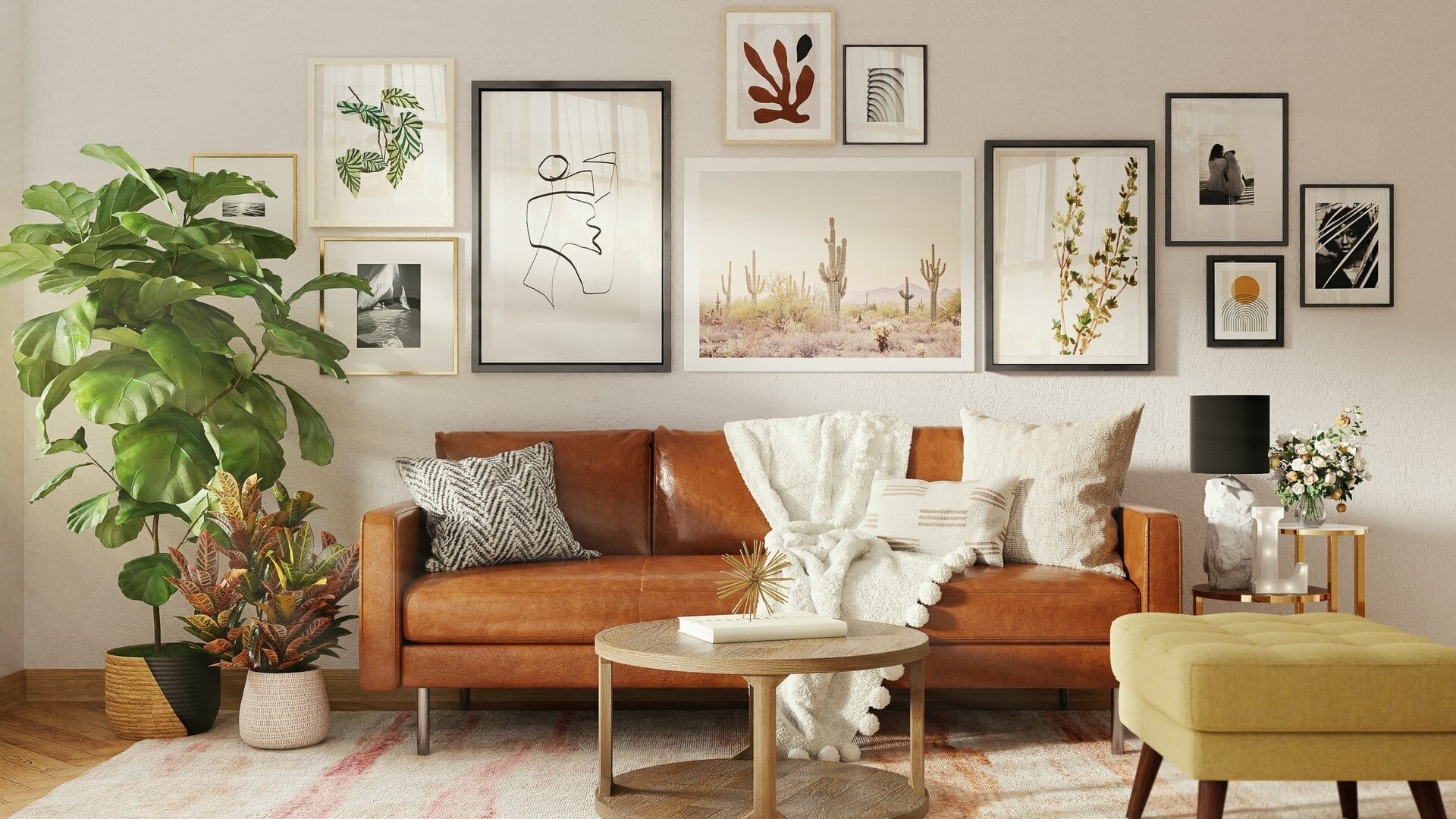 All good living room designs pack in texture. In this room, the textures include the leather sofa, throw pillows, and throw blanket.
The plants on either side of the couch give this room life. If you want to recreate this look, keep balance in mind. Use items of similar height and width on both sides of the couch and keep your artwork evenly distributed.
Paint Your Wall Brown and Your Trim Cream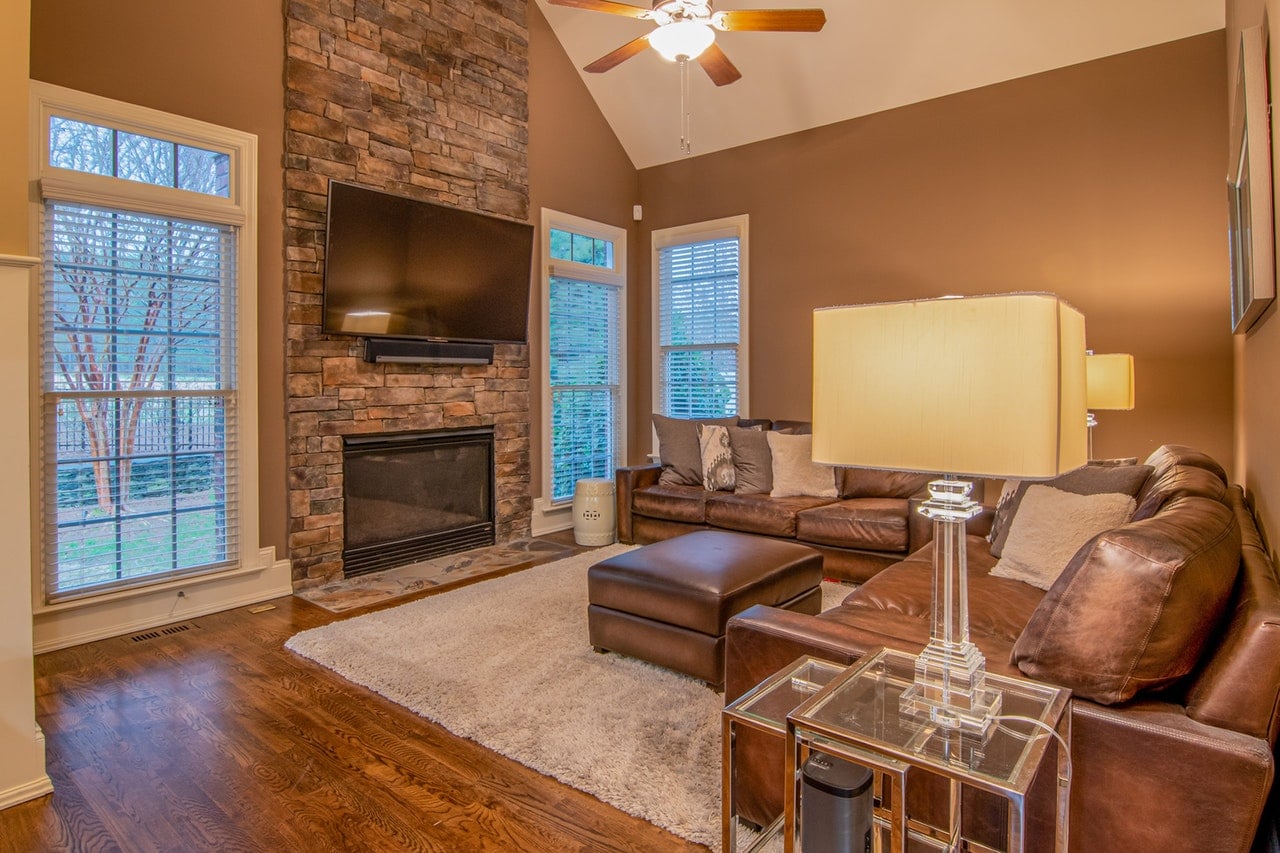 If you want a more traditional look, this living room shows one way to go about it. You can start by choosing a shade of brown for the walls and then paint the trim a creamy white.
Bring in traditional furniture like a large leather sofa or a brown couch with tufting. Then, with so much brown in the room, use a lighter rug and accessories to balance the colors.
Keep the Color Palette Simple for a Minimal Room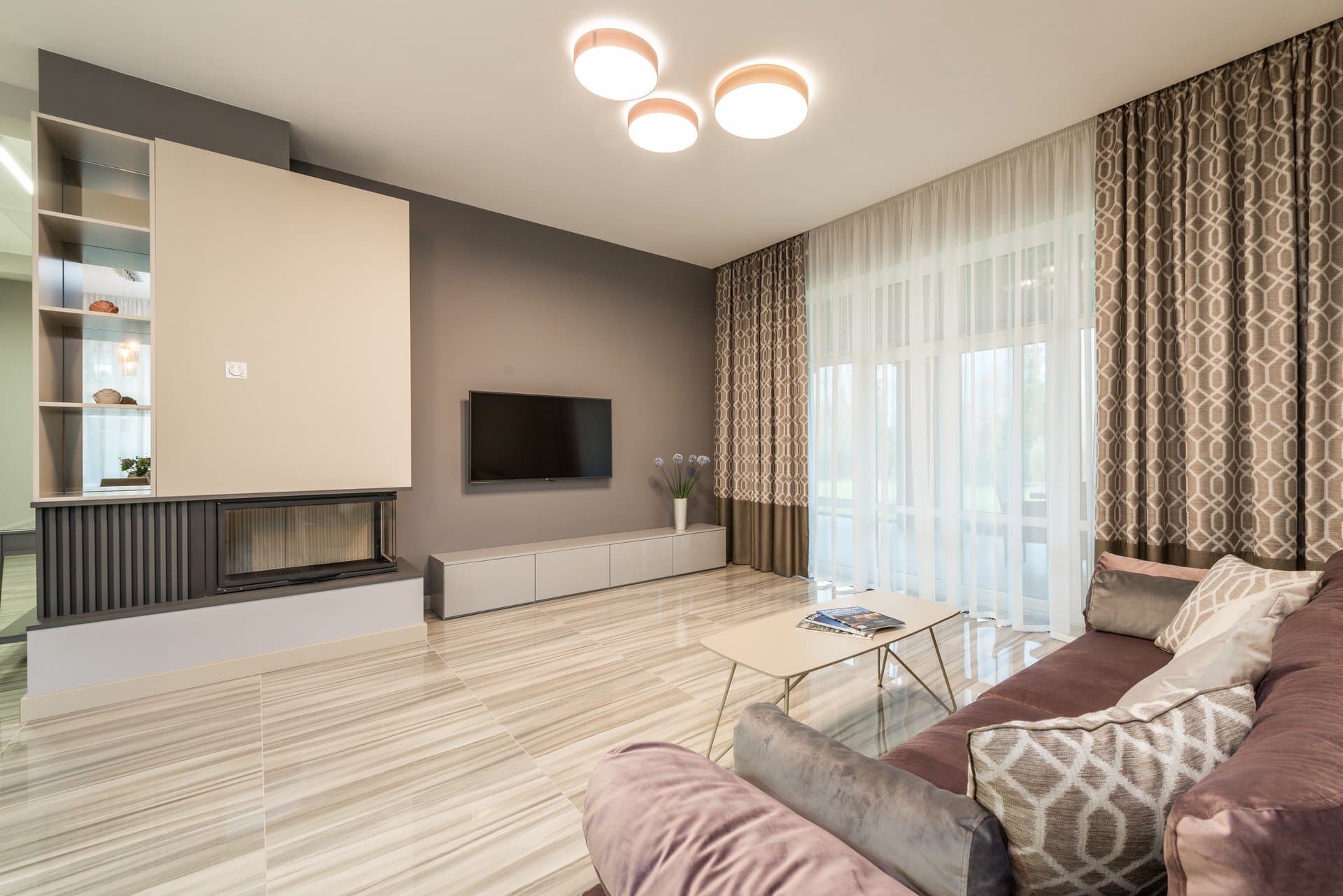 Minimal rooms are easy to keep clean and great to relax in. It's best to keep your color palette simple if you want that decluttered, minimal look.
The homeowners carry a chocolate brown and cream color scheme in this living room. The result is a cohesive but simple space.
Soften the Room with Cream, Tan, and Brown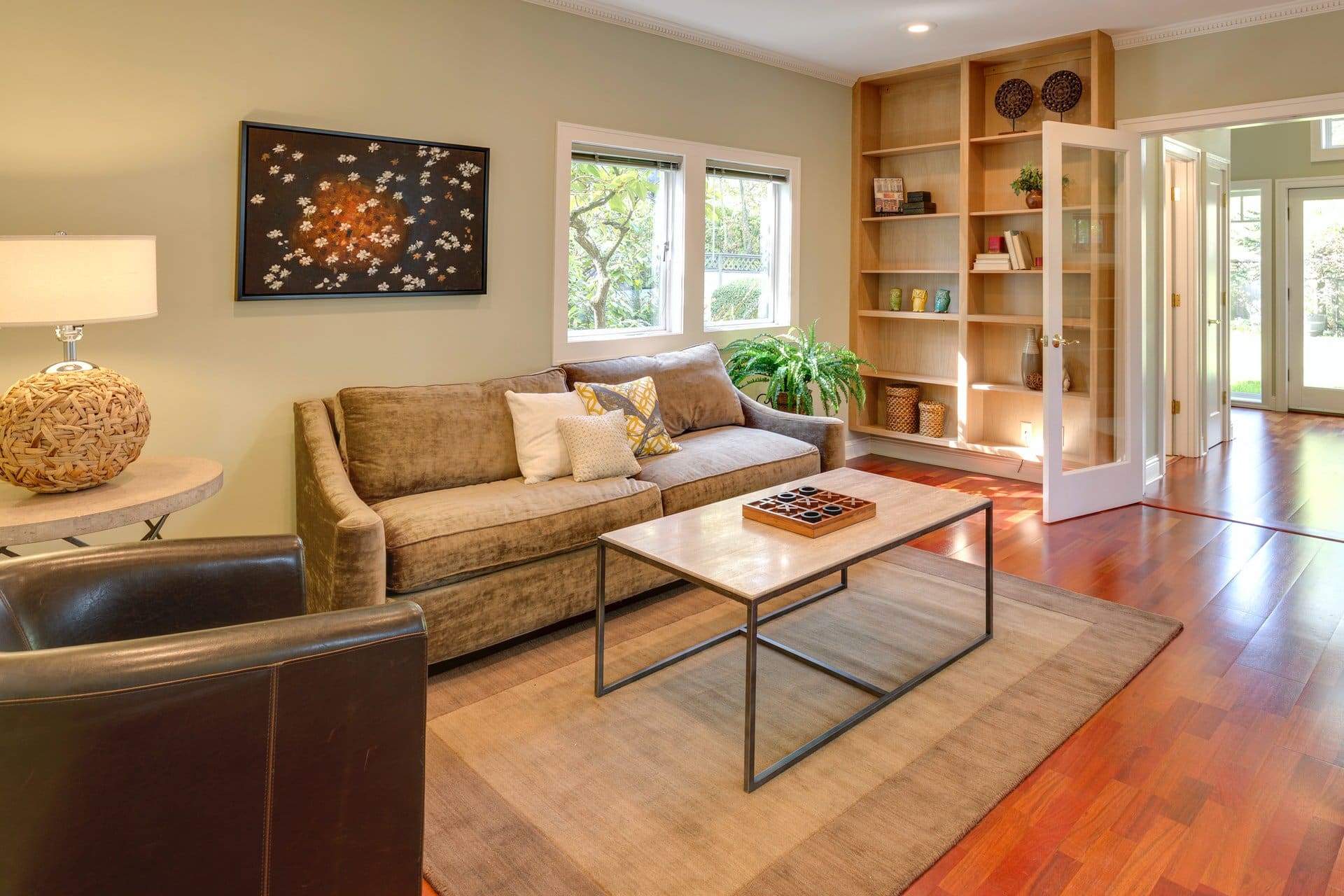 Are you after a softer take on the brown and cream look? If yes, paint your walls a warm tan or beige.
Sometimes, brown and cream look harsh, especially when paired with white walls. Using softer tones of warm brown, like shown in this picture, is an excellent meet-in-the-middle design.
Try Cream Walls and a Brown Leather Couch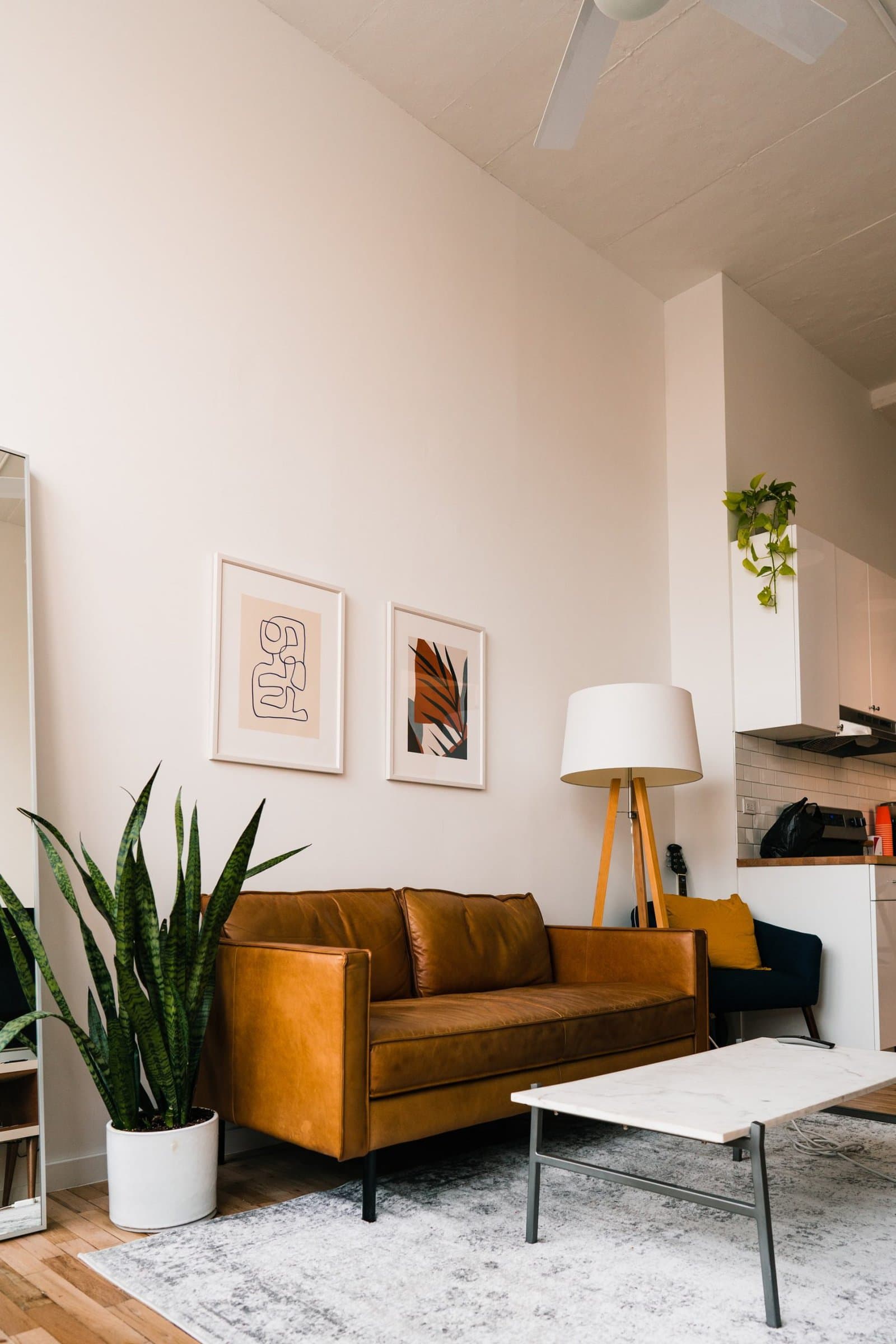 If you like the boho look, you can still get it with this color scheme. Start by painting your walls a creamy white. (Avoid stark white, it will be too sterile.)
After you've got your cream walls, bring in a brown leather sofa. To complete the look, incorporate plants, brown wicker baskets, and cream throw pillows.
Get a Traditional Look with Brown Furniture and Cream Carpet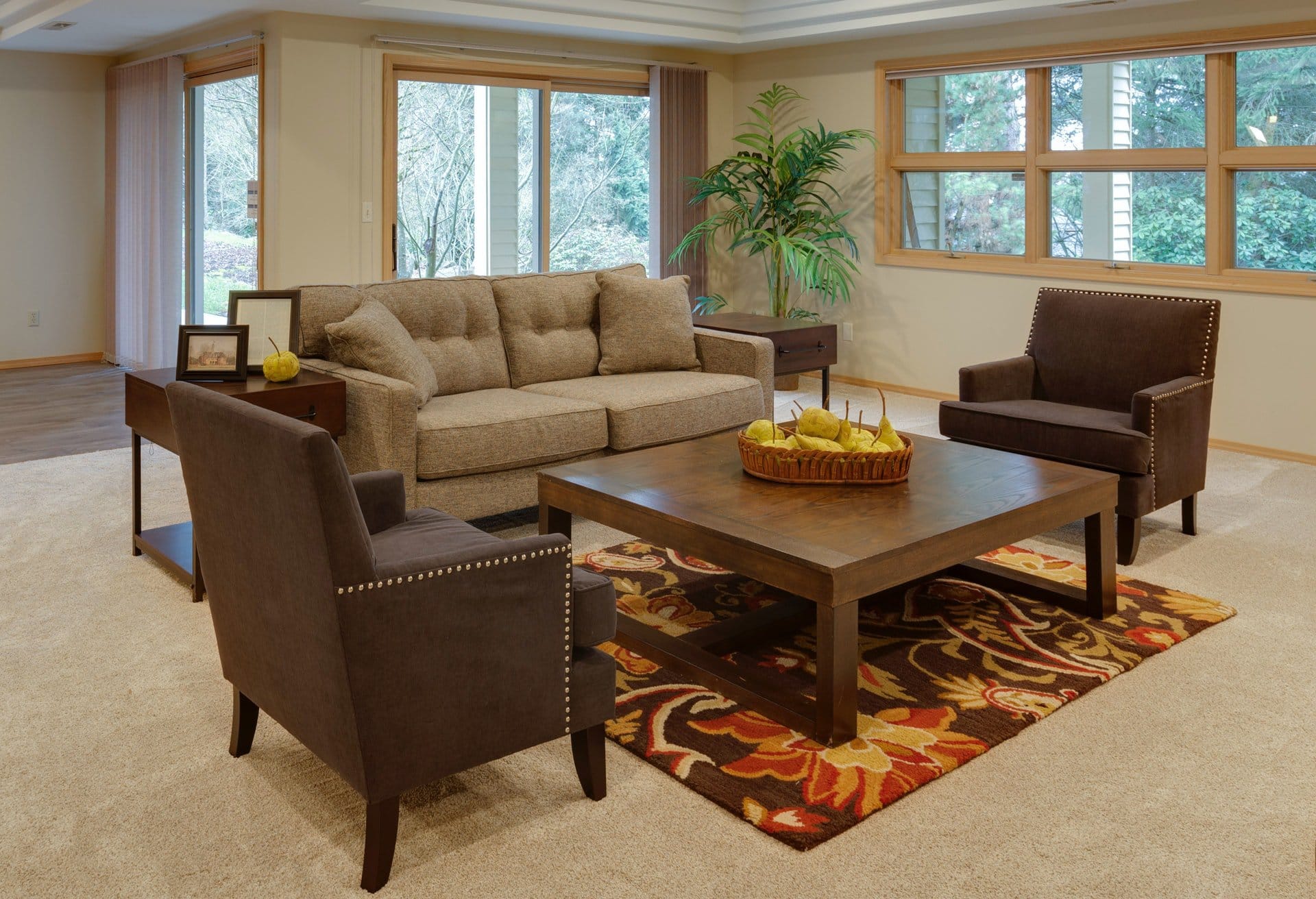 If your design style crosses the line between traditional and modern, here's a good setup. Use a light brown sofa with contemporary lines and two coordinating chocolate brown accent chairs.
You can bring cream through your curtains, carpet, rug, and other accessories.
Mix in Wood Accents with Your Brown and Cream Living Room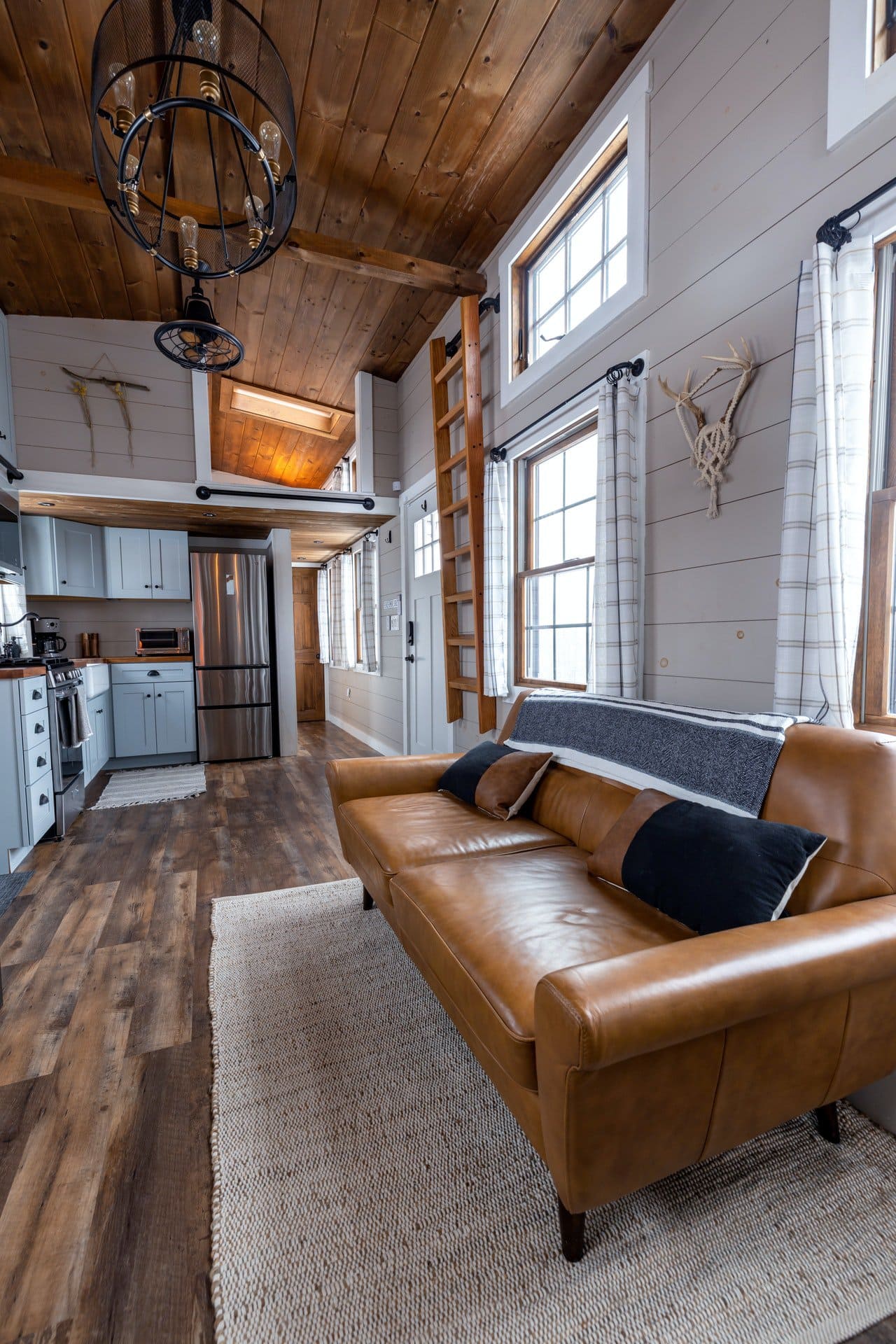 Do you like modern-rustic style? The owners of this tiny home have executed a rustic brown and cream look that is cozy without being too heavy.
To copy this look, use a warm brown leather sofa with cream curtains, a cream rug, and beige-gray color on the wall.
Anchor the Room with a Cream Rug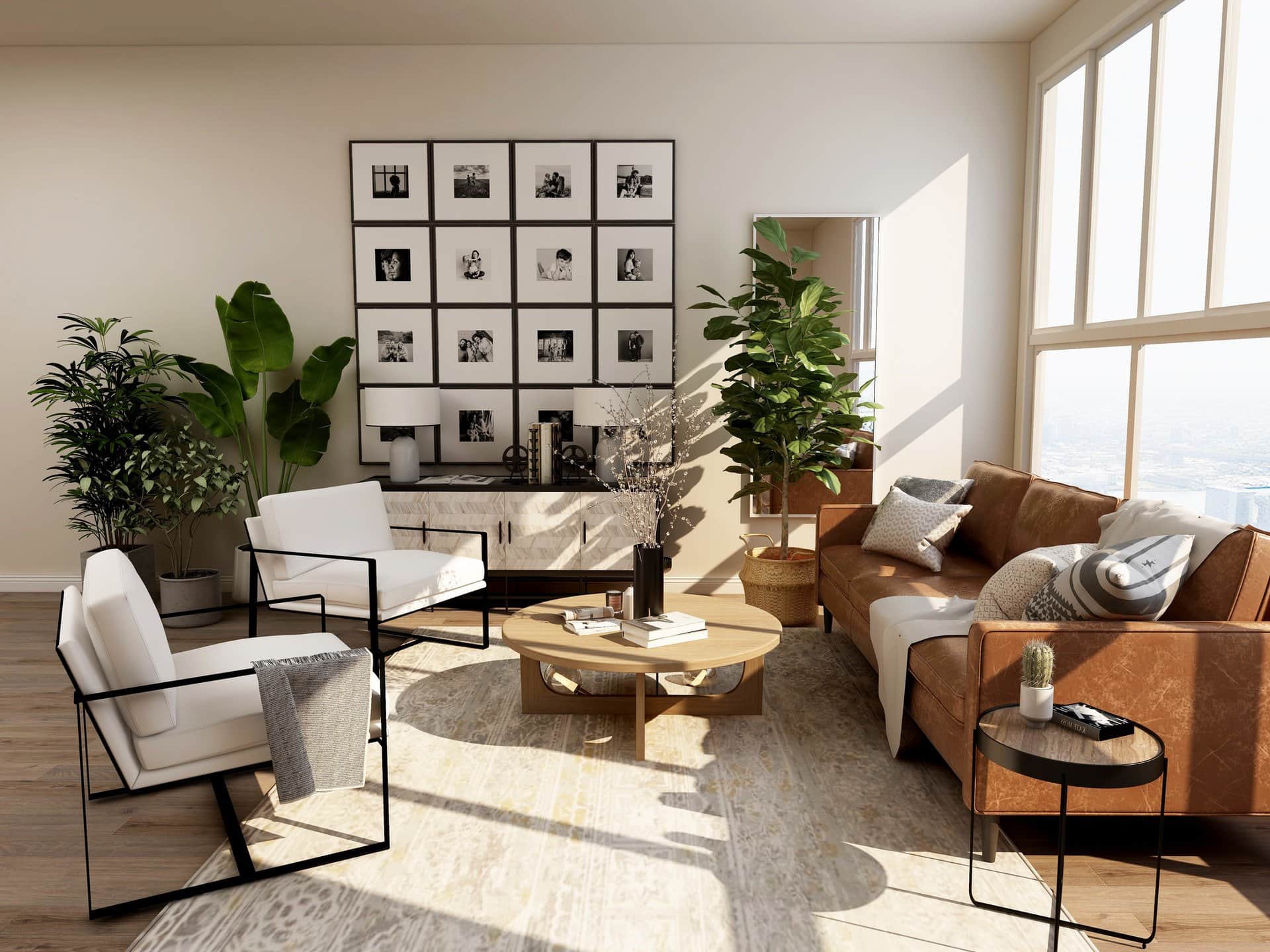 For another soothing color combo, consider brown, cream, and a pop of bright white. This room has the perfect creamy color on the wall, setting the mood for a relaxing space.
The cream rug anchors the room while the brown sofa brings in texture. The pops of bright white add a sense of modernness to the space.
Create Unique Seating Areas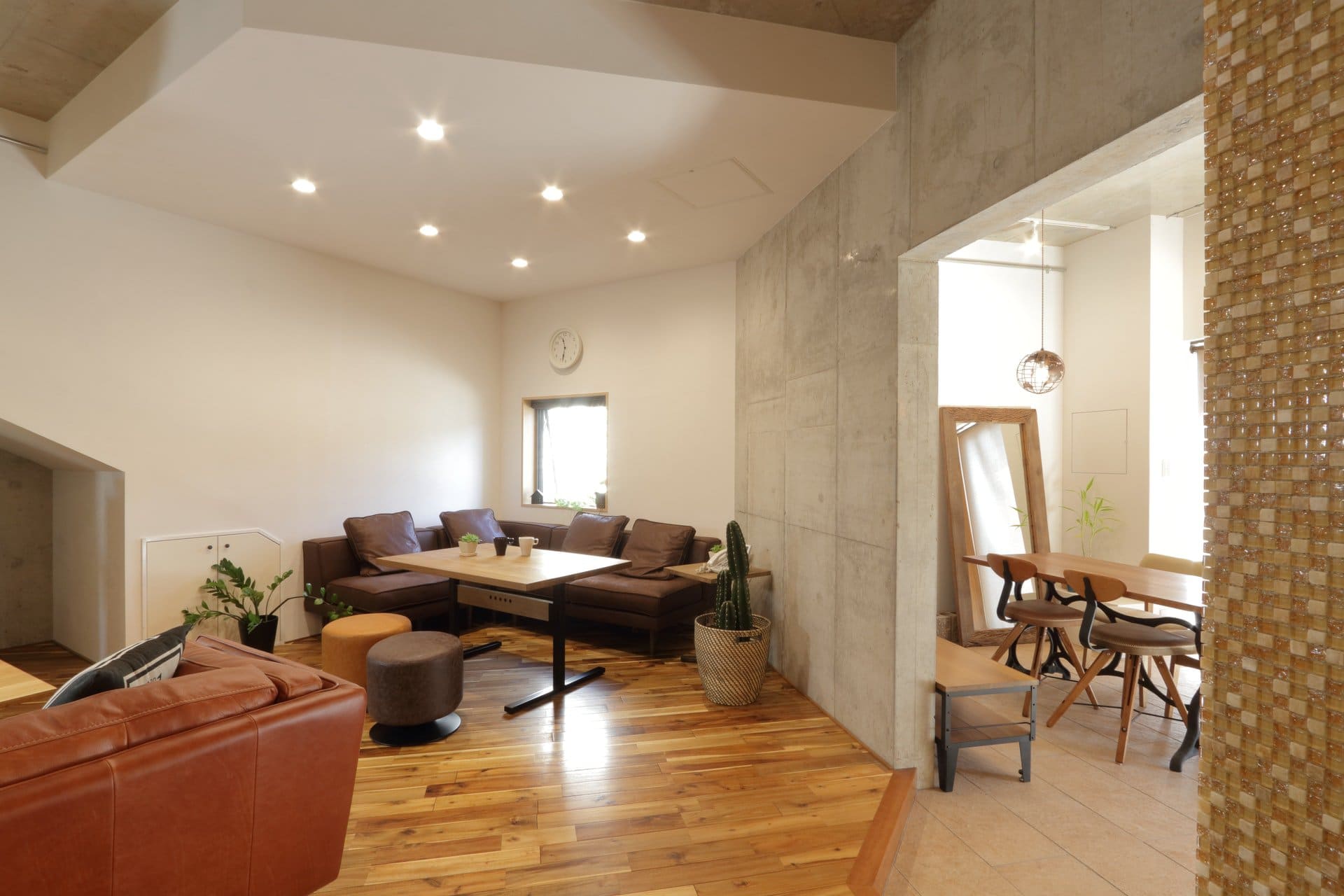 If you're looking for unique cream and brown living room ideas and have an empty corner, consider something like this. The homeowners added a brown sectional to the corner with a large table to create a booth-like setting.
The living room features a second brown leather sofa with cream, brown, and warm-tone accents.
Choose a Subtle Accent Color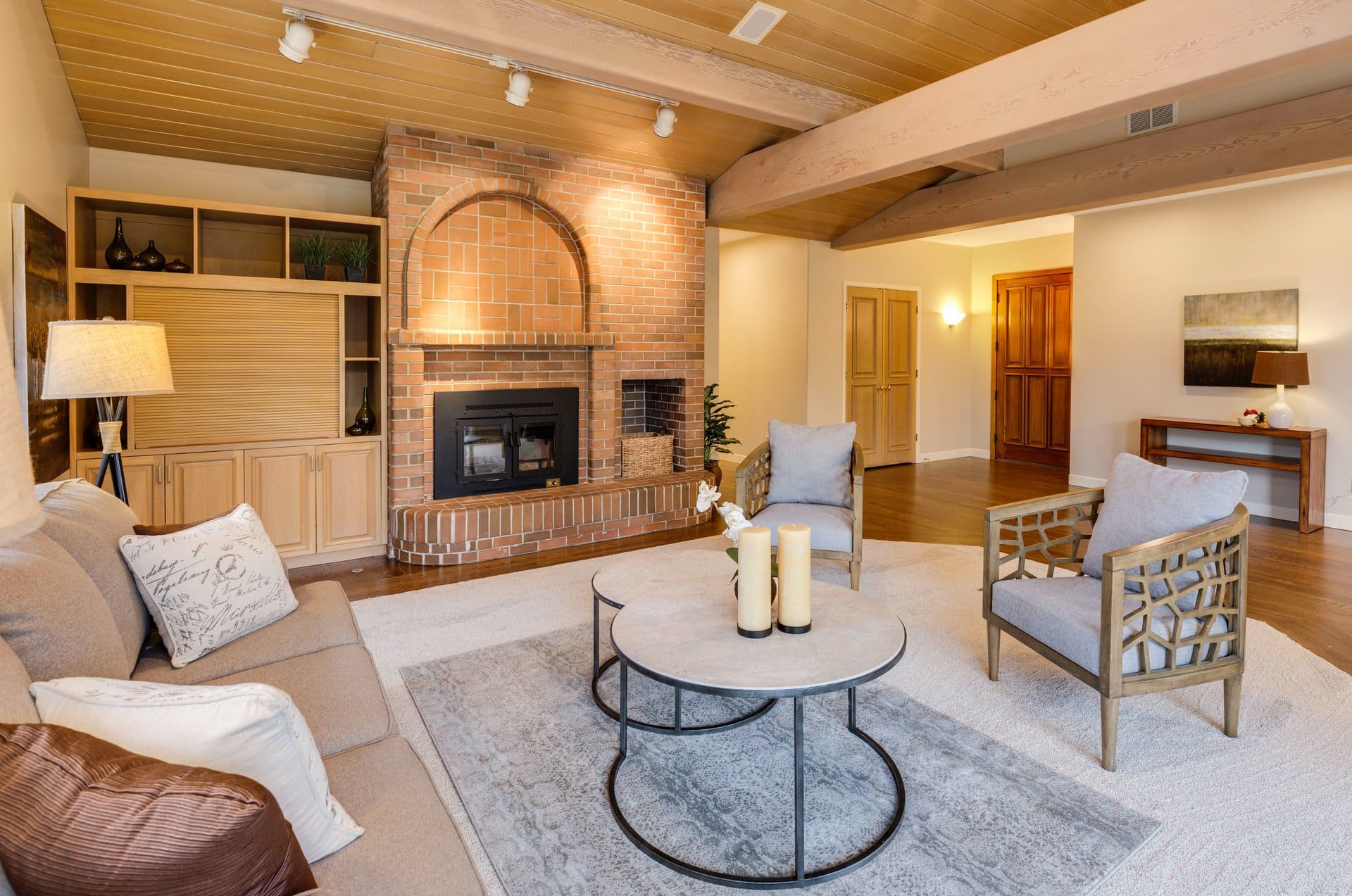 A soft ocean blue complements this living room's brown and cream color scheme. Adding this color gives the room a very organic look, ideal for relaxing after a hard day at work.
If you want to incorporate other colors into your room, brown, golden yellow, and sage green are great choices.
Try Cream, Brown, and Gold for a Formal Look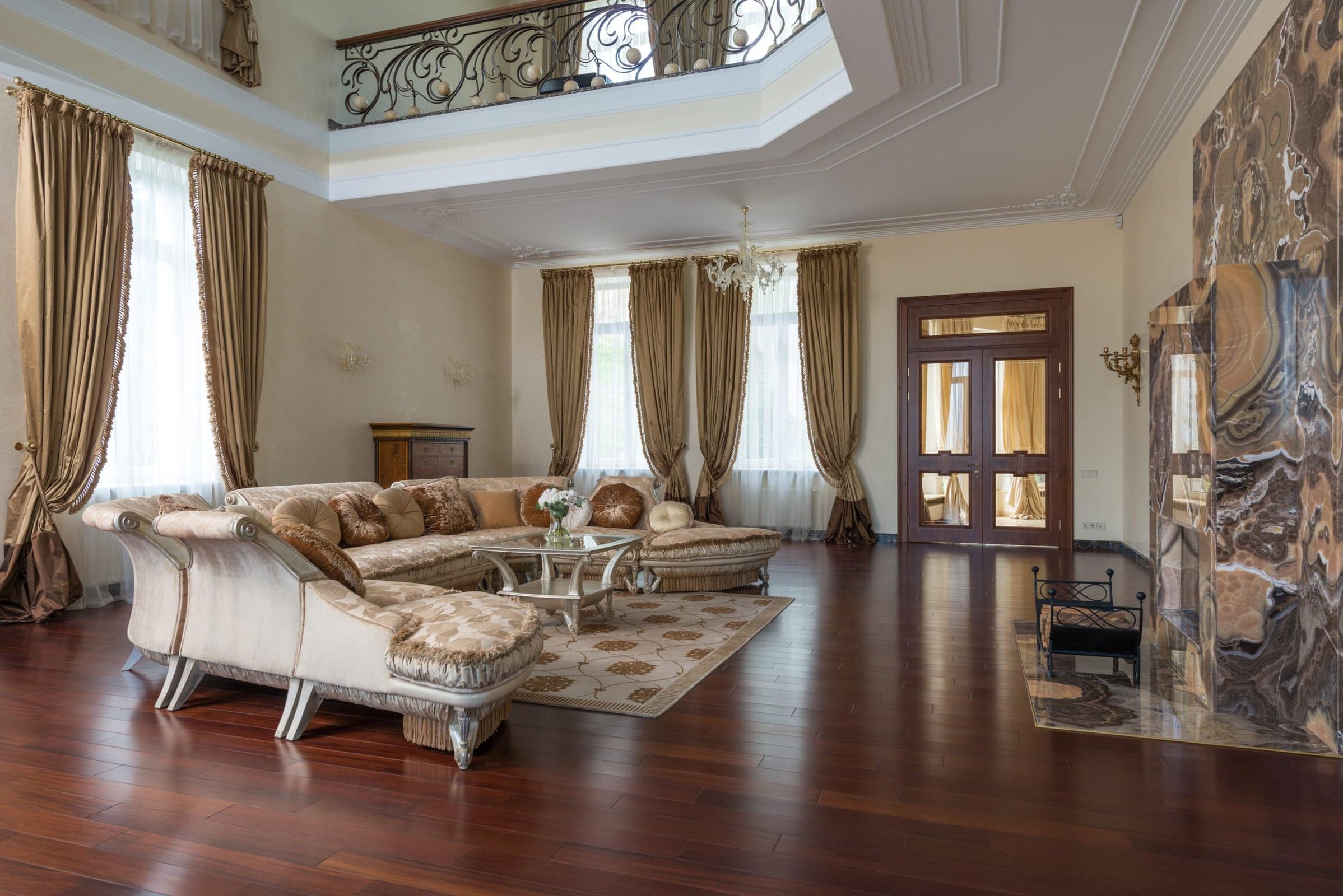 If formal is the look you're after, a brown, cream, and gold color palette will help you pull it off. In this space, the antique, glam-style sofa helps set the room's tone.
The long brown curtains add to the formal effect, while the brown, gold, and cream on the rug and sofa tie everything together.
Carry the Color Scheme Into the Kitchen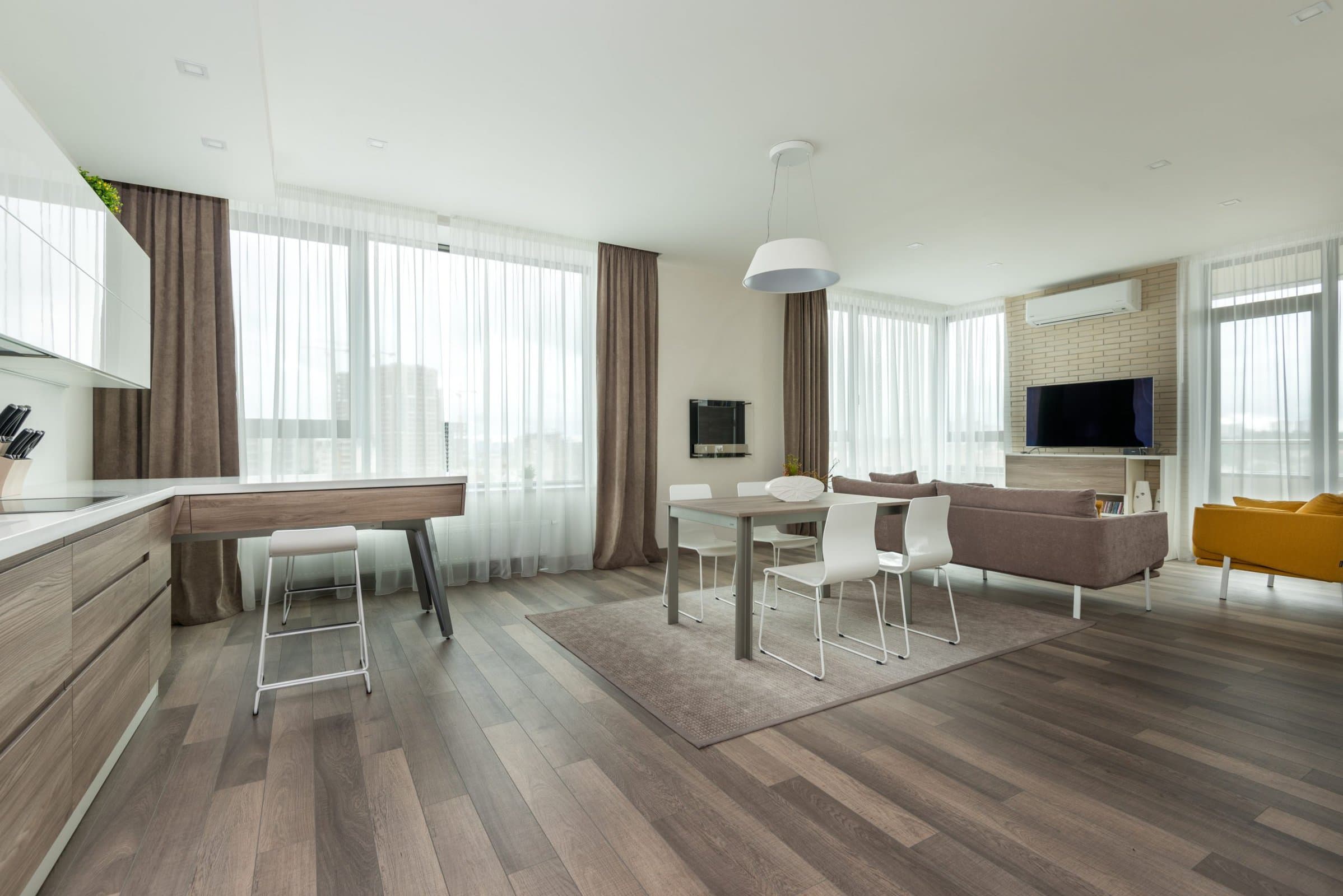 Does your house have an open concept floor plan? If so, it's best to carry the same color palette throughout the kitchen, living room, and other open, adjoining spaces.
You can easily carry the look by using natural wood in your space with creamy white accessories. Don't forget to use your color palette in items like curtains and light fixtures.
For a Clean Look Use Brown as the Accent Color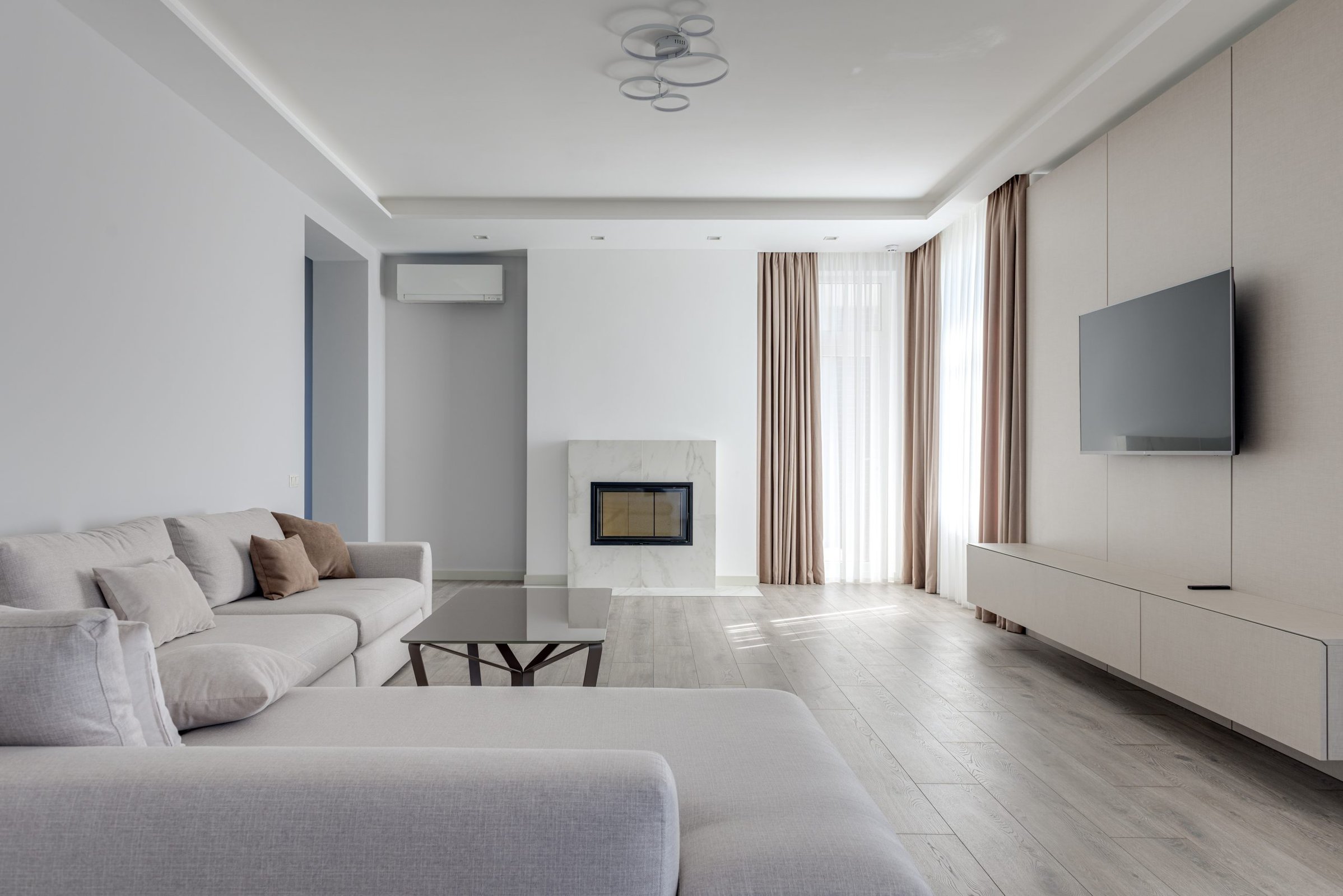 Just because you want to use a brown and cream color scheme doesn't mean that your dominant color must be brown. If you want a more relaxing or modern-looking space, use brown as the accent color.
In this simple living room, the cream-colored sofa is the star of the show. Brown is the accent on the throw pillows and curtains.
Design a Relaxing Space with Natural Elements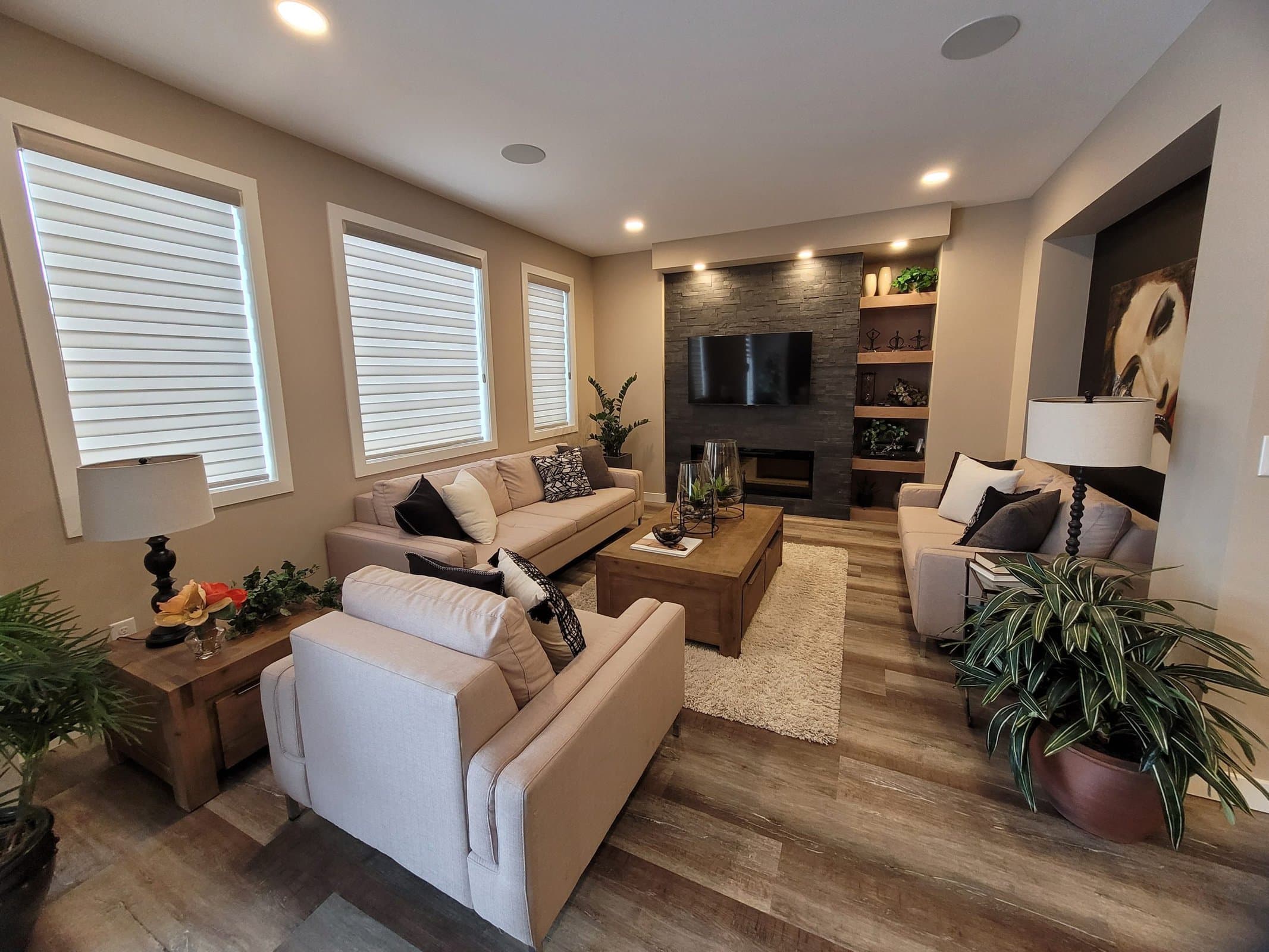 There's one guaranteed way to make your living room feel relaxing – use plenty of natural elements. This design tip works exceptionally well with a brown and cream room since both hues are earth tones.
Add plenty of plants and natural wood tones to your space to get the earthy look. You can go further by creating an accent wall with brick or stone.
Consider a Gray-Brown Sofa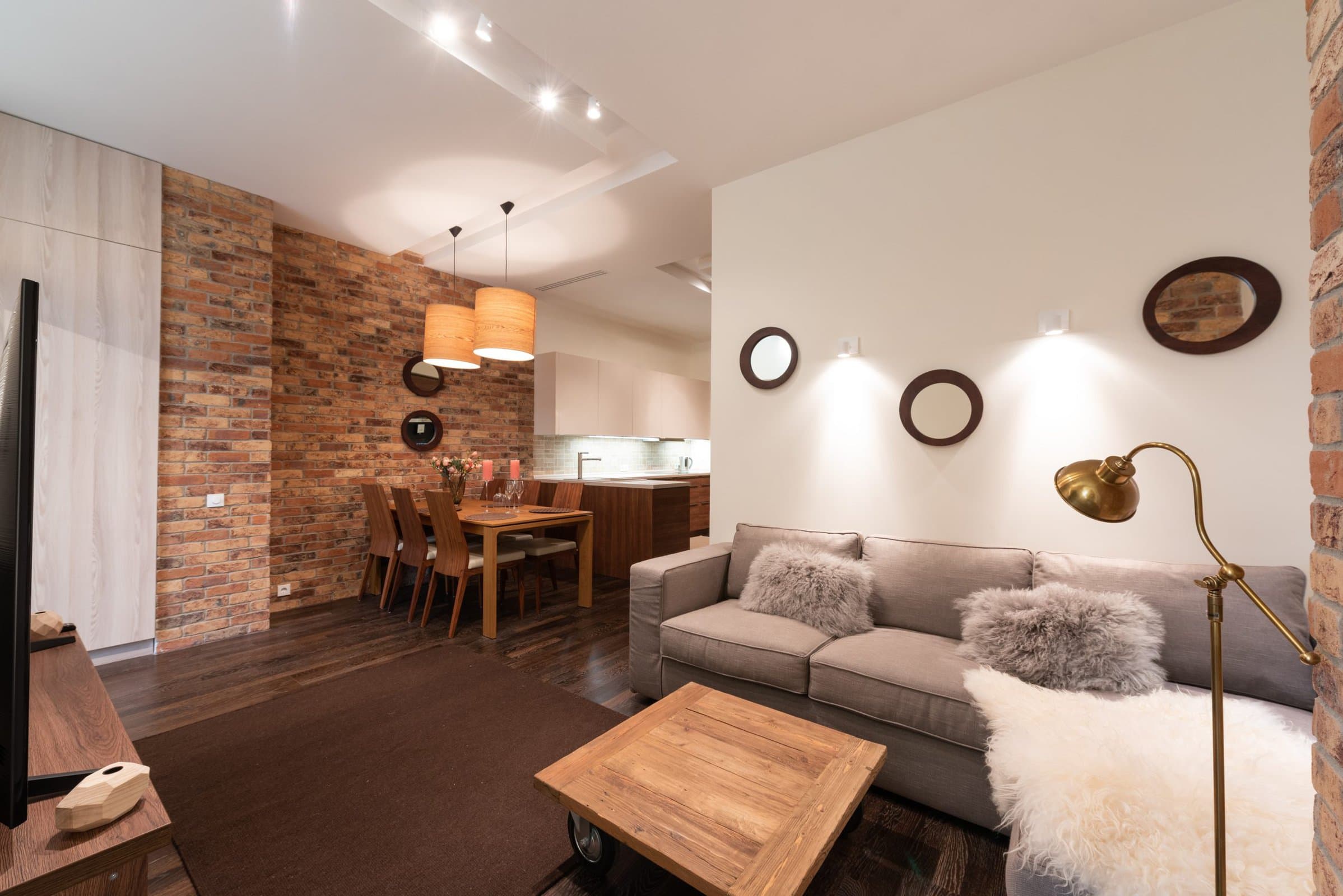 While cream and brown work well together, chocolate brown is not your only option. For a versatile sofa, look for something that's gray-brown.
A gray-brown will work with other shades of brown but also with cool colors. It's a good choice if you want a piece that will grow with you.
Create a Minimal Look by Skimping on Accessories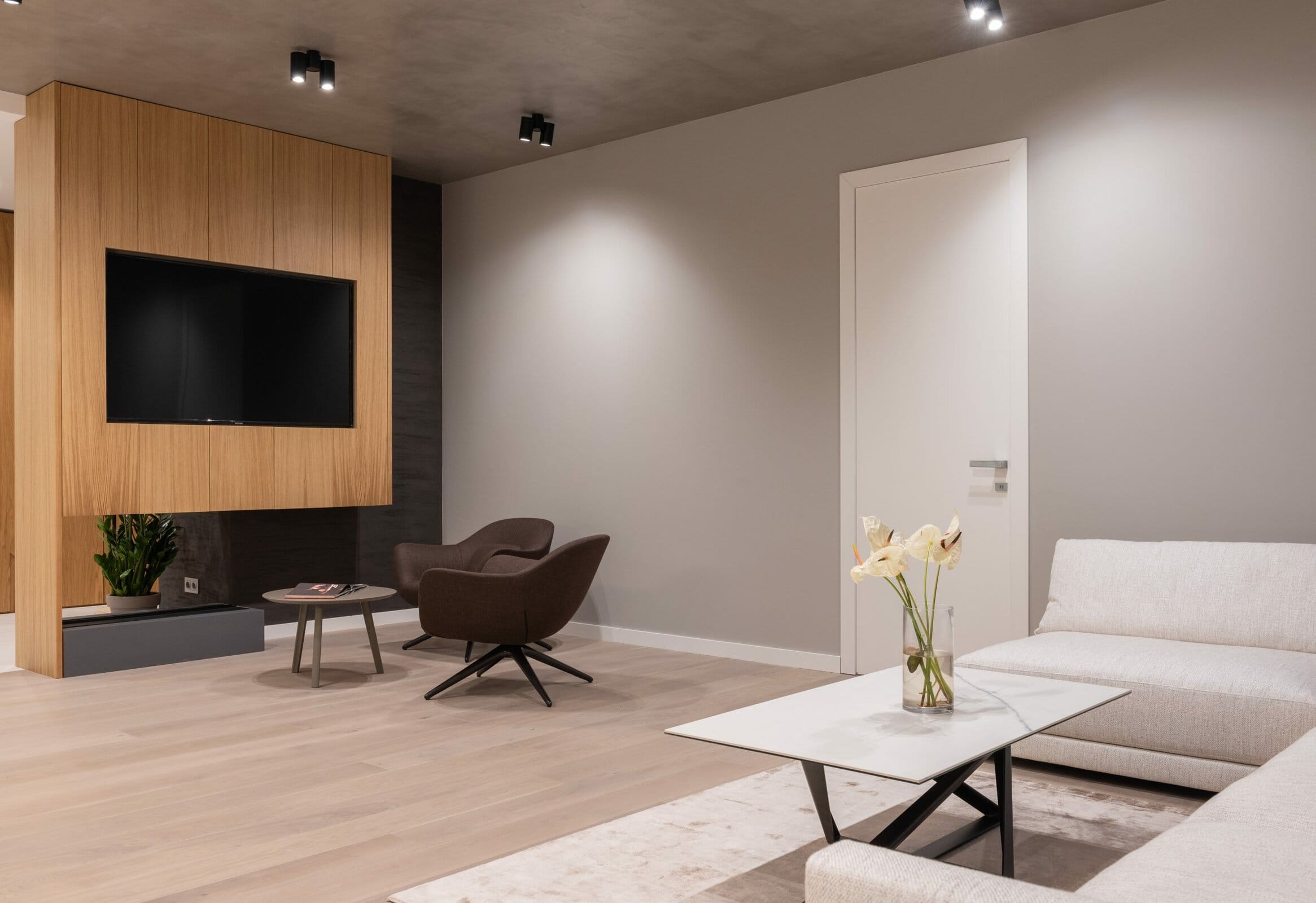 The great thing about minimal design is not only does it promote low stress, but it can also save you money. So if you want a minimal brown and cream living room, use the colors in your furniture and skip the accessories.
All you need is a sofa, accent chairs, and a coffee table.
Get a Traditional Look With Rolled-Arm Furniture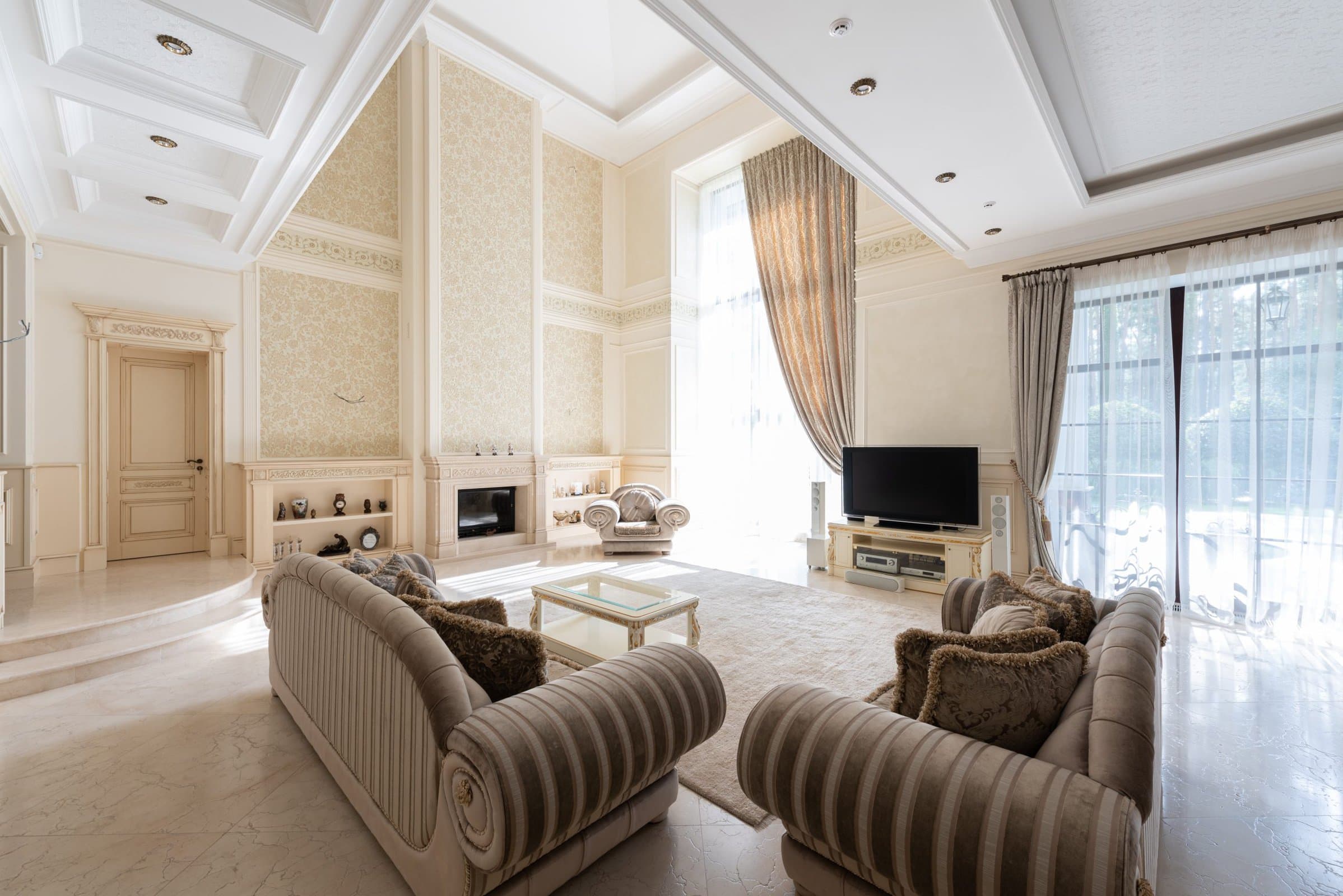 While this room blurs the line between traditional and glam, you can push it one way or the other with simple swaps.
The brown sofa and cream rugs give the room a traditional look, while the wall treatment and shimmery curtains add a glam touch. If you don't like the glam, go for a solid color on the walls.
Add Extra Colors for a Modern Look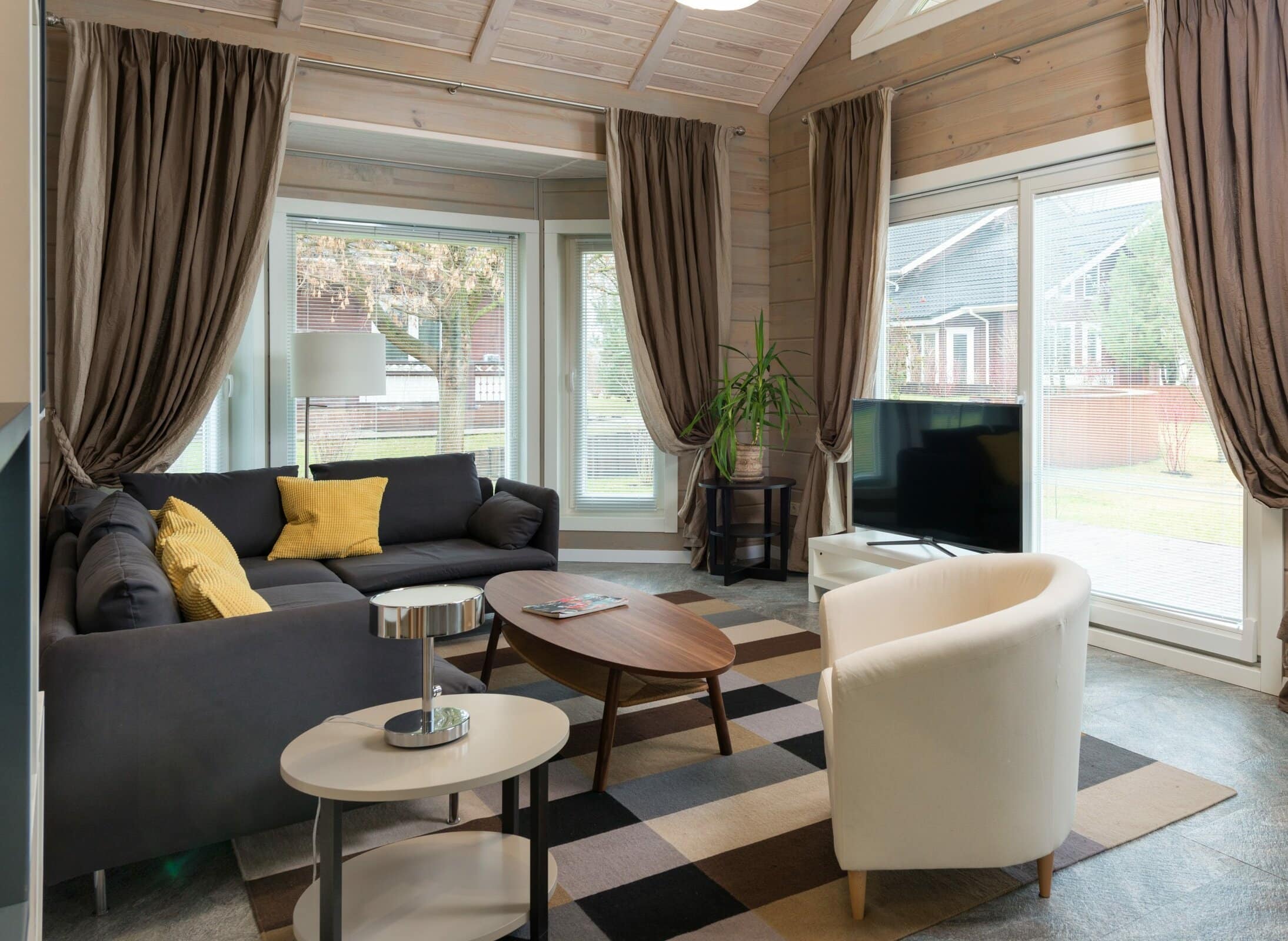 Your brown and cream living doesn't have to be only brown and cream. Using a rug like this is an easy way to tie in other colors.
While this room is predominately brown and cream, the blue-gray sofa and yellow pillows give it a modern punch.
Final Thoughts
A brown and cream living room is an excellent backdrop for a peaceful, relaxing space. Since these colors are earth tones, they work well when mixed with natural elements like wood and plants.
If you want to make your earth-toned living room feel modern, don't be afraid to add a pop of color to your accessories. Or, you can keep the space minimal by skimping on the accessories and using your color palette in your furniture only.