TV Accent Walls That Steal the Show in Any Room
There's no getting away from the fact, especially with all the amazing content we can stream, that we all have TVs. And many of us have large, cinema style TVs which need to be mounted on the wall.
Sometimes seen as something that's ugly or uncultured (remember those 20th century TV cabinets?), you can make your television a piece of art within your living room.
How you style and where you place your TV will depend on the decor you favor and the ambience you want to create.
White and Simple TV Accent Wall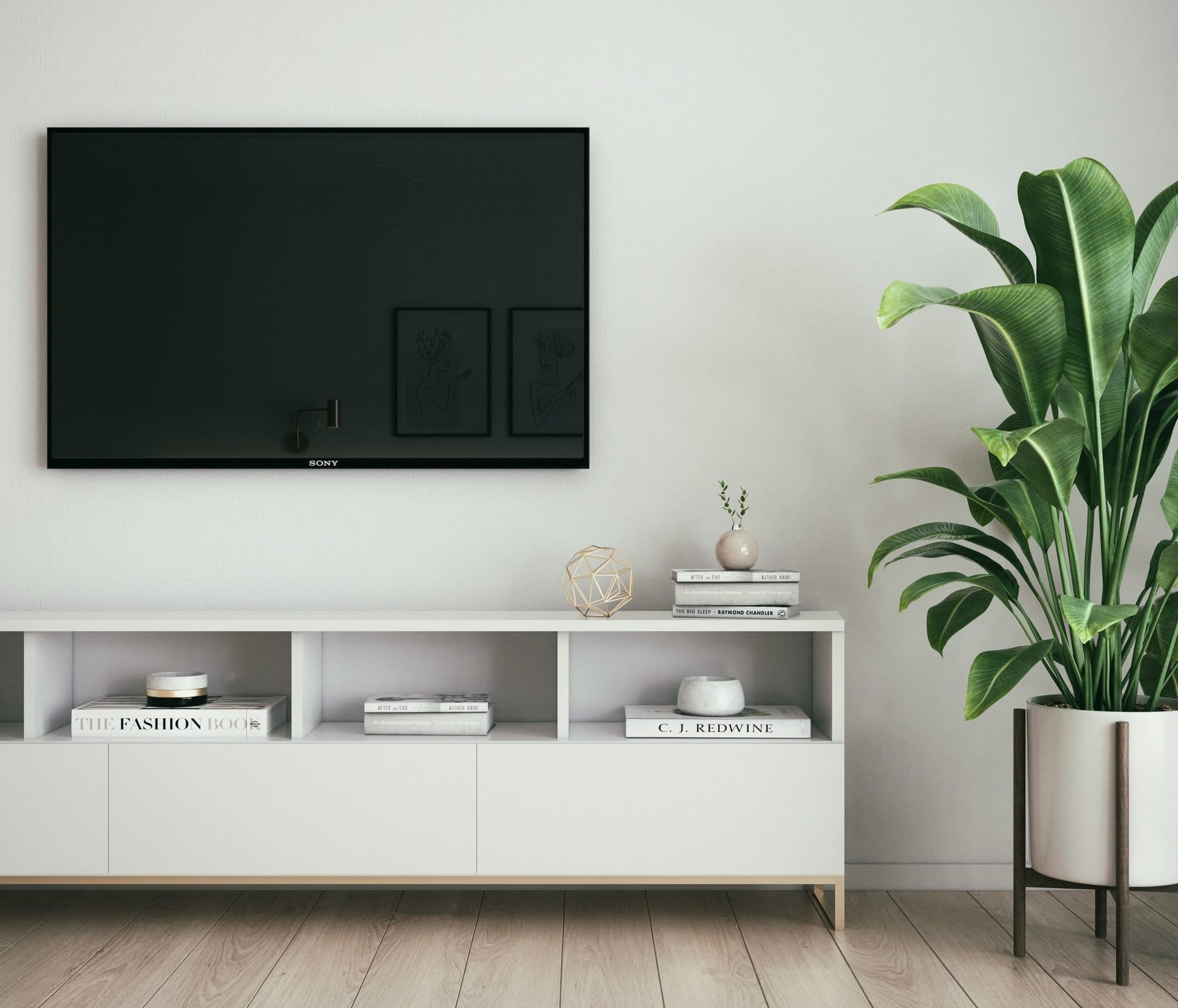 For an accent wall that is simple sophistication, paint your wall white and choose a cabinet also in white. Plain, neutral ornaments will keep the setting calm.
For a touch of boldness, an oversized exotic pot plant will give you a decorative feature while adding color and interest.
Blue and Gray TV Feature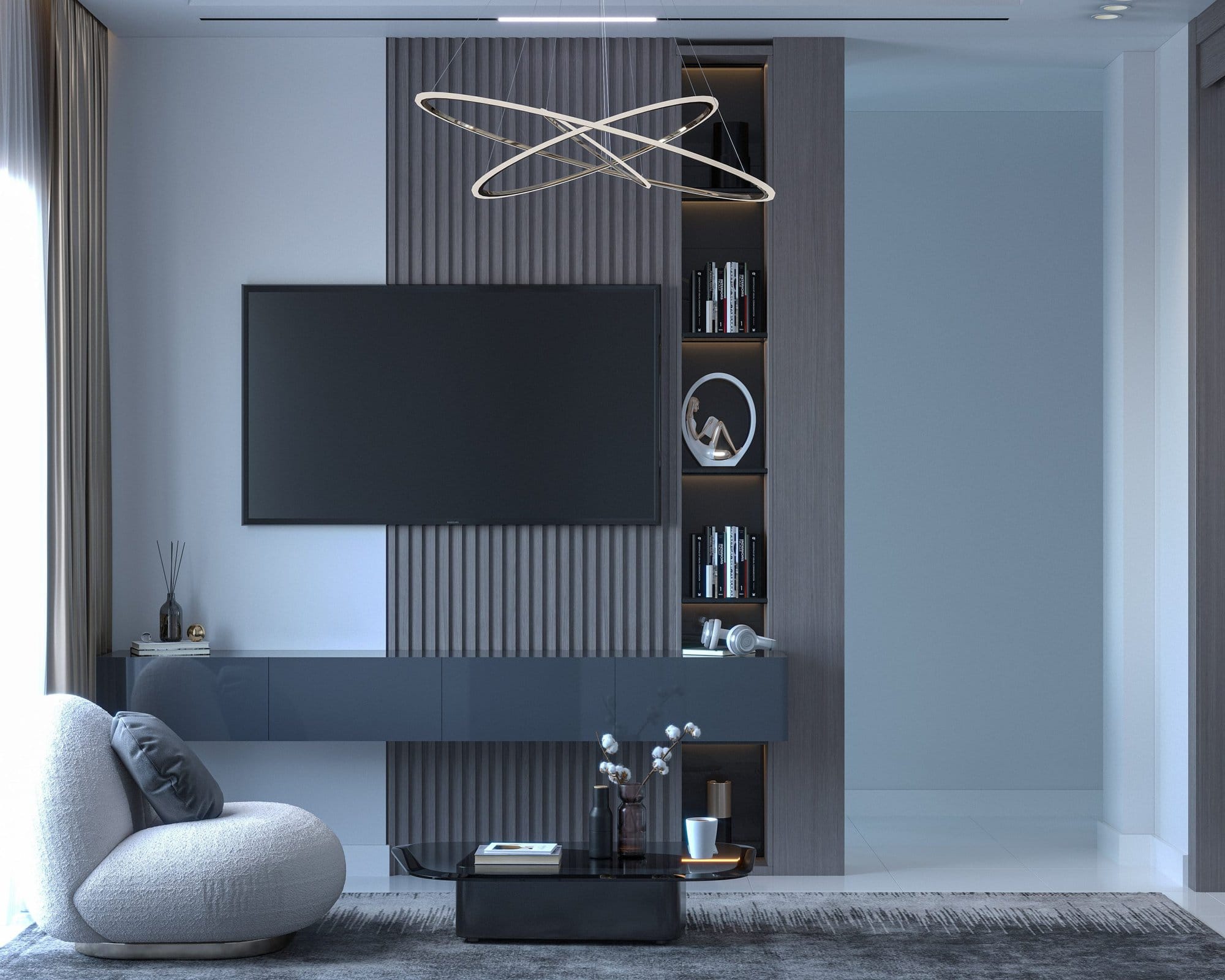 Consider the horizontal against the vertical for an architectural look in your living room. The TV wall can be accented by matching a pale blue against a cool gray.
You can build out from the wall to create shelves and storage. Using vertical slats which are given a coat of paint is a simple way to get a designer statement. Choose modern accessories for this space-aged look.
Shiplap Accent Wall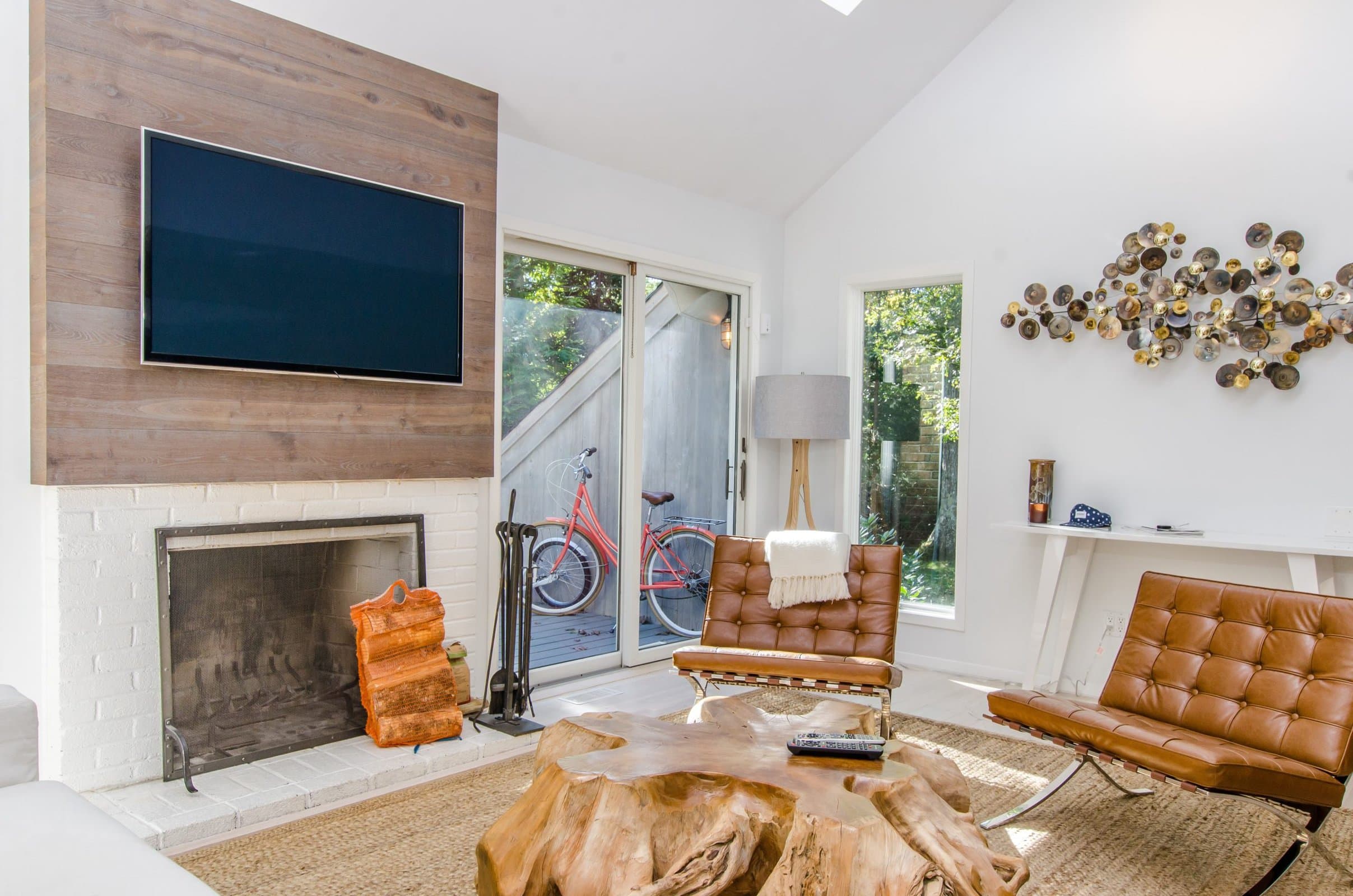 Shiplap can be modern or rustic depending on the finish you choose. Keeping a natural wood will add warmth to your living room. The TV can be mounted to the shiplap and makes a gorgeously smooth background.
You might want to try installing shiplap yourself. If you've never done this before, then picking the installation on part of your fireplace wall means you can learn on a small area.
Natural wood against a white wall with an open fireplace has the feel of the interior of a forest cabin. So try this if you like the great outdoors.
Vertical Wood Slats Feature
For a look that is both simple yet sophisticated, try modern mid-tone wood vertical slats. Making your TV look pretty as a picture, slats on the wall will frame the TV but also will not provide unnecessary distraction.
To keep this cool then go minimal – white wall, no ornaments and simple furniture. Then sit back and enjoy your cinema experience.
Plywood Accent Wall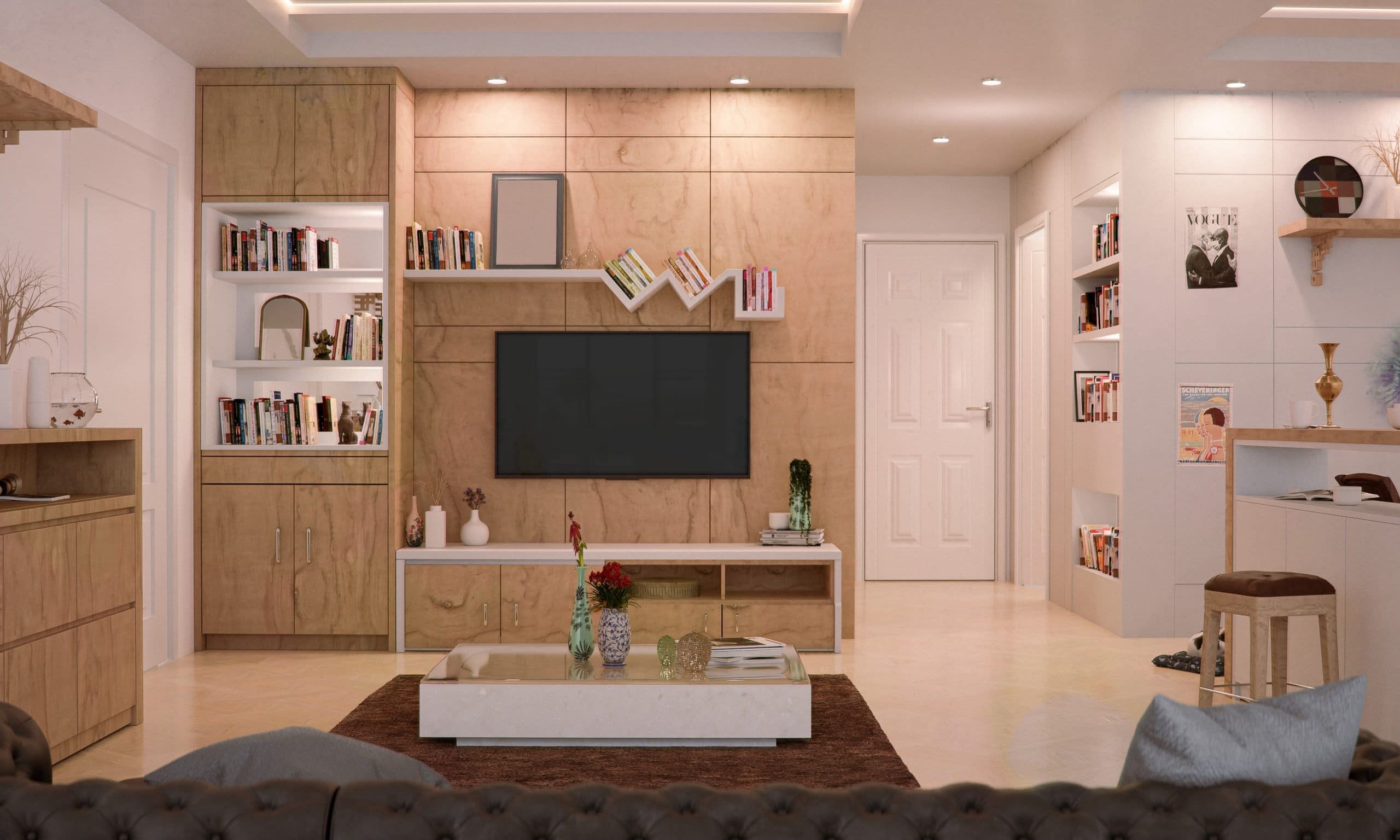 Plywood can be cheap which is good news with rising costs of timber and building supplies. However, when finished right it can look smooth and expensive.
If you are handy with tools you can build a plywood wall in a geometric design. If DIY is not so much for you, then you might employ a carpenter.
Choose a picture-like design and cut your panels to size. Then polish each panel to show the woodgrain to its best effect. Add white shelves in funky designs. A splendid modern backdrop for your TV!
Entertainment System Wall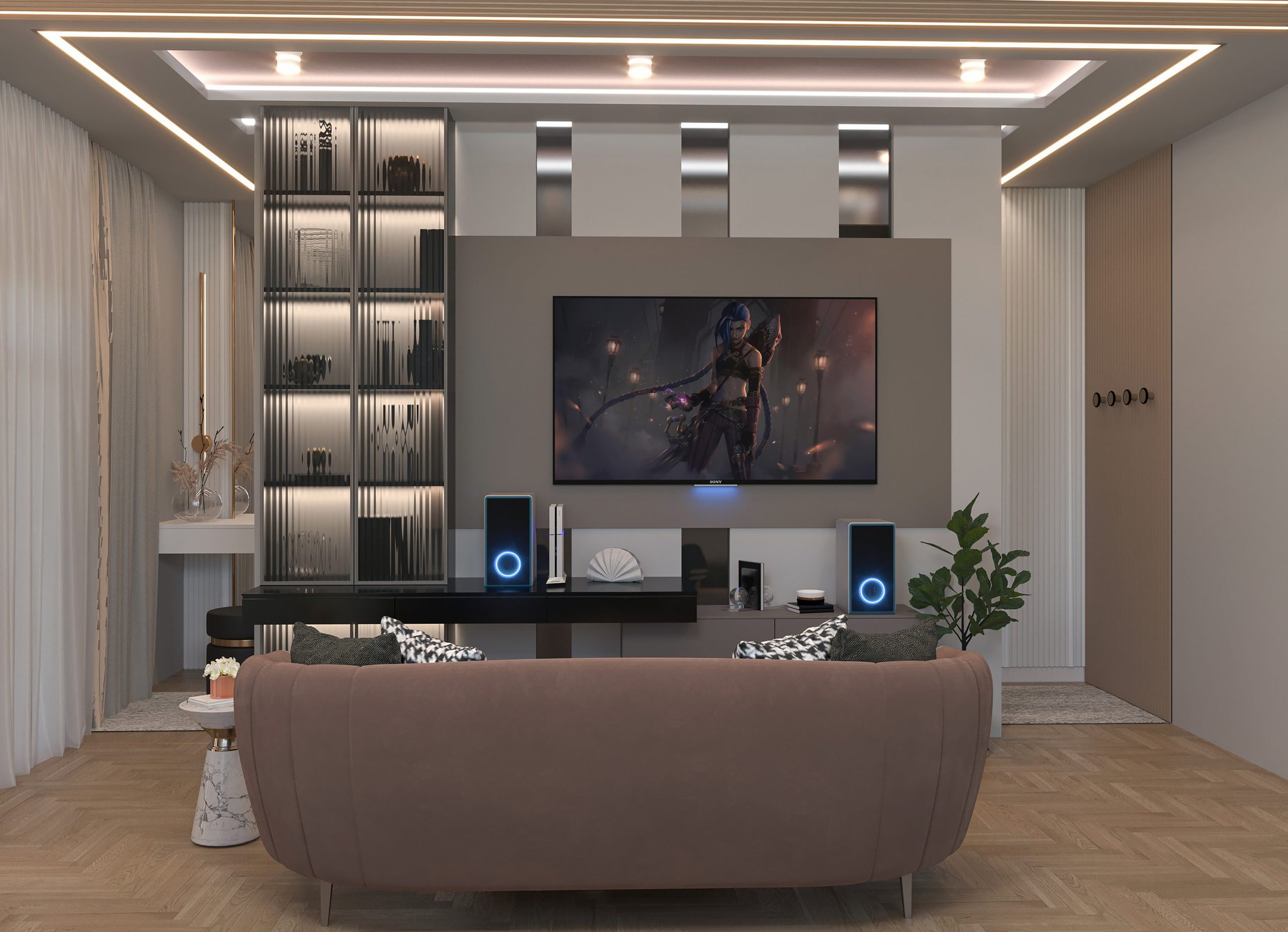 For those of you who are into high tech, state of the art audio visual systems then you'll need an accent wall to match. Using a metallic feature will nod to the advanced technology in your living room.
As for colors, keep it neutral. A masculine, minimal look, it is best not to have anything too fussy or cluttered. So add a sleek shelf or cabinet. And paint the walls in beige and taupe.
Cozy TV Watching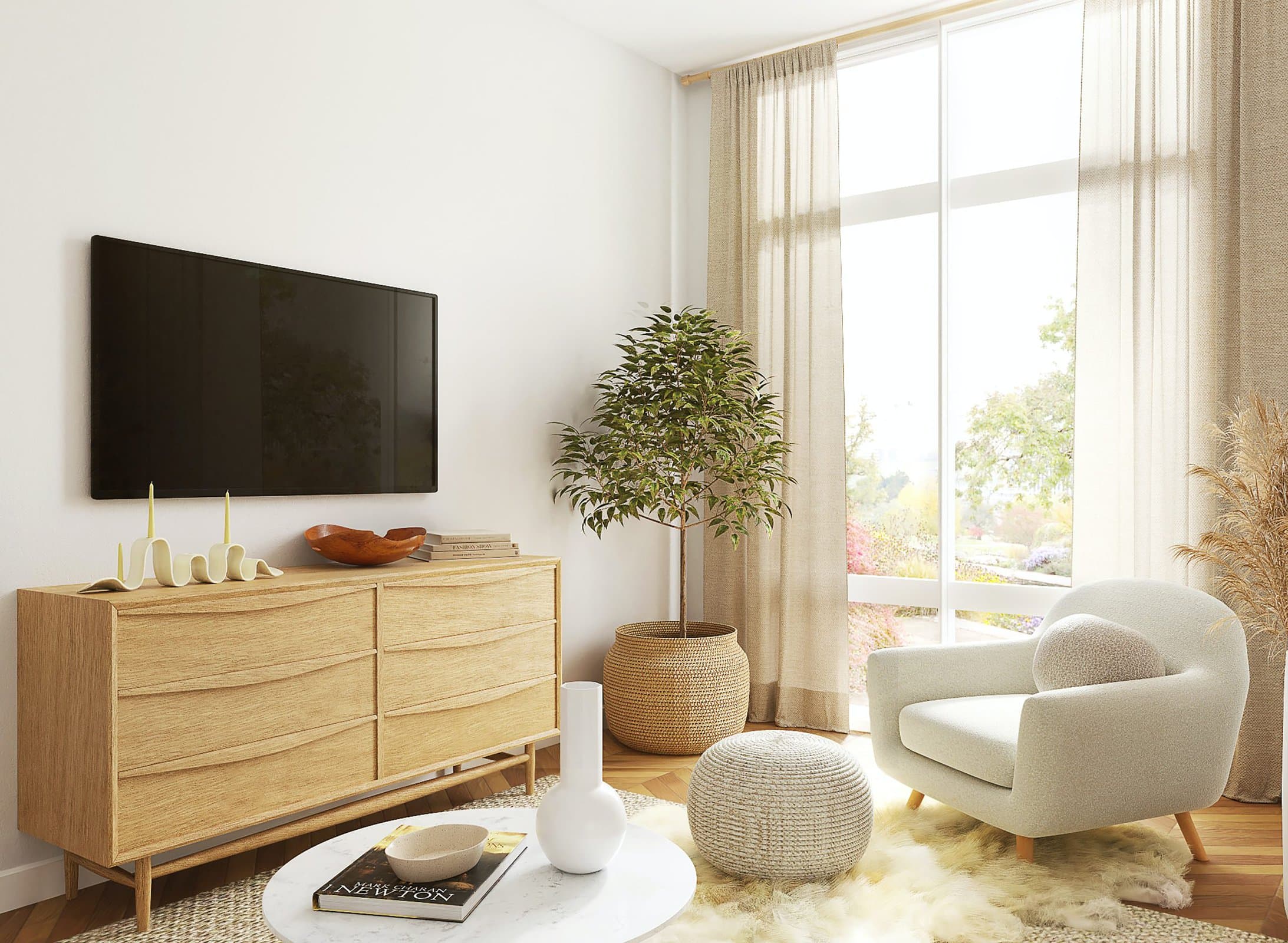 At the other side of the street is a look for those who prefer a cozy setting to watch TV. For this accent wall you need nothing more than white or off-white paint and some solid natural wood furniture.
A chunky oak cabinet will sit well under the television and can be styled with modern sculptures and textures in neutral or wood tones. Alongside this, add a large plant in a woven basket to keep the look earthy and comfy.
Wallpaper TV Accent Wall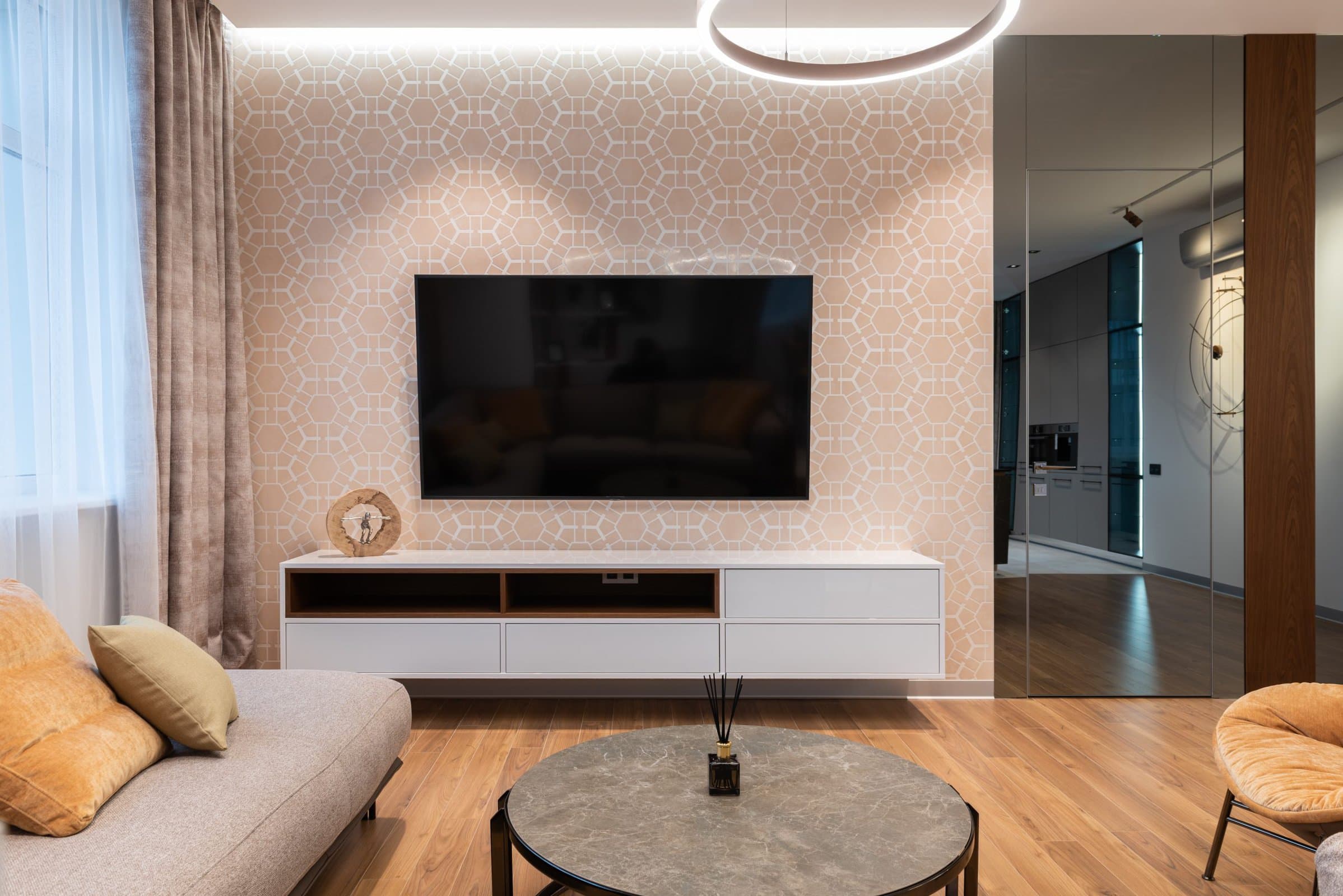 For some gorgeous color and a little pattern, then you could paper the accent wall in your living room. If you think you would like to give it a go, then why not try to hang the wallpaper yourself.
If choosing a pattern, then plain furniture with minimal decoration will work best. You could try a contrasting wood cabinet or a modern white storage unit.
Marble
For utter decadence, white marble is a wonderful background for your TV. You can mount a marble panel against other textures and styles for a feel of expense.
If your budget doesn't stretch to the real thing, you can pick a variety of other materials, from wallpaper to tile to get a similar effect.
In Closing
At first, you might think an accent wall needs to be painted or wallpapered but there are many different materials you can choose to create a unique accent wall as a background to your TV.
Use your imagination to add timber, whether shiplap or modern slats, or perhaps some bespoke storage. Or perhaps a metallic finish is more your thing.
Remember, you can show off your TV to its best advantage with some thought to the colors you choose for your accent wall and for your accessories.