Decorated Life is reader-supported. When you buy through links on our site, we may earn an affiliate commission. Learn More
19 Creative Deck Lighting Ideas
If your backyard oasis includes a deck, then you'll need some deck lighting ideas to help you continue to enjoy your space once the sun goes down. If you're having a tough time deciding what you want, first think about how you want to use the space.
Do you want to entertain? Maybe some fun string lights are the best option. Or, do you just want a spot to relax? Because recessed deck lighting is perfect for that vibe.
There are actually a lot of different ways you can bright some brightness to your deck, and a lot of them are surprisingly low maintenance! So, if you're on the hunt for some good deck lighting ideas, we've got you covered.
String Lights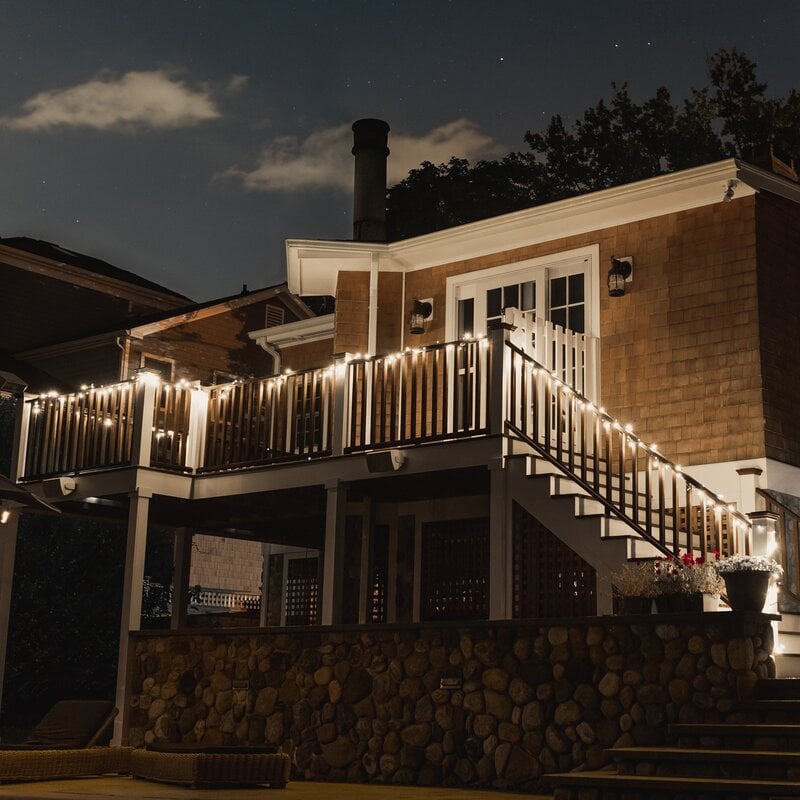 You can't go wrong with the classic outdoor string lights. They light up your house around the holidays, so why can't they light up your outdoor space for the rest of the year?
In this photo, they wrapped the lights around the railings to give it a little bit of a different look, and it totally works!
Fairy Lights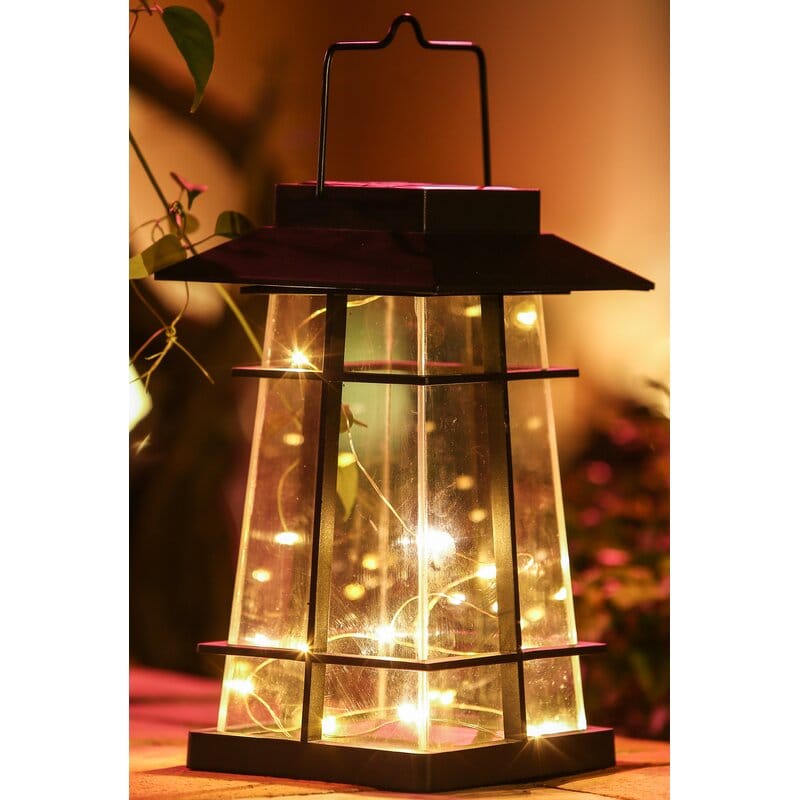 For a more romantic, cozy feel, consider posting up some lanterns with fair lights in them. Fairy lights are teeny but still give off a bit of light when they're all bunched together like in this photo.
A lot of these lights are battery-operated, so make sure you find a set that is safe for outdoor use or make sure they're in a container, like this lantern, that will protect them from rain and snow. It's a little extra work, but the look is so worth it!
Solar Powered Hanging Lanterns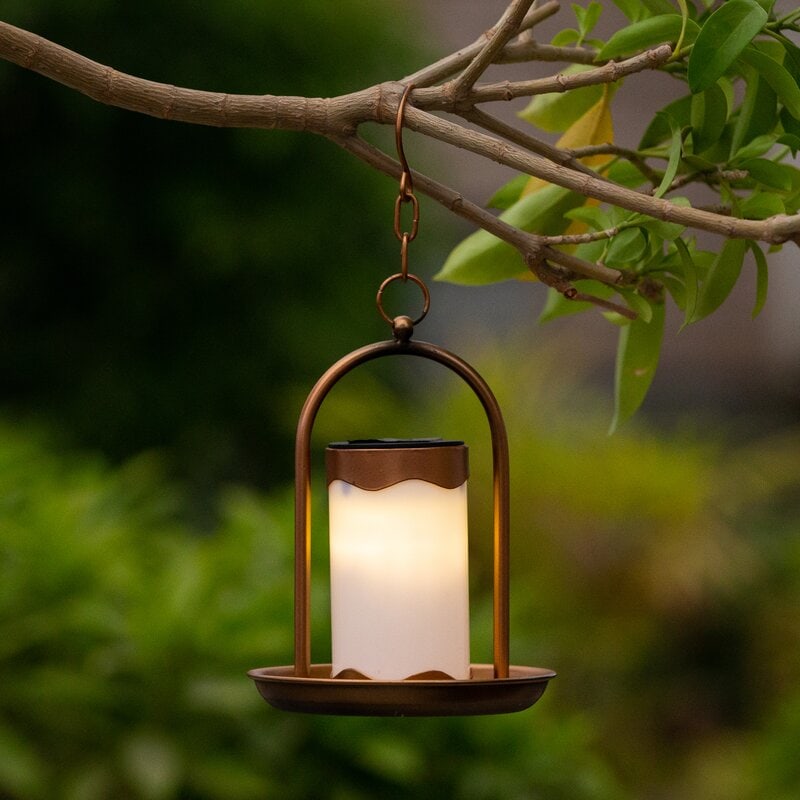 Solar deck lighting is probably one of the easiest ways to brighten up an outdoor space because you don't have to do anything except make sure they get a little bit of sunlight.
These hanging lanterns are totally solar-powered, and they're downright beautiful. If you have some trees surrounding your deck, hang a few of these in the branches to brighten things up. You can also mount some hooks onto the posts and hang them from there.
Glass Torch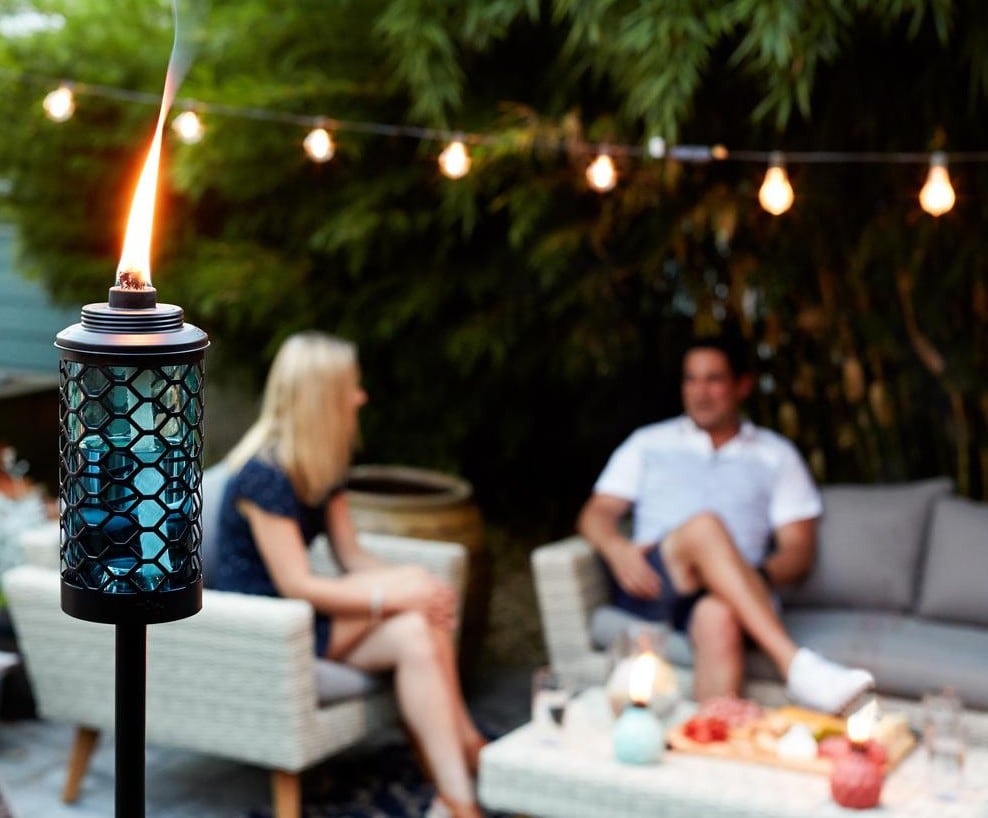 Here's an elevated take on one of the most classic deck lighting options – a tiki torch! If you're a fan of the open flame light, consider a glass torch instead.
If you go this route, just remember that not only will you need to be careful with the fire but be extra careful not to knock over the torch because it will break. But, as long as you don't have little kids running around you should be good!
Globe Sconce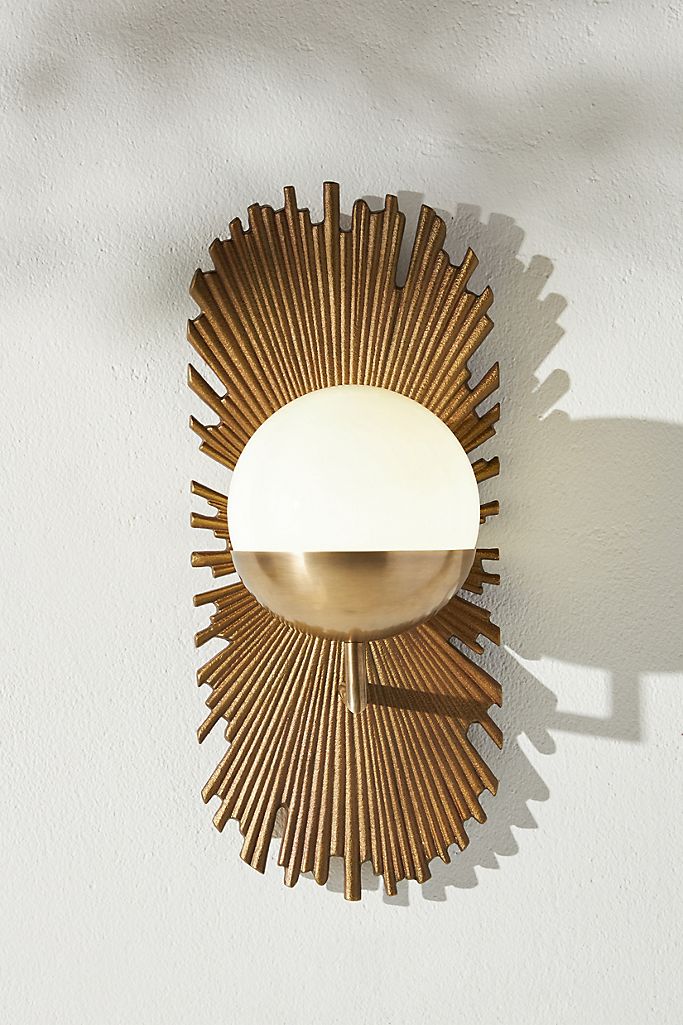 If you have some electrical wiring already set up outside, swap out your builder-grade outdoor light with something a little more stylish like this globe sconce!
It's designed to go outdoors, so you don't have to worry about the weather rushing or fading it. It will not only brighten up your outdoor space but also give it a decorative touch.
Lantern String Lights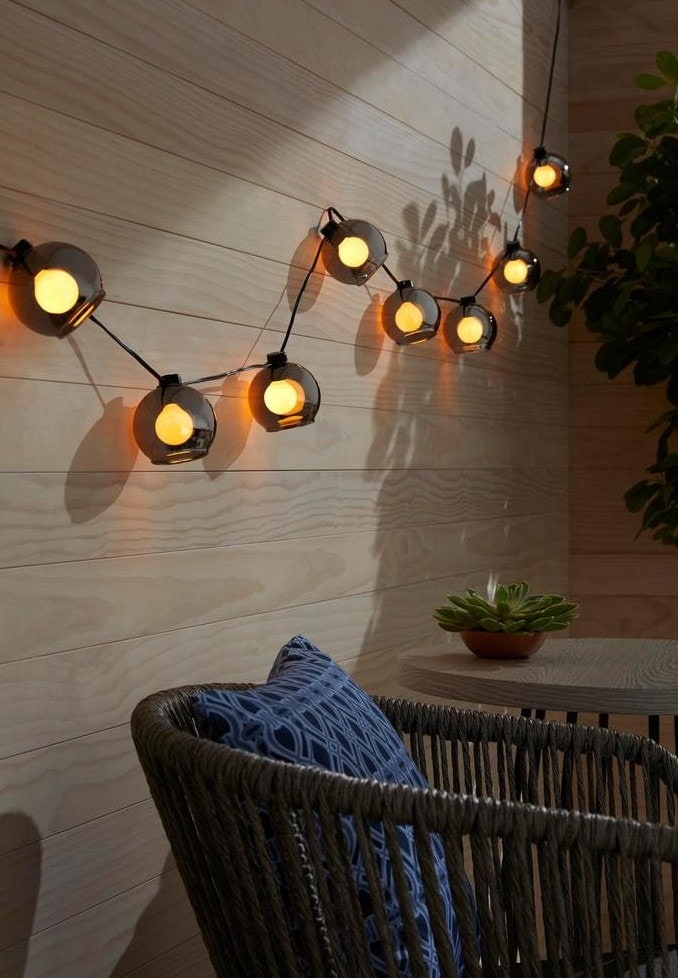 Here's another outdoor deck lighting idea with string lights, only these ones have little lantern shades over them, giving them a more elevated look and turning their already cozy lighting into an even more subdued feel.
This low voltage deck lighting is perfect for a smaller space with a really romantic vibe. Fair warning, it's so cozy you could very well fall asleep while lounging.
Floor Lanterns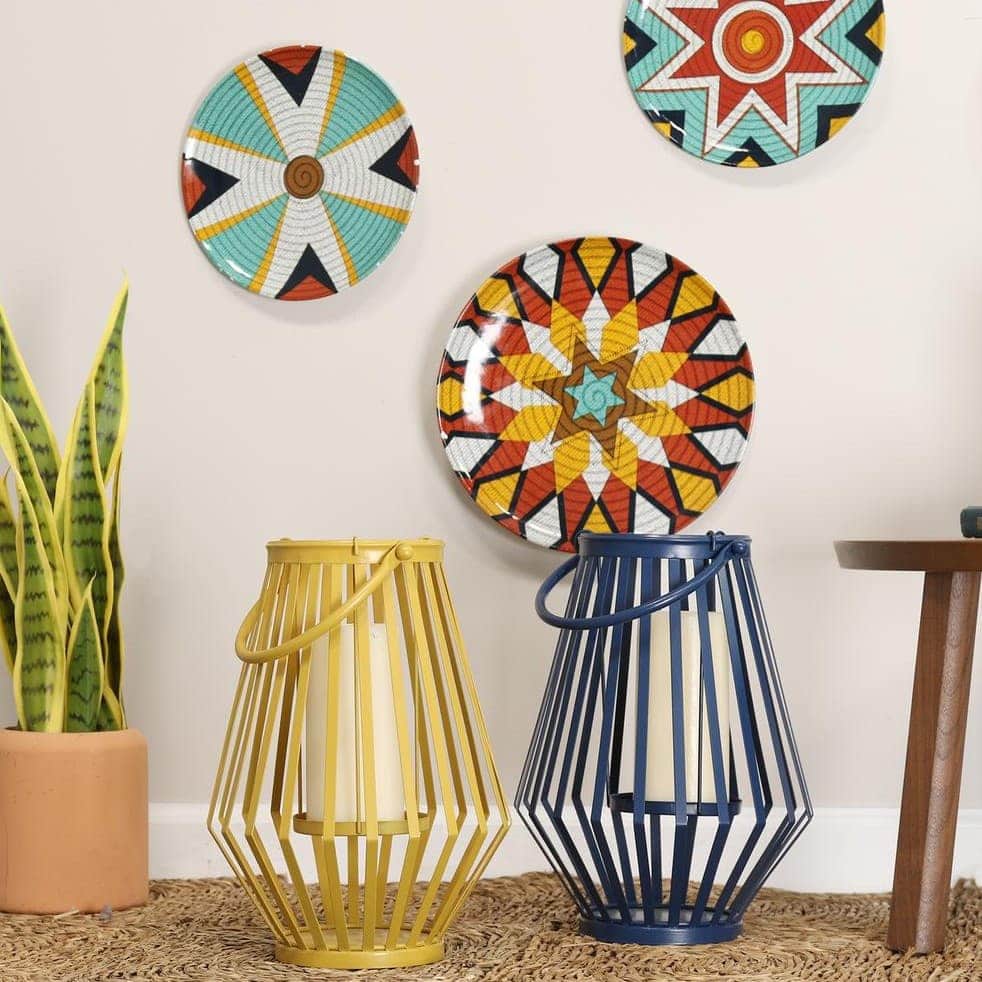 Instead of overhead lighting, set up some floor lanterns around your deck. They'll give off a warm glow and you can cluster a few together to give you the exact amount of light you want.
When you're setting them up, Try to find a few in different heights to give the look a bit of depth and variety. A cluster of identical lanterns wouldn't look quite as styled.
Oil Lamps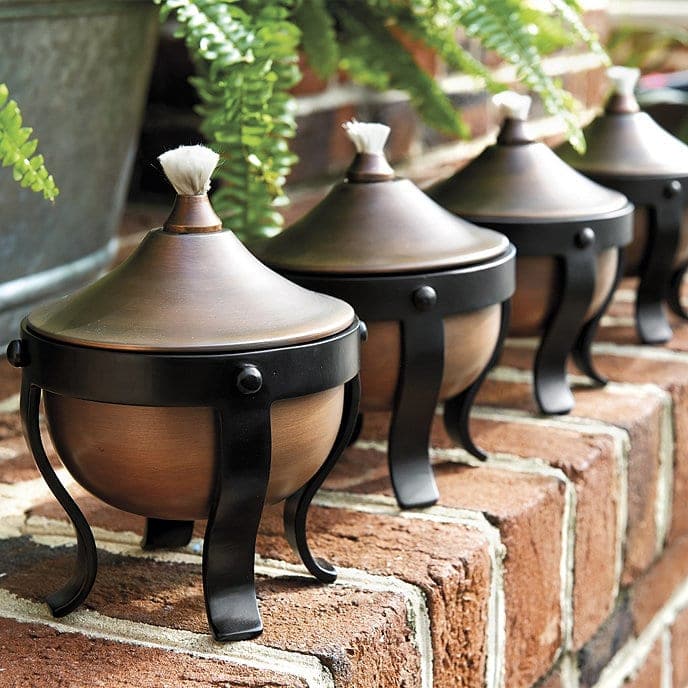 Much like tiki torches, oil lamps have a big wick that's soaked in oil to emit a big flame and a lot of warm light. Unlike tiki torches, these oil lamps sit on a surface like a table or a ledge, so they're less likely to get knocked over (or accidentally catch someone's hair on fire).
Step Lights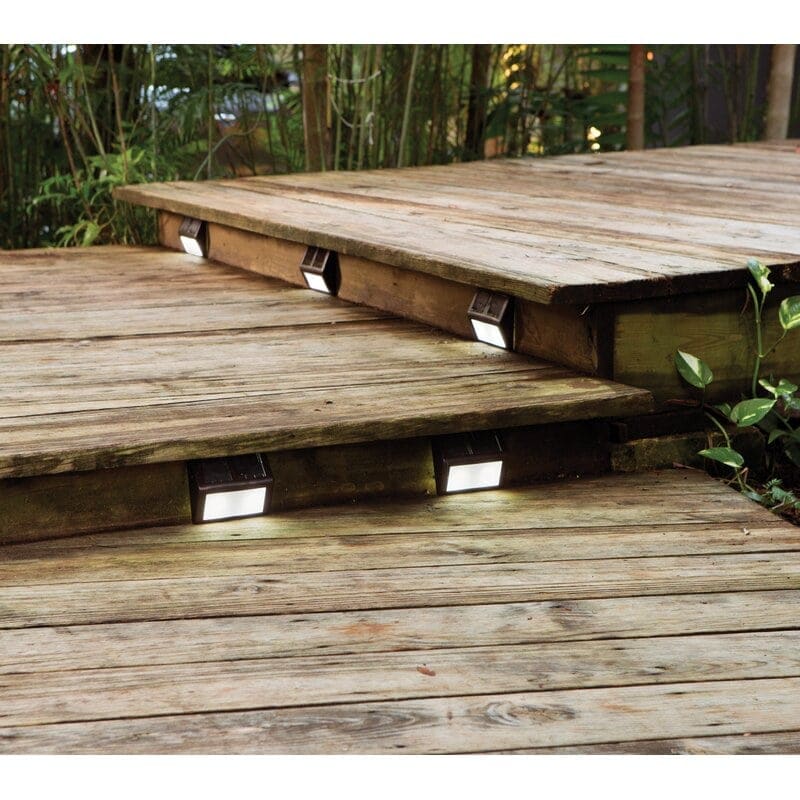 Another great way to brighten your outdoor space is with under deck lighting like these step lights. They will not only give your deck a nice glow, but they'll also light up your walkway so you don't accidentally miss a step and tumble down.
All-Weather Lamp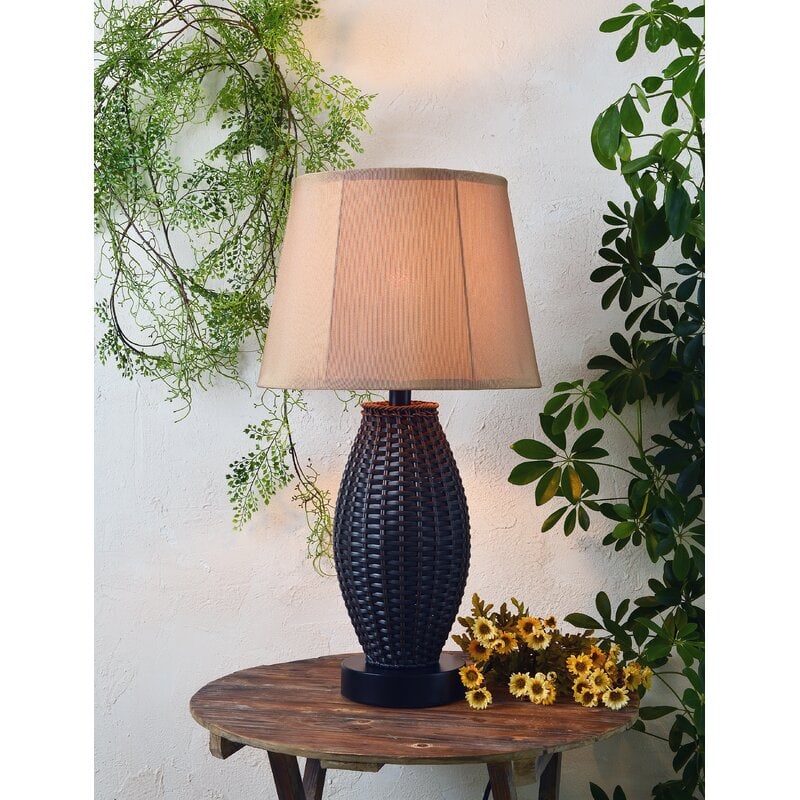 One of the best decking lights, in my opinion, is all-weather lamps. They look just like indoor lamps, but they can get set outside without fear of rain or snow destroying them.
You can tuck one of these into a corner and give the deck a lot of light. Plus, their indoor look will make the space feel a little homier than a traditional outdoor area.
Bronze Cafe String Lights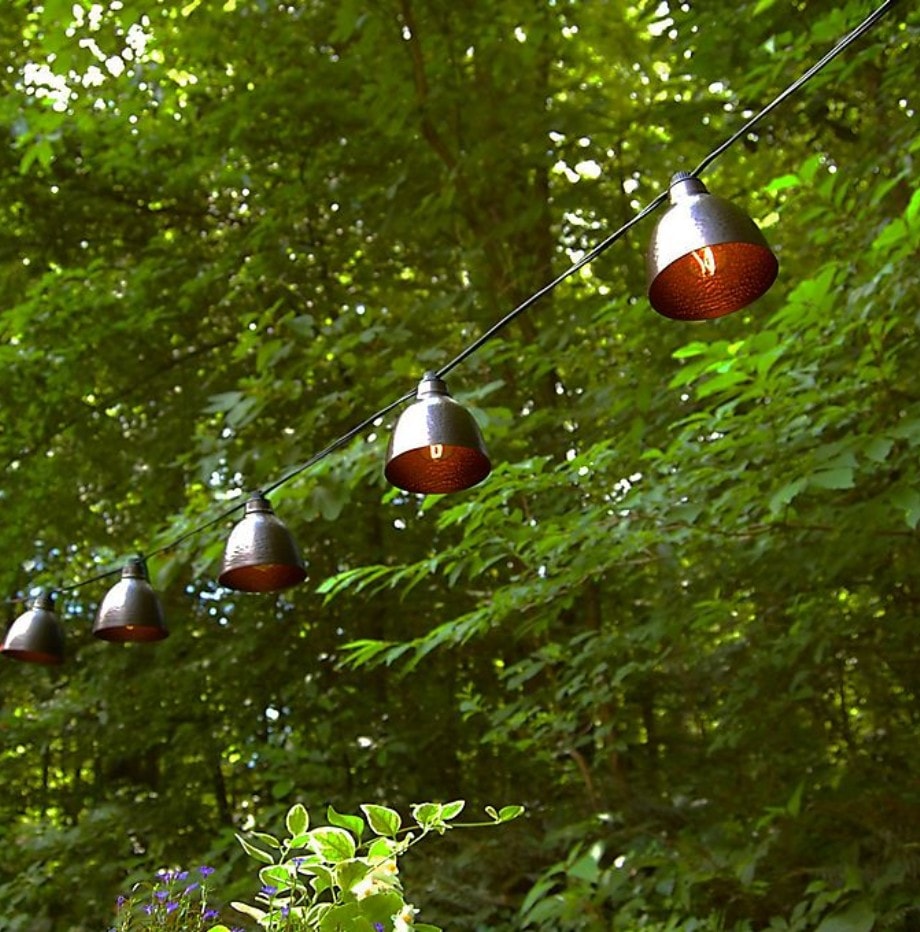 Here's another great example of how a shade can completely change the look of some outdoor string lights! These ones have a bronze finish that adds a metallic touch and creates more of an industrial feel. They're perfect for a more rustic decor aesthetic.
Glowing Spheres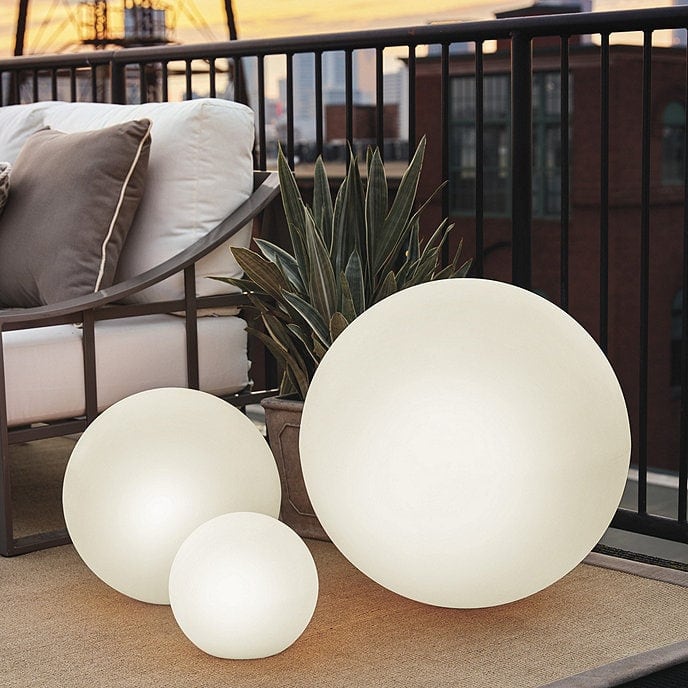 If you're looking for some really cool deck accent lighting, these glowing spheres are it!
They come in different sizes, so you can cluster them up to give you as much light as you need. But, honestly, even if you just have one, your deck will already get a lot of life. Not to mention, it will look cooler than your neighbor's.
Rail Lights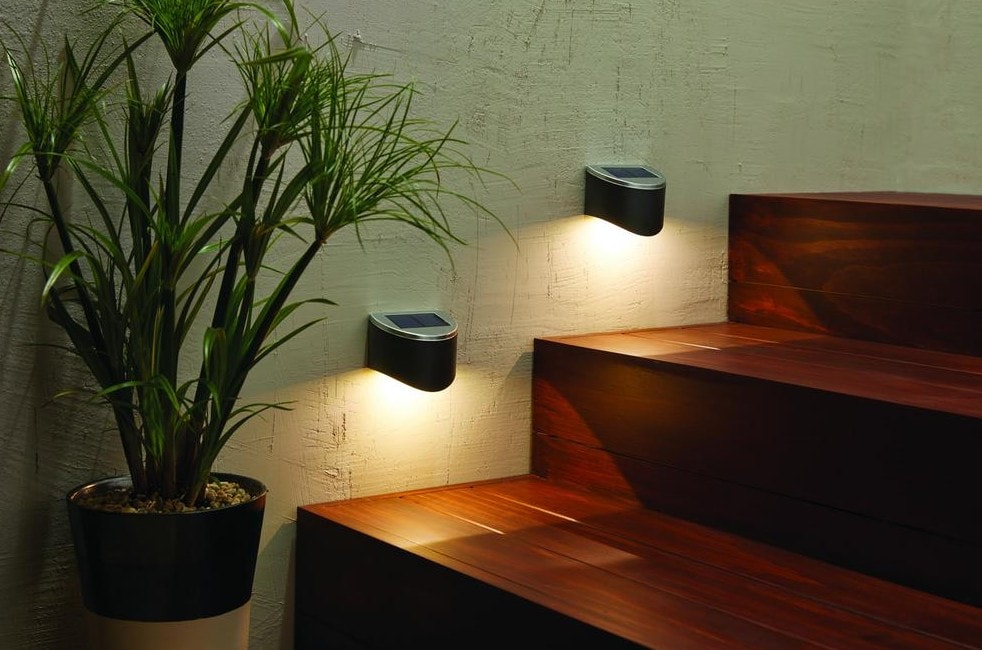 Deck railing lights can be mounted to stair railings or along the perimeter of the deck itself, and they're usually solar-powered, so once they're mounted they're very low maintenance.
These kinds of lights typically come in packs, so you can get quite a few lights to really brighten up your deck space. Use as many, or as few as you want to get just the right lighting.
Classic String Bulb Lights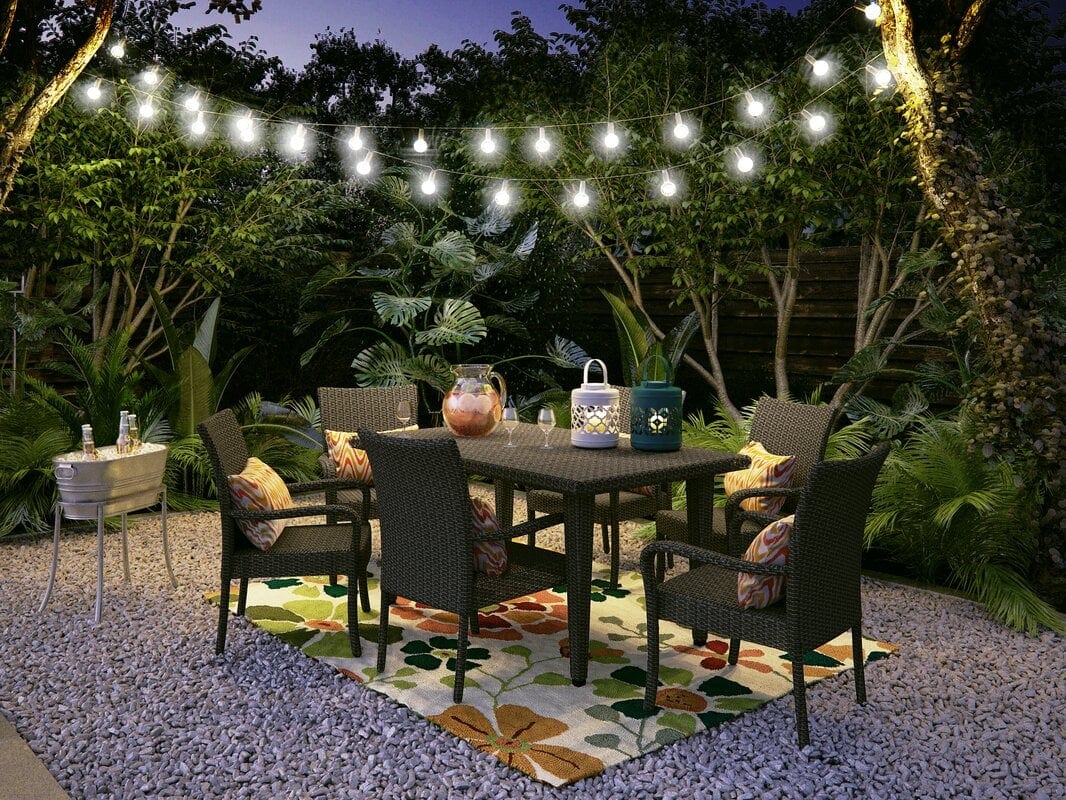 No matter what, the classic market string lights will always look great in an outdoor space, and they give off a lot of light. If you just can't decide what to get, these are a perfect option and they won't ever go out of style.
Industrial Sconce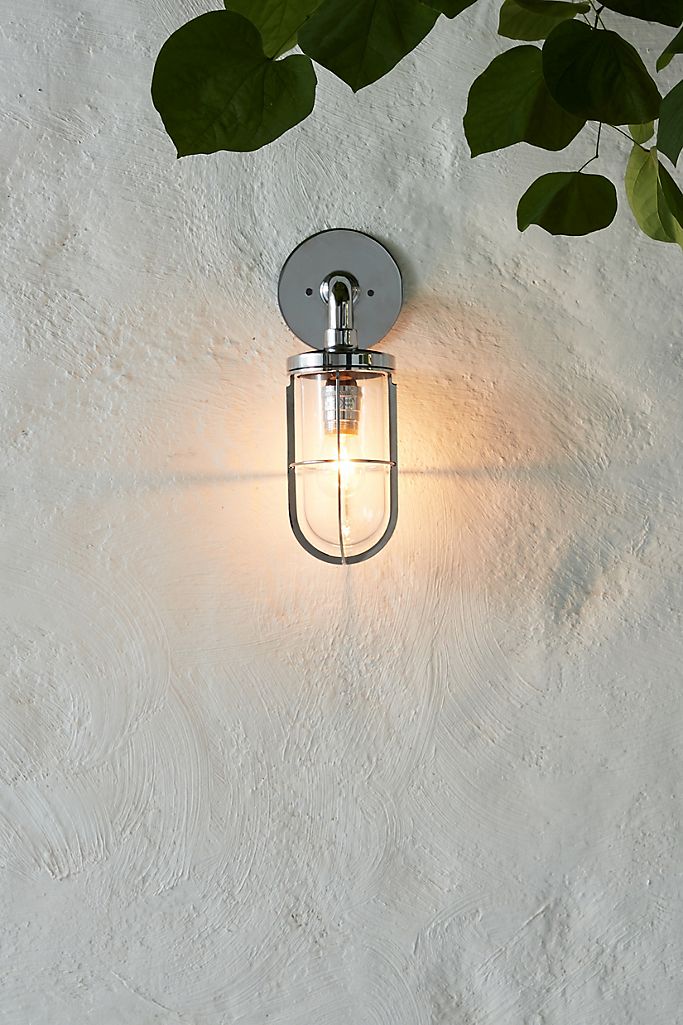 Give your deck an industrial vibe with one of these cage light sconces. This one has a chrome finish, so it feels very utilitarian and to the point, which can really work in an outdoor space.
This would look particularly great if your deck has some metal rails or your furniture is made with (or at least looks like) iron. Bonus points if you can mix in some brick accents to really give off the industrial-chic look.
LED Solar Lanterns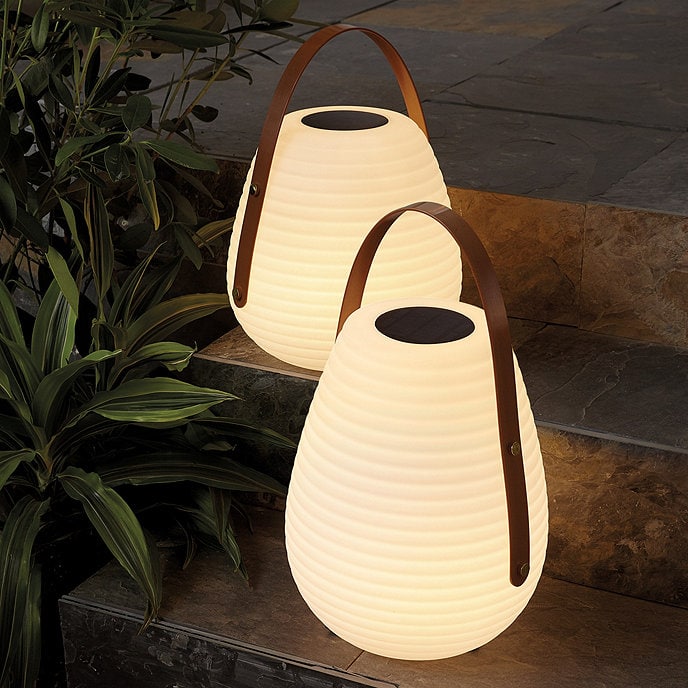 One of the best LED deck lighting ideas is setting up some solar-powered lanterns. You can find some that are table-top size or floor lanterns.
The best part about solar-powered outdoor lights is that you just set them up and leave them. You won't have to hassle with turning these lanterns on and off at night, and they don't need to be tucked away because they're weatherproof.
Battery Powered Table Lamp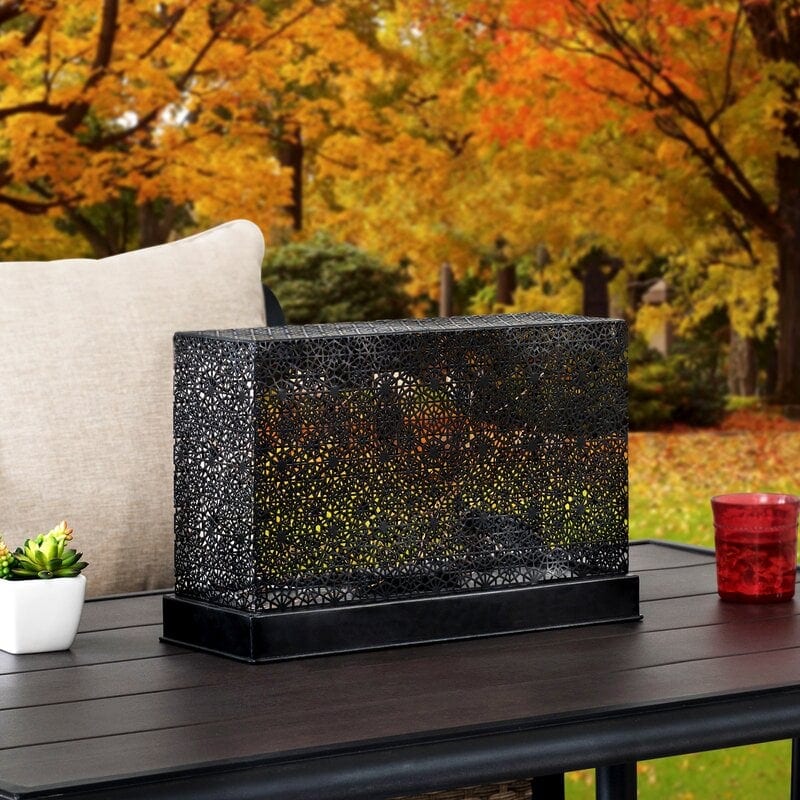 While you will have to put this lamp away when you're not using it (because it's not totally weatherproof), you don't have to worry about an electrical cord either because it's battery operated.
This is a great way to light up your dinner table, or it would also work really well on an outdoor coffee table in a sitting space. It will bring a lot of light, not to mention a bit of style, too.
All-Weather Table Or Floor Lamp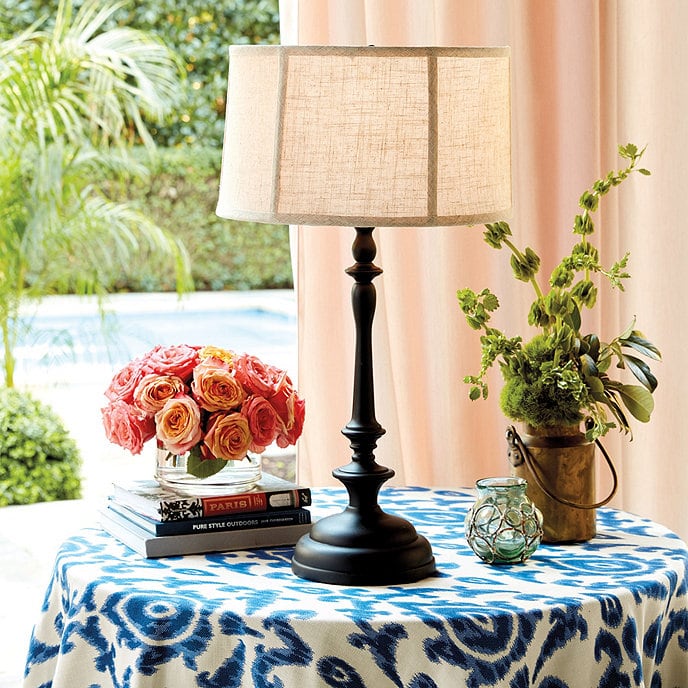 If you do want a weather-proof table lamp, those exist, too! This one has a protective globe over the bulb so if it falls down it won't shatter and also comes with an outdoor safe outlet cord.
You can opt to get this lamp in either table or floor style, too. This is especially nice if you don't want to run a cord across your deck to get some light at the table because you can just strategically place a few floor lamps along the perimeter of the deck instead.
Flameless Candles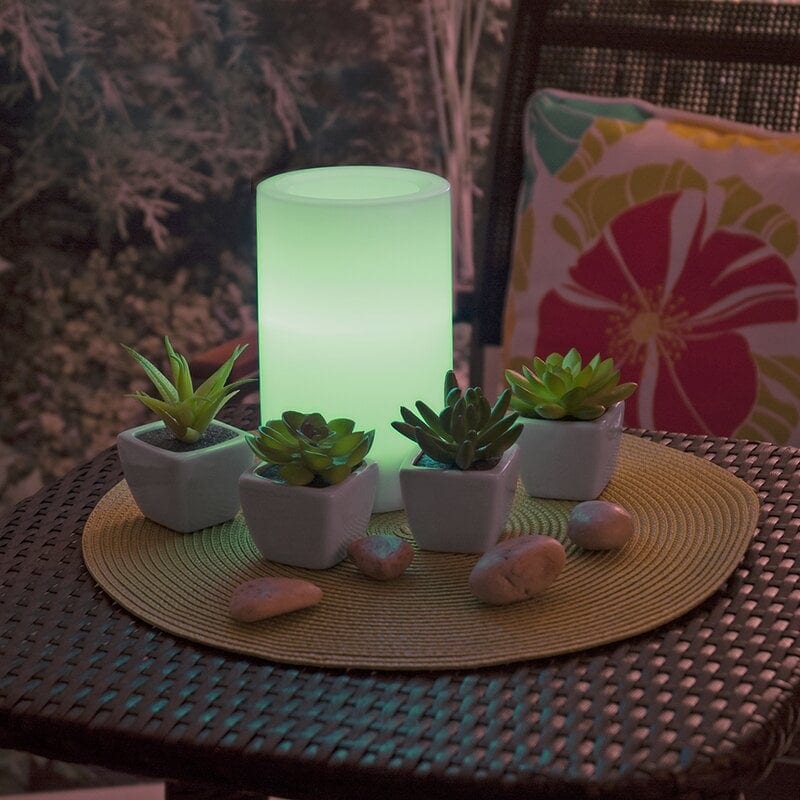 There's always the outdoor flameless candle option, too! You can get a few hurricane candle holders or lanterns and set up some flameless candles for light.
You will likely have to turn these on and off with a switch (though, some come with remotes), but they'll give you that soft warm glow without the fire hazard – which is especially nice if you have little ones at home!
Final Thoughts
Between in-deck lighting, roof deck lighting, wooden deck lighting, deck floor lights, and everything in between, there are a surprising number of options for brightening up your outdoor space! But, which will you choose? Think hard about how you want to use that space, then let that be your guide to find the best lighting for your oasis!