Decorated Life is reader-supported. When you buy through links on our site, we may earn an affiliate commission. Learn More
Candle Holders You Can Create At Home
By: Decorated Life Team
|
Creative Ideas for Decorative Candle Holders That Rock!
Candle holders are pivotal when it comes to decorating. Candles set mood – fast! It doesn't matter whether your candle holders are glass, metal, vintage or recycled. The key is that they are interesting and there are enough of them to make a statement particularly for your dining table setting.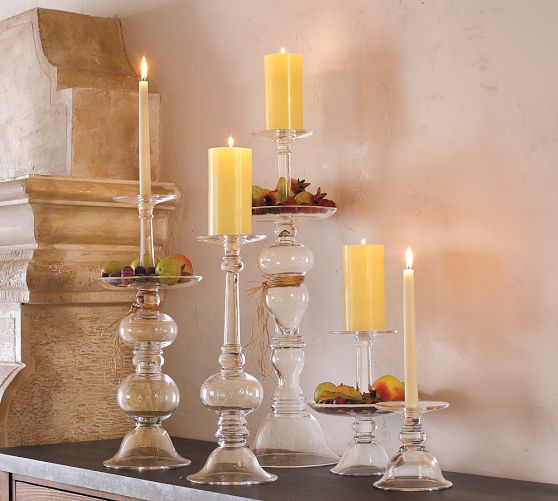 Source: Pottery Barn
Like the decorative candle holders above, which use inverted glass vases, glass stemware and different height candle holders to make this set of unique decorative candle holders. Like most creative ideas, inspiration can come from anywhere and almost anything can be turned into a decorative candle stand.
Glass candle holders are some of the easiest to create from items around the home using glass stemware and glass vases.
Here are some new and old ideas to create your own candle holders and decorative candle stand from different pieces you already own or can get hold of quite easily.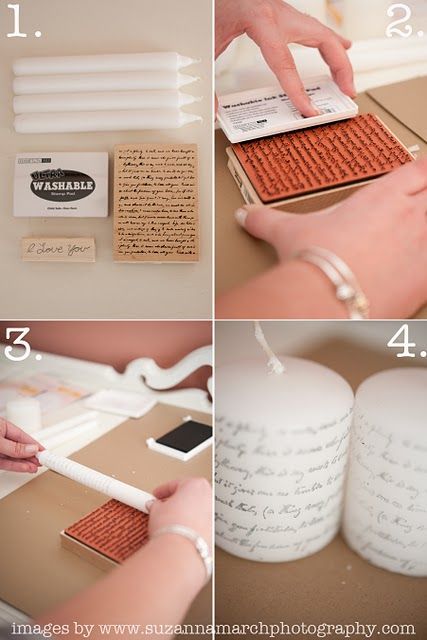 This DIY printed candle tutorial for a decorative candle is not really a candle holder idea, in fact, these candles are so beautiful you won't need a candle holder. The idea is simple and fun and won't break the bank but Rockstar cool for something or someone special.
Read the full DIY Printed Candle tutorial for more details.
Creative ideas are everywhere from the pantry to the  refrigerator.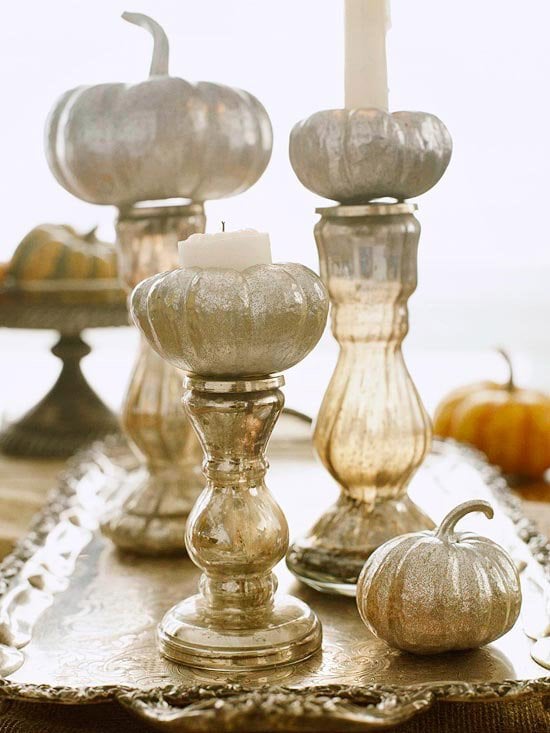 MrsDesignHer has a fun candle holder idea made with wine glasses and lamp shades made from vellum. By using glass stemware of differing heights you can easily create a decorative candle stand.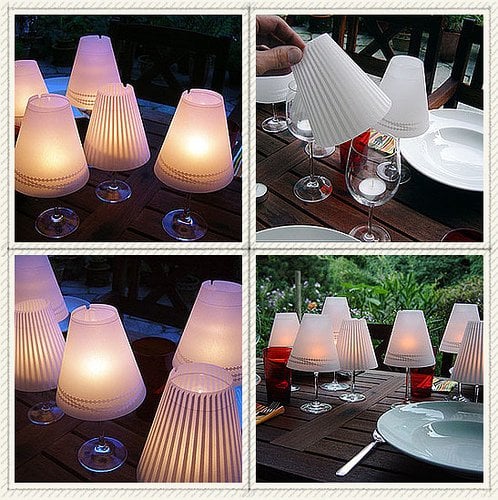 This is a brilliant idea for formal decorative candle holders. Again the idea is simple and can be made with lots of different shape and size glasses to create glass candle holders. Here, sheer vellum makes a perfect lamp shade and the glasses convert to glass candle holders in an instant.  Follow the simple decorative candle holder tutorial with a pdf pattern for the lamp shade.
The next decorative candle holder idea comes from DIY.WeddingBee.com which uses different wine bottles to create glass candle holders. Once completed these only require a candle.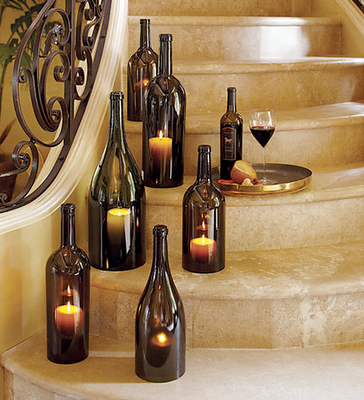 Source: diy.weddingbee.com via Christine on Pinterest
I know this looks difficult so I've included a video on how you can create your bottomless glass candle holders.
You can use all sorts of bottles including really cool see through or slightly blue or green glass. Tiny glass decorative candle holders can be made from pressed glass bottles like Italian orange juice bottles to make great decorative candle holder. Place them on a cake stand in a group and you have a unique decorative candle stand.
The last decorative candle holder idea comes from MarthaStewart using vintage or decorative saucers.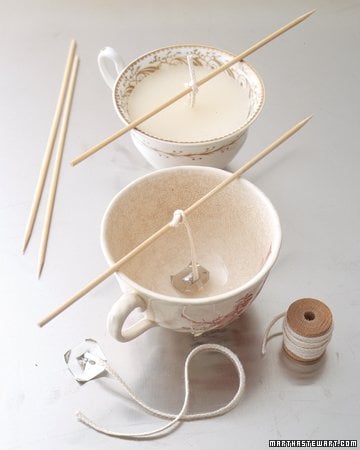 This is a great  idea for creating a decorative candle holder using beautiful tea or coffee cups that no longer have a saucer.  Instead of tossing them or giving them away you can create your own candle and candle holder. There is a full tutorial here on creating these decorative beauties.
Again, place them on a cake or fruit stand with height and you have a very interesting decorative candle stand.
Want more candle creative ideas? Visit my Lamps Lights and Candles Board at Pinterest.
Join our Newsletter today and get lots of free stuff like our DIY Cheat Sheet and the ebook 42 Interior Decorating Secrets.