Decorated Life is reader-supported. When you buy through links on our site, we may earn an affiliate commission. Learn More
Ottoman Coffee Table Trays and Styling – Videos and Tutorial
By: Decorated Life Team
|
The ottoman coffee table is a great way to add style your living room. It's fast growing as a must-have piece because its incredibly versatile, doubling up as a footstool, seating, coffee table and even storage; mixing functionality with comfort and style.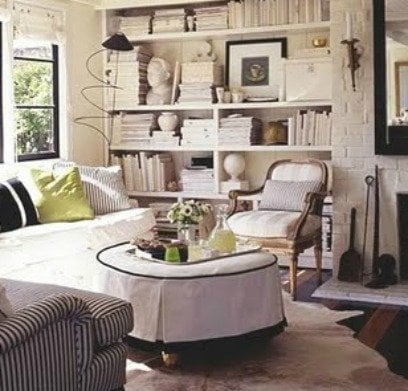 Source: Pinterest
Your Ottoman can easily become the center piece of your room, so its worth taking the time how to decorate, and use the space well, especially if you live in a smaller house or apartment.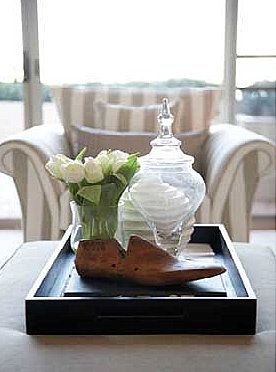 Source: Pinterest
Ottomans are large enough to use as a coffee table and perfect for serving trays, flowers, books, sculptures, boxes and candles to change the look of your room.
Follow the Four Quadrant Rule and Seven Point Styling Guide below, change your items as often as you like and create a fresh look each time.
That's a few items.. you still need space for your computer, drinks, dinner plates, a throw or your tired feet!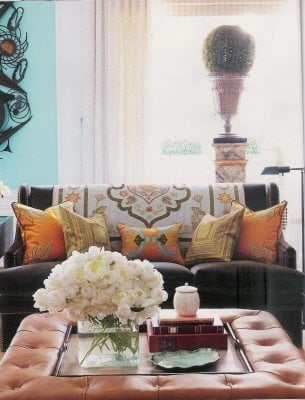 source: Pinterest
You will need some discipline when styling your ottoman, so it doesn't look messy.
Most people rely on their sofa, chair or coffee table to be the focal points of their room.  But unless they are amazing, they are the least interesting focal points of your room, because they don't come together to tell a story. Your Ottoman gives you that opportunity.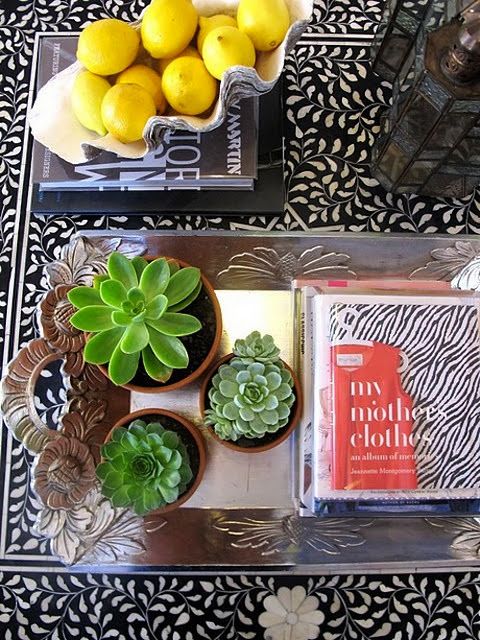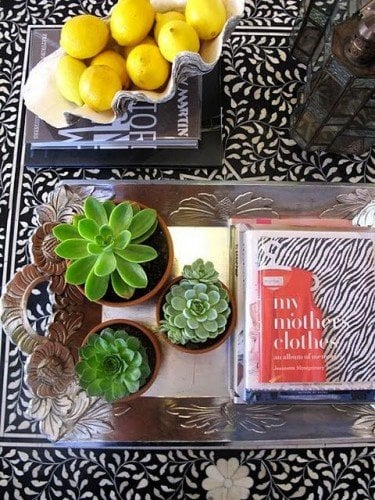 Source: Pinterest
Select Accessories for Your Ottoman Coffee Table
You have 1001 things that could work on your Ottoman. Stick to things that are:
beautiful,
sentimental,
functional or
interesting.
Don't worry if things don't match perfectly. If you have a consistent color palette, everything will blend without having to match. In fact, this will make them look more interesting.
Its easy to place a simple vase of flowers and one accessory on your ottoman to make it look stylish and more beautiful than a pile of magazines and a television remote that looks messy or neglected.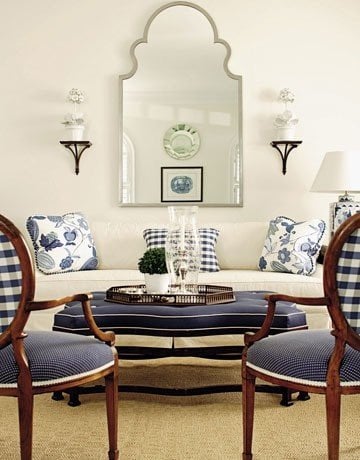 Source: Pinterest
It Begins with Your Ottoman
Ottoman coffee tables can be expensive to buy. You can make your own easily and inexpensively, if you are willing take on a DIY project; using anything from a box to an old coffee table. Read how in this article Ottoman – How to Make, Build and Upholster and Ottoman. The size and shape will depend on your room size and your budget.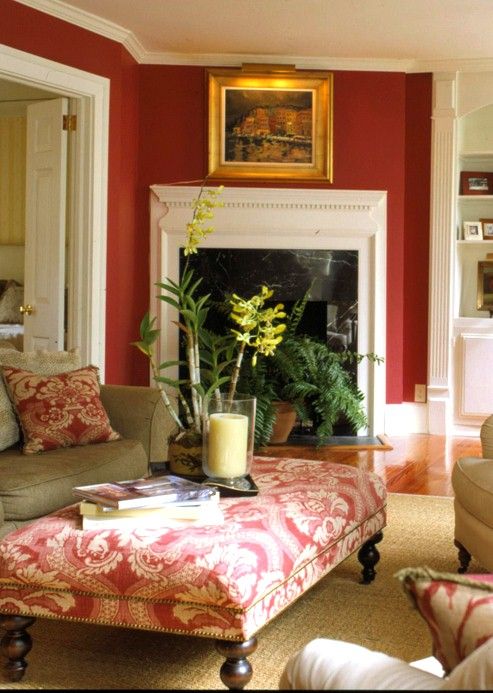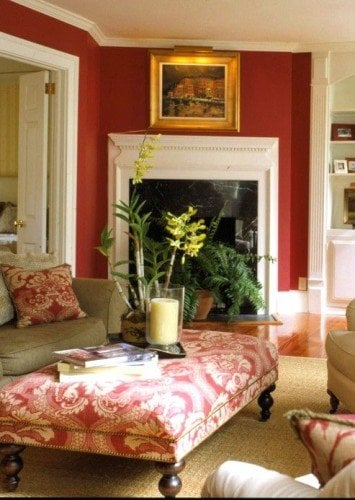 You can add a throw, books and a decorative box for remotes onto your Ottoman, but this often looks messy. Instead, get a large ottoman tray and use this as you main display area.
Four Quadrant Rule
This simple rule will help you display your items. Later, you can play with three distinct areas, but use this easy guide to begin. Divide your table tray into four quadrants, placing an item in each quadrant from these groups to create an interesting and unified look.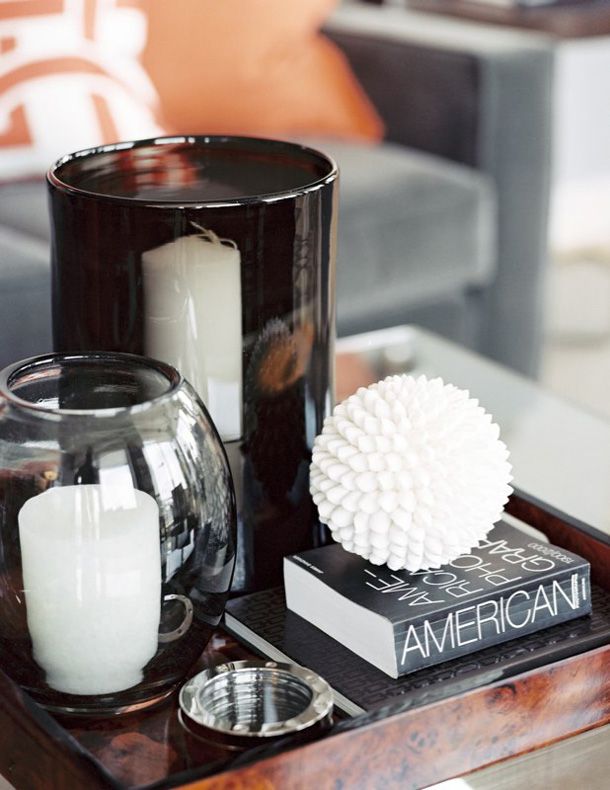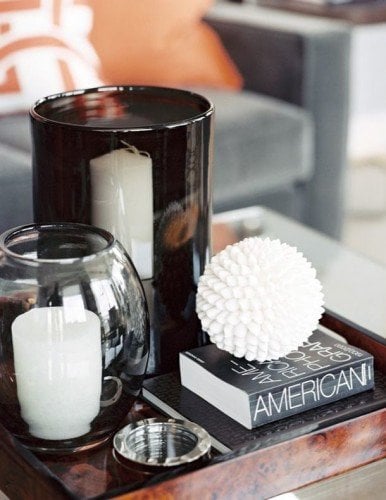 Source: Pinterest
1. Natural – Moss balls, a vase with flowers, a small plant, a piece of wood, antique wooden bowls, a horn magnifying glass,  tortoise shell bowl or amethyst crystal. Something that brings the outside in; adding color and warmth. Think rustic, vintage, wooden and stone and, of course, flowers.
2. Practical – Drinking coasters, notepads, books, games or cards and boxes to hide remotes or computers in. Coffee table books of varying shapes and sizes are always great to stack. Books can go in your tray or directly on your Ottoman coffee table. Piles of three or five books look best; largest on the bottom and smallest on top. Crown your books with a small a plate, bowl or trinket.
3. Scents – Flowers, reed diffusers or maybe candles plus a bowl of matches. Candles to add ambiance and scent to your room – think lanterns, candle holders and tea lights. Add them in different heights and shapes for the greatest effect. One candle is enough if its big, but often three (odd number) looks better.
4. Structural – this can be a rock, crystal, object of art or sculpture. You can get more ideas at Turnstyle Voge here.
Six Ways to Make Your Coffee Table Ottoman Sing!
Place items in the quadrants, making each quadrant its own contained area; visually gorgeous and bringing it all together by using:
1. Different heights – think high, medium and low. Construct each quadrant so that one is high, medium, low or flat. Height differences make your tray look interesting; breaking up the solid mass. For added height use an over-sized lantern or vase. This draws your eye up, making the tray look spacious and lighter.
2. Color palette  – select two or three colors for your tray, then place two to three items with these colors into each quadrant. This creates harmony. Add pops of color to highlight, focusing on your color palette.
3. Layer – stack or layer items. Add interesting, smaller pieces, boxes or vases on flat surfaces like books.
4. Textures – textures are very important. The warmth of a wood tray needs different items than a sleek lacquered or white tray.  Glass bottles, in different shapes but similar material and colors work well when grouped. Add textures that highlight and compliment your tray, while blending with your room decor.
5. Whimsical accents – spark conversation and visual interest; choose interesting, antique, vintage or quirky. Big or small.
6. Tray – organize your collection. Not everything should go on your tray. A tray helps you organize your things and take them away if you suddenly need space. The tray becomes a microcosm of your room, like an open display cabinet. It should fit with the theme of your room but also stand alone as a visual display.
7. Throw – stack or drape a, light or heavy weight, throw onto your Ottoman. It adds texture and luxury and is a great addition to your ottoman tray.
Remember to choose items that also fall into one of the beautiful, sentimental, functional or interesting categories. You can always change it, quickly and inexpensively if you tire of it or if it doesn't work.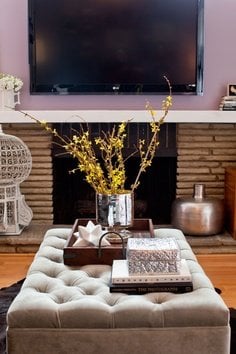 Source: Pinterest
Buying an Ottoman
If you don't have an ottoman, and not keen to make one, there are lots of great looking ottomans to buy. If you already own one skip this part and move on to trays. But if you want to buy one, keep reading.
First, work out the best Ottoman style for your room; square, rectangular, round, fabric, leather, faux leather, tufted, with or without storage etc. Take time to shop online or offline for a range of prices, designs and read reviews about structure and craftsmanship.
I have selected a rectangular and a square ottoman, as examples, because they both have storage and are moderately priced. This Ottoman bench is currently discounted on Amazon from $437 down to $141.96 and free shipping. It has over 200 positive reviews and enough storage for 2 queen size blankets and 2 standard pillows. The interior compartment is L 40.5″ x W 19.75″ and D 8″.  The exterior dimensions are L 44″ x W 22″ x H (with legs 17″), without legs 12″.
The dark faux fabric looks close to the real thing and can be moved to the end of a bed if you ever decide to upgrade.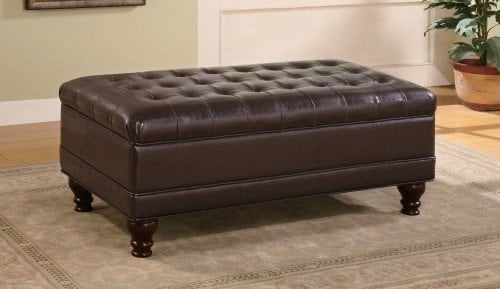 Amazon: Storage Ottoman with Tufted Accents in Dark Brown Leather Like
While this is a perfect coffee table size, the tufts make decorating the uneven top a challenge. Use a tray. This creates the flat surface you need to place items safely; like vases with flowers, candles or fragile keepsakes without worrying about their safety.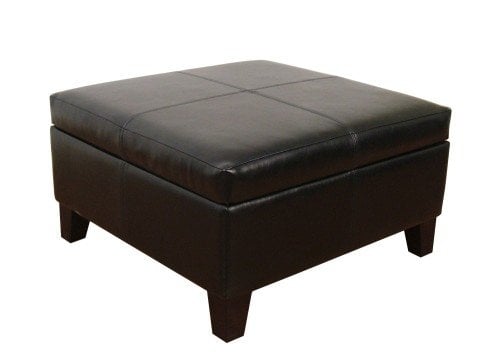 Amazon – Large Black Faux Leather Storage
For a smaller living area, consider this flat surfaced Ottoman. Its is priced at $109.79 plus free shipping with dimensions of 28″ x 28″ x 15″. It's a good size and also has storage. Both items are faux leather; which means they wash easily and their coloring and texture means they look very much like real leather.
Trays – Your Perfect Base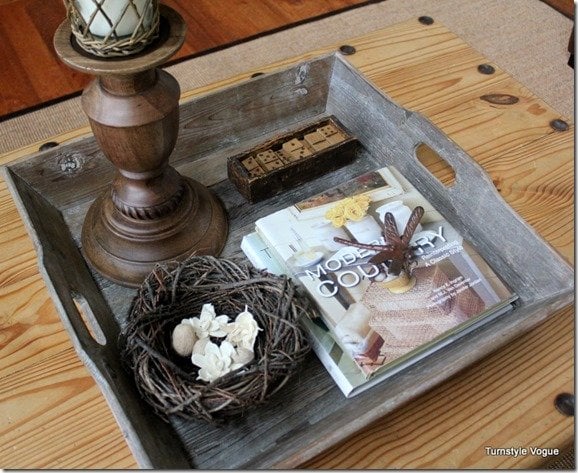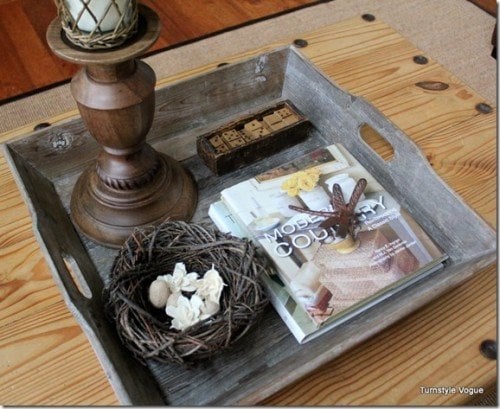 Source: Turnstyle Vogue
Including a tray on your ottoman gives you a flat surface for you to stack, store and organize items with some order and symmetry. Decorative trays make the scale of your table a little smaller so your table doesn't look like a block of fabric or color.
To choose your Ottoman tray, select from any flat surfaced decorative trays, wooden tray, silver serving trays, bamboo serving tray or tea tray.  If you have an Ottoman bench, large ottoman trays will match the size and scale nicely. The tray breaks up the surface.
An easy way to accessorize a tray is to divide it into four quadrants.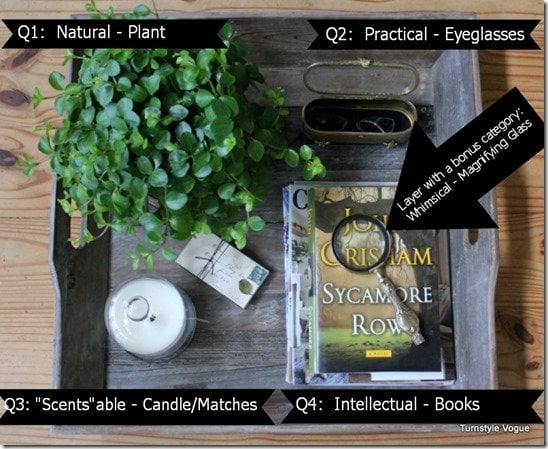 Source: Turnstyle Vogue
Here are some examples of trays that are moderately priced and on sale at Amazon and One Kings Lane.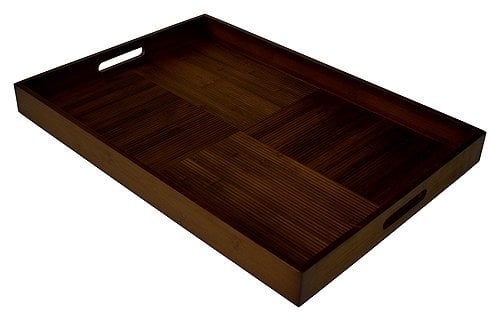 Amazon – Simply Bamboo Extra Large Espresso Serving Tray
save $70 – now $49.95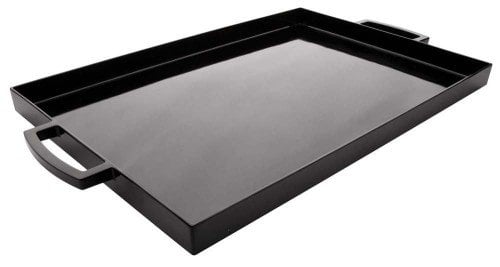 Amazon – 19-1/2-In by 11-1/2-In Black Tray
$19.95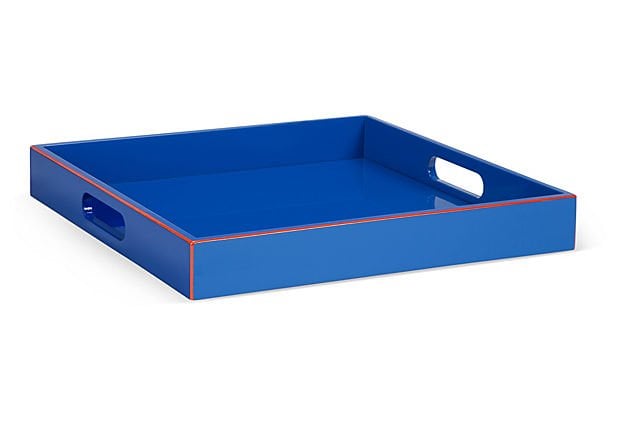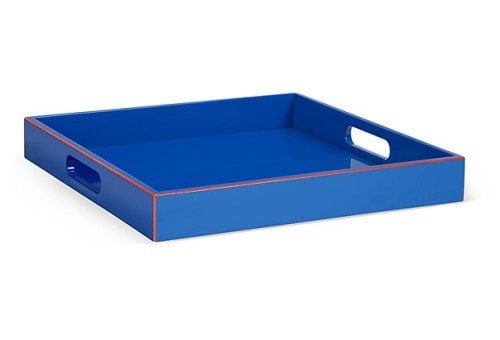 Source: One Kings Lane – on sale for $39 here (was $140)

Amazon – Bamboo Large Serving Tray
on sale $24.95


Source: One Kings Lane
Trays that are large square or rectangular, work best.  They are easy to display on and to move around. Trays that are oval or round can be used but they fit less. Clear trays are very popular because they don't clash with the rest of your decor, but any good sized tray works well.
Remember, don't over crowd your tray. Make sure you have something in each quadrant so it doesn't look empty and select things that are beautiful, sentimental or functional. If they are all three, great, if not go for two out of three.
Do you have some Ottoman coffee table tray decorating secrets you can share?
Please tell us by leaving a comment below or join our email list for regular updates.