Decorated Life is reader-supported. When you buy through links on our site, we may earn an affiliate commission. Learn More
21 Creative Vintage Ladder Decor Ideas
The vintage and repurposed look is all the rage right now, and it's a style I absolutely love. From antique shops to country fairs, vintage pieces are being used for both decor and function. One great piece that serves both purposes is the vintage ladder.
There are many uses for an old wooden ladder all over the house. I found tons of different ways, each more inspiring and creative than the next. Here are my favorites!
Turn it into a Shelf With Baskets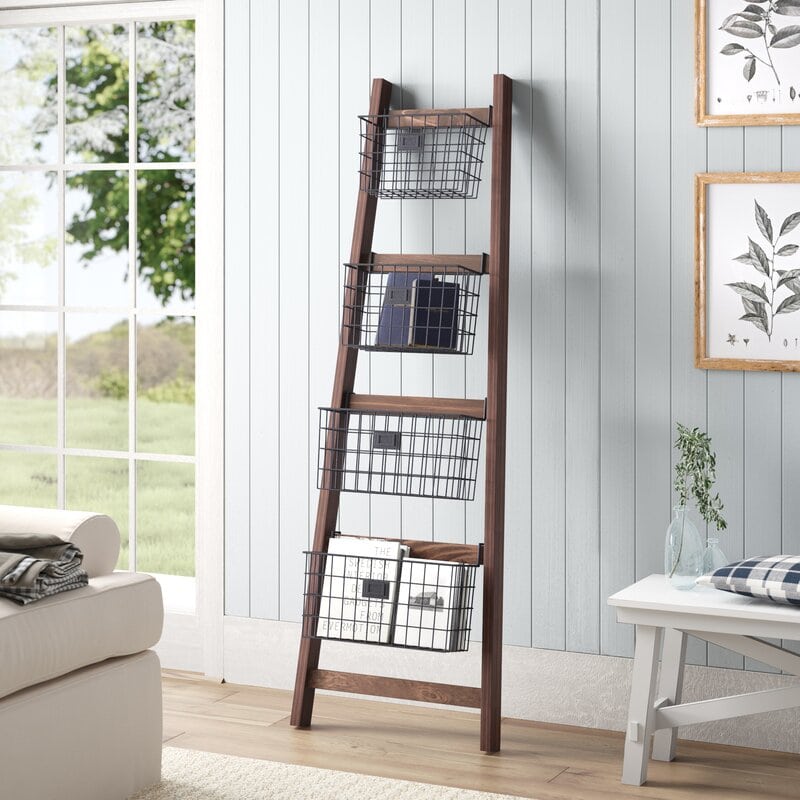 One of the best ladder decor ideas is to add baskets to it to create some extra storage space. A wire basket will especially align with the farmhouse chic look.
You can prop the ladder up next to the door as a spot to drop the mail, hold your gloves, or store some bug spray for easy access. It would also work great in a bathroom for toiletries storage.
Prop Up A Mirror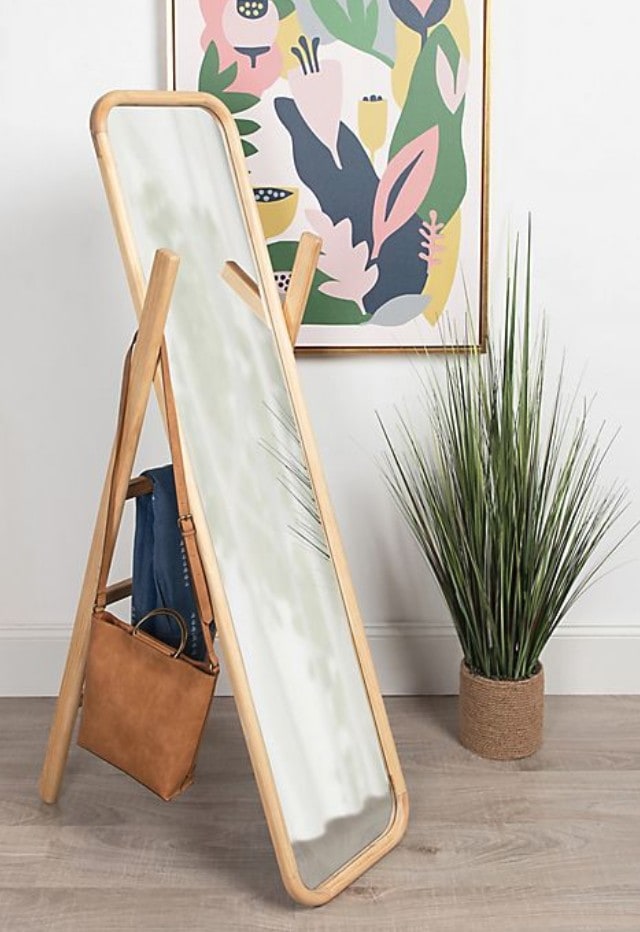 If you have a full length mirror you'd like to use, but don't want to mount it to the wall, you can attach it to the ladder to create a standing mirror. Together, the two will create a triangular shape with a strong base for standing up.
This use is great no matter what kind of mirror you have, but if you can get your hands on an antique full length mirror, you can create a totally one of a kind piece.
Magazine Rack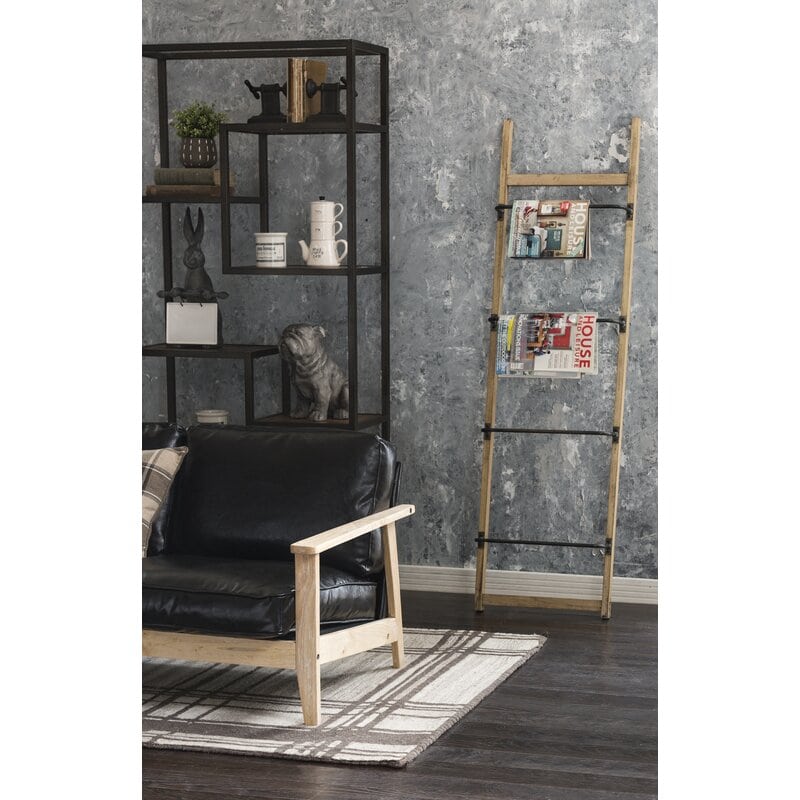 Still a fan of magazine subscriptions? Instead of letting them pile up on your coffee table, hang them on your vintage ladder for a change.
Not only will this clear up some table space, but it'll also keep them on display so you know what magazines you actually have, and can swap them out when new ones arrive.
Blanket Tower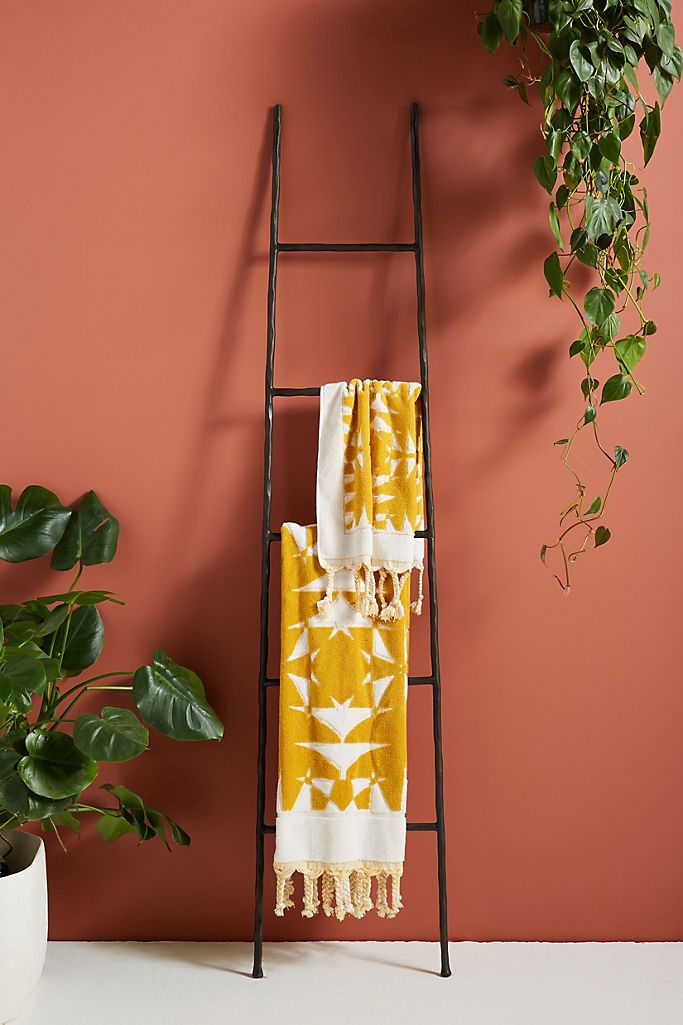 Nothing says cozy like some fluffy throw blankets! Unfortunately, folded up throw blankets are clunky and can take up a lot of space.
If you have a vintage ladder, you can lean it up against the wall and toss your blankets over the rungs. This allows you to clear up some floor space, and saves you from having to fold up the blankets all the time.
Hang a Wreath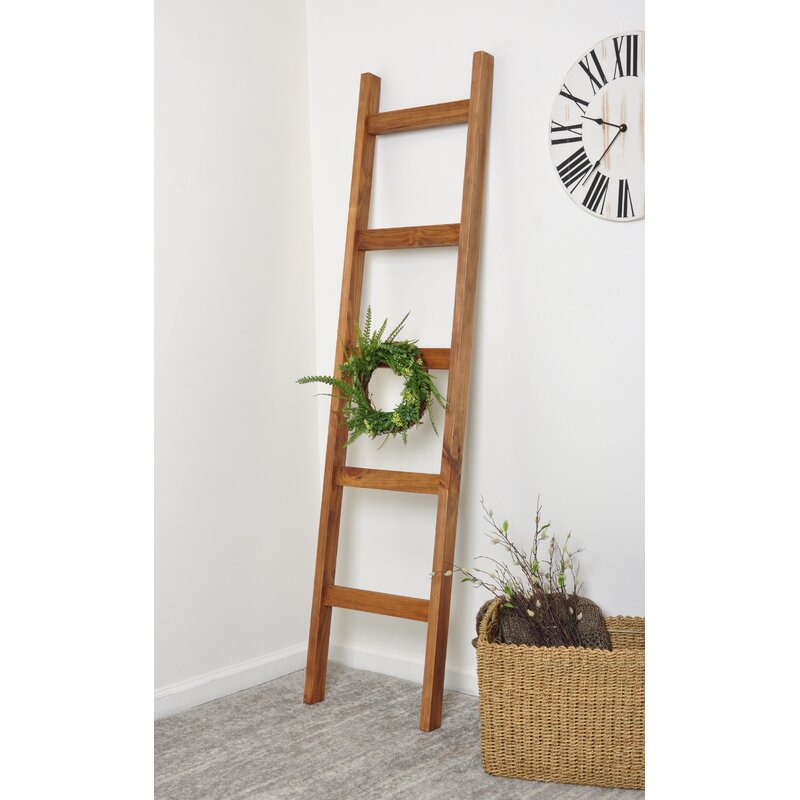 If you're looking for decorative ladder ideas that let you get a little more creative, try hanging a wreath from one of the higher rungs! Even better, hang a wreath you made yourself.
Just lean the ladder up against the wall and attach the wreath on the using a thick decorative ribbon on the second from the top rung. You can let it hang down as much or as little as you like, and you can even swap it out whenever you feel like making a new wreath.
Attach Three To Make a Screen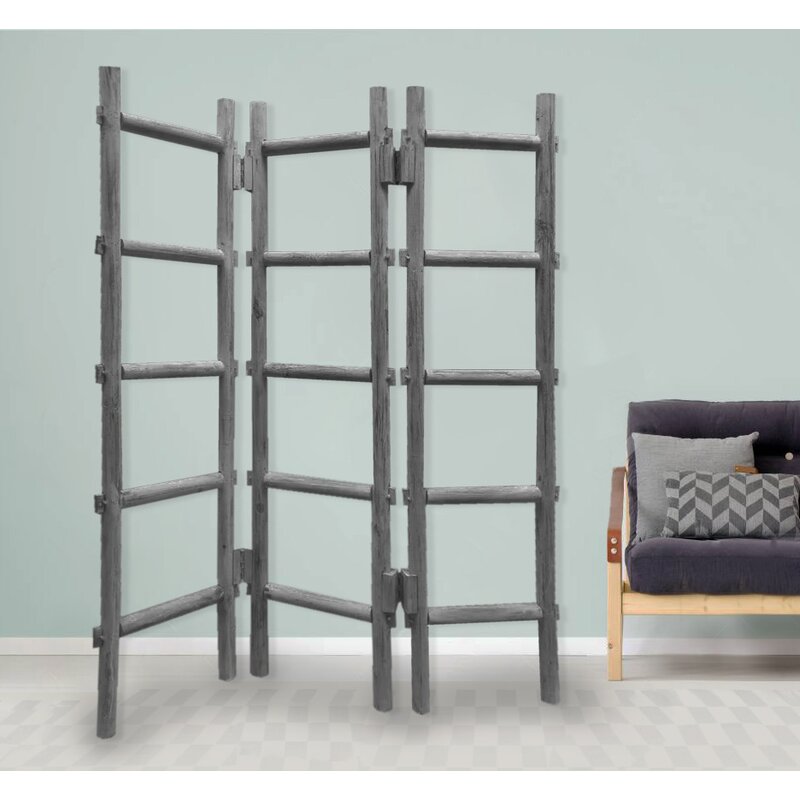 For this decor idea, you'll need three ladders. Attach them with hinges and ta-da! you've created a screen or room divider.
The ladders don't even have to match, in fact the variety could make the screen look all the more interesting. If you can get your hands on some vintage looking hinges, it'll be all the more interesting.
Simply Lean it to Fill Empty Wall Space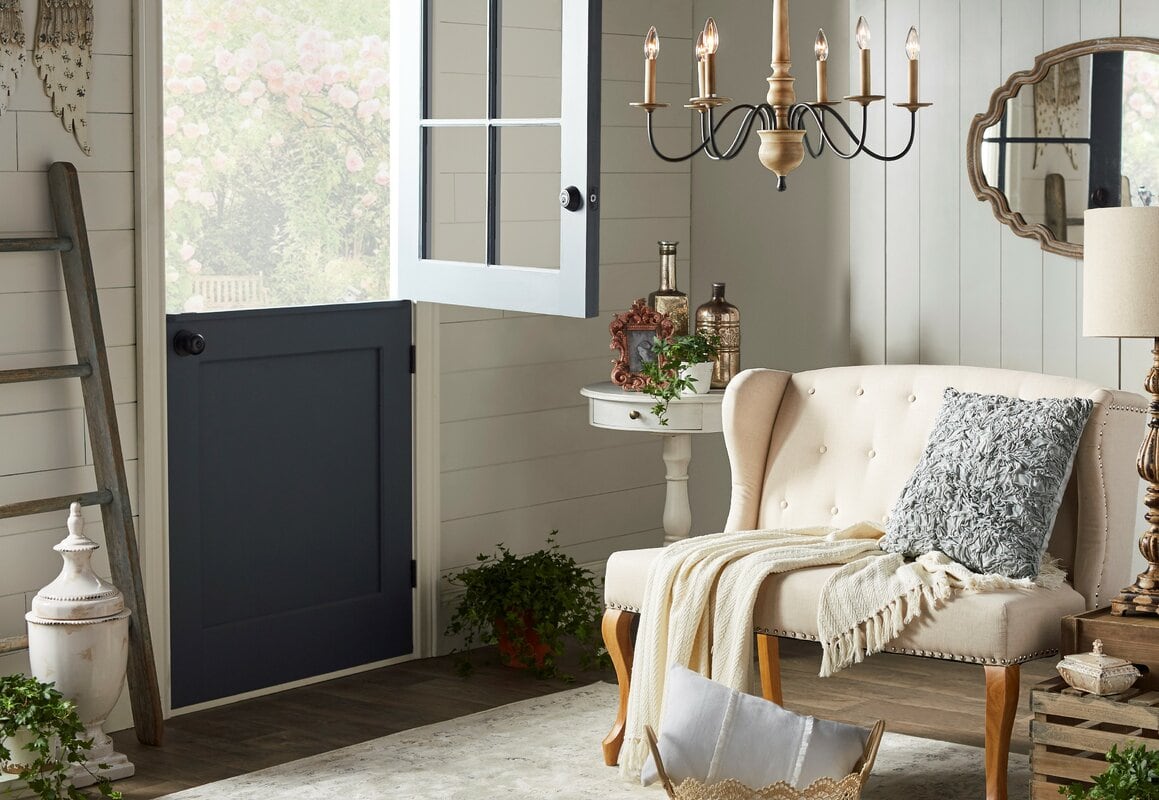 You know that awkward space on your wall that needs something there, but you don't know what? Try leaning a small vintage ladder up against it.
This is a great way to fill up some wall space without creating a cluttered look. The antique ladder won't be bulky, and the space between each rung will create a minimalist look.
Hang it from the Ceiling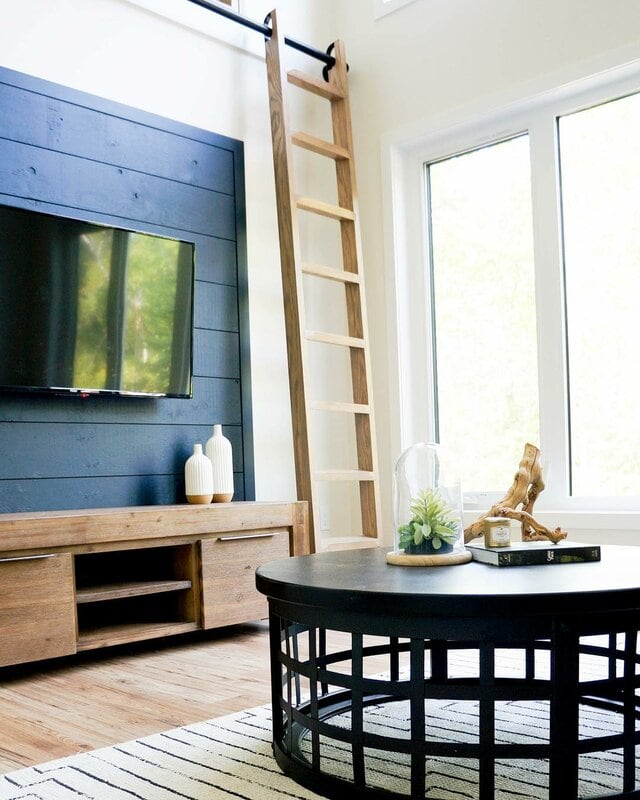 To get an old ladder decor look with some edge, considering hanging it from the ceiling or attaching it to a track like the one in this photo.
You'll end up with a hanging ladder that has an old-timey look and is totally one of a kind. Plus, you'll have easy access to your ceiling, should you ever need to get up there.
Combine Two to Create a Shelf
It doesn't take much to create an old ladder shelf, just two old painter's ladders and some 4x4s will do the trick. Simply set them up like the ones in this picture and you've created a great new shelf!
Towel Display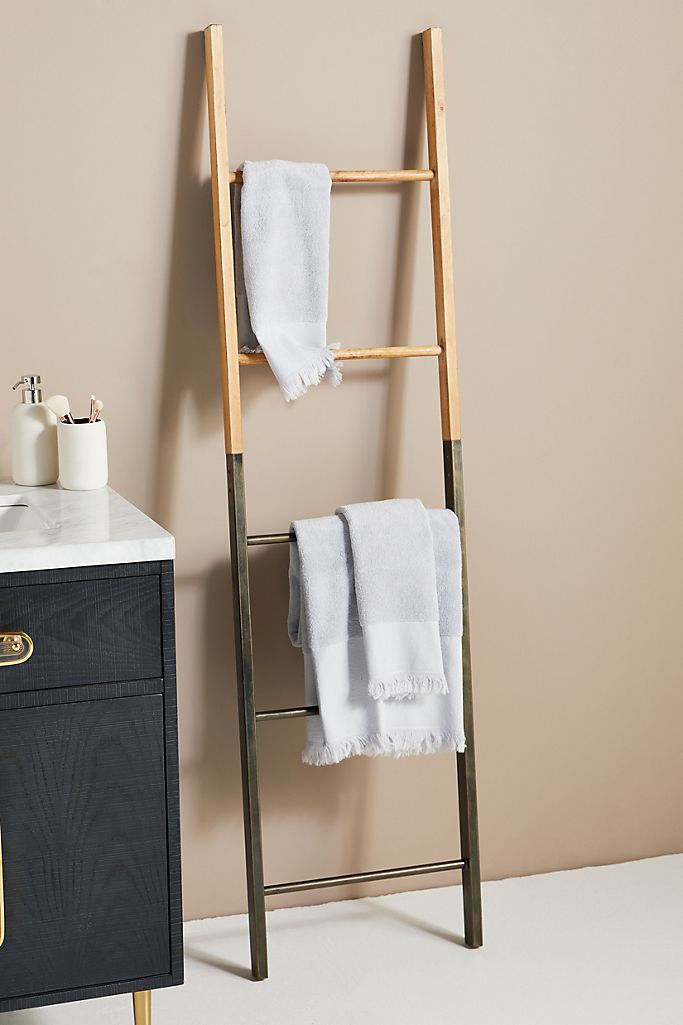 Instead of ruining your drywall by installing an outdated towel bar in your bathroom, just lean your old ladder up against the wall and hang your towels from it.
Not only is this rustic ladder decor super easy to implement, but it's also functioning. By hanging your towels from the ladder rungs, you're giving them plenty of space to air dry before the next time you take a shower.
Hang Photo Frames from It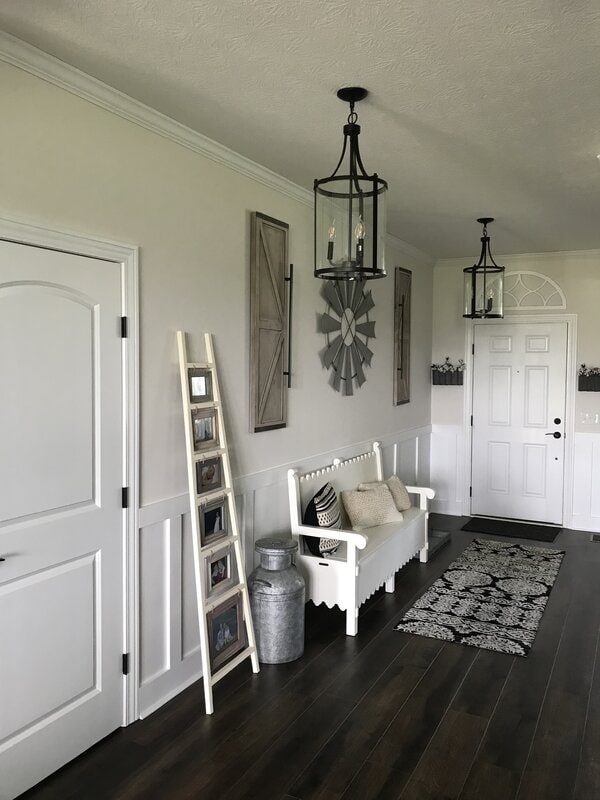 How cute is the repurposed wood ladder in this picture? Hanging pictures from the rungs is such a great idea and totally easy to do.
Just get a few wooden frames and attach small hooks to the top. Then, rest the hooks on the rungs and you're done! What a great way to use an old wooden ladder.
Lean it Against a Bookcase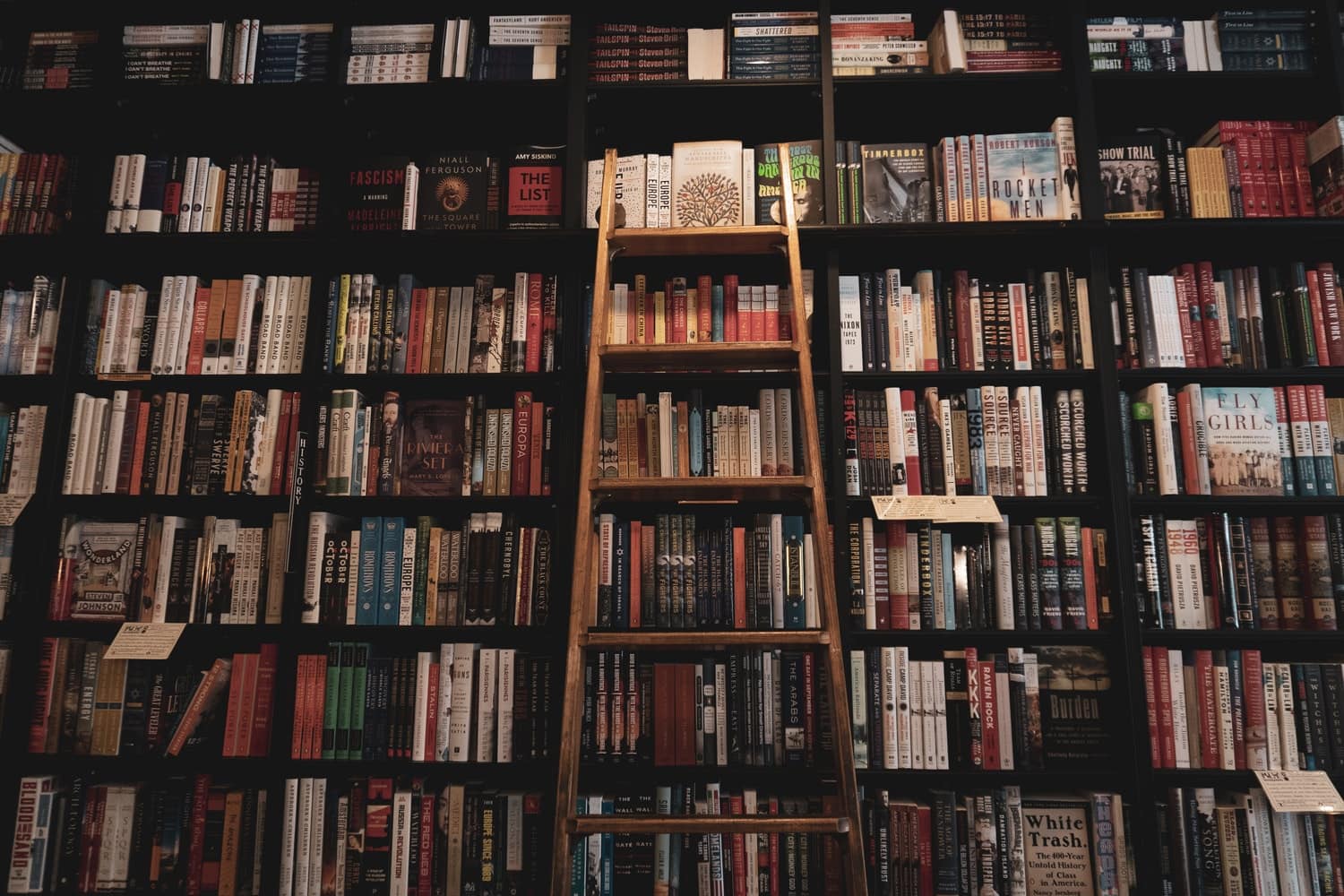 Do you have a home library or a wall with built in shelving? Lean your ladder up against it to create a vintage library look.
One word of caution, though, this is not a great idea if you have little kids who really want to reach the top shelf of a bookcase!
Hang Seasonal Decor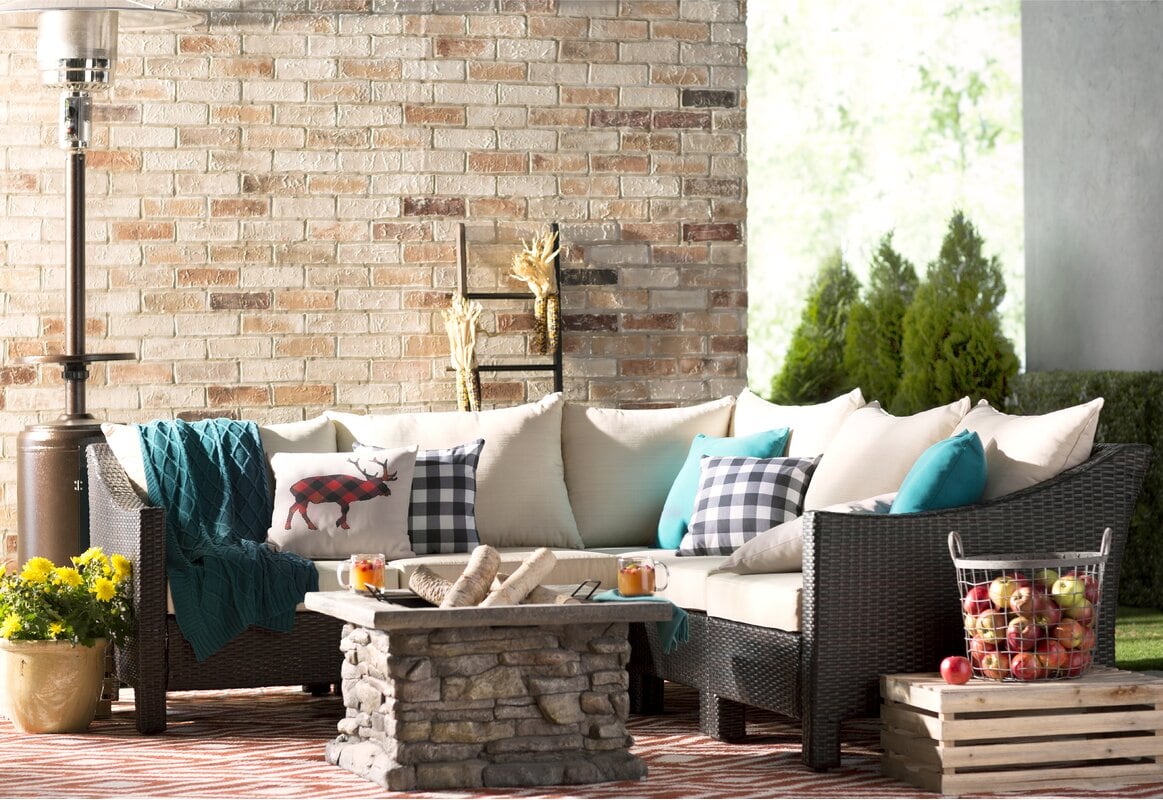 Put your ladder outside and then use it as a place to display your seasonal decor. In this picture, the ladder has corn husks tied to it to create a fall scene.
Around the holidays, hang some holly or ornaments, wrap some heart garland around the rungs for Valentine's Day, and decorate it with eggs for the Easter bunny.
Grow Vines on It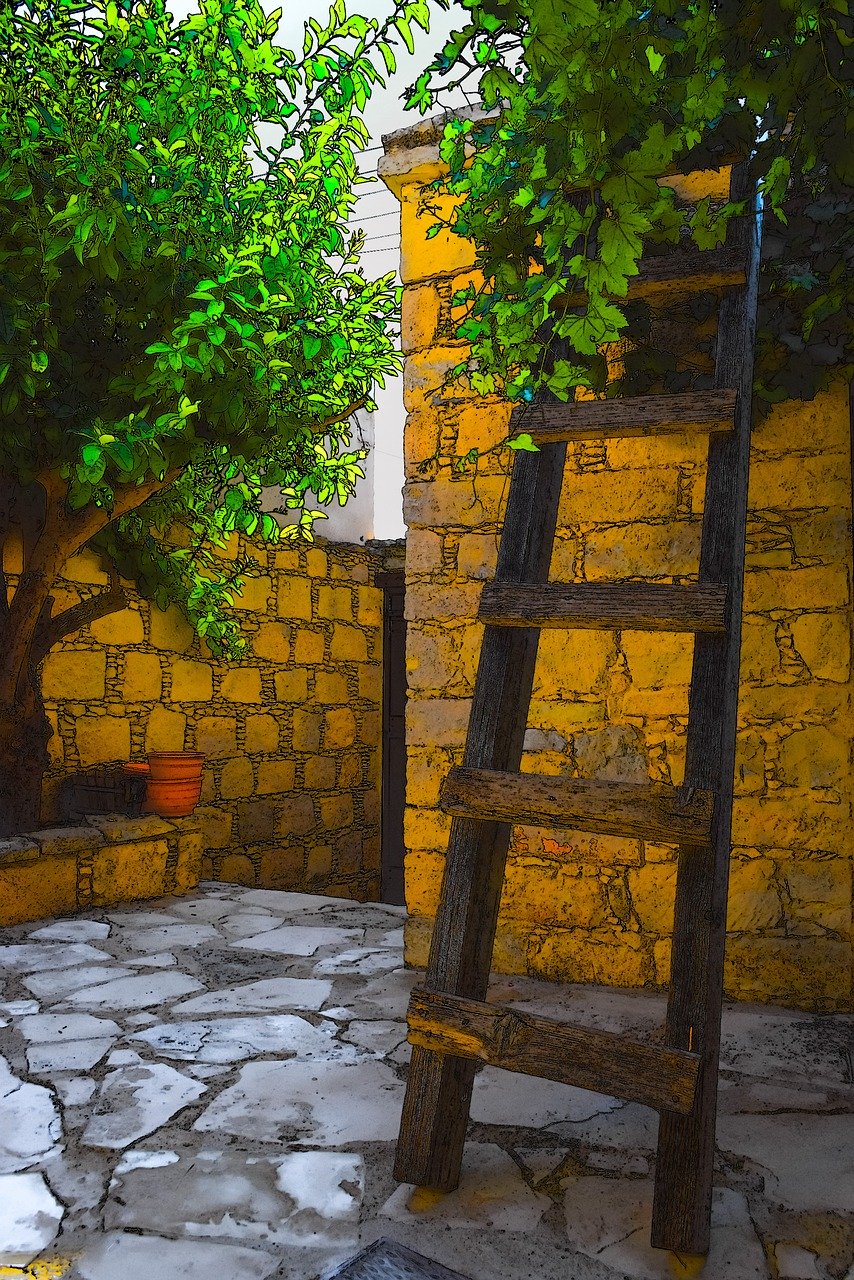 Another fun way to use your vintage ladder outside is to grow vines up it. Just prop it up against something, plant some viney flowers in the ground, and watch them twist and cover the ladder over time. Eventually, it'll look like something straight out of an enchanted garden.
Use it as a Plant Stand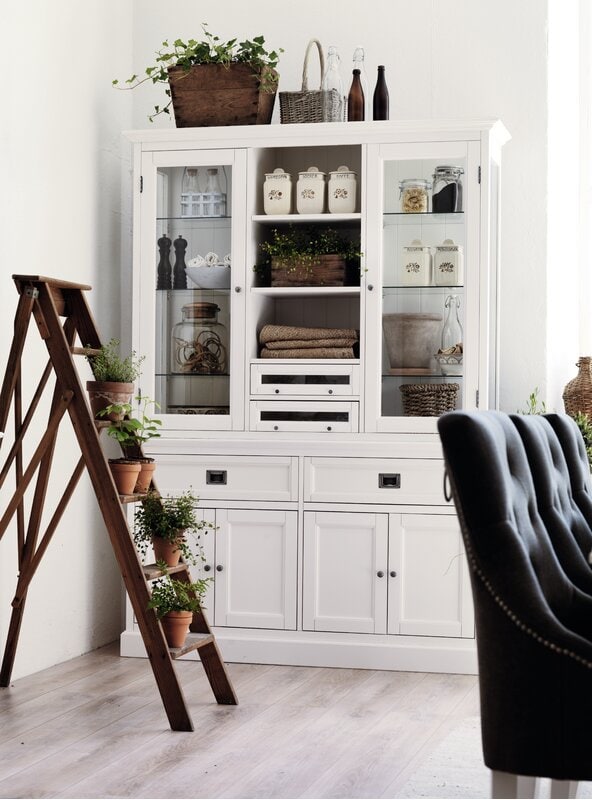 Rather than taking the ladder outside, you can use it to bring the outside in!
Set up the ladder near a window with lots of sunlight and set up a bunch of potted plants on the rungs. You can use the space to grow a little herb garden or as an opportunity to bring some colorful flowers into the house.
Paint it for a Pop of Color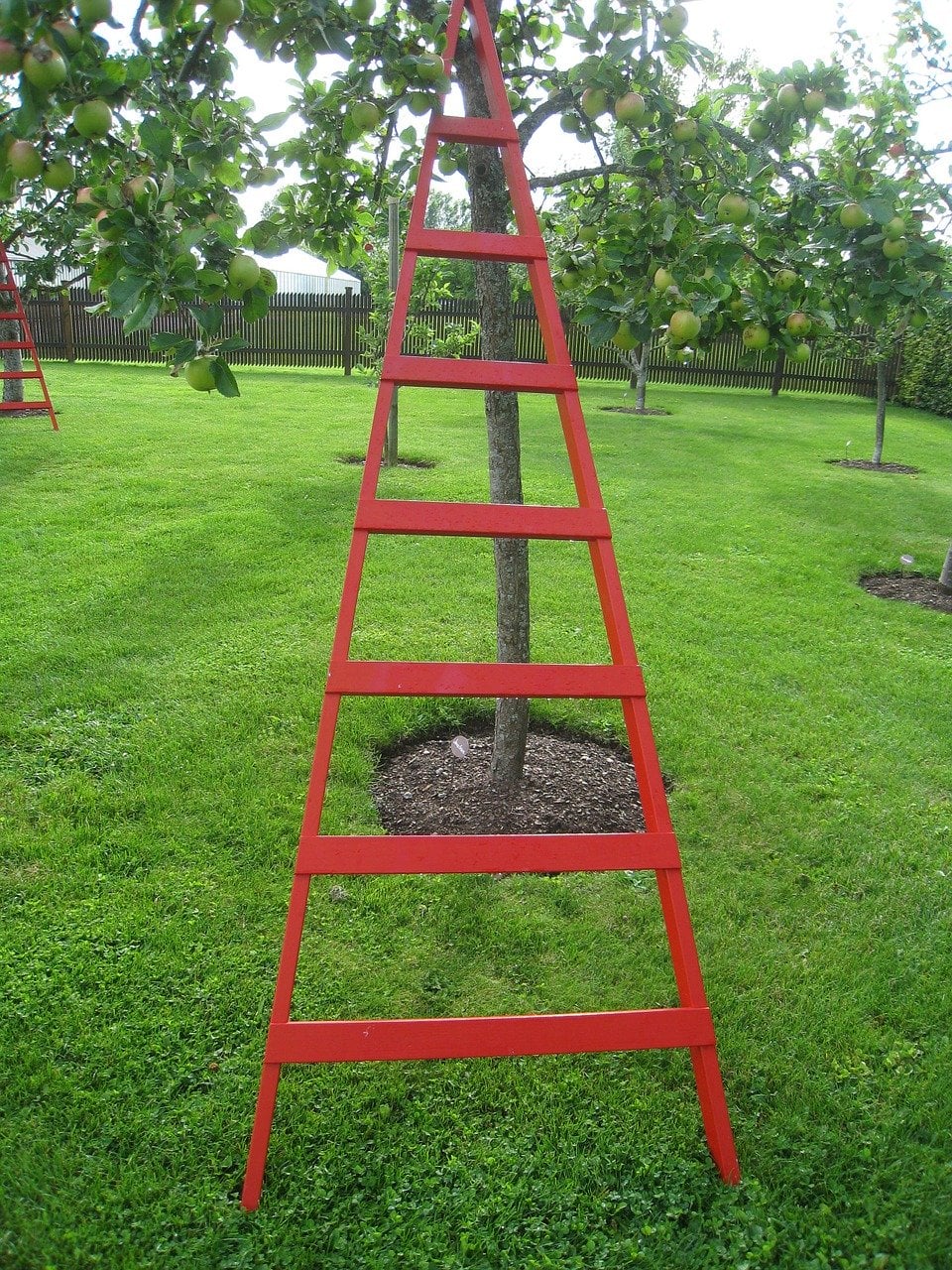 With a fresh coat of paint, the ladder itself can be a great piece of decor on its own.
Paint it a bold color to make it pop from the room. If you don't want paint to take away the rustic look of the ladder, just paint the bottom half white to create a contrasting look while keeping some of its original charm.
Decorate it for Special Events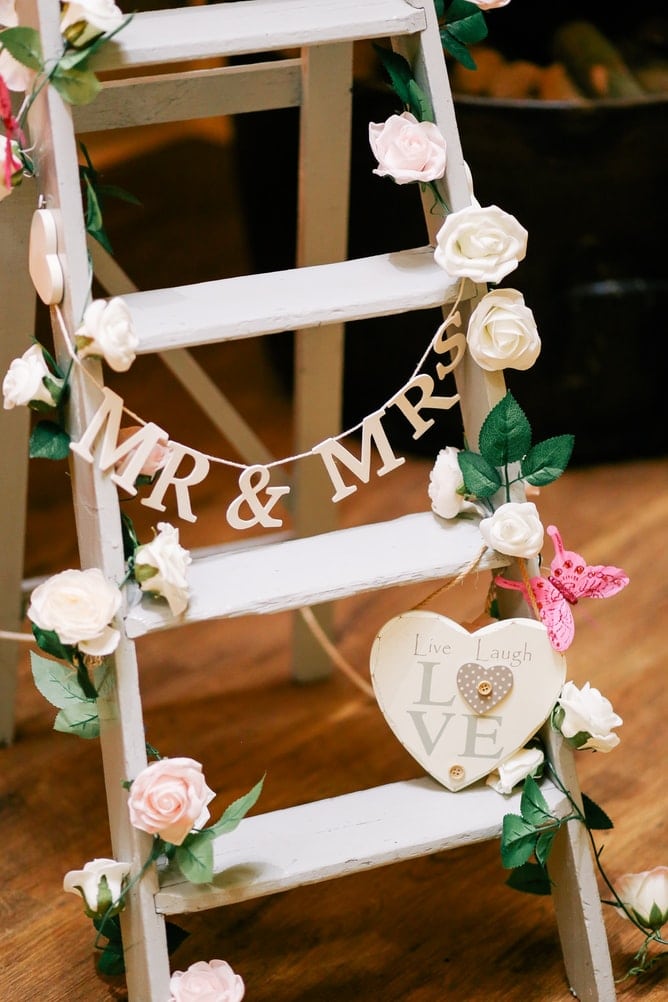 You may not have space in your home to use the ladder as a piece of decor all the time, but don't toss it! It can still be decorated for special events you're hosting.
In this photo, a ladder was used as decor for a wedding. It could also serve as a spot to display photos at a first birthday party or you can arrange goodie bags on it so guests can grab one as they leave the event. There are endless possibilities here.
Convert it into a Desk
Need a place to do some work? Convert your old ladder into a desk like the one in this picture!
It doesn't require much to recreate this look. Just remove a few of the lower rungs, replace a middle rung with a larger piece of wood, secure it to the wall, and use the upper rungs as a spot to display some trinkets! So easy (and so useful).
Hang Accessories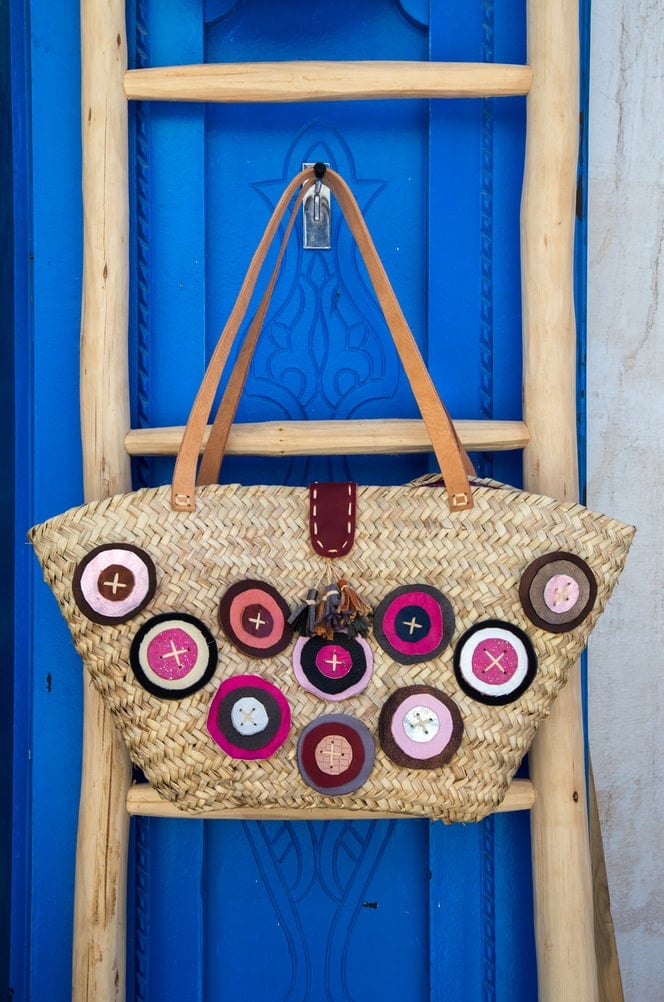 Technically, the accessories aren't being hung from the actual ladder in this photo, but if that hook were attached to a rung instead of the wall, the ladder would serve as a great accessory storage solution.
Attach some hooks, and lean the ladder up against the wall and you're set. You can hang hats, bags, necklaces, scarves, and jackets from it. It's kind of like a coat rack – only way cooler.
Store Toiletries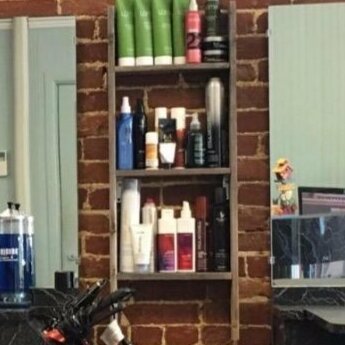 If your ladder rungs have some depth, use them for storage in the bathroom. A ladder would be a perfect spot to put your hair spray, perfume, dry shampoo, face creams, and whatever else you use on a daily basis. Another great way a piece of decor can also be functional in the home.
Display Decoratives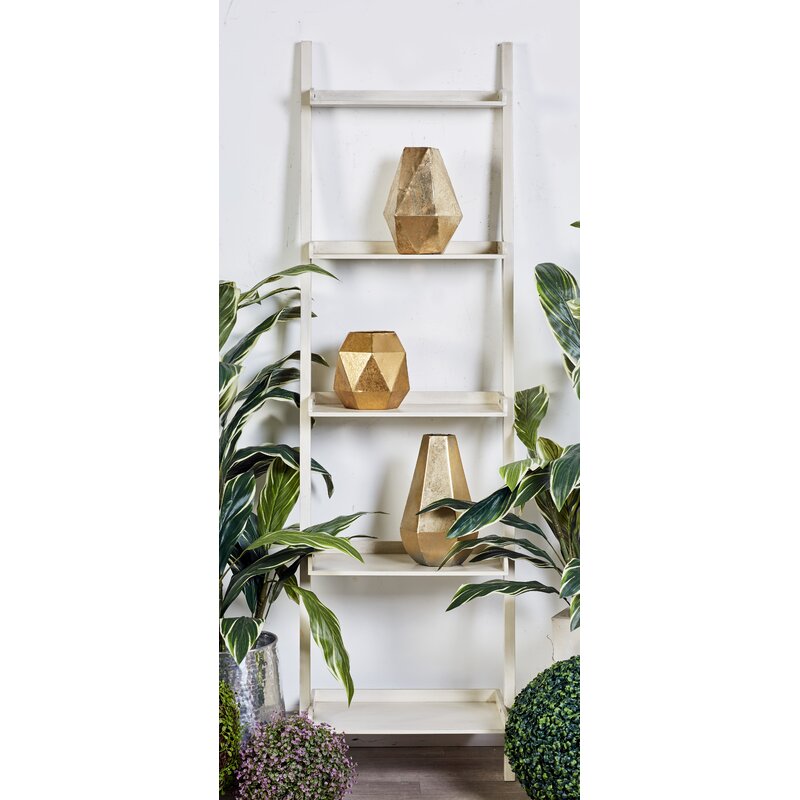 Instead of trying to make the ladder the central decor piece, use it to display other decor. Stack some books on it, prop up a few pictures, and set up a vase with flowers to create a unique and beautiful display.
Final Thoughts
As you can see from these creative photos, there are so many different ways to use a vintage ladder for your decor style in your home. It doesn't need to be just decorative, because you can also have some really functional uses for the old ladder.
What you'll need to do is think about what you want to use the ladder for, and find a suitable one, whether it's a small ladder, step ladder, or tripod orchard ladder. You can also do it the other way around and just find gorgeous ladders at antique shops then find uses for them later!