We independently select these products — if you buy from one of our links, we may earn a commission.
22 Creative Vintage Ladder Decor Ideas
The vintage and repurposed look is all the rage right now, and it's a style I absolutely love. From antique shops to country fairs, vintage pieces are being used for decor and function. One of these ideas is the vintage ladder decor.
There are many uses for an old wooden ladder all over the house. I found tons of different ways that others have used vintage ladder decor, each more inspiring and creative than the next. Here are my favorites!
Create an Artsy Bookcase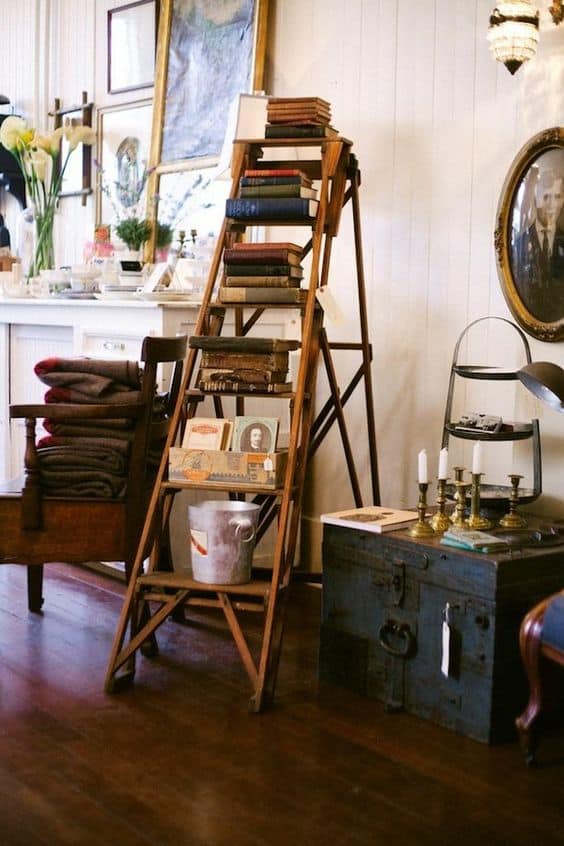 Because I have such a big book collection and I love old book shops with books piled haphazardly everywhere, this is one of my favorite ideas. An old decorative ladder is used to display piles of books.
If you're running out of space in your bookcase, or you're looking for unique alternatives, this is the perfect solution. A stepladder is better for this look, because it's self-supporting and has a wider surface for piling books.
Use It in the Kitchen as a Towel Rack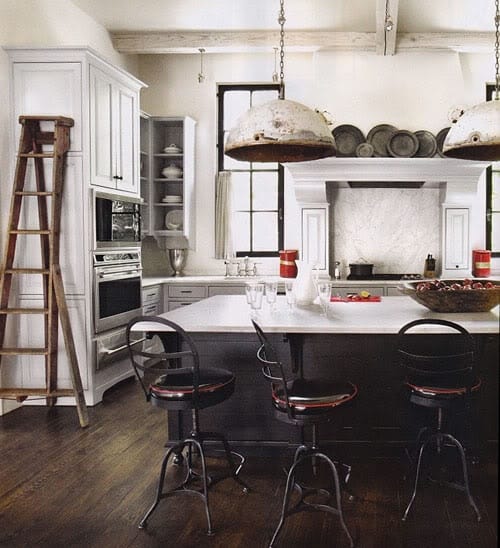 This old ladder decor idea is excellent to tuck into an unused corner of the kitchen as a towel rack. It doesn't take much space and can lean up against counters or large appliances.
Instead of using hooks, hanging towels on the ladder rungs is a great way to add a touch of country chic to your kitchen. In this image, the wood of the ladder works well with the white kitchen and vintage light fixtures.
Hang Wire Baskets for Toiletries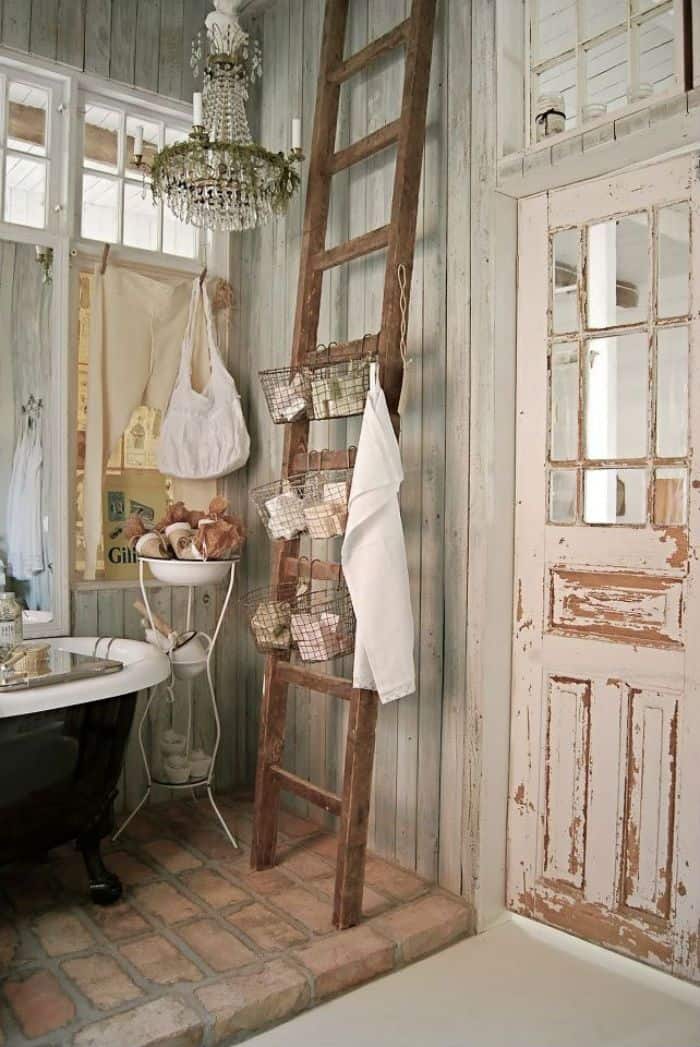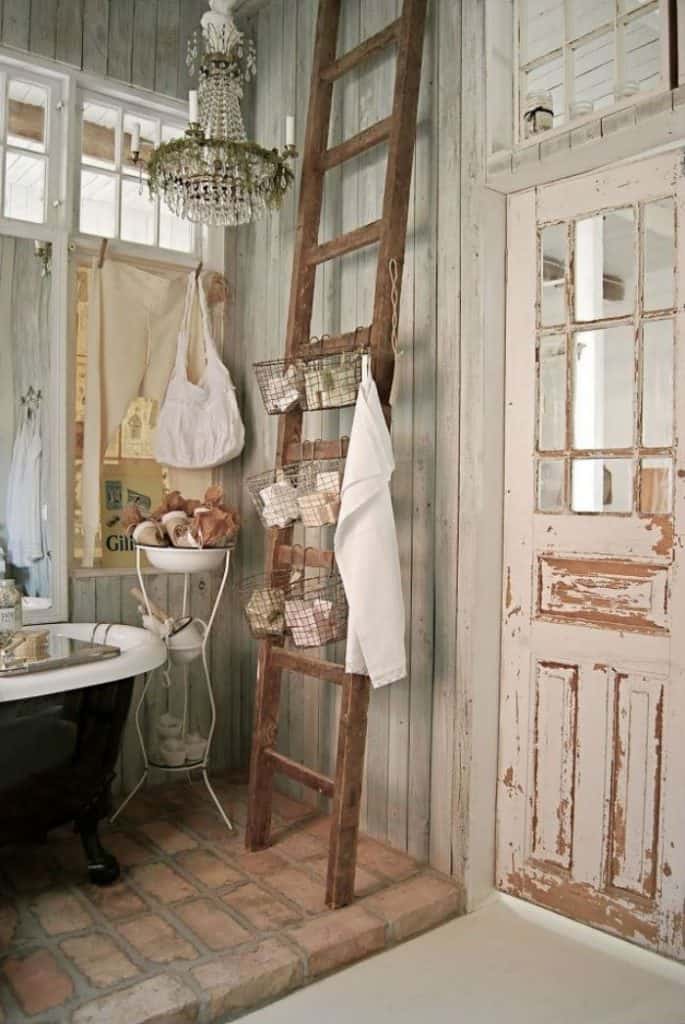 This is a great old wooden ladder decorating idea, because it's also functional. A simple wooden ladder is leaned against the bathroom wall, and its rungs are used for hanging toiletries.
Look for a vintage ladder with narrow rungs that can easily accommodate the hooks of the wire baskets. If you're having trouble finding a vintage ladder in an antique shop, you can build your own ladder with a vintage appearance by following these steps.
Use Cross Boards to Display Plants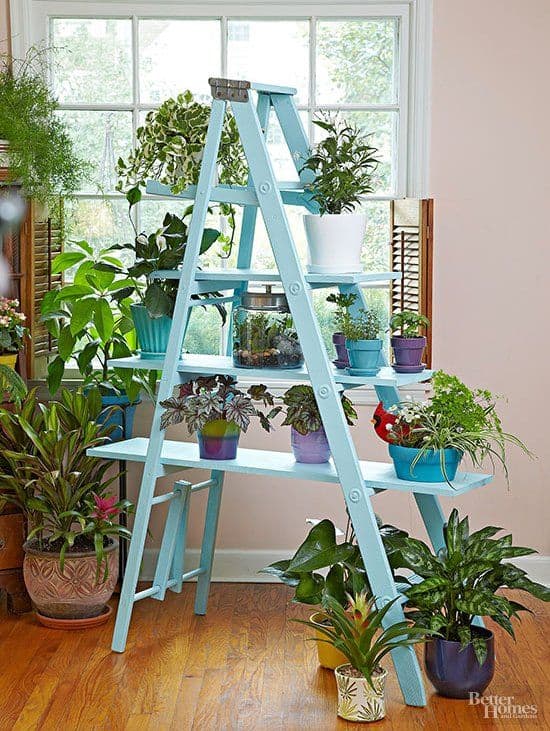 An exciting decorative ladder idea is to use one as a display for plants. In this example, an old stepladder has had some long wooden boards added across each step to create a bigger surface. Then, plants are added on each level.
If you want to really make the vintage ladder decor pop, you can actually paint the whole thing in a bright, fun color like the pale blue in this example.
Convert It to a Dining Room Light Fixture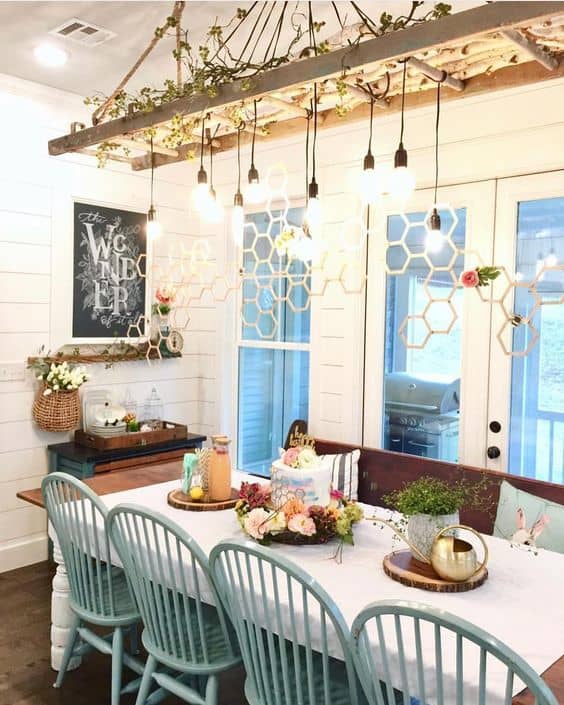 This is a great vintage ladder decor idea, and quite simple to do too. You can hang the ladder from the ceiling, and then feed through some exposed lightbulbs so they're all at different heights. Finish off the look by adding some plants and branches.
If you love this idea, there are tons of DIY ladder chandeliers and light fixtures that you can create for your home. Check out this guide for some links to tutorials.
Create a Bathroom Towel Rack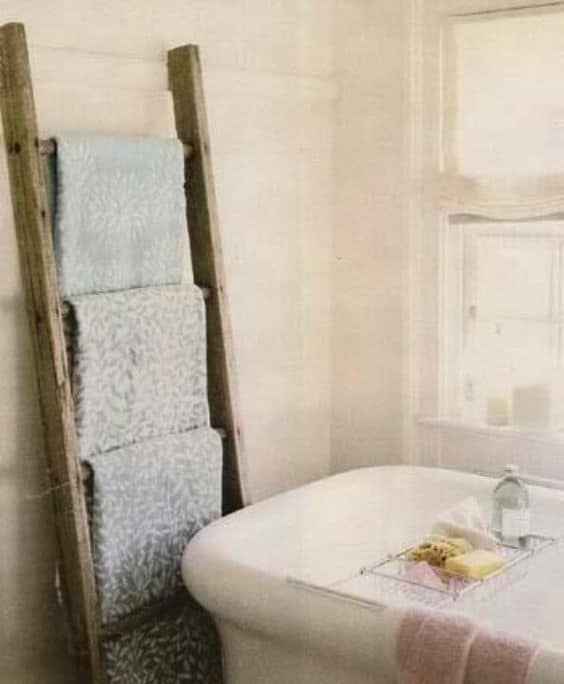 This is a similar wall ladder decor to the kitchen rack, but in this instance it's for the bathroom. A simple vintage ladder with small rungs is excellent as a towel rack beside a shower or bathtub. Make sure to get a ladder that's wide enough to accommodate your towels hanging from it.
Display Shoes for Closet Storage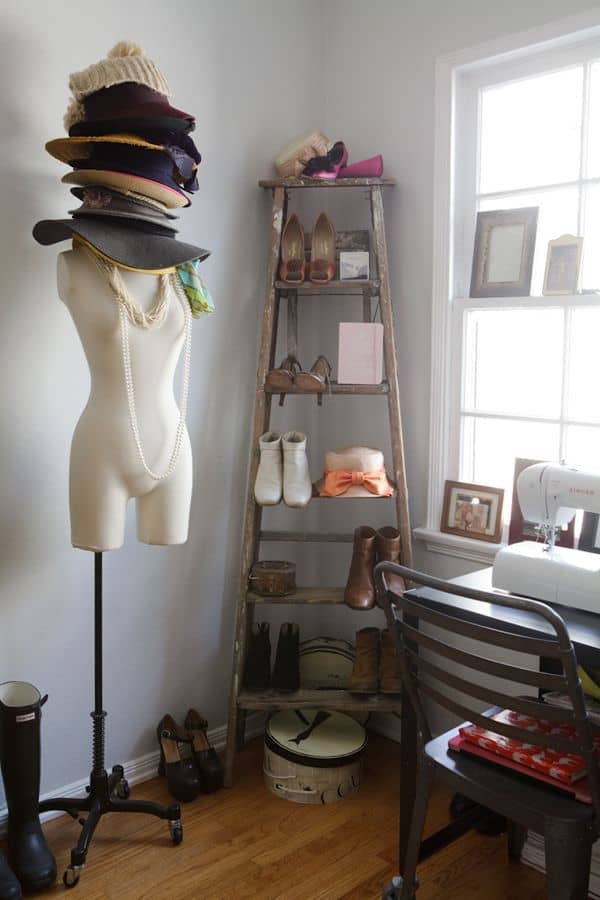 A ladder can also be used as a display and storage place, in addition to decoration. Here, a step ladder with wide steps is used successfully as a storage shelf for shoes.
If you're not sure where you want to display your vintage ladder decor, you can start with something simpler, like this idea. It's in your closet so it can remain hidden from others until you're ready to feature the vintage ladder more prominently.
Use Two Ladders and Boards for a Bookcase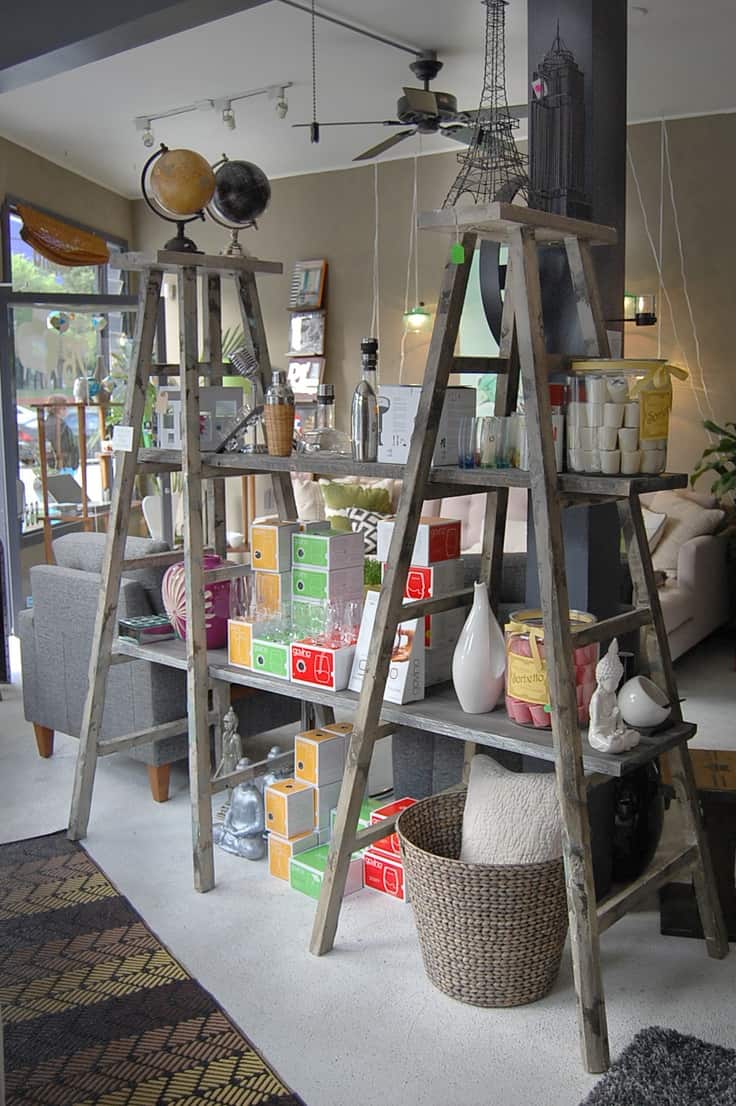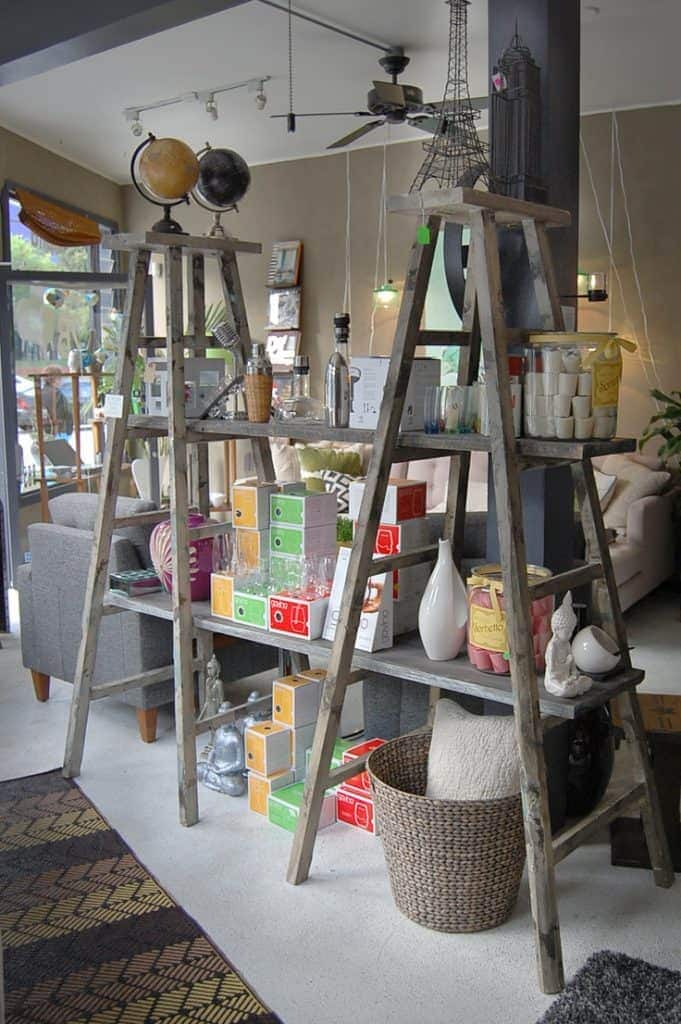 This idea is perfect if you can find two identical old step ladders. By using long wide boards to connect both ladders on various levels, you can create a larger display area. Many stores and vendors use this to display their goods, but you can also do this yourself at home.
Whether you want it to hold books, shoes, or pantry items, it's a versatile vintage ladder decor idea that is quite easy to accomplish.
Hang Herbs and Flowers to Dry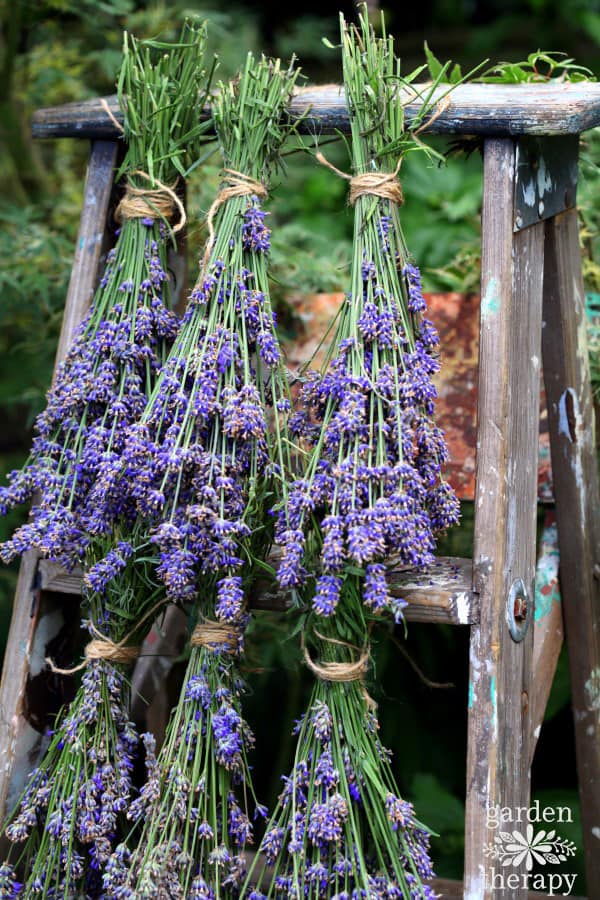 An old ladder decor idea shouldn't be limited to indoor spaces. You can also use old stepladders outdoors and in your garden for neat purposes. In this example, we can see an old ladder is used for drying herbs and flowers.
Simply place it outside in a protected area and it can be used as a drying rack, some garden decor, or plant display shelf.
Display Decor Items and Glass Vases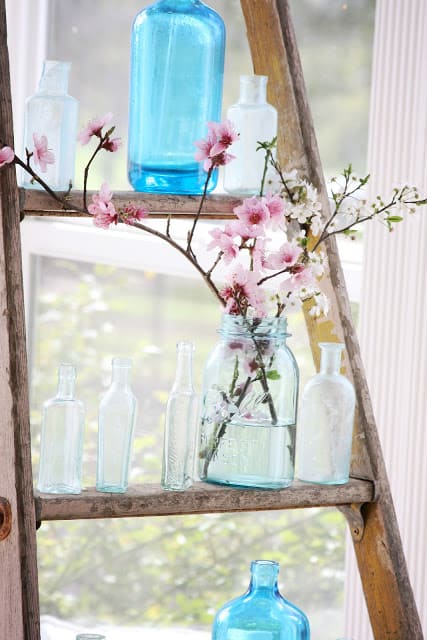 In a living room, a vintage ladder decor setup is perfect for those items you want to display, like flower vases, shells, or glass bottles. In this example, the blue shades of bottles match really well with the repurposed wood of the ladder.
Look for a stepladder with wide steps so that there's no danger of your items falling off your makeshift shelves.
Photos Hang Perfectly From Smaller Ladders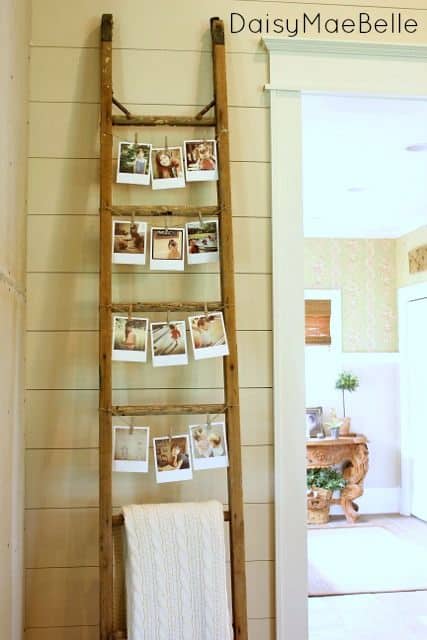 A smaller ladder is great for a bedroom or living room corner to display some photos. Simply hang some string or wire across the rungs and find some small pins to hang up your favorite photos.
It's the perfect wall decor idea if you bought a vintage ladder and weren't sure of the best way to use it in your home decor.
Add Wider Wooden Shelves to a Vintage Ladder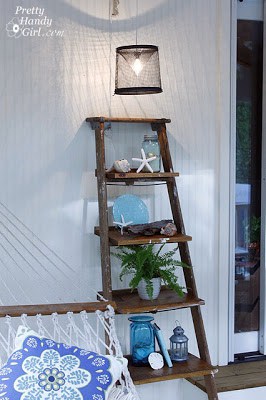 If you already found a gorgeous vintage ladder but the steps are too small for the decor display you want, look at this clever idea.
It's an excellent way to widen the steps on a vintage ladder that has smaller rungs, so you can use a bigger surface for display. Pretty Handy Girl has the full instructions on achieving this look.
Use It in the Dining Room for Table Linen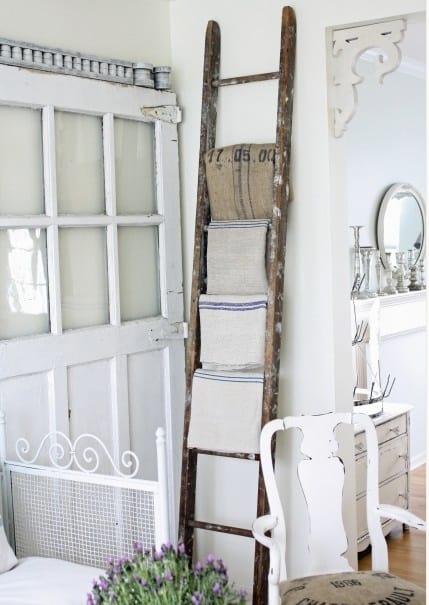 This gorgeous weathered and distressed wooden ladder looks amazing in the all white farmhouse dining room. It's a vintage ladder decor idea that's great for hanging table linens and place mats in a dining area.
The homeowner of the dining room in this example has also hung some burlap sacks from theirs as well as the white and beige linens, which adds to the overall farmhouse appeal.
Turn It Into a Coat Rack for the Hallway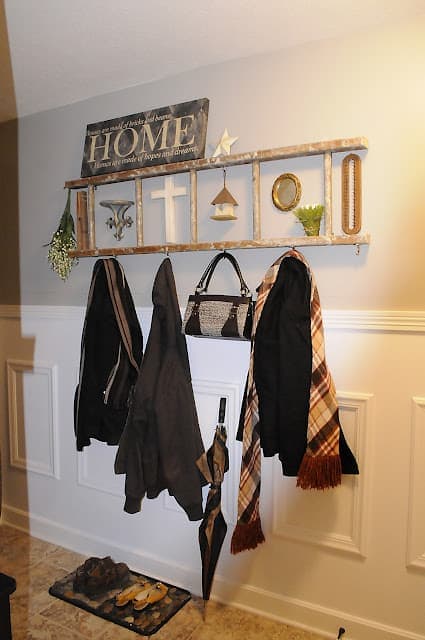 At first glance you wouldn't even know this is a wall ladder decor, but it is! A ladder is hung sideways in the front hallway to create a focal piece for decor that doubles as a coat rack.
As you can see, the bottom of the ladder has some hooks installed for coats, whereas the areas between rungs and the top of the ladder are used as small shelves for decor. Look for a small, short ladder.
Hang It From the Kitchen Ceiling for a Pot Rack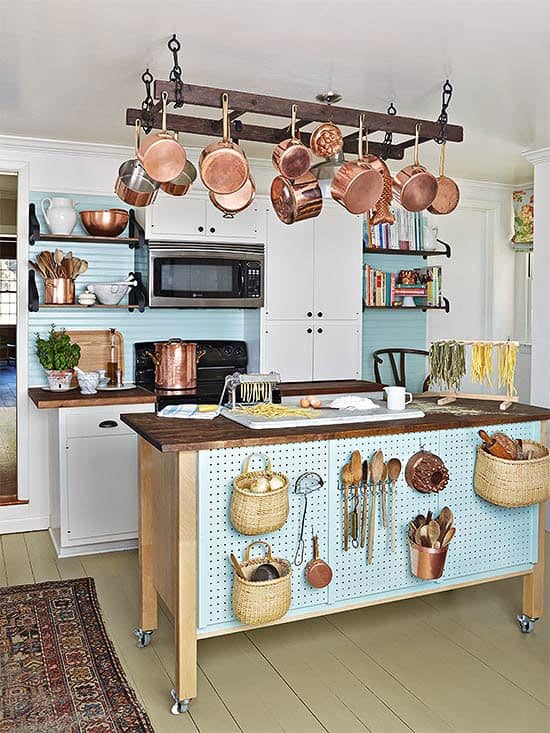 If you love the farmhouse or Tuscan kitchen style, you should be hanging your pots and pans in an exposed part of the kitchen. A vintage ladder is the perfect decor solution for this because it adds to the wooden and rustic appeal of these two decor styles.
Simply use ropes or chains to hang it from the ceiling, and then attach some hooks to the sides of the ladder for your pots and pans.
Convert It to a Photo Display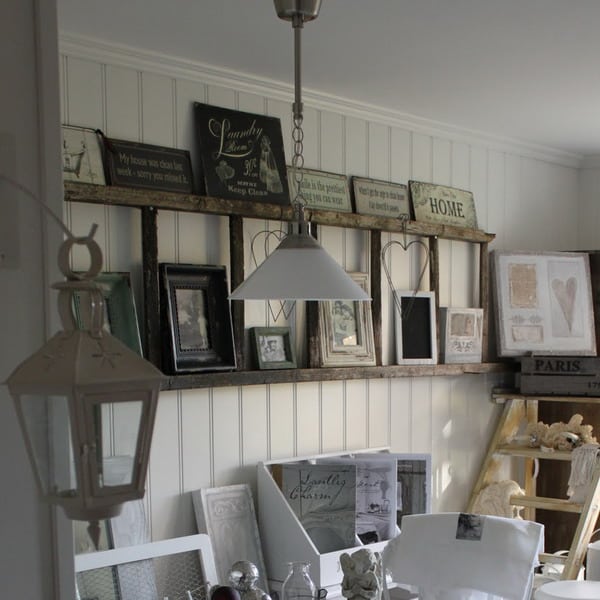 This old wooden ladder decorating idea is amazing. It's quite simple, and only requires a ladder with thick beams to support picture frames or artwork. Be sure to hang it perfectly straight or all of your photos and mementos will end up crooked!
You can even hang some wire art like the two pretty wire hearts hanging from the ladder in this example.
Build a Bookshelf from a Ladder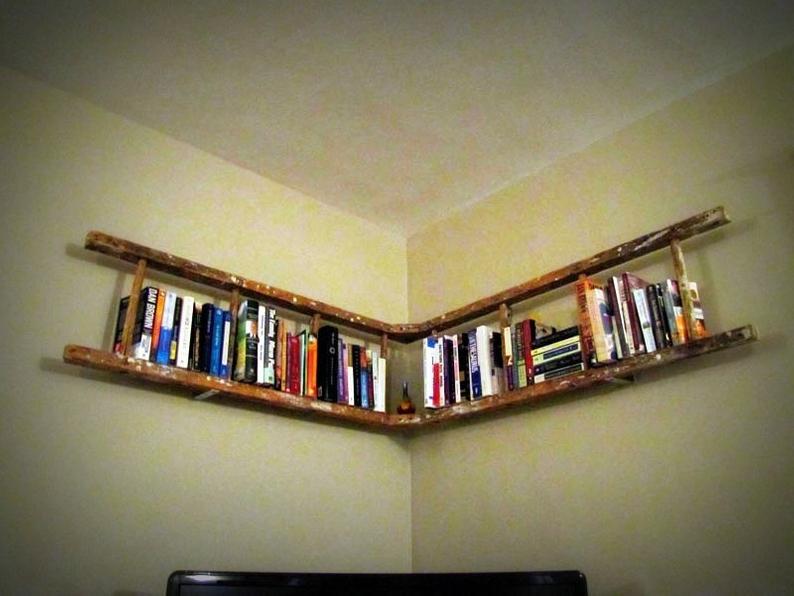 This is another unique idea for the book lovers. An old ladder can be repurposed in a practical (and gorgeous) way by hanging it sideways for a bookshelf. It's okay if there's a small gap between the ladder and the wall, because your books will still be supported.
Look for a step ladder that can be opened to a 90 degree angle and you'll have a bookshelf along two walls like in this fantastic example.
Find a Short Ladder for a Bedside Table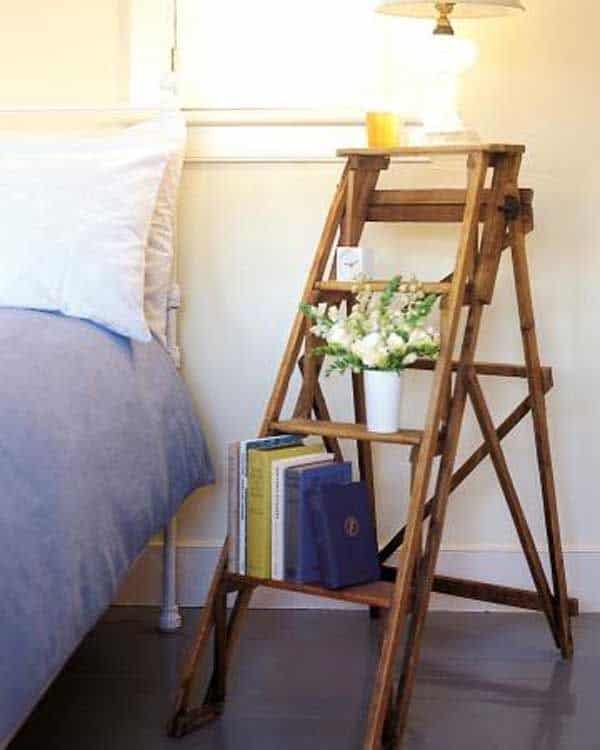 A small wooden step ladder can be a great vintage ladder decor idea. You can put it beside your bed for a unique bedside table. This is an excellent choice in a farmhouse or country style of bedroom, that focuses on reclaimed wood and vintage finds.
The lamp can sit on the top step, with books, flowers, alarm clock, and other knick-knacks on the other ladder steps.
Make It Seasonal with Wreaths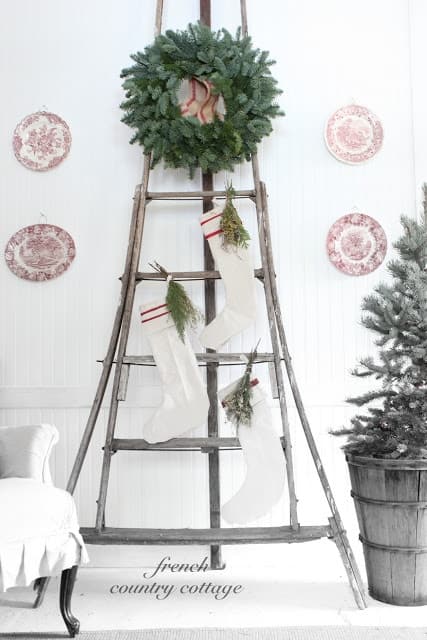 This wooden tripod ladder is the perfect decorative ladder idea, and it serves as the focal point for seasonal decorations. All of your old ladder decor ideas don't absolutely need to have a functional purpose, although many do; simply acting as a decor piece is enough.
Head over to this blog for an excellent guide on how to make your own wreath at home, and decorate it for all seasons, not just the winter holidays!
Small Rungs Are Great for a Magazine Rack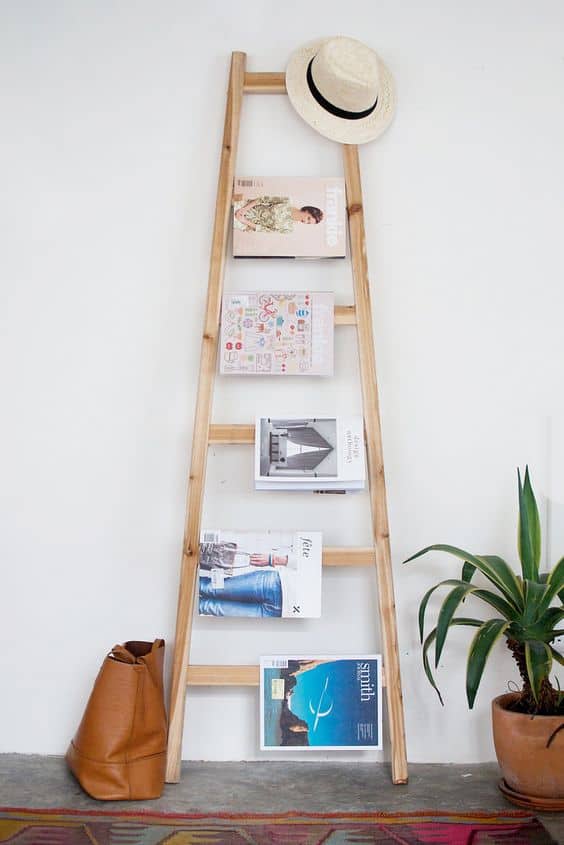 This old ladder leaning against the wall is a great example for thinking outside the box when it comes to decorative ladder ideas. The rungs are small and thin enough that it can make a useful magazine rack for display in your home.
It can even serve as artwork if you choose carefully the magazines displayed; it's like the vintage ladder version of a coffee table book!
Wrap a Hanging Ladder with Vines and Leaves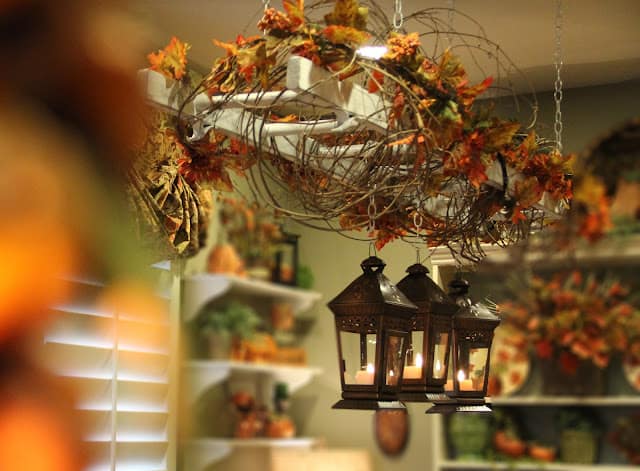 A few ideas mentioned involve hanging a ladder from the ceiling in the kitchen or dining room. Whether you're hanging pots and pans or lighting, you can add vines, leaves, and flowers to the ladder to make it the centerpiece of the room.
In this example, the white ladder is decorated in a lovely fall theme with vines and red, orange, and yellow colors. Change it up according to the seasons or get something that works year-round!
Add Baskets for More Storage Options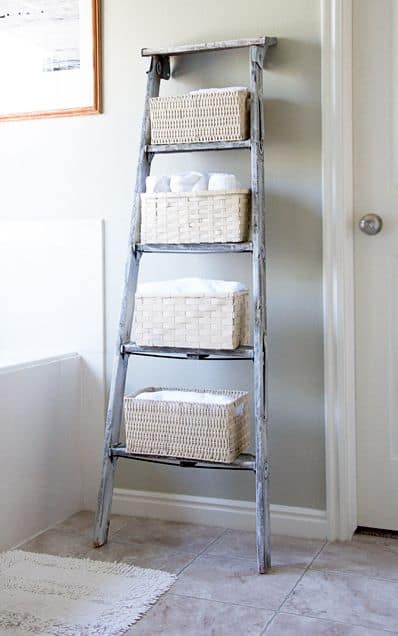 If you want a functional use for your ladder but you still want the vintage ladder decor look, consider getting a ladder with wide steps so you can add baskets. Woven or wicker baskets work best with a white background and distressed ladder.
These baskets are great for allowing you to store a lot more items, especially in the bathroom for toiletries and extra towels.
Final Thoughts
As you can see from these creative photos, there are so many different ways to use a vintage ladder for your decor style in your home. It doesn't need to be just decorative, because you can also have some really functional uses for the old ladder.
What you'll need to do is think about what you want to use the ladder for, and find a suitable one, whether it's a small ladder, step ladder, or tripod orchard ladder. You can also do it the other way around and just find gorgeous ladders at antique shops then find uses for them later!