17 Bathroom Towel Bar Ideas – Transform a Simple Thing into a Beautiful Accessory
Towel bar? Pfft… who gives a thought to that? I mean, it is just a bar that hangs towels.
How can it be important enough to give a thought? Unless you visit someone's bathroom and see a towel bar that is absolutely beautiful and you think, hmm…. a lot can be done with even a small towel bar!
Whether you have a small bathroom or a large one, a towel bar has the ability to be the center of attention. Check out these smart bathroom towel bar ideas that will grab the attention of anyone who steps foot in your bathroom.
Heat it Up With a Heated Towel Rack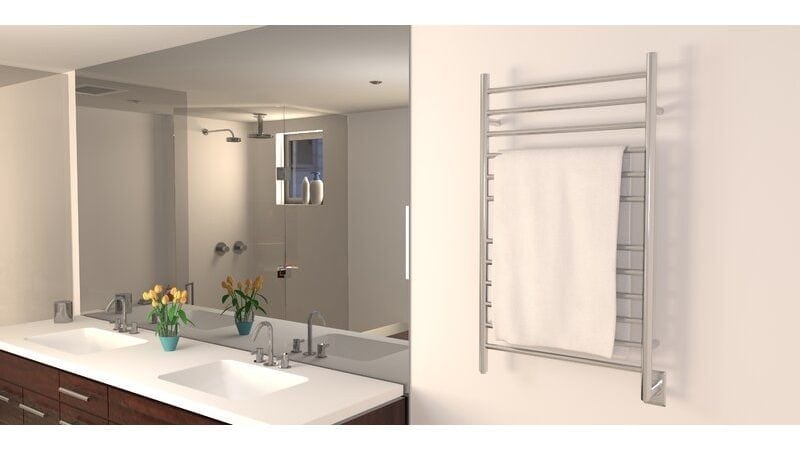 Stepping out of the shower is difficult. But if you have a warm towel that will wrap you around in its toasty goodness, it will feel like heaven. Try the heated towel rack that's a notch above (or maybe a few notches above) the ordinary towel bar.
Arrange your towels in a zigzag pattern in the rack and this device will warm them up for you. Once you are done showering, pull one end of the towel and you're wrapped in the sunny goodness of warmth and comfort – it's like being on a beach.
Get a Stylish Wooden Towel Bar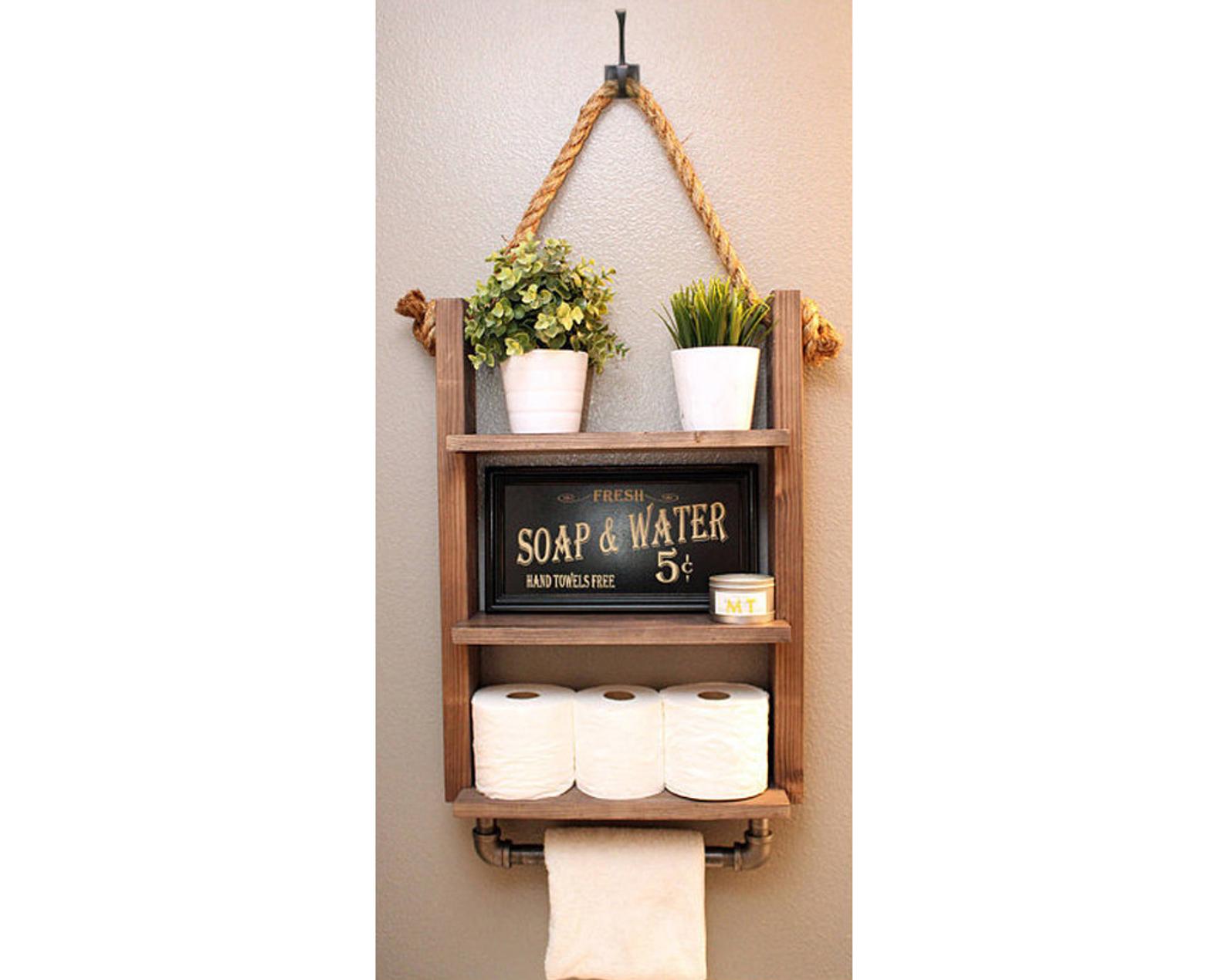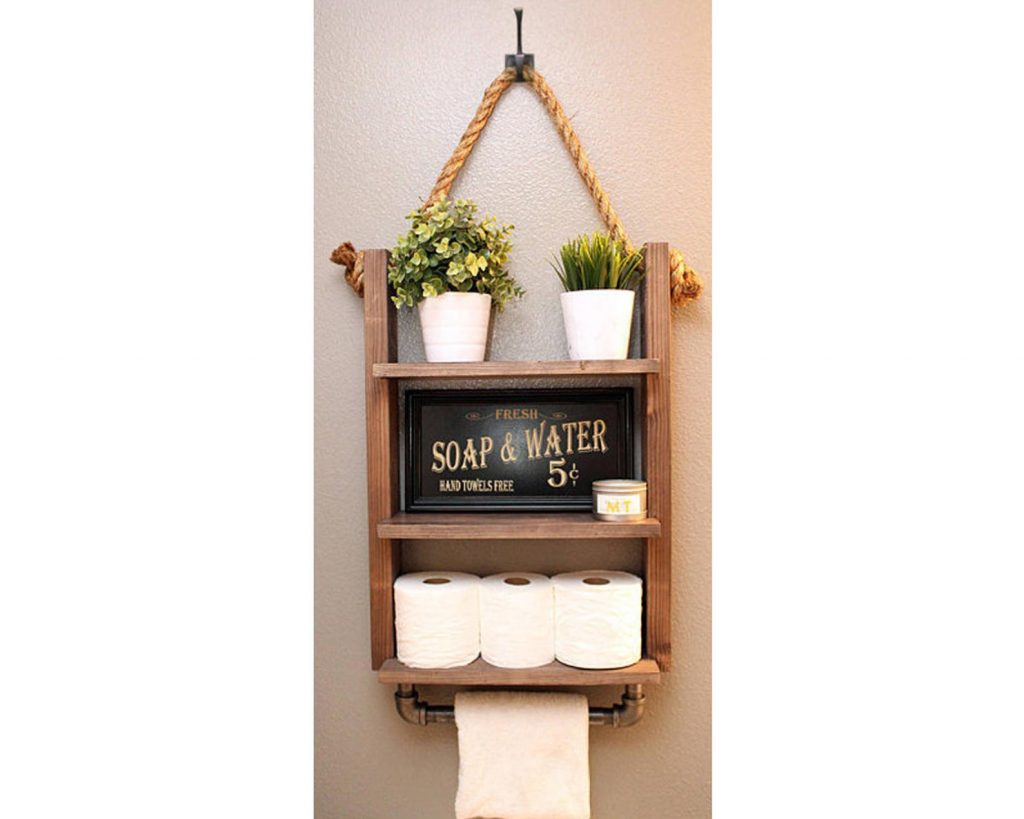 This wooden bar is more than just a bar. It's got shelves as well and you can put some extra toilet paper rolls here. A funny sign that says "Soap and water 5¢" will show your humorous side.
Of course, you can have other humorous signs as well. I'm thinking, "If you run out of toilet paper, you're on your own!!" A designer soap will look beautiful on the shelf. And of course, there is plenty of space for houseplants.
The burlap rope on top gives it a rustic appeal that looks beautiful and vintage. And of course, at the bottom in the towel bar.
Style It with a Steampunk Towel Bar
This industrial looking towel bar is made of a metal pipe with rods attached to it. Since the rods are facing in different directions, you can hang towels easily without them having to touch each other.
It is a rotating towel rack, which means when there are no towels to hang, you can rotate the rods in one single direction. Cast iron of the towel bar gives it a steampunk look which will look great whether or not the other décor of the bathroom has the same theme.
Try a Behind the Door Towel Rack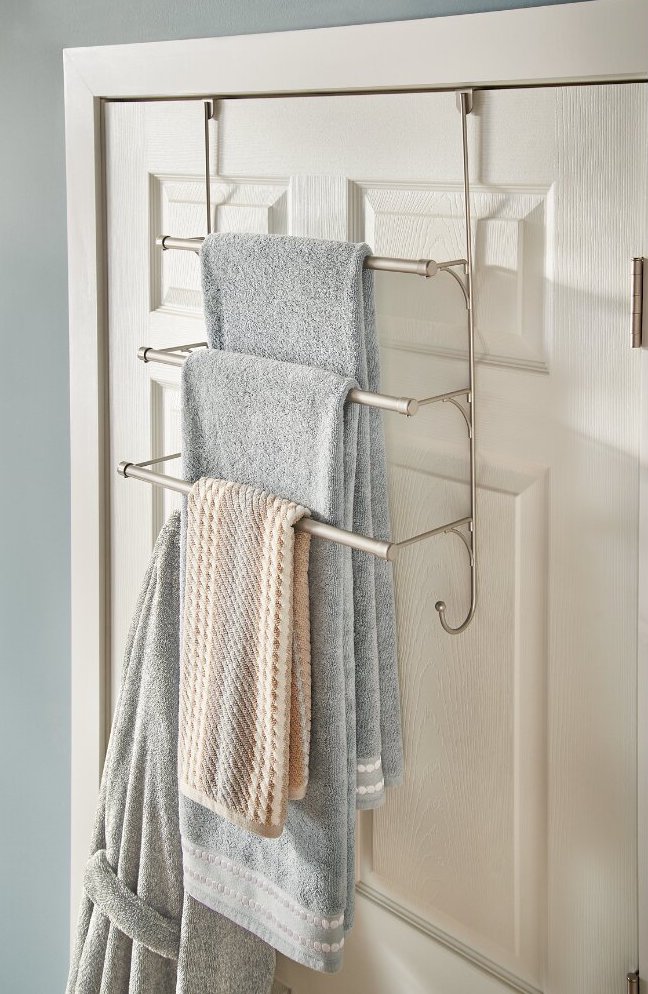 Behind the bathroom door is one area that is not effectively utilized. I mean, what comes behind the door? Nothing, except if you're playing hide and seek with your toddler. Use this area by installing a towel rack there.
This towel rack can hold 4 full-sized towels and is very practical, especially for small bathrooms. If you haven't got enough space in your bathroom and are lacking that towel space, this is the perfect way to utilize the extra space.
Turn a Ladder Into a Towel Rack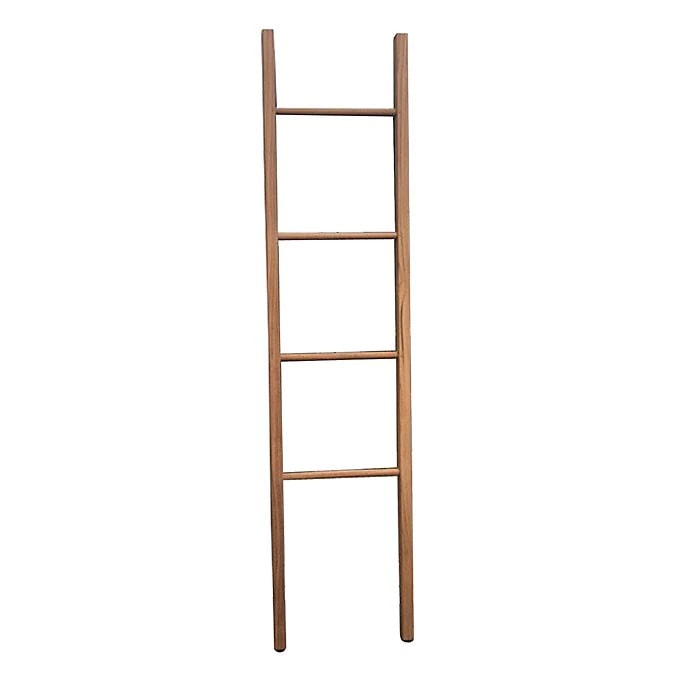 If you have a ladder lying around the house, you don't even need a towel rack. But only if the ladder is as stylish as this one. You will have space for as many towels as there are steps on the ladder.
The houseplant kept at the base of this ladder looks beautiful and adds a bright green color to the bathroom. The ladder color matches the frame of the mirror and gives an exquisite look to the bathroom. If you want to have a theme that mixes country and classic, this can be the perfect bathroom décor for you.
Framhouse Wall Mounted Towel Rack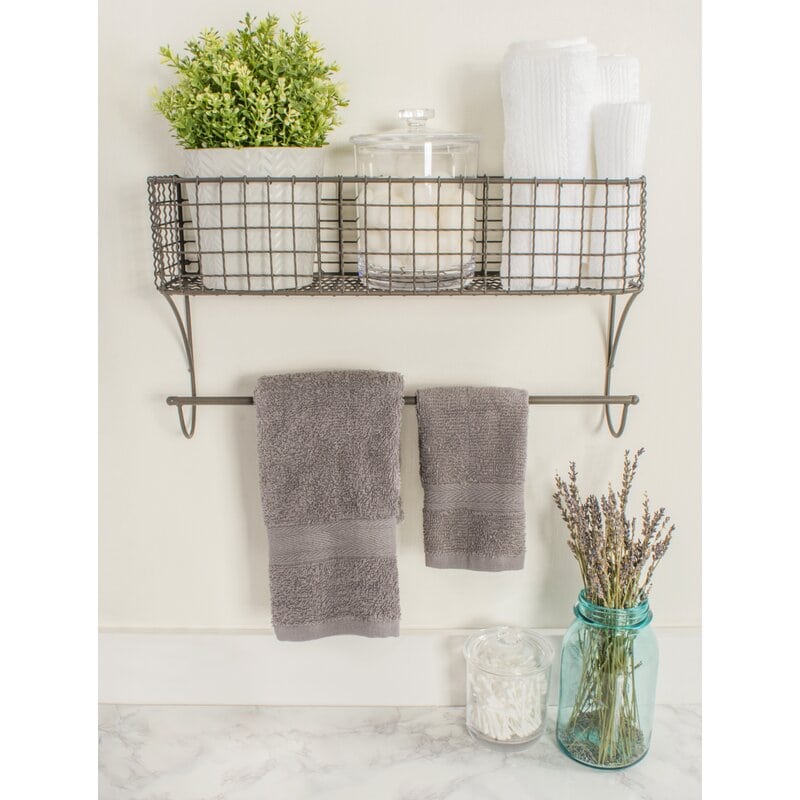 Combine a bar and a basket into this strikingly beautiful idea. There's an wire basket on top and a bar below it.
A plain towel bar might look boring to you. But a combination of a basket and bar isn't just practical but also beautiful.
The basket is ideal for holding an extra roll of toilet paper, a shampoo, and some lotion. No matter what the size, theme, or layout of your bathroom is, this style will suit it just fine.
A Towel Bar Made from a Log
If you are looking for something out of the ordinary, try the log towel bar, which is basically a polished log arranged between two wooden hooks. And if you don't want the log to roll out each time you pull out the towel, make sure it's super glued or bolted in place.
This definitely looks unique and catches attention. To make sure all eyes rest on the towel bar, hang a funny quote above the towel bar.
Get a Golden Towel Bar Set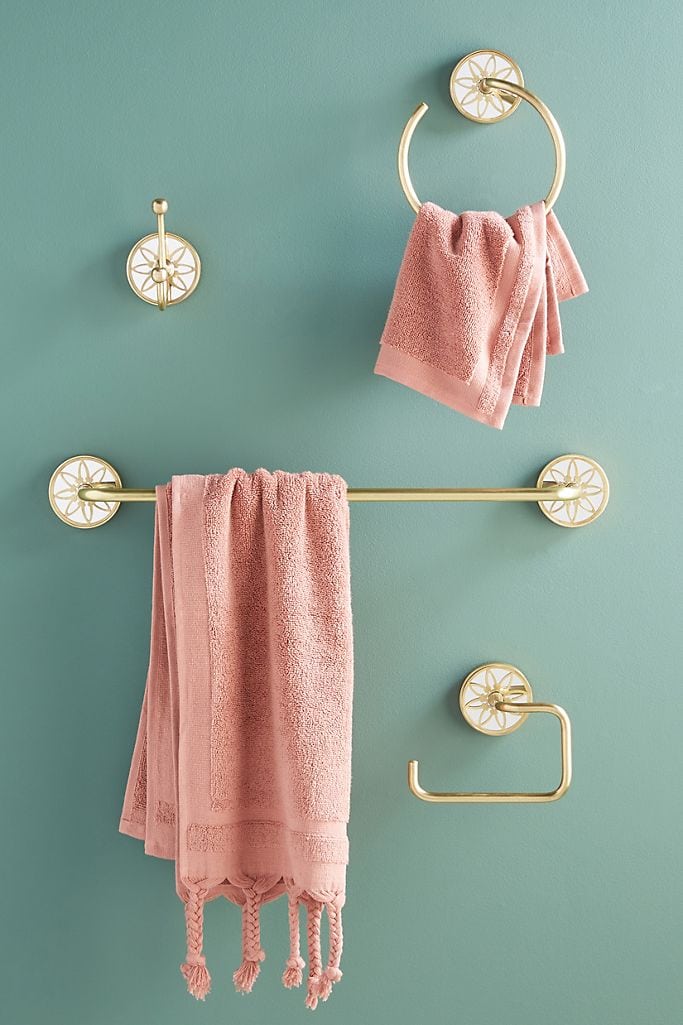 When one is not enough, get many. One of each type. A towel bar, a circular towel holder, a hook, and a toilet paper holder. And all of them are beautifully golden, looking great against a teal wall.
Teal is a lovely shade and goes with so many other colors. Golden here, for instance. And that pink towels on the golden bar is looking refreshingly pretty.
These pieces in the towel bar set give a luxurious and royal look to the bathroom. Make sure that other accessories in the bathroom as also soft golden in color and go with the entire theme.
Try Rustic Looking Double Towel Bars
This one stand has two towel bars and the lower bar is more protruding than the upper one so both towels can hang there without touching each other.
It gives a vintage appeal and is ideal for homes that have a rustic décor. The wall behind the towel rack is also wooden, adding to the décor. If you have a wooden wall, it will be a crime to break the theme by installing a towel bar that is not rustic.
Make sure you maintain that vintage look with the towel bar that will draw all attention to itself.
Steampunk Meets Vintage in This Design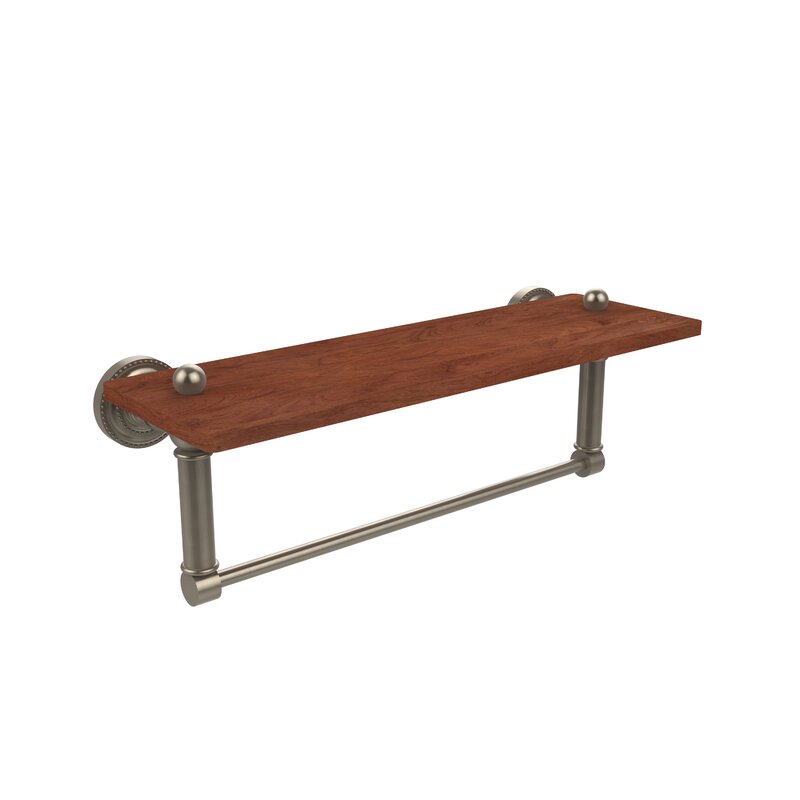 This combination of shelves and bars gives a look that combines rustic with the steam engine era. The wooden shelves add a rustic appeal to the arrangement and the iron pipes add an industrial look.
While the rods hang towels, the shelves can be used to hold anything your heart desires. It could be some extra rolls of toilet paper or some old chemist bottles to add to the steampunk ambiance.
A couple of incense sticks will help the bathroom smell nice and fresh forever. And of course, add a jar to hold your loofahs and shower caps.
Vertical Towel Bars that Act as a Towel Rack
Here's the deal, if you install your towel bars horizontally, they are towel bars. But if you install two towel bars vertically, they become a towel rack. These towel bars are made of cast iron pipes that give an industrial look and are also not very expensive.
This arrangement is awesome because you can place as many towels in them as you want.
This comes in handy if you're living in a shared apartment or don't want to change the towels every day. Just stack 'em up and you're good for a few days.
A Clothes Hanger as a Towel Bar
We've all been lazy. Just hang the towel on a wall nail. Why bother with a towel bar anyway when a nail can do the job just as well.
Of course, the nail looks unsightly on the wall and can tear the towel as well. So do the next best thing. Hang a clothes hanger on the nail. Job done – you have a towel bar without having to buy or install it. Get a wooden hanger (instead of a plain wire one) to make it look beautiful.
Check out this arrangement – it's quick, cheap, and still looks good. The joys of improvising!
Combine Towel Bars to Form a Towel Rail
Instead of one towel bar, install three or more to create a rail. It gives a modern look to your bathroom. It's easy to get a designer bathroom on a budget just by some careful planning. Group together some towel bars while keeping the spacing in mind.
It's stylish, inexpensive and gives a completely new look to your bathroom. If you're a fan of that minimal look, this towel rail will do the job just right.
Create an Organized Towel Bar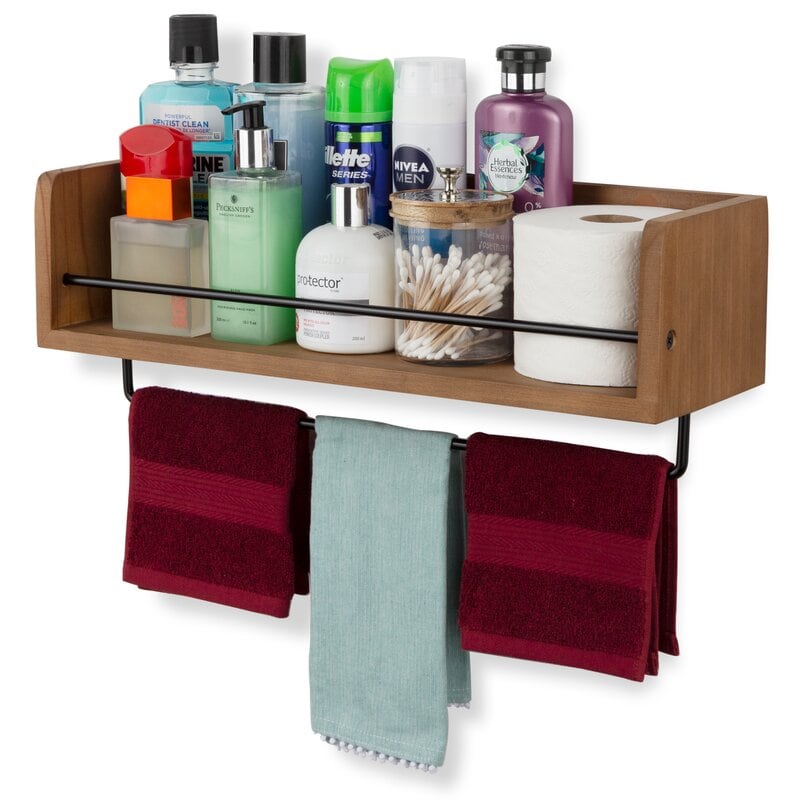 A towel bar can't be organized, right? It's just a bar. But if you plan right, you can organize even a plain towel bar.
This way, you can use a simple towel bar in multiple ways and keep it all systematized. Woo your guests with your organizational abilities.
Get Creative with the Towel Bar
It's a plain towel bar but with two towels wrapped around it carefully, it's also a towel rack. This single towel bar can hold 6 towels in all and that too in style.
Imagine cramping up 6 towels on a single towel bar. An unsightly look. But look at this unique style – it's different and it's cute. Wow your guests by decorating your bathroom in unique ways. And you can keep so much in these wrapped up towels – designer soaps, fancy shampoos, and other bathroom goodies.
A Tasteful Triangle Towel Bar
A towel bar that's topped by a triangle that's great for storage but also looks amazing. Stack up some extra toilet paper rolls in a section and place a house plant in the other section. You can also place incense sticks in the other section to freshen up the bathroom.
And of course, the bar below will hold the towel. The dark wood of this towel bar looks great against the white wall of the bathroom. If you're looking for a blend of rustic and modern looks, this towel bar will be ideal for you.
Try a Wooden Towel Bar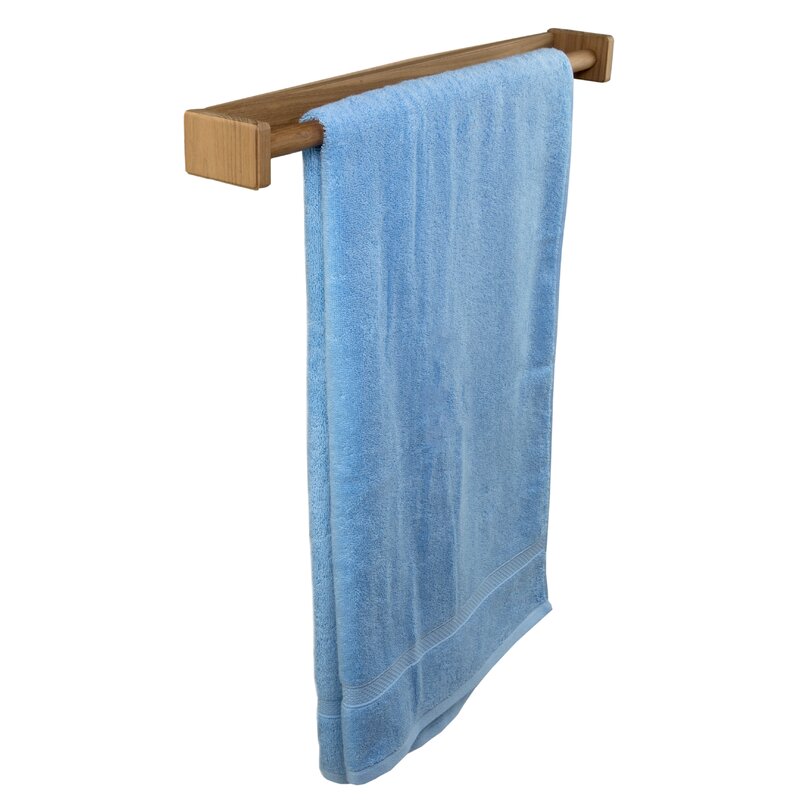 There are iron towel bars installed on wood. There are steel towel bars as well. But not so many wooden towel bars.
Try this stylish and rustic towel bar that's made entirely of wood. It gives a minimalist look which is unique because not many of us have seen wooden toilet bars in any toilet we've visited.
If you love the wooden look and adore wooden flooring and even a wooden accent wall, this can be the perfect towel bar for you.
Why Stop at One?
Can't make up your mind? If your heart is set on the basket and bar combination but you cannot let go of the steampunk bar as well, get both of them. Who's stopping you? After all, a bathroom can never have too many towel bars.