Decorating on a Budget- Inexpensive Decorating Ideas on a Budget
Home Decorating on a Tight Budget - Decorating on a Budget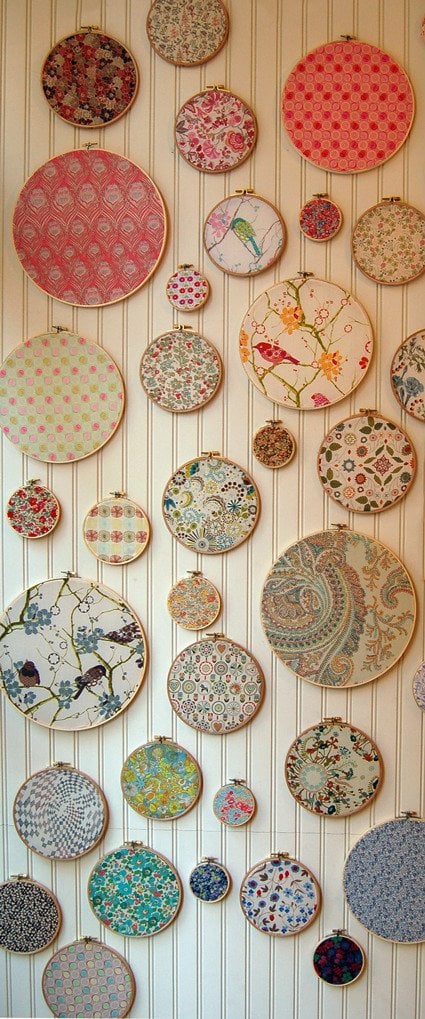 If you're decorating on a budget, updating or decorating things you already own is a great place to start. Using old fabric or wallpaper and creating a feature wall can liven a space. This post also covers stencils on furniture, photo galleries, a laundry update, and so much more, so make sure you scroll to the bottom.

Want something different and unique for celebrations like a birthday, Thanksgiving or Christmas? Use fabric in colors that go with the rest of your decor.

Updating a look can be as simple as painting a piece of furniture, adding a chalkboard wall to your kitchen, hanging plates, getting creative with your wall decor, regrouping memorabilia or changing your back splash. Get letters here and click image for tutorial.

From a few letters to create words, to creating your own printable sayings; decorating ideas on a budget doesn't mean it looks cheap. The last thing you want is your home look nasty. Aside from seasonal decor; this post also covers other decorating tips for your kitchen counter tops, a bedhead, a laundry makeover and how to make it blend seamlessly with existing decor.

That means you might have to get a little creative, create spaces for reading nooks that didn't exist before or tightening up your decor so it looks more stylized. There are lots of shortcuts you can take to give you amazing looks without the enormous bill. These counter tops look like granite but are created with paint with kits at only $79.95. There are different colors and a video that shows the 3 step process. Click image for details.
Less can often mean a lot more - like painting furniture or making an ottoman - great when it comes to decorating on a budget. Finding ways to use old wood or pallets in cleaver and stylish ways to create a headboard.  (Click image below for pallet headboard details).

Start with a plan! How can you best update what you have? What will bring the look together? Is there one thing you can do to achieve that on your budget? It can be the smallest things like grouping things a certain way or adding wallpaper or a strong paint color to your wall as a feature.

Break rooms down into smaller areas; a wall, a corner etc. It makes the process easier. Then copy some of those features into other parts of the room; so your room works as one and less like a jigsaw puzzle. It can be the pops of color, or the lighting that brings it together.
Set the amount you are willing to spend. Investigate your list of decorating ideas and work out what you can accomplish within your budget. Get rid of the rest; or find a way to incorporate them without breaking the bank.

Planning the number of colors, textures and tones will help you limit your choices; changing, swapping or removing what you have so it all works together. This dining room works so well because the toned down wood tones are lifted by the crisp white-gray chairs and contrasted with the black curtain rods. The room works as one.
This also depends on how creative and hands on you want to be.
Use storage baskets with a similar look and fell to bring your feature together. The simple planter at the window brings your focus in to the center of the room, where there is lots of natural light, and lush green as a contrasting color.
What if you convert a bookcase into a window seat or using wall stencil ideas instead of wallpaper? Maybe use your wall stencils on your floors or furniture?
Source: issuu
Fabric is a great way to bring life to old pieces; like old picture frames. Or what about this idea below using Pink Insulation panels and covering them with wallpaper or stenciling them. Its a great way to create oversized art on the cheap.

You can either go to the fabric store and choose something that appeals to you, or go through the house and find old curtains or other fabrics, like old dresses, scarves, tablecloths, napkins, or placemats.  Let your imagination go wild; choose colorsing that work well with the rest of your plan.

If you want to create a padded look to your new creations, place batting between the frame and fabric. If you don't have any, and most of don't have batting lying around, make your own.  Use plastic grocery bags, by stacking as many as you want to achieve the puffiness you desire.
Source: katie-d-i-d.blogspot.com via Reilly on Pinterest
Cut or fold the bags into the shape you need; leaving the sides clear of 'batting.'  Either hot glue the fabric to the frame or use a staple gun.
Hang frames in an attractive arrangement on the wall. Several frames in a row, or random sizes placed randomly on the wall has eye appeal. There is no right or wrong to home decorating, so, arrange and rearrange as often as you like until it suits the layout and size of your room.
Inexpensive decorating ideas are everywhere - like these cute mason jars painted and sanded. Click image below for details on how to complete.

The small tweaks can make all the difference. It can be the way you arrange items, the material they are made from, or adding strong contrasting textures like warm wood and gold against white below.

Source: eat sleep make
Decorating ideas on a budget stretch you imagination and decorating on a budget can be one of the most creative things you can do. No matter what your budget, style or decor, you can make decorating on a budget interesting, cozy and inviting.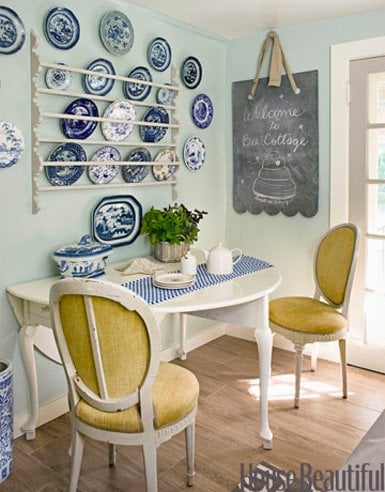 Source: tiny white daisies
When you go looking for inexpensive decorating ideas you never know what you'll discover. That's the fun part.
If you have your own inexpensive decorating ideas you would like to share - let me know and leave a comment because everyone is interested n home decorating on a budget. 
Save
Save
Save
Save
Save
Save
Save