Decorated Life is reader-supported. When you buy through links on our site, we may earn an affiliate commission. Learn More
25 Gorgeous Rugs That Go With Brown Couches & Tie the Room Together
Sometimes, a brown sofa is exactly right for your space or for your lifestyle (say, if you have little kids). As perfect as it may be, it's not always easy to decorate around it, especially if you want pops of color but don't want to create a room that's too dark.
Finding great rugs to match a brown couch may take a little time, but it's worth it. A good rug will tie a room together, make it feel warm or airy, and add a little extra softness. Here are some stylish rugs that pair well with brown couches.
Colorful Medallion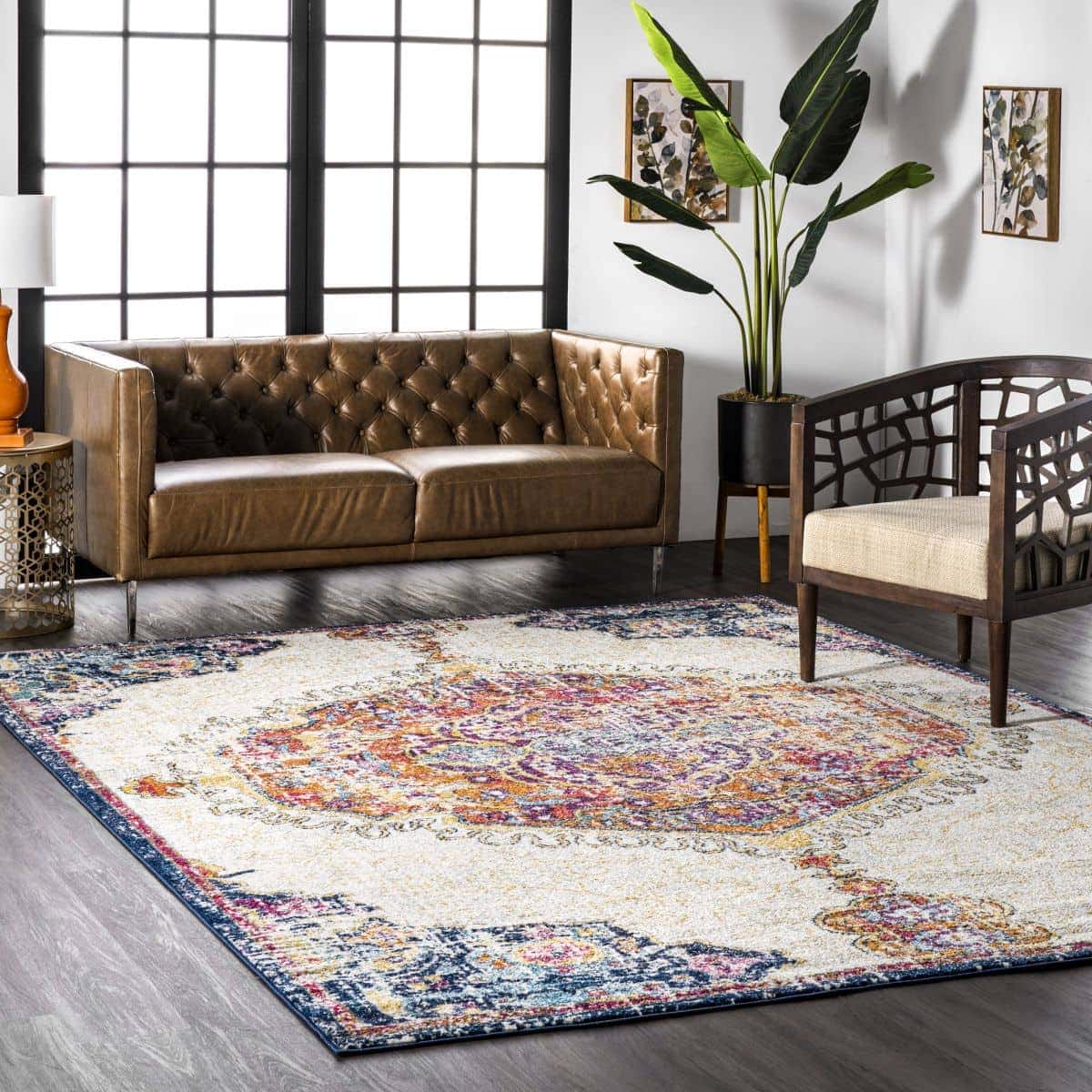 A multicolor rug and brown couch aren't a likely pair, but this rug is a perfect example that it can be done and it can look amazing!
What makes this work so well is that the medallion in the middle is surrounded by a cream color to add a little neutrality. To make this work in your home, make sure your throw pillows are solid (if you use them at all) and pull from a color in the rug to tie it all together.
Earthy Floral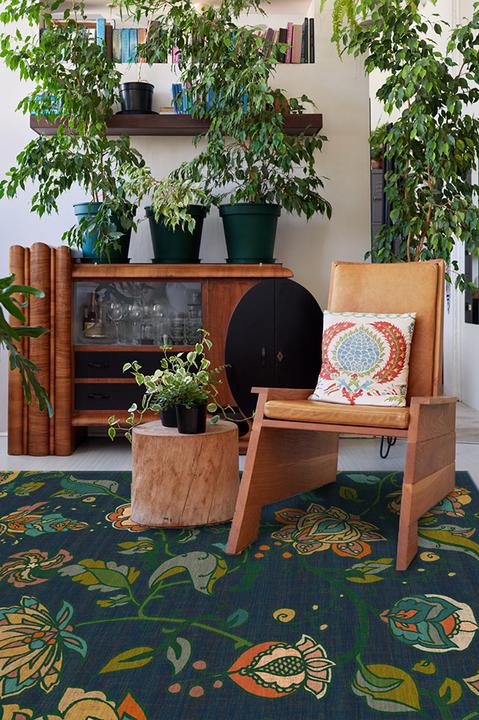 Love an earthy, natural look? You can pair a brown couch with deep blue, emerald green, and other dark colors like in this photo.
The brown chair works wonderfully with the rug and makes it look like you're taking a walk through nature. If your couch is a similar shade of brown, you can easily pull off a look like this.
Light Grey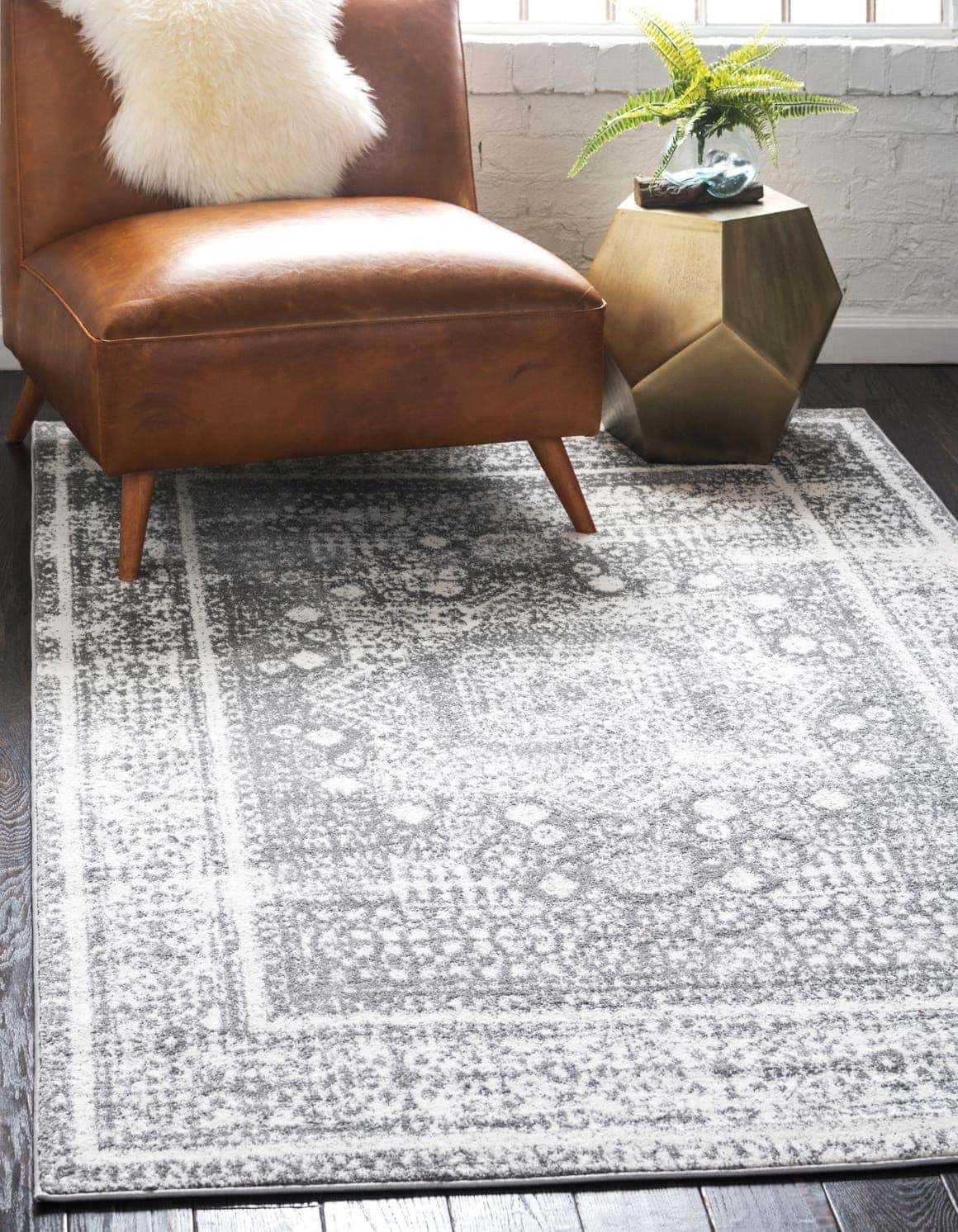 A grey area rough with a brown couch may not be an obvious pairing, but with the right shades of each, it can look really pretty and modern.
This photo shows a good example of how a camel colored couch paired with a light grey creates a trendy look. The metallic gold helps the couch keep the grey rug warm and the furry throw creates a cozy atmosphere.
Navy Blue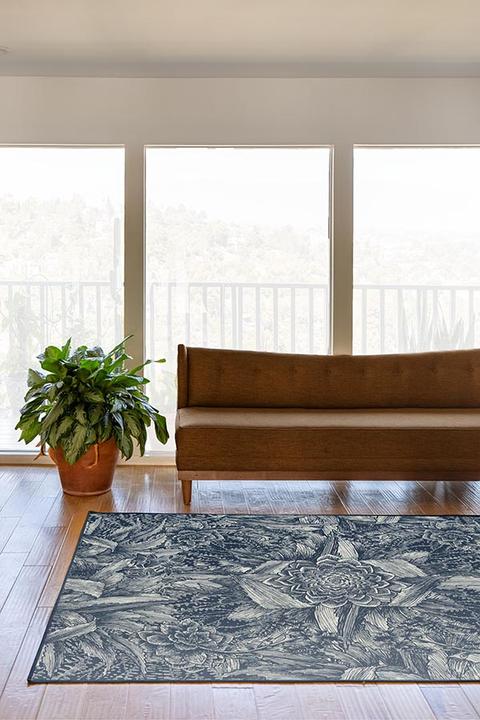 Navy blue and brown are such a pretty pairing, but if you want to go this route, you'll want to do it in a room with a lot of natural light so that it doesn't look too dark.
This living room has big windows letting in a lot of sun, and the rug has a white pattern to help break up the look and lighten it up a bit. Toss some white throw pillows onto the couch and you'll have a gorgeous living room.
Touch of Leather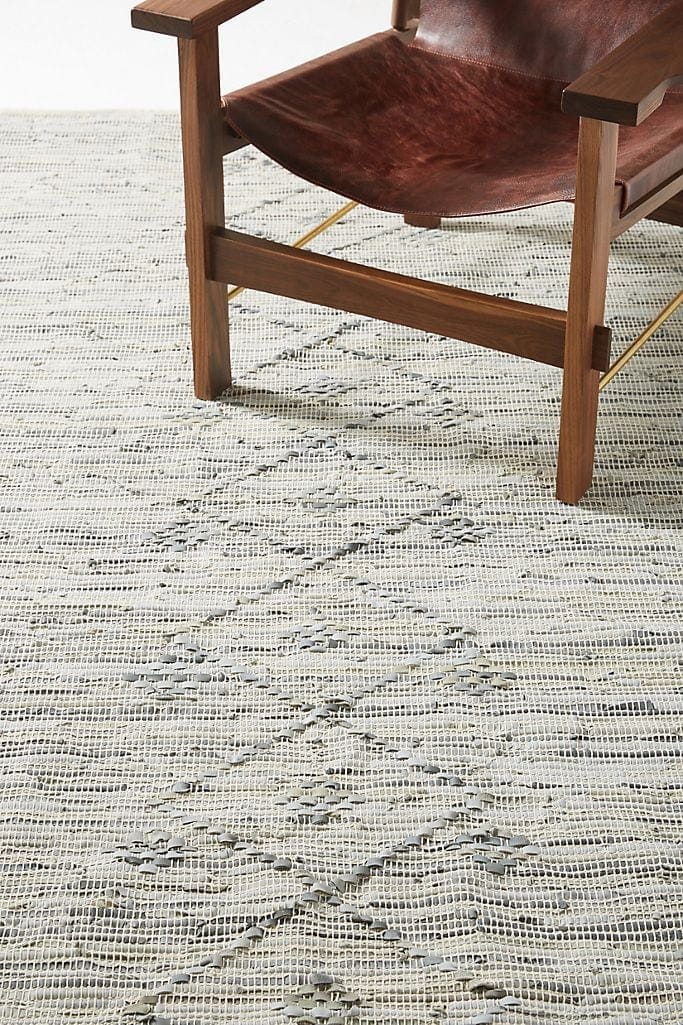 When you think of an area rug, leather probably isn't the first thing that comes to mind. But, some touches of leather can add texture and variety to a rug, like the one in this picture.
You can see how well the rug pairs with the brown leather chair here, especially with its gold accents. It's a really pretty look and will look even better with some soft throw pillows.
Simple Criss Cross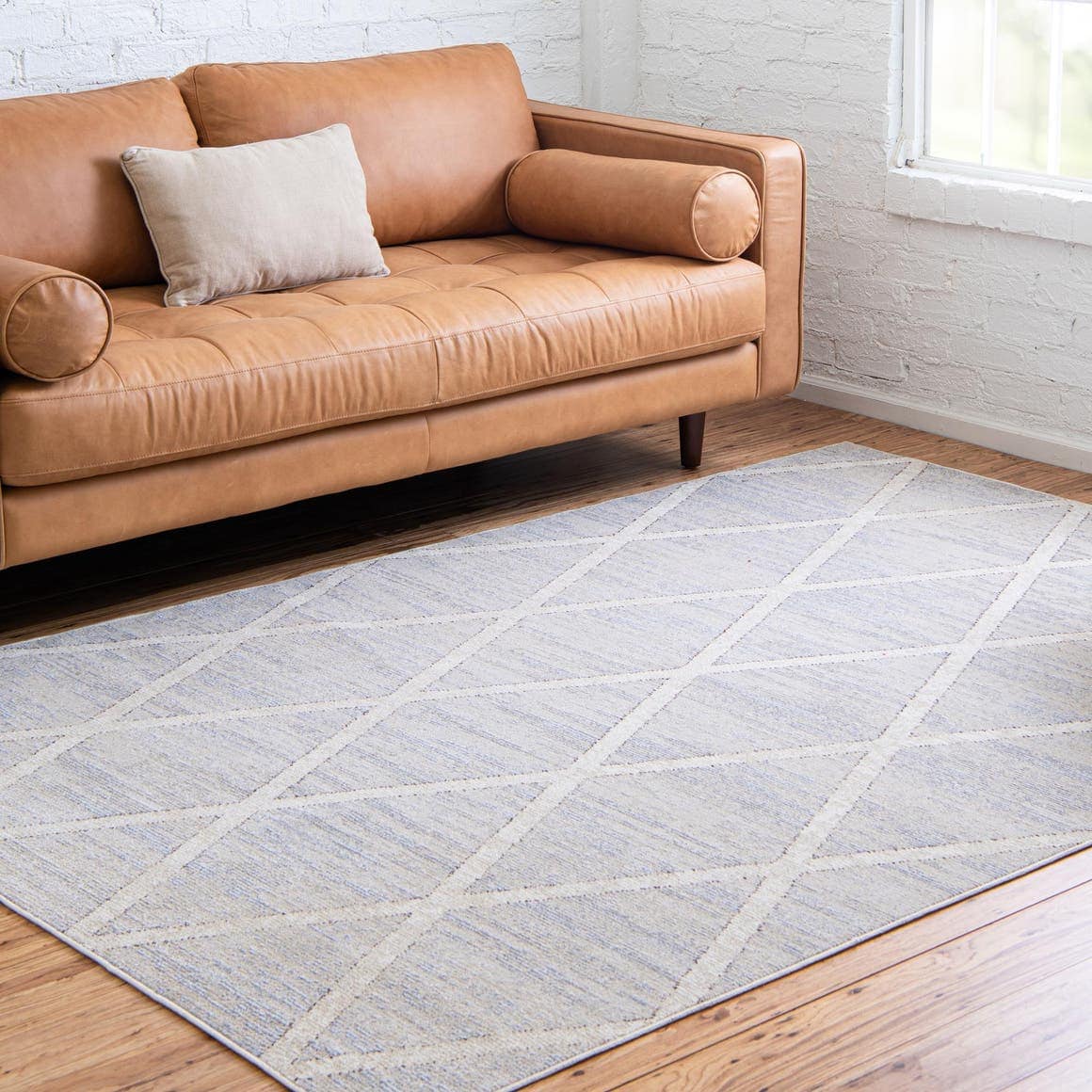 If your couch is tufted or has some other details, you'll want your rug to be somewhat simple. But, a plain rug can sometimes feel bland.
This criss cross design is a good way to bring in some variety and pattern without it being overpowering. It still balances nicely with the tufted couch without being overwhelming. It creates a really welcoming, warm space.
Bright Traditional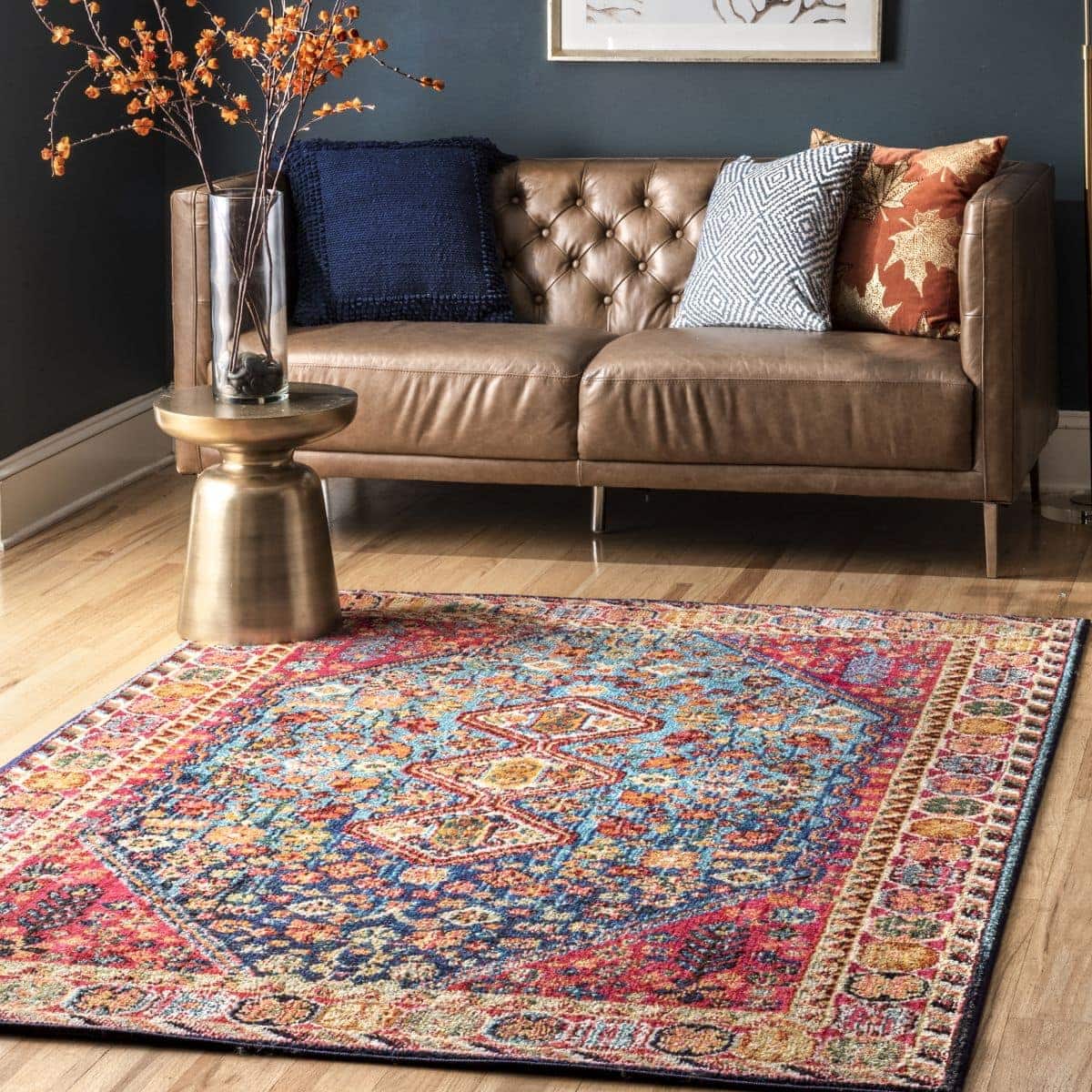 This look is absolutely stunning, but isn't very easy to pull off. You can see a lot of different patterns and colors throughout this room, but it still looks well put together.
If you're not sure how to accomplish this look entirely, you can simplify it by pulling just two colors from the rug and getting throw pillows or other accents for the room in those colors. An area rug offers a great opportunity to liven up a room with a brown couch, but you just don't want to overdo it.
A Touch of Blue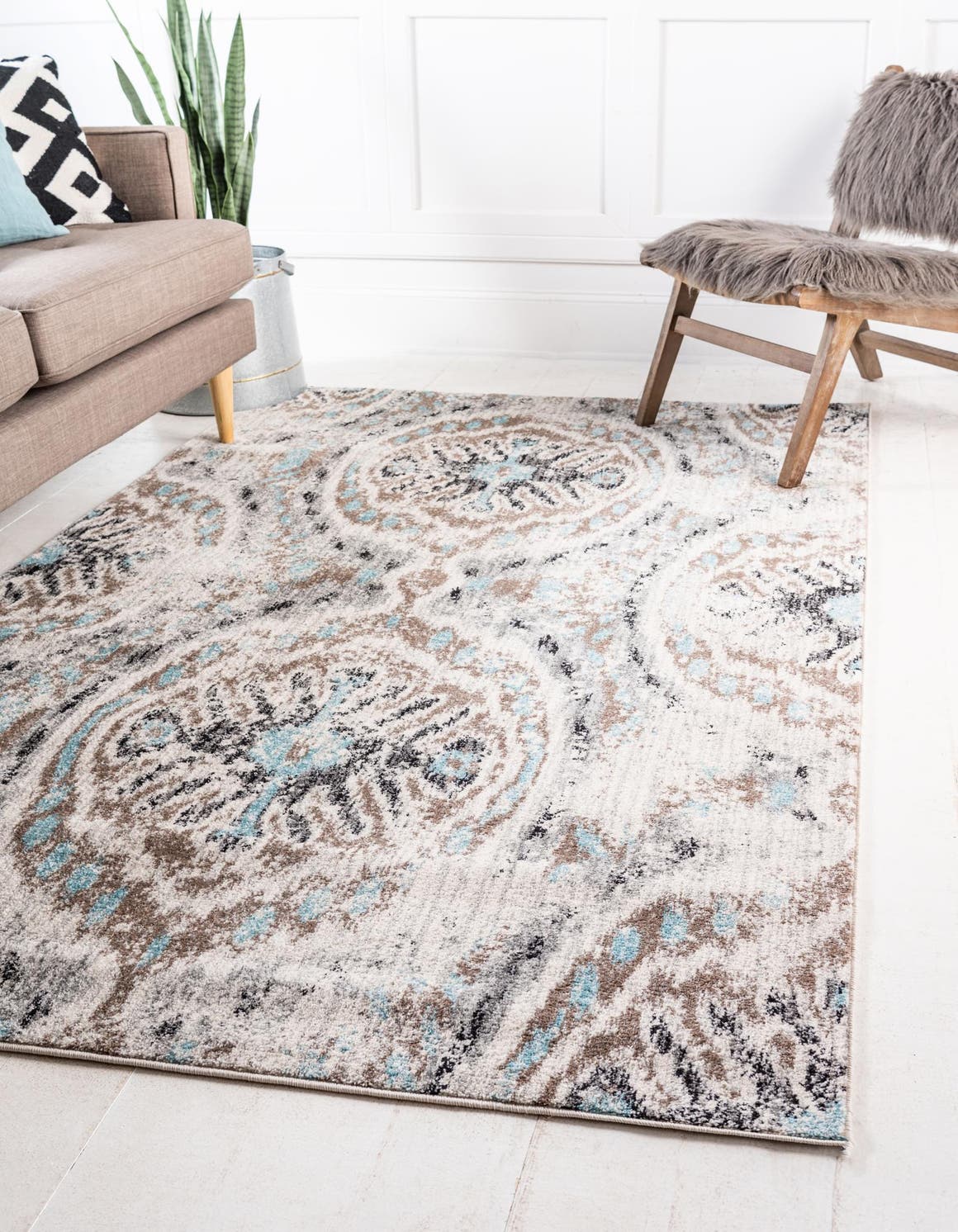 You can keep a neutral look and have some color by getting a rug like this one. It's full of different shades of cream and beige, but also has hints of light blue to add a little variety and softness. It's a smart way to pull in some color without it being overwhelming or overly obvious.
Deep Magenta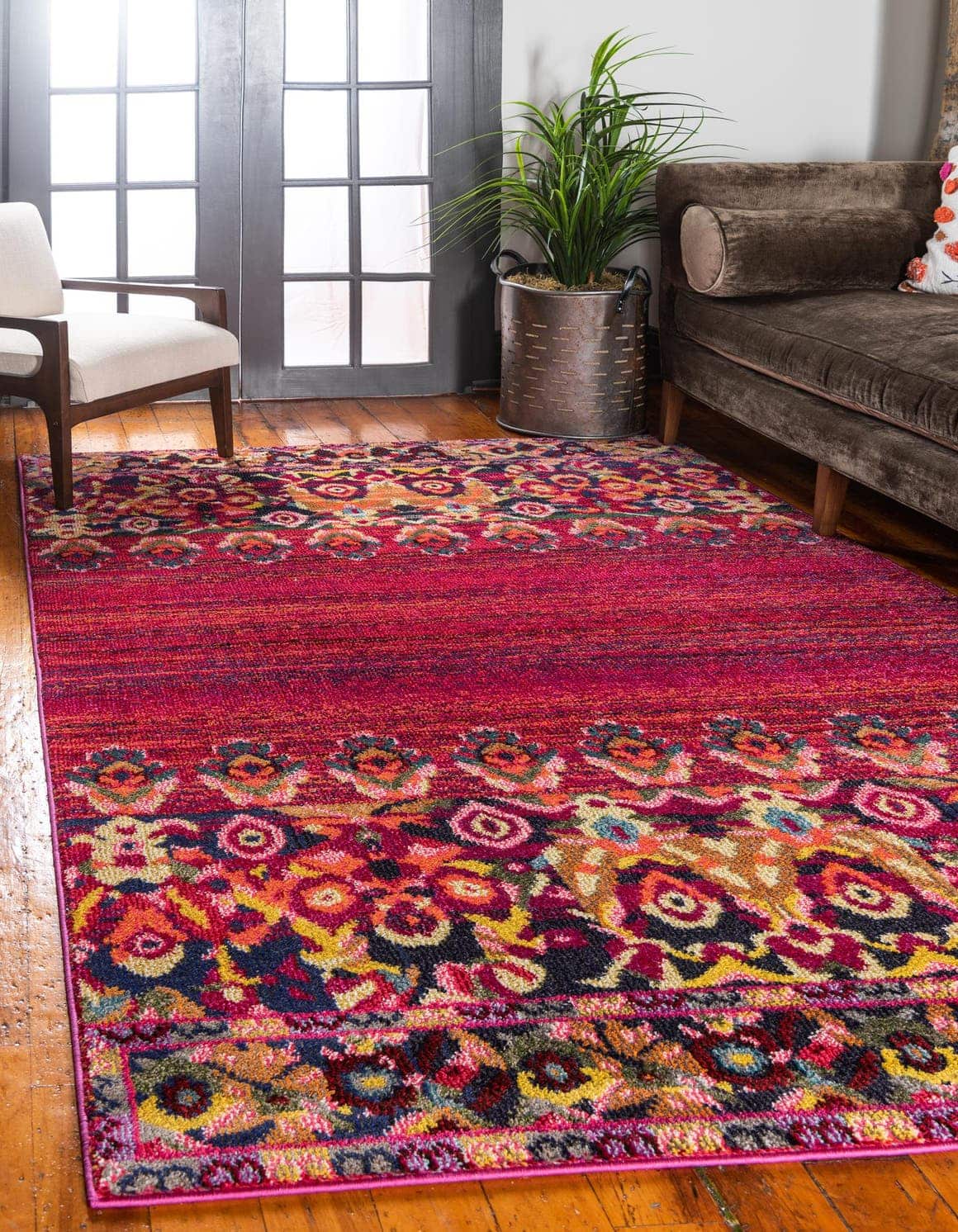 How gorgeous does this magenta rug look nestled up to the brown couch?! It has so many gorgeous deep complementing colors within it and they all work together so well.
Like any other dark colored rug, this one will work best with a brown couch in a room with a lot of natural light, because it could make an otherwise darker room seem even darker.
Textured Floral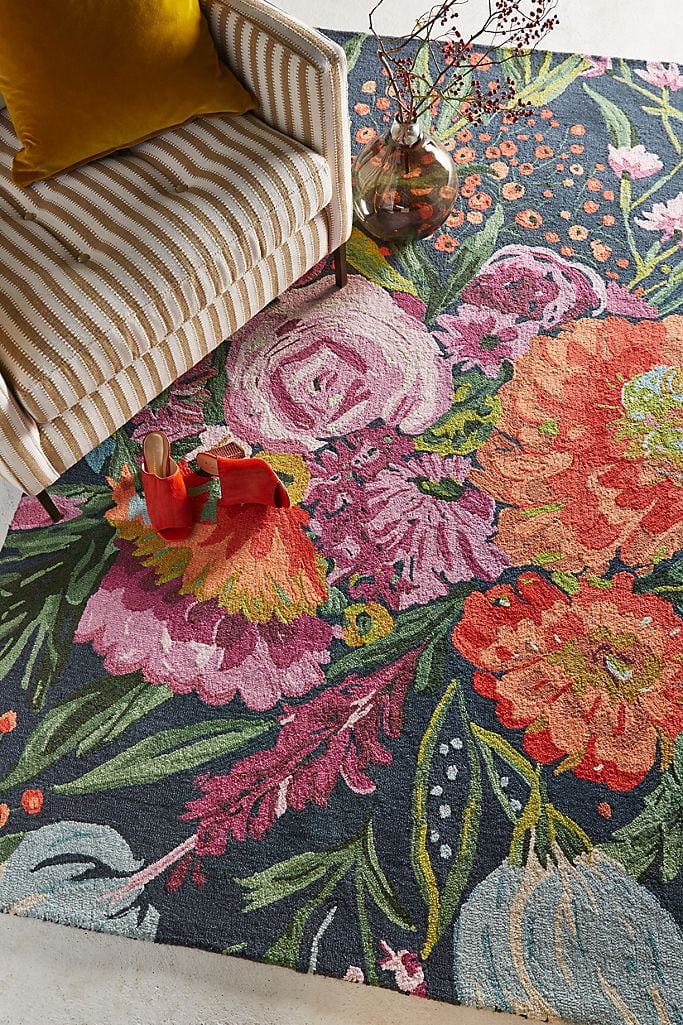 Where to begin with this rug?! It's so pretty and will add color and femininity to a room with a brown couch.
What makes this rug even more unique is that it is woven to give it a textured appearance that can add some variety, especially if it's up against a couch without much detail.
Fun & Bright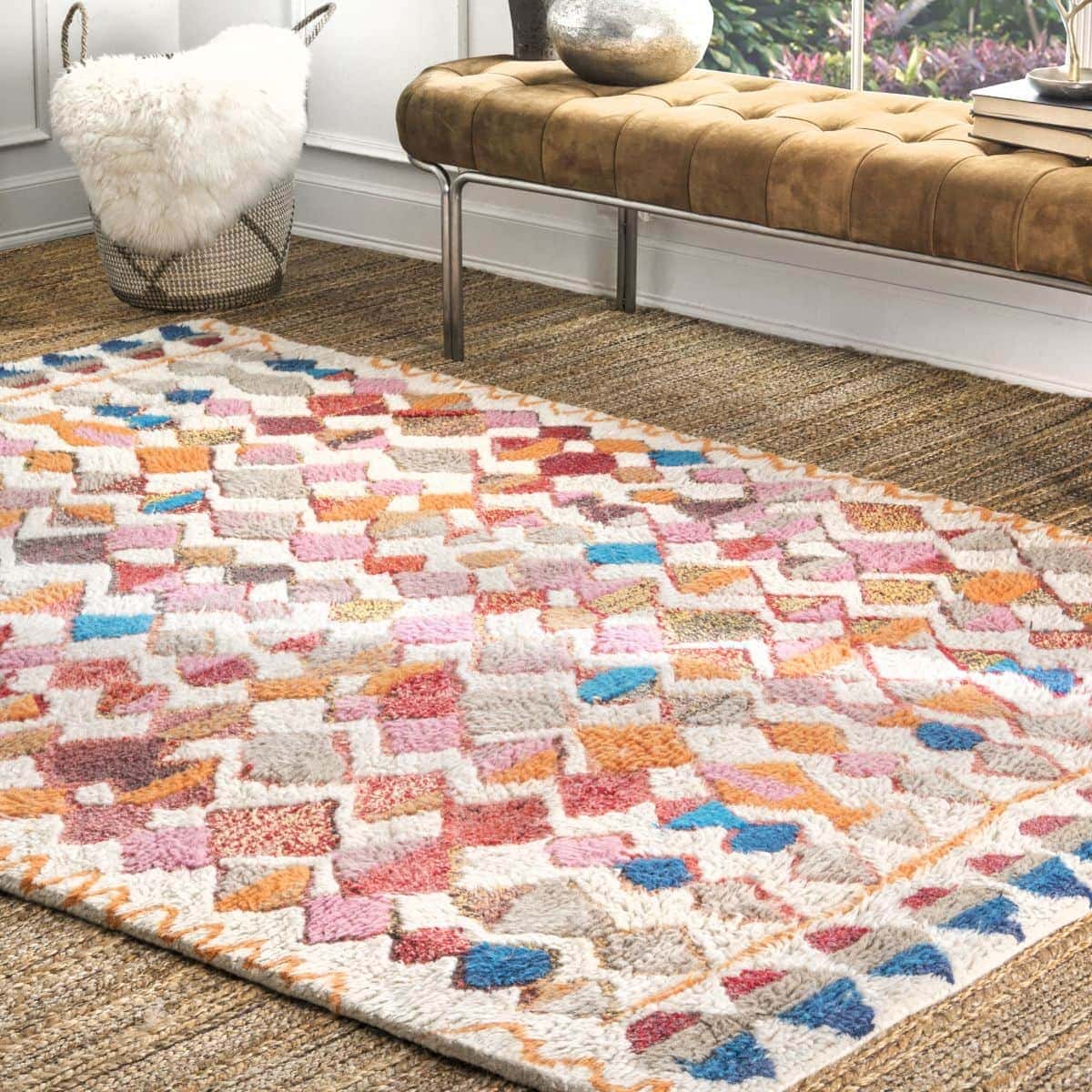 Not into boring rooms? Go for a rug with a lot of character and bright colors like this one!
It works really well with the brown couch because in addition to the pinks and oranges (which work well with brown on their own), there are various shades of brown throughout the rug and there is a lot of white/cream color in the pattern, too. It's gorgeous!
Bold Pinks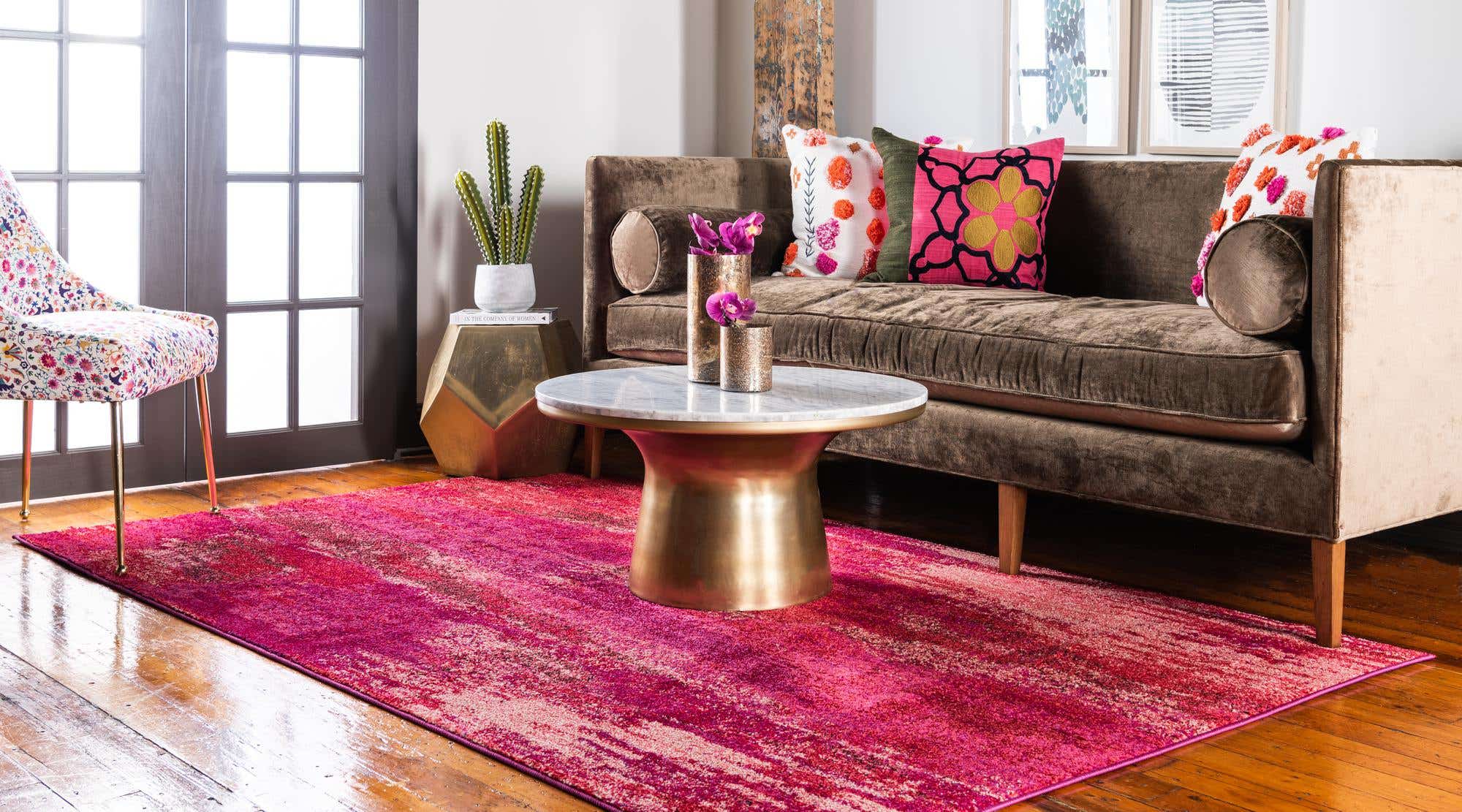 The idea of pink rugs for a brown sofa may seem like a strange pairing, but the right shades can look really pretty when they're put together.
This rug looks really great up next to the brown couch, especially because it has various shades of pink and red throughout. There's a lot of variety and it adds some character to a couch that may otherwise look a little bland.
Warm Blue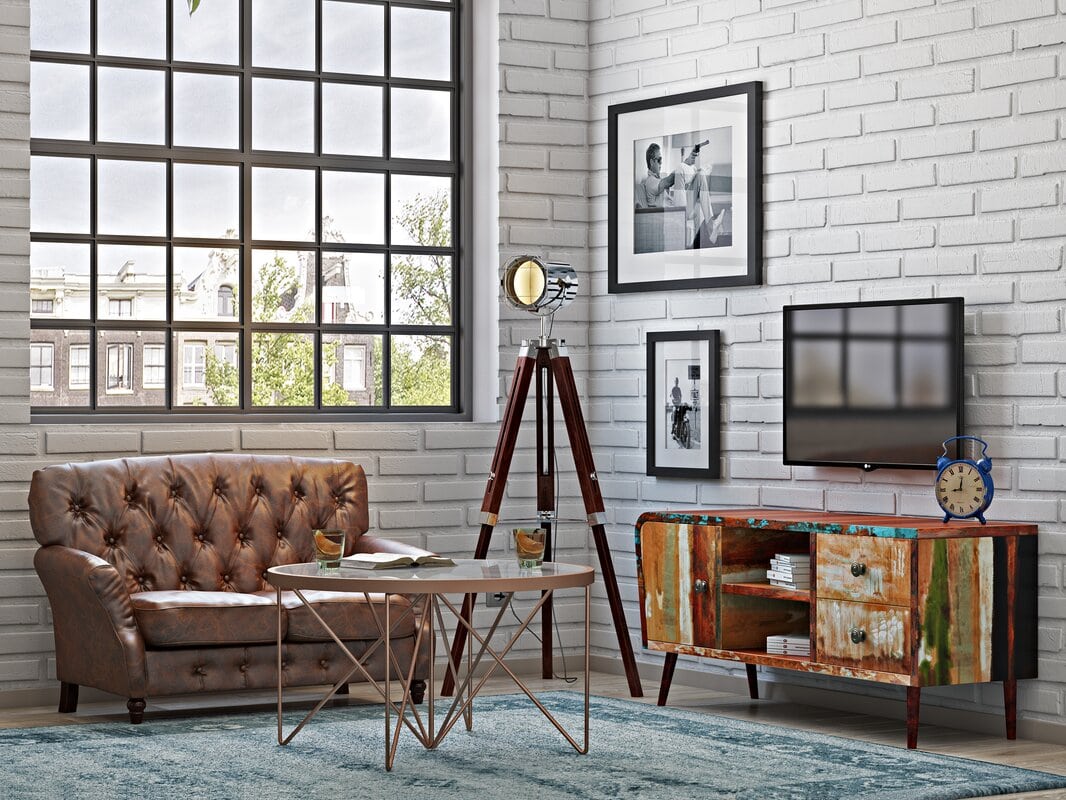 Light blue is another color that coordinates well with brown. It can brighten up a space while also adding color, so you don't have to rely on beige or white if you don't want to. It's an especially great option for anyone who likes a cool color scheme.
Mid-Century Modern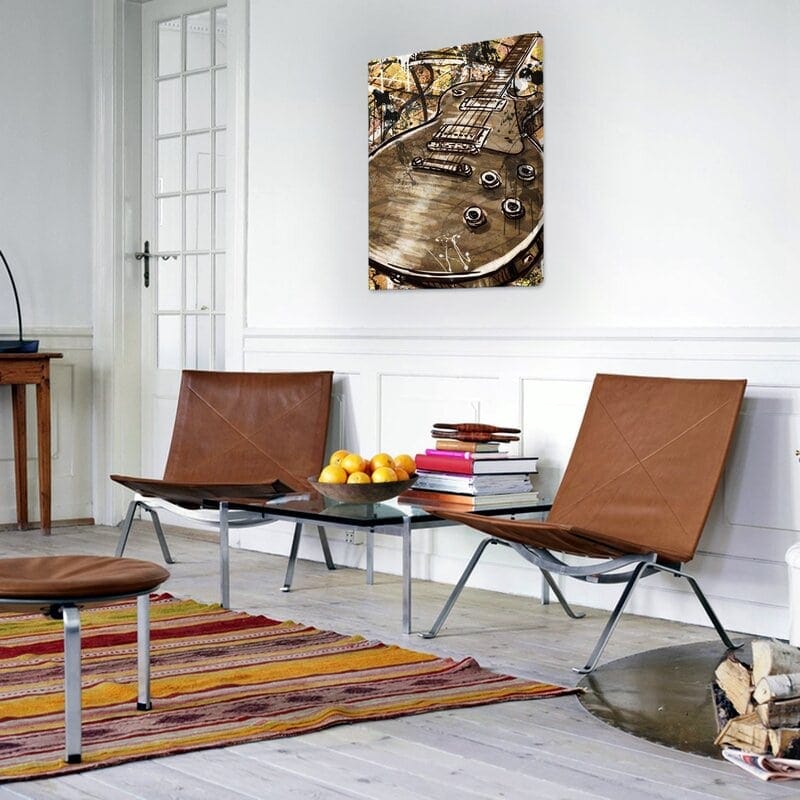 Mid-century style had a lot of brown, mustard yellow, olive green, and red decor, so a rug with those colors will definitely pair well with a brown couch!
If you love the mid-century modern style, a rug like this one is a smart choice because it really mimics the original look but will also look updated with the right furniture.
Fluffy & Cozy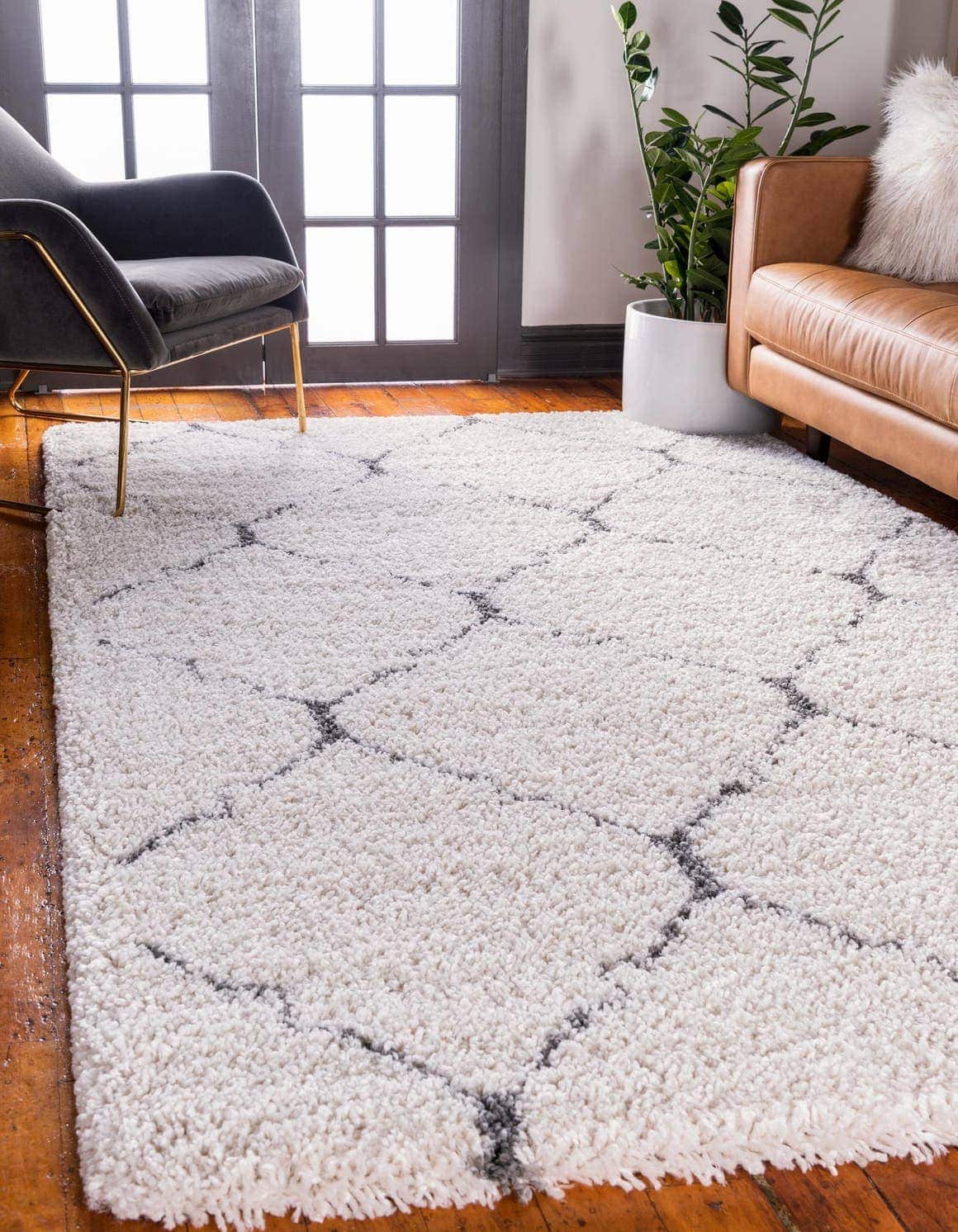 The best rug for a brown leather couch is something fluffy that will help balance out the sleek leather and create a more cozy room overall.
This rug and couch combo works really well together. The bright white keeps the room light (and the hint of pattern adds some variety) and softens the look of the leather.
Hand-Knotted Cream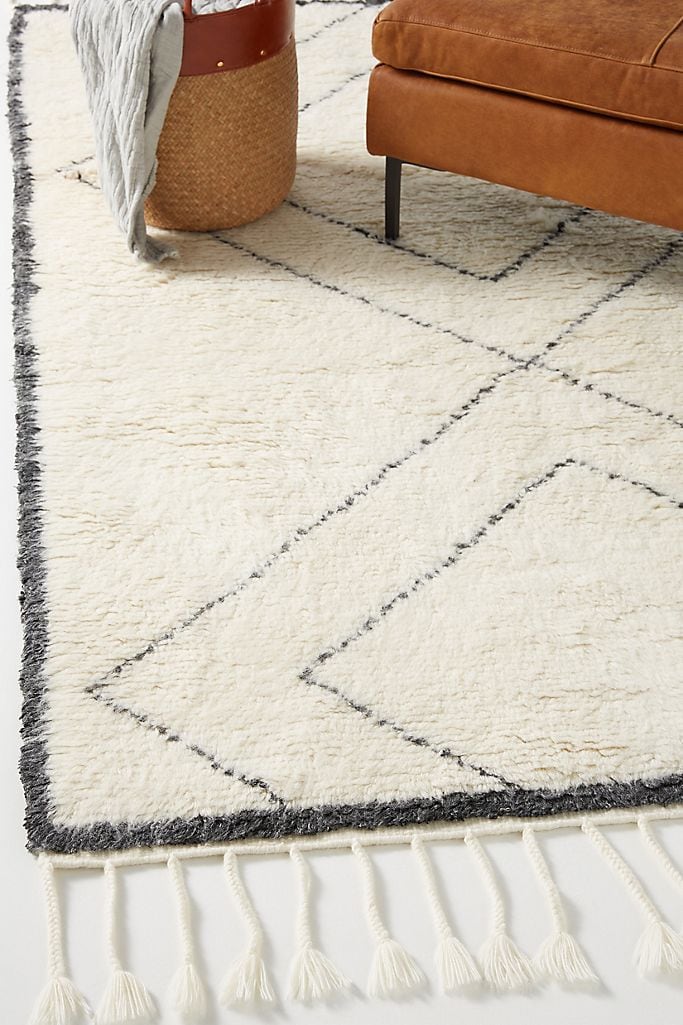 Another gorgeous way to create a boho aesthetic is with a rug like this. It has hand-knotted details and tassels at the ends which gives it a bit of a macrame-like look.
When it's paired with the camel colored couch and the natural basket, it creates a gorgeous overall style. It's all airy and warm and all you need is a touch of greenery and it's like you're in a bungalow.
Dusty Hues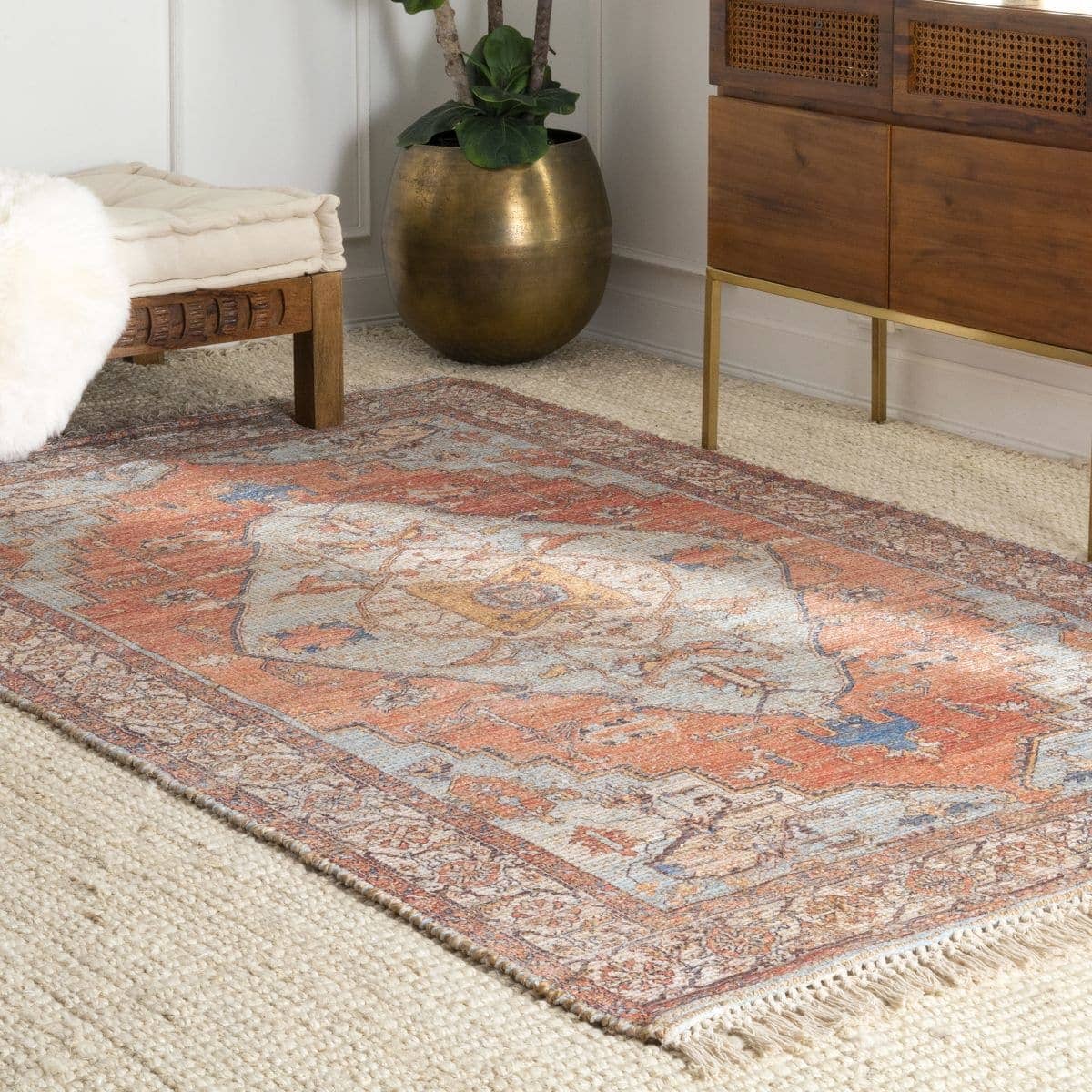 If you love the look of antique rugs, but don't actually have access to one, you can get the old worn in look by getting an area rug that has muted colors to the point where it looks a little dusty.
The rug in this photo has a lot of warm colors throughout, but seems a little washed out which gives it an older look. If it's paired with a newer brown couch, it will create a really pretty contrast that can easily be styled up.
Ocean Blue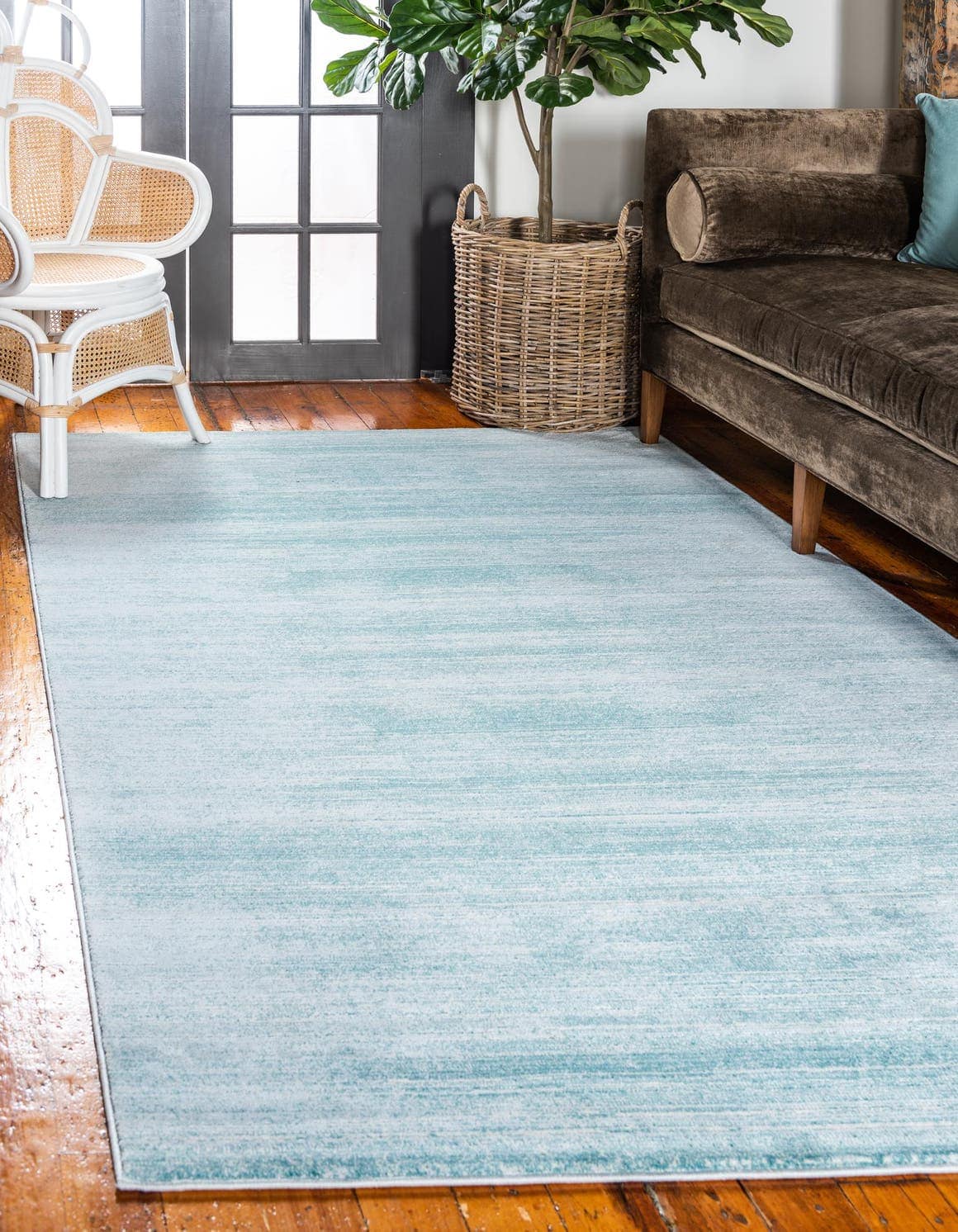 Here's another beautiful example of how well blue and brown work together. This is a particularly good look for someone who doesn't love the look of busy patterned area rugs but still wants a bit of color.
If nothing else, this rug is a great addition to a room because it mimics the ocean and has an overall calming effect. Who doesn't want that?!
Intricate Round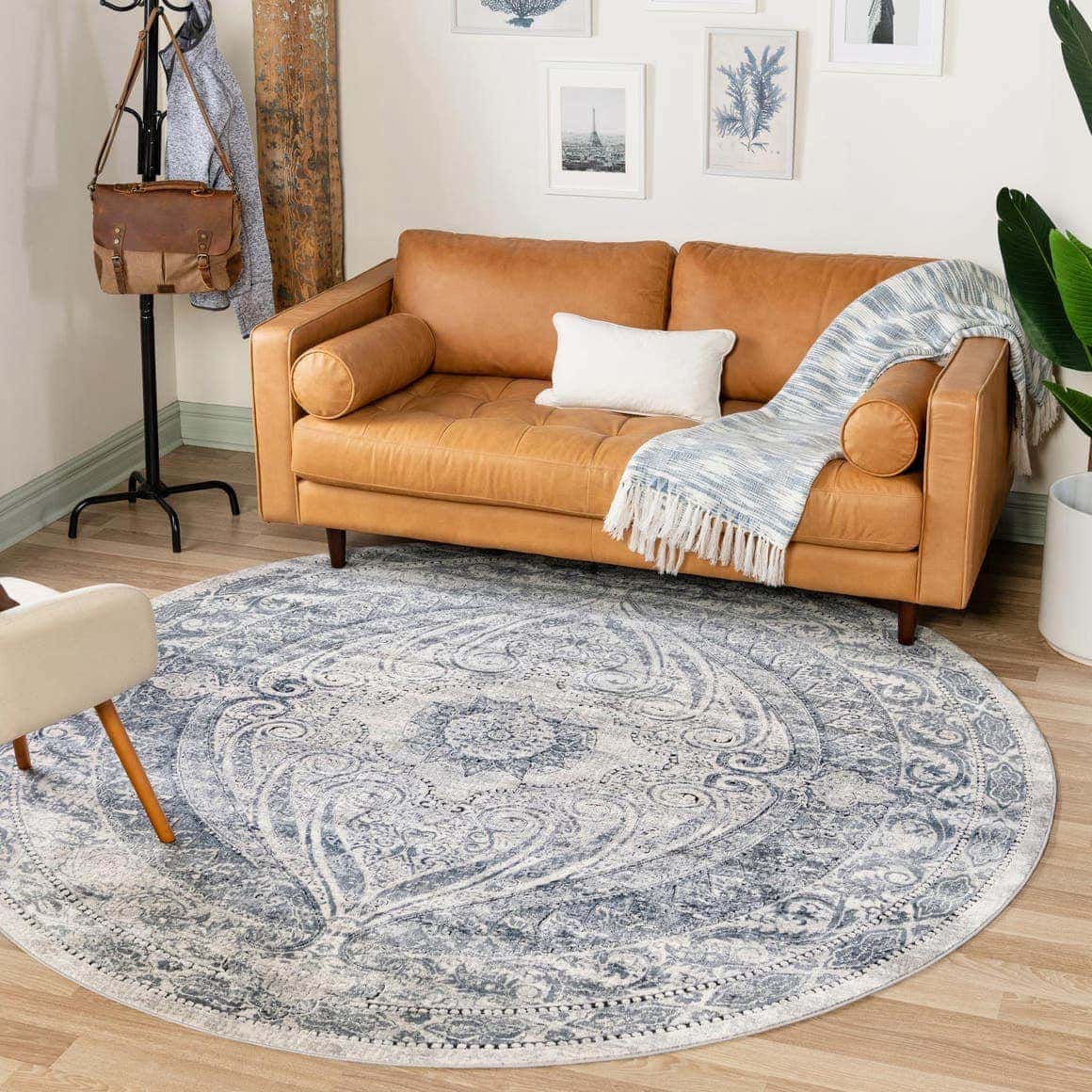 Typically, when you think of an area rug for a room large enough for a sofa, your mind goes to a rectangle shape. But, don't discount round rugs!
The dark blue and greys in this rug work really beautifully with the light brown couch and light wood floors. The key here is to make sure the rug is the right size, proportionally, for your couch. It's a more unique approach, but it looks so good put together.
Faded Traditional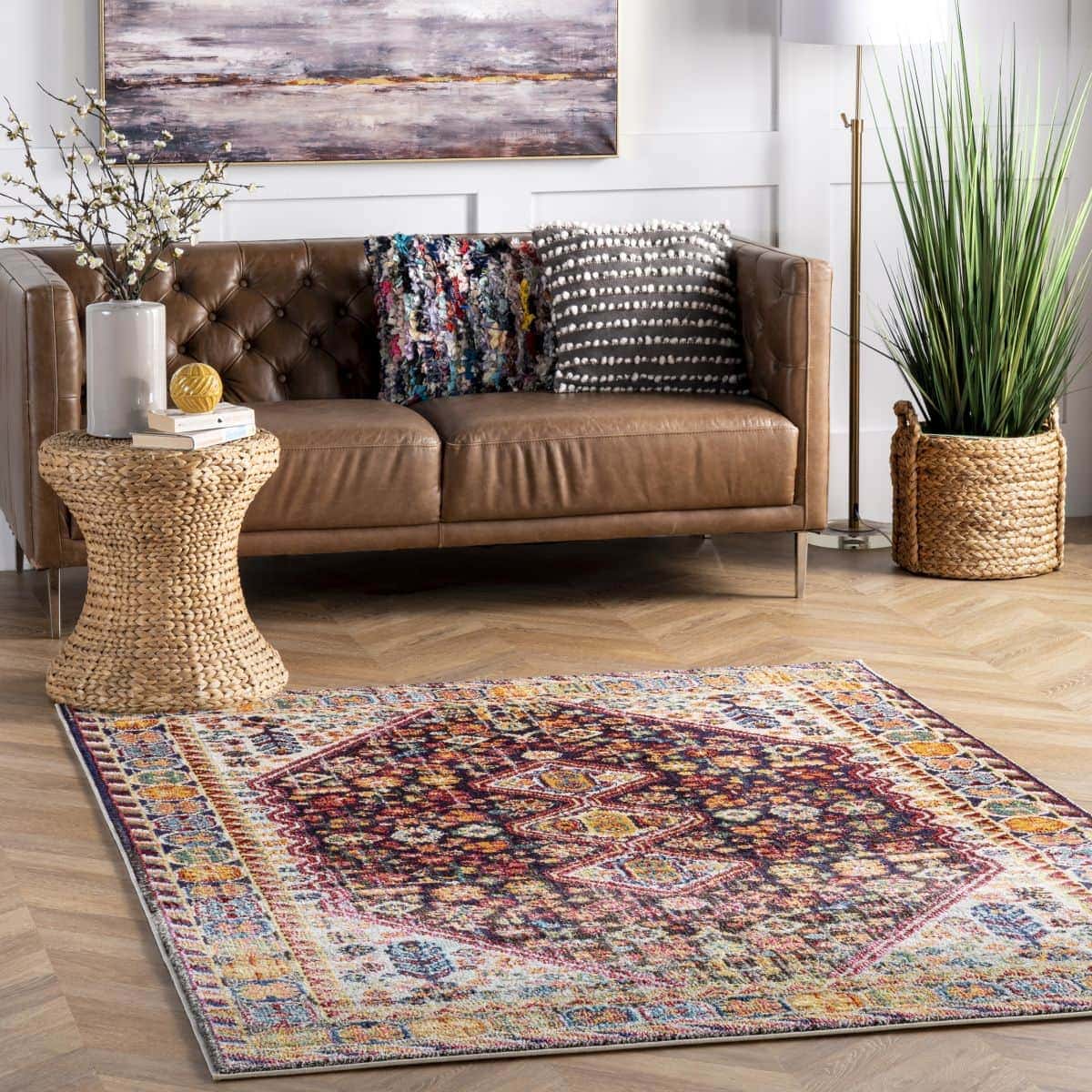 Don't you want to just live in this room? It's so warm and inviting with the various colors and textures, and the rug and brown couch work so well together.
Since the couch is a more rustic shade of brown, the fading in the rug works really well because it gives it a more worn appearance. Paired with the wicker baskets and green pants, it creates a boho chic vibe with a hint of farmhouse charm.
Black & White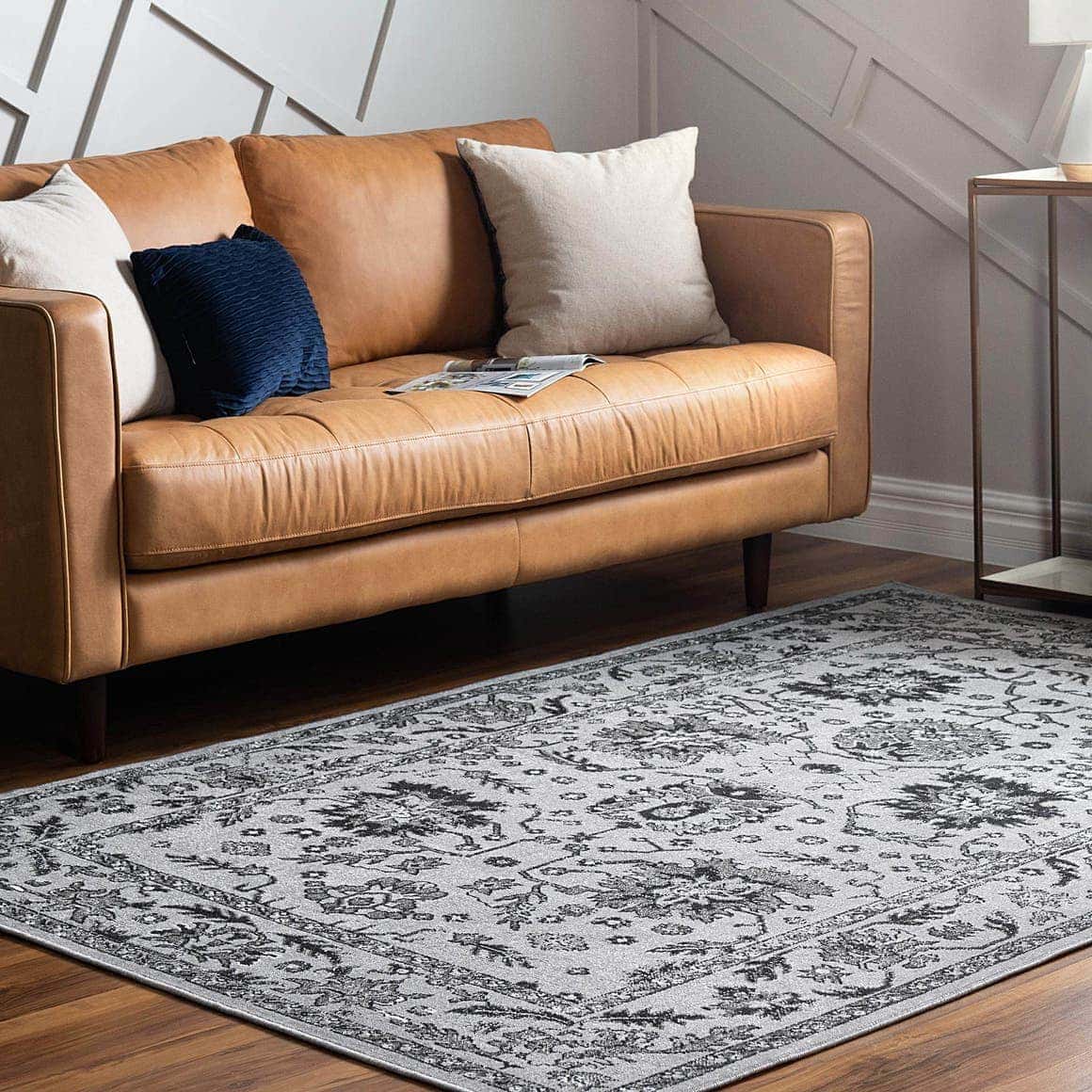 Pairing a brown couch with a black and white rug may not seem like a good idea on paper, but when it's all matched up it looks really great.
In this picture, the rug actually brightens up the room significantly and helps create an even warmer atmosphere than the light brown couch did. Plus it works really well with the grey walls and helps create a cohesive style.
Cream With a Print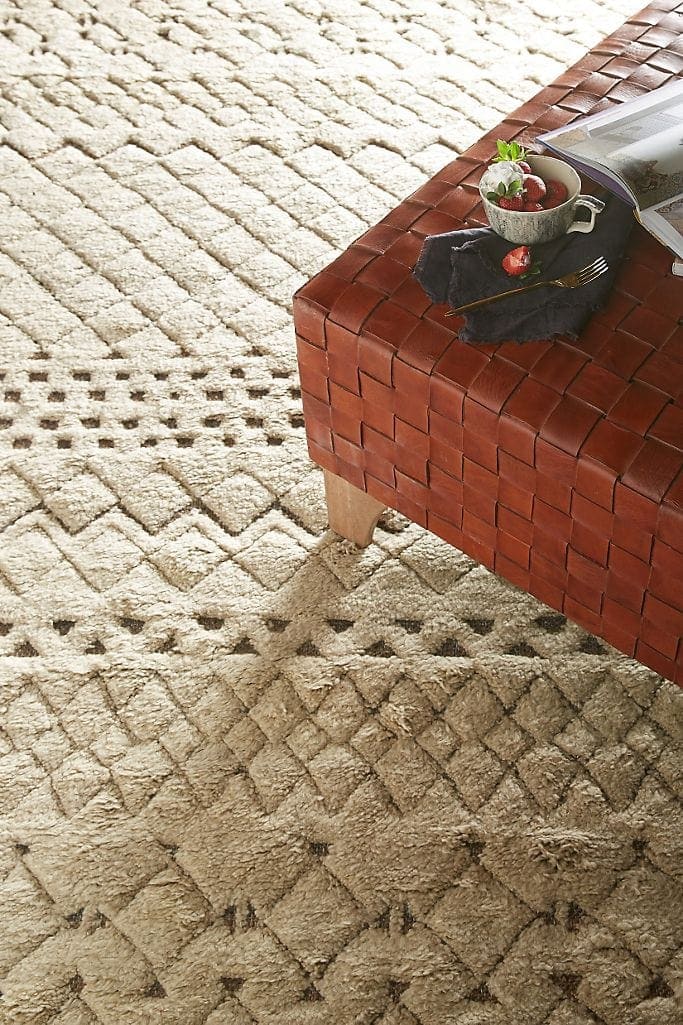 The most classic color to pair with a brown couch is cream. They just always look good together and create a really warm atmosphere. However, a plain cream rug can be a little boring, so something like this with a little print or pattern throughout is a good way to add some variety.
This specific rug has a lot of fine detail in it to create its unique appearance, but you can get a similar look with a cream rug that has a pattern created with just a shade or two darker color.
Touch of Peach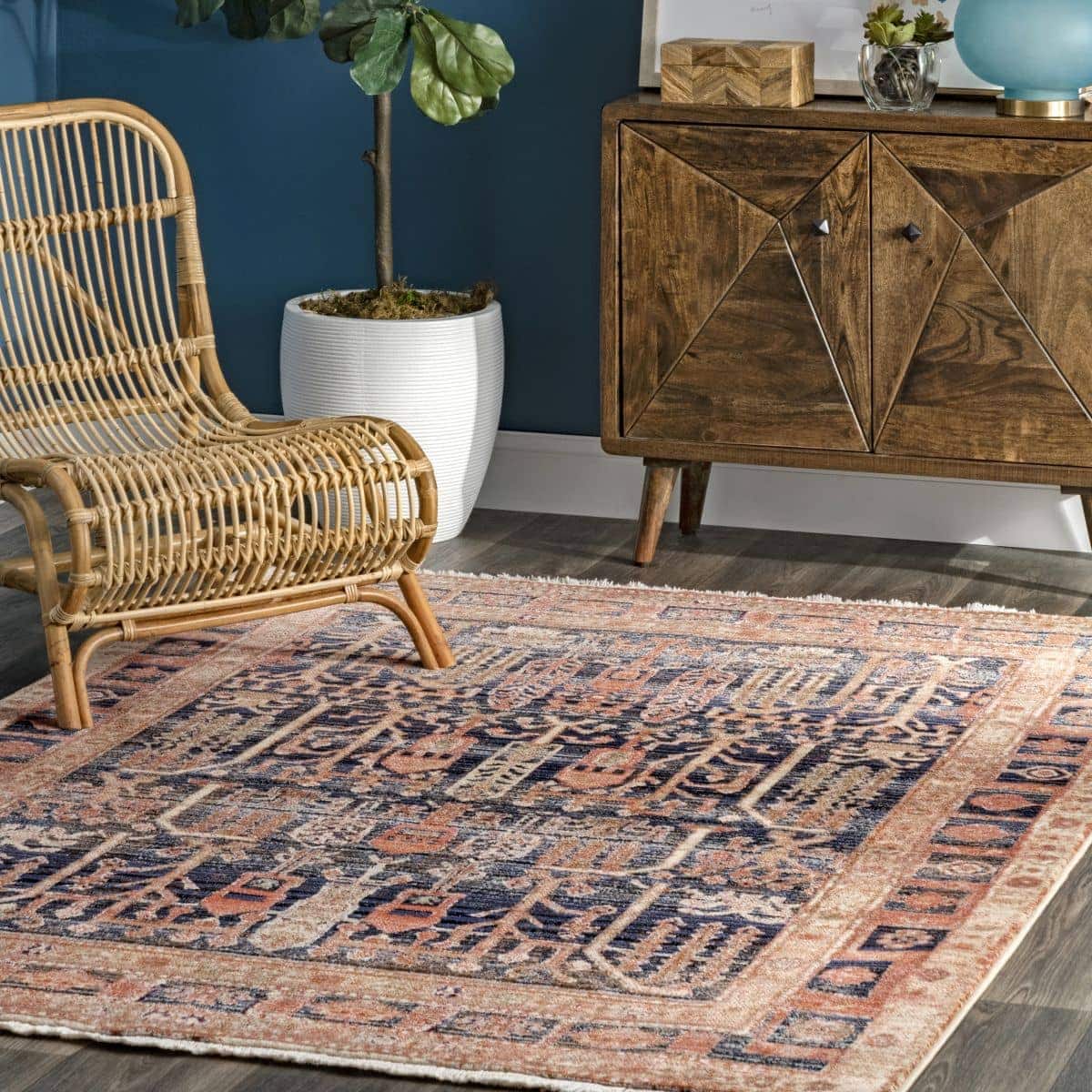 Another gorgeous way to brighten up a room with a brown couch is by adding in touches of peach! Since it's a pastel color it will have a similar effect that white or beige does, but with a little more fun.
In this picture, you can see how much the peach jumps out from the navy blue background, especially against the light brown furniture. The room is so warm and inviting without being dull.
Shades of Brown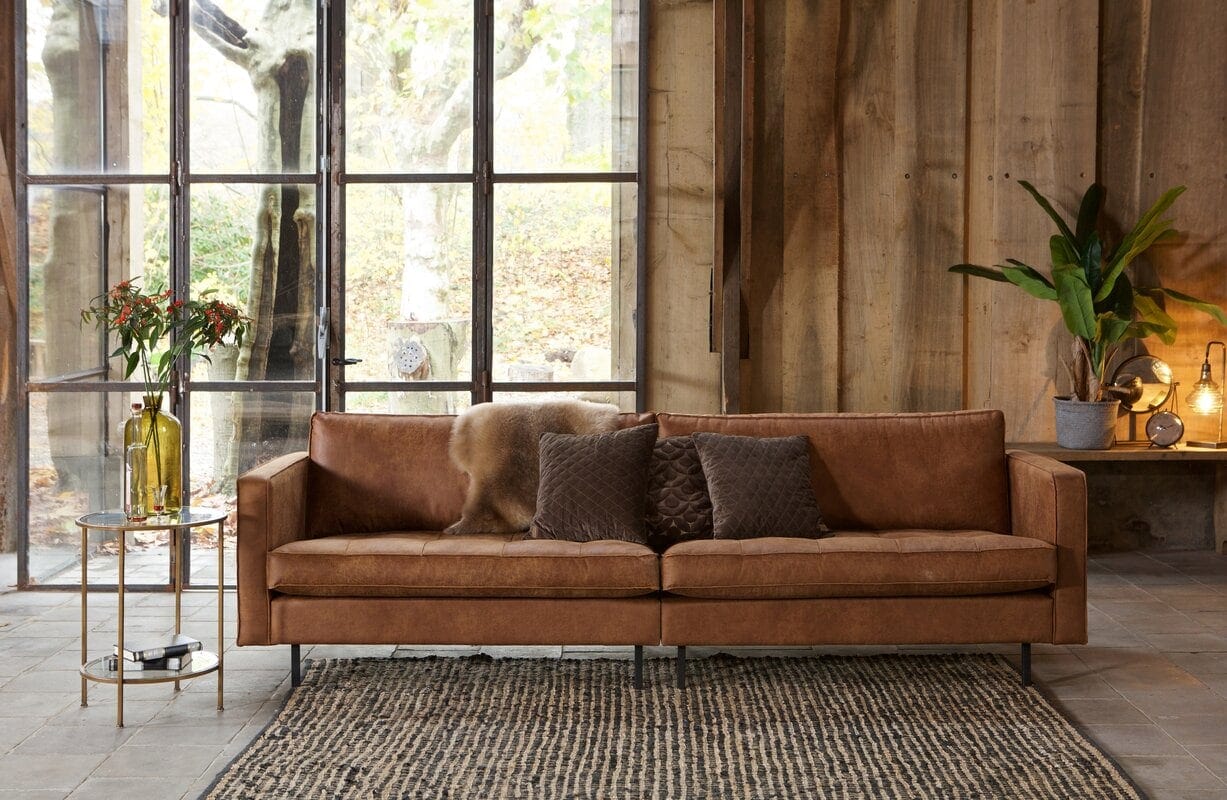 The idea of brown on brown seems bland, at best, but in a room with a lot of natural light, it can look really pretty.
This camel colored couch has dark brown accent pillows and a rug with a dark brown outline and details throughout. It all ties together really well to create a warm look that isn't boring or too dark.
Faded & Worn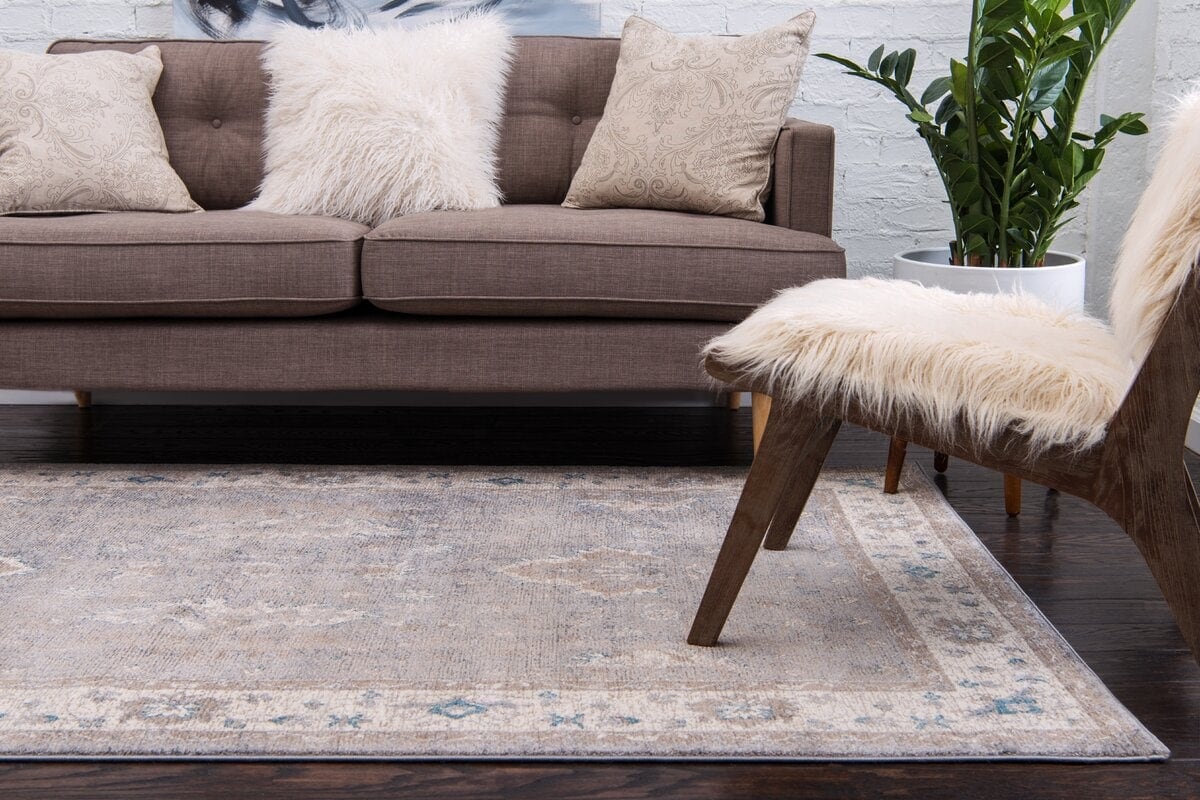 Investing in a new area rug that looks like it's worn may seem counterintuitive, but it helps add a bit of softness and a more homey feel that a fresh rug might not be able to achieve.
The rug in this photo looks especially nice against the cool brown couch and white fur throw pillow. Everything is warm and inviting. It's a room you could definitely cozy up in.
Final Thoughts
A brown couch can look stunning in a home, and when it's paired with the right rug it can create a cozy curated room. From bright pink, light blue, grey, or a simple soft cream, there are so many beautiful rugs that will complement a brown couch well.
Just remember, a couch may be the largest piece of furniture in the room, but it doesn't have to be the thing that draws the eye if you don't want it to be. A rug can serve as a great focal point, especially if you're not a fan of your brown couch.