Decorated Life is reader-supported. When you buy through links on our site, we may earn an affiliate commission. Learn More
26 Unique & Stylish Wall Shelving Ideas
There are few tasks as fun as making your home look beautiful. In fact, I would go as far as to say that shopping for home decor is one of the great pleasures in life! You might think that shopping for shelving isn't that exciting, but we're here to change your mind.
We've curated 26 of the most unique and stylish wall shelving ideas, to help you find the perfect shelves for your own home.
Asymmetrical Organization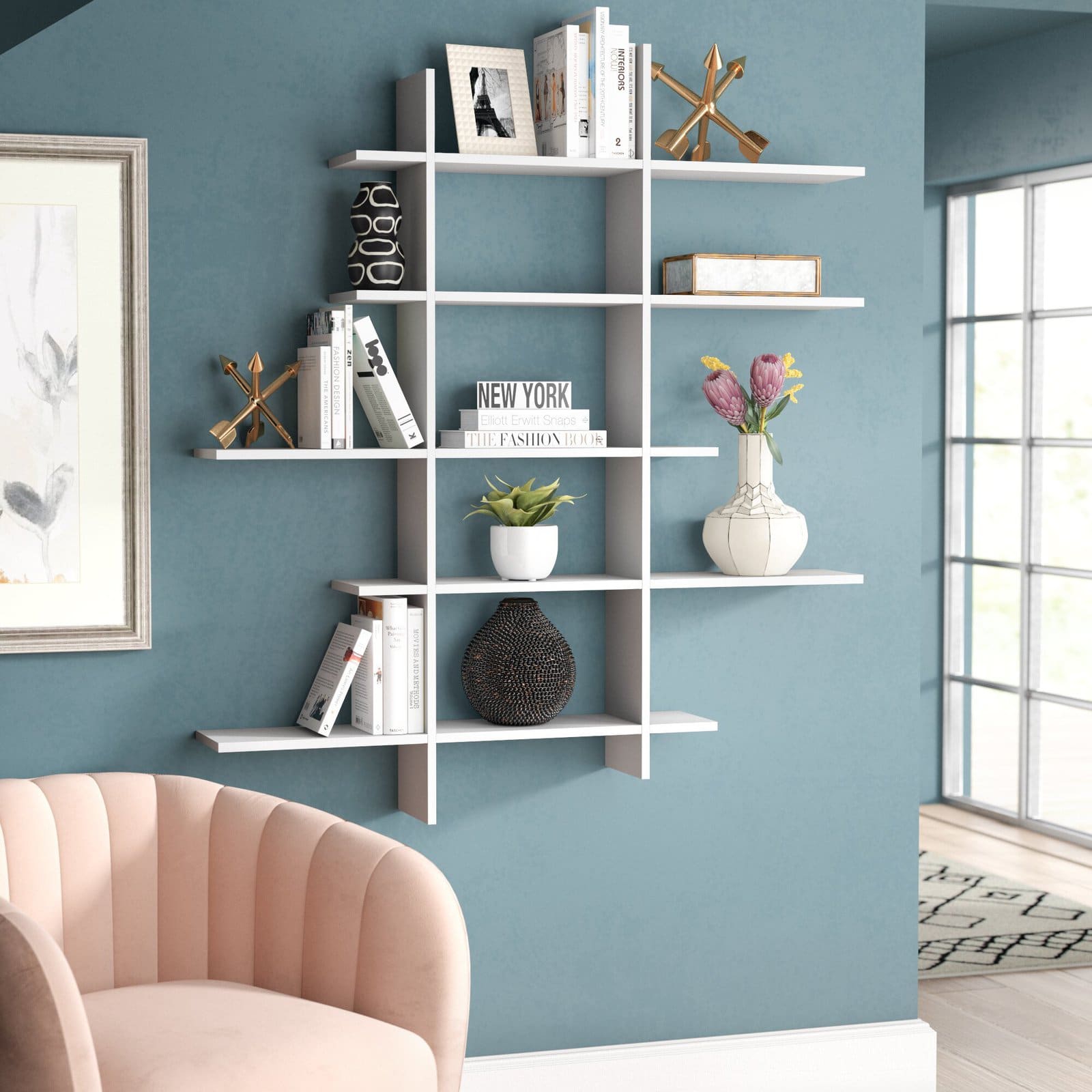 These modern wall shelves are the perfect stylish storage solution for a living room or bedroom. They feature an asymmetrical design and a smart white finish, which will work with most color schemes.
Whether you want to store books, ornaments, or potted plants, you will have plenty of space to do it, since they are fairly tall, with five separate shelves with different sized spaces on each.
Three-Tiered Suspended Wall Shelf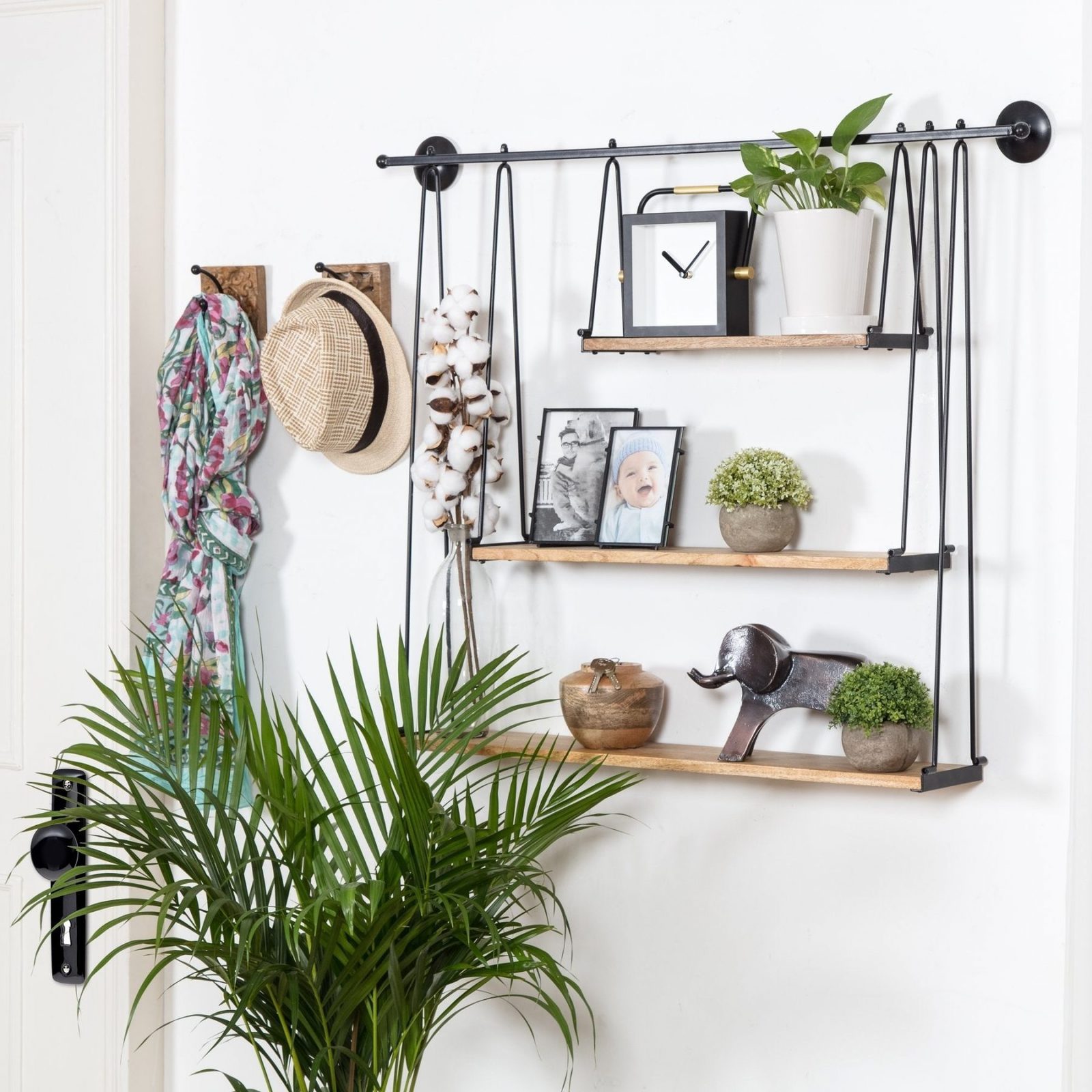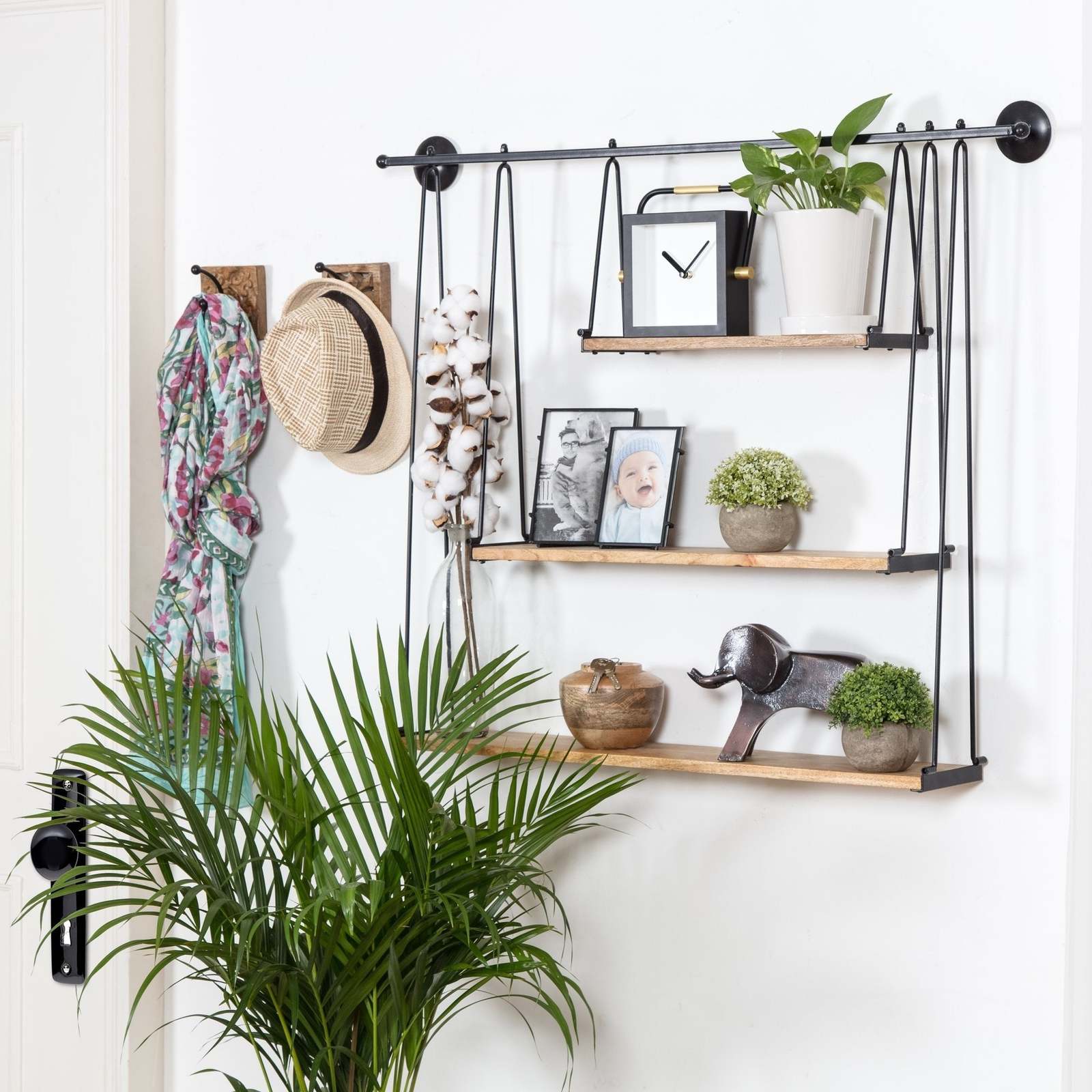 These unusual shelves are suspended from a sleek metal bar, with a fun swing-like design. The playful design makes these shelves a great choice for a children's room, but they would work equally well in a stylish living room or bedroom!
Three separate shelves provide plenty of storage for ornaments, books, plants, or anything else you want to display in a fun, stylish way.
Glamorous Gold Wall Shelf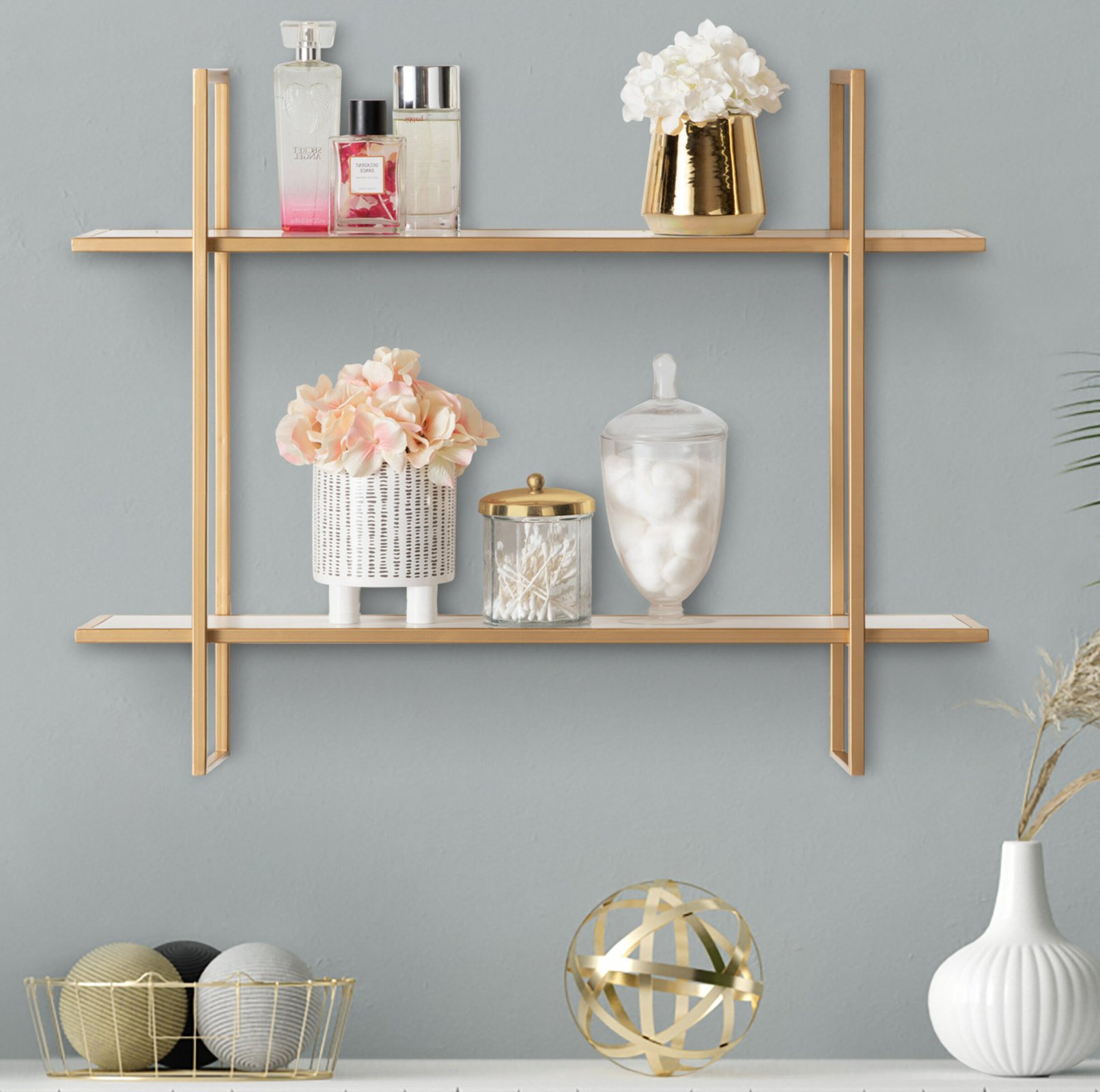 This white and gold wall shelf is the perfect addition to any stylish feminine bedroom or living room.
Using gold shelves is a great way to inject a touch of glamor into your interior, and these shelves would look perfectly styled with flowers, ornaments, and other decorative items. These shelves have a contemporary design featuring clean straight lines and a symmetrical layout.
Crescent Moon Shelf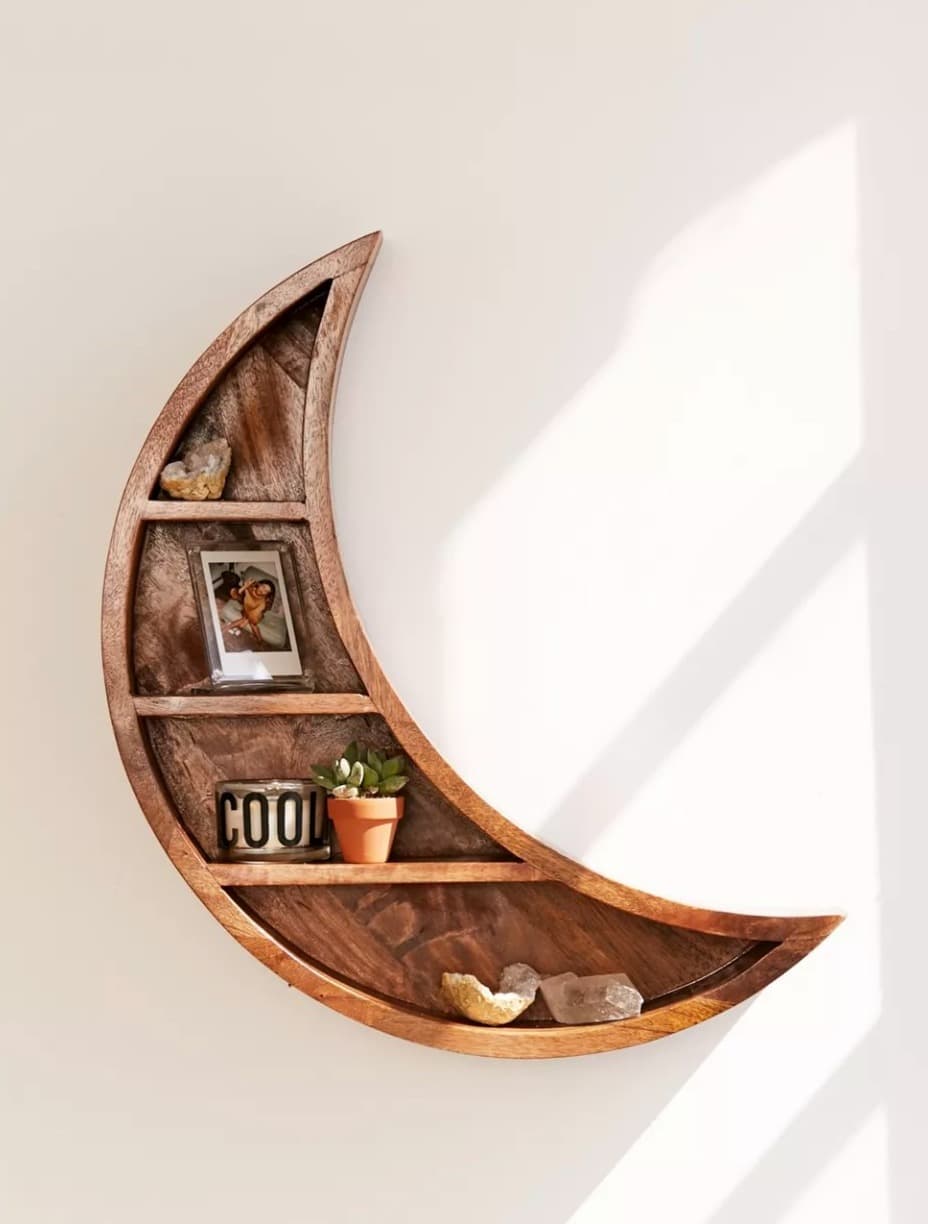 If you love the boho look, then you are definitely going to love this crescent moon wall shelf. With four wooden shelves to store trinkets, ornaments, photos, and more, this is the perfect stylish addition to any boho bedroom.
It has been crafted from solid mango wood which will add a natural element to your space, and its unusual shape is sure to make a statement!
Modern Diamond Design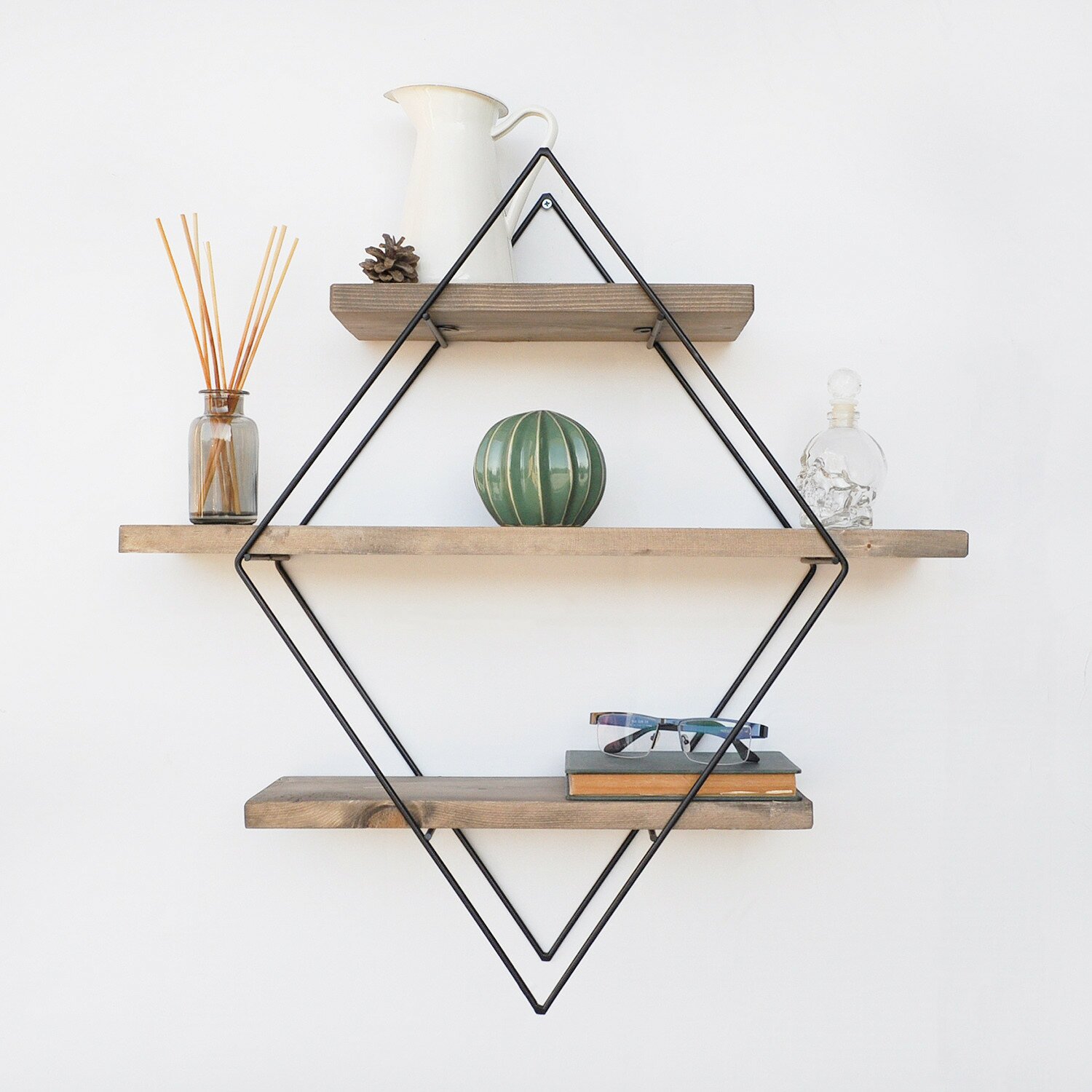 This stylish modern shelf features a unique diamond design, with three rustic wooden shelves to store books, plants, and ornaments. The diamond frame is made from black wire, which together with the wood gives these cool shelves a modern industrial look.
The shelves are made from solid walnut wood with an open design that would work well in a bedroom, living room, or even a bathroom.
Stylish Black Hanging Shelf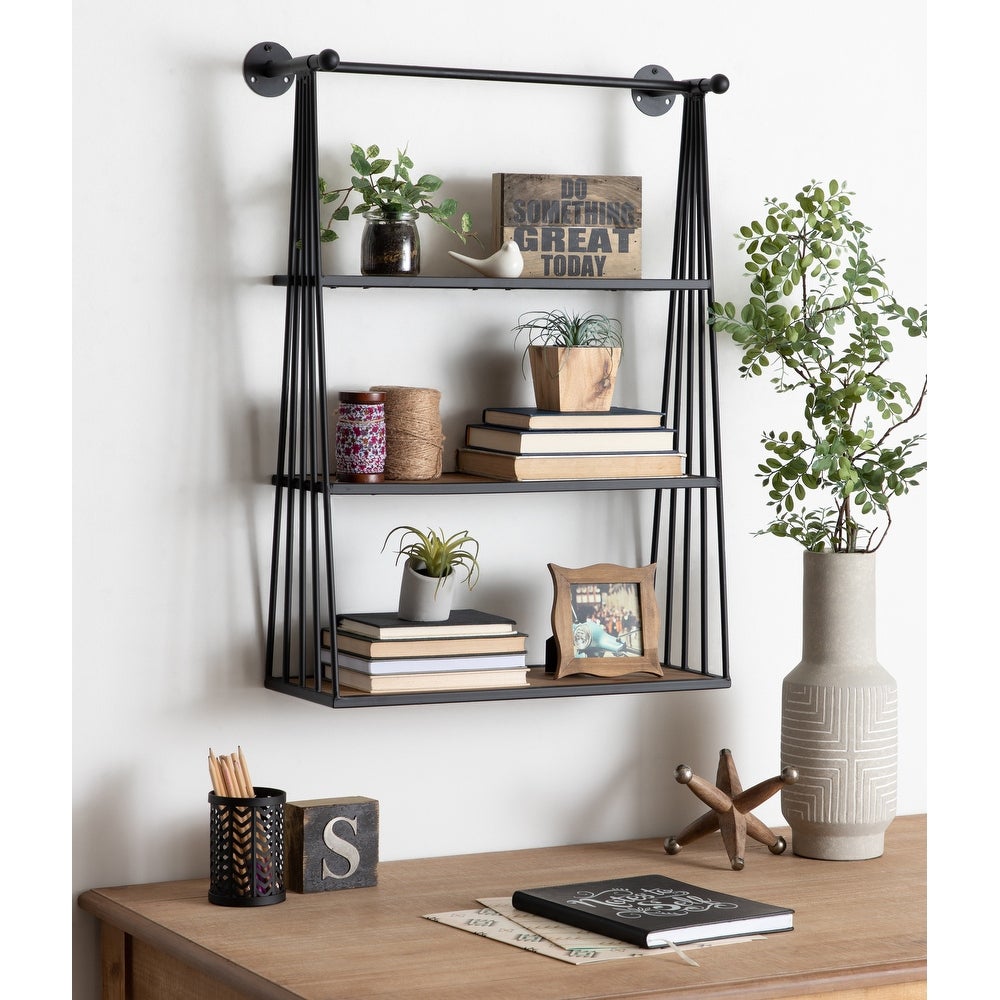 These unique wall shelves strike the perfect balance between industrial and elegant, with a sleek, interesting design.
Featuring three wooden shelves suspended from a bar, there is plenty of space to store books and other objects. Black metal bars give these shelves an industrial look, which is complemented by the wooden shelves.
Chic Black Accent Shelf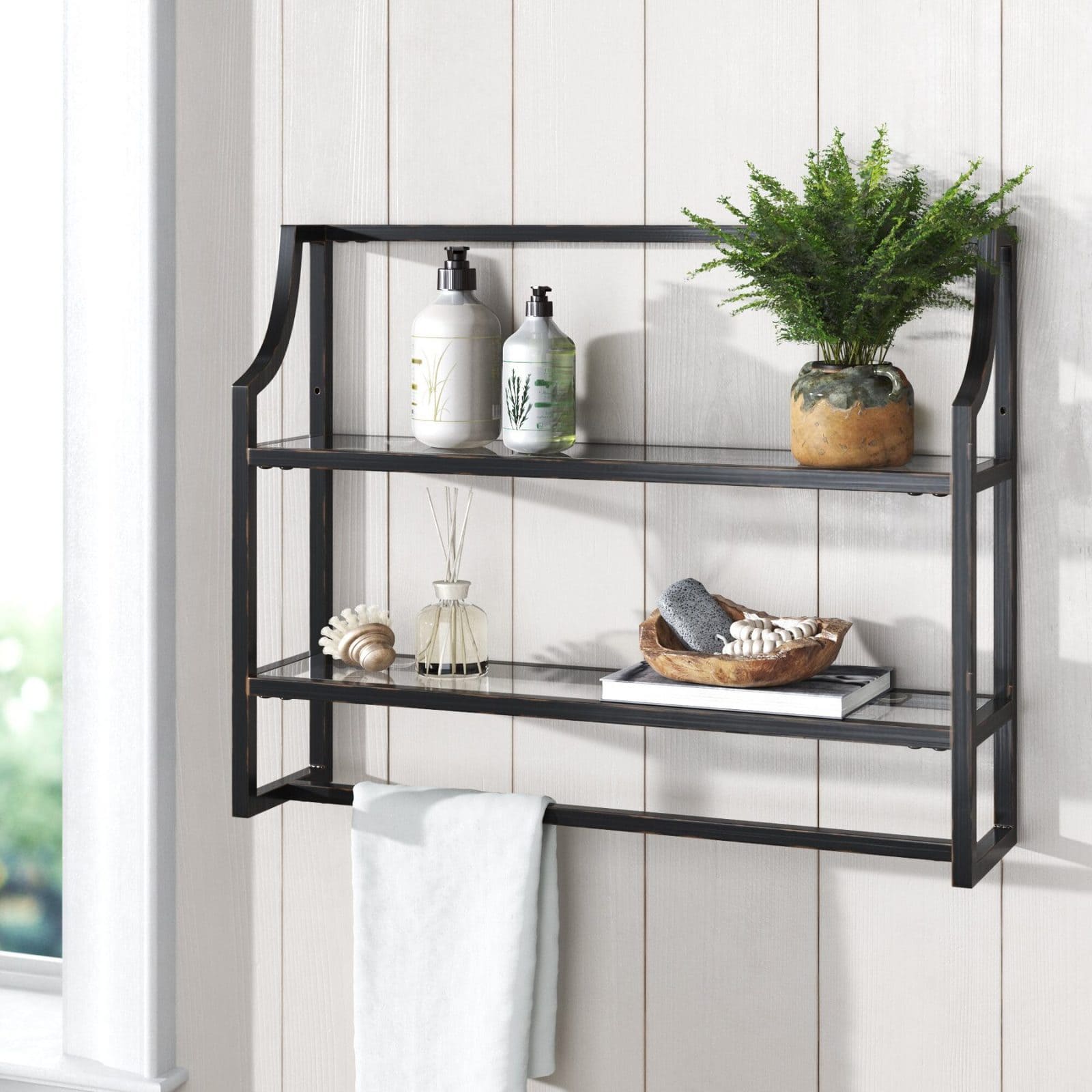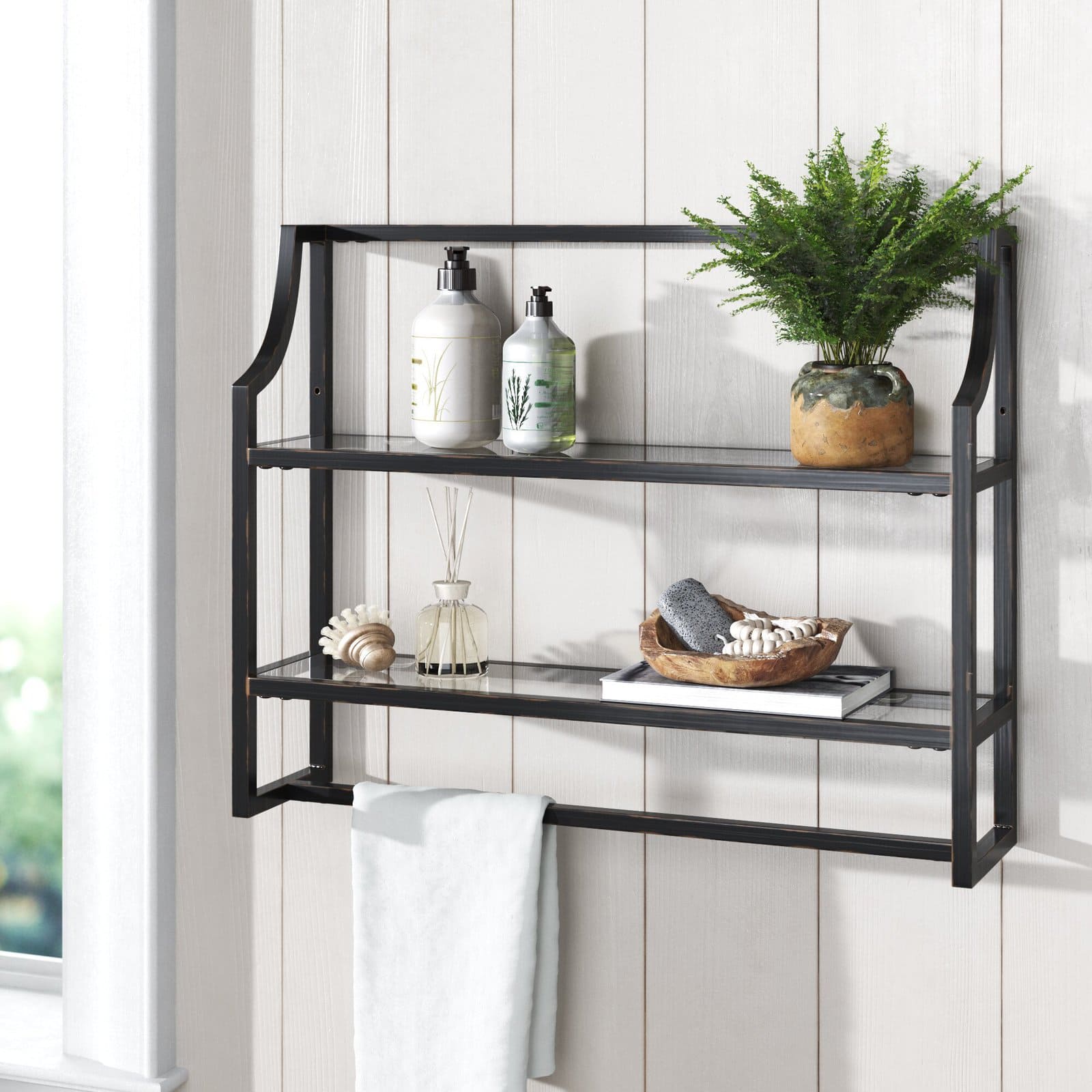 This chic black accent shelf is made from oil-rubbed bronze with glass shelves. The stylish modern design is perfect for use in a bathroom, and it even has a rail across the bottom which can be used to hang towels, clothes or anything else you might want to keep off the floor in your bathroom.
The two tempered glass shelves are ideal for storing toiletries and other bathroom necessities, making it easy to keep everything tidy.
Wooden Stump Wall Shelf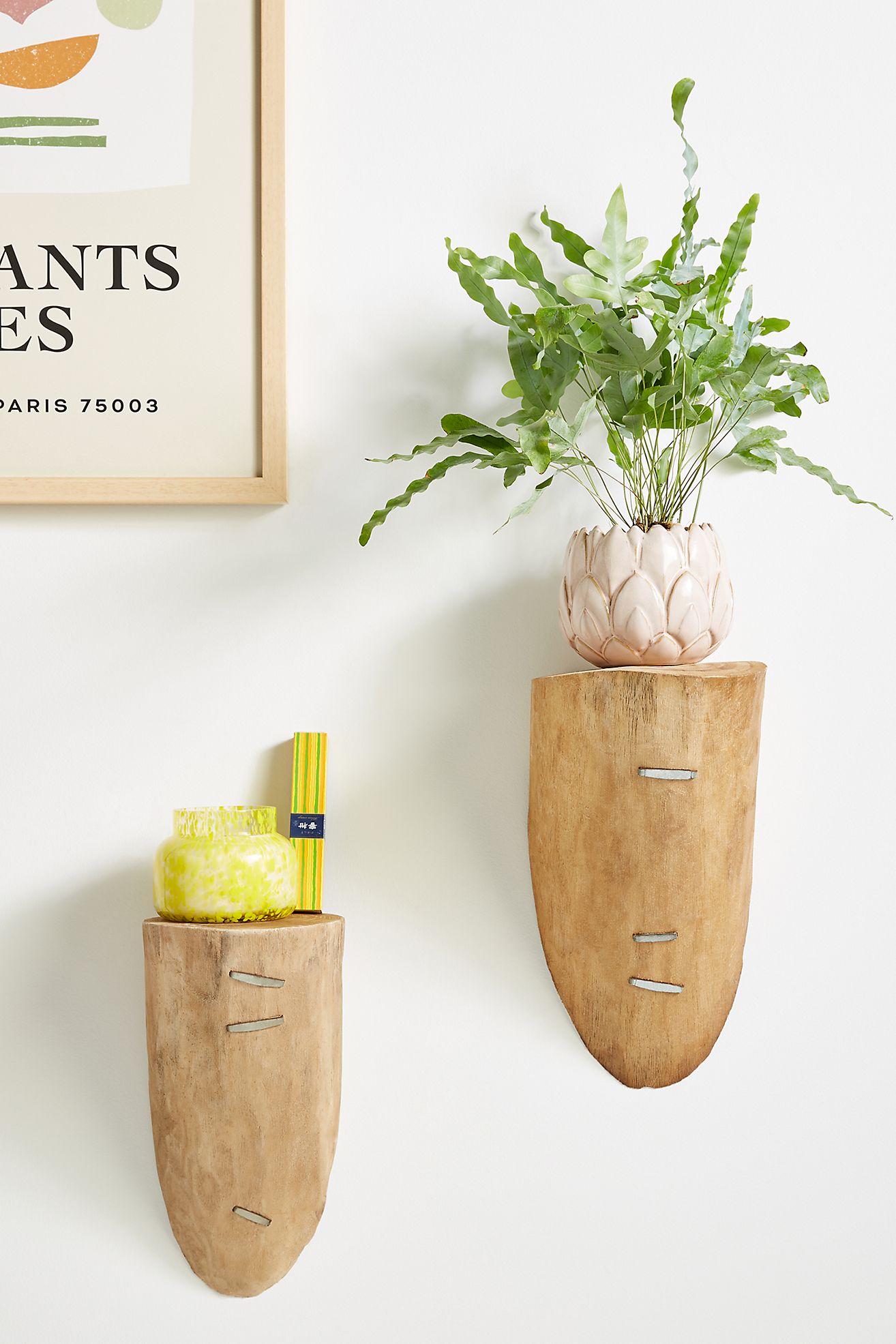 If you've been searching for unique wall shelf ideas, you are going to love these! This split stump shelf is perfect for displaying ornaments, treasures, or even succulents and potted plants.
Since it's made from natural Paulownia wood, it will work well with most decor styles, and will definitely add something unique to your space.
Black Square Accent Shelf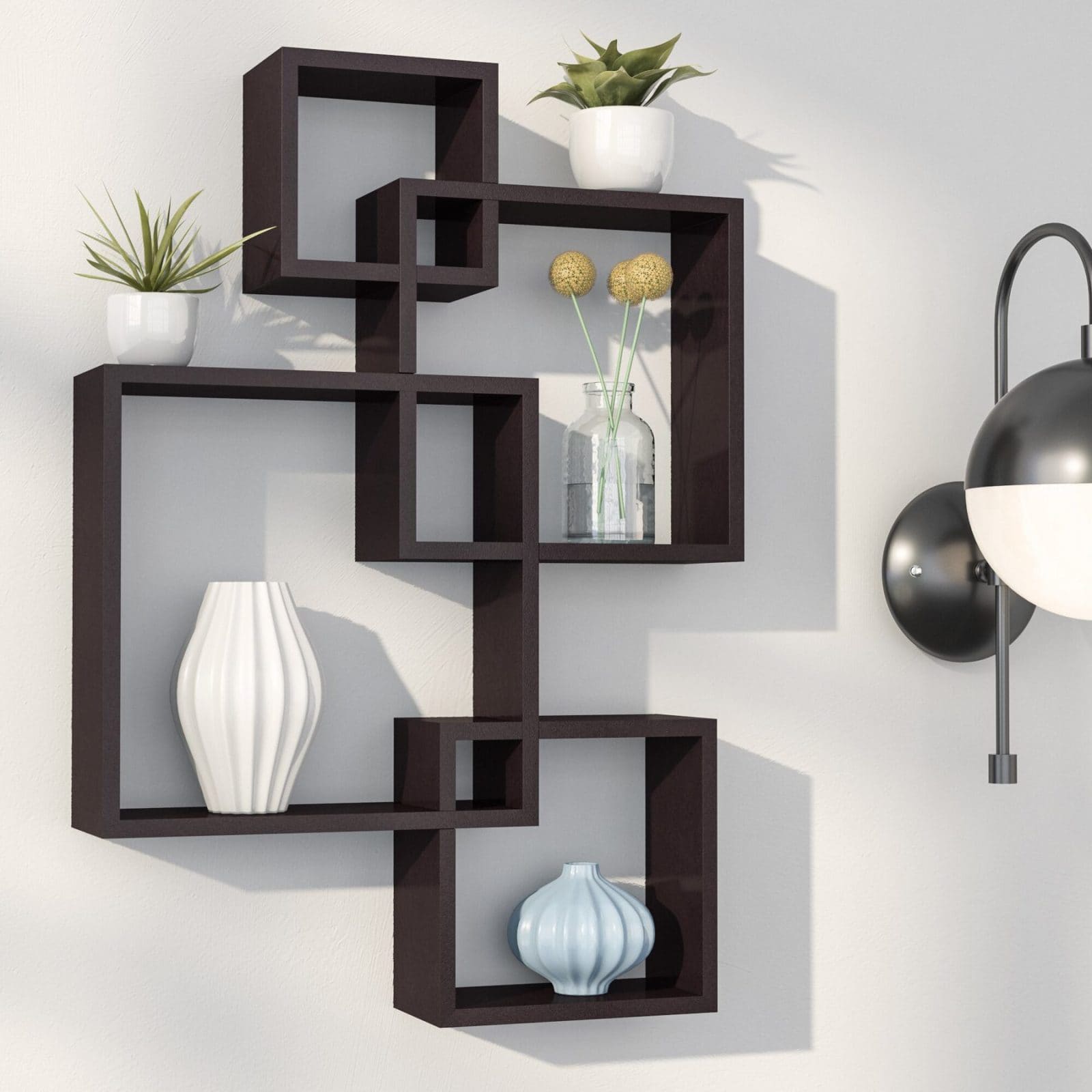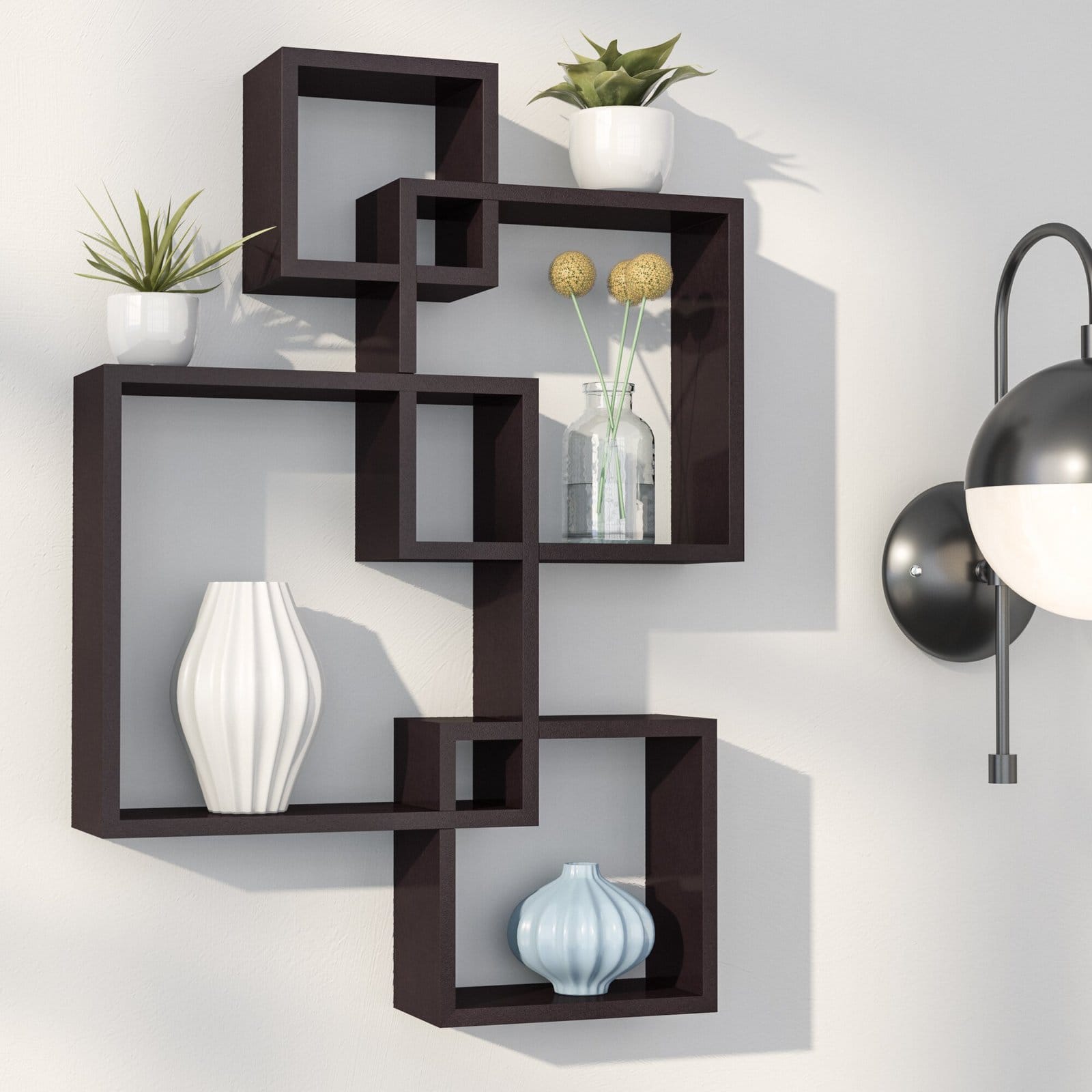 These cool floating shelves feature a unique design of black squares. They are the perfect choice for anyone looking for shelves to display ornaments, sculptures, small succulents, or photographs because each 'box' serves as its own little display frame.
These are perfect accent shelves and would look great in a living room or bedroom. The stylish black design means they will work with most modern or industrial decor styles.
Industrial Wall Pipe Shelf Set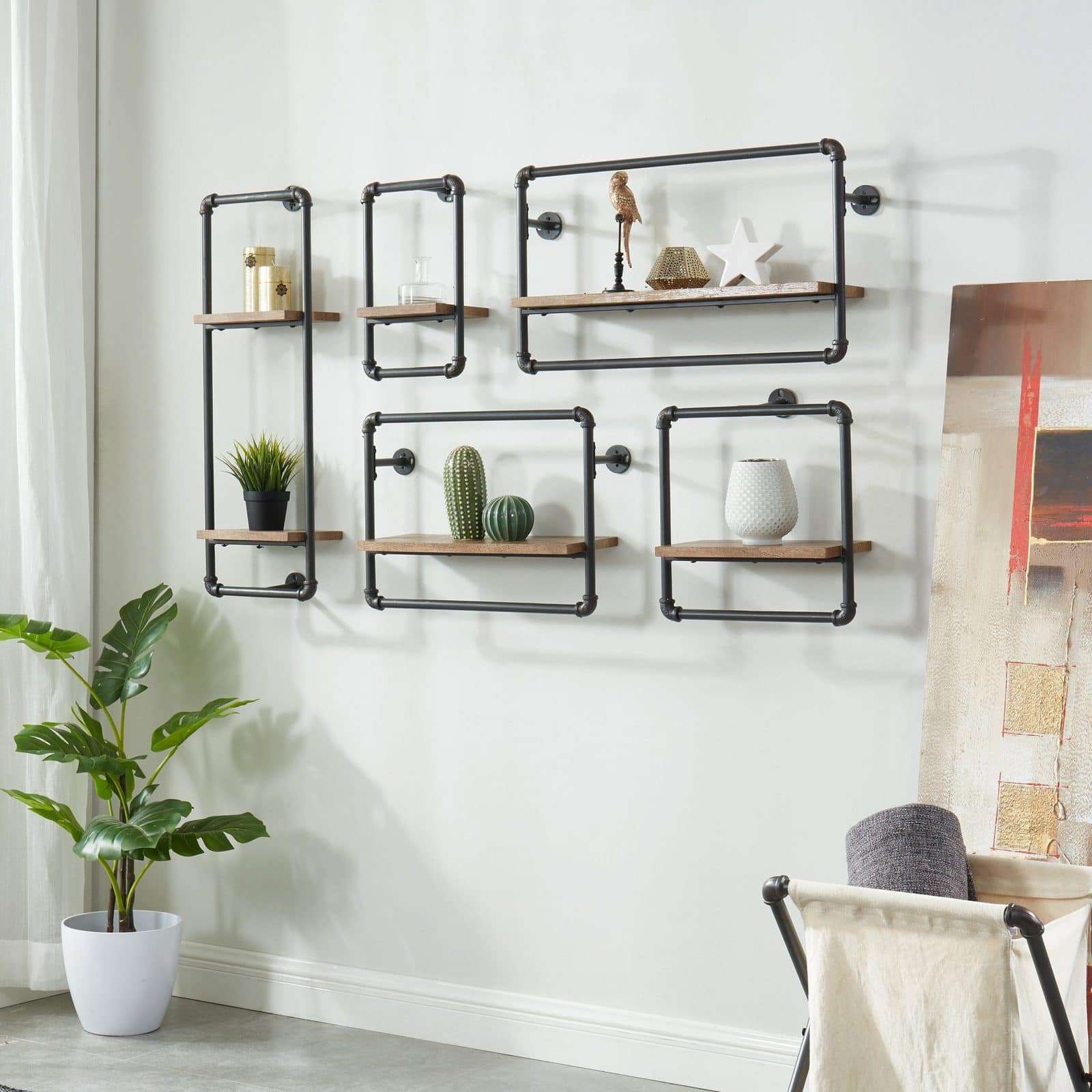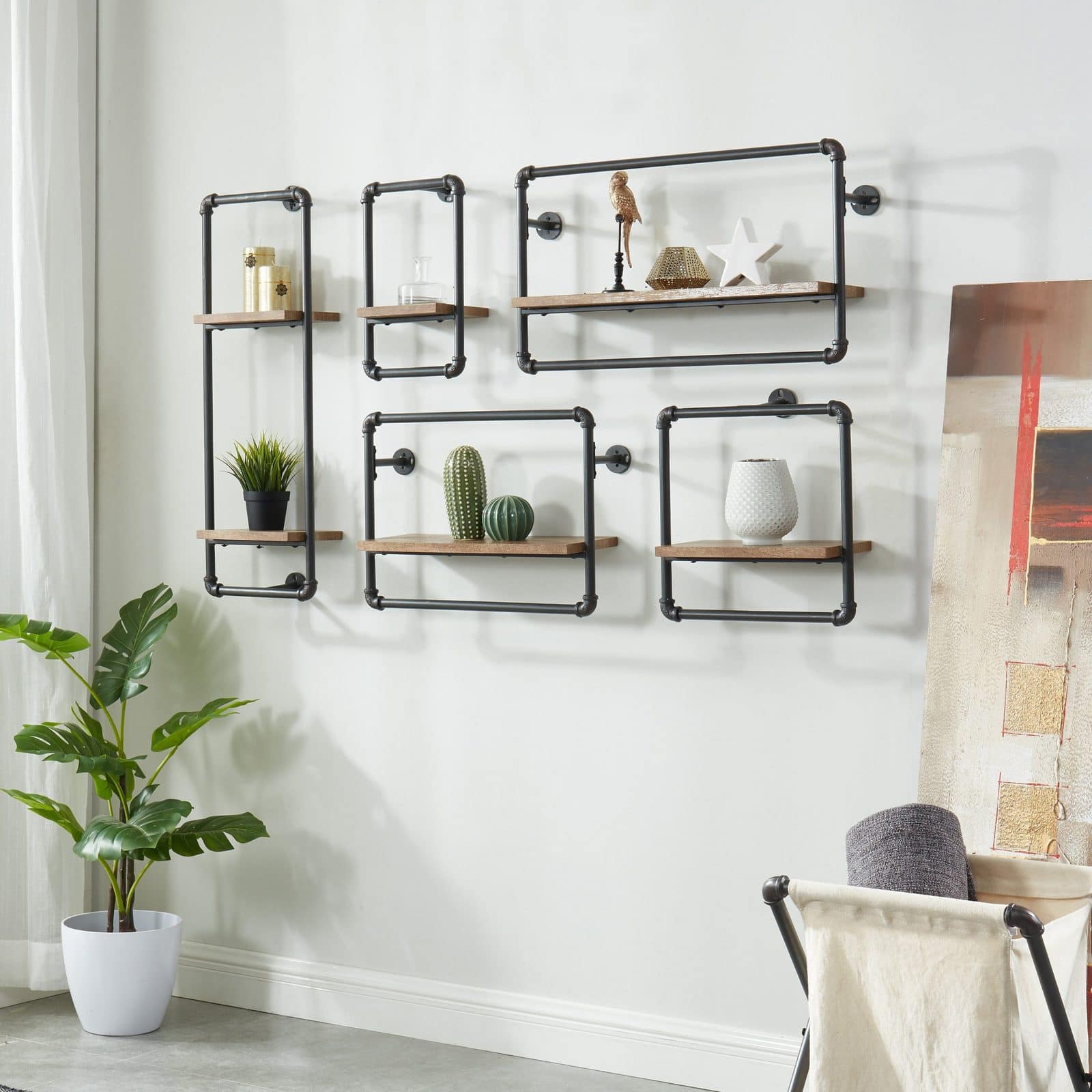 This set of industrial wall pipe shelves is perfect for any lover of industrial interior design. The set features five separate shelves which can be arranged in any formation to create a unique wall shelf design, so you could even create a half wall shelf if you wanted to.
The shelves are made from a metal piping frame, with a rustic wooden shelf for displaying books and other items. These would make great living room wall shelves in an industrial-style interior.
Contemporary Round Accent Shelf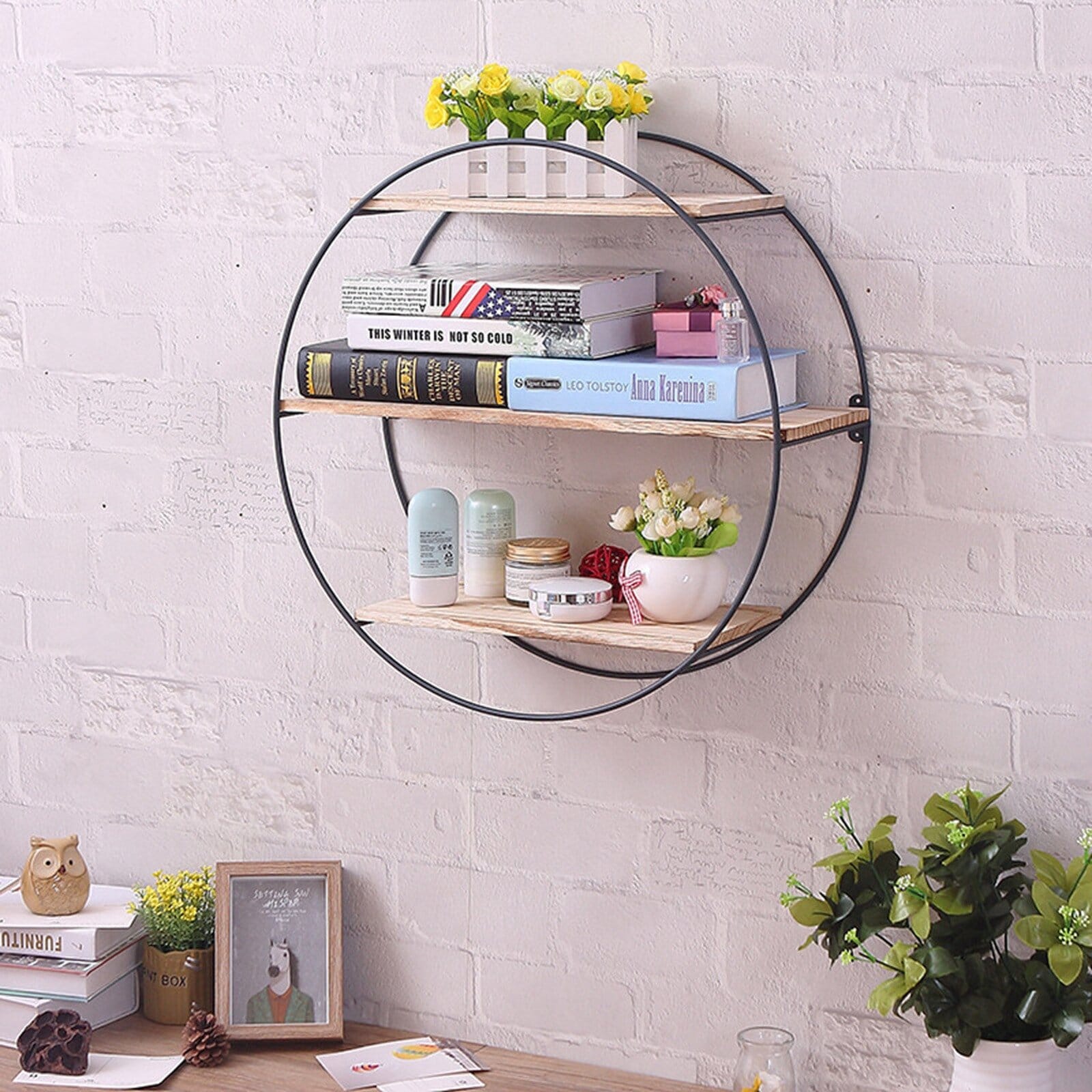 This cute contemporary round accent shelf is perfect for displaying ornaments, photo frames, books, and more. It's made from a combination of iron and wood, so it would work particularly well in an industrial or modern interior.
The stylish round design is sure to liven up any bare wall in your home. This shelf would look perfect in a bedroom, living room, hallway, or even a bathroom.
Lucite Arch Shelf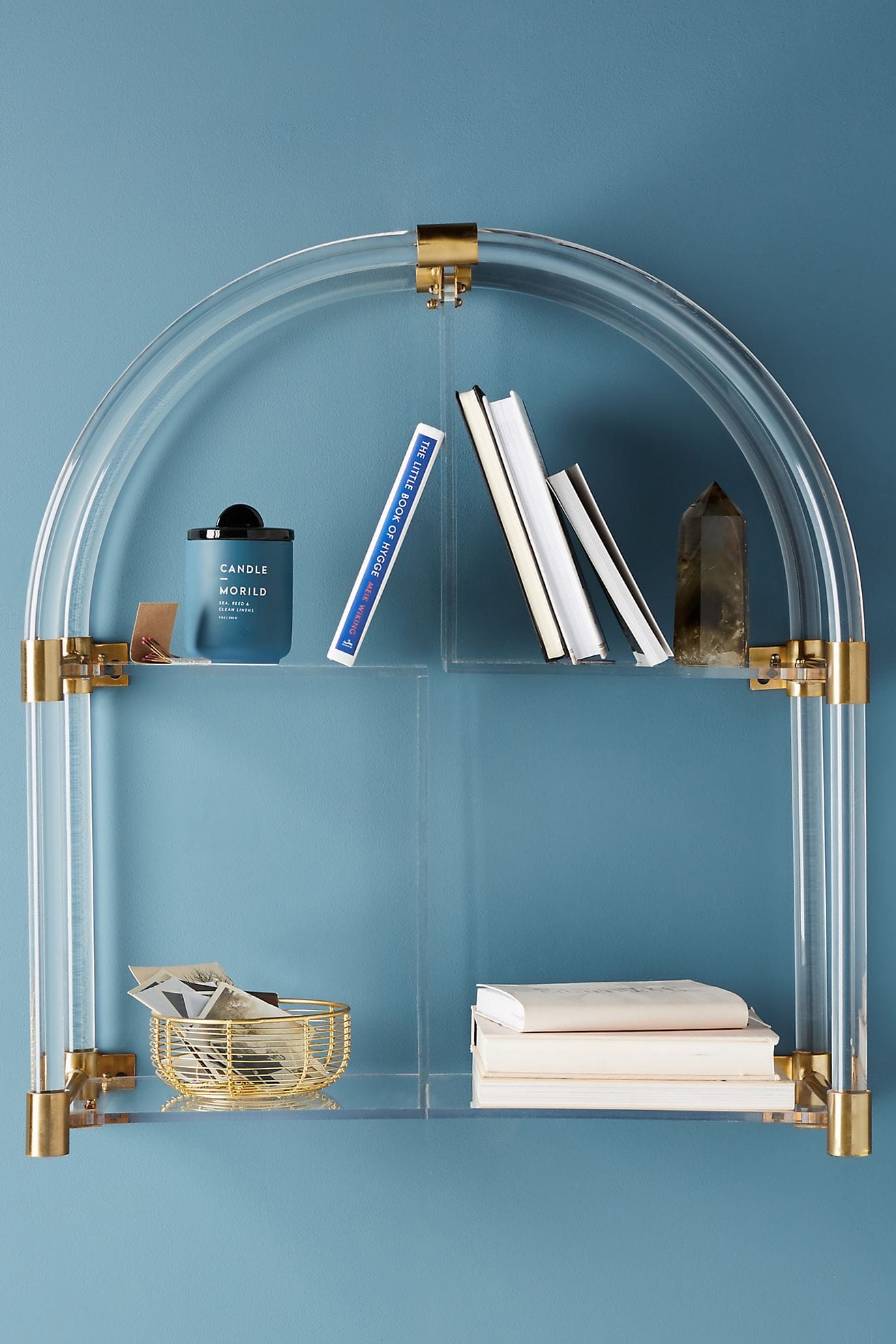 This stunning lucite arch shelf is perfect for anyone looking for elegant shelves to display their most treasured possessions. The shelves are made from crystal clear lucite, along with gold-colored steel, which gives them a modern, glamorous look.
The arched frame splits the shelves into four quarters, making it easy to store books and other upright items, as well as ornaments and trinkets.
Modern Wall Shelving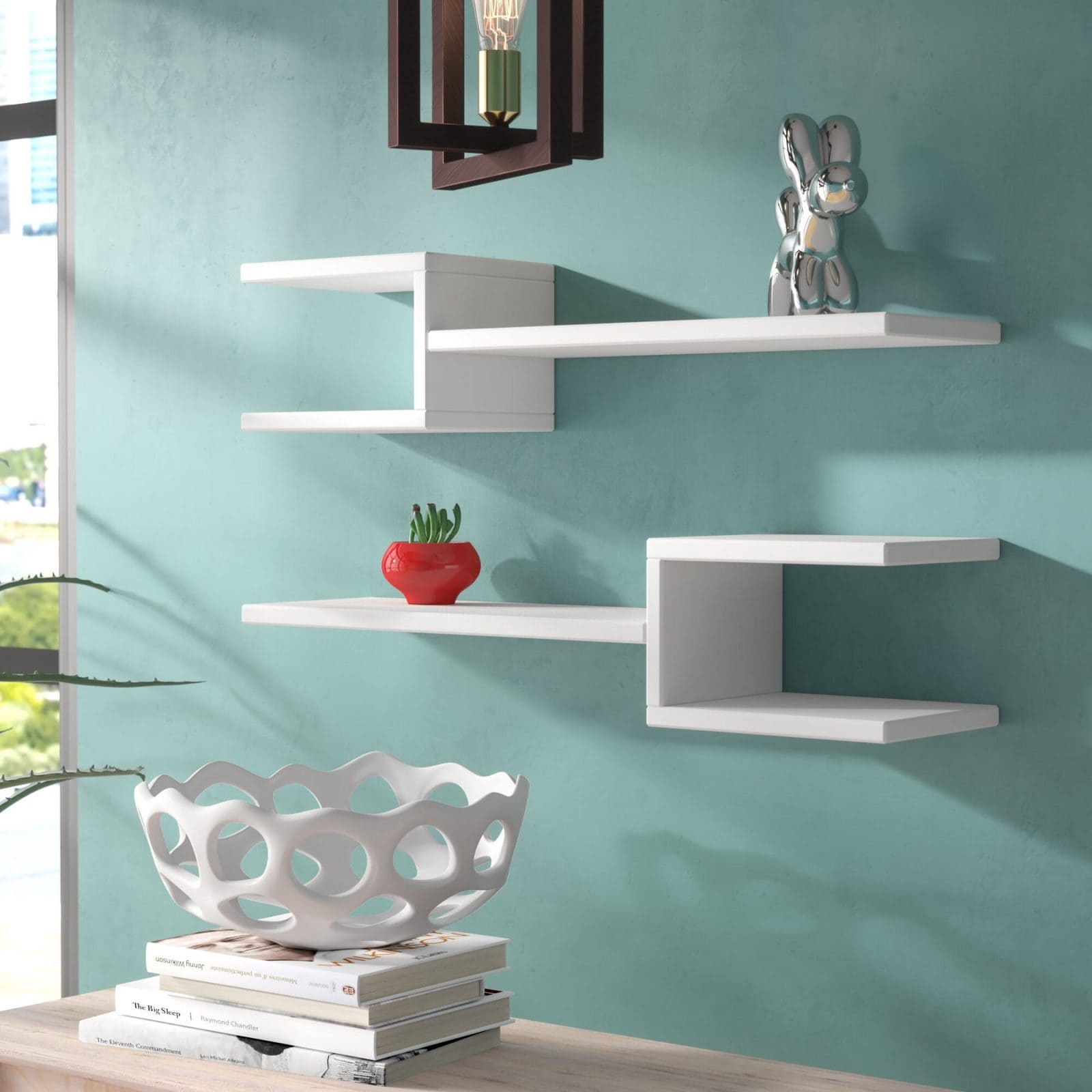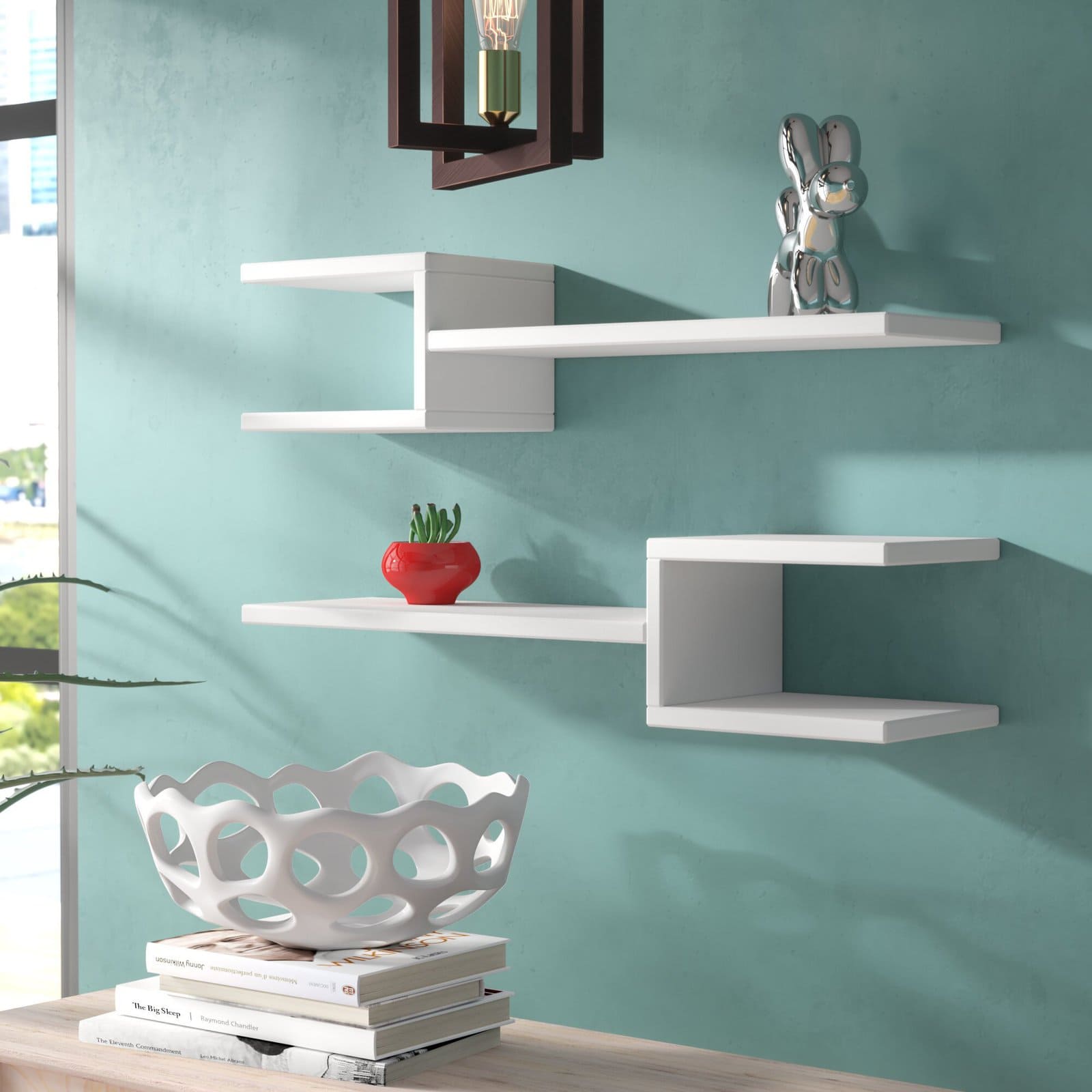 If you're looking for unusual wall shelves ideas, these should fit the bill! These modern wall shelves feature a unique 'fork' like design, that can be used as a pair, or even as part of a larger set to cover an entire wall—perfect for anyone looking for wall-to-wall shelf ideas.
The shelves are constructed from manufactured wood with a melamine finish that ensures they are water and stain resistant.
Rustic Wooden Crates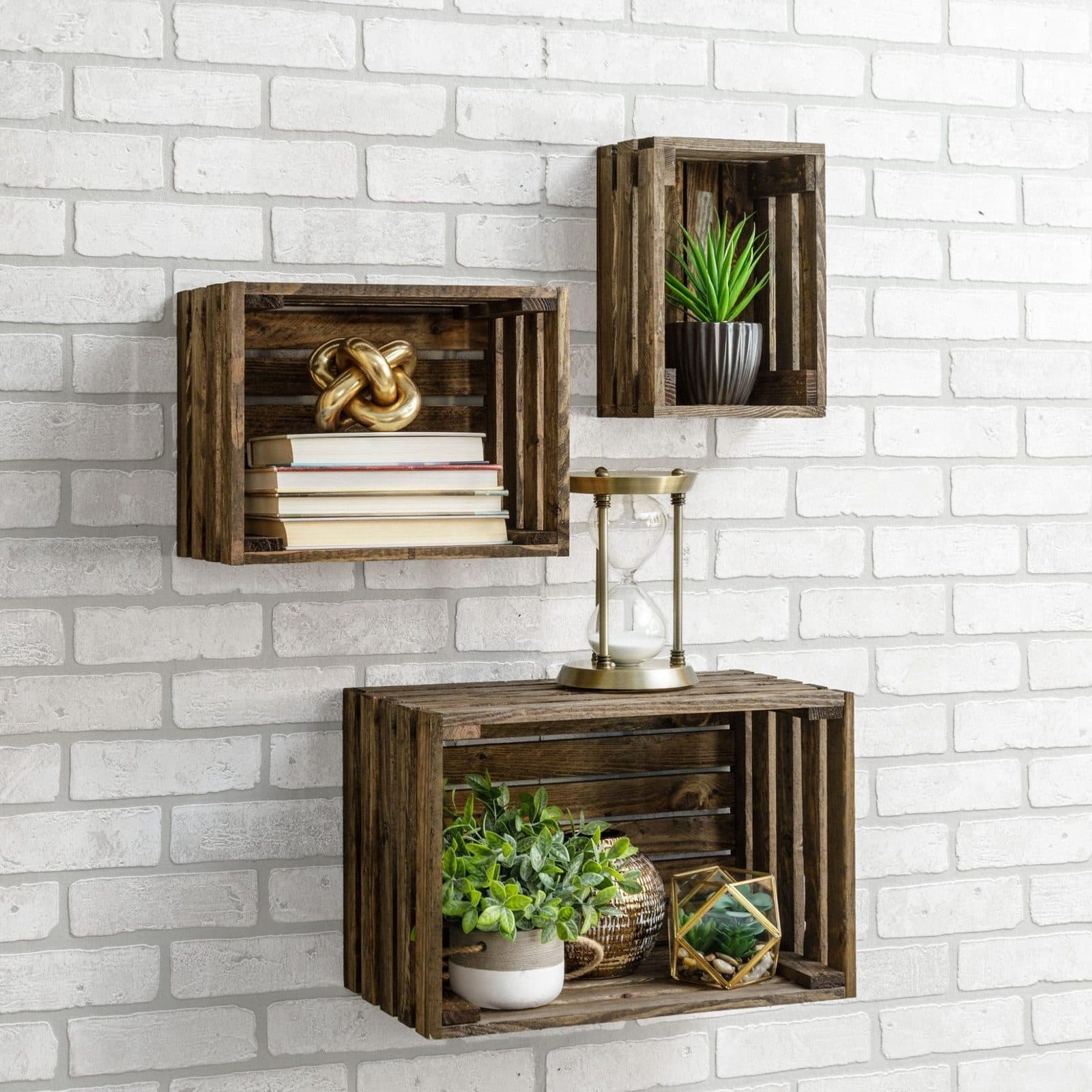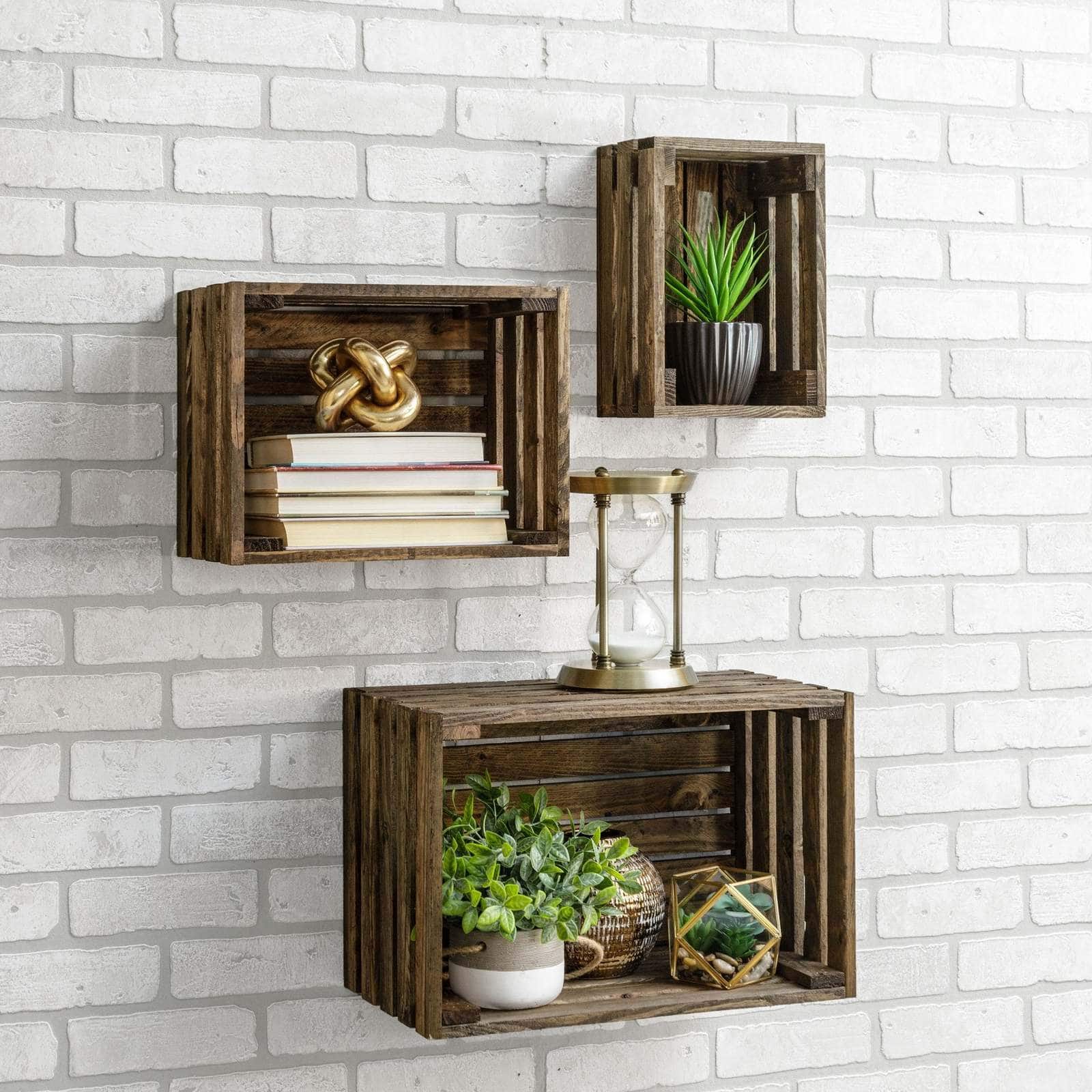 These rustic wooden crate shelves are perfect for anyone who loves rustic farmhouse decor. The crates can be mounted on the wall as shelves, or stacked on top of one another to create a unique book case—the choice is yours!
They can be laid out in a variety of different formations depending on the size of your wall, and the look you want to go for. This means you can get as creative as you want with these rustic shelves!
Intricate Carved Wooden Shelves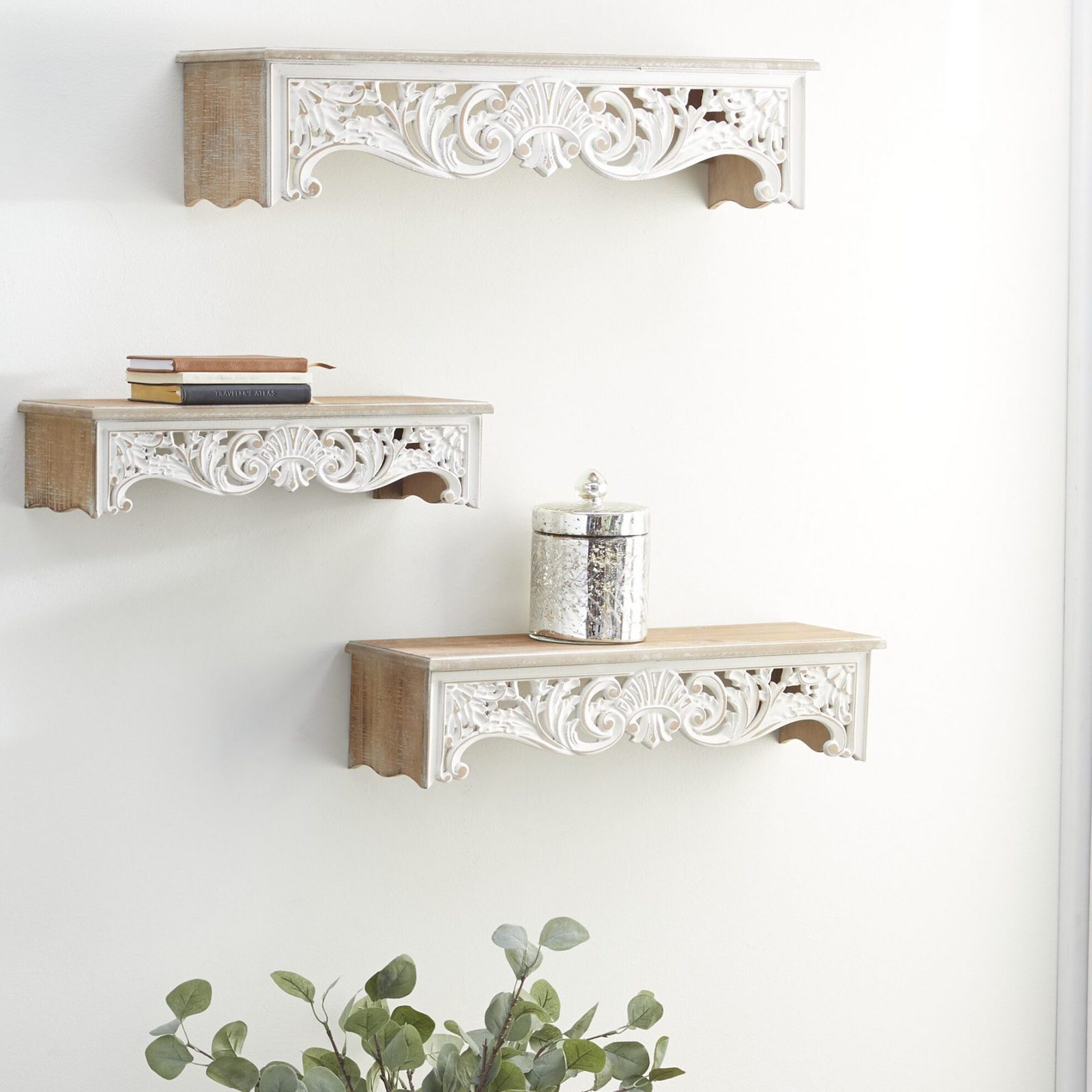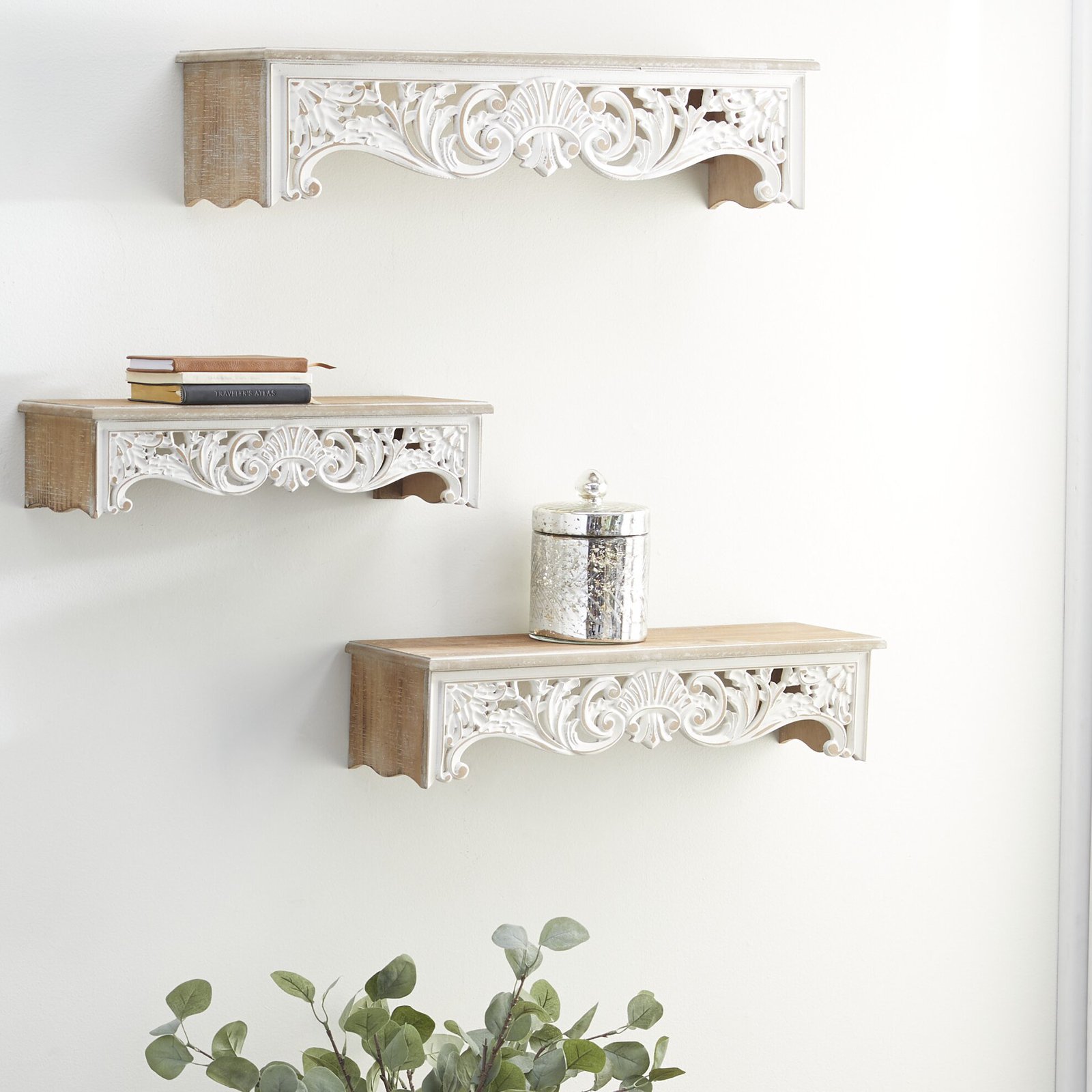 These gorgeous carved wooden shelves are perfect for anyone who loves the French country chic look. The shelves feature intricate carvings in a vintage design, with a distressed pearl white finish—Perfect for bringing a touch of vintage charm to your home.
These shelves come as a set of three, and each shelf is slightly different in size, which gives them an eclectic charm.
Bohemian Style Shelving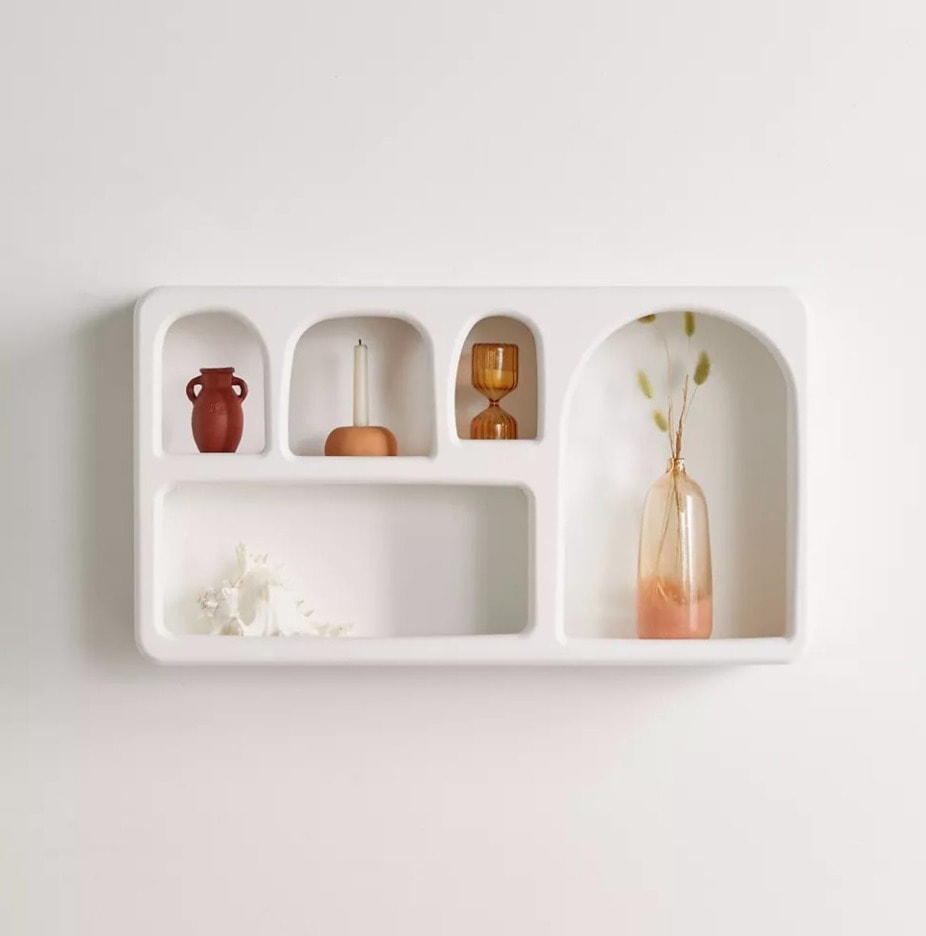 This unusual wall shelf is sure to bring bohemian vibes to your home. It features an unusual organic design with five cubbies that almost look like they have been carved out of rock.
This stylish shelf is perfect for storing smaller items like trinkets, or anything special you want to have out on display. The shelves are made from MDF with a white finish that is wipe-clean, so there's no need to worry about your shelves becoming discolored or stained over time.
Rustic Wood and Metal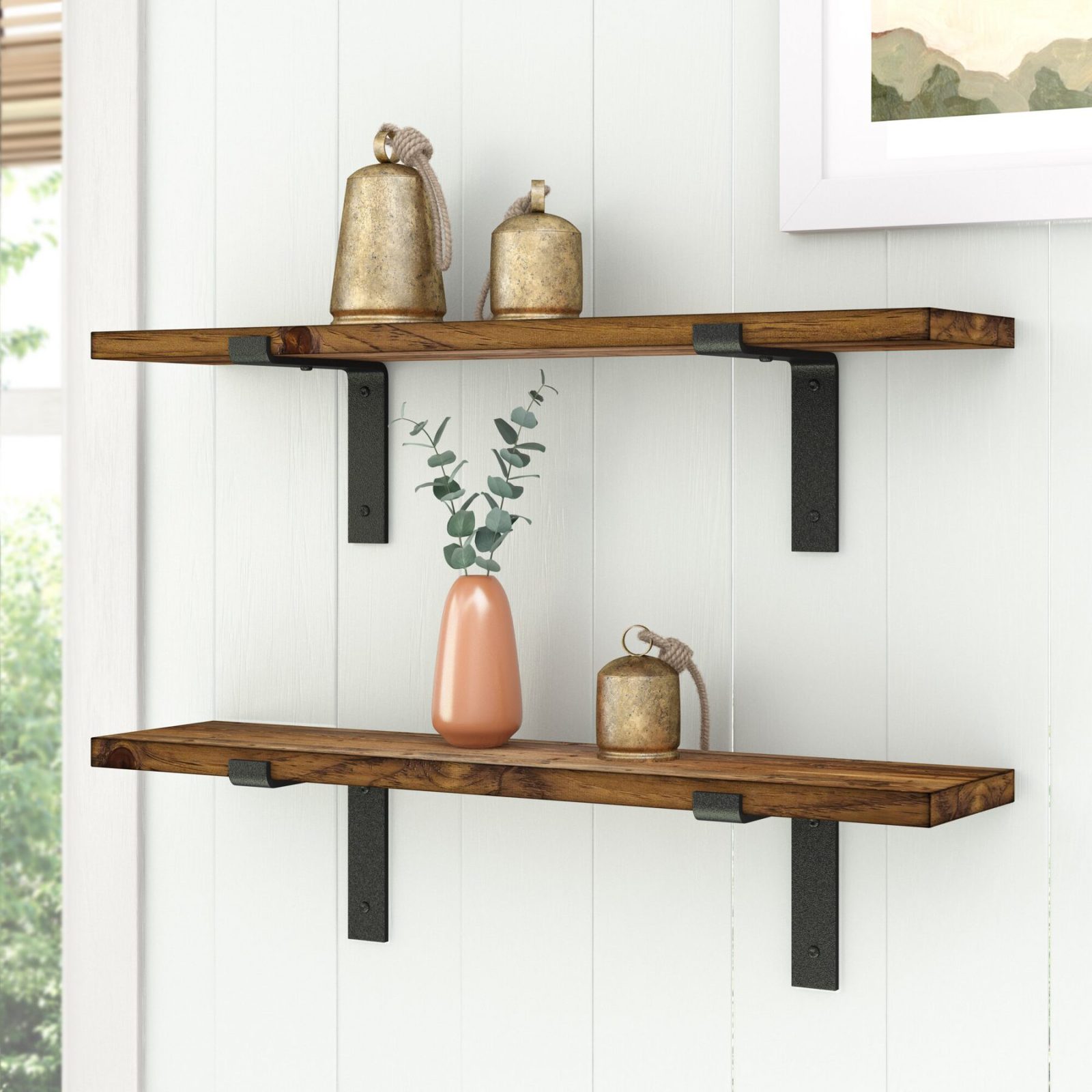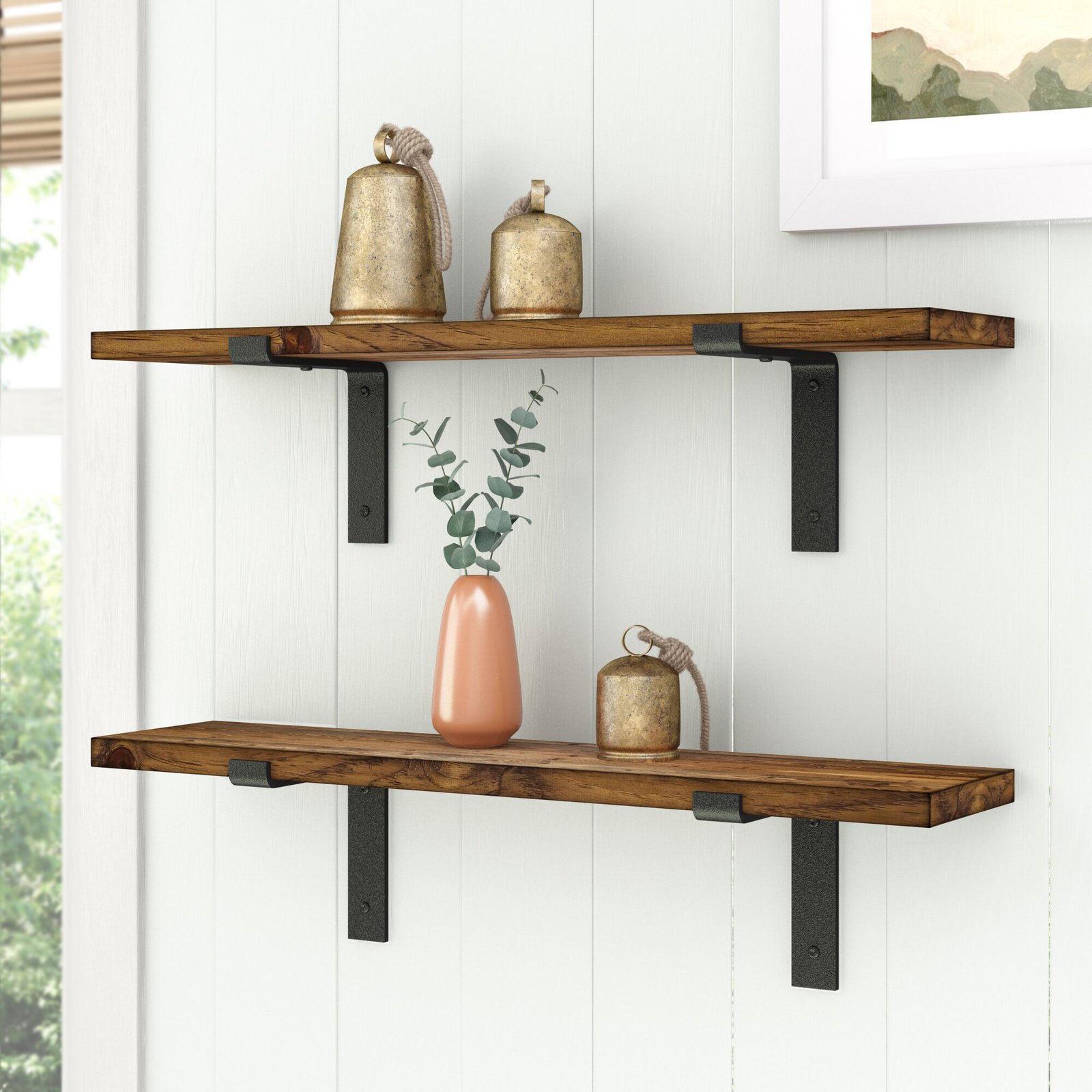 These rustic pine shelves have a timeless design that would work just as well in a coastal residence as they would in a farmhouse or industrial-style home. The shelves are handmade in the USA, with a rich finish that brings out the grain of the wood, for an authentic look.
Black mounting brackets hold the shelves from underneath, ensuring they are strong enough to hold anything you might want to display, from trophies to books.
Stylish Wine Shelf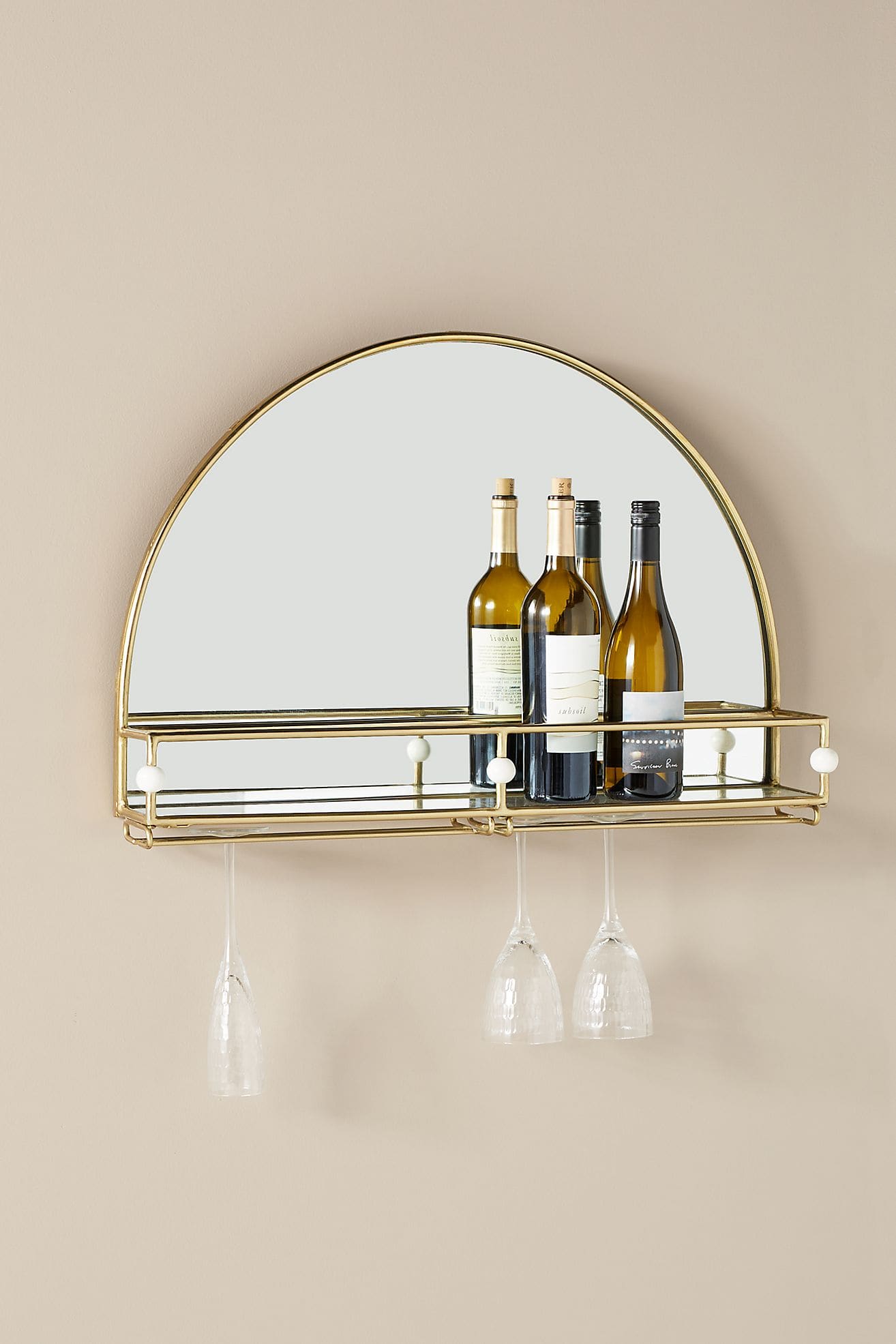 This unusual wine shelf is the perfect solution for storing wine, spirits, liqueurs, and glassware. It features a stylish arched design with a mirror that reflects the items on the shelf and adds another dimension to the design.
The shelf features a built-in rack underneath where stemmed glassware can be hung, freeing up space in your kitchen, and allowing you to show off your favorite glassware! This is a great space-saving alternative to a bar-cart.
Chic Narrow Black Wall Shelf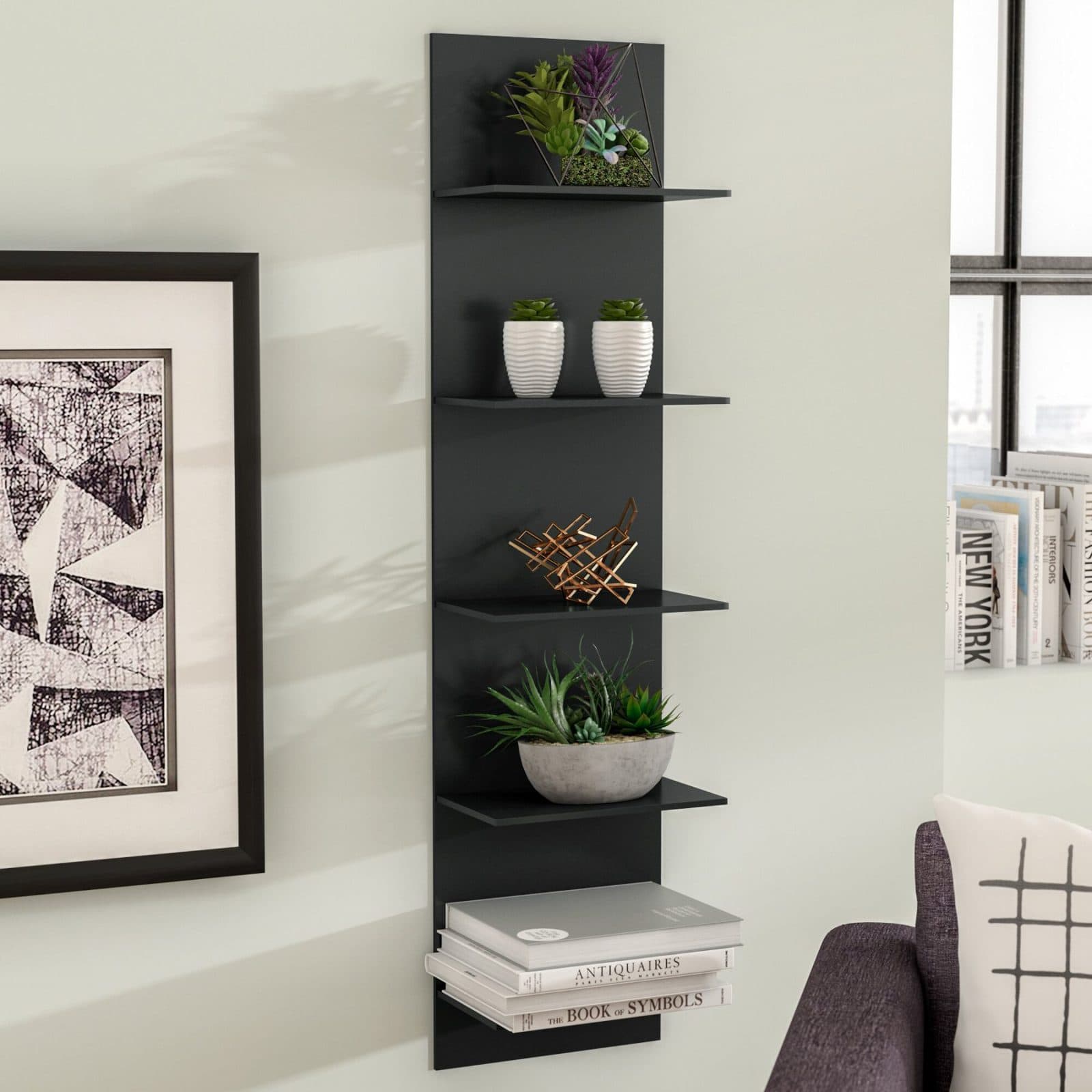 If you've only got a narrow space to put your shelving, then this chic black narrow wall shelf will provide you with all the storage you need without taking up too much space.
It features five shelves, which can be used to stair anything from books and magazines, to potted plants and succulents. It has a contemporary black-grained finish which will work well with most modern decor styles.
Industrial Pipe Wall Shelf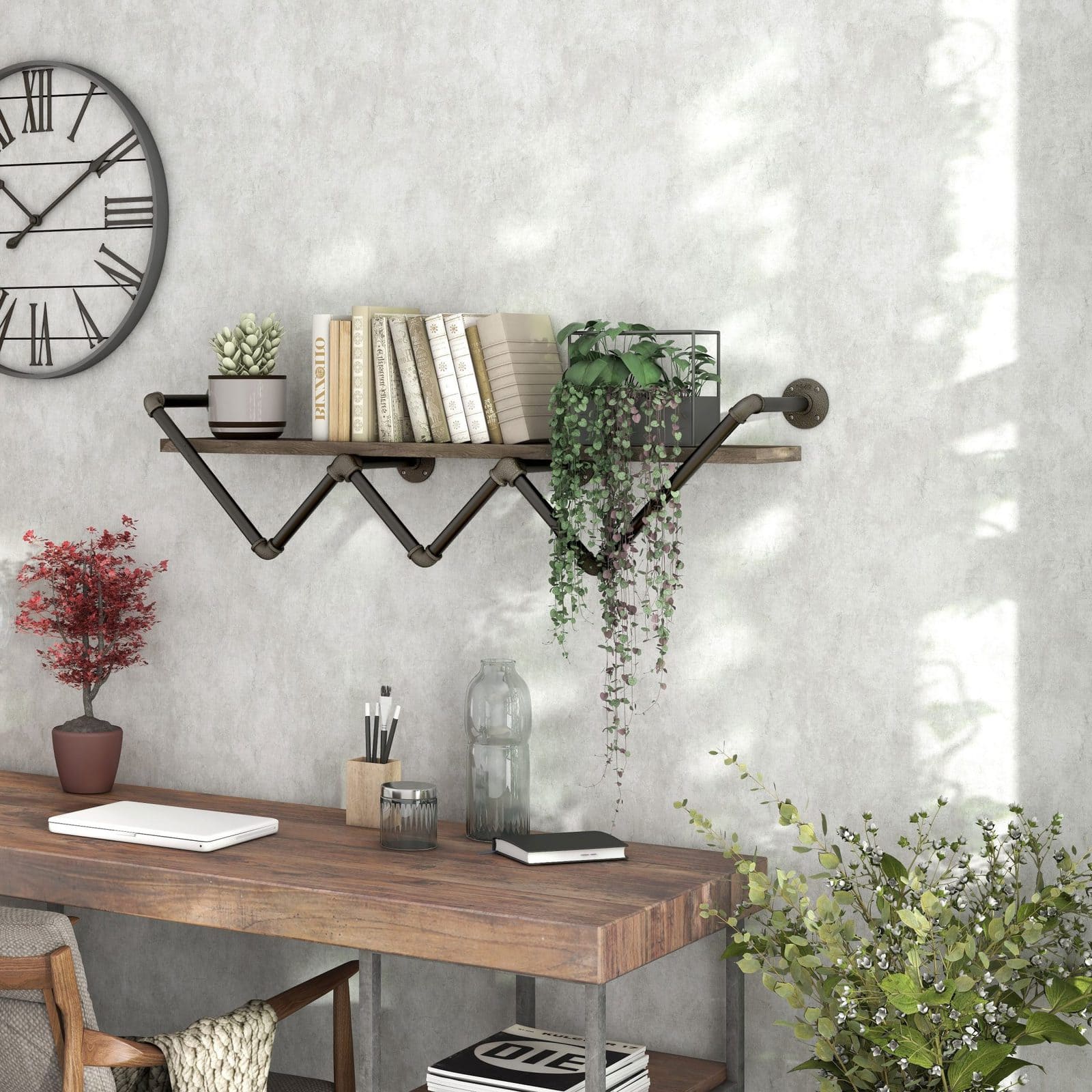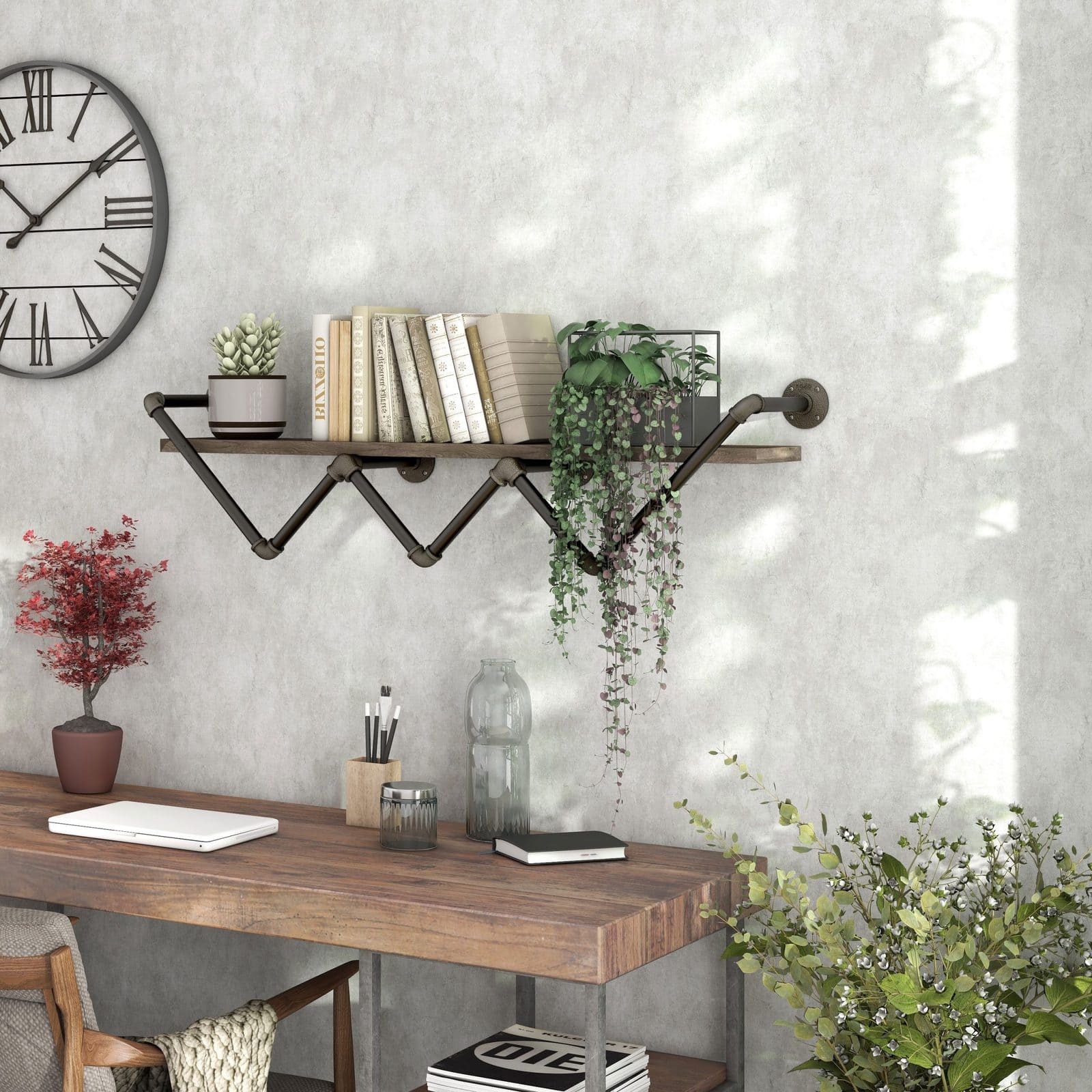 The industrial design trend is here to stay, and if you love this effortlessly cool look, then these are the shelves for you. With an industrial zig-zag design, these shelves are eye-catching and stylish as well as functional.
The shelves are made from reclaimed oak with an authentic rustic finish, while the frame is made from thick black pipe which creates a unique industrial look.
Triangle Hanging Shelf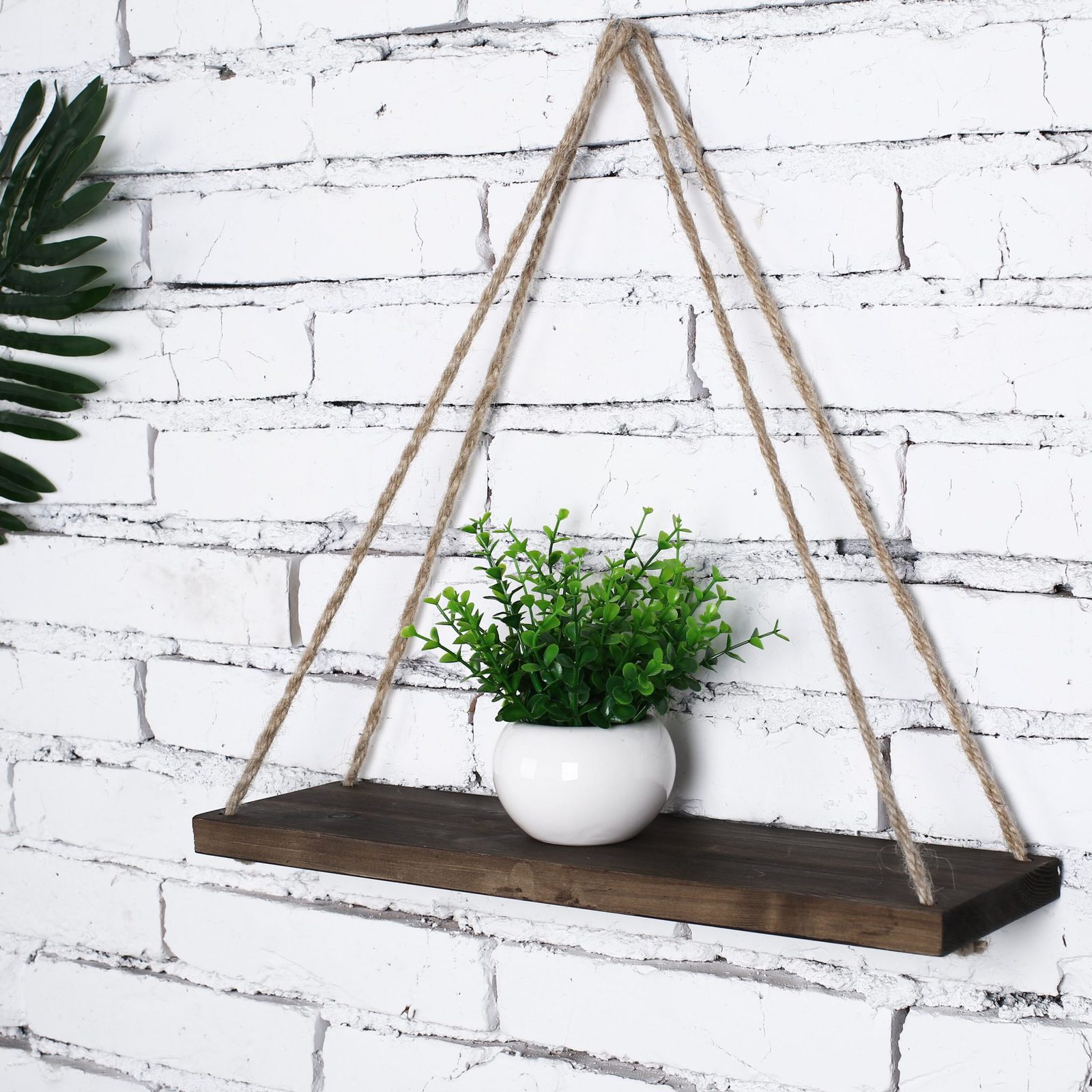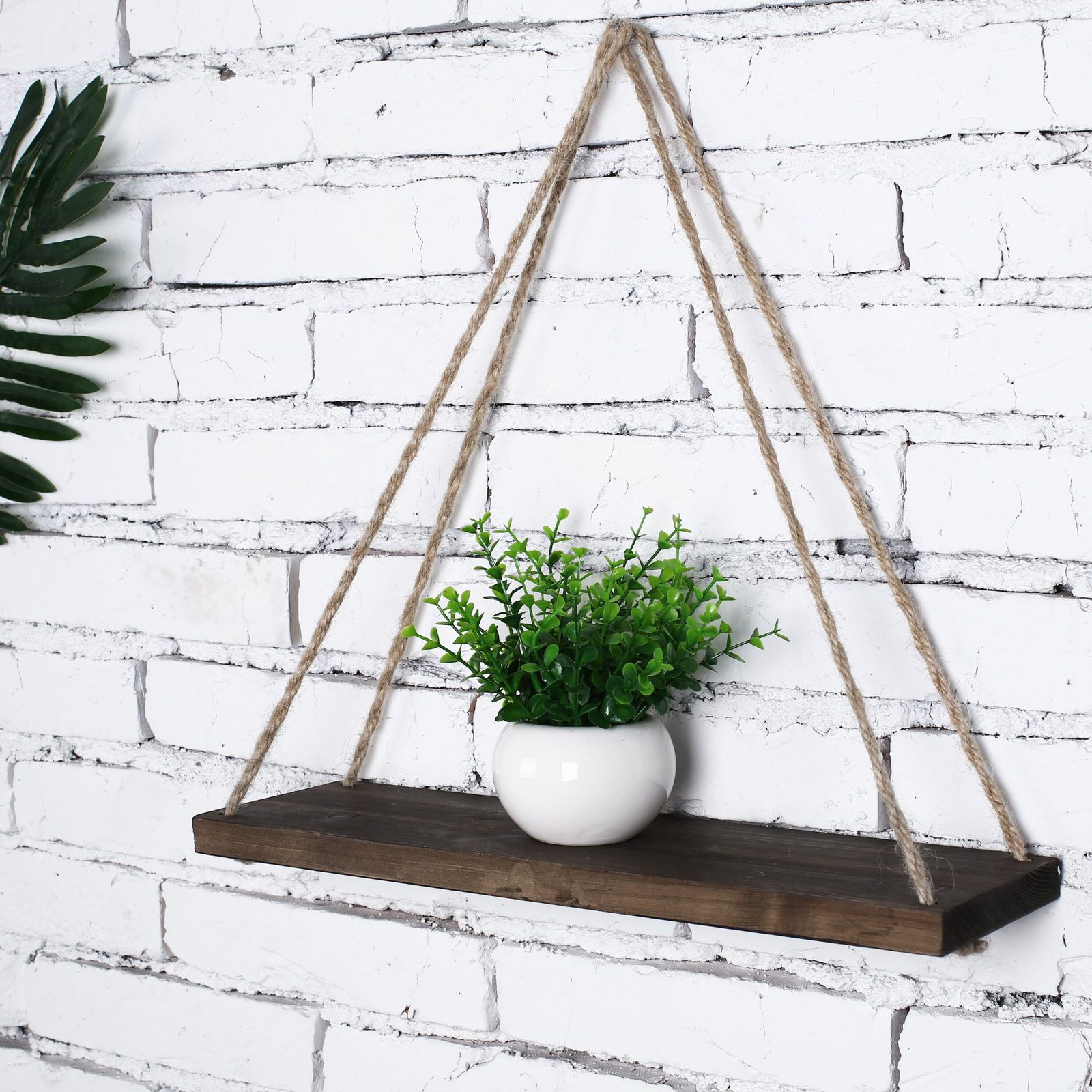 This two-piece set of shelves features a slightly more unusual design. Each wooden shelf hangs from rustic ropes, which are hung from a single screw or hook, creating a triangular look.
The length of the ropes is adjustable, so you can make them as long or short as you need to, depending on the look you want to go for. The style of these shelves is very rustic, so they would work well with many different interior styles, including boho, farmhouse, industrial, and more!
Pretty Gold Wall Shelving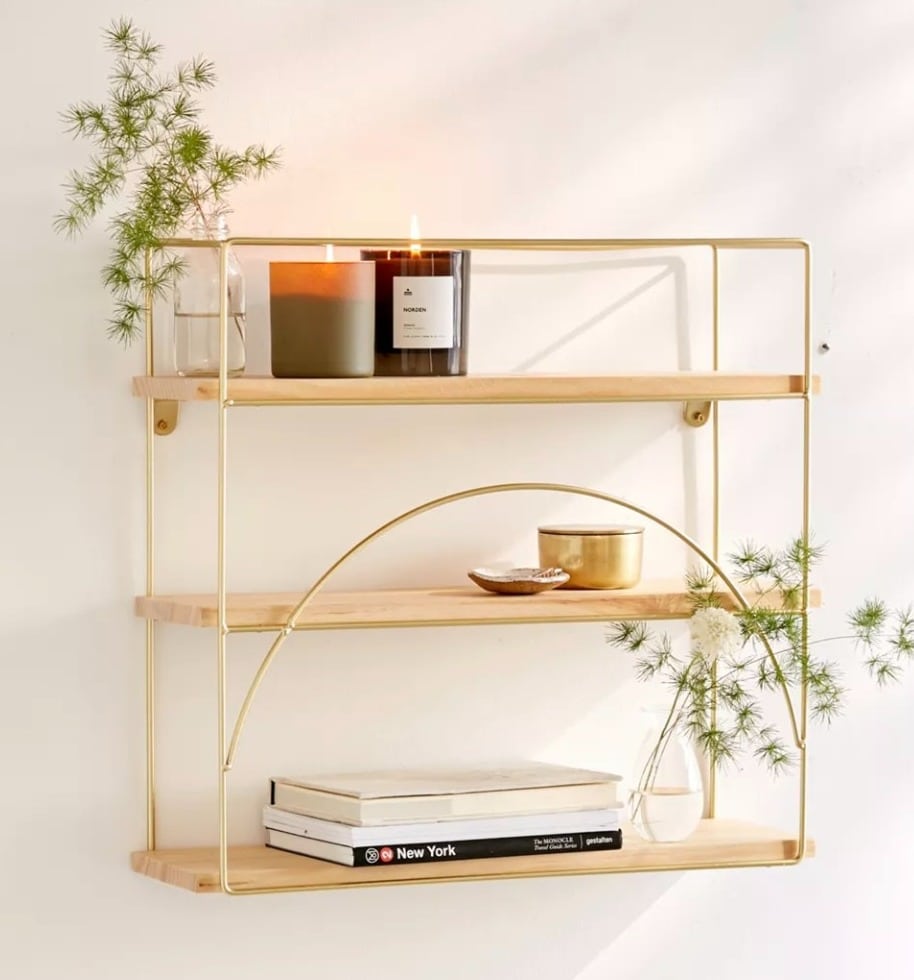 These stunning wall shelves feature a modern glamorous design, with a delicate gold frame with gold arched detailing.
The shelves themselves are made from light Pine wood which complements the gold beautifully, while the gold frame is actually made from iron, so you can be sure that these fancy shelves are strong enough to display all of your favorite things.
Round Iron Floating Shelf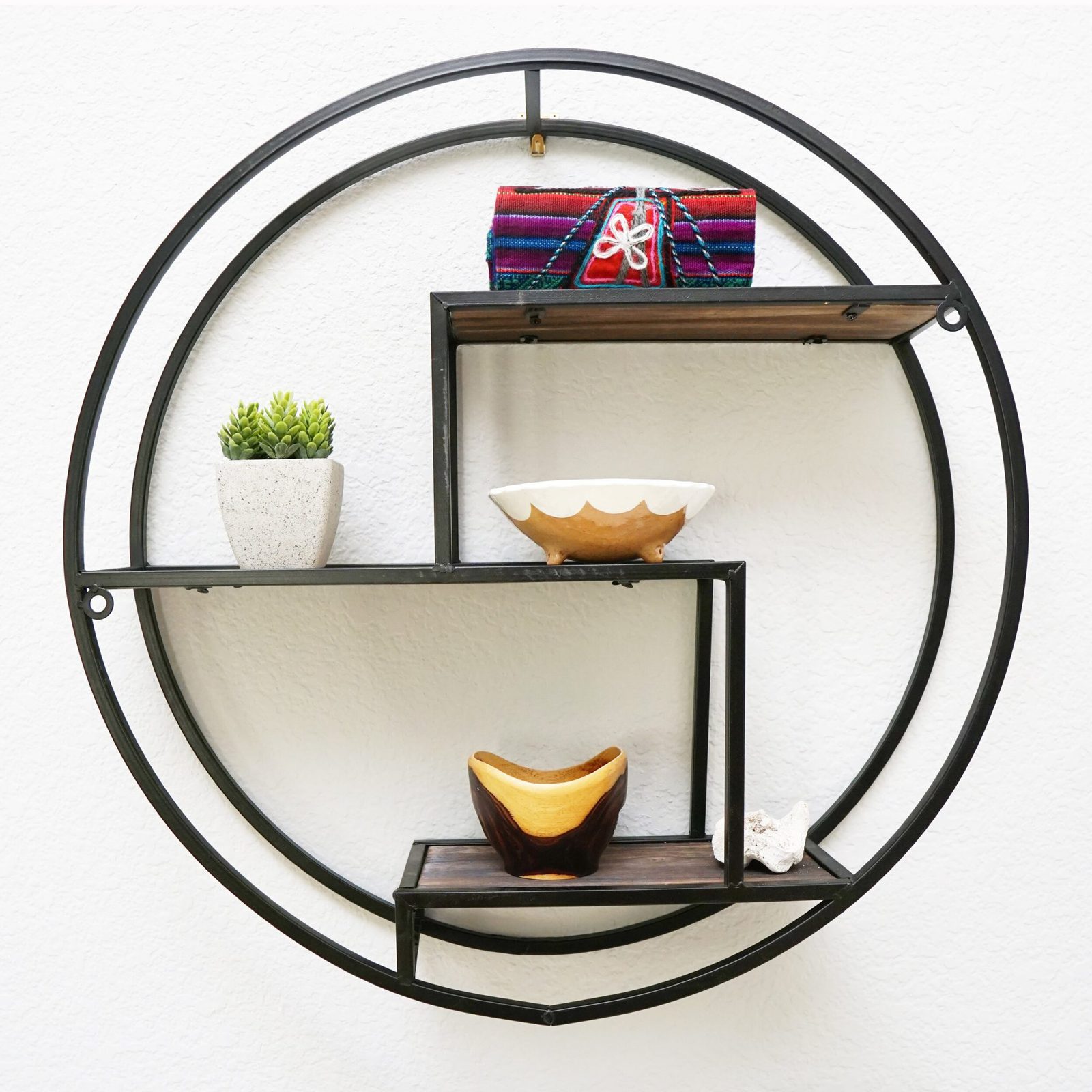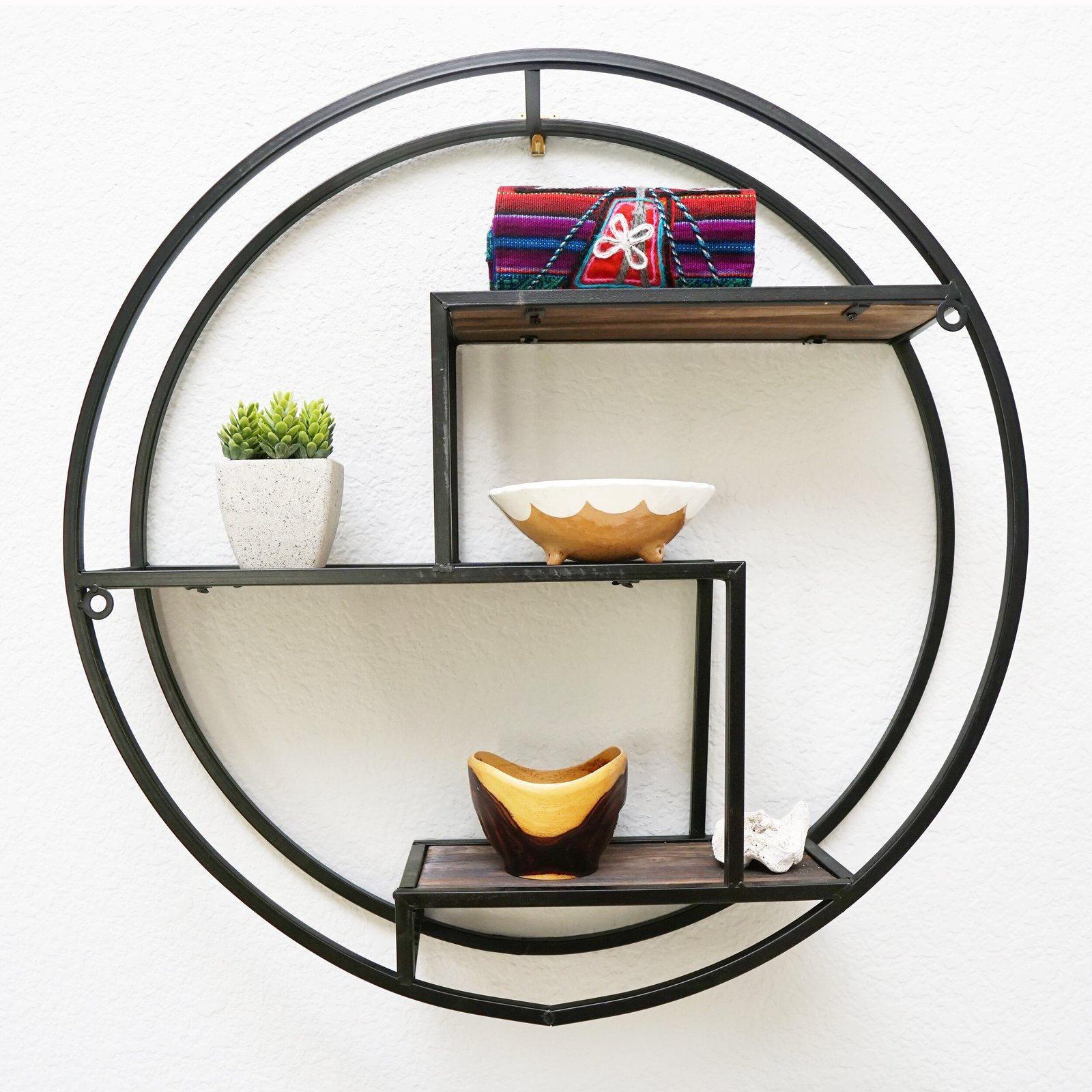 These creative wall shelves feature a round design crafted from wrought iron and rustic wood. The round design of these shelves makes them an ideal focal point for a wall, and they would work well in a living room, bedroom, or bathroom.
They are easy to hang, and the three tiers of shelves can be used to display your favorite ornaments, books, or plants.
Parisian Chic Wall Shelving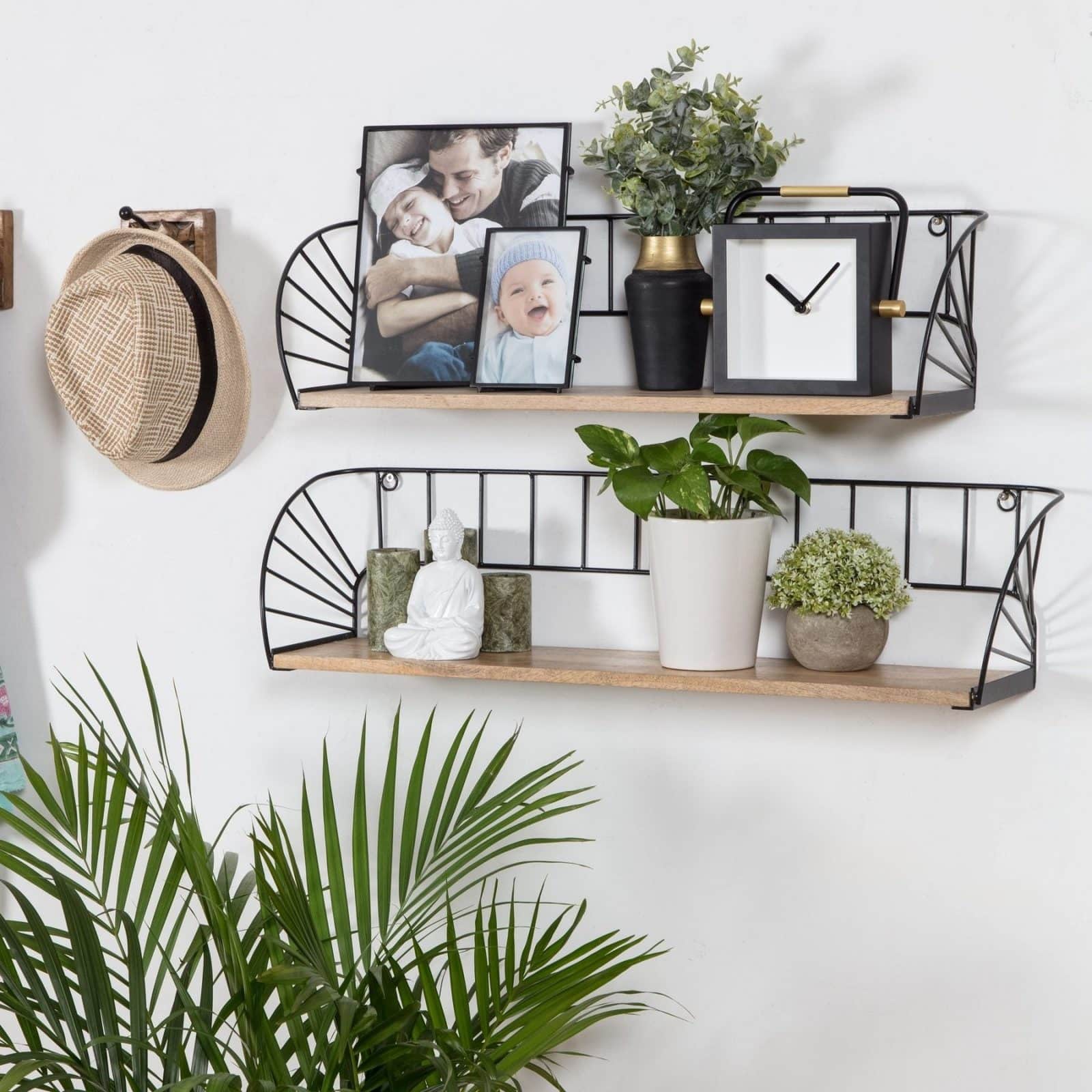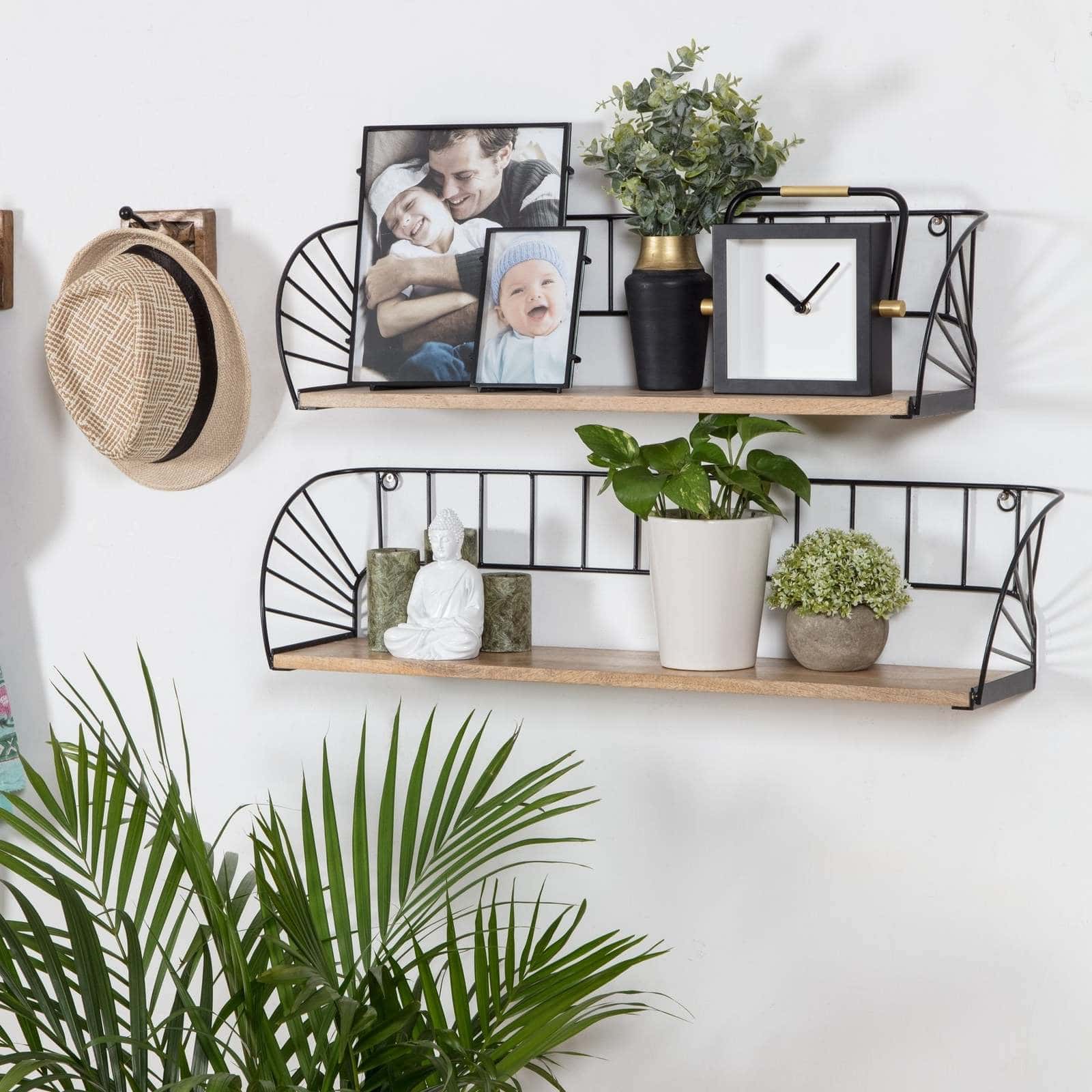 These stylish wall shelves feature Parisian-inspired design elements, with a curled black metal frame surrounding the wood and wrapping around the sides of the shelf. The shelves are made from Mango wood and Iron, which gives them a slight industrial edge.
Although these shelves look delicate, they are actually incredibly strong and sturdy, so you can confidently use them to display almost anything, from books to vases.
Gold Squares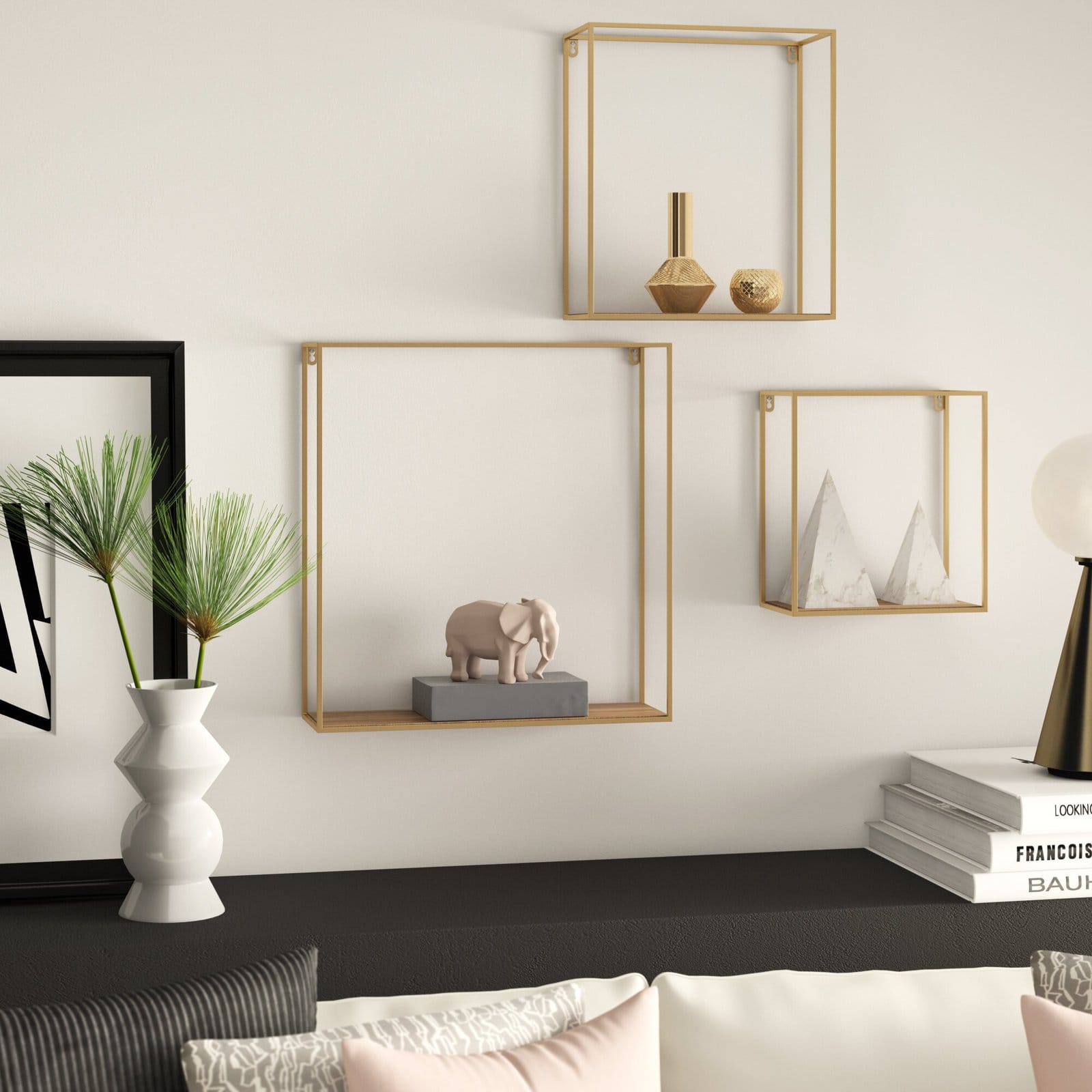 This set of gold squares provides a unique way to store and display items in your home. Although you can use them to store books, because of their chic design they would be best used to display special items such as ornaments or small sculptures.
Each square is made from a tubular metal frame with a gold finish, and a natural wooden base. Each square is a different size, and they can be displayed in any order or formation, depending on the look you want to go for. This wall shelves decor set would look amazing in a contemporary or mid-century modern home.
Minimal Modern Hanging Shelves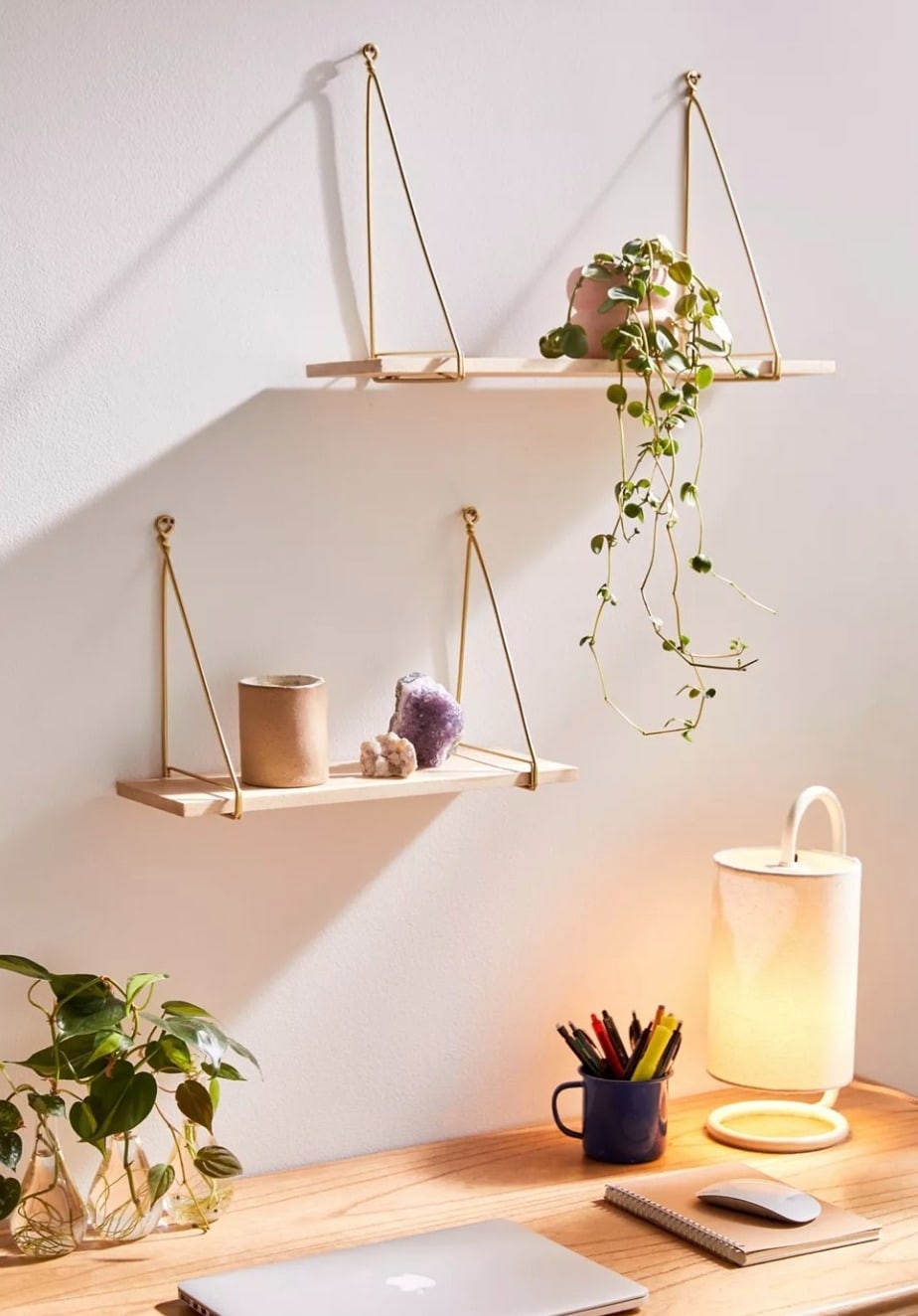 These minimalistic hanging wall shelves feature a simple design of natural and chic gold wire brackets. The wire bracket is attached to the wall above the shelf, giving the appearance that the shelf is hanging from a string.
These shelves are on the smaller side and are perfect for displaying ornaments, trinkets, candles, and other small items.
Final Thoughts…
Whether you are looking for bedroom shelving ideas on the wall, or accent shelving for your living room, hopefully these ideas will have inspired you. It just goes to show that shelving doesn't have to be boring, and if you want to inject some glamor, or industrial vibes into a room, adding some interesting wall shelving is a great place to start.
There are so many different options available when it comes to choosing shelving, so make sure you choose something that speaks to you and helps show off your personality!