Decorated Life is reader-supported. When you buy through links on our site, we may earn an affiliate commission. Learn More
25 Barn Door Ideas in 2023
Once limited to the farm, barn doors have made their entry in city living now. They add a unique style to homes and give them a rustic appeal. This is why several homeowners now use sliding barn doors.
And the best part is that these doors can be used not just for the entrance to your home but for several other purposes as well. Let's discuss some barn door ideas here that look good in modern city homes.
Natural Wood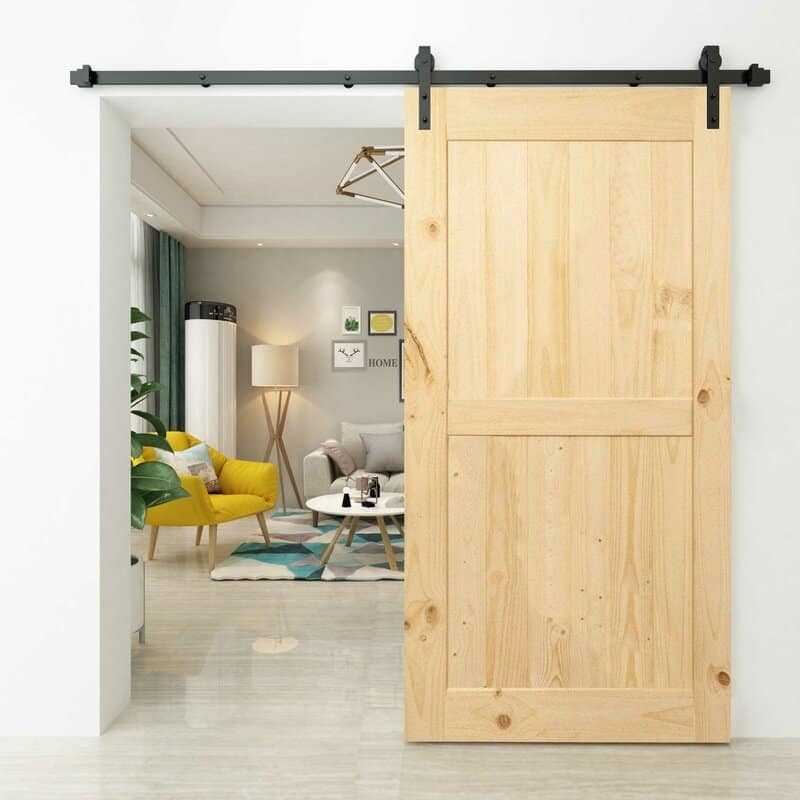 In terms of barn door designs, it doesn't get much more classic than the natural wood sliding door.
You can keep it as is for a Scandinavian feel or jazz it up with some contrasting black hardware. It's a door that will work just about anywhere.
Mirror Barn Door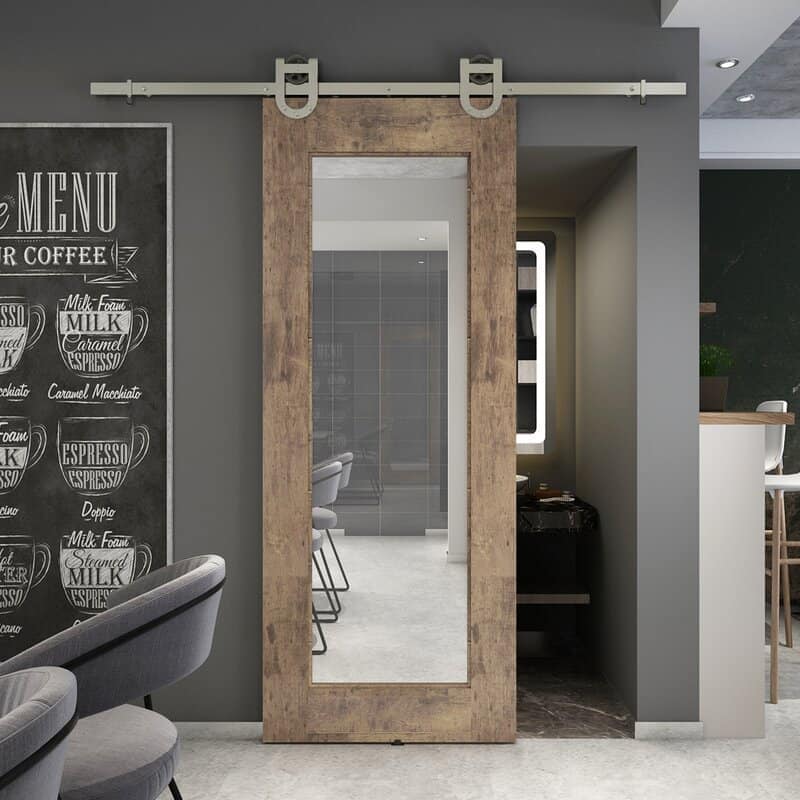 Mirror, mirror on the wall, which is the most beautiful barn door of them all?
The mirror on this door makes the room look bigger so if you're low on space, this can be the perfect door for you – stylish and practical. The dark-colored door frame is providing an accent to a white wall.
It can slide open to another bedroom, a changing room, a closet, or a bathroom – there are so many options to try.
Double Doors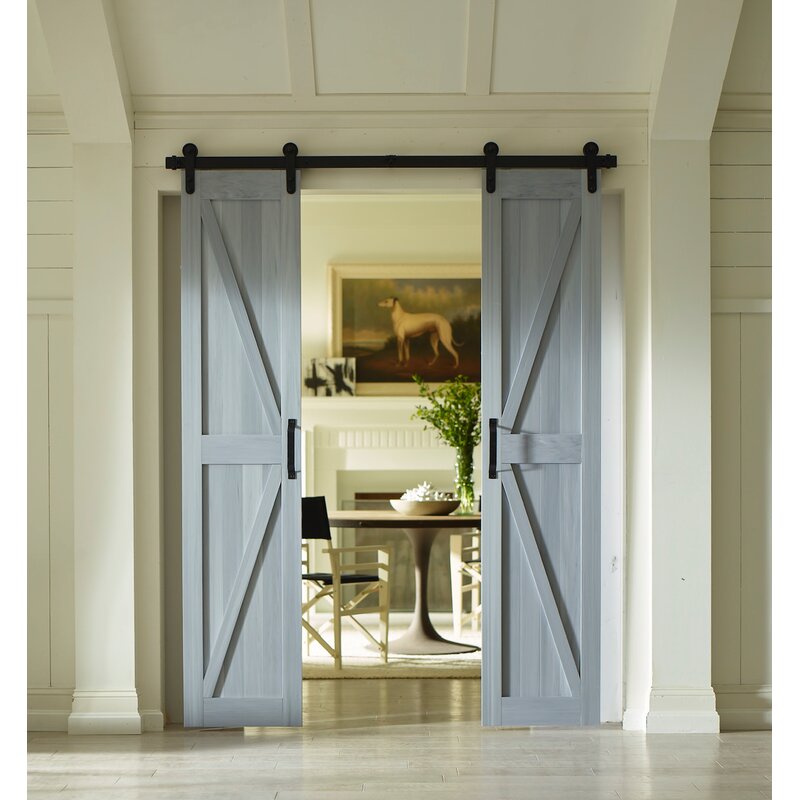 Single doors not appealing enough for you? Try the double sliding doors. Double doors give the old-school look and are also practical if you live in a small apartment.
If you don't have enough space to the side of the door space, you can divide it and get two doors instead. Plus, two doors let you have a more dramatic entry each time you open them!
Vintage Barn Door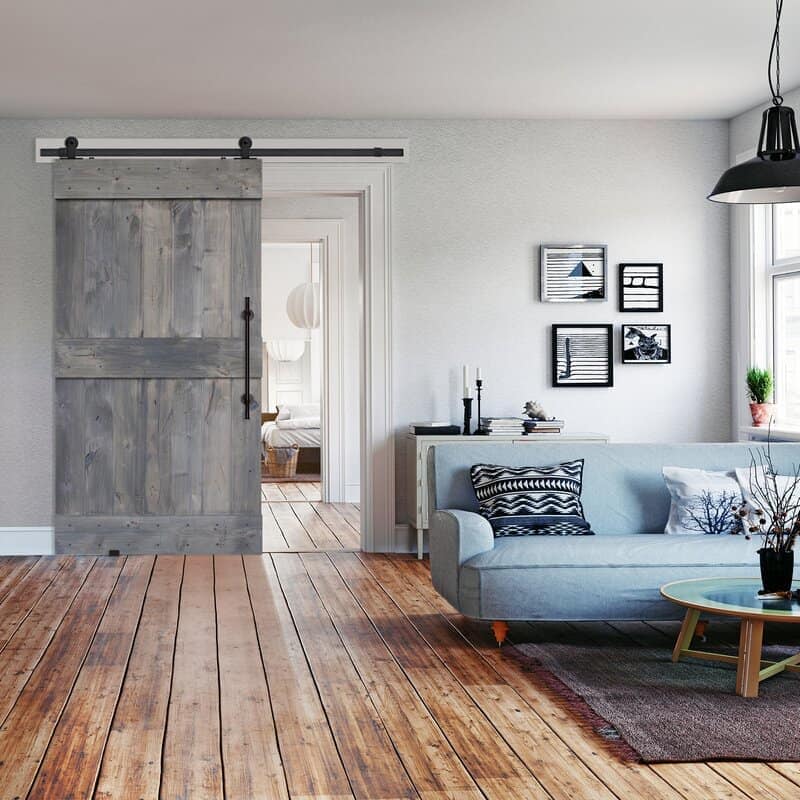 If you like antique things, you'll like the vintage barn doors. They have been given a worn-out look with chipping away paint. You can paint them in the right colors to match your walls and flooring. The handles also have an old school look.
Go through the portal of time and be a child visiting your uncle on the farm with these authentic-looking vintage barn doors.
Entertainment Center With A Barn Door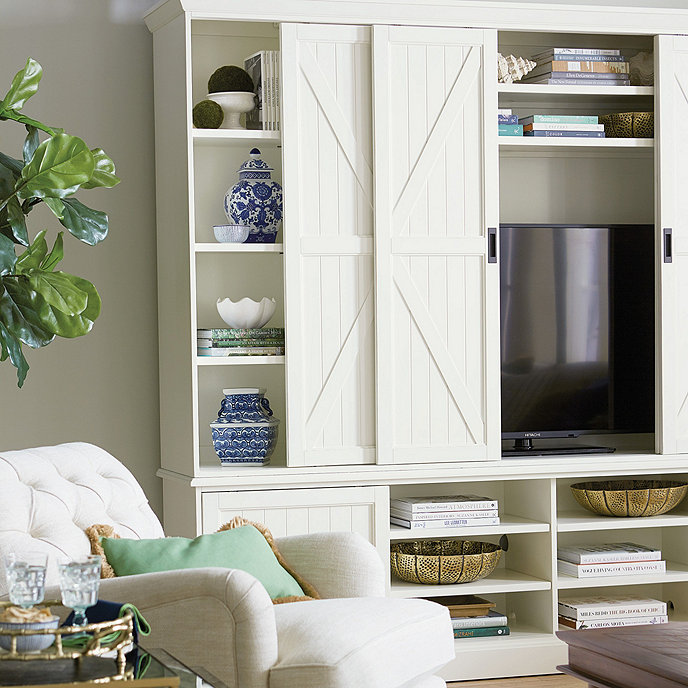 If you don't like seeing your TV staring at you all the time when it's not turned on, an entertainment center that will hide the screen is a must. But adding barn doors to it? That's just clever.
The sliding barn doors are not only stylish but also functional because it's easier to slide them open than to pull cabinets and tuck them to sides of the TV like many entertainment centers do.
A Stylish Serving Buffet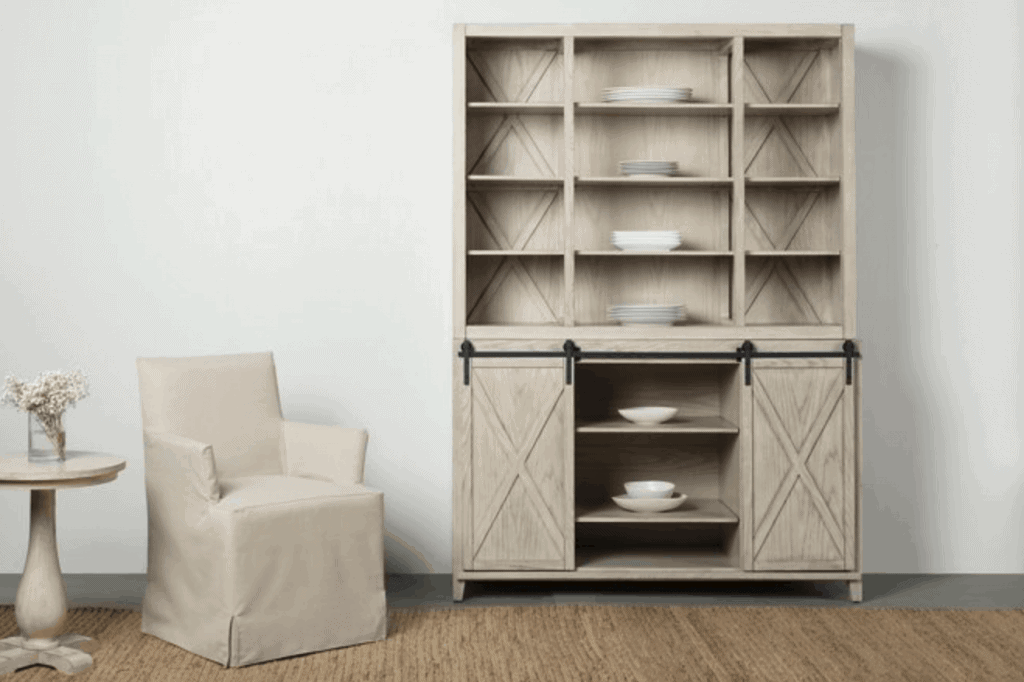 This serving buffet has a contemporary barn door look thanks to the grey coloring and overhead shelving to create a gorgeous display area.
If you're planning to store dishes and serving platters in this buffet, the sliding doors give you easy access and a farmhouse style.
Chalkboard Finished Barn Door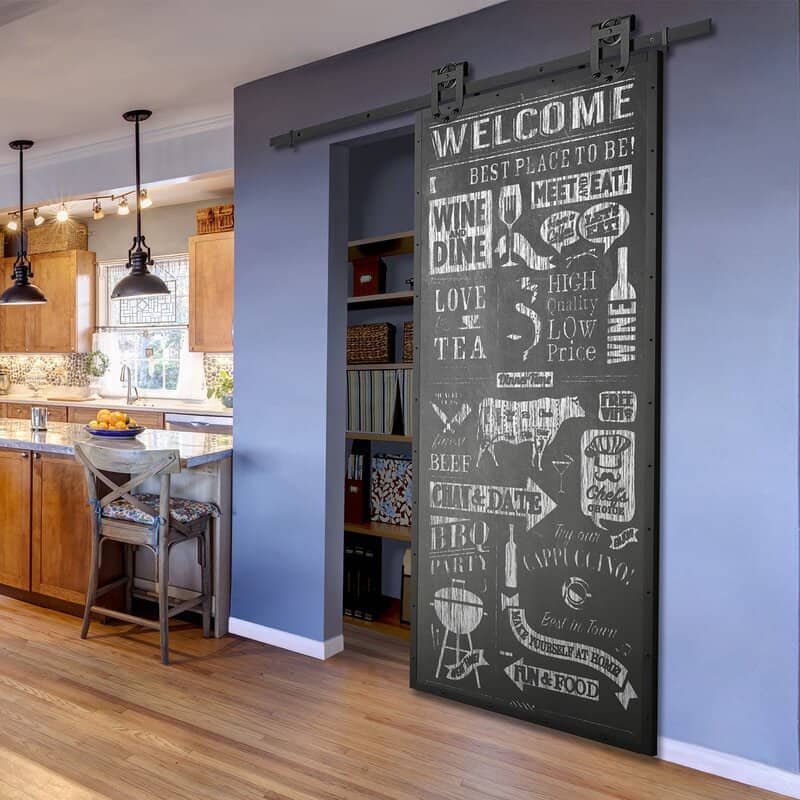 A barn door that's a door and a signboard. Ideal for a chalkboard artist, this barn door will give you all the room to practice your art.
Write down the meal plan, to-do list, ingredients, shopping list, or just draw some flowers here – there's so much you can do with a chalkboard barn door. It's a unique way to utilize space. Wow your guests with your creativity.
Herringbone Patterned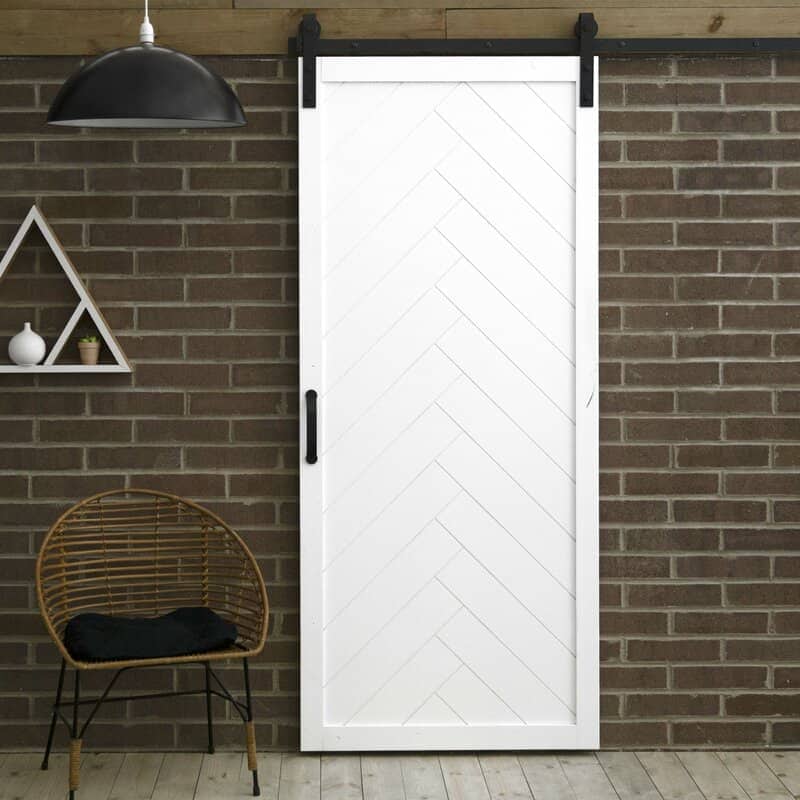 Even if you're not a huge fan of the farmhouse trend, you can still have an interior barn door that won't add any rustic charm to the rest of the room.
This herringbone-patterned door is the perfect example. The design is contemporary, the hardware is sleek and minimal, and it adds a stylish touch to the otherwise warehouse-style room.
Industrial Glass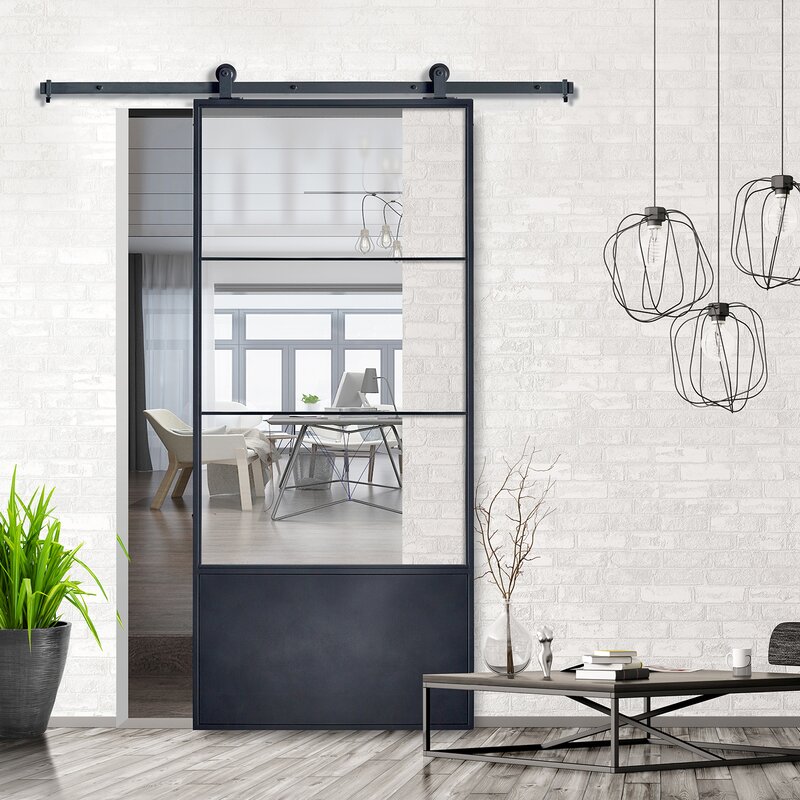 This barn door is especially great for anyone with a mid-century modern vibe in their home, but it will also fit in nicely with an industrial design.
What's great about glass barn doors is that they don't block out any light, so you don't have to risk having a dark room.
Colorful & Bright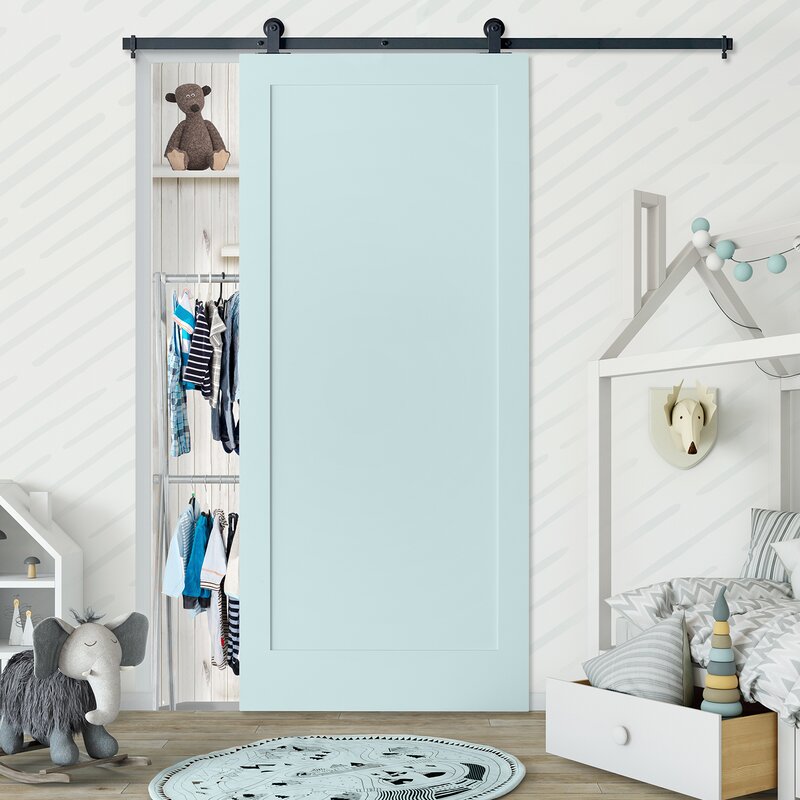 Barn doors don't have to look utilitarian, they can still have a little bit of a fun factor to them! Just paint it a bright color and you'll have an easy-to-use door and add some vibrance to a room.
A pale blue will work well in a nursery, but this doesn't have to be limited to kids' rooms. Add a bright turquoise door to your laundry room or a dusty rose door with gold hardware in your office.
Unique Style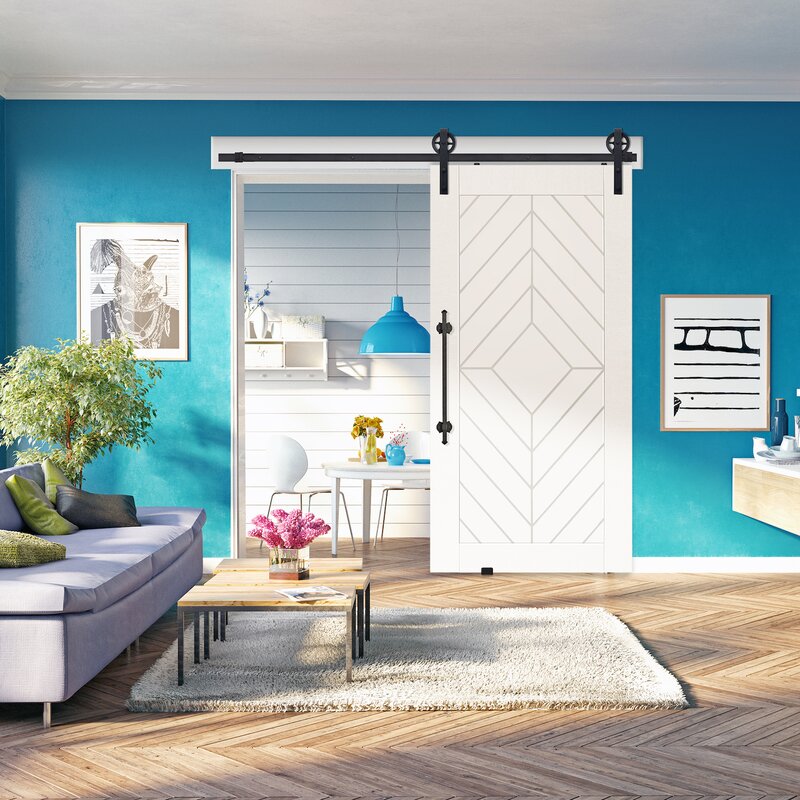 There are plenty of barn door styles to choose from, but you don't have to go traditional with yours. Look for something with a funky pattern or copper hardware to change it up a bit.
This door has a diamond pattern that complements the room with bright walls and accents.
Glass Etched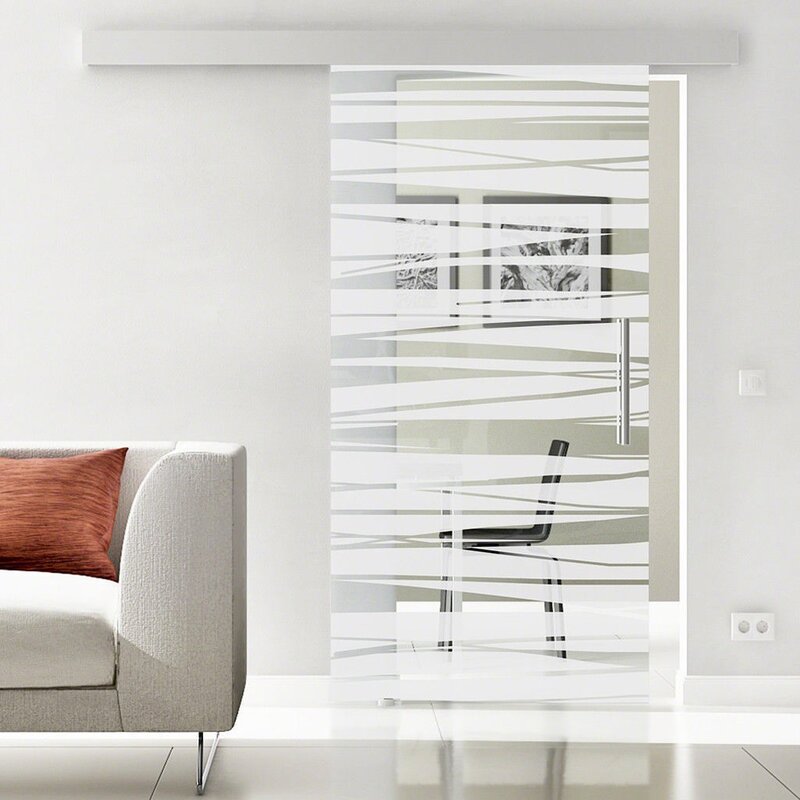 For a modern barn door, consider a glass etched style. It's a clean and stylish way to close off an entry without making the room itself feel too closed in.
There are so many different styles of glass barn doors with all kinds of etched designs, so you'll be sure to find one that matches your style.
Closet Doors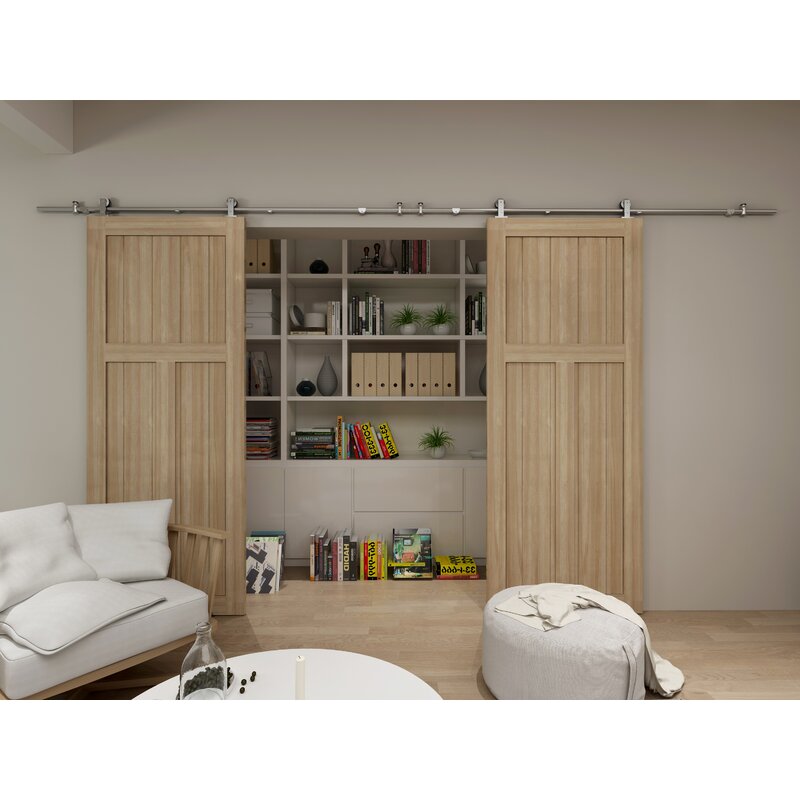 There are so many potential ways to use barn doors, like replacing builder-grade sliding closet doors with double barn doors instead.
You can also come up with a cool barn door room divider if you want to section off your open floor plan, or just add a little something extra.
Bathroom Vanity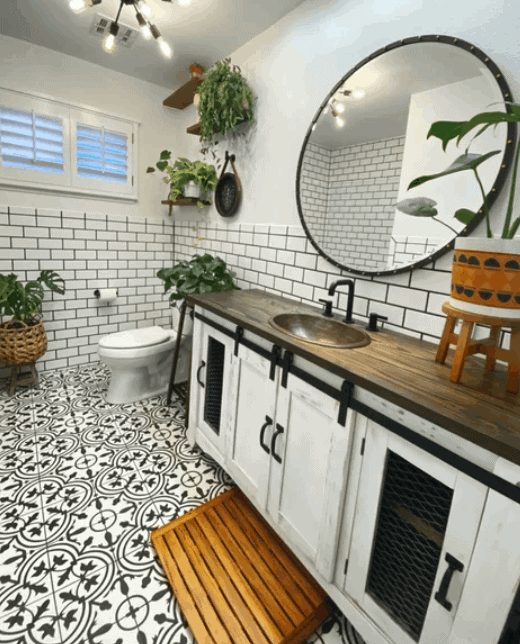 Behold, the bathroom vanity barn door that's perfect to store extra toilet papers, soaps, and some ointments. If you are planning for a bathroom makeover, make sure you install a barn door to accentuate the looks of the space.
Everything about this bathroom would have Joanna Gaines swooning. It's the perfect balance of farmhouse chic.
Glass Pane Barn Door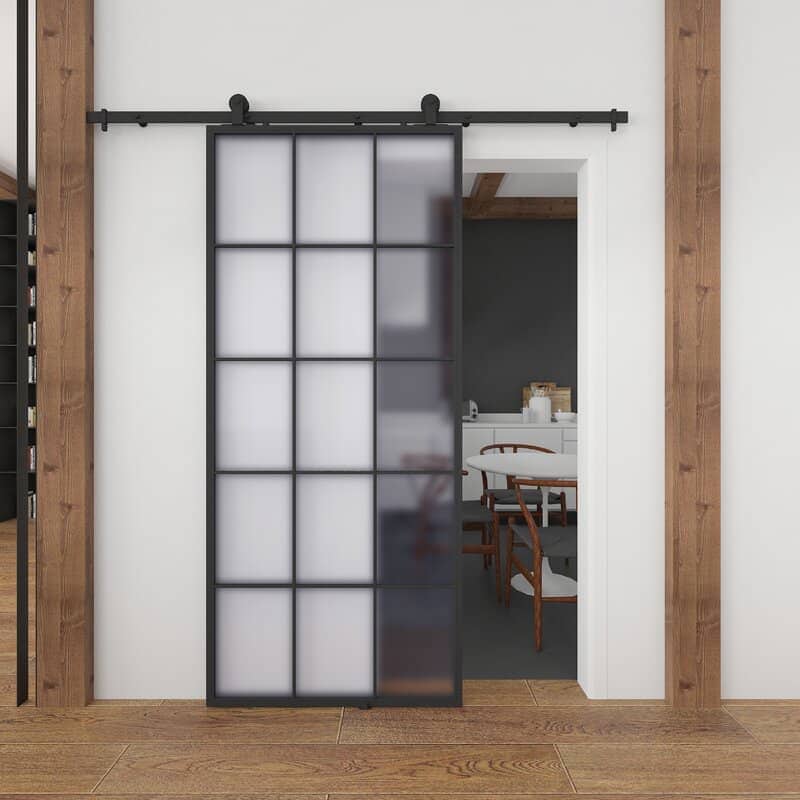 Perfect for the kitchen entry, these glass pane barn doors will let you know what's cooking. A perfect addition to a modern home, these barn doors will attract the attention of visitors and keep the home looking beautiful.
And there are a number of glass panels to choose from – clear glass, stained glass, frosted glass, and a lot more. You can even customize the door and get bigger or smaller panels.
Double Chevron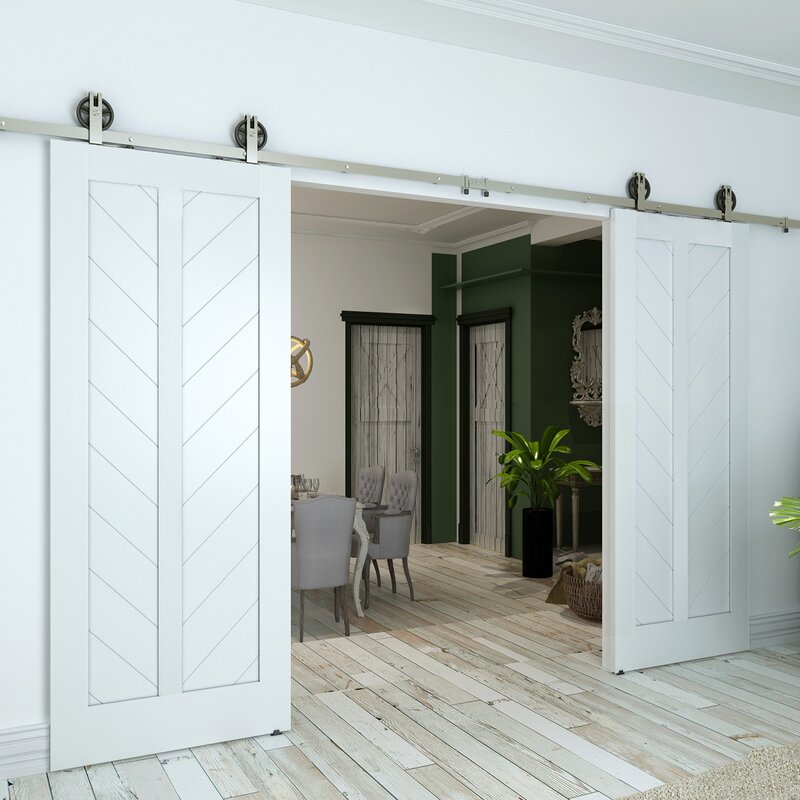 Chevron may not be as big of a trend as it was a few years back, but if you do it right it can still look really great in a house – like with these barn doors!
The more modern pattern pairs well with the wood floors to give the space an updated but still rustic look.
Privacy Glass Barn Door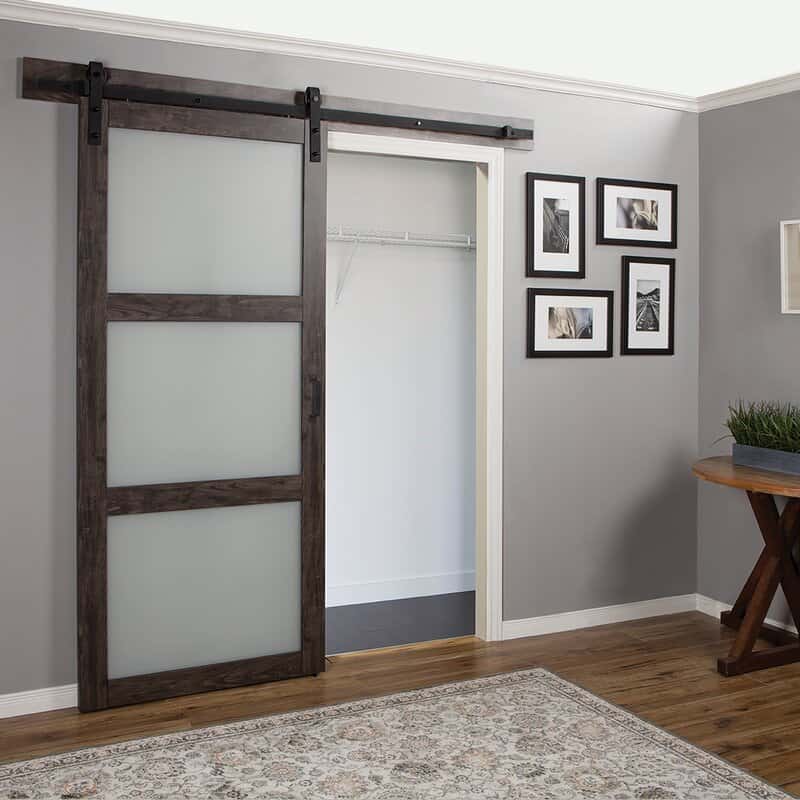 You don't have to sacrifice privacy for a glass barn door, you just need to get one that is made with the right glass to do both.
Look for something with a frosted glass, or textured like you'd find in a bathroom window. You can also apply a temporary adhesive to get the same effect for less.
Brighten A Room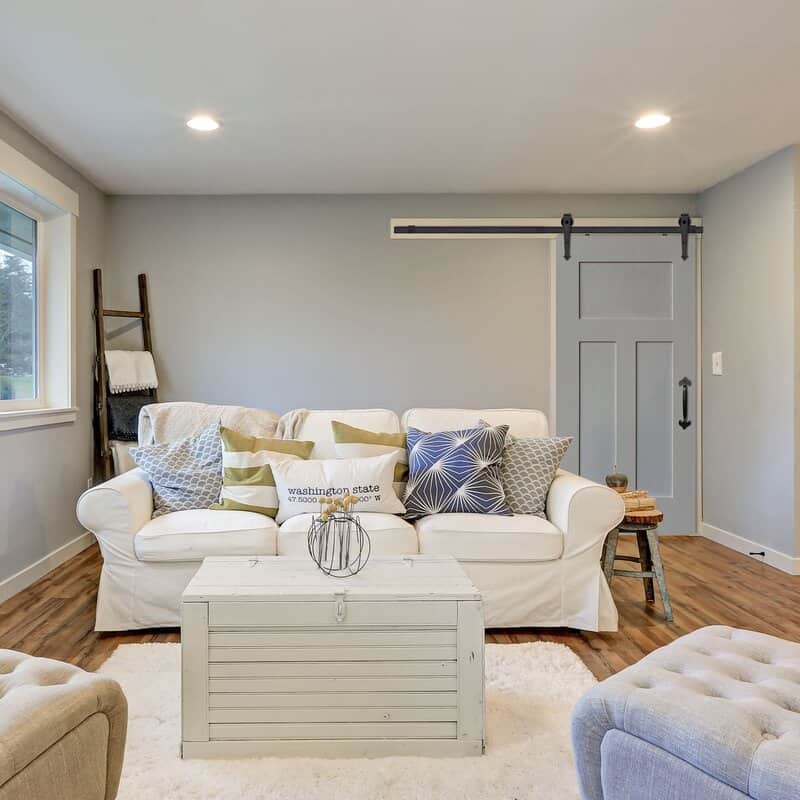 The light, airy look that is synonymous with the farmhouse trend is inviting, but it's also kind of bland. So, use your barn door to add a little color to it.
This light room has a vibrant touch thanks to the powder blue barn door with dark contrasting hardware. It perfectly fits into the aesthetic while also standing out.
Rustic Accent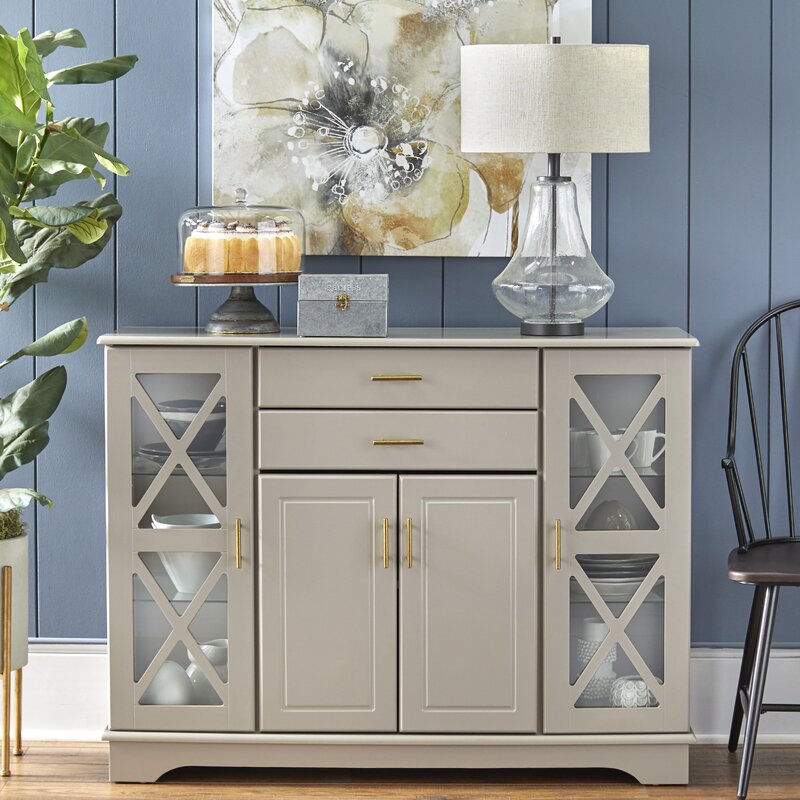 There are a few ways to made something modern look rustic, put the work into to give it a weathered look, or add some clean barndoor-inspired cabinet doors to it.
This entertainment center is pretty basic, but the barn door glass cabinets on either side of it make it so it fits perfectly into a farmhouse chic home.
Oversized Master Bedroom Door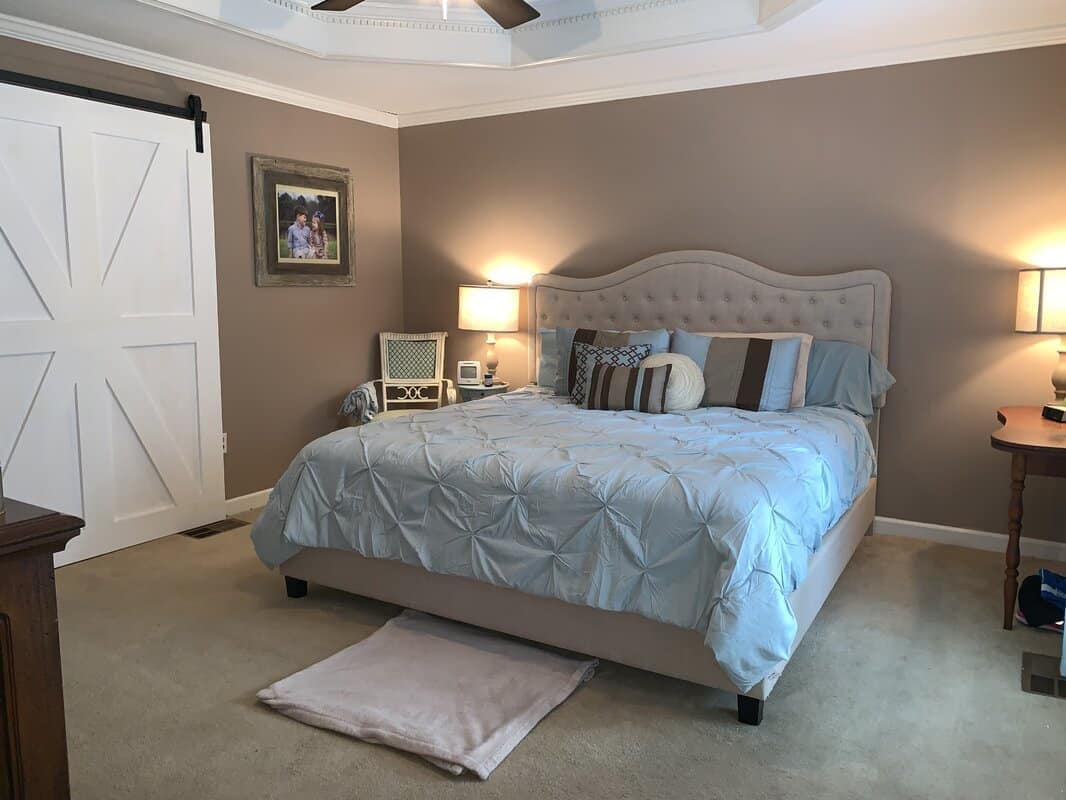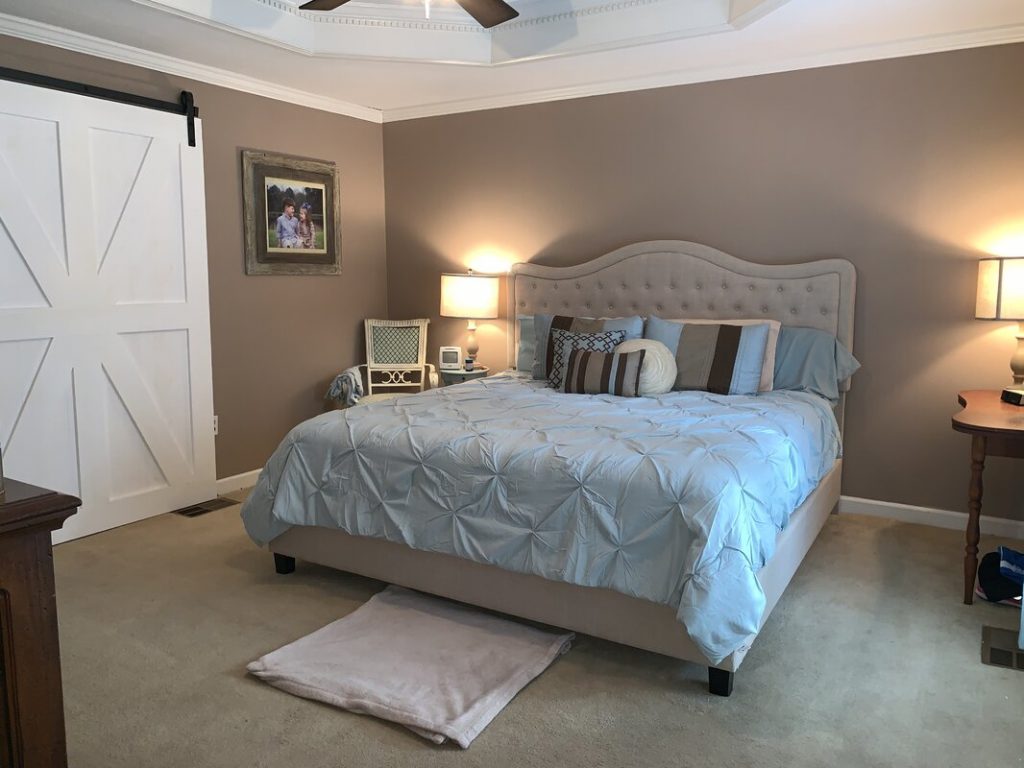 You can use double barn doors for a large entryway, or you can get one massive door like the one hung in this bedroom.
If you're going to go the "giant" route, try to pick a door with a pattern or some other kind of texture so it doesn't just look like a piece of plywood hanging there.
Reclaimed Wood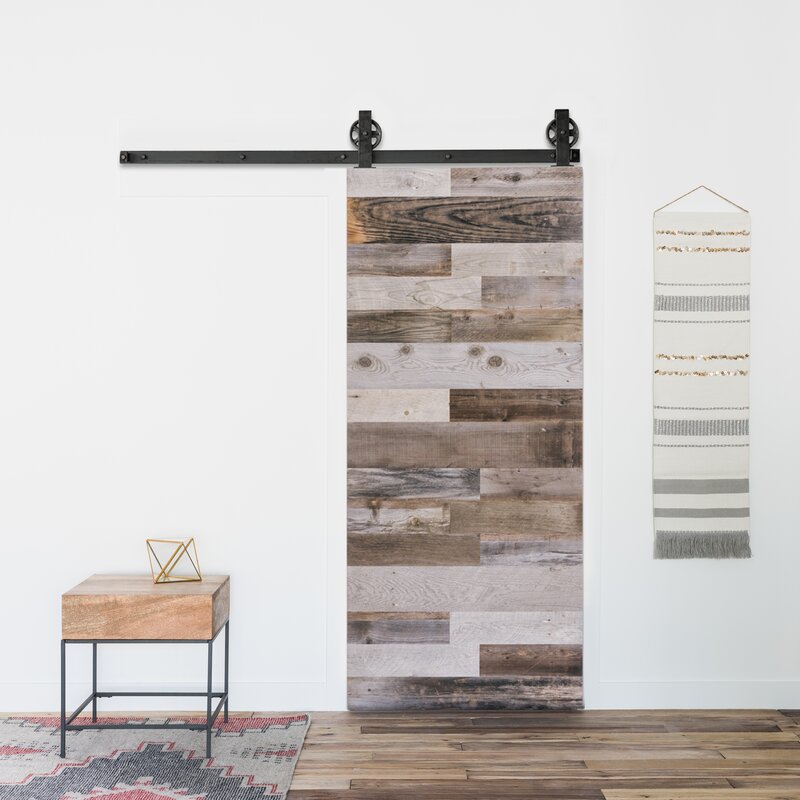 One of the key ingredients of a farmhouse style is incorporating touches of reclaimed wood throughout the home. This particular barn door isn't actually made of reclaimed wood, but it sure looks like it!
Reclaimed wood will look amazing on an interior or exterior barn door, and the more mismatched it is, the better.
Farmhouse Dining Room Entry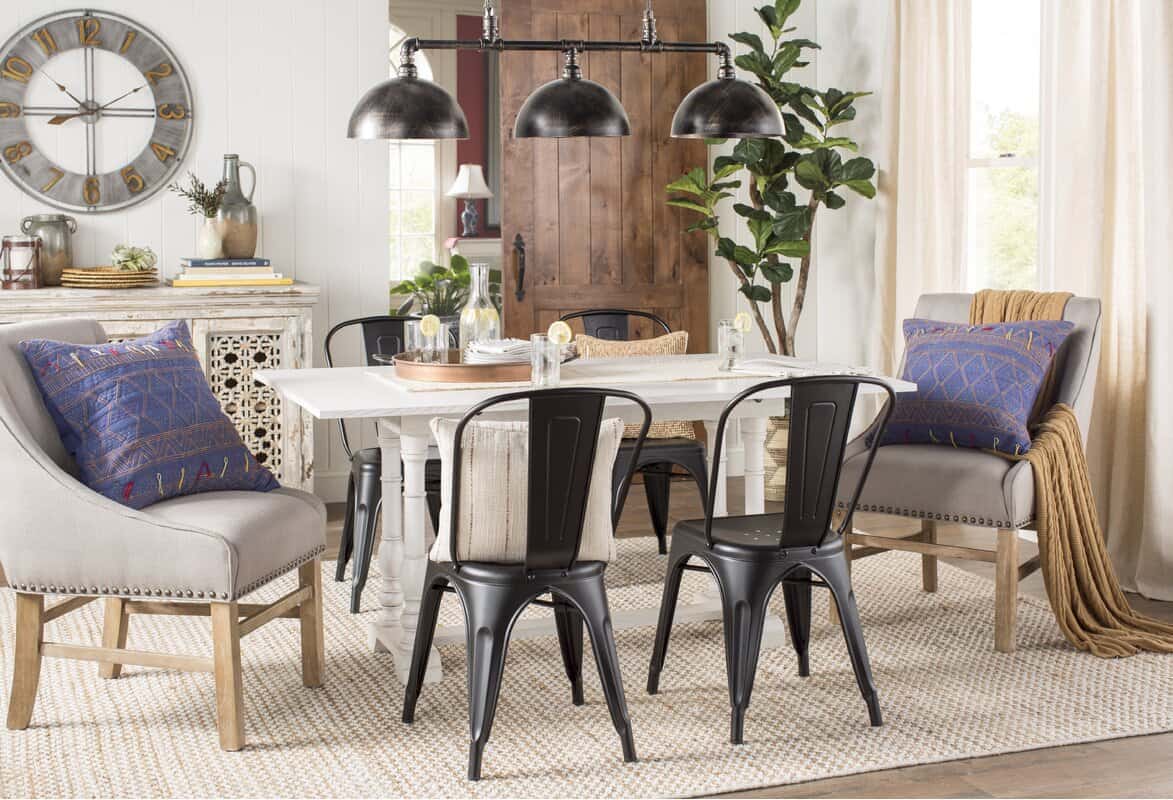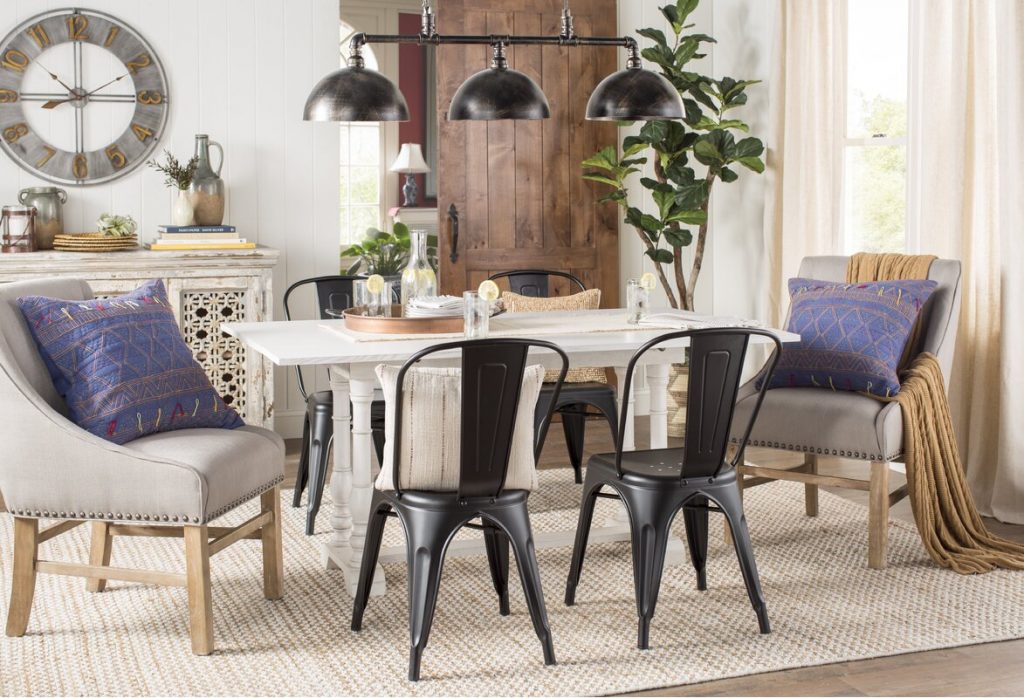 If you're going to go for a farmhouse dining room style, you need to go all-in with a barn door.
This dining room has all the elements of a great farmhouse style, from mixed material seating, the long wood table, perfect light fixture, to the barn door as a finishing touch.
Kitchen Island Accent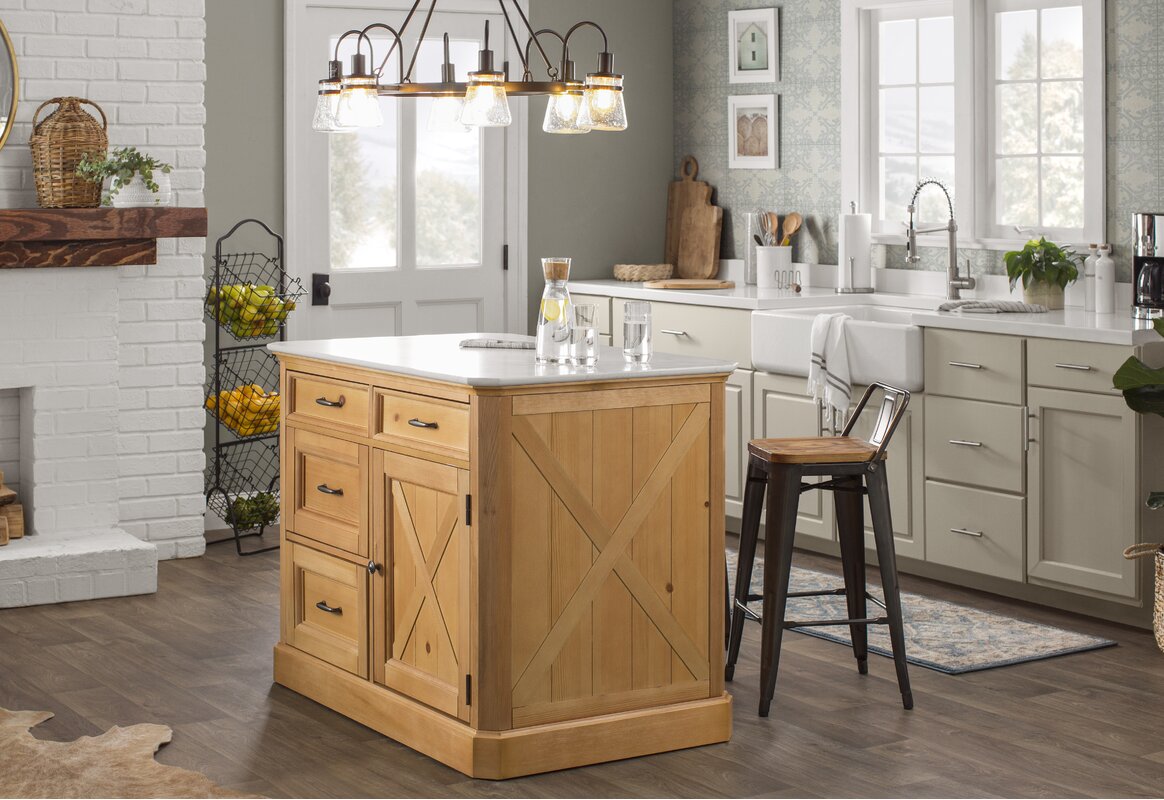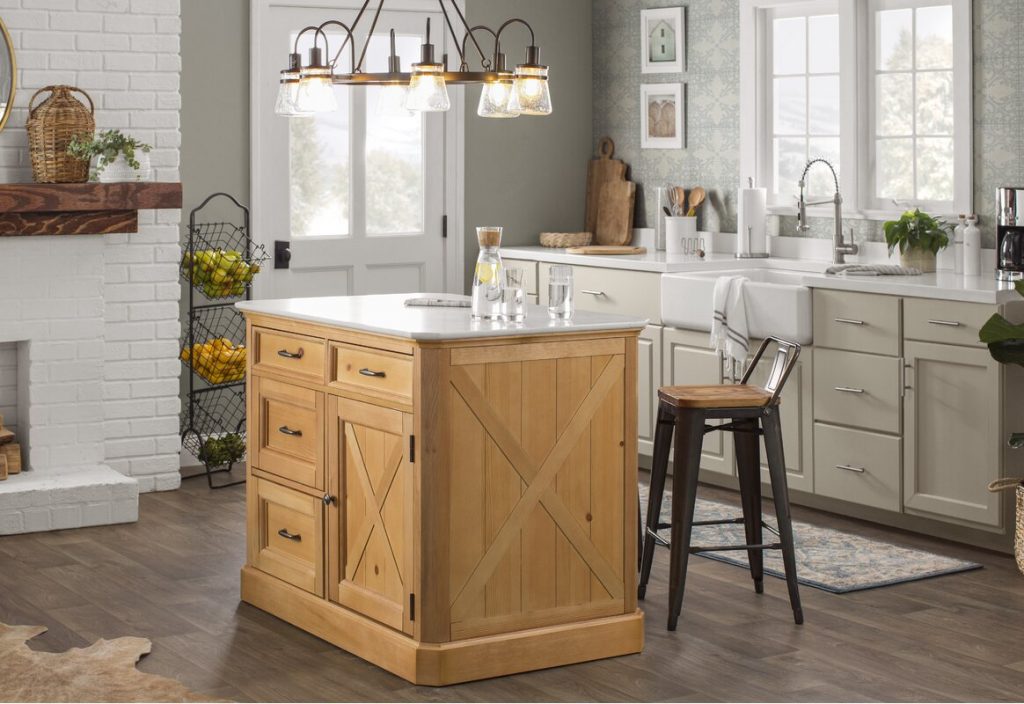 If you don't have enough space for a kitchen barn door, you can still incorporate the look by accenting your island or counters with a barn door style.
This island is a great example of how a barn door can inspire a broader rustic look.
Stylize A Mirror
This is brilliant – if you have a mirror that could use a little something extra, or that you'd like to cover when it's not in use, add some barn doors to it.
This particular piece is a small accent mirror designed to be decorative, but you can easily take the concept to a larger mirror as well.
Headboard Inspiration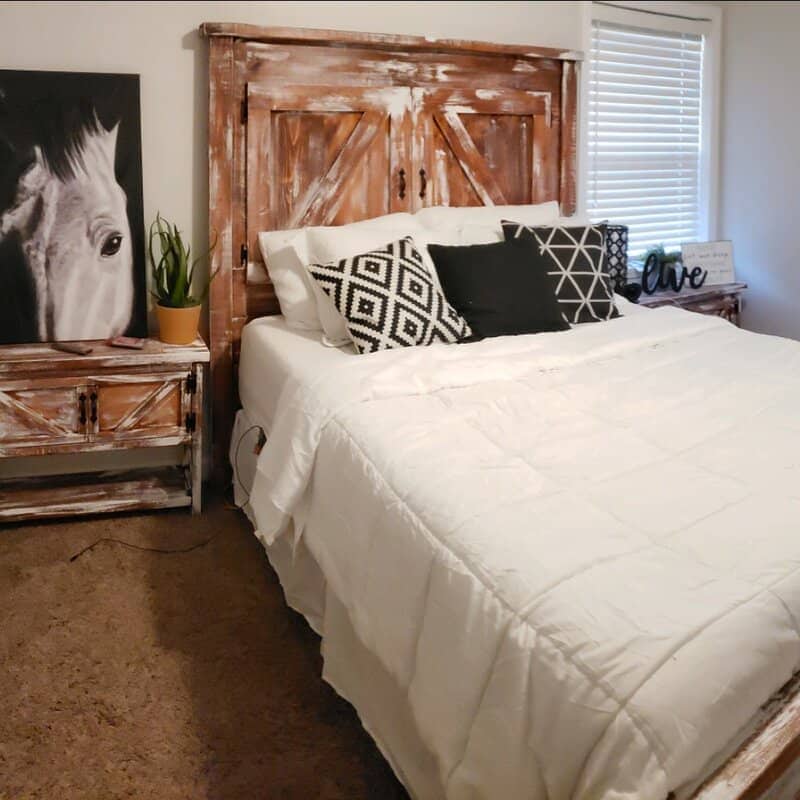 Old barn doors can be used in so many different ways, like as a headboard.
This room is full of farmhouse charm between the headboard and nightstand, print of a wild horse, and the light airy feel of the space as a whole.
Barn Doors are Popular
Barn doors look amazing and are very functional, which is why they are quickly gaining popularity.
After all, they are big space savers. Swinging doors need a lot of extra space to work right. Barn doors, on the other hand, can simply be slid to give way.
And they aren't just an outdoor thing anymore. Install them outside or inside, make them big or small – they can be used absolutely anywhere.
Don't limit yourself with these ideas. Barn doors can be used in your kitchen, living room, bathroom, bedroom, and just about anywhere.