Decorating Techniques - How to Make a Chalkboard
Chalkboard Paint to Organize
Yo
ur
Kitchen, Pantry, Family + Office
Blackboard paint, also known as chalkboard paint has come along way from the classroom. This is a simple decorating technique that can help organize kitchen, pantry and even your office by using it to make a chalkboard from an unused wall or making one for less than $30.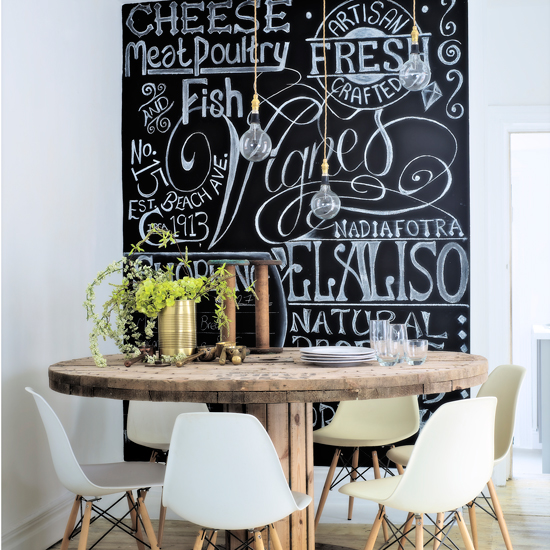 One of the easiest places to add chalkboard paint is to your kitchen. You could add chalkboard paint to the outside of a cupboard door like this...

Or add it to the inside of a cupboard door in your kitchen, laundry or garage or to label garden herb pots. Work out if it is a permanent feature or one to be changed regularly. If you plan on leaving it, then use more permanent chalkboard pen or pencils. They smudge less and are more difficult to remove.

Feeling a little crafty? Here's an idea to get your message across. Its customizable too.
You can go bigger, adding chalkboard to your wall, on a door, to a refrigerator or repurpose an old window like below, from Thistlewood at Hometalk, by adding a board and some paint and you have a chalkboard calendar for the whole family. Perfect if you have children or a busy household. Follow the link on the image below if you would like the tutorial.

This is a great way to keep your life on track without breaking the bank. This look can work in small apartment decorating, a busy home or for office organizing.
If you don't like the idea of painting over a wall with chalkboard paint, remember that you can buy large chalkboard peel and stick sheets like the one below to use on a door, wall, glass or cupboard. Either approach is inexpensive and quick!

Chalkboard Tips:
Mostly commonly found in green or black. You can lighten it to get shades of each color- or make your own - see video below for details.

Buy it as a spray or in a tin.

Use it on

doors,

walls,

glass,

refrigerator,

cabinets,

and furniture.
Keep reading below for the art of choosing a chalkboard and how to 'season' it so it looks more authentic.
If you're concerned your chalkboard wall could end up one big mess, consider using it on a wall space that doesn't get a lot of traffic... and out of harm's way, like the kitchen bar wall below. Yes, it's great decorating technique you can use again and again.
The Art of Lettering
You can change your wording and graphics as often as you want or you can choose something a little more permanent and neater with this chalkboard lettering pen.
For perfect lettering, print out your favorite saying, headings or graphic, rub chalk all over the clean side of the paper, then taking a pen or pencil, trace the words, directly on to the chalkboard. The chalk should leave an outline. Go over this with your chalkboard lettering pen to get a clearer outline of your words or graphic.

There are different pen thicknesses; so be aware if you decide to invest in chalkboard pens that you may need more than one. The link on the image below has more examples of Chalkboard art.
Chalkboard Basics
Not all chalkboards are equal. If your chalkboard has a wood base; regular chalk works best. Wood based chalkboards scratch easily if you use chalk pens or pencils and does not respond well to water (for cleaning). Other surfaces like porcelain, metal, laminate or vinyl, work better for chalkboard art using pens or pencils.

Seasoning chalkboards.  Seasoning your chalkboard prepares the surface so it will not leave a permanent stain or mark (called burning or ghosting) when you remove the chalk. To season your chalkboard rub regular chalk over the entire surface, then remove with a dry paper towel or cloth. The chalk film protects your chalkboard and gives it a used look.
Different Types of Lettering Chalk
Regular Chalk - its the classic chalkboard look; prefect for shading and outlining. Using a pencil sharpener will help you keep crisper lines.
Chalk Pens – come in a great variety of colors, tips size and apply evenly. You can also use them on other surfaces apart from chalkboards; directly on glass or metal. They come two types; 'wet wipes' and 'artista pro' (does not remove easily when wet).
Chalk Pencil Crayons – these crayons are helpful when sketching or outlining a design but do not remove easily - so take care! 
Chalk Removal! 
Most of the time, a damp microfiber cloth can remove regular chalk from a quality chalkboard.
More difficult chalks, like pens or pencils may need extra scrubbing such as Windex wet wipes.
If all else fails repaint your surface with chalk paint. Some surfaces over time will fade and need another coat of paint. Its natural.

Placing chalkboard stickers, or paint, on your refrigerator doors can be very helpful when it comes to organizing your shopping list, things to do, quick telephone numbers or event details.

Here's a video if you decide you would like to create your own chalkboard paint colors! Your chalkboard wall could be in a similar color to your wall paint, or door paint color - making it less visible, unique and less expensive.

What about one that is colored and magnetic?

If you have more ideas and decorating techniques, like the one from Home Edit below, using chalkboard paint or tips on how to paint with chalkboard paint to organize your kitchen or pantry please send us your ideas and comments.
Please Like us on FB and Share - because life is better when you share!
Save
Save
Save
Save
Save
Save
Save
Save
Save
Save
Save