Emerald Green Living Room Ideas
This season we've seen jewel colors in bold schemes. Emerald green is a real favorite. Regal and striking, this can be used throughout your entire living room scheme or picked out in accents through furniture, soft furnishings and accessories.
So how much emerald green should you use? That will be according to your tastes, whether you want a cozy, elegant look or something more subdued.
And what does emerald green match with? Depending on the look you want, you can clash or complement. Experiment for the look you love.
There are many plush green options available in a number of textures, styles and designs.
Paint Your Walls Emerald Green
Dramatic Green Living Room
This color scheme is dark and opulent with a sense of mystery. The eggplant color of the door is contrasting, yet complementary, as it is in the same tone.
The metal plant pot lifts the darker shades. The gold of the pot and the shape of the dark green plant bring to mind the 1920s. This could be the corner of a Gatsby party.
If this paint combination surprises you but you want to know more, then you might like to look at this guide for decorating with emerald green.
Paneled Walls in Green
This room goes all out on decadence. From the emerald paneled walls, to the pink velvet sofa, the bold artwork, plush carpet and the glamorous chandelier.
It looks expensive, right? In fact, you could recreate this look on a budget. Most of the sense of wealth has been created by use of color.
Painting the walls in this dark green adds luxury and this is emphasized by the paneled detail. By buying some cheap wood rails, you can create this in your home.
Choosing dark, jewel colors as a background, you can add sparkle with a glass light fitting that you could either find cheaply online or in your thrift store. Also with furniture, it may surprise you what you can find online or locally when you are looking for antique pieces.
Super Cool Dark Green with Brights
This eclectic room is bold in color and texture. The Art Deco side table and the leopard print pillow with exotic accessories and plants bring this room right up to the moment.
Totally unafraid of color, the chair and rug burst out from the green backdrop. If you have green walls and you're unsure what to add then consider some brights like this in your living room.
Earthy Colors with Green Walls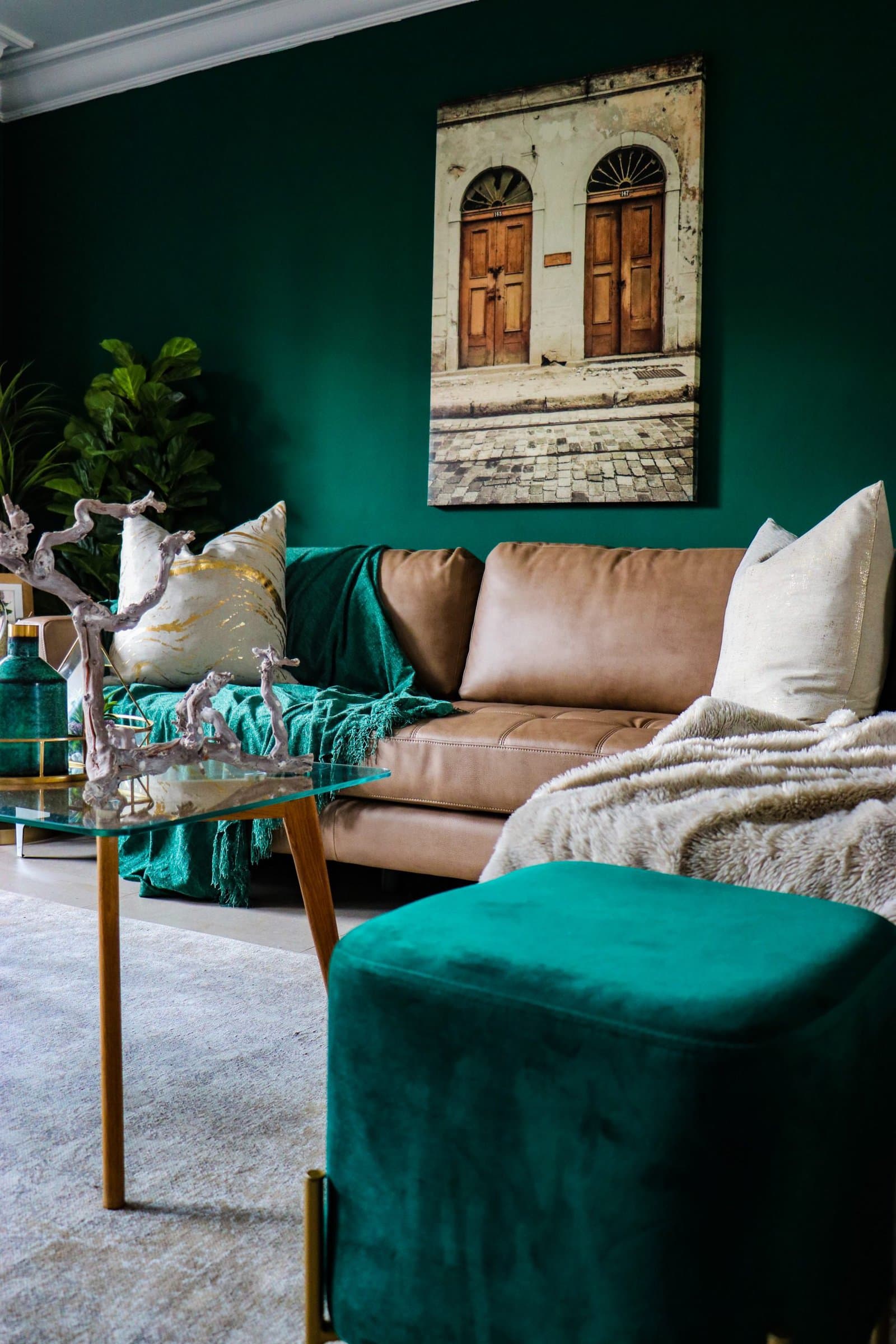 As a departure from the jeweled, dramatic look, this room uses emerald green as a background to more dominant earthy tones and shades.
The tan leather sofa is strewn with natural pillows and a cozy blanket. These accents tone in with the artwork on the wall as well as the rustic sculpture on the coffee table.
The green color at the opposite end of the color wheel makes the tan leather pop. If you've invested in a new sofa then this could be the color palette you'll choose.
Mid Century Style with Emerald Green Wallpaper
This living room is truly retro so if you're into all that is hip, you might like to copy this look. There is grandeur and a timeless quality through the wallpaper, the velvet curtains and couch.
The artwork and the pillow both add a dash of color and denote a mid 20th century trend when Tretchikoff art prints seemed to be on a wall in every home. So if you have a hankering for the fifties and sixties, this might be a look you'll replicate.
Emerald Green Accents
Velvet Cushions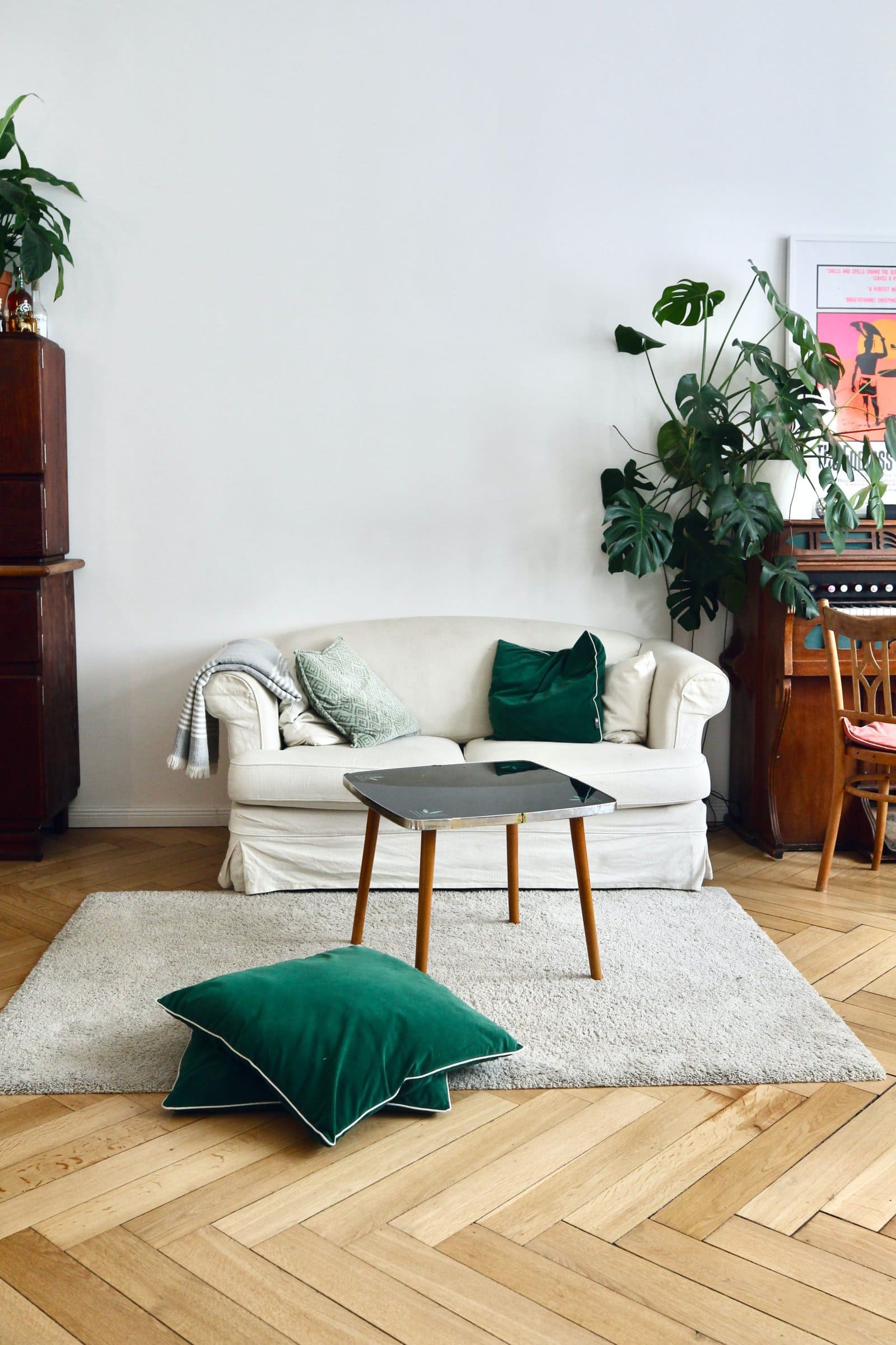 This cool, natural look with a plain white sofa and pale rug are given a lift through the use of a green velvet pillow and floor cushions. In what is otherwise a pretty puritanical setting, they add some texture and glamor.
The cushions are the same shade as the tall monstera plant which contrasts with the pink and orange art print. The natural wood of the stunning herringbone floor and the furniture keep the overall look of the room simple and fresh.
Dark Green Blanket
This otherwise natural living room look is given a touch of luxury by this opulent blanket. Draped over a couch it adds texture and lavishness.
If you love emerald green but don't have the time to decorate the whole room then this is a nod to the jewel color trend at a fraction of the price.
Modern Art Print
The modern style of this art print in duotone white and green against the dark green wall with the light gray sideboard creates a fresh look.
Not only for opulence, when it's paired with muted tones, emerald green can be crisp and fresh. So if there is a spot on your wall, see if you might find a similarly cool artwork.
Decadent Fireplace
In this living room theme, the walls, radiator, lampshade and the fire surround are painted in a gorgeous emerald green.
This feels relaxing and calm but it is broken up for interest by the ornaments and the fire tile, as well as the wood finish of the furniture.
Sometimes we think we have to use two colors of paint but what brings contrast here is the contrast of other objects.
Furniture
Emerald Dresser for Color Pop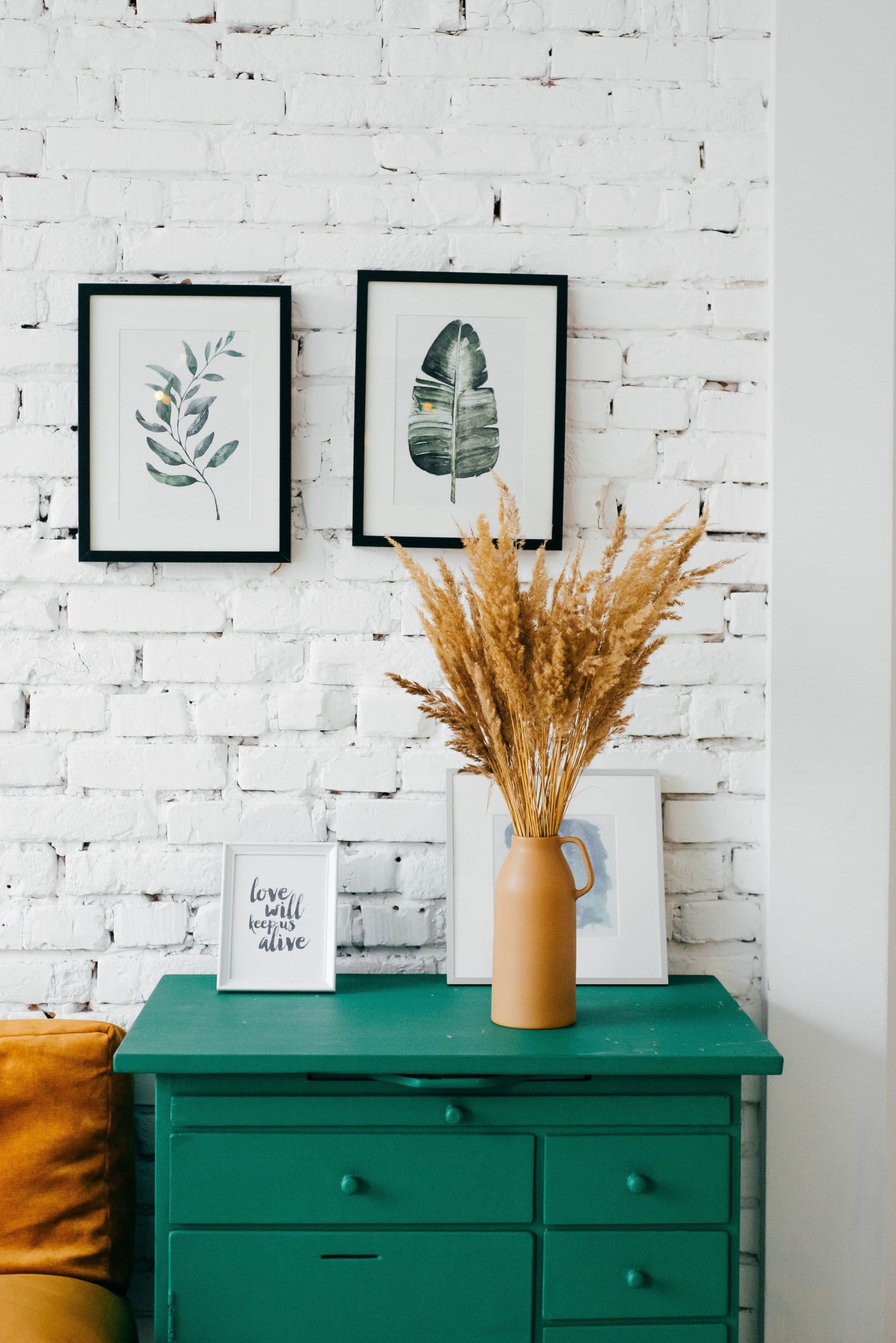 This is a great idea for an update. If you have a simple color scheme then get out the furniture paint and add a burst of green to your living room.
Simply sand the surfaces, prime and choose a durable paint to transform a tired dresser into a beautiful accent piece.
Velvet Chair and Ottoman
Jewel colors in velvet work so well, the texture and color both signify luxury. This chair and ottoman pairing against the funky wallpaper would be a great addition to a reading nook or in a recess in your living room.
Styled with a natural twine rug and black metal accessories, this adds a hint of rustic to this interesting scheme.
Jewel Color Sofa
This emerald sofa is matched with a sapphire color wall and opulent purple pillows. For hints and tips of using jewel tones in your home see this wonderful guide.
The dark tones are of the same shade which are given definition when paired with wooden furniture and an unusual light fitting.
Gold and Green Living Room
In this living room, gold framed furniture is matched with dark blue walls and a velvet green sofa. They are styled with a striking black and white patterned rug and then layered with ornaments, plants and lights.
Keeping the walls and sofa plain means that layers of texture and character can be added. If you have a room that is a little on the dull side then add some interesting items.
Clean and Fresh Scheme
Mostly we see emerald green matched with dark colors and it is used to create an opulent, luxurious ambience. In this room, however, it acts as the pop of color together with the gorgeous strawberry chair, picking out bright tones from the gallery on the wall behind.
The multi colored pillow tassels and brights including the rug are saved from being lost by the fresh white color on the walls.
Conclusion
Emerald green looks fabulous in living rooms with other jewel colors such as dark blue and purple, as well as matched with trendy gold framed furniture.
It can also be used with whites and neutrals for a calmer, subdued effect. How much you want to use depends on how much drama you want to create.
Using emerald green many times over or paired with other dark colors will give a warmth and intensity. Used in accent touches and furniture, it can inject interest into a dull room.
Emerald green finishes can look expensive but can be replicated on a budget. So check out second hand stores and local garage sales for an emerald bargain.