Farmhouse Wood Range Hood Ideas
A range cooker looks wonderful in a farmhouse kitchen and even better with an elegant wood hood. You might have a true farmhouse kitchen that you want to update, in which case there are a whole load of exciting ideas to choose from.
Or maybe your home has a standard kitchen that you want to give a farmhouse look but you're not sure where to start and need a little inspiration.
For all budgets, whether bought or built yourself, you might be surprised at the number of wood range hood options you will have.
Traditional Wooden Range Hood
The kind of range hood you might picture in a farmhouse or country style is one built from wood with an inverted triangle shape reaching to the ceiling.
In any kitchen this will evoke thoughts of baking apple pies in an apron or coming home after working the land. Built in a chunky wood with plenty of strong detail and woodgrain, this will work as a statement in your kitchen.
Rustic Range Hood
Range hoods can be grand statements or subtle and cute. Whichever way you go, a rustic wood range hood looks just right in a farmhouse kitchen.
Perhaps you have plain white kitchen cabinets. Then you have the perfect backdrop for a rustic cooker hood. This style should show the plank and the grain of the wood, and if you want it can be a little rough and characterful.
What's more you can build your own wooden range hood, saving on getting someone to do it for you and having materials as your only cost. Recommended styling for this look would be simple – white walls and tile together with plain cabinets.
Maple Staple
If you like the look of a wood range hood but want something a little more sophisticated, a smooth maple wood surface will look gorgeous.
With a nod to early twentieth century rustic aesthetics, this curve and shape will add character. Perfect for those with traditional rural hankerings.
Sophisticated Herringbone Range Hood
If you are opting for a more of the moment farmhouse kitchen look then a herringbone design is a modern classic. Having a resurgence in wood flooring herringbone can also be used on the surface of the range hood.
It's rustic but with just that touch more refinement. So if you like subway tiles and glass lantern light fittings, this could be the perfect pairing.
Shiplap Design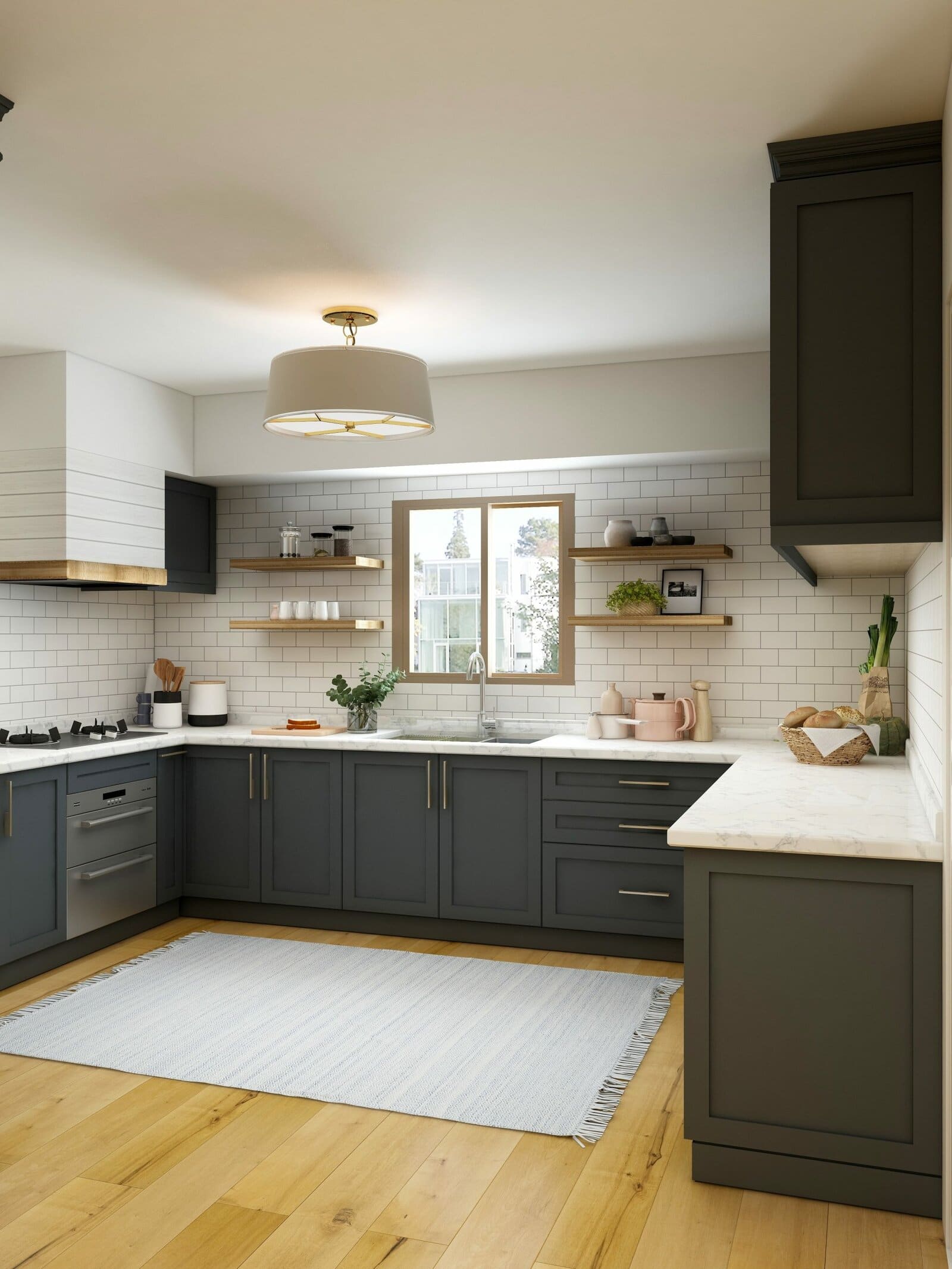 Even if you don't have shiplap in the rest of the kitchen, this detail on your range hood can combine well with other features in a modern farmhouse kitchen.
Shiplap adds some warmth and character to starkness. Associated with times of white picket fences and sunny days, it'll cheer up any room.
You can use shiplap kept in its natural tones or paint over it, either in the same color as walls or cabinets, or a crisp, classic white.
It's All in the Detail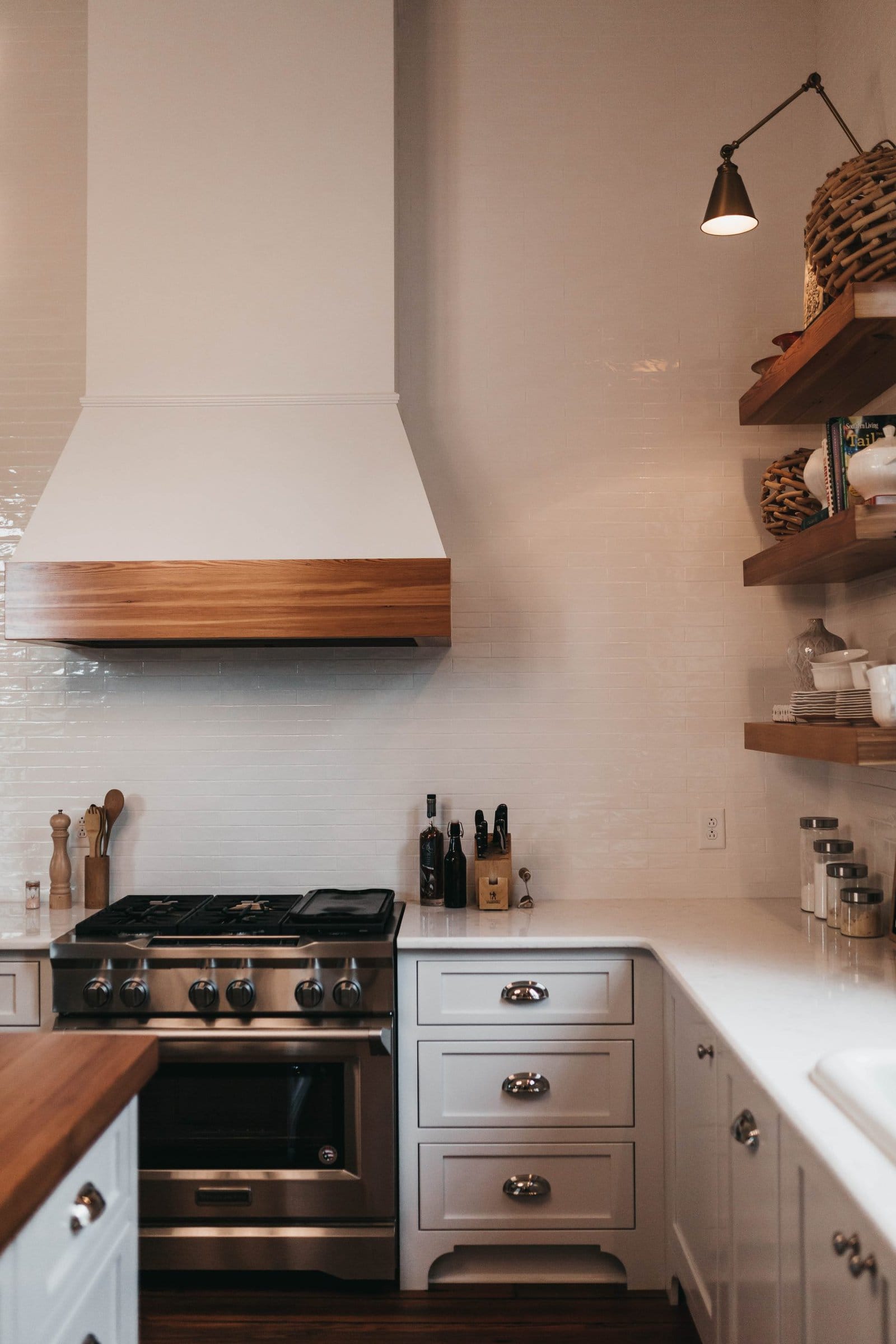 If you don't want to go all out on a wooden range hood but want to have some character, you could add a plank trim to a plaster hood.
Whether you have painted or colored cabinets, a wood feature adds character and rustic charm, giving just that hint of country you desire.
Open Range
Perhaps you don't have a huge double range cooker, or you even have only a countertop hob. You can still create a farmhouse kitchen look by adding an open range style surround.
Choosing a section of countertop either side of your cooker, installing reclaimed planks and corbels in a chunky oak will give you the rural, cozy look you crave. So authentic, you wouldn't even guess this hadn't been in place for years.
Pale and Interesting
For those with space for a single cooker or countertop hob, you can build your own simple wood range hood for under $200.
If you favor the Scandinavian look of blond woods and stripped back design, then leaving the hood unstained and free of color will work best for you.
On Trend Black Range Hood
Black is hugely popular in home design whether furniture, hardware or detailing. So if this is a look to love, think about building a range hood in black painted wood.
For the farmhouse look, think about the structure and detail. Diagonal paneling is very much on theme and will give you a unique style.
Modern Classic Kitchen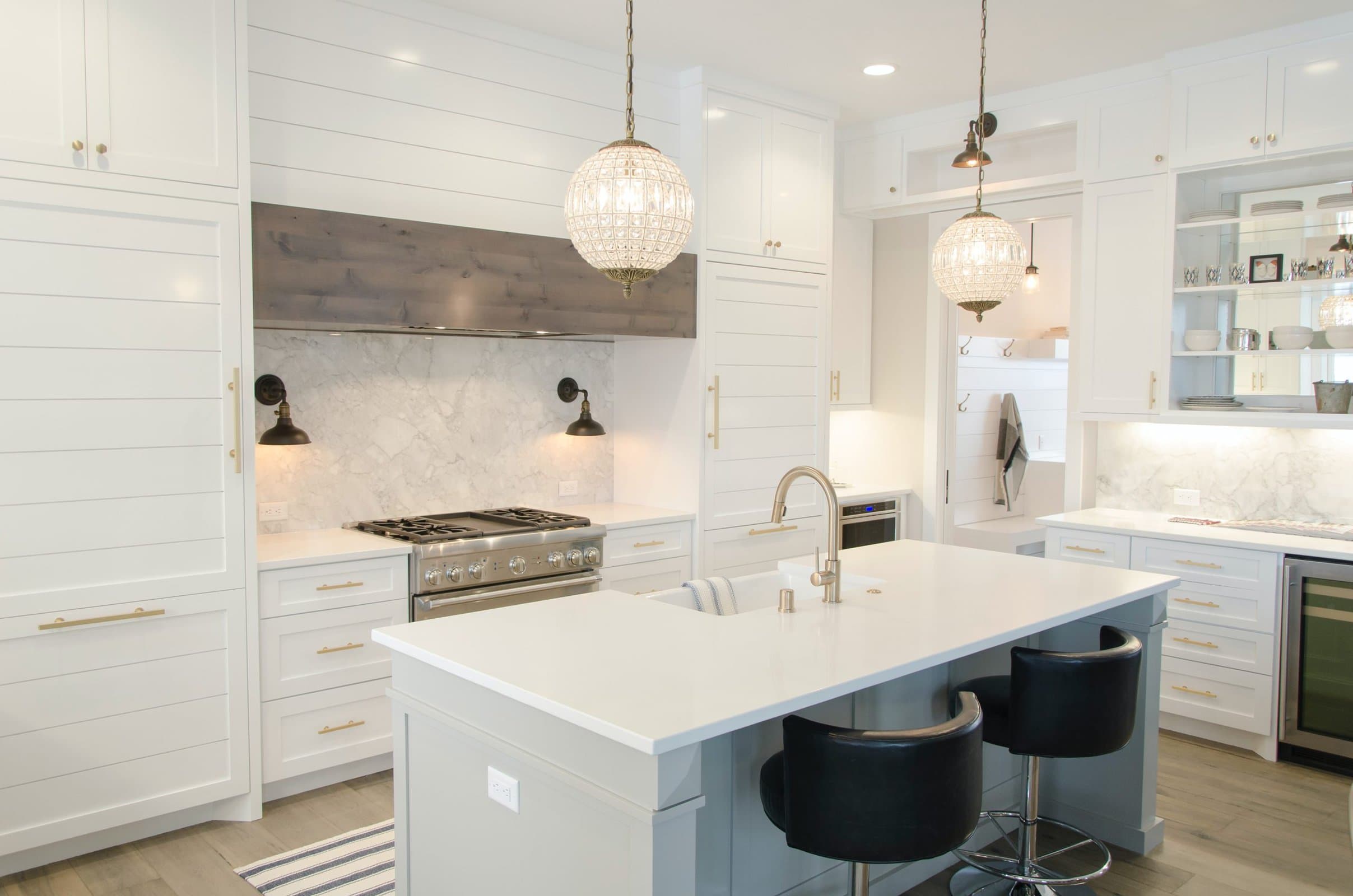 In a bright white modern kitchen you can add a range hood to give space and character. Like with the open style range, you can select a section you want to open up and fit a range hood.
You can use a flat profile design rather than the pyramid and shaped designs that can cover a conventional cooker hood. The way to make it rustic is to give it a timber surface.
Painted Panels
You're sure to have seen makeover videos showing you how to add panels to your walls. You can do the same to your range hood for this modern classic look.
Fixing flat wood sections then painting the whole hood in a white or cream will look elegantly traditional. For a rustic twist, add wooden paneling and corbels in a dark or mid wood.
Simple Pilgrim Style Range
For a style reminiscent of the Pilgrim Fathers, try a corniced top to your range hood against white ceramic tiles and make sure you use some timber to give that farmhouse statement.
What can add a unique twist is picking a piece of art or a print in a simple style. Decorating with a picture from another era will make you think you've gone back in time.
Green Kitchen with Wood Range Hood
If you have a colored kitchen you might think a rustic range hood won't match and would be difficult to install. In fact it can be straightforward and will give you the farmhouse look you want.
You can cover the existing hood with simple wood paneling. Then choose a paint that exactly matches the cabinet shade. There are many paint mixing services you could use if you have a sample of your cabinet wood.
Then to provide the rustic theme, even with a white marble backsplash, a wood panel to trim the hood will do that just perfectly.
Plaster and Wood Range Hood
A rustic, homespun range hood can be created by building a plaster hood with a wood panel. Sculpted yet plain, it has a feeling of the times of early settlers.
Matched with pretty mosaic tile and a shabby chic paint scheme, this will look authentic yet stylish at the same time.
Overarching Impression
For a good, solid wood range hood, pick an expensive mid-tone and use smooth paneling in a shiplap design.
This idea would not look out of place in a southern homestead. You can have all of that feel in your own kitchen by building a range hood to match. For a mid-century country look, keep accompanying tile and decor in darker shades.
In Summary
Wood range hoods are possible to install in a variety of sizes and designs. From bold, chunky open styles using reclaimed wood, to traditional farmhouse triangular shaped hoods, you can choose a material you are most happy with.
Cladding can be painted, varnished or left bare. For a rural style it's important to include wood, even if as a trim to your range hood.
A farmhouse wood range hood can add a rustic theme to pretty much any kitchen. So if you would like a country feel in your kitchen, you can pick your favorite range hood from the huge array of choices available.