Decorated Life is reader-supported. When you buy through links on our site, we may earn an affiliate commission. Learn More
26 Front Porch Furniture Ideas
The first impression is the last. Your front porch and yard is the first thing that your guest sees. And you have the opportunity to style it as creative and as welcoming as you want. The front porch can serve the purpose of aesthetics as well as functionality for your friends and family to sit and hang out together. And there's nothing more refreshing than a summer evening lounging on a comfortable patio!
Picking the perfect furniture for your patio is quite easy. The ultimate goal is to create a warm, comfortable, and welcoming experience. So, let's have a look at these 25 front porch furniture ideas to inspire you.
Outdoor Wicker Patio Daybed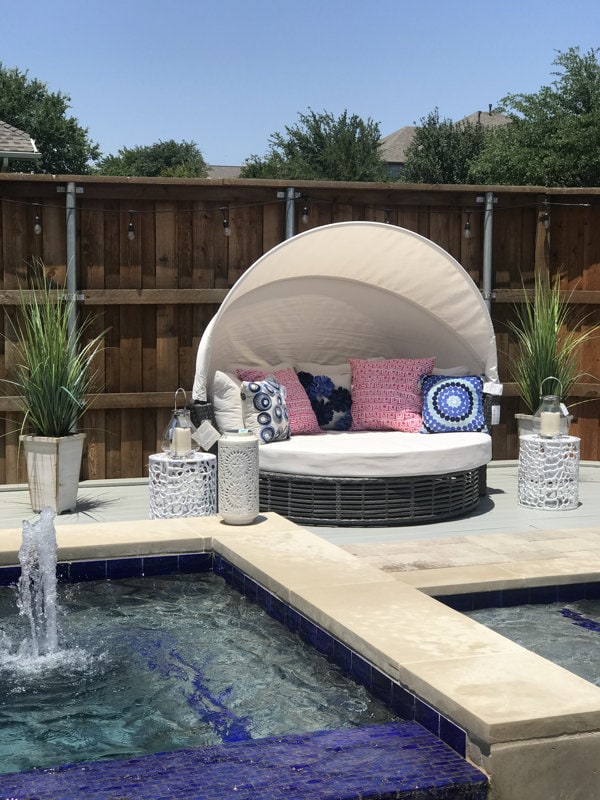 Who doesn't want to relax on this comfortable daybed on a winter afternoon? Made of natural rattan or wicker, the plush daybed is bound to make you take a nap every now and then. And especially if you love to read books, this could be your perfect, cozy corner throughout the year.
This machine-washable product is comparatively easy to maintain and take care of. The shield will also protect you against the sun!
Rattan Bistro Chair
This chic and trendy bistro chair offers an unparalleled experience. Offering a fresh contemporary, coastal, and bohemian look, this comfortable chair also features high-quality materials and construction. Made of rattan, this natural-looking chair is a must for the patio and balcony.
Also, it's strong, doable, and durable – and can totally withstand harsh weather conditions. Moreover, the little detail on the fabric is something to look forward to!
Solid Wood Dining Set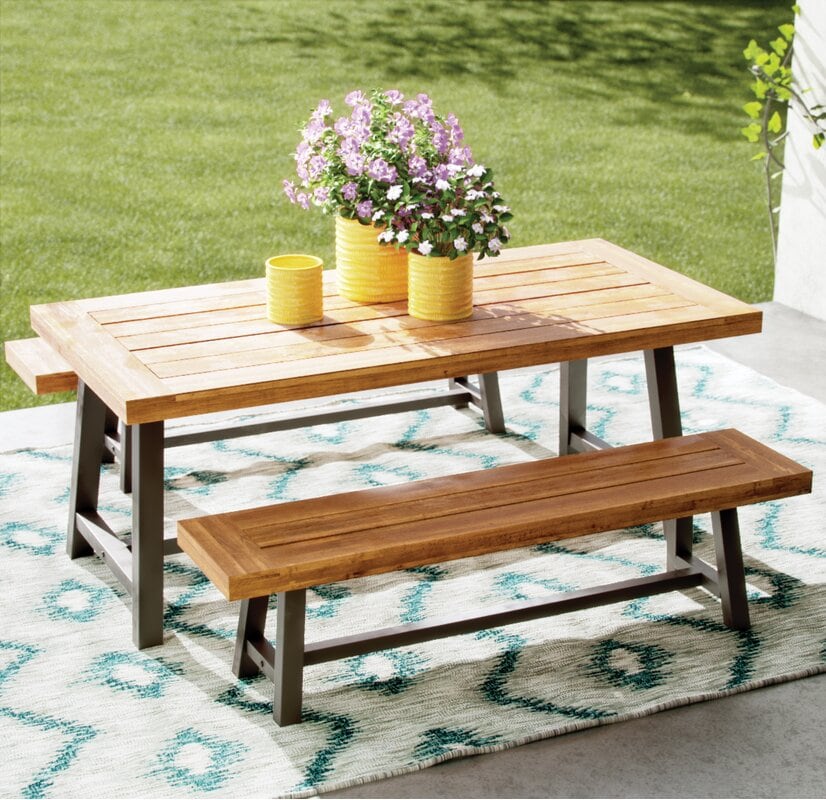 Give yourself a little treat outdoors. So, prepare your meals and spend some quality picnic time with your friends and family. This solid wood table and bench showcase exquisite design to smoothly streamline any decor – whether modern, vintage or contemporary.
The minimalist and sleek structure reassures utmost strength and durability. And do you know why is it even more efficient? Well, you can also simply slide it indoors to use it for multiple purposes.
Terrazzo Square Outdoor Fire Pit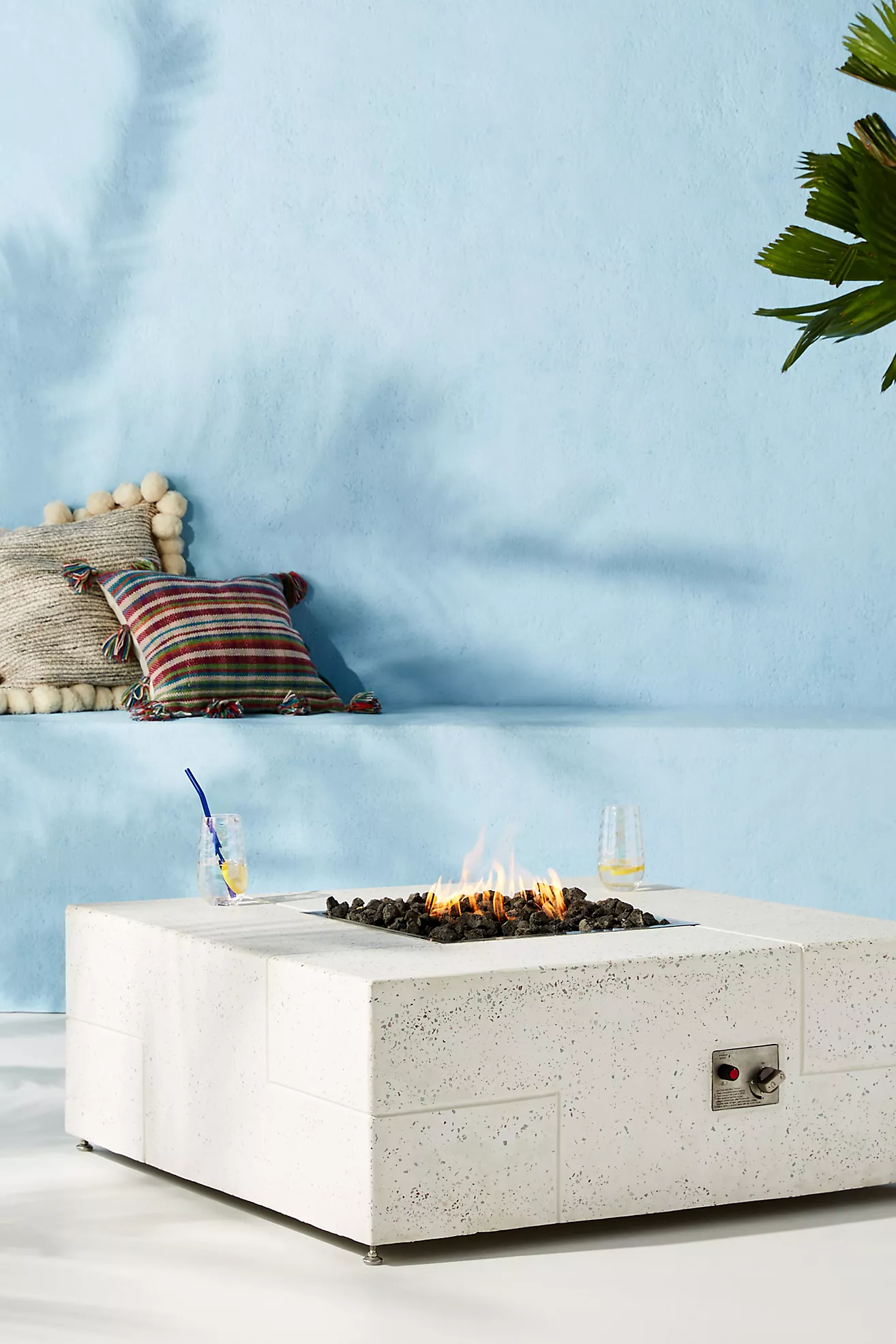 Crafted from speckled terrazzo, this fire pit makes an elegant and sophisticated statement in the outdoors. You can choose to place it centrally around the seating spaces so the guests can enjoy the conversation with a little warmth in the air.
This piece of furniture can also serve the purpose of a coffee table. Of course, you can put your wine glasses and coffee mugs to rest on top!
Allete Porch Swing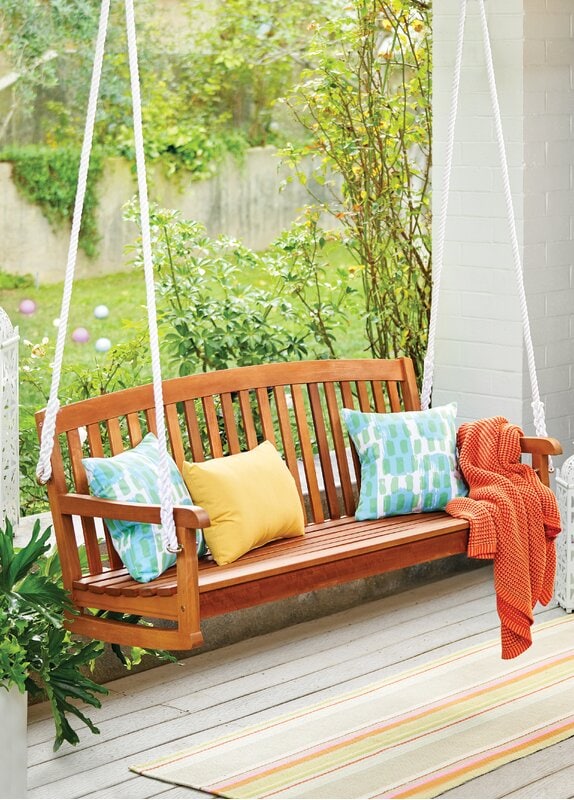 Reminiscing the afternoon at grandma's, the porch swing makes a perfect playful and fun-loving addition to your outdoors. From coastal to traditional, modern, contemporary, and farmhouse – this stylish swing suits one for all.
With a weather-resistant finish, this swing is strong and durable. However, it needs to be treated with teak oil once a year to maintain its quality. Lastly, you can always enhance the homely look by throwing a couple of pillows here and there.
Tatami Beach Chair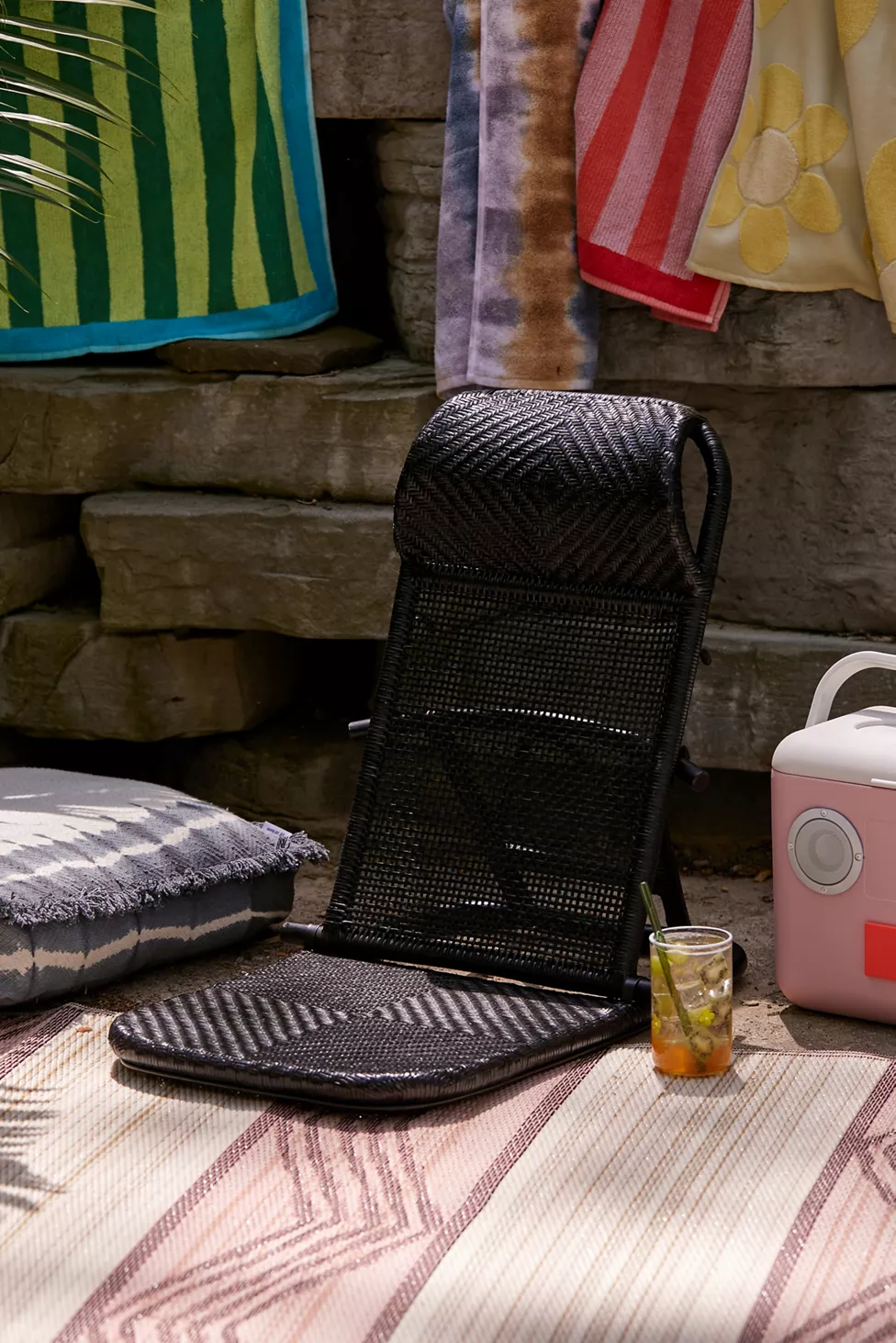 Whether you're sitting on the patio, porch, balcony, or by the poolside and beach – the tatami beach chair is something to look forward to. With a luxe, chic, and boho look – this chair can easily be placed in any corner to make the most use.
You can easily soak in the sun while reading your favorite novel on a lazy Sunday afternoon. And the best is the flexibility! You can carry it around and store it in your closets.
Bohemian Basket Loungers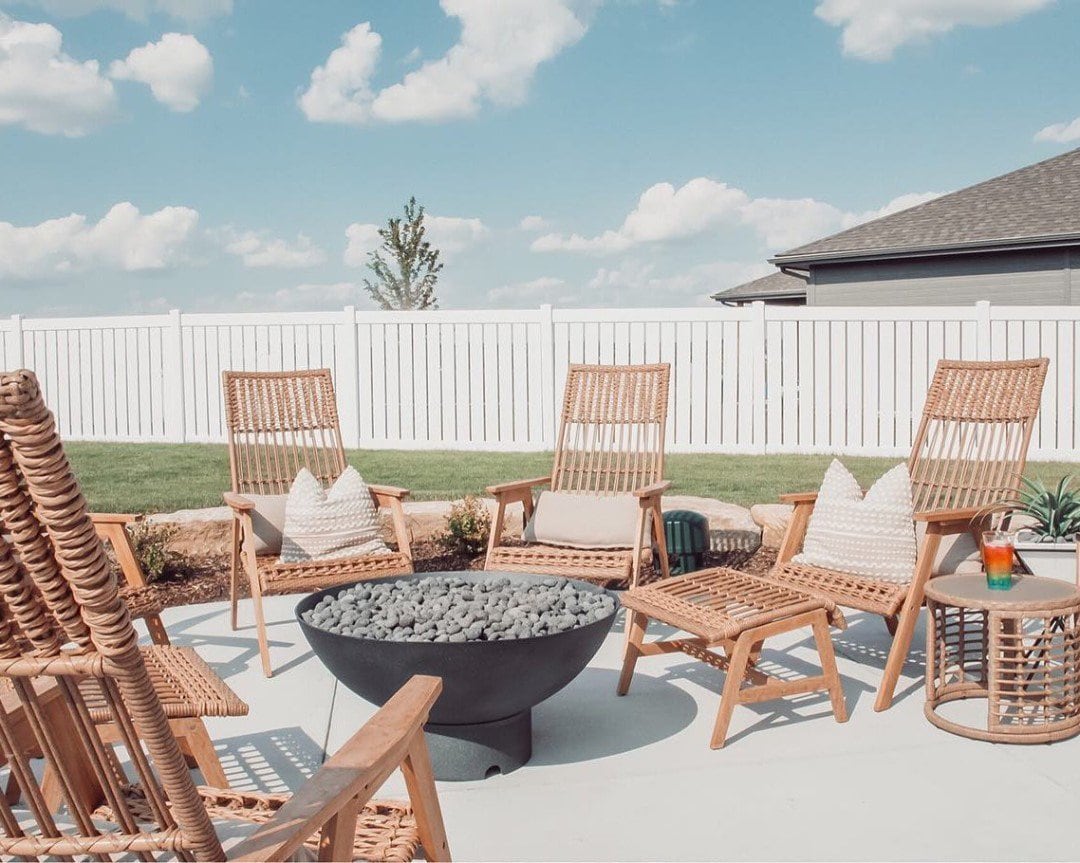 Looking to celebrate a little California coastal charm in your patio or backyard? Well, why not incorporate this teak lounge chair set that showcases beautiful and intricate wooden details. To make the chairs more homely and cozy, you can style a couple of faux and linen throw pillows as well.
Plus, the blend of teak wood and resin wicker will stand up to harsh sunny and rainy weather without fading or rusting.
Plastic Adirondack Chair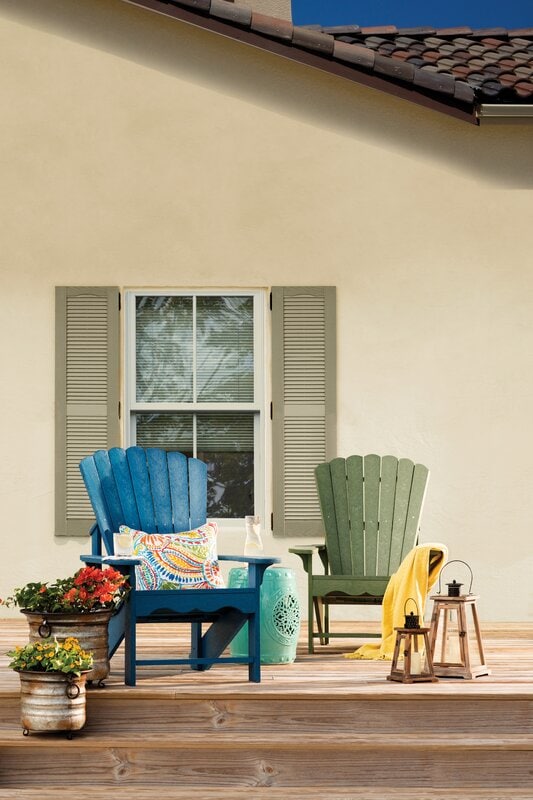 The iconic Adirondack chairs make a stylish, historic, and authentic backdrop for any patio, porch, or alfresco setup. Available in a wide array of mesmerizing bold hues, incorporating these chairs is a great way to infuse color and add visual interest.
To make your backdrop exceed the levels of beauty and comfort, think of pairing these chairs with fun-loving throw pillows and blankets. And since this chair is made of 100% recycled HDPE lumber (a durable plastic) – you can use it even in very harsh conditions.
Rattan Rocking Chair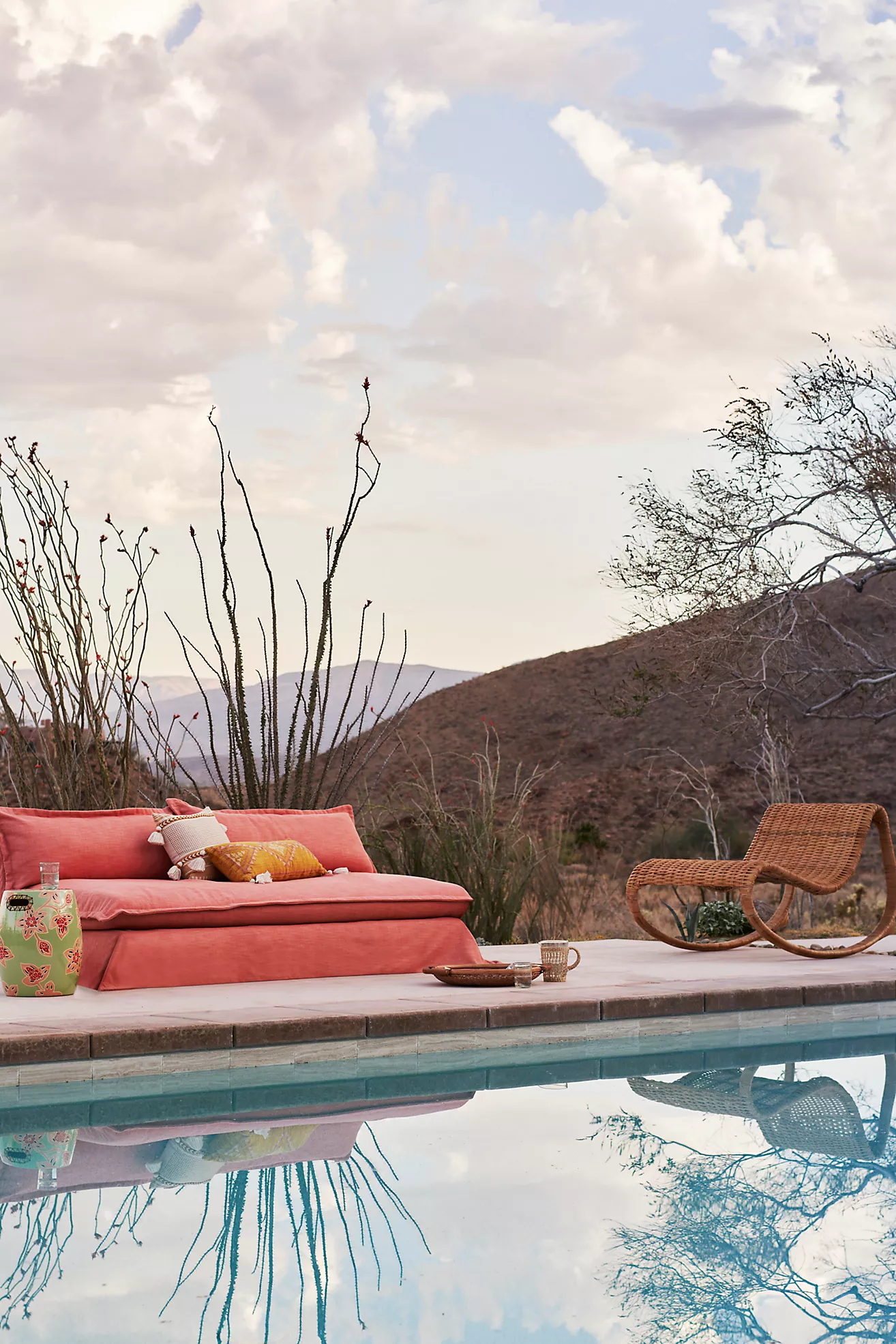 Showcasing an organic and unique shape, this rattan rocking chair has a natural recline that can easily support your back and body. This minimalist piece of furniture can seamlessly fit into the sun-soaked patios and verandas for an unforgettable experience.
However, you must regularly clean the surface with a soft, linen cloth and seal it with clear lacquer for protection. Also, you can use it both for indoor and outdoor purposes.
4-Seater Aluminum Dining Set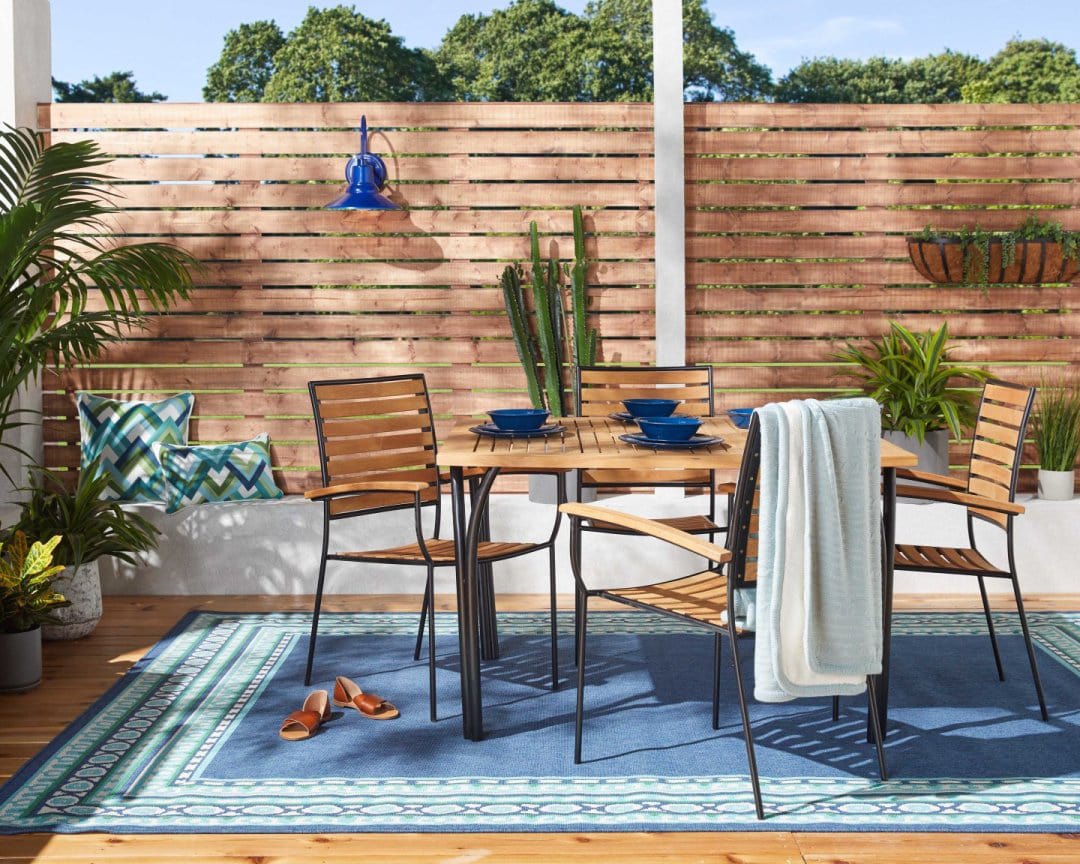 Clean lines, crisp corners, and a sleek modernist style are how this dining set defines your space. With a lightweight aluminum frame and a strong faux wood structure, this dining set is not only low-maintenance but also extremely warm and welcoming for family and friends.
Moreover, this material is rust-resistant and can withstand prolonged hours in harsh weather conditions. So, it's time to give your patio a perfect homely makeover!
Metal Folding Chair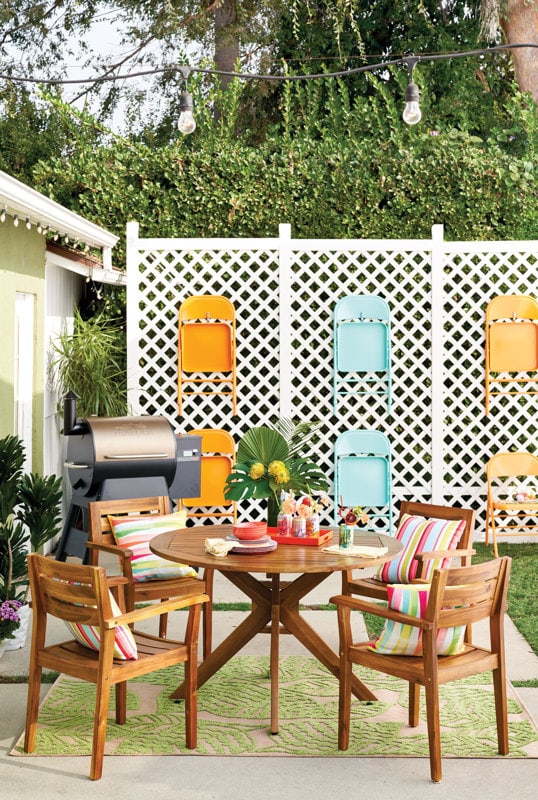 No piece of furniture is more efficient and practical than this metal folding chair that can easily fit into any corner – vertically or horizontally. Just look at how these chairs are hung against the partitional wall! Isn't that quite practical and utility-friendly? Yes, this is a great storage option as well.
Plus you have the option to pick from a wide array of fun and quirky colors to make your porch visually interesting.
Falmouth Daybed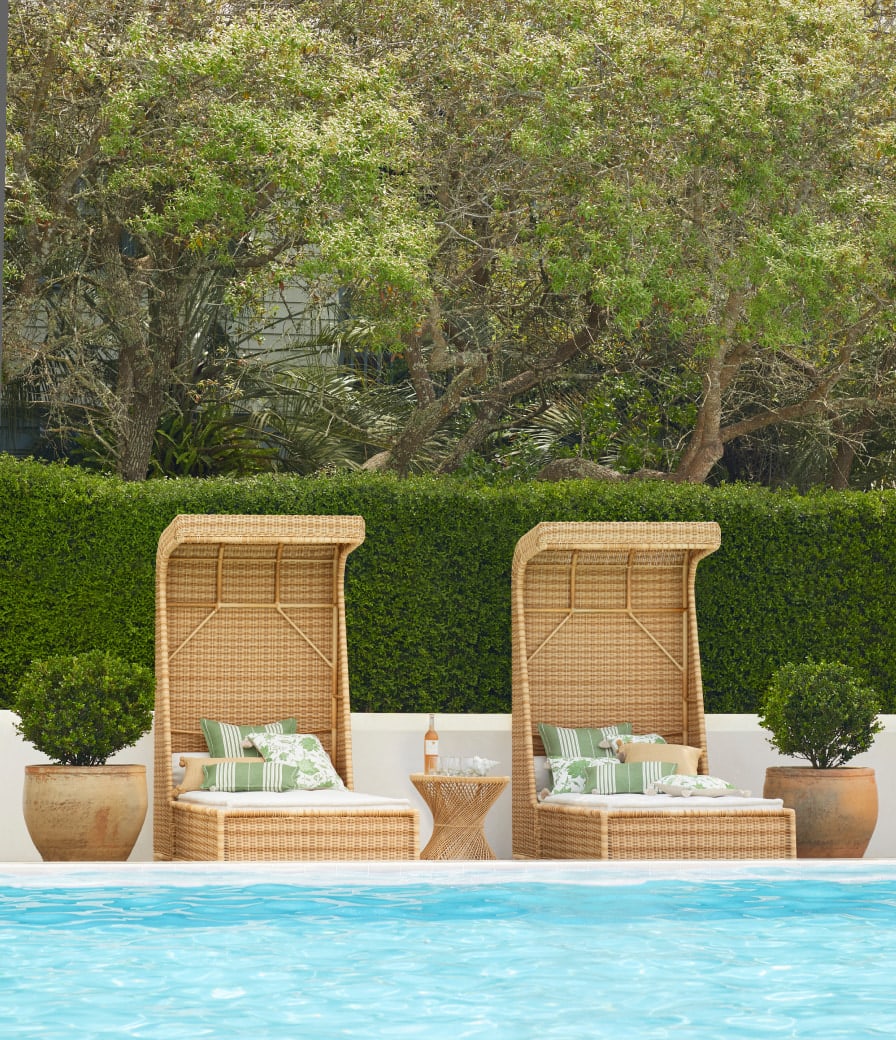 This daybed is bound to entice you for a little nap on a lazy Sunday afternoon. Whether you plan to place it by the swimming pool or on your front porch – this piece of furniture will absolutely do wonders. And since the daybed is equipped with a little canopy for shade – you can definitely use it all year long.
The weather-friendly wicker is strong and durable – and can stand up nicely in any weather condition.
Rattan Chaise Lounge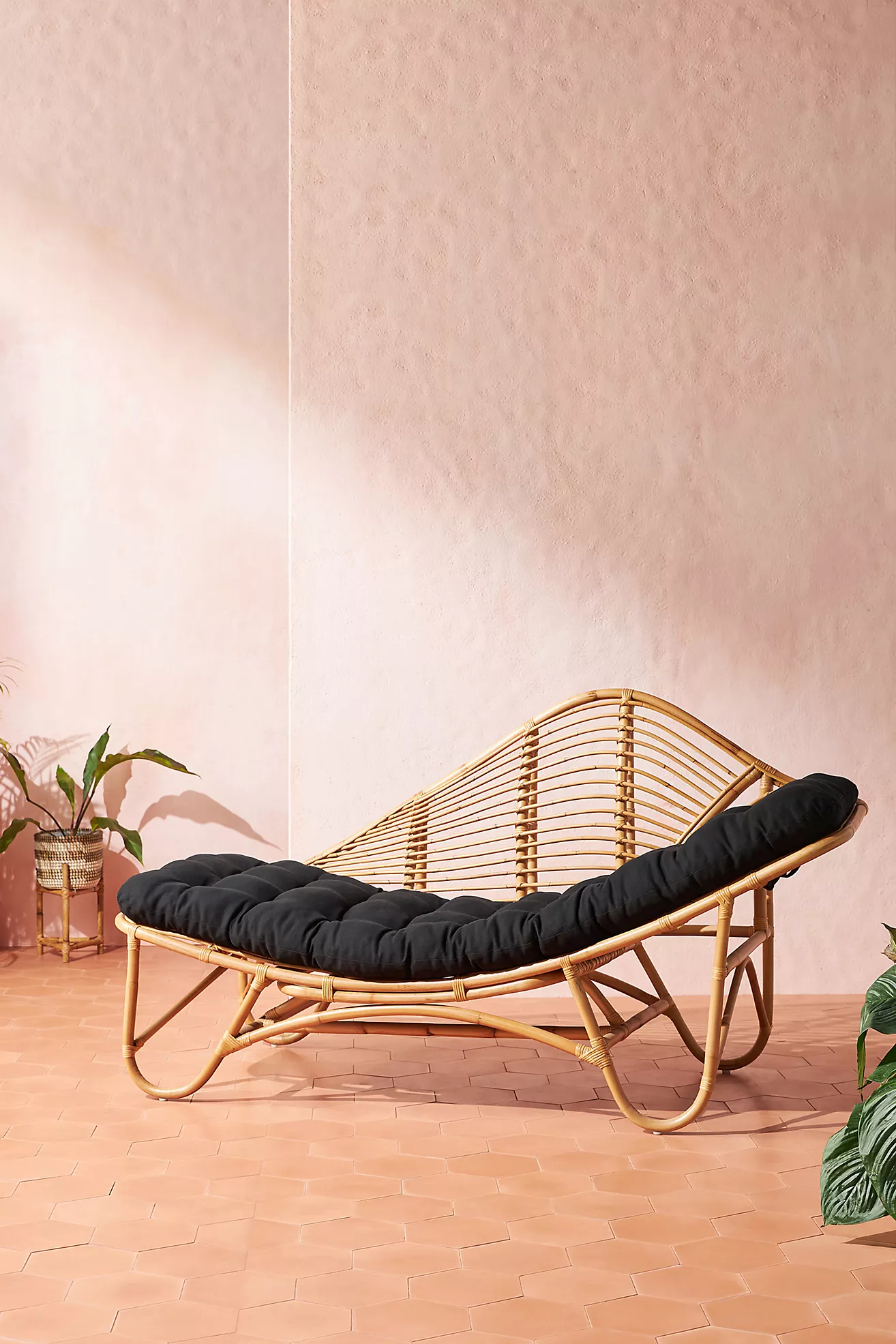 This modern rattan chaise lends a sense of relaxation to your outdoor oasis. Offering a perfect, chic, and bohemian look to the outdoors – this stylish piece of furniture is suitable for both indoor and outdoor purposes. You can wipe it clean with a soft cloth and avoid chemical cleaners.
The comfortable piece of furniture comes with an embedded cushion for you to feel cozy and warm! Your patio will shine bright with this lounge onboard.
Grove Hanging Loveseat Swing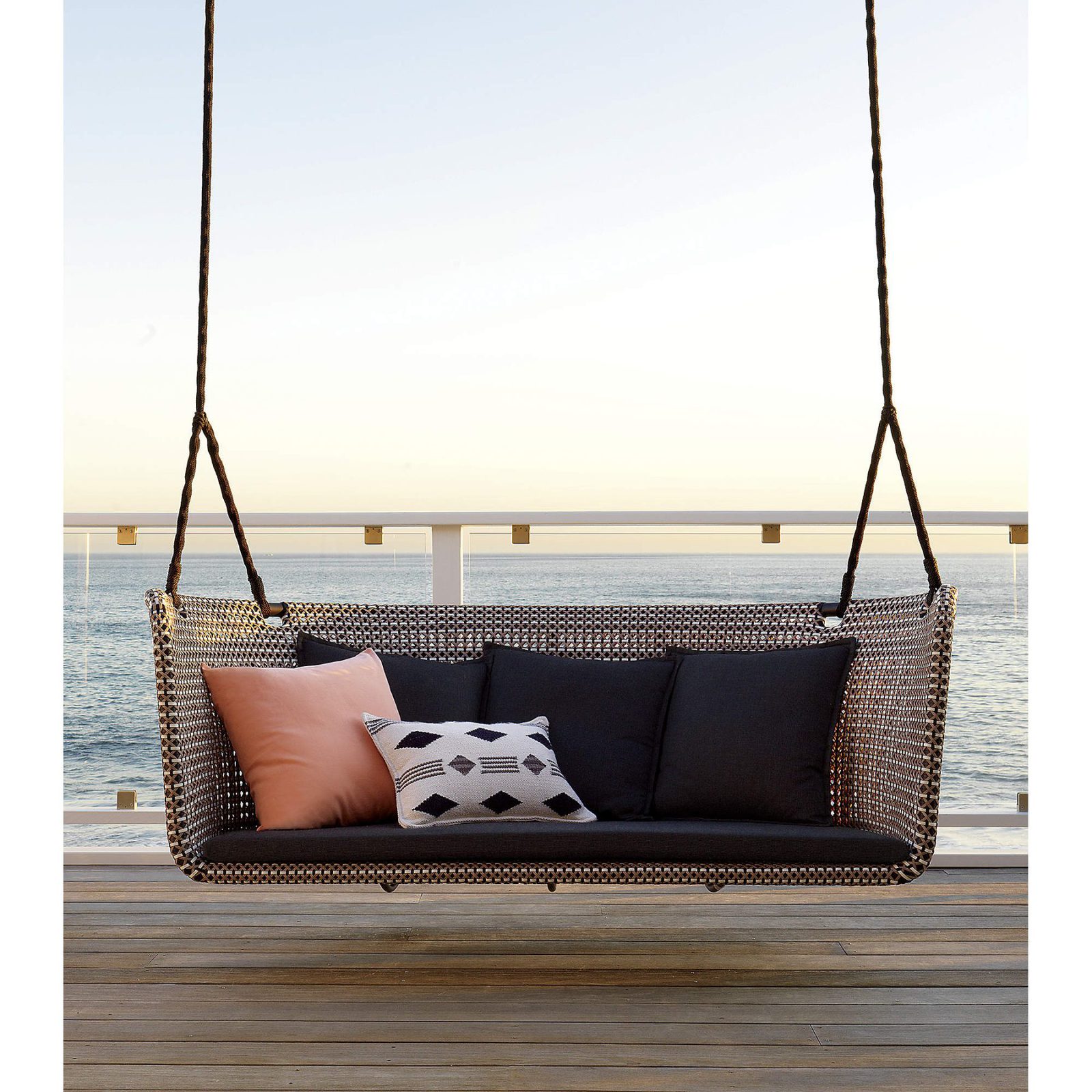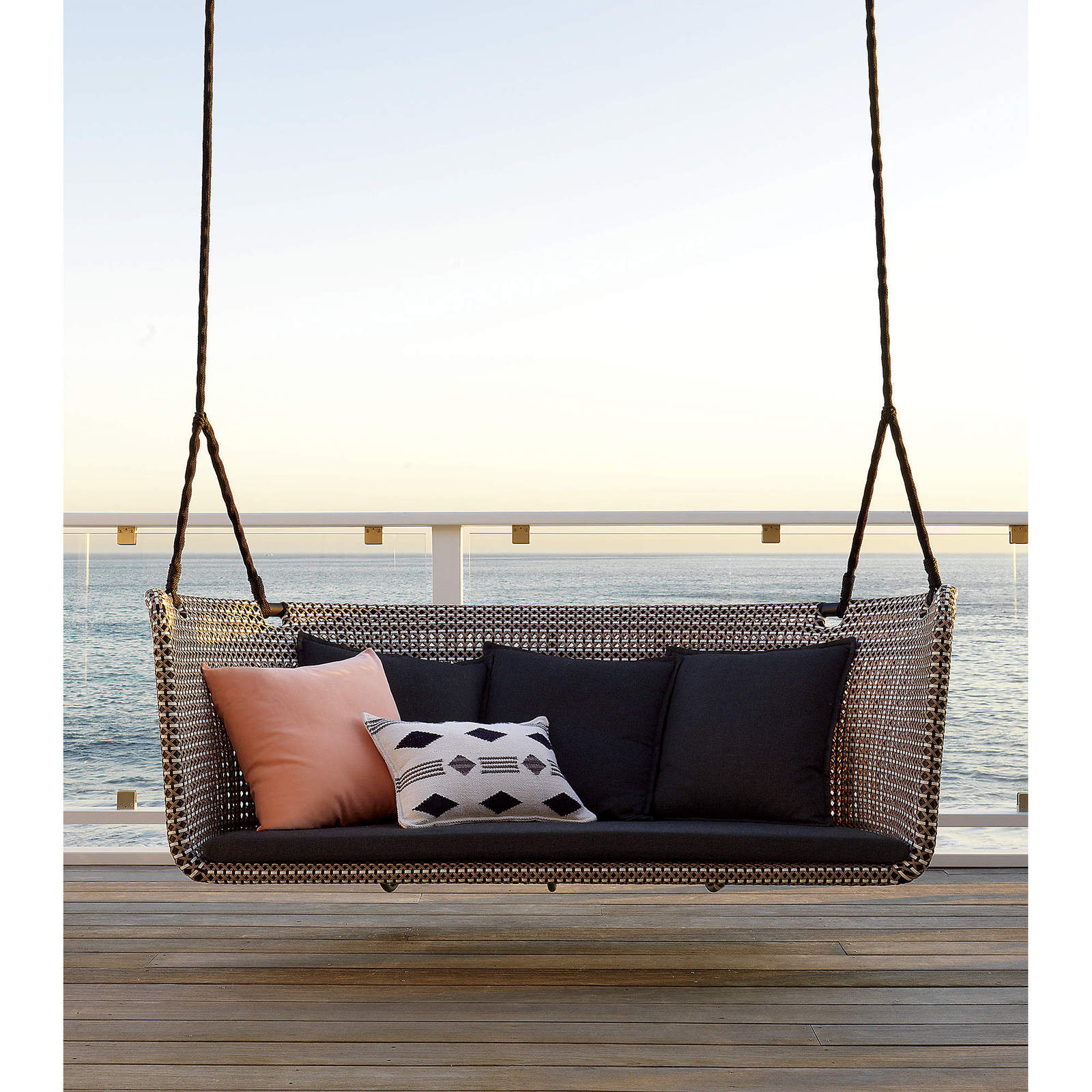 It's time to take your front porch or patio to a brand new height. Hanging by two thick black ropes and a faux handwoven wrap around the lightweight aluminum structure – the hanging loveseat will add a playful and cozy vibe to the space.
Placing three to four cushions at the back support fosters an easy-breezy vibe. And believe it or not, you wouldn't want to leave this seat all day long!
Morrison Metal Table Set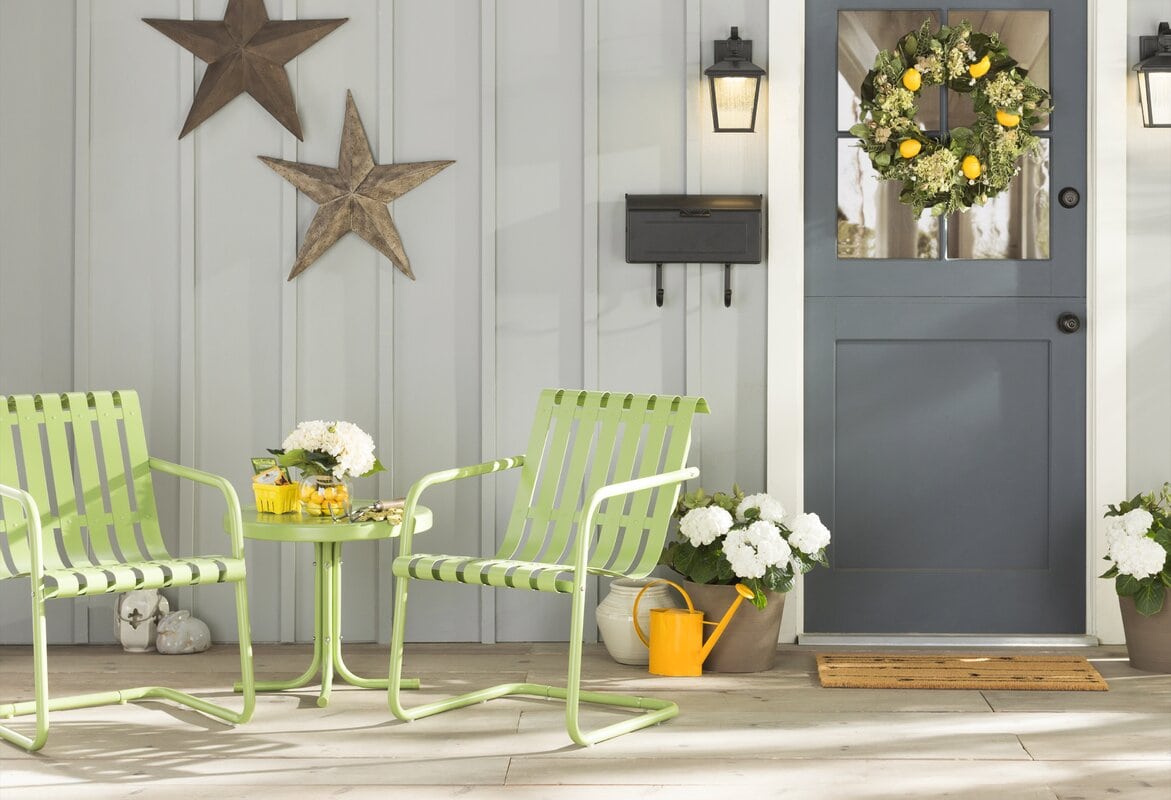 A perfect pick for petite patios, this seating includes two armchairs and one side round table to give your patio a perfect makeover. Crafted from steel in a powder-coated finish, this lightweight furniture set resists weather, UV, and fading.
Available in a wide array of brighter hues, this outdoor front porch furniture can add drama and character to the facade as well as patio backdrops.
Holiday Beach Umbrella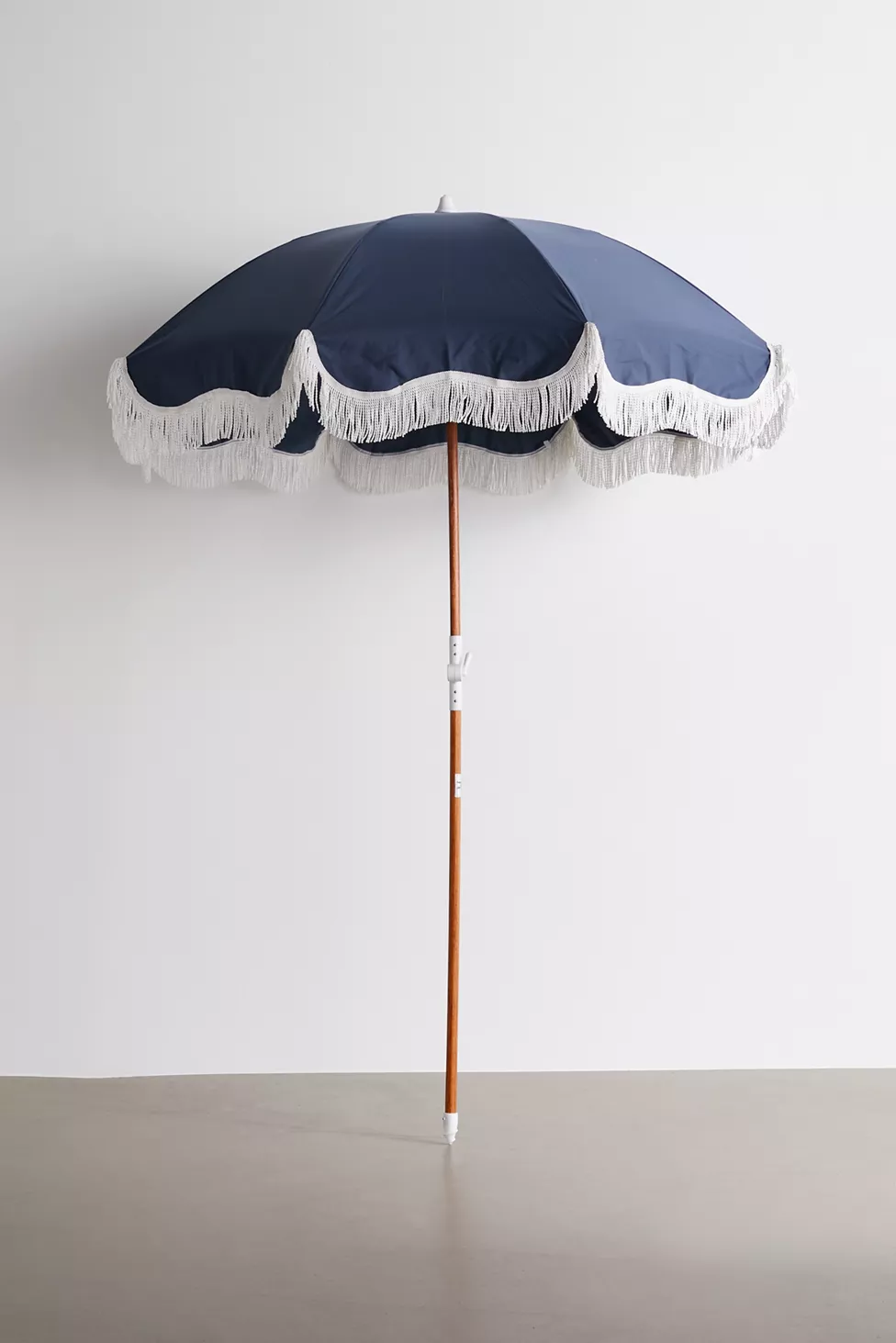 Let's talk about furniture accessories! Hence, to provide shade to your coffee table, lounger, or dining chair – you can style this cotton-poly canvas umbrella that adds a focal and playful statement. The Timberwood pole complements the cute fringes on the edge to give a little detail to the outdoors.
And you would be surprised to know that this shade umbrella comes with a matching carrying bag for easy toting.
Metrocles Side Chair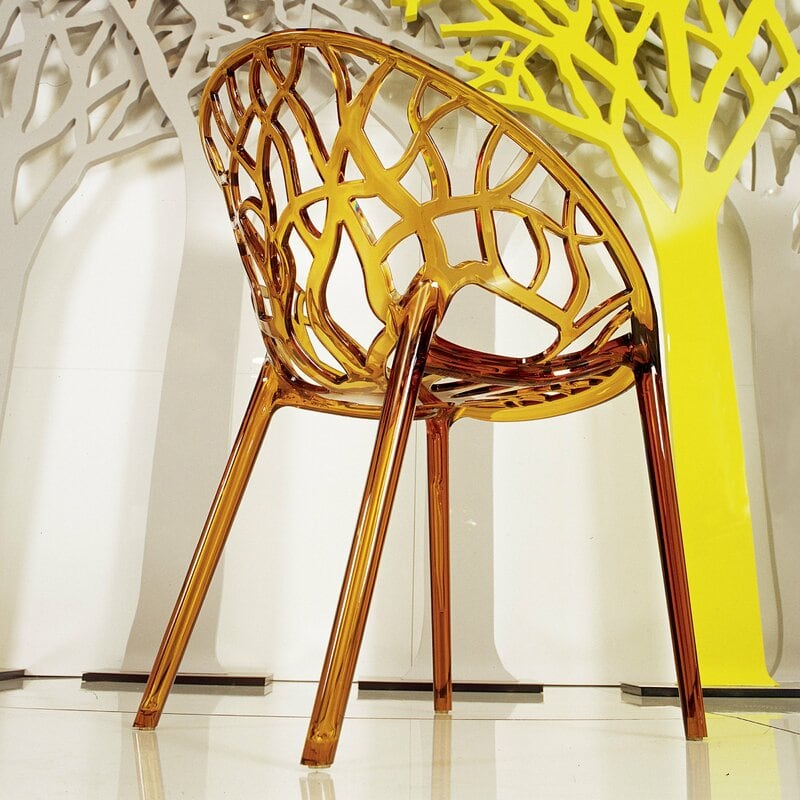 Crafted of polycarbonate in a glossy painted finish, this small front porch chair has a striking hoop-shaped silhouette to give an intriguing organic-like appeal to the space. This is a great solution for smaller porches and patios that continually crave an easy-breezy vibe.
And not just the outdoors but this chair can be easily fitted into dining spaces and storage corners. Moreover, it quickly dries after a gentle fall of rain.
Juana Hammock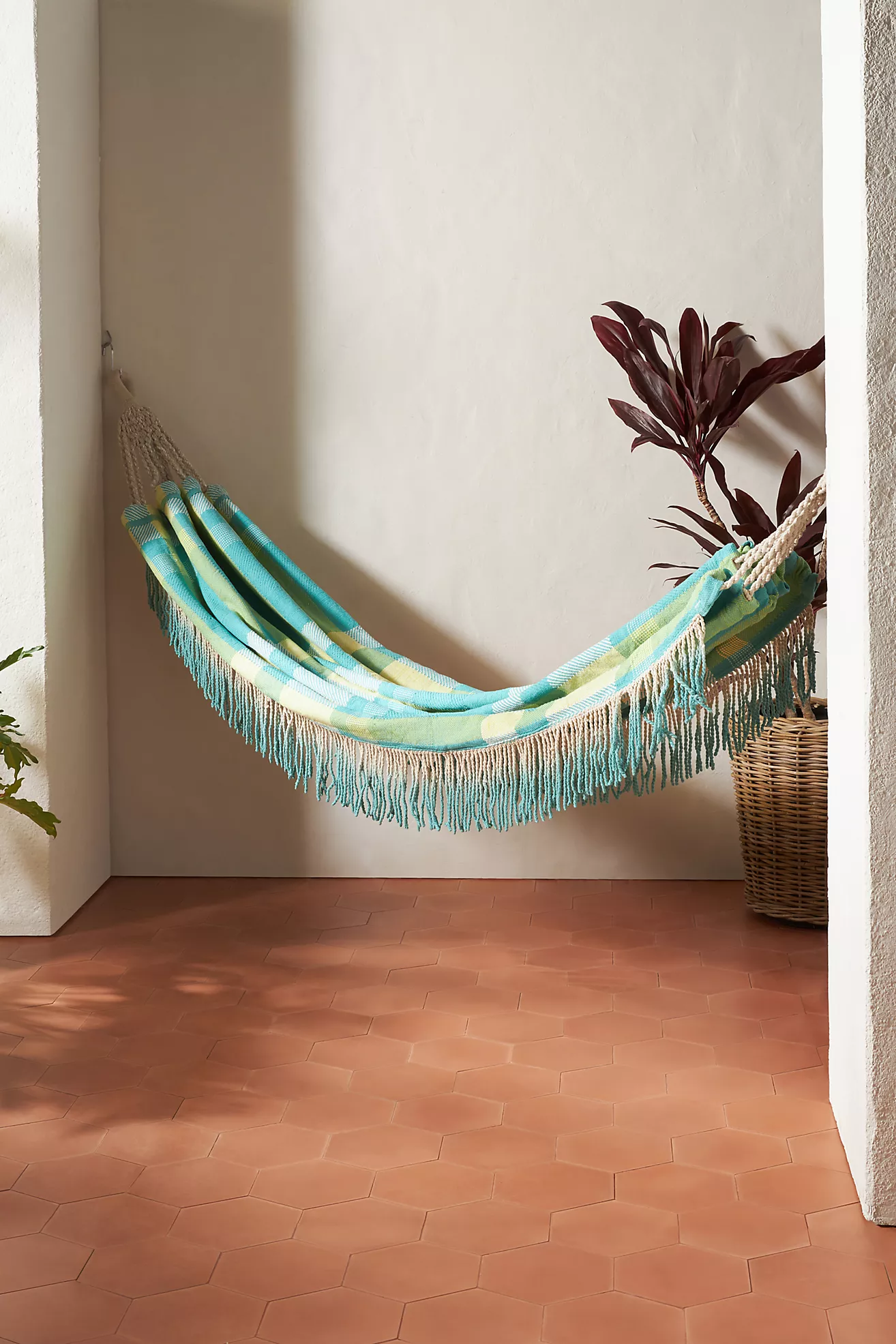 Your front porch is incomplete without a hammock! With the right amount of swing for ultimate relaxation and comfort – the Juana hammock offers utmost flexibility and warmth. Whether you intend to take a nap or read a book, the hammock will invite you to spend some quality time outdoors.
There is something absolutely blissful about this piece of front patio furniture. The eye-catchy hues and fringed trims introduce nice colors indoors for a complete look.
Beach Cabana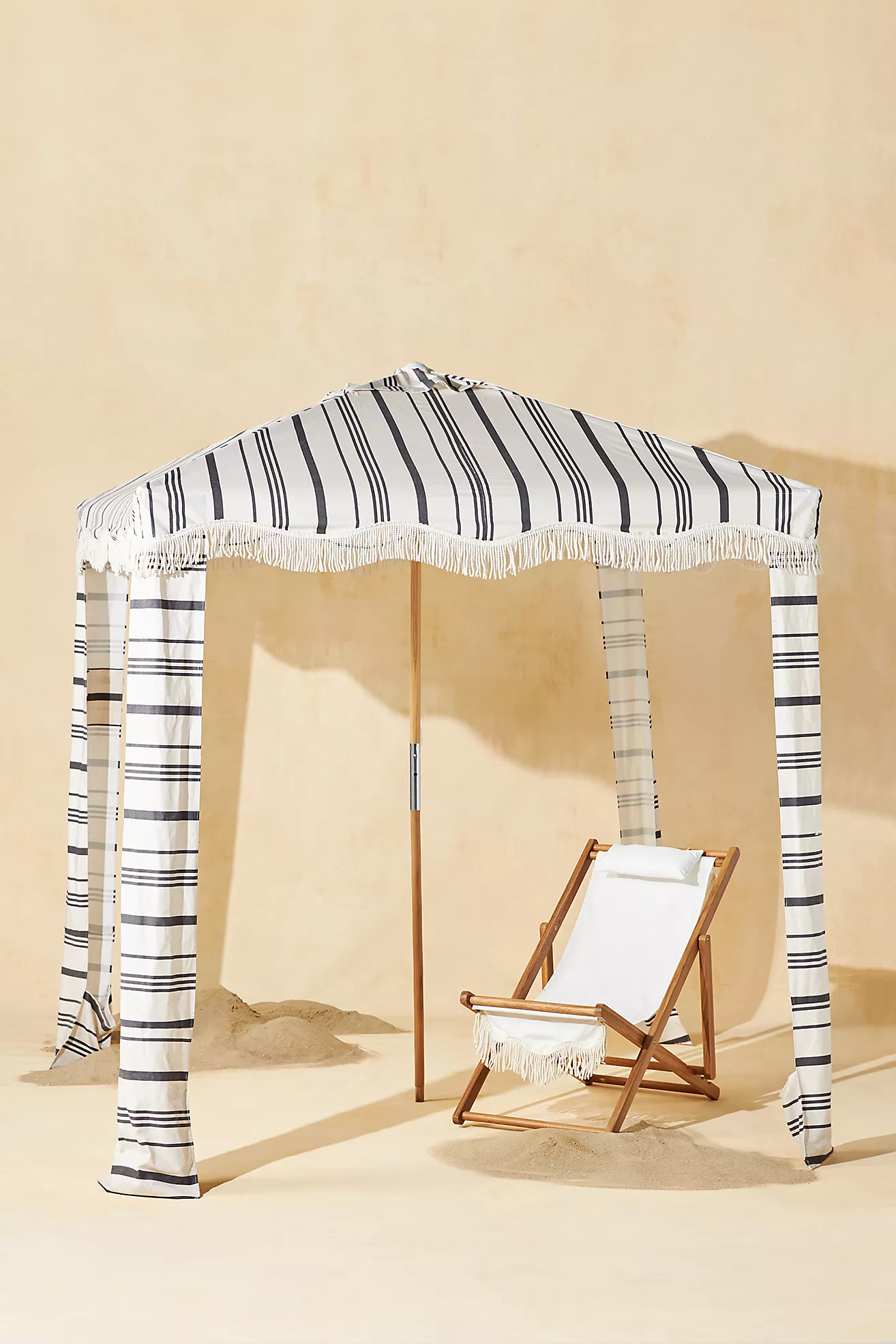 For extra protection against the harmful UV rays, this beachside cabana helps foster a comfortable and relaxing time underneath. Featuring a classic summertime stripe and a playful fringe, this is one of the best front porch furniture to offer the best of both worlds.
However, you might need a wider expanse to layout this solid cabana. Whether on the porch or balcony – you can easily disassemble the structure and store it during the winter months.
Hardwood Rocker Chair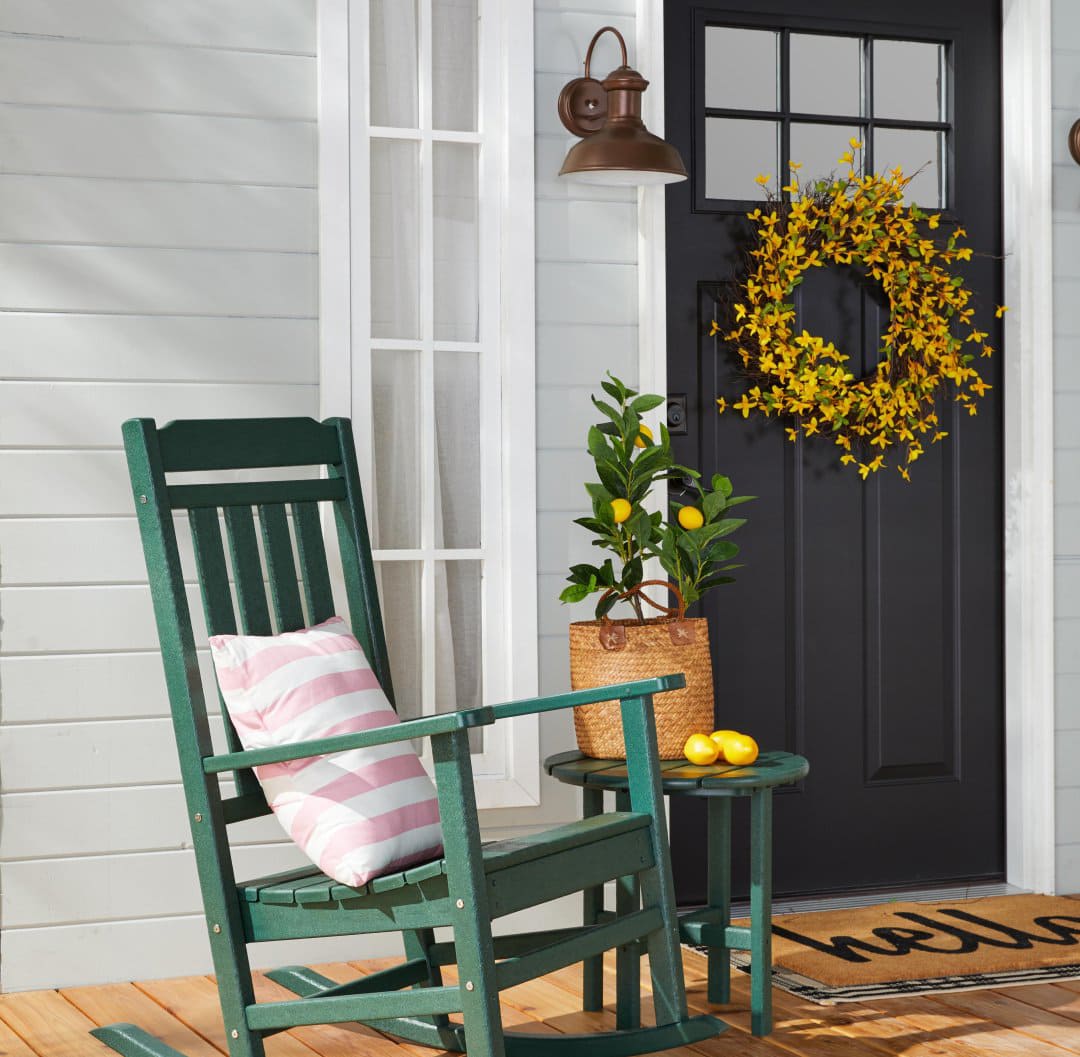 It's time to give your front porch a classic aesthetic look. The wooden rocker chair is simply elegant, sophisticated, and inviting. You can pair it with lush plants and a matching side table to give a complete look to the outdoors. Featuring a high, slatted back and a comfortable, contoured seat – the front porch chair promises a relaxed experience.
Also, this chair is available in a wide variety of colors to complement your exterior palette.
Faux Bois Dining Table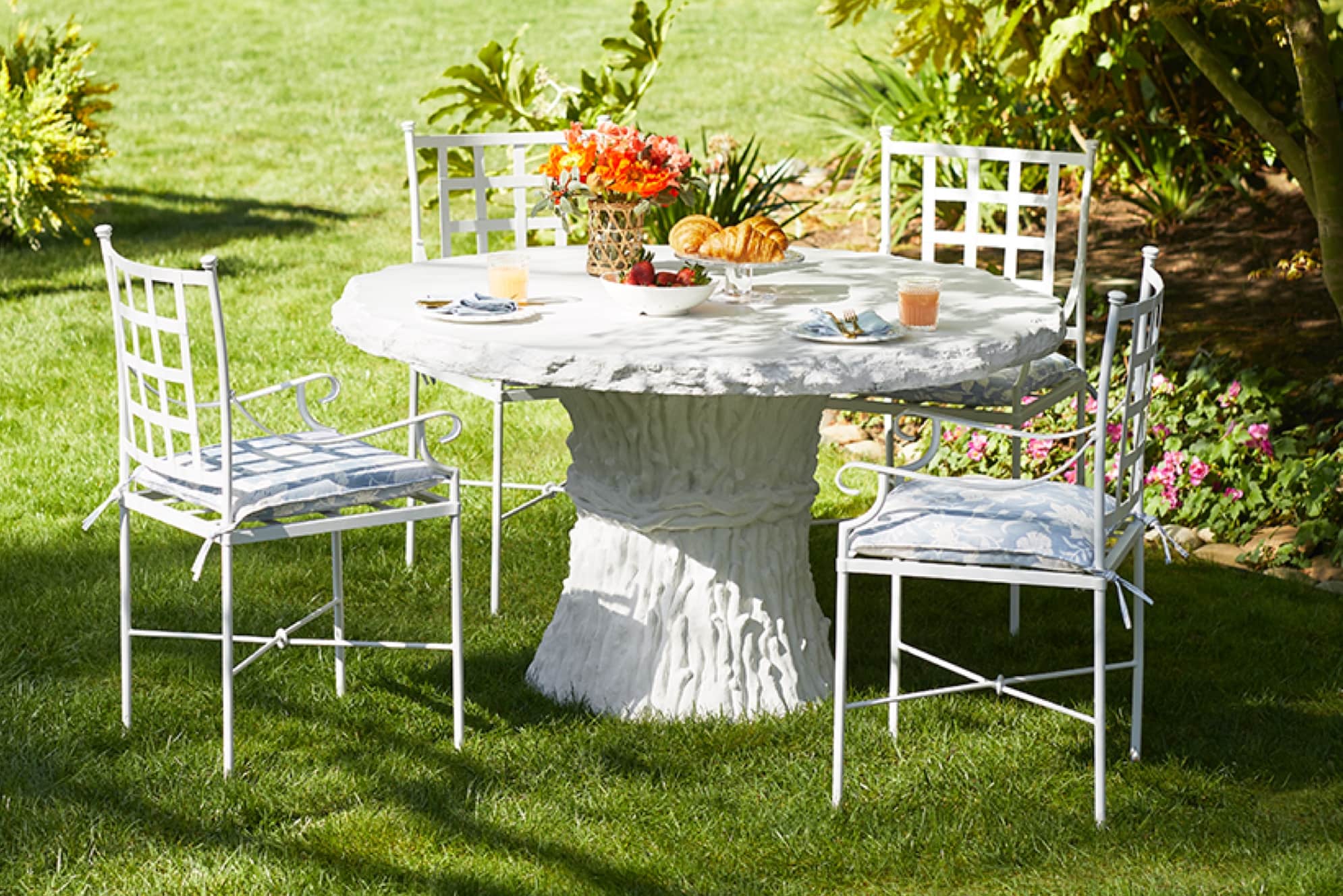 Now that we have talked about various plastic, metal, rattan, wicker, and wooden furniture – it's time to choose the stone that gives a perfect mix of rustic and chic. Quite unique and extraordinary, this front porch table mimics the faux twig base and a strong stone tabletop to give a perfect outdoor appeal.
Its weather-friendly construction makes it a perfect reason why you must use it both indoors as well outdoors. Yes, the out-of-the-box look makes a fabulous and crisp statement!
Ezana Canopy Daybed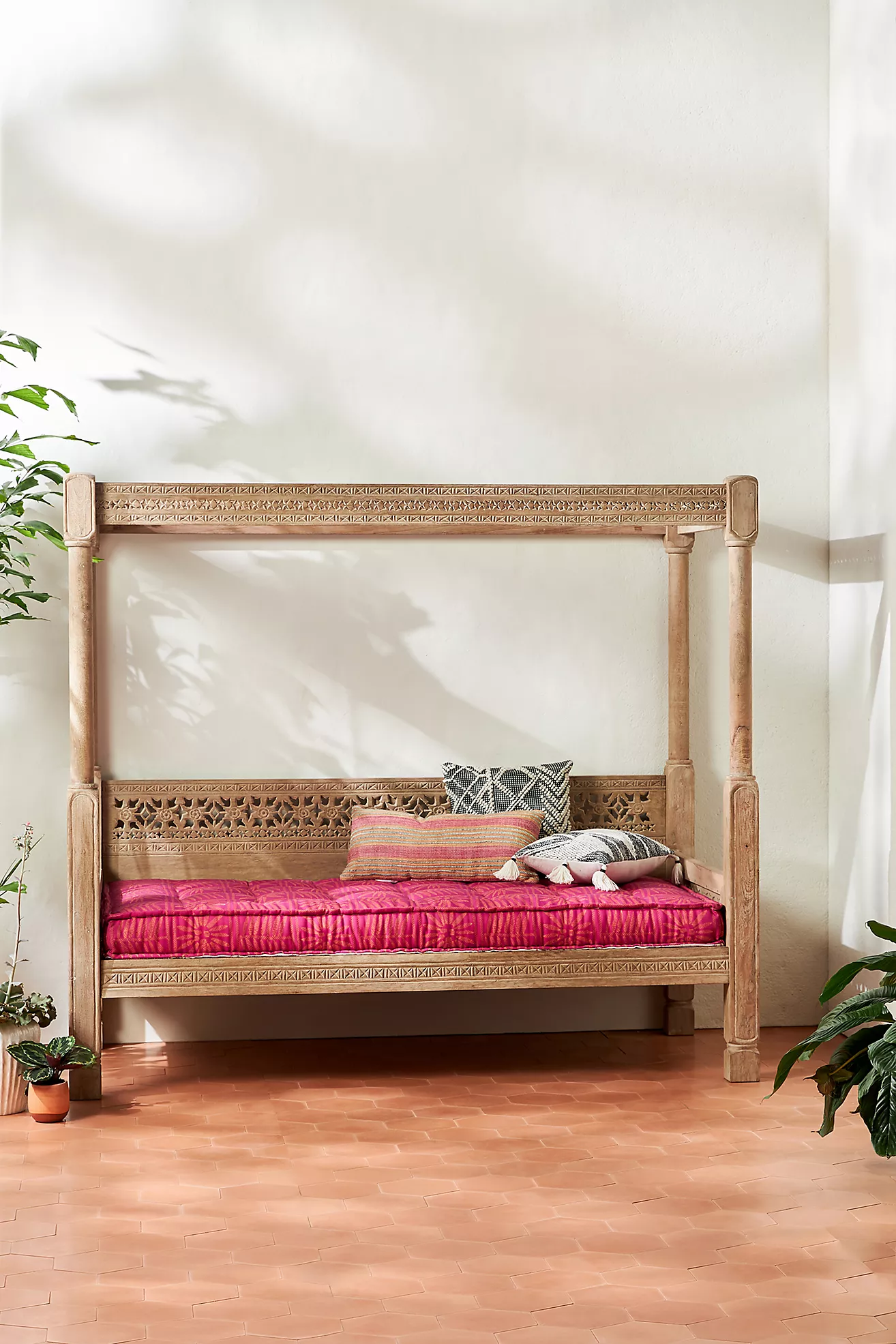 Create a lively and vibrant feel outdoors with the help of this canopy daybed that offers the right amount of warmth and coziness. With bohemian-inflected carvings, this daybed makes a focal statement for your outdoor oasis and patio entryways.
You can style with the desired mattress and throw pillows to make it extra comfortable for your guests and family. Don't forget, you would love to lounge it all day long and all week long!
Ceramic Outdoor Side Table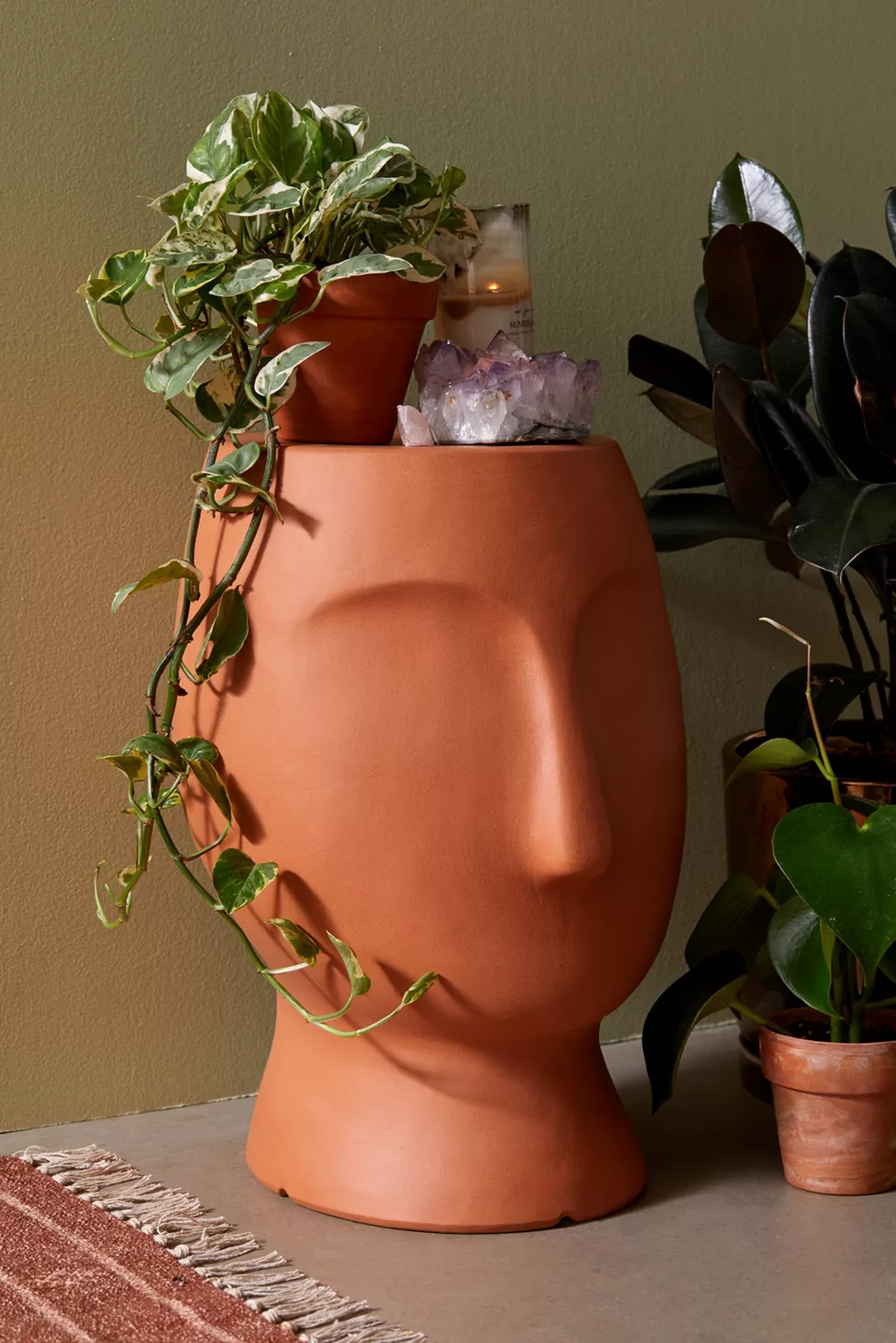 Let's focus on styling and storing! Just like the indoors, you must ensure to make your outdoors feel warm, welcoming, and stylish. And with this ceramic outdoor side table, you can add an artful and creative touch to the front porch and patio.
This ceramic handmade side table is just so special. You can use it to style some fancy pots and planters along with outdoor lighting fixtures!
Wicker Space-Saving Dining Set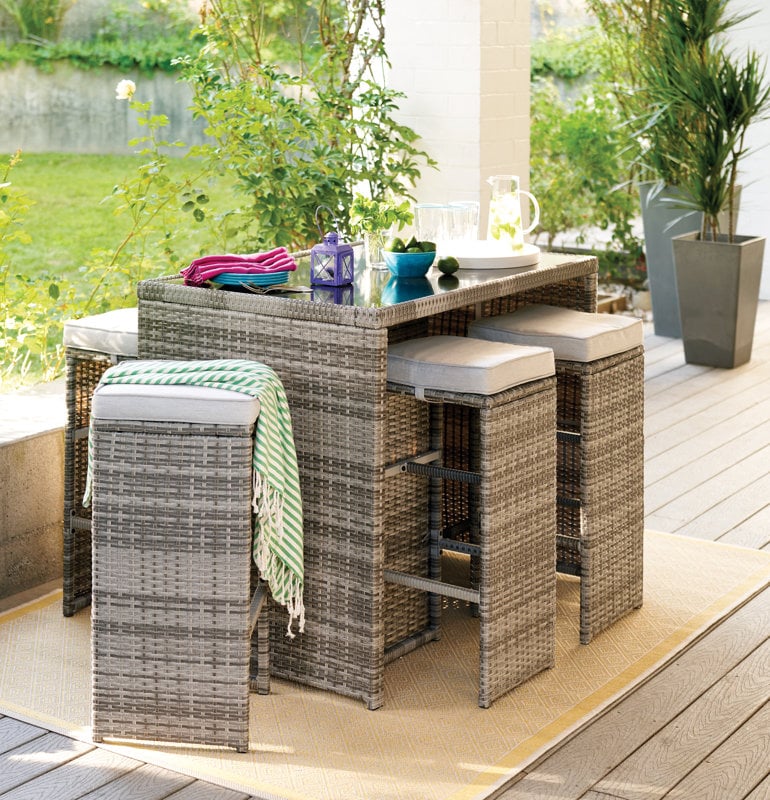 Looking for an efficient, space-saving solution on your front porch? Well, this wicker 7-piece dining set will offer the utmost utility, practicality, and aesthetics. Whether you're planning to host a party or organize an al-fresco, this dining set is all set to celebrate your outdoor functions.
Moreover, the frame is highly durable. Possessing qualities such as weather-resistance, water-resistance, UV resistance, and rust-resistance – this is something to own and make use of.
Black Outdoor Loveseat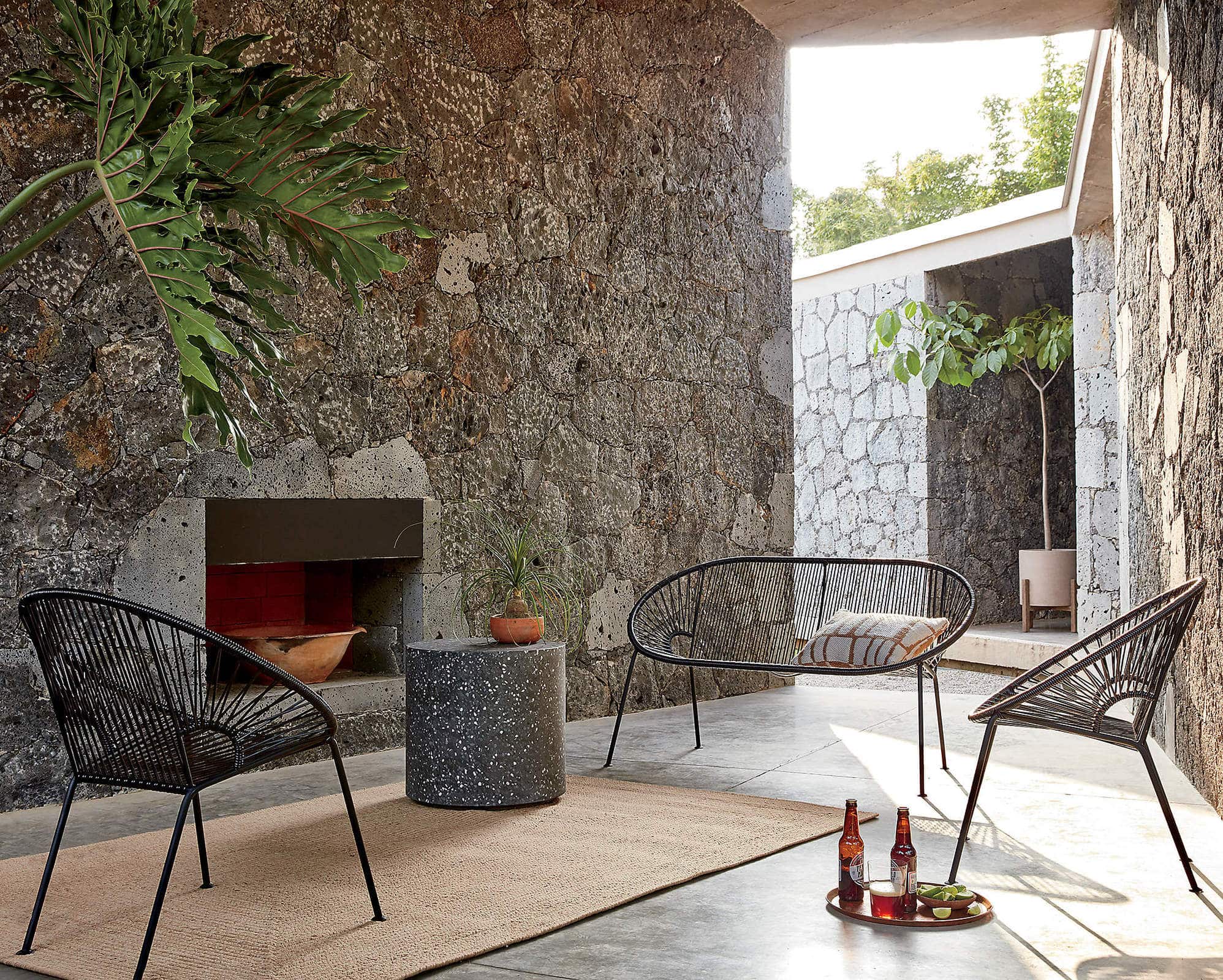 Bring a classical Mexican resort vibe to your patio, deck, or terrace. Exhibiting an airy and spacious vibe, this handwoven front porch furniture is equipped with PVC cords and powder-coated steel tube frame to showcase a bespoke experience.
The full fan-like shape is something to look forward to. You can pair it with likewise accent chairs and neutral-toned area rug to create a blissful appeal.
Homewood Porch Swing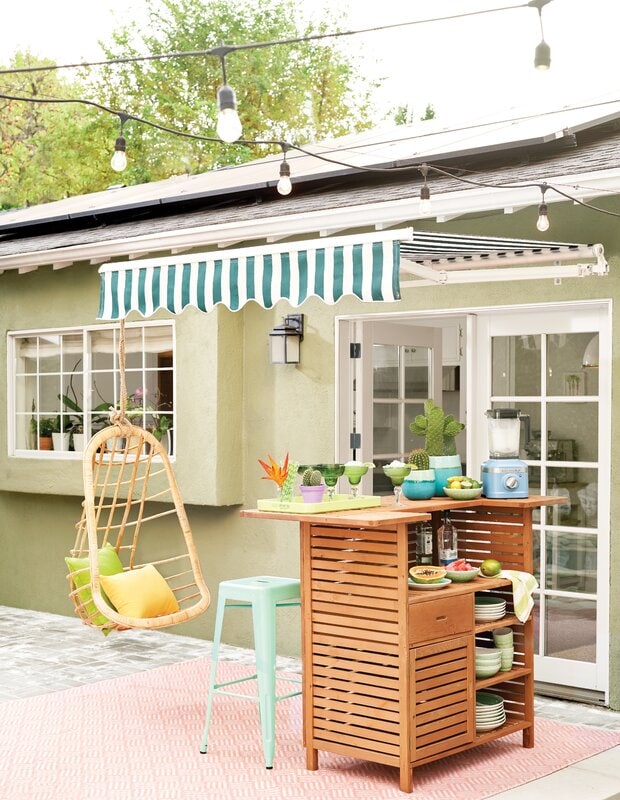 Inspired by the Scandinavian style, this rattan hanging chair is a perfect addition to the bohemian, farmhouse, and eclectic backdrops. You can easily hang it on the front porch to enjoy that lovely view while having a lovely evening snack.
Apart from the patio, this front porch furniture idea can also be incorporated in the sunrooms, living rooms, and bedroom balconies. So, all you need is a clamp and hook to have that cozy moment in your home!
Summing It Up
Summers or winters, afternoon or evening, mountains or beaches – the front porches of every home deserve to be bright, beautiful and welcoming. So, now that we have discussed the 25 best front porch furniture ideas – are you looking to incorporate any? Well, do let me know your thoughts in the comments below!