Decorated Life is reader-supported. When you buy through links on our site, we may earn an affiliate commission. Learn More
21 Farmhouse Porch Ideas for a Cozy Feel
There's nothing like walking out to a farmhouse porch each morning to sip a hot cup of tea.
Well-designed farmhouse porches feel cozy and inviting while being packed full of style. They're full of ambient lighting, lots of greenery, interesting signage, and gingham or buffalo-checked patterns.
If you're trying to achieve this look and need some inspo, check out these 21 farmhouse porch ideas for the perfect cozy feel.
Put a Gingham Rug in Front of the Door
The black and white gingham porch rug has taken over Pinterest and doesn't look to be going away anytime soon.
While the most popular style is a small gingham rug with a welcome mat over the top, you can go a step further and use a large, bold rug like the one pictured.
These rugs go great with all farmhouse front porch decor and make a big statement.
Update Your Lighting to Matte Black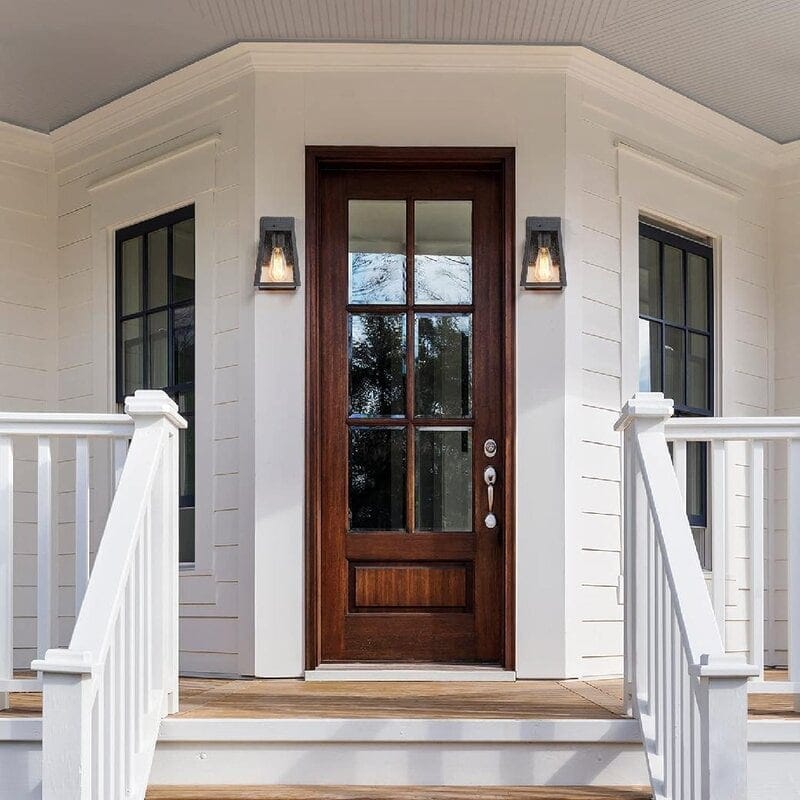 If you like modern farmhouse front porch decor, go for a simple look and focus on quality. You can do this with minimal decor that doesn't compete with your centerpiece – the front door.
Update your light fixtures to a matte black for a sleek and upscale farmhouse look.
Add a Large Sign by the Front Door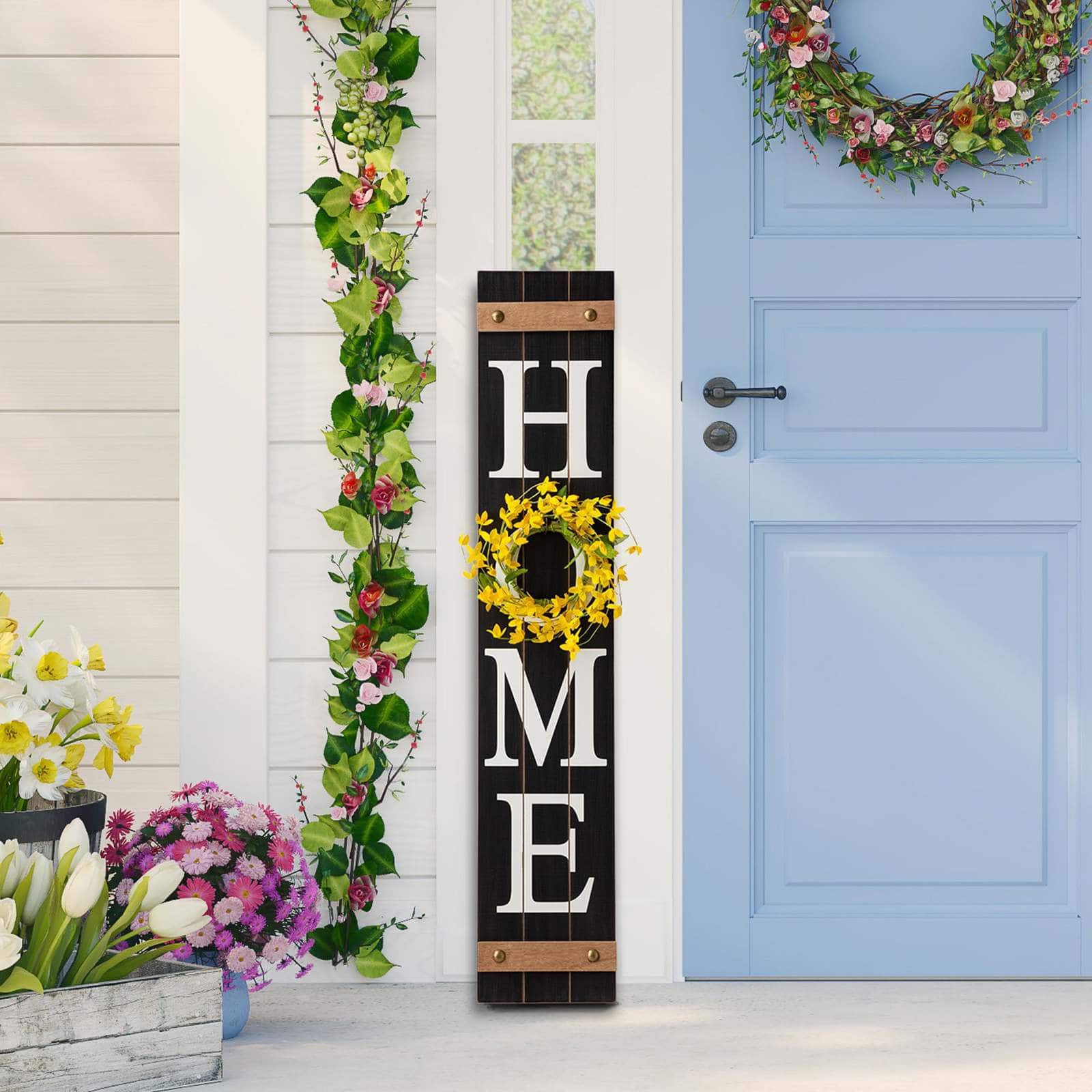 Large "welcome" and "home" signs are trademarks of farmhouse porch decor. This one is an excellent option because it comes with three different wreaths that can be changed out when the seasons change.
You can also find similar signs that display your last name or a custom saying.
Create Seating with Rocking Chairs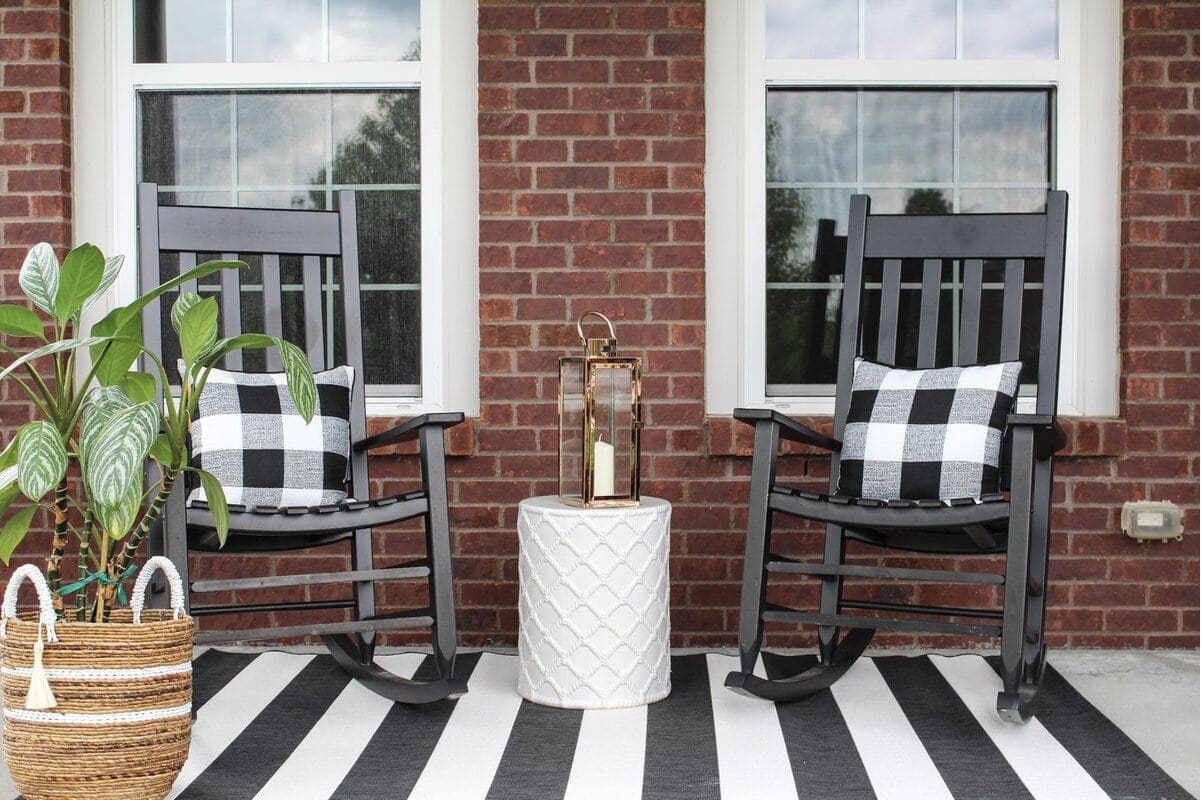 Farmhouse style is about mixing new with the old. Since rocking chairs go back to the 1700s, it's no surprise that they're such a big part of farmhouse decor.
Really, there's nothing like a good rocking chair to create a relaxing space. You can go for a modern touch with these black chairs or go with wood for a more traditional look.
Set the Scene with a Chalkboard Sign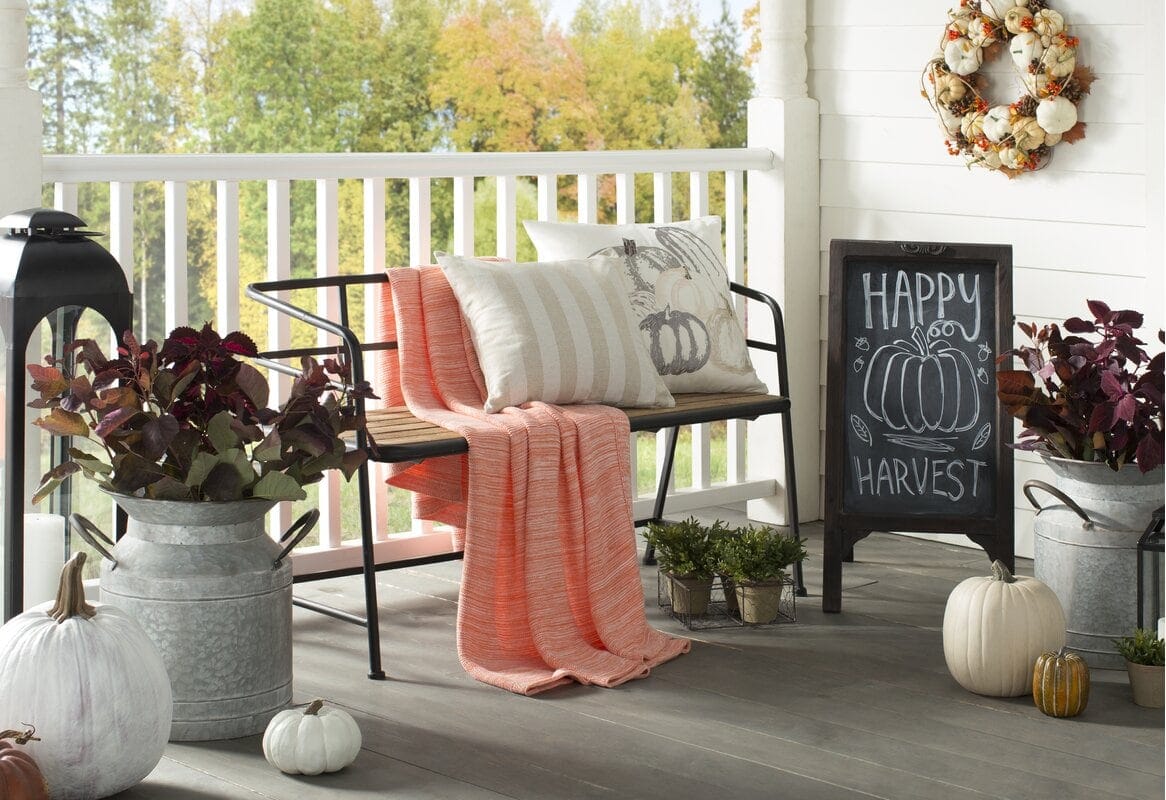 Chalkboard signs are great for custom art. They can be used in the background of photos or to say welcome to new guests.
This chalkboard sign is the perfect size for a porch. Change the saying each time the season changes, or let your kids have fun making porch signs.
Install a Porch Swing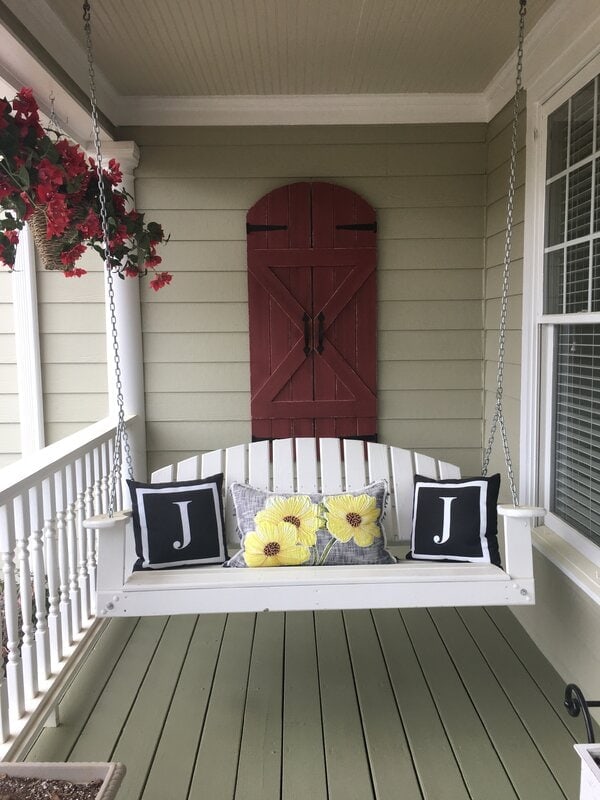 If you're looking to up your farmhouse look, and have the space, consider installing a porch swing. Porch swings not only give you and guests more seating options but also double down as farmhouse porch decor.
You could opt for a simple white swing like the one above or go for wood or black. They all give off the perfect farmhouse vibe.
Light up the Night with a Steel Letter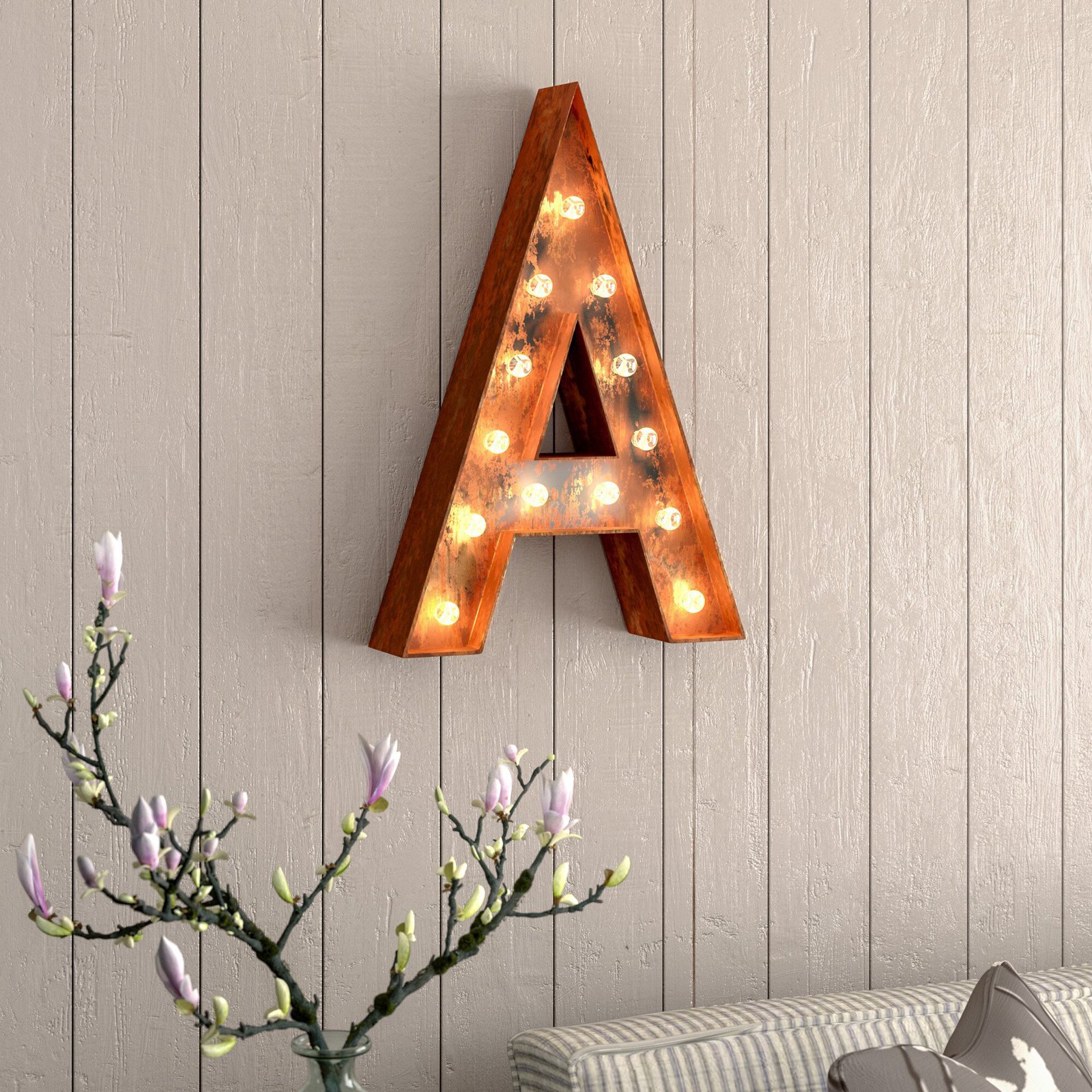 If you're looking for a unique way to add some light to your front porch, try one of these large steel alphabet letters.
These letters are suitable for indoor and outdoor use and would look amazing over your porch furniture. These letters are also an effortless way to add texture to your porch.
Layer in the Lanterns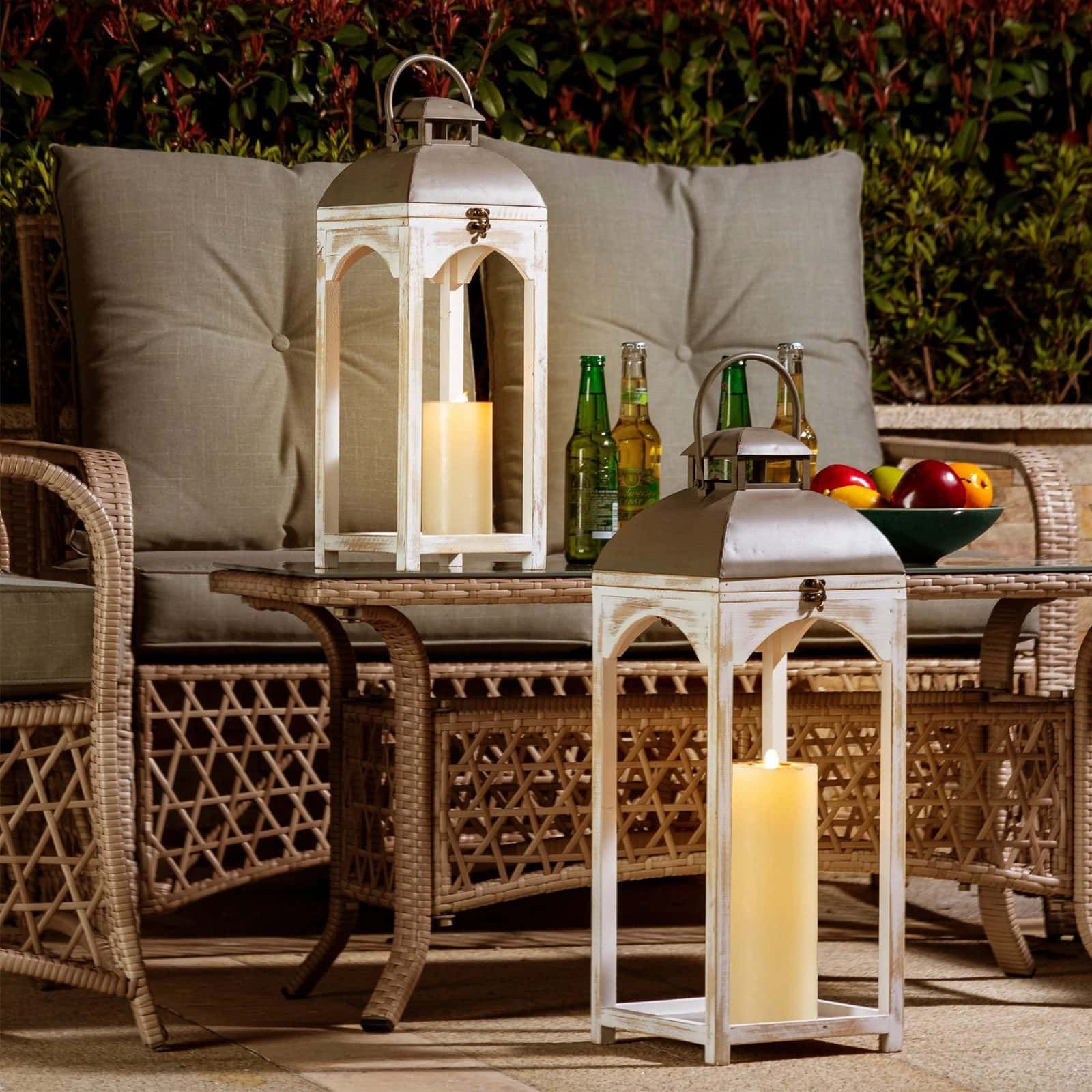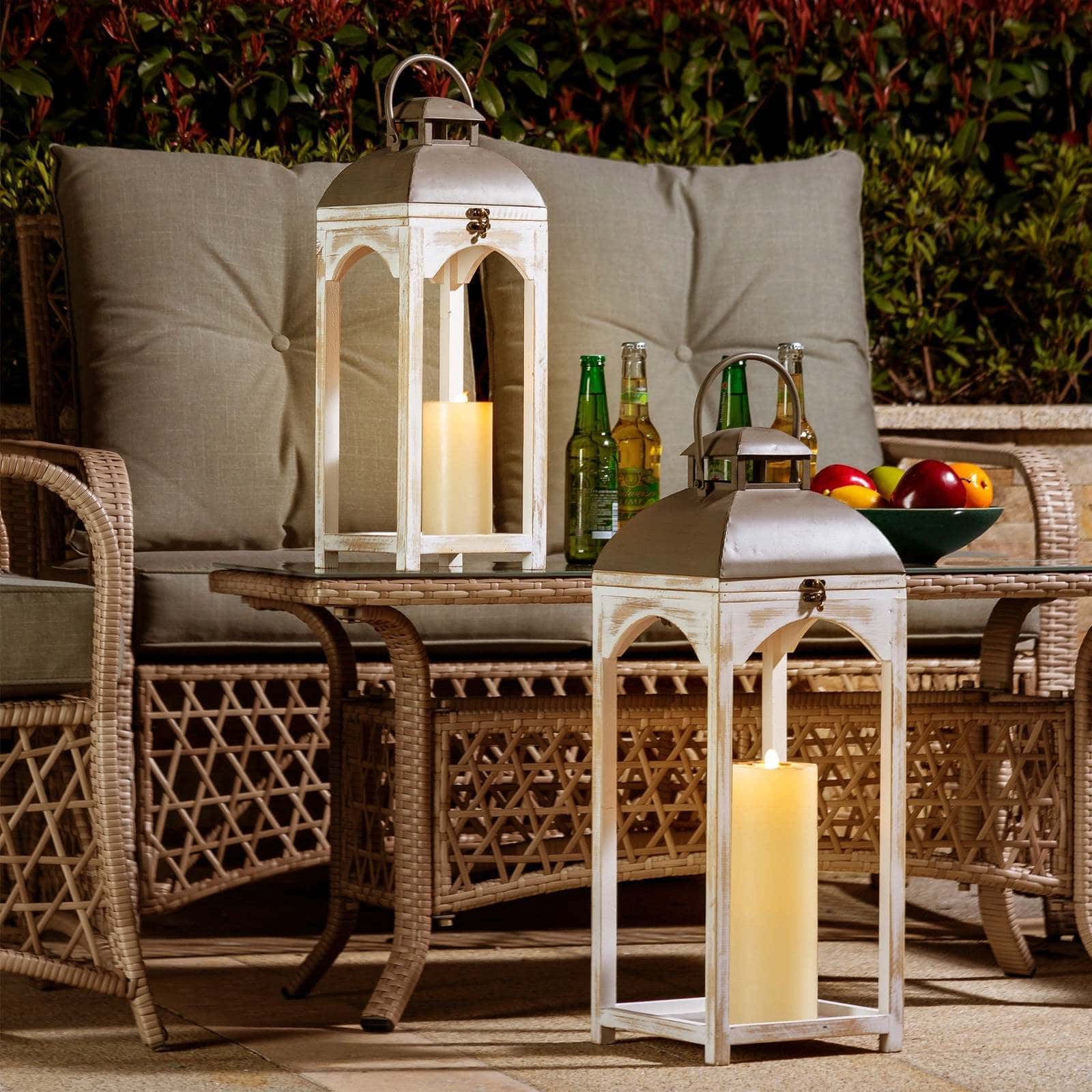 Lanterns are an essential piece of farmhouse decor. And while you often see these inside the home, and especially on mantels, they are great for the front porch as well.
You can add large candles to your lanterns and light them when you're hanging out on your porch each night. They can help set the mood and still look fabulous during the day.
Bring in Wicker Furniture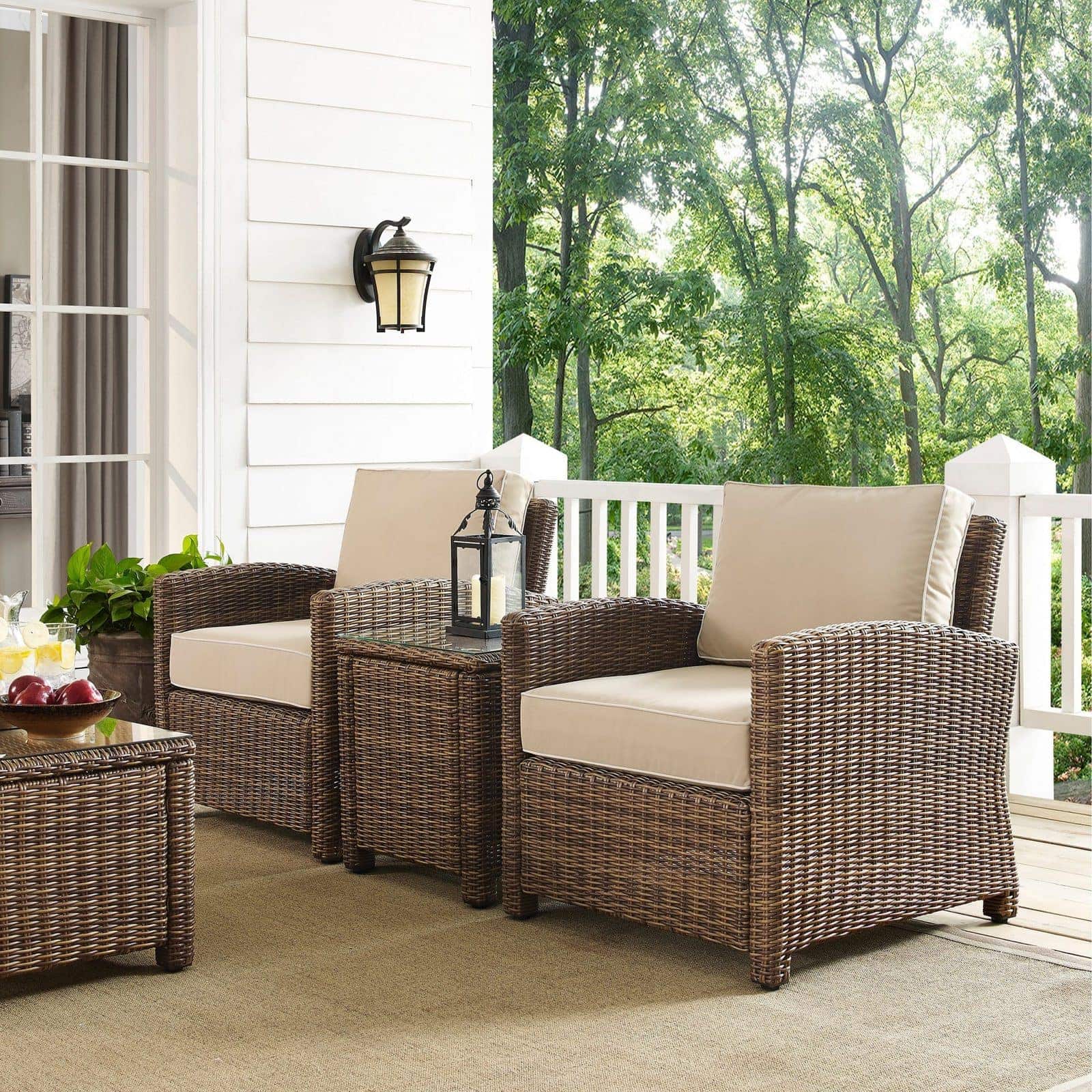 If you like style that borders traditional and farmhouse, this wicker patio set is a perfect choice. This set comes with three pieces – two armchairs and a side table.
You could leave the set as-is for a clean look or give it more of a farmhouse feel by placing it overtop a striped rug and adding some gingham pillows.
Get Creative with a Magnolia Leaf Lantern
Looking for unique farmhouse front porch decor? This battery-powered magnolia leaf lantern is a great way to add style and lighting to your farmhouse porch.
Since it does not need to be hardwired, you can hang it wherever you need extra lighting. It would look great over the top of a table as pictured above or on a small porch.
Add a Simple Summer Wreath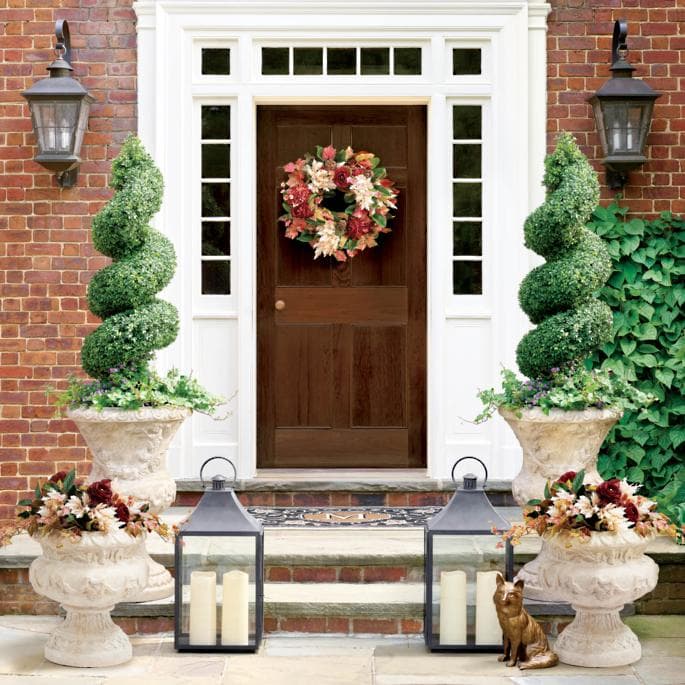 Finding summer farmhouse porch ideas is a little different from finding fall or winter ideas when there are many things to layer on. That's why we like this simple but sweet wreath for the summer.
The pink flowers in this wreath brighten up the door without being too bold. If you don't like the flowers, you could opt for a super simple eucalyptus wreath instead.
Create a Vertical Garden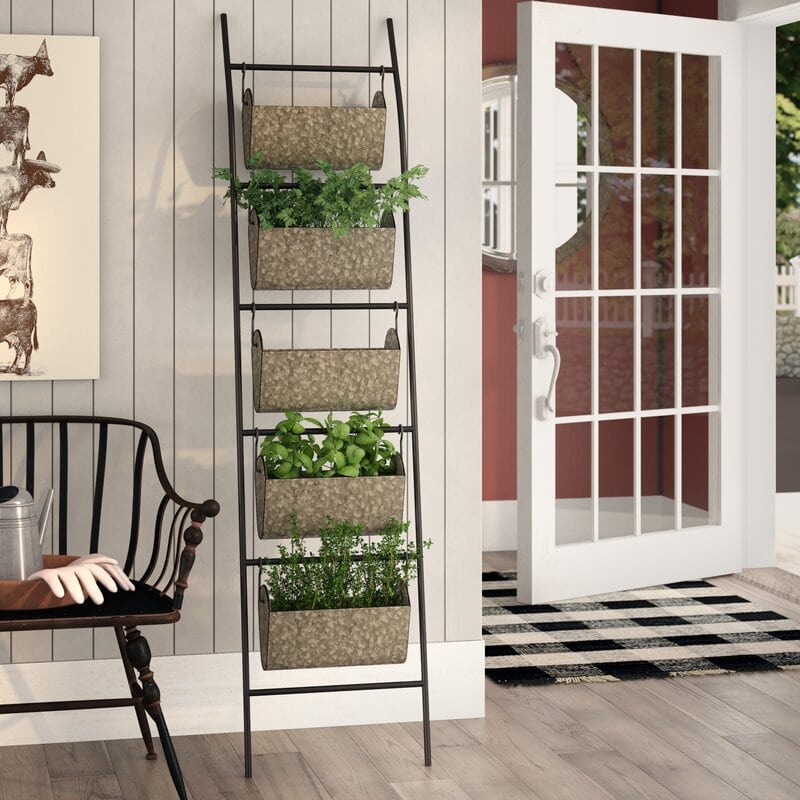 Every good farmhouse porch needs to have some type of greenery. This can be in the form of planters, trees, or a vertical garden like the one pictured above.
Vertical gardens are great for growing herbs on your front porch and double down as beautiful decor. This contrast of black and warm brown makes this one look exceptionally great with farmhouse-style porches.
Bring in the Warmth with Wooden Rocking Chairs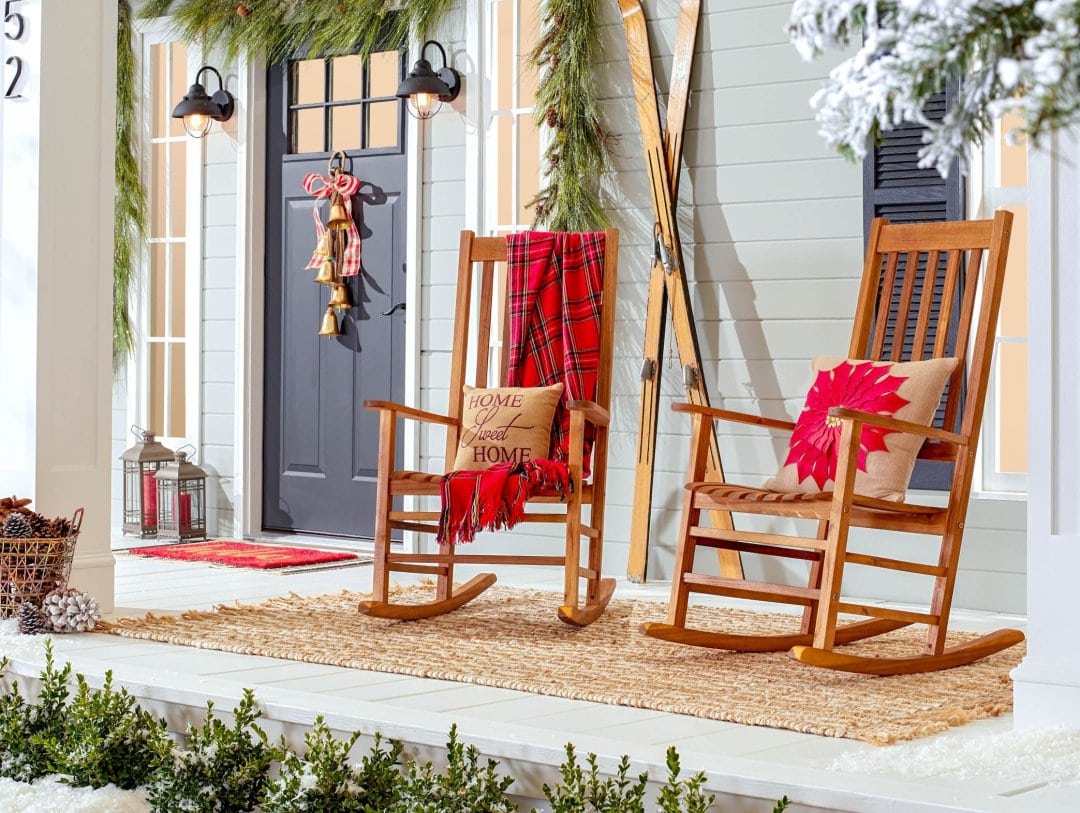 One of the best things about the farmhouse style is how the textures build one another. Take this picture, for example. Almost every item in it has a slightly different texture, even if the colors are similar. This creates a visually interesting look.
The colors also play off of each other well – the blue and gray are cool, while the rug and chairs bring in the perfect amount of warmth.
Lounge in Style on the Back Porch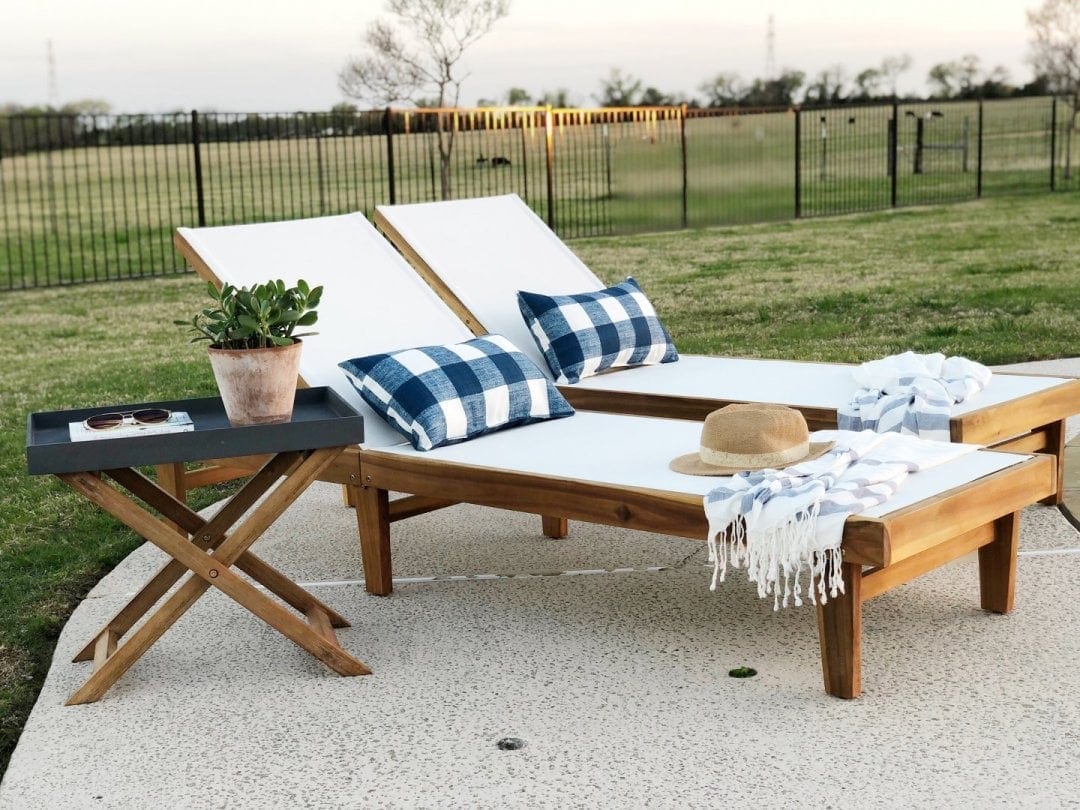 If you're working with a small porch or just want some ideas for your back porch or patio, these chairs are great for lounging. You can relax in these at the end of a hard day with your favorite drink in hand.
You can dress these up or down by adding outdoor pillows and throws to them. You can place these on a striped, jute, or gingham rug for a more farmhouse look.
Switch Your Outdoor Pillows for the Season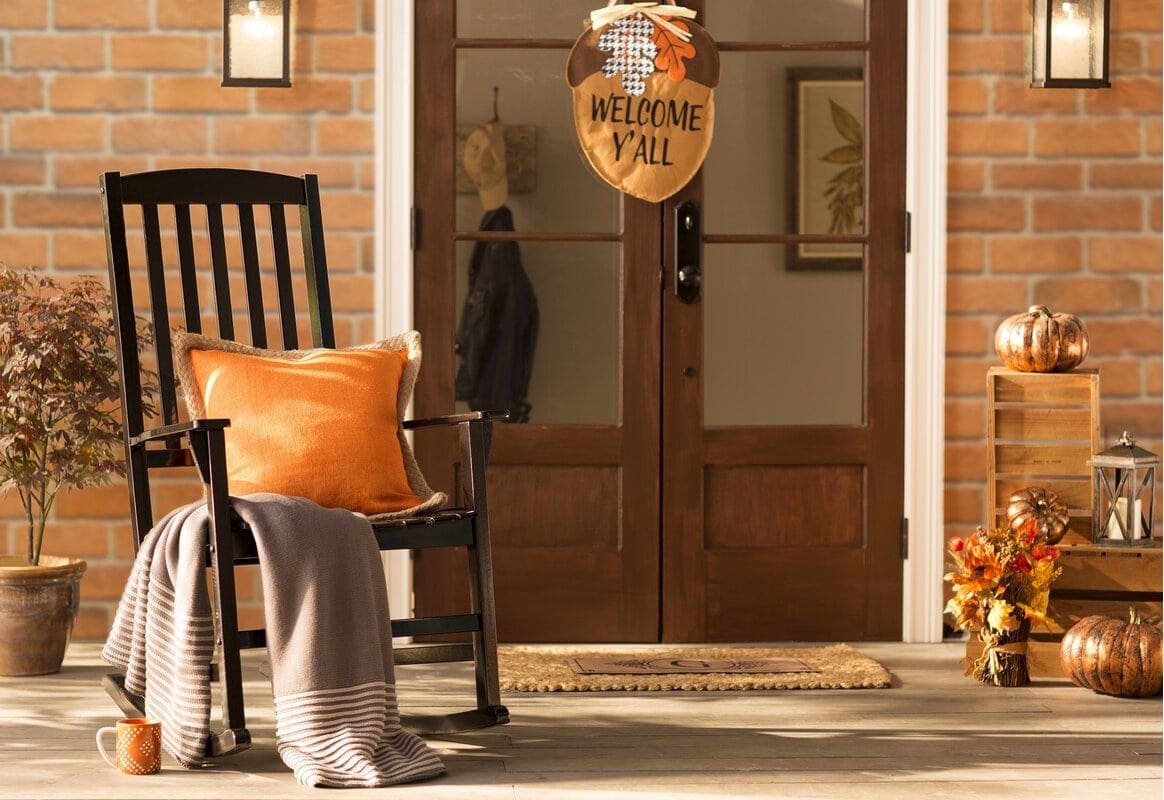 One of the easiest ways to decorate your porch for the season is to change your pillows. You can keep things simple and use an orange pillow for fall, red for winter, and pink for spring. Or, you can go more ornate and purchase more decorative pillows.
Either way, switching out pillows is a simple and inexpensive way to mark the change in season.
Try Bold Pops of Color
If you're feeling bold, show it with your colors.
In the picture above, the homeowner matches the accessories to the window and door colors with bold pops of red. Doing this can make your decor look cohesive. Plus, bold colors draw the eye.
Contrast Your Colors for a Modern Farmhouse Look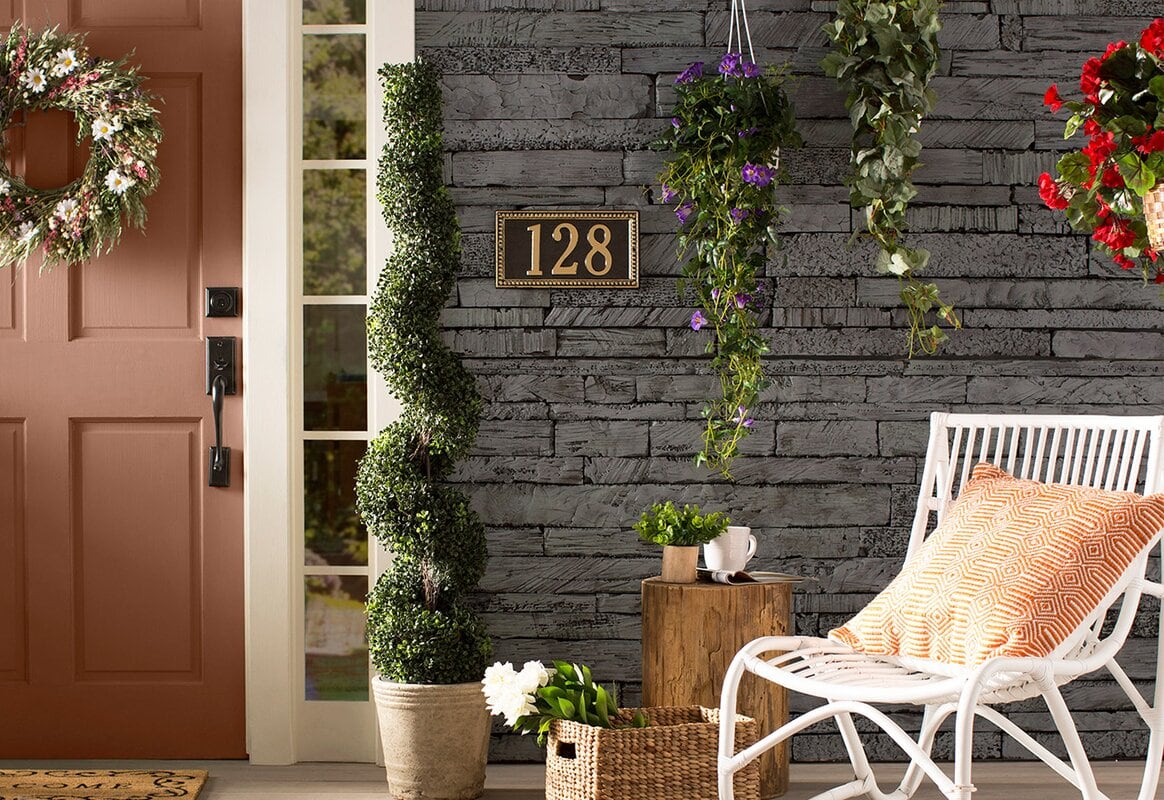 If you like modern farmhouse front porch decor, try contrasting your main colors. This works great if you have a dark background like gray stone or siding. You can then layer in lighter elements like a white chair, natural rug, and flowers.
The result is a fresh and clean look that's still cozy.
Decorate with Topiaries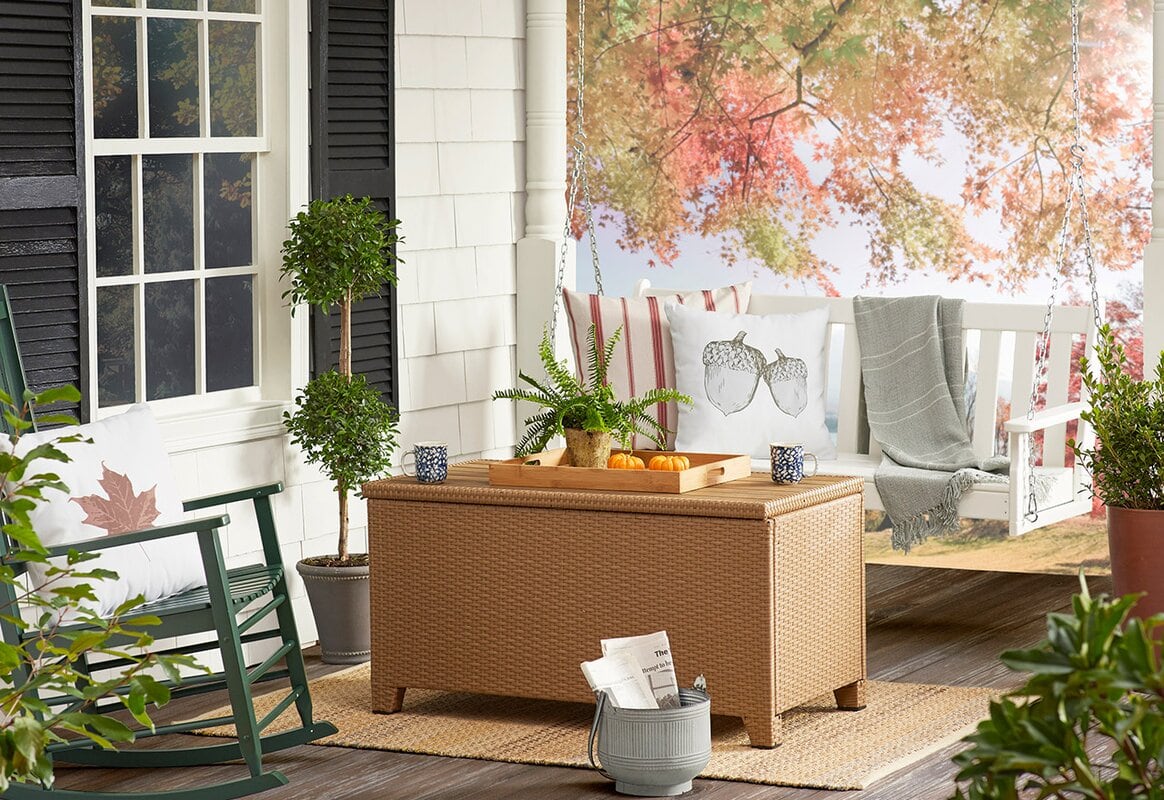 Every good design needs some greenery, and when it comes to farmhouse style, topiaries are where it's at.
These would look great placed on either side of the doors or beside a porch swing. If you're decorating your back porch, you could put these beside the walkaway or by the back door.
Center Your Table with a Hanging Pendant Light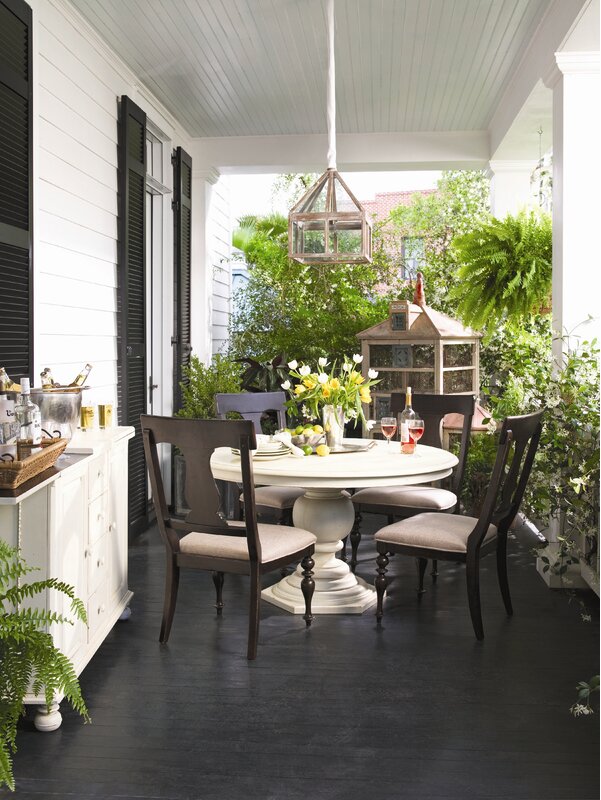 If you eat or drink on your porch and want to define the area, hang a pendant light over the middle of your table. Doing this makes your furniture arrangement look purposeful.
Plus, adding a pendant light lets you bring effortless style and, of course, much-needed lighting for early mornings and late nights.
Mix and Match Your Furniture
If you're going for the farmhouse look, nothing needs to look perfect. One of the best ways to get the farmhouse feel is by mixing and matching finishes, like shown in this picture.
You can get a similar look by adding wicker chairs to either end of a wooden table. You could even use a small-sized picnic table for the same effect.
Use Metal Drums as Side Tables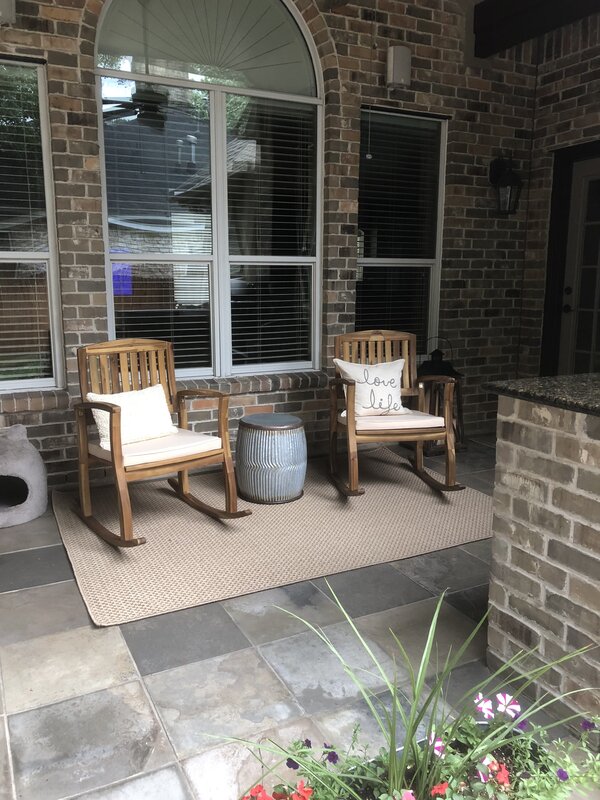 Need a side table for your front porch rocking chair? Like pictured above, try a metal drum, or go natural and bring in a large tree stump.
The great thing about farmhouse porches is that everything doesn't need to match. Natural and antiqued elements work wonderfully as side tables.
Final Thoughts on Farmhouse Porch Ideas
If you're looking for the best farmhouse porch ideas, draw inspo from some of these.
If you're starting with a blank canvas, lay down a natural, gingham, or striped rug. You can layer another rug over the top or start putting down your furniture. You can opt for the classic rocking chair or go for wicker or metal furniture.
Add some ambient lighting and greenery, and you have a cozy farmhouse porch.